Born in Spokane, Washington, and raised in Southern California, George Lynch endured several false starts before he found success with Dokken. His career and distinctive molten lead style are testaments not only to his talent but his worth ethic. Lynch, in the late 1970s, auditioned for the lead guitar role in former Sabbath frontman Ozzy Osbourne's solo band. He narrowly missed out on the spot to Randy Rhoads of all people, but Rhoads himself was so impressed with Lynch's audition. So much so, that Lynch was offered a job teaching at Rhoads' mother's guitar school. Later, George Lynch auditioned for Osbourne's band once more, and actually got the gig, but would eventually find himself replaced by Jake E. Lee. Lynch claims that he missed the job because he'd had to take up delivering pizzas to make ends meet, a job that required him to wear his hair short.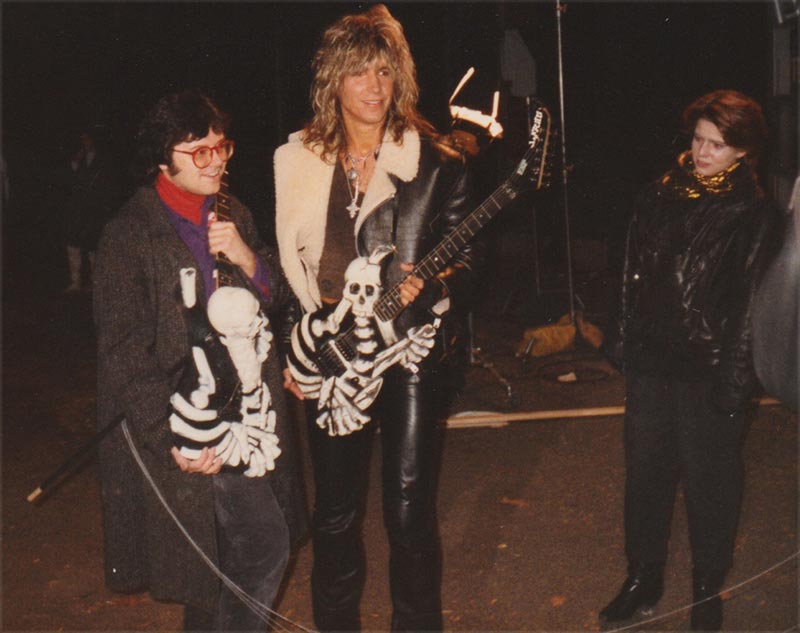 Fortunately for George, and lovers of outrageous lead guitar worldwide, he finally enjoyed the success his talent clearly warranted upon joining lead singer Don Dokken's eponymous band. In their first major top-40 success, Dokken broke the chains of musical mediocrity and was launched to stardom. Their albums sold millions, George Lynch's fiery licks dominated car stereos around the world spawning one of the first major "speed metal" euphorias. Although he later left Dokken to form solo Lynch Mob, with whom he has enjoyed modest success for decades, George Lynch continues to push the boundaries of hard-rock lead guitar to this day.
What Guitars Does George Lynch Play?
George Lynch plays custom ESP guitars of which he has several signature models to his name. He's worked with ESP since the late 1970s on many guitar designs, typically boasting wild-eyecatching designs. George usually rotates between the ESP Kamizake-1, the ESP Tiger, and the ESP GL Super V models.
See the full list of George Lynch guitars and gear below.
ESP The Tiger

| | |
| --- | --- |
| Finish | Tiger Stripes Sunburst/ Yellow |
| Years Used | 1978 to Present |
Most of the rock world's first introduction to Dokken, and to George Lynch, was the iconic video for "Breaking the Chains. In the video, Lynch, chained to a wall, breaks out of said chains to deliver one of the finest examples of mid-80s shred guitar ever recorded. The guitar around his neck bore a tiger-striped finish and a Stratocaster-shaped headstock suspiciously devoid of a brand name.
Although the Tiger entered public consciousness in 1983 with the "Breaking the Chains" video, George Lynch actually built the guitar himself in 1978. He told MusicRadar that he "slapped it together" from pieces of wood, and then a friend helped him give it its distinctive tiger-striped paint job. It has remained George Lynch's number one instrument ever since, with Lynch telling Sleaze Roxx in 2009 that "my Tiger is my go-to guitar for most everything".
Lynch, in this interview, revealed that in the late 70s, he would pick up individual guitar pieces – necks, bodies, and hardware – and assemble his own instruments. He liked the idea, as did his contemporary Edward Van Halen, of being part of the process of creating the instrument, rather than simply buying someone else's guitar. Particularly appealing to Lynch was the level of customization this offered him, including the types of wood, scale length, and neck radius.
His Tiger's body is solid maple, painted with nitrocellulose lacquer that today shows signs of aging. It's somewhat cracked because he traveled with the guitar without a hard case. The Tiger actually has a bullet hole in the back, sustained when Lynch was recording a solo record during the LA riots of 1989. One night, all the forward gears in his car went out, and he had to drive home in reverse through South Central LA in the riots. Lynch was shot at this time, but the bullet hit his guitar.
During the Dokken years, the Tiger sported a Stratocaster-style headstock, likely obtained from Charvel in California, and a 21-fret Stratocaster-style neck. Over the years Lynch has swapped out its neck several times, notably when he signed an endorsement deal with ESP guitars. At that point, he adorned its headstock with an ESP sticker. Typically, Lynch prefers maple necks for this guitar. It currently boasts a twenty-two fret neck with a tiger-striped ESP headstock.
Its headstock currently boasts Karl Sandoval's signature next to the ESP logo, despite the guitar not being an ESP instrument. Lynch claims that ESP did "work" on his guitar, likely repairs or alterations. Karl Sandoval is the luthier most famous for working on Randy Rhoads' polka-dot Flying V, although his work on George Lynch's Tiger guitar has long outlasted that of Rhoads' V.
Today, the Tiger features Lynch's signature Seymour Duncan Screamin' Demon pickup in the bridge position. It has Dunlop 6100 frets and a Kahler nut, which allows him to run the strings through the traditional nut and retain an "earthy, woody" tone. Although today the Tiger boasts a Floyd Rose tremolo system, originally it used the chrome vintage style 6 screw Stratocaster tremolo system.
George Lynch used this guitar on virtually every recording he's ever done, and its immediately recognizable design inspired many of his later signature models.
ESP Kamikaze

| | |
| --- | --- |
| Finish | Various Custom Artworks |
| Years Used | 1985 to Present |
Yet another guitar designed by George Lynch himself, the ESP Kamikaze was the first Lynch-designed guitar to hit the mass market thanks to Lynch's endorsement deal with ESP. The story goes that Lynch, mid-tour in Japan, visited a guitar shop in search of a fresh neck for one of his Superstrat-style guitars. During this visit, he learned that ESP made custom guitars, and the ESP Kamikaze was born.
The original Kamikaze was hand-built by ESP's master luthiers at their headquarters in Japan. It featured Lynch's favored maple body/maple neck combo with an ebony fretboard. In the neck position, it featured a single-coil pickup, an ESP Designed single-coil SS-120. In the bridge position, as with Lynch's other guitars, is a Seymour Duncan humbucker. For a while, Lynch's guitar featured the Seymour Duncan Screamin' Demon, his signature humbucker, but the most recent iteration of the Kamikaze boasts a Seymour Duncan "The Hunter" pickup. This high-output pickup, according to ESP's website, features ceramic magnets and a custom wind for the "not quite clean but not exactly dirty" tones for which George Lynch is famous.
Lynch's original Kamikaze used the Floyd Rose tremolo system but lacked the recessed cavity for the system. Later models featured the recessed tremolo. The Kamikaze features a reverse "banana" headstock with the tuning pegs on the treble side of the headstock rather than the bass side as on the Fender Stratocaster. Modern iterations of the Kamikaze feature Gotoh tuning pegs.
ESP has produced various iterations of the Kamikaze over the years, including production models in different color schemes than the first Kamikaze's black/tan/yellow/red finish. Notably, the guitar's paint job features the Japanese kanji script for "kamikaze", the image of a samurai, and graphics of falling bombs. One Kamikaze model, the Kamikaze IV, is distinct from its brethren in that it was built using a mahogany body with a maple top, and a maple fretboard on its maple neck. The resulting tone is closer to that of a classic Gibson guitar than the high-octane Superstrat sound for which George Lynch is famous.
ESP Super V GL

| | |
| --- | --- |
| Finish | Red/Black |
| Years Used | 2009 to Present |
The Super V was a signature George Lynch model produced by ESP in the mid-2010s for the market, however, this studio mainstay was created and issued to George in 2009. Lynch typically relies on his Super V for recording rhythm parts, as he did for 2009's "Smoke and Mirrors", all the way up to 2021's "Banishment".
The Super V was Lynch's way of encapsulating the vibe of 1960s Gibson guitars while remaining firmly within the realm of his ESP endorsement. Based on the Flying V shape, it boasts a tilt-back headstock, a mahogany body and neck, and a rosewood fingerboard. The most recent iteration of the Super V features a Seymour Duncan Phat Cat P90-style pickup in the neck position and a Seymour Duncan Super V pickup in its bridge position.
Lynch told Premier Guitar that they actually designed the Super V pickup for lighter guitars, aiming to deliver "a very Seth Lover-ish kind of pickup with a little more output". George is notorious for trying different pickups in his guitars, often switching several out in a single day just to get the perfect match between wood and pickup. His line of custom Seymour Duncan pickups, including the Screamin' Demon and the Super V, are testament to this exacting approach to tone.
ESP/Johnny Frog Skull And Bones

| | |
| --- | --- |
| Finish | Skull and Bones |
| Years Used | 1986 to Present |
Like the Tiger guitar, this custom instrument was made famous in the MTV-ready video for Dokken's 1986 hit "It's Not Love". In the video, Dokken, aboard a flatbed truck, play the song to the unsuspecting public, while George Lynch wields this skeletal instrument.
Although this guitar boasts an ESP sticker on its headstock, it was not, in fact, built by ESP guitars. Supposedly, Lynch's neighbor, Johnny Frog. Frog was a well-known makeup artist in Los Angeles, best known for his work on Nightmare on Elm Street. Frog built Lynch this guitar, and was present at the video shoot for "It's Not Love", as were Japanese representatives from the ESP company. The ESP reps insisted on placing their brand's sticker on the guitar's headstock, pointing out that, under the terms of their endorsement deal with Lynch, without their logo on the instrument it couldn't be used in the video.
Johnny Frog carved this guitar from a solid block of maple, and supposedly even added one of his own teeth to the skull design. Its neck, too, was maple, finished with an ebony fretboard. It boasted a locking tremolo and a sole humbucker in the bridge position. It's unclear what pickup Johnny Frog was using to build guitars at the time, but Seymour Duncan pickups were popular among the Californian guitar builders of the era. Lynch was known at the time to favor Seymour Duncan JB or Distortion pickups, so it's not unlikely that one of these ware in the Skull and Bones guitar. Modern reproductions of the Skull and Bones guitar often feature Lynch's signature Screamin' Demon Seymour Duncan pickups or his other signature model, the Arcane Mr Scary humbucker.
Supposedly, the original Skull and Bones guitar now lives at New York City's Hard Rock Cafe. This is easily one of the most iconic George Lynch guitars of all time.
ESP Mr. Graffiti

| | |
| --- | --- |
| Finish | Custom Graffiti Artwork |
| Years Used | 1987 to 1994 |
One of the first guitars that ESP actually built for George Lynch was this graffiti-adorned model. It made its debut in the music video for "Heaven Sent", from Dokken's 1987 album Back For the Attack. In typical 80s shredder style, it follows the superstrat template, with its asymmetrical double cutaways and sole humbucking pickup.
It featured a maple body and bolt-on maple neck, like Lynch's other guitars of the era. It was finished in a distinctive graffitied look, and Lynch used this guitar live and in the music video for "Heaven Sent", as above. The graffiti guitar, like Lynch's other guitars from this time, likely featured a Seymour Duncan as its sole pickup in the bridge position. Lynch was known to use the JB and Distortion pickups at the time, so the graffiti guitar likely boasted one of these.
Unfortunately, this guitar's story is one of crime and punishment. Lynch told Guitar World that "My 'graffiti' guitar just disappeared out from under me. Turns out one of my band members had sold that". In another interview, with Guitar International, Lynch mentioned loaning it to a band member, who then sold it on eBay for "over $11,000".
The original "graffiti" guitar appeared on eBay in 2007, with the seller claiming that it was given as a gift in 1997, rather than stolen.
Mr. Scary Guitars

| | |
| --- | --- |
| Finish | Skull and Bones/Ribcage |
| Years Used | 2009 to Present |
Considering the decades he spent tinkering with his own instruments, it seems inevitable that George Lynch would eventually take to building guitars of his own. Although George Lynch hand-builds these guitars himself, he almost never plays Mr. Scary guitars on his records or live, but he's used them when the occasion arises.
In an interview with Premier Guitar from 2011, George Lynch discussed his then-new line of hand-crafted instruments, telling the magazine that "I've never built one for myself, which is stupid. I just don't have time, and I always have orders". Instead, Lynch builds these guitars for dedicated fans, customizing each one to the specifications of the buyer. Although he typically does not use these guitars in the studio or live, he is known for playing these custom pieces for the purchasing fans. For example, one archaeologist and guitarist bought a "fossil" Mr. Scary guitar, made from "three-million-year-old fossil bones". Lynch took this guitar on the road, telling Premier Guitar that he "played it for a few songs, finished a solo, and then handed it to him in the audience".
These guitars have wide, flat C-profile quartersawn maple necks, stainless steel frets, and high-quality woods. Lynch even uses noxious black limba for some bodies mainly based on Stratocaster or Super Strat shapes, wearing a double industrial breather in order to work on this delicate tonewood.
Frequently, the Mr. Scary line features distinctive or unique finishes, including the Snake Charmer, which Lynch builds using the skin of captured rattlesnakes from his ranch in the Mojave Desert. He often showcases these at the NAMM convention and can be seen shredding away on a Tiger-inspired Super Strat.
Timetable Showing Each Guitar George Lynch Has Played Throughout His Career
| Make | Model | Color/Finish | Years |
| --- | --- | --- | --- |
| ESP | The Tiger | Tiger Stripes Sunburst/ Yellow | 1978 to Present |
| ESP | Kamikaze | Various Custom Artworks | 1985 to Present |
| ESP/Johnny Frogg | Skull And Bones | Skull and Bones | 1986 to Present |
| ESP | Mr. Graffiti | Custom Graffiti Artwork | 1987 to 1994 |
| Mr.Scary | Various Guitars | Skull and Bones/Ribcage/Custom Fossils | 2009 to Present |
| ESP | Super V GL | Red/Black | 2009 to Present |
George Lynch Amps Overview
George Lynch's searing articulate tone is one of the most immediately identifiable aspects of his playing. He owes this tone in no small part to his choice of high-powered tube amps, often preferring the natural-sounding power amp drive to the fizzy, high-gain distortion of many of his 1980s contemporaries. George Lynch describes himself as "really more of an amp guy than I am a guitar guy", typically relying on some combination of Marshall, Soldano, Bogner & Diezel amps to achieve his signature tone. He even has a signature "Lynch Box" amplifier designed to capture his face-melting guitar sound.
Let's take a look at George Lynch's favorite amplifiers.
1968 Marshall Plexi
What self-respecting 80s shred lord would be complete without a Marshall Plexi? Lynch was using a Marshall Plexi back in the Dokken days when he was playing a fifty-watt model. This amp was used on Back for the Attack and remains in Lynch's amp rotation to this day. Lynch's 1968 Plexi is considered "square one" of his guitar tone, with its EL34 tubes providing the high headroom, powerful response, and dynamic range for which he is famous.
George Lynch's guitar tech notes that this amp remains, remarkably, "bone stock". It has endured no modifications from Lynch, a notorious tinkerer who often replaces tubes in his amps by hand, biasing them himself by ear. This Plexi appears on just about every Dokken and Lynch Mob record as well as Lynch's solo work from the mid-80s up to the present day, including 2021's Banishment.
Soldano SLO-100
George Lynch was not immune to the charms of the high-gain SLO-100 when it came time to record the first Lynch Mob record in the late 1980s. It was Soldano's flagship amplifier, offering more gain on tap than was available with any competing amp at the time. One of George Lynch's original Soldanos went missing in 1993, but its twin, reportedly the sixth Soldano amp ever made, remains in his possession to this day.
Randall Lynch Box
The cornerstone of George Lynch's sound these days, whether it's live or in the studio, is his signature 100W amp from Randall, the Lynch Box. Typically, says Lynch, "I always get a Randall Lynch Box, my signature amp, and at least one other amp". That other amp is usually a Marshall, Soldano, or Diezel amplifier.
George Lynch uses his signature amp to capture various iconic tones from over the course of his career. It boasts three modules: Brahma, Mr.Scary, and Grail. "Mr. Scary" is based on his Dokken/Lynch Mob lead tone, "Brahma" is based on his classic rhythm tone, and "Grail" is a modern-voiced lead tone. These three preamp modules run into JJ EL34 power tubes.
Also bearing the "Lynch Box" moniker are George Lynch's signature line of Celestion speakers, which are a modified variation of Celestion's classic Greenback speaker.
Although George Lynch often uses this amp as a source of overdriven tone, he actually avoids pairing it with an overdrive pedal, as " they have enough drive where it actually compresses the sound too much and kind of destroys the frequency range to a certain extent".
Diezel Herbert Amplifiers
George Lynch has long been a fan of the high-gain boutique Diezel amps, often playing their Herbert and VH4 models in conjunction with his Lynch Box. George Lynch modified his Diezel Herbert MK3 model to dial back the level of compression in its tone, likely to aid in his notably dynamic playing style.
Lynch also used a Diezel VH4 on the Lynch Mob record Revolution from 2004, although in recent years he has been more loyal to the Herbert's head. Generally, Lynch uses his Diezel amps for rhythm playing in conjunction with the Lynch Box's "Brahma" preamp, adopting this approach for 2021's Banishment record.
George Lynch Pedals and Effects Overview
George Lynch claims to own "hundreds" of pedals and effects units, a testament to his never-ending search for the ultimate rock guitar tone. Generally, Lynch's choice of effects is determined by his attempt to acquire a particular sound, or achieve a particular feeling for his guitar parts."
Here, we'll take a look at the most notable pedals and effects Lynch has used and continues to use, from vintage script-logo MXR gear to signature stompboxes.
Overdrive & Distortion
George Lynch once claimed to own "over thirty overdrives", and he frequently swaps one out for another depending on which amp he's using at the time. Generally, Lynch will run two overdrives at a time for maximum tone options and usually uses these pedals to color his amp's already-driven tone rather than as the sole source of drive.
Lynch Time Machine Boost is a hand-wired signature pedal boasting silicon, germanium, and FET transistors, which Lynch describes as "all three in one so you can pick and choose".
George is also partial to Boss's seminal distortion pedal, the DS-1, owning both a Keeley-modded version and an original Boss Japan version. Lynch has claimed that one of the main reasons he goes for Boss's staple DS is because it's so easy to modify.
Lynch has used the Cusack Screamer, an Ibanez Tube Screamer copy, and the HomeBrew Electronics Skullcrusher, which, like his signature boost, allows players to switch between clean boost, overdrive, and distortion.
Reverb & Delay
When it comes to echo effects, Lynch owns an arsenal of his preferred Tape Echo sound, he claims his devotion for this sound comes from the pure organic effect it delivers. He actually tours with several vintage EP-2 and EP-3 Echoplex tape echo units in ammo boxes, not necessarily the warbling tone of tape echo, but out of affection for the Echoplex's distinctive preamp tone.
Lynch also uses Strymon's BlueSky reverb as well as a Strymon El Capistan Tape Echo.
George Lynch has used Boss' DD5 Digital Delay, stating that he prefers digital delay to analog delay despite his ongoing loyalty to vintage tape echo units.
Modulation Effects
Like many guitarists emerging in the wake of the seminal debut Van Halen record, George Lynch is the proud owner of a vintage MXR Phase 90. He describes this as "the old Eddie thing from "Eruption" and other solos", and Lynch's own model is a genuine vintage unit from 1974. Generally, Lynch uses his Phase 90 for additional texture during his guitar solos.
Lynch has used Electro-Harmonix's Electric Mistress as a flanger pedal, but he took it out of rotation some time since 2011. As for chorus, George has used the Boss CE-3 and CE-5 chorus units, or Voodoo Lab's warm, warbling Analog Chorus. Lynch's chorus tone seems to be mostly reserved for rhythm work a la his Dokken-era tone. George has been known to use the Zvex Seek-Trem, a miniature amplifier that mimics the springy tremolo sound of 1960s Fender amps.
He is also partial to the Fulltone DejaVibe, a UniVibe copy, which Lynch describes as "phenomenal for the Trower/Hendrix thing". His DejaVibe was handmade by Mike Fuller in 1994 and is an original model.
Wah Pedals
Of course, Lynch also makes use of some wah pedals, most notably his signature model from Morley, the Dragon 2. Generally, Lynch runs his guitar straight into the Dragon 2 before then running the signal through the rest of his pedalboard.
Lynch also uses ZVex's Seek Wah, an auto-wah pedal that he can pre-program with 4, 6, or 8 steps of wah. More recently, Lynch has taken to a vintage Vox Clyde McCoy wah pedal, using that in place of his Morley signature model.
Multi-Effects Units
Perhaps the most unique and all-encompassing pedal in George Lynch's sizeable collection is his signature model from Zoom, the G2G. Initially released in 2009, it was Lynch's attempt to provide for guitar-wielding fans a single unit that captured his unique, instantly recognizable guitar tones.
Unlike many guitar players, who simply slap their name and a preset on an already-existing pedal, George painstakingly built his signature Zoom multi-FX unit from the ground up. Lynch went into the studio with an engineer for a week and recorded different .wav files with every conceivable tone he could try to use.
Lynch took this mission seriously, and emerged from the project with over 40 presets for his Zoom pedal, including emulations of his "Mr. Scary" tone and the intro tone from "Dream Warriors". The Zoom pedal features presets emulating everything from his vintage Leslie rotating speaker to the 1974 Phase 90 Lynch relies on for lead guitar to this day. It even mimics the EP-1 Echoplex tube preamp. Lynch's modern-era auto-wah and auto tremolo settings are similarly available as presets, too.
This multi-effects pedal was a mainstay of Lynch's rig in the early 2010s, but more recently he chose to pursue his tone using "one guitar and one amp", just like he did when he was just starting out on the guitar.
Wrap Up
George Lynch is one of the quintessential Guitar Heroes of the 1980s, with Dokken, Lynch saw and enjoyed a string of successful platinum albums such as "Under Lock And Key" and "Back For The Attack". These studio installments shone a light on one of the most innovative players at the time and his bonafide set of skills. It wasn't until "Mr.Scary" that George Lynch would cement himself as one of the all-time greatest guitarists of all time, a title he holds as No. 47 in Guitar World's list and as No.10 on Gibson's Greatest Metal Guitar Players list.
Best known for his work in Dokken and Lynch Mob, he may not enjoy the household fame of his contemporaries Randy Rhoads and Eddie Van Halen. But in the pantheons of 80s hair-metal shred gods, Lynch stands taller than most. In fact, there are some who claim George Lynch invented the legendary two-handed tapping technique made famous by Edward Van Halen before Eddie himself did! George Lynch disputes this claim but in the long-forgotten milieu of mid-70s Californian lead guitar.
Now an elder and active figure of Heavy Metal's most glorious days, Lynch occasionally reunites with his Dokken bandmates to play a few concerts from time to time, while enjoying the fruits of his extensive and prolific career, now mainly as a guitar manufacturer at the ESP Guitars USA custom shop facility.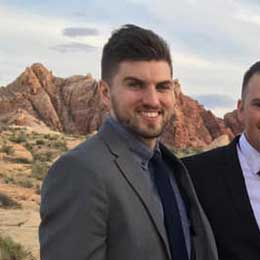 My name is Chris and I've had a passion for music and guitars for as long as I can remember. I started this website with some of my friends who are musicians, music teachers, gear heads, and music enthusiasts so we could provide high-quality guitar and music-related content.
I've been playing guitar since I was 13 years old and am an avid collector. Amps, pedals, guitars, bass, drums, microphones, studio, and recording gear, I love it all.
I was born and raised in Western Pennsylvania. My background is in Electrical Engineering, earning a Bachelor's degree from Youngstown State University. With my engineering experience, I've developed as a designer of guitar amplifiers and effects. A true passion of mine, I've designed, built, and repaired a wide range of guitar amps and electronics. Here at the Guitar Lobby, our aim is to share our passion for Music and gear with the rest of the music community.