The process of buying an instrument like a trombone for yourself or your child can be an arduous task if you, like most parents or new musicians, don't know what to look for. Don't worry, though, after years of playing and teaching trombone, I'll share exactly what to look for and what to avoid below.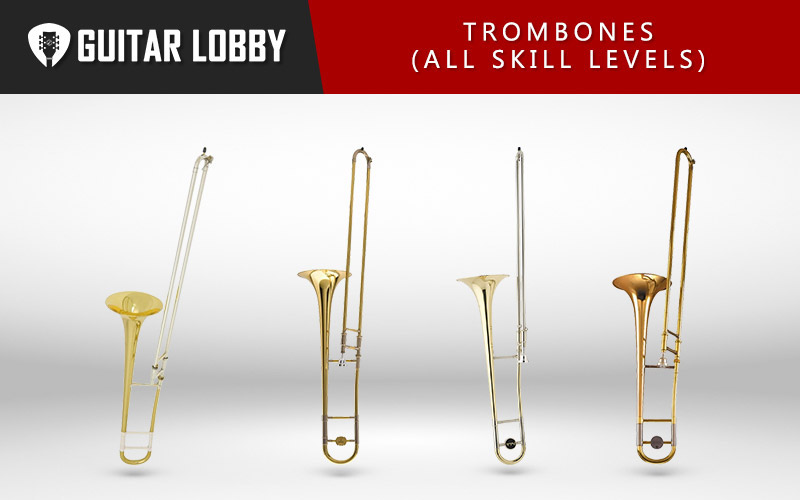 When you first start searching for trombones online you're likely to see a lot of cheap options. These are trombones from China and you should almost always avoid solely due to the fact that you will end up with a bad case of buyer's remorse. In my time playing and teaching in a school band setting, I've seen all the problems trombone players run into when purchasing one of these instruments. I recommend buying a quality trombone the first time.
I'll start this article, by reviewing the best trombones at different price points and experience levels, but if you want to learn more about them before reading reviews, check out our trombone buying guide here.
Here Are the Best Trombones (All Skill Levels and Genres)
1. Yamaha YSL-354 (Best for Beginners)

Estimated Price: $1400.00
Key: Bb
Bore Size: 0.500"
Bell Diameter: 8"
Bell Material: Yellow Brass
Outer Slide Material: Yellow Brass
Inner Slide Material: Nickel Silver
Finish: Gold Lacquer
Mouthpiece: SL-48S
Case: Yamaha Molded Case
Recommended for: Beginners
My Review: Yamaha is known the world 'round for many different things, motorcycles, pianos, guitars, but did you also know they make trombones and other brass instruments? On top of that, they are excellent trombones, which is not much of a surprise from Yamaha's other products' quality. The YSL-354 is the go-to for beginning bands all across the globe for one reason. They were designed for beginning students to sound good as soon as possible. The YSL-354 was made with similar specifications to Yamaha's pro line of trombones. I have found that it has the same tone quality as a much pricier horn but is amazingly comfortable for beginning players to use with this horn. Much like the other two on this list, you will have a clear lacquer finish on this horn.
An exceptionally durable bell and the crook on the back of the horn making this a right choice for players who will be traveling a lot, riding the bus to school with their horn, or for those of us who may be slightly clumsier than the rest, to put parents at ease on this investment. When you play this horn, you will notice that like most other beginning models have a small bore size coming in at .500," making it easy for beginning players to play well and build endurance without feeling much strain or discomfort. This trombone includes a 48-small shank mouthpiece that offers a well-balanced rim and cup, making this a great utility mouthpiece. This trombone is made with superb craftsmanship that you would come to expect from Yamaha that will last for generations. Considering price and performance, I would say this is the best beginner trombone out there.
2. Selmer Prelude TB711 (Budget Pick)

Estimated Price: $599.00
Key: Bb
Bore Size: 0.500"
Bell Diameter: 8"
Bell Material: Yellow Brass
Outer Slide Material: Yellow Brass
Inner Slide Material: Chrome Plated Nickel Silver
Finish: Clear Lacquer
Mouthpiece: Bach 12C
Case: Soft Side
Recommended for: Beginners
My Review: The Prelude TB711 trombone by Conn-Selmer features a balanced design that enables a comfortable instrument position for the younger player. The .509″ medium bore is designed for ease of tone production while allowing for proper embouchure development. While playing this horn, I have found that this slide's action is buttery smooth and comfortable making fast passages feel incredibly pleased without any catching or sticking.
The clear lacquer finish provides a subtle warmth to the overall sound while offering outstanding durability. The TB711 is Ideal for beginners players of all ages. This model also includes the Bach 12C mouthpiece giving an all-around comfortable experience for new players. A plus that comes with this trombone is that if you ever decide to step up to an intermediate or even professional model down the line, this horn can become your horn for marching band and travel performances with exceptional durability, this horn will last quite a while. The TB711 offers an excellent experience for new players at a very affordable price making this trombone a win no matter which you look at it. I would say this is the best trombone for beginners under 1000 dollars.
3. Bach TB301

Estimated Price: $1399.00
Key: Bb
Bore Size: 0.500"
Bell Diameter: 8"
Bell Material: Yellow Brass
Outer Slide Material: Yellow Brass
Inner Slide Material: Chrome Plated Nickel Silver
Finish: Clear Lacquer
Mouthpiece: Bach 12C
Case: 50883E Molded case
Recommended for: Beginners
My Review: The Bach Tb301 is an excellent horn for young players from a great manufacturer. Bach is one of the leading manufacturers of trumpets and trombones and great quality horns. This horn offers excellent sound production and has a smaller bore size making it remarkably easy for younger children and beginning adults to play with ease. The 8" bell is exceptionally responsive, giving players excellent projection and control. The inner slide offers a smooth and quick hand slide action, making it effortless to play with precise movement.
The TB301 has a clear and resonant sound, and the bell is exceptionally durable and versatile, making this trombone great for any new player. The TB301 includes the Bach 12C mouthpiece, which has a definite dark tone with excellent flexibility and volume. The 12C mouthpiece is ideal for beginners just due to the comfort level alone. This mouth works well for just about any situation and offers a brilliant crispness to your tone. The only downside that comes with the Bach TB301 is the fact that it is cumbersome. This trombone comes in at a hefty 16 pounds and can make playing a little more difficult for smaller players. All in all, it works very well for all but the smallest of players and has a beautiful tone to boot.
4. Bach TB701 Standard Prelude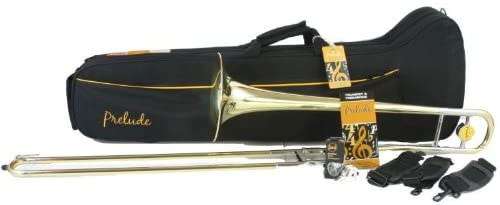 Estimated Price: $560.00
Key: Bb
Bore Size: 0.509"
Bell Diameter: 8"
Bell Material: Yellow Brass
Outer Slide Material: Yellow Brass
Inner Slide Material: Nickel Silver
Finish: Clear Lacquer
Mouthpiece: Bach 12C
Case: Prelude Soft Shell Case
Recommended for: Beginners
My Review: The Bach TB701 "Prelude" is also known as the Conn-Selmer "Prelude" as Bach is a subsidiary of the Conn-Selmer corporation, and if you have any knowledge of either of these names, you know they mean quality through and through. The TB-701 is a medium bore trombone which offers easy tone production making, giving players a more relaxing time playing clearly and allowing them to have the volume behind the notes. This trombone has a durable lacquer finish that will still look shiny and new for years to come, so long as the player takes good care of the horn. Not only is the lacquer for looks, but it also gives the TB701 a too focused sound that fits well in any ensemble.
The TB701, much like the previous TB301, Includes a Bach 12C mouthpiece, which again, gives the player a solid, dark tone and is excellent for new players because it offers flexibility and comfort to ease them in without causing any fatigue. While this may be a different model to the previous entry on this list, it still has the same shortcomings. The TB701 also comes in at a staggering 17 pounds and even can cause issues for smaller players. Although the TB701 has is a little heftier than some of the other models on this list, it offers excellent tone and flexibility for new players. It is exceptionally comfortable to hold and play.
5. Selmer King 606

Estimated Price: $1400.00
Key: Bb
Bore Size: 0.500"
Bell Diameter: 8"
Bell Material: Yellow Brass
Outer Slide Material: Nickel Silver
Inner Slide Material: Nickel Silver
Finish: Clear. Lacquer
Mouthpiece: King 12C
Case: 7523C Molded Case
Recommended for: Beginners
My Review: Compliments are due to Conn-Selmer and their Eastlake plant for producing some genuinely nice student model trombones. The King 606 is a beautiful trombone that is exceptionally comfortable to play your younger players, along with its smaller bore, lets students build their embouchure without feeling too much strain or discomfort. The slide action is incredibly useful on this horn as well. The assembly is clean and perfectly aligned, lacquer also looks excellent on this horn you barely notice any smudging from fingerprints, and whatever you do see are easily cleaned. The tuning slide area of the instrument tends to be narrower in this design.
It helps center the weight closer to the hand braces, aiding a new player not yet used to holding a trombone's weight. The King 606 offers players a King 12C, which is almost identical to the Bach 12C with small unnoticeable differences. Most beginner trombones provide a similar style of the mouthpiece to allow for proper embouchure development. These are trombones you can be proud to own and should last for years to come. Coming in at a fraction of the cost of some other horns of this quality and that price point, you will heave a sigh of relief knowing you will be getting a great horn without breaking the bank.
6. Yamaha YSL-350C

Estimated Price: $2066.00
Key: Bb
Bore Size: 0.500"-0.525"; Dual Bore
Bell Diameter: 8"
Bell Material: Yellow Brass
Outer Slide Material: Yellow Brass
Inner Slide Material: Chrome-Plated Nickel Silver
Finish: Clear Lacquer
Pistons/Rotors: Ascending Rotor Valve
Mouthpiece: SL-48
Case: Molded Yamaha Case
Recommended for: Beginners
My Review: The Yamaha 350C is different from other beginner tenor trombones since it has a trigger that typically builds an instrument's range. The 350C is known as a compact trombone, which allows younger players to play comfortably, making sure they can hit specific notes without extending the slide beyond their reach. The Trigger allows for the 6th and 7th position on the slide, which is quite a stretch, to be played in a higher position. This gives smaller players a smaller slide, but still gives them the full range of a standard-sized trombone. The 350C offers a dual-bore system that allows for comfort for younger players to quickly and effectively build their embouchure.
Much like the rest, this trombone provides a slide lock to help players keep their slides in place, so it does not slide off and get damaged while not playing. If, however, you are unlucky and your slide does fall off, the 350C has a bracing guard to help protect it from damage, and it also reduced fatigue while playing. The 350c is shipped with a Yamaha SL-48 mouthpiece, a remarkably comfortable mouthpiece that offers precise intonation and greater blowing control. The Yamaha 350C is the perfect trombone for students who do not quite have the reach. With the trigger, attachment added, these students will still have a full range without the strain making a comfortable experience until they are possibly able to grow into a full-sized trombone.
What is an Intermediate Trombone?
These instruments add more features from the professional models, but with the student models' limited options and volume manufacturing. The simplicity of trim and details help keep costs down. Designs are tailored towards more experienced players. Many intermediate models include the F attachment, larger bore tubing, lighter weight bells, and they respond better for a player who blows a fair amount of air and can fill up a larger instrument with a more resonant tone.
7. Bach TB711f-Intermediate (Best Value Intermediate)

Estimated Price: $1099.00
Key: F/Bb
Bore Size: 0.547"
Bell Diameter: 8½"
Bell Material: Yellow Brass
Outer Slide Material: Nickel Silver
Inner Slide Material: Chrome-Plated Nickel Silver
Finish: Clear Lacquer
Pistons/Rotors: Standard Wrap F-Attachment with Standard Rotors
Mouthpiece: Bach 12C
Case: Bach softshell case
Recommended for: Intermediate / Beginner Players
My Review: The TB711F is another model from Conn-Selmer's budget-friendly "prelude" line of instruments. It is engineered down from professional quality instruments and possesses many attributes and specifications that closely resemble the pros' instruments. Bach and Conn-Selmer did a fantastic job creating a genuinely nice model to introduce players to a trombone's F-attachment. With its large .547" bore, it does take quite a bit of airflow to get this horn going, but once you get the air going behind it, it sings while giving clean and stable attacks. The TB711F has a slightly large bell at 8½" it has a little more push to the sound giving it a bit more volume and brightness to the sound.
The slide action is no joke, either. It feels incredibly smooth and makes fast passages feel easier to hit cleanly. This is somewhere between a beginner and an intermediate horn. It includes a Bach 12C mouthpiece like you will see shipped with beginner Bach's. The 12C might be great for beginners. It is still an extremely versatile mouthpiece that will last players a long time, and it fits well in any setting from concert wind band to orchestra. It will handle whatever you throw it. The F-attachment is a traditional closed wrap, and the tubing wraps into the main tuning slide giving it a superior subtle, compact design. This horn is perfect for students who want to build their range but might not have the financial capabilities to purchase a more expensive trombone. If you are looking for a great F-attachment trombone that does not cost an arm and a leg that is a treat to play, definitely give the TB711F by Conn-Selmer and Bach a try. Overall, I would say this is the best intermediate trombone for the money.
8. Bach TB200B (Best Orchestral Trombone)

Estimated Price: $2299.00
Key: F/Bb
Bore Size: 0.525"
Bell Diameter: 8"
Bell Material: Yellow Brass
Outer Slide Material: Yellow Brass
Inner Slide Material: Chrome-plated nickel silver
Finish: Clear Lacquer
Pistons/Rotors: Standard Wrap F Attachment with Standard Rotor
Mouthpiece: Bach 6 ½AL
Case: 4863 wood shell case
Recommended for: Intermediate Players
My Review: The Bach TB200B is an excellent step-up horn for players who have learned the basics of trombone and want to take the next step in their musical careers. The TB200B is a clear lacquer yellow brass body that has a nice look to it, and the lacquer is simple to keep free of fingerprints and grime. The lacquer also gives this trombone a subtle warmth to its overall sound. The TB200B has a two-piece hammered bell made of yellow brass, meaning the bell is soldered on from two separate brass pieces. This gives the horn an extremely responsive with a delightfully colorful and broad sound.
This horn has a medium/large bore, which provides it with a much louder sound than you might hear out of a beginner horn, but with that come to some issues with players that do not quite have the air capacity as they take a substantial amount of air to play compared to the beginner models or models with smaller bore sizes. The most significant addition you will see added to this trombone is that an F-attachment is added to it. The F-attachment adds more range to the horn, letting players hit the horn's lower register with a much more precise tone. The F-attachment is a traditional wrap, which means that the tubing for the f-attachment is curved and fits in the main tuning slide and gives the player clean attacks and stability in their notes. As this is an intermediate trombone, it provides the player with a little bit of a step on their mouthpiece, as it ships with a Bach 6½ AL mouthpiece. The 6½AL is a mouthpiece that can last players a lifetime due to the sheer versatility you have with it. With its medium-deep cup, it offers players a very balanced tone that fits any playing situation.
9. C.G. Conn 52H

Estimated Price: $2150.00
Key: F/Bb
Bore Size: 0.525"/0.547" dual bore
Bell Diameter: 8-5/8"
Bell Material: Rose Brass
Outer Slide Material: Yellow Brass
Inner Slide Material: Chrome-Plated nickel silver
Finish: Clear Lacquer
Pistons/Rotors: Standard Wrap F-Attachment with Standard Rotor
Mouthpiece: C.G. Conn 6½ AL small shank mouthpiece
Case: 7549C Wood shell case
Recommended for: Intermediate Players
My Review: The Conn 52H Model trombone is another step-up model from a beginner or student model that delivers a beautiful bright, unique tone, with its rose-colored brass bell that measures in at 8 5/8" giving slightly more volume and power. This model works great for any setting, from concert band to jazz to the orchestra. The tonal quality this horn delivers fits any situation you may find yourself in. The Conn 52H offers a superior sound quality that you would expect from a company with their instruments used in band and orchestra all across the globe.
The rose brass bell is unique to C.G. Conn trombones, and this brass offers a warmer, mellower sound that is softer than you might hear on a trombone with a yellow brass bell. This trombone also uses a traditional closed wrap design on its slides for the F-attachment rotor that wrap inside the main tuning slide for a sleek design. This model also comes in a silver-plated variant that offers an even mellower sound than the rose brass that works well for orchestral situations, not to mention that silver plating always looks nice. While looks are excellent, the material your instrument is made with is ultimately up to personal preference in the kind of sound you are looking for. The real downside of this step-up model is that the price is almost double that of a beginner model. This model is more of an investment if you plan to move forward into a career in music.
10. C.G. Conn 88HO (Best Intermediate Trombone Overall)

Estimated Price: $2900.00
Key: F/Bb
Bore Size: 0.547" primary bore; 0.562" bore through F-attachment
Bell Diameter: 8½"
Bell Material: Rose brass
Outer Slide Material: Rose brass
Inner Slide Material: Chrome-plated nickel silver
Finish: Clear Lacquer
Rotors/Pistons: Traditional wrap F-attachment with standard rotor
Mouthpiece: C.G. Conn 5G
Case: 7552C wood shell case
Recommended for: Intermediate Players
My Review: The C.G. Conn 88HO is recognized in the trombone family for having a unique tone and specifically designed for orchestral performances. Features rose brass for the entire body of the trombone. The rose brass offers a nice mellow sound that fits great in symphonic performances or jazz solos along with the large .562" bore, giving the 88HO outstanding clarity and an open feel to its projection.
Like the previous entry, the 52H, the 88HO, also offers a silver-plated option to give you more options for the material and tonal quality you want for your trombone. Like 52H, the 88HO is much more expensive than the student or beginner line of models. While these instruments are great, they are investments for musicians who plan to move into a career involving music. I would say this is the best intermediate trombone overall.
11. Yamaha YSL-448G

Estimated Price: $2070.00
Key: F/Bb
Bore Size: 0.547"
Bell Diameter: 8½"
Bell Material: Gold Brass
Outer Slide Material: Yellow Brass
Inner Slide Material: Chrome-Plated nickel silver
Finish: Clear Lacquer
Piston/Rotors: Hand Lapped with String Linkage
Mouthpiece: Yamaha L48
Case: Yamaha Molded Case
Recommended for: Intermediate Players
My Review: The YSL-448G is from Yamaha's intermediate offerings that feel well built and comfortable in hand and is pretty light for an f-attachment trombone. What I come to love about this horn is the fact that they used a closed wrap design for the f-attachment tubing. This closed wrap design not only hides in the primary tubing for a sleek design, it offers excellent resistance for new players that have not had a lot of time to develop and work on their skills and allows them to hit the lower register much more accessible, making it not only comfortable to hold but comfortable to play as well. The YSL-448G has a medium width hand slide that fits most hands comfortably.
The 448G uses a string linkage on the which can cause a few drawbacks. A string linkage has a string that pulls the rotor closing the valve, and while it feels not to complete and release that rotor, you will need to be a little more cautious while playing as the string is delicate and can break fairly easily and can need adjustments over time. The 448G also has a rose brass bell, which sounds a little brighter on this horn, making an excellent symphonic and jazz horn. While it does have a high price point, if you are looking for a quality horn to move forward to your music career, you can never really go wrong with a Yamaha.
12. Yamaha YSL-445G

Estimated Price: $1550.00
Key: Bb
Bore Size: 0.525"
Bell Diameter: 8½"
Bell Material: Yellow Brass
Outer Slide Material: Yellow Brass
Inner Slide Material: Nickle-plated nickel silver
Finish: Clear Lacquer
Mouthpiece: Yamaha 48
Case: Yamaha molded case
Recommended for: Intermediate Players
My Review: The Yamaha YSL-445G is the next step up from the standard student YSL-345. This trombone features a medium-large bore horn and offers incredible versatility. The tone is rich and balanced with a bore and bell size that is the same as professional models. The response time is quick and accurate, with a smooth sliding function that provides consistent playability in nearly all registers. The YSL-445G durability is a significant advantage making this a great travel horn or even something you could use for marching band if you were inclined to do so.
The inner slide is proven to hold up with use and maintain a sensitive response making a longtime player and a horn that can last a long time with its versatility. It fits will a jazz solo horn or a classical solo instrument. Although this horn does not offer an F-attachment, that tone quality this horn provides in the range that it has makes it well worth the sacrifice of a lower range.
What Is A Professional Trombone
Only the finest craftsmanship and materials are used to craft a professional horn. For a guaranteed rich tone, they're usually made of sterling silver or rose brass. Lighter than intermediate horns, professional trombones also contains lighter weight hand slides for a freer response, specifically in the upper register. The sound of a professional trombone is also brighter than an instrument of regular weight.
13. Yamaha YSL-891Z (Best For Jazz)

Estimated Price: $2400.00
Key: Bb
Bore Size: .508"
Bell Diameter: 8"
Bell Material: Yellow Brass
Outer Slide Material: Outer Drawn Yellow Brass
Inner Slide Material: Inner Drawn Nickel Silver
Finish: Lacquer
Mouthpiece: Yamaha 45C2
Case: SLC-891Z wood case
Recommended for: Intermediate Players
My Review: If you're looking for the best trombone for jazz, look no further! The YSL-891Z is a trombone that was developed for players that want their trombone to feel comfortable no matter which mouthpiece they choose to use. Designed by both Wycliffe Gordon and Andy Martin, The YSL-891Z offers two interchangeable leadpipes, The NY leadpipe is longer and was developed by Wycliffe Gordon and the LA leadpipe that was designed by Andy Martin is shorter. You might be asking yourself "well that does that have to do with my playing?"
Well, let's start with what is your leadpipe? The leadpipe is the first point of contact with the player after the mouthpiece. It plays an important role in the overall sound and feel of the instrument. The Long NY leadpipe allows for a more centered sound and feel, the short LA leadpipe gives you a more open sound and feel. This allows the player to have a more comfortable fit for their mouthpiece and makes using multiple mouthpieces easier to switch between. This makes the YSL-891Z perfect for jazz whether it be larger ensembles or small combo band work the horn fits perfectly due to its overall tonal flexibility.
14. Bach LT16M Stradivarius

Estimated Price: $2900
Key: Bb
Bore Size: .495"/.509" dual bore
Bell Diameter: 7½"
Bell Material: Yellow Brass
Outer Slide Material: Yellow Brass
Inner Slide Material: Nickel Chrome
Finish: Clear Lacquer
Mouthpiece: Bach 7C
Case: C1867SA wood shell case
Recommended for: Intermediate Players
My Review: The Bach LT16M model has the largest bore out of all of the small-bore trombones made by Bach, with its .509" bore it has the bore size as some of its competitors like the King 3B. While it may have the same bore size it is a much heavier horn.
While it may be a heavy trombone to lug around it is a very flexible and responsive horn. The 16M is quite a versatile trombone, it fits most jazz ensembles well, while it is still large enough to hand light symphonic, orchestral, or chamber work. If you enjoy the feel of a large-bore horn but wish you had a comfortable small bore horn the LT16M might be perfect for you.
15. Bach 42BO Stradivarius (Best Professional Trombone)

Estimated Price: $3299.00
Key: Bb/F
Bore Size: .547"
Bell Diameter: 8.5"
Bell Material: Yellow Brass
Outer Slide Material: Yellow Brass
Inner Slide Material: Nickel Silver
Finish: Clear Lacquer
Pistons/Rotors: Open-Wrap Ball Bearing Rotor Linkage
Mouthpiece: Bach 6.5A
Case: 1867 Deluxe Wood shell Case with Attached Cover
Recommended for: Professionals
My Review: The Bach 42BO Stradivarius Series F-Attachment Trombone is a best seller and the ideal instrument for advanced students and professional trombonists. An open wrap design results in fewer bends in the tubing, which creates a free-blowing trombone.
The 42BO with a .547-inch bore and 8.5-inch bell produces a large, symphonic sound with clear projection. The 42BO, along with the other Stradivarius model brass, are known for their full sound and excellent sound projection. This is due to the fact that it is a one-piece bell that allows for unrestricted vibration in the bell. Although this is a very pricey horn, and if you are planning on a professional career in trombone performance, then it would be a great investment, but there are cheaper alternatives. Overall, I would say this is the best professional trombone.
16. Yamaha YSL-882O

Estimated Price: $2970.00
Key: Bb/F
Bore Size: 0.547"
Bell Diameter: 8⅔"
Bell Material: Yellow Brass
Outer Slide Material: Yellow Brass
Inner Slide Material: Nickel Silver
Finish: Clear Lacquer
Pistons/Rotors: Open-Wrap Mechanical Rotor Linkage
Mouthpiece: SL-51C4L
Case: Yamaha Compact Contoured case
Recommended for: Professionals
My Review: The YHR-882O tenor trombone includes a few features that let it stand out from its competitors like the Conn 88H and Bach 42B. At 8 and 2/3 inches, the 882O bell is slightly larger than the typical 8 1/2 in this competitive set, which adds some openness to the sound.
Yamaha has designed a very well playing horn that sounds rich tonally, and it allows the notes to slot well. Traditionally, players have complained Yamaha trombones do not sufficiently distinguish themselves tonally, caught in the center spectrum between the Conn 88H's richness and the Bach 42's clear boldness. Luckily, the Xeno 882O has a very open tone due to its larger bell and brightness of its sound. While it does not stand out quite as much compared to its competitors, it is a very reliable and well-playing trombone perfect for advanced and professional players alike.
17. Jupiter XO 1236L-O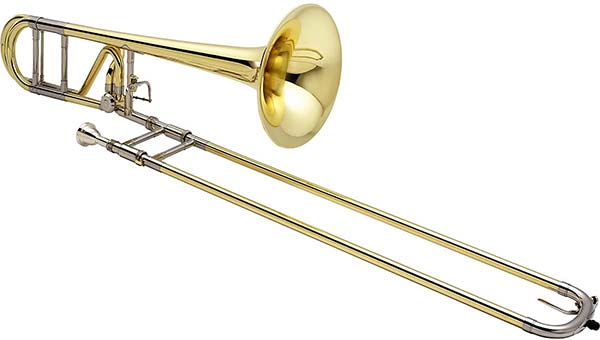 Estimated Price: $2999.00
Key: Bb/F
Bore Size: .547"/.563' Dual Bore
Bell Diameter: 8.5"
Bell Material: Yellow Brass
Outer Slide Material: Yellow Brass with Nickel Crook
Inner Slide Material: Nickel Silver
Finish: Clear Lacquer
Pistons/Rotors: Open-Wrap Tapered mechanical-linkage
Mouthpiece: 6½ AL
Case: KC-46XC
Recommended for: Professionals
My Review: Jupiter has been surprising me lately with not only tone quality but build quality as well. The XO 1236L-O is a very impressive and well playing horn that has an open wrap f-attachment rotor that makes this feeling extremely comfortable and smooth.
Much like the Yamaha 891Z mentioned prior in this section, the 1236L-O offers three separate, interchangeable lead pipes, two that are yellow brass and one that is sterling silver allowing players to have the comfort they need and lets them adjust their sound to give them what they are looking for. This is a really well-centered trombone that has a great weight to its sound that can fit any situation you might find yourself in as a professional musician.
Choosing a Trombone (Buying Guide)
While this list can seem daunting to understand, I would like to add a few quick points to make this a little easier to understand for parents who might be buying for their children who may know very little about brass instruments or even music in general, or even for the adult who might be starting their musical career later in life.
Where to Start:
When buying a Trombone, there are many places to start, but if you are a student or buy for your student who is beginning with a beginning band, the best place to start is with the band director. When joining the beginning band, most schools will usually have a night set aside for your student to try many different instruments to decide what would be the best fit for them and rental or financing options to find what best fits your family's financial needs. While this is great for some families, it does not work for everyone with Amazon and other music shops online, offering lower prices. Go to your director and sit down with them and ask them what they would recommend for your child going into beginning band, what might be too much for them right now and what might be too cheap that will not work for the program. Now, if you are not a student, then where you should start? Also, a remarkably simple solution, go to your local music shop and ask what they recommend. If you are just starting as a beginner, I would recommend taking lessons for a while to learn the basics correctly and not get to a point where you imbed bad habits.
What to Avoid:
When Buying a new trombone for a beginning student, there are many things you should avoid to make sure they are getting a quality experience while learning a new skill. The first I can recommend is that you try to stay away from cheap mass-produced out of china. While they might look like a good horn and have an excellent price tag, they will often cause more headaches than they are worth. Most of these horns have a poor tone quality and have very shoddy craftsmanship. Although these horns are not great for players, if it is the only way your family can afford an instrument, it is understandable to go that route. I would recommend that you do your research and check out every available option before making that purchase, such as rent to own programs that most music stores have for beginning band students to alleviate the burden of buying it outright.
Best Trombone Brands
While there may be hundreds of brands that you could choose from, how do you know which brand is reliable and which is going to make your early days of playing a nightmare? Well, I have a go-to list of all the reputable brands I choose when I pick out brass instruments.
C.G. Conn: One of the oldest instrument brands on the market today. C.G. Conn has been in the instrument business since 1873 and has been making the finest instruments as well.
Yamaha: While Yamaha started as a piano company in 1875, they have been all over the market, moving to the motorcycle business during world war one, and then finally moving to brass and wind instruments in the 1970s. Yamaha instruments are of the highest quality.
Bach: A Subsidiary of Conn, Vincent Bach is mostly known for their Stradivarius line of trumpets and trombones. Bach is one of the world leaders for their brass instruments in quality and sound.
King: Like Bach, King is another subsidiary of Conn, so you know you are getting quality out of your horn. Founded by Thomas King and Henderson White in 1894, these horns were an overnight success, and the company has kept its quality standards the same today.
Jupiter: Jupiter was founded in 1979, making it one of the newest brands around. Jupiter remains dedicated to the enrichment of lives through music performance and education by providing the highest quality of musical instruments and services. Although only one Jupiter instrument was included on this list, most schools use Jupiter as their go-to brand because they are a wonderful quality student horn and have an outstanding line of intermediate and pro-level trombones as well.
Types of Trombones:
When dealing with beginning players, they will mostly deal with tenor trombones. They might start looking into trombones with F-attachments or even bass trombones as they go to intermediate models.
Tenor Trombone: This is the most basic trombone, and what people associate with it when they see it, it has the main slide and one tuning slide and, in the key, of Bb. differ
F-Attachment Trombone: An F-attachment adds complexity and extends the trombone's capabilities. Most importantly, it adds notes to the horn's low range. It also provides alternative ways of playing specific passages, making them easier to perform. There are two basic types of F-attachments. A traditional or standard wrap has more bends in it, making it more compact and increasing resistance. The open wrap type has fewer bends for a freer-blowing trombone. Again, resistance can be a matter of personal preference. The same mechanical ease that may be great for beginners might not appeal to more advanced musicians seeking a specific sound.
Bass Trombone: A bass trombone is a trombone with the same fundamental pitch as the tenor, typically has two valves, a wider bore, and a more massive bell. This helps a fuller, weightier sound and help play better in the lower register. This adds two triggers that change the key. These triggers can be dependent or independent of one another.
What Is Embouchure: The position of the lips and mouth when playing a wind instrument. The mouthpiece of a wind instrument. The lips' application to the mouthpiece of a wind instrument, and the position of muscles, lips, jaws, and teeth necessary to hold that position. In French, this also means the mouthpiece itself.
Parts of a Trombone
Understanding Mouthpieces: All brass mouthpieces have different parts that make up the whole mouthpiece, and the trombone mouthpiece is no different. While there are various sizes, they all consist of the same four parts, the rim, cup, backbore, and throat. The most important of these pieces are the rim and cup, but the backbore and throat also play a massive part in your overall sound and tonality.
Rim: The rim is the part of the mouthpiece that touches your mouth. Because the rim is the point of contact between the instrument, it is essential to describe how it affects the way you will play. Brass mouthpieces have either a flat or rounded contour. Flat contours provide a good air seal but are not very flexible. In contrast, rounded contours give your lips flexibility and give more free movement to provide a greater variety of tone; the downside is that you need powerful lip muscles to play these well.
Cup: Inside the rim, there is a cup. The cup is the area the player blows into. The larger and deeper the cup can give players a darker tone with greater volume. A shallow cup offers players a much brighter tone, improves control, and does not require much effort to play through. The choice in cup size depends on player preference. Another vital thing to consider is that the cup's larger diameter will tire a player easier but offers more flexibility. While flexibility is great, you want to look for a mouthpiece with a large diameter but still comfortable playing.
Throat: The throat of a trombone mouthpiece in the opening leading out of the cup. There is not a wide variety of throat sizes or lengths, but some are bigger that will allow you to blow harder and produce more volume. The throat is often designed to complement the cup, and the backbore design to achieve the right balance of tone and projection.
Understanding Parts of The Trombone: The trombone is made up of many parts that might be hard to keep track of when discussing them in the article above. I will go over the central components to have a decent understanding when learning about your instrument.
The Bell: Since the bell is the largest part of the instrument and even the newest players can point it out. The bell is where sound waves emerge from the trombone, which is why it's flared in nature. Since this is where the sound is produced, this is where mutes are placed.
The Bumper: While the bumper contributes nothing in sound or tonality, it does offer the player something in the way of protection. The bumper is a small rubber stopper that prevents the slide from hitting other things as it is being used. While the trombone's likelihood of coming into contact is still high, the bumper's sole purpose is to reduce the collision's impact due to the instrument's length. While the bumper is there to help protect your trombone, the best defense is handling it with care and using common sense.
The Counterweight: As mentioned previously, the trombone's awkward size can make it challenging to handle. Thankfully, the counterweight is there to help trombonists balance the instrument while it is being played. While some trombonists feel a counterweight should not be used, it does offer support for smaller children or those who are new to the instrument. Due to the extra mass, a counterweight tends to add a darker sound to the trombone.
The Tuning Slides: The tuning slides can be found on the trombone's heel, and they are used to make micro-tuning adjustments. These tuning slides can be moved with extraordinarily little pressure to make adjustments to tuning as needed. These should be lubricated from time to time with slide grease.
The Main Slide: While the tuning slides are used to make micro-adjustments, the valve slides are similarly used to make more substantial tuning adjustments. The main tuning slide is how the trombone changes pitch by moving the slide up and down, increasing and decreasing the tubing's length, and changing the pitch. The main tuning slide is made up of two separate pieces. The inner slide is usually made from chrome-plated nickel silver and is two straight tubes that hold the outer slides. The outer slide is what is used to change the pitch. Much like the tuning slides, the main slide needs to be lubricated, but instead of slide grease, you will need to use a slide oil which is much thinner and will keep your slide from sticking. And while we have mentioned this a few times, keeping the main slide from damage is crucial. The biggest concern comes from the inner slide; you want to keep from dropping your trombone or smacking it into a wall, bending the inner slide is a time consuming and a costly repair.
The Water Key: While it may be gross the think about, the water key, also lovingly referred to as the "Spit Valve," is used to release water built up in the instrument. While playing any brass instrument, it is not uncommon for spit and condensation to build up within the main tuning slide, which has to be released. Otherwise, you will have a wet popping sound coming from your trombone you try to play. On the trombone, the water key is located at the end of the main slide with a small round disc sealing a small hole that holds the water in with a key that lifts the disc to release the water. Ensure that you keep the disc clean and it is keeping a good seal. If it does not, it will result in an air leak and poor tonal quality.
Understanding Bore Sizes
The diameter of a tube is referred to as its "bore." The bore size changes the amount of breath required to play, and the instrument which's resistance also affects the timbre. Trombone bores generally come in three sizes: small bore, medium bore, and large bore.
Small Bore: Small-bore trombones produce a much brighter sound and great for playing delicately in the upper register. They are better suited for solo performances.
Medium Bore: The medium bore trombone is relatively new and sits somewhere between a large and small-bore. They fit much better for wind music that requires a full sound.
Large Bore: Large bore trombones are much louder than small and medium bore and have a timbre that is well suited for harmonizing in an ensemble situation. They work well for players that play in large orchestras or wind ensembles.
Needed Accessories:
When you get your trombone, there quite a number of accessories to keep your trombone running in tip-top shape and make your learning experience much more manageable.
Slide oil and Slide Grease: Slide oil and grease are a necessity and are essential in keeping your trombone working. Slide oil is used on the main slide to keep it moving, so it does not get stuck while you play. Slide grease is used the same way except that instead of using it on your main tuning slide, you will use it on the tuning slides on the back of the horn, keeping those from getting stuck.
Brass Cleaning Cloth: A brass cleaning cloth is handy for cleaning off fingerprints and keep your trombone looking shiny and new.
Tuner: A tuner is necessary for all musicians; this handy little device is great for making sure you are playing in tune and is great to use while practicing.
Metronome: A metronome, much like the tuner, is an essential tool for any musician. This handy little is used to help musicians practice playing at the correct tempo. While practicing with a metronome, I would recommend starting slow and move the tempo up little by little. My go-to motto is, "don't practice until you get it right, practice until you can't get it wrong."
Conclusion:
Now that we have gone over what to look for in a trombone and what to avoid buying an instrument feels a little more comfortable. The most significant piece of advice I can give is to do as much research as possible for your trombone, especially if you are looking into buying a step-up model. Take the time to figure out what kinds of music you plan your play with the horn, watch reviews and listen to professionals play the trombone to give you an idea of what type of tone you can expect to have with the trombone.
If you are starting the beginning band, use your band director as a guide, it is what they are there to do, guide you in the right direction for a beginning trombone to start on. When you are ready to take that next step to an intermediate horn, they will be there for you as they are the best resource you have when starting your music career. If you do happen to need any help with understanding any of the musical terminologies in this article, I have included a buyer's guide down below so that you can go into the buying process with confidence. Hopefully, you know what you are looking for and can make the right choice on your instrument. With that, I bid you good luck and happy playing!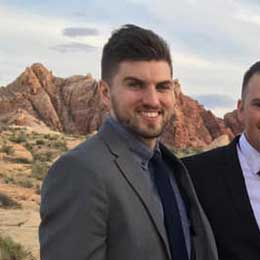 My name is Chris and I've had a passion for music and guitars for as long as I can remember. I started this website with some of my friends who are musicians, music teachers, gear heads, and music enthusiasts so we could provide high-quality guitar and music-related content.
I've been playing guitar since I was 13 years old and am an avid collector. Amps, pedals, guitars, bass, drums, microphones, studio, and recording gear, I love it all.
I was born and raised in Western Pennsylvania. My background is in Electrical Engineering, earning a Bachelor's degree from Youngstown State University. With my engineering experience, I've developed as a designer of guitar amplifiers and effects. A true passion of mine, I've designed, built, and repaired a wide range of guitar amps and electronics. Here at the Guitar Lobby, our aim is to share our passion for Music and gear with the rest of the music community.