Although they may not be as well known as other popular effects, univibe pedals are one of the most unique additions a guitarist can make to their signal chain. Popularized by none other than Jimi Hendrix, the univibe effect played a significant role in the shaping of his distinctive guitar sound.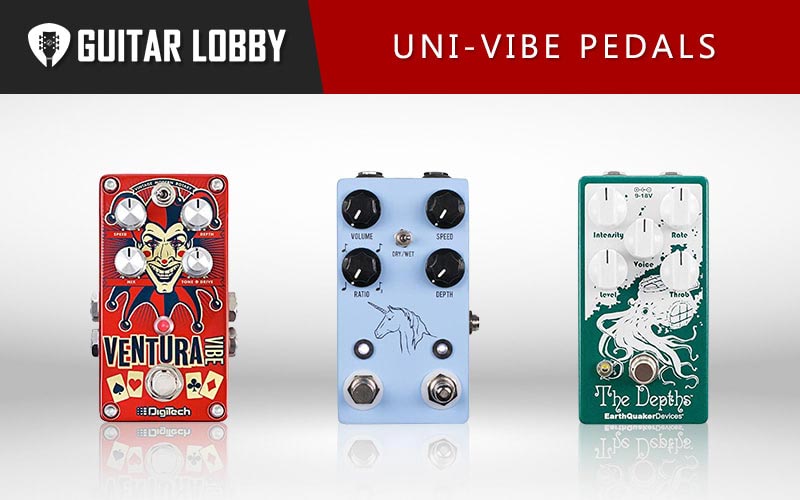 Many guitarists know what a univibe pedal sounds like, but they often struggle to understand exactly how the effect is created. In this definitive guide, we'll analyze the best univibe pedals available today, and explore the mechanics behind this transformative effect.
Name of Product
Image of Product
Description
Price Range
Full Review
1. Dunlop JD4S Rotovibe (Best Overall)
Type: Digital
Effects: Univibe
$280
Read Full Review Below
2. Fulltone Custom Shop Mini Deja Vibe MKII (Best Value)
Type: Analog
Effects: Univibe
$220
Read Full Review Below
3. DigiTech Ventura Vibe (Best Under $100)
Type: Digital
Effects: Univibe, Rotary, Vibrato
$100
Read Full Review Below
4. Moen Shaky Jimi Vibe (Best Under $75)
Type: Analog
Effects: Univibe
$65
Read Full Review Below
5. JHS Unicorn V2
Type: Analog
Effects: Univibe
$200
Read Full Review Below
6. EarthQuaker Devices The Depths V2
Type: Analog
Effects: Univibe
$200
Read Full Review Below
7. NUX Monterey Vibe

Type: Digital

Effects: Univibe

$70
Read Full Review Below
8. Source Audio Lunar
Type: Digital
Effects: Univibe, Phaser
$170
Read Full Review Below
9. Fulltone Custom Shop MDV3
Type: Analog
Effects: Univibe, Chorus
$235
Read Full Review Below
10. Keeley Vibe-O-Verb
Type: Digital
Effects: Univibe, Vibrato, Phaser, Reverb
$150
Read Full Review Below
11. Valeton Coral Mod II
Type: Digital
Effects: Univibe, Multi-Effects
$70
Read Full Review Below
12. Wampler Terraform
Type: Digital
Effects: Univibe, Multi-Effects
$300
Read Full Review Below
List of the Best Univibe Pedals
1. Dunlop JD4S Rotovibe (Best Overall)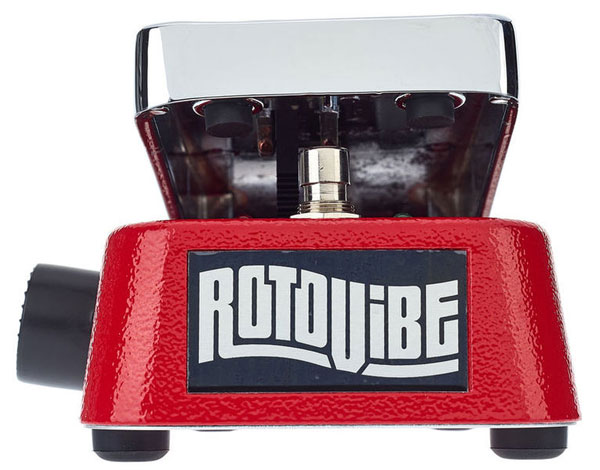 | | |
| --- | --- |
| Estimated Price | $280 |
| Type | Digital |
| Effects | Univibe |
| Connectivity | 1 x 6.35mm Jack Input, 1 x Output |
| Power | 9 Volts DC |
My Review: As soon as I experienced the diverse range of univibe tones produced by the JD4S Rotovibe, I was completely sold on this pedal. Being a huge fan of late 1960s guitar tones, I found the vintage, warm modulation that this device offered very impressive indeed.
The Rotovibe is made by Dunlop, who boasts a long history in the field of effects pedals. The thing I found to be most unique about this pedal is its rocker-plate design, which reminded me of the Dunlop CryBaby Wah pedals.
Within minutes of getting my hands on the Rotovibe, I could tell that it is built like a tank. Dunlop has a reputation for building pedals that last, and this univibe further cements this. The sonic possibilities of the pedal stretch far beyond your average univibe stompbox, and the rocker plate design gives you complete control over the modulated sweeps and pulsations.
I was also highly impressed by the way the JD4S Rotovibe blends with other effects, notably fuzz and overdrive. The univibe sounds crisp and clear, so I found that adding a little gain to the signal enhances the core qualities of the modulated effect.
Who is this best suited for: The Dunlop JD4S Rotovibe is recommendable to guitarists who enjoy vintage tones from the late 1960s. It is also very easy to use thanks to the unique rocker-plate design, so if you value simplicity you'll enjoy using this pedal.
Bottom Line: Dunlop is renowned for creating unique effects pedals that combine vintage characteristics with modern designs. The Rotovibe is inspired by the defining era of rock n' roll and bears similarities to the iconic CryBaby Wah range, also produced by Dunlop. It combines smooth operation with versatile univibe effects.
2. Fulltone Custom Shop Mini Deja Vibe MKII (Best Value)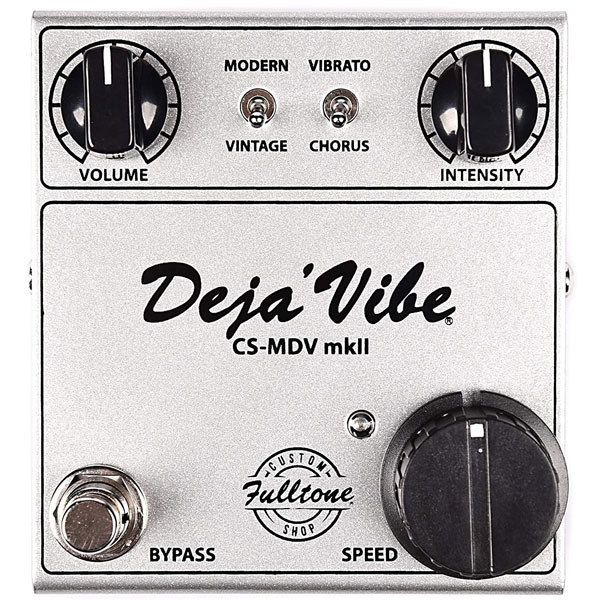 | | |
| --- | --- |
| Estimated Price | $220 |
| Type | Analog |
| Effects | Univibe |
| Connectivity | 1 x 6.35mm Jack Input, 1 x Outputs |
| Power | 9 Volt |
My Review: I've had the pleasure of using many Fulltone effects pedals over the years, and they've gradually grown into one of my all-time favorite brands. Therefore, I was extremely excited to test the Custom Shop Mini Deju Vibe MKII, especially because the original has such an iconic reputation.
Right off the bat, I could tell that this pedal was special. After doing some research, I learned that Fulltone set out to bring the original model into the modern era, by combining its most prominent qualities with present-day design methods. The result is a classic-sounding univibe with impeccable functionality and room for adjustments.
It's worth noting that this univibe pedal is based on the original models from the 1960s when the effect originated. It, therefore, includes three modes, 'Vintage', 'Chorus' and 'Modern'. I discovered that the former produces Hendrix-like univibe tones, which pulsate smoothly and create a distinctive sense of motion. The 'Chorus' mode, on the other hand, delivers a more subtle warbly sound which sounds great on chord sequences.
Finally, if you're looking for a more extreme version of the univibe effect, I'd recommend engaging the 'Modern' mode, which sounds like a more futuristic Leslie rotary speaker and is perfect for psych-rock guitar parts.
Another thing I liked about this pedal when comparing it to other univibe devices is its compact design. It doesn't take up much space on your pedalboard, which is useful if you've already amassed a significant collection of effects pedals. It's also very robust, so you don't need to worry about it breaking easily.
Who is this best suited for: With three modes, the Fulltone Custom Shop Mini Deja Vibe MkII is one of the most versatile univibe pedals on the market. Consequently, I'd recommend it to guitarists who like to switch up their sound frequently, and those who enjoy the process of experimentation with their effects pedals.
Bottom Line: Fulltone produces a range of brilliant effects pedals, and this univibe can certainly be added to that list. It looks distinctively vintage and houses an array of modulated tones that can be used either subtly or to push your guitar to its sonic extremes. It also includes an expression pedal input if you'd like to control the univibe effect more precisely.
3. DigiTech Ventura Vibe (Best Under $100)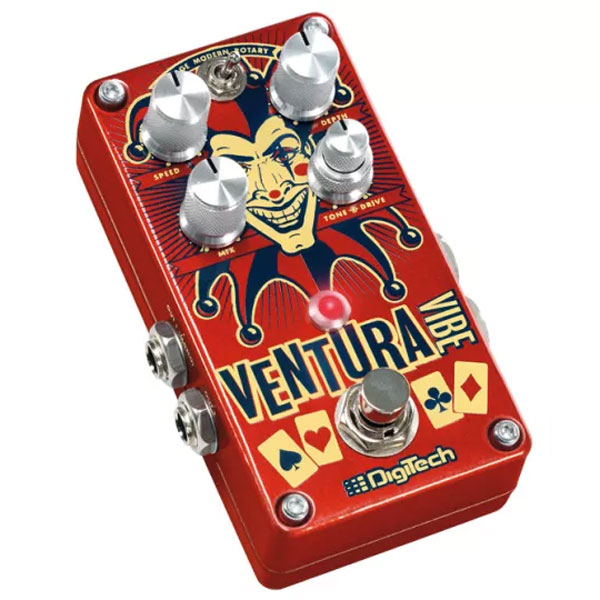 | | |
| --- | --- |
| Estimated Price | $100 |
| Type | Digital |
| Effects | Univibe, Rotary, Vibrato |
| Connectivity | 2 x 6.35mm Jack Input, 2 x Output |
| Power | 9 Volts DC |
My Review: With its striking aesthetics, I found the Ventura Vibe captivating as soon as I first encountered this pedal. I'm very fond of DigitTech's devices, as they always redefine the limitations of effects through innovative designs and unexpected features.
The first thing I noticed about the Ventura Vibe was the way it blends old-school and modern modulation. Compared to most other univibe pedals, this DigiTech creation offers a wider range of effects, based on the three rotary and vibrato presets. Perhaps the most unique thing I discovered about this pedal is its ability to add distortion to the univibe effect, sing the 'Tone' and Drive' parameters.
Univibe sounds best when it is combined with a little dirt, in my opinion. Therefore, having controls on this pedal that can increase the saturation of the higher frequencies is a welcome addition. It makes sense that DigiTech would choose to do this, as they produce some wonderful distortion and overdrive pedals, so they have undeniable expertise in this area.
Another standout feature of this pedal is the speed control, which can be adjusted using the footswitch. univibe is an effect that is designed to be manipulated to create psychedelic movements within a chord sequence or melody, so having the ability to adjust the speed without having to use your hands increases the level of control you have over the result.
Who is this best suited for: The DigiTech Ventura Vibe is well suited to guitarists who like to change aspects of their effects pedals in real-time. A classic univibe device with modern functionality, this pedal is the perfect companion for psych-rockers.
Bottom Line: With three modes including 'Vintage', 'Modern', and 'Rotary', the Ventura Vibe is highly versatile. Once you understand the way the controls and features interact with one another, you can create any kind of univibe effect imaginable! Overall, I'd say that this is one of the best univibe pedals under $100 on the market right now.
4. Moen Shaky Jimi Vibe (Best Under $75)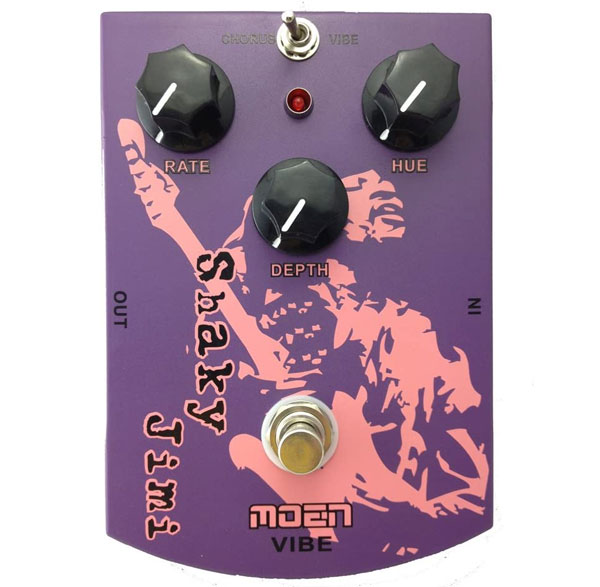 | | |
| --- | --- |
| Estimated Price | $65 |
| Type | Analog |
| Effects | Univibe |
| Connectivity | 1 x 6.35mm Jack Input, 1 x Output |
| Power | 9 Volts DC |
My Review: Despite its affordable price tag, I found that the Shaky Jimi Vibe performed to the level I'd expect from a much more expensive univibe pedal. I must admit, I haven't encountered too many Moen pedals in the past, but after testing this Hendrix-inspired device I'm now a fan of the brand.
As the name suggests, this pedal is designed to reproduce the distinctive univibe effect used by Jimi Hendrix in the late 60s. It does this very convincingly, with three main controls that can be used to find the right balance between modulation and tone.
Within seconds of turning this pedal on, vintage univibe tones were being outputted from my amplifier. There's a certain warmth to the effect which blends beautifully with the natural saturation of a tube amp, and if you're looking for a more chorus-driven variety of univibe, you can engage the relevant setting to achieve this.
Another quality I noticed when testing this pedal was its stellar durability. While some affordable pedals tend to be a little flimsy, this Moen device defies that rule and is robust enough to handle being used frequently as part of your live rig.
Who is this best suited for: If you're a huge fan of Jimi Hendrix, you'll love the authentic replication of his univibe sound that this pedal produces. It's also one of the most affordable univibe pedals, so it's ideal for those shopping on a budget.
Bottom Line: Featuring three controls for adjusting the Rate, Hue, and Depth of the univibe effect, and with modes that focus on vibrato and chorus, the Shaky Jimi Vibe is a highly capable stompbox. Its eye-catching design is matched by its immersive sonic performance, and true bypass switching ensures tonal integrity.
5. JHS Unicorn V2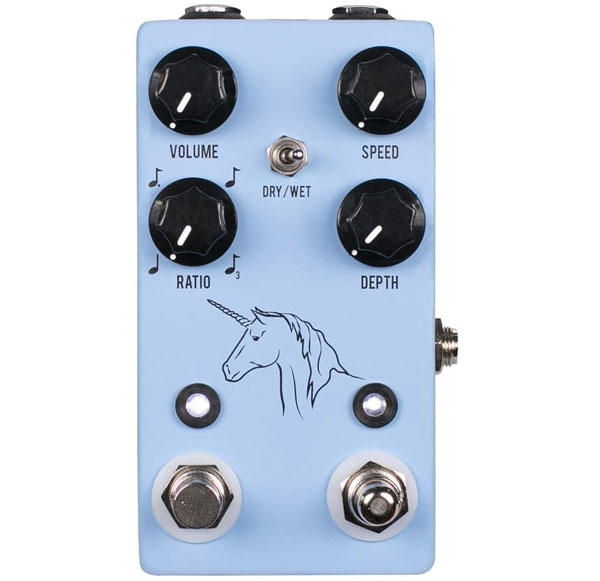 | | |
| --- | --- |
| Estimated Price | $200 |
| Type | Analog |
| Effects | Univibe |
| Connectivity | 1 x 6.35mm Jack Input, 1 x Output |
| Power | 9 Volts DC |
My Review: Right off the bat, I could tell that the Unicorn V2 by JHS was no ordinary univibe pedal. Combining classic modulation effects such as phasers, rotary, and chorus, this pedal can create a unique flavor of univibe which is likely to inspire hours of experimentation.
In comparison to the first edition of this JHS pedal, the V2 is significantly smaller. It's half the size of its predecessor, which I found made it much easier to slot onto my pedalboard. Additionally, it includes all of the sounds and features that made the original so popular, so the versatility hasn't been compromised.
Without getting overly technical, one of the reasons I was so intrigued by this pedal is because I discovered that it is based on analog photocell topology. This was used in the original univibe pedals and was largely responsible for the unique sound they produced.
Moreover, the four rotary controls included on the pedal are highly useful. I experimented with the speed, ratio, and depth parameters and was able to create everything from fast-paced swirls to slow-moving pulsations, whilst maintaining the clarity of my guitar's tone.
Who is this best suited for: The Unicorn V2 is a great choice for guitarists who like to have complete control over every aspect of their effects. It features several controls which can be used to conjure up univibe tones that are completely original and suitable for your style of playing.
Bottom Line: With its all-analog design, the Unicorn V2 builds upon the success of the original model. JHS has a reputation for its attention to detail, and this is evident as soon as you switch on their univibe pedal. The tap tempo footswitch is a welcome addition and can be used to control the rhythmic aspects of the effect in real-time.
6. EarthQuaker Devices The Depths V2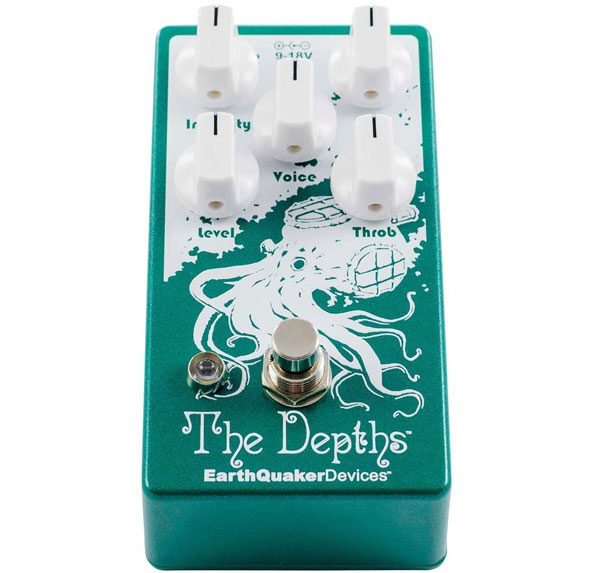 | | |
| --- | --- |
| Estimated Price | $200 |
| Type | Analog |
| Effects | Univibe |
| Connectivity | 1 x 6.35mm Jack Input,1 x Output |
| Power | 9 Volts DC |
My Review: The Depths V2 is labeled as an 'optical vibe pedal', which is a term I haven't come across before. After researching the mechanics f the pedal, I learned that this description is tied to the circuitry used by EarthQuaker Devices when designing the device.
One of the things I found most interesting about this pedal is that the optical vibe circuit can be used in two directions – clockwise or anti-clockwise. To simplify, this means that the frequencies of the univibe effect can be reversed, so that either the bass or treble is more prominent.
Rhythmically, there's plenty of room for maneuver with this pedal. By using the rate and intensity knobs, it's possible to completely change the nature of the univibe effect. It also features an all-analog signal patch which facilitates momentary and standard latching switching. This ensures that the pedal performs silently when not in use.
Who is this best suited for: If you're hoping to recreate Pink Floyd guitarist, David Gilmour's iconic univibe tone, then this EarthQuaker Devices pedal is a must-have. It's very easy to use, and the unique circuitry makes it a good choice for guitarists who like to stand out.
Bottom Line: EarthQuaker Devices has taken inspiration from the original univibe pedals, and added a modern-day feel to The Depths V2. Using optical circuitry and a fully analog signal path, they've managed to create a well-rounded univibe device that guitarists of all styles and genres can enjoy.
7. NUX Monterey Vibe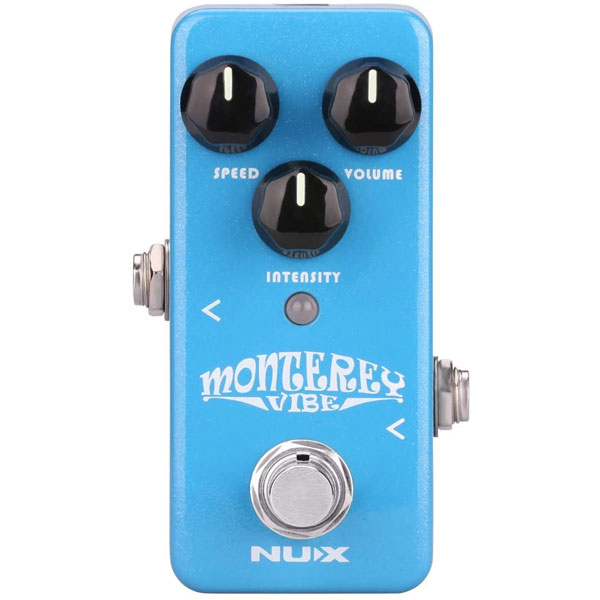 | | |
| --- | --- |
| Estimated Price | $70 |
| Type | Digital |
| Effects | Digital |
| Connectivity | 1 x 6.35mm Jack Input, 1 x Output |
| Power | 9 Volts DC |
My Review: The NUX Monterey Vibe offers everything you could need from a univibe pedal. It is a digital rendition of the analog devices which broke onto the scene in the late 60s and early 70s, offering the classic choice of vibrato and chorus modes.
Although digital pedals do sound slightly different from their analog equivalents, NUX has managed to capture much of the analog magic using a DSP design. When used in chorus mode, the pedal produces warm, warbly univibe which is ideal for melodic guitar playing.
In vibrato mode, the fluctuations of rhythm become more prominent. You can then adjust the univibe effect using the speed, volume, and intensity controls, to create your unique blend of modulation to later your guitar parts.
Who is this best suited for: Due to the affordability of the NUX Monterey Vibe, it's suitable for guitarists who are perhaps looking to save money to invest in other effects pedals in addition to a univibe device. This pedal is very easy to use, so you don't need a tonne of experience to enjoy its univibe effect.
Bottom Line: With an impressive list of features including micro USB connectivity, true bypass switching, and two univibe modes, the Monterey Vibe is a wonderful little modulation pedal. It's cased a solid aluminum and is based on the classic vintage univibe effect popularized by the likes of Hendrix.
8. Source Audio Lunar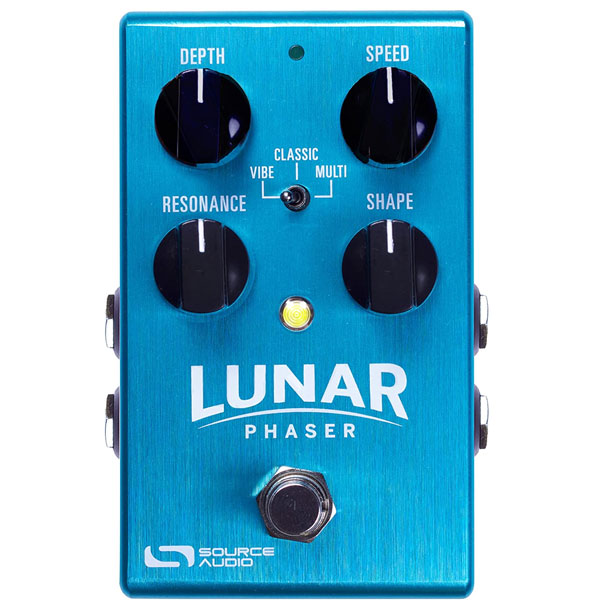 | | |
| --- | --- |
| Estimated Price | $170 |
| Type | Digital |
| Effects | Univibe, Phaser |
| Connectivity | 2 x 6.35mm Jack Input, 2 x Output |
| Power | 9 Volts DC |
My Review: Initially, I was unsure whether to include the Lunar by Source Audio in this list as it's technically a phaser pedal. However, after experiencing the unique sound of this pedal, I realized that it also has the capabilities of a univibe device.
Central to the versatility of this stompbox is a mode selector switch, which allows you to choose between 'Vibe', 'Classic' and 'Multi' presets. The 'Vibe' setting allows you to access classic univibe tones, with a warm sound and many rhythmic variations.
Phasers are often grouped with univibe pedals, so having the possibility of blending these two effects is very useful indeed. Furthermore, Source Audio has built this pedal with longevity in mind, and its compact design makes it easy to squeeze onto a busy pedalboard.
Who is this best suited for: If you're intending on purchasing a phaser pedal in addition to a univibe, you can combine the two with this brilliant Source Audio creation. The pedal is essentially a two-in-one modulation device that blends phasers with univibe.
Bottom Line: With its classy design, intuitive control layout and fantastic sound, the Lunar Phaser by Source Audio is a force to be reckoned with. It features two outputs for signal splitting, MIDI capabilities, and a USB port for connecting the pedal to a computer or laptop.
9. Fulltone Custom Shop MDV3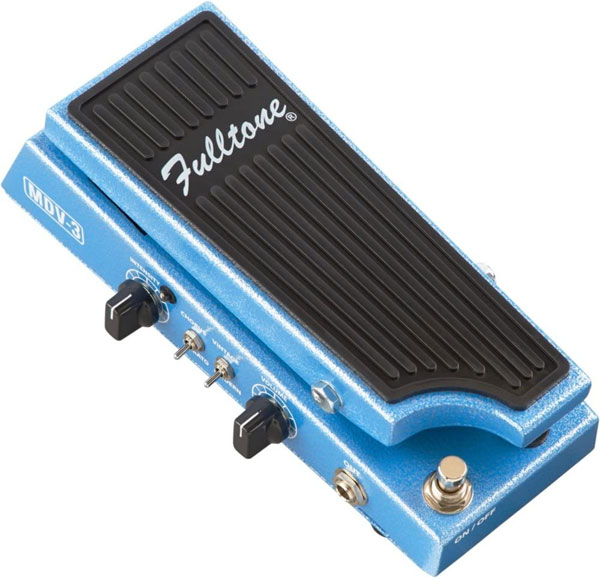 | | |
| --- | --- |
| Estimated Price | $235 |
| Type | Analog |
| Effects | Univibe, Chorus |
| Connectivity | 1 x 6.35mm Jack Input, 1 x Output |
| Power | 9 Volts DC |
My Review: Earlier in this list I presented you with the Custom Shop Mini Deva Vibe MkII, and here is the smaller version of that popular pedal. Despite the size reduction, I found that this pedal is capable of doing everything that its larger counterpart has to offer.
When researching the Custom Shop MDV3, I was amazed by the lengths that Fulltone went to when designing and constructing it. They cloned the photocells used in pedals from the 60s to ensure that the pedal retains vintage univibe qualities, and this is evident in the sound it produces.
The MDV3 can produce everything from fast-paced pulsations to slow throbs of modulation, making it one of the more versatile options out there. It stays true to the vintage univibe effect, whilst using modern controls and features to increase its versatility.
Who is this best suited for: The MDV3 by Fulltone is a great choice for tonal purists. The inner circuitry and preamp transistor used in this pedal is second to none, so if you're looking for the ultimate sound quality this is the pedal for you.
Bottom Line: Fulltone leaves no stone unturned when designing their pedals, as is evident with the MDV3. Combining incredible durability with intuitive operation, the pedal is a perfect blend of vintage univibe and modern modulation effects.
10. Keeley Vibe-O-Verb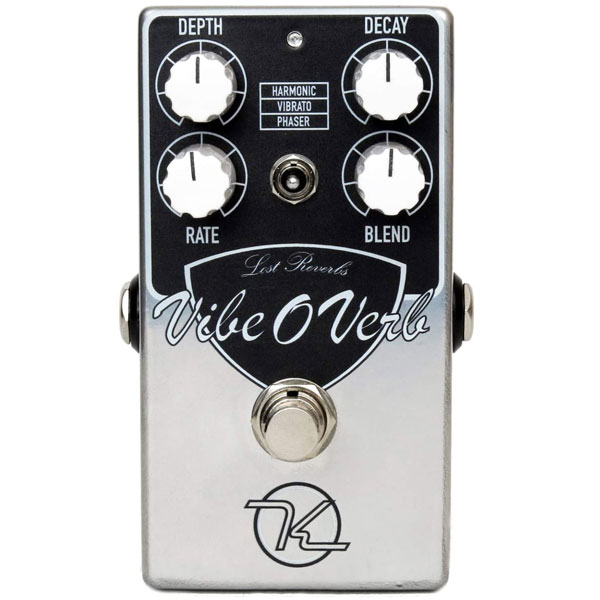 | | |
| --- | --- |
| Estimated Price | $150 |
| Type | Digital |
| Effects | Univibe, Vibrato, Phaser, Reverb |
| Connectivity | 1 x 6.35mm Jack Input, 1 x Output |
| Power | 9 Volts DC |
My Review: Univibe and reverb are two effects that blend seamlessly, both enhancing the qualities of the other. Keeley recognized this compatibility, and the Vibe-O-Verb was born as a result of their experimentation.
This pedal is unique, not only because it combines reverb and univibe, but also because it offers a distinctive musical aspect. With three varieties of modulation including harmonic, vibrato, and phaser, you can manipulate the reverb to your heart's content.
The Vibe-O-Verb doesn't stick within the boundaries of a classic univibe pedal. It can be used for psychedelic tones, or to add soft, spacey textures to a guitar's signal, making it one of the most interesting options on our list.
Who is this best suited for: The Keeley Vibe-O-Verb is a perfect choice if you're thinking of adding both univibe and reverb to your pedalboard. It's a unique sounding pedal, so if you like to stand out amongst the crowd then you'll likely enjoy the unusual tones you can create with this device.
Bottom Line: Reverb and univibe go hand in hand, as proved with this combination pedal. This versatile creation allows guitarists to sculpt their tone with intention, and due to the sheer volume of the options it offers, it's a worthy investment.
11. Valeton Coral Mod II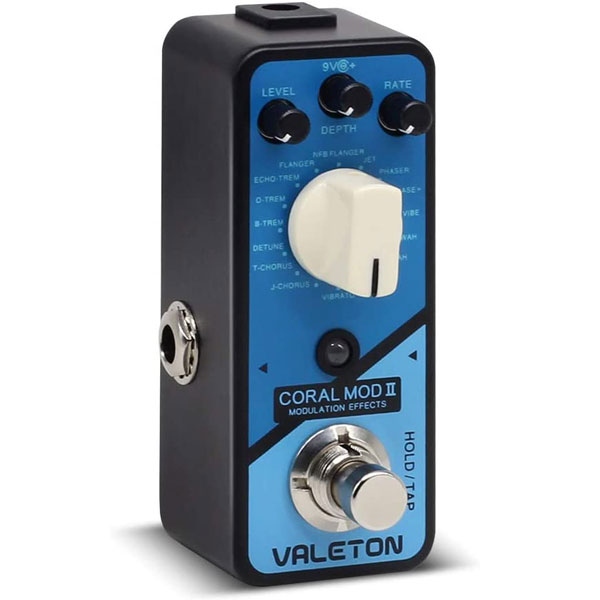 | | |
| --- | --- |
| Estimated Price | $70 |
| Type | Digital |
| Effects | Univibe, Multi-Effects |
| Connectivity | 1 x 6.35mm Jack Input, 1 x Output |
| Power | 9 Volts DC |
My Review: I'm usually a little skeptical when it comes to multi-effects modulation pedals, as in my previous encounters with them I've found that some are confusing to use and perhaps don't offer the quality of single-effect devices.
However, that isn't the case with the Valenton Coral Mod II. Housing an impressive 16 modulation effect, this device offers high-quality univibe in addition to phasers, flangers, chorus, and many more. The univibe setting is surprisingly good for a multi-effects pedal and can be adjusted using the Level, Depth, and Rate controls.
For a multi-effects unit, the Coral Mod II is impressively compact. The effects can be toggled through using the large rotary control in the center of the pedal, and once you've selected your desired choice you can then customize it using the adjustable parameters.
Who is this best suited for: The Valeton Coral Mod II is best suited for guitarists who want to increase the amount of modulation-based effects on their pedalboard, without breaking the bank. This pedal includes every modulation effect you could need, and it's very easy to operate.
Bottom Line: With true bypass switching, a tap tempo function, and a total of 16 modulation effect presets, the Valeton Coral Mod II is highly versatile. Its univibe effect rivals any other standalone device in terms of quality, with a dissidently vintage, warm tone.
12. Wampler Terraform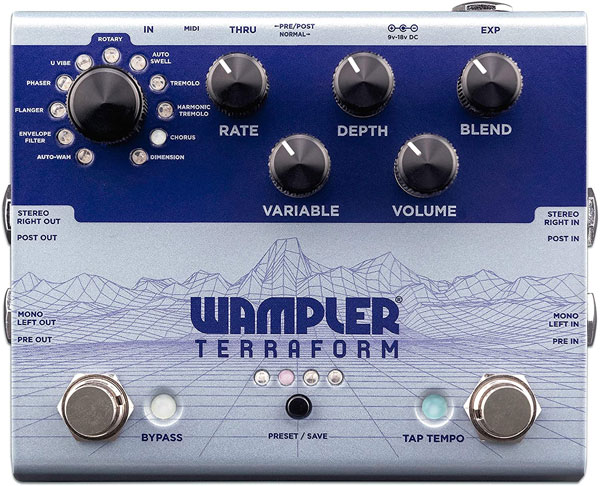 | | |
| --- | --- |
| Estimated Price | $300 |
| Type | Digital |
| Effects | Univibe, Multi-Effects |
| Connectivity | 2 x 6.35mm Jack Input, 2 x Output |
| Power | 9 Volts DC |
My Review: Wampler's range of modulation effects is legendary amongst guitarists. The Terraform essentially condenses 12 of their finest offerings into one multi-effects unit, but what impressed me the most about this pedal was its exceptional univibe setting.
Compared to the majority of univibe pedals, the Terraform is more complex to use. However, this shouldn't deter you, as once you get to grips with the controls and functions of the pedal, it can be used to create a wide variety of univibe sounds, in addition to the other 11 high-quality modulation presets it houses!
The pedal includes a useful tap tempo for adjusting the timing of the univibe effect, or any of the others which are included. I also like the fact that you can save presets to the pedal for later recall.
Who is this best suited for: In my opinion, the Terraform is a great choice for all guitarists. It transcends styles and genres and includes all of the modulation effects you could need. The univibe feature is as good as any other pedal has to offer.
Bottom Line: With 12 effects including univibe, rotary, phaser, flanger, and tremolo, the Terraform is a highly detailed modulation pedal by Wampler. It includes multiple inputs and outputs and has a preset saving feature that allows you to store your favorite settings to access at any time.
Choosing the Right Univibe Pedal (Buying Guide)
The univibe pedal has achieved legendary status amongst guitarists, partially due to it being used by the likes of David Gilmour and Jimi Hendrix, but also because it creates a completely original sound. In the following sections, I'll provide you with all of the information you need on univibe pedals and how to use them most effectively.
What is a Univibe Pedal?
If you ask a random group of guitarists what a univibe pedal is, you're likely to be presented with many different answers. Some will tell you that it is a chorus pedal, while others may class it as a phaser or vibrato pedal.
In reality, univibe is a unique modulation effect that combines elements of the aforementioned three effects. It has gone under the radar for many years, but once a guitarist uses a univibe pedal, it will likely become a staple of their pedalboard from then onwards.
Univibe is a combination of many other modulation effects, including chorus, phasers, flangers, and vibrato. Despite this, it's not possible to create univibe simply by using each of these effects separately at the same time.
The History of Univibe Pedals
Like many popular audio effects, univibe was discovered by mistake. In the year of 1968, when rock music was firmly established as the most popular genre of the era, a Japanese manufacturer named Shin-Ei set out to recreate the interesting sound of a Leslie speaker cabinet.
The Leslie speaker created a rotating effect, which was also known as the "doppler". Shin-Ei was attempting to capitalize on the desire from musicians to have this effect at their disposal in a live environment, which would require it to be captured in pedal form.
Due to the complex nature of the Leslie speaker rotary effect, Shin-Ei, unfortunately, fell short of the mark when trying to design their pedal. However, out of their failed experiment, a new effect was born. This effect, which would become the univibe, quickly caught the attention of guitarists at the time.
Jimi Hendrix was seen as an innovator in terms of his guitar playing style and tone, so it's no surprise that he made the univibe pedal a core feature of his signal chain. The iconic American guitarist used the effet heavily in the late 1960s, perhaps most noticeably on his brilliant recording of 'Machine Gun' from his 1970 album, 'Band of Gypsys'.
Another notable example of the univibe effect in action is on Pink Floyd's hugely popular 1973 album, 'The Dark Side of The Moon'. The second track on that album, titled 'Breathe', features guitarist David Gilmour using the univibe effect subtly to create psychedelic chord sequences and melodies.
In the modern age, many guitarists use univibe pedals to recreate those classic tones from the late 60s and early 70s. Many manufacturers have used the original Shin-Ei pedal as inspiration for their versions of the univibe effect, making it much more accessible to guitarists today.
Univibe & Other Modulation Effects
Univibe pedals produce an instantly recognizable effect, but when dissected, we find a combination of other popular modulation effects plays a pivotal role in their functionality.
It's easy to mistake univibe for chorus, phasers, flangers, or vibrato because each of these effects is from the same modulation family. The way they influence the signal of a guitar is very similar, which explains why many guitarists confuse them with one another.
The key difference between univibe pedals and all of the other modulation pedals I mentioned, is that univibe has a throbbing, pulsating feel which sounds like it's time traveled from the 1960s. When the effect is turned up, it has a huge impact on the dynamics and tone of the signal of the guitar, while other modulation effects like phasers and chorus tend to be more subtle.
Univibe pedals are indeed different from other modulation effects, but they include many of the most prominent aspects of chorus, phasers, vibrato, and flanger pedals. This mixture results in a unique flavor of modulation, which we call univibe.
Positioning a Univibe Pedal in Your Signal Chain
One of the key decisions guitarists make after acquiring a univibe pedal is where they should place the effect in their signal chain. As with all effects, there are no concrete rules that must be followed, but there are some common methods you can follow if you're looking for conventional results.
Generally speaking, modulation pedals are positioned after gain effects such as distortion, fuzz, and overdrive. This is because the gain effects would likely become too muddy and chaotic if they had a modulation pedal before them in the chain.
If you were to position a univibe pedal prior to your overdrive, for example, the former would undo the time you'd spent shaping the sound of the latter, due to the transformative nature of modulation. With that being said, many guitarists choose to go against the grain and enjoy the unpredictable sound of a univibe placed before their gain pedals.
If you'd rather stick with the conventional methods, your univibe pedal should be positioned after overdrive, fuzz, or distortion, and also after your dynamic pedals, such as compressors and EQ.
If you use some modulation pedals already, for example, chorus, phasers, or flangers, you can experiment with the positioning of the univibe within this group. How you choose to order your modulation pedals doesn't affect your sound in the same way that placing them before gain pedals do, because they all impact the signal of the guitar similarly.
Following your univibe and other modulation pedals, it's advised that you then complete the signal chain with delay and reverb pedals. This is because those pedals affect the timing of the signal, which can become messy if they're placed earlier in the signal chain.
I'd encourage you to experiment with placing your univibe pedal in different positions, as you might stumble across a combination that produces a unique sound. This is how many guitarists have discovered their signature tone, by effectively tearing up the rulebook!
Psychedelic Tones
As musicians and bands started to branch out from the preconceived boundaries of rock n' roll in the late 1960s, psych-rock became a popular sub-genre. The univibe pedal can be used to recreate the tones and effects used in this period.
Combining a univibe pedal with reverb is a great way to make it sound dreamy, as the spacey decays of the reverb pedal enhance the throbbing effect of the univibe.
Jimi Hendrix often combined his univibe pedal with wah-wah and the legendary Fuzz Face. This combination resulted in a tone that was rooted in blues and rock but had a psychedelic quality to it, so if you enjoy that style of guitar playing you can experiment with these effects.
Analog vs. Digital Univibe Pedals
The majority of the univibe pedals featured in this article are of the analog variety. When we think of analog gear, images of reel-to-reel tape machines and large mixing desks with hundreds of knobs and controls often spring to mind.
In terms of effects pedals, analog simply means that the signal is continuous. Digital univibe pedals on the other hand use several different points to create the effect. Many guitarists prefer either analog or digital pedals, but it's a good idea to use a mixture on your pedalboard to access the best qualities of both varieties.
Sonically, analog univibe pedals are likely to sound more authentic and pure. This is commonly reflected in the price difference between analog and digital univibe pedals, and all other types of effects pedals for that matter.
Digital univibe pedals may offer additional control and adjustable parameters, but they lack the warmth that their analog counterparts are able to produce. If you're somewhat of a tonal purist, it's probably best to opt for an analog univibe pedal.
Buffered & True Bypass Univibe Pedals
When effects pedals were first introduced, they revolutionized the way that guitarists performed live. The only drawback of early guitar pedals was the noise issues that plagued their sound, with electronic humming and buzzing noises a common occurrence.
To combat the unwanted noise issues, manufacturers developed two design techniques – buffering and true bypass. Both of these pedal types are designed to keep noise issues at bay and to promote signal strength so that the volume and tone of the guitar aren't compromised.
Buffered univibe pedals work by boosting the signal as it enters the pedal. This ensures that the signal maintains its strength as it passes through the remaining pedals in the signal chain. The clarity and tonal qualities are also preserved as a result.
Conversely, true bypass univibe pedals work by allowing the guitar signal to pass freely through the inner circuitry of the device, even when it is not switched on. This ensures that no frequencies are compromised as the signal moves through the chain.
Due to buffered and true bypass pedals essentially performing the same function, neither is necessarily better than the other. Therefore, guitarists can mix and match the two-pedal types when constructing their effects signal chain.
It is however worth noting that true bypass pedals are most effective when used with a total cable length which is under 18ft, while buffered pedals can handle much longer cable runs.
If you intend to use the true bypass and buffered pedals in your signal chain, it's a good idea to begin the chain with the latter variety. That way, the buffered pedal will provide the necessary boost to the guitar signal which will ensure its consistency as it moves through the remaining pedals.
Combining Univibe with Other Effects
The great thing about univibe pedals is that they are highly compatible with a wide range of other effects. This is the case with most modulation effects, as they are able to produce subtle results, or more transformative results if required.
Univibe pedals impact the dynamics, tone, and rhythmic aspects of the guitar sound. Therefore, combining them with gain-based effects is a great way to highlight the most prominent aspects that both pedals produce.
Jimi Hendrix famously combined his univibe pedal with fuzz. This blend of modulation and saturation results in a warm, vintage tone, which sounds great when used for both rhythm and lead guitar parts.
Combining the univibe effect with timing-based pedals, which include reverbs and delays, is a great way to create atmospheric tones. The slight pulsations of the univibe pedal can be manipulated using the rhythmic controls on a delay pedal, or by adjusting the decay on a reverb pedal.
Finally, I'd recommend testing out your univibe pedal in conjunction with a compressor. This is because modulation pedals can be a little unpredictable, as they're constantly changing the nature of the guitar signal. Consequently, a compressor is a great tool for ensuring dynamic consistency without constraining the main aspects of the univibe effect.
Recording With a Univibe Pedal
Univibe pedals are undeniably useful for live performances, but they can produce equally satisfying results in the recording studio. Indeed, with the rapid rise of VST plugins in recent years, many guitarists rely on digital effects for their recordings. I would argue however that you can't beat the effects that high-end pedals offer.
If you intend to record using your univibe pedal, you essentially have two options. The first involves using your amplifier, and the second involves simply plugging directly into an audio interface or another recording device.
To record your univibe pedal using an amplifier, you'll need to send the output of the pedal into the input on the amp, just as you would do when performing live or rehearsing. Then, a microphone needs to be placed somewhere in front of the amp's speaker cone, so that it can capture the sound that is produced.
The microphones must then be connected to your recording software via an audio interface, preamp, or mixer. When you play your univibe pedal through the amplifier, the mic will pick up the audio, transmit it to the interface or other recording device, and capture it in your DAW.
The main advantage of using an amplifier to record your univibe pedal is that it allows you to create consistency between your live sound, and your recordings. You can use all of the same amp settings as you would live, and ensure that you're happy with the tone, gain settings, and volume before you hit record.
The only downside to recording your univibe pedal through an amplifier is that it doesn't leave much room for post-production and mixing. The key tonal aspects of the amp interacting with the univibe need to be established before recording, rather than relying on EQ and other processing tools in retrospect.
That brings me to the second possible way you could record your univibe pedal – through direct input. Most audio interfaces have several preamp inputs, which you can plug straight into. Rather than sending the output from the univibe into your amp input, you simply send it to one of the inputs on the audio interface.
Then, you simply need to select the input on a channel within your recording software, hit record, and you're good to go. The univibe effect will interact with the clean tone of the guitar, producing a clear recording.
Using this method allows you to do more to the recording in the mixing stage, as you won't be contending with the coloration of the amplifier. However, you won't get that warm amplified tone that many guitarists enjoy.
Common Controls & Features
Although there are some differences between individual univibe pedals, the majority of them feature a similar control layout. As far as modulation effects go, univibe pedals are quite simple in terms of the parameters and features that they include.
The three staple controls you're likely to find on a univibe pedal are:
The speed control on a univibe pedal adjusts the rate of the pulsations. This works in a similar way to a phaser, where an LFO is used to oscillate the rhythmic pulses, resulting in a sense of motion being added to the dry signal.
Furthermore, the volume control is quite self-explanatory. This parameter simply adjusts the level of the pedal and can be used to ensure that there is consistency between the volume produced by the univibe and the other effects in the signal chain.
Finally, intensity is used to essentially increase or decrease the overall prominence of the univibe effect. For example, if you set this control to its fullest possible value, the univibe would completely overhaul the dry guitar signal and the throbbing effect would be very prominent.
It's worth noting that most univibe pedals include two, or more rarely, three modes. These modes are:
When the univibe pedal is set to chorus mode, changing the intensity will affect the depth of the pulsations. This is the same when the pedal is in phaser mode, which is only added to a small selection of univibe pedals. When in vibrato mode, the intensity control affects the pitch of the pulsations.
Despite the rather minimalistic control layout included on most univibe pedals, having chorus, vibrato, and sometimes phaser modes to choose from really increases the versatility of the effect. Moreover, it's a lot of fun to experiment with these settings!
Multi-Effects vs. Standalone Univibe Pedals
When you come to decide which univibe device is best suited to your requirements, you'll need to choose between a standalone pedal or one that offers multiple effects. Modulation multi-effects pedals are very common, as many of the effects in this category are produced in a similar way.
The obvious advantage of choosing multi-effects pedals which includes univibe is that you also get access to a myriad of other effects, without having to spend a significantly larger amount of money. Additionally, this also saves a lot of space on your pedalboard if you intend to purchase other modulation effects in the future.
Nevertheless, there is one major downside to choosing a multi-effect pedal compared to opting for a dedicated univibe device. The manufacturer will have focused their time and energy equally on the several effects included in the former pedal, which is likely to result in the individual quality being compromised.
Conversely, a univibe pedal that only produces that effect is likely to have enjoyed more attention from the designers and manufacturers, as the device will ultimately be judged on its univibe producing capabilities, rather than on its ability to produce several effects.
Connectivity
Another aspect of univibe pedals that needs to be considered, is the connectivity options they offer. Most standard-sized stompboxes feature the conventional one-input, one-output design, which allows you to simply add the univibe device to your existing signal chain.
More advanced univibe pedals may include multiple inputs and outputs, which expands the options you have at your disposal. You might be wondering, why would I need more inputs and outputs? The truth is you don't need them, but they facilitate the use of multiple amplifiers, which might be something that benefits you.
Having two outputs on your univibe pedal allows you to split the signal. This means that a dry signal and a wet signal can be outputted from the univibe pedal, essentially creating a separate signal chain.
The main reason that a guitarist or bassist would want to split their signal, is so that they can send one output to the clean amplifier, and the other output to a dirty amplifier. Furthermore, they can then play through both amplifiers simultaneously, which will thicken up their sound and afford them more flexibility when shaping their tone.
ABY pedals are commonly used to split the signal into two amplifiers, but you can do this with any stompbox, providing it has two outputs. All you'd need to do is establish which amplifier you want to keep clean and send the dry signal to that one, then send the dirty signal from the pedal to the second amplifier.
This allows you to keep your clean tone constantly playing in the background, while your effects can be switched on and off in the second amplifier, creating the illusion that there are two guitarists playing at once. It's essentially the same as double-tracking, but you can edit the sound of one track.
Powering a Univibe Pedal
Some manufacturers of univibe pedals include a power supply as part of the package. Using individual power supplies is fine if you've only got a small selection of effects pedals, but if your collection starts to expand, it's a good idea to consider other, more efficient options.
The most common way that guitarists power their univibe and other effects pedals are by utilizing a PSU, which is short for 'power supply unit'. A PSU is a power brick, which has multiple outputs with varying DC voltages so that it can supply the necessary power to all of your pedals simultaneously.
One key benefit of investing in a good PSU to power your effects is that it allows you to leave all of the pedals set up within your pedalboard, and constantly hooked up to the relevant outputs. This means you'll never have to waste precious time hooking up your pedals to the power supply before a soundcheck again!
Additionally, PSUs tend to be less prone to noise issues than individual power plugs. This is because they've been designed specifically for supplying power to multiple devices, and include inner circuitry that can handle the burden.
Many univibe pedals can also be powered using batteries, but I would advise against relying solely on this method. Batteries are convenient when playing impromptu gigs where limited power is available, but if you use them all of the time, there's a good chance they'll cut out mid-performance or partway through a recording take.
Summary
In my opinion, univibe pedals are one of the most underrated additions you can make to your signal chain. They sound like no other pedal and have the ability to completely transform the sound of a guitar beyond comprehension.
After reading this detailed guide, hopefully, you've learned everything you need to know in order to choose the best suited univibe pedal for your playing style` and requirements. Now it's time to enjoy the many hours of experimentation that this effect inspires!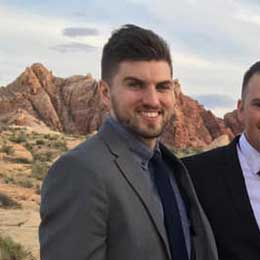 My name is Chris and I've had a passion for music and guitars for as long as I can remember. I started this website with some of my friends who are musicians, music teachers, gear heads, and music enthusiasts so we could provide high-quality guitar and music-related content.
I've been playing guitar since I was 13 years old and am an avid collector. Amps, pedals, guitars, bass, drums, microphones, studio, and recording gear, I love it all.
I was born and raised in Western Pennsylvania. My background is in Electrical Engineering, earning a Bachelor's degree from Youngstown State University. With my engineering experience, I've developed as a designer of guitar amplifiers and effects. A true passion of mine, I've designed, built, and repaired a wide range of guitar amps and electronics. Here at the Guitar Lobby, our aim is to share our passion for Music and gear with the rest of the music community.