George Harrison and his band, The Beatles, has influenced entire generations of musicians, winning 12 GRAMMY awards, being nominated for 39, won 16 NME awards, earned an Oscar, was inducted into the Rock and Roll Hall of Fame (twice), and is ranked 11th on Rolling Stone's 100 Greatest Guitarists list.
Although he might have been called "the quiet Beatle," George Harrison has cemented his influence in modern music and guitar playing over his decades-long career. Without him, we wouldn't have rock and pop music as we know it! Check out some of the iconic guitars and gear Harrison used throughout his career to creating his iconic sound and change music forever.
What Guitar Did George Harrison Play?
George Harrison's most famous guitar is his 1961 Fender Stratocaster known as "Rocky", which started out as Sonic Blue but was later handpainted with its famous custom finish. Harrison was also known for playing several Gretsch and Rickenbacker models, among others.
See the full list of George Harrison guitars and gear below.
1961 Fender Stratocaster "Rocky"

| | |
| --- | --- |
| Finish | Sonic Blue/Handpainted |
| Years Used | 1965 to 2001 |
Ever since he started playing guitar, George Harrison wanted a Fender Stratocaster. Unfortunately, American guitars weren't easy to find in the UK back in the early '60s. In the Beatles' early career, Harrison was playing his Gretsch Duo Jet through a Vox amp. He admittedly didn't like the sound very much and really wanted to get a Stratocaster to call his own.
In the early 1960s, Harrison had a chance to buy a bonafide Fender Stratocaster. He got a call that one was about to go up for sale, so he asked them to hold it for him; he'd be there the next day to buy it. When he got there, someone else had already bought it. The rare (for the UK, at least) Strat ended up in the hands of the guitarist for Rory Storm and the Hurricanes—the band that featured the future Beatle, Ringo Starr, on drums.
In an interview, Harrison said "I was so disappointed. It scarred me for the rest of my life."
As the Beatles gained popularity around the world, so did their acquisitive power. In 1965, George Harrison and John Lennon sent a roadie to get them new guitars for their album "Help!" The roadie came back with matching 1961 Fender Stratocasters with Sonic Blue finishes.
The setup on the 1961 Fender Stratocaster didn't vary much from the Strats you can find today. It had three single-coil pickups, a tremolo bridge, and three adjustment knobs. The only real difference between the '61 and modern Strats is that the older model had a three-way pickup selector switch instead of the five-way you can find today. It also featured a slightly thinner neck profile compared to the late '50s models.
Harrison loved the guitar so much that he used it to finish a few songs on Help! and then extensively on the next album Rubber Soul. It instantly became one of his primary guitars for the rest of his career.
As hippie culture progressed, thousands started painting everything in bright, psychedelic colors. Since the Beatles were diving head-first right into the "Peace and Love" movement, Harrison decided he should join in on the fun.
In 1967, he grabbed some Day-Glo paint (which was a new invention at the time), stripped the hardware off his favorite Stratocaster, and gave it a colorful new paint job. It even featured some of his ex-wife's Patti Boyd's nail polish on the headstock. Harrison dubbed his creation "Rocky."
George Harrison and Rocky stayed together for the rest of his career. You can see this colorful guitar in action in the Beatles' later endeavors, including the "All You Need Is Love" live global telecast, the "Magical Mystery Tour" movie, and in music videos like "I Am the Walrus."
Around 1970, Harrison started to learn slide guitar. He decided that Rocky would be a great contestant for slide, so he jacked the bridge up high and added some heavy-gauge strings. According to Harrison, that was the best Rocky ever sounded!
In 2020, Fender decided to recreate this iconic, colorful guitar. For just $25,000, you can get the Fender Custom Shop George Harrison "Rocky" Stratocaster replica that's a faithful recreation of the original, right down to the nail polish.
1962 Gibson J-160E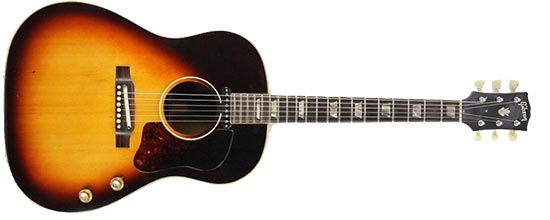 | | |
| --- | --- |
| Finish | Sunburst |
| Years Used | 1962 to 1968 |
The Beatles might be one of the most influential rock bands of all time, but sometimes, they wanted to go acoustic. For the majority of the Beatles' existence, both George Harrison and John Lennon turned to the Gibson J-160E.
When the Beatles learned they scored a record deal in the summer of 1962, the first thing George and John did was order two matching 1962 Gibson J-160Es with sunburst finishes.
The Gibson J-160E is a dreadnaught "jumbo" body acoustic guitar, though that's about where the similarities with a standard acoustic end. The body was made mostly of plywood—which wouldn't fly by modern tonewood standards—but that didn't matter for the J-160E because it had a secret weapon: a P90 neck pickup.
This "acoustic" guitar had a straight-up electric guitar pickup built right into the body, just below the fretboard. To control the P90 pickup, the J-160E had two control knobs similar to the ones you'd find on an electric guitar (a volume and a tone) installed on the lower portion of the body.
Unlike acoustics, the J-160E has 15 frets above the neck joint as well, which means you can play it more like an electric with access to higher frets. Gibson finished this whole electric/acoustic mashup off with an adjustable bridge. All in all, this was one strange guitar, and it was perfect for the Beatles' sound!
Harrison and Lennon used their matching Gibson J-160Es for many years. In 1963, the two actually swapped guitars for some unknown reason. George played John's, and John played George's. Lennon's guitar was eventually stolen and never made its way back to the Beatle. Since Harrison's Gibson J-160E stuck with the band, it gets the unique distinction of being the only guitar used on every single Beatles album! Talk about an iconic instrument!
Harrison continued to use his Gibson J-160E until about 1968 when he discovered the Gibson J-200, but the 160 continued to make appearances on Beatles albums up until their split in 1970 in the hands of John Lennon. This is easily one of the most iconic George Harrison guitars of all time.
1957 Gretsch Duo-Jet

| | |
| --- | --- |
| Finish | Black |
| Years Used | 1961 to 1963/1985 to 1987 |
Like all musicians, George Harrison had to wait a while before he hit it big. That means playing with "less-than-professional" instruments. In 1961, back when the Beatles were new, Harrison picked up his "first real decent guitar," a 1957 Gretsch Duo-Jet with a black finish.
In the early '60s, American-made guitars were very hard to find in the UK. Harrison bought his black Duo-Jet secondhand when he was 18 years of age. It was a 1957 model with a lightweight chambered body, arched maple top, mahogany back and sides, Bigsby B3C tailpiece, and two (duo) single-coil pickups to create that classic Beatles "spanky" tone.
If you want to hear the iconic spanky tone of the vintage Duo-Jet, check out this video of a Beatles live performance at the Cavern Club in Liverpool back in 1962. You can see George Harrison playing his black 1957 Gretsch Duo-Jet.
Harrison's Gretsch Duo-Jet carried him through the early years with the Beatles. He retired the guitar in 1963 when he gave the vintage Gretsch to bassist, Klaus Voormann. Voormann kept the guitar for decades until George Harrison decided he just had to have it back. Harrison bought the guitar back from Voormann in the mid-80s and used it on his solo album Cloud Nine. He even posed with the guitar on the album cover—and lookin' quite cool to boot.
In 2011, ten years after Harrison's death, Gretsch released the George Harrison Duo-Jet to celebrate his accomplishments and recognize him as one of the most influential Gretsch players of all time. The Gretsch Pro Series George Harrison Model Duo Jet is based on the original 1957 model that helped the Beatles grow into a band that would change music forever. It features all vintage hardware and dual DynaSonic single-coil pickups to achieve that classic Beatles tone. It's as close to the 1957 model as you can get without a time machine!
1962 Gretsch Country Gentleman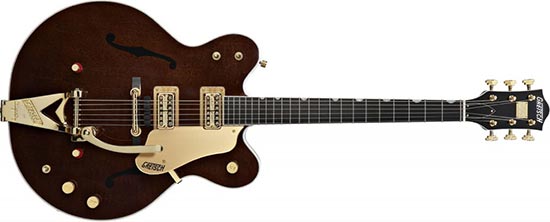 | | |
| --- | --- |
| Finish | Walnut |
| Years Used | 1964 to Unspecified |
If there was a moment that truly launched the Beatles to the international stage, it was their appearance on the Ed Sullivan Show in 1964. Until then, the Beatles hadn't played in the United States. Everything American fans had seen or heard up to that point was just on records. When the Beatles came to the U.S., it was a big deal! Over 73 million Americans tuned in to watch the Beatles' first live performance in the U.S., and Beatlemania had officially begun.
For such a massive performance, you need a serious guitar. When he wanted to wow a new country, George Harrison turned to a 1962 Gretsch Country Gentleman.
The Gretsch Country Gentleman is a large, hollow-body guitar with two Filtertron pickups. It features a maple archtop and a mahogany body. Earlier models had f-holes, but around 1961, most of the f-holes were simply painted on. As the amps of the time kept getting louder and louder, the lack of f-holes helped prevent feedback.
Harrison's Country Gentleman also had a Bigsby tremolo tailpiece, as was common with most Country Gentleman guitars, and a white pickguard. Although, the walnut finish was so dark that on the black-and-white Ed Sullivan Show, the guitar looked almost black!
You can hear the jangly tones of Harrison's 1962 Gretsch Country Gentleman as the Beatles play "I Want to Hold Your Hand" on U.S. soil for the very first time. After this iconic performance, it's said that Gretsch sold over 20,000 guitars per week and spawned a new age for manufacturers.
1963 Rickenbacker 360/12

| | |
| --- | --- |
| Finish | Fireglo |
| Years Used | 1964 to 1970 |
It's not like the Beatles needed any help blowing up in 1964, but the builders at Rickenbacker thought they needed a secret weapon, anyway. Just before they went on their first U.S. tour and pushed Beatlemania into full-fledged chaos mode, George Harrison received one of the first Rickenbacker 360/12s. It was actually the second Rick 12-string ever made!
Francis C. Hall, the owner, and president of Rickenbacker presented the Beatles with several guitars once they arrived in the United States in 1964. John Lennon was the first to try the 360/12, but he thought it would be better for Harrison—who was, unfortunately, sick in bed that day. Lennon took the guitar anyway and gave it to Harrison the next day. He fell in love immediately!
The Rickenbacker 360/12 is a semi-hollow 12-string electric guitar, armed with dual single-coil pickups. Harrison's model also had a trapeze tailpiece, double white pickguards, triangle neck inlays, black control knobs, and stereo (Rick-O-Sound) outputs. Harrison especially liked how the tuners were arranged both top and side-mounted on the headstock to keep the size down. It made tuning all those strings much easier.
The 1963 model was one of the very first electric 12-string guitars to hit the market, and it was now in the hands of the biggest bands to ever walk the Earth.
George Harrison used his brand-new Rickenbacker 360/12 for most of the A Hard Day's Night album and many, many songs thereafter. You can hear Harrison and his beloved 12-string in the music video for "A Hard Day's Night." You hear the octave strings ring loud and proud during the solo.
Once the Beatles split in 1970, there's not much information as to what happened to Rickenbacker 360/12 #2. There are rumors that Harrison continued to use the guitar and even played it during his time in the Traveling Wilburys with fellow rock legends Tom Petty and Bob Dylan, though it's widely disputed.
1965 Epiphone Casino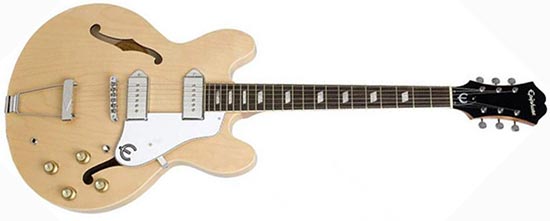 | | |
| --- | --- |
| Finish | Sunburst/Natural |
| Years Used | 1965 to 1967 |
There's only one guitar that has the distinction of being used by three of the four Beatles (all but Ringo, of course), and that's the Epiphone Casino.
The Epiphone Casino has made music in the hands of George, John, and Paul throughout the Beatles' career. Paul McCartney was the first to get the Casino in 1964. He picked up an early model that still had the Gibson-style headstock. Since Paul is a leftie, he strung the guitar upside-down and swapped out the bridge to make the correct intonation.
Of course, once Paul showed the other two guitar-playing Beatles how good the guitar was, they each had to have one for themselves!
George Harrison and John Lennon both picked up 1965 Epiphone Casinos with sunburst finishes. The only difference between the two is that Harrison's had a Bigsby tremolo tailpiece, while Lennon's had the standard trapeze.
The Epiphone Casino is a thinline hollow-body guitar that debuted in 1961. Hollow bodies were all the rage with blues players of the time, including BB King and Eric Clapton. The lack of center block with the dual single-coil P90 pickups gave the guitar some extra mellowness for that jazzy sound.
The Beatles loved Casinos so much that Harrison and Lennon both took the stage with their matching guitars for their 1966 performance on the BBC television show, Top of the Pops (which had been considered the "lost" performance for decades because nobody could find the footage). McCartney had to play the bass, so he left his at home.
In 1968, the Beatles headed to India to study transcendental meditation. In their studies, a man named Donovan Leitch convinced Harrison and Lennon to strip the finishes off their guitars to let the wood breathe. He said it'd make the guitars sound better.
Taking his advice, John and George did just that. They took the sunburst finish off their beloved Epiphone Casinos and left them with just the natural wood showing. Both Lennon and Harrison have said taking the finish off actually made a difference in the way the guitars sounded.
1967 Fender Rosewood Telecaster

| | |
| --- | --- |
| Finish | Rosewood |
| Years Used | 1968 to 1969 |
In 1967, Fender was looking for a new guitar to add to its lineup. They planned to create some all-rosewood guitars to add some density (solid rosewood can be heavy) and unique looks to the already-wide variety of Fender offerings. Well, if you want to promote a guitar, might as well give it to one of the most iconic guitarists of all time!
The Fender Rosewood Telecaster prototype was given to George Harrison in 1968. Once in his hands, it quickly became one of the most iconic instruments of all time. Harrison used the guitar in the Beatles' Abby Road recording sessions, in the film "Let It Be," and during the last-ever live Beatles performance on the rooftop of Apple Corps headquarters. To call it legendary is an understatement!
George Harrison's Fender Rosewood Telecaster featured two single-coil pickups and a chrome bridge cover to add a serious touch of class to the guitar—as if it needed any more.
Although the Rosewood Tele was a fantastic instrument, George Harrison preferred his Stratocasters. He ended up giving the guitar away to musician Delany Bramlett about eleven months after he got it. After Harrison's death in 2001, Bramlett put the iconic guitar up for auction where it sold for an incredible $434,750 to an intermediary for George's widow, Olivia Harrison.
While Fender was in the all-rosewood building game, they also created a rosewood Stratocaster meant for Jimi Hendrix and another rosewood Telecaster meant for Elvis Presley. Unfortunately, the other two guitars never made it to their intended targets, and their whereabouts are unknown.
1957 Gibson Les Paul Standard "Lucy"

| | |
| --- | --- |
| Finish | 1968 to 1973/ 1973 to 2001 |
| Years Used | Cherry Red |
When it comes to rare Les Pauls, George Harrison's 1957 Gibson Les Paul Standard "Lucy" usually lands somewhere toward the top of the list. Not only was it owned by several iconic guitarists over the years, but it also has a winding history almost as long as Harrison's itself!
In the mid-60s, George Harrison had become good friends with bluesman Eric Clapton. Clapton, at the time, owned a unique, factory-finished 1957 Cherry Red Les Paul. As any Gibson fan would tell you, the '57 model LP is about as good as it gets! Of course, Cherry Red wasn't a standard finish for a Les Paul. The guitar started out as a Goldtop and was repainted in its bright red color.
Clapton gifted the incredible guitar to George Harrison. He immediately dubbed it "Lucy" after red-headed Lucille Ball. Harrison took it right to the studio and recorded the White Album outtake "Not Guilty."
The guitar was also used when recording "While My Guitar Gently Weeps." According to Harrison, he was struggling to come up with a lead part that he really liked, and his bandmates Lennon and McCartney were becoming dismissive of the song. Knowing that they'd have to be on their best behavior if someone else was around, Harrison invited Clapton to sit in on the session saying, "You don't need to bring a guitar. You know I've got a good Les Paul you can use."
Clapton came to EMI studios and dubbed the part in one take using the incredible '57 Les Paul, Lucy.
Harrison continued to use Lucy over the years, even after the Beatles split up in 1970. In 1973, Harrison's home in Beverly Hills was robbed, and he lost his prized Lucy. After following the trail of clues, he found out that the guitar was in Guadalajara, Mexico. Following a lengthy negotiation, Harrison was able to get Lucy back, and he kept the guitar close until his death in 2001.
Roy Buchanan Bluesmaster
| | |
| --- | --- |
| Finish | Sunburst |
| Years Used | 1988 to 1993 |
Back in 1987, two brothers named Roger and John Fritz started working with blues legend Roy Buchanan to build the ultimate blues machine. Since Buchanan was a big fan of Fender Telecasters, that's what they decided to model their creation on. The result was the Roy Buchanan Bluesmaster. It might look like a Tele, but if you take a deeper look, it's not even close!
The Roy Buchanan Bluesmaster features a solid alder body with a maple neck and ebony fretboard. The neck has an angled pocket at the bottom for easy access to the upper frets. It has similar stainless-steel hardware to the Tele, but it also uses a stainless-steel nut for even more blues drive.
The real difference between the Telecaster and the Bluesmaster is in the pickups. The Bluesmaster features three (yes, three) EMG active single-coil pickups. As if active pickups in a Tele weren't good enough, the Fritz Brothers also threw in a 7-way pickup switch along with push/pull capabilities in the knobs for an active mid-range boost.
Once they put the finishing touches on the guitar, the Fritz Brothers needed a way to get the word out to the public. How better than to get a legendary artist to use your guitar? So, they sent one George Harrison.
Harrison sent back a note a few months later saying how he absolutely loved the guitar! Because of the three active pickups, the versatility was amazing. He could get the guitar to sound like a Stratocaster, Les Paul, or any other guitar he could ever want. It turned out to be one of Harrison's favorite electric guitars, and he used it quite often over the next few years. It was also rumored that he bought Bluesmasters for his friends, Gary Moore and Paul McCartney, to show off how good they were.
Harrison used the Bluesmaster extensively throughout his later career. It also made several stage appearances when he played with Eric Clapton, including in this live performance of "Taxman."
Timetable Showing the Guitars George Harrison Played At Each Point of His Career
| Make | Model | Color/Finish | Years |
| --- | --- | --- | --- |
| Gretsch | 1957 Duo-Jet | Black | 1961 to 1963 / 1985 to 1987 |
| Gibson | 1962 J-160E | Sunburst | 1962 to 1968 |
| Rickenbacker | 1963 360/12 | Fireglo | 1964 to 1970 |
| Gretsch | 1962 Country Gentleman | Walnut | 1964 to Unspecified |
| Epiphone | 1965 Casino | Sunburst/Natural | 1965 to 1967 |
| Fender | 1961 Stratocaster "Rocky" | Sonic Blue/Handpainted | 1965 to 2001 |
| Fender | 1967 Rosewood Telecaster | Rosewood | 1968 to 1969 |
| Gibson | 1957 Les Paul Standard "Lucy" | Cherry Red | 1968 to 1973/ 1973 to 2001 |
| Roy Buchanan | Bluesmaster | Sunburst | 1988 to 1993 |
George Harrison Amps Overview
You can't change the world with an electric guitar alone; you also need a great amp! George Harrison, along with most of the other Beatles, preferred Vox amps, specifically the Vox AC30. Harrison also used a few other amps throughout his career including Leslie Speakers and some classic Fender models.
1964 Vox AC30
Back in the days of early British Rock, everyone was using the Vox AC30. It was the best, most powerful amp at the time. Plus, it was built by a British company, so they weren't hard to find like the American-made guitars and gear in the UK at that time.
The AC30 was known for creating bright, jangly tones that gave the early Beatles their sound. It was a tube-powered combo amplifier that puts out 30 watts of power. At the time, 30 watts was about the loudest amp setup you could get!
George Harrison relied on the Vox AC30 throughout much of his career with the Beatles and beyond. You can see George and John both playing AC30s in this TV appearance from 1963.
Leslie Speaker 145
In 1941, a man named David Leslie designed a new speaker specifically for Hammond organs to give them more of a pipe or theater organ sound with lots of tremolo. Leslie Speakers (as he called them) used a rotating box filled with baffles to bounce the sound around as it spun. The faster it spun, the tighter the tremolo.
Unfortunately, Hammond wasn't interested in his design, so Leslie decided to sell them on his own to a wider market. Leslie Speakers blew up in the organ world and became a staple for jazz players everywhere. In 1965, Leslie sold his company to CBS, who also owned Fender Guitar company and were close to the Beatles.
To promote their new Leslie Speakers and break them into the rock and roll scene, CBS sent some to the Beatles. The Beatles, specifically George Harrison, used the Leslie Speaker 145 to record the album Revolver in 1966.
You can hear the Leslie Speaker in action on the album version of "It's Only Love." All that lovely tremolo in the intro isn't from a pedal; it's a spinning box in the Leslie Speaker! John Lennon even sang through a Leslie in "Tomorrow Never Knows." It sounded so good that Harrison inspired other guitarists to use the Leslie Speaker, including Eric Clapton and David Gilmour.
1967 Fender Twin Reverb Silverface
In the world of rock amps, there are two amps that really stand out among the pack: the Vox AC30 and the Fender Twin Reverb. Countless musicians over the years have used Fender Twins to create their rock, blues, and jazz sounds.
In the Beatles' later career, they started to move away from the "spanky" tone of their past to a smoother, mellower sound. To accommodate that change, George Harrison started using a Fender Twin Reverb Silverface. Although Fender had been making the Twin Reverb since 1963, the Silverface was brand-new in 1968. It was ideal for major rock acts that filled stadiums because it boasted 100-watts of tube-driven power!
George Harrison and John Lennon can both be seen using the Fender Twin Reverb Silverface in their iconic final rooftop concert with the Beatles. It's hard to find a better guitar/amp combo than Harrison's beautiful Rosewood Telecaster plugged into a Twin Reverb!
1964 Fender 6G6-B Bassman
When you think of the Beatles and their amps, your mind probably jumps to Vox. While the Beatles definitely used Vox almost exclusively for the early part of their career, a 1964 Fender 6G6-B Bassman is actually the most recorded amp used by the Beatles, and it even became George Harrison's primary amp for the later part of his career.
The 1964 Fender G6G-B Bassman has four 7025 preamp tubes that send 50-watts of sound out into the audience. Considering the Beatles originally played Vox AC30s with 30-watts, the Bassman was a big improvement when it comes to projecting sound over all the screaming fans. The G6G-B is a piggyback amplifier that pushes four 10" Utah speakers. While Utahs aren't widely considered the "best" speakers in the world, they definitely gave the Beatles, and George Harrison, their unique sound.
Paul McCartney was the first to pick up the '64 Bassman because, well, he was the bass player! He used the Bassman as his primary amp from around 1965 to the middle of 1967. Around 1966, seeing how great of an amp it really was, George Harrison and John Lennon both used it for their guitar sound. Sometimes, they even plugged into it at the same time!
Around early 1967, the Bassman became George Harrison's primary amp, and he used it to record much of the Beatles' later albums and his solo projects. Some might say that the 1964 Fender G6G-B Bassman is the most important Beatles amp of all time! It was definitely George Harrison's most-used amplifier.
There were a few Beatles documentaries that came about around 1967. If you look hard enough, you can see the favored Bassman in the background in almost all of them. When George Harrison passed away in 2001, the '64 Bassman that meant so much to him over the years was actually used in the Concert for George.
George Harrison Pedals and Effects Overview
The Beatles were innovators from the beginning. That's what made them so good! Although guitar effects didn't really exist when George Harrison first started playing back in the late '50s, he did start to dabble with a few pedals as his career (and technology) progressed, especially fuzz pedals. Here's a list of the effects George Harrison used throughout his career.
Maestro Fuzz-Tone
One of George Harrison's favorite guitar effects was fuzz. At the time, there weren't
hundreds of different fuzz pedal
options available like there are today. But luckily, he did have access to one of the best: the
Maestro Fuzz-Tone
.
George Harrison loved to use the Fuzz-Tone to kick his solos and lead parts up a notch or two. You can hear it in action on many later Beatles recordings, including "Think for Yourself." Because the Maestro had such a harsh sound, Harrison likely kept the levels nice and low to maintain at least some semblance of a guitar sound.
Fuzz Face
While music technology might have advanced, George Harrison's love for fuzzy tones didn't. Later in his career, Harrison used the
Dunlop Fuzz Face
to achieve his distorted tones. This is the same pedal that Jimi Hendrix used to get his iconic tones! Two legends, one great fuzz sound.
Volume Pedal
George Harrison has also been heard using a volume pedal to create a fade effect. Although there's not much information regarding what type of volume pedal he used, there are some stories of him having trouble working the pedal and playing his guitar at the same time.
On the Beatles song "Yes It Is," the volume pedal plays a major part of the guitar's tone. Rumor has it that George struggled to play and operate the pedal at the same time, so John Lennon worked it for him using his hands. Of course, that's only a myth, but it's fun to think about anyway!
Wrap Up
George Harrison began his musical journey when he was young. In his youth, he had been interested in the big musical acts of the day—including Cab Calloway, Django Reinhardt, and Carl Perkins—but he wasn't interested in creating rock and roll music until he heard Elvis Presley's "Heartbreak Hotel." From that point on, it was all about rock and guitars for the young George.
In 1956, when Harrison was about 13, his father bought him a "cheapo" (as Harrison later put it), Egmond flat-top acoustic guitar for £3.10. Despite its "cheapness," Harrison learned how to play a few songs and put together a skiffle (folk/blues) group called the Rebels with his brother and a friend.
As his passion for music grew, it's all he could talk about at school. When he was about 15, he met a schoolmate who also couldn't talk about anything but music. His name was Paul McCartney. Harrison soon joined McCartney's band, the Quarrymen, with another musician named John Lennon. Of course, they would eventually become the Beatles and change music history forever.
Harrison did more than provide some of the most iconic guitar leads for timeless tunes, but he is also credited for influencing his legendary bandmates and leading them towards their psychedelic endeavors and sound after a period over in India. While maybe not the most celebrated face of Beatlemania, George Harrison was arguably the most complete musician in the group and had a knack for innovating their initially pop grounded sound towards distorted guitars and colorful insightfulness that helped define the groundbreaking "Sgt. Pepper's Lonely Hearts Club Band".
Aside from his work in the Beatles, Harrison enjoyed immense success over his decades-long career as a solo artist, collaborating with other amazing artists like Eric Clapton, and even helped form a supergroup called the Traveling Wilburys with Tom Petty and Bob Dylan. He also became highly involved with Indian and Hindu culture, and many of those interests showed through his music.
After a lifetime of innumerable achievements, Harrison was eventually diagnosed with lung cancer and passed away in 2001 at the age of 58. Although he may be gone, there's no doubt that George Harrison is one of the most influential, guitar players of all time.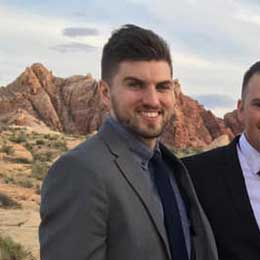 My name is Chris and I've had a passion for music and guitars for as long as I can remember. I started this website with some of my friends who are musicians, music teachers, gear heads, and music enthusiasts so we could provide high-quality guitar and music-related content.
I've been playing guitar since I was 13 years old and am an avid collector. Amps, pedals, guitars, bass, drums, microphones, studio, and recording gear, I love it all.
I was born and raised in Western Pennsylvania. My background is in Electrical Engineering, earning a Bachelor's degree from Youngstown State University. With my engineering experience, I've developed as a designer of guitar amplifiers and effects. A true passion of mine, I've designed, built, and repaired a wide range of guitar amps and electronics. Here at the Guitar Lobby, our aim is to share our passion for Music and gear with the rest of the music community.