While the 1960s were a decade of great change in popular music, the evolution of rock and roll arguably reached full swing in the 1970s. With the development of hard rock and heavy metal, the entire musical landscape had changed. Musicians weren't afraid to experiment, resulting in some game-changing hits. Without a doubt, one of the most dynamic bands to emerge during the 1970s was Queen. Fronted by the almighty Freddy Mercury, the group also consisted of bassist John Deacon, drummer Roger Taylor, and guitarist Brian May. While Freddie still takes the spotlight, this band wouldn't be what it is without each member's immeasurable contributions.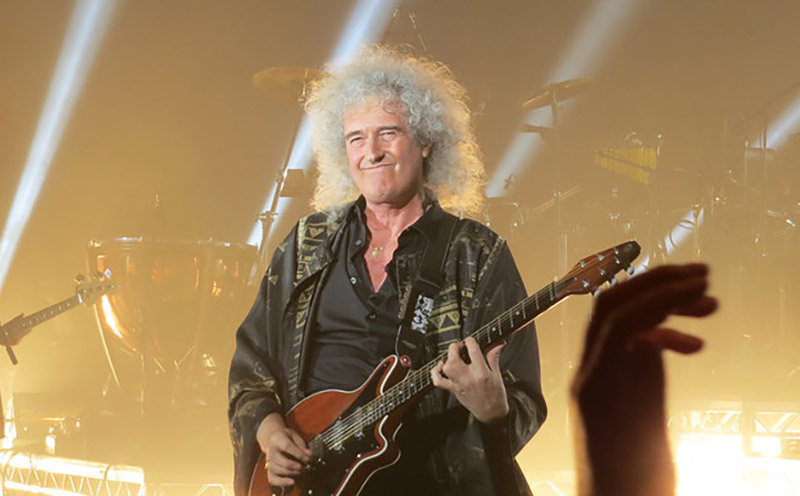 Brian May's work on guitar played a huge role in the development of not only rock and metal music, but many other subgenres as well. For Brian, the guitar presents the perfect outlet for creative endeavors. Bringing really tight rhythm playing and emotionally charged lead sections that always served the song, it seems that May always had a great feel for coming up with the perfect tone for each and every musical piece. He's one of those guitarists whose playing is easily recognizable when he comes on the radio with his nuanced techniques and powerful tone. Even to this day, his playing remains something of a "blueprint" for electric guitar players across the globe.
Part of May's tone is shaped through his rather unique choice of gear. He's a guitarist know to have possessed a fair share of unique gear throughout the years, from his amazing guitars and down to some pretty simple yet very effective pedals. Of course, everyone is familiar with his one-of-a-kind Red Special, but let's take a closer look at the gear that shaped his tone. In the rest of this article, we'll be looking at the guitars Brian May used throughout his career.
What Guitars Does Brian May Play?
Brian May is most known for playing his homemade Red Special guitar, also known as "Old Lady". Brian and his father made this guitar together in the early 1960s and it has been his main guitar ever since.
The guitar has been replicated several times over the years by various builders. Several of these replicas have seen heavy studio and live play by May. Over the years he's also utilized several other models such as a Fender Telecaster, and a Gibson Les Paul, and others. See the full list below.
Red Special aka "Old Lady" aka "Fireplace"

Years Used: 1963 to Present
Finish: Dark red
This guitar was made by Brian and his father back in the early 1960s and has been his main guitar ever since. In fact, he even takes it on the road and still plays it as his main guitar on an almost full-time basis. Red Special has a body made out of an old oak table and a neck made out of an old mahogany fireplace mantle, presumably from the 18th century. For the finish, they used Rustin's plastic coating, which is responsible for the peculiar shade of dark red.
The guitar is fitted with three Burns Trisonic single-coil pickups, although they have been rewound and modified by May and his father. For reducing unwanted noises, they added Araldite epoxy around them. The pickups can also be turned on and off individually, meaning that even all three of them can be turned on at the same time. There are also additional advanced features, which made this instrument was ahead of its time, including it having 24 frets, all while keeping the scale length at 24 inches.
Even the tremolo bridge was custom-designed, with an old knife-edge holding the entire construction. It's all fitted within a hole in the body, along with two motorcycle valve springs. As for the tremolo arm, it's a combination of a saddlebag carrier for motorcycles and a knitting needle that used to belong to Brian's mother.
Although there are some replicas in his collection, Red Special remains Brian's main instrument. Needless to say, this is one of the most influential instruments of all time and May now owns a company that makes different replicas of it.
Red Special Replica by John Birch and John Diggins

Years Used: 1975 to 1982/ 2001 to Present
Finish: Natural/Sunburst
Most likely the earliest replica of Red Special, John Birch and John Diggins (also known for Tony Iommi's custom SG guitars) made a copy of May's guitar back in the mid-1970s. The instrument got its spotlight in Queen's "We Will Rock You" video. But while the guitar had pretty much the same types of pickups as on the original version, May just wasn't completely satisfied with its tone.
Reportedly May asked for this replica of his original Red Lady because he grew weary that such extensive use on the road might have started affecting his original six-string. Diggins and Birch each manufactured exact replicas of his original piece in different finishes. While initially, he wasn't pleased, he then developed some attachment to his remaining replicas.
In fact, some of its design flaws, which contributed to an unstable tuning. In 1982, he smashed it against one of his amps at a show in New Jersey with the poor thing ending up in three pieces. This replica was sent to John Page of Fender, and it stayed with him for about two decades. It was repaired and May still owns it to this day.
Red Special Replicas by Greg Fryer

Years Used: 1994 to Present
Finish: Red and natural
Back in the 1990s, May got in touch with luthier Greg Fryer for a potential replica of his Red Special. When the whole process started, Greg approached it thoroughly, even putting the original instrument under x-ray to have a complete image of its internal cavities. The result was three very convincing replicas, named John, Paul, and George Burns. Although these versions are also sold commercially, May owns the original ones made by Fryer. In case you really want to sound like the Queen guitarist, this is as close as it gets to the original.
Red Special Replica by Guild

Years Used: 1985 to Present
Finish: Dark red
Another Red Special replica was also made by Guild Guitars back in 1985. Although not as detailed and convincing as Fryer's copies, Brian May seemed to have liked this one a lot more compared to the Birch and Diggins Special that he smashed back in 1982.
By 1985 May was a consecrated guitar hero, he had already spent a decade in the limelight and his Old Lady Special had become a desired piece for many guitarists out there. In an attempt to make it even a more commercial signature guitar, Guild partnered up with Brian and released this limited line under the slogan "would you play one guitar for 20 years?". Needless to say, the Old Lady sailed to the market as one of the most desired six-strings of the 80s, nowadays one of these replicas is priced as a true treasure, not to mention how hard it is to come across one of them.
Reportedly, Guild built roughly 300 copies with number one being given to Brian May. This instrument remains in May's collection and is occasionally used on stage, it was also used during the legendary concert in honor of Freddie Mercury in 1982.
BMG Super

Years Used: 2004 to Present
Finish: Cherry red
Up next, we have May's BMG Super replica of the Red Special guitar. BMG stands for Brian May Guitars, which is Queen's guitarist's own company. At the moment, they're the only ones licensed to make this peculiar double-cutaway guitar design, taking over from Burns and Guild that manufactured it in the past, along with a few other unofficial copies. Designed by May, he took the liberty to upgrade and mend certain incommodities of his original guitar, for example, the lower part of the body was slightly enlarged for a bulkier sound, with a modern tremolo system.
This instrument is easily recognizable for the "Super" graphics logo on the front side of the body. Other than that, all of its functionalities and almost all of its features are the same as with the original.
Nevertheless, May used this guitar for most of his European tour back in 2005, and 2006. From time to time when Brian is in need of a tremolo-powered six-string it wouldn't be a surprise for him to sport this modeled version of his original Red Lady.
Guyton Guitars BM Green

Years Used: 2004 to Present
Finish: Green and dark red
Andrew Guyton became known for his restoration of Brian May's original Red Special. And with his knowledge, who else other than Guyton would know how to make proper Red Special replicas? In the early 2000s, Brian May and his tech Pete Malandrone got in tough with the luthier, eventually resulting in two new beautiful replicas. Although called the Red Special, one of them is completely painted green, giving this classic design an entirely new vibe. For these two new guitars, the original Red Special was once again x-rayed. May was immediately satisfied with the results and he kept them both in his inventory ever since.
One could say that Guyton is one of the main figures behind the recent brand BMG, as the architect of the new signature models, some of these boutique guitars are made inspired in his Green version of the Red special.
BMG "Face" Guitar
Years Used: 2007 to Present
Finish: Custom graphics over a dark background
The story goes that Brian May got this instrument from Barry Moorhouse, the House Music MD, for his 60th birthday. This one is made by Brian May Guitars and features a special custom finish created by artist Paul Karslake. It's referred to as the "Face" guitar since it features Brian May's face on the front of the body.
After modifying the instrument by wiring the pickups in parallel, Brian May took it on the "Rock The Cosmos" tour that Brian May and Roger Taylor did with singer Paul Rodgers.
BMG "The Born Free" Special

Years Used: 2014 to Unspecified
Finish: Stainless steel with a custom ornate engraved finish
One of the most unique instruments in Brian May's collection is the BMG version of the Red Special popularly called "The Born Free." The guitar comes with a laser-cut stainless steel body, easily recognizable for its ornate engraved finish. This was done by artist Dwayne Becknell of Lacuna Acoustic Art.
The guitar was crafted as both a tribute to Cecil the lion and as an effort to ban wild cat hunting as a tourist activity. This explains the lion seal behind the headstock and its mane-like pattern engraved in the body.
Other than that, the instrument comes with a maple and carbon fiber neck, as well as the pickups that replicate the ones on the original Red Special. Its nickname comes from the charity single "Born Free," which Brian did with Kerry Ellis back in 2012. In the song's video, you can see Brian playing the guitar. It also saw some action later during the decade, mostly for the May's and Ellis' "Acoustic By Candlelight" tour.
It is not clear whether May kept this guitar for himself, or if it was auctioned for charity both are very likely. But BMG guitars has continuously sold this specific model for a hefty amount ever since it was first released back in 2015. This is easily one of my favorite Brian May guitars of all time.
Satellite Stratocaster
Years Used: 1980 to Unspecified
Finish: Sunburst
Satellite Stratocasters were one of the most interesting copies of Fender Strat guitars. Brian May had his own piece back in the early 1980s. However, other than its appearance in the music video for "Play The Game," not much else is known about this particular instrument.
What made these really special was the inclusion of somewhat "hotter" single-coil pickups, at least compared to Fender Stratocaster and most of the other copies. Made in Japan, these were the part of what we now know as the "lawsuit era guitars."The Satelite Strat is not particularly a high-end guitar, but in terms of quality and design, it is a sturdy and well-equipped six-string, many vintage ones can be found online for a very moderate price.
Burns Double Six

Years Used: 1974 to 1996
Finish: Green
Another Burns guitar on this list, May has used the company's Double Six model, which features 12 strings, for the recording of Queen's "Long Away" from 1976's "A Day at the Races" album. According to May's words, he bought it since he really loved the pickups that came with it. However, he ended up actually loving the entire guitar. The song "Long Away" was actually written on this instrument. Well, accidentally at least, as the tune just came to him while he was jamming on it. Some have theorized that this instrument was used for more rhythm parts on the record. However, this has never been confirmed.
As for the whereabouts of this guitar, there's not much information about it, while some may rest assured it is kept by May to this day, others believe he gave it away as a gift during the 90s.
1978 Fender Telecaster

Years Used: 1978 to Present
Finish: Black
While it might seem odd to picture Brian May with a Fender Telecaster, he actually used a particular black one over the years. The most notable appearance was for the "Crazy Little Thing Called Love" video. Other than that, we can also see it in the video for "Back Chat" and on the Live Aid concert.
May got this guitar for dynamic purposes, although the Telecaster saw a low point during the 70s, the 78 issues of the guitar were adopted by many musicians of its generation, thus sparking a revival for this eternal instrument. It features two single-coil pickups with their original magnetic plate guard, these were called Seth Lover Humbuckers and they are pretty rare.
Brian rarely talks about a guitar that isn't his Red Special, but this black Telecaster has been around with him for quite some time. It can be seen in multiple live performances during and after the Queen era, its involvement in the studio might even be larger than we're led to believe, while its association to May might seem sparse. It is currently owned by Brian and he sports it from time to time, during the 2000s it was considered a main, but always backing u his BMG models.
Gibson Flying V

Years Used: 1982 to Present
Finish: Tobacco sunburst
While there aren't that many details about it flying around, Brian May began using a particular Gibson Flying V model back in the early 1980s. In fact, this was in 1982, right after he smashed the John Birch and John Diggins Red Special replica on stage. This guitar, which featured a tobacco sunburst finish and two uncovered humbucking pickups, served as a backup for the Red Special.
1950s Fender Stratocaster

Years Used: 1971 to 1979
Finish: White
Back in the first half of the 1970s, Brian had a white Fender Stratocaster that he took on the road as a spare guitar for his Red Special. Unfortunately, not much is known about this particular instrument. But according to its design, and the era in which it was used, this is most definitely a 1950s Strat. May used it in the 1970s, and at that point, only the 1950s Strats had that kind of a headstock and a maple fretboard.
Gibson Les Paul Deluxe

Years Used: 1974 to 1977
Finish: Sunburst
After using the Strat for a while, Queen guitarist just wasn't happy with the Strat and Vox AC30 combination. So for his other spare guitar, he chose Gibson's Les Paul Deluxe. However, he still wasn't satisfied with how it sounded, so he contacted John Birch for that Red Special replica that, unfortunately, ended up being smashed on stage.
Washburn Tour RR11V
Years Used: 1984 to 1989
Finish: White/Custom Paintings
Officially, this instrument was used only once for the video of Queen's 1986 song "Princes of the Universe." These are pretty rare and are a part of Washburn's RR-V Tour series, which were produced for a very short period in the 1980s. But other than that, not much is known about this guitar and whether he still owns it.
Yamaha SLG130NW

Years Used: 2003
Finish: Natural
For the Queen + Paul Rodgers tour in the 2000s, Brian May had one of Yamaha's "silent" guitars, the SLG130NW model. It was used for the performance of "Crazy Little Thing Called Love." This is a nylon string version with all the bare essentials on it.
Martin D-18

Years Used: 1971 to Present
Finish: Natural
Ever since the early 1970s, Brian May has been very fond of Martin's D-18 model, which remains his main choice for an acoustic guitar. His original Martin D-18 can be heard on Queen's "Funny How Love Is." Over the years, he had multiple D-18s, although we're not certain whether he still owns the first one that he acquired.
Built out of Mahogany and Stilka spruce, and vintage features like open tuners and a larger lower-body, the Martin D-18 is a bridge between a classic soulful sound, and a modern ethereal one. It's a rare model considering some of the materials used on it, hence its low rate manufacturing that makes it all the more valuable in modern years. Needless to say, things were a little different back in the 70s when May first adopted it.
Recent years have seen Brian playing in various collaborations with several artists using this acoustic Martin saple. Although this D-18 is usually rotated with a 12 string Guild model, May holds dearly his humble selection of acoustic models.
Guild F-512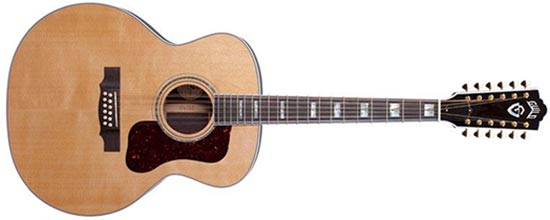 Years Used: 2003 to Present
Finish: Natural
Back in the 2000s, Brian May was seen using Guild's 12-string acoustic guitar model, the F-512. It's not certain whether he still has this one, or multiple of these. However, knowing that it's a good instrument, with a top-quality Sitka spruce top and Indian Rosewood back and sides, it's no surprise that May decided to go with this one for live shows.
2013 Gibson SG Standard Min-ETune

Years Used: 2013 to Present
Finish: Cherry red
Although Brian May is not associated with any of the Gibson SG models, he owns a 2013 SG Standard, the Min-ETune edition. According to Brian, he has always liked SGs and has finally got one in the 2010s. However, we don't know whether this guitar saw some action. Either way, we do know that it's equipped with the Min-ETune feature, which can tune the instrument automatically, which was one of Gibson's famous attempts in trying to implement new technologies.
The BMG Mini May
Years Used: 2013
Finish: Dark red
While this particular guitar model hasn't ever been exactly the essential part of his rig, Brian did play BMG's Mini May model sometime in the mid-2010s. This one was used for some live shows back then. However, it's more of a cute little novelty and a mini-sized version of May's legendary Red Special. It features a classic Fender-style bridge with individual block saddles, one slanted single-coil pickup in the neck position, as well as tone and volume controls.
Guyton Red Special Doubleneck
Years Used: 2010 to Present
Finish: Dark red
There's another rather interesting Red Special replica done by Andrew Guyton, featuring one 6-string neck and a 12-string neck. According to the official statement on Guyton Guitars' website, the instrument was finished in the summer of 2011, which was just in time for the brief tour Queen + Adam Lambert had that year.
The 6-string part features pretty much the same features and controls as the original Red Special. The 12-string part is almost the same, only with a fixed bridge rather than a tremolo one. Despite its space and sometimes vague use, this tribute to the Guitar that May has been playing for more than five decades is one that is kept as a trophy for his career.
Table Showing What Guitars Brian May Used at Each Point of His Career
| Make | Model | Color/Finish | Years |
| --- | --- | --- | --- |
| BMG | Red Special, aka "Old Lady," aka "Fireplace" | Dark Red | 1963 to Present |
| Fender | Stratocaster | White | 1971 to 1979 |
| Martin | D-18 | All Natural | 1971 to Present |
| Burns | Double Six | Dark Green | 1974 to 1996 |
| Gibson | Les Paul Deluxe | Sunburst | 1974 to 1977 |
| John Birch and John Diggins | Red Special Replica | Natural/ Sunburst | 1975 to 1982/ 2001 to Present |
| Fender | 1978 Telecaster | Black | 1978 to Present |
| Satelite | Stratocaster | Two-Tone Sunburst | 1980 to Unspecified |
| Gibson | Flying V | Tobacco Sunburst | 1982 to Present |
| Washburn | Tour RR11V | White/Custom Paintings | 1984 to 1989 |
| Guild | Red Special Replica | Dark red | 1985 to Present |
| Greg Fryer | Red Special Replicas | Red and Natural | 1994 to Present |
| Yamaha | SLG130NW | Natural | 2003 |
| Guild | F-512 | Natural | 2003 to Present |
| BMG | Super | Cherry Red | 2004 to Present |
| Guyton Guitars | BM Green | Dark Green | 2004 to Present |
| BMG | "Face" Guitar | Custom graphics over a dark Background | 2007 to Present |
| Guyton Guitars | Red Special Doubleneck | Cherry Red | 2010 to Present |
| Gibson | SG Standard Min-ETune | Cherry Red | 2013 to Present |
| BMG | "The Born Free" Special | Stainless steel with a custom ornate engraved finish | 2014 to Unspecified |
Brian May Amplifier Overview
Vox AC30 (Different Variants)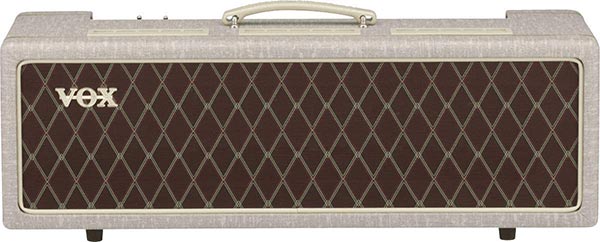 Years used: 1967 to Present
Just like the Red Special and its replicas are his main choice for guitars, so is the well-known Vox AC30 amp. Brian began using it in the late 1960s (according to some sources from the early 1970s) and has kept it as his main "secret weapon" even to this day. Over the years, he had many Vox AC30 amps, including different variants, although the AC30TBX is his most favorite model. This is the version that comes with the "top boost" feature, allowing him to create that easily recognizable lead tone that he's well-known for. And he's quite careful with all of them as he uses the switching system throughout the shows in order to keep them extra-safe from any unwanted damages from long-term use.
Most of his Vox AC30 amps have been modified throughout the years by Greg Fryer. They have the "Brilliant" and "Vib-trem" features removed, which allows for a cleaner and more "direct" tone, with a noticeable boost to their gain.
The AC30TBX model changed over the years, but the main features remained the same. What this amp is the best-known for is the tube-driven circuitry with four EL84 power amp tubes (giving that classic "British" tone) and five ECC83 (basically 12AX7) preamp tubes.
The Deacy Amp
Years used: 1972 to Present
Back in 1972, Queen bassist John Deacon, who is also an electronic engineer, made a special little 1-watt amp for Brian May. According to the guitarist, many have tried to replicate its peculiar tone, but no attempt was entirely successful. To this day, the amp is known as the "Deacy Amp," with the first word pronounced as "Deeky."
Deacon crafted it by taking a circuit board from a Supersonic PR80 portable radio that someone has thrown away. He then added a small speaker cabinet to it and powered it through a standard 9-volt battery.
Featuring no controls and pretty simple circuitry, the amp was never actually broken. Brian used it in the studio in combination with his Red Special and a simple treble booster. This way, he can create some rather unusual effects, like orchestral instruments, or even vocals to some extent, as we can hear in Queen's song "Mad The Swine."
Greg Fryer tried to replicate its tone in the late 1990s and the early 2000s, but never really got it right. After engineer Nigel Knight came in to help, he got permission to take the Deacy Amp apart and see what actually goes on in there. Replicas were produced under the KAT Deacy Amp, which ran for a while in the early 2010s.
Brian May Pedals and Effects
Dunlop Cry Baby DCR-2SR
Years used: 1996 to Present
The Cry Baby wah pedal, which is now produced under the Dunlop brand, pretty much changed the course of history. Therefore, plenty of guitar players around the world use it. However, there's also a rack-mounted unit made, bearing the designated name Cry Baby DCR-2SR. The idea here was to create a fairly versatile unit that comes with detailed controls for creating unique wah tones, all while being controlled through an external expression pedal. Brian May began using it back in the late 1990s and it still finds its place in his signal chain even to this day.
This rack module comes with an abundance of controls on its front panel. There's a 6-position switch that toggles different sweep frequency range modes, as well as the "Q" knob that determines the bandpass shape. There's even a boost that lets you go up to 10 dB louder than the original input signal. On the right side of the panel, there's a switchable EQ with six individual frequency range knobs, going from the deepest and to the highest frequencies. And on its backside, you can plug in six individual control pedals and place them anywhere on the stage.
Boss CE-1 Chorus Ensemble
Years used: 1984 to Present
May is known for his chorus effect use which further enhances his Vox AC30 amp tone. From the mid-1980s, he began using Boss' CE-1 Chorus Ensemble. This one comes from the era before the company's classic compact pedal design. It's a classic analog chorus with regular BBD chips in the circuitry.
Foxx Phaser
Yeas used: 1972 to 1986
But prior to that, Brian used the now rare Foxx Phaser pedal, starting in the early 1970s. This one was pretty innovative for its time, allowing for more detailed parameter controls compared to its competitors. May usually had it set to just slightly color his tone, rather than change it completely. He abandoned it in the mid-1980s for the Boss CE-1 pedal.
TC Electronic SCF Stereo Chorus Flanger
Years used: 2010 to Present
In more recent years, Brian May began using TC Electronic's SCF, which is a stereo chorus and flanger pedal. It seems that Brian likes to keep it simple as this pedal is pretty much respected among vintage tone lovers.
Dallas Range Master Treble Booster
Years used: The late 1960s to the mid-1980s
Dallas Range Master Treble Booster was one of the most popular effects units back in the '60s and the '70s. It allowed many famous guitar players, including Brian May, to push their tube amps over the limit and create more distortion. Interestingly enough, Queen guitarist had it attached to his guitar strap.
Greg Fryer Treble Booster
Years used: 1998 to Present
From the late 1990s and onward, Brian May began using specially made treble booster devices by Greg Fryer. Just like any other type of clean booster, it's a pretty simple unit. Once again, Brian likes to keep it close to himself on his guitar strap.
TC Electronic G-Major 2
Years used: 2006 to Present
Another multi-effect unit in his collection is TC Electronic G-Major 2, which he has been using since the late 2000s. This is a rack-mounted processor with six individual effect blocks and very detailed tone-shaping features. It comes with filtering, dynamic compression, pitch shifting, modulation, delay, and reverb. Not to mention that it has some advanced features, including MIDI connectivity and relay switching.
TC Electronic PolyTune
Years used: Unspecified to Present
Another TC Electronic device in his collection, May has been using their PolyTune compact tuner for a while now. It mostly finds a use for live shows where it's been proven to be really handy due to the amazing LED display design. Compared to most of the tuner pedals, this one comes with a true bypass.
Rocktron Intellifex XL
Years used: 1996 to Present
Back in the late 1990s, most of Brian's rig went into the rack territory. One of the units that his tech Pete Malandrone added in there was Rocktron's Intellifex XL unit. This is a pretty rare multi-effects processor that comes from the era when these technologies were still in their development. Nonetheless, it's capable of producing some pretty rich tones, as we could hear on many of Brian May's live shows.
Wrap Up
By all means a musician ahead of his time, during his prime as a guitarist, May was able to raise some brows when he took the limelight with his performance. But five decades in the game, he is now an institution of sorts, not only a prolific lead player but also a remarkably stunning rhythmic player with underrated vocal skill.
Recent years saw Brian May introduced to the Rock N Roll Hall of Fame as. a solo artist and landing a spot as Rolling Stone's 26th Best Guitar player of All Time. Not only he redefined guitar work, but he also achieved legendary status for his unparalleled delivery. There's no room for doubt that Brian May is now a living legend.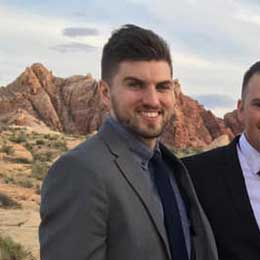 My name is Chris and I've had a passion for music and guitars for as long as I can remember. I started this website with some of my friends who are musicians, music teachers, gear heads, and music enthusiasts so we could provide high-quality guitar and music-related content.
I've been playing guitar since I was 13 years old and am an avid collector. Amps, pedals, guitars, bass, drums, microphones, studio, and recording gear, I love it all.
I was born and raised in Western Pennsylvania. My background is in Electrical Engineering, earning a Bachelor's degree from Youngstown State University. With my engineering experience, I've developed as a designer of guitar amplifiers and effects. A true passion of mine, I've designed, built, and repaired a wide range of guitar amps and electronics. Here at the Guitar Lobby, our aim is to share our passion for Music and gear with the rest of the music community.