People have this impression that playing the banjo is more difficult than playing the guitar. This is not necessarily correct. Everything depends on how committed and dedicated you are in learning the basics of playing this instrument, including the different techniques for beginner banjoists.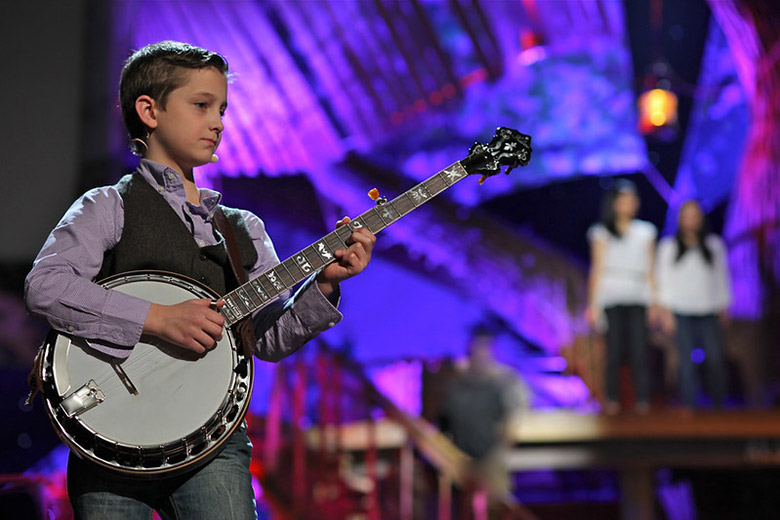 One great thing about the banjo is that it always comes in an open tuning. There are also only 5 strings to keep your fingers busy. Most of the beginner banjo songs also require only a two-finger approach to fingerpicking. They call this the clawhammer technique.
The banjo is the perfect string instrument if you're going to play folk, country, and bluegrass songs. However, it can also add color to the beautiful harmonics of rock and pop music. Unfortunately, this increases the number of songs that you can choose from as a learning piece. Don't worry, though, we have a lot of easy banjo songs on this list that I'm sure you'll have a lot of fun learning!
Here is a List of Easy Banjo Songs
1. Cripple Creek
Genre: Folk
If you're going to ask any banjoist about the single most important song they must learn on their banjo, their answer would be Cripple Creek. This is a folk song that grew from the mystical Appalachian. Most people say that the title of the song refers to a place somewhere in Virginia. Others say that the song has its origins in the gold rush that occurred in Cripple Creek, Colorado. What is worth noting is that this song happens to be a bluegrass standard. Anyone who aspires to become a great bluegrass musician will have to learn this song. True, the original version of this piece is meant for the violin or any other fiddle. However, it is also excellent for the banjo.
First-time banjoists can be overwhelmed the first time they hear Cripple Creek. It has a very fast tempo. The clawhammer technique that a seasoned banjoist employs can be mesmerizing and intimidating at the same time. The good news is that the song has only three very short and simple pieces of music. What you need is to learn these segments one at a time. You can then combine them to form the whole song.
The song is a great piece for learning some of the most important basics of banjo playing. There are high and low melodies that are crucial for exercising the fingers. There's also the alternating thumb roll as well as the sliding and switching techniques that you may already be familiar with on a guitar. Take your time in learning the piece. It is a lot easier than it looks.
2. Dueling Banjos by Arthur Smith
Genre: Bluegrass
They say you aren't a true banjoist if you don't know how to play one of the mesmerizing displays of banjo playing prowess, the Dueling Banjos. Most of the videos on this song pit a 5-string banjo against an acoustic guitar. And while the steel-string acoustic guitar can keep up with the natural twangy sound of a banjo, it still pales in comparison if you have a pair of banjos answering each other.
Arthur Smith composed this bluegrass standard in 1954. He used the riffs he created using a 4-string plectrum banjo. To get the effect of two banjos having a feud, Smith asked Don Reno to play several riffs using his 5-string bluegrass banjo. It didn't take long before bluegrass enthusiasts and seasoned musicians picked up on the idea and created their own version of the Dueling Banjos. The most popular of these recordings was that of Eric Weissberg in 1972. This recording peaked at the number 2 spot at the Hot 100.
The first few parts of this song are very easy because they include mostly strumming. You will then add a note-by-note picking on the open chord. It is more of an exercise for the fingers as it is a test for the ears. You'll get used to the different notes that the banjo can play. I strongly advise you to learn this song by heart. Not only does it introduce you to good ole' bluegrass music. It is also a worthy piece for mastering basic banjo playing techniques.
3. Red River Valley by Jules Verne Allen
Genre: Folk
I consider this song to be one of the loveliest folk songs on the planet. It only has about two stanzas of lyrics. However, its simple structure lends the song enough versatility to add your own lyrics. What makes it so easy to play is that you will be playing the same chords and notes throughout the song. Once you master the verse, you are already good to go.
Red River Valley has been covered, remixed, and re-recorded many times by different artists. It also has gone by many names. Some people call it the Cowboy Love Song, while others prefer to call it the Bright Laurel Valley. While the song did not earn any accolades from contemporary music organizations, it does belong to an elite group of Western songs. The Western Writers of America consider Red River Valley as the 10th greatest Western song throughout history.
What makes Red River Valley a great piece for beginner banjoists is its versatility. You can play it like a typical folk song, something that is closer to its 1870 original. The song is also perfect as a country song, making it in tune with the Kelly Harrell recording of 1926 or that of Jimmie Rodgers in 1928. Jo Stafford turned this song into pop in 1948, which inspired Bing Crosby and Connie Francis to do the same in 1959 and 1961, respectively. Making it into a ballad or even a rock song is also not far-fetched. In all these genres, you can use the twangy sound of your banjo to your advantage.
4. Man of a Constant Sorrow by Dick Burnett
Genre: Folk
You may know this music piece from the 2000 George Clooney movie, O Brother, Where Art Thou? The country song collaboration also earned a Grammy in 2002. What many of us don't know is that Man of a Constant Sorrow has been around even before World War I. Of course, it was only in 1927 when Emry Arthur recorded this Dick Burnett song. Since then, various artists have either covered the song or drew inspiration from it in the making of a different song variant. Good examples of the latter include Peter, Paul, and Mary's Sorrow and Judy Collins' Maid of Constant Sorrow. The most famous artist whoever covered the song was Bob Dylan in the 1960s. Not bad for a traditional folk song making its way to the world stage.
Like Cripple Creek, Man of a Constant Sorrow may sound so complicated for the beginner banjoist. The way a bluegrass musician claws his 5 strings can be very intimidating. What you should know is that first-time players should not attack the chords head-on. It is important to have a feel for the distinct twangy tone of the open strings first. Once your ears are accustomed to the unique sound of each string, it will be a lot easier to get the notes right.
Take it slow. This is a piece that is worth playing as it gives you mastery of the clawhammer. I can also say that people dig the tune as it has that warm vibe to it. It's a song that old folks can dance to and the hippie ones hum along.
Popular Related Article: 20 Amazing Banjos for a Beginner
5. Stand by Me by Ben E. King
Genre: Rhythm and blues
I decided to include Ben E. King's 1961 signature song on this list to prove that the banjo is not only great for playing bluegrass classics. It may sound very odd the first time you pick the strings. This is because Stand by Me is more popular for its bass notes. And even with the low melodies of the banjo, it will still sound like the high notes on a guitar. That is the only real difference between playing this song on the banjo and playing it on an acoustic guitar.
Given that the guitar chords of this classic rhythm and blues song only involves four chords, beginner banjo players should be able to play it with ease. You have one less string to worry about fretting. That should help relax your fingers a bit.
Strumming the chords of Stand by Me on the banjo should be easy. However, the best way to play this music piece on the banjo is by fingerpicking the strings. It is for this reason that the clawhammer is an essential technique to learn and master. You'll also love the switching and sliding of the fretting fingers. It really is a great song for practicing and mastering some of the fundamental techniques for playing a string instrument. And this includes the banjo.
6. Bye, Bye Love by The Everly Brothers
Genre: Rockabilly
Most people think that the banjo is only great for playing bluegrass and country songs. However, it can give a nice sound to a rock lick, too. It's the characteristic twangy sound of the banjo that makes this string instrument a great tool for rocking rockabillies and other rock and roll songs. Take for example this 1957 rockabilly piece from The Everly Brothers. What you should know about this group is that they're quite famous for drawing inspiration from country music in their rock and roll hits. This is very evident in Bye, Bye Love.
It makes perfect sense to learn the banjo playing of this piece. It is an all-time great song, according to the Rolling Stone Magazine. And even if it no longer enjoys significant airtime on radio stations, it still has a substantial following in terms of digital downloads. When you play this piece on your banjo, you'll get a twangy melody that is almost as close to the original recording.
The key to banjo playing Bye, Bye Love is getting the fingerstyle right. This is a lot easier than the fingerstyle on a guitar. It's the clawhammer technique that you will need to pay attention to. And if that is quite tricky, then you can always strum the four chords of the song. I do urge you to learn the banjo licks as it can give the piece a more colorful tone.
7. House of the Rising Sun by The Animals
Genre: Folk
Long before the British band, The Animals, recorded this song in 1964, blue-collar workers were already singing the song as early as the 18th century. The Animals' version had a more rockabilly feel to the music. The original is more laid back, perfect for playing with fellow miners and laborers after a long day of toiling in caves and under the sun. There are musicologists who say that this song can be as old as the folk ballads of the 17th century. It is quite difficult to prove this because of the dearth of documentary evidence.
Regardless, this song is one of the best music pieces you can ever play on a banjo as a beginner. Seasoned banjoists play the House of the Rising Sun with very deft fingers. It is easy to mesmerize at the fascinating play of the fingers. You might think that there is no way a newbie banjoist can ever execute such a fingerstyle. On the contrary, it is easier than it sounds.
The only way you can learn this song on the banjo is by practicing the rhythm first. Picking the strings to familiarize yourself with their respective tunes is the next order of business. From here, you can then attack the song by including the chords. Don't worry if it doesn't sound as beautiful as you want. You'll eventually get the hang of it once you master the clawhammer and sliding techniques of this piece. This is easily one of my favorite easy banjo songs for beginners.
8. Johnny B. Goode by Chuck Berry
Genre: Rock and roll
I already said that the banjo is also a great instrument for playing rock songs. Rock and roll pieces are often defined by the distinct high-pitched sounds of the guitar strings. The banjo has a natural high-pitched sound, making it the perfect string instruments for executing the different guitar riffs in a classic rock and roll song, like Johnny B. Goode.
This song is so popular that many modern audiophiles still include the piece in their playlists. This is not surprising at all, since Johnny B. Goode is an all-time great. What makes it ideal for the banjo is the song's note-for-note solo in the beginning. It is like playing a percussion instrument because of the high-pitched notes that it produces.
There are several solos in the song that you can incorporate in your other banjo songs. That's the beauty of this piece. You can learn a segment and use it to embellish another cover. As always, begin learning the song by mastering the fingerstyle. It is important that you have good finger flexibility. This will allow you to move across the fretboard in an effortless manner. If there's one thing that all beginner banjoists need to master in this song, then it would be employing the clawhammer technique. This is your window to other great banjo songs.
9. Ho Hey by The Lumineers
Genre: Indie folk
You won't believe how easy it is to play Ho Hey on the banjo. If playing this 2012 indie folk is a breeze on the guitar, it should be near effortless on a 5-string banjo. Unlike other banjo songs that will require specific fingerstyle and clawhammer techniques to produce a good melody, Ho Hey only needs you to perform a few basic strumming patterns. The sound it produces will still be marvelous; thanks to the natural high-pitch sound of the banjo strings.
Playing Ho Hey on the banjo is like playing it on an acoustic guitar. However, I can say that it is a lot easier because there are only 5 strings that you will have to worry about. You will also be focusing mostly on the upper neck of the banjo. I have seen many banjo songs that require your fingers to slide from the upper neck all the way to the lower end. It can be taxing for beginners.
The strumming is also not that different from strumming the strings of a guitar. That is why this is the perfect piece for people who are making the transition from a guitar to a banjo. It's also great for those who would like to add the banjo to their list of instruments that they can play.
10. Silent Night by Franz Xaver Gruber
Genre: Seasonal
I know this is hardly the song that you would want to play on your banjo whenever you like it. It is a seasonal song that is best reserved for the Holiday season. However, it has a very beautiful melody that is perfect for sending your loved one to slumberland. It can also be a very soothing piece for your depressed or anxious friend. And if you're in the groove for some loving with your partner, Silent Night can also be an excellent serenade piece.
This song is already very old. It was Joseph Mohr who penned the lyrics of the song, while Franz Xaver Gruber arranged its musical structure in 1816. The parishioners of the St. Nicholas Church in Oberndorf, Austria were the first to hear the music on Christmas Eve of 1818. The song gets sung every Christmas time since then. I bet you didn't know that Stille Nacht is number four among the best-selling singles in the history of man.
This song sounds so angelic on the banjo, especially if you learn to play it note by note. It can be tricky at first. This is because you will have to familiarize yourself with a few banjo playing techniques to get the right tonal characteristics of the song. Absolute beginners can always opt for the usual strumming technique. The 5-string twangy sound of the banjo can still produce a vibrant melody. And once you're confident about the sounds of your instrument, you can begin playing Stille Nacht like a bluegrass musician.
11. Wake Me Up by Avicii
Genre: Folktronica
Some people may consider this a big surprise. However, if you listen closely to the original recording of this Avicii song, you'll know that the banjo is simply perfect for it. The high-pitch sound of the banjo is great for mimicking the electronic sounds of the original recording. It gives the song a nice rockabilly feels to it while remaining grounded in its folk roots.
To make the banjo sound like the original recording, you'll have to focus on the correct execution of the switching of the chords. The technique also requires you to slide your fingers across the fretboard during the switch. It can take a few practice sessions before you can get it right. The verse is easy enough to play. It is also a great practice piece for learning and mastering your clawhammer technique.
One part of the song that I beg you to try to master is the synth line. This is where you will really appreciate the unique sound of the banjo. It is like using an electric guitar with its delay effects on full. You get that twangy note that lasts a few seconds, even without any external pedals to execute such an effect. Of course, performing the synth line will test your fingers some more. I promise you that it's all worth your effort.
12. Will the Circle be Unbroken? by Ada R. Habershon
Genre: Hymn
This song gets sung every single year whenever someone gets inducted into the Country Music Hall of Fame. The year's Hall of Fame inductee gets to sing this song together with other Hall of Famers who are in attendance. This speaks volumes about the importance of this piece of music. Not only is it a mainstay at the Hall of Fame awards. The song also happens to be a favorite of many artists as a cover. Leading the pack of legends who have covered this 1907 song is Bob Dylan, who recorded it in 1967. You can also include Blues legend John Lee Hooker (1961) and the country music band Nitty Gritty Dirt Band (1972) in that list.
Not only is the song's message beautiful, but its melody is also almost heavenly. This is the key to become successful in learning this song. You've got to have the melody right in your head. It will make playing the song a lot easier because you will know if the note, you're producing is right or not. I suggest listening to a recording of this song, in case you don't know how it sounds like.
The song is perfect for learning pinching, sliding, and pull-off techniques. These are all fingerstyle that can also be an indispensable skill set for playing other string instruments. Be patient when learning these tricks. You may be compelled to give up because of the complex movements of the fingers. However, I beg you to persevere. It is a beautiful song that sounds even more beautiful on the banjo.
13. American Pie by Don McLean
Genre: Folk rock
Here's another song that sounds amazing on the banjo. It is a 1971 folk rock song that is number 5 on the greatest songs of the 20th century. It is a music piece that has lots of symbolism in its lyrics. And while very few artists covered this piece, it sure got the attention of pop kingdom's undisputed Queen. Madonna covered this song way back in 2000, giving the McLean original a more danceable tune that's perfect for greeting the new millennia.
American Pie has one of the most popular guitar riffs for a folk-rock piece. This lends the song excellent playability on other string instruments, such as the banjo. The intro will never demand anything more than a simple downstrum of each chord. It is the chorus and the following verses that you will have to employ your newfound banjo playing skills. The pull-offs and chord switching are a must. Of importance is the method of executing the clawhammer. It is like the fingerpick of a guitar, but with a 3-finger movement instead of 4.
Play this song whenever you're with your friends. I'm sure they also know the lyrics. And even if they don't, they can always accompany you when you get to the song's signature and-the-music-died hook.
14. Nothing Else Matters by Metallica
Genre: Rock
This looks like another unlikely song for a banjoist. If you've been paying attention, you know that this isn't true. The banjo is the perfect string instrument for playing rock and metal songs like Nothing Else Matters. Metallica recorded this piece in 1991, peaking at the 11th spot of the Mainstream Rock Tracks of Billboard. While the song is not an all-time great, it remains a favorite piece of aspiring rock bands.
I think the banjo is perfect for playing the famous riff of this Metallica song. It has that sharp sound of metal that can be tricky to accomplish using an ordinary acoustic guitar without any pedals. This is one major advantage of the banjo. It has a very bright sound that can accentuate the beautiful notes of any melody. This is the opposite of bass. If bass can talk to your soul, the sound of the banjo can lift your spirits and get it to soar.
Beginner banjoists may find the riff to be quite challenging. This can be made easy if you focus your efforts in mastering the art of using only the thumb, index, and middle finger in the picking of the strings. You don't have to play any chord yet. Get a feel for the 'clawing' motion of banjo playing. Once you get that in the bag, it should already be a cinch to play this Metallica masterpiece.
15. You are My Sunshine by Pine Ridge Boys, Rice Brothers Gang
Genre: Country
I believe this song needs no introduction. I also think there's no need to justify its inclusion into this list of songs for beginner banjoists. It is a very popular music piece that, while it did not enjoy any spot-on Billboard rankings or even on the all-time greatest songs list of Rolling Stone, this song has surely won the hearts of many artists through the years. Some of the more popular artists who have ever recorded or performed this 1939 Pine Ridge Boys, Rice Brothers Gang classic include Doris Day, Nat King Cole, Ray Charles, The Beach Boys, Anne Murray, Aretha Franklin, Johnny Cash, Jerry Lee Lewis, and Bing Crosby, among others.
There's a bit of a controversy as to who really wrote the song. Most musicologists credit the song to Jimmie Davis. As it turns out, Davis only bought the song and the rights from one of the Rice brothers. Davis then put his name on the material. This is not uncommon during that time. Unfortunately, Paul Rice was also not the writer of the song. Instead, it was one of Rice's former music associates – Oliver Hood – who wrote the song and performed it first in 1933 at a convention for veterans of foreign wars held in LaGrange, Georgia.
Okay, enough of history. I cannot tell you enough just how much fun it is to play this song on the banjo. It is a very happy song because of its vibrant vibe and allusions to the warm glow of the summer sun. However, if you do listen to the lyrics closely, you'll realize that the message is one of sadness. Nevertheless, it remains a very lively song that is perfect on the banjo because of the lift-your-spirits capabilities of this 5-string instrument.
16. Amazing Grace by John Newton
Genre: Hymn
Another song that grew out from a gospel standard to become one of the most recognizable songs in the history of man is Amazing Grace. This is a song that started without any musical accompaniment, relying only on the uniform chanting of churchgoers in the late 18th century. Joh Newton prepared the words as a sermon during the mass on the very first day of 1773. John Husband added music accompaniment to the lyrics in 1808, using the Hephzibah tune. As Europeans crossed the Atlantic in the early 19th century, they brought with them Amazing Grace. This signaled the growth of the song in the United States.
The first-ever recording of the song is in a capella. The Sacred Harp Choir performed this piece in 1922. Since then, there have been more than a thousand different recordings that include compilations and re-releases. This does not include the more than 3,000 music pieces that are either a version of the song or are greatly inspired by the 18th-century music piece. Some of the popular contemporary artists who have ever recorded Amazing Grace included Sam Cooke in 1963, Elvis Presley in 1971, and Five for Fighting in 2020.
The many renditions of this song give you a lot of opportunities to play it any way you want. You can play it as a solemn piece like they do in the church. You can also give it a livelier tune for those who want a more vibrant song. Do keep in mind that the secret to playing this 18th-century hymn on the banjo is by getting the clawhammer technique right. There are also slides and switches that your fretting fingers will need to perform. Learn it well and you've got one of the most versatile songs in the bag.
17. Hallelujah by Leonard Cohen
Genre: Folk rock
Some people believe that Hallelujah is a gospel song. It isn't. This is a folk song with rock elements to give it a nice melody that appeals to a wider audience. Leonard Cohen wrote and recorded the song in 1984. The music piece was not an instant success, perhaps because of its secular underpinnings. John Cale recorded it in 1991 and included the lyrics that Cohen would only perform live. The 1991 song also had a good mix of piano and vocals that caught the attention of other artists and audiophiles everywhere. This song version formed the foundation for other renditions of the music piece; more than 300 in all.
When played on a guitar, Hallelujah has a steady chord progression that gives it ease of playing. This should also make it a cinch to fiddle on the banjo. This music piece is ideal for learning the clawhammer technique. It has a recommended tempo of only 56 beats per minute. Such a slow tempo should allow beginner banjoists to 'claw' the strings without any issues. The open chords also make the banjo playing easy.
It is a song that you cannot dance to, except when you're in the mood for some slow and romantic dance. However, it is one of the most beautiful songs you can ever play. The melody it produces on the banjo sounds more like that of a piano. The bright twang of each note is enough to let you feel almost like in heaven. If you're looking for fun and easy banjo songs this is an excellent choice.
18. Hush Little Baby
Genre: Folk
A lullaby is hardly the song you would want to learn to play to impress your friends. However, if your main goal is to learn how to play the banjo like the veterans of bluegrass, then you cannot have an easier song to play than Hush Little Baby. This is a folk song that has an unknown authorship or even date of creation. What musicologists know is that it originated in the Southern parts of the US. This did not prevent famous artists from recording and performing the song. This lullaby was also adapted into several contemporary pop songs, such as Mockingbird.
At 80 beats per minute, playing this song should never pose any problem. It is like following the normal beat of your heart. It also helps that the lullaby has a predictable chord progression. This is in case you decide to play it using an ordinary strumming technique. Of course, you can up it a bit by performing only a split strum to give the song a more beautiful harmony.
I find Hush Little Baby to be a good piece for learning the clawhammer technique. The tempo is slow enough to allow your fingers to move one after the other. This produces the characteristic piano-like, note-by-note sound of the song. It is a great musical piece to learn and use for soothing your baby or your loved one.
19. She'll Be Coming 'Round the Mountain by Henry Whitter
Genre: Folk
You may remember this from your childhood. Or, you may have already played it for your kid and his or her friends. It is a very fun song that is also versatile enough to accommodate any change in its lyrics. You can tweak the lyrics to suit your needs. Party organizers often use the song as a basis for creating lively pieces that will have everyone dancing and singing along. And if you add the banjo into the equation, you'll get a very spirited song that gives you very pleasant feelings.
No one knows who wrote this song or where it came from. The earliest records come from the compilation of folk songs by Carl Sandburg in 1927. The consensus is that the song is an adaptation of When the Chariot Comes. Railroad miners of the late 19th century used the melody of this particular song in the creation of She'll Be Coming 'Round the Mountain. It was Henry Whitter who first recorded the song in 1924, paving the way for the music piece to reach the mainstream.
I love watching banjoists play this song. They can play the classic bluegrass version of the piece, while also adding chords from a guitar. Seasoned banjoists love to add a mandolin chop and even bass notes to the song. While these elements can be tricky to accomplish at first, beginner banjoists can still learn them if they practice enough. It is a very inspiring and encouraging song that gets a big boost in terms of its brightness when played on the banjo.
20. Take Me Home, Country Roads by John Denver
Genre: Country
There's more to Country Roads than a very vivid description of the West Virginia countryside. From the picturesque Blue Ridge to the rolling meadows and tree-lined lanes, this is a song that can transport you to a time and place of bliss and tranquility. The characteristic twang of the banjo can also give you that sense of overall warmth; perfect for conjuring images of home.
Country Roads sounds so natural on the banjo. It has that brightness to it that can add a more vivid tune to the song. The verses of Country Roads are easy to either strum or clawhammer. It is the chorus that can pose a bit of a challenge to beginner banjoists. However, I do believe that it is still playable, provided you devote ample time to mastering the basic banjo playing techniques recommended for the song.
This song is a mainstay in many backyard gatherings. Almost everyone knows the lyrics, allowing people to sing along. It also has a few nice hooks that will get you addicted to the song's melody. This John Denver song is not only the country artist's most popular song. It also happens to be one of West Virginia's four official state anthems.
21. Cotton-Eyed Joe
Genre: Country folk
Cotton-Eyed Joe is like any other folk song. It has a very likable tune that almost anyone who hears it can easily sing along. It also doesn't have a very clear origin in terms of who wrote or arranged the song or where it came from. Musicologists who specialize in the study of American folk music say that this song might already be present even before the American Civil War in the mid-19th century. It is believed that Black plantation workers sang this song while they were toiling in the fields. No one can be certain for sure.
In 1882, Harper and Brothers published a manuscript that contained the details of the song. It was this piece of literature that allowed the song to flourish well into the 20th century. Southerners recall Cotton-Eyed Joe as the national anthem of Southern Texas in the 19th century. It was a popular tune for couple dance polkas and square dance hoedowns. Many artists have either covered the song or tweaked it a bit to give their own version. Even Harry Potter (Daniel Radcliffe) himself recorded a version of this song way back in 2017.
Playing Cotton-Eyed Joe on the banjo is easier than other songs. It uses only two fingers in picking the strings. There is a lot of switching on the fret, however. This can be intimidating to first-time banjoists. What you should know is that the whole song is easy to play if you are patient enough to learn the basics.
22. Ring of Fire by Johnny Cash
Genre: Country
Listening to Ring of Fire gives you a very warm and exciting feeling of both being alive and in love. And if you listen closely to the original recording of this 1963 song, you will get that distinct high-pitched sound of steel strings on the fiddle. Their melody is rich with the different notes coming from different instruments. It makes you wonder if there is a mandolin, a harmonica, or even an electric guitar in the mix. Of course, the banjo will have to be there because of its distinct and bright tune.
A song that sits high on Rolling Stone's all-time greatest, Ring of Fire is as popular as any other legendary music piece ever to come out of the 1960s. There are several versions and covers of this song, including The Animals, Olivia Newton-John, and Ray Charles, among others. Madonna even performed this song on one of her tours in 2016.
There are several ways you can play this Johnny Cash classic on your banjo. Beginner banjoists can focus more on a split strumming technique. This should help strengthen your basic clawhammer technique. Don't worry so much about the chords as you will mostly be using the open G chord. The only section you will add a different chord is in the chorus. Even then, D major and C major aren't exactly the most difficult to execute.
23. Californication by Red Hot Chili Peppers
Genre: Alternative rock
It should not surprise you anymore why I included Californication in this list of easy banjo songs. It is a rock song that requires the unique high-pitched sound of a steel-string electric guitar. The beauty of the banjo is that the volume of the note is loud enough, even without the use of any accessory or amplifier. You get that nice rock vibe of the song without really trying. You don't need to complicate your playing, dividing your focus on other accessories just to get the right tune.
Californication has a soft rock vibe to it. You don't need to strum the banjo. A simple pick of the right string is all it takes to produce a recognizable riff. The intro is easy as it only involves the picking of the individual notes. You then pick the clawhammer technique a little bit as you conclude each verse. It may seem challenging at first. However, I can say nothing is challenging if you focus on your fingering.
The pre-chorus is the trickiest part of the song, banjo playing-wise. This is because you will be picking up the pace of your fingerpicking in a galloping rhythm. The easiest part is the chorus as it is an all-out 5-chord strumming. The solo is also great for mastering your switches and slides, although you can do this at different parts of the song. Overall, Californication is a great music piece for beginner banjoists to play.
24. Hotel California by Eagles
Genre: Soft rock
Here's a banjo song that will have the whole gang singing along during Friday night parties. It's a favorite of ours whenever we go camping or going on a fantastic road trip. I'm sure you like this song, too. Not only does this 1977 soft rock music piece have a very catchy tune. It also happens to have one of the most fascinating guitar riffs on the planet. And, guess what? It's this same guitar riff that can be a very fascinating piece to play on your banjo.
Think of the riff in terms of the individual notes of Hotel California. If you are familiar with the original song, you know how twangy the electric guitar can be. This is made possible by the addition of sound effects to the instrumental. While the guitar solo is a phenomenal section, I am confident that the banjo can provide you with a more exciting and interesting tune.
What may surprise you is that playing this song on the banjo is a lot easier than having it on an acoustic or even an electric guitar. The secret to the wonderful sound is in the clawhammer technique that you employ. That is why I urge you to learn this technique because it will form the foundation for the playing of the whole song. It won't even strain your fretting fingers because there are no complex fingerstyle movements involved. The only thing you will be thinking about is the correct positioning of the fingers to get the chords right. That's all there is.
25. Blowin' in the Wind by Bob Dylan
Genre: Folk
Blowin' in the Wind may not be your idea of a good song for the banjo. However, veteran banjoists will tell you that this 1962 folk song is one of the best materials for learning the basics of banjo playing. The tempo is moderate and the chords aren't that difficult. It is a lot like playing this song on a guitar. The difference is that you will be focusing more on the clawing pattern of your playing technique. Playing the guitar often requires a 4-finger play. Playing the banjo will only require three of your most dominant fingers: the thumb, the index, and the middle fingers.
I can think of several ways a beginner banjoist can play this song. The easiest will be to strum the open chords of G major, C major, and D major. These are some of the easiest, three-finger chords you can ever play. And if you don't like the melody that this technique produces, then you should always try to learn the fingerstyle for the banjo.
The fingerpicking technique is a lot easier and simpler than what a guitar requires. I have seen banjoists who only use two fingers in the clawing of the strings. Most will employ 3 fingers. It is still fewer than the 4 fingers that you will often need to use when playing the song on a guitar. That is why I believe any beginner banjoist can play this song.
It is not easy to pick the right songs that you can use to learn the basics of playing the banjo. However, I do hope that my list of easy banjo songs has provided you with enough material to start on your journey as a banjoist. As always, I encourage you to be patient about the learning of the different banjo playing techniques.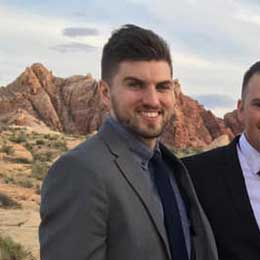 My name is Chris and I've had a passion for music and guitars for as long as I can remember. I started this website with some of my friends who are musicians, music teachers, gear heads, and music enthusiasts so we could provide high-quality guitar and music-related content.
I've been playing guitar since I was 13 years old and am an avid collector. Amps, pedals, guitars, bass, drums, microphones, studio, and recording gear, I love it all.
I was born and raised in Western Pennsylvania. My background is in Electrical Engineering, earning a Bachelor's degree from Youngstown State University. With my engineering experience, I've developed as a designer of guitar amplifiers and effects. A true passion of mine, I've designed, built, and repaired a wide range of guitar amps and electronics. Here at the Guitar Lobby, our aim is to share our passion for Music and gear with the rest of the music community.