Punk is, without a doubt, one of the most influential genres in modern music. However, the movement itself experienced a lot of changes, often very drastic and turbulent. Its fusion with pop was considered to be somewhat controversial, but what Green Day did was praised by fans of virtually all music genres and styles. Led by young Billie Joe Armstrong since the late 1980s, the band made a huge breakthrough in 1994 with its album Dookie. Although having a punk band on a major label was met with some criticism, Armstrong and the guys kept pumping out awesome albums. To this day, they remain one of the most influential punk and rock bands of all time.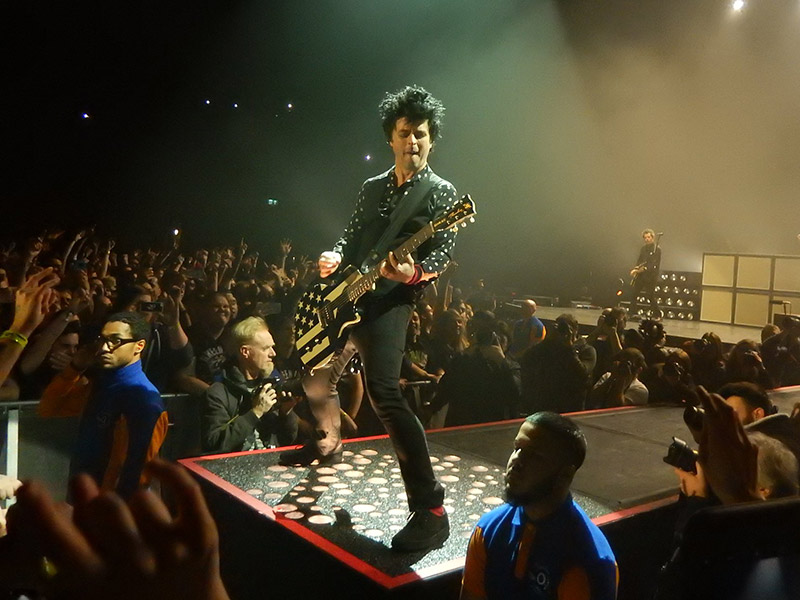 With great musicianship usually comes great instruments as well. From the late 1980s to today, the Green Day frontman has used his share of incredible guitars, amps, and pedals. Let's take a closer look at guitars, amps, and pedals that Billie Joe Armstrong used during his very prolific career.
What Guitars Does Billie Joe Armstrong Play?
Billie Joe Armstrong is most known for playing Gibson Les Paul Jr. guitars. Another of his most iconic guitars is his Fernandes Strat-style guitar known as "Blue".
See the full of most notable Billie Joe Armstrong guitars below.
Fernandes Stratocaster, AKA "Blue"
Finish: Light blue, worn out
Years Used: 1983 to Present
It's this guitar that defined Billi Joe Armstrong's tone and playing style, ultimately helping him achieve worldwide fame with Green Day. Contrary to what some fans might think, this is not a Fender Stratocaster, but rather a Fernandes copy made back in the 1970s, presumably in the mid to late part of the decade. Billie got it in 1983 when he was only 11 years old. His mother bought it for him from George Cole who was Billie's guitar teacher. Reportedly, the instrument was previously owned by former Santana bassist David Margen who played with the legendary musician in the late 1970s and the early 1980s.
Of course, the instrument was modded over the years, both in terms of functional and aesthetic features. But the most interesting thing here is that this is a pretty cheap guitar. It was pretty much an affordable Strat copy back in the day. Nonetheless, Armstrong implements it fully, even to this day. Of course, the exact details about this guitar's materials aren't certain since it's a pretty obscure model. But it is known that they made instruments with silver heart wood body, while they sometimes also used mahogany or even hard maple.
As for the pickups, the guitar originally had three alnico single-coils. Armstrong modified it and the selector switch is now locked in the bridge position where he has put a Seymour Duncan SH-4, while the rest of the pickups are disconnected. However, digging through its history, the guitar had other pickups in there as well, including a Bill Lawrence L-500XL humbucker. The SH-4 pickup is also placed at an angled position, just like we see on most Strats with single-coil pickups. The instrument had the Bill Lawrence pickup until 1994 when it was damaged during the 1994 Woodstock performance.
As for the neck, it is presumed that the guitar features its original neck, which is made out of maple and has a maple fretboard. The guitar, however, was refretted, as it usually goes with instruments that are this old and this well played.
1955 (or 1956) Gibson Les Paul Junior, AKA "Floyd"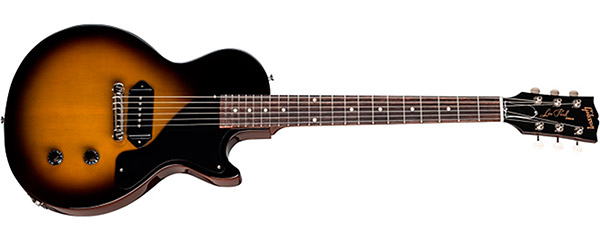 Finish: Sunburst
Years Used: 2000 to Present
But although the famous Fernandes Stratocaster has been Armstrong's main axe for so many years, Billie fell in love with Gibson's old Les Paul Junior guitars. In fact, he started using this particular 1956 or 1955 model which he nicknamed Floyd. Acquiring it back in 2000, the instrument became a blueprint for Armstrong's signature Les Paul Junior signature models that he has done in collaboration with Gibson. The instrument saw heavy use on the band's 8th record "21st Century Breakdown," released in 2009.
Just like all of the classic Les Paul Junior guitars, this one comes with a somewhat smaller body compared to other LP models. Overall, the instrument is as simple as it gets. It comes with a mahogany body as well as a mahogany neck. As for the fretboard, it's most likely rosewood, although many have been made with ebony ones. The body also has a vintage sunburst finish, which is simpler compared to other Les Pauls that come with such a color pattern. The rest of its aesthetic features are also pretty simple and the guitar comes with no premium features like binding or inlays. There's just a simple black pickguard.
And like most of Gibson's Les Paul Junior guitars, this one comes with one classic P90 single-coil pickup in the bridge position. However, Billie Joe Armstrong uses Seymour Duncan's Antiquity P90 instead of Gibson's stock one. It's also accompanied by volume and tone knobs. What's more, the guitar has a simple stop bar without a tune-o-matic bridge. So if you're wondering what guitar does Billie Joe Armstrong play the answer is this guitar and the Stratocaster above. In 2018, Gibson began manufacturing a Billie Joe Armstrong signature guitar which is a Les Paul Jr based on this guitar.
Gibson Les Paul Junior Double-Cutaway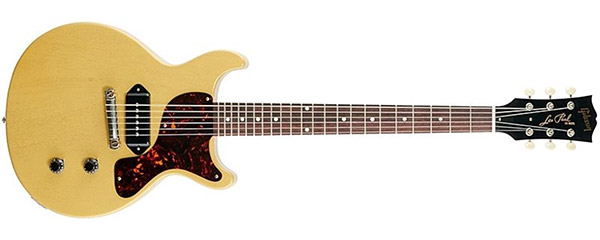 Finish: TV yellow
Years Used: 2010 to 2019
Billie Joe Armstrong actually has a lot of Les Paul Juniors in his collection, presumably around 20 of them. However, we'd mention only a couple of these guitars, including his double-cutaway Junior that was made in collaboration with Gibson back in 2011. Once again, we have a fairly simple instrument, only with some of its own design features. The instrument was designed according to old double-cutaway Les Paul Junior guitars from the late 1950s, those of which are still highly valued among collectors. The instrument's classic build is accompanied by an H-90 pickup in the bridge position, which is a fairly popular version of the classic P-90 that does some hum cancellation of its own. As expected, it's also accompanied by one volume and one tone knob.
This Junior comes with a so-called "TV yellow" finish which pays tribute to those old models from the late '50s. We also have a standard black pickguard with a minimalistic skull and bones symbol at the treble-side cutaway. Other than that, we also have other simplistic features, including a stoptail bridge.
Armstrong used this guitar up until 2019 when it was sold through Reverb for $15,000, along with a lot of other Green Day gear. The instrument's serial number is 109011416. Of course, we could talk about his Juniors for a while, but these two stand out the most in his collection. In 2010, Gibson produced a limited run of Les Paul Jr Double Cuts in TV yellow as a Billie Joe Armstrong signature guitar.
Ibanez RG370DX

Finish: Blue
Years Used: 2004 to Unspecified
Yeah, we all know that Billie enjoys using simple guitars. And we've also seen that he's into some cheaper stuff. However, no one could have expected that he's into those metal-oriented "shreddy" Ibanez guitars. And especially if they're models like the RG370DX. Sure, everyone's free to use guitars that they like, but you don't expect to see such an instrument in hands of a punk musician.
This Ibanez model was introduced back in 2005 and saw a pretty decent success for its five or so years of production. It's a classic Super-Strat kind of guitar, although it has some pretty awesome features of its own. First off, you can notice that the instrument has humbuckers in the bridge and neck positions, while it also features one single-coil pickup in the middle position. These are, of course, all Ibanez Infinity series pickups and they come with a 5-way selector switch and standard controls for volume and tone.
The guitar body is made entirely out of basswood, while the neck, which forms a bolt-on connection, is a 3-piece maple one. It also comes with a rosewood fretboard and 24 jumbo frets. This decently-priced shred machine is finalized with an Edge III double-point tremolo bridge.
While the design is nothing extraordinarily spectacular, RG370DX does come with some pretty nice-looking binding on the fretboard, as well as Ibanez's famous "Sharktooth" inlays.
But in the end, the most striking thing is that this is a pretty standard guitar, the kind that you get in a store for a pretty reasonable price. Well, it seems that this is proof that Armstrong can put even these instruments to good use. This is one of my favorite Billie Joe Armstrong guitars.
Gibson J-180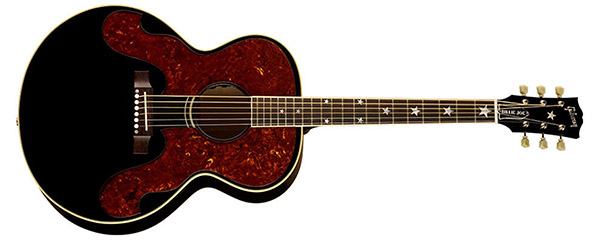 Finish: Black
Years Used: Mid-2000s to Present
Of course, being in such great relations with Gibson guitars, it was only a matter of time until everyone would see him use one of their acoustics. In fact, since he's been using the J-180 model which was eventually released as his signature model.
J-180 is one of Gibson's most respected instruments. It features a jumbo body shape that's pretty wide. As far as the materials go, the body top is solid sitka spruce, while the back and sides are made out of maple. This results in a pretty resonant tone and a relatively loud output for an acoustic guitar. This is also accompanied by traditional "X" bracing for the top. Then accompanying this fine body, we have a mahogany neck, that not only feels great with its "V"-shaped profile but also contributes to the guitar's overall tone and resonance. The neck features a rosewood fretboard, with a radius of 12 inches, and 21 frets on it. The neck and the body form a standard 24.75-inch scale length.
Of course, the design is top-notch as well. The guitar has a pretty-looking binding on the fretboard and the body. This is all followed by "mother of pearl" inlays on the fretboard that are star-shaped. It's a pretty impressive instrument, and it's no wonder that Armstrong is really into it.
Rickenbacker 360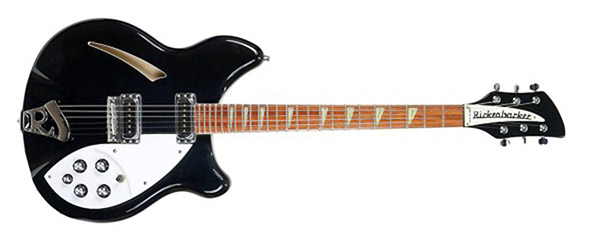 Finish: Black
Years Used: 2007 to Present
Although not as wild as some musicians who prefer outrageously unusual stuff, Billie Joe Armstrong does have a few "unconventional" instruments in his collection. One of such is his amazing Rickenbacker 360. This is, in fact, one of the longest-running models in the history of electric guitars. Produced from the late 1950s to now, Billie has a black version with a white pickguard. The instrument features rather smooth and contoured edges of the double-cutaway semi-hollow body. But the cutaways aren't like on other "standard" electric guitars that we're used to. Although uneven in size, they both meet the body around the same spot.
The instrument's body is made entirely out of maple. This is followed by a maple neck that features a rosewood fingerboard and (surprisingly enough for such a vintage-oriented instrument) 24 frets. The fretboard radius is slightly rounder, measuring at 10 inches. Meanwhile, the instrument's scale length is 24.75 inches, pretty much a standard average one.
But looking at the hardware and electronics, things get even weirder. Although a fixed bridge, you don't often see the one as we have on the 360 model. It bears individually adjustable saddles but comes with a cover that serves mostly an aesthetic purpose. But then there's the so-called "R" tailpiece, representing the company in a rather extravagant manner. It also adds to the guitar's resonant tone and sustain.
Then we have Rickenbacker's so-called "Hi-gain" single-coil pickups, with their design remaining unchanged even after all these decades. But although only two pickups, we have some pretty exciting controls on it. It comes with individual volume and tone controls for both pickups, plus the "blend" control that gives some more tone-shaping options. The resulting tone, in all three pickup combinations, has those bright single-coil qualities that are boosted by their more "aggressive" tone, giving them somewhat of a humbucker-ish twist.
Gibson Les Paul Custom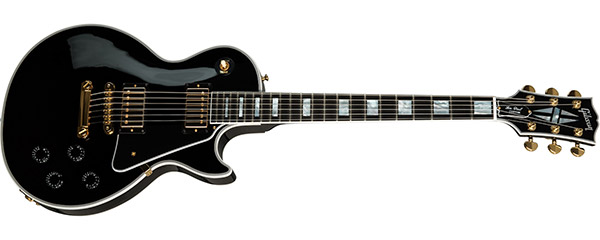 Finish: Black
Years Used: 2003 to 2013
When you have a musician of such fame and caliber, it's unusual not to see at least one Gibson's Les Paul Custom. Especially with Billie who simply adores Gibson guitars. From the mid-2000s and up until 2013, he had a black Les Paul Custom model. Unfortunately, Armstrong smashed the guitar on stage in 2013 over at the Reading festival since it, apparently, couldn't stay in tune. It's no unusual for Gibson guitars though since this can happen with angled headstocks and strings breaking at an angle on the nut.
But all of Gibson's guitars from their Custom Shop are premium-quality instruments. This goes both for their performance and aesthetic qualities. The one used by Armstrong was completely black with gold hardware. But no matter the color, these guitars all come with a multi-ply binding on the body edges and the headstock. Meanwhile, along the fretboard edges, we have a standard single-ply binding.
As for the materials, these guitars come with mahogany bodies and 3-piece maple necks accompanied by rosewood fretboards. It's not certain whether his Les Paul Custom model had a weight relieved body or not as they come in both variants. As for the pickups, they also come in different variants, although it's possible that the guitar had Gibson's '57 Classic humbuckers.
In the end, it's not certain where this guitar ended up.
Gibson Memphis Billie Joe Armstrong Signature ES-137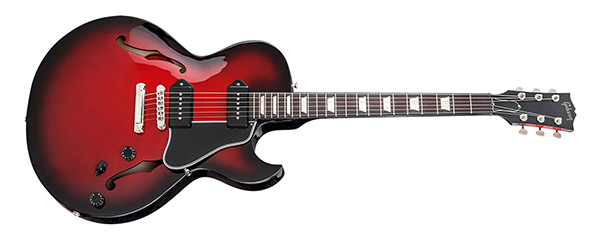 Finish: Cherry burst
Years Used:  2010 to Present
It's kind of odd to see any punk rock musician using a guitar that's originally intended for jazz music. However, Billie Joe Armstrong actually has his signature ES-137 semi-hollow body guitar. While you might see these kinds of instruments used by some rockabilly or old school rock 'n' roll guitarists, it does have a special appeal when in hands of a rock musician.
All of the ES-137 models were produced between 2002 and 2013. Interestingly enough, this is a special unique model in Gibson's legendary ES line and was not based on any of the older models, as is usually the case. But we can still see some similarities with the ES-175 guitar.
The one used by Billie Joe Armstrong comes with a cherry burst finish. The body top is made out of a maple and basswood combo, while the back and sides are mahogany. It also comes with a chambered mahogany core, which makes it rather unique. We also have a maple neck fitted with a rosewood fretboard with a 12-inch radius and Pearloid trapezoid inlays. Then there's also the standard tune-o-matic bridge and a stop bar tailpiece, as well as a 5-ply pickguard, stylish black knob caps for tone and volume, and a 3-way rotary pickup selector switch.
Finally, we have a nice pair of Memphis P90 pickups. Although single-coils, we all know how rough and tough they can get when needed. And it seems that they do a pretty great job for Armstrong. It's also important to note that this is a high-end instrument with some premium features.
1976 Gibson Explorer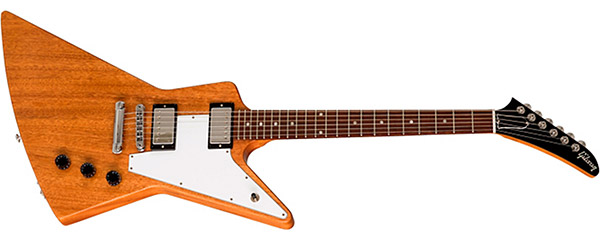 Finish: Natural
Years Used: 2019
Another instrument that you wouldn't expect to see in Billie's collection is the Gibson Explorer. He actually had a few of these, although the one that we can fully confirm is a 1976 model with the 00234027 serial number. Although such a guitar is often associated with metal musicians, it had its original run back in the late 1950s and the early 1960s. Gibson began reissuing them in 1976 and it remained as one of their best-known models ever since. It's not certain when exactly Armstrong acquired this one, but we know that it was sold along with a bunch of other gear in 2019 through Reverb, just like the double-cutaway Les Paul Junior that we mentioned.
The model that Armstrong used has a natural finish and a white pickguard cover. These Explorers released in 1976 were somewhat of a limited run before Gibson put them back on the regular menu. Along with a mahogany body, mahogany neck, and a rosewood fretboard, the instrument came with gold hardware. There are no special design traits like binding and the instrument has that classic "stripped-down" design. The instrument comes with two stock (but awesome) Gibson humbuckers, two volume controls for individual pickups, master tone control, and a standard 3-way switch. We can also see vintage Kulson tuners and a standard tune-o-matic bridge with a tailpiece.
Related Article: What Guitar Does Tom Morello Use?
Fender Telecaster Custom
Finish: Black (with a large white pickguard covering most of the body's top)
Years Used: Unspecified
We've mentioned Billie's legendary Blue Strat as his main axe. However, the most important backup guitar in his arsenal is the specially built Fender Custom Shop Telecaster. Looking at all of its traits, it seems that Billie really wanted a nice guitar with some traits that are very similar to his main old axe.
Once again, we have a fairly simplistic stripped-down instrument on our hands. The guitar comes with only one pickup, Seymour Duncan's SH-4 JB humbucker, placed in the bridge position. It's pretty similar to the one on his Blue Strat and it's also slanted in the same manner. But compared to his Blue, this Telecaster has just one volume knob and no other controls. This comes as just another example of Armstrong's preferences for simple instruments.
But although a classic Tele with an alder body and a maple neck (including a maple fretboard with 21 frets), the guitar comes with a large white 3-ply deluxe pickguard that covers most of the body and gives it a rather unique look.
Gretsch G6120 Brian Setzer Hot Rod Model 125 Year Anniversary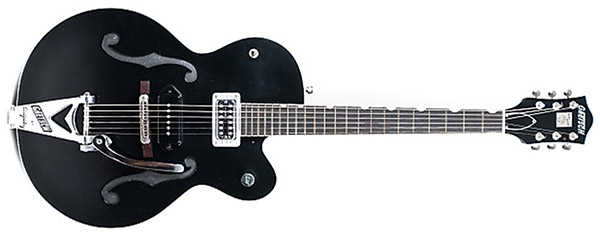 Finish: Black
Years Used: Unspecified to 2019
Knowing that Armstrong also likes some hollow-body guitars, it's not a surprise to see him using some Gretsch stuff as well. One of the guitars that he used for a while includes the company's Brian Setzer Hot Rod, the 125th anniversary model. And here's another one of his instruments that was sold off via Reverb in Green Day's massive action back in 2019.
This pretty-looking black guitar is a single-cutaway hollow-body guitar with the company's famous "Nashville" body shape. As is typical for hollow-body guitars, the instrument has a body made out of laminated maple, as well as an arched top. Its wonderful black glossy finish is also accompanied by white binding on the body edges.
The neck is a maple one and features a rosewood fretboard with 22 medium-jumbo frets and a compound radius. The fingerboard goes from 9 inches and up to a flatter radius of 12 inches going towards higher frets. This makes it a great choice for those who play both rhythm and lead sections. The scale length is a bit unusual, measuring at 24.6 inches.
This Gretsch is also equipped with two Filter'Tron humbuckers, a 3-way selector switch, and just one knob for master volume. We also have a tune-o-matic bridge on a rosewood base, as well as a Bigsby B6C vibrato tailpiece.
Table Showing What Guitars Billie Joe Armstrong Used At Each Point of His Career
| Make | Model | Color/Finish | Years |
| --- | --- | --- | --- |
| Fernandes | Stratocaster, AKA "Blue" | Light Blue | 1983-Present |
| Gibson | 1955 Les Paul Junior, AKA "Floyd" | Sunburst | 2000-Present |
| Gibson | Les Paul Junior Double-Cutaway | TV yellow | 2010-2019 |
| Ibanez | RG370DX | Blue | Mid 2000s |
| Gibson | J-180 | Black | Mid 2000s-Present |
| Rickenbacker | 360 | Black | Late 2000s-Present |
| Gibson | Les Paul Custom | Black | Mid 2000s-2013 |
| Gibson | Memphis Billie Joe Armstrong Signature ES-137 | Cherry Burst | Early 2010s-Present |
| Gibson | 1976 Explorer | Natural | up to 2019 |
| Fender | Telecaster (Custom) | Black | Present |
| Gretsch | G6120 Brian Setzer Hot Rod Model 125 Year Anniversary | Black | up to 2019 |
Amps and Other Billie Joe Armstrong Gear
Marshall Plexi 1959SLP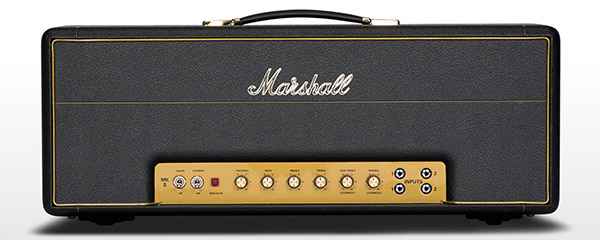 Years Used: Early 1990s to Present
In order to produce his punchy mid-heavy yet controlled tone, Billie prefers to use Marshall amp heads, most notably the classic 1959SLP model. He has a few of these in his collection, and these come all the way from the early to mid-1990s. The same exact amps that used back on the 1994 Woodstock show are still in his collection. Just like some of his guitars, these amps are also modified, giving a somewhat unique tone compared to other 1959SLP amps out there. But all these modifications are focused on one thing – bringing more gain. According to his tech, all of these Marshall amps have all parameters except for volume and gain set at 12 o'clock. Meanwhile, their volume and gain knobs are at around 10 o'clock. Interestingly enough, this particular setting brings the most desirable tone for Green Day's frontman.
These are classic 100-watt amp heads that are present in a lot of genres. But one thing that makes them stand out is the noticeable boost in the mids, especially higher mids. At the same time, they still manage to bring a full and ear-pleasing tone, making them perfect for a musician like Billie.
Marshall JCM900 4100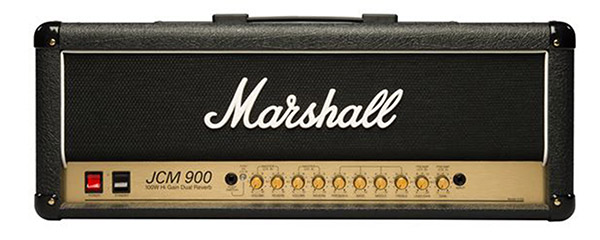 Years Used: 1992 to 2002
Marshall's JCM900 is an amp that found its place in rigs of so many different guitar players. So it comes as no surprise that the amp was also once in Billie Joe's collection. During the early, mid, and presumably even late 1990s, the JCM900 model pretty much formed his tone. He used this one back on the band's sophomore album "Kerplunk." The amp was also used for live shows during the 1990s. The current whereabouts of this amp are unknown.
But what is known is that the amp is pretty versatile and, most importantly, capable of delivering some punchy and heavy tones all while keeping things under control. It features two channels with separate controls for volume, gain, and reverb. Meanwhile, its 3-band EQ and the presence knob control what goes on with both channels.
While we have standard 12AX7 tubes (interchangeable with ECC83) in the preamp section, the power amp of the JCM900 4100 comes with four 5881 tubes. This gives the amp head quite a lot of power and a nice boost to the mids.
Fender Bassman Head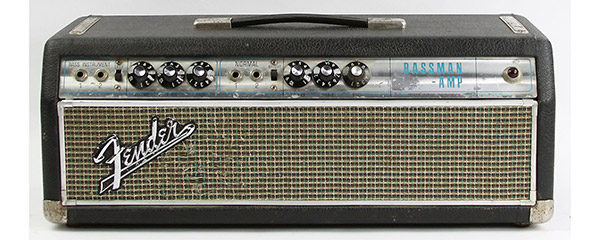 Years Used: 1996 to 2004
But while he's in love with Marshall amps, Billy still loves to flirt with Fender and the traditional "American" tone. Back in the second half of the 1990s, he had a Fender Bassman head in his collection. The amp was used for the recording of "Nimrod," Green Day's fourth album. He also had it for the next album, "Warning," released in 2000. Although this amp head had a few versions over the years, one thing's always the same – a very powerful and bottom-end-heavy tone. They were introduced in the early 1950s and were intended as bass amps. However, their specific tone made them really popular among guitarists. It's not certain, however, which exact model was in Billie's possession. But what we do know is that it helped him shape some of his best guitar tones.
Popular Related Article: Complete Gear List of Kurt Cobain
Fender Bassman Combo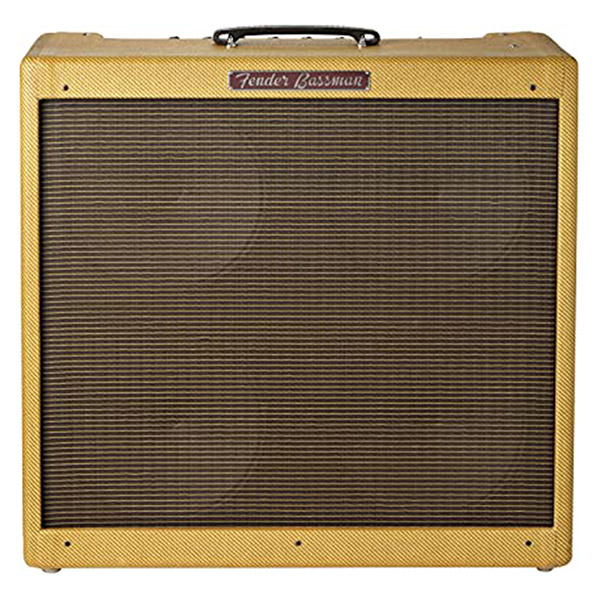 Years Used: Late 2010s
Once again, we have a Fender Bassman that we don't know many details about. This is a combo amplifier, although we're not certain when exactly it was made since the modern ones often replicate the old. However, it's known that Billie used it on Green Day's thirteenth record "Father of All Motherfuckers" which came out in 2020. He also revealed that he managed to blow up the amp during the recording process, proving that there's still that old school '90s spark in them.
Whatever the version, these amps come with "normal" and "bright" channels. Being a traditionally "American" amp, we have a significant accent on the bottom-ends. The "bright" channel adds some significant ear-piercing high-ends in the mix. The preamp includes classic 12AX7 and the power amp includes regular 6L6s.
Popular Related Article: What Guitar Did Kurt Cobain Use?
Marshall 9200 MonoBlock (Power Amp)

Years Used: 2010 to Present
Going back to his regular love for Marshall amps, we have a power amp, the company's 9200 MonoBlock. You don't often see separate power amps and preamps in rigs, but it's still not that uncommon either. It's not much known when exactly he used it and whether it's still a part of his regular rig, as these things change all the time.
Vox AC30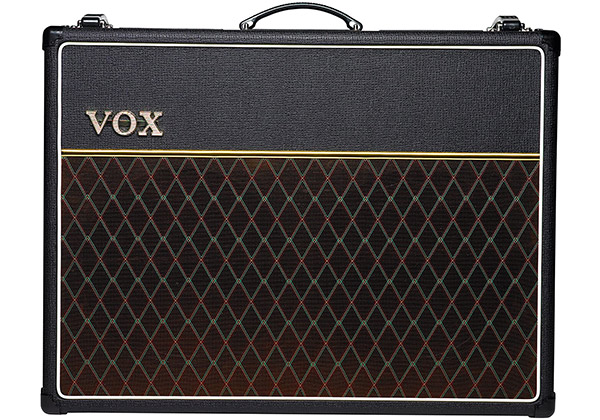 Years Used: 2011 to Present
But despite his love for Marshalls and occasional mingling with Fenders, Billie also had some classic Vox stuff in his rig. In particular, we're looking at Vox's AC30 model. During the recording of the band's "Trilogy" albums ("¡Uno!," "¡Dos!," and "¡Tré!") in 2012, he went for the old school rock tone and this model helped him out in that endeavor.
Of course, Vox amps have that classic "British" tone, especially the AC30 model that further adds some of those "sizzling" higher mids and high-ends, as well as the "fuzziness" that breaks in there. This combo amp is being produced even to this day, with its circuitry almost unchanged over the years. It still has the classic 12-inch Greenback speakers and EL84 valves in the power amp.
Victoria 35210-T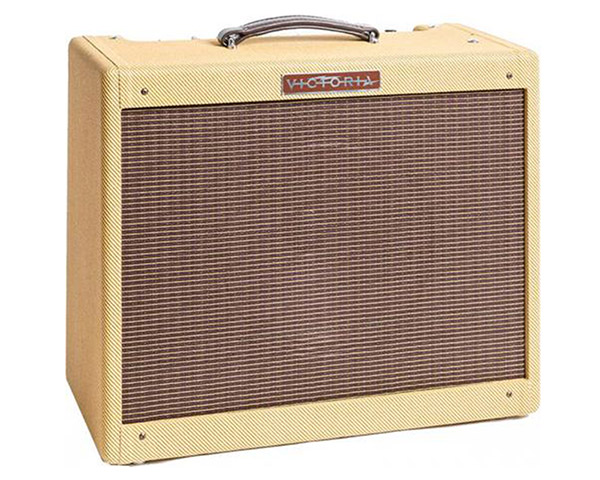 Years Used: 2000 to 2013
Being a world-class rock star and a guitar player with a special taste for vintage-oriented stuff, it's only obvious to see at least one "boutique" kind of amp in his vast collection. Although Victoria amps are not that widely known, the company does a pretty awesome job at replicating some old amps. This particular model, the 35210-T, pays tribute to the old tweed Fender Super amp from the 1950s, as well as its 5F4 circuit.
This is a two-channel amp with two individual inputs for both of them. Its controls are fairly simple, although you can achieve some pretty awesome traditional "American" tones that are especially useful if you like bright-sounding overdrives. At the same time, this amp manages to do some pretty neat clean tones, which is why Armstrong used it for clean parts on the "American Idiot" album.
Marshall Super Lead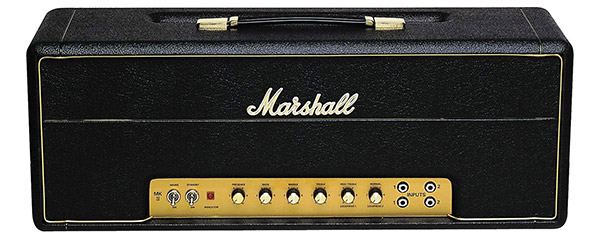 Years Used: 1990s to Present
Yet another Marshall amp on this list, Billie is also known for using their legendary Super Lead 100-watt amp head. This one is a classic piece that he used since the late 1990s and that he still owns even to this day. This one too has been modified and features his so-called "Dookie mod" that helps him achieve more gain and in the direction that fits the context of Green Day's music.
Aside from being one of the best-known amp heads of all time, it's also a pretty simple one. We have two channels, each with two individual inputs, separate volume controls, 3-band EQ, and presence. The resulting tones are really punchy and full, making them perfect for lead guitarists.
Fender '65 Twin Reverb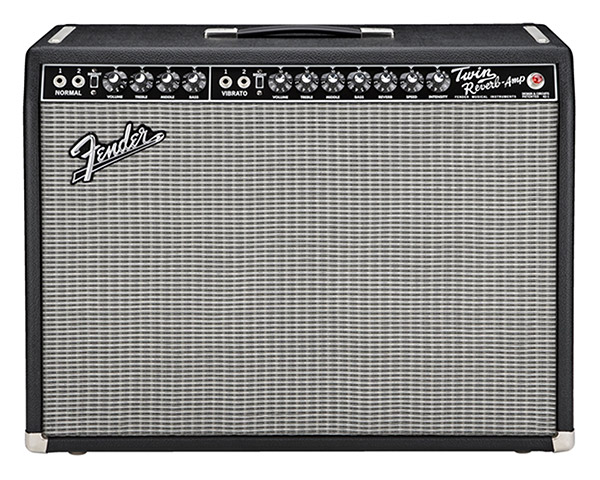 Years Used: Unspecified
Going back and forth between Marshall and Fender, it was only a matter of time when we'd see Fender's classic '65 Twin Reverb in Billie's collection. He's been using one of these in more recent years. Although a tube amplifier, it comes with a bit more headroom compared to some of its valve-driven "competitors." This is a standard 2-channel amp with two 12-inch speakers and a fairly bright tone. This is exactly why Billie likes it as it allows him to play some super clean tones. And having classic 6L6 tubes in the power amp, its also brings up some of those bottom-ends in the mix.
Bad Cat Lynx 50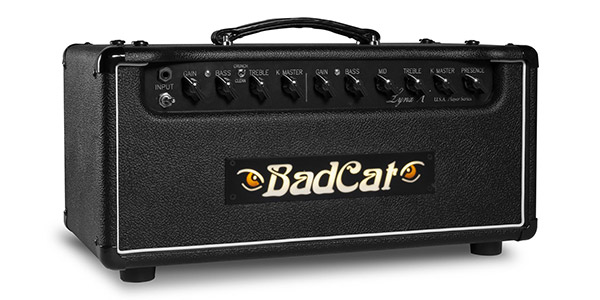 Years Used: 2010s
Billie's love for high-gain amplifiers is also seen with his preference to use something like the Bad Cat Lynx 50 model. This is a fairly straightforward yet potent amp that comes with 50 watts of power and two channels. The controls on it are pretty simple. Its clean channel is controlled only through two basic knobs for volume and tone. Meanwhile, the second channel, which features distortion, has more detailed controls. Aside from a 3-band EQ, gain, and volume, we can even find mid boost and another control labeled as "edge." These both parameter knobs allow you to shape a more "in-your-face" tone, which is something that Billie prefers. It's what you'd expect of an amp with EL34 tubes. Bad Cat Lynx 50 also comes with a presence control that works for both of its channels. It mostly found use in his side project, Foxboro Hot Tubs.
Pedals Used by Billie Joe Armstrong
Boss TR-2 Tremolo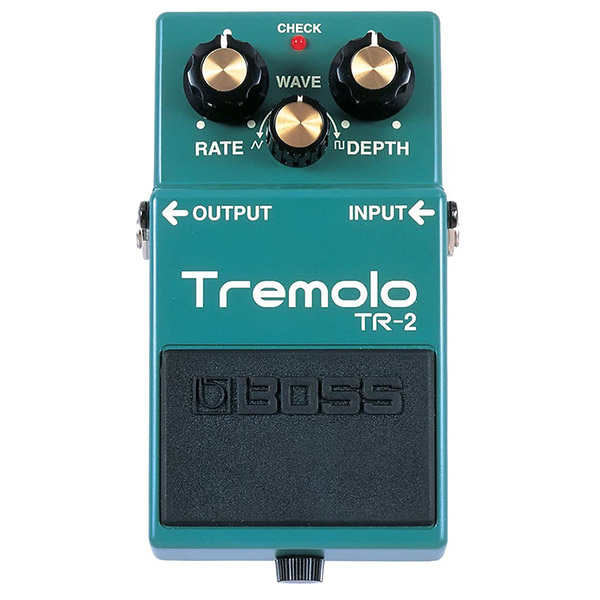 Years Used: 2001 to Present
We all know that Billie likes to use the tremolo effect, as we've heard in some of Green Day songs. The pedal that found its way into his live rig is Boss' good old TR-2 Tremolo. This is one of the company's most famous products and it delivers quite a simple control layout. We have only three knobs on it, wave, rate, and depth. Of course, such a simple and straightforward device is used by guitar players of so many different genres.
Ibanez TS9 Tube Screamer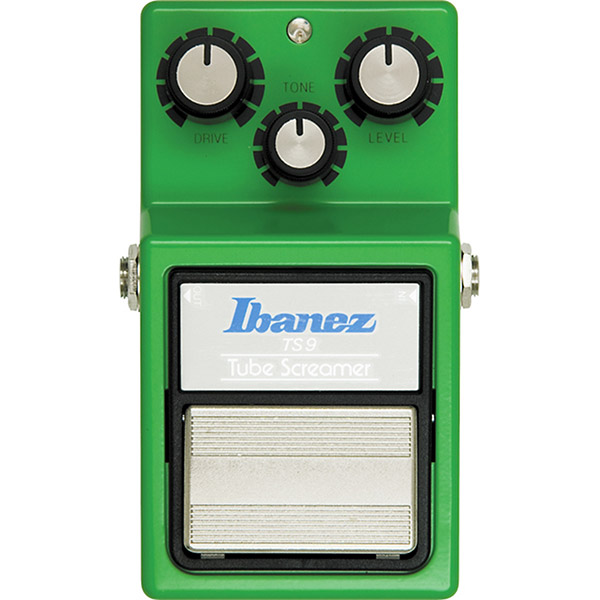 Years Used: 1989 to Present
When you have a lover of tube-driven amps, especially old-school-styled Marshall and Fender stuff, there's no way to avoid using a pedal like the legendary Tube Screamer or any of its variants. In his collection, Billie has the "standard" TS9 model, allowing him to drive his Marshalls and Fenders over the edge.
At this point, this pedal has achieved worldwide fame among guitarists of pretty much any musical style. The reason behind this is that it manages to push tube amps over the limit, all while adding subtle "coloration" to the tone and pronouncing those punchy mids. Meanwhile, the tone still remains under control and without any unwanted "muddiness."
Popular Related Article: What Guitar Does Jack White Play?
Ibanez TS808 Tube Screamer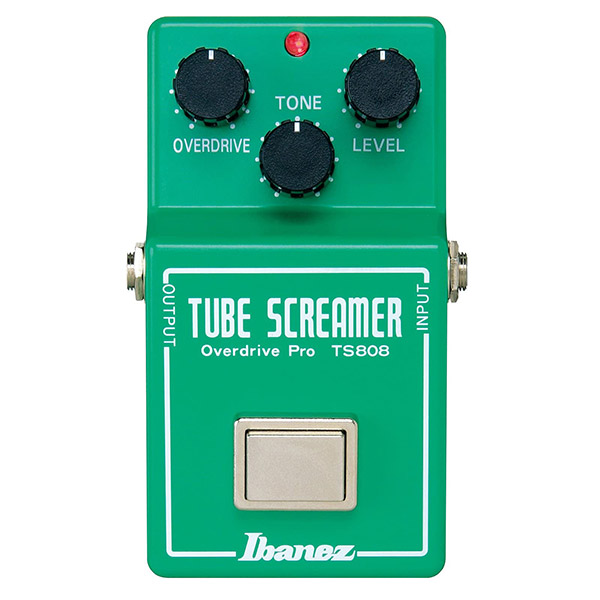 Years Used: 1992 to Present
Of course, it comes as no surprise that Billie is also a fan of the original Tube Screamer, old school Ibanez TS808. Although very similar to the TS9, the 808 model is slightly different. However, minor dissimilarities may mean a world of difference among tube amp lovers who want to push their amps into that "organic" distortion territory. But all the basic sonic components are there, most notably the pedal's ability to push the mids, all while keeping the overall smoothness in the tone with its soft clipping.
Boss BD-2 Blues Driver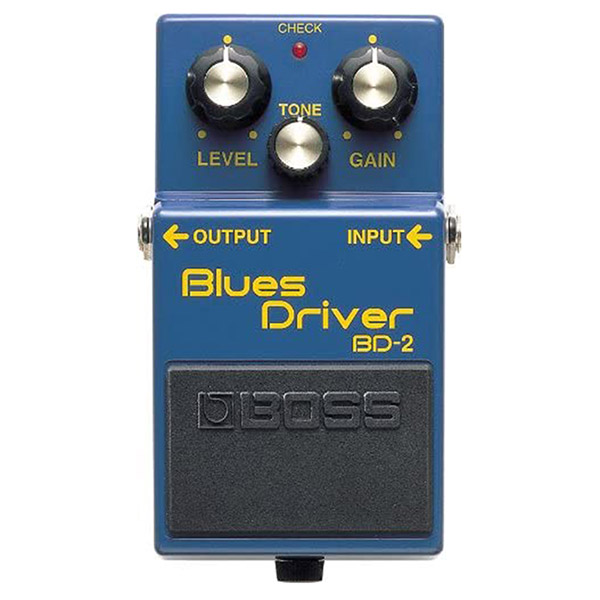 Years Used: Unspecified
Going further into his love of classic overdrives, Boss' BD-2 Blues Driver is another great solution for those who like to have something to drive their tube amps into distortion. But whatever way you use it, BD-2 is a pretty useful and great-sounding overdrive pedal. In fact, Billie manages to create some pretty "massive" tones with this one when he pairs it with tube amps.
One of the great things about it is its simplicity. After all, what more do you need other than volume, gain, and tone knobs? Just plug it in, play around with the parameters until you find a desirable tone, and rock out.
Fulltone FatBoost V-1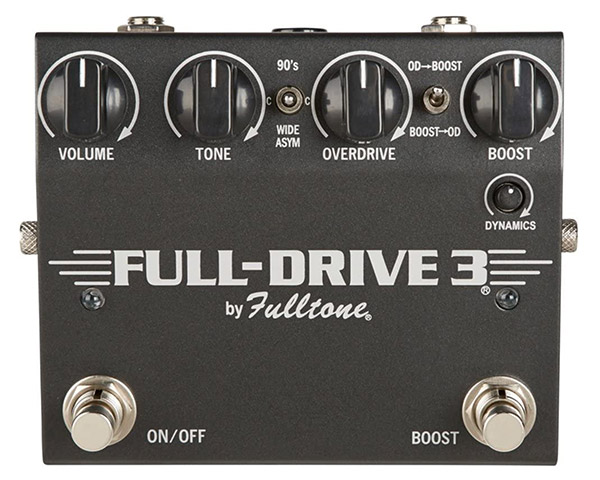 Years Used: 2010s
Aside from his overdrive and distortion pedals, Billie also prefers to use some clean booster pedals. One of the confirmed pieces is Fulltone's FatBoost V-1. This is a relatively older booster by Fulltone and has been replaced by some of the newer variants. The pedal comes with master volume and master drive controls. However, the "drive" control is actually an input gain knob, and having these two options on how to do the boosting also gives some more tone-shaping options. Additionally, the pedal also has a tone knob, letting you tweak the tone further. It allows for up to 30 dB of clean boost.
MXR M102 Dyna Comp Compressor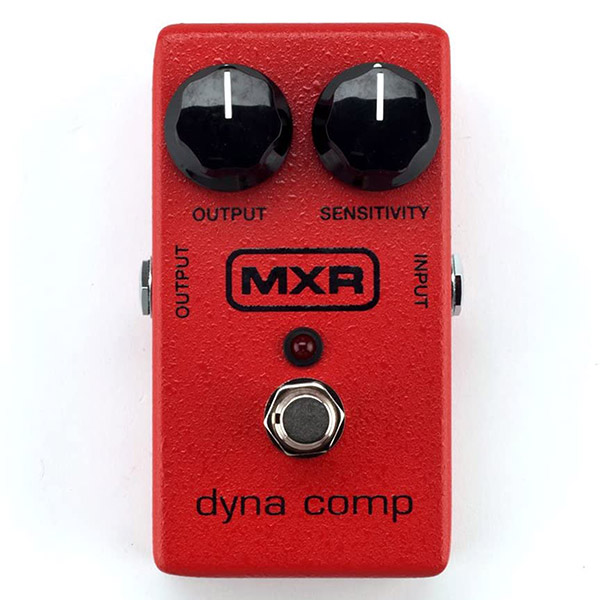 Years Used: 2010 to Present
Of course, compressors are usually inevitable pedals in any serious signal chain. One of the compressors that we can find in his signal chain is MXR's classic M102 or the Dyna Comp. This is one of the company's classic pieces, featuring only two simple controls for sensitivity and output. While some would prefer to have more options to shape the tone and control the dynamic output, Dyna Comp's simplicity is one of its advantages.
Ibanez CF7 Chorus/Flanger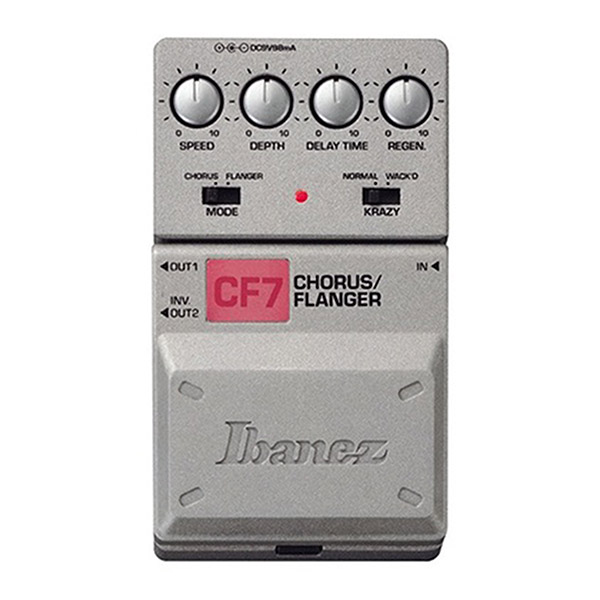 Years Used: Unspecified
While we know them for great guitars and Tube Screamer overdrive, Ibanez actually have a pretty nice collection of pedals. They're also known for the Tone-Lok pedals that have knobs that you can push down into the pedal and lock securely when you set the desired tone. Billie has one of these in his collection and that he occasionally uses for live shows, the CF7 Chorus/Flanger.
Dunlop GCB95 Cry Baby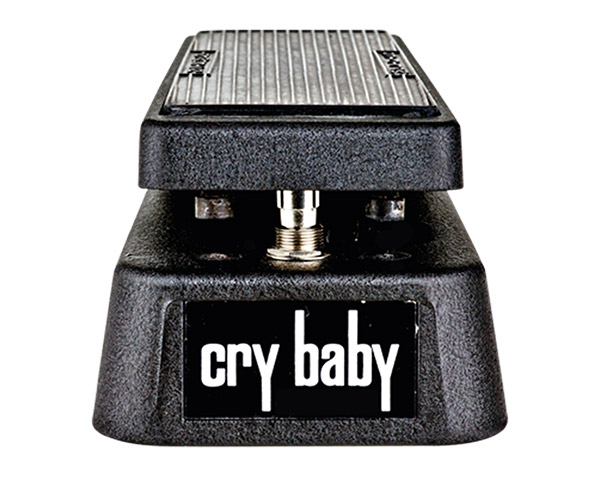 Years Used: 1989 to Present
It seems like Dunlop's classic Cry Baby, the basic GCB95 model, is an inevitable mention for a guitar player like Billie. While he definitely needs something to add another dimension to his tone, especially for lead parts, he'd prefer simpler wah pedals over more intricate ones. It's just a classic piece that needs no further introduction and it found its way into many famous guitarists' collections and signal chains.
Wrap Up
Although punk is usually considered to be not a very complex genre, especially when it comes to guitar playing, Billie Joe Armstrong's guitar playing and songwriting skills set the new standards in modern music. Although somewhat simplistic, his musicianship really is unique. Interestingly enough, as compared to most of the other classic punk musicians, Armstrong was inspired by an abundance of different bands and artists, even including classic hard rock and metal bands like Van Halen and Black Sabbath, which was quite unconventional for a punk musician. 
And there are a few very important traits when it comes to his guitar playing. Billie often likes to add a few interesting details here and there, including "stubbing" the 6th string with the tip of his left-hand index finger. He also likes to mute other strings with his fretting hand, resulting in a lot of "ghost" notes and a somewhat "percussive" style of playing. Of course, the use of picking hand palm muting and alternating between palm muting and unmuted positions is something that he does a lot. And, interestingly enough, he prefers to use different pick attacks, all resulting in a pretty versatile sonic output. There is way more to Billie Joe Armstrong than people might think.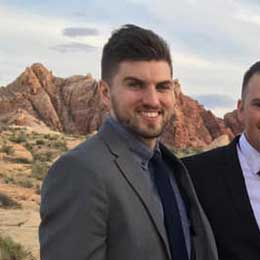 My name is Chris and I've had a passion for music and guitars for as long as I can remember. I started this website with some of my friends who are musicians, music teachers, gear heads, and music enthusiasts so we could provide high-quality guitar and music-related content.
I've been playing guitar since I was 13 years old and am an avid collector. Amps, pedals, guitars, bass, drums, microphones, studio, and recording gear, I love it all.
I was born and raised in Western Pennsylvania. My background is in Electrical Engineering, earning a Bachelor's degree from Youngstown State University. With my engineering experience, I've developed as a designer of guitar amplifiers and effects. A true passion of mine, I've designed, built, and repaired a wide range of guitar amps and electronics. Here at the Guitar Lobby, our aim is to share our passion for Music and gear with the rest of the music community.