Fingerpicking is a style of playing the guitar that requires playing the individual notes of a chord rather than strumming the chords as a group. This produces tonal qualities that are both polyphonic and harmonic, giving color to the song.
Unfortunately, fingerstyle is not that easy. This technique requires deft fingers, but you shouldn't be intimidated and shy away from learning the fingerstyle. With the proper dedication to learning the basics, you'll be well on your way to mastering this technique.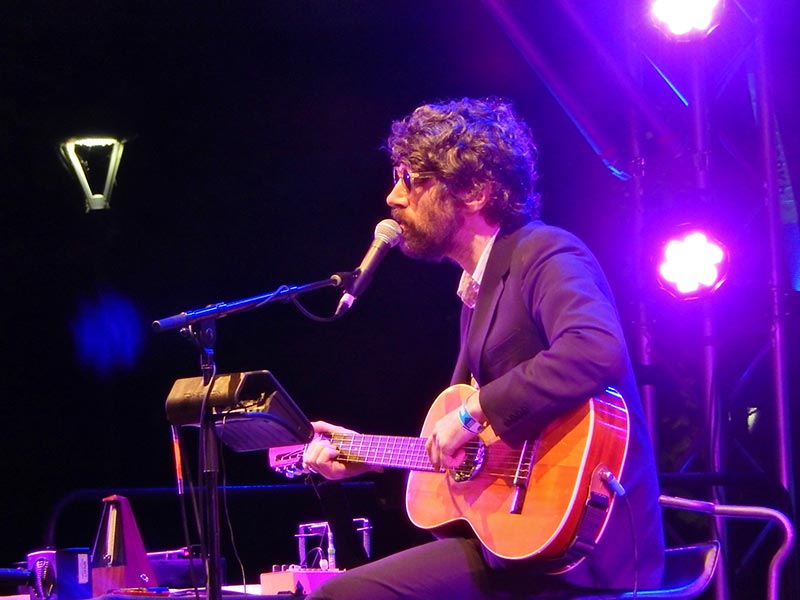 It goes without saying that you should always start with songs that are easy enough to nail down the fundamentals. You're in luck because I have compiled a list of easy fingerpicking songs for beginners that you will know and love. These songs are perfect for newbies to learn how to play fingerstyle. I've also included an excellent video tutorial for each!
Here is a List of Easy Fingerpicking Songs
1. Stand by Me by Ben E. King
It is impossible not to recognize the unique melody and tune of this early 1960s song from one of America's best rhythm and blues and soul singers. The song has been given different renditions by different artists and personalities all over the world. Films and advertisements use the tune to deliver their message.
What makes "Stand by Me" a great piece for beginner fingerpickers is its intro. The thumb only plays the 5th and 6th strings. The fretting fingers will also only focus on these strings. You can master this part of the intro in a matter of minutes before you go into the first verse. The verse and chorus can be intimidating at first. This is because you must maintain the bass rhythm of the 5th and 6th strings while producing the characteristic notes on the trebles. This is the key to producing a "Stand by Me" that is polyphonic, melodic, and harmonic.
Start slow. There's no point rushing. This song plays arpeggio without any chance of strumming. This is where your flexible finger joints will come in very handy.
2. What A Wonderful World by Louis Armstrong
An absolute classic, this song is a celebration of the many simple yet beautiful things we have in the world today. The soft melodies and lyrics of this song remind us of the beauty in the most mundane of things.
Unlike other fingerstyle songs, this Louis Armstrong creation uses the same guitar chords that you would use to play if you're going to strum it. This allows you to focus more on the correct placement and movement of the playing fingers. There's no need to worry about placing different fingers on different frets to create the right tune. All you need is to pick the right string.
Learning to play this song fingerstyle should not take you more than a week. I have seen some people mastering the basic fingerpicking techniques in a few days. Once you do that, you will be more than ready to take on songs with more complicated fingerstyles.
3. Dust in The Wind by Kansas
A great piece to play whenever I head outdoors, "Dust in The Wind" never fails to bring a sense of nostalgia. It reminds me so much of my childhood when I was more carefree than I could have possibly imagined. It has that amazing tune that will make you feel at peace with yourself.
The fingerstyle is quite fast. What helped me in learning the fingerstyle of this song is by practicing the inward curling of my playing fingers one at a time. The song requires all playing fingers to be moving. What makes it easy is the fact that the four fingers will be playing only the first four strings of the guitar. The thumb takes care of the 5th and 6th strings, although it does pick the 4th string, too.
One great advantage of playing this song is that the chord and fingerpicking pattern has become the standard in many modern songs. You can master this technique and it should already be easy to play other songs. The song that has a very similar chord pattern and fingerpicking style to "Dust in The Wind" is the hit song by Fleetwood Mac, "Landslide".
4. Nothing Else Matters by Metallica
A heavy metal band is not exactly the type of music you would expect to produce a powerful and beautiful ballad. But that's just what Metallica did with their "Nothing Else Matters" song. This is a musical piece that has a unique introduction when played on a guitar. You can forget the other elements in the song. If you get the fingerstyle right, you should be able to recreate this 1992 hit.
A staple in many of Metallica's performances, "Nothing Else Matters" is also a favorite among guitar players. It is also one of the songs that have a fingerstyle that any beginner should have no problem learning. The first three sections of the intro are more of the up-down and down-up movements on open strings. Only in the fourth section will you begin to introduce the first of many melodic notes to the song.
This is a piece that requires flexible joints and good coordination of the fretting fingers. Learn this well and you should be ready to perform in front of your officemates for a really cool after-office party.
5. Stairway to Heaven by Led Zeppelin
A combination of folk rock, progressive rock, and hard rock with a hint of soulful ballad, this Led Zeppelin song is one of my all-time favorites and is one of the most recognized songs in rock and roll history. Commonly in the discussion for the Greatest Rock song of all time, this song has blistering high gain distortion electric guitar sections. However the intro, and much of the song, is an acoustic melody that can be picked with a guitar pick or played fingerstyle like in the tutorial above.
The first parts of the song are slow, as if they are trying to rock you to sleep. The tempo picks up towards the second third of the song, and you know that you have a powerful piece to wake up your senses. Overall, it is an anthem. A song that anyone can always sing or at least hum with fervor. And when you play it using the fingerpicking technique, you know you are a budding performer.
As I said, the first few parts of the song are slow. This should make it easy for beginning fingerpickers to practice the intricate movements of their fingers. What is important here is the coordination between the playing and the fretting fingers. Overall, this is one of those fun and easy fingerpicking songs for beginners that almost anyone into music will recognize.
6. Tears in Heaven by Eric Clapton
Almost three decades have passed since Eric Clapton wrote the song that would save him from the grief of losing a son. Today, "Tears in Heaven" remains a very popular song for the weary, the depressed, and those who are about to give up hope. I cannot think of any other musical instrument to play this song on than on a guitar. And to give justice to its melodic qualities, only a fingerstyle technique will do.
Beginner guitar fingerpickers will love to learn that this song has one of the easiest fingerstyles to master. The chords are essentially the same, except for a few movements of the fretting fingers to highlight a note or two. I personally love the complementary sounds of the bass strings and the trebles. This creates a polyphonic sound that is very pleasant to the ears.
Go slow. I implore you. Forget the fancy tricks. You can always introduce that to your fingerstyle once you've mastered the basics of the song. Adding bends and vibratos should be easy if you have already figured out the fundamentals. I have also seen some people adding a percussion element to the song by tapping the guitar body itself. You can do that and more once you're through with the basics.
7. Shape of My Heart by Sting
I've got to say that this song is perfect for the guitar. This is especially true if you are using a nylon-stringed classical guitar. It has that nice and soft sound to it that complements the overall mood of the song. It provides a more natural sound and can help improve the depth of the song.
The guitar chords of this Sting song are very easy to master. I have several friends who are only beginning to play the guitar, and they were able to nail the piece like a virtuoso in about a day. The fingerstyle is also quite easy. However, there will always be some instances when you will have to push your fingers to move faster across the fretboard.
Don't worry about that for now. What you should focus on is the sequencing of the tabs. You also need to practice which of the strings you need to pick with your fingers. The chord is nonlinear. It is not really a problem, since the song also has a chord progression that is one of the easiest to remember. Get this right and you should be able to play "Shape of My Heart" like a pro.
8. Good Riddance by Green Day
This song is very different from the kind of songs that Green Day is known for. However, "Good Riddance" happens to be one of Good Riddance's most popular songs. They usually play the song as the final piece in many of the band's live shows. This is even though the song did not perform well on the regular charts. It is a huge hit on digital platforms, however.
You will love the feel-good vibe of the song. It is a song that is perfect for weekend getaways or even on quiet evenings with people you care about. There's no need to sing the lyrics as the arpeggio of the song is enough to provide you with harmonic melodies that no words can ever supplant.
I find this song to be great for building the strength of your playing hand. It is also excellent for training your fingers to pick only the correct string that will produce the specific note required by the song. My suggestion is to take your time to get familiar with the correct string picking. From then, you can pick up and focus on the rhythm of the song.
9. Wonderful Tonight by Eric Clapton
This Eric Clapton song is not only a great piece for beginning guitarists. It is also one of the songs that have the easiest fingerstyles to learn. The good thing about this song is that it sounds so beautiful whether you play it the ordinary way or the special, fingerstyle way. Obviously, fingerpicking the notes of this song will give you richer sounds. It is as if you are playing the piano.
The best way to play this song is by using a capo on the 4th fret. This will give the sound its natural high-pitched tone. Of course, you can always play it without the capo. This will lower the tonal register of the song. Regardless, the fingerstyle of this song is quite easy to master. As always, it is best to learn the different notes and finger picks in a slow and deliberate manner. This will set you up for the famous bends and power slides that the musical piece is known for.
I don't know of any serious guitarist who doesn't know how to play "Wonderful Tonight." This is a piece that you can find in the repertoire of even the most accomplished musicians.
10. Blackbird by The Beatles
I know The Beatles are hardly the musicians whom you can call great fingerstylists. Many of their songs had the basic strumming techniques, allowing both Lennon and McCartney to give justice to their vocals. However, there is one song that McCartney employed the fingerstyle that he learned from the Scottish folk singer and songwriter Donovan Philips Leitch.
It would blow people's minds to know that the inspiration for the guitar accompaniment of this song was Johann Sebastian Bach's 18th-century masterpiece, "Bourree in E Minor". This is a song that Bach designed specifically for string instruments. It is not surprising that "Blackbird" sounds so good on the guitar. And when you play it fingerstyle, the song takes on a very elegant melody.
Paul McCartney's song was one of the first pieces that I ever learned to fingerpick. It has a very easy chord progression and a melodic tune. The fingerstyle is not that very complicated. However, it will test the flexibility and coordination of your playing fingers, especially the thumb, index, and middle fingers.
11. You Are My Sunshine by Johnny Cash
There's no mistaking this tune. It is one of the most recognizable tunes and melodies in the world. You can hum it when you're alone. And if you have a guitar in your presence, playing this masterpiece should be a cinch.
The original song was written in 1939 by Charles Mitchell and Jimmie Davis. Because of the song's recognizable tune, it has been recorded by various artists throughout the years. Bing Crosby, Doris Day, Nat King Cole, and Ray Charles are some of the many artists who gave the song their very own rendition. I prefer Johnny Cash's version of the song.
The fingerstyle of this song is perfect for its melody. It is like producing a song that utilizes different instruments and not just the guitar. The fingerpicking pattern is so easy that I have seen young children capable of mastering the song after only several practice sessions. You should be able to learn this song quickly, too.
12. Que Sera Sera by Doris Day
This is another song that is as easy as "You Are My Sunshine" when it comes to learning its fingerpicking technique. A Doris Day hit, this song is a favorite among people who think that the music of yesteryears is simply incomparable. The melody is nice, and the tune is great. And if you listen closely to the lyrics, you'll know that the song hits the right chords of the heart.
Picking the notes of the song with your fingers is not that difficult. The pattern is easy to remember. You can even play this song with your eyes closed. The fingers on the fretboard require very minimal position changes. However, there will always be notes that will require the sliding of a finger from one fret to another.
All is good, nonetheless. These movements are all essential in helping you develop the right fingerstyle techniques. It lays the foundation for fingerpicking other songs you might want to play in the future.
13. Everybody Hurts by R.E.M
Anyone who wishes to learn and master the art of guitar fingerstyle needs to include this R.E.M. song in his or her list. This slow rock makes it ideal for those who are only beginning to appreciate the beauty of individually picking notes instead of playing the chords as a group. It is so much more harmonic and melodic this way. And if you master the coordination of your fingers, this song is going to open more doors for you.
I like this song because of its distinct melody that makes it easy to follow. The fingerpick has also a very straightforward and predictable pattern. It is also easy to pick up the chord progression. Best of all, the slow rhythm of the song will never strain or hurt your fingers picking the strings.
This is one song I am pretty sure you can learn in a few days, if not within hours. It is a great foundation for many other songs using the fingerstyle.
14. House of The Rising Sun by The Animals
I have always been fascinated with slow rock. They combine the best of romantic ballads and powerful rock in a tune that will never shatter your senses. One of the best slow rock songs I ever played on my guitar is the "House of The Rising Sun." It is also one of the very first songs that I ever learned to fingerpick.
Fingerpicking this piece is never a problem. The fretting fingers will still follow the usual guitar chords of the song (well, except for a few instances when the player wants to be fancy). So, your focus here will be on the playing fingers. This is also never a problem since the up-down, and down-up picking of the strings is easy.
You can always play this song fingerstyle. And if you want to jam with your friends, it is easy to revert to its usual strumming pattern. This is what makes this song extra versatile.
LOL, what? it was intentionally written the way it was in order to be matter-of-fact and even a bit snarky.
15. Hallelujah by Leonard Cohen
No, I am not referring to the song rendered for Shrek. I am also not referring to the kind of song that you often hear from gospel singers. This is a song that Leonard Cohen wrote and released in 1984. Unfortunately, the song was never popular until Jeff Buckley, and John Cale recorded the song. And when Shrek was shown in 2001, the whole world was introduced to the beautiful sound of this song with a secular color.
Fingerpicking "Hallelujah" is easy because of the very simple structure of the song. It does require your playing fingers to be especially adept at picking the right string to produce the correct tune. Other than that, you should be okay.
I know this will become one of your favorites once you have mastered it. Such a song is perfect for alone times and for spending quality moments with friends and family. You can use it to perform live, too.
16. Every Breath You Take by The Police
People love both the beat and the tune of this song from The Police. The lyrics sound so cool, too. It is not surprising that the song won the Best Pop Performance and Song of the Year awards at the Grammy in 1984. It is so popular that it ranks number 84 in the world's 500 greatest songs in the history of man. It is also an inductee into the Rock and Roll Hall of Fame.
Learning to fingerpick "Every Breath You Take" is as easy as coordinating your playing fingers. The song does require a few notes to be fretted individually. This will somehow stretch the limits of the fretting fingers as some of the individual notes are quite far from the rest. You should be able to address this issue by taking it slowly first. This will give you enough time to make the transition between notes.
This is one song worth practicing as it gives you many of the basics of fingerstyle guitar playing.
17. Landslide by Fleetwood Mac
If you have already learned the fingerstyle playing of "Dust in The Wind," playing this Fleetwood Mac song should already be a breeze. The reason for this is that both songs have almost the same chord and fingerpicking patterns. As such, it doesn't matter which song you will want to learn first. Once you learn one, learning to play the other will already be easy.
The key to playing "Landslide" is by placing a capo on the 3rd fret. You can forego the capo thingy if you prefer a song that is more in tune with your guitar's natural tones. I personally like playing with the capo on because it gives the song a higher-pitched tone while also allowing me to be creative with my fingerpicking. But this is me.
So, how do you learn to play "Landslide"? Knowledge of basic chords is crucial. Coordinating the movements of the fingers is another. Practice slowly at first. Focus on the notes and then on the rhythm.
18. Let It Be by The Beatles
I am not ashamed to say that this Beatles song is my favorite. The tune is very beautiful, and the message is also noteworthy. I have yet to meet a guitarist who doesn't have this song in his or her repertoire. It is one of those songs that all beginning guitarists love to learn. Whether it is learning to play the guitar by strumming the strings or learning how to fingerpick, this is the song for you.
The fingers that will be picking the most are the thumb, index, and middle fingers. You will need to warm up these fingers first before you start picking the strings. As for the fretting fingers, you will be following the chords of the song. There are some instances when you need to reposition a certain finger to strike the right note.
I wouldn't be surprised if you'll be playing this song for many years. Seasoned guitarists do.
19. Perfect by Ed Sheeran
There isn't a lady who will never fall in love with the sweet melody and the beautiful message of one of Ed Sheeran's most popular songs. Well, at least, none of the ladies whom I know. This is a phenomenal song that can be a real tear-jerker. It's not surprising why many couples love to play it at their weddings and on other occasions where they need to profess their love for each other.
While the piano version is a classic, I love playing "Perfect" on the guitar. Employing a fingerstyle technique can also give the song a piano-like tune and melody. Picking the strings is easy as the heel of your hand hangs loosely on the upper section of the guitar. The fretting movements are also simple. You should master it in a few hours.
Having someone else sing the lyrics will be great. Otherwise, the beautiful melody of your fingerpicking is enough to do justice to this song.
20. The Sound of Silence by Simon and Garfunkel
There are very few songs out there that can be as meaningful as "The Sound of Silence." This is a folk song that took Paul Simon several months to write. While this song was a commercial failure that led to the breakup of the duo, it did enjoy substantial airtime a year after the song's release. In fact, the remix was such a huge hit that it reached Billboard Hot 100's top spot. This prompted the duo to reunite and make other great songs.
This song may have a very sad melody to it. However, its overall structure is perfect for playing on the guitar. This is not at all surprising, given the fact that Simon wrote the song specifically for the acoustic guitar. Fingerpicking the notes are also easy for absolute beginners. The tempo may require a faster finger play, but it is something that a 7th grader will not accomplish in a few hours.
21. El Condor Pasa by Simon and Garfunkel
This is one of the songs that Simon and Garfunkel recreated several years after the duo decided to reunite. I had to emphasize "recreated" here because the song has been around since 1913. Daniel Alomia Robles wrote the song for the orchestra by drawing inspiration from the traditional music of the Peruvian Andes. Simon first heard of the orchestral piece in 1965. Five years later, the duo recreated the song to give it a more modern acoustic vibe.
Fingerpicking the notes is never a problem, especially if you will start slow. Even if you decide to play it at larghissimo, the melodies will still come out nicely. Pick it up a bit towards lento or even largo, and the full color of the song becomes more evident. This song will never strain your fretting and picking fingers. Instead, it will improve their flexibility and allow you to learn to coordinate their movements better.
22. You Raise Me Up by Josh Groban
Almost everyone knows this song as the one that shot Josh Groban to fame. However, Groban was not the artist who created the song. This distinction belongs to a duo of Irish and Norwegian songwriters called Secret Garden. Record producer David Foster decided to reproduce the original song by having Josh Groban sing it in 2003. This increased the popularity of the song throughout the rest of the world.
The song has one of the loveliest melodies in contemporary music. Add to this the dusky baritone voice of Groban, and you have a song that speaks straight to the soul. And while playing it on the piano is a must, you can always do justice to the music by playing it on a guitar fingerstyle. There is no point worrying about picking the notes here. The fretting movements are also easy. The song is quite easy to learn and even beginners will have a breeze learning it.
23. Right Here Waiting by Richard Marx
I think there was no other love song-soft rock piece that captured the heart of the world in the late 80s to the early 90s better than this Richard Marx classic. I still hear a lot of FM radio stations give this song the air time it needs to get acquainted with the youngsters of the new millennia. The song was so well-received that it reached the peak of the Billboard Hot 100. This is a certified Platinum that is more valuable than any flashy gem you decide to wear on your body.
Not only is this song very lovely and melodic to play. It is also easy to learn the different fingerpicks that give the song its polyphonic tonal qualities. I love the combination of the bass and treble notes, giving you a sense of playing the piano. Picking the right strings is also not a problem because of the relatively slow tempo of the song. The chords are simple, too.
24. My Way by Frank Sinatra
This has got to be Frank Sinatra's most popular song. I have traveled to different parts of the world, and I hear people sing it in makeshift karaoke corners and other weekend watering holes. It is a favorite tune that drunkards and Sinatra-wannabes love to sing. Amateur singing contests will always have one or two contestants singing their versions of the Sinatra classic. And why not? This is the only song that lasted 75 full weeks in the Top 40 of the UK. Not even Elvis Presley's version of the song can match that.
And here's the nicest thing about "My Way." You can play its melodies on almost any instrument. The best, however, is on an acoustic guitar. From the easy intro to the first of the verses, I am pretty sure this tune is going to get you so engrossed in your fingerpicking abilities. Like many of the songs I listed here, it is the slow tempo and soft melody of the song that make it easy to learn.
25. More Than Words by Extreme
I've got to say that "More Than Words" is the song that I love the most from Extreme. The piece is a large departure from the kind of music that the rock band is known to create. I love the ballad structure of the song. It meshes cohesively with the acoustic guitar work of Extreme's Nuno Bettencourt. You also must give credit to the vocals of Gary Cherone, which Bettencourt supported to give a distinct vocal harmony like no other.
One of the reasons why I decided to include this song is its unique guitar-playing techniques. It combines fingerpicking, occasional strumming, hammer-ons, and string slams. The whole point here is that there are several techniques that you can learn. You can incorporate any or all these techniques in your future songs. The song is also very fun to play. There's no need to focus on mimicking the actual sound of the record. Just have fun with the rhythm and the beautiful melodies the song produces.
26. Ain't No Sunshine by Bill Withers
In just two minutes, "Aint No Sunshine" packs a powerful and soul-stirring vibe that remains with the listeners long after it's over. Besides Bill Withers' tender baritone and groovy melody, the grabby "I Know" hook will keep you humming for the rest of the day. Fun trivia – The twenty-six "I Knows" were just fillers for lyrics Withers intended to write later but decided against it.
Although covered in different styles, the original fingerstyle melody is unforgettable and deserves to be learned first. It's built around only four chords – Am, Em, G, and Dm. You can start by playing it all open before working your way up to a slightly challenging barre chord version.
27. Love Yourself by Justin Bieber
If this Justin Bieber song reminds you of Ed Sheeran's guitar-playing style, it's because he wrote it. In this guitar-driven tune from his fourth album, Bieber croons in an unusually husky voice to a self-obsessed partner, telling them it's time to pack up and go – the lyrics sure are snappy and salty!
Armed with a fingerpicked pop melody and campfire vibe, "Love Yourself" ruled charts and hearts, spending a total of 24 weeks on the US Billboard Hot 100. With only an electric guitar and trumpet anchoring the arrangement, it's one of the subtlest Bieber tracks you'll come across. Check out the tabs and tutorial to learn the fingerstyle version exactly how it's played in the studio version.
28. Hey There Delilah by Plain White T's
This heartfelt song about a couple navigating a long-distance became a sleeper hit in 2007. Even though Plain White T's had been around since 1997, "Hey There Delilah" was their first single to reach the top of the charts. I was in love with this song back when it first came out 15 years ago. Even now, when I hear it, it triggers major nostalgia.
If you want to learn a beautiful tune to impress someone, this is your song. It alternates between plucking and strumming, and the chords you'll be picking here are D, F#m, G, B, Am. The only part that might be a workout for some of you is playing the Bm barre chord, but there are plenty of tutorials online to help you master it.
29. Fast Car by Tracy Chapman
Four-time Grammy-winning singer-songwriter Tracy Chapman's "Fast Car" is a lyrically riveting piece about poverty, addiction, and a young woman who wants to break through the cycle. It shakes you to the core and leaves you cheering for the protagonist to pull through.
Ranked 71th on Rolling Stone's 500 Greatest Songs of All Time, "Fast Car" is driven by a captivating fingerpicked acoustic riff that should be a part of every aspiring guitarist. It's a four-chord track that gets easier with a capo on the 2nd fret. The tutorial above will walk you through it, nice and slow.
30. Hedwig's Theme by John Williams
I am a huge fan of the Harry Potter series, and when I found out just how easy it is to fingerpick the iconic theme, I had to share it with you. Composed by the legendary John Williams, "Hedwig's Theme" is a surreal concoction of solo celesta and violins.
Technically, it's not a guitar song, but you can recreate the magic of the strings and bell-sounding celesta on your acoustic. Before you take on the fingerpicking, I recommend you learn the one-note version of the melody shown in the tutorial above. Once you have that under your belt, you can add embellishments and root notes to make it sound more authentic.
31. Save Your Tears by The Weeknd
In one of the best-selling tracks of 2021, Abel Makkonen Tesfaye, aka The Weeknd, is heartbroken and regretful. You'll find him singing about the mistakes he made in the past and grappling to come to terms with his ex moving on. Whether it's the synth-rock sound, wistful lyrics, or Tesfaye's passionate vocals, the song is undeniably catchy. While I love the original, the version where Ariana Grande joins Tesfaye is a vocal feast with more depth and dimensions.
You can strum the melody but playing it fingerstyle will make your performance more evocative. The fingerpicking pattern is pretty straightforward and repetitive. The intro riff revolves around the C chord and is easy to play. Check out the video lesson and keep the tabs around for quick reference.
32. Let Her Go by Passenger
Contrary to popular belief, "Let Her Go" wasn't an instant hit. In fact, before this song hit the charts, not many had heard of Mike Rosenberg, aka Passenger. It took time for this heartbreaking song to enter mainstream radar, but when it did, there was no stopping it! After all, who wouldn't warm up to that utterly captivating fingerpicked riff, the ultra-catchy chorus that shows up five times during the course of the song?
Rosenberg's distinctive vocal delivery over a lush instrumental arrangement is a treat to the ears. Now, the fingerstyle opening riff is tricky and will take quite a bit of practice to master, but this video lesson here should be able to simplify it for you. The rest of the song, especially the chorus, is easy and repetitive. So place a capo on the 7th fret and begin!
33. We're Going to Be Friends by the White Stripes
This White Stripes tune might just be one of the most accessible fingerstyle tracks ever! It'll teach you how to use the thumb to play the root notes of a chord while using your fingers to pluck the strings. "We're Going to Be Friends" – a song about carefree school days and precious friendships takes its listeners down memory lane every time they hear it.
From the foot taps to the nostalgia-triggering lyrics, the song revels in its simplicity – maybe that's what makes it so enduring. But what catches my attention each time is Jack White's guitar playing in this song. It might not be his most complex work, but it sounds like he's having a blast playing! Learn this cheerful tune and play it with your friends. The tutorial and tabs above will help you.
34. Don't Think Twice It's Alright by Bob Dylan
Have someone around who can play harmonica while you're fingerpicking? Then learning this Bob Dylan tune makes a lot of sense. From his epic album The Freewheelin' Bob Dylan, "Don't Think Twice It's Alright" is a bittersweet kiss-off song with a country-folk melody.
Like his other records, this too has been covered by several bigwigs such as Eric Clapton and Post Malone in his early YouTube days. The tempo is a bit fast-paced and peppered with hammer-ons and tricky bass notes from the intro to the verses. With a track as fast as this one's, a metronome will be of great help.
35. Happier by Ed Sheeran
Sometimes when you strum chords that are otherwise meant to be fingerpicked, the song's overall vibe tends to change quite a bit and may not retain the original feel. Of course, if you're an absolute beginner with not much experience with fingerpicking, strumming is your best bet. But if you have begun learning fingerstyle, then there's nothing better than it when it comes to acoustic pieces.
In this personal, heartbreaking record, Ed Sheeran sings about bittersweet emotions about moving on from a tough breakup. The melody, in true Sheeran style, is sweet and catchy. With a simple fingerstyle riff involving only three chords, this song is perfect for beginners. Plus, it uses both fingerpicking and strumming. Learn how to play this song by checking out the video above.
Wrap Up:
You can fingerpick almost any song there is. However, the songs I listed here will teach you basic fingerstyle techniques and exercise your fingers. This will help you prepare for other songs to conquer. So, grab that guitar now and start playing any of these songs.
As usual, I tried to include songs you will recognize and be excited to learn. I find it's most important for a student to be genuinely excited to pick up their instrument and play rather than feel like they are putting in work.
Let us know your favorite easy fingerpicking songs in the comments below. Also, if there are any songs we didn't include on this list but should, let us know!