The difficulty of jazz often dissuades musicians from learning any. When you think of Jazz, you think of blazing solos and complex chord progressions that are near impossible to decipher without years of training and experience. But that isn't true! Jazz includes elements that are familiar to other genres that you already know! As you read through, you'll learn Jazz stems largely from the blues, and there are lots of easy jazz guitar songs out there.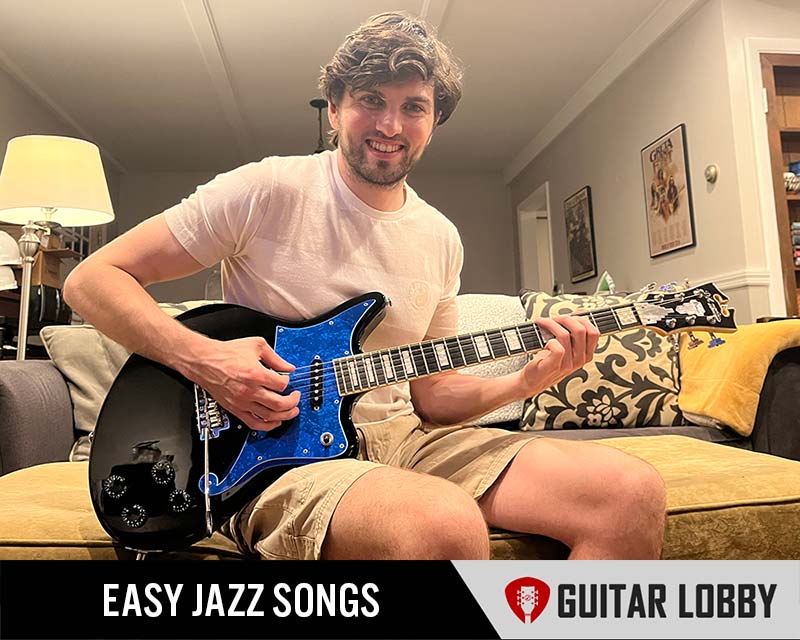 You'll realize that some of the most famous jazz songs and standards aren't hard after all.
List of Easy Jazz Songs to Play on Guitar
1. Autumn Leaves by Joseph Kosma
Autumn Leaves is a contender for the most famous jazz standard of all time. You may have even heard it before in passing or in a live setting! This song was written in 1945 by Joseph Kosma, with original French lyrics by Jacques Prevert, but it is mostly heard as an instrumental in the recordings by jazz greats. You will often hear it in many different styles and tempos, from slow to medium swing all the way to bebop. Some even play it like a Bossa Nova!
This song exhibits the circle of fifths progression which is found in many, many genres but is considered a more jazzy type of progression within chords. This song is an excellent intro to Jazz. Learning will give you a great basic understanding of jazz as well as develop your ear!
2. Bessie's Blues by John Coltrane
As a guitar player, you have definitely played the blues or at least learned a blues scale or something along the lines of the blues. "Bessie's Blues" is what it describes, a blues! It involves only 3 chords in a 12-bar blues fashion. It's traditionally a medium swing, but it can be played in any other fashion. If you'd like to take it slower, you can, or if you'd like to blaze on it and embrace your inner jazz cat, go ahead! This song is very versatile. It was played and written by the one and only John Coltrane. Despite being one of the greatest and most skilled musicians of all time, he loved to play the blues! Nobody is above the blues.
It is completely acceptable to use the minor or major pentatonic and blues scale per usual with a blues. If you are looking for other scales and things to use, you could start by taking the chord you are playing over and playing a Mixolydian scale or working arpeggios of the chords into your pentatonic riffing.
3. Cantaloupe Island by Herbie Hancock
Cantaloupe Island is yet another classic jazz track that is often called a jam. Herbie Hancock wrote this for his album "Empyrean Isles" in 1964. It consists of a piano riff, simple drums, and a catchy bass riff. The head is also very easy and won't cause much if any, issues in your playing.
It is suggested you listen to it a couple of times before jamming to get the timing of the bridge down, and Herbie's comping can be a little rhythmically confusing. The minor pentatonic actually works very well here, and it's very easy to get that famous jazzy "out" feeling by just playing the F minor pentatonic over the Db7! Feel free to play around with your guitar comping too. Create some interesting rhythms.
4. What a Wonderful World by Louis Armstrong
This lovely, slow ballad was written by Bob Thiele and George David, then recorded by Louis Armstrong, then finally released in 1967 as a single. This tune errs on the side of pop jazz, but definitely still a jazz tune! It's fun to play and is a multi-purpose song. It's a more recognizable and digestible song that you can play around a campfire while still containing jazz chords and having a more jazzy feeling. The number of chords and the recording of the song make it look complex, but with a small amount of practice, you'll get it down. The chords move slower than you think! Feel free to mess around with strumming and fingerstyle.
5. So What by Miles Davis
"So What" is certainly up there with one of the most famous Jazz tunes of all time. Right around the time Modal jazz was introduced, in stark contrast to Bebop's flying solos and blazing chords, "So What" only involved 2 of the same chords and a very short and easy head. (A head is what the main melody of the standard is called.) This song is commonly called at Jams and cats love the tune. Despite being a 2 chord song, it's super fun to jam on. It allows you to play around with the harmony, and if your skill allows, you can experiment with the minor modes in your improvisation.
You can easily solo with the blues scale or the minor pentatonic scales. Miles Davis's solo on this track is very famous, and it's recommended to transcribe it. It will add licks and cool sounds to your jazz improv vocabulary.
6. Straight, No Chaser by Thelonious Monk
This classic standard was written by Thelonious Monk and is an interesting take on a 12-bar blues. The melody has a lot of chromatism and blues-like licks. Mix this with the swing drums and walking bass, and you have a very catchy and hard swingin' jazz blues tune. The head is also very easy, so that won't cause you any problems either. Knowing this song is great to have in your mental log of jazz tunes it's very often called at jazz jams!
Playing the blues scale or the minor pentatonic works very well over this! To get a jazzier feeling, experiment with using notes outside the scale and working your way back into the scale. The melody does this, so you can even learn to quote the melody in your improvisation!
7. On The Sunny Side of the Street by Jimmy McHugh
This upbeat and happy tune is a nice old classic, written by Jimmy McHugh and lyrics by Dorothy Fields in 1930. It features an upbeat chord progression and an equally upbeat head. It's a very common song, and you may have heard it before! Many of your older families may even recognize this song!
The number of chords may seem intimidating. Don. Despite there being so many chords, almost all of them are inside of the C major scale, the easiest key! You can take advantage of this and tastefully use the C major scale in your improvisations. Some of the faster chord changes near the end of one solo section are implied as well, so you don't have to comp them completely.
8. Satin Doll by Duke Ellington and Billy Strayhorn
This cult-classic jazz / big band tune is an amazing and catchy song from the early swing days. It was written by Duke Ellington and Billy Strayhorn, 2 of the most important composers in jazz history. If you want to up your jazz knowledge and get a good sense of the history of Jazz through its music, this is it. This song isn't normally called in jam sessions, but it's an easy song that features simpler chords and an easier pace than tracks of similar liking in the future. If you are a fan of swing music, this is a great song to know.
Be prepared to move your hands around the fretboard a little bit more, as you will be playing a few more chords. No need to worry; the chords move slowly for a Jazz song. Have fun and play around with comping! This is one of my personal favorite easy jazz guitar songs.
9. Blue Bossa by Kenny Dorham
This Bossa Nova tune written by Kenny Dorham is perfect for those who want a different culture of music than just good ol' American swing. It features American styles of improvisation but a Latin feel and groove. Kenny wrote this song upon visiting the Rio de Janeiro festival in 1961. Inspired by that, he put his own spin on it by introducing American Hard Bop styles of improvisation. All in all, it leaves a great tune with a Latin feel but jazzy improv and solos.
For Bossa Nova, you have to learn some new comping styles, but that is included in the video listed in the table above. Once you learn these rhythms, you can apply them to any Bossa Nova song to get the perfect Bossa feel.
10. C Jam Blues by Duke Ellington
C jam blues is another classic Jazz blues song. Duke Ellington had a perfect grasp on how to make even the most basic chord progressions super jazzy and have the perfect feel behind them. You can find many versions with varying tempos and levels of solos. Artists like Oscar Peterson, Django Reinhardt, and Charles Mingus. This is a perfect song to have in your log of jazz tunes, and it can really help you learn the swing feel in a quick and easy fashion.
You can use any of the techniques you know from regular blues as long as you swing along with the rest of the band! This is a great platform and song to also try out new things like playing around with outside notes and playing arpeggios of the chords. If you are looking to improve your jazz improvisation
11. Breezin' by George Benson
Breezin' is another jazz tune on the side of pop, but it includes lots and lots of jazz elements. It's the title track of one of George's most successful studio albums. It combines some funk elements along with jazz elements. Just like any other jazz tune, there is a head and an extended solo section. George Benson's playing involves a lot of pentatonic and blues scales! If you'd like to get better at your phrasing in a slightly jazzier context, you should consider transcribing it.
The chords in this song are easier, but they move slightly faster than some other tunes. Learning this song will help with hand dexterity and increase your phrasing and improvisation capabilities.
12. Nuages by Django Reinhardt
Django Reinhardt was the sole proprietor of a genre named "Gypsy Jazz." He made many songs and played many standards, but this one stands out more than the others. This song has been made a standard and a mainstay of his gypsy jazz repertoire. It features Django Reinhardt playing the electric guitar in a beautiful, slow ballad.
The chords move nice and slow in this song, so you'll have time to look ahead and find the chords you are looking for. This song is great to have in your jazz vocabulary, and you'll become more familiar with the chords. Django Reinhardt himself was missing three fingers, and he wrote and recorded this song! You can definitely do it.
13. Watermelon Man by Herbie Hancock
This eclectic and interesting song by Herbie Hancock is a classic jazz track. There are many versions out there by many different accredited jazz artists. There was also a Latin rendition by the artist "Mongo Santamaria," which became extremely popular, hitting No. 10 on the pop charts. It is a very blues-inspired jazz standard, using the blues and pentatonic scales for the melody of the song and jazz chords for the harmony. Herbie Hancock is exceptional at making tracks that are jazzy, catchy, and easy to jam to.
The improvisations on this song can be the blues scale or minor pentatonic. Since it is blues-inspired, blues types of soloing can provide you with a great solo. Much like other songs, experiment with going outside of your typical minor pentatonic shape for an interesting jazz solo.
14. Big Nick by John Coltrane by Duke Ellington
This classic and famous jazz tune is loved among Jazz fans. Coming from the record "Duke Ellington and John Coltrane," the two player's musicianship speaks for itself. This song blends jazz and blues with a happy melody and transitions smoothly between them. Jazz cats around the world will recognize this tune. Coltrane's Soprano sax solo includes some well-phrased minor blues and pentatonic riffs, as well as some crazy licks that play around with the key. Ellington's comping matches the solo's creativity, playing around with extensions of the key.
The song has an easy chord progression with very little change throughout the song. The chords move slightly fast, so be prepared. This leaves room for improvisation, however. The G major scale with some blues licks included will suit this song nicely.
15. Summertime by George Gershwin
It is barely arguable that George Gershwin is the most important writer in jazz history. He wrote the songs that many of the greats learned from. The more you analyze progressions in standards, the more you'll see Gershwin. He was one of the first composers to include and really accentuate the use of 2-5-1s, a common progression and turnaround in Jazz. It's even present in this song! This song has been played in many ways, mostly medium swing songs and ballads. You can take it at whatever pace you'd like.
This song is loosely based around A minor / C major, so a lot of the notes in A minor will sound jazzy mixed with the chords, so experiment around with A minor in your improvisations!
16. La Vie En Rose by Edith Piaf (Louis Armstrong Version)
This beautiful ballad is a great song to learn. It's another jazzy pop tune that will be recognized by many. Originally it was composed and performed by the talented Edith Piaf, a female French vocalist. Louis created his own version in English that performed very well. Your older relatives may recognize the song. Louis' trumpet playing is as expressive as it has always been, matching his style of singing, very clear with heavy vibrato.
This song is important to match the feel, stay swinging and be very expressive. It's a very expressive ballad; it captures the feeling of love French composers always seem to be able to do so well. For your improvisations, stick to C major, as almost all the chords consist of chords in C major.
17. Blue Monk by Thelonious Monk
Blue Monk is a very recognizable jazz blues, where the head almost sounds like it borrows licks from Dixieland. Thelonious Monk was very much in touch with his blues vocabulary. You can hear him mess around with the harmony surrounding the changes and playing blues scales and minor pentatonic very tastefully as well as introducing some licks that play momentarily outside of the scale. This song is essential in your jazz knowledge and can even stretch to your blues knowledge. The two overlap very much in this song.
For your improvisations, you can simply tastefully play the blues scale or minor pentatonic. For your comping, you should certainly play around with upper extensions if you have that knowledge and skill.
18. A Taste of Honey by Ric Marlow and Bobby Scott
This cool minor and slightly bluesy track is a good tune to learn for fun instrumentalism and an introduction to slightly extended chords, like 7th chords. Also, Herp Albert and the Tijuana Brass are digestible and recognizable, as opposed to other sorts of jazz. This song was originally meant for a Broadway version of a British play also named "A Taste of Honey," but the instrumental had its own quality and gained success outside of the original purpose.
This song is an upbeat straight 8th bop, but it does have a bit of jazziness in the chords used and the rhythms involved. You can use the D minor or D minor pentatonic with some tasteful blues notes to solo over the chords.
19. Barbados by Charlie Parker
Charlie Parker was a very skilled and successful Jazz musician who made, performed and recorded numerous standards. This one, in particular, is a traditional Jazz blues. It has a catchy melody and variable speed. Jazz musicians don't like playing the tunes they know at the same speed or style every time, so feel free to take this at your own pace.
Don't let the number of chords or the name of Charlie Parker intimidate you; this song is a real jazz blues. It's extremely similar to a traditional 12-bar blues but contains a few passing chords. You can use any of the same methods for soloing. You'll notice in a lot of the recordings the soloist takes a lot of liberty with the chords associated, but you don't have to play around as much.
20. Adam's Apple by Wayne Shorter
The recently Passed Wayne Shorter wrote the song as a title track for his 1967 album "Adam's Apple." This song is very blues-inspired due to the chords used, but just like any Wayne Shorter song, he doesn't follow the traditional form and still manages to make every single chord sound in place. This song is a fun blues-inspired bop tune to jam over. The chords move slowly enough so you have enough time in between each one to change to the next one fast enough.
The blues scale works perfectly here, specifically the Ab blues. You'll get some jazzy lines implied just because of the way the chords work with the blues scale. Feel free to mess around with what you want to, though!
21. Chameleon by Herbie Hancock
This two-chord funk jam by Herbie Hancock is beyond fun to jam on. The synth bassline played by Herbie catches the groove and plants it directly into your head. Despite not having a jazz-like drum or bass, it maintains its jazz stature just by its form. It follows any traditional standard, head in, solo section, head out. There are also no rules on what to do with a song, so make it swing! See how it sounds.
It's such a simple chord progression that you can sit there for hours and play around with any scale you want to see what matches. You can use the minor pentatonic and blues scale, as the melody utilizes those scales as well, per usual, with a Herbie tune.
22. Afro Blue by Mango Santamaria (Coltrane Version)
Afro Blue is a Jazz Standard written and recorded by Mongo Santamaria. This standard has been played many times and is often a very common song for a Jazz trio to play. The original's TIme signature is a bit of a mystery, combining different time signatures to make something original. The Coltrain version, however, is just a jazz waltz. It is easy to play along with.
There are plenty of backing tracks on youtube that will help you learn the song. There are very few difficult chord changes, and you are fully capable of playing an F minor blues and pentatonic over the changes. This is another song where you can play around with notes outside of the pentatonic scale to see what works when.
23. Equinox by John Coltrane
John Coltrane's Equinox is a bluesy, slow, melodic swing song that takes half of its inspiration from blues and the other half from jazz before its time. The beauty of this song lies in its simple structure and melody, with about as many chords (and structure!) as a 12-bar blues. Its sound is similar but also different as a result.
Your improvisations are completely up to you in this one. Coltrane's improvisations consist of playing around with simple scales, as well as throwing in insanely fast riffs that knock you off your feet. You should play around in C# minor blues. This song is slow, and the chords change slowly, so you have plenty of time to think about your comping.
24. Freddie Freeloader by Miles Davis
In the same legendary album as "So What," Miles Davis has gifted us "Freddie Freeloader." This song is a fun and simple bop that has an unending amount of blues influence but allows room for jazzy improvisations in the chords and the solos. Interestingly, Miles Davis switched out his pianist, Bill Evans, for another pianist, Wynton Kelly, specifically because he was a blues enthusiast and excelled in the genre more than Bill.
It follows a 12-bar blues form but doesn't use the same chord for the last 2 bars. Luckily, the chord fits perfectly in the key still, so your traditional blues way of soloing will carry perfectly over.
25. Footprints by Wayne Shorter
Wayne Shorter proves his creative and interesting composition techniques with this song. In the official Wayne Shorter version, Wayne takes a lot of liberty in his soloing. He moves in and out of the key, weaving them into simple riffs like only Wayne could. Wayne Shorter has recently passed away, unfortunately. This song was one of his many creations that has gifted the jazz world.
A very long portion of the form of this song is over one chord, C minor seven. This means the C minor pentatonic and blues will work great here. Your traditional blues phrasing will sound good here. If you're looking for easy jazz songs to play on guitar, I highly recommend trying to play "Footprints."
26. Soulful Strut by Young Holt
Soulful Strut by Young-Holt Unlimited is a very soulful song, as the name implies. Not as jazzy as a traditional swing song, but still includes a jazzy format and jazzy solos. Many jazz artists have done a version of this song, like George Benson or Horst Jankowksi. It follows a traditional jazz format, where it is a head-in, solos, and then a head-out. This is a perfect jam format because it allows an unlimited amount of solo time.
For this song, you can simply jam over an Eb major pentatonic and throw in some jazzy licks. This song is a perfect song to test how your solo phrasing works in any context. This song is a bit easier to jam on than other jazz songs.
27. Minor Swing by Django Reinhardt
If there was one song to define the whole genre of Gypsy Jazz, it would be this song. Django Reinhardt's Minor Swing redesigned European jazz and introduced swinging and fast, eclectic soloing into the mix. Its beauty lies behind its simplicity. The form follows the exact same format as a traditional minor blues. It's a fun, jazzy, and easy tune to jam on. You'll find it played in many places and even in different genres. Bluegrass fans also enjoy this song.
For your improvisation, you should use the minor blues and pentatonic scales excessively. They work very, very well in this context. If you have the knowledge, the harmonic minor scale is what Django used in the recording.
28. Fine and Mellow by Billie Holiday
A famous Billie Holiday song off her classic record "Billie Holiday," this song takes a lot of inspiration from the blues and turns it into a mellow ballad. Billie's voice fits perfectly into the mix of instruments. The live version performed in 1957 on the TV special "The Sound of Jazz" is an especially good version, with a roster full of jazz legends like Lester Young on saxophone and Roy Elridge on the trumpet. If you are skilled enough and wish to increase your improvisational skills, I recommend transcribing this version.
Your improvisations can be based on the minor pentatonic and blues phrasing. Playing around with notes outside of the key during the turnaround will add a very jazzy feeling to your solo.
29. All Blues by Miles Davis
Another cult classic song off of Miles Davis Legendary jazz album "Kind of Blue," this song exhibits blues influence but ultimately has a very distinct jazzy feel. The piano comping plays around with dissonance instead of playing chords, which was traditional for the time. This Modal song is a great song to include in your jazz vocabulary.
The song is mostly one chord, and the small passages of passing chords are within the same key as the G7. With your improvisations, play slow and laid back. The song is in ¾ but super easy to feel out and play along to. Use your knowledge of blues phrasing and minor pentatonic and just play it slower and lightly. Your blues phrasing will apply very well here.
30. Song For My Father by Horace Silver
Horace Silver's "Song For My Father" is another famous jazz standard often called at jam sessions. It's simply amazing to have in your vocabulary as a jazz musician. It is a Bossa Nova feel with a more American style of harmony and blues influence in the Bossa. Watch the video to get a comprehensive look at the Bossa Nova rhythms. This song is also great to generally improve your skills playing a Bossa Nova.
Luckily, this song is very simple and only strays away from F minor a little bit. Your F minor pentatonic or blues scales will work wonders on this song. Feel free to play around with the comping and soloing, as always.
31. Bags Groove by Milt Jackson
This is a perfect example of a jazz blues called "Bags Groove." Like many of the other standards, it's a slight change from the traditional 12-bar blues. "Bags Groove" is among the most commonly called tunes at a jam, and you'll hear that most of the jazz greats have taken their own liberty to create a version. It's very simple and only has a few passing chords in between the regular blues chords that take up most of the space in the song. Keep in mind this song can be taken at many different speeds.
Your improvisations and comping in the blues realm will translate over to Jazz. Learn a few jazz chord extensions and put those in with your regular comping. Your solos can also utilize the minor and major blues in this!
32. Little Sunflower by Freddie Hubbard
This beautifully arranged and performed ballad is one of Freddie Hubbard's best compositions. The chord progression is simple and fun and leaves plenty of room for the instrumentalist to improvise as they see fit. It was released as part of the album "Backlash," which was released in May 1967. This jazz was later in its time and not as popular as it used to be, but Freddie still managed to succeed.
Your improvisations will alter VERY slowly between 3 keys, D minor, Eb major, and D major. The chords only change every 16 bars, so you have nothing to worry about in pace. You will hear the changes, and you can count if you need to. "Little Sunflower" is definitely another one of my favorite beginner jazz guitar songs.
33. Cold Duck Time by Eddie Harris
Cold Duck Time by Eddie Harris is a versatile song and is often played in a slow medium-tempo Latin style, but it can also be played in a big band arrangement. It features a jazzy melody and a more rock-fusion-style progression that also has blues influence by using the four and five chords of the scale.
With only 4 chords that fit into an F blues, your pentatonic minor and blues will sound amazing here. This song was designed to be a long jam with a good jazz rhythm section and maybe 2-3 wind instruments. Experiment with some effects that make your guitar sound a little different! This is often interpreted as a fusion song, so you can do what you please. This song is also fun to comp over! Mess around with chord extensions.
34. Fly Me To The Moon by Frank Sinatra
Originally titled "In Other Words," this extremely popular crooner tune was written in 1954 by Bart Howard. Frank Sinatra's 1964 version is the version most recognizable. This song is easy and recognizable and the perfect jazz tune to play around other people. Most people may even be able to sing along! Funnily enough, the song actually became associated with the NASA mission to the moon. A cassette copy was brought and played on the Apollo 10 mission!
Don't let the chords confuse or intimidate you! All the chords can be easily played in an open position that doesn't require barring or difficult fretting. If you'd like to improvise over the changes, play in C Major! All the chords fit more or less into the C major scale.
35. Tenor Madness by Sonny Rollins
Tenor Madness by Sonny Rollins is yet another classic jazz standard that is a slight change on the 12-bar blues format. This slightly faster swing song will have you jamming for hours. This song is often called at a jam and is played for a long time because you can easily match the energy of the soloist, which gives the song so much energy as a result.
Since this song has no chords that go outside of a Bb blues, the major and minor pentatonic and blues scales will serve you nicely. Blues phrasing will also take you very far. Since the head of the song very distinctly uses the minor pentatonic scale, try using your ear when you are soloing to quote it as you go!
36. The Work Song by Nat Adderly
"Work Song" was the title track to Nat Adderly's album titled "Work Song." A great and smooth blues that utilizes the blues scale on the head. Jazz guitar legend Wes Montgomery played on this album with Nat Adderly. Like most jazz standards, it takes massive inspiration from the 12-bar blues. Instead of using 7 chords, it just uses the root minor chord instead.
Since most of the song is over an F minor, and the other chords are in the key of F minor, your blues scale and minor pentatonic work exceptionally well here. So many jazz songs utilize those scales.
37. Cheryl by Charlie Parker
This fun jazz song by Charlie Parker is a super jazzy blues-like form. It follows the jazz blues format very loosely and has a few more passing chords than your traditional blues. This gives an extra jazzy feel. Charlie Parker was mostly a bebop musician, which is the type of jazz that is fast, flying, and difficult to keep up with. This head shows just a little bit of bebop, but you can still digest it and learn. This is a great intro if you are interested in the faster side of jazz!
Luckily, it keeps its blues feel, so you can use the traditional minor blues on this song. You should try and experiment with going outside of the key with certain chords to get an "out" feeling that'll make it super jazzy!
38. Sandu by Clifford Brown
Clifford Brown is one of the most acquitted trumpeters of all time, and his composition Sandu is a great variation of the blues format. There are a few more chords that pass a bit more than regular, but if you listen to the recordings and transcribe the soloist, you'll see that a lot of the time, they are just using the major scale mixed with some blues notes. The impressive part is their phrasing.
In your improvisations, use the major scale and mix in some blues notes, and use your ear to see which ones will fit better where. This is a great standard to develop your ear to form some technique.
39. Sonnymoon for 2 by Sonny Rollins
This Sonny Rollins tune is a jazz classic. Perhaps one of Sonny Rollins's most recognizable and characteristic tunes! It takes the form of an altered jazz blues like most standards. This is an amazing song to have in your vocabulary, and bonus points for your improv vocab if you transcribe the soloist in the song! You'll hear it called at a jam every now and then. Being able to rip this standard will impress cats everywhere.
Your improvisation should consist of the blues scale and some notes that don't fit in the key for added dissonance. The chords move at a moderate speed, but they all fit in the Bb scale, so feel free to improvise along those lines too!
40. Parker's Mood by Charlie Parker
This beautiful blues ballad tickles your ears in just the right way. Charlie Parker's phrasing in his soloing is like no other, and he can take away to a completely other land. You can hear a large amount of blues influence in his playing, but he makes it sound super jazzy and still like a ballad despite having. This is a great, great song to have in your vocabulary, specifically as a transcription, because Charlie Parker's licks and riffs have so much expression in them.
For your improvisations, you should stick to blues but play around with the major scale and chromatic notes to make your playing very expressive. This song is naturally a very expressive blues ballad, so play it as such.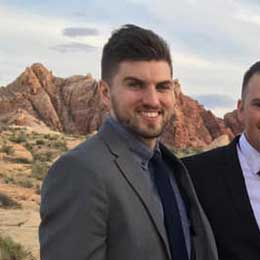 My name is Chris and I've had a passion for music and guitars for as long as I can remember. I started this website with some of my friends who are musicians, music teachers, gear heads, and music enthusiasts so we could provide high-quality guitar and music-related content.
I've been playing guitar since I was 13 years old and am an avid collector. Amps, pedals, guitars, bass, drums, microphones, studio, and recording gear, I love it all.
I was born and raised in Western Pennsylvania. My background is in Electrical Engineering, earning a Bachelor's degree from Youngstown State University. With my engineering experience, I've developed as a designer of guitar amplifiers and effects. A true passion of mine, I've designed, built, and repaired a wide range of guitar amps and electronics. Here at the Guitar Lobby, our aim is to share our passion for Music and gear with the rest of the music community.