There is an unmistakable charm in indie music; it breaks away from the cookie-cutter, overly polished music of the mainstream. Instead, indie songs dig deeper and reveal honest emotions in all their raw creativity. So it's no wonder that many guitarists would enjoy exploring playing indie guitar songs. But is it possible to play indie guitar songs if you're a guitar beginner? Yes!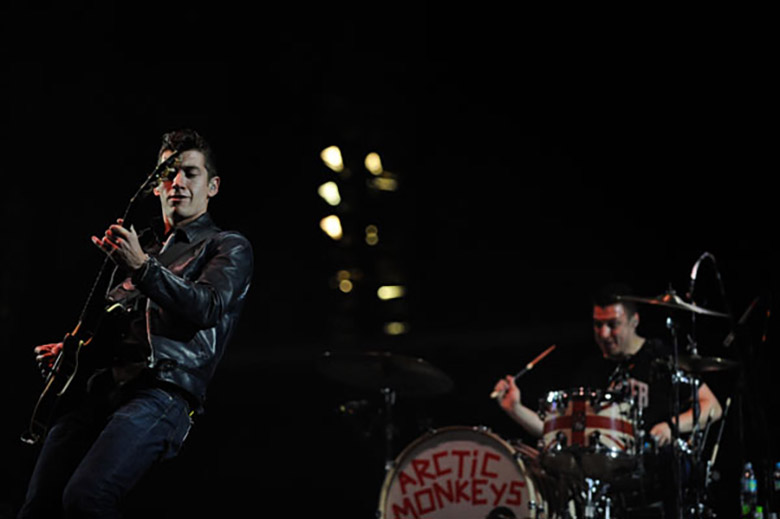 In this article, we've rounded up many easy indie guitar songs for beginners! Each of these songs uses familiar, easy chord progressions that guitar novices will have no difficulty picking up. Plus, we've included chord tabs, tuning, and videos for each of the songs to give you all the info you need to start learning these awesome tracks. So bring out your six strings, scroll down, and let's get you started on your indie guitar-playing journey!
Here is a List of Easy Indie Guitar Songs
1. Let My Baby Stay by Mac DeMarco
Song Overview: Canadian singer-songwriter Mac DeMarco has surely carved a niche for himself as the rising star of slacker rock or slow-burn indie pop. This track is yet another laidback, trippy track with DeMarco's chilled-out vocals.
It's a super easy track to play. All you need to know are Am, D7, G, and D major chords, and the progression is repeated all through the song. With its slow pace, easy strumming, and basic chords, it's a must-have in any beginner guitarist's indie repertoire.
2. Bags by Clairo
Song Overview: The young and talented Claire Elizabeth Cottrill, better known as Clairo, began posting her music online at the age of 13, and her mature musicianship shows how far she's come! 'Bags' is one of her first singles that charted on the Billboard Hot 100 alongside the likes of Billie Eilish and Lizzo. The song's raw and expressive lyrics pair beautifully with the simple chord progression, offering the perfect canvas for her to showcase her floating, muted, yet emotional vocal style.
'Bags' is a treat to play for guitar novices thanks to its simple chords – you'll need to know F#, A#, A#m, and G# played on standard tuning. The chord progressions stay the same during both the verses and chorus. In fact, you'll enjoy jamming on his song with keyboardists and other fellow musicians, too, as there are plenty of spaces in the song for solos.
3. A Different Age by Current Joys
Song Overview: Nick Rattigan has been releasing some gorgeous indie music under the moniker 'Current Joys' for a while now, and 'A Different Age' is another meandering gem from this American singer-songwriter, multi-instrumentalist, and journalist.
This track needs you to only play D and G on a simple downstroke strumming throughout the song; that's it! The entire is built around these chords. And if you think that might make the song boring and monotonous, think again. The production and songwriting are so tasteful that every verse sounds fresh.
4. Show Me How by Men I Trust
Song Overview: Hailing from Montreal, Canada, Men I Trust has been making some quintessentially indie magic ever since the band was formed back in 2014. They started out by self-releasing their music but are now signed to Canadian indie label Return To Analog.
Show Me How is a smoky, slow-burn track with slow and simple strumming. It may appear to have tricky chords, but they're all simple to play, trust me. Don't get scared by all those 7ths in the chords – check out the tabs, and you'll know what I'm talking about. Granted, this one might be slightly tricker to learn compared to the other indie favs on this list, but it'll be worth it.
5. My Favourite Fish by Gus Dapperton
Song Overview: This song gives me all the indie feels every time I give it a spin! Dapperton is a young American singer-songwriter who not only has a knack for writing memorable indie melodies but also writes about important issues like mental health that give his songs an added depth.
My Favorite Fish is just 4 chords – ok, ok I know they all have 7th chords, but you will love me for suggesting this song to you. 2 of them are major 7ths, and 2 are minor 7ths, so once you get the finger pattern for these two types of chords, the track is a breeze. It's the same 4 chords being played all throughout the song, so learning those chords will be worth it! Also, these chords are fabulous to try and use in your own songwriting too!
6. Anemone by Brian Johnstown Massacre
Song Overview: Founded in 1990, Brian Johnstown Massacre has been releasing indie/psych-rock goodness for quite a while now. Did you know that over the course of their career, they've released 19 albums to date….now that's what I call a body of work! Anemone is yet another must-know song for every indie lover; it has a cool, mysterious vibe to it that you can conjure by playing just 2 chords.
Yup, you heard that right – you only need to know E and A major to be able to play this song. However, if you want your version to sound closer to the original, then you can add D, G, B, A7, and E7 in there, too, according to the tabs.
7. 505 by Arctic Monkeys
Song Overview: According to the Arctic Monkeys, 505 is the first love song they've ever written, and it's an enigmatic love sign for sure. Rumor has it that 505 refers to the hotel room where Alex Turner's girlfriend was staying and where he wanted to go back to get back with her.
The best part is that the song can be played with just 3 chords on standard tuning – Dm, Em, and A. The strumming pattern is also pretty straightforward, so go have fun with it!
8. Tugboat by Galaxy 500
Song Overview: Galaxy 500 was active together as a band only between 1987 and 1991, but the band managed to release three full-length albums in that time, all of which have gone on to heavily influence the indie sound for years to come.
'Tugboat' uses only G major and Em/C chords to create an atmosphere of nostalgia in the listener's mind. If you're a guitar beginner looking for a simple indie track, this one is definitely the way to go.
9. Harmony Hall by Vampire Weekend
Song Overview: Harmony Hall is probably one of the most popular songs by indie icons Vampire Weekend, and it's also the easiest for guitarists to learn! The song was the band's lead single from their fourth studio album 'Father Of The Bride', which was the first album the band released on a major record label. The song is a clever juxtaposition of lyrics that talk about angst and dread against its peppy, almost-cheerful sounding music…first impressions can be deceiving. Now, what did we say about digging deeper in indie songs?
You can play it with G, D, C, and Cmaj 7 and a simple 4*4 strumming pattern. The opening riff might be tricky for beginners to grasp, but don't let that stop you from playing this cool indie gold of a song. You can strum to the chords in the meantime till you've built up enough prowess to easily play that.
10. Gloria by Patti Smith
Song Overview: Patti Smith is a songwriting icon that has influenced multiple genres, everything from rock, indie to punk rock. 'Gloria' was actually originally written by Van Morrison back in 1964 for his band 'Them'. But Patti's version reworks the lyrics to make them work for the growing punk rock movement that was happening at the time.
This is a 3 chord song – just E, Dsus2, and A/D and you're all set to play this track since the progression repeats all through the duration of the song.
11. Just Like Honey by Jesus And Mary Chain
Song Overview: Formed in 1983, Scottish indie rockers Jesus and Mary Chain's track 'Just Like Honey' shot to fame when it was used as the OST for Scarlett Johansson's Hollywood star "Lost in Translation." It's a layered, atmospheric melody that resonates in your head long after it has stopped playing.
The entire song is based on the good old G, C, and D chord progression and with an utterly easy strumming pattern.
12. Roadrunners by The Modern Lovers
Song Overview: The Modern Lovers broke into the circuit in the 70s and were important pioneers of the indie/punk movement that modern bands look up to for inspiration. 'Roadrunners' is an all-around cool road trip-like indie song that's also incredibly easy to play. In fact, I think just listening to this song can make anyone cooler by a notch or two!
Played on standard tuning, it uses just D, A, and E chords all through the duration of the track on a steady 4/4 beat.
13. Oh Sweet Nuthin' by The Velvet Underground
Song Overview: The iconic American rockers The Velvet Underground unwittingly encouraged the indie movement with songs like Oh Sweet Nuthin. This absolute classic can be played with just 3 chords – C, Bb, and F.
The entire song is fully laidback and easy to play, even though the track speeds up towards the ending and concludes with a swashbuckling solo. But you don't need to learn the solo to be able to play this evergreen favorite.
Popular Related Article: Easy Guitar Songs for Beginners
14. Runaway by Aurora
Song Overview: Even though this gem of a track was released back in 2015, Runaway by Aurora has exploded into mainstream consciousness recently. That is all thanks to an Instagram challenge that uses this track as the background. Oh, well – better late than ever!
This is a lovely melody with an earthy, indie vibe to it, coupled with Aurora's nature-inspired vocals. You can play this mystical track with a bunch of familiar chords – Em, D, C, G, Am, and Cmaj7.
15. Can't Seem To Make You Mine by The Seeds
Song Overview: This song was the very first one to be recorded by Garage-meets-indie rockers The Seeds back in 1965, and it has since been covered by a wide variety of musicians such as Ramones, Johnny Thunders, and Yo La Tengo. The heartbreak lyrics and casual vibe of the track still continue to hold their appeal today; that's why it's a timeless classic.
The main riff and chorus just need you to play G, D, and Em, while the rest of the track oscillates between C, G, C, G, and goes to C, G, C, and D before going back to the main riff again.
16. In The Aeroplane Over The Sea by Neutral Milk Hotel
Song Overview: Believe me, anyone can play this indie classic! In The Aeroplane Over The Sea by indie rockers Neutral Milk Hotel uses the good old chord progression of G, Em, C, and D throughout the song, punctuated by a sweet horn solo.
Interestingly, the band deliberately employs a low-quality, casual recording quality in their songs, which is directly inspired by psych-rock and indie rock. The real magic of this track is in the vocals of vocalist Jeff Mangum, so feel free to sing along while playing this classic indie staple.
17. Feels Like We Only Go Backwards by Tame Impala
Song Overview: The brainchild of multi-instrumentalist Kevin Parker, Tame Impala is a delightful blend of several genres that it so effortlessly moves back and forth in. So it's not hard to box this band into just the indie tag, but several of the band's tracks definitely give me the indie vibe – and this is one of them.
Feels Like We Only Go Backwards was part of the band's 2012 album Lonerism, and its trippy indie vibe is magnified in the music's official video (as you'll see). You can play this song with our good old familiar open chords – F, A, Bb, Dm, and C. The strumming is nice and easy and won't have you struggling to play any of it. It's one of my favorite easy indie guitar songs to play.
18. Lua by Bright Eyes
Song Overview: This is the perfect slow indie track to play at a quiet, intimate gig, and it's incredibly easy to grasp as well. Lua was released in 2004 by American indie rock band Bright Eyes as part of their album "I'm Wide Awake, It's Morning." This sparse song just has vocalist Conor Oberst on vocals and acoustic guitar, singing about his struggles with an unending episode of depression and addiction.
A beginner-friendly track, the entire song uses familiar and easy open chords like G, C, Am, D, A7, and Em.
19. The Boy With The Arab Strap by Belle and Sebastian
Song Overview: Another beautiful indie song that uses just 3 chords! The Boy With The Arab Strap was released by Scottish indie outfit Belle and Sebastian as part of the album by the same name in 1998. An upbeat track with floaty vocals, the track made it to NME's list of 150 best tracks of the last 15 years.
The entire song can be played with just G, C, and D chords – since the progression cycles through repeatedly in the song. The strumming pattern is also a standard up-and-downstroke alternating type…pretty easy to grasp!
20. Random Rules by Silver Jews
Song Overview: Formed in 1989 and disbanded in 2009 (with several line-up changes in the middle), Silver Jews were an underground indie force to reckon with, and there continues to be so. Their brooding, spoken-sung track 'Random Rules' was released as part of their third studio album 'American Water' in 1998, and it got accolades from several prestigious music journals too.
Personally, I love his raw, tell-all honesty in the lyrics and the contemplative melody. Beginners will find playing this song pretty easy; the entire track cycles through C, Em, F, and Dm chords, with a simple 4*4 strumming pattern to boot. There's also a simple, emotive guitar solo towards the middle, which you'll enjoy learning and performing.
21. Casimir Pulaski Day by Sufjan Stevens
Song Overview: Sufjan Stevens had carved a solid niche for himself in the dreamy indie-folk space, and rightfully so. His emotional, honest songwriting, paired with gentle yet clever instrumentation across his eight solo albums and several collaborations, have earned him Grammy and Oscar nominations, among other accolades.
"Casimir Pulaski Day" was released as part of his fifth studio album "Illinois," which was a concept album. The song's theme is quite heartbreaking as it talks about the protagonist losing his life partner to bone cancer, despite him praying to the powers above to speed up the healing. It's a beautiful song with an equally beautiful melody. You'll be playing D, C, Am, and G all through the song, and that's all you need to play it all. The strumming is relaxed and slow, so you'll have no problems there, either.
22. Be My Mistake by The 1975
Matty Healy is an English singer-songwriter and lead vocalist of The 1975. This 2018 indie pop hit is from his album A Brief Inquiry Into Online Relationships and details his emotionally complex relationship with his ex-lover. This song has been released as both a studio recording and as an acoustic music video.
Don't let the number of chords or ornamentations deter you away from this one! The chords are all open and relatively simple. You can further simplify the G/B to G and Am7/G to just Am if you like. On the other hand, if you are looking for a challenge, try this: After you've played it through a few times, add in the bass notes of the chord and then some hammer-ons. This will help you recreate the tune more accurately. To play in the original key, play this one with a capo on the fourth fret.
23. Flightless Bird by American Mouth
This 2007 release will pull on your heartstrings- It certainly did a number on mine. Iron and Wine reached a very wide audience with the release of this song on the soundtrack to the first Twilight movie. The scene Flightless Bird, American Mouth is in shows Bella and Edward dancing in the gazebo at prom.
Plus, this song is an excellent study in 3/4 time. With this time signature, be sure to emphasize everything on the first beat. And, when moving from chord to chord, focus on only moving one finger when going from C to A minor. The F you use can be barred or open; it doesn't matter that much. Like the last number, the hammer-ons and little ornamentations can be difficult to master at first, but they can also be skipped for simplicity's sake. I'd recommend learning the chords and getting used to playing them on beats 2 and 3, then adding in the bass note of each chord on beat one.
24. The Lengths by The Black Keys
This Black Keys song is from the 2004 album Rubber Factory which was self-produced by the band members. My favorite lyric from The Lengths is the line, "Coals are hot to walk." It's such an excellent poetic song to learn. I hope that the bluesy, indie-jam-band vibes of this tune will inspire you to get creative with rhythm and stum patterns!
With only 3 chords throughout, this song is extremely beginner-friendly. The fingerpicked beginning is also within arms reach as well. When playing the Fmajor7, watch that you don't accidentally play a regular F- it will sound right but not quite as sonically interesting. There is also a short guitar slide/riff that repeats throughout, so this one is a really fun beginner's song to play with a friend. If you like simple 3 chord songs, you'll love this one.
25. Riptide by Vance Joy
Vance Joy's Riptide took the world by storm in 2013: the artist even won the Apra Song of the Year award with this catchy and upbeat strummy tune. One interesting fact about the song is that it references the plot of the movie Midnight Cowboy. And while Riptide is often done on uke, it still sounds great on an acoustic guitar, especially one with nylon strings.
Play Riptide with a capo on 1 to get the original key. Be sure to spend extra time transitioning from the Em to the Dadd9 since this move can be a bit trickier than changing to the other chord shapes. Another nice facet of this song is that the islandy strum pattern is the same throughout- DDUDU DDUDU!
26. Blister in the Sun by Violent Femmes
This 1983 indie rock song is catchy and timeless and gets a surprising amount of radio play for its age. It's a sorta-punk, sorta-folk tune that is often interpreted incorrectly. According to songwriter Gordon Gano Blister in the Sun was written for a girl he liked; she was someone he wanted to form a band with. Unfortunately, she ended up moving to Canada and joining a cult…I digress.
This song has the perfect first lead line to learn, as the part doesn't go higher than the fifth fret. Blister in the Sun incorporates muting, too, while still sticking to accessible open chords. When you're playing, try making the main strum pattern as DDUDU DDUDU. In order to get a great sound during the muted parts, strum a bit harder than normal.
27. Wonderwall by Oasis
Oasis's Wonderwall has officially become "that one acoustic song that everyone loves to hate." But there's a good reason why this 1995 tune is still being played: It has juicy sus chords and a melodic strum pattern! Interestingly enough, the title Wonderwall was taken from a British Psychaledic film scored by George Harrison (of The Beatles).
Wonderwall is easy…but not as easy as you'd think! That's to say that it is easy to do, but the strum pattern is difficult to do correctly. This song bridges the gaps between beginner to intermediate skillsets. Spend extra time making sure you have the strum pattern correct before you add in the chords- I highly recommend practicing it isolated on muted strings. This is one of the most popular indie guitar songs ever released.
28. Creep by Radiohead
Here we go again with songs people love to hate. But this time, the song is despised by the band itself. Radiohead refuses to play their 1993 hit from Pablo Honey. Creep was so popular that the group of English rockers got sick of playing it. Even though we listed another Radiohead tune earlier, this one is essential!
One thing about this song is that it is really hard to find the correct picking pattern online. Listen to the recording or watch some instructional videos. A tip for Creep that was once given to me in order to get it to sound similar to the recording is to arpeggiate the pattern in an upward way (going higher). Creep is usually done in all barre chords- and I do recommend doing it this way. This is because it's easier to move the same shape around than constantly changing shapes for open chords.
29. Greek Tragedy- The Wombats
The Wombats are an English indie rock band that first formed in Liverpool in 2003. The group struck gold with this single off of Glitterbug; however, the band has been successful from the start! Their debut album, A Guide to Love, Loss & Desperation, charted extremely high in the UK upon its release.
Greek Tragedy is an earworm, but it's not as hard to play as it might look. Plus, the Cadd9 is a great chord to add to your repertoire- it makes "C" so much more interesting. The D/F# is definitely the hardest chord of the lot, so make sure to drop your wrist so that you can press your thumb to the back of the neck. This will make the notes ring out better!
30. Skinny Love- Bon Iver
Bon Iver is an Indie folk band founded by singer-songwriter Justin Vernon. The band's name comes from the French for "good winter" or rather "Bon Hiver." Their first album, "For Emma, Forever Ago," sold over half a million copies.
Skinny Love is only 5 chords, but it pens a mournful, lush tale. Two lovers who have to end. Skinny Love strikes the ear sonically, too: One interesting facet is that this song is tuned to 435 Hz instead of the standard 440, which further adds to the charm. If you like, you can play the song in open C if you want to make it more true to the tune, but it won't be A=435 unless you're into tuning quarter tones…On another more technical note, be careful not to hit the low E when playing the C/B chord.
31. Styrofoam Boots- Modest Mouse
Modest Mouse is an Alternative Indie band that was first formed in Washington and is now based in Portland. The part-punk part-experimental group has impressed audiences since the 1990s and is still going strong today.
Modest Mouse proves that you don't need fancy chords to make a great song. Styrofoam Boots is a two chord song that fleshes out the narrator's religious beliefs and experiences. Sonically, the song takes many by surprise as it sounds straight out of the 1910s in the American South. The strumming is quite quick at moments, but feel free to do what feels best to you.
32. Chasing Cars- Snow Patrol
Snow Patrol is a Scottish band best known for their iconic Brit-Pop/Indie sound (If you didn't know they were from Scotland, don't feel bad. I just recently learned this myself!). They got their official name as a joking off-shoot of their previous name, Polar Bear. Rumor has it that someone asked the group if they were "Still called Snow Patrol" when in fact, they had never been called that before: And so the group as we know it was born.
Chasing Cars is a song everyone knows, even if they don't know the band. The simple, repetitive fingerpicked line is very satisfying to learn- And believe me, anyone can learn it! The main riff is only 2 alternating notes. As for the open chords, they practically play themselves! Chasing Cars is an excellent first indie song to cover since both main parts are straightforward.
33. Sofia by Clario
Now, back to Clario. Like Bags, the song Sofia first came out in 2019 as a single off of the album Immunity. But while the prior song was about needing to break it off, Sofia would be the opposite: It's about hope. It took a year for this one to take off, but once it did, it charted in Billboard's Hot 100.
The down-strokes of Sofia are insanely catchy. And this song is the first of Clario's tunes that detail her sexuality. Sofia was written by a woman discovering her love for women. So go on, empowered women, and rock on to this 3-chord jam.
34. I Will Follow You Into the Dark- Death Cab for Cutie
Death Cab for Cutie is a 5-piece indie-rock band known for their deep and poppy second-wave-emo vibes. I Will Follow You Into the Dark was the first Death Cab song I ever heard, and it also happens to be one of the first songs I learned to play on the guitar. Many of the band's songs off of Transatlanticism are accessible to guitar newbies, this one included.
Start out by strumming the basic chords. Later, you can add in the fancier G/E Am/E variations of the G and Am chords, respectively. After you've got this down, you can begin picking the root notes on beat 1 with your thumb as he does. This song about love and death is all-encompassing and powerful, no matter how you strum it.
35. The King of Carrot Flowers (Pt.1) – Neutral Milk Hotel
Neutral Milk Hotel's In the Aeroplane Over the Sea is full of great indie songs to learn. The King of Carrot Flowers is only 3 chords. It does have a barred F and Bb, so be sure to spend extra time practicing these chords so you can get enough power for them to ring out clearly. Alternatively, you can also use capo 5 and play CFG. That being said, you won't get the fullness of the barres that way.
I love this song because of its distinct strum pattern and folky yet ethereal lyrics. Part 1 of this song is about the castle that is youth but is contrasted by the complexity of a parental relationship.
36. You Got Yr Cherry Bomb- Spoon
Spoon is one of the most well-known indie rock groups over the past couple of decades. The group's roots began at The University of Texas. Gerard Cosloy later discovered the group and decided to sign the band. But unlike many on this list, Spoon didn't reach immediate success- It was a long game. In the early 2000s, Spoon had commercial success with Merge Records.
You Got Yr Cherry Bomb was a single release by the band and never seemed to climb the charts: but I still love it. It has a lot more chords than some of the others on this list, but they are still easy chords. There are 2 power chords, and the rest are open. When I strum it on my guitar, I can almost hear the horn parts coming together.
37. Glue Song- beadoobee
I have always been a sucker for a song in 6/8 time, and Glue Song does it differently. From the plucky strings and legato cello to the jazzy whisks on the snare drum, this light indie love song is immediately likable without being cheesy.
If you want to play Beadoobee's key, add a capo on 4. While all the minor 7ths look intimidating, I promise they're not so bad. The B7 is the worst of the three, so star it and spend some time with it. Plus, there aren't any Barre chords in this one (yay!), and the strumming pattern remains exactly the same throughout.
38. Island in the Sun- Weezer
Weezer is pretty mainstream nowadays, but it wasn't always that way. Island in the Sun came off of Weezer's second album, which was self-titled. I know the name, but I always think of this as the "Hip, hip" song.
One interesting nugget about the song is that it almost wasn't included on the album at all, but their producer Ric Ocasek vouched for it. Island in the Sun ended up in the movie Mr. Deeds, so it's a good thing it was included! The strumming pattern combined with the muting can take a minute to catch onto, but other than that, it's a piece of cake. If you're feeling up to a challenge, switch over to barre chords to get a more rich Weezer-y sound.
39. Afraid of Everyone-The National
The National is an American group that was first formed in Cincinnati in 1999, but I didn't know about them for quite some time! They have a quintessential sound and are now critically acclaimed.
Afraid of Everyone is off the album High Violet. It has an expressive, mournful feeling to it. I especially like how the low bowed strings combine with the vocal harmonies and "ooos." It always amazes me how this band can say so much with 4 chords: Afraid of Everyone is a song about anxiety and how hard it is to deal with. From what I can hear, much of the strum pattern is DUDUDU, but nobody has notated it out thus far.
40. Cough Syrup by Young The Giant
Young the Giant is a California native Indie group that's responsible for writing this catchy song with cryptic lyrics. Despite being released over 13 years ago, this indie hit still gets stuck in my head.
The meaning behind the song Cough Syrup is highly debated, with some stating that it's a metaphor for coping with something rather than curing it, and others surmise that it's the band's way of saying "it's hard growing up." There are 3 main strum patterns in this song, so practice the transitions between them carefully before putting it all together. The b minor bar can be tricky at first, but keep in mind that you don't need to bar the low E string on this one.
41. Cat Faces by Ugly Cassanova
The band Ugly Cassanova only released one album (Sharpen Your Teeth) during their time as a group. Ugly Cassanova is a bit of a spinoff of Modest Mouse: The story has it that a mysterious man by the name of Edgar Graham showed his work to the band one night…But after a time, he disappeared. Members of Modest Mouse reportedly decided to record some of his songs themselves. Jinks! This was all a made-up story by member Isasc Brock.
No matter who penned the music, Cat Faces is ambient, quaint, and tickles the brain with its complex layers. From the sound of it, the strum pattern is mostly DDUDUDDU but has quite a bit of variation throughout. When playing Cat Faces, feel free to make the strum pattern your own.
42. Anyone Else But You by The Moldy Peaches
The Moldy Peaches are an anti-folk/ indie band that has been on hiatus since 2004. However, they have recently teased a comeback earlier this year. While they (admittedly) are not my go-to group, they have begun growing on me more recently, much like mold!
This 2-chord tune has a certain charm, with its speak-sing style and gentle shaker. Anyone Else but You has been featured on Juno, which explores a teenage girl's experience with pregnancy. To get this song sounding seamless, practice moving your middle and ring fingers up and down by one string: this will help you transition more smoothly from the G to Cmaj7. Anyone Else But You is a great first song to learn to sing over.
43. No Children by The Mountain Goats
No Children is a track with many facets, most of which are quite dark. Despite the underlying macabre message of giving up, No Children is still somehow anthemic and almost theatrical. I love the rolling guitar and melodic piano line at the beginning.
Don't let the large number of chords steer you away from this song, as 3 of them are variations on C! To get No Children in the same key as the original artist, put a capo on 1. The strum pattern is the most tricky part of the tune. Try and keep a loose, relaxed wrist to get it up to tempo.
44. Femme Fatale by The Velvet Underground
The Velvet Underground's album with Nico has a charming sort of synergy you can't find anywhere else. The 1967 song Femme Fatale details a dangerous yet alluring woman: "Here she comes, you better watch your step, she's gonna break your heart in two." From German singer Nico's voice to the jazzy percussion, and minor dissonances, it's just too good!
Indie connoisseurs have long idolized this song, and for a good reason. It's simple and contagious. And while the basic strummed chords won't get all the little details in there, you can still sing along. As for playing tips, do mostly downstrokes, and watch the barred B chords in this tune. If you don't want to play two barres, you can use and open F if you like. Trust me, learning one barre chord is so worth it for Femme Fatale!
45. Ask by The Smiths
The Smith's 1987 tune from The World Won't Listen is an uplifting song about shyness- and advice on how to get past it. "Shyness is nice, and shyness can stop you, From doing all the things in life you'd like to." I love how lighthearted the band is about being introverted and shy. No matter how old this indie jam is, it'll always be refreshing.
It only takes 5 open chords to get past your shyness and learn a song for your sweetheart! Memorizing Ask is simple since the chord progression is the same the whole song, except for the bridge, which just adds more repeated G chords.
46. A-Punk by Vampire Weekend
Back to Vampire Weekend! The song A-Punk is an indie song that can be found seemingly everywhere. It's featured in a Lego movie, Furry Vengeance and Step Brothers. But it's no surprise that A-Punk has gone platinum multiple times and been in so many shows and movies.
If the 3 kinds of A's become intimidating, you fancier Asus4 and A6 chords if need be (but the Asus4 is my favorite chord of the song, so learn it for me, would you?!)
47. If She Wants Me by Belle and Sebastian
Belle and Sebastian are often described as poetic and friendly. This peppy, little-known song is from the underrated album Dear Catastrophe Waitress. The Baroque pop album never really took off since it was seen as weird and experimental for its time.
If She Wants Me is slightly more difficult than The Boy With the Arab Strap but can still be easily strummed in open chords. It has just one more chord than the aforementioned tune. If She Wants Me can also be played more true to the tune higher up on the neck. Some video tutorials like this one show you. Dave Doing's video was extremely helpful for me since I was able to pick out the strum pattern from his playing.
48. The Adults Are Talking by The Strokes
The Adults Are Talking by the Strokes is such a hit that indie queen Beadoobie covered it in her Antidote Live Session. The Adults are Talking was the first song the band played on Saturday Night Live in 2020 after nearly nine years worth of silence. It's my favorite Strokes song because of its double-edged lyrics. The Strokes are both talking about the relationship children have with parents, as well as rich politicians with civilians.
My piece of playing advice here is this: Don't be intimated by tunes in F! They're not as bad as you think. I also highly recommend utilizing the playable strum pattern on Ultimate Guitar. Practice along with the tool on one chord, then add in the changes later.
49. My Girls by Animal Collective
My Girls was released by Animal Collective in 2009 on their critically acclaimed album Merriweather Post Pavilion. The tune was once rated the #1 song of the year by Pitchfork. Curiously, the My Girl's intro features a sample from the spacecraft called the Cassini-Huygens (aka The Cassini). The quiet synthy sounding beginning quickly grows with a crescendo, then transforms into a percussive, boppy-sounding chorus.
My Girls wasn't originally written with guitar as a staple instrument, but it translates well to the instrument. It uses the chords F and C for a long time, so you can relax into the music or pick out a nifty fingerpick pattern like this artist did.
50. Last Night by The Strokes
My second favorite Strokes song after The Adults Are Talking Would have to be Last Night. It was written by the band's vocalist, Julian Casablancas, and is extremely melodic. Despite the structure of the song (especially the drums!) actually being based on Tom Petty's American Girl, it's still a bop.
The chord progression of the verse and chorus are different from one another, which you don't find in as many beginner-friendly open-chord songs as I would like. The transitions from one chord to the other are easy to grasp as long as you spend just a little bit of time with them! The Strokes are super in right now, so bring this one to your next house party.
51. Wake Up by Arcade Fire
Wake Up by Arcade Fire is a unique combination of indie, alt, and French indie. The bowed string peppered into the lush mix makes the song sparkle. Ultimately, the lyrics are heartrending and straight to the point. Unlike many indie anthems, Wake Up last a whopping five and a half minutes instead of three and a half.
Wake Up can be reduced to something more simple, but if you ask me, the Eb chord isn't so bad. Some people wrote in the tabs to skip over it and just use the main 4 chords but I don't recommend it, since you're totally missing out on the spicy flat 6 chord. The strum patterns are pretty standard and are accessible to everyone.
52. Blue Moon by Beck
Beck Hansen (aka, just Beck) is an American musician whose experimental lo-fi/pop sound has captivated thousands. Unsurprisingly, his parents were both artists. His father, David Campbell, was a conductor, and his mother, Bibbe Hanson, was a visual artist.
Blue Moon was the premier single from Beck's twelfth album, Morning Phase. In the original version, a string instrument called a charango is in the mix with the guitar and ukulele. This combination of strings results in a charming qazi-southern rural-indie vibe. Blue Moon is soulful and iconic, and its lyrics juxtapose hope and loneliness. When you're testing out Blue Moon, try using a folk-type strum pattern in 4/4 or all downstrokes.
53. Me & My Dog by boygenius
boygenius is an all-girls trio with a powerhouse of talent. Their all-encompassing, heavily reverbed, and cosmic song Me & My Dog was released in 2018 off of the group's self-titled album. Like many other indie songs, the meaning of My & My Dog is highly debated. Rolling Stone called it a 'slow burn breakup song' whereas others insist it's actually about a panic attack one of the members had while performing. Either way, the tune is ripe with introspection.
Me & My Dog is accessible and showcases the emotional depth a parred-down song can have. It is made up of just five basic chords, so anyone can play it! If you're feeling adventurous, try and tackle guitarist Julien Baker's solo. Me & My Dog can be played with either open chords or barres for a full sound. For the strum pattern, just use all downstrokes!
54. Sky Full of Stars by Coldplay
Coldplay is the first indie band I ever got into. They also happen to be the first group I ever bought a CD of (Viva La Vida in junior high, of course). The post-Britpop/ indie group is known for writing iconic and simple songs like Yellow,
Sky Full of Stars is poppier than that earlier works, but it still has those delightful indie undertones at an even-keel 125 bmp. And while it originally has a piano intro, the song translates really well to guitar. That being said, there are some guitar strums later in tune. While some tabs are more nuanced, this one will definitely get you the shell of the song!
55. 18 by Annarbor
| | |
| --- | --- |
| Guitar Chords |  C, F, Em, Cm, Am (plus E5, A5, F5, C5) |
| Tuning | EADGBE |
| Tabs | See tabs for 18 |
The song 18 from Annarbor's album Burnout used to be my favorite high-school road trip jam. Many of the songs created by the Pheonix-native indie-rock band haven't been tabbed out, but luckily, this hit has been.
18 is about a rebellious young woman who is acting out… but just to get back at her parents. This playful bad-girl song looks difficult at first, but it's really just a handful of power chords. The E5 and A5 are actually only one-finger chords! There's also a fun 4-note riff at the beginning that can be played throughout the song, making 18 an excellent candidate for an accessible indie guitar duo.
56. Kisses by Slowdive
Slowdive's indie shoegaze sound has been wowing us since the late 1980s. The band's masterful atmospheric song Kisses off of Souvlaki is only 5 chords, so you can learn it within the hour!
Kisses has an 80's type of beat supported by the richness of guitars laden with fx pedals. According to The Guardian, Slowdive has had a 'renaissance' within the past couple of years. What better way to celebrate than by playing this chill song on guitar? Just don't forget to turn on the reverb!
57. Soldier Poet King by The Oh Hellos
The Oh Hello's tune Soldier Poet King has become extremely popular on Tiktok- or at least, on my For You Page. Soldier Poet King has a lilting Irish charm. My favorite part is the unique rhythmic modulation it goes through. While that might make this track sound daunting, it's not! You are only 4 chords (plus one power chord) away from mastering the song.
To capture the rhythm of Soldier Poet King, try using the suggested rhythm on the tabs we provided above. The triplet strum will keep you on your toes and help to recreate that delightful Celtic indie-folk feel.
Final Thoughts
The world of indie music is a wonderfully weird mish-mash of powerful songwriting with memorable melodies. Full of expressive songwriting sung against evocative musicianship, we're sure you'll explore this genre. All the songs on this list are pretty simple and easy to learn, so if you're starting out your guitar journey, we hope you enjoy playing around with these tracks!
Looking for more easy guitar songs to learn? Check out our awesome guides on easy country songs to play on guitar and easy folk guitar songs!