There is an unmistakable charm in indie music, it breaks away from the cookie-cutter, overly polished music of the mainstream. Instead, indie songs dig deeper and reveal honest emotions in all their raw creativity. So it's no wonder that many guitarists would enjoy exploring playing indie guitar songs. But is it possible to play indie guitar songs if you're a guitar beginner? Yes!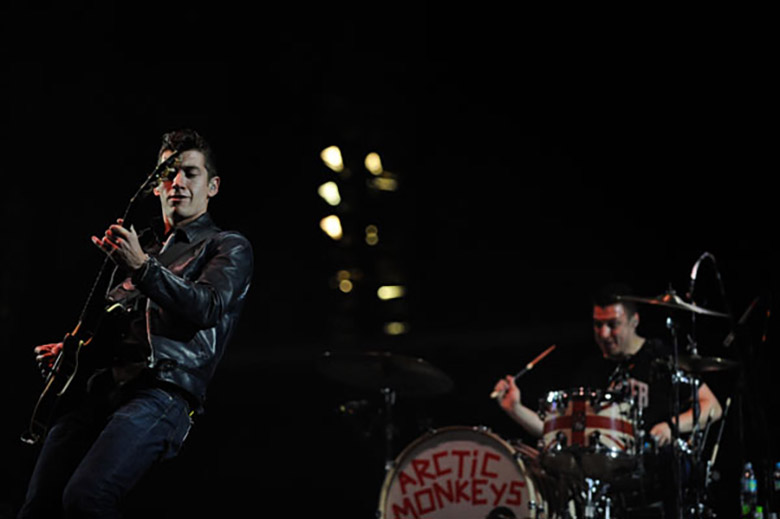 In this article, we've rounded up 21 easy indie guitar songs for beginners! Each of these songs uses familiar, easy chord progressions that guitar novices will have no difficulty picking up. Plus, we've included chord tabs, tuning, and videos to each of the songs to give you all the info you need to start learning these awesome tracks. So bring out your six strings, scroll down, and let's get you started on your indie guitar playing journey!
Here is a List of Easy Indie Guitar Songs
1. Let My Baby Stay by Mac DeMarco
Song Overview: Canadian singer-songwriter Mac DeMarco has sure carved a niche for himself as the rising star of slacker rock or slow-burn indie pop. This track is yet another laidback, trippy track with DeMarco's chilled-out vocals.
It's a super easy track to play. All you need to know are Am, D7, G, and D major chords, and the progression is repeated all through the song. With its slow pace, easy strumming, and basic chords, it's a must-have in any beginner guitarist's indie repertoire.
2. Bags by Clairo
Song Overview: The young and talented Claire Elizabeth Cottrill, better known as Clairo, began posting her music online at the age of 13, and her matured musicianship shows how far she's come! 'Bags' is one of her first singles that charted at the Billboard Hot 100 alongside the likes of Billie Eilish and Lizzo. The song's raw and expressive lyrics pair beautifully with the simple chord progression, offering the perfect canvas for her to showcase her floating, muted yet emotional vocal style.
'Bags' is a treat to play for guitar novices thanks to its simple chords – you'll need to know F#, A#, A#m, and G# played on standard tuning. The chord progressions stay the same during both the verses and chorus. In fact, you'll enjoy jamming on his song with keyboardists and other fellow musicians too, as there are plenty of spaces in the song for solos.
3. A Different Age by Current Joys
Song Overview: Nick Rattigan has been releasing some gorgeous indie music under the moniker 'Current Joys' for a while now, and 'A Different Age' is another meandering gem from this American singer-songwriter, multi-instrumentalist, and journalist.
This track needs you to only play D and G on a simple downstroke strumming throughout the song, that's it! The entire is built around these chords. And if you think that might make the song boring and monotonous, think again. The production and songwriting are so tasteful that every verse sounds fresh.
4. Show Me How by Men I Trust
Song Overview: Hailing from Montreal, Canada, Men I Trust has been making some quintessentially indie magic ever since the band was formed back in 2014. They started out by self-releasing their music but are now signed to Canadian indie label Return To Analog.
Show Me How is a smoky, slow-burn track with slow and simple strumming. It may appear to have tricky chords, but they're all simple to play, trust me. Don't get scared by all those 7ths in the chords – check out the tabs and you'll know what I'm talking about. Granted, this one might be slightly tricker to learn compared to the other indie favs on this list, but it'll be worth it.
5. My Favourite Fish by Gus Dapperton
Song Overview: This song gives me all the indie feels every time I give it a spin! Dapperton is a young American singer-songwriter who not only has a knack for writing memorable indie melodies but also writes about important issues like mental health that give his songs an added depth.
My Favorite Fish is just 4 chords – ok, ok I know they all have 7th chords, but you will love me for suggesting this song to you. 2 of them are major 7ths, and 2 are minor 7ths, so once you get the finger pattern for these two types of chords, the track is a breeze. It's the same 4 chords being played all throughout the song, so learning those chords will be worth it! Also, these chords are fabulous to try and use in your own songwriting too!
6. Anemone by Brian Johnstown Massacre
Song Overview: Founded in 1990, Brian Johnstown Massacre has been releasing indie/psych rock goodness for quite a while now. Did you know that over the course of their career, they've released 19 albums to date….now that's what I call a body of work! Anemone is yet another must-know song for every indie lover..it has a cool mysterious vibe to it that you can conjure by playing just 2 chords.
Yup, you heard that right – you only need to know E and A major to be able to play this song. However, if you want your version to sound closer to the original, then you can add D, G, B, A7, and E7 in there too, according to the tabs.
7. 505 by Arctic Monkeys
Song Overview: According to the Arctic Monkeys, 505 is the first love song they've ever written, and it's an enigmatic love sign for sure. Rumor has it that 505 refers to the hotel room where Alex Turner's girlfriend was staying and where he wanted to go back to, to get back with her.
The best part is that the song can be played with just 3 chords on standard tuning – Dm, Em, and A. The strumming pattern is also pretty straightforward, so go have fun with it!
8. Tugboat by Galaxy 500
Song Overview: Galaxy 500 was active together as a band only between 1987 and 1991, but the band managed to release three full-length albums in that time, all of which have gone on to heavily influence the indie sound for years to come.
'Tugboat' uses only G major and Em/C chords to create an atmosphere of nostalgia in the listener's mind. If you're a guitar beginner looking for a simple indie track, this one is definitely the way to go.
9. Harmony Hall by Vampire Weekend
Song Overview: Harmony Hall is probably one of the most popular songs by indie icons Vampire Weekend, and it's also the easiest for guitarists to learn! The song was the band's lead single from their fourth studio album 'Father Of The Bride', which was the first album the band released on a major record label. The song is a clever juxtaposition of lyrics that talk about angst and dread, against its peppy, almost-cheerful sounding music…first impressions can be deceiving. Now, what did we say about digging deeper in indie songs?
You can play it with G, D, C, and Cmaj 7 and a simple 4*4 strumming pattern. The opening riff might be tricky for beginners to grasp, but don't let that stop you from playing this cool indie gold of a song. You can strum to the chords in the meantime, till you've built up enough prowess to easily play that.
10. Gloria by Patti Smith
Song Overview: Patti Smith is a songwriting icon that has influenced multiple genres, everything from rock, indie to punk rock. 'Gloria' was actually originally written by Van Morrison back in 1964 for his band 'Them'. But Patti's version reworks the lyrics to make them work for the growing punk rock movement that was happening at the time.
This is a 3 chord song – just E, Dsus2, and A/D and you're all set to play this track since the progression repeats all through the duration of the song.
11. Just Like Honey by Jesus And Mary Chain
Song Overview: Formed in 1983, Scottish indie rockers Jesus and Mary Chain's track 'Just Like Honey' shot to fame when it was used as the OST for Scarlett Johansson's Hollywood starrer 'Lost in Translation'. It's a layered, atmospheric melody that resonates in your head long after it has stopped playing.
The entire song is based on the good old G, C, and D chord progression, and with an utterly easy strumming pattern.
12. Roadrunners by The Modern Lovers
Song Overview: The Modern Lovers broke into the circuit in the 70s and were important pioneers of the indie/punk movement that modern bands look up to for inspiration. 'Roadrunners' is an all-around cool roadtrip-like indie song that's also incredibly easy to play. In fact, I think just listening to this song can make anyone cooler by a notch or two!
Played on standard tuning, it uses just D, A, and E chords all through the duration of the track on a steady 4*4 beat.
13. Oh Sweet Nuthin' by The Velvet Underground
Song Overview: The iconic American rockers The Velvet Underground unwittingly encouraged the indie movement with songs like Oh Sweet Nuthin. This absolute classic can be played with just 3 chords – C, Bb, and F.
The entire song is fully laidback and easy to play, even though the track speeds up towards the ending and concludes with a swashbuckling solo. But you don't need to learn the solo to be able to play this evergreen favorite.
Popular Related Article: Easy Guitar Songs for Beginners
14. Runaway by Aurora
Song Overview: Even though this gem of a track was released back in 2015, Runaway by Aurora has exploded into mainstream consciousness recently. That is all thanks to an Instagram challenge that uses this track as the background. Oh, well – better late than ever!
This is a lovely melody with an earthy, indie vibe to it, coupled with Aurora's nature-inspired vocals. You can play this mystical track with a bunch of familiar chords – Em, D, C, G, Am, and Cmaj7.
15. Can't Seem To Make You Mine by The Seeds
Song Overview: This song was the very first one to be recorded by Garage-meets-indie rockers The Seeds back in 1965, and it has since been covered by a wide variety of musicians such as Ramones, Johnny Thunders, and Yo La Tengo. The heartbreak lyrics and casual vibe of the track still continue to hold their appeal today, that's why it's a timeless classic.
The main riff and chorus just need you to play G, D, and Em, while the rest of the track oscillates between C, G, C, G, and goes to C, G, C, and D before going back to the main riff again.
16. In The Aeroplane Over The Sea by Neutral Milk Hotel
Song Overview: Believe me, anyone can play this indie classic! In The Aeroplane Over The Sea by indie rockers, Neutral Milk Hotel uses the good old chord progression of G, Em, C, and D throughout the song, punctuated by a sweet horn solo.
Interestingly, the band deliberately employs a low-quality, casual recording quality in their songs, which is directly inspired by psych-rock and indie rock. The real magic of this track is in the vocals of vocalist Jeff Mangum, so feel free to sing along while playing this classic indie staple.
17. Feels Like We Only Go Backwards by Tame Impala
Song Overview: The brainchild of multi-instrumentalist Kevin Parker, Tame Impala is a delightful blend of several genres that it so effortlessly moves back and forth in. So it's not hard to box this band into just the indie tag, but several of the band's tracks definitely give me the indie vibe – and this is one of them.
Feels Like We Only Go Backwards was part of the band's 2012 album Lonerism, and its trippy indie vibe is magnified in the music official video (as you'll see). You can play this song with our good old familiar open chords – F, A, Bb, Dm, and C. The strumming is nice and easy and won't have you struggling to play any of it. It's one of my favorite easy indie guitar songs to play.
18. Lua by Bright Eyes
Song Overview: This is the perfect slow indie track to play at a quiet, intimate gig, and it's incredibly easy to grasp as well. Lua was released in 2004 by American indie rock band Bright Eyes as part of their album 'I'm Wide Awake, It's Morning'. This sparse song just has vocalist Conor Oberst on vocals and acoustic guitar, singing about his struggles with an unending episode of depression and addiction.
A beginner-friendly track, the entire song uses familiar and easy open chords like G, C, Am, D, A7, and Em.
19. The Boy With The Arab Strap by Belle and Sebastian
Song Overview: Another beautiful indie song that uses just 3 chords! The Boy With The Arab Strap was released by Scottish indie outfit Belle and Sebastian as part of the album by the same name in 1998. An upbeat track with floaty vocals, the track made it to NME's list of 150 best tracks of the last 15 years.
The entire song can be played with just G, C, and D chords – since the progression cycles through repeatedly in the song. The strumming pattern is also a standard up and downstroke alternating type…pretty easy to grasp!
20. Random Rules by Silver Jews
Song Overview: Formed in 1989 and disbanded in 2009 (with several line-up changes in the middle), Silver Jews were an underground indie force to reckon with, and their continues to be so. Their brooding, spoken-sung track 'Random Rules' was released as part of their third studio album 'American Water' in 1998, and it got accolades from several prestigious music journals too.
Personally, I love his raw, tell-all honesty in the lyrics and the contemplative melody. Beginners will find playing this song pretty easy – the entire track cycles through C, Em, F, and Dm chords, with a simple 4*4 strumming pattern to boot. There's also a simple, emotive guitar solo towards the middle which you'll enjoy learning and performing.
21. Casimir Pulaski Day by Sufjan Stevens
Song Overview: Sufjan Stevens had carved a solid niche for himself in the dreamy indie-folk space, and rightfully so. His emotional, honest songwriting paired with gentle yet clever instrumentation across his eight solo albums and several collaborations have earned him Grammy and Oscar nominations, among other accolades.
'Casimir Pulaski Day' was released as part of his fifth studio album 'Illinoise', which was a concept album. The song's theme is quite heartbreaking as it talks about the protagonist losing his life partner to bone cancer, despite him praying to the powers above to speed up the healing. It's a beautiful song with an equally beautiful melody. You'll be playing D, C, Am, and G all through the song and that's all you need to play it all. The strumming is relaxed and slow, so you'll have no problems there either.
Final Thoughts
The world of indie music is a wonderfully weird mish-mash of powerful songwriting with memorable melodies. Full of expressive songwriting sung against evocative musicianship, we're sure you'll exploring this genre. All the songs on this list are pretty simple and easy to learn, so if you're starting out your guitar journey, we hope you enjoy playing around with these tracks!
Looking for more easy guitar songs to learn? Check out our awesome and easy blogs 50 easy country songs to play on guitar and easy folk guitar songs!