Within prog circles, Tool is an unavoidable name. And within Tool, we have one of the best bassists of present-day, Mr. Justin Chancellor. Although he's technically the only non-original member, replacing Paul D'Amour, Justin's introduction marked a huge change for the band. They found someone who could match their painfully detailed and meticulous creative process. As for his personality, Justin is the quiet member in many ways, a reserved man by all means who avoids superstardom, while remaining as the band's secret weapon makes for one amazing musician and character.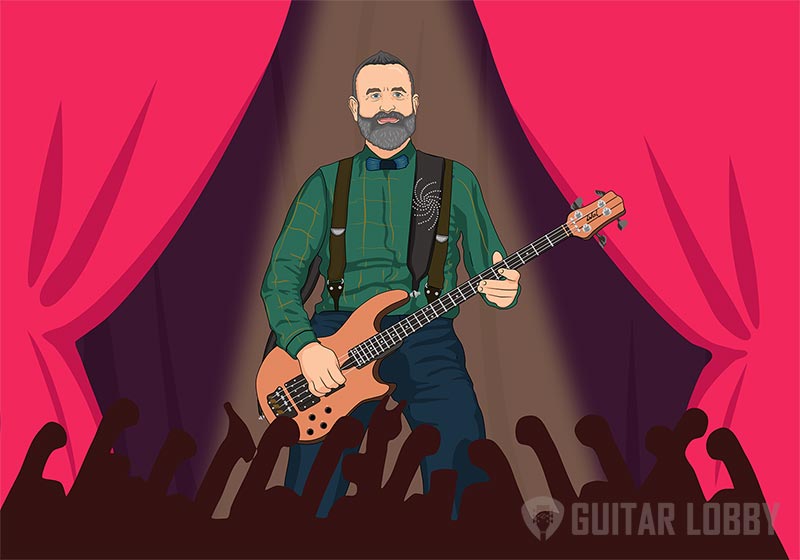 With this also comes Chancellor's unique tone. Aside from his distinctive choice of notes, techniques, and dynamic nuances, Justin is also known for his awesome bass riffs and great tone, sometimes referred to as the "lead bass player" of the band, as he is certainly not there to simply fill the rhythm mix. Usually bearing strong attack and crispiness, combined with very powerful bottom-ends, Justin's melodic, lead-like bass playing has become a key element to Tool's powerful sound.
What Bass Does Justin Chancellor Play?
Justin Chancellor plays Wal MK Bass Guitars which have been his main instrument of choice since the 1990s. He owns several models and seems to favor his Walnut and Natural finish MK2 models on-stage. He's also played several other models throughout his career.
See the full list of Justin Chancellor bass guitars and gear below.
Wal Mk 2 Walnut

| | |
| --- | --- |
| Finish | Natural Walnut |
| Years Used | 1995 to Present |
This natural walnut-made MK2 is deemed to be one of Chancellor's primary weapons of choice. Its material and crafting give this bass not only a different appearance but distinguishable sonic performance as well. With a walnut body, the tone should have slightly less midrange compared to his other main Mk 2.
It's fair to note that despite sporting the same pickups, its thick walnut makes for a heavier more sturdy sound overall as an addition to its look being completely different given the manufacturing tendency of Wal. The raw piece Walnut is crafted and shaped to its body and its single-piece mahogany neck features yet another fretless fingerboard for Justin.
Although there's no specific record for this Bass it's easy to assume that its presence stretches through his entire career with Tool and it's easy to speculate that it was heavily used in Ænima. He often rotates between this walnut model and his other maple main.
Wal Mk 2
| | |
| --- | --- |
| Finish | Custom Natural Finish (Birdseye Maple Top) |
| Years Used | 1995 to Present |
For quite some time, Justin has been using Wal basses. These are all custom-made instruments done through special orders. It's not like you could find them in any music store. The company goes a long way back to 1976. Being a smaller company, they manufacture only a handful of models but with some custom features. All of the basses are made by hand, with each instrument being taken care of meticulously.
The Mk 2 model features a unique double-cutaway body design with a significantly longer bass-side horn. In fact, it goes all the way to the 12th fret. This is also accompanied by a very ergonomic body design that makes it playing a real breeze. The body's base is mahogany. This is accompanied by a birdseye maple top, giving this bass a very unique yet "natural" finish look. Originally, Wal developed this model as a 5-string bass. The 4-string variant comes with a scale length of 34 inches and 24 frets. They all feature unique finishes, which is what we can also see with Justin's Wal basses. Its setup includes an active preamp and two humbucker pickups.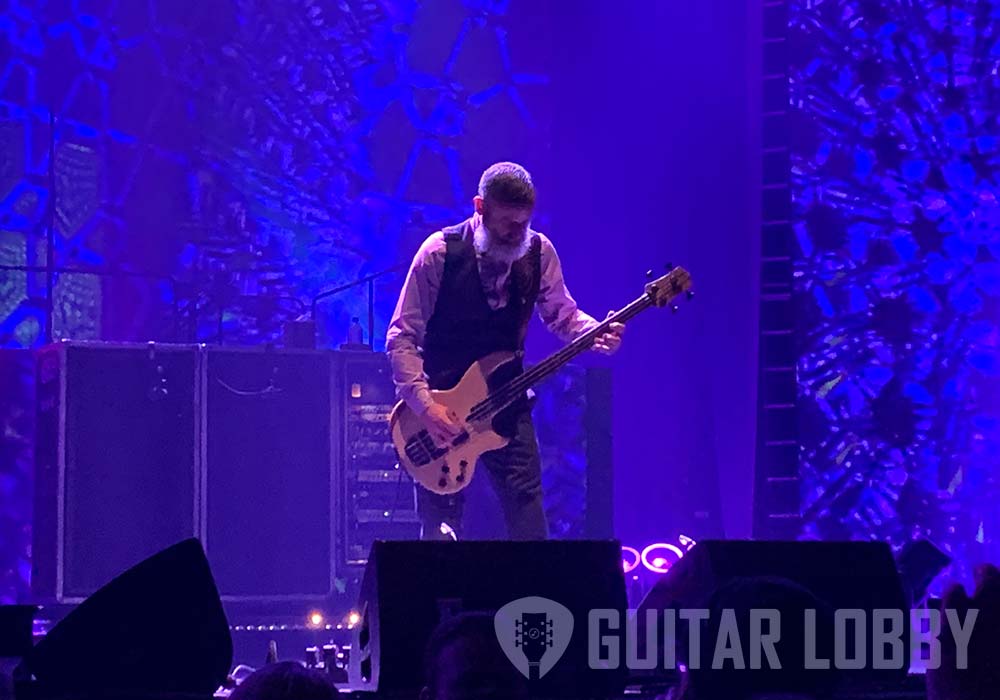 What's also really interesting is that Wal basses come with a multi-coil pickup design. This means that each pole piece has a ceramic magnet wrapped around it. This gives it a more powerful and "piercing" midrange-oriented tone compared to conventional basses. Justin's relationship with Wal started back in 1995 when he joined Tool. He got it recommended by one of his friends and these basses soon found their way into his collection. He's been using them on every Tool album since then. There's a total of four Wal basses in his arsenal. Even to this day, you'll see him using it for live shows. And an occasional album when Tool decides to record one. In short, it's one of his undisputed mainstays.
Chancellor being a consistent lecturer in several music colleges, usually brings this MK2 model with him to share his experience and give some demonstrations to students, one notorious occasion was back in 2019 when Chancellor along with Danny Carey treated rhythm students with a display of AEnima.
Wal Mk 2 Blueburst

| | |
| --- | --- |
| Finish | Blueeburst |
| Years Used | Unspecified to Present |
Justin's collection includes four more Wal four-strings as his catalog expanded after the first few years with Tool. One of them is also a Mk 2, as for its specs, this one shares its active preamp along with a pair of humbucker pickups.
Unfortunately, not much is known about his Wal basses, and the lack of statements by Chancellor regarding his gear has led some fans to believe that this might be, in fact, an MK3. Whatever the case may be, we can notice its unique blue burst finish and other classic traits that make it perfect.
As mentioned, it's hard to say a lot about Justin's basses, including this one. But his three other Wal basses are pretty much backups for his main Mk 2.
Wal Mk 1

| | |
| --- | --- |
| Finish | Natural |
| Years Used | 1997 to Present |
Another Wal seen in Justin's collection is the Mk 1 bass. This is the original model established back in the 1970s. The body is different compared to the Mk 2, with a more "conventional" approach. You can notice that the bass-side horn is shorter, going to the 14th fret.
Additionally, the Mk 1 comes with 21 frets. However, we still have a scale length of 34 inches, as well as an active preamp with two humbuckers. Once again, we have the same multi-coil design for these humbuckers.
This Mk 1 is another one of Justin's backup basses. However, it's impossible to say when exactly he used it over the years as he's very secretive about his gear. It's only seen on a handful of photos online, but we can say with certainty that he did use it.
Wal Mk 1 Fretless Bass

| | |
| --- | --- |
| Finish | Natural |
| Years Used | 1997 to Present |
Finally, we should also mention another one of Justin's Wal basses. This should round it up to a total of five, although no one can say for sure exactly how many Wal basses he owns.
Interestingly enough, this one is a fretless instrument. Wal makes these fretless variants of the Mk 1 bass. You can also notice that it's Mk 1 due to the shorter bass-side horn. What's also noticeable is a darker finish that's still the natural color of the wood. And, from the looks of it, it's probably a walnut body. Other than that, it comes with a standard scale length of 34 inches. The instrument is pretty much like other Mk 1 Wal basses, except for the lack of frets.
The problem here is that we cannot say for sure when and where Justin used this bass. However, according to Justin's tech Chris Schlyer, it found its way on the "Lateralus" title track as well as "Rosetta Stoned" from the "10,000 Days" record.
Ernie Ball Music Man StingRay 4

| | |
| --- | --- |
| Finish | Natural |
| Years Used | 1994 to 2019 |
This one makes for a special entry since it was Justin's first Tool bass guitar. After joining the band in 1995, he wanted to almost entirely replicate the tone of the band's original bassist Paul D'Amour. For this purpose, Chancellor got an Ernie Ball Music Man StingRay 4-string bass. At that point, Tool already had some material written, and Justin felt like having a tone that's close to his forebear was appropriate. After all, he also preferred this thick and heavy tone.
This is a classic 4-string bass made by Ernie Ball. It comes with a maple body and a maple neck. Justin's bass also came with a rosewood fretboard. The fretboard radius is 7.5 inches, which is pretty round, and it also comes with a standard 34-inch scale length. Interestingly enough, it also had 22 frets although 21 is the standard for StingRay 4 models. It loaded with Ernie Ball humbuckers with alnico magnets. It's also accompanied by an active preamp and controls for volume, treble, and bass.
Justin had this bass up until 2019 when he put the bass guitar up for auction to relieve and help the charity Brazil's Indigenous People Articulation (APIB). During Tool's career, he used it right before the recording of the "Ænima" album. However, he wasn't very satisfied with its tone for this particular setting. It was too bottom-end-oriented and he was looking for more mids and highs.
This bass was known to be consistent in Chancellor's private collection and intimate time, he's shared many times videos of himself fooling around with this bass guitar and revealed he used it in the studio and rehearsal sessions.
Music Man Stingray 4 Special Custom HH

| | |
| --- | --- |
| Finish | Sunburst |
| Years Used | 2011 to Present |
Sometime in 2019, during the time Tool was on the tour in support of the "Fear Inoculum" album, Justin was seen using another Music Man StingRay 4 model. This time it appeared to be a custom-made instrument, featuring two humbucker pickups, while also sporting a sunburst finish on this Sting Ray model
According to Justin's own words, Ernie Ball made this StingRay as a custom order. It comes with a 12-volt preamp and a double H setup for extra punch and bounce. So far, Justin was only seen using the instrument during the "Fear Inoculum" tour. However, we can't say for sure whether it saw action on the album itself.
Rickenbacker 4001CS

| | |
| --- | --- |
| Finish | Aged White |
| Years Used | Unspecified |
There's one photo where Justin sits with a bunch of instruments behind him. This photo confirmed that he also owns a Rickenbacker bass. And not only that – this is 4001CS, the Chris Squire signature model.
We can't really say when Justin got this one. However, it is known that this is a limited-edition instrument model, made between 1991 and 2000. Belonging to Rickenbacker's Limited Edition Series, there are only 1000 of these in circulation, one belonging to Justin.
This bass is made after Chris Squier's old RM1999 model. Interestingly enough, the 4001CS model has a cream or aged white, finish. This is because Chris painted his old bass in cream, a color that none of the old Rickenbacker basses were painted in.
1963 Fender Precision Bass

| | |
| --- | --- |
| Finish | Lake Placid Blue |
| Years Used | 2016 to Present |
Like with most of his gear, it's hard to say when he got this particular bass. However, it is surprising to see an actual Fender in his collection. The instrument in question is an old 1963, Precision Bass. And no, it's not a reissue from the 2010s that Fender did but an actual old bass from 1963. This one comes in a very unique-looking lake placid blue finish. We can also notice a rosewood fretboard, which is typical for both Fender's guitars and bass guitars. It also has one split-coil pickup, as well as noticeable wear marks.
As Justin explained in one interview back in 2016, the instrument sounds great and is one of the most important basses in his collection. However, he also mentioned that it's impossible to use it with Tool as it wouldn't be able to cut through the mix. So its use was very limited. But there are two confirmed uses of this '63 Precision Bass. One of them is on Tool's "Culling Voices" from the "Fear Inoculum" album. This was three years later after the aforementioned interview, so it's great to know he finally got to use it in Tool.
The second use of this Fender Precision Bass was with Death Grips. Justin Chancellor guested on the song "Disappointed" from 2018's "Year of the Snitch" record.
Gibson Thunderbird

| | |
| --- | --- |
| Finish | Black |
| Years Used | 1995 to Unspecified |
It's pretty surprising to know that Justin also had a Gibson Thunderbird bass at one point. This is a classic "offset" body shape that Gibson is known for. But there's no precise info on it.
The only known use of this bass was for a particular live performance of "Prison Sex" in 1995.
Warwick Custom Shop Streamer Stage II

| | |
| --- | --- |
| Finish | Custom Natural |
| Years Used | 2017 to Present |
This is the mentioned Warwick bass that Justin was having prepared in 2017. The instrument features a Bubinga Pommelé body and a 7-piece wenge and Afzelia neck. It also comes with a Tigerstripe Ebony fretboard and a total of 24 frets.
Other than that, it comes with Nordstrand pickups, most likely the same type used on the aforementioned custom-built Nordstrand bass guitar. There's also an active Nordstrand 3B-5B preamp with active and passive capabilities. Along with all the controls, you can also pull the midrange knob for a different peak frequency.
While there's no official confirmation on the matter, the instrument likely found its way onto Tool's "Fear Inoculum" album. After all, it's an absolute beast of an instrument.
Timetable Showing Each Bass Guitars Justin Chancellor Has Played at Each Point of His Career
| Make | Model | Color/Finish | Years |
| --- | --- | --- | --- |
| Rickenbacker | 4001CS | Aged White | Unspecified |
| Wal | Mk 2 Blueburst | Blueburst | Unspecified to Present |
| Earnie Ball | Music Man StingRay 4 | Natural | 1994 to 2019 |
| Wal | Mk 2 Walnut | Natural Walnut | 1995 to Present |
| Wal | MK2 | Custom Natural Finish (Birdseye Maple Top) | 1995 to Present |
| Gibson | Thunderbird | Black | 1995 to Unspecified |
| Wal | Mk 1 | Natural | 1997 to Present |
| Wal | Mk 1 Fretless Bass | Natural | 1997 to Present |
| Earnie Ball | Stingray 4 Special Custom HH | Sunburst | 2011 to Present |
| Fender | 1963 Precision Bass | Lake Placid Blue | 2016 to Present |
| Warwick | Custom Shop Streamer Stage II | Custom Natural | 2017 to Present |
Justin Chancellor Amplifier Overview
Mesa Boogie Bass 400+
Years Used: 1993 to 2004
During his early days in Tool, Justin was using a pair of Mesa Boogie's Bass 400+ for live shows. These amps also found their way onto the "Lateralus" album.
This amp comes with 500 watts of power and a total of 12 fan-cooled 6L6 tubes. It comes with a quarter of 12AX7 preamp tubes as well. There's also an additional 7-band graphic EQ on the front panel.
Mesa Boogie M-Pulse 600+
Years Used: 2002 to Present
However, right after the release of "Lateralus," Justin ditched the 400+ and switched over to Mesa Boogie M-Pulse 600+ amp heads. This one is also a "Simul-State" amp with 12 tube-driven MOSFETs and three preamp 12AX7 tubes. It has a total of 600 watts of output power.
Demeter VTBP-201
Years Used: From the early 2000s and onwards
Since the early 2000s, the Justin Chancellor bass rig has rotated with the M-Pulse 600+, M2000, as well as a Demeter VTBP-201 preamp. This combination allowed him to have those "crispy" and "brittle" tones he's known for. The original VTBP-201 is somewhat rare, but it's considered a classic among bassists. After the release of 2006's "10,000 Days" record, Justin got his hands on a newer version of this preamp, the VTBP-201S.
Mesa Boogie Cabinets
Years Used: From the 1990s and onwards
A huge portion of Justin Chancellor's tone comes from his speaker cabinets. From 1995, when he joined Tool, and up until today, you can only see him with Mesa Boogie cabs of different kinds.
In the earliest days, these were 4×10 cabs, as well as a PH1000 that features four 10-inch speakers and one 15-inch subwoofer. In the coming years, he used different combinations of these. Later on, he also added 2×15 cabinets, as well as 8×10 variants. A pair of 8×10 was used along with M-Pulse 600+, M2000, and the Demeter.
Gallien-Krueger 2001 RB
Years Used: 2004 to Present
However, with the recording of 2006's "10,000 Days" album, Justin began using Gallien-Krueger's 2001 RB amp head. As explained by engineer Joe Barresi, he had a couple of these, one for cleans and the other one for distorted tones. However, Justin also used a DI box and went straight into the mixer.
This is a fairly advanced amplifier, even featuring a separate 50-watt amp for high-ends that go straight into horns. There's also a separate control for the output level of this amp, allowing for detailed tweaking of higher frequencies.
But this is an absolute beast of an amp, featuring a stereo configuration of its main part. The two power amps feature 540 watts each, summing up to mind-boggling 1080 watts. You can also use it in a dual-mono mode.
Justin Chancellor Pedals and Effects Overview
Boss DD-3 Digital Delay
Years Used: 1998 to Present
Among many pedals that he uses, Justin's setup couldn't be finalized without Boss' classic DD-3 Digital Delay. It's a classic pedal that's almost unchanged from its inception in the 1980s.
Boss BF-2 Flanger
Years Used: 2010 to Unspecified
Although we can't say for sure when he began using Boss' BF-2 Flanger, it's known that it's one of his essential effects. It's highly likely that he preferred it since joining Tool in the 1990s.
Boss GEB-7 Bass Equalizer
Years Used: Unspecified to Present
And his preferred EQ pedal is also by Boss. He prefers the classic GEB-7, which is like GE-7 but designed for basses.
DigiTech Bass Whammy
Years Used: 2002 to Present
Another important pedal worth mentioning is Justin's DigiTech Bass Whammy. It's very similar to the classic guitar-based Whammy pedal, although it's designed to work with a bass guitar output.
MXR M82 Bass Envelope Filter
Years Used: 2003 to Present
Also an integral part of his signal chain for years, Justin also uses MXR's M82 Bass Envelope Filter. It allows for some more advanced EQ tweaking.
Guyatone VT-X Vintage Tremolo
Years Used: 2010 to Present
Although it's not something that he uses that often, Guyatone's VT-X Vintage Tremolo pedal is now an integral part of Justin's pedalboard. This one also comes with a single preamp tube in its circuitry, adding some warmth to the tone.
Wrap Up
Chancellor is known to be a rather reserved musician, other than the few typical press-run photographs, he avoids the limelight to focus on what really matters, the music. Furthermore, he limits his public presence to a higher purpose, like his appearances on Berklee College of Music in Boston where he recurs as an honored guest to explain composition and assembly.
Overall, Justin Chancellor makes for a prog-rock living legend, establishing the ground rules and game for many pairing bass players. There's no rhythm section quite like the pair that this heavy-hitting 4-string slinger sets, making his very own mark as one of the hardest, sturdiest bass guitar players there is in the industry right now.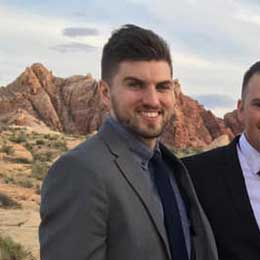 My name is Chris and I've had a passion for music and guitars for as long as I can remember. I started this website with some of my friends who are musicians, music teachers, gear heads, and music enthusiasts so we could provide high-quality guitar and music-related content.
I've been playing guitar since I was 13 years old and am an avid collector. Amps, pedals, guitars, bass, drums, microphones, studio, and recording gear, I love it all.
I was born and raised in Western Pennsylvania. My background is in Electrical Engineering, earning a Bachelor's degree from Youngstown State University. With my engineering experience, I've developed as a designer of guitar amplifiers and effects. A true passion of mine, I've designed, built, and repaired a wide range of guitar amps and electronics. Here at the Guitar Lobby, our aim is to share our passion for Music and gear with the rest of the music community.