The prince of indie, Mac DeMarco has captivated and reinvented what it means to be an independent artist and songwriter in modern times. He initially garnered a devoted following through his laid-back jangle pop, lo-fi indie sound, and open-heart lyricism. But Demarco's success wasn't just some overnight happening, born in British Columbia in 1990, Mac began his music career in his early teens, playing in various bands and honing his skills as a musician and songwriter before taking the daring jump to embark on a solo career. He released his debut solo album, "Rock and Roll Night Club," in 2012, which quickly gained attention for its unique blend of jangly guitars, psychedelic flourishes, and his now iconic crooning vocals.
While it's obvious that Mac's sound and flair can be easily attributed to his instinctive approach to the craft, we'll be diving deeper into his passion for recycled guitars and the unique touch some of these have attributed to his innovative sound.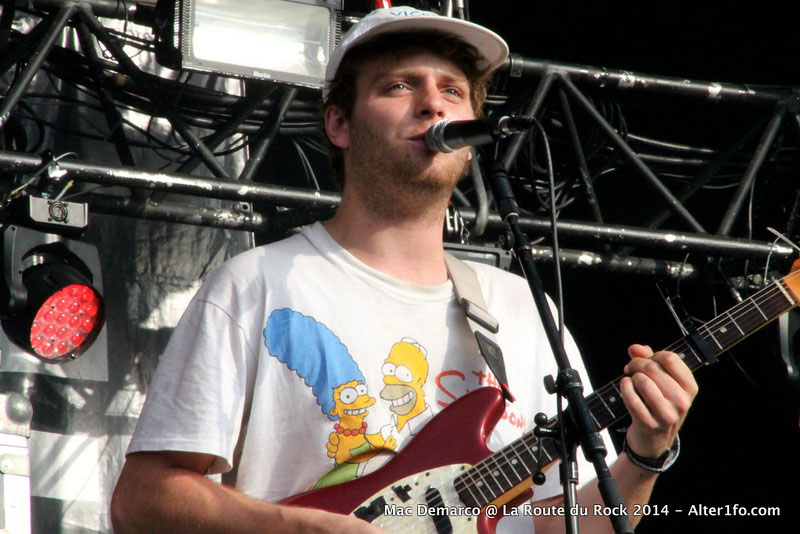 What Guitar Does Mac DeMarco Play?
DeMarco is best known for playing his 1960s Japanese-made Teisco guitar. He used it on many of his recordings and live performances since he first purchased it from Lillo's Music in Edmonton, Canada when he was 15 years old. However, nowadays, he is known for his preference for Fender Stratocasters.
See the full list of Mac DeMarco guitars and gear below.
Teisco Custom "Cardboard Queen"

| | |
| --- | --- |
| Finish | Two-Tone Worn Sunburst |
| Years Used | 2005 to 2013 |
Mac's indie approach can be traced back to this second, or even third-hand, iconic axe, the Teisco Del Rey. He recalls being inspired to acquire one of these low-budget pieces after attending multiple local shows with most of the guys playing on stage wielding these "junk" instruments. A fifteen-year-old DeMarco would later on head to Edmonton's Lillo's Music store, where he asked for something "specifically crappy" and paid thirty bucks for it. Two years later, he would be banned from the store after being caught stealing an accordion.
Mac's self-described "infamous" Teisco guitar would become his mainstay for much of his early career. It would be used for entire gigs and even full-length American tours while being thrown around on the road. Of course, its excessive use would be attributed to it becoming extensively worn as the years went by. The last time it was spotted on stage was in 2013 when Mac attended multiple indie festivals, most noticeably Stage on Sixth in Austin, Texas, a performance in which he can be spotted wrestling to keep the Teisco on tune.
As for the specs of the "Cardboard Queen," it's worth pointing out that it has been subject to many modifications from its original design. For starters, Mac broke the neck during some of his earlier shows in Montreal and would eventually break its factory-designed pickguard, replacing it with a particle piece of cardboard he cut himself and roughly adjusted to fit the body. This would eventually lead to her being coined the "Cardboard Queen."
" I remember playing shows in Montreal where I would just chuck it across the stage. At one point, I snapped the neck and had to put a new one on. Then I broke the pickguard and had to replace that, too. At this point, everything about it has been replaced, and it doesn't really feel or play the same way." Mac recalled this during an interview with The Rumpus.
During the '90s and all the way to the 2000s Teisco guitars used to be bought and sold under other brand names, such as Marques and Kingston, in both the US and Canada. It's particularly hard to decipher if Mac's guitar was originally branded under any of these names. It is known, however, that the current neck attached to it used to belong to a similar Mosrite model.
This Teisco guitar makes for the rarest and most enticing pieces of Mac's gear list, as he has preserved its sole "gold foil" single-coil pickup, which provides a warm, clean "microphonic" tone. The other element that adds to Mac's signature "jizz jazz" guitar is its low-quality vibrato bridge and overall system. These pieces were very common in Japanese budget guitars that were often targeted for beginners, and although they were traditionally undermined by often comparing them to the likes of Fender or any other high-profile brands, they have certainly been welcomed and praised for their distinctive lo-fi sound, often preferred for those with minimalist recording techniques such as De Marco.
This Teisco six-string can be heard in many of Mac DeMarco's studio installments. It was used in his debut studio album Ying Yang with Make Out Videotape in 2010, and dominantly in his first two solo records, Rock N' Roll Night Club, "2″- where it can be spotted in the cover artwork– and even certain tracks of Salad Days were credited to be solely recorded with the "Cardboard Queen." From that point, this particular guitar took the backseat from its mainstay role as it simply wouldn't play the same as aforementioned and was replaced by other pieces in his catalog, such as his Gibson SG and his Fender Mustang for live shows at least.
Here is a cool video of Mac Demarco playing the Cardboard Queen.
1970 Fender Stratocaster

| | |
| --- | --- |
| Finish | Natural Worn |
| Years Used | 2015 to 2016, 2018 to 2019 |
For the latter part of the Salad Days touring era, this worn vintage Fender Strat replaced Mac's Mustang as his go-to live guitar until it suffered an onstage accident that made it unplayable. According to Mac himself, this particular six-string was meant to be with him forever, but this incident occurred when he gave it "a little chuck-chuck on the ground," splitting it right open in a way in which you could see right through it. He bears guilt from breaking this $4000 dollar piece, but thankfully managed to glue it back together, and they started hitting the road together back in 2018.
Once he got this guitar fixed, it became his go-to for another year or so until it broke once again, this time in 9 pieces, marking a dramatic end for the battle-worn Strat. However, this six-string marks a before and after in DeMarco's approach to the instrument. It was the short-lived relationship with this particular guitar that started a preference for Stratocasters in the first place. It allowed him a versatile tone range while providing him with a trusty companion that wouldn't give him bitter surprises during live shows as opposed to his "Cardboard Queen."
The specs on this Vintage Natural Fender are pretty standard for the model. Mac even kept its factory pickup configuration of three single coils. Its body is made out of ash wood with a maple neck, a rosewood fretboard, and Fender/Schaller vintage "F" style tuning pegs.
The special thing about this particular Stratocaster is that it accompanied Mac on the stage of his very first talk show performance on Conan in March 2015. This was around the time when he was recording and producing Another One, so it's safe to speculate that this guitar may have enjoyed an extended role during the creative and performative process of the record.
One of the last appearances this guitar made was live at Barcelona's Primavera Sound Festival, where you can appreciate its drastic aesthetic wear with the years. This guitar has been something that DeMarco has tried to replicate for quite some time now but hasn't quite achieved, apparently not even when Fender granted him an American Pro edition, a modern approach to this classic.
Silvertone 1448

| | |
| --- | --- |
| Finish | Black |
| Years Used | 2019 to Present |
In late 2019, Mac picked up a Silvertone 1448, presumably as a way to recapture the sound of his Japanese Teisco guitar in some way through its bright, cutting tone. This guitar became a staple on Mac's shows from the latter half of 2019 all the way to early 2020. Many fans have deemed his choice for this Sears catalog piece as a full circle, having already been a Fender-sponsored artist. For him to take up this 1448 as his mainstay for the stage has to do with him reaching a certain artistic maturity that allows him to appreciate the uncanny tone of this beginner's guitar.
The Silvertone 1448 is a renowned Sears catalog guitar that would sell from 1962 to 1967 for $67 as an in-house brand marketed for beginners at the time. These were largely produced and manufactured by Danelectro, and it came with a 5-watt amplifier built in its case, single lipstick pickup, dot inlays, volume and tone control, six-on-a-side headstock, and a short 23 1/2 in scale length. For many, this was but a toy and a rough approach to what a guitar should be, and that was up until the likes of Beck and Jack White started using some of these guitars for their distinctive and unique sound. Eventually, this propelled Silvertone in exposure and quickly turned it into the collector's model it is today.
Mac took on this Silvertone after his 1970s Stratocaster was destroyed for a second and last time. From that moment on, he would begin rotating his 1974 Stratocaster with this lo-fi axe. It has accompanied DeMarco as a reliable instrument since the Here Comes the Cowboy Era and up until this day, also having been employed in the studio and on the road when he was recording ideas and the final take for 5 Easy Hot Dogs. 
Fender American Professional Stratocaster

| | |
| --- | --- |
| Finish | White |
| Years Used | 2017 to Present |
In 2017, Mac became a much-anticipated face for Fender; he was sponsored by the brand for his overt appreciation of the Stratocaster, and he and his band were gifted 11 white Shawbucker Strats as part of the deal. Since that moment, Mac has never run low on six-strings ever again after having spent his years in the limelight acquiring them from flea markets and third-party providers.
Mac even got to post on his personal Instagram page the moment he and his bandmates received the shipment from Fender. This was soon after his official interview with Matt Sweeney, covering the basics and their trajectory with the Stratocaster.
The Specs on this specific American Professional Shawbucker Strat mainly consist of its HSS pickup configuration, which is designed with Tim Shaw's V-mod single coil and humbucker pickups for a more nuanced fat-sounding tone. On the other hand, it's got a modern approach to a vintage design that elevates the reliability of the instrument. In Mac's words, he just needs something that's "ready to rip. All good to go".
Mac's partiality for this Strat came after years of suffering from the high maintenance that comes with owning vintage instruments, and for such an avid gearhead as himself, this seems to be the answer. He pointed out in his interview with Fender that he was biased due to the uncanny sound of the retro models. However, he soon realized that this modern takes sound just as good but with new pickups. You can see his verdict in the video below.
Fender Mustang

| | |
| --- | --- |
| Finish | Dakota Red |
| Years Used | 2014 to 2016, Unknown to present |
Mac was first seen using this Dakota Red Fender Mustang at the beginning of his Salad Days tour. Presumably, he got it for the studio recordings along with his Gibson SG at the time, considering that his Japanese Teisco had been reduced to anything but reliable at the time. This particular piece became one of his two mainstays for much of that era up until his This Old Dog years in 2016, where he would later switch up to a selection of Fender Stratocasters, and he lent it for a couple of years to Andy White. The Mustang was essentially gone for half a decade but was later returned to him as Mac became a self-appointed "gear hoarder" because one just never knows when an old guitar will come in handy.
Specs-wise, this is clearly a vintage Mustang, but it's hard to determine its specific date. But one could speculate, considering its F-style tuners and neck plate, that it belongs to the early 70s. The fact that this Mustang has a single-string nut is yet another indication that the guitar dates prior to 1974. On the other hand, this vintage Mustang initially sported its 2 factory-designed proprietary single coils, but the neck pickup was later swapped for a Seymour Duncan Strat Style SC one as of 2019. Lastly, this Mustang had a minor issue with its toggle switch and was eventually taped over to remain in its neutral position, engaging both pickups.
Nowadays, this Mustang sits in Mac's home studio. Most probably, it's been kept for studio purposes only, as he mostly takes his Strats and Silvertone 1448 on tour with him. Nevertheless, this guitar was Mac DeMarco's mainstay during his peak years of fame and was largely employed to record his 2015 studio installment, Another One.
Gibson LG-2

| | |
| --- | --- |
| Finish | Vintage Two-Tone Sunburst |
| Years Used | 2017 to Present |
Mac employed this Gibson LG-2 to cover the broader part of his This Old Dog tour, where in almost every live or guest performance, he had to use an acoustic guitar. His most memorable performances with it came in Pitchfork's coverage of his release. How Mac got his hands on this particular Gibson is not quite clear at the moment. However, it is known that it was first seen publicly on May 8th, 2017, when he appeared on the Kobini Music Channel.
The Gibson LG-2 is a small-bodied vintage model first introduced in 1942, designed for an extremely balanced sound with emphasis on brightness and trebles with remarkable clarity. It rivals most dreadnought guitars due to its versatile sound projection in full dynamic range while providing a comfortable travel size. Moreover, its fretboard consists of rosewood, and its 1950s presentation presents it on a V profile that is meant to enable fast playability across the fretboard. Mac's LG-2 is a re-released version of the 50s, which, as opposed to the original 1942 forebear, presents a more modern take on the body of the guitar. This is a model that embodies all the essentials that a guitar should have, and it pioneered the folk and blues sound, something that Mac certainly knew how to play with in This Old Dog.
This Gibson staple made its way through DeMarco's acoustic selection as he became partial to it due to its stability and overall mint sound. It seems as when it comes to acoustics, he has a completely opposite approach to the one he has with electrics. For this reason, it became his mainstay touring six-string for some years, and it can even be seen in the music video for One Another. This is easily one of the most famous Mac DeMarco guitars.
Gibson SG

| | |
| --- | --- |
| Finish | Cherry Red |
| Years Used | 2014 to Unknown |
Mac picked up this Cherry Red Gibson SG during the European leg of his Salad Days tour and kept it mainly for live performances before eventually deciding to drop it. He played some memorable and intimate gigs with it but eventually dropped it after realizing that this high-budget Gibson model wasn't really fitting his Jizz Jazz.
This Gibson was only subject to one of Mac's mad cap preferences. It had its Maestro Tremolo plate removed. Other than that, it's a modern approach to Gibson's Standard 1961 SG, likely produced during the last decade, sporting 60s Burstbucker humbuckers, a Maestro Tremolo bridge, a Batwing pickguard, and Keystone tuners. By all means, this is a high-budget guitar that provides high fidelity in sound, something that seems to be somewhat disassociated with Mac's sound.
During the Salad Days era, however, SG Mac's trusty backup to his Fender Mustang often came in halfway across live shows if things went south with his mainstay. Other than that, it was quickly dismissed from his live rig when he got his first Stratocaster in 2015.
Simpsons-Sears Model 26148

| | |
| --- | --- |
| Finish | Natural |
| Years Used | 2012 to 2015 |
Probably one of Mac DeMarco's first acoustics, and the one he used to record his studio album, 2, Mac picked up this low-budget acoustic true to his approach at the time, and its use extended all the way to the recording sessions of Another One in 2015. This is one of the guitars that DeMarco probably bought when he was on a budget sometime around 2012. Reportedly, he worked on a Road Paving crew when he moved to Vancouver and had to remain restricted in his purchases. This guitar is a prime example of his time as a struggling musician.
The Simpson-Sears model used to be a generically produced Japanese guitar that was sold to different brands in Canada during the 60s and 70s. These brands were mainly Kingston and Sears. The only real difference would be that the first would label their brand on the headstock while Sears would include a label sticker in the body that you could see through the sound hole.
This Sears acoustic six-string saw Mac's rise to wide recognition, from small-town and radio appearances in places such as Studio 360 to big stages across America.
1992 Squier "Wayne's World" Stratocaster
| | |
| --- | --- |
| Finish | White |
| Years Used | 2015 to 2017 |
Much to his character, Mac's very familiar with the memorable phrase "She will be mine, oh yes, she will be," he dubbed this guitar Wayne's World's white Stratocaster after he got it from a guitar shop he'd been window shopping at in Paris before starting his 2015 tour. Though it's not very clear if he acquired it before or after the incident with his 1970s vintage Stratocaster, this higher-end Squier model stepped up to the plate one way or another, becoming his mainstay for the larger part of it and a couple of years to come.
The Wayne's World Strat is a legitimate model, and it was instilled in the market to celebrate the legacy of the Wayne's World movies. Manufactured in Japan's Fuji Gen-Gakki factory as a mid-tier level guitar, its most distinctive hardware could be considered its back neck plate that comes with the movie's embedded logo. It was designed and manufactured for 2 years, and it wore Kluson copy retro tuners instead of the regular Silver Series Gotohs, three ceramic pickups with single slab bar magnets on the bases, and an unconventional vintage-type vibrato bridge. Though it's been a rather debated guitar, it's mainly just an average Strat that was quirky in its marketing and made out of Alder instead of basswood, which at the time marked a huge departure from its standards.
Moreover, this six-string survived the Another One era in its entirety and even stepped to tour and record This Old Dog until one day at a show, Mac abruptly smashed it on stage and handed out the remaining pieces to the crowd.
Squier Stratocaster

| | |
| --- | --- |
| Finish | Arctic White |
| Years Used | 2017 to Present |
Right in between tour dates in 2017, Mac smashed into bits his Wayne's World Squier Stratocaster, but he didn't waste any time as he got himself this almost identical Stratocaster with the only difference of this one sporting a humbucker pickup on the bridge position. He would keep this as a rotatory six-string along with other Strats in his rig. This time, however, he had upgraded to vintage Fender versions of the model.
As for its specs, this Squier Stratocaster is also a 90's Japanese crafted guitar, almost identical in every way to the Wayne's World model except for its humbucker variation as aforementioned. With a rosewood fretboard on its maple neck, Kluson retro tuners, two ceramic single-coil pickups, and a factory preset humbucker, there's nothing particularly outstanding on this Squier other than the fact that it's remained very faithful to DeMarco.
Not much else is known about this Strat other than the fact that it has been used in various live performances from 2017 to this day. Most noticeably, it can be seen in his BBC Radio Festival set opening the show and most noticeably during the This Old Dog tour during his presentation on KEXP.
1970's Fender Stratocaster

| | |
| --- | --- |
| Finish | Worn Butterscotch |
| Years Used | 2017 to Present |
Mac acquired this 1970s Stratocaster during the recording period of This Old Dog when he was moving to the West Coast and getting all the essential gear to make the ambiance-drenched landscape of his record. The connection of this strat with the record is quite compelling, as it was one of the pieces that accompanied him while the songs were sitting out there waiting to be recorded and put together. The effect this had on the album is quite interesting, as Mac recalls getting to know the songs on an intimate level when he had nothing to do but just sit there and play them on the guitar, though this may not be an exclusive piece in this creative process, it certainly played a role in it.
This was one of the first few Fender Strats to join Mac's rig after the incident with his wooden vintage one. Its most notorious appearance, however, was back in 2017 when he was seen handing it to an audience member for him to play Start Freaking Out the Neighborhood.
This 1970s strat is prior to the three-bolt neck era, meaning that it was one of the higher-quality CBS-era Stratocasters to be produced in the earlier half. Though there's not an exact date to label this guitar, it is easy to assume that it was prior to 1974, considering that the model conserves a "C" neck shape instead of the later installed "U" profile, making it more of a transitional model that maintains certain features of the 60's era Stratocaster.
His experience with this particular six-string has led DeMarco to experiment with a variety of vintage starts, presumably on the lookout for a similar feel to his beloved 1970 six-string while expanding his catalog of vintage pieces. He even stated in an interview with Fender when endorsing the American Professional Stratocaster, "Playing old guitars, using old gear and stuff like that, a lot of the time I think, 'Well it's not going to sound good if it's brand new.' But then it's like, 'Ah yes, it sounds like a Strat!' And probably a lot better than with new pickups and everything like that."
1974 Fender Stratocaster

| | |
| --- | --- |
| Finish | Natural Glossed |
| Years Used | 2019 to Unspecified |
Mac acquired this 74′ piece in Cleveland in an attempt to duplicate his beloved 1970 wooden Stratocaster. He pointed out in an interview with Reverb that he was often met with obnoxious criticism for spending a hefty buck on one of Fender's infamous CBS batches. He's claimed that it isn't as satisfying as his original Strat, but it's just a matter of sitting down with it and getting to know it a little better to get as much as he can out of it. His main concern at the time was that playing single-coil guitars in Los Angeles was an absolute nightmare due to the massive radio interference that prevented a clear broadcast from his guitar.
This Stratocaster's body is made out of Ash, with a maple neck and fretboard and a stock three single-coil stagger pickups setup. The part that many purists may dislike from this particular model is its three bolt-on adjustable neck, which in many circumstances could be a deal breaker considering that it made it an unstable guitar if one were to tamper inadequately with this feature.
As far as the usage of this guitar goes, it was a prevalent staple during Mac's Here Come's the Cowboy recording and touring era. Though, at the time, he would be partial to acoustic guitars for his live presentations, he seemed to always rotate it with his restored 1970 Stratocaster until its demise, and later on, it became a close second to his adopted Silvertone 1448.
National 1155E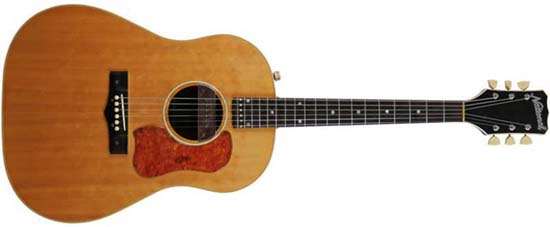 | | |
| --- | --- |
| Finish | Natural |
| Years Used | 2018 to Unspecified |
This National electro-acoustic guitar first came up during Mac's live presentations at Austin City Limits and Chile's rendition of the Lolapalooza festival in 2018. Presumably, Mac picked up this six-string somewhere along the road during his This Old Dog era, but it is unspecified if it actually belonged to him or his band member, Andy White. What is known, however, is that Mac made extensive use of it, and it shared touring duties along with his Gibson LG-2.
This National 1155 is a rare piece in Mac's catalog, as it was made in the '60s. Beyond it is a vintage piece, these national models were manufactured by Gibson at the time, and the only national craftsmanship present belongs to the neck of the guitar. They are considered to be the finest alternative-brand pieces ever to be made as it would combine the world-class Gibson luthier work in the body and the comfortable classic playability from National. The neck on this 1155 is genuine Brazilian Rosewood on a mahogany body in its back and sides.
This is a 1155E which translates to the fact that it is an electrified version of the model with the exact same hardware specs as a regular model. However, it is known that Mac had a Sunrise S2 soundhole pickup installed in it just to make things a bit more practical on the road.
Mac DeMarco's Amplifiers
Fender Vibro Champ
This was Mac DeMarco's main amp for the studio. It originally belonged to his grandmother, who gifted it to him after using it for many years as a music teacher. Mac has described this amp in an interview with The Rumpus when talking about his dream gear. "At first I was like "Wait! There's no distortion switch? No reverb?" But it's the best-sounding amp I ever played through, and I've come to appreciate it so much."
This tiny 8-inch speaker grew in such a fond place for Mac that he has noted in multiple interviews that he operates with this Fender on almost every stage by simply using it as the preamp for his 200-watt keyboard amps. This is done by simply connecting the larger amps and mics directly into its "Out" jack entry. However, though he used this in many of his early live performances, this only happened after trying different amps with more power for the live stage.
Mac's silverface Vibro-Champ belongs to the 70's era, as it doesn't feature distortion nor reverb built into its 6-Watt 1×8″ speaker. The one winning feature this amp has is its tube tremolo circuit with adjustable speed and intensity, making for a distinct sound that has never been duplicated and a remarkable piece to have at your disposition in the studio, hence Mac's devotion to the amp.
As far as the studio use for this amp goes, it was used to record every guitar part in Mac's discography until 2015's Another One. From there on, it started rotating with newer additions as Mac's amp catalog started expanding.
Fender Twin Reverb
During his first American tour, Mac got himself this Silverface Twin Reverb amp mainly due to its 100-wattage potency. He noted that the only trait he saw on this was its crystalline amplification and its spring reverb, which he was quite fond of. Nevertheless, after barely a year of use from 2012 to 2013, he quit using it and gave it a more rotatory character as he would go straight for his Vibro-Champ.
This is Fender's most overlooked amplifier on the vintage roaster due to the easy racket one can get from its 6L6 tube design. It was built to fill out even the biggest stages at the time, and many artists often find it overwhelming at even the lowest of its capabilities. The Twin Reverb, however, is a classic and a beloved item by many professionals who value its three-band EQs and Bright switches for compensation at higher volumes, making it a popular choice for those looking for the ultimate clean amp.
Roland KC-550 Keyboard Amp
Mac DeMarco isn't particularly fond of employing in-ears to monitor his live sound. Though this is unorthodox by today's standards, it was very common in previous decades. However, what Mac does is he connects this Roland Keyboard combo to amplify the range of his Vibro-Champ amp to monitor himself when playing on stage. Additionally, he will use this Roland KC-550 to run all the keyboards and synths as well.
There are three reasons for Mac to use this as a monitor. The first one is the fact that this Roland classic has a 4-channel EQ band, making it a natural keyboard mixing choice. The second one boasts 180 watts of power, which allows it to amplify multiple instruments at once with very high fidelity in its projection. Furthermore, it features Stereo Link that allows him to chain two amplifiers, which enables Mac to mount his Vibro-Champ to act as a complementary while employing the KC-550 as a cabinet for his guitar.
Roland Jazz Chorus 120
This Roland Jazz Chorus first appeared in Mac's live rig from 2018 to 2019. This was a time when Mac was experimenting with different gear. Although he has been outspoken about his preference for the KC-550, the Jazz Chorus proved to be an efficient tool for his touring endeavors and could be seen on a few occasions during his live presentations in 2021 and 2022.
What marked the difference for Mac in using the KC-550 as a main instead of the Jazz Chorus is the fact that he isn't able to run keyboards through this guitar amp to monitor his live performances. Though this amplifier has gained a devout following for being deemed the "king of clean," it presents a three-band EQ and bright on/off setting with only two input channels.
Introduced in 1975, the Jazz Chorus 120 is renowned due to its clean sound and rich versatile tonalities with its built-in chorus effect that became a reference for multiple pedal manufacturers. Furthermore, the JC came out at a time when critics were often dismissive of transistor technology; however, Roland made the absence of valves an advantage by enhancing and expanding on the clean, pristine tone provided in their product.
Mac DeMarco's Pedals and Effects
Fostex VF80 Digital Multitracker
Most of Mac DeMarco's early recordings can be traced to this VF80 multi-tracking pedalboard. This is also the piece of gear that got him into effects and, ultimately, the sound that is so characteristic of him. The VF80 multitracker allowed Mac to pug in his guitar and edit his sequences with a wide array of effects built into its interface. He has remarked many times that the ones that stood out to him the most were the flanger, chorus, and, most importantly, the vibrato that came with it.
This retro piece features 44 effect types, including amp simulations & distortion, backed up with an internal CD-R/RW drive for mastering. It's one of the very first pieces of equipment designed for the home studio, allowing you to keep a library of samples and sections while featuring a mastering mode that gives a surprisingly high-quality end product. Mac saw in this a fully fleshed studio during his time with Makeout Videotape and the early demos of Rock N' Roll Night Club.
AKAI Headrush E1 Delay
This is the first pedal Mac DeMarco ever got. According to him, he initially acquired it because it sounded similar to the way John Lennon used to record his vocals. However, the longevity of it in Mac's rig is somewhat unclear since he got it when trying to vary from his Fender Twin reverb in the first place.
Perhaps the most attractive aspect of the AKAI headrush for Mac was its versatile range in echo, as it features three modes: Tape, Normal, and Loop. This is a very powerful delay unit for retro standards. Its Tape Echo function is designed to simulate a 4-head analog tape delay. What this translates to is that it can be used to send different signals from each head into multiple amps or mixer channels. The only downside of this is that it's something of an advanced feature for many. Its normal echo functionality, on the other hand, features a tap tempo delay of up to 23.8 seconds, which is pretty straight to the point.
Alexis Microverb V4 Rack
Mac DeMarco first got this Microverb unit from his bass player, Jon Lent, who took one with him for every live performance.
During an interview with Reverb.com, Mac described his appeal for this unit due to its vast library of effects and, most importantly, its integrated mixing knob, which gave Mac the opportunity to enhance the signal of the effect to the maximum or let it on a dry layer. DeMarco signaled that he got addicted to the multiple reverbs, choruses, and flangers featured in this unit.
What makes this such a quintessential unit for him is the fact that it allowed him to explore the chorus effect on a deeper level through its integrated vibrato, accentuating the "jiggle" of the effect over the duplicated layer of the guitar. This dominance of vibrato over the dominant, typical sound one could expect of the chorus stems from his interaction with this unit. The end result of it is the often slightly of tune sound in his records.
Roland RE-201 Space Echo
Mac first got this tape echo unit in 2014 when recording Salad Days. In fact, it can be heard throughout the record, particularly in Jonny's Odyssey, where the spaced-out echo is the most prevalent. Pitchfork magazine inquired about its use, while Mac's response delved more into his growing love for using organic tape recorders to achieve a more textured and organic sound.
Boss CE-2 Chorus
During the Salad Days era, Mac gave this staple pedal a run as per the suggestion of his bandmates, as he was more partial to using rack units to get his effects at the time.
The Boss CE-2 is a standard bearer analog tool that features a wide range from subtle to experimental ranges of modulation. It has an incorporated vibrato that goes on par with its rate knob and an additional depth to explore the layers that the stomp box has to offer. Needless to say, this is a pretty straightforward Chorus pedal that houses various voices for those who like to explore the lower ambiance depths of multiple voicings.
Electro-Harmonix Holy Grail Nano Reverb
Electro Harmonix's Holy Grail Nano Reverb was yet another part of Mac's Salad Days rig paired with the CE-2, though it was subject to rotation with a Boss RV-6 Reverb and a Little Lanilei Spring unit, DeMarco would come back to this trusty simplified version of the Holy Grail.
The Holy Grail Nano reverb is a straightforward version of its Plus and Max while staying true to the very first presentation of the pedal. It's been regarded as the simplest reverb unit on the planet while offering a solid alternative between Spring, Hall, and EHX's very own Flerb approach, which combines the wobbly effect of a flanger spaced out by a controllable amount of reverb.
Ibanez SC-10 Super Stereo Chorus
This was Mac's alternative chorus option for live shows during the Salad Days era. He used it on his rig, along with an MXR carbon copy. However, Mac didn't find much use for it as he would find himself going back to his Boss CE-2 unit.
The SC10 is a basic chorus unit from Ibanez's power series. Additionally to featuring the traditional width and speed knobs, this chorus unit includes a delay time control that lets you explore the most subtle elements that chorusing effects have to offer. As for its voice, the SC10 is versatile, but it's pretty much inherent to a very warm tone, even while tweaking the three control knobs that allow a vast variation of the effect. This is perhaps the reason why Mac stopped using it as an alternative to the CE-2.
Mahaffay Little Lanilei Spring Reverb
The Little Lanilei Spring Reverb pedal was used simultaneously with the SC-10 as part of Mac's alternative pedal board during 2014 and 2015. Though this is a completely analog unit that houses a genuine spring effect, it seems that Mac might have felt limited by it.
This is one of the very first purely spring reverb stompboxes in the market, providing no tone nor signal loss whatsoever. The Little Lanilei box functions with an Accutronics spring reverb tank that is controlled by a gain knob that allows you to control the intensity and presence of the effect while being complimented by a blend knob that allows the pedal to go from wet to clean. This provides a vast array of choices within a single effect, from a vintage sound to a sci-fi ambiance reverb.
MXR Carbon Copy Analog Delay
This has become Mac's delay of choice in two variations of the stompbox. He uses it mainly in his live presentations and has noted that has and doesn't plan to ever use them on a record due to the wide array of choices he gets from his analog tape delays and rack units.
The MXR Carbon copy houses 600ms of delay time with optional modulation through its three-knob layout, which consists of Regen, Mix, and Delay. The Carbon Copy's two internal trim pots allow a user-friendly and adjustable approach to its warm voice.
MXR M-133 Micro Amp
Mac first started using this signal booster in 2014, and it has remained stable to this day on his live performances, often in rotation with a JHS Colour Box.
Zoom G1u Multi-Effects Pedal
Mac implemented this multi-effects pedal live in 2015 in the hopes of bringing out as many layers as he could in his performances. However, though he expressed how much he loved this plastic unit, the consensus on its product through the PA was that it sounded like garbage because it was extremely low fidelity.
This Zoom-manufactured plastic pedal serves as a bank of effects that can be stored in it and elevated with its preset. Mac saw potential in this feature, but it turns out that it serves more in the studio rather than on stage.
Boss GE-7 Equalizer
Mac started employing this EQ pedal in 2015, and it has remained a mainstay in his rig regardless of how many changes he makes to his modulation units.
The GE-7 equalizer is a safe and reliable option that houses seven bands of EQ ranging from 100Hz to 6.4kHz. Its function is to mainly boost or cut undesired frequencies, and the GE-7 does this at 15 db per band, granting full control of your rig. In other words, this is a must-have to bring out the best in your pedal board.
Boss VB-2W Waza Craft Vibrato
The Boss VB-2W Vibrato first came to Mac's pedalboard in 2017 when he started touring This Old Dog. It would allow him to jiggle with a dominance of vibrato rather than the chorus layering effect. He paired it with his Boss CE-2 and found a powerful duo in this pairing.
This vibrato unit was first introduced in 1982 before Boss decided to reinvent it and upgrade it in more recent years. The VB-2 is an all-around expression pedal with its three main modes, bypass, unlatch, and latch. Bypass mode takes the BBD out of the signal path, clearing the latency of the effect when turned off. Unlatch activates the effect only when stepping on it, and Latch engages the controls of the effect's depth in real time.
TC Electronic Hall Of Fame Mini Reverb
By 2017, Mac had made a shift from certain mainstays on his pedalboard. Particularly, this TC Electronic mini reverb unit replaced his EHX Holy Grail. He soon became a steady user of TC Electronics to complete his live rig of effects.
This mini Hall of Fame is the most straightforward presentation of this classic. Beyond being almost incredibly small, it houses a very practical reverb algorithm on a single knob that provides a dynamic and charming integration of reverb and mix. Furthermore, TC Electronic developed this tiny stompbox with a tone print feature that allows you to upload the presets of its forebear and more complete HOF presentations into it using your smartphone. Through the tone print app, you can find there are multiple custom combinations and even your own to make the best out of this unit.
TC Electronics HyperGravity Mini Compressor
Mac implemented this compressor on par with his mini Hall of Fame. The HyperGravity Mini Compressor was recommended to him as a minuscule dynamic alternative to improve the liability on his tone box, considering he relies so much on expression and modular effects.
The HyperGravity Mini Compressor was presented as a simplistic and versatile approach to the compressor. It houses TC Electronic's MD3 algorithm that enables pristine clarity in tonality and the old-school squash that you can get from a vintage compressor. The Spectra mode of the HyperGravity provides a discreet compression system that evens out low, mid, and treble frequencies in a way that it allows the natural chime of your high strings. On the other hand, TC Electronic installed Toneprint compatibility in this pedal so you can upload your preferred presets in it.
JHS Colour Box V1
The JHS Colour box houses two transformers with an expanded EQ section that gives you bass, mid, and high shifts in its presets. It's an all-analog design that allows a leave-it-on preamp preset for your rig or as an all-out tone-shaping tone for guitar bass or even keyboards and vocals. In essence, this is probably one of the most important stomp boxes on Mac's pedalboard.
TC Electronics Shaker Vibrato
Knowing Mac's such an overt user of vibrato, it's no surprise he would eventually delve into the individual analog pedal itself. This TC Electronic Shaker harbors a wide range of dynamics within its four-nob design and three-way switch selector. One can get an organ-like tone shift within the warmer and subtle range of it, as well as a much more strident feel from this piece through the manipulation of its depth and speed. However, DeMarco was open about his intentions for getting this pedal in an interview with Reverb, saying he just wanted it to make things "a little out of tune, that's it."
Wrap up:
DeMarco is an artist who has rid himself of expectations and consecrated a creative freedom that has permeated modernity thanks to his genuine essence. Since his debut with Rock and Roll Night Club in 2012, he has consistently reinvented and expanded his sound, influencing a new generation of musicians who took inspiration from his blend of lo-fi, indie rock, and psychedelic influences, thus shaping the sound of contemporary independent music. For this reason, Mac's open-hearted and DIY approach to his craft has led many to consider him a legacy act within only a little over a decade from his debut.
To us, his mark lies mainly in his hard-to-ignore ingenuity, which became accentuated with his latest release, One Wayne G, with more than 8 hours in play time and 199 songs in its tracklist. This confirmed the aspirational creative freedom that Mac represents for the modern musician, a worldview that is not only fresh but necessary. That does it for this article; let us know your favorite Mac DeMarco guitar in the comments below.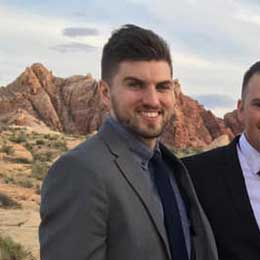 My name is Chris and I've had a passion for music and guitars for as long as I can remember. I started this website with some of my friends who are musicians, music teachers, gear heads, and music enthusiasts so we could provide high-quality guitar and music-related content.
I've been playing guitar since I was 13 years old and am an avid collector. Amps, pedals, guitars, bass, drums, microphones, studio, and recording gear, I love it all.
I was born and raised in Western Pennsylvania. My background is in Electrical Engineering, earning a Bachelor's degree from Youngstown State University. With my engineering experience, I've developed as a designer of guitar amplifiers and effects. A true passion of mine, I've designed, built, and repaired a wide range of guitar amps and electronics. Here at the Guitar Lobby, our aim is to share our passion for Music and gear with the rest of the music community.