Nita Strauss is one of the most audacious guitar heroes of our time, while her career during the 2000s wasn't that of such a title, her true rise to prominence came with her tenure as Alice Cooper's guitarist. At that point, there was no room for doubt of Strauss being one of the most talented rock guitarists out there. An actual descendant of Johan Strauss I, she's kept true to the family name by becoming a virtuoso of her times.
Prior to joining Alice Cooper's live band, she had a laid-back yet successful career as a performer. There were plenty of different bands and projects, but the most famous one is arguably The Iron Maidens, an all-female Iron Maiden tribute band.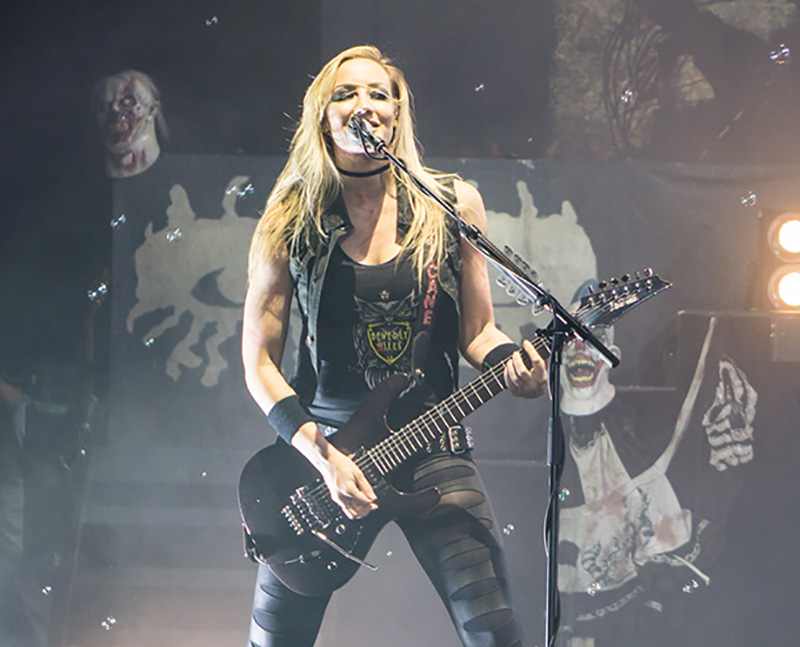 Of course, with her interest in sports, she's also performed as the in-house guitarist for Gene Simmons' and Paul Stanley's arena football team Los Angeles Kiss. As if that wasn't enough, she began working on her solo music in 2018. Thanks to her crowdfunding campaign, which accumulated funds in a matter of hours, she released her debut solo album "Controlled Chaos" that same year.
What Guitars Does Nita Strauss Play?
Nita has always been an enthusiastic Ibanez player, so after a few years in the limelight as a notorious guitarist, her first signature model the JIVA 10 was released in 2018, ever since then she's remained loyal to this particular model.
See the full list Nita Strauss guitars and gear below.
Ibanez JIVA 10

| | |
| --- | --- |
| Finish | Deep Space Blonde |
| Years Used | 2018 to Present |
If there's a model that has defined Nita Strauss has got to be her very own JIVA 10. By 2018, Nita was already highly regarded in the industry, with many knowing her face as the fresh defining one of Alice Cooper. Furthermore, Strauss had already become one of the most notorious ladies of metal along with Lzzy Hale whom she'd partner up with to deliver some iconic performances in 2018. It was a key year for Nita as she cemented herself as one of the most influential figures of recent times.
It was only a matter of time before she was honored by Ibanez with her own signature model, one that would be tailored made to her preferences and desires. In 2018, she officially became the first-ever female artist to get a signature Ibanez model. The JIVA 10 was introduced at the NAMM winter show of 2018 It came with one custom finish "Deep Space Blonde" and she's been using it ever since. However, while we know that she has used the JIVA 10 model, it's not certain how many of these she has in her collection.
The JIVA 10 is a guitar produced in Ibanez's Indonesian division. Although it technically makes it a more affordable instrument, it's still a pretty impressive piece and a real shred machine. Since Nita was a devoted player of the S series guitars, the JIVA 10 is roughly based on this branch.
Having said that, there have been versions with nyatoh wood as the main material. It comes with a mahogany body and a quilted maple top, bolted onto a 3-piece maple and purpleheart neck that has an ebony fingerboard on top. It packs 24 jumbo frets and specially designed "heartbeat" inlays. What's also interesting is that the side dots are luminescent, making them visible on dark stages.
As for the pickups, it sports an H-S-H configuration with Nita's signature DiMarzio Pandemonium humbuckers and DiMarzio True Velvet single-coil in the middle. This is also accompanied by the Edge Zero II tremolo bridge.
This signature series would later be enhanced by the JIVAX and JIVAJR versions of it, while they are essentially the same, Nita knows her way around her now customized selection. Ever since 2018 the JIVA 10 has been her main go-to, loosely rotating on stage with her previous Ibanez models. Nevertheless, time would see Strauss as a regular collaborator, which lead them to reinvent the JIVA series, providing a unique high end line of guitars.
Ibanez JIVAX

| | |
| --- | --- |
| Finish | Transparent Black Burst/ Blue Burst |
| Years Used | 2020 to Present |
Ibanez's JIVAX, also known as the "Jiva X," is currently her top-level signature model variant. The model was introduced in 2020 and its production was only limited to that year, as part of the exclusive Nita Strauss signature line. It is inspired by the original JIVA 10 and Prestige S series with further upgrades on the original Nita Strauss signature. However, Nita is known for rotating this guitar with her original 10 model as well as her previous Custom Purple S5470Q
Nita received the first issue of this guitar, and she has a few stock ones still, nevertheless, she's known for rotating this X model with her original JIVA 10. Regardless of her expected brief hiatus in 2020, she returned to stages sporting this one alongside her original signature, it can be heard in Alice Cooper's "Don't Give Up"
Since Nita's fondness for the Prestige S series, this one is based on these guitars. The body shape is pretty much the same and it's made out of African mahogany along with a quilted maple top. This is followed by a 5-piece maple neck that comes with titanium rods.
Other features are pretty similar to the S series as well. There's an H-S-H pickup configuration with DiMarzio's Pandemonium humbuckers and True Velvet single-coil. The guitar is also equipped with the Edge Zero tremolo bridge, 24 jumbo-sized frets, and Gotoh SG381 tuning machines. You can also notice the traits from her basic JIVA 10 model, including the "Beaten Path" inlays on the fretboard (the "heartbeat" line).
Overall, this is a pro-level instrument and a very versatile one with most of the specs done according to Nita's preferences. Unfortunately, this was only a limited run, but we're certain that Nita will have other high-end guitars with her name on them.
Ibanez S5470Q

| | |
| --- | --- |
| Finish | Custom Purple |
| Years Used | 2011 to Present |
Barely into the past decade, Strauss found her first settled model, one that replaced her RG320Z, the S5470Q, on the other hand, is a different instrument, a more prestigious one. Nita got this guitar as soon as it came out, and it saw her debuting with Alice Cooper as well as her matured solo debut back in 2018 with "Controlled Chaos". Ever since then, this has become one of the most associated models to her name, often being among her main choices for live shows and studio even to this day. Needless to say, this is one of the models that inspired the JIVA 10 and JIVAX signature six-strings.
This is her designated Ibanez for the song "Pandemonium", one of the quintessential tunes that launched her career as a solo act and would inspire her very own signature pickups. Way before she released her music video shredding her way with this six-string, she would use it for live renditions of it.
These guitars came with three traditional finish options upon their original release. However, Nita's seems to be a special one, a custom-made shade of purple, with the instrument's standard quilted maple top pattern. As part of the Prestige S series, it sports a cleverly designed and super-compact body shape, with the edges rounded out and the cutaways made to bring easy access to higher frets. The S5470Q comes with a very interesting and potent ZR2 double-locking tremolo bridge and Gotoh tuning machines. The guitar is set up with two humbuckers on neck and bridge positions, as well as one single-coil pickup in the middle. These are Hot Grinder humbuckers and a Short Tracer single-coil.
From the looks of it, it seems that Nita has this same configuration unchanged and it's one of her preferred ones ever since she started her more consecrated career. While the natural environment to see Nita with this guitar might be the stage, she also brings this guitar out along with a Blue shaded variant version of it to special interviews and intimate gigs.
B.C. Rich Stealth

| | |
| --- | --- |
| Finish | Black |
| Years Used | 1997 to Unspecified |
While these early B.C Rich Models may be a tad obscure in Strauss's catalog, they were very much present during her teenage years, back when Nita use to cover Alice Cooper and Iron Maiden in local venues. She's claimed that Heavy Metal and Hard Rock were always her main influences, so it only makes sense that she would pick up a Stealth model, while it may not be as notorious as its brother the Warlock, it gives off a vibrant sense of personality.
However, she wasn't really satisfied with the instrument, which is usually not a surprise with cheaper B.C. Rich models. Therefore, she gave up on it very early on in her career. The guitar wasn't particularly comfortable to play and didn't exactly give the best possible tones. On another hand, later and more recent years have seen her on-stage with a Stealth model, if it's her first guitar or simply a new one is hard to confirm.
Strauss would later switch on to her preferred guitar manufacturer, Ibanez. Even since the early 2000's she's reportedly sported several models into her stardom status. In my opinion, this is one of the coolest looking Nita Strauss guitars of all time.
Ibanez RG320Z

| | |
| --- | --- |
| Finish | Red |
| Years Used | 2011 to Present |
This is the first confirmed Ibanez model on Nita's catalog, Ibanez's RG320Z model was present in her early days as the newest addition to Alice Cooper's touring band. It was mainly used during her guest appearances as a session musician and as collaborator with Full Metal Thunder, so it's safe to say that this is Strauss's first highlighted piece.
However, this guitar was almost entirely redone by one of the company's custom shop builders. The RG320Z model was introduced in the early 2010s as a replacement for the RGD320. They are pretty similar except for the tremolo bridge. The RG320Z features the Edge Zero II double-locking tremolo, as well as a ZPS3Fe tuning stabilizer.
This is a pretty simple guitar with a basswood body and a bolt-on maple Wizard III neck. What's really interesting is that these guitars come with a 26.5-inch scale, which can help with some lower tunings.
The guitar comes with stock Ibanez pickups. However, we're pretty certain that Nita has something else in there.
This piece was completely redone and doesn't come with a factory finish. We can also notice specially made binding on the body edges. What's more, the neck is no longer a bolt-on but a glued one. Nita was seen using this guitar during the 2010s. Although it's originally not a super expensive guitar, she had it for her live setup for Alice Cooper. She can occasionally be seen with it these days as well.
Ibanez S5470FDSH Prestige

| | |
| --- | --- |
| Finish | Dark Shadow |
| Years Used | 2009 to Present |
This is yet another Ibanez Prestige model that's been an important part of Strauss' career. The S5470F model was originally introduced in 2008 and the production lasted until 2013. We can't say for sure when Nita actually first got her hands on this one, but it was largely involved in her rise to the spotlight. Reportedly, this is the guitar that she used to record "Louder than Words", "Let Go" and "Empty Promises" during her brief appearance as a guest with Kill Slowly in their 2009 album "Consume the Fire"
Nita's guitar has the so-called "Dark Shadow" finish. This is a dark shade of grey in combination with the flame maple top patterns. While we're at it, the guitar features a mahogany body with a flamed maple top. The scale length is a standard 25.5-inch one. What's interesting is that this was one of the first Ibanez S models to come with 24 frets.
We also have a humbucker-single-humbucker configuration Hot Grinder and Short Tracer pickup models. The guitar's potential is fully exploited with its ZR2 double-locking tremolo bridge.
Ibanez S6570Q-SLG

| | |
| --- | --- |
| Finish | Surreal Burst Gloss |
| Years Used | 2017 to Present |
Going deeper into her Ibanez Prestige S collection, Nita also owns the S6570Q model, featuring the "Surreal Blue Burst Gloss" finish. There are documented cases of her using it in 2018. However, the model was introduced in 2017, so it's highly likely that this is the year when she started using it. The instrument has been a part of her live setup with Alice Cooper, just like most of her other Ibanez Prestige S guitars.
Aside from the standard S body shape, the guitar is made out of mahogany with a quilted maple top. Then there's also the binding on the body edges, as well as the guitar's "Surreal Blue Burst Gloss" finish that goes perfectly with the quilted maple pattern. The neck features a 5-piece construction of maple and walnut, accompanied by titanium rods. We have a marbled rosewood fretboard with 24 jumbo frets that have the companies special Prestige edge treatment.
Looking at the pickups, there are all DiMarzios, with the Tone Zone in the bridge, True Velvet single-coil in the middle, and Air Norton in the neck position. This is accompanied by the standard 5-way pickup selector switch.
Timetable Showing Each Guitar Nita Strauss Has Played at Each Point of Her Career
| Make | Model | Color/Finish | Years |
| --- | --- | --- | --- |
| B.C Rich | Stealth | Black | 1997 to Unspecified |
| Ibanez | S5470FDSH Prestige | Dark Shadow | 2009 to Present |
| Ibanez | S5470Q | Custom Purple | 2011 to Present |
| Ibanez | RG320Z | Red | 2011 to Present |
| Ibanez | S6570Q-SLG | Surreal Burst Gloss | 2017 to Present |
| Ibanez | JIVA 10 | Deep Space Blonde | 2018 to Present |
| Ibanez | JIVAX | Transparent Black Burst/ Blue Burst | 2020 to Present |
Nita Strauss Amps Overview
Marshall JVM Series JVM410H
Years Used: 2014 to Present
When Nita joined Alice Cooper's band, she revealed that she began using Marshall's JVM410H. This is a very potent amp head that served her well for live shows. Her inclusion in the band required her to switch over to some powerful and useful amps, and JVM410H was the perfect addition to her rig.
Bearing 100 watts of power, this head comes with four channels and individual controls. It's completely tube-driven and it has four EL34 tubes in the power amp section, as well as five ECC83 tubes in the preamp. What's more, each of the channels has three modes of operation, making this amp very versatile.
Blackstar S1-1046L6
Years Used: The mid-2010s to Present
Aside from Marshall, Nita also began using Blackstar amps over the years. One of the models is the S1-1046L6 head. It comes with a total of 100 watts of power and four 6L6 tubes in the power amp section. With such a configuration, it brings some classic "American" kind of tones.
There's a total of four channels and an abundance of tone-shaping options. The most powerful feature is Blackstar's ISF which helps you blend traditional American and British tones. And with MIDI connectivity, it even allows for easy access to different presets.
Blackstar Series One 104EL34
Years Used: 2011 to Present
Another Blackstar amp head model that found its way into Nita's rig is Blackstar Series One 104EL34. According to her own statements, Nita began using it when she joined Alice Cooper's band in 2014.
Overall, this amp head is very similar to the one described above. But aside from 100 watts of power, this one comes with four EL34 tubes in the power amp section, making it more mid-oriented and traditionally "British" in its output. However, there's also the ISF control which grants a perfect balance between the American and British tone.
Marshall Code 25
Years Used: 2014 to Present
For practice purposes and some clinics, Nita likes to use Marshall's Code 25 amp. This is a solid-state amp with a digital modeling unit and an option to create a bunch of presets. It has 25 watts of power, 14 preamp models, and 4 separate power amp models. It's really easy to use, it's fairly cheap, and gives a lot of tone-shaping options.
Marshall Code 100 Head
Years Used: 2017 to Present
Another Marshall in her collection is the Code 100 head. The interface is very similar to the one on the Code 25 model. The tone-shaping options are pretty much the same, but the amp comes with a total of 100 watts of power. Although a fairly cheap one and intended for beginners, it can come in handy for some live shows.
Marshall 1960BV Cabinet
Years Used: 2016 to Present
Along with her Marshall heads, Nita uses the company's 1960BV. This is Marshall's classic "straight" cab with 4 12-inch Marshall G-12 Vintage speakers. It can handle up to 280 watts of power, as well as stereo configurations.
Nita Strauss Pedals and Effects Overview
Rocktron Utopia Expression Pedal
Years Used: The mid-2010s
Nita is mostly not a pedal kind of person, but there's still some stuff worth noting. She had a Rocktron Utopia Expression Pedal on her pedalboard at some point. However, we don't know what it was paired with, but it's probably the Rocktron preamp.
Boss GT-1000Core
Years Used: Unspecified to Present
Nita has one quintessential piece on her catalog, and its her Boss GT piece, she's been over every edition of it before settling with this GT-1000Core. Released in 2012 and relying on the same principles as the GT-10 and 100 units, it took things to a whole new level. Nita most likely started using it around the time when it was released. Guitar Center had Strauss over to make her an ambassador of this pedal.
In her words, the reason she's a fan of the Boss GT series is because of the melting-pot qualities of every pedal and amp she's ever needed. Nita is a rare pedal user, she rathers experiment on her guitar jacked in to an amplifier, but this stomp-box makes things way easier with a vast sound library at her disposition.
Peterson AutoStrobe 490
Years Used: From the late 2010s to now
But at the same time, she also uses Peterson's AutoStrobe 490 tuner which relies on some of the old technologies. But although this is an "archaic" technology, these strobe tuners are very precise, way more than the standard digital ones. AutoStrobe 490 comes with a rotating disc and strobe light.
Wrap Up
Strauss is considered by many critics, the ultimate 21st-century guitar hero, one that delivers just what the industry needs while inspiring countless beginners to pick up a guitar and start shredding away. Nita does what your usual musician does twice as hard, picking up the guitar at an early age and making her own path into one of Rock N' Roll's most legendary acts, she's become the designated Alice Cooper guitarist.
However, this doesn't mean she doesn't have time to work on her solo material, where she shines the most, in her latest release Controlled Chaos, Nita debunked the myth of Hard Rock guitars being nothing but all speed and no melody. She is the embodiment of 80s virtuosic styles condensed into one, deriving from Joey Satriani and Steve Vai into a one-of-a-kind reinvented approach to the instrument.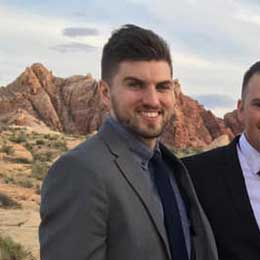 My name is Chris and I've had a passion for music and guitars for as long as I can remember. I started this website with some of my friends who are musicians, music teachers, gear heads, and music enthusiasts so we could provide high-quality guitar and music-related content.
I've been playing guitar since I was 13 years old and am an avid collector. Amps, pedals, guitars, bass, drums, microphones, studio, and recording gear, I love it all.
I was born and raised in Western Pennsylvania. My background is in Electrical Engineering, earning a Bachelor's degree from Youngstown State University. With my engineering experience, I've developed as a designer of guitar amplifiers and effects. A true passion of mine, I've designed, built, and repaired a wide range of guitar amps and electronics. Here at the Guitar Lobby, our aim is to share our passion for Music and gear with the rest of the music community.