When we think of modulation pedals, the effects which commonly spring to mind are chorus, phasers, and flangers. I believe that vibrato is the unsung hero of the modulation family, and many brilliant pedals provide this effect.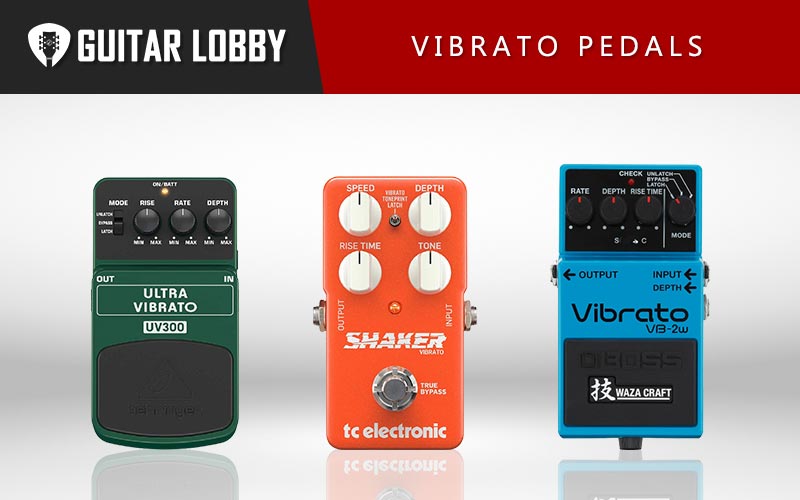 Over the years our team at Guitar Lobby has owned and tested dozens of these pedals, and in the rest of this article, we'll present you with a range of vibrato pedals that all offer unique qualities. Included in this list are vibrato pedals of all price ranges and complexities so that you can identify the perfect new pedal to add to your effects signal chain.
Name of Product
Image of Product
Description
Price Range
Full Review
1. Walrus Audio Julianna Deluxe (Best Overall)
Type: Analog
Effects: Vibrato, Chorus
$250
Read Full Review Below
2. TC Electronic Viscous Vibe (Best Value)
Type: Analog
Effects: Vibrato, Chorus
$145
Read Full Review Below
3. TC Electronic Shaker (Best Under $100)
Type: Analog
Effects: Vibrato
$100
Read Full Review Below
4. Behringer UV300 (Best Under $75)
Type: Analog
Effects: Vibrato
$60
Read Full Review Below
5. BOSS Waza Craft VB-2W
Type: Analog
Effects: Vibrato
$240
Read Full Review Below
6. Fulltone Custom Shop Mini DejaVibe 3
Type: Analog
Effects: Vibrato, Boost, Overdrive
$225
Read Full Review Below
7. EarthQuaker Devices The Depths V2
Type: Analog
Effects: Vibrato
$200
Read Full Review Below
8. TC Electronic Tailspin
Type: Analog
Effects: Vibrato
$95
Read Full Review Below
9. Fender Bubbler
Type: Analog
Effects: Vibrato, Chorus
$150
Read Full Review Below
10. Strymon Ola
Type: Analog
Effects: Vibrato, Chorus
$300
Read Full Review Below
11. EarthQuaker Devices Aqueduct
Type: Analog
Effects: Vibrato, Pitch Shifter
$200
Read Full Review Below
12. Fulltone Custom Shop Mini DejaVibe MKII
Type: Analog
Effects: Vibrato, Chorus
$210
Read Full Review Below
13. DigiTech Ventura Vibe
Type: Analog
Effects: Vibrato, Rotary
$100
Read Full Review Below
14. TC Electronic Shaker Mini
Type: Analog
Effects: Vibrato
$80
Read Full Review Below
15. Origin Effects MAGMA57
Type: Analog
Effects: Vibrato, Overdrive, Tremolo
$460
Read Full Review Below
16. Electro-Harmonix Good Vibes
Type: Analog
Effects: Vibrato
$200
Read Full Review Below
17. Moen MO-VB2 Shaky Jimi
Type: Analog
Effects: Vibrato, Chorus
$65
Read Full Review Below
Here Are the Best Vibrato Guitar Pedals
1. Walrus Audio Julianna Deluxe (Best Overall)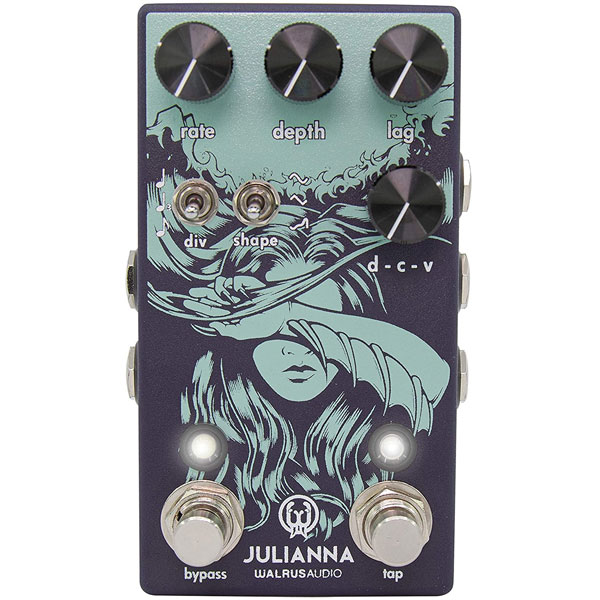 | | |
| --- | --- |
| Estimated Price | $250 |
| Type | Analog |
| Effects | Vibrato, Chorus |
| Connectivity | 3 x 6.35mm Jack Input, 2 x Output |
| Power | 9 Volts DC |
My Review: After hearing many good things about the Juliana Deluxe by Walrus Audio, I was excited to see if the hype was justified. It didn't take long for me to realize that this vibrato and chorus combo pedal goes above and beyond the capabilities of your average modulation stompbox.
One aspect of the Julianna Deluxe which I was highly impressed with, is the sheer variety of vibrato-based tones it can create. The versatility of the pedal is a large improvement on the previous model, the Julia, and I enjoyed the weird and wonderful sounds that can be created using the onboard LFO wave shape selector.
Another thing that caught my attention when analyzing the Julianna Deluxe was its rhythmic capabilities. Secondary LFO speed coupled with tap-tempo control is two highly useful features, which I believe any guitarist who likes to be locked into the grooves and rhythms of their tracks will value.
I was also surprised by the lengths that Walrus Audio has gone to when designing the modulation controls on this vibrato and chorus pedal. I found the 'Random LFO Shape' to be a great tool for adding textural tones to the vibrato and chorus effects, and additionally, I enjoyed the robotic effect of the 'Drift Function'.
Who is this best suited for: I'd highly recommend the Julianna Deluxe to guitarists who enjoy having a range of variable controls and parameters at their disposal to shape their effects with intention. This pedal offers a wide range of settings that can be tailored to create the exact vibrato or chorus draped tones you're looking for.
Bottom Line: Walrus Audio is renowned for its selection of boutique effects pedals. Building upon the success and popularity of the Julia pedal, the new and improved Julianna includes a range of useful features. You can use 'Tap Tempo Control' to lock in the timing of the vibrato effect, run multiple effects loops using the onboard in/outs, and create your unique tones using the LFO controls.
2. TC Electronic Viscous Vibe (Best Value)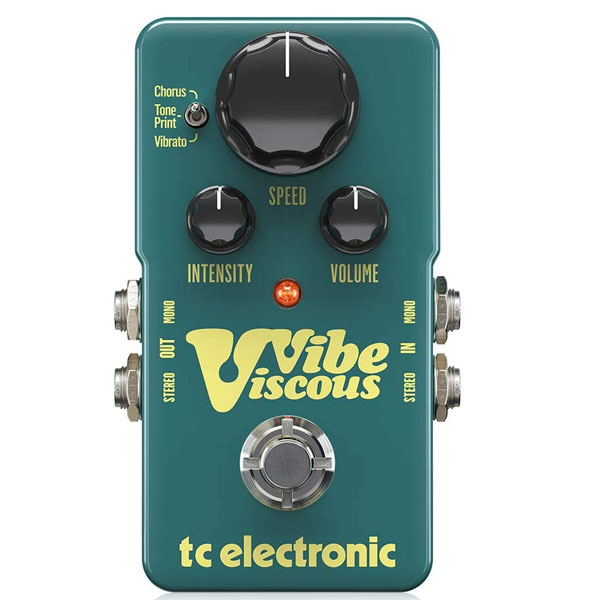 | | |
| --- | --- |
| Estimated Price | $145 |
| Type | Analog |
| Effects | Vibrato, Chorus |
| Connectivity | 2 x 6.35mm Jack Input, 2 x Outputs |
| Power | 9 Volt |
My Review: Right off the bat, I realized that this vibrato/chorus pedal by TC Electronic is a standout offering. After learning that it is based on the classic analog Shin-Ei Uni-Vibe pedal, I was eager to find out whether it was capable of producing Hendrix and Pink Floyd-like tones.
I found that the most impressive quality of the Viscous Vibe is its ability to enhance the natural tone of the electric guitar, by coating it in smooth vibrato or chorus without overdoing the coloration. When I cranked up the 'Intensity' control, I was able to create psychedelic vibrato sounds with a sweep-like quality.
Another thing that impressed me about the TC Electronic Viscous Vibe was the simplicity of its functions. The three parameters which are labeled 'Speed', 'Intensity', and 'Volume' provide all of the adjustments required to create a plethora of modulated guitar tones. Additionally, I found the toggle switch in the top left corner of the pedal to be a welcome addition, allowing instant access to the chorus, vibrato, and 'TonePrint' effects.
In my opinion, the feature which truly makes this pedal stand out from similarly priced vibrato stompboxes is the intriguing 'TonePrint' feature. It took a little while to understand what this setting is used for, but after experimenting I discovered it to be a great way to increase the versatility of the pedal. 'TonePrint' allows you to upload presets based on iconic effects pedal to your smartphone or computer, then access them when using the Viscous Vibe.
Who is this best suited for: If you're a fan of the bright, immersive vibrato and chorus effects which were popular amongst psych-rock musicians in the '60s and '70s, I think you'll find great enjoyment from adding the TC Electronic Viscous Vibe to your arsenal.
Bottom Line: The Viscous Vibe provides guitarists with everything they could need from a vibrato pedal. It successfully reproduces the immaculate effects of the revered Shin-Ei pedal, whilst adding a range of new features to improve functionality. Overall, I'd say that this is the best vibrato pedal for the money right now.
3. TC Electronic Shaker (Best Under $100)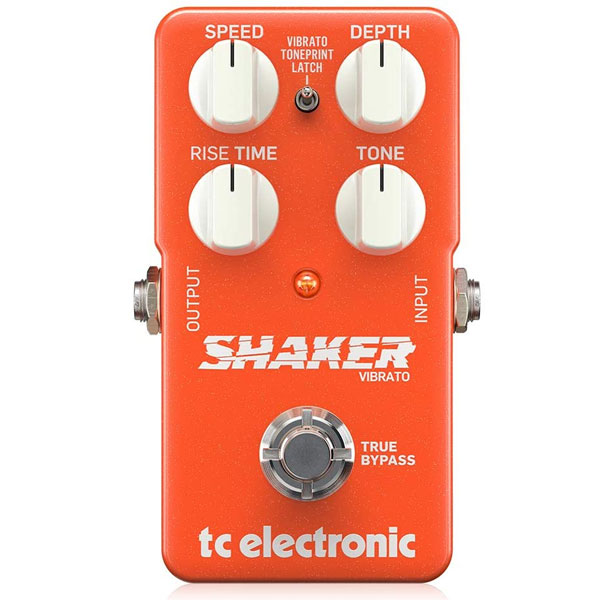 | | |
| --- | --- |
| Estimated Price | $100 |
| Type | Analog |
| Effects | Vibrato |
| Connectivity | 1 x 6.35mm Jack Input, 1 x Output |
| Power | 9 Volts DC |
My Review: My first impression of the Shaker by TC Electronic was that it closely resembled the design and functionality of the delay pedal. When testing it out I found this similarity is largely a result of the timing-based controls.
Compared to the aforementioned Viscous Vibe, I found the Shaker to be much more vibrato-focused. While it may not offer additional modulation effects like chorus, I was surprised by the versatility of the effects this compact stompbox has to offer.
I'm a big fan of simplicity when it comes to modulation pedals, as I've found some to be overly complex which limits the ease with which the various parameters can be utilized. The four-control layout of the Shaker was therefore a big selling point for me, and I also enjoyed the fact that there are two distinct modes.
Identifying the standout quality which makes the Shaker stand out in a crowded vibrato pedal market is easy – its unique 'Latch' mode. This allows you to trigger the vibrato effect by using the footswitch. When I applied pressure to the switch and held it, the vibrato began, and when I took my foot off the switch the effect was halted. The sense of control that this feature provides is brilliant for bringing in the vibrato for brief periods, which is bound to amplify its impact on an audience or in a recording.
Who is this best suited for: The Shaker is a wonderful choice for any guitarist looking for a simple pedal to add a range of vibrato-based effects to their pedalboard. There's plenty of room for adjustment, so if you're interested in sculpting guitar tones that are unique and individual to you, I would highly recommend this pedal.
Bottom Line: Boasting a broad range of modulated tones and accessible controls, TC Electronic's Shaker is one of the best vibrato pedals out there. Its sounds range from the classic vibrato found on valve amplifier's effects units, to futuristic shimmers which are ideal for textural guitar licks.
4. Behringer UV300 (Best Under $75)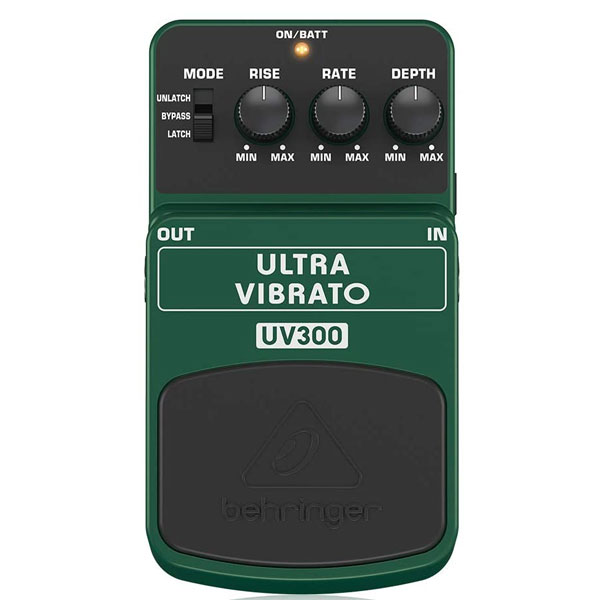 | | |
| --- | --- |
| Estimated Price | $60 |
| Type | Analog |
| Effects | Vibrato |
| Connectivity | 1 x 6.35mm Jack Input, 1 x Output |
| Power | 9 Volts DC |
My Review: Here at Guitar Lobby we're always on the lookout for affordable effects pedals that perform to a level that belies their modest price tag. In my experience, few manufacturers manage to do this better than Behringer.
The UV300 first struck me as being a simplistically designed vibrato pedal, but upon further inspection, I found that it packs a range of modulated tones into its compact stompbox housing. One of the things I found most impressive about this pedal is how it can switch from conventional, understated vibrato to full-blown swirling modulation. This even tempted me to use it as an alternative to my phaser pedal, thus saving space in my effects chain.
The UV300 stands out when compared to most other affordable vibrato pedals on the market. The main reason for this is the clarity of the modulated tones it produces. It features three modes – 'Latch', 'Bypass' and 'Unlatch'. Like the Shaker pedal by TC Electronic, the footswitch on the UV300 can be used to trigger the vibrato effect in real-time.
Who is this best suited for: If you're considering adding multiple modulation effects to your signal chain, the UV300 Ultra Vibrato pedal by Behringer provides an affordable option which exceeds the capabilities of your average vibrato device. It gives you access to vibrato, rotary effects, and even ventures into the world of phase to an extent.
Bottom Line: Vibrato pedals don't need to be overcomplicated, as Behringer has proved with the UV300. My only concern with this pedal is its durability, but other than that there's no denying its outstanding value for money. Using the three modes and three rotary knobs, you can create any vibrato-based sound that you desire. If you're looking for a cheaper vibrato pedal that will get the job done I highly recommend this pedal. It's by far one of the best that I've tested around this price point.
5. BOSS Waza Craft VB-2W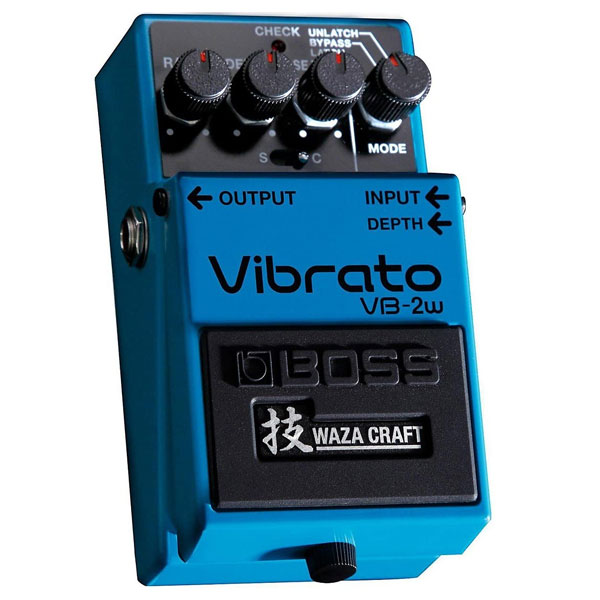 | | |
| --- | --- |
| Estimated Price | $240 |
| Type | Analog |
| Effects | Vibrato |
| Connectivity | 1 x 6.35mm Jack Input, 2 x Output |
| Power | 9 Volts DC |
My Review: I've used many BOSS stompboxes in the past, and they've never failed to impress me with their trademark durability and easy-to-understand controls. The Waza Craft series features some of my favorite BOSS pedals, so when I found this VB-2W I was eager to see whether it managed to live up to the stellar reputation of the other pedals I'd tried from this range.
Compared to the original VB-2W which first burst onto the scene in the 1980s, this new and improved edition replaces the outdated BBD-style circuity with a more modern design. One thing which impressed me right away about this pedal is the way it retains a natural sound, even when you crank up the 'Rate' and 'Depth' controls to create wavy vibrato.
If I had to choose one significant aspect of the Waza Craft vibrato pedal which differentiates it from other similarly priced models, I'd have to go with the impressive 'Custom Mode'. When this mode is selected, I found the filtered vibrato to be very unique sounding. Coupled with the stellar all-analog circuit design, this mode unlocks the door to a whole new world of vibrato tones, which I'd consider using when playing both lead and rhythm guitar parts.
Who is this best suited for: The VB-2W is ideally suited to guitarists who don't want to be limited to one style of vibrato. It boasts a broad selection of wavy and warbly sounds, and the freedom you have to edit them is very refreshing indeed.
Bottom Line: BOSS' effects pedals are best known for their seemingly unbreakable designs. Nevertheless, the VB-2W is more than just a robust vibrato pedal. With 'Custom' and 'Standard' modes acting as sonic blueprints, the onboard controls and switches can then be used to customize the vibrato-based sounds to suit your style and preference.
6. Fulltone Custom Shop Mini DejaVibe 3
| | |
| --- | --- |
| Estimated Price | $225 |
| Type | Analog |
| Effects | Vibrato, Boost, Overdrive |
| Connectivity | 1 x 6.35mm Jack Input, 1 x Output |
| Power | 9 Volts DC |
My Review: With the Mini DejaVibe 3, Fulltone has taken inspiration from the Univibe pedal from the 1960s. After I learned that the manufacturer had gone all out trying to replicate the circuitry and performance of that classic pedal, I was intrigued to see whether they'd succeeded.
I found that the Mini DejaVibe 3 was surprisingly different from the rest of the vibrato-style pedals I'd encountered before. For starters, it looks and performs similarly to a Cry Baby wah-wah pedal. I wasn't too keen on this design at first, as it seemed slightly unsuitable for producing stereotypical vibrato effects.
However, the pedal began to make more sense to me when I realized it's a combination of vibrato, gain boosting, and overdrive. The rocker plate design can be used to manually create vibrato-like pulsations, and I like the fact that this puts you in the rhythmic driver's seat.
One area in which I found the DejaVibe 3 to be particularly efficient, is when it is paired with single-coil pickups. I came to this conclusion because the added heat it produces blends perfectly with high-output single coils, and increases the power of your tone.
Who is this best suited for: The DejaVibe interacts brilliantly with other modulation-based pedals, particularly phasers and flangers. Consequently, if you own either of these effects, I think you'll enjoy the results you get when combining both or one of them with this Fulltone vibrato/overdrive pedal.
Bottom Line: Now and then, I come across an effects pedal that is very hard to categorize. The Mini DejaVibe 3 initially stumped me, due to its wah-like design, gain-boosting capabilities, and manual style of producing vibrato. After getting to grips with the way the pedal works, I can safely say it's a must-have for guitarists who like to push the boundaries when using effects.
7. EarthQuaker Devices The Depths V2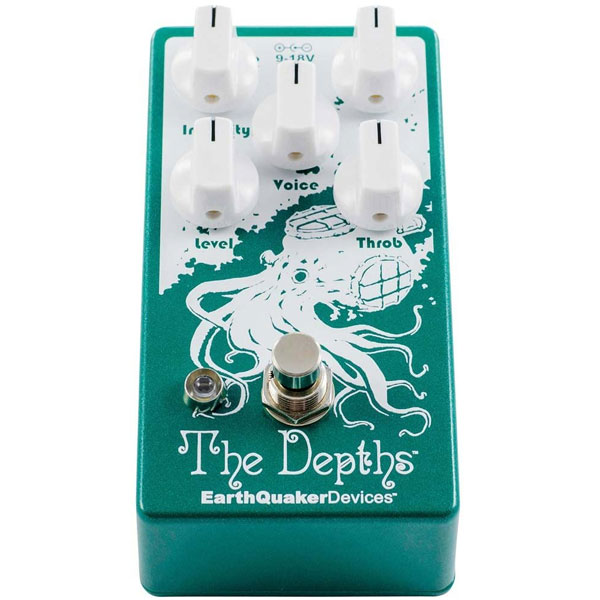 | | |
| --- | --- |
| Estimated Price | $200 |
| Type | Analog |
| Effects | Vibrato |
| Connectivity | 1 x 6.35mm Jack Input, 1 x Output |
| Power | 9 Volts DC |
My Review: Being a huge fan of Jimi Hendrix, I couldn't wait to check out EarthQuaker Devices' vibrato pedal, The Depths V2. I must admit, I had some initial doubts over whether this pedal could succeed where so many before it have failed, in creating an authentic version of the classic vintage optical vibe circuit.
I was instantly drawn to the 'Unique Throb' control. After engaging this feature, the sound of the guitar was thickened with a low-end presence, much like the effect produced by a POG or similar pitch shifting pedal. I was very impressed by the way this feature was able to add a new dimension of bass to the guitar.
However, I wondered how this unique feature would enhance the vibrato-style effect of the pedal. Surprisingly, I found that the pulsating, harmonically rich sweeps produced by The Depths V2 blended effortlessly with the added low-end presence. I believe this could prevent a guitarist from relying too heavily on their chosen octave shifter pedal, which would reduce the need to constantly adjust settings on the pedal.
Who is this best suited for: If you like the sound of swirling modulation made famous by rock guitarists like Hendrix and Gilmour, you'll love EathQuaker Devices' second edition of The Depths. It's the type of pedal that encourages you to explore new sonic possibilities and coin your tone.
Bottom Line: The Depths V2 is a multi-faceted pedal. Not only does it offer traditional vibrato using the conventional 'Intensity' and 'Rate' controls, but it also houses some pretty experimental modulation effects. As a bonus, I'm certain this pedal could also be used with other instruments, such as bass guitars or synthesizers.
8. TC Electronic Tailspin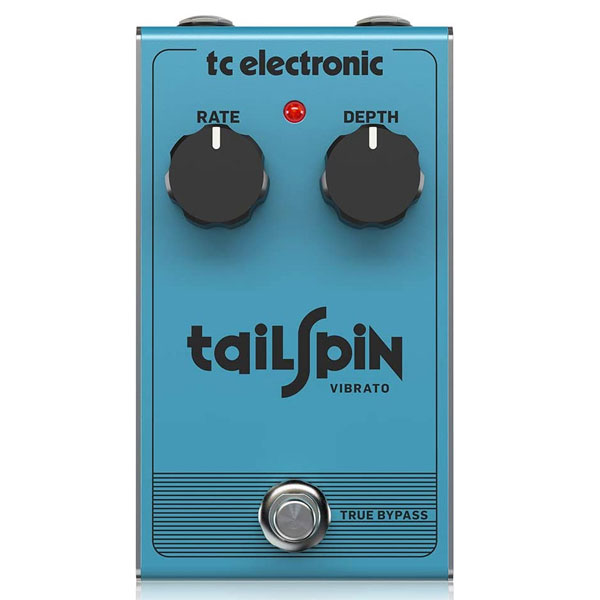 | | |
| --- | --- |
| Estimated Price | $95 |
| Type | Analog |
| Effects | Vibrato |
| Connectivity | 1 x 6.35mm Jack Input, 1 x Output |
| Power | 9 Volts DC |
My Review: Although the Tailspin may look simplistic at first, we were impressed with the diversity of vibrato tones that this compact stompbox has in its locker. Compared to other dual-control vibrato pedals, it offers an abundance of classic pitch modulations to suit every style of guitar playing.
The main thing which I found separates this TC Electronic pedal from the rest and makes it stand out, is its remarkable ability to mimic the sound of a warped vinyl record. AlthoughI must admit I've never used that type of vibrato on my guitar before, after testing it out I understand how effective this unique feature could be for lo-fi styles.
Who is this best suited for: Although you can use the Tailspin to create any variation of vibrato, I'd recommend it highly to guitarists who are searching for a subtle, authentic-sounding pedal.
Bottom Line: TC Electronic offers several great vibrato pedals, but the Tailspin is certainly unique when compared to their other offerings. The seemingly minimalistic 2-control design is deceptive, as tweaking these settings has dramatic effects on the vibrato which is produced.
9. Fender Bubbler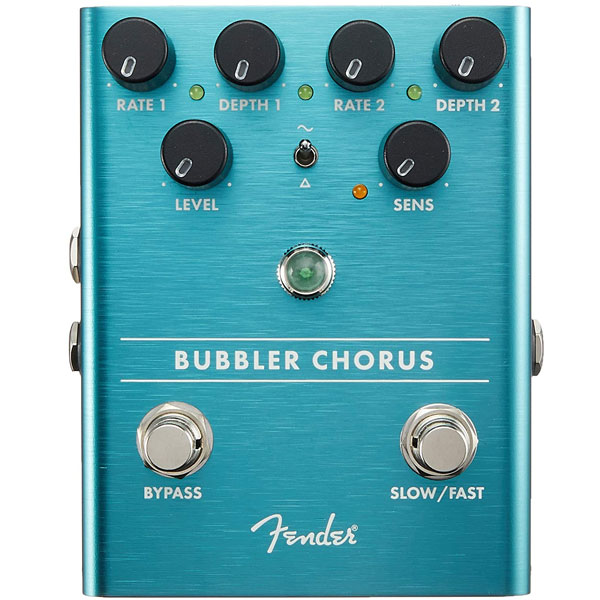 | | |
| --- | --- |
| Estimated Price | $150 |
| Type | Analog |
| Effects | Vibrato, Chorus |
| Connectivity | 2 x 6.35mm Jack Input, 2 x Output |
| Power | 9 Volts DC |
My Review: At Guitar Lobby, we are huge fans of Fender. Although they're certainly best known for their stellar axes and amplifiers, I've been impressed by their expanding range of effects pedals. The Bubbler is technically a chorus pedal, but it also offers vibrato. Initially, I found the onboard controls to be a little confusing, mainly due to their labeling. However, after familiarizing myself with their functions, I was able to create sweet combinations of warbly chorus and immersive vibrato.
I found the standout quality of the Bubbler to be its waveform selector switch. This is the secret weapon of the pedal, and I was immediately impressed by the way it completely transformed the chorus and vibrato effects from smooth to jagged, both rhythmically and tonally.
Who is this best suited for: The Bubbler by Fender is best suited for musicians who like to control every aspect and detail of their processed tone. The six onboard controls may take a little figuring out, but once you've got the hang of them you'll have a plethora of modulated sounds at your disposal.
Bottom Line: Classy, elegant, and highly reliable, the Fender Bubbler is one of the best chorus/vibrato combo pedals money can buy. I found that it sounds great when placed in several positions in the signal chain, which is quite a rare attribute for a modulation pedal to have.
10. Strymon Ola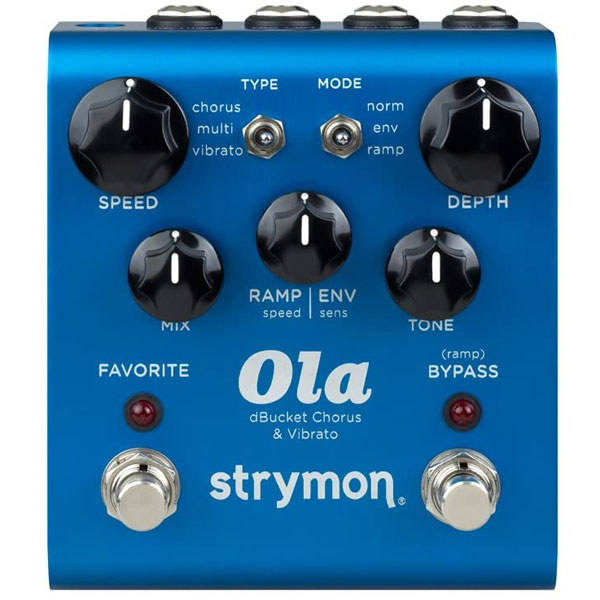 | | |
| --- | --- |
| Estimated Price | $300 |
| Type | Analog |
| Effects | Vibrato, Chorus |
| Connectivity | 2 x 6.35mm Jack Input, 2 x Output |
| Power | 9 Volts DC |
My Review: Strymon's boutique effects pedals are certainly more expensive compared to many other brands, but the Ola vibrato proves once again why this is justified. When researching the pedal, I discovered that it sounds great even when the onboard settings are pushed to their extremes.
The build quality of the Ola also impressed me. It's built like a tank, and I found that, unlike some other cheaper vibrato pedals, it produces no noise issues. This pristine and smooth performance is what sets the Ola apart from the vast majority of vibrato devices.
Who is this best suited for: If you're looking for the very best vibrato pedal money can buy, the Ola makes a very good argument for being considered in this category. Despite its sonic complexity, guitarists who perhaps favor simplicity will be encouraged by the easy-to-use controls housed on the pedal.
Bottom Line: Offering high-quality chorus and vibrato, Stymon's exquisite Ola is one of the best modulation pedals I've encountered. The five rotary controls give you complete dominion over the nature of the vibrato or chorus effects, and I believe this pedal will perform equally well in the studio as it does in a live performance environment.
11. EarthQuaker Devices Aqueduct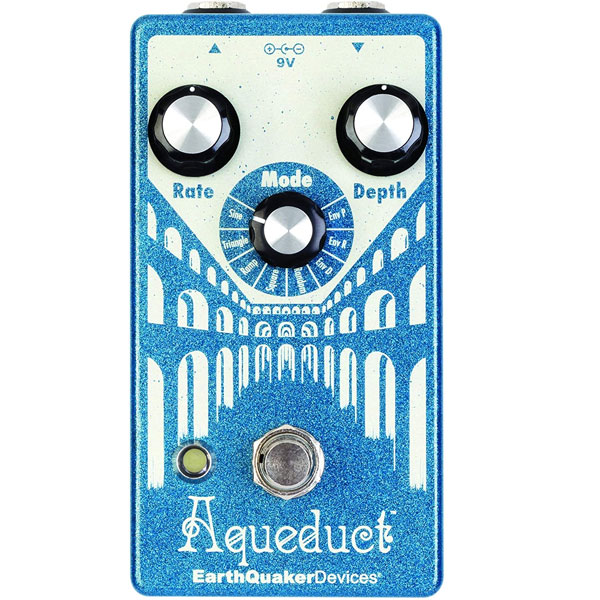 | | |
| --- | --- |
| Estimated Price | $200 |
| Type | Analog |
| Effects | Vibrato, Pitch Shifter |
| Connectivity | 1 x 6.35mm Jack Input, 1 x Output |
| Power | 9 Volts DC |
My Review: My first impression of the Aqueduct by EarthQuaker Devices was positive, but I did find the sheer volume of selectable presets to be a little overwhelming. Despite this, I found that the pedal's sonic capabilities are second to none.
I must point out that this pedal is stereotypically digital. It's therefore unfair for me to compare it to all-analog devices, like EarthQuaker's The Depth V2, for example. For creating experimental tones such as a warped record sound, the Aqueduct delivers brilliantly. I do wish that the manufacturer had addressed the issue of latency though, as this became apparent when pushing the controls to their limits.
Who is this best suited for: If you're looking for a viable method to spice up your chord sequence, the Aqueduct is a great choice. Its onboard 'Momentary' switch is a highly effective tool for adding a sense of motion to your rhythm guitar playing.
Bottom Line: The main role of a Vibrato pedal is to retain the tone of the guitar as much as possible while increasing the decibels enough to have a noticeable effect. The Decibel Plus by Wampler ticks both of these boxes. With a simplistic single-knob design, it's extremely easy to use and provides a reliable Vibrato when you need a little extra headroom.
12. Fulltone Custom Shop Mini DejaVibe MKII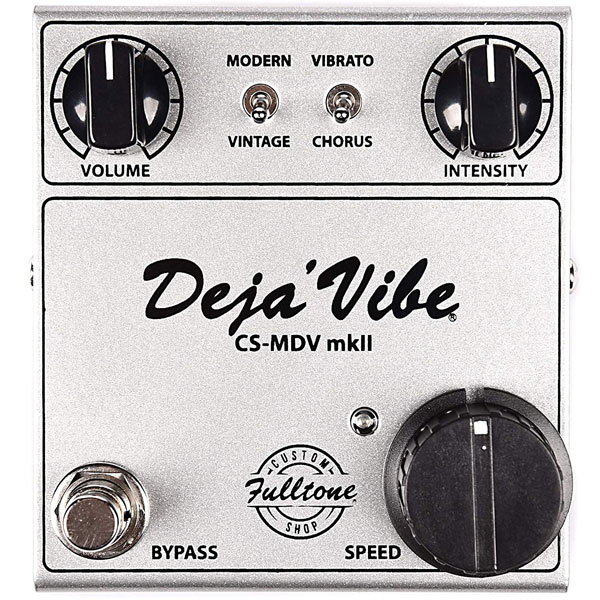 | | |
| --- | --- |
| Estimated Price | $210 |
| Type | Analog |
| Effects | Vibrato, Chorus |
| Connectivity | 1 x 6.35mm Jack Input, 1 x Output |
| Power | 9 Volts DC |
My Review: We've already discussed the Custom Shop Mini DejaVibe 3, but the previous model, the MKII also deserves a mention. Compared to the new edition, I found the MKII to be more focused on producing vintage vibrato and chorus, and this is also apparent in its retro aesthetics. Fulltone ambitiously set out to replicate the Univibe pedals of the glory days of rock n' roll, and I am quite impressed by how close they've managed to get.
The thing which makes this pedal stand out is the large 'Speed' control in the bottom right corner. This rotary knob has the largest impact on the vibrato and chorus sounds, and due to its large size, you can adjust it using your foot rather than needing to bend down and use your hands.
Who is this best suited for: I'd highly recommend the DejaVibe MKII to guitarists who want to create classic vintage tones, with warm, sweet-sounding modulation. If you're considering adding a chorus pedal to your collection, this Fulltone offering will save you money and space on your pedalboard.
Bottom Line: At the heart of the DejaVibe MKII are two switches, which are used to toggle between 'Modern', 'Vintage', 'Vibrato' and 'Chorus' presets. Once the desired effect has been chosen, the three parameters can then be adjusted to intensify or lower the prominence of the modulation. We found that this simplistic yet versatile operation is a major selling point of the DejaVibe MKII.
13. DigiTech Ventura Vibe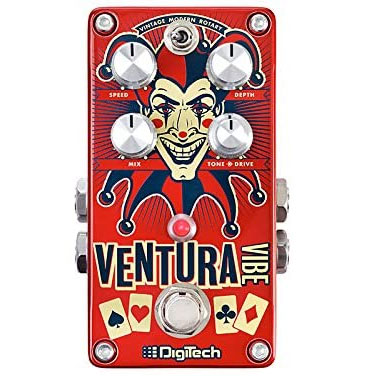 | | |
| --- | --- |
| Estimated Price | $100 |
| Type | Analog |
| Effects | Vibrato, Rotary |
| Connectivity | 2 x 6.35mm Jack Input, 2 x Output |
| Power | 9 Volts DC |
My Review: After analyzing the Ventura Vibe by DigiTech, I was blown away by the extremely warped tones this little stompbox was able to produce. One of my most significant findings was that this pedal does not perform to the best of its abilities when used in mono – to get the best out of it it must be used as part of a stereo setup.
Perhaps the thing which impressed me the most about this device is its transparency. The original guitar tone is not altered in any way, and I found that the effects applied simply add new layers to the signal, rather than obliterating it as some modulation pedals tend to do.
Who is this best suited for: The Ventura Vibe is best suited to guitarists who use a stereo amp rig. It performs brilliantly when used in the effect loop section of an amplifier, so if you use this feature, I'd recommend considering this DigiTech offering.
Bottom Line: Eccentric in design, the Ventura Vibe produces a range of boundary-pushing vibrato tones. With a simple four-control layout, it's very easy to accustom yourself to the various functions of the pedal, and it also has adequate in/outputs for versatile connection methods.
14. TC Electronic Shaker Mini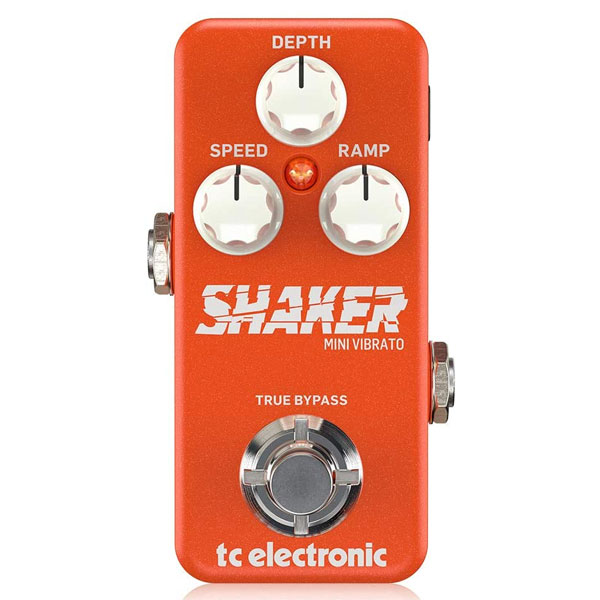 | | |
| --- | --- |
| Estimated Price | $80 |
| Type | Analog |
| Effects | Vibrato |
| Connectivity | 1 x 6.35mm Jack Input, 1 x Output |
| Power | 9 Volts DC |
My Review: The Shaker Mini is a condensed version of the full-sized pedal I covered earlier in this article. I was expecting its functionality to be limited in comparison but was surprised to find that this compact stompbox produces vibrato ranging from gentle pulsation to otherworldly swirls.
The TonePrint feature is enabled on the Shaker Mini, and this is what sold me on the device. Despite its reduced size, I found that by using the TonePrint software to add more presets to the pedal, I was able to access an expansive selection of vibrato and chorus tones.
Who is this best suited for: I'd recommend the Shaker Mini to guitarists who are running out of space on their pedalboard but still want access to the lush chorus and vibrato tones.
Bottom Line: With its simplistic yet effective design, the Shaker Mini manages to provide all of the basic vibrato options a guitarist could need while remaining impressively compact.
15. Origin Effects MAGMA57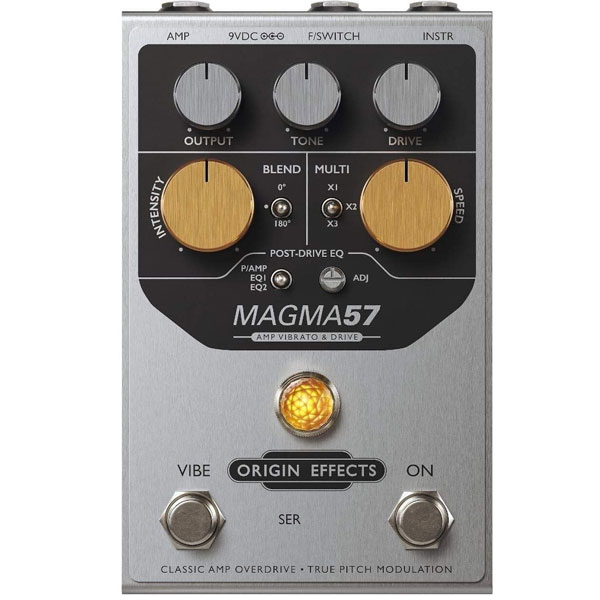 | | |
| --- | --- |
| Estimated Price | $460 |
| Type | Analog |
| Effects | Vibrato, Overdrive, Tremolo |
| Connectivity | 2 x 6.35mm Jack Input, 1 x Output |
| Power | 9 Volts DC |
My Review: At Guitar Lobby, we love boutique effects pedals, and Origin Effects are undeniably one of the very best at producing them. The MAGMA57 instantly caught my attention with its classy, retro design, and I was eager to check out its sonic capabilities.
It became apparent to me that the tremolo and vibrato effects included on the MAGMA57 were in a different league to most other pedals. The Leslie-like effect is a difficult form of vibrato to pull of, but Origin manages to do so exquisitely, and this standout tone with its distinctive bass cut sounds impeccable when paired with reverb or delay.
Who is this best suited for: The price tag of the MAGMA57 may deter some people, but if you're looking for the very best vibrato pedal out there, I believe there's a strong argument that this is it!
Bottom Line: Housing warm overdrive, choppy tremolo, and smooth rhythmic vibrato, the MAGMA57 by Origin Effects is a joy to behold. Its highly durable chassis ensures longevity, and the tones thing produces are to die for!
16. Electro-Harmonix Good Vibes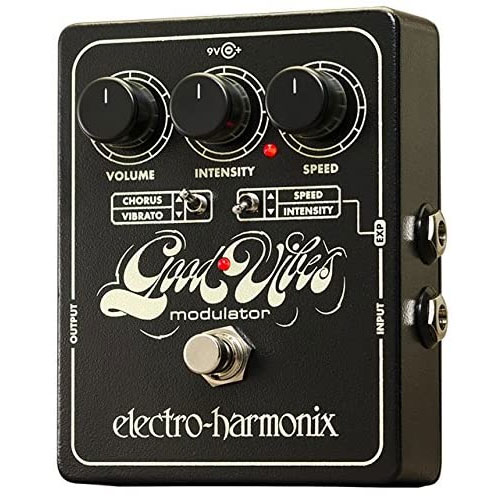 | | |
| --- | --- |
| Estimated Price | $200 |
| Type | Analog |
| Effects | Vibrato |
| Connectivity | 2 x 6.35mm Jack Input, 1 x Output |
| Power | 9 Volt DC |
My Review: I'm always excited by pedals that claim to recreate classic 60s tones, but this excitement can easily turn into disappointment. However, that was not the case when I encountered the Good Vibes by stompbox extraordinaire, EHX.
I found this pedal to be fairly straightforward, in that its vibrato and chorus tones can be placed into two categories. When the 'Speed' and 'Intensity' settings are pushed beyond halfway, I discovered that the Good Vibes produces some pretty extreme modulation-based sounds. By reducing the values, you get regular warbling and pulsation.
Who is this best suited for: If you prefer all-analog effects pedals, the EHX Good Vibes will likely be of interest to you.
Bottom Line: Good Vibes by Electro Harmonix goes beyond the capabilities of most of the vibrato pedals in its similar price range. With a pair of switches and three rotary controls, there's plenty of space for editing the effects to suit your liking.
17. Moen MO-VB2 Shaky Jimi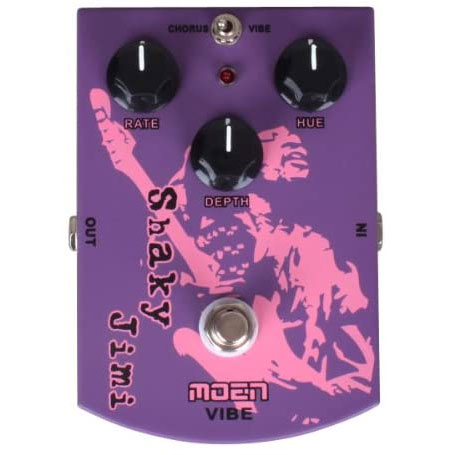 | | |
| --- | --- |
| Estimated Price | $65 |
| Type | Analog |
| Effects | Vibrato, Chorus |
| Connectivity | 1 x 6.35mm Jack Input, 1 x Output |
| Power | 9 Volts DC |
My Review: Admittedly, I was unfamiliar with Moen until I encountered the MO-VB2 Shaky Jimi. I quickly discovered that this pedal is a great affordable alternative that compares to other vibrato devices favorably.
I believe the pedal could benefit from an additional control to adjust the frequency range that the vibrato effects, but other than that, I found it to be a solid offering for the price.
Who is this best suited for: Fans of Hendrix-style vibe tones will enjoy the Shaky Jimi by Moen. It's also a great option for those shopping on a tight budget.
Bottom Line: The Shaky Jimi is a flamboyant vibrato and chorus pedal, and can be used in several ways. Firstly, it is capable of adding smooth undertones to your guitar's signal. Alternatively, you can crank up the three controls to gain access to a world of strange modulation sounds.
Choosing the Right Vibrato Pedal (Buying Guide)
Vibrato pedals fall into the category of effects which in my opinion, aren't given the credit they deserve. This age-old effect has provided us with some of the most iconic guitar tones of the past century, and it still has a lot to offer the modern guitarist today.
Although it's possible to create vibrato using the onboard effects on some tube amplifiers, having this effect in pedal form allows you to use it in several different ways. You can create mind-bending dynamic fluctuations, or simply add smooth variation to your guitar's clean tone.
These versatile pedals should be considered by all guitarists who love vintage tones. In the remaining sections of this guide, I'll provide you with a breakdown of each aspect of vibrato pedals so that you can learn more about this underrated effect.
Vibrato Pedals Explained
Vibrato is an effect used by musicians and vocalists well before the invention of pedals. It is created by pulsating variations in the pitch of a sound, centered around the desired note. The speed of these variations is commonly known as the 'rate' when discussing vibrato pedals, while the 'depth' describes the extremeness of the variations in pitch.
Vibrato can be naturally produced by singers, and musicians who play string instruments can also create the effect by bending the strings on their instrument or bowing its neck. Vibrato is commonly grouped with tremolo, which is a similar effect.
The key difference between vibrato and tremolo is that the latter effect produces quicker modulations of the signal's dynamics and pitch. Vibrato tends to be a less intense effect, which has slower pulsation variations of pitch.
In pedal form, vibrato is usually designed similar to a delay pedal. It utilizes an LFO (low-frequency oscillator) which is a mechanism that controls the modulation of the delayed signal's timing. However, unlike delay pedals, vibrato pedals don't use the feedback loop and therefore the delayed signal doesn't get repeated over and over again.
Common Controls on Vibrato Pedals
Depedinging on the extensiveness of a vibrato pedal, it's likely to feature a selection, if not all of the following controls and parameters:
Depth
Rate/Speed
Mode
Tone
The 'Depth' control on a vibrato pedal affects how much the pitch is caused to vary as a result of the effect being applied. It triggers the LFO to change the amount of time that the signal is delayed within the circuit.
'Rate/Speed' controls affect the LFO's frequency, which causes the pitch fluctuations to speed up or slow down depending on the settings. This can be used to create a fast wobbling effect, or slower, more gradual pulsations.
If a vibrato pedal includes a 'Mode' control, this is likely to be used to change the function of a footswitch. It may allow you to access certain vibrato presets, or if the pedal has multiple effects, to toggle between them quickly.
The 'Tone' control doesn't affect the vibrato, but it causes the pedal to interact with specific frequency bands produced by the guitar's signal. In this way, it acts as a 1-band EQ or filter.
Compared to other effects, vibrato pedals are generally very easy and uncomplicated to use. They feature a stape group of simple controls that don't take a long time to familiarize oneself with. This simplicity is refreshing, especially if you use many other pedals which require more knowledge and research to adjust.
Vibrato Pedals in the Record Studio
Whereas some effects are best suited to the stage, vibrato pedals are equally as useful in the recording studio as they are in a live performance setting. The effect can be used both subtly or for more extreme results, and therefore it can be a valuable tool to shape your guitar tone when laying down tracks in the studio.
When it comes to using your vibrato pedal for recordings, there are two methods you could potentially use. The first is more conventional and consists of simply recording the output from your amplifier's speaker using a microphone. The vibrato pedal's signal is outputted into the amp's input, and the effect is applied directly to your amplified guitar tone.
If retaining maximum consistency between your tone onstage and in the studio is important to you, then using this method will provide you with the closest results, providing you're using the same amp settings in both scenarios. You'll need to connect a mic to your interface, place it somewhere in front of the amp's speaker, and simply hit record.
The second method you can use is to directly send the output from the vibrato pedal into the input on your audio interface. This bypasses the need for an amplifier or microphone and consequently produces a raw, uncolored tone from your guitar.
The obvious benefit of directly recording the sound from your vibrato pedal is that you won't need to lug your amplifier, mic, and mic stand around with you wherever you want to lay down a guitar track. If you like to set up makeshift recording spaces on your travels, you'll likely want to keep equipment to a minimum, and this method certainly provides that perk.
If you decide to record your vibrato pedal using an amplifier, you should be aware that both the amp and the microphone you choose will naturally cause alterations to the tonal aspects of the signal. Factors like whether your amp is solid-state or tube, and whether you're using a condenser microphone or a dynamic microphone will largely impact the recordings you make.
Interfaces do color the guitar's tone slightly, but on the whole, they tend to stay true to the natural sound of the pickups interacting with the vibrato pedal. If possible, I'd recommend experimenting with both of these methods to discover which works best for your recording needs.
One last thing to bear in mind regarding recording your vibrato pedal is that it's much easier to retrospectively apply effects and other processing methods to your recordings when you use the direct input method. Again, this is because there is no overdrive, distortion, or dramatic coloration caused by the amplifier and microphone you choose.
Buffered vs. True Bypass Vibrato Pedals
Effects pedals weren't always the efficient, low-noise devices that we take for granted today. When they were first invented, guitarists had to put up with unwanted noise issues which plagued the clarity of their tone. It was commonplace for effects pedals to produce a certain amount of buzzing or other electronic noises, and this problem was amplified the more pedals a guitarist used.
Effects pedal designers eventually discovered two effective methods for reducing noise and signal strength problems within an effects signal chain – buffered and true bypass pedals. In the modern era, the vast majority of pedals use either of these designs to keep noise issues to a minimum.
When searching for your vibrato pedal, you might have noticed that some are labeled as 'buffered' while others are labeled as 'true bypass'. It's important to understand how each type of vibrato pedal functions, and the benefits and drawbacks they bring to the table.
True bypass vibrato pedals are designed to allow the guitar's signal to freely flow through the electronic components of the device when the pedal is disengaged. This results in the guitar's tone and signal strength being preserved. This type of pedal is most effective when the total cable run of your effects signal chain is under 18.5ft.
Moving on, a vibrato pedal which includes a buffer attempts to reduce noise and signal strength issues but uses a different technique. Rather than allowing the signal to flow through the pedal, buffers boost the strength of the signal. The strengthened signal is then able to retain its volume, dynamics, and tone whether the pedal is turned on or off. The buffering process happens constantly, regardless of the on/off status of the pedal.
How do you decide which type of vibrato pedal is best for you? Thankfully there's an easy way to do this. If you use an extensive selection of effects pedals in your signal chain, and therefore your total cable length exceeds 18.5 ft, relying on true bypass pedals will likely cause your signal strength to be compromised at certain points in the chain.
If your total cable run is relatively short, there should be no problems caused by using a true bypass vibrato pedal alongside other true bypass effects. For longer signal chains, you should consider incorporating some buffered pedals into your setup.
A buffered vibrato pedal will ensure that the signal receives an adequate boost, and therefore the rest of your pedals will benefit from this. The dynamic and tonal qualities of the guitar's signal will likely be maintained by using a buffered vibrato pedal.
Perhaps the most effective method would be to combine a selection of true bypass and buffered pedals in your signal chain. One thing to bear in mind if you do choose to do this is that it's recommendable to begin your signal chain with a buffered pedal. This is because they provide an initial boost to the signal before it reaches any of the other pedals, ensuring its power and clarity.
Where Should You Place a Vibrato Pedal in Your Signal Chain?
If you've amassed a selection of several effects pedals, you'll need to consider the position that you choose for your vibrato pedal so that it interacts with other effects to create your desired results. There are some conventional rules which are generally accepted by guitarists, but you should feel free to deviate from the norm if you want to experiment with different positions.
Vibrato pedals fall into the category of modulation effects because they cause fluctuations in the dynamics of the guitar's signal. Generally speaking, modulation effects are positioned after distortion effects in the signal chain, before delays and reverbs. This is considered to produce the cleanest, most conventional results.
A signal chain usually begins with the tuner pedal, which is followed by any dynamic-based effects such as compressors, EQ, booster pedals, and noise gates. These pedals are most effective when they interact with the clean signal from the guitar, as this allows them to prepare the dynamic range for the more transformative pedals which succeed them.
After dynamic-based pedals, distortion-based pedals, such as fuzz or overdrive are usually placed. These effects increase the gain of the signal dramatically, but if modulation, reverb, or delay are positioned before distortion, things can get a little unpredictable! With that being said, many iconic guitar tones have come into existence as a result of musicians abandoning this rule of thumb.
Modulation effects, which include chorus, phaser, flanger, and of course vibrato pedals, are then placed after distortion. This ensures that the tone-bending effects don't create chaos when the gain-boosting pedals are engaged. Finally, delay and reverb commonly complete the signal chain.
The signal chain order I just described to you is designed to allow each effect to interact with the whole chain in the cleanest, most predictable manner possible. However, I'd encourage you to experiment with the position of your vibrato pedal and all of your other pedals for that matter. Experimenting can provide you with valuable insights and discoveries on how effects interact with each other, and how to create specific guitar tones.
Vibrato Pedals in the Effects Loop
If your amplifier has an effects loop, or send/return as it is commonly referred to as you could consider placing your vibrato pedal within that signal chain. Effects loops essentially allow you to isolate certain pedals from the general signal chain, which provides several benefits.
Let's say that your vibrato pedal is being overly influenced by the other effects in your signal chain, and therefore its results are less prominent than you'd ideally like them to be. By placing the vibrato pedal in the signal chain, you can prevent it from being subjected to the other effects which are causing the issue.
One common use of an amplifier's effects loop is to place reverb and delay pedals into them. This is because these two pedals are generally considered to have the most dramatic effect on the guitar's tone, affecting the timing, decay, and sustain of the notes played.
Not all amplifiers provide an effects loop, but if yours does then I'd highly recommend trying to use it. This will ultimately allow you to create the exact tones you envisage and ensure that your effects pedals work to the very best of their abilities.
Dual Output Vibrato Pedals
Another common feature you're likely to encounter when searching for a vibrato pedal is the addition of a second output. This is especially common on larger vibrato pedals, and it essentially allows you to split the output signal of the pedal, sending two identical signals to two different inputs.
Rather than simply outputting the signal from the vibrato pedal directly into the input of another pedal in your effects chain, or into the input of an amplifier, utilizing the second output on the pedal facilitates using a second amp, or using an effects loop.
If you've never come across dual-amp guitar rigs or effects loops before, you're probably wondering why you would need to use them. In reality, using two amplifiers rather than relying on one opens up a new realm of possibilities when it comes to using effects like vibrato to color the tone of your guitar.
A vibrato pedal with two inputs can be used to split the signal, sending the output directly into the second amplifier. This means that you can deliberately choose which pedals are included in your effects loop. The signal is then transmitted to the second amplifier's input. A common way that this is used is by sending the 'wet' signal which includes most of your effects into one amp, whilst retaining the clean tone of your guitar in the other amp.
Not only does this offer the benefit of allowing you to be deliberate with the way your effects pedals interact with the amplifiers, but it also improves certain aspects of your tone in general. For example, if you are playing a solo, this might lead to the overall thickness of your guitar tone being diminished.
By making use of the dual outputs on a vibrato pedal, you can allow your clean tone to be playing underneath your wet tone, which creates a certain double-tracking effect, thus lessening the impact of your chords or melodies dropping out while you play a guitar solo.
Power Requirements
The vast majority of vibrato stompboxes require 9 volts of DC for power. There may be some rare vibrato pedals, perhaps which offer multiple additional effects, that require 12 volts or even 18 volts DC. Some vibrato pedals come with a singular power supply which can be simply connected to the power input of the pedal and then plugged into the mains power.
If you're integrating a vibrato pedal into your effects signal chain, the most effective way to power all of the pedals is by using a PSU (power supply unit). This device allows you to provide the necessary voltages to each effect while using one local supply of power. PSUs are also commonly referred to as "power bricks" due to their shape.
One of the main advantages of using a power supply unit with your vibrato and other effects pedals is that it saves a lot of time and effort. Most PSUs can be mounted to your pedalboard using Velcro or some other sticking method, and therefore the power cables can remain connected to your vibrato pedal and other effects so that they're ready to use right away.
In addition to powering your vibrato pedal using a power supply unit, you may also find that certain models can be powered using a 9-volt battery. This makes it possible to use the pedals when you don't have access to mains power, for example when busking.
The issue with relying solely on battery power when using your vibrato pedal is that there's always the chance that it will run out midway through performance, rehearsal, or recording session. Consequently, a more reliable method would be to combine the use of batteries with a PSU whenever possible. That way, if one power source cuts out, the other is there to pick up the burden and your guitar playing won't be interrupted!
Wrap Up:
Vibrato is one of the most used effects ever to be discovered, and its popularity continues decades after it was popularized on vintage tube amplifiers. Although there are certainly more extreme effects pedals out there, the subtle effect that vibrato pedals have on a guitar's tone can take it to a new sonic level.
Hopefully, this guide has provided you with all of the information you need to make a calculated decision when choosing the perfect vibrato pedal to add to your signal chain. Enjoy experimenting with your new device!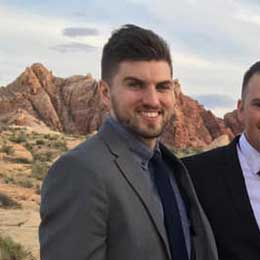 My name is Chris and I've had a passion for music and guitars for as long as I can remember. I started this website with some of my friends who are musicians, music teachers, gear heads, and music enthusiasts so we could provide high-quality guitar and music-related content.
I've been playing guitar since I was 13 years old and am an avid collector. Amps, pedals, guitars, bass, drums, microphones, studio, and recording gear, I love it all.
I was born and raised in Western Pennsylvania. My background is in Electrical Engineering, earning a Bachelor's degree from Youngstown State University. With my engineering experience, I've developed as a designer of guitar amplifiers and effects. A true passion of mine, I've designed, built, and repaired a wide range of guitar amps and electronics. Here at the Guitar Lobby, our aim is to share our passion for Music and gear with the rest of the music community.