Garth Brooks is the undisputed king of modern country music. It's not even a competition. Ever since he achieved mainstream success in the early 90s nobody has matched his songwriting ability, energy, and live concerts. Maybe you're a big fan, or maybe you're just curious, but in this article, we answer the question, 'What Guitar does Garth Brooks Play?'
Related: What Guitar does Dave Matthews Play?
Garth Brooks' Net Worth
The American Country Music Giant has been selling out any venue he plays for decades. With millions of tickets and albums sold, you can imagine the man is sitting on a pretty nice pile of dough. He has 6 Albums Certified Diamond (10+ Million Albums Sold) and has sold 200 million albums in total.
As of 2020, Garth Brooks' Net Worth is $350 Million.
What Guitar Does Garth Brooks Play?
Alright, now to the reason why you are here. What Guitar does Garth Brooks Play? Now, unlike a lot of mainstream artists nowadays who use a number of different guitars, Mr. Brooks keeps it pretty simple. He uses 2 guitars. One acoustic and one electric.
Garth Brooks Acoustic Guitar 2020
Garth Brooks' acoustic guitar is none other than his signature Takamine. The GB7C Garth Brooks Signature Model is a collaboration between Brooks and Takamine. The GB7C features a solid cedar top, and solid rosewood back and sides. The acoustic-electric is equipped with Takamine's CT4B II preamp and a Palathetic under-saddle pickup.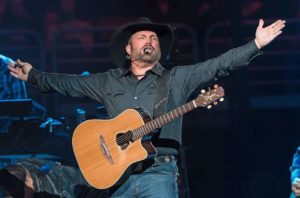 The "signature" and most unique part of Garth Brooks' signature guitar is for sure the sound hole. Instead of the typical circle sound hole that is seen on almost every single acoustic guitar ever made, it has a "dreadnought" shaped sound hole.
Tonally does it make a difference?, maybe, but personally I don't think that is the point. It stands out and it gets the people going, just like Garth Brooks does. Read more about it here.
Takamine Collaboration with Garth Brooks
Garth has been a loyal Takamine player for a long time. And once they become rich and famous, most musicians/ players end up working with their favorite brand to create something special like this so fans can get a piece of the action. You can check out the signature model on the Takamine Website!
Garth Brooks Takamine EN15C
From the Takamine site regarding the collaboration with Garth Brooks after he became a superstar using Takamine:
"Thus began Takamine's ridiculously fortunate relationship with one of the greatest entertainers of all time, Garth Brooks.
Fast forward 1 short year, Garth's second album "No Fences" was #1 on Billboard's Top Country Albums charts and #3 on Billboard's Top 200, where it would stay in the top 40 for 126 weeks. He had become an international star, all the while playing his Takamine EN15C (similar to the current Takamine P3DC Dreadnought). The Takamine cedar top, satin finish cutaway had become an integral part of the Garth Brooks persona – and the Takamine brand had begun the ride of its life."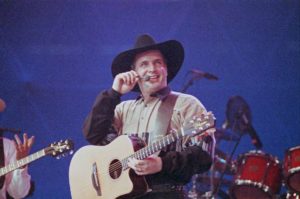 Garth Brooks Electric Guitar
Garth typically stays with the acoustic most of the time, but for several songs, he'll break out an electric for a little extra rockin'. For these occasions, Garth goes with a classic Fender Telecaster with a slight modification. It has 2 P90 pickups and a bridge which is somewhat unusual for Telecasters.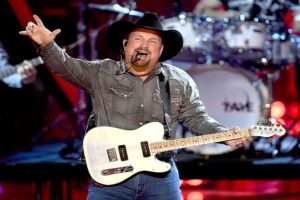 Garth Brooks Notre Dame Guitar
For his epic Notre Dame Stadium show in 2018, Brooks played this custom Notre Dame guitar!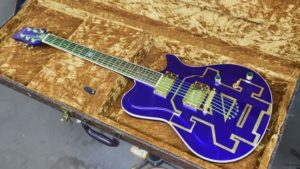 Well, there you have it. Now you know what guitar Garth Brooks plays. His massive stadium tour is still rolling in 2020 and tickets are selling out fast. Check it out here and go watch the greatest entertainer of our time bring the house down! Here's a little something to get you fired up!
Garth Brooks Notre Dame Stadium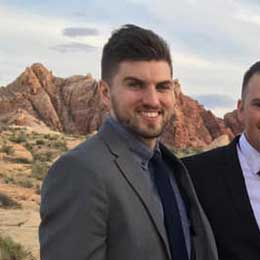 My name is Chris and I've had a passion for music and guitars for as long as I can remember. I started this website with some of my friends who are musicians, music teachers, gear heads, and music enthusiasts so we could provide high-quality guitar and music-related content.
I've been playing guitar since I was 13 years old and am an avid collector. Amps, pedals, guitars, bass, drums, microphones, studio, and recording gear, I love it all.
I was born and raised in Western Pennsylvania. My background is in Electrical Engineering, earning a Bachelor's degree from Youngstown State University. With my engineering experience, I've developed as a designer of guitar amplifiers and effects. A true passion of mine, I've designed, built, and repaired a wide range of guitar amps and electronics. Here at the Guitar Lobby, our aim is to share our passion for Music and gear with the rest of the music community.