Whether you're a guitarist, producer, or vocalist, every musician loves to hunt for new gear. In fact, we've even coined a term for it: GAS, or Gear Acquisition Syndrome! But to feed this lifelong habit, you may also need to sell off your old equipment from time to time. In fact, a well-preserved guitar can fetch you a good price even after you've used it for long. But besides the condition of your music equipment, how much you earn also depends on where you sell it and how long you can hold off for a lucrative deal.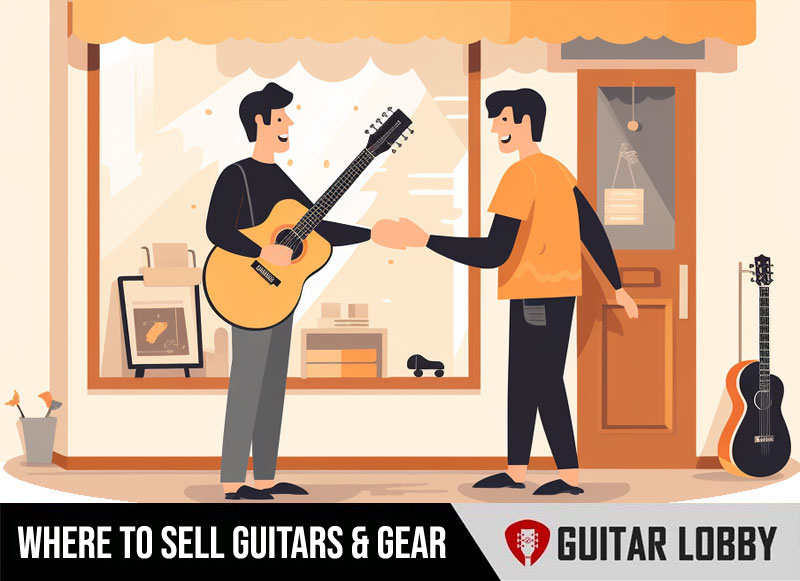 If you're wondering where to sell guitars and music gear, you're in the right place. There are tons of places to sell your gear, both online and offline. If you have time, listing your gear online and waiting around for an offer in line with your item's worth is the best option. However, if you want quick cash, selling offline to music stores is a hassle-free but low-paying option.
In this article, I've put together a list of my top recommendations to help you get a good offer for your pre-loved music gear and make selling a worry-free experience for you. I've also got a list of places to avoid unless you're absolutely hard-pressed for time and money.
1. Reverb (Best for Top Dollar)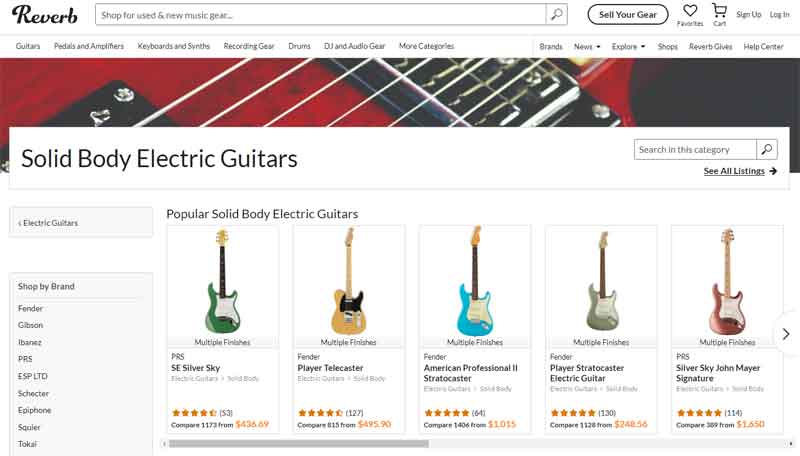 If getting an offer closest to your guitar's current value is what you're after, I cannot recommend a better option than Reverb. It's one of the most popular places to buy and sell used or new gear. From guitars, pedals, and drums to keyboards, synth, and recording gear – you can get a model and make one that fits every budget. I've used Reverb several times over the years to dispose of some of my old gear and had a smooth experience each time. It's 100% dedicated to musicians, unlike marketplaces like eBay and Facebook, where you can buy or sell other stuff apart from musical equipment.
The great thing about a music-only marketplace is that you only get serious buyers who already know the value of what you're selling. Plus, you have Reverb support assisting you every step of the way, from listing to shipping. I found both the website and app super easy to navigate. Setting up a listing doesn't take long, and should you get stuck somewhere, just click on the chat widget right at the bottom to get help.
Another reason millions in the music community throng to Reverb to buy and sell used items is the safety factor. True, you might get a better deal on a place like Craigslist for your guitar because there are no fees. However, not everyone is comfortable meeting with the buyer face to face because of the untoward incidents in the past. Reverb also allows you to sell your gear nationally, increasing your chances of getting a good offer.
When it comes to online marketplaces, high fees are usually the dealbreaker. Not in this case. Reverb takes 5% as the seller's commission (it used to be even lower at 3.5% earlier). But even after hiking the fee, you still end up paying much lower fees to Reverb than any other music marketplace with a similar level of buyer/seller protection. No listing fee or the hassle of renewals tips the scales in favor of Reverb. I mentioned earlier that this place is great if you can afford to wait around to get the price you want. However, if you're in a hurry to sell, I recommend opting for the 'Bump' add-on service that will instantly bring your listing into the radar of thousands of prospective buyers.
| | |
| --- | --- |
| Pros | Cons |
| A marketplace created by musicians for musicians | Smaller platform vs. eBay and Craigslist |
| Low selling fee | Charges selling fee |
| Safe and secure | N/A |
| Allows sellers to transact nationally | N/A |
2. Craigslist (Best for Local Sales)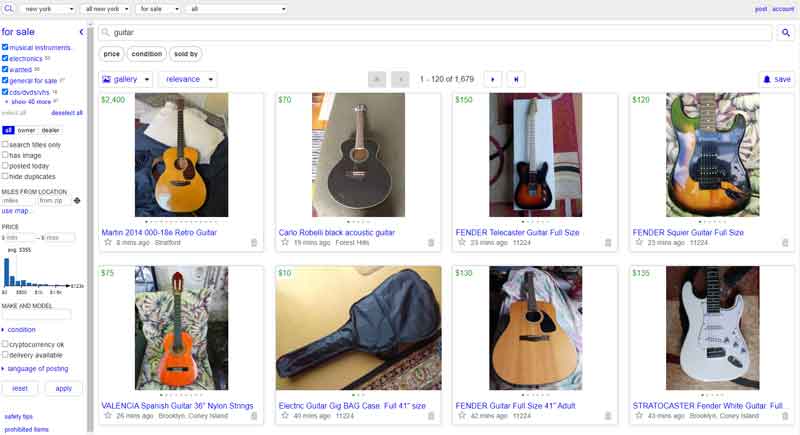 Craigslist's biggest advantage is that it's free. No listing or selling fee. It's also one of the oldest and most locally-focused marketplaces online, where you can buy and sell almost anything. It works like the classified ads in newspapers and is uncomplicated, taking only a few minutes to create a listing. I recommend adding plenty of photographs and a detailed description to attract serious buyers. Also, unlike Reverb, Craigslist posts expire, so make sure you keep renewing them to keep them a part of 'active listings.' Renewals also help bump your listing to the top of the search results.
With Craigslist, you don't need to bother with packaging and shipping since you drop off the gear in person. And since there's no seller's commission or shipping costs, you get to keep every single penny. Once you've agreed to sell to a buyer, you can fix a meeting spot and sell your gear for cash or a check.
Since guitars and music equipment are expensive, the buyer might want to test them out first. However, meeting a prospective buyer comes with its own set of risks. Because, let's be honest, Craigslist doesn't have the best safety record, and it's tricky to make out who you're dealing with. That said, there are ways to ensure a safe selling experience, even on this platform. I've had a few friends who rely on the parking lots of busy and safe spots like the police or a gas station for pickup. You can do the same as a seller – head to a crowded place to hand over your old gear and get paid. If a buyer refuses to meet in public, it's best not to deal with them.
Unlike Reverb or eBay, Craigslist is a local marketplace. So, most of the buying community is from around where you live. In other words, it's a bit limited in its reach, and you might encounter low-ballers or other problematic buyers. If you want to avoid all that, you could try selling on Reverb or eBay. I've also got other options on the list that are super safe to transact on but may not get you the price that Craigslist does.
| | |
| --- | --- |
| Pros | Cons |
| Locally focused marketplace | Not the safest platform |
| No seller's fee or listing fee | Listings expire unless renewed |
| No hassle of packaging and shipping | N/A |
| Easy to use | N/A |
3. Facebook Marketplace (Best for Quick Cash)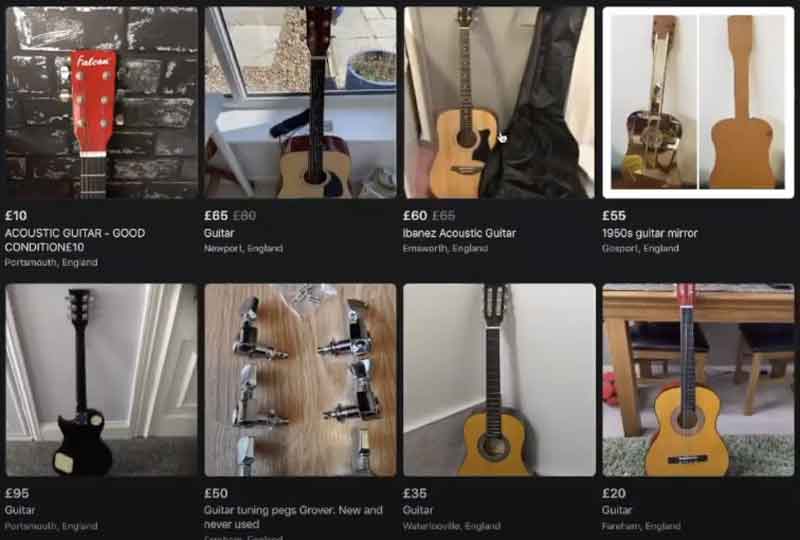 In many ways, Facebook Marketplace offers what Craigslist does – it gets you the attention of local buyers with whom you can meet up and transact at a public place. It's also free to post or sell, and every penny from the sale of your gear stays with you.
You obviously need an active FB account to transact on the marketplace. To start your selling journey, all you need to do is click on the marketplace tab, 'Create New Listing,' and fill in all the relevant details. Make sure you price your gear competitively after researching the trending prices on Reverb, MusicGoRound, eBay, etc. Don't forget to add photos and details of your gear and search tags so that it reaches your target audience.
Even though it's yet to catch up to Craigslist's reach and popularity, I find Facebook Marketplace a great spot to sell my used gear. For starters, it's more trustworthy. Unlike Craigslist, which favors anonymity, you can chat with potential buyers on Facebook chat and also check out their profiles. Another thing that improved my selling experience was the option of posting ads on music-related groups. The ability to post directly to large local groups of fellow musicians gives FB Marketplace an edge over Craigslist for selling music gear. You can also leverage a 'Boost' listing feature for a small fee to reach out to a specific group. In my experience, FB marketplace buyers are often thrifty and looking for a good deal. As a seller, this can be great when you need a quick cash sale. If you're looking to get closer to market value for a more valuable piece, you can certainly find buyers on Facebook, but be prepared to possibly have to decline a few lowball offers before finding a serious buyer.
Those who are reluctant to meet in person can ship the items, although it isn't as straightforward a process as on Reverb. You need to work out the delivery and payment terms with the buyer. Although Marketplace doesn't charge any listing fee, it does take a 5% seller's fee for shipped items. So, if you're opting to ship, I recommend factoring in the shipping costs and seller's fee while pricing your gear. Facebook Marketplace is one of my personal favorite places to sell guitars for cash.
| | |
| --- | --- |
| Pros | Cons |
| Somewhat safer than Craigslist | Relatively new platform |
| Allows publishing on music-related buy-and-sell groups | Seller's fee charged on shipped items |
| No listing fee | N/A |
| Easy-to-navigate interface | N/A |
4. eBay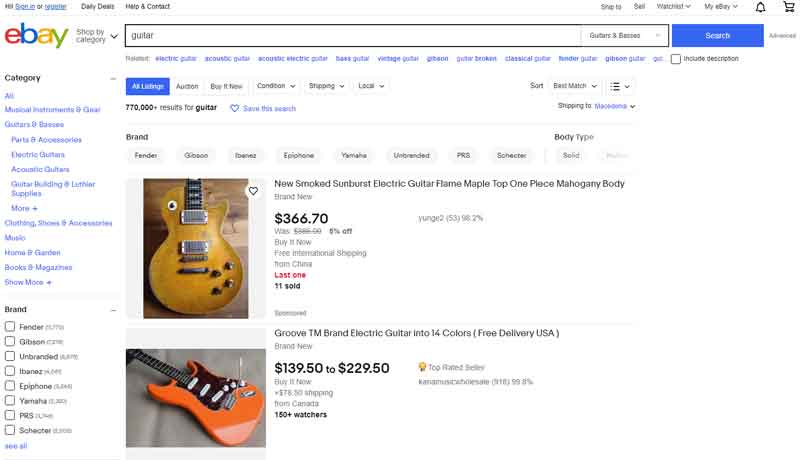 Only a few online marketplaces can match eBay's massive reach. Despite that, people avoid selling their gear on it because of the insane seller's fees. eBay doesn't just take a cut out of the final sale but also the shipping, leaving sellers with slim pickings. While for most items, including music gear, the fee is north of 13%, but for guitars and basses, eBay takes a relatively lower cut at 6.35%. It's still more than what you'd be paying to Reverb.
What works in favor of this platform is its expansive reach. Because it's been around for so long, this platform attracts loads of serious buyers and will get you an offer much quicker than other online platforms. There are a couple of different ways to sell on eBay. You can either auction it or sell it at a fixed price. Although it's a bit of a hassle and would require some research, auctioning your guitar on eBay might fetch you a better deal than selling it at a set price.
It is also very safe to transact since the platform offers outstanding seller protection. When you're listing your guitar, use common search keywords in your title. You can attract good bids by providing as much information about your gear as possible. Posting may attract a small fee on eBay, but only if you've crossed the quota of 250 free listings in a month. Thankfully, these insertion fees don't apply in the Guitars and Basses category, where listing is always free.
Since eBay is a costly platform to sell music gear, it's a good idea to be transparent about the shipping and handling costs or add a shipping calculator in the listing to help your buyers decide if the total cost of your product fits their budget.
| | |
| --- | --- |
| Pros | Cons |
| Safe and established platform | Outrageous seller's fee |
| Wide reach | Seller's fee also charged on shipping costs |
| Auctioning might get you a lucrative bid | N/A |
5. OfferUp (Letgo) Mobile App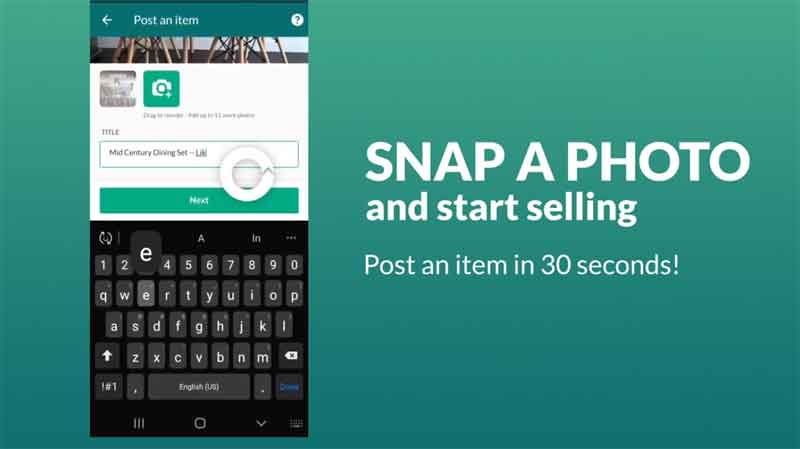 Another place to sell your equipment locally is OfferUp (Letgo). The two Craigslist rivals joined forces in a merger in 2020, giving buyers and sellers a much bigger marketplace. The best part about OfferUp is its incredibly user-friendly app, where listing takes only a few minutes. If you use the app and website only to meet up with potential buyers, you don't have to pay any fee to OfferUp. However, if you decide to ship the item, you'll need to part with 12.9% of the final sale value as a seller's commission. Thankfully, unlike eBay, OfferUp doesn't take a cut out of the shipping costs, which are to be borne by the buyers.
OfferUp is a decent alternative to Craigslist but doesn't offer something spectacularly different when it comes to local sales. However, it is a good option if you want to avoid local meet-ups and instead ship your gear. You can also rely on this platform to ship nationally.
However, I've encountered many lowballers on it, and the ridiculously high seller's fee of OfferUp may not leave you with much after the sale of your pre-loved equipment. I recommend heading to OfferUp only after you've not had any luck on other online platforms. If you plan to target a nationwide audience, you're better off with Reverb.
| | |
| --- | --- |
| Pros | Cons |
| Offers buyer and seller protection on shipped items | High seller fee on shipped items |
| Free listing | Limited reach vs. Craigslist |
| User-friendly app | N/A |
6. Kidd3r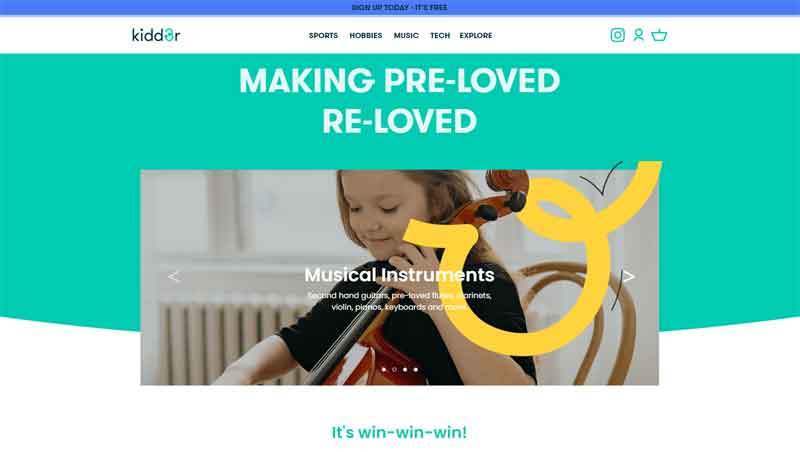 Kidd3r promotes sustainability by allowing users to buy, sell, swap, or donate their old music or sports gear – pretty much all hobby items. With the clue in the name, Kidd3r caters to a specific demographic: kids. The platform is focused on helping children and young adults in the United Kingdom indulge their passions in the most planet-friendly way.
The best part is that Kidd3r doesn't charge a penny to sell or exchange items. All you need to do is set up an account and create a listing. They also recommend factoring in the shipping expenses while pricing your items. The interested buyer then contacts you through the messaging system if they need more information or to work out the delivery arrangement. They then proceed to buy the gear and make the payment online, which gets collected in a system called Stripe and is released to the seller within ten working days of the sale confirmation.
Kidd3r works towards democratizing hobby equipment and lets you donate a portion of your proceeds to one of its partner charities.
| | |
| --- | --- |
| Pros | Cons |
| Safe and trustworthy platform | Present only in the UK |
| Allows users to sell, swap, buy, or donate their gear for free | Relatively new platform |
| Actively working towards easing access to hobby items | N/A |
7. Sweetwater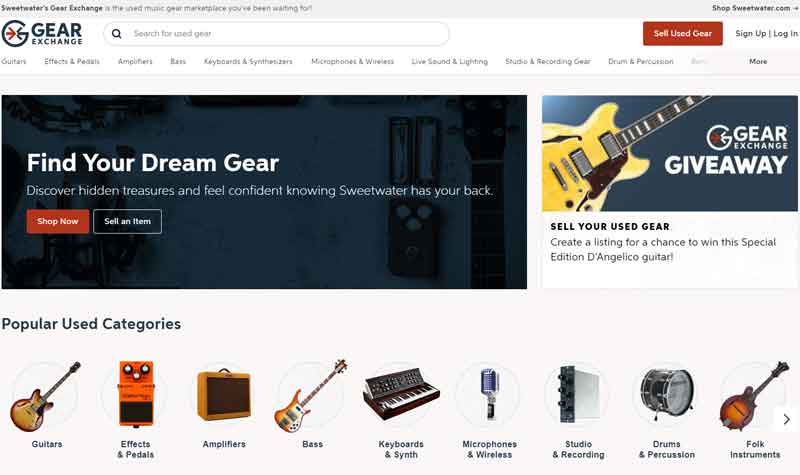 Sweetwater Gear Exchange is a marketplace that lets you buy and sell both new and old music equipment. As one of the largest online retailers of musical instruments and professional equipment in the US, Sweetwater is thronged by millions of music lovers. You wouldn't meet a lot of lowballers or time-wasters here.
You start by creating a listing on Gear Exchange, which is completely free. It's also very easy to post an ad thanks to Gear Exchange's auto-fill specs feature. Next, fix your price smartly and realistically and wait for the offers to roll in.
There are two ways to complete the sale: local meet-ups or online. If you choose to transact via Gear Exchange, you'll end up paying a 2.5% processing fee and 5% seller's commission to Sweetwater. However, if your goal is to buy music gear with the proceeds, you can get paid via Sweetwater Gift Card. The gift card can only be redeemed on Sweetwater.com and not the Gear Exchange. But this is one way to avoid the 7.5% seller's fee entirely.
Another way to get all your money is to select the local pickup option while posting. True, there are safety concerns when it comes to selling in person, but I would rate this platform safer than Craigslist. It so happens that Sweetwater reviews every new user's first listing as a part of its strict buyer and seller protection.
| | |
| --- | --- |
| Pros | Cons |
| Offers buyer-seller protection | Charges 7.5% fee on Gear Exchange transactions |
| No seller's fee on local pickup or Sweetwater Gift Card | Security concerns on local pickup (cannot vet potential buyers) |
| Easy listing with auto-fill specs | N/A |
8. The Music Zoo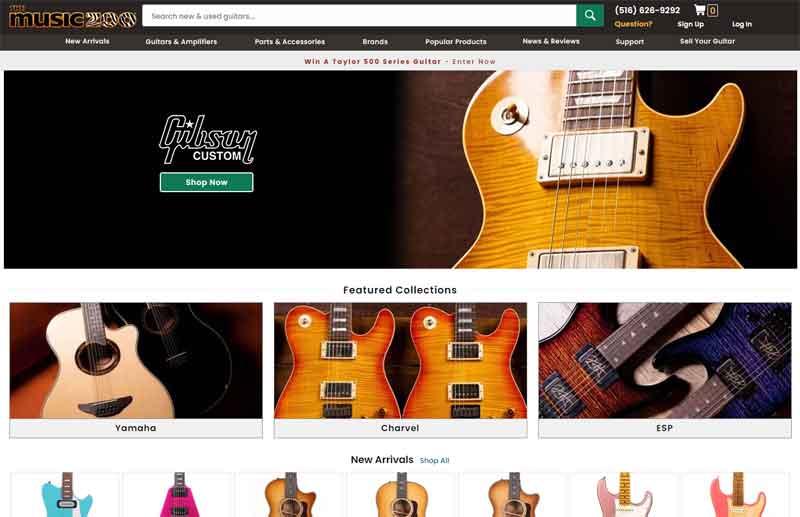 If you have a used guitar, especially a vintage, high-end, or custom build, maybe get an estimate for it at The Music Zoo before listing it in other places. I say this because The Music Zoo is an online guitar store that has been around for over 30 years. They're dedicated to selling guitars. So, if you have any other music gear to sell, I suggest you skip this one. It's not a peer-to-peer marketplace but an online store. You can exchange your guitar for something new, consign with them to get the best possible price, or simply sell it to them if you're in a hurry.
The Music Zoo prefers guitars that are made by boutique or renowned brands and are well-preserved. You'll need to fill out a form detailing the condition of your guitar and ship it to them when you've worked out the specifics of your deal. If you're located near Long Island, New York, you can simply drop off your item at their showroom.
If you're selling outright, you may not get as much margin to negotiate as marketplaces, but you'll still get a better price than if you were to sell to Guitar Center. Plus, selling directly or consigning your guitar to them means there are zero chances of getting scammed. In other words, if the thought of selling your most prized guitars on Craigslist is giving you sleepless nights, it's time to check out The Music Zoo.
| | |
| --- | --- |
| Pros | Cons |
| Offers sales, exchange, and consignment deals | Low payout |
| On-the-spot offer | Only accepts guitars |
| N/A | Accepts only boutique and well-known brands |
9. Gumtree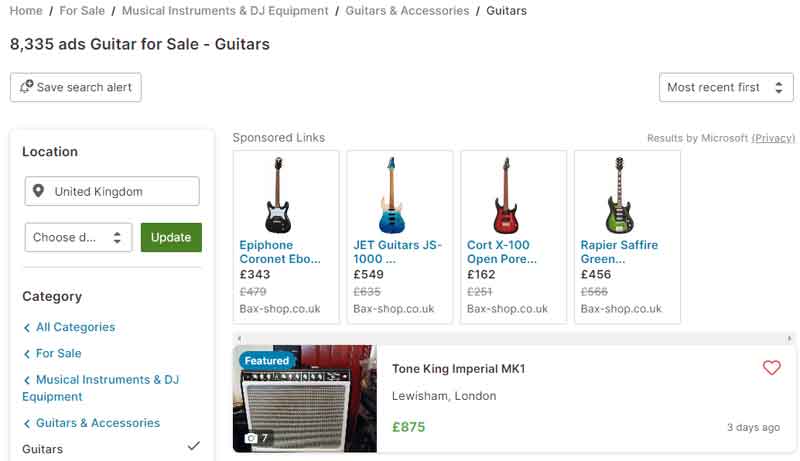 Another place to sell your music gear in the UK is Gumtree. Reach-wise, Gumtree is miles ahead of Kidd3r and is one of the largest classified ads platforms in the country. However, it's not music-centric like Sweetwater or Reverb, and you can buy and sell anything here. You could think of it as an alternative to Craigslist in the UK. In other words, it is a good place for selling budget guitars locally.
If you live in the UK, you could consider posting an ad here along with Facebook Marketplace and eBay to boost your chances of making a speedy sale. It's totally free but still has the same safety concerns attached to it as most peer-to-peer marketplaces. Also, unlike Facebook, you cannot vet the buyer's profile or check if you have any common friends. So make sure you meet in busy, public places and consider taking someone along with you.
| | |
| --- | --- |
| Pros | Cons |
| No fees | Available only in the UK |
| Improves local visibility | No profile (like Facebook) to get more info on the buyer |
10. Guitar Center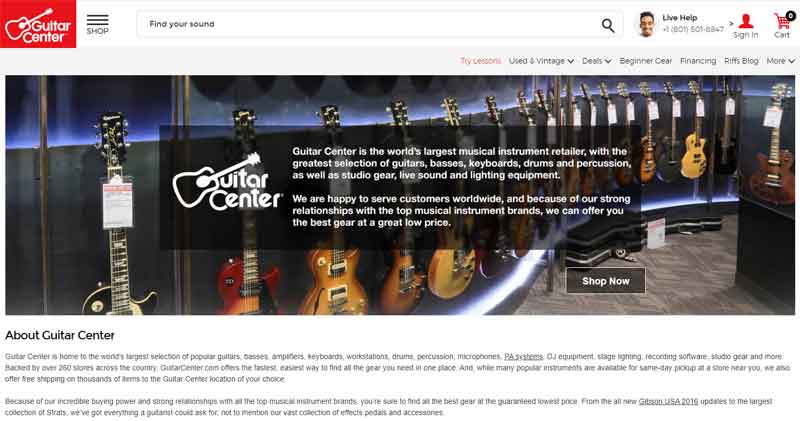 With a well-established online presence and a retail footprint of over 290 stores, there's no doubt that Guitar Center is one of the best places to buy new and used music gear. But I can't say the same when it comes to selling. I've tried selling one of my guitars there in the past. And I know for a fact that you can get a lot more for your gear if you sell it at other online stores and marketplaces.
Depending on the model, make, and condition of your gear, the best you can get from Guitar Center is about 40-50% of what it's worth. They tend to pay much less to sellers than what you would get at the secondhand consumer-to-consumer market. Guitar Center then sells it at a neat profit online or offline. It works out well for them, but not so much for you.
A resource like Guitar Center can be a godsend for those who don't have the luxury of waiting around for a good offer. You can get quick payment with up to $1000 in cash and checks for transactions above $1000. You can even opt for store credit, which can later be used to upgrade your rig. Selling here is pretty straightforward. Just visit their nearest store for in-hand inspection and evaluation. They aren't picky and will buy any used guitars, basses, amps, drums, keyboards, MIDI, effect pedals, and recording gear as long as the item is in good condition and functional. If you're interested, you can check out our full article that breaks down how much Guitar Center pays for used guitars and gear.
| | |
| --- | --- |
| Pros | Cons |
| Quick payment via cash or cheque | Extremely low payouts |
| Can sell online or at 290+ stores | Travel to stores for in-person inspection |
| Not fussy about make or model | N/A |
11. Music Go Round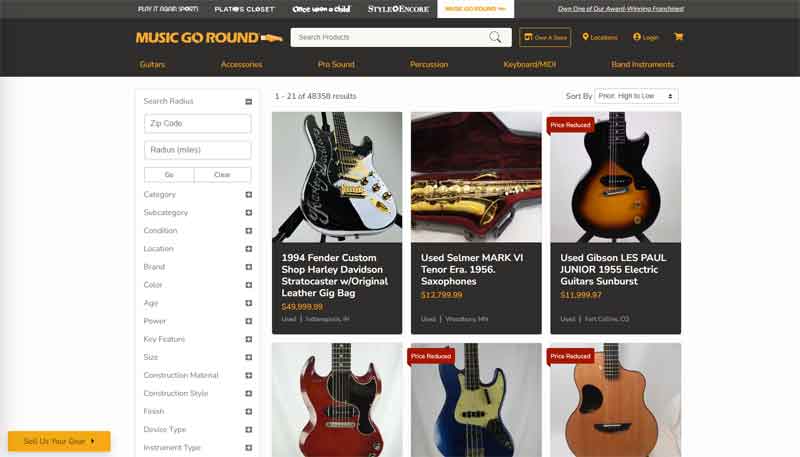 Like Guitar Center, Music Go Round is a fantastic place to buy all sorts of used music gear. But selling there is probably not a great idea. The maximum you would get is only about 50-60% of what your instrument would fetch you in an online marketplace. That said, not everyone is willing to go through the hassle of posting, communicating with strangers, and meeting up. It could be a nerve-wracking experience for some!
Music Go Round is also a good bet if you want to sell your equipment fast. They buy almost every kind of gear, and you get paid on the spot via a check. All you need to do is go over to one of their stores and let the team there evaluate your gear. They come up with an offer based on the condition and the demand for that kind of equipment. You can get a better deal if your gear has all its accessories intact and is fully functional.
| | |
| --- | --- |
| Pros | Cons |
| On-the-spot payment via check | Offers only 50-60% of the current value |
| Not picky about the type of gear, make or model | N/A |
12. Sam Ash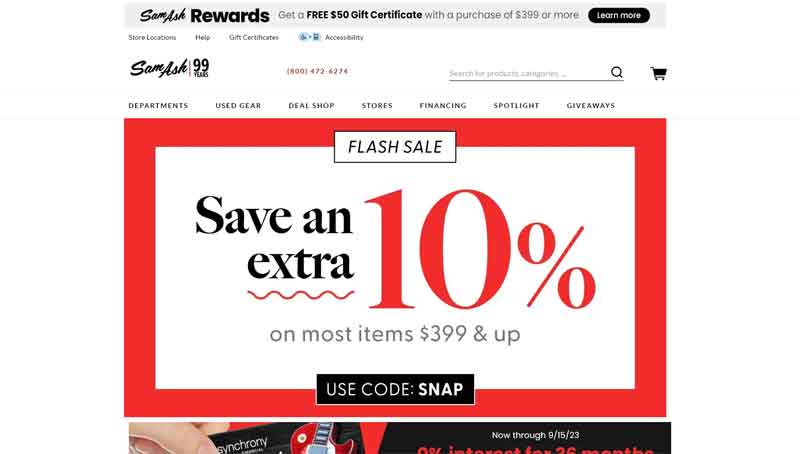 Sam Ash operates on pretty much the same model as Music Go Round and Guitar Center. If you have an old but fully functional guitar or gear lying around, you can take it down to one of their stores and get it inspected by their employee. But first, fill out the online form and get an estimate from them – at least, that's my modus operandi of selling directly to stores. It's always less bothersome than lugging the gear and getting an offer that's too disappointing. Of course, you'll eventually have to drive down to the store to get the item evaluated, but by then, you'd already have an estimate for the gear. So, no unpleasant surprises!
Like other stores, Sam Ash looks at the condition and secondhand value of the gear while making an offer. They would usually offer a price that allows them to make a profit during resale. From my experience, it's usually 40-60% of a comparable listing on a platform like eBay.
| | |
| --- | --- |
| Pros | Cons |
| Quick payment | Offers only 40-60% of current value |
| Accepts most makes and models | N/A |
13. Cream City Music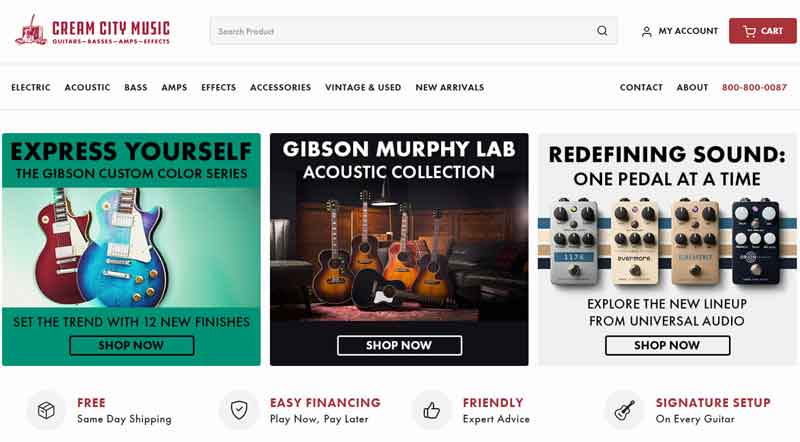 Cream City Music is a popular store based out of Milwaukee, but they boast a nationwide presence for buying and selling used guitars. Again, Cream City Music is only for those who want to sell the item quickly and want to avoid the headache of listing and selling privately. You can sell every type of music gear here, as the store only deals in used and vintage guitars, basses, amps, and effects.
Cream City will accept any make, model, or age. If you live in Milwaukee or Wisconsin, you can travel to their store to sell. If you live elsewhere, you'll need to fill out an extensive form to get an offer from them. If you're looking to sell a premium guitar collection and want a fair price and, most importantly, a safe, scammer-free selling experience, Cream City Music is for you. They'll send over an employee to check the gear in person, no matter where you live in the U.S., and can offer you up to $250,000 on the spot.
| | |
| --- | --- |
| Pros | Cons |
| On-the-spot offer | Low payout |
| Good for selling high-end guitar collection | N/A |
14. Local Guitar Store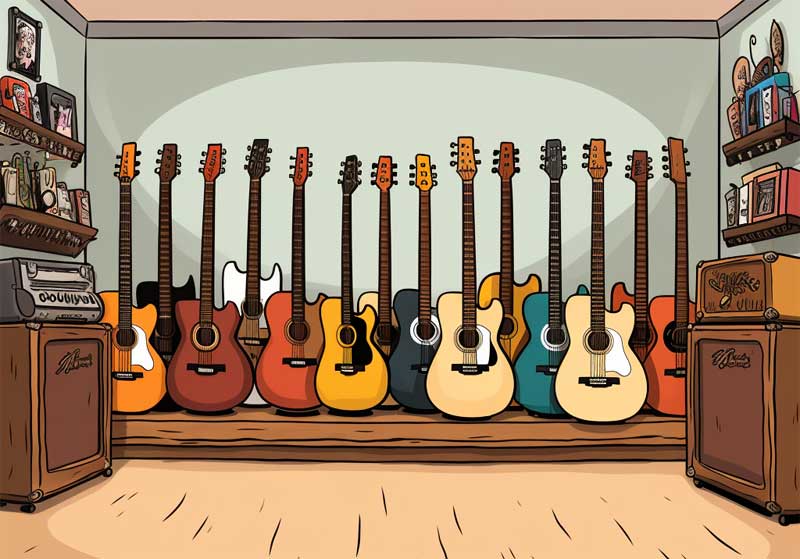 If you've made up your mind to sell directly to a store, then chains like Guitar Center and Sam Ash aren't the only ones you can head to. You could try locating the nearest music stores and calling them to find out if they accept trade-ins or buy used gear. Once you've rounded up a few options, prep your equipment and take it along with you. They will lowball you, so it helps to have a rock-bottom offer in mind (keep this price a secret).
Ask them to appraise the gear and get a trade-in estimate. Or you could ask them what they'll pay if you sell outright. Chances are you'll get a slightly higher offer if you use the amount to buy something from them.
If upgrading your rig is on the cards and you spot something nice at the store, you can always opt for a trade-in. There are local stores where you can do consignment deals, like Gryphon Strings. These places sell your gear and take a share of the consignment sale. In the case of Gryphon, the commission is usually 25%, but they drop it to 10% if you use the amount to buy from them. Even at a 25% fee, a consignment works out better than letting go of 40-50% of your guitar's secondhand value by selling to music store chains.
| | |
| --- | --- |
| Pros | Cons |
| Quick sale and cash payment | Lowballing |
| Might offer consignment deals or better offers on trade-ins | Lower returns |
15. Pawnshop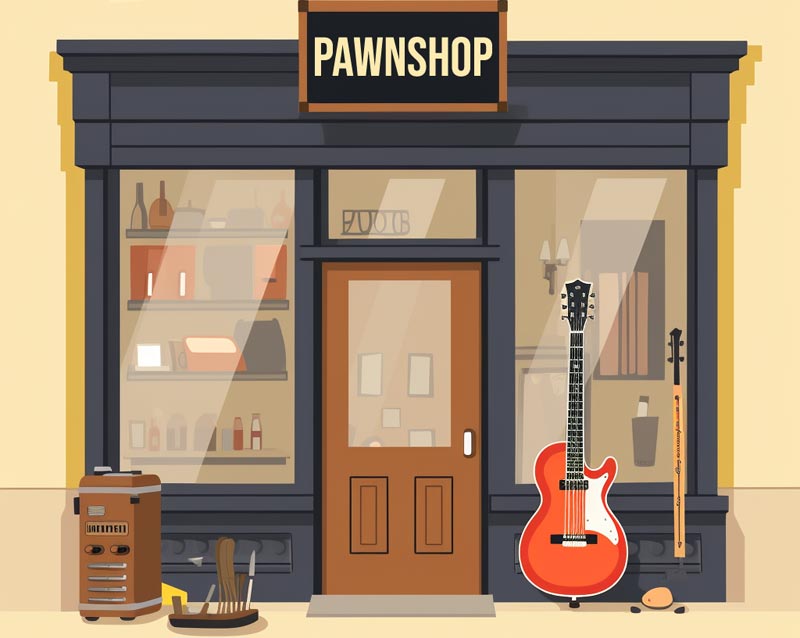 Try this option only after you've had zero luck at any of the other places I've mentioned. If you have a gear in good working condition, no matter the brand or model, it's highly unlikely you'll ever have to resort to selling at a pawnshop. Because let's face it: a pawnshop is never the place to sell anything of value unless you're hard-pressed for funds. They buy super cheap and sell the item at a profit. That's their whole model. If you've exhausted every option on the list and are still stuck with the gear, there's no harm in heading to a pawnshop and getting an estimate.
| | |
| --- | --- |
| Pros | Cons |
| Quick sale and cash payment | Extremely low payout |
Getting the Best Deal For Your Guitar
How easily and quickly your gear sells and how much money you'll make depends on various factors. Let's take a look at what they are:
Fees: Selling directly to individuals instead of businesses is a surefire way to maximize your profits. As you would've already made out by now, most music-focused platforms charge a hefty fee to sell your products, and what's worse, they're really sneaky about it. You've got seller's commissions, processing fees, and shipping fees – it stacks up, leaving you with barely half of what you were hoping to earn.
Thankfully, not all platforms take a lion's share of your sales. There are marketplaces like Craigslist that are virtually free to transact on but aren't the most reliable. Security usually comes at a cost, like eBay, which gives your post visibility among a large audience along with seller protection but charges upwards of 10% fees for it (13%+ for music gear and 6.35% for guitars and basses). However, there are some platforms that offer the perfect balance of reliability and low seller's fees, like Reverb.
Security: Scammers, low-ballers, and fraudsters – online marketplaces are teeming with thugs. As a seller, you can avoid encountering them altogether by selling to businesses like Guitar Center, the Music Zoo, Sam Ash, or local music stores and putting up with an abysmally low payout. Or you could sell via marketplaces like Reverb and Sweetwater, which offer good buyer-seller protection in return for a 5-10% fee.
However, if you're willing to take your chances to maximize your payout, you could go ahead and list on Craigslist, Facebook Marketplace, and Gumtree. Just keep a few pointers in mind: meet at public spots or police station parking lots and take a friend to the meet-up.
High-resolution photos and videos: It's always a good idea to beef up your post with as many high-quality photos as you can. Purchasing a musical instrument is not an off-the-cuff decision, and the buyer would typically want to hold, feel, inspect, and take the gear for a spin before spending on it. But trying the gear might not be possible if the buyer lives far away.
If you supply them with high-resolution, well-lit pictures from various angles, including close-up shots, you can speed up their decision considerably. Also, think about including a small video to let the buyers know how the instrument sounds and if it is 100% functional.
Descriptive and transparent listing: When I sell online, I make it a point to include pictures and information about wear and tear, if any. This lets the buyer know the listing is reliable and there'll be no nasty shocks waiting for them when they unbox.
Being honest and descriptive about your gear always helps. I even share some snippets about my experience with the gear, what I loved the most about it, and why I am selling it. It helps potential buyers connect with the gear even before they've bought it.
Clean, Shine, and Repair: Spruce up your guitar or any other gear you're selling by cleaning it well. If there's something broken that can be fixed or replaced, go ahead and do it. It'll help your item sell faster. Every time I've sold a guitar, I've taken care to freshen up the strings. Removing the old strings also lets me access the fretboard and neck and get rid of any dirt buildup. Sparkling clean equipment tends to get more offers and ensures happy buyers and, therefore, great reviews for you.
Pricing: Pricing is the most crucial factor that determines how quickly your gear will sell. Your guitar might be priceless to you, but being realistic about its actual value always pays. Before listing any gear, I check out a number of platforms to get an idea of what my gear's worth. I don't just limit myself to one platform. Instead, I look up similar listings (make, model, condition) on Reverb, eBay, Craigslist, and Guitar Center to firm up the gear's current value.
Reverb has a comprehensive tool that lets you search your gear, input the model and condition, and instantly generate a report on the current value of the gear. Now, use this information to price your gear competitively, not too high or too low. If your listing is not getting the kind of interest you hoped for, you could consider dropping the price, but gradually.
Be Patient: I can't emphasize enough how important patience is in maximizing profits. Of course, if you need money ASAP, you sell your gear to a music store like GC or a local business. But hang around for good offers if you can. There'll be many lowballers that you can show the door to if you're patient. Drop the price slowly if you're having trouble selling the gear. If you've done your research and priced your item competitively, eventually, you'll get the offer you've been waiting for.
Wrapping Up:
Every option on this list has its pros and cons. The platform that suits me may not work for you. It boils down to the gear you are selling, its condition, the price you have in mind, and how quickly you want it sold off. If you want to maximize your earnings, cut out the intermediaries and go for options like Craigslist, OfferUp, Facebook Marketplace, and Gumtree.
If you're not cool with meeting strangers and are okay with paying high fees in exchange for a scam-free experience, then I recommend sticking to eBay and Reverb. Go for Guitar Center and Music Go Round only if you want to dispose of your gear fast and want to get paid on the spot.
If you have a high-end guitar or an entire collection that's worth a lot, risking it with other options might not be very wise. In that case, The Music Zoo or Cream City Music might be worth exploring for a worry-free sale.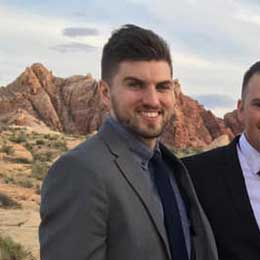 My name is Chris and I've had a passion for music and guitars for as long as I can remember. I started this website with some of my friends who are musicians, music teachers, gear heads, and music enthusiasts so we could provide high-quality guitar and music-related content.
I've been playing guitar since I was 13 years old and am an avid collector. Amps, pedals, guitars, bass, drums, microphones, studio, and recording gear, I love it all.
I was born and raised in Western Pennsylvania. My background is in Electrical Engineering, earning a Bachelor's degree from Youngstown State University. With my engineering experience, I've developed as a designer of guitar amplifiers and effects. A true passion of mine, I've designed, built, and repaired a wide range of guitar amps and electronics. Here at the Guitar Lobby, our aim is to share our passion for Music and gear with the rest of the music community.