There comes a time in every musician's career when they finally decide to take that step forward and begin looking to look for an upgrade from their current model and start looking at what the higher end guitars have to offer. This article will give you insight into which guitar is the perfect fit for your play style and keeps you within your budget.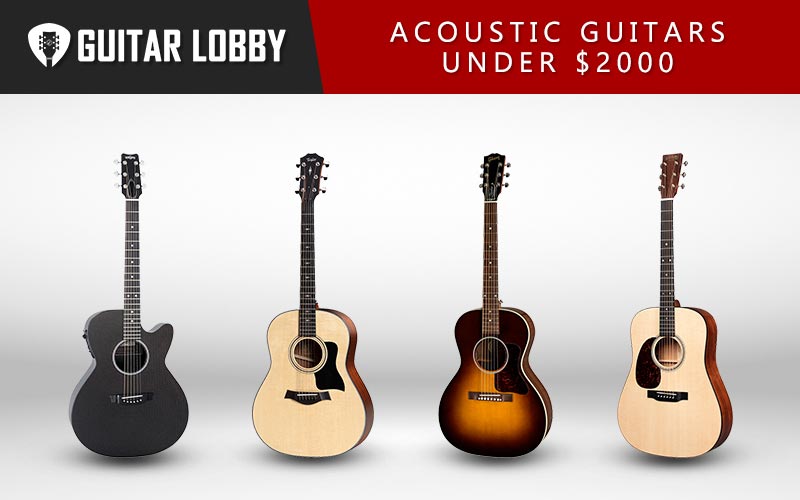 While it might seem like finding the right guitar for you could seem like a daunting task, especially with what is available on the market today. Doing some proper research about the guitars in your price range before deciding which to buy can make the process feel less like a chore and more of an experience.
I'll start this article by jumping straight into reviews on the best acoustic guitars under 2000 dollars, but if you want to learn more about what to look for when choosing a guitar, check out our buying guide at the bottom of the page.
Here Are the Best Acoustic Guitars Under $2000
1. Martin 000-15M (Best Value)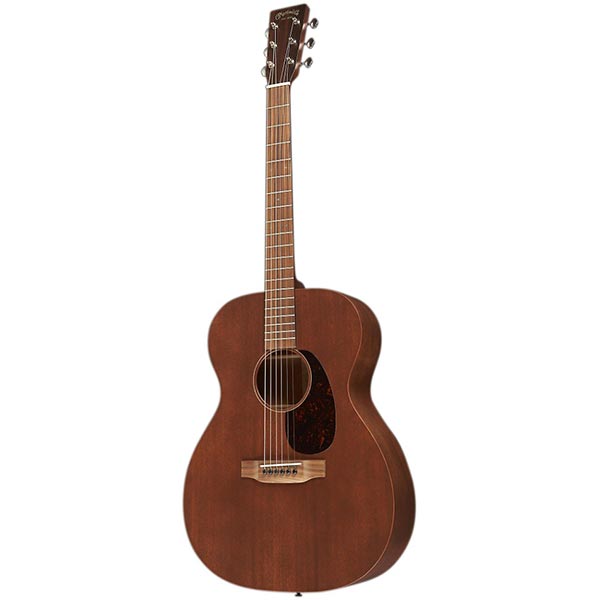 Estimated Price: $1300
Body Type: Grand Auditorium
Top Wood: Mahogany
Back and Sides: Mahogany
Neck Material: Mahogany
Fretboard Material: East Indian Rosewood
Body Bracing: A-Frame X-Bracing
Finish: Nitrocellulose Satin
My Review: Much like Taylor, C.F. Martin is known far and wide for their masterful craftsmanship and expertise in constructing acoustic guitars, and the Martin 000-15M is a masterpiece in all regards. The 000-15M screams value, putting the Martin craftsmanship without an offensive price tag. This mid-size guitar offers excellent balance, volume, and projection, making it great for strumming and finger-style players. The darker mahogany wood also makes this guitar stand out in a crowd. Whether you are looking for excellent tonality or outstanding craftsmanship, I do not doubt that you will love the Martin 000-15M.
Key Features and Specs: The Martin 000-15M comes with a complete Mahogany body, a hard-dense wood that provides you with a warm tone. Mahogany is tonewood that will deliver a punchy yet balanced tone with an emphasized mid-range. When mahogany matures, it tends to give way to a more prominent, colorful tone and will continuously change as it ages. Martin uses a nitrocellulose finish, which feels fantastic in the hands. It is relatively smooth, allowing quick movement while sliding up and down the fretboard without getting your thumb caught. Martin uses nickel open-geared tuning machines with butterbean tuning knobs, which gives you a very stylish way to ensure keeping your guitar in tune will never be an issue. Much like their competitor Martin also knows a new guitar is a big purchase, and they want you to keep that investment safe and include a hardshell case.
Who Will Use This Guitar Most: The Martin 000-15M is excellent for someone who wants a guitar that is a jack of all trades allowing the guitars sound to fit well is a small group performance as well as solo performances, with the ability to switch between fingerpicking, flat-picking, and strumming and still sound amazing.
2. Taylor 317 Grand Pacific (Best Overall)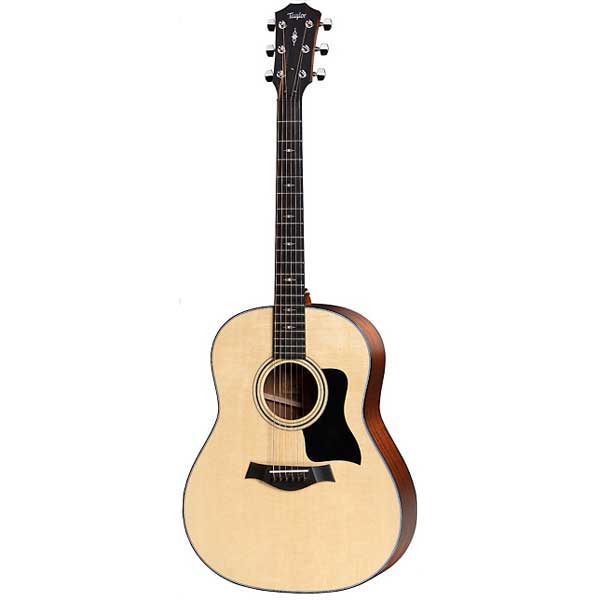 Estimated Price: $1800
Body Type: Round Shoulder Dreadnought
Top Wood: Sitka Spruce
Back and Sides: Sapele
Neck Material: Tropical Mahogany
Fretboard Material: West African Ebony
Body Bracing: V-Class Bracing
Finish: Gloss
My Review: The Taylor 317 grand pacific is from Taylor's 300 series, and it is the first on this list that is not a cutaway and does not include electronics, and while the 317 is missing some of these features, it more than makes up for it in its outstanding playability. The 317 has a very warm and seasoned and allows you to create a smooth, very well blended sound. Being a dreadnought, the 317 offers more low register power due to the broader waist. It eliminates the problem of low-end woodiness you usually see out of dreadnoughts due to the guitar's V-class bracing. The 317 delivers expansive dynamic range with crisp articulation that opens up the possibility of playing styles, from delicate fingerpicking to aggressive flat picked strumming. You will have no issue finding your own distinct style.
Key Features and Specs: The most significant feature of this guitar that sets it apart from the other Taylor guitars on this list is the V-class bracing under the guitar's top wood. The X-bracing has been the standard for years, and in 2011 Taylor made this innovation that sets it apart from its competitors. The V-class bracing allows the 317's top to be stiff and flexible while giving you more volume and sustainment and improved intonation. The 317 has a Sitka Spruce top, which, just like the others on this list it has a marginally brighter sound with a high-end that shimmers. The Sapele back and sides sound is consistently balanced across the tonal spectrum, making it suitable for a broad range of playing styles. The 317 is adorned with beautiful Italian acrylic gemstone inlays and an alluring black pickguard. The tropical mahogany neck and the ebony finger feel comfortable in hand, allowing you to go through the longest of sessions without feeling any strain. Lastly, Taylor also includes a deluxe hardshell case, but this case offers a very nice design that does not provide any added benefit but looks stunning.
Who Will Use This Guitar Most: The Taylor 317 Grand Pacific is for a musician who wants the best Taylor has to offer without breaking their budgets and prefers to mic their guitars audio or prefers an external pick-up. This guitar is excellent for someone who likes smaller live performances and solo acoustic sessions or possibly an acoustic duo. Considering its price point and overall quality, this is easily one of the best acoustic guitars under 2000 dollars.
3. Gibson G-45 Standard (Editor's Choice)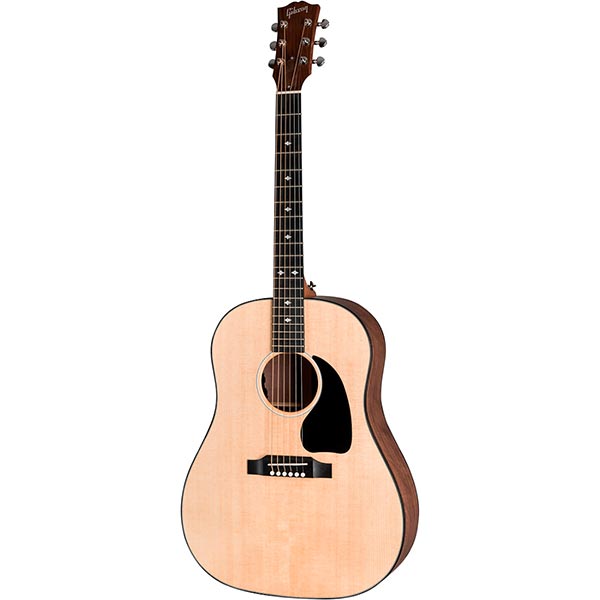 Estimated Price: $1300
Body Type: Round Shoulder
Top wood: Sitka Spruce
Back and sides: Walnut
Neck Material: Utile
Fretboard Material: Rosewood
Body Bracing: Traditional scalloped X-Bracing
Finish: Satin, Gloss Top
Electronics: Fishman Sonitone, Soundhole mounted controls.
My Review: As someone who has always wanted a Gibson acoustic since the very first day I started playing, I knew that price would be a massive obstacle for me to face if I would ever like to get my hands on one, that's where the G-45 comes into the picture. I was a little skeptical of this guitar at first since the price was only $1300. Finally, an American made Gibson guitar in my price range, but how does it sound? You will not be disappointed with this guitar. Gibson outdid themselves with the G-45, basing it on the J-45 model's design, and changing the tonewoods slightly, you still have the Solid Sitka Spruce top, but the J-45 has solid Mahogany back and sides while the G-45 opts for Walnut back and sides. The materials used in the construction of this guitar are showcased in the price, and you still get that same smokey Gibson tone at a fraction of the cost.
Key Specs and Features: The G-45 has a satin finish and a glossy top, the gloss gives that antique natural finish pop, and the satin back and neck feel extremely comfortable in the hands, making moving up and down the neck feel like a dream. Gibson also outfitted the G-45 with a set of mini Grover Rotomatic tuners, which are spectacular tuners at this price point. It feels as though your guitar holds a tune for quite a long time. If you are someone who also wants your guitar to stand a little more than the rest, Gibson also put in soft diamond mother of pearl inlay into the neck to give it that little bit of oomph to stand out from other guitars with the typical natural finish. And last but certainly not least, Gibson wants you to keep this guitar safe, so they were kind enough to toss in the G-Series hard shell leather Case to keep your guitar safe and in tip-top condition for years to come.
Electronics: The G-45 has the Fishman Sonitone and is hidden inside the guitar, so well, in fact, you barely notice it is there. The Controls stay out of your way as well, as they are tucked away in the soundhole of the guitar, which is great for the integrity of the guitars sound as the controls themselves are not installed in the side of the guitar, so they do not destroy the natural wood of the body.
Who Will Use This Guitar Most: Players who will use this the most are someone who wants the Gibson name without all the fancy bells and whistles and want a guitar with the incredible tone and craftsmanship Gibson is known for around the world. The G-45 is excellent for those who are doing both group and solo sessions. The G-45 has enough sound to project on its own and stand out in a large room. In a group setting, this guitar blends in well and can be quiet if you are looking for that. Someone who loves crisp highs and dark lows, this guitar will deliver a comfortable and worthwhile experience for you.
Popular Related Article: The Best American Made Guitars on the Market
4. Gibson L-00 Studio (Best Small Body)
Estimated Price: $1650
Body Type: L-OO
Top Wood: Sitka Spruce
Back and Sides: Walnut
Neck Material: Mahogany
Fretboard Material: Walnut
Body Bracing: Traditional Hand Scalloped X-bracing
Finish: Nitrocellulose
Electronics: Fishman Sonitone, Soundhole mounted controls.
My Review: You thought we were done with Gibson? Of course Not! Gibson also released, or should I say, re-released their L-00 line if guitars, and with that release, they introduced a budget-friendly model with L-00 Studio, coming roughly at $1500. While this model is nearly identical in the material as the G-45 mentioned above, it does have some key differences. The L-00 is a grand concert model making it much smaller than its brother, the G-45. It will fit better in the hands of some a bit smaller than myself, but even with the smaller stature, the sound, and tonal clarity, the L-00 is flawless. While this guitar has crisp highs, you will not see that good low-end sound you would generally see from a dreadnought or a similar style guitar with a larger body. The L-00 is also an American made Gibson acoustic coming from their Bozeman, Montana Facility, and with that American craftsmanship comes everything you have come to know and love from Gibson.
Key Specs and Features: Just as the G-45 is made with Sitka spruce and walnut, the L-00 follows suit. These tonewoods give the L-00 a superior snappy quality that you might see out of other tonewoods such as maple but at a significantly lower price point. The L-00 also comes with the mini Grover Rotomatic tuners, so you know right of the box you will be ready to go and keeping your guitar in tune will not be an issue. Gibson did decide to add a second color option with their walnut burst to break away from the standard antique natural finish, but- this option is priced slightly higher at $1650.00. Another excellent addition to the L-00 studio is the Gloss Nitrocellulose Lacquer, which feels very smooth on the hands and gives this guitar a nice shine. L-00 is also rocking a simpler inlay, with simple mother-of-pearl dot inlays. Gibson did also throws a case in with this model as well. You will also receive a premium leather hardshell case with the L-00 as well.
Electronics: The L-00 is also loaded up with the Fishman Sonitone pickup under the guitar's saddle. While having a much smaller body, the Sonitone stills excellent EQ range. The L-00 is also equipped with the soundhole mounted volume and tone controls, giving you a less intrusive way to adjust your volume and tone without making any sacrifices to tone or sound quality.
Who Will Use This Guitar Most: I'd recommend this Gibson L-00 Studio for smaller people who desired a more focused sound and want an excellent catch-all for fingerstyle and chord strumming.
5. Taylor 210CE Plus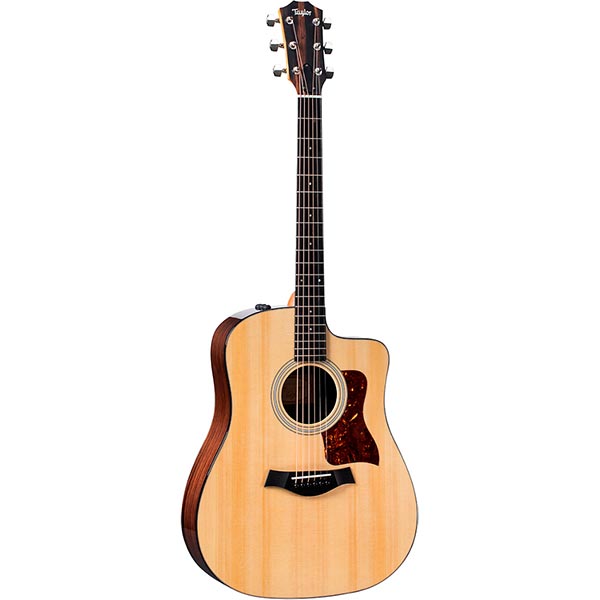 Estimated Price: $1200
Body Type: Dreadnought with Venetian Cutaway
Top Wood: Sitka Spruce
Back and Sides: Indian Rosewood
Neck Material: Tropical Mahogany
Fretboard Material: West African Ebony
Body Bracing: Forward Shifted Pattern
Finish: Gloss Top, Back, And Sides
Electronics: Taylor Expression System 2 (ES-2)
My Review: Whether you are new to acoustic guitars or a long-time player, you have probably heard of Taylor Guitar at least once, and you know you see the Taylor logo etched into the headstock of a guitar, you know it means one thing, Quality, and the 210CE Plus delivers just that. The 210CE has a bright and clear with pronounced bass and a less prominent mid-range. Since this guitar is a dreadnought, it has a slightly boomy sound, much like the G-45 mentioned above, but from my experience, it is a little more prominent on the 210CE.
Key Specs and Features: The Taylor 210CE has a Solid Sitka Spruce top, much like the two previously mentioned Gibson guitars mentioned, but Taylor has an Indian Rosewood Back and sides, which gives the 210CE more articulation in the higher range, while yielding less midrange bloom. The Rosewood offers a deep low-end range and bright top end, giving you an evenly rounded guitar. Taylor opts to use their nickel-plated machine heads to keep this guitar in tune. The smooth, dependable, and stable tuning keys that are incredibly reliable even with years of use. Taylor also includes an extremely versatile case with their guitars known as an Aerocase, a hybrid hard/soft case giving you reliable protection without the bulk. It also gives you an over-the-shoulder strap to make traveling to practice sessions and gigs a breeze.
Electronics: The 210CE has the Taylor Expression System 2 (or ES2 for short) installed, and this pick up is truly a work of genius. The pick-up sits directly underneath the top of the guitar at the bridge with most electric acoustic guitars, leaving the pick-up sounding cold and tinny. Taylor decided to make a change with their ES2 system. The pick-up itself sits in the saddle itself, giving you the best possible tone making the ES2 one of the best sounding acoustic pick-ups, in my opinion.
Who Will Use This Guitar Most: The 210CE is best for the experienced player looking to upgrade, as this guitar will work wonders for large performances, small gigs, and everything in-between. The Taylor 210CE is quite easily one of the best acoustic guitars on the market, and for just $1200, it keeps in the perfect price range for someone who wants it all on a budget.
Popular Related Article: The 17 Best High End Acoustic Guitars
6. Taylor 214 CE DLX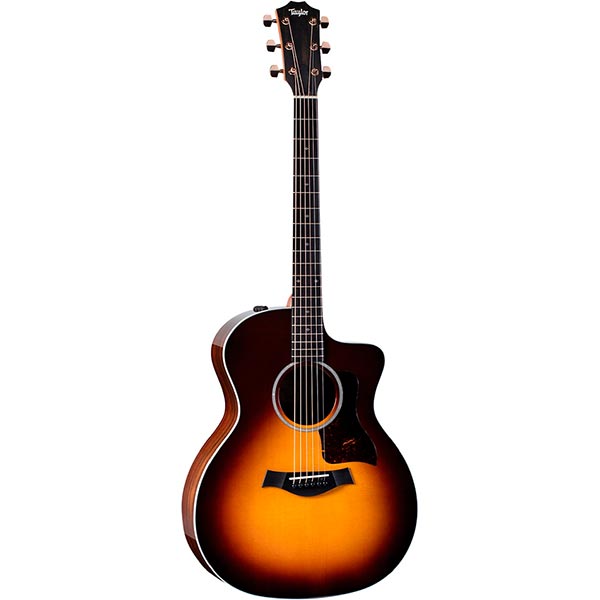 Estimated Price: $1500
Body Type: Grand Auditorium with Venetian Cutaway
Top Wood: Sitka Spruce
Back and Sides: Layered Rosewood, Layered Koa, Or Layered Maple
Neck Material: Sapele, or Neo-Tropical Mahogany,
Fretboard Material: Ebony, or West African Ebony
Body Bracing: Forward Shifted X-Bracing
Finish: Gloss Top, back, and sides, Black and Antique Natural options
Electronics: Taylor Expression System 2 (ES-2)
My Review: Another Taylor model that does not disappoint in the slightest, the 214CE deluxe gives you wonderful treble zing right out of the box, showing a sound that is just as good as the looks with the upper register easily accessible there are no limits to what you can play with this beauty, and it will sound fantastic with all of the tonality you would expect from Taylor. What sells me on the 214CE deluxe is the body type it has and the versatility it offers, from fingerpicking to medium-strumming. It is a genuinely fantastic guitar for whatever style of music you wish to play.
Key Features and Specs: The first thing I have to mention about the 214CE is the graceful Venetian Cutaway that Taylor used for this Model, the same type of cutaway Taylor uses on most of their models, including the 210CE, mentioned previously, allowing for access to the upper frets with ease and comfort. The Taylor 214CE also has a Sitka Spruce Top, but what sets it apart from the 210CE is the choice of different back and side woods. Taylor has added the option for two other options on the 214CE deluxe models. The Black finish 214 CE deluxe is crafted with layered Maple back and sides, which is quite different from rosewood. Maple is a very dense hardwood and this characteristic results in relatively quick note decay. Maple tonewoods are superb for live performances because the clarity of tone cuts through the mix well, and it also allows for less feedback. It will give you a bit more of a tight and focused tone and give your guitar a bit more volume and brightness. The other available option is layered Koa back and sides, which will provide a very bright sound. The sound Koa gives you is such a bright sound that it is not the greatest while using a pick because it can be very overwhelming. Koa requires a fair amount of "Breaking-in" before it mellows out. The antique natural finish on the front mixed with the Koa back and sides make this guitar a real beauty. The Black and Natural Koa models of the 214CE deluxe do come at a slightly higher price at $1500.00 rather than the lower $1400 of the natural model with rosewood back and sides. If the idea of more color and wood options were not enough for this model also offers beautiful Italian acrylic diamond inlays that are appealing when you see them against the fretboard. Taylor also decided to step up the protection just a little bit more with the 210CE deluxe offering a deluxe Taylor hardshell case to keep your guitar safe for years to come.
Electronics: Just like the 210CE mentioned above, the 214CE deluxe is fitted with the expression system 2, loaded right into the saddle, and is more sensitive to the movement of the bridge, and unlike some other built-in acoustic pick-ups, they do not sound thin or synthetic. The ES-2 offers presence, fullness, and impressive depth of sound, allowing you to fit in well with other instruments onstage and in the studio.
Who will use this Guitar Most: The Taylor 214CE Deluxe is perfect for someone who loves the smaller body design of a Grand Auditorium model guitar and wants an easily accessible high range that is great for live performances and studio recording sessions.
7. Taylor 224 CE-K DLX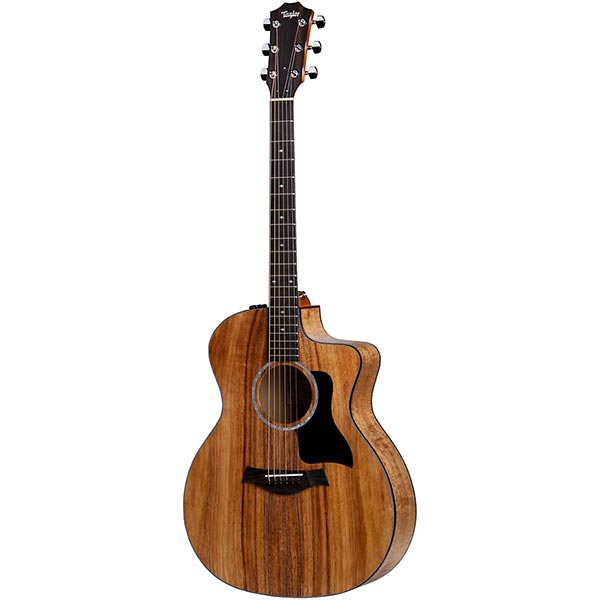 Estimated Price: $1600
Body Type: Grand Auditorium with Venetian Cutaway
Top Wood: Solid Hawaiian Koa
Back and Sides: Layered Koa with Koa Veneer
Neck Material: Sapele
Fretboard Material: West African Ebony
Body Bracing: Forward Shifted X-Bracing
Finish: Gloss, Shaded Edgeburst
Electronics: Expression System 2 (ES-2)
My Review: The 224CE-K is a real eye-catcher right out of the box, with a beautiful warm tone to match. Taylor outdid themselves with this model from the solid Koa top, all the to the gold tuning machines at the top, and you will not be able to keep it out of your hands. The Koa wood gives this guitar an elegant look that makes you feel you are paying much more than $1600.
Key Features and Specs: The 224CE-K is a grand auditorium body that, like the 214CE is a jack of all trade's guitar, it gives you a full lower register and a sparkling treble. What sets the 224CE-K apart from the rest is the all Koa body. Something to be aware of that I briefly touched upon with the 214ce with the Koa back and sides is that it is a very bright tonewood. Right out of the box, you will notice how bright it is and that using a pick can be a little too bright for some players liking, but if you have a preference for fingerpicking, this guitar is fantastic for you. The plus side of the Koa wood is the fact that it will get better as it ages. The more you play this guitar and let the wood age, you will slowly notice that the brightness mellows out and gains a more resonant tone. Taylor also put a Venetian cutaway on the 224CE-K, and when you play in the upper register, you will notice how much the Koa wood makes the upper register snap, with a tremendous and crisp response. The 224CE-K also offers a profoundly comfortable Sapele neck that will still feel exceptionally comfortable even after the longest of practice sessions. Again, we also see the deluxe Taylor hardshell case included to ensure your guitar stays safe no matter where the music takes you.
Electronics: While I have mentioned as much as I can about the Expression system 2, it does not change on the 224CE-K. The ES-2 is an excellent pick-up system. You still get that perfect tone that doesn't sound synthetic, and your upper register sounds crisp with all the snap and response while unplugged, you really can not lose with the ES-2.
Who Will Use This Guitar Most: The Taylor 224CE-K is perfect for the musician that loves to use their fingers over a guitar pick due to the overly bright nature of Koa wood. The 214CE deluxe is perfect for someone who wants to take time to grow with their guitar and allow the wood to age and get a guitar that, like fine wine, gets better with age.
Popular Related Articles: The 17 Best Acoustic Electric Guitars on the Market
8. Martin SC-13E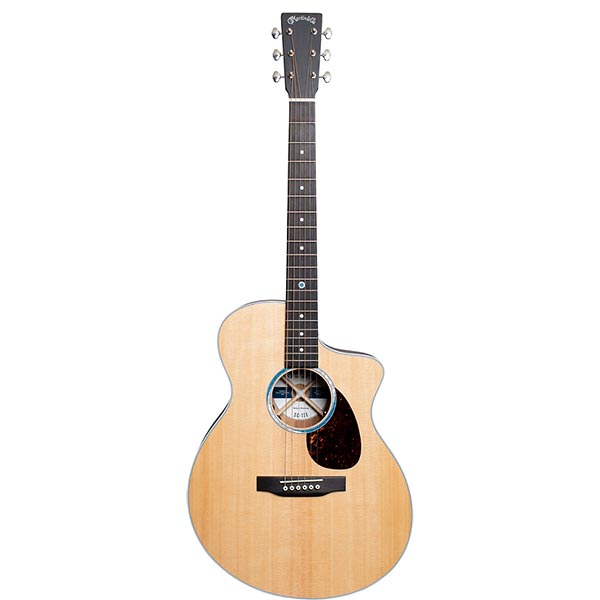 Estimated Price: $1500
Body Type: S-13 Fret Cutaway
Top Wood: Sitka Spruce
Back and Sides: Koa Fine Veneer
Neck Material: Select Hardwood
Fretboard Material: Ebony
Body Bracing: Treble Side Scalloped X-bracing with Non-Scalloped Tone Bars
Finish: Gloss
Electronic: Fishman MX-T
My Review: When I first saw the Martin SC-13E, I was a little skeptical of the body shape and how the guitar looked cosmetically; after taking some time to check out this guitar, it grew on me. I was proven how wrong I was about this guitar. Martin created a new body shape for this electric-acoustic beauty called the S-13 fret Cutaway, which is excellent for those who love doing acoustic sets with pretty heavy high-end soloing. The issue arises when your traditional cutaway on your guitar; that is where the SC-13 comes into play. The SC-13 has the neck connected with the body at the 19th fret on the neck's bottom, giving you incredible reach and comfort in your soloing.
Key Features and Specs: The SC-13 is crafted with a Sitka Spruce top and Koa Veneer Back and Sides giving you immediate articulation of sound and a balanced tone. When you pair that with the Koa veneer on the back and sides, it adds quite a bit of extra brightness, especially in the guitar's upper range. The SC-13 is using an a-symmetrical body shape, which is new for the Martin brand. While this body style looks slightly awkward at first, do not let that fool you, that body design choice had an electric guitarist in mind in production as it allows you to reach the upper register with no issues whatsoever. Martin also equipped the SC-13 with their all-new low-profile velocity neck barrel that ergonomically accommodates your hand as you move up and down the neck. While this guitar was made with electric guitarists in mind, this is still a Martin, so you can unplug it and play, and it will sound just as good.
Electronics: The SC-13 is loaded up with the Fishman MX-T pickup, perfect for gigging players. The tone control covers a range from a flat setting that preserves the SC-13's natural acoustic tone in great detail.
Who Will Use This Guitar Most: The Martin SC-13E is perfect for the electric guitarist who has to play an acoustic lead, or a musician who prefers to play solo work that involves a lot of time in the upper register of the guitar due to the comfortability it offers.
9. Martin D-16E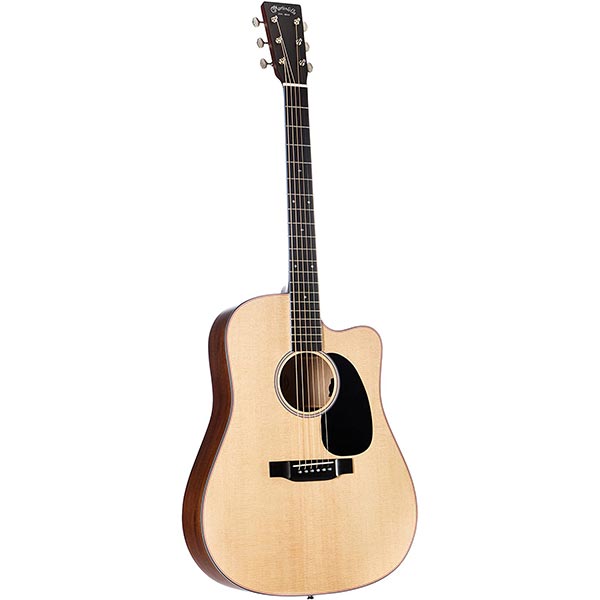 Estimated Price: $1700
Body Type: Dreadnought
Top Wood: Sitka Spruce
Back and Sides: East Indian Rosewood
Neck Material: Select Hardwood
Fretboard Material: Ebony
Body Bracing: Sitka Forward Shifted Scalloped X-bracing
Finish: Satin
Electronics: Fishman Matrix VT Enhance NT2
My Review: The Martin D-16 is as majestic as they come, offering a full dreadnought voice, adequate volume, and a dynamic character. The D-16e has a shallower body than some dreadnoughts on the market, allowing for greater playing comfort, especially for your right arm and shoulder. The Sitka Spruce X-bracing evokes a sound that is impressive and balanced, giving notes an excellent definition. The D-16E is another guitar that can fit any situation you throw it into; it compliments the human voice elegantly and works well as a solo instrument or layered into a track. Martin took a no-frills approach to the D-16e, meaning you are not paying for looks; you are paying for superior materials allowing you to have the best quality tonewoods that give you the best sound acoustically or plugged-in to an amplifier.
Key Features and Specs: The best feature that the D-16e Has to offer is the quality tonewoods; it feels as though you have a much more expensive guitar in your hands until you look at the price tag. Martin made no sacrifices when it comes to the D16-e you have your Solid Sitka Spruce top giving you a clear and powerful tone that, when mixed with the Indian Rosewood back and sides, gives you a strong, clear low end, a Thick, midrange, and a rich and sparkly top end. The D-16 might be a very straightforward looking guitar that might not stand out visually, but you will hear a significant difference once you pick it up and play it. The D-16 has a rosewood neck carved to Martin's modified low oval profile with performing artist taper, designed with performing artists in mind. The Ebony fretboard is buffed, giving it a silky smooth feel, and the frets are leveled with pinpoint precision, providing you with extreme playability and comfort.
Electronics: The Martin D-16e has the Fishman Matrix VT Enhance NT2 installed, and from the moment you plug it in, you can hear that a lot of time and effort went into this pick-up. Martin and Fishman electronics have been working together for over 30 years, and in this time, they have come up with some of the best acoustic electric guitars on the market, and the D-16E is no exception. The Matrix VT Enhance NT2 pickup system takes the already elegant tone and amplifies it immaculately when plugged in, onstage, or in the studio
Who Will Use This Guitar Most: The Martin D-16E is excellent for anyone who needs a guitar that works well in any situation. It blends well in a group recording session and stands out well for the solo vocalist to complement their voice.
Popular Related Article: The 9 Types of Acoustic Guitars Explained
10. Guild D-20E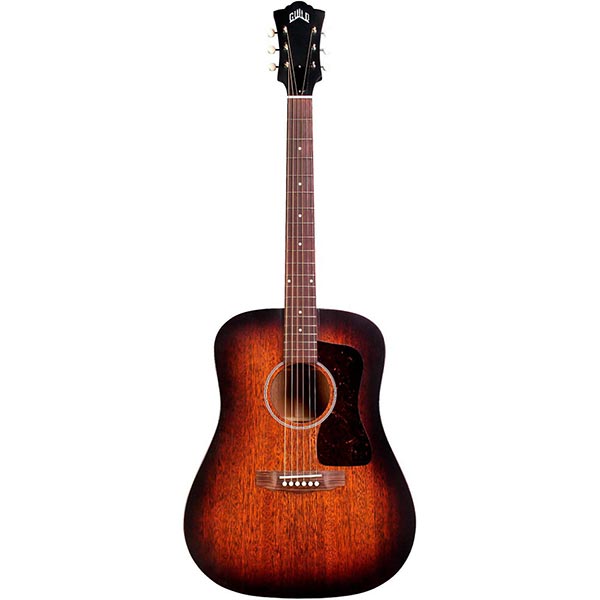 Estimated Price: $1700
Body Type: Dreadnought
Top Wood: Solid Mahogany
Back and Sides: Solid Mahogany
Neck Material: Mahogany
Fretboard Material: Rosewood
Body Bracing: Scalloped X-Bracing
Finish: Satin Varnish, Natural and Vintage Sunburst options
Electronics: LR Baggs Element VTC
My Review: The Guild D-20e is the return of Guilds American made guitars, and the quality is a welcome return. The D-20 is today's version of the Guild D-25 that rolled off the production in 1967. Guild did not cut any corners, bringing the d-25 to the modern era with the D-20. Giving it an all-solid mahogany top, back, and sides generating a strong low-end. While I love seeing guitars that offer more color options, it is really up to the buyer, whether it is worth the extra money. The D-20e has two different color options are they play and sound the same, the natural mahogany does look rather plain, but it does have a rustic charm to it, while the vintage sunburst offers a beautiful finish. I do not think it is worth the $100 price difference.
Key Features and Specs: The Guild D-20 Inherited the solid top, back, and sides from the d-25, no laminates, just solid wood with a beautiful, strong resonance that can not be beaten. The D-20 offers no cutaway, and while that is unfortunate to some degree, the larger body size and depth, which helps to push the lower frequencies due to the amount of air being moved. Guild also uses the scalloped X-bracing system, like Martin, to give the D-20e solid resonance and strengthen the soundboard. When you strum the d-16e, you get the full value of mahogany as a soundboard. It covers a range of genres and sounds impeccable in each of the.
Electronics: The D-20e uses the LR Baggs VTC electronics are designed with performance in mind. This under-saddle pick-up system senses the movement of the mahogany top apposed to direct string movement. This helps to avoid the sharp quack sound you usually hear from the piezo under-saddle pickup design.
Who Will Use This Guitar Most: The Guild D-20e is players guitar through and through. It is incredibly playable and is perfect for someone who loves dark-toned guitars that offer a big sound, while at the same time want a vintage sound that comes from mature tonewoods, and Guild delivers.
11. Takamine P4DC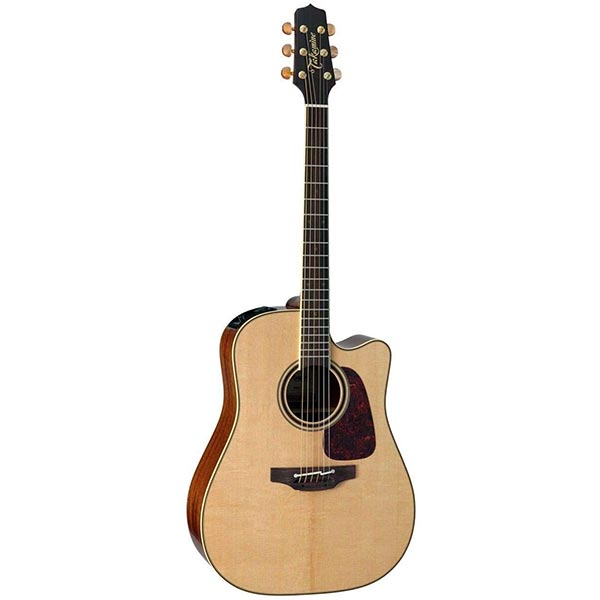 Estimated Price: $1650
Body Type: Dreadnought
Top wood: Solid Spruce
Back and Sides: Solid Sapele (back), Laminated Sapele (sides)
Neck Material: Mahogany
Fretboard Material: Rosewood
Body Bracing: Scalloped X-Bracing
Finish: Gloss
Electronics: CT4-B2 Cooltube preamp with Palathetic pickup
My Review: The Takemine P4DC is a cutaway dreadnought that offers full-size acoustic sound, style, and performance with resonant tonewoods that gives you a superb acoustic experience on stage or in the studio. The P4DC provides a rich sound with clear and loud tonal quality, which is excellent when you play rhythm in a duo to build the lower end. If you are in a full group setting, you can cut through the mix, making this guitar perfect for any environment.
Key Features and Specs: The Takamine P4DC is built with quality and playability in mind with its scalloped X-braced solid spruce top and Sapele back and sides. The P4DC is a beautiful guitar and versatile enough to handle what playing style works for you. Not to mention that the P4DC isn't bad on the eyes either with its stage friendly gloss top, back, and sides, you can wow the audience with how beautiful this guitar looks. The P4DC offers the split-saddle bridge, which provides better intonation, which means that it will allow you guitar to sound more in-tune, no matter where you play. This saddle offers more precise compensation for better intonation, which will enable the chords to sound sweeter, and single notes to sound crisper. The neck on the P4DC has the Takamine asymmetrical neck designed to fit your fretting hand's natural shape, reduce fatigue, and allow for more extended playing sessions.
Electronics: The P4DC has what is known as a Palathetic under-saddle pickup that offers twelve times the element mass of a standard under-saddle element that results in more articulation and more articulation at high volume levels, giving more acoustic sound while plugged in. The CT4-B2 Cooltube preamp comes with a three-band equalizer that offers a master volume control, chromatic tuner, and provides a really warm sound when matched with Palathetic pickup.
Who Will Use This Guitar Most: The Takamine P4DC is perfect for a musician that wants a guitar that will have excellent intonation no matter where they are. It is ideal for the guitarist who spends long hours playing gigs either on stage or at a practice session without feeling any strain or fatigue.
12. Takamine EF360S TT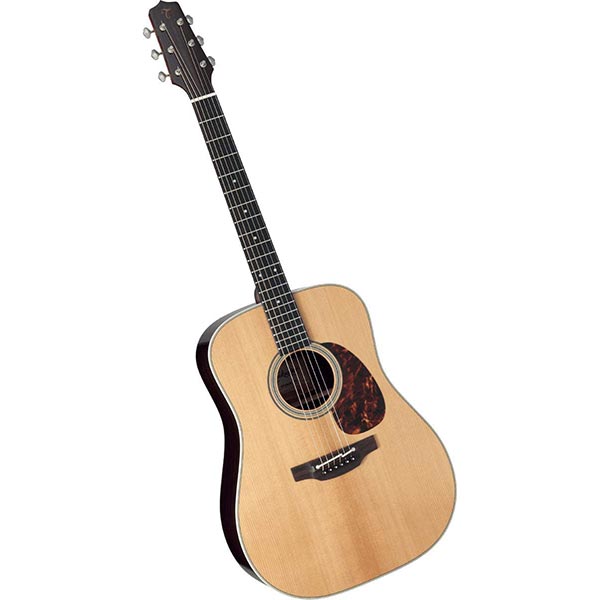 Estimated Price: $1900
Body Type: Dreadnought
Top wood: Solid Thermal Spruce
Back and Sides: Solid Rosewood
Neck Material: Mahogany
Fretboard Material: Ebony
Body Bracing: Not Specified
Finish: Gloss
Electronics: TLD-2 Line Driver preamp with Palathetic pickup
My Review: The EF360S TT gives you the look of a vintage Martin D-28 and the sound to match without the sky-high price tag. You might read that and laugh, "How could a Takamine EF360S possibly be better than a Martin D-28? That is until you pick one up and hear it for yourself. The EF360SS has excellent balance across all strings with strong mids, as you would come to expect from a Solid Spruce top with a superb bass response and incredible projection. Not to mention that the guitar is loud, even before you plug it in. You will notice that it is more than just loud with its warm, clear, and even tone it sounds phenomenal. I would recommend you check out this Takamine before you go with the competition.
Key Features and Specs: The TT in the name stands for thermal top, and that is one of the best features the EF360S TT has to offer. "What does the Thermal top do?" you may be asking yourself. This process involves baking spruce tops in a controlled high heat low oxygen environment. This process's desired result is that the EF360S TT should deliver a well-played vintage guitar's volume and tonal features while retaining a brand new guitar's quality. The EF360S TT offers a dreadnought body design that, when paired with the Thermal Spruce top and Rosewood back and sides, yields superior dynamic range, present yet, not overbearing bass, a high-end sizzle, and gives excellent low end and volume. The EF360S TT has a comfortable vintage profile neck that fits comfortably in all hand sizes and has a beautiful and comfortable ebony fingerboard for maximum playability. We also see the split saddle make an appearance on the EF360S TT, ensuring that intonation and tuning will hardly ever be an issue.
Electronics: Much like the P4DC, the Takamine EF360S TT is equipped with a Palathetic under saddle pickup giving more mass to your sound when compared to other under-saddle pickups with better acoustic tonal qualities. While it has impeccable pick-ups, it does not offer much in the way of tonal controls on the guitar itself. It is a stealthy TLD Line Drive preamp that does away with the buttons and control giving it a stripped-down vibe that sounds amazing.
Who Will Use This Guitar Most: The Takamine EF360S TT is the perfect guitar for musicians who want the look and sound of a vintage guitar without the vintage price tag. It offers a stripped-down appearance that appeals to musicians that enjoy and appreciate a simpler aesthetic.
13. Yamaha AC5R ARE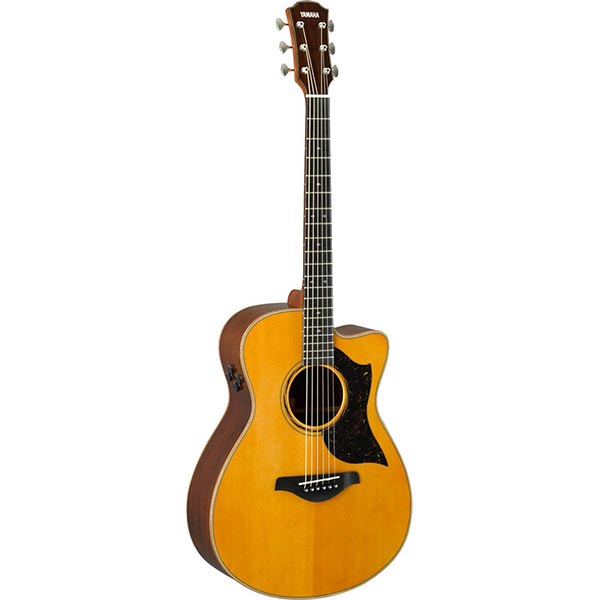 Estimated Price: $1400
Body Type: Concert/O
Top wood: Solid Sitka Spruce with A.R.E. treatment
Back and Sides: Solid Rosewood
Neck Material: African Mahogany
Fretboard Material: Ebony, rolled edges
Body Bracing: Scalloped Bracing
Finish: Gloss
Electronics: System 71 SRT2 preamp with SRT piezo pickup
My Review: I have never had much experience with Yamaha instruments while playing the guitar. I have to say that exceptional instruments that I now kick myself over for not trying one sooner. The Yamaha AC5R ARE concert cutaway is a perfect example of a workhorse guitar; it gives a loud and robust midrange due to the new scalloped bracing in the top wood and shorter bracing on the back wood. The AC5R has a simple organic design that is perfect for players who enjoy a simpler aesthetic.
Key Features and Specs: The standout feature of the Yamaha AC5R ARE, is the ARE, or the Acoustic Resonance Enhancement, which is a process that Yamaha uses to synthetically age the wood, much like the Takamines Thermal treatment, it gives the tonewoods a more mature sound and looks that give this guitar a rich vintage quality that all players will appreciate. The A.R.E treated Sitka Spruce top paired with the solid rosewood back and sides give this guitar a brilliant sound that is balanced and warm. With the sound the AC5R is able to produce, it is equally suited for aggressive strumming as well as flat-picking and fingerpicking styles of play. The Ebony fingerboard is exceptionally comfortable and offers excellent tonality, and paired with the Gotoh open-gear tuners, you will know tuning is rarely an issue, and the open-gear tuning machines really drive home the vintage aesthetic and really sells it.
Electronics: The AC5R ARE is equipped with the System 71 SRT2 pickup system that is extremely low profile and versatile to fit any situation you may find yourself performing. Whether it be stage performance or studio recording, the SRT2 pickup system has it all. The jack is located at the back of the guitar to give it a stealthy simplistic design while giving you plenty of options on the control panel to give it your own sound. You get master volume, treble and bass controls(with auto feedback reduction), and blend controls to balance between the piezo and SRT2 preamp, to give yourself a tone all your own.
Who Will Use This Guitar Most: Much like the Takamine EF360S TT, the Yamaha AC5R ARE is for players who want that vintage sound at a much lower price point. Where I find this guitar excels over the Takamine is in the preamp system. While it takes up some of the wood real estate on your guitar, it offers a generous amount of control while still giving you a beautiful natural acoustic sound.
14. RainSong Hybrid Series H-WS1000N2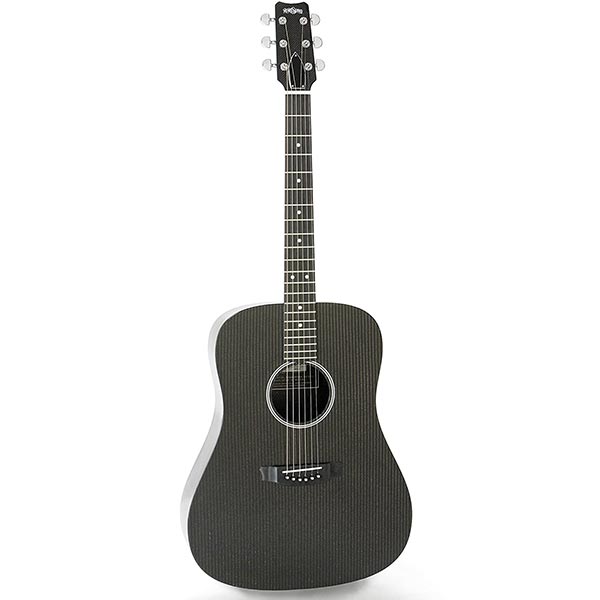 Estimated Price: $1900
Body Type: Deep Body Cutaway
Top Material: Carbon/Glass Fiber
Back and Sides: Carbon/Glass Fiber
Neck Material: Graphite N2
Fretboard Material: Composite
Body Bracing: Not Specified
Finish: High Gloss Polyurethane
Electronics: Fishman Prefix+T
My Review: While Most acoustic players might find this guitar sinful, I think it is a welcome change of pace from a lot of the competition you see on the market today. The Tonality, the overtones, and they are phenomenal and are overwhelming both unplugged and plugged in. You get a very well balanced guitar that sounds fantastic while being much safe to travel with, but how does it sound? Not bad at all. Carbon fiber might have the subtle characteristics of tonewoods, and it does not even compete with the complexities of a Martin or Taylor at this price point; it has an excellent tone. Overall it has a very bright tone that is well defined while the glass fibers help mellow out the guitar. The N2 is also surprisingly responsive.
Key Features and Specs: The Rainsong Hybrid offers an all Carbon/Glass body (Hence the Blasphemy) as most guitars on the market today are all solid wood bodies, especially guitars at this price point. What sells this guitar is that with being an all-carbon/glass body, humidity no longer plays a role in your guitar's safety. The Biggest problem wooden instruments face while touring is playing in humid temperatures, which can cause your beautiful and expensive instrument to warp and bend, which leads to costly repairs and even, in some extreme cases, having to replace your guitar. The N2 can take the humidity or change in heat and will not warp or bow no matter what you throw at it. It comes with a generous single-cutaway allowing for a comfortable reach to the upper register. While the neck is made of composite material, it feels very light and comfortable, but still feels exceptionally durable. Even if you prefer traditional wood body guitars, you have to appreciate the innovation the N2 brings to the table.
Electronics: The Fishman Prefix+T offers a great tone that surprisingly does not sound synthetic. It provides an onboard tuner and EQ settings to give more tonal options to fit whatever situation you might find yourself performing in.
Who Will Use This Guitar Most: The Rainsong N2 is perfect for the Musician that does quite a bit of outdoor playing or plays in areas where humidity and temperature changes are expected. It also works well for a player that wants to have a travel guitar that can handle whatever heat and humidity mother nature can throw its way. This guitar may not be traditional in any way, but the innovations it brings to the table are too good to be scoffed at, definitely check it out. Overall, I would say this is easily one of the best acoustic guitars under $2000.
Choosing an Acoustic Guitar Under $2000 (Buying Guide)
Understanding Body Shapes: When Choosing a guitar, one of the most challenging decisions is choosing what body type is most comfortable for your playing style and gives you the sound you are looking for.
Parlor: These are smaller in size than a concert guitar and have an elongated body. This elongated body shape enhances the volume of this little guitar and gives it a distinct sound. It does not produce a lot of sound.
Auditorium and Grand Auditorium: The Auditorium is a body shape that is somewhat of a cross between a dreadnought and a concert model. They have a similar body shape to a concert with a wider lower bout like a dreadnought, but it has a narrower waist, unlike the dreadnought. The Grand Concert works for any play style and is the second most popular body style.
Concert and Grand Concert: Concert-guitars have much narrower waist widths in comparison with the dreadnought. It has a more defined sound that is less bass-heavy.
Dreadnought: The Dreadnought is probably the most common image you get in your head when you think of a guitar. The dreadnought has a large soundboard due to its wide less-defined waist. It produces a clean, high volume and has a wide range with excellent projection, powerful bass, strong mid-range, and bright highs.
Understanding tonewoods: While researching your new guitar, one of the most important decisions you can make is what tonewoods you should select. While It may seem like an arduous task, it will be well worth it in the long run. The Tonewoods will affect the way your guitar sounds and plays. You want to go into the buying process as knowledgeable as possible to get the sound you are looking for.
Cedar: Most commonly used for classical or flamenco-style playing, a softwood that delivers a brighter, more vibrant sound.
Ebony: Commonly used for the fretboard, smooth and allows for movement up and down the neck.
Koa: A luxury Hawaiian wood that is less commonly used but produces a gorgeous midrange; used both for the top and back and sides.
Mahogany: a dense tonewood that flourishes when playing in a higher range.
Maple: Used on the back and sides and creates a "dry" sound; it is versatile by accentuating high notes while also providing a lower resonance that cuts through live performances.
Rosewood: Traditional rosewood (Brazilian) over the years has become replaced with Indian rosewood, yet they sound virtually identical, known for its rich, resonant tone, used for back and sides as well as the fretboard.
Sapele: African wood similar to Mahogany; provides excellent midrange and treble tones.
Spruce: This is a very clear, crisp top wood and is often known as the standard top wood for many guitar players; various types of Spruce slightly influence the tonal palette, including Sitka, Adirondack, and Engelmann.
Walnut: A unique replacement for a mahogany body, a dense tonewood that bolsters midrange and provides a sound that carries far and resonance.
Final Thoughts: While Choosing a new guitar, especially in this price range, it is always crucial to always do your research. The best advice I can give would be to go out and play, figure out what feels best in your hands, and sound great. Simultaneously, this is a daunting task that can take a while to come to a decision always to choose what plays well to you and fits your style.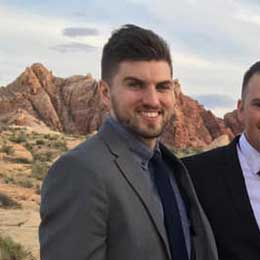 My name is Chris and I've had a passion for music and guitars for as long as I can remember. I started this website with some of my friends who are musicians, music teachers, gear heads, and music enthusiasts so we could provide high quality music related content as well as some of the most accurate and in-depth gear review and demo information on the internet.
I've been playing guitar since I was 13 (over 15 years now) and am an avid collector of all thing's guitar. Amps, Pedals, Guitars, Bass, Drums, Microphones, Studio, and recording gear, I love it all.
I was born and raised in Western Pennsylvania. My background is in Electrical Engineering earning a Bachelor's degree from Youngstown State University and with my engineering experience I've developed as a designer of guitar amplifiers and effects. A true passion of mine, I've designed, built, and repaired a wide range of guitar amps and electronics. Here at the Guitar Lobby, our aim is to share our passion for Music and gear with the rest of the music community.