The Blues Brothers from another mother blasted out of the underground scene to become America's Rock N' Roll sweethearts in the late 2000s, after almost a decade of building a devoted yet considerably reduced fanbase across the United States. The Black Keys are one of the most recent and remarkable Rock N' Roll success stories, after years of hardship and obscurity the band finally got the credit, they deserved upon their 2010 release Brothers.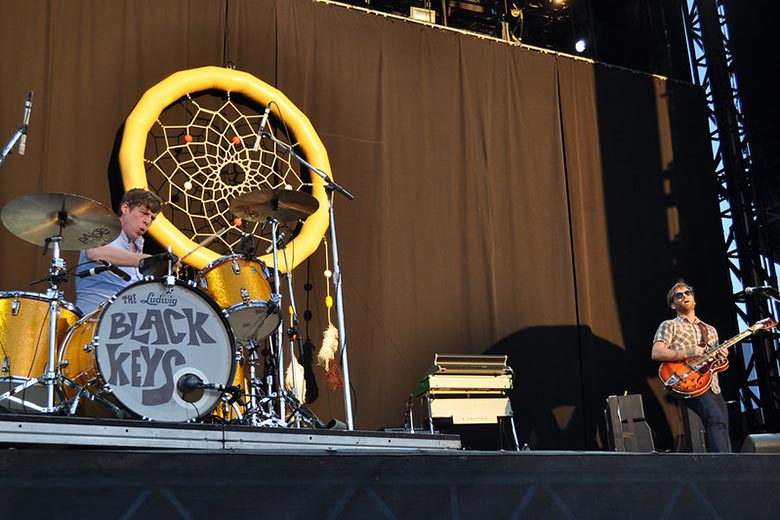 One of the biggest accolades for both Auerbach and Carney is their undisputed ability to channel and bridge a vast amount of Rock N' Roll divergence within a two-piece band. From humble and simplistic blues-rockers to hard rocking and synth-infused tunes that have drawn comparison to Led Zeppelin, Pink Floyd, and The White Stripes are a legendary band. The Black Keys have been around for two decades now proving that the statement "Rock N' Roll is dead" utterly wrong. In this article, we'll be rating and talking about the best Black Keys songs of all time.
Here Are The Best Black Keys Songs
22. Ten Cent Pistol
Album: Brothers
Release Date: 2010
Filled with mysterious and suspenseful instrumentals, Ten Cent Pistol, cracks as one of the band's fan favorites. An ideal tune for a shadowy night, the gradual yet steady buildup of the guitar, the rhythmic, suave percussion, and Auerbach's urgent, almost suffocating vocals, set the tone of the tenure in one of the Key's most engaging lyrics. With a misleading title, there's no sidearm involved, however, the weapon discussed in the jazzy song is just as deadly. The song follows a calculating, jealous, but certain woman and her unfaithful significant other. The lady in question watches the other's every move while plotting her revenge as the anger and jealousy develops. The woman ultimately kills her partner and their significant other, pouring homemade acid onto the deceiving couple.
Carrying a subtle yet palpable eeriness throughout the tenure, the duo magnificently added the noir, detective aesthetic to their sound. A striking contrast from other Brothers' tracks such as Everlasting Light, Ten Cent Pistol's compelling energy is inescapable. One of The Black Key's darkest – if not the darkest – is a hidden gem with a gritty nature that can only reel fans in even further, with one of the very first full narratives provided by the band.
21. Everlasting Light
Album: Brothers
Release Date: 2010
The first track of their mainstream debut and sixth album, 2010s Brothers, Everlasting Light is a tune that seemingly signals The Black Key's transition from garage blues rooted rockers to indie powerhouse. Patrick Carney and Dan Auerbach have a knack for making simplicity take on a whole other level of meaning and color. As Auerbach samples one of the grooviest most particularly soulful guitars put to record in the 21st century. There is however a remarkable contrast between groove and their traditional rock foundations, with dragged distorted riffs and Auerbach's falsetto throughout the track, this non-single feature of Brothers has become a fan favorite, as well as a live staple to their act.
Everlasting Light became an unexpected success among diverse audiences, it was the introduction of The Black Keys as a more pop-friendly band while staying true to themselves in essence. Taking on the subject of tenderness in a relationship, while vaguely making a religious allusion to love, this is one of the tunes that marked a more musically matured duo that knows how to get things done. Since there was a lack of promotion for the tune, due to its non-single status, the track couldn't make its way to the charts, but it was listed, however, by Rolling Stone magazine as No. 11 in their best song compilation of 2010.
20. Lo/Hi
Album: Let's Rock
Release Date: 2019
After the duo's longest and first hiatus since their consecration as one of the biggest rock exponents of modern times, The Black Keys came back with their 2019 ninth tenure Let's Rock, one that intended to "pay homage to electric guitar" as described by drummer Patrick Carney. The album eschewed keyboards and ambiance elements in their tracks, thus making a return to the simplistic approach that paved the way for their success 10 years ago. Lo/HI didn't only serve as a flagship single for this effort but it also served as a statement that made very clear gritty, scorching guitars are far from over, even at the dawn of a new decade.
With hints of their previously adapted soulful gospel-style and a palpable return to their earlier southern rock/blues, The Black Keys certainly shook their audience, as many were expecting a deeper dive into the experimental as a follow-up to Turn Blue. Lo/Hi marked a welcomed return to the band's original sound, something not many are willing to do, but the duo's effort with this single managed to make history, topping Billboard's Mainstream Rock, Adult Alternative Songs, Rock Airplay and Alternative Songs Charts simultaneously upon its release. Becoming the first-ever tune to dominate all major rock-oriented charts at the same time.
19. Bullet in the Brain
Album: Turn Blue
Release Date: 2014
The third single of the psychedelic soaked 2014 tenure Turn Blue, Bullet in the Brain was a lift-off continuation to the spaced introduction of the unexpected direction the band took in the midst of the decade and their consecration period. By 2014 The Black Keys had built a massive fan base and were already considered as America's Rock N' Roll sweethearts. With enough confidence to dive into an experimental period, Turn Blue is a record that follows the literal meaning of the word psychedelic, and this single aligns their rock foundations with the bitterness of heartbreak to perfection.
Auerbach was going through a harsh divorce during the production of the album and drew inspiration to throw a new coat of paint to the band's long-lasting blues-inspired approach to composition. Bullet in the Brain is one of The Black Keys' most honest tracks, its harsh lyrical imagery paints a very consistent emotional picture as opposed to previous installments, while it delivers soulful wailing guitars and distant yearning vocals that can't help but engage emotionally with the listener.
18. Do the Rump
Album: The Big Come Up
Release Date: 2002
When The Black Keys Debuted back in 2002, popular conception was that The Big Come Up was nothing but a lost in time piece from 40 years ago. The album paid tribute to their heavy blues roots and layers, and its second track Do the Rump, exactly that to one of their heroes, Junior Kimbrough, as a rendition to the 1997 song. Although this first installment did little to no effect in media, it would eventually turn into a rock jewel as the decade came to an end and the duo escalated in status.
A hypnotic groove and filtered guitars have become a Black Keys trademark throughout the years, but chronologically speaking Do the Rump was the first time we were introduced to this particular trademark. This hypnotic conjuring track does it with just one pounding snare, and passionate, unrefined vocals, and wailing strings all over, an element that only adds to the unique experience of this recording. Do the Rump evokes a lost in time, retro lustful fashion with a natural distorted effort, something that is certain to be treasured in years to come.
17. Howlin For You
Album: Brothers
Release Date: 2010
One of the mainstream breaking, and all-time classic tunes, from The Black Keys, Howlin For You is a one of a kind muscular blues-based indie tune that introduced a generation to a transformed genre. This second single for the 2010 tenure Brothers, is the album at its best when it comes to its potent and grinding throb, one that puts the inner tension of the band at the time, into a grooving, strangely humorous tone when it comes to its lyricism. It's fuzzed riff and simplicity makes it a perfect soundtrack for just about anything, the stylishness of it and its bulky beat on the other hand, puts it as a centerpiece and core for their quintessential recording.
Howlin For You seals the question in the album and leaves no room for discussion that Auerbach and Carney had officially taken their act to a whole new level with no parallels insight. Moreover, its music video parody of sexploitation cinema heightens the band's humorous approach to turbulent times, as they guest star as sombrero-wearing assassins "Las Teclas de Negro". Nominated for Best Rock Video at the 2011 MTV Video Music Award, this single made a massive impact in the alternative genre, in addition to its chart dominance on the Billboard Alternative Airplay where it peaked as No. 3.
16. All You Ever Wanted
Album: Attack & Release
Release Date: 2008
There's no doubt The Black Keys have delved and crossed in myriad directions throughout their long, prolific career, but 2008 saw the duo clenching and finally, drifting away from their deliberate lo-fi record installments. All You Ever Wanted holds on dearly and in nostalgic fashion to their simplistic traditional two-piece approach, at first, its hazy, swampy, and takes on a massive emotional range before exploding with a climatic psychedelic-folk reverie to open the visceral record Attack & Release is. It seems as if this opening track is an emotional farewell to their southern deeply rooted style and background, and looking back, there's a shivering realization that this tune is one of the last organic releases the band made along with the closing title Things Ain't Like They Used to Be.
Even though Attack & Release is a record that lacks popular limelight, there's no denying the heavy emotional charge of the album. As few songs managed to make their way to popular domains the bulk of this record remains a personal venture between the band and its audience. All You Ever Wanted is one of those tunes with cult status to many and specific critical praise, one that is bound to be discovered over and over again to provide listeners with a more intimate experience, thus becoming one of the essential tracks in The Black Keys' repertoire. Overall, all you ever wanted is easy one of the best Black Keys songs
15. Heavy Soul
Album: The Big Come Up
Release Date: 2002
The release of the Big Come Up saw little attention upon its debut. Covers of No Fun by Iggy & the Stooges and She Said She Said, by The Beatles were the most notorious features on the album due to their classic status and the hard-rocking, blues, adapted performances by the duo. Recorded with cheap tapes in Patrick Carney's basement, The Big Come Up is one of the most garage sounding rock albums out there, but if there was one tune that defined the Keys back then while hinting their musicianship and ambition, it's got to be Heavy Soul.
This stand out tune is nothing short of visceral and soulful, with its electric, ramming sound, simple and catchy riff, paired with a hybrid of melodic, rasping yearned blues vocals. Heavy Soul can be easily seen as the pillar of The Black Keys' intoxicating blues-powered, hard rocking tinges. It's a tune that only gets better with time, and their live performances of it can only get sweeter and sweeter, as its essence evolves, and paves the way for more elaborate songs.
14. Fever
Album: Turn Blue
Release Date: 2014
Merging a funky, can't-get-it-out-of-my-head beat, with trademark Black Keys electrifying and hypnotic blues, the 2014 Turn Blue hit, Fever paves way for another addition to the bands' savory tunes. Written while Auerbach was going through a divorce, the song displays a combination of bombastic, tasty psychedelic synth lines and fillers with the classic Keys' sound, the groovy psyched track plays a wonderful contrast to Turn Blue's overall gloomy and sorrowful feel while still maintaining the emotionally packed lyrics. Whether you dance to the funky beat of the tune or headbang to the iconic garage sound, Fever's feverish groove is an easily loveable and catchy track.
Though not The Black Key's biggest chart-topper, the song performed fairly well with critics and audiences alike, earning two Grammy Award nominations, including one for Best Rock Song. Peaking at number seventy-seven at the Billboard 100, the 2014 single carried a flavorful funkiness you just can't get enough of. With a musically uplifting background, the track reels listeners in from the very first instant, however the same cannot be said about Fever's lyrics, which surrounds topics of guilt and the visceral, hard-hitting experience of ending a romantic relationship. Nevertheless, Auerbach and Carney delivered yet another display of how diverse and humorous they can be without leaving aside their always consistent musicianship. The contrasting track evokes euphoric and dance-inducing vibes that can only be crumbled when paying attention to the emotionally charged lyrics, making for a stand-out tune that deepens in the layers of this groundbreaking experimental tenure.
13. Set You Free
Album: Thickfreakness
Release Date: 2003
The Black Keys' 2003 second installment Thickfreakness was a more ambitious, structured, and hard-rocking version of their debut, The Big Come Up. Channeling their blues rooted hard rock, with a more condensed garage feel that became their trademark, Set You Free is one of those early songs that unexpectedly shine through media, as well as in repertoire to hint the coming and seemingly inevitable success of an inherently young road running duo. With a flurry of banging snares and aggressive riffing coming right at you, Set You Free is a track that heightened and catapulted the raw element of the duo to popular domains.
Taking on the ever-cycling tale of falling for a girl who happens to be in the wrong relationship. The Black Keys fused their blues structure to blast audiences the way no group had done before and certainly would have loved to do so. Set You Free wasn't a chart-topping hit, but it solidified the band's status and cult following. Despite Auerbach and Carney's fear of being labeled as "sell-outs", the band licensed the track to be used in a Nissan commercial and the Jack Black film School of Rock, thus massively bolstering airplay overseas. Needless to say, This stand-alone, unpromoted single along with a leap of faith, introduced the world to The Black Keys and earned them their very first major festival performance at the Reading & Leeds Festival.
Dan Auerbach, looking back on the road credited Set You Free, saying: "It's helped us immensely. Before "Tighten Up", we'd never had a real song regularly played on rock radio. We didn't have that support, and getting these songs in commercials was almost like having your song on the radio."
12. Meet Me in the City
Album: Chulahoma: The Songs of Junior Kimbrough
Release Date: 2006
Junior Kimbrough has been a long palpable influence on Auerbach and Carney, they had already covered the bluesman back in their 2002 debut, but three years later would have The Black Keys releasing a cover collection album as a homage to the then recently deceased artist. Chulahoma is a rare piece to find and engage with but is one of the truest blues recordings of the 21st century if not the best. Based on a single thesis statement, " Blues is easy to play but hard to feel" making this album such a stand out, it's a heartfelt, soulful tenure, with Meet Me in the City as the centerpiece and evidence of it.
Meet Me in the City is essentially ethereal, mourning, and shiver-inducing, with its trusty, conflicted lyricism, heightened by its melting guitars and farewell waving spirit. Kimbrough passed away before their devoted fans got a chance to pay their respects personally, which makes one ponder on the meaning of this track on the EP, it certainly takes a role on the track list, but the wonderful bit, is that the song itself took its rightful place on the catalog. Furthermore, when one pairs the alluring atmosphere created by Meet Me in the City, with the closing recording of Kimbrough's widow, it only makes for an outstanding experience.
As lead single for the album, Your Touch brought radio airplay and media attention despite not being able to break into the charts, however, it did heavily solidify the band's cult status, while playing a massive role in introducing them to a wider audience.
11. Your Touch
Album: Magic Potion
Release Date: 2006
Keeping it sparse and simple, The Black Keys delivered another early mainstream hit with Your Touch, and its intoxicating, straight-up badass guitar riff. This single was recorded again in Carney's basement after their tire factory period, but this time channeling the sound and essence of a "band from the Midwest that plays in an oddly built basement". Part of the tune's drive comes from the duo's evident maturity in the process of making the record, it was the very first time they left covers out of the tracklist, providing full-on fresh and original material.
Your Touch was a pivotal tune for the Keys, during the latter half of the 2000s, as it gained regular rotation and airplay on international radio. Becoming a live energetic staple to their performances and an essential for the duo's devoted fanbase.
10. Gold on the Ceiling
Album: El Camino
Release Date: 2011
The second single for The Black Keys' seventh studio album, one of the hardest hitting and signature rock tracks of its decade, and the band. This bombastic, sleazy tune is often dubbed as a reference that summarizes the Keys at their very best, a full-body song with undeniable consistent musicianship. As the band had already escalated as one of the hottest acts in the mainstream, it was Gold on the Ceiling's heavy hitting garage riff propelled by Lonely Boy's synergy, that really made the duo stand out from their peers and contemporaries. The success of El Camino's predecessor Brothers and its more pop oriented merge left thousands pondering how far could The Black Keys stray from their rocking core until this raw yet perfectly channeled song came in to blow a fresh breeze of a more matured and improved duo.
Gold on the Ceiling was a remarkable success not only for the Auerbach/Carney team but also for rock music, it brought The Black Keys to the front row and straight into the limelight for the genre in America during a much-needed period. It also posed as a mainstream-friendly yet aggressive entry to the new wave of the recently passed decade. The single smashed international charts, going Platinum in both Australia and Canada while debuting as No.1 on the Billboard Alternative Airplay charts and peaking as No. 9 on the Mainstream Rock chart.
9. Strange Times
Album: Attack & Release
Release Date: 2008
2008 was an important year for The Black Keys, and this, their flagship single Strange Times, was an absolute shocker for those who were already familiar with the band. Their tenure, Attack and Release started their long-time partnership with producer Danger Mouse, thus putting an end to their signature home-made sound recording, and it was the first time they would release an actual professional record in their career. Strange Times is a turning point for the Keys, and it was the perfect teaser for fans and newcomers to their newly revamped sound.
This tune became a standard in the band's repertoire, and live performances for nearly a decade, and although it failed to perform brilliantly on the charts, it managed to put The Black Keys on the mainstream radar through massive airplay. With cryptic lyricism, it became official that the duo was planning to stray far from their traditional blues structure, spawning vague imagery of pilgrimage contrasted by synth lines that drew inspiration from the X Files, it was now clear that this band was up to something that would finally garner attention in their next tenure. However, the tune became one of the fan favorite features in video games, Grand Theft Auto IV, and NASCAR 09.
8. I Got Mine
Album: Attack & Release
Release Date: 2008
Yet again a perfectly condensed combination of garage rock and blues, I Got Mine drew straight inspiration and lent riffs from their major bluesmen influences, furthermore the impact of this tune was strong enough to spark certain bitterness from the White Stripes Frontman, Jack White. Part of the success of this track comes from producer Danger Mouse's influence in the band's style, adding precision and clean techniques rather than saturated distorted riffing. There's also the mild psychedelic element that bridges and builds the tune with a heavy drop back to the main structure, with nothing short of a bang and intensified drumming by Carney to deliver an energetic, raw, and brilliantly timed performance to the tune.
Despite the tune's absence from the charts, I Got Mine got its rightful place in pop culture, becoming part of the ever-iconic Tony Hawk video games setlist, as well as several films in the years following its release as a single. With a more than palpable influence on its decade, it became a staple of rock music, while the band's profile was still to earn the credit and recognition it deserved. Nevertheless, Rolling Stone magazine did justice for the Keys by listing the track as the 23rd best song of 2008, and labeled it as "an instant classic", as there's a certain timeless essence in I Got Mine, it's a tune that connects all Rock N' Roll eras in one single brilliantly condensed recording.
7. Thickfreakness
Album: Thickfreakness
Release Date: 2003
One of the best 8-track recorded tunes from the band's repertoire and the title track for their second album, Thickfreakness was arguably the very first time the Keys displayed a glimpse of what they would become. The first impression is an obvious reminiscence of blues classics, and as some claimed, palpable grunge influences, along with a texturized older feel due to the recording format of Carney's basement and tape-recorded instruments, and Auerbach's signature soulful vocals. A standout track in the band's fast discography at the time, Thickfreakness is also one of the most raw and aggressive tracks Auerbach has ever delivered, and it's paid off as it has withstood the test of time as one of the best rock tunes according to Pitchfork and Rolling Stone.
Thickfreakness put The Black Keys on the independent radar, as it increasingly sparked interest and drew a comparison to their contemporaries, most noticeably the Detroit blues influenced duo The White Stripes. But the main difference can be found in how visceral this record is, much of that energy is largely credited to this album opening banger. Reportedly recorded in a single 14-hour session, regardless of the time this was made, it is a massive accolade for such a now renowned and well produced tenure.
The Boston Globe reviewed Thickfreakness as "an album that's meant to be felt as much as heard, rigged with plunging riffs, Auerbach's charcoal-smoke singing voice, and rhythmic pockets as deep as quicksand" thus officially earning the band a first time on mainstream media.
6. You're the One
Album: Magic Potion
Release Date: 2006
The Black Keys rarely lay down their knack for balladry, but when they do, it is guaranteed that you will open up and slow dance to their tenderness. Magic Potion carried on the band's lo-fi aggressiveness and blues roots, this time with more of a budget, and exploring new dimensions to their sound, this single, in particular, is bound to hit your very core. As expected, little promotion came in for this single as it was a late bit on the record, it was nothing more than a B-side tune-up until a year after the release of Magic Potion, but it was a stand out on later editions of the album and a brilliant, massive experience when performed live. The fact that it forgoes any eclecticisms or arrangements on both instruments and vocals, You're the One's emotion is as captivating as it is mellow.
Taking on both the perspective of a mother's eyes, as well as an inherent lover, this tune is brilliant, minimalistic, and downright beautiful. You're the One speaks of genuine, unparalleled nature, and brings in one of The Black Keys' most outstanding qualities: Their intoxicating and bewitching trait, as the tune spaces out the listener in an early interlude before the grooving, rocking riff of Just a Little Heat snaps you out of the trance. The texture of the track brought to the table an unseen color of the band, one that was merely hinted at in previous blues cover installments.
5. Lonely Boy
Album: El Camino
Release Date: 2011
Talk about keeping momentum, El Camino was the much needed follow up to their breakthrough album Brothers, and what a way to start a record, with nothing but a bang. Dan Auerbach and Danger Mouse teamed up to stray further from their southern-rock roots and take over the mainstream with a blues infused unique take on indie rock. Lonely Boy is perhaps one of the most recognizable rock tunes of all time and undoubtedly the 21st century, the track is simplicity at its best, and one of the essential singles in the band's repertoire.
In true Black Keys style, Lonely Boy is nothing short of infectious and obsessive, from its opening riff to its complementary riffs, this tune is not only top-class festival material, but it makes for an amazing road trip tune, as described by British magazine NME. This Akron Ohio duo is known for its massive openings, but Lonely Boy served a very specific purpose, proving that their mainstream entering with Brothers was not just a fluke. If there was the need to prove that rock music was something to shout or literally dance for, El Camino proves is nothing but hard evidence of it, just take a look at this massive single's memeful music video. The song debuted as No. 1 in several Billboard lists, among them Adult Alternative, Alternative, and Rock song charts, while peaking as 64 in the Hot 100, and needless to say, there's no room to discuss that
4. 10 A.M. Automatic
Album: Rubber Factory
Release Date: 2004
Rubber Factory was The Black Keys' first major step as outsiders into the music industry, and grandeur, thanks in no small part to 10 A.M Automatic. Recorded in true Black Keys essence, outside Carney's basement and into an abandoned tire factory in their hometown of Akron, Ohio, a space and ambient that certainly contributed to their machine sounding riffs in the album. Way before earning their first major label deal, the early half of the 2000s saw a golden seal within The Black Keys, 10 A.M Automatic was the very first song of the duo to ever bolster their album into the Billboard 200.
10 A.M Automatic was the first music video for the band, and it really made an impact on the decade despite its low budget, and lack of rotatory airplay, as it made its way to Paste Magazine's 50 Best Music videos of the decade. This lead single would also help The Black Keys to introduce themselves to overseas audiences. With Auerbach's soulful vocals that moan as they compare a lover to a toxic addict in one of the bands hardest most electrifying tunes up to this date.
3. Little Black Submarines
Album: El Camino
Release Date: 2011
One of the most wistful Black Keys tune ever since its release, the acoustic-into-electric epic tale, as told by the transition between two distinctive segments, Little Black Submarines is arguably the most excitable song of the duo. The song was recorded "four or five times" according to Auerbach, once in a loud hard rocking approach and one as a vague, quiet, and sparse acoustic version, there were various attempts to revamp the sketched idea before settling with this fourth single masterpiece release for El Camino. This new segmented structure was a turning point for the band, as they channel both the intimacy of a laid back acoustic piece, while massively connecting it to their raw energetic core in a matter of seconds. Auerbach referred to the electric segment of the song as: "the closest representation of our live show than anything we've done before"
Much of the song's allure has a lot to do with its lyrical and vocal imagery of a broken heart, as the song transitions from slow acoustic ballad to a hard rocking arrangement that featured Auerbach's "rock-jock" moment with a heavy soul hitting solo. This tune received overwhelming praise from critics and fans as well, with many agreeing on the grandeur of the track while drawing comparisons to hard rock legends, Led Zeppelin. Needless to say, the critical praise and success of the track bolstered the commercial performance of the single, not only charting as No. 2 on the Billboard Alternative Charts but also earning a Gold Certification in America.
2. Unknown Brother
Album: Brothers
Release Date: 2010
A soul-stripping track, Unknown Brother's underlying lyrical intensity, and the soft yet melancholic vocals and instrumentals make for one of the band's most honest tunes. Throughout the song, Auerbach exposes the deep connection and appreciation he feels towards his late brother-in-law. Though the singer never got the chance to meet him, he feels as though he will always carry a desire to meet him someday. Packed with heavy and steady percussion, the drumming perfectly sets the mood as The Black Keys strip away from their usually energetic and electrifying blues, pouring out a gentler, more sentimental side to their music.
Although the track was eclipsed by the success and limelight of other tunes and singles, its raw, wishful, and melancholic honesty becomes one of a practically haunting nature, making it a remarkably unforgettable tune. Despite keeping their alternative garage-y and rough sound, the duo still managed to transmit an entirely different feeling while still sticking to their roots, adding another track to their almost impeccable repertoire. A deeply emotional and personal experience, the lesser known Unknown Brother, displayed a striking, sheer sincerity The Black Keys had rarely display, breaking another barrier that only proved to be key for their constant musical growth and evolution. This is easily another one of the best Black Keys songs ever.
1. Tighten Up
Album: Brothers
Release Date: 2010
One of The Keys' most iconic tunes, Tighten Up, displays multiple layers of the band. Going through classy, grooving and savory beats, the song slowly leads the listener to a jumpy, catchy switch that ties up the electrifying nature of the duo. A song that launched the band into an even larger audience, and the gateway Black Keys tune for many, Tighten Up captivates the listener from the very first chord and beat. Desperately bluesy, the track tells the tale of the need for affection and the struggles of unrequited love, with an undying willingness to, as the song states, "get it right." And that they did.
A striking and unprecedented success for The Black Keys, the track landed them their first-ever spot on the Billboard Hot 100, marking a whole new and uncharted exposure for the band. The track was not only a commercial success but a critical one to earning a Grammy Award for Best Rock Performance by a Duo and a nomination for Best Rock Song. Combining Auerbach's soulful, raspy vocals and Carney's flavorful rhythms with a suave bassline, it is no wonder why Tighten Up became one of the band's most recognizable anthems.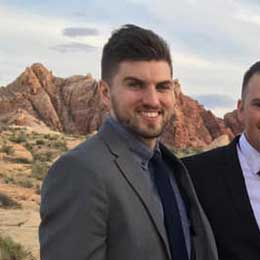 My name is Chris and I've had a passion for music and guitars for as long as I can remember. I started this website with some of my friends who are musicians, music teachers, gear heads, and music enthusiasts so we could provide high-quality guitar and music-related content.
I've been playing guitar since I was 13 years old and am an avid collector. Amps, pedals, guitars, bass, drums, microphones, studio, and recording gear, I love it all.
I was born and raised in Western Pennsylvania. My background is in Electrical Engineering, earning a Bachelor's degree from Youngstown State University. With my engineering experience, I've developed as a designer of guitar amplifiers and effects. A true passion of mine, I've designed, built, and repaired a wide range of guitar amps and electronics. Here at the Guitar Lobby, our aim is to share our passion for Music and gear with the rest of the music community.