The 1990s were one of the most important turning points for rock and metal music. It was a time when new movements and rock subgenres began to flourish. Although the focus shifted from those lightning-speed fast guitar solos typical of glam (or "hair") metal music, the guitar itself wasn't neglected. In fact, a more down-to-earth approach was taken with grunge and "alternative" rock and metal movements. Of course, we saw the emergence of plenty of new bands, many of which made permanent marks in the history of music, and you can't talk about 90s rock without mentioning TOOL.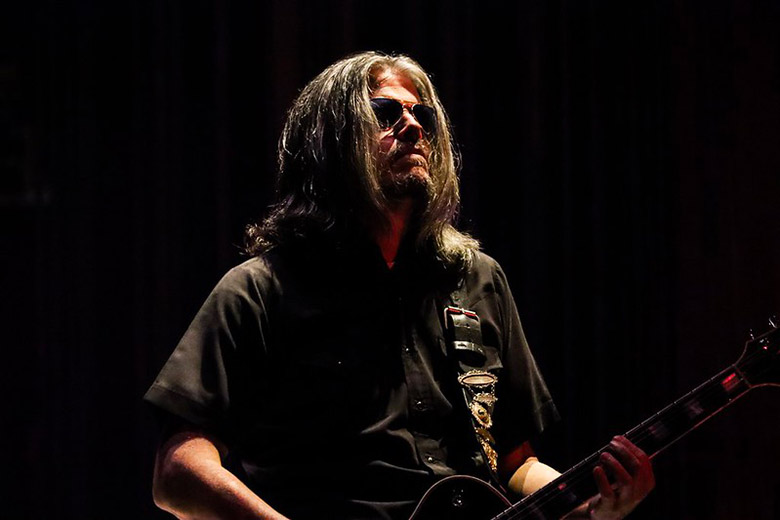 Led on guitar by Adam Jones, TOOL is known for their psychedelic metal vibe. There has always been much about TOOL shrouded in mystery, and that goes for aspects of Adam Jones' guitar rig.  Jones has become known for dropping teasers, especially about his signature gear as well as band-related announcements. Classic Tool, isn't it?
What Guitar Does Adam Jones Play?
Adam Jones is best known for playing his Silverburst 1979 Gibson Les Paul Custom guitar. He's owned and played many other guitars as well, but Jones has become notorious for his Silverburst Les Paul Customs.
Gibson Custom Shop produced a signature model replica of his '79 Silverburst which was released for sale in October of 2020. See the full list below of Adam Jones guitars and gear.
1979 Gibson Les Paul Custom Silverburst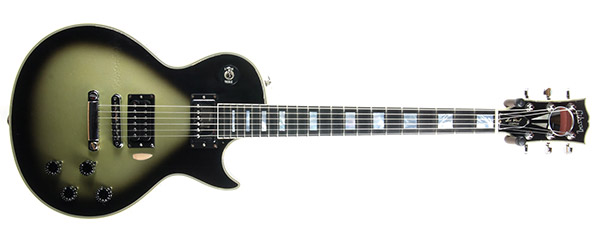 Finish: Silverburst
Years used: 1980s to Present
Often, famous guitar players will have that one instrument that people most associate with the artist and their music. In the case of TOOL's Adam Jones, his 1979 Gibson Les Paul Custom Silverburst guitar has become almost synonymous with him as an artist and with the band TOOL.
There are many published stories about Adam's Silverburst Les Paul's online, some debating and making claims about the quality of the wood used for these instruments of the era compared to some other eras and various Gibson models. These "Norlin Era" Silverburst Les Paul Custom guitars were made for a relatively brief period, making them an interesting collectible item. In an interview conducted back in 1994, Adam revealed that he had five of these at the time of the interview.
Adam's Silverburst is known to be a relatively heavy guitar, both in terms of tone and actual weight. The LP pickguard is removed, it has binding on the fretboard, square fretboard inlays, top and back body binding, headstock binding, as well as the easily recognizable split diamond logo on the headstock. Adam added the circular mirror attached to the front side of the headstock. The aging nitro clear coat on the guitar has given the silver finish a greenish tint.
Gibson Custom Shop Reverse Silverburst Murphy Lab Flying V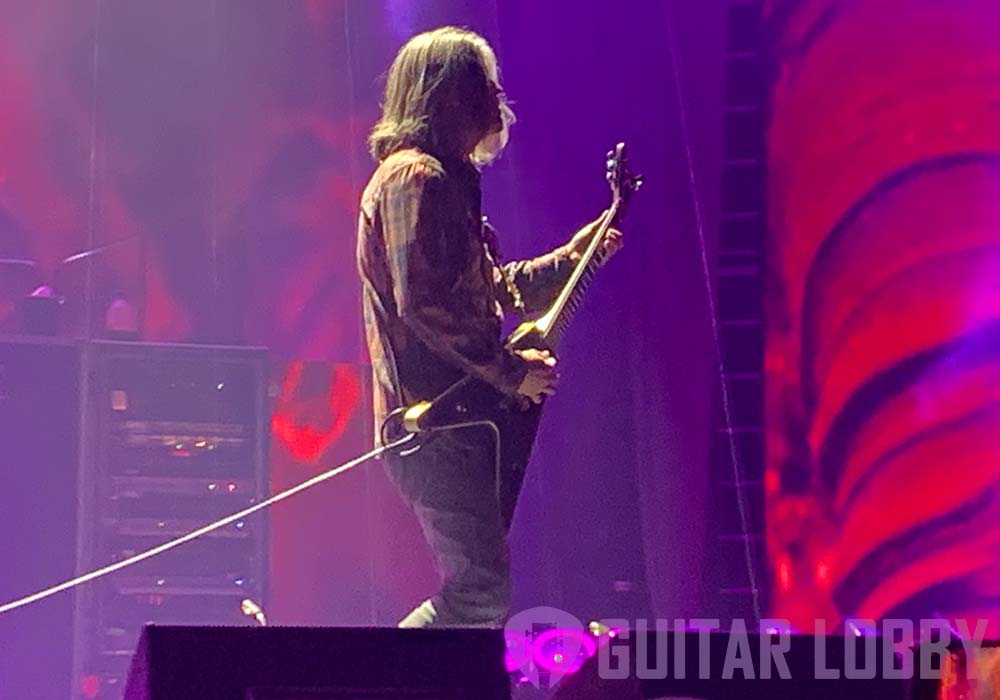 Finish: Reverse Silverburst
Years used: 2021 to Present
During TOOL's 2022 Fear Inoculum tour, Adam played 2 guitars. The first, of course, is his Silverburst Gibson Les Paul Custom, and the second is a brand new Gibson Custom Shop Reverse Silverburst Murphy Lab Flying V guitar. This guitar is a new Gibson Custom Shop prototype made specifically for Jones. The most notable features are its "split" headstock design, atypical control layout, and Reverse Silverburst finish! This finish is particularly interesting as the traditional Gibson Silverburst finish is Black around the edges before "bursting" into a metallic Silver at the center of the body. The new Flying V Jones is wielding is notably Silver around the edges before fading into Black for the majority of the body.
Fans worldwide took notice of this mysterious new guitar and wondered if it's possible we are seeing the first glimpses of a Gibson Adam Jones Signature Flying V, but very little was known about it until Adam shared some up close photos to his Instagram along with a 15 second overview reel from guitarist Brinley Amicon.
View this post on Instagram
Gibson Les Paul Custom Silverburst Duplicates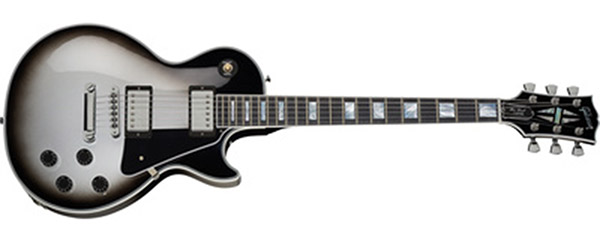 Finish: Silverburst
Years used: Unspecified to Present
Adam Jones has several Silverburst copies that he has collected over the years. The '79 Les Paul Custom eventually even got its special "reincarnation" as an official signature model, made by Gibson. These Les Paul Custom guitars initially came in two models. The more expensive of the two options came with the special mirror for the headstock, as well as hand signed by Adam on the back of the headstock. Both of these models have the "antiqued" silverburst finishes, which is typical of these guitars, as we already explained above.
Gibson Les Paul Custom Natural Finish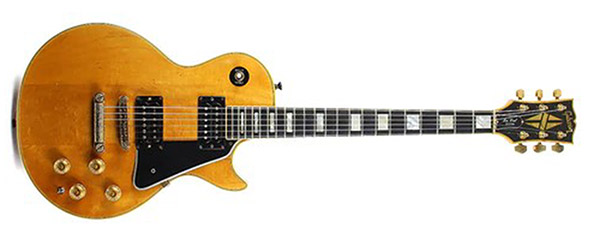 Finish: Yellow / Natural
Years used: 2011 to Present
Going deeper into Adam Jones' Gibson Les Paul collection, there's another particular Custom model in the guitarist's arsenal. It features a natural / yellow-looking finish and we can also notice a quilted maple top. The guitar was seen on some of the fan-filmed live footage that's been circulating online. In particular, this Les Paul Custom was used for "Parabol" and "Parabola" songs, which require a rather unusual tuning of B, E, D, G, B, E, so it makes sense that this was likely a guitar Adam toured with specifically to keep in that special tuning while keeping his Silverburst tuned to drop D which he uses for the majority of TOOL songs.
In the video below, Adam plays his Silverburst for the first song "The Grudge" before he pulls out his Natural/Yellow looking Les Paul for the second song "Parabola" around 8 minutes and 30 seconds into the video.
Black Gibson Les Paul Custom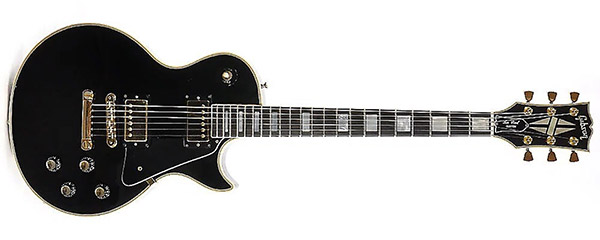 Finish: Black
Years used: 1981 to 1998
A Gibson Les Paul Custom model like we are accustomed to seeing Adam Jones play, but this one with a black finish. It's pretty rare to see pics and videos of Adam with this guitar and relatively little is known about it. We can assume that it served as a spare instrument for his beloved '79 Gibson Les Paul Silverburst Custom.
Gibson EDS-1275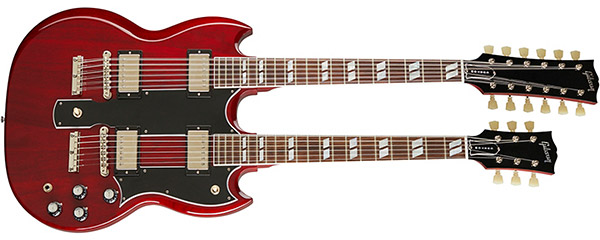 Finish: Cherry Red
Years used: 2010 to Present
It's pretty unusual to imagine Adam Jones holding anything else other than Gibson Les Paul, more specifically his favored Custom model. However, there is one guitar model that he was seen playing and it's Gibson's legendary double-neck model, the EDS-1275.
Plenty of other guitar legends have also used the instrument, including Jimmy Page, John McLaughlin, Ace Frehley, Slash, Don Felder, and even Tom Morello of Rage Against the Machine. As for Adam, it's known that he used it for live performances when Tool covered "No Quarter" by Led Zeppelin. Seemingly a nod of respect to the legend, Jimmy Page, who the song originally performed the song.
Other than its finish, not much is known about this particular guitar, whether it's a newer or an older example. This is one of my favorite Adam Jones guitars of all time. Their cover of No Quarter is absolutely epic!
Gibson SG (Exact Model and Specs Unknown)
Finish: Not known
Years used: Unspecified
As we've already mentioned, there's a lot of mystery surrounding Tool and Adam Jones' gear. Not much is known about the exact guitars that he uses in the studio and there haven't really been that many photos or videos of him holding anything else other than Gibson Les Pauls.
He did, however, confirm that there's a certain Gibson SG in his collection that he has used for studio work. But other than that, he hasn't revealed much about the instrument. We don't know when he got it, we don't know what the finish is, and we most certainly don't know when and where he used the guitar.
Table Showing the Guitars Adam Jones Used at Each Point in His Career
| Make | Model | Color/Finish | Years |
| --- | --- | --- | --- |
| Gibson | 1979 Les Paul Custom | Silverburst | 1980s-Present |
| Gibson | Les Paul Custom | Silverburst | 1980s-Present |
| Gibson | Les Paul Custom | Natural | 2010s-Present |
| Gibson | Les Paul Custom | Black | Late 1980s-Early 1990s |
| Gibson | EDS-1275 | Red | 2010s-Present |
| Gibson | SG | Not Known | Not Known |
Amps and Speaker Cabinets
Diezel VH4
Years used: 1994 to Present
Aside from Gibson Les Paul Custom guitars, Adam Jones's signature piece of gear is Diezel's VH4 amp head. Featuring 100 watts of output power, these have been in production since the early 1990s, and it is believed that Adam had them since the mid part of the decade.
Diezel's VH4 head comes with four individual channels and he owns quite a few of these, both the "blueface" and "silverface" models, although he prefers the "blueface" version more. But essentially, they come with the same basic essential features. They're fitted with the seven standard 12AX7 preamp tubes, as well as four JJ KT77 tubes in the power amp section. Each of the channels not only features an individual 3-band EQ, volume, and gain controls but also its effects loop, giving an abundance of possibilities. There are also additional "bright" switches on the first two channels.
But having four channels gives one guitar player so many ways to shape their tones, especially with so much variety in gain. Additionally, these days, Diezel's VH4 amps also come with an option to save presets and call them up via a MIDI switcher. What's more, the front panel also features a "thru" input, meaning that you can put multiple heads in your signal chain.
1976 Marshall Super Bass
Years used: 1993 to Present
Adam Jones also has an old Marshall Super Bass amp from 1976. These are highly valued among collectors, and it's mostly due to their unique tone with a lot of rich and tight bottom-ends. The story goes that this is another one of Adam's favorites, which he usually combines with the Diezel VH4, both for studio and live performances. It features three standard ECC83 or 12AX7 preamp tubes, as well as four EL34 power tubes, which is typical of the old school "British" amps that bring those mid-heavy tones.
Mesa Boogie Dual Rectifier
Years used: Mid-1990s to 2010s
Another amp model that was a part of Adam's rig was Mesa Boogie's Dual Rectifier head. Dual Rectifier is a 3-channel amp with some very detailed tone-shaping controls for each channel. These controls allow guitar players to add a "tighter" or "looser" tone, which is especially interesting in high-gain settings.
Popular Related Article: Tony Iommi Guitars and Gear Overview
Bogner Überschall
Years used: 1993 to Present
Bogner Überschall is one of the most prestigious "boutique"-style amps that you can find on the market. While it's not certain when and where exactly Adam Jones used it, it's been confirmed that the amp found its way on 2019's long-awaited "Fear Inoculum."
This 120-watt amp head comes with six 12AX7 preamp tubes, as well as four EL34 power tubes, which gives it a somewhat mid-heavy and tight tone. It features two channels, although the controls are not as detailed compared to some other of Adam's preferred amplifiers.
Rivera K120TRE Knucklehead Tre
Years used: 1993 to Present
Another great amp model that occasionally found its way into Adam Jones' setup is Rivera's K120TRE, also known as the Knucklehead Tre. Although not as famous and common as Marshall or even Diezel amps, the Knucklehead is a very potent 120-watt amp head that allows for a lot of tone-shaping options. Especially interesting are its push-and-pull control knobs, as well as an additional control that lets you further shape the bottom-ends in the tone. It's a very powerful amp with four EL34 tubes in the power section.
Roland JC-120 Jazz Chorus
Years used: 1995 to Present
Just like many other guitar heroes, Adam too has used Roland's legendary Jazz Chorus solid-state amp, the JC-120 model. This one is most commonly used for clean tones, as is the case with Adam as well. Its tone is fairly bright and clean and it's also a great "platform" for pedals and effects. Of course, Jazz Chorus amps are famous for their special chorus and vibrato circuitry. This amp also found its way on the "10,000 Days" album.
Popular Related Article: Jimi Hendrix Guitars and Gear Overview
Sunn Beta Lead
Years used: 1994 to 2003
While it's not certain when it actually became a part of his rig, Adam used a Sunn's Beta Lead, most likely on the "Lateralus" album. Interestingly enough, this is actually a solid-state amplifier, although it's known for its very powerful tone. This same model was also used by Melvins' Buzz Osborne.
Roland Cube 15
Years used: 2000s to Present
In order to fully implement his recognizable talk box effect, he uses a small Roland Cube 15 amplifier. It's a bit of an unusual choice since it's a pretty basic and cheap solid-state amp, but it gets the job done for this particular purpose.
Mesa Boogie Rectifier Standard 4×12-Inch Cabinet
Years used: 1992 to Unspecified
One of the most common speaker cabinets that Adam has used over the years is Mesa Boogie's Rectifier Standard, bearing four 12-inch speakers in it. It's pretty much a "standard" for his live setup.
Popular Related Article: Jimmy Page Guitars and Gear Overview
Mesa Boogie 2×15-Inch Bass Cabinet
Years used: 2014
Adam's live setup also included Mesa Boogie's bass cabinet, featuring two 15-inch speakers. Knowing that Adam is the sole guitar player in the band and that he likes to have this powerful bottom-end-heavy tone, it's not a surprise to see him using this one.
Pedals and Other Adam Jones Gear
Dunlop Heil HT1 Talk Box
Years used: 2000 to Present
One of the many highlight moments in Tool's history is the use of the talkbox effect for the song "Jambi" off of the "10,000 Days" record. For this purpose, Adam prefers Dunlop's Heil HT-1. At this point, this is a "classic" piece. For those who don't know, the pedal comes with a rubber tube, with one end placed in a guitar player's mouth. This way, the circuitry "picks up" the movement of their mouth and adds it to the guitar tone, making an effect that completely resembles a human voice. Interestingly enough, compared to other "conventional" pedals, the effect goes between an amp and a cabinet.
Abominable Electronics Hellmouth
Years used: Unspecified
It's not exactly a pedal that he uses often, but he does have a Hellmouth distortion pedal. Made by a smaller company Abominable Electronics, it gives some interesting and unusual ways for tone-shaping, including a treble-cut switch that makes the tone super-bassy. Additionally, there's even an option to add more gain to it, which results in a slightly fuzzy and pretty heavy tone. What's also really interesting is that the pedal comes with the clean blend control, which gives a completely new way for tone shaping compared to most of the regular distortion pedals.
Gamechanger Audio Plasma
Years used: 2017 to Present
One of the newer pedals that Adam got into is Gamechanger Audio's Plasma. And this is a smaller and relatively new company, so his tech Joe Barresi got in touch with them for a potential new pedal for the TOOL guitarist.
Compared to conventional pedals that use transistors, diodes, and sometimes tubes to create distortion, the signal in Gamechanger Audio's Plasma is actually converted into continuous high-voltage discharges that go through a xenon-filled tube. And you can actually see the current going through the tube, after which is once again turned back into an analog signal. This principle allows for a pretty unique tone, even giving some dynamic response to it. There's even a voltage control that can help you completely change your tone in many different ways.
Popular Related Article: David Gilmour Guitars and Gear Overview
Boss BF-2 Flanger
Years used: Most of his career
Going into Flanger effects, Adam Jones also uses the classic Boss BF-2 Flanger pedal. This is an older model, which was produced from 1980 and up to 2001. Over the years, Adam used it for his live tones and possibly some studio work with TOOL as well.
Boss BF-3 Flanger
Years used: 2012 to Present
Another flanger that he uses is the continuation of this older model, the BF-3 by Boss. The pedal offers pretty much similar controls to what we can see on the BF-2 model, although it comes with two additional modes of operation, "ultra" and "gate/pan."
Boss CE-5 Chorus
Years used: 2011 to Present
Another continuation of the old pedals, Boss' CE-5 is one of the best chorus pedals on the market today. Adam has it in his inventory for live shows, which offers some detailed controls, considering its very compact size.
Boss DD-3 Digital Delay
Years used: Unspecified
When it comes to delays, he prefers Boss' classic DD-3. This pedal is pretty much the same deal as the previous version, the DD-2, only with a new designated name. The DD-2 was actually the first-ever digital delay device in the size of a stompbox. Just a classic piece.
Boss GE-7 Equalizer
Years used: 2018 to Present
For his more recent tours, Adam went with another Boss classic, their stompbox equalizer. The GE-7 comes with seven adjustable frequency ranges, offering a 15 dB cut and a 15 dB boost for each of them. Additionally, the pedal even comes with a simple level knob, meaning that you can also use it as a simple booster. It found its place in Adam's signal chain right after the release of Tool's "Fear Inoculum."
DOD FX40B Equalizer
Years used: Unspecified to 2015
But prior to getting Boss' GE-7 in his signal chain, Jones preferred to use the good old DOD FX40B equalizer. This is a relatively old device, and just like most DOD devices, it was somewhat popular among the guitarists of Adam's generation. Once again, we have an EQ with 7 frequency bands, as well as a level slider. However, this particular pedal model gives a boost and cut of up to 18 dB.
MXR M292 Carbon Copy Deluxe Delay
Years used: 2016 to Present
Another interesting addition to Adam's pedalboard after the release of "Fear Inoculum" is MXR's M292, which is a more advanced version of the classic Carbon Copy analog delay. Also referred to as the Carbon Copy Deluxe Delay, the M292 comes with more delay time, up to 1.2 seconds, as well as an additional tap footswitch for custom delay times. There's also the classic modulation effect button and an additional "bright" switch for achieving that "snappy" tone.
MXR M102 Dyna Comp Compressor
Years used: 2012 to Present
As far as compression goes, he prefers MXR's M102 Dyna Comp pedal. Although this is a pretty straightforward pedal with only two knobs for level and "sensitivity," it helps him bring a bit more sustain to his tone. And MXR M102 is a pretty useful one, especially because it's pretty compact.
MXR M133 Micro Amp
Years used: 2008 to Present
Another MXR device in his collection, the M133 Micro Amp s a pretty interesting one. Although it mostly serves as a standard clean, the pedal comes with a different twist. It's designed in such a way as to push the signal without adding dynamic response to it. You just get a volume boost and that's it!
MXR CSP233 Micro Amp Plus
Years used: 2015 to Present
Another MXR pedal that Adam was seen using is the CSP233 Micro Amp Plus, which is an improved version of the standard M133. Compared to this basic version, the Micro Amp Plus brings an interesting twist with a 2-band EQ, or bass and treble knobs. Other than that, it's just a simple clean boost with the same principle of not bringing more dynamic responsiveness into the equation.
It's not certain whether it saw any action for live shows, but Adam used it for one of his Instagram live sessions some years ago.
Boss PSM-5 Power Supply and Master Switch
Years used: 2010 to Present
Another interesting Boss device in his collection is the PSM-5, which serves as a power supply and a master switch, seeing some action on Tool tours. This is basically the first Boss power supply device in the form of a compact pedal. Made from 1983, the sales stopped sometime in the late 1990s after it was replaced by the LS-2 Line Selector. It's a weird and "unconventional" one, but Adam found a good use for it.
Dunlop Cry Baby BB-535 Wah
Years used: 2013 to Present
As for wah pedals, many have thought that Adam uses Dunlop's 535Q Cry Baby. However, it's actually a BB-535 model. It's a somewhat unusual one, serving as a "multi-wah" pedal with some additional features. But other than that, it's pretty much similar to the 535Q model, both with its tone and functionality.
Gig-Fx Chopper CH-1
Years used: 2003
One pretty unusual pedal that passed through his collection is the Gig-Fx Chopper CH-1. It's basically a multi-effects device with a foot-controlled rocking part, just like the one on wahs, volume, and expression pedals, although it tweaks different parameters. It comes with tremolo, chopper, auto-pan, Leslie, and delay emulation effects.
Peterson VS-S StroboStomp Tuner
Years used: 2013 to present
As for tuners, Adam has also used Peterson's VS-S StroboStomp. This is a classic digital replica of those old-school strobe tuners which were really precise. While you can't really get that same level of precision on digital devices, it's still much better than your average digital tuner pedal. Other than that, it's a relatively bulky one for a compact pedal format and it even comes with a true bypass mode.
Goodrich 120 Volume Pedal
Years used: 2013 to Present
And looking into volume pedals, he started using the Goodrich 120 model in the 2010s. And just like any other volume pedal, it's a pretty simple one, although we'd point out its durability and overall build qualities.
Roland PK-5 Dynamic MIDI Pedal
Years used: 2010 to Present
For some of the advanced MIDI switching and other dynamic controls, Adam has Roland's advanced PK-5. This basically serves as a control unit for different modules and not guitar effects and amplifiers. It's similar to what Rush's Geddy Lee does. PK-5 comes with 13 note pedals, each with 13 levels of dynamic velocity.
Roland VK-8M Organ Sound Module
Years used: 2013 to Present
But in combination with the PK-5, Adam also uses Roland's VK-8M, which is an organ module. It comes with some pretty detailed tone-shaping controls, allowing you to create different analog-like vintage organ tones. Additionally, it also comes with 36 user presets.
Wrap Up
Much of their earliest material somewhat resembled grunge. Over the years they have further explored their progressive rock and progressive metal sides and become more polished in their musical aggression. Really you could argue that all 4 members of the band Adam Jones, Danny Carey, Maynard James Keenan, and Justin Chancellor (who replaced the original bassist Paul D'Amour) – are creative geniuses who complement each other.
Jones's main occupation involved film work and animation, music still remained his passion. In particular, he has become known for his outstanding riff ideas, as well as a great guitar tone that also involved a lot of unusual effects. His playing style and music is somewhat unique and he's had to offer over the years, making a great impact on the guitar as an instrument for so many of us.
His rather unique approach has made his guitar stand out, and made us all think. And although it's evolved some over the year, his playing has stayed true to an identity, and you could always tell when it was Adam Jones playing the guitar. It goes without saying that many have tried to replicate this kind of "in-your-face" tone, although it's always been quite a difficult task.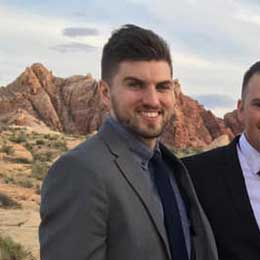 My name is Chris and I've had a passion for music and guitars for as long as I can remember. I started this website with some of my friends who are musicians, music teachers, gear heads, and music enthusiasts so we could provide high-quality guitar and music-related content.
I've been playing guitar since I was 13 years old and am an avid collector. Amps, pedals, guitars, bass, drums, microphones, studio, and recording gear, I love it all.
I was born and raised in Western Pennsylvania. My background is in Electrical Engineering, earning a Bachelor's degree from Youngstown State University. With my engineering experience, I've developed as a designer of guitar amplifiers and effects. A true passion of mine, I've designed, built, and repaired a wide range of guitar amps and electronics. Here at the Guitar Lobby, our aim is to share our passion for Music and gear with the rest of the music community.