Creed and Alter Bridge's guitarist Mark Tremonti has garnered recognition and prestige not only for his technical playing ability, which he has heaps of, but also for his incredible songwriting skills and musical sensibility.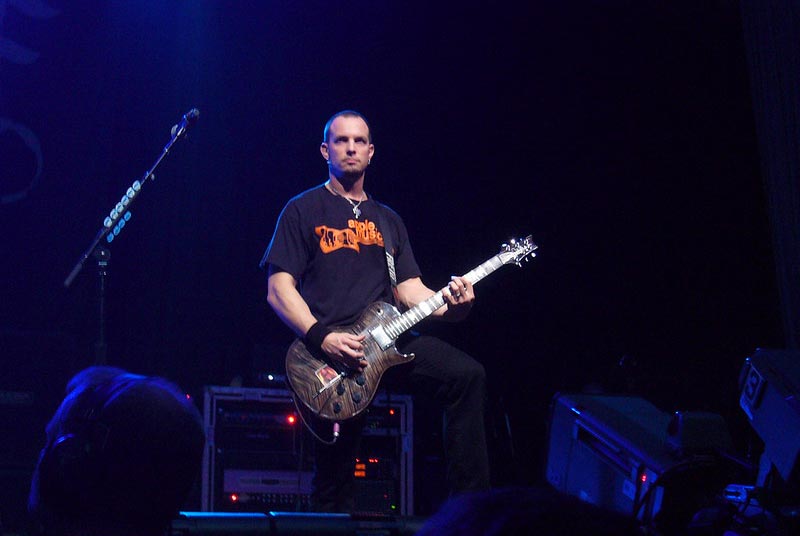 Having written some monumentally successful songs, including the Grammy award-winning "With Arms Wide Open" by Creed, Tremonti was awarded the 2015 Loudwire Music award for the best guitarist as well as the Metal Hammers riff lord award. Mark is the embodiment of what an astounding guitarist should be, putting a huge emphasis on a fantastic skillset, and soloing chops where it counts.
Recent years on another hand, have seen Mark embarking on a prolific solo career as a household heavy rocking name since 2012, releasing five studio albums with his band Tremonti, the latest being his 5 star rated 2021 installment "Marching In Time". This comeback after three years saw Mark doing what he does best, veering into power metal and thrash territory with melodic hooks, further cementing himself as one of mainstream rocks greatest of all time.
What Guitars Does Mark Tremonti Play?
Mark Tremonti plays PRS Tremonti model guitars which are his signature line of single-cut electric guitars with a floating tremolo. Over the years he's continuously reinvented his signature model with a simplistic flair. He's also known to favor his Taylor 514ce for acoustic playing sessions.
See the full list of Mark Tremonti guitars and gear below.
PRS Tremonti Charcoal Burst

| | |
| --- | --- |
| Finish | Flamed Maple Burst |
| Years Used | 2004 to Present |
This is one of Mark's all-time favorite guitar. One of the earlier models he used, it sported a single cut-away and a flamboyant maple top. This was the guitar that inspired him to make his subsequent Tremonti signatures with a floating tremolo system.
A lot of work also went into dialing the pickup voicing. After initially not being able to land the precise tone Tremonti was after, PRS sent him about 10 different sets of pickups. After trying them all out, Mark was able to find the one that best suited his sound and eventually settle the future of the Tremonti PRS partnership.
In addition to the ever-iconic PRS 'bird' inlays, it also has the name 'Mark Tremonti' written across the 12th fret of the guitar. This was removed for later incarnations of his signature series as PRS wanted people who were not necessarily Alter Bridge fans to feel comfortable purchasing it.
This guitar is very easily recognizable, not just because he uses it live consistently, even now in 2021. But it has a sticker placed behind the bridge of the late Dimebag Darrell. Mark has mentioned that a fan was giving out these stickers after one of their shows shortly after his passing. And he felt putting it on his favorite guitar would be the ideal way to honor Dimebags memory.
PRS Tremonti SE

| | |
| --- | --- |
| Finish | Gloss Black and Platinum |
| Years Used | 2004 to 2006 |
Due to Creed's mounting tensions with singer Scott Stapp after the release of their 2001 album 'Weathered'. The band decided to break up in 2004, and Mark went on to form a new group, Alter Bridge, along with other members of Creed. Since the band had already achieved a good deal of commercial success and Tremonti was already in a working relationship with PRS, having played a few select models during the entirety of his time with Creed. He was given the opportunity to release a signature line that would eventually go commercial.
It was designed as one of the more affordable SE models PRS offered (essentially their under $1000 range). And was relatively simple in design, but it did check all the boxes that would allow Tremonti to achieve the tones he wanted.
Mark was looking to emulate the tone and feel of a Les Paul but with a more modern twist, not in terms of aesthetics, but tonal response. As such, when Mark was not 100% happy with some of the stock PRS models they sent him, combined with PRS's desire to be able to realize that more modern sound which was perhaps lacking in their lineup. They accommodated Mark, creating this modern single-cut blueprint.
It features a solid mahogany body and rosewood fretboard. The usual 22 frets with individual volume and tone control for each pickup much like a Les Paul, and was made available in a gloss black as well as platinum silver finish.
Mark would use this guitar during the 'One Day Remains' album cycle until the next iteration of the signature model.
2018 PRS Mark Tremonti SE

| | |
| --- | --- |
| Finish | Gloss Black |
| Years Used | 2018 to Present |
Through the years the majority of the PRS MT guitars had stayed pretty consistent in terms of design and aesthetic. Proving to be consistently popular with people regardless of whether you were a Tremonti fan or not simply because it was one of the best single-cut modern LP style guitars on the market.
However, PRS has said they are always trying to innovate and push the design further so it didn't stagnate. So around the mid-2010s, the SE version (the more affordable one) was taken off of the market so they could spend some time making design upgrades and tweaks so that when it was reintroduced, it would be as up-to-date and as modern as possible.
Originally announced at Namm 2018 (at the same time as the PRS MT15), many people were very pleased to see the return of this guitar. Fundamentally quite similar to the MT SE models of old, but this time the body was made to be a little thinner and more playable which
also was more indicative of the American-made, more expensive/premium version. The pickups were also re-worked and have been voiced to sound much closer to the American version, further closing the gap between the budget and premium versions of these guitars.
PRS Tremonti 'Joe Fenton' Custom

| | |
| --- | --- |
| Finish | Custom Artwork |
| Years Used | 2014 to Present |
Mark had become a considerably big fan of artist Joe Fenton and decided that something in his style would look rather fashionable on one of his signature models. So in 2014 Mark contacted Joe to do a commissioned, custom paint finish over the entirety of one of his trademarked PRS LP guitars.
The instrument itself is a standard PRS Tremonti SE with a fixed bridge. The custom aspect of the guitar is the paint job in which the overall aesthetic was inspired by Hieronymus Bosch and the Garden of Earthly Delights. Where on the front it depicted a more 'hellish' vibe, and on the back had a more 'heavenly' aesthetic. The back of the neck was also had a beautiful design running the entirety of its length.
The artist, Joe Fenton uploaded a wonderful video showing the production process of this guitar so you can see how this work of art came to life.
PRS Custom 'Explorer'
| | |
| --- | --- |
| Finish | Black/Flamed Trans Brown |
| Years Used | 2016 to Present |
The first thing you'll probably notice about this guitar is that it has a very abnormal shape for a PRS. Mark was invited to the factory under the agreement that they would help him design a new style. Together with the engineers at PRS, they drew a completely unique shape, which is slightly reminiscent/inspired by an ESP explorer. However, it does sport a more curved aesthetic as well as being a double cut-away guitar.
It featured Mark's signature pickups along with a fixed bridge, and the toggle switch was placed along the top as you might expect on something like a Les Paul. However, a unique aspect of this was that all the controls were engineered in a straight line extending out from just below the bridge. Perhaps because there was not enough room, due to the body shape, in order to have the traditional Les Paul style configuration.
This is also the only PRS guitar ever to have a reversed headstock, which actually was stumbled upon by accident. When designing the guitar they had an outline of the body shape on the blackboard, and Mark wanted to see what the neck would look like on the body. So he grabbed a standard PRS neck from the table and held it up to the board, face down, in order to draw around it. Of course, doing this the headstock shape was reversed. And the engineers at PRS liked it so much they decided to incorporate it into the final design. The guitar was conceptualized and designed in a single day, and Mark has gone on to use it for multiple tours.
This particular one is not commercially available, however, you can see Mark using it often during live shows as well as on the 2016 rig rundown with Premier Guitar.
PRS 'Baritone Hybrid' Tremonti Signature

| | |
| --- | --- |
| Finish | Cherry Red/ Jade Green / Charcoal Burst |
| Years Used | 2016 to Present |
This is a guitar that was initially announced in 2016. Described and marketed as a baritone guitar, which means the length of the neck has been increased slightly to accommodate those situations when Mark needs to tune down. So the string tension doesn't become too loose and difficult to solo on. One thing to note is that generally baritone guitars are considered slightly longer in scale length, to many other companies this guitar's
25.5″ neck would be considered standard. However, as PRS are generally shorter scale length you can take the meaning of baritone to be, longer scale length 'for a PRS'.
The guitar features a thick, AAA-flamed maple top. The back of the neck is also a vibrant flamed maple. Mark would use this for his lower-tuned songs such as drop B.
PRS Limited 'Jade' Baritone

| | |
| --- | --- |
| Finish | Flamed 'Jade' Green |
| Years Used | 2017 to 2018 |
This guitar was produced in a limited run by PRS back in 2017 and has been compared to PRS private stock due to its rarity.
The guitar is fundamentally based on Mark's signature series. But much like the 'baritone hybrid' guitar, the neck has been lengthened to 25.5″ to accommodate the lower tunings. As needing to use thicker strings often resulted in the G string being wound, which was something that Mark said he was not fond of as it makes lead playing more challenging.
The pickups in this guitar were the signature Mark Tremonti bridge pickup and the 58/15 neck pickup. The most striking thing about the guitar was the figured maple top finished in a 'jade' green color. It also had some rare and unique wood choices including a curly maple neck, and an East Indian rosewood fingerboard along a standard mahogany body. Obviously, this guitar is extremely rare now and can retail online for over $5000.
PRS Mark Tremonti 'Tigereye'.
| | |
| --- | --- |
| Finish | Trans Flamed Maple |
| Years Used | 2002 to 2004 |
This was a Tremonti signature model that featured a flamed 'tigereye' for the top cap, as well as on the back of the neck, it was one of his most notable pieces back in his days with Creed. It was also the fourth signature issued by PRS and was unfortunately stolen one night at a Creed rehearsal on a local venue.
Very luckily he was contacted by a friend who had seen the guitar for sale for $400 at a garage sale. So Mark was able to purchase the guitar back which he was very relieved about as it's one of his favorites. But unfortunately, the thieves did make some cosmetic damage to the guitar.
PRS SE Mark Tremonti Vintage Custom
| | |
| --- | --- |
| Finish | Vintage Sunburst |
| Years Used | 2015 to 2017 |
Tremonti has a knack for Gibson's staple Les Paul model, nevertheless, he avoids deviating from his tailored made sound. This vintage version of the PRS SE Tremonti is equipped with a dual Seymour Duncan setup that reminisces the sound of an LP without straying too far away from its parent design. Needless to say, he had the Paul Red Smith team revarnish this fourth rendition with a vintage finish to complement the experimental feel of the guitar.
In 2015 there were 2 new finish variations made available, a flamed blue top dubbed 'sapphire' as well as the 'vintage sunburst' which had an orange burst design over the flamed maple. The sapphire would not make a return after 2015 however the vintage sunburst was produced in both 2016 and 2017.
As for its usage, Mark pops out this distinctive version on stage from time to time, and all the while it may not be the most popular piece in his repertoire, it certainly is one of the most peculiar and interesting ones.
Taylor 514CE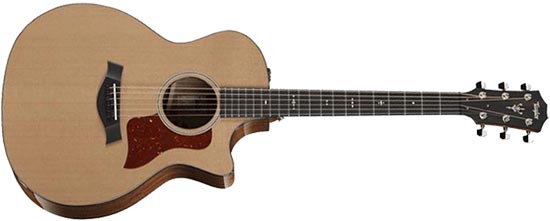 | | |
| --- | --- |
| Finish | Natural |
| Years Used | 2012 to Present |
Mark has used a few different acoustic guitars throughout his various projects. Often needing them for smaller gigs or acoustic renditions of his extensive repertoire.
He most commonly uses this Taylor 514CE, which features a western red cedar top that provides some additional warmth to compliment the tropical mahogany body, which provides some of the midrange bite you associate with these guitars. Tremonti gravitates towards this particular model given its single cut and access to upper scales, allowing the transition from electric to acoustic to be a little more seamless
This is one of Taylor's top-tier guitars and retails for several thousand dollars. You can see Mark using this guitar in most of Alter Bridge's acoustic arrangements as well as a lot of the tuitional material Mark has created over the years.
Timetable Showing Each Guitar Mark Tremonti Has Played Through His Career
| Make | Model | Color/Finish | Years |
| --- | --- | --- | --- |
| PRS | Mark Tremonti 'Tigereye' | Trans Flamed Maple | 2002 to 2004 |
| PRS | Tremonti SE | Gloss Black and Platinum | 2004 to 2006 |
| PRS | Tremonti Charcoal Burst | Flamed Maple Burst | 2004 to Present |
| Taylor | 514CE | Natural | 2012 to Present |
| PRS | Tremonti 'Joe Fenton' Custom | Custom Artwork | 2014 to Present |
| PRS | SE Mark Tremonti Vintage Custom | Vintage Sunburst | 2015 to 2017 |
| PRS | Custom 'Explorer' | Black/Flamed Trans Brown | 2016 to Present |
| PRS | 'Baritone Hybrid' Tremonti signature | Cherry Red/ Jade Green / Charcoal Burst | 2016 to Present |
| PRS | Limited 'Jade' Baritone | Flamed 'Jade' Green | 2017 to 2018 |
| PRS | 2018 Mark Tremonti SE | Gloss Black | 2018 to Present |
Mark Tremonti Amps Overview
Mesa Boogie Triple Rectifier
Years Used: 2008 to Present
One of the main high gain amplifiers Mark uses. Because of how Mark liked to operate, using two amplifiers that would be summed down to a single signal in order to get the best aspects of what he enjoyed from each amplifier.
The guitar would have the DI split and run to two separate amps from separate companies (as if two of the same amplifier is used it runs the risk of causing phase issues), which would then be summed down to a single cabinet. Enabling Mark to get the best of both amplifiers without the need for a dual cabinet setup. He really likes the Mesa to serve as the main bite and grit of his gain tones.
Bogner Uberschall
Years Used: 2004 to 2018
This is the second amp that Mark would use in conjunction with the Mesa Boogie Triple Rectifier in order to achieve his 'dual amp' effect. The Bogner is a little bit more rounded with some additional bottom end, which compliments the high-end bite and snarl of the Mesa nicely to create a very rich, thick, and full tone.
Mark has mentioned that the frequencies of these two amplifiers when used in conjunction with each other sounds 'massive'. He also swapped out the stock Uberschall EL34's to 6L6's which impacted the tone significantly. Which he's described as being more punchy and 'bigger' than the EL34's.
This has been used on (almost) every album Mark has ever recorded, as well as on every tour he's been on.
Bogner Shiva
Years Used: 2008 to 2012
This is a third amplifier Mark would use specifically for lead tones when playing live. Although for rhythm tones he would have a utility box that would allow him to run multiple amps or swap between amps as needed. This one was instead run on its own chain to its own cabs.
Mark has mentioned that he didn't like the sound of the lead tone when the cabinets for them were at head height (which is where they were for his rhythm tones) and as such had them run to a lower set of cabinets that were placed at floor height. Which presumably would make the sound on stage more pleasant and tolerable when performing.
1965 Fender Twin Reverb
Years used: 2008
Mark would use two of these (in stereo) for his clean tones. This means there were a total of 5 amplifiers in order to create his live rig at this time (Mesa + Bogner for rhythms, Shiva for leads, and two Fender Twins for cleans). The reason he uses two would be to match the stereo spread that would have been present on a studio recording, allowing for the third guitarist to be center for perhaps a lead.
These would both be run through a Tc-Electronics Gforce for the modulation effects and delays/reverbs. Essentially creating 3 individual signals which would be combined throughout the stereo field in order to create his final clean sound.
PRS Archon
This is one of PRS's biggest efforts in the amplifier market. Making waves amongst heavier styles of music when it was announced in 2016 and immediately being picked up by notable mixing engineers such as Taylor Larson. It also has a very beautiful piece of flamed maple adorning the front of the amplifier.
The unit itself is a two-channel 'lead and clean' amplifier, with an individual bright switch for each channel. Mark uses this as what he described as an 'Uberschall equivalent'. And acted as the precursor to his signature amplifier he would later develop in collaboration with PRS as he was so impressed with how the Archon sounded.
Bludotone Bludo-drive
Years Used: 2012 to Unspecified
This amplifier replaced the Bogner Shiva as Mark's primary 'lead'. The amplifiers are artisan-level built units from a small company based in Colorado. Even though the company is small and primarily deals in boutique equipment they are highly sought after and Mark had to wait over 1 1/2 years for his to be built and sent to him.
When it arrived he immediately took it out on tour. As mentioned this was a direct replacement for his lead amplifier so all the routing and processing/effects were essentially put straight onto this head and used in the same way they were for the Bogner Shiva.
PRS MT15 Mark Tremonti Signature Amplifier
Years Used: 2018 to Present
This is a signature amplifier Mark developed in collaboration with PRS after he fell in love with the Archon model. Mark really enjoyed the fundamental sound of the PRS Archon he previously owned and, alongside the talented engineers, he voiced this amp to have its own unique sound which differentiated it from the Archon.
This has been designed as a 'lunchbox' style amp, and although it's only 15 watts it's loud enough to be used alongside a drummer in a rehearsal space, or live without a mic'd up cab in a smaller venue.
Mark primarily uses this for writing at home, as well as in the studio for tracking Alter Bridge material. However, in a live setting, he still uses his tried and true Mesa and Bogner combination.
Mark Tremonti Pedals and Effects Overview
Radial Tonebone Headbone
Years Used: 2008
This was a utility unit that Mark would use in order to run two tube amplifiers through a single cabinet. Having previously described the Bogner as fulfilling more of the 'warm and fat' area of the frequency spectrum, and the Mesa being more aggressive and direct. He liked to combine the two to create a more 'complete' tone, and this box would circumvent the need to use dual cabinets/microphones by summing the two signals to mono so he could run the two heads. Cutting down on logistics and expenses when touring.
T-Rex Replica Delay
Years Used: 2006 to 2012
This is Mark's favorite delay pedal that he would use quite consistently for his lead tones. You can see this being used during the 'Blackbird' cycle of Alter Bridge's touring. This delay would be summed down to mono for use with the Headbone into the two tube heads.
Popular Related Article: Carlos Santana Rig Rundown
Mark Tremonti Signature Morley Wah pedal
Years Used: Unspecified to present
This is Mark's signature wah pedal he developed in collaboration with Morley Pedals and it's been used throughout the entirety of his career.
This Wah has a few features that make it a little more conducive to a modern player. Firstly, it is a switchless design, which means that when the pedal is not depressed the bypass is automatically engaged. This means there is no need to step on a switch before the wah effect will engage. Providing the added benefit of not having pots that may break or wear out.
While not considered a true bypass, it does have something called a buffer circuit which is designed to preserve the guitar tone as close as possible when the unit is not being used. This is because it's very common for non-bypass circuitry to color it slightly even when the pedal is not engaged.
The voicing of the wah has been described as a 'balance between traditional and modern wah voicings'. It also contains a boost knob that provides up to +20db of gain. Ideal for those modern, screaming lead passages.
Ibanez TS808
Years Used: Unspecified
Like most guitarists, Mark has cycled through a large number of tube screamers. However, he has said that this particular one has been his favorite. He even did a blind test lining up various models of tube screamer (including the famed Klon Centaur which is a ludicrously expensive overdrive pedal) and everyone agreed that this was the best.
Another interesting thing to note is that he uses this with the tone all the way down (it's very commonly run at 12 o'clock). This was inspired by his good friend Michael Angelo Batio who ran it this same way and after emulating his settings, Mark decided he liked how it sounded. Noting that it didn't darken the tone as much as people say it would.
Popular Related Article: Dave Grohl Guitar and Gear List
Jim Dunlop Univibe
Years Used: 2003 to Present
This is a now-discontinued modulation pedal that allows Mark to get the timeless, Jimi Hendrix style of rotary modulation effect. Mark has owned a couple of similar styles but has noted that the Jim Dunlop one specifically was his favorite.
T-rex – Octavious
Years Used: 2007 to Present
This is a simple octave pedal Mark would use when touring. It also has a boost switch as well as a mix knob enabling this to be used both as a primary effect as well as a mixed in modulation effect.
Mark has also noted that unlike some of the other Octaver pedals he has tried, this one will track polyphony much better. Normally the detection for these kinds of pedals is not that great so only really responds to single-note playing. However, this one will detect each pitch played even in high gain and assign the modulation to each pitch much more accurately than other bands.
T-Rex Mark Tremonti Signature Phaser
Years Used: Unspecified to Present
Mark was a big fan of modulation effects as we can see from his heavy love of the Univibe pedal. This pedal that he developed in collaboration with T-Rex, a company he was already an avid user of. The voicing has been tuned to exactly what Mark was looking for and allows you ultimate control when dialing in the sound. There is a stage switch that lets you change between a more vintage and unprocessed sound as then to a more modern and clean sound.
There is also an additional gain stage in the form of a 'bite' knob, not dissimilar from his Morley wah pedal to where a bit of additional grit can be added to the tone when the pedal is engaged.
Wrap Up
While Mark is often known for his work in the multi-award-winning band Creed, which he formed together with singer Scott Stapp, he is perhaps even more so known these days for his work with the more rock and heavy metal orientated group Alter Bridge. Additionally, in 2011 Tremonti embarked on his solo project after gathering a backing band, releasing 5 studio albums for the time being, and solidifying his presence as one of Hard Rock's most consistent acts.
Mark has always taken pride in his equipment and having a stellar guitar tone. His reputation precedes him as one of the most peculiar slingers of modern times and heavy metal, given his unique approach to alternate tunings, unorthodox finger-picking style, and multi-platinum songwriting skillset.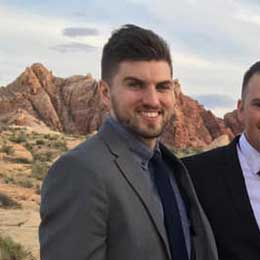 My name is Chris and I've had a passion for music and guitars for as long as I can remember. I started this website with some of my friends who are musicians, music teachers, gear heads, and music enthusiasts so we could provide high-quality guitar and music-related content.
I've been playing guitar since I was 13 years old and am an avid collector. Amps, pedals, guitars, bass, drums, microphones, studio, and recording gear, I love it all.
I was born and raised in Western Pennsylvania. My background is in Electrical Engineering, earning a Bachelor's degree from Youngstown State University. With my engineering experience, I've developed as a designer of guitar amplifiers and effects. A true passion of mine, I've designed, built, and repaired a wide range of guitar amps and electronics. Here at the Guitar Lobby, our aim is to share our passion for Music and gear with the rest of the music community.