The blues is much more than just a genre of music. It's a tool of expression that taps mankind's very most powerful emotions. The powerful, authentic, and honest quality of the blues comes largely from its humble roots as "work songs" and "hollers" by African American men and women in the United States of America's deep south.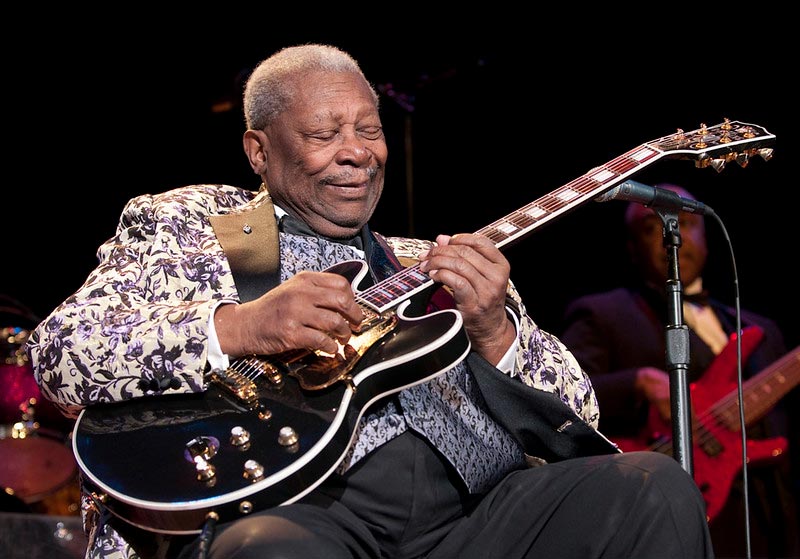 While many of these iconic songs were sung acapella in the beginning, the blues guitar soon became a critical part of its creative expression process, evolving into the blues music we know today. In this article, we're highlighting 25 of the best blues guitarists of all time who've shaped the history of this music in immeasurable ways!
Each guitarist on this list is iconic and unique in their own right. And even though they all play blues scale-based guitar, each of them has a voice and a story of their own.
Here are the Greatest Blues Guitarists Of All Time
25. Jimmy Reed
| | |
| --- | --- |
| Date of Birth | September 6, 1925 |
| Birthplace | Dunleith, Mississippi |
| Band | Jimmy Reed |
Jimmy Reed was one of the first to switch to electric guitar as opposed to many of his contemporaries who were still strumming the acoustic His lazy voice, piercing harmonica solos and unique style of guitar playing didn't seem like they were particularly suited for mainstream music. But that is far from the truth because his songs have been covered by everyone right from Tina Turner to Neil Young to The Righteous Brothers. If you go looking, you'll find more than 30 covers of "Baby What You Want Me to Do" alone.
His sound changed little throughout his career, but it was a formula that worked. Like many great blues artists, there can be no mistake that one was listening to Jimmy Reed – the gentle force of his personality, his swinging rhythm, and his high-pitched harmonica sound that were the hallmarks of the legend.
24. Christone 'Kingfish' Ingram
| | |
| --- | --- |
| Date of Birth | January 19, 1999 |
| Birthplace | Clarksdale, Mississippi, USA |
| Band | Christone 'Kingfish' Ingram |
The youngest artist on the list, this 22-year-old Mississippi phenom has a sense for feel, phrasing, and vibrato that can make hardcore blues fans sit up and take notice. Having already played with the likes of Buddy Guy and Eric Gales, Kingfish is only getting started on a career that's bringing the blues back to American mainstream charts.
We know him as a guitar wizard but he started with drums at age 6, moving on to bass at age 11 before picking up his first six-string. Oh, and he sings, too. It's this understanding of multiple instruments that reflects in his song-writing that sounds balanced and wholesome, even in his latest album 662, where he brings his distorted, Les Paul-humbucker sound to brand new spaces and still makes it sound comforting.
23. Samantha Fish
| | |
| --- | --- |
| Date of Birth | January 30, 1989 |
| Birthplace | Kansas City |
| Band | Samantha Fish Band |
Samantha Fish takes the blues' storytelling power and reinvents it in her style full of octavers, pitch shifters, fuzz, and delay. With the official music video of 'Faster' out just last week, you can see how she's retained her essence while still pushing the boundaries of blues. (Check the song here).
When she hit the music scene almost twelve years ago, she grabbed the attention of blues aficionados with her distinctive drawl, fretwork, and song-writing. Her latest album sees her wading into much deeper waters as she throws in shades of dance-influenced pop music. Whether this is a change in direction or a sideways step, one thing remains for certain – Samantha can play some mean blues when she wants to.
22. Kenny Wayne Shepherd
| | |
| --- | --- |
| Date of Birth | June 12, 1977 |
| Birthplace | Shreveport, Louisiana |
| Band | Kenny Wayne Shepherd Band |
As a disciple of SRV, KWS shares that unpredictable quality of phrasing, where he will be playing something traditional before flipping the whole thing around and taking it someplace new. I'm not trying to bash old-school blues here, but if you switch a playlist on, after some time, they'll all begin to sound a lot like each other, causing songs to disappear in the fray. But that's not the case with KWS. Completely self-taught and unable to read music, Shepherd is all about the feeling in the playing rather than the complexity, but don't be too surprised if he unexpectedly hits you in the face with a blazing solo. From mellow to manic – KWS does it all, while not compromising on the sound that makes him.
21. John Mayer
| | |
| --- | --- |
| Date of Birth | October 16, 1977 |
| Birthplace | Bridgeport, Connecticut |
| Band | John Mayer Trio, Dead and Company |
Given his latest release, John Mayer's playing style goes beyond traditional blues, but the reason his solos stick to your brain is that they're all derived from blues legends before his time. His songs like Gravity and Slow Dancing In A Burning Room have guitar lines that are as intense as his vocals, both operating in unique spheres because of their difference but still complimenting each other in a way that is typical of a master songwriter.
But, Mayer really gets into his blues element when he's seen exchanging lines with the great B.B King at Guitar Centre's King of Blues. It's an epic showdown of the old world and new, where Mayer is playing lines that not only compliment B.B but also hold their ground. I would imagine improvising with the King can get the most accomplished players nervous, but in the video above, you'll see John comfortably breezing through his parts with his typical guitar face on.
20. Sister Rosetta Tharpe
| | |
| --- | --- |
| Date of Birth | March 20, 1915 |
| Birthplace | Cotton Plant, Arkansas, USA |
| Band | Sister Rosetta Tharpe |
They say that Rock 'n' roll was born in the 1940s between the church and the nightclub within the soul of a queer black woman named Sister Rosetta Tharpe. With a Gibson slung around her neck, she was there before the likes of Elvish, Cash and Little Richard took over. As a young black woman in a heavily male-dominated industry (not unlike this list), Tharpe faced rampant racism, having to sleep on buses and scavenge for food from restaurants she wasn't allowed to eat.
But that didn't break her spirit. Her distinctive and unconventional voice, her unabashed lyrics about love and her ability to make the guitar talk (she used heavy distortion way before Hendrix did) are just a few of the highlights of this artist's legacy. The reason I'm ending the article with her is that this woman deserves a lot more Google searches, and while she may have left us decades ago, Sister Rosetta Tharpe deserves to be heard loud and proud.
19. Keb' Mo'
| | |
| --- | --- |
| Date of Birth | October 3, 1951 |
| Birthplace | Los Angeles, California, USA |
| Band | Keb' Mo' |
Keb' Mo' has the extraordinary ability to make you fall in love with his playing and voice with just a line. A five-time Grammy winner, Keb' Mo', or Kevin Moore is a master of crisp, emotive, and clear storytelling. Mo' effortlessly steps in and out of eras and blends blues with folk, jazz, rock, country, and even pop, creating a unique soundscape that only he can evoke. Keb won a Grammy award for the Best Americana Album for his release 'Oklahoma'. Along with being a brilliant blues guitarist, he is also an amazing vocalist and songwriter. He currently calls
Nashville home – can't wait to hear what gems he creates in the future!
18. Robben Ford
| | |
| --- | --- |
| Date of Birth | December 16, 1951 |
| Birthplace | Woodlake, California, USA |
| Band | L.A. Express, Yellowjackets |
With an instrument like guitar, there's no shortage of musicians who love flaunting their chops with blistering solos. But sometimes, true mastery means restraint and focusing on the spaces
in the song and embellishing it with what it needs – no more and no less. If you ascribe to this definition of guitar excellence, then Robben Ford is your man! Ford incorporates elements of blues, jazz, and rock in his playing, and effortlessly strikes the balance between playing smooth, subtle, and tasteful playing, with flashes of technical brilliance thrown in places without breaking
into a sweat. Ford never overplays – his style is beautifully measured and focuses on building up the composition in stages – and taking the listener along on the journey. He is someone who doesn't believe in shocking the audience with all-out shredding. Throughout his career, he has
collaborated with iconic musicians such as Joni Mitchell, Miles Davis, and George Harrison.
Believe it or not, I had the opportunity to attend a guitar masterclass by Ford in LA in 2017 at a music residency I was a part of. And Ford was in real life just as you'd expect him to be – humble, sincere, endlessly talented, and honest. His advice on staying true to the craft has
helped my guitar playing immensely. Check out this gorgeous live performance of
'Freedom' – a breath of fresh air with subtle, tasteful, and intelligent musicality. Guthrie Govan says no one else can sound like Robben Ford – and he's right.
17. Eric Gales
| | |
| --- | --- |
| Date of Birth | October 29, 1974 |
| Birthplace | Memphis, Tennessee |
| Band | Raw Dawg, Prophet Posse |
There's a reason why Eric Gales was hailed a child prodigy, and you only need to listen to one of his performances to figure out why. The man picked up the instrument at the age of 4, and his
older siblings taught him blues guitars in the style of BB King, Jimi Hendrix, and Albert King. The rest, as they say, is blues-rock history. I'd say his sound is a brilliant blend of Stevie Ray Vaughan. Jimi Hendrix and Eric Johnson, all tied together with his unique musical flamboyance.
Fun fact – while Gales is naturally right-handed, he plays the guitar left-handed, upside down!
That's because his older brother is left-handed and taught him to play the same way and Gales
never questioned it! Along with his flawless guitar chops and musicality, Gales is a fountain of creativity – having released a whopping 18 albums so far. His 2017 album 'Middle of the Road', charted no. 1 on the Billboard Top Blues Album chart, and he won the 'Blues Rock Artist of The Year' back to back in 2019 and 2020. To give you a tiny glimpse of the breadth of Gale's ocean of talent, here's a medley of 'Voodoo Child', 'Kashmir' and 'Back in Black', topped with 'Fur Elise'. Sounds unbelievable? Watch it and believe it.
16. Gary Clark Jr.
| | |
| --- | --- |
| Date of Birth | February 15, 1984 |
| Birthplace | Austin, Texas, USA |
| Band | Gary Clark Jr. |
Hailing from Austin, Texas, the bright and young Gary Clark Jr. proudly carries forward the tradition of the authentic blues guitar playing by blending his flawless technical proficiency
with emotion and sheer musical honesty – not unlike the likes of Buddy Guy, Stevie Ray Vaughan, and BB King. Jimi Hendrix once said that "Blues is easy to play but hard to feel", and Gary feels the blues alright! Not only is he a prolific blues guitarist, but also an excellent vocalist, songwriter, and showman. This hard-to-achieve balance is proudly on display across all three of
his releases – from the Bright Lights EP in 2011, Blak and Blue in 2012, and the Story of Sonny Boy Slim in 2015.
I am ashamed to say that I heard of Gary much later than I ought to have – but better late than never. Clark is a four-time Grammy winner and a six-time nominee and has shared the stage with iconic musicians like Eric Clapton, Tom Petty, The Rolling Stones, and B.B.King, among many others. Gary has also collaborated with the likes of Alicia Keys, Foo Fighters, Childish Gambino, and Tom Morello. Check out this phenomenal live performance of his original track 'When My Train Pulls In'. Even in our attention-deficit world, you won't even realize where the 11 minutes went by.
15. Rory Gallagher
| | |
| --- | --- |
| Date of Birth | March 2, 1948 |
| Birthplace | Ballyshannon, County Donegal |
| Band | Taste, Rory Gallagher |
Not to be confused with the Gallagher brothers of the Oasis fame, Rory Gallagher is a legendary Irish guitarist (Oh hey, our first Irish artist) who started his music journey covering Elvis on a cheap guitar at the age of 9. Since then Rory picked up a bunch of instruments including the harmonica, alto sax, bass, mandolin, and the coral sitar. Underappreciated in his lifetime, Rory's guitar playing could be filed more comfortably under rock than blues.
A headstrong Irishman, Gallagher dissolved his band Taste in 1970 after achieving superstardom (they were straight-up competition to power trio Cream) to do things his way. The next decade was his most prolific with ten albums released in those 10 years alone, including iconic live releases like the Irish Tour '74 and Live in Europe.
14. Johnny Winter
| | |
| --- | --- |
| Date of Birth | February 23, 1944 |
| Birthplace | Beaumont, Texas, USA |
| Band | Johnny Winter |
Not a name you'll see across most 'greatest' lists, Johnny Winter is a personal favorite of mine. A guitarist's guitarist, Winter was one of the best that the world has seen. Because most of his songs were pre-released as bootlegs and written off, he rarely got his fair share of the spotlight. But in his career as singer, songwriter, and guitarist, he played a massive role in resuscitating Muddy Waters with three of his produced albums winning the Grammys.
Winters did what he loved best till the end, that's playing to a live audience even if it meant that he had to be shuffled to the microphone with a bandmate on each arm. Check out the opening bars of the studio version of "Be Careful With A Fool" (linked above) and tell me that's not one of the greatest opening guitar solos you've heard. I'd also recommend Hustled Down To Texas, Check Out Her Mama (very entertaining lyrics), and Winter's cover of the Stones' Let It Bleed', which are my personal favorites.
13. Robert Johnson
| | |
| --- | --- |
| Date of Birth | May 8, 1911 |
| Birthplace | Hazlehurst, Mississippi, USA |
| Band | Robert Johnson |
Half man, half myth describes Robert Johnson as we know him today. While his guitar-playing was other-worldly, the rumor that Johnson sold his soul to the devil at a Mississippi crossroads in exchange for superhuman musical skills shares the same amount of limelight. We'll never be sure if that part of the story is true or not, but what is true is that in less than a year of hitting the blues circuit, Robert Johnson had outclassed some of the best musicians in the category.
A member of the infamous 27 club, Johnson released just over two dozen songs in his career but his virtuosity set the tone for what blues music would evolve to. Johnson's unique style of singing and guitar playing influenced even his contemporaries, with Eric Clapton calling him the most important blues guitarist that ever lived. His darkest song ever recorded, both in terms of lyrical content and music, Hellhound on my Trail is probably Johnson's most powerful song and shows his depth as a musician.
Listening to this song almost makes you feel like something is coming to get you and his voice of pain that keeps you company through the song beautifully adds to the eeriness. However, we'll leave you with a slightly peppier song, the first-ever song that Johnson recorded. 'Kind Hearted Woman Blues' which saw Johnson solo while playing the bassline was unreal at that point in time. And honestly, still is.
12. Joe Bonamassa
| | |
| --- | --- |
| Date of Birth | May 8, 1977 |
| Birthplace | New Hartford, New York, USA |
| Band | Too many to name |
Having played guitar since the age of 12, opening for the likes of B.B King that young, Joe Bonamassa has gone ahead to release probably the biggest bodies of work in blues music. He released his 45th album when he was 43 and there's no stopping him anytime soon. Starting off on a sweet crimson Fender Strat that he lovingly called Rosie, today Joe knows his way around Gibsons, Teles, Strats, and the hundreds of other guitars he owns. What he does with each guitar is unique, but it all comes down to that JoBo style of blues playing that many say is heavily inspired by SRV, something even he has admitted to stating that Brit and Irish blues acts were a bigger influence on him than American ones.
If you ask me, it's hard to describe his style of music, because over the years (and albums) it's continuously evolved. His work with singer-songwriter Beth Hart is as legendary (check out their cover of Sinner's Prayer by Ray Charles) as is his latest 2020 album Royal Tea which is as chunky as it gets.
Side note: I still have to find a live performance of Joe Bonamassa that doesn't sound absolutely pristine and perfect.
11. Derek Trucks
| | |
| --- | --- |
| Date of Birth | June 8, 1979 |
| Birthplace | Jacksonville, Florida, USA |
| Band | The Derek Trucks Band, Tedeschi Trucks Band |
As the nephew of Allman Brothers Band drummer Butch Trucks, Derek Trucks entered the Allmans' world at an early age and is probably the best slide guitar player in the world right now. I read in an interview that when he was asked why his licks sound so unique, he said that he often tried to mimic his wife Susan Tedeschi's vocal runs on the guitar. What sets his style of blues playing apart is that he's more influenced more by vocal lines than guitar lines, giving his playing an almost human voice-like quality.
His musical sensibility is such that he never overpowers the jam, often positioning his Gibson SG somewhere in the uncharted frequencies shared by vocals and guitar, complimenting Susan's singing and playing. Where Derek excels is how he delivers a solo to his audience – be it live or on record. He gets you interested at the beginning, gains momentum, and then delivers the knockout punch at the end. Given his approach and style, expect Derek to do more with a simple three-note phrase than most guitarists will with a bazillion notes.
10. Freddie King
| | |
| --- | --- |
| Date of Birth | September 3, 1934 |
| Birthplace | Gilmer, Texas, USA |
| Band | Freddie King |
One-third of the trifecta of Kings that are blues' gift to the world, Freddie King hasn't spent too much time under the spotlight as compared to his other two contemporaries. Let one not misinterpret this as Freddie being any lesser than the two because a few minutes of him with his cherry red Gibson across his shoulders, and you can't help but notice his brilliance.
Known for songs like Hideaway (which is a blues standard today) and The Stumble, a lot of King's earlier instrumental work can today be heard across the surf rock genre. His almost too sharp tone, his melodic hooks, and his underrated powerful voice were what defined his music and influenced the greats like Clapton, SRV, and Mick Taylor. Constant touring and a hard-partying lifestyle eventually took their toll with King passing away from acute pancreatitis in 1967. But, the King's music lives on, and with it, its virtuosity.
9. Duane Allman
| | |
| --- | --- |
| Date of Birth | November 20, 1946 |
| Birthplace | Nashville, Tennessee, USA |
| Band | Allman Brothers Band |
When Duane Allman lost his life in a bike accident at the age of 24, it was a burgeoning blow to the music industry. In just a little over two years of being a part of the Allman Brothers Band with brother Gregg, he cemented himself as one of the most influential bottleneck slide guitar players of all time. Fondly remembered as Skydog, Duane had this incredible ability to make the guitar sound like the human voice when he moved the slide up and down the frets.
It would be almost criminal to not mention his contribution to Layla, the iconic intro which he borrowed from an Albert King song, 'As The Years Go Passing By', and translated it to guitar playing it twice as fast. While the intro sets the song up, what really gives me the chills is the solo right before the mellow piano section. It's quite a vocal guitar solo, in which Duane moves the bottle slide pushes the limits of the slide by taking it beyond the 23rd fret of the guitar, creating notes one would have a hard time finding without a slide. The way he treats the guitar solo is as if an actual person would belt vocal lines to the song's riff – and it's things like these that made Duane the treasure that he was.
Also, fun fact, Duane taught a young Don Felder, who would go on to attain international success with The Eagles, how to play slide.
8. Eric Clapton
| | |
| --- | --- |
| Date of Birth | March 30, 1945 |
| Birthplace | Ripley, Surrey, England |
| Band | John Mayall & the Bluesbreakers, Cream, The Yardbirds, Derek and the Dominos. |
Everyone and their mother knows Eric Clapton. And everyone that knows Eric Clapton knows him for one thing – the guitar. He sits high above other musical legends in the Music Hall of Fame, he's a household name across the world, yet most would not be able to tell you which bands he was a part of. That's when it hit me, many people may not fully understand the extent of what Clapton's contributed to the world of music.
In the case of Clapton, he was heavily inspired by the greats like Buddy Guy and B.B. King who defined what blues music is. What made Clapton stand out was his ability to integrate his blues playing sound into rock music like no else before him (at least to some degree). Clapton further distinguished himself during the birth of the electric guitar era by creating a more aggressive and loud style of playing that paved the way for many guitarists after him. Not the fastest guitar player or the wildest singer on stage, the world loves Eric Clapton because he took what he had and made it his own.
7. Huddie 'Lead Belly' Ledbetter
| | |
| --- | --- |
| Date of Birth | circa January 21, 1885 |
| Birthplace | Mooringsport, Louisiana, USA |
| Band | Lead Belly |
Songwriter, vocalist, 12-string guitar virtuoso, Huddie Ledbetter, better known as Lead Belly, was one of the most powerful figures in the early years of American folk music. For the time, his performances radiated an intensity that few artists could match. His early recordings were seminal and helped build Britain's Skiffle movement, which would go on to influence The Beatles and many more.
Now, we're talking about the late 1800s, long before the electric guitar was even invented. At this time, Huddie Ledbetter mastered the 12 string guitar, which honestly in his hands sounds like a miniature orchestra, rightfully bagging the title "King of the 12 String Guitar". Most may not even be aware that when they're listening to Where Did You Sleep Last Night as performed by Nirvana at their legendary MTV Unplugged gig, they're listening to a Lead Belly original.
6. Billy Gibbons
| | |
| --- | --- |
| Date of Birth | December 16, 1949 |
| Birthplace | Houston, Texas, USA |
| Band | ZZ Top |
You can't help but be in sheer awe of Billy Gibbons – this living legend has the reputation of playing the most phenomenal blues riffs in the most chilled-out manner ever! The primary
guitarist and vocalist of the iconic American blues-rock band ZZ Top, Gibbon's signature sound has blended the blues with several other genres – to fantastic results. Early on in his career, Gibbons had the chance to open for Jimi Hendrix and has also mentioned how Hendrix taught a couple of his signature techniques that he still uses today.
Another Texas native, Gibbons' 50+ plus year career has made a massive contribution to the blues genre and has earned him the place as one of the greatest 50 guitarists of all time by
Rolling Stone magazine. A man of many talents, Gibbons can also be spotted in the TV show 'Bones'! He has a recurring role in the show as a fictionalized version of himself. Check out this live version of ZZ Top's 'La Grange', with a cool-as-cucumber Gibbons and the whole band incinerating everything in a 50-mile radius with their fiery talent. Overall, Billy Gibbons is easily one of the best blues guitarists of all time.
5. Jimi Hendrix
| | |
| --- | --- |
| Date of Birth | November 27, 1942 |
| Birthplace | Seattle, Washington, USA |
| Band | The Jimi Hendrix Experience |
Many regard Hendrix as the greatest guitarist who ever lived, so why is he not ranked higher on this list? Well, it's difficult to consider him a pure blues guitarist. Hendrix did more with the guitar than anyone else during his time. Like it was a natural extension of his body, watching recordings of Hendrix makes you feel that he's ahead of his time, even by today's standards. It wasn't uncommon for people to not even be able to explain what Hendrix was playing, forget how he was playing it. A classic example of this is his playing on 'The Star-Spangled Banner', in which he deconstructs the original and rebuilds it, but this time with his guitar. What follows is four-plus minutes of alienesque madness, which you can check out here.
It's unfair to call Hendrix a blues player after listening to that song, but his journey started out playing the blues, where he was a backing guitarist for bands like the Isley Brothers and Richard Wright. While everything from his stage presence to his song-writing is eclectic, one thing that makes Hendrix stand apart is that nobody sounded like him and nobody ever will. The way he made his overdriven guitar wail is today just known as that Hendrix sound, something that has been an influence on every legendary guitarist you see on stage today. It is unfortunate that Hendrix got a chance to record only a handful of studio albums before dying at a young age from an entirely accidental overdose of sleeping pills, but in his 27 years of music, Jimi Hendrix forever changed the way a person would look at a piece of wood with six metal strings on it.
4. Muddy Waters (McKinley Morganfield)
| | |
| --- | --- |
| Date of Birth | April 4, 1913 |
| Birthplace | Issaquena County, MS |
| Band | Little Walter Jacobs |
The father of Chicago Blues, Muddy Waters has not only shaped the blues sound, but also influenced genres such as rock n' roll and rock music. Plus, it's his song 'Rollin' Stone' that inspired the magazine and the band to call themselves that! A guitarist, songwriter and harmonica player of singular talent, Waters swept the Chiacgo blues scene in the mid-1940s. With his legendary tracks like 'I'm Your Hoochie Coochie Man' and 'Got My Mojo Working', Waters garnered a massive loyal following which only grew by leaps and bounds throughout his career.
Waters' band, 'Little Walter Jacobs' further expanded his influence, taking his signature style of electric blues sound overseas. By the end of his prolific 30 years career, Waters had left an indelible impact on several American music genres and raked up 6 Grammys. And if you're wondering about his unique moniker, it was given to him because he was often seen playing by the Mississippi swamps and puddles as a kid!
3. Buddy Guy
| | |
| --- | --- |
| Date of Birth | July 30, 1936 |
| Birthplace | Lettsworth, Louisiana, USA |
| Band | Buddy Guy |
If you can walk into a crowd while playing a polka-dotted Fender Strat with a drumstick, know in your heart that you can't do it better than Buddy Guy. Known for his insane theatrics, Guy's style of blues playing typically is classified as Chicago Blues, but ask any fan and they'll be happy to tell you how it's a lot more than that. From traditional 12 bar blues to avant-garde music to soul to even free jazz, watching Buddy Guy on stage transports you to another dimension. The man is 85 this year and he's still got the blues with his last two albums Born To Play Guitar (2015) and The Blues Is Alive and Well (2018) both winning Grammys. Often seen in tandem with long-term recording partner and harmonica player Junior Wells (heard on the track above), it's almost shocking to realize that the artist who's influenced both American and British guitarists didn't see American mainstream success till he was 55 years old.
Buddy Guy was also one of the first to break the unsaid three-minute mark of songs and include extended solos within them. A master of the pentatonic scale, if you catch any of his live acts, you'll find his solos very familiar, but the truth is that his solos have been the primer for countless musicians who've transcribed his licks note for note and added them to their songs. You only have to listen to him once to know why everyone wanted a little piece of him in their music.
2. B.B. King
| | |
| --- | --- |
| Date of Birth | September 16, 1925 |
| Birthplace | Mississippi, USA |
| Band | The B.B. King Experience |
Riley B. King was born in the mid-twenties but little did he or his friends and family know back then that he was to become the single most important electric guitarist of the last half of the 20th century! I was thinking of the probability of mentioning the blues and not mentioning B.B King. That probability is an absolute zero because, in his 55-year career, B.B King has rightfully earned the nickname of "The King of the Blues", and is considered one of the "Three Kings of the Blues Guitar" (along with Albert King and Freddie King, none of whom are blood-related to each other but more on them later on the list).
His fingers were probably as strong as a fully grown man because no one could bend the strings like him and his signature vibrato was unparalleled. From his black Gibsons, which he called 'Lucille' (yep, they were all Lucilles), to him selling out, an average of 200 shows a year, B.B King should be the gateway into the world of blues for a non-listener, and that is why he tops our list. Before this section of the article becomes a fan account of B.B. King (countless which already exist on the internet), I'll leave you with six odd minutes of him telling you why he sings the blues. B.B. King is an absolute legend and certainly has earned his spot at the top of this list of the best blues guitarists of all time.
1. Stevie Ray Vaughan
| | |
| --- | --- |
| Date of Birth | October 3, 1954 |
| Birthplace | Dallas, Texas, USA |
| Band | Double Trouble |
If there's anyone who can make playing the blues look as easy as breathing, it's Stevie Ray Vaughan. An absolute master of technique, tone, and musicianship, Vaughan is rightfully one of the greatest blues guitarists of all time. Despite a tragically short career, Vaughan managed to influence the very course of the genre and multiple generations of blues guitarists – both his contemporaries and successors. Watching him play is an experience all in itself – the man could make a single guitar sound like 3 – the bass, rhythm, and the lead. Oh, and he was also a gifted vocalist and a flamboyant onstage showman! Just watch this video of him performing 'Pride and Joy' at the Montreaux Festival, and you'll know what I mean.
He picked up the guitar at the age of 7 after watching his brother Jimmie on the instrument and was inspired by the likes of BB King, Albert King, Muddy Waters as well as Jimi Hendrix. After being discovered by David Bowie and signed by Epic Records, Vaughan had a meteoric rise and went on to be one of the most highly demanded blues guitarists. Tragically, his brilliant, trailblazing career was cut short when he passed away in a helicopter crash after a performance – he was only 35. But he has left behind a treasure trove of music that will inspire and delight music lovers forever.
Final Thoughts
The blues, a genre so prolific that western music theory dedicates an entire note and scale to it! And just like 'rocking it out' is a phrase usually linked to powerful positivity, the blues has become a way of expressing sadness in the wittiest, most beautiful, and tongue-in-cheek manner.
This list is incomplete without a few honorable mentions like Blind Lemon Jefferson, Charley Patton, Elmore James, Junior Kimbrough, Albert Collins, T-Bone Walker, Son House, Hubert Sumlin, Jack White, Matt Schofield, and many more. Have we missed out on your favorite artist? Leave their names and your favorite songs by them in the comments below (extra points to you if you drop links to videos). Also, irrespective of whether you're at a beginner, intermediate or Hendrix level of blues playing, this list and the music on it will open your ears to the institution of blues – where the tools are limited, the scales are standard, the turnarounds are almost similar but what you can do with them is limited only by your creativity!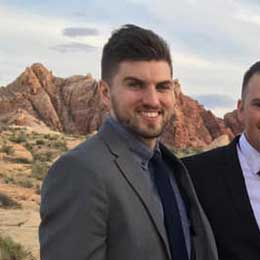 My name is Chris and I've had a passion for music and guitars for as long as I can remember. I started this website with some of my friends who are musicians, music teachers, gear heads, and music enthusiasts so we could provide high-quality guitar and music-related content.
I've been playing guitar since I was 13 years old and am an avid collector. Amps, pedals, guitars, bass, drums, microphones, studio, and recording gear, I love it all.
I was born and raised in Western Pennsylvania. My background is in Electrical Engineering, earning a Bachelor's degree from Youngstown State University. With my engineering experience, I've developed as a designer of guitar amplifiers and effects. A true passion of mine, I've designed, built, and repaired a wide range of guitar amps and electronics. Here at the Guitar Lobby, our aim is to share our passion for Music and gear with the rest of the music community.