When performing live, every lead guitarist could use a little extra volume to stand out in the mix. The most effective way to achieve this is by using a high-quality boost pedal. With so many great options on the market, choosing the ideal pedal can be a difficult task. Boost pedals can be slotted into various positions in the signal chain, depending on the results you're aiming for. Highly versatile devices form the foundations upon which other effects can add coloration.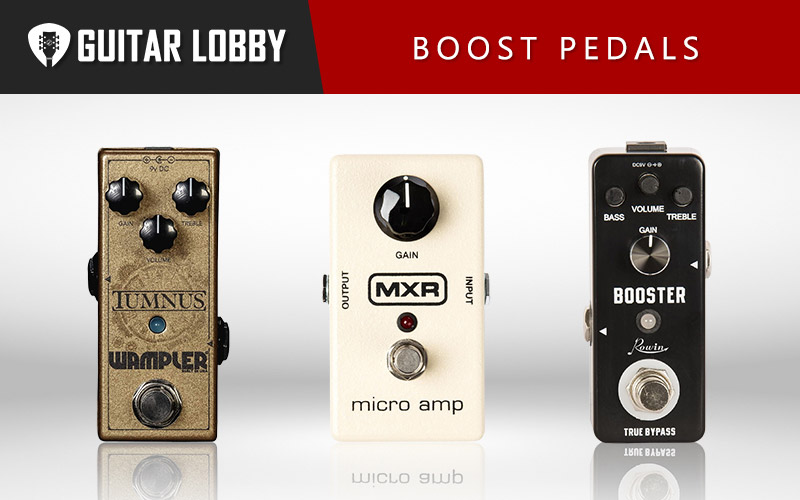 Over the years I've tested dozens of these pedals, and in this guide, I'll be showing you the best boost pedals at each price point. Whether you're looking for a simple way to elevate the level of your guitar onstage or a multi-functioning device that also offers tone-altering capabilities, you'll find exactly what you're looking for in this definitive list.
Here Are the Best Boost Guitar Pedals
1. Wampler Tumnus V2 (Best Overall)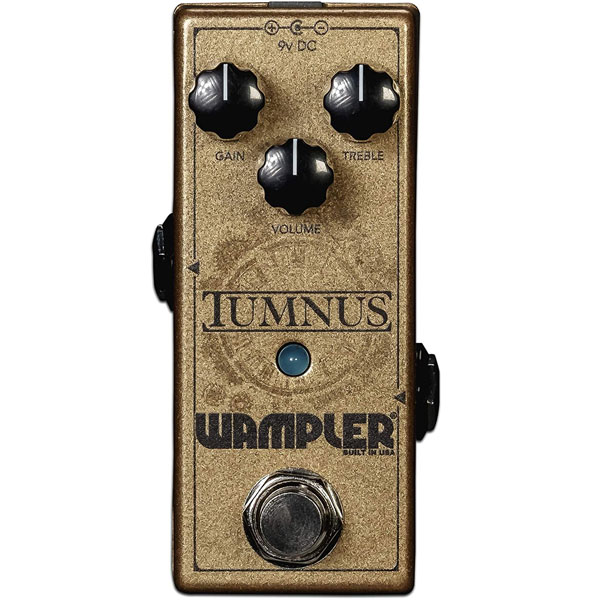 | | |
| --- | --- |
| Estimated Price | $150 |
| Type | Analog |
| Effects | Boost, Overdrive |
| Connectivity | 1 x 6.35mm Jack Input, 1 x Output |
| Power | 9 Volts DC |
My Review: I was initially drawn in by the intriguing aesthetical design of this Wampler device, and it soon became apparent that the Tumnus V2 combines the functions of a boost pedal and an overdrive pedal. This enabled me to remove one of my gain-booster effects from my pedalboard, freeing up some space for new additions.
The manufacturer's aim when designing it was to provide the tone of classic, vintage boost pedals. To do this, Wampler used high-quality inner circuitry that creates a boutique tone, without the hefty price tag.
Being a highly versatile pedal, the Tumnus V2 can be stacked with other effects to push your guitar's gain. Additionally, it can be used as a traditional overdrive pedal, or as a method of boosting the "dirty" effects in your signal chain.
Wampler has used buffered bypassing for the Tumnus V2 boost pedal. This ensures that signal quality is maintained, with a low output impedance that facilitates long cable runs. It features three simple controls so that you can quickly create the boost effect that you require.
I really enjoyed the various improvements Wampler made from the original Tumnus boost pedal. The V2 model resulted from an overhaul of the majority of Wampler's popular effects. The addition of new jack connectors was particularly refreshing, and the newly installed relay-based soft-switching helps to make the Tumnus V2 even more reliable than its predecessor.
Sometimes, updating an already popular pedal can lead to disappointment. However, I'm pleased to state that my findings were all positive regarding the revamped Tumnus. What really sold me on this particular model was the seamless blend between boost and warm overdrive, replicating the classic saturation of vintage tube amplifiers.
Who is this best suited for: Guitarists who like to use "dirt" based pedals, such as fuzz, overdrive, or distortion, will benefit from the added control that the Wampler Tumnus V2 provides. It's a great choice for all musical styles, due to the pedal's undeniable versatility.
Bottom Line: The Wampler Tumnus V2 proves that boost pedals don't need to be overly complex to perform to a high standard. With three simple controls (Volume, Gain and Tone), you can shape the pedal to suit your sonic requirements. Perhaps the standout quality of this boost pedal is the fact that it can be used conventionally, or as an overdrive pedal depending on your preference.
2. Xotic EP Booster Mini (Best Value)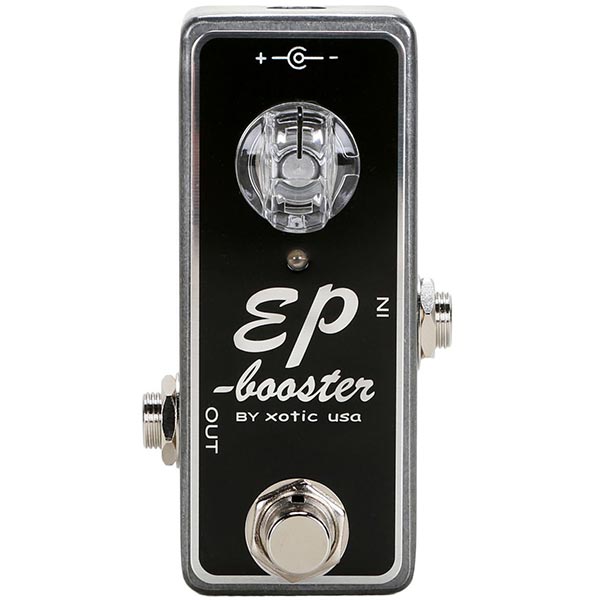 | | |
| --- | --- |
| Estimated Price | $120 |
| Type | Analog |
| Effects | Boost |
| Connectivity | 1 x 6.35mm Jack Input, 1 x Outputs |
| Power | 9 Volt |
My Review: We're big fans of Xotic's increasing collection of stompboxes, so it came as no surprise to learn that the EP Booster is a premium-quality boost pedal, which has a large impact despite its compact size.
What really impressed me about this particular pedal was its ability to provide up to 20db of gain. Compared to other more invasive devices, this pedal performs its role while minimizing alterations to your guitar's tone.
Based on the legendary EP-3 preamp, this booster pedal uses several high-end components with a discrete FET design. The pedal also has a low impedance output and an internal DIP switch which allows you to boost particular frequencies. Additionally, you gain access to the EQ setting for further tailoring the tone to your liking.
It's easy to overlook the EP Booster pedal, simply due to its reduced size. However, I found its compact dimensions to be a blessing in disguise. Not only did it slot easily onto my pedalboard, but it also improved the usability of the pedal.
One thing that sets the EP Booster apart from other similarly designed pedals, is its undeniably brilliant inner components. I was surprised to learn that Xotic installed the same preamp that was used in the legendary EP-3 echo machine within this compact boost pedal.
Who is this best suited for: The compact size of the Xotic EP Booster makes it an ideal choice for guitarists who are running out of space on their pedalboard. It's extremely easy to use, so you don't need any prior experience with effects to grasp the functions of this booster pedal.
Bottom Line: Combining high-quality inner circuitry, a solid metal chassis, and clean, effective boosting, the Xotic EP Booster is one of the best options on the market. It boasts a FET design, and true bypass switching ensures that the pedal doesn't diminish the quality of your signal when it is not being used. Providing up to 20db of boost, it's a truly brilliant option.
3. MXR M133 (Best Under $100)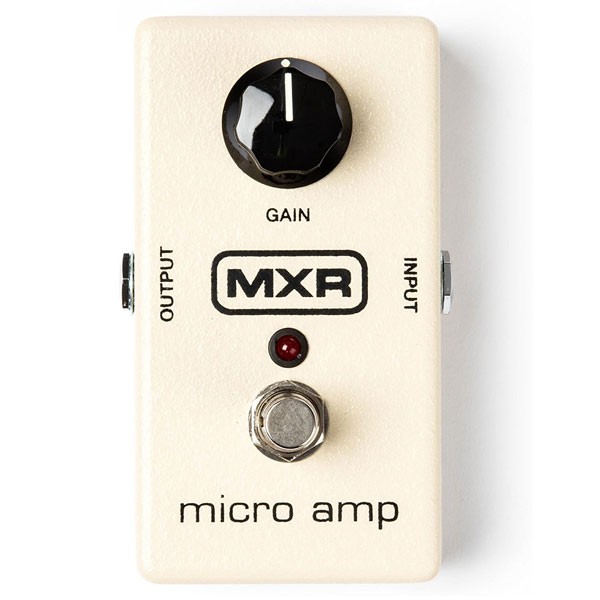 | | |
| --- | --- |
| Estimated Price | $80 |
| Type | Analog |
| Effects | Boost |
| Connectivity | 1 x 6.35mm Jack Input, 1 x Output |
| Power | 9 Volts DC |
My Review: I was expecting big things from the M133, being aware that it is a hugely popular boost pedal by MXR. With its simplistic one-knob control, I found the pedal to be very easy to operate. Designed to provide you with a little extra gain when soloing or playing a prominent riff, there's no doubt in my mind that guitarists will find the M133 very useful.
Another useful function of this MXR boost pedal that impressed me is its ability to compensate for the output differences between different guitars. If you use more than one guitar on stage, and especially if they have different pickups (single coil/humbuckers), the M133 is effective at keeping the dynamics consistent.
It took a little time to find the perfect gain setting for boosting lead tones. One would assume that having a single-control layout would perhaps limit the options presented by this boost pedal, and while that might be true to an extent, the pedal does offer a surprisingly wide dynamic range.
If like us, you're a fan of Dunlop pedals, you'll love this MXR model. It taps into the classic Dunlop construction methods while implementing several tone-enhancing components to ensure progression and modern functionality.
Who is this best suited for: If you're looking for a simple boost pedal that will slot into any space on your pedalboard, the MXR M133 Micro Amp is a great choice. It's refreshingly uncomplicated and does exactly what is required of a boost pedal.
Bottom Line: MXR is renowned for its high-performance guitar pedals, notably their preamps and gain-boosting effects. The M133 is a fine example of their expertise in this field. With a single Gain control and a footswitch installed, the pedal operates smoothly without unnecessary distracting features.
4. TC Electronic Spark Mini (Best Under $75)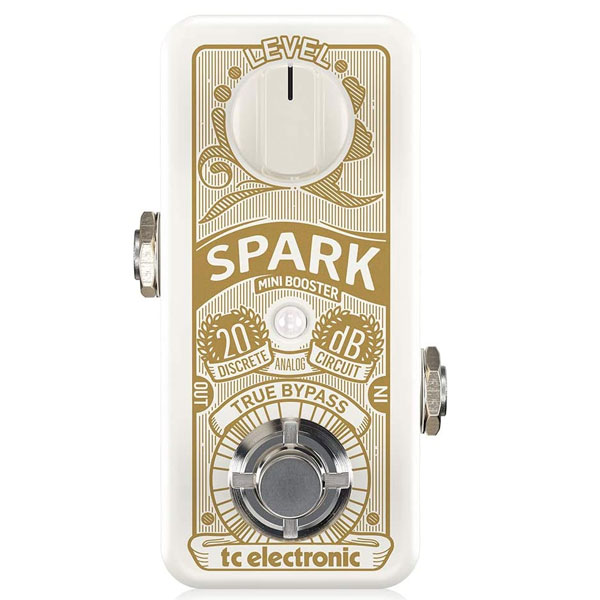 | | |
| --- | --- |
| Estimated Price | $60 |
| Type | Analog |
| Effects | Boost |
| Connectivity | 1 x 6.35mm Jack Input, 1 x Output |
| Power | 9 Volts DC |
My Review: In my experience, affordable boost pedals are liable to noise issues, but not the Spark Mini Booster by TC Electronic. I was pleased to find that this stompbox features a unique, aesthetically pleasing design, and operates very smoothly indeed.
Inspired by its larger sibling, the popular Spark Booster, this mini version keeps things simple. There's a singular Level control housed on the pedal, which offers up to 20dB of boost. The tone of your guitar remains crisp, and this pedal can raise it above the rest of the mix, for a solo or prominent riff.
Although I found the pedal to be slightly lacking in terms of additional controls, its simplicity is perhaps its best quality. I instantly warmed to the analog design of the Spark Mini, which sets it apart from other similarly-sized boosting devices.
The advantage of acquiring such a small booster pedal, rather than opting for a bulkier device, is that you can position it in various places within your signal chain without worrying about overcrowding issues. The combination of compactness and quality is what makes the Spark Mini highly recommendable.
Who is this best suited for: If you're looking to save money to put towards other effects pedals, the TC Electronic Spark Mini Booster is one of the best affordable boost pedals on the market. It's ideal for all abilities and experience levels, thanks to its very straightforward functionality.
Bottom Line: Offering a massive 20dB of boost for your guitar, the TC Electronic Spark Mini is deceptively powerful. It's ideal for pushing your guitar to the front end of the mix temporarily, or for getting a little extra warmth out of your tube amp's breakups. With the patented PrimeTime feature included, you can use the footswitch either as a toggle or to hold to boost the effect. If you're a boost pedal for metal this is a great option, it's also very versatile and good for other genres of music as well.
5. JHS Prestige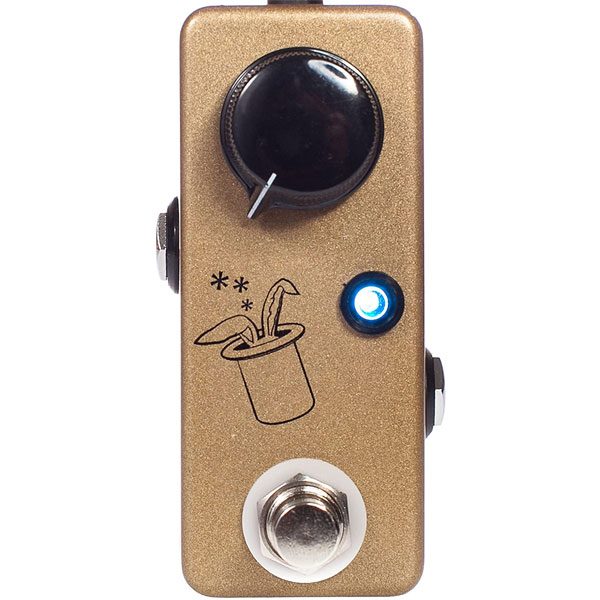 | | |
| --- | --- |
| Estimated Price | $130 |
| Type | Analog |
| Effects | Boost |
| Connectivity | 1 x 6.35mm Jack Input, 1 x Output |
| Power | 9 Volts DC |
My Review: Simple and effective, I found the Prestige by JHS to be a surprisingly versatile boost pedal despite its compact size. When adjusting the onboard control knob, I found that the function of this pedal can be shifted to suit your requirements. When I set this parameter to around 25%, I discovered that the pedal can be used as a buffer to strengthen your signal and add substance to your tone.
Alternatively, when the pedal is used with the control knob set anywhere from 25% to 50%, it functions as a conventional boost pedal, ideal for raising your guitar above the mix for a flashy solo. When you venture above 50%, the Prestige begins to push your amplifier, which results in natural saturation if you're using a tube amp.
I was really impressed with the Prestige's ability to shapeshift into different boost-pedal forms using a singular control. Indeed, it could be argued that the lack of additional parameters limits the possibilities of the pedal, but there's an abundance of different sounds housed within this little gem.
Who is this best suited for: Due to the multi-faceted nature of the JHS Prestige, I'd recommend it to all guitarists, regardless of style, ability, or experience. Whether you're looking for gentle boosting of your signal or more extreme levels of gain, the Prestige can do it all and more!
Bottom Line: I'm a huge fan of JHS pedals, simply because of the attention to detail that goes into designing their inner circuitry. The Prestige reinforces this quality, offering a range of functions depending on the settings you choose. It performs brilliantly as a buffer and signal enhancer, lead boost, or when evoking overdrive from your amplifier.
6. Voodoo Lab Sparkle Drive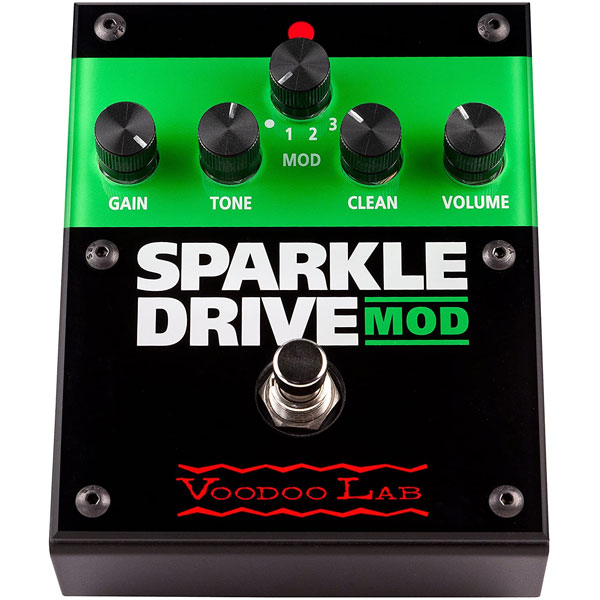 | | |
| --- | --- |
| Estimated Price | $150 |
| Type | Analog |
| Effects | Boost |
| Connectivity | 1 x 6.35mm Jack Input, 1 x Output |
| Power | 9 Volts DC |
My Review: Before encountering this boost pedal, I'd mainly come across Voodoo Lab for their industry-leading power supply units. Although they're perhaps less well known for their effects pedals, our findings presented the Sparkle Drive booster as an example of their proficiency in this field.
The first thing that became apparent is that this pedal is wider than your average boost pedal. The Sparkle Drive houses four rotary controls for added flexibility. These consist of Gain, Tone, Clean, and Volume. Each control plays a vital role in shaping the characteristics of the boost effect.
The Sparkle Drive essentially acts as a layer, combining one clean signal with a saturated version. When the clean control is turned down, the pedal produces classic overdrive. When we added some clean into the signal, we were greeted with a transparent boost effect.
Although the Sparkle Drive is undeniably capable, it feels as though Voodo Lab has created a pedal that isn't totally committed to being a straight-up booster, or a conventional overdrive. This would be my only criticism of the pedal.
With that being said, the Speakle Drive passes every test when it comes to tone and sound quality. It may lack the focus in comparison to standalone boost pedals, but what sets it apart is its ability to function as a gain-enhancer whilst provide control over dynamics.
Who is this best suited for: I'd recommend the Sparkle Drive to those who want more functionality from their boost pedal. With four onboard controls, you can shape the effects to suit your sonic needs, adding more of your clean tone or a saturated double track into the mix.
Bottom Line: Featuring controls that adjust the various aspects of the pedal, the Sparkle Drive booster by Voodoo Labs is detailed and responsive. Equipped with a heavy-duty metal footswitch, true bypass, and a high-visibility on/off LED, this pedal is a worthy addition to your signal chain.
7. Friedman Buxom Boost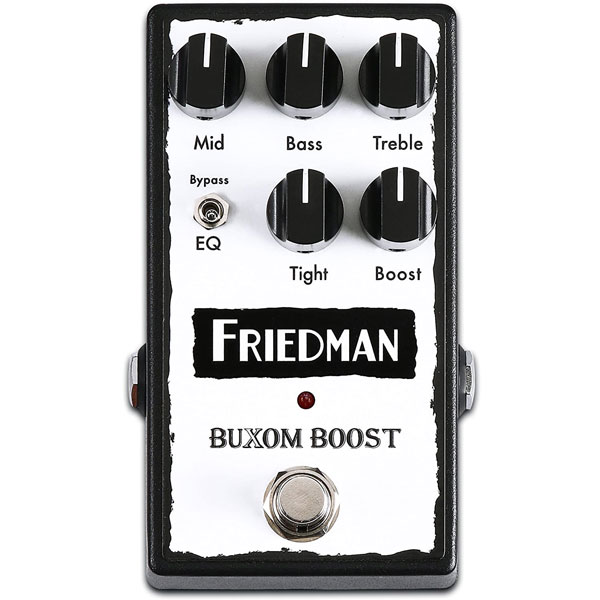 | | |
| --- | --- |
| Estimated Price | $170 |
| Type | Analog |
| Effects | Boost |
| Connectivity | 1 x 6.35mm Jack Input, 1 x Output |
| Power | 9 Volts DC |
My Review: My initial impression of the Buxom Boost by Friedman, is that this device goes above and beyond the capabilities of a regular effects pedal. I'd heard that it was one of the most powerful offerings on the market, and it didn't disappoint. It pushes a pristine clean signal to extract every ounce of character from your guitar's tone.
With onboard Mid, Treble, and Bass controls, you can easily shape the frequency output of this boost pedal to suit your style of playing. There's also a switch for bypassing the 3-band EQ section if you'd rather stick with the natural sound of the pedal.
One of the qualities I found which sets this boutique boost pedal apart from its competitors, is the freedom it gives you over the coloration of your guitar. Personally, I find the added EQ section to be highly useful. I'm liable to constantly tweak the settings of my pedals, and the Buxom Boost makes finding the perfect settings a breeze thanks to its onboard equalization parameters.
Who is this best suited for: Freidman's Buxom Boost is a versatile pedal. If you're considering adding an EQ pedal to your signal chain, you can use this pedal to serve both purposes thanks to its onboard 3-band equalizer.
Bottom Line: Designed to offer maximum tonal flexibility, the Buxom Boost is a powerful pedal that sets the tone for the rest of your pedalboard. With a total of five onboard rotary controls, you can tweak the output of this boost pedal to suit any scenario. The high-quality inner circuitry installed by Buxom ensures that you get the cleanest boost possible with no noise issues or loss of signal strength.
8. Danelectro Billion Dollar Boost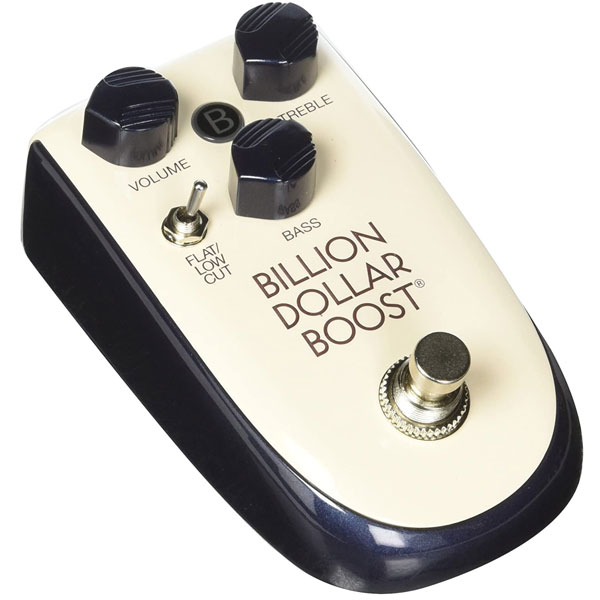 | | |
| --- | --- |
| Estimated Price | $65 |
| Type | Analog |
| Effects | Boost |
| Connectivity | 1 x 6.35mm Jack Input, 1 x Output |
| Power | 9 Volts DC |
My Review: With its unique design, unconventional shape, and classy performance, I was intrigued to see whether the Billion Dollar Boost by Danelectro lived up to its name. This manufacturer has quickly established itself as a leading provider of mid-priced effects pedals, and the Billion Dollar Boost further proves its competence.
The three controls installed on the face of the pedal consist of Volume, Treble, and Bass. The volume control adjusts the amount of dB that your signal is boosted by, while the 2-band EQ allows you to adjust the tone accordingly. There's also the useful addition of a preset switch, which toggles between "flat" and "low-cut" settings, enhancing the EQ function.
Compared to other boost pedals in the "affordable" price range, the Dandelectro Billion Dollar Boost performs admirably. However, I must admit there is a noticeable difference in quality between it and some of the more expensive, advanced effects on this list.
Despite that, I'm aware that Dandelectro is relatively new in the world of pedal production, and therefore I think it's fair to cut them some slack. For their first attempt at a boost pedal, it's impressive that they've created, in my opinion, one of the best low-priced options on the market.
Who is this best suited for: If you're looking for a high-quality boost pedal but would rather keep costs to a minimum, the Danelectro Billion Dollar Boost provides the best of both worlds. Versatile and robust, this pedal is ideally suited to the touring guitarist thanks to its durable metal chassis.
Bottom Line: Naming a pedal the Billion Dollar Boost is ambitious, by Danelectro has managed to justify its choice with this high-performance pedal. Featuring a 2-band EQ for adjusting the prominence of bass and treble frequencies, this boost pedal can slot into various positions in your signal chain. With true bypass switching and a die-cast casing, it's built to withstand the test of time.
9. J.Rockett Audio Designs Archer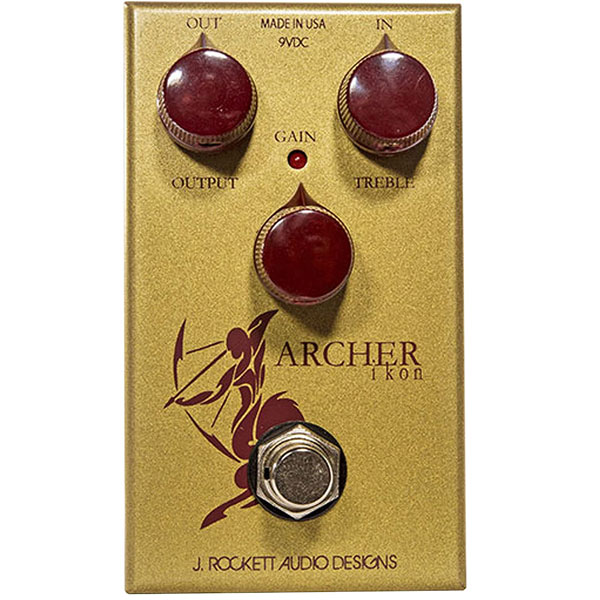 | | |
| --- | --- |
| Estimated Price | $190 |
| Type | Analog |
| Effects | Boost |
| Connectivity | 1 x 6.35mm Jack Input, 1 x Output |
| Power | 9 Volts DC |
My Review: Our experience of the JRAD Archer pedal was very positive. We found it to be a versatile signal booster that also doubles up as a capable overdrive pedal. It has the potential to take your signal from a slightly warm clean boost, to noticeable saturation that retains a natural and authentic tone.
When we used it simply as a clean boost, it became apparent that the pedal's gain control must be set to zero. This results in a slight push, which can then be shaped using the onboard treble control. When you require more power and grit, you can crank up the gain to enjoy crunchy overdrive without unnecessary harshness.
The first thing that stood out to us when examining the Archer, was its impeccable design. However, aesthetics are irrelevant if a pedal doesn't produce a premium-quality tone. To be completely honest, I predicted that the Archer wouldn't disappoint, and it didn't!
What most impressed us about this J.Rockett Audio Designs offering is its ability to retain tonal integrity even when the boost is cranked up to produce saturation. For this reason, we found that it is perfect for adding warm overtones to chord sequences or heating up lead guitar tones.
Who is this best suited for: Guitarists who also intend to add an overdrive pedal to their signal chain will enjoy the versatility of the JRAD Archer pedal. It functions both as a conventional clean boost, or as a way to achieve natural, warm saturation.
Bottom Line: With a robust metal enclosure, high-quality inner components, and a range of controls, the JRAD Archer is a wonderful, multi-functioning pedal. Essentially a blend of overdrive and clean boost, this pedal can transform your tone in an instant. Whether you need more gain to stand out from the rest of the band, or you're looking for a vintage, overdriven tone, this pedal will suffice.
10. Orange Two Stroke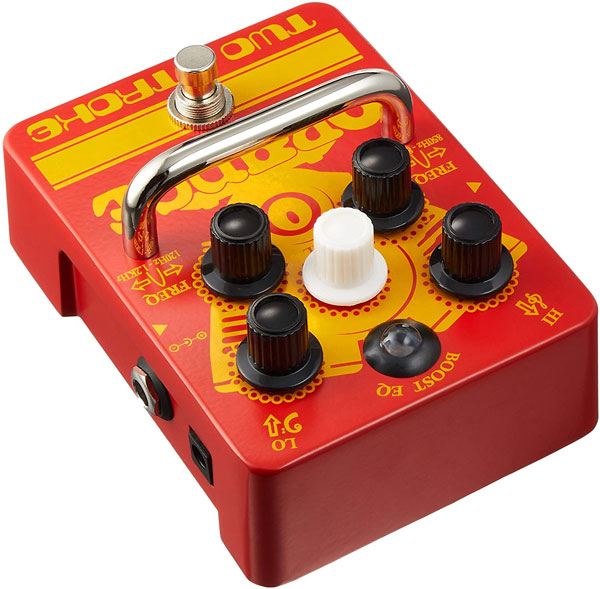 | | |
| --- | --- |
| Estimated Price | $140 |
| Type | Analog |
| Effects | Boost |
| Connectivity | 2 x 6.35mm Jack Input, 2 x Output |
| Power | 9 Volts DC |
My Review: The Two-Stroke by Orange is a multi-faceted boost pedal, which also offers EQ capabilities. I found this pedal intriguing because Orange is best known for its genre-defining amplifiers, which were used by many of my personal favorite "British Invasion" guitarists in the golden era of rock n' roll.
What really stood out about the Two-Stroke pedal is that it is a perfect middle ground between your amplifier and instrument. It provides a simple, effective boost, which can be gently eased into classic overdrive if required. Offering up to 12dB of clean boost, this pedal is highly responsive to the adjustments you make to the onboard controls.
I must admit I am slightly biased towards Orange, simply because I have such fond memories of playing their amplifiers. Putting my bias aside, I genuinely believe that in a crowded market of boost pedals, the Two Stroke stands out for various reasons.
Firstly, I think it's the perfect boost pedal for conjuring up classic 60's guitar tones. If the rest of your pedalboard is filled with effects that inspire a vintage rock n' roll sound, this little device will slot in seamlessly and add to the overall character of your rig.
Who is this best suited for: I'd recommend the Orange Two Stroke to lovers of good old-fashioned rock n' roll guitar tones. It features a detailed EQ section, so if you're very particular about the frequency output of your guitar, you'll enjoy the freedom offered by this boost pedal.
Bottom Line: With up to 12dB of clean boost, an onboard dual parametric EQ, and an internal charge pump, the Orange Two Stroke is a brilliant option. It also boasts buffered bypass circuitry, which combines the best aspects of true bypass switching and conventional buffered designs. This pedal can be used to gently raise the prominence of your clean tone, or edge it into warm, immersive overdrive.
11. Wampler Decibel Plus V2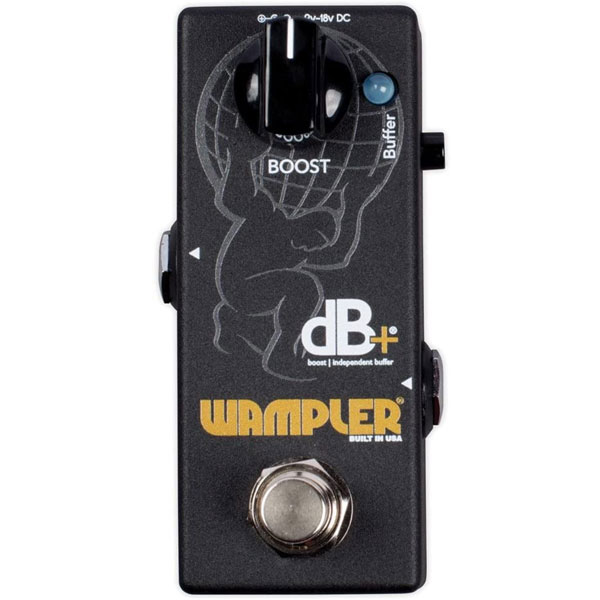 | | |
| --- | --- |
| Estimated Price | $120 |
| Type | Analog |
| Effects | Boost |
| Connectivity | 1 x 6.35mm Jack Input, 1 x Output |
| Power | 9 Volts DC |
My Review: As a long-term fan, I've been excited to see that Wampler's selection of high-end effects pedals is ever-expanding. I learned that the Decibel Plus is their flagship boost pedal, living up to its name. In my opinion, it seems to form a solid foundation for the rest of your effects,  and this boost pedal preserves your natural tone while strengthening it simultaneously.
Built upon the success of the previous model, this newly updated edition boasts a cleaner boost with none of the "tone suck" that can mar your output. It's built with true bypass switching to ensure maximum signal integrity, even when the pedal is not in action.
For me, the standout quality of the Wampler Decibel Plus is its exceptional ability to preserve the integrity of the guitar's clean signal. This is largely down to the sophisticated and reliable buffer that Wampler purposefully installed within the pedal.
The Decibel Plus shares inner components and design techniques with other brilliant Wampler offerings, like the Tumnus and the Belle overdrive. It builds upon the success of these pedals, and in my opinion, outshines them in many areas including functionality and noise reduction.
Who is this best suited for: Simple yet effective, the Wampler Decibel Plus provides everything you need from a boost pedal. If you like pedals that are straightforward to use, this Wampler offering is certainly worth considering.
Bottom Line: The main role of a boost pedal is to retain the tone of the guitar as much as possible while increasing the decibels enough to have a noticeable effect. The Decibel Plus by Wampler ticks both of these boxes. With a simplistic single-knob design, it's extremely easy to use and provides a reliable boost when you need a little extra headroom.
12. Fender Engager Boost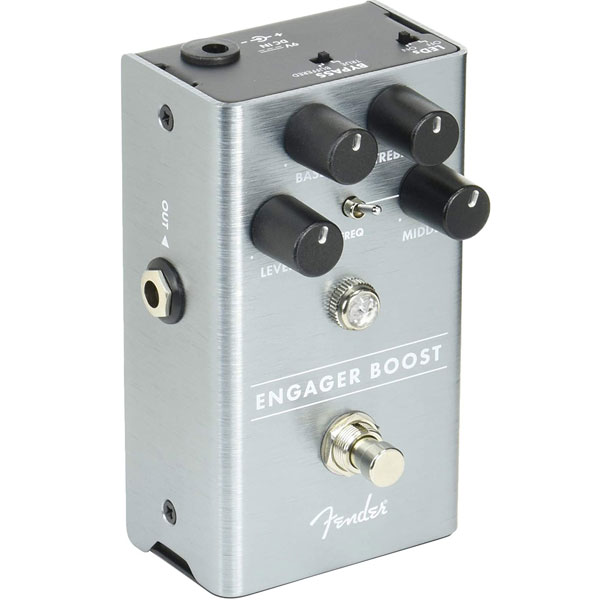 | | |
| --- | --- |
| Estimated Price | $110 |
| Type | Analog |
| Effects | Boost |
| Connectivity | 1 x 6.35mm Jack Input, 1 x Output |
| Power | 9 Volts DC |
My Review: I'm sure you're probably aware that as arguably the best-known manufacturer of music equipment over the last century, Fender is best known for its exceptional range of electric and acoustic guitars, and amplifiers. In recent years, we've watched with a keen as they ventured into the territory of boutique effects pedals. The Engager Boost proves that this was a great decision!
With a four-control design consisting of Level, Bass, Treble, and Middle, the Engager Boost doubles up as a capable 3-band parametric EQ. The advantage of this is that I was able to set the initial boost levels, then tailor the frequency output to perfectly suit the overall tone of your band or backing track.
20dB of clean boost is enough for any style of guitar playing. One thing that I love about this Fender boost pedal, is how it facilitates two distinctive effects. Firstly, by adjusting the EQ settings and gradually adding gain to the signal, the guitar is provided with a slight increase in prominence, which magnfies its natural tone.
On the other hand, I'd encourage you to consider this pedal if you use a tube amplifier and would benefit from a quick and effective way to push the amp into the territory of warm break-ups. It took a little while to become familiar with the way the EQ affects the pedal's performance, but it's worth the investment for the results it produces.
Who is this best suited for: Guitarists who own a Fender instrument or amplifier will be aware of the impeccable design and attention to detail that this legendary manufacturer provides. If you're a fan of Fender, you'll enjoy using the Engager Boost pedal.
Bottom Line: Housing a three-band EQ section, the Engager Boost is a capable device that can be used to control the nature of your guitar's tone. It also has an onboard preset switch that instantly removes some of the mid-range, preventing any harshness from tarnishing your boosted guitar tone. With a solid chassis made from anodized aluminum, this pedal is extremely roadworthy.
13. Azor Pure Boost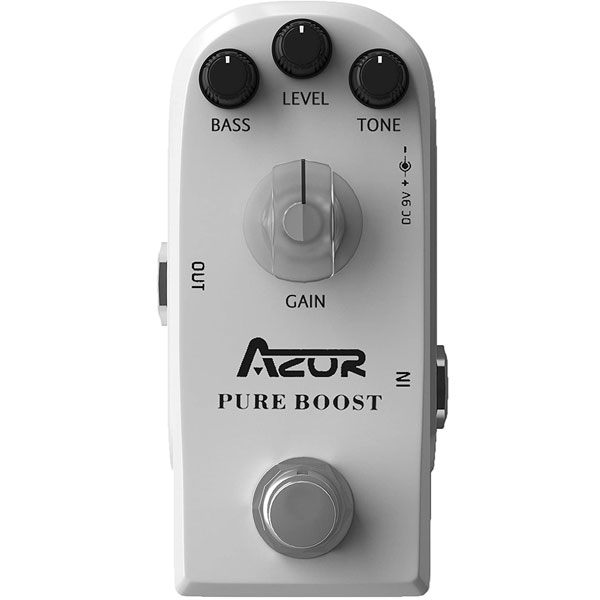 | | |
| --- | --- |
| Estimated Price | $25 |
| Type | Analog |
| Effects | Boost |
| Connectivity | 1 x 6.35mm Jack Input, 1 x Output |
| Power | 9 Volts DC |
My Review: Affordable and reliable, I'd describe the Pure Boost by AZOR as a compact pedal which provides you with a good level of control over your dynamics and tone. With three small rotary controls on the top of the pedal, I found it easy to adjust the Bass, Level, and Treble.
In the center of the pedal, there is a large Gain control, which, when set to a high value, creates warm saturation that I thought resembles the tube-overdrive of a vintage amplifier. Offering an impressive 20dB of clean boost, this lightweight pedal is a solid choice.
To put it simply, the standout attribute of the AZOR Pure Boost is its low price. The pedal performs reliably when considering its affordable price tag, but the build quality is not up to the standard of the more advanced boost pedals featured in this post.
However, to AZOR's credit, I was impressed by the minimal noise issues produced by the pedal. Compared to other low-priced boost pedals, it is a reliable choice.
Who is this best suited for: If you're running out of space to fill on your pedalboard, the compact Pure Boost might be the ideal choice. It's also one of the most affordable boost pedals on the market, so you can save a little extra money to put towards other effects pedals if you wish.
Bottom Line: Although the AZOR Pure Boost may not provide the same level of detail that more expensive pedals offer, it's a capable device nonetheless. With up to 20dB clean boosting capabilities, a 2-band EQ, and a durable, lightweight build, this pedal performs to a level that belies its modest price tag.
14. Rowin Booster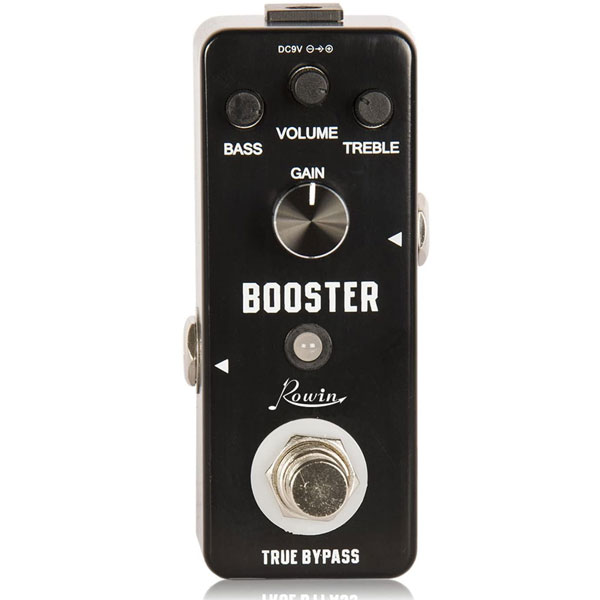 | | |
| --- | --- |
| Estimated Price | $30 |
| Type | Analog |
| Effects | Boost |
| Connectivity | 1 x 6.35mm Jack Input, 1 x Output |
| Power | 9 Volts DC |
My Review: The Rowin Booster provided me with a straightforward method of raising the level of my guitar above the rest of the mix. ThisBooster houses multiple controls and features that I found to be useful. Situated at the top of the pedal are three controls: Bass and Treble for adjusting the tone, and Volume for adjusting the level.
The centerpiece control affects the amount of gain that is added to your clean signal. This pedal offers up to 15db of clean boosting, with the 2 band EQ ensuring that the tone doesn't become too harsh or bass-heavy in the process.
The Rowin Booster pedal doesn't include any groundbreaking features or controls, but what it lacks in sophistication, it makes up for in terms of simplicity. If I was a novice in terms of experience with guitar pedals, I'd definitely consider this boost device. In my opinion, it's the prefect platform for learning more about the boost effect in general.
I found the design of the pedal to be very user-friendly, with the four rotary controls easy to familiarize myself with. Sometimes, simplicity is more appropriate than having endless features at your fingertips, and I believe that this pedal is an example of that.
Who is this best suited for: The Rowin Booster is a great choice for guitarists who are shopping on a tight budget, but still require plenty of tonal flexibility. With its onboard bass and treble controls, it provides you with the perfect platform to build your clean tone upon.
Bottom Line: Compact, roadworthy and affordable, the Booster pedal by Rowin is a simplistic offering. Featuring true bypass switching, it ensures that your signal strength is preserved even when the pedal is not activated.
15. Ibanez Tube Screamer Mini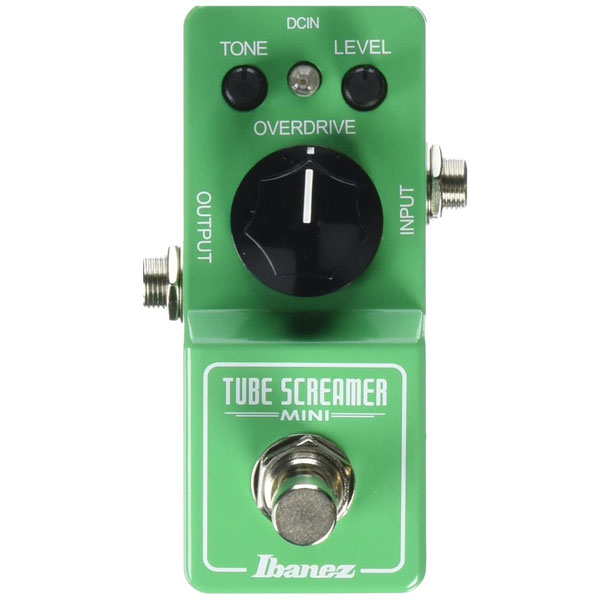 | | |
| --- | --- |
| Estimated Price | $80 |
| Type | Analog |
| Effects | Boost/Overdrive |
| Connectivity | 1 x 6.35mm Jack Input, 1 x Output |
| Power | 9 Volts DC |
My Review: After experimenting and doing some research, it became clear to me that Tube Screamer Mini is technically an overdrive pedal, but it also performs the role of a boost pedal admirably. I discovered that it is one of Ibanez's most popular devices. It's a compact pedal that features a distinctive green design and vintage aesthetics.
Housed on the Tube Screamer Mini are three useful parameters. The large control in the middle of the pedal affects the amount of saturation that your clean signal is subjected to. Then there's the Tone control, which adjusts the coloration of the boost, and level control for creating dynamic consistency.
I am a big fan of the full-sized Tube Screamer by Ibanez, and therefore I was excited to try out its smaller-sized sibling. Firstly, I liked how Ibanez managed to retain the warm saturated tone of the larger pedal, despite the significant reduction in chassis dimensions.
As a matter of fact, I actually prefer this mini version to the full-sized pedal. The reason for this is that it includes the perfect amount of tone-tweaking options, which cover all bases without any unnecessary filler!
Who is this best suited for: If you're fond of the classic overdriven tones that graced many rock n' roll recordings during the 60s and 70s, you'll find great enjoyment in using the Ibanez Tube Screamer Mini. It's a great choice for those who like to add subtle saturation to their guitar's output or push it to the limits of distortion.
Bottom Line: A legendary pedal, the Tube Screamer Mini performs the roles of both a conventional clean booster and a warm overdrive pedal. There's plenty of room for maneuver with this boost pedal, thanks to the three onboard controls and the array of warm, saturated tones that it is capable of producing.
16. MXR Timmy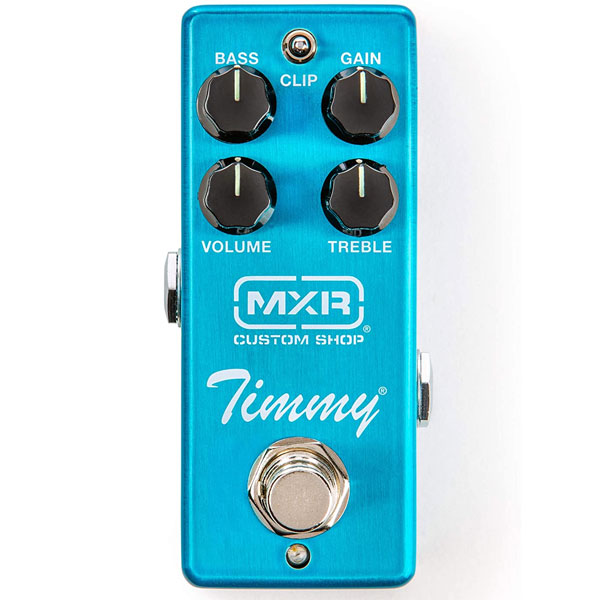 | | |
| --- | --- |
| Estimated Price | $130 |
| Type | Analog |
| Effects | Boost/Overdrive |
| Connectivity | 1 x 6.35mm Jack Input, 1 x Output |
| Power | 9 Volt DC |
My Review: Featuring four rotary controls, true bypass switching, and an LED status indicator, I was pleasantly surprised to find that the Timmy is an exceptional boost/overdrive pedal by MXR. The controls consist of Bass, Gain, Volume, and Treble, each of which causes noticeable changes to the clean tone when adjusted.
At the top of the pedal, there is a small switch which is labeled "Clip". I found this feature to be particularly useful. The switch allows you to transform the pedal into a fire-breathing, overdriven monster. Alternatively, you can stick with the standard-setting to enjoy a mild, dynamic-raising boost that sounds natural and authentic.
My favorite thing about the MXR Timmy is its ability to instantly transform a guitar's tone with the flick of a switch. Compared to other boost pedals in its price range, the Timmy functions very smoothly and allows you to maintain your desired settings while still being able to influence the overall nature of the effect instantaneously.
Who is this best suited for: The Timmy by MXR is the perfect choice for guitarists who want to combine their clean boost with a touch of overdrive. When pushed to its limits, this pedal is great for red-hot soloing tones that suit heavy rock or blues.
Bottom Line: The MXR Timmy is undeniably versatile. Due to the inclusion of a 2-band EQ, and a toggle switch for pushing the pedal into overdrive, it can be used either as a standard signal booster or a saturation-evoking device. Whichever role you ask it to play, it will do so capably. If you're looking for the best boost pedal for blues this is a great option, and it's quite versatile for other types of music.
17. Electro-Harmonix LPB-1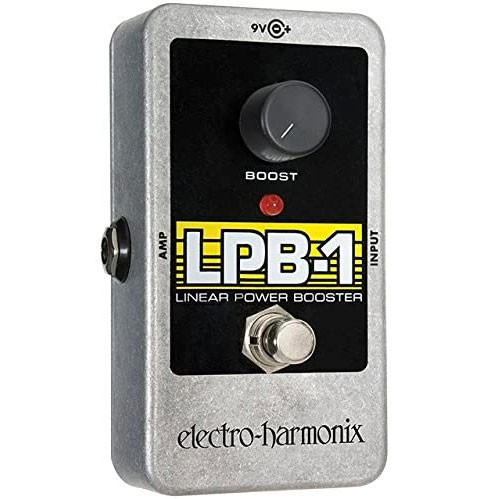 | | |
| --- | --- |
| Estimated Price | $60 |
| Type | Analog |
| Effects | Boost |
| Connectivity | 1 x 6.35mm Jack Input, 1 x Output |
| Power | 9 Volts DC |
My Review: In my opinion, Electro-Harmonic, or EHX as they are commonly known, are amongst the most prolific producers of effects pedals on the planet. The LPB-1 is their flagship boost pedal, housed in their classic metal stompbox chassis.
I was excited to hear the tone of this reissue of the original LPB-1 circuit that introduced overdrive in the late 1960s. I learned that this newly improved version includes true bypass switching for maximum signal integrity. With some experimentation, it became clear that this pedal can be used to raise the level of your guitar above the rest of the band, or you can crank up the parameters to enjoy vintage-style overdrive reminiscent of rock n' roll's glory days.
Right off the bat, I could tell this pedal was a force to be reckoned with. Deceptively simplistic, I was extremely impressed by the LPB-1 due to its ability to produce a wide range of boosted and slightly saturated tones using a single control. This proved to me that there isn't any need to overcomplicate boost pedals.
Who is this best suited for: Due to the compact size of the LPB-1, it's ideal for guitarists who need to save space on their pedalboard. If you're fond of vintage tube overdrive, you'll enjoy the breakups that this pedal produces when the gain control is increased to the higher values.
Bottom Line: EHX is renowned for its reliable, high-performance pedals. It's no surprise then, that the LPB-1 performs to a standard that you'd expect from this manufacturer. With a simple design, it provides a clean boosting that is ideal for soloing or riffs. It also includes true bypass switching and is housed in a durable die-cast metal casing making it ideal for the touring musician.
Choosing the Right Boost Pedal (Buying Guide)
When building your collection of guitar pedals, it's easy to get mesmerized by effects that have a noticeable impact on your tone. Fuzz, wah, reverb, and delay pedals are amongst the most transformative pedals you can acquire.
Nevertheless, it's the effects pedals that perform their role in a subtle manner that are arguably the most important. Boost pedals fall into this category. Although they perhaps aren't as exciting as other tone-shaping pedals, they are a vital component of a fully functioning pedalboard.
Boost pedals are highly versatile devices and are capable of a lot more than they often get credited for. In the following sections of this guide, I'll provide you with everything you need to know about boost pedals so that you can make an informed choice and get the best out of your new addition.
What is a Boost Pedal?
Simply put, boost pedals perform the primary function of adding more substance to your signal. They provide you with extra volume on command, which is useful if you need to elevate your guitar over the rest of a band or draw attention to a particular section.
The most common way that guitarists use boost pedals is to raise the volume of their amplifier, to highlight a solo or riff. Rather than having to adjust the settings on their amp, or tweak the level controls on their other effects pedals, they can achieve the desired level simply by engaging the boost pedal.
Although they may seem like simplistic, one-dimensional devices, boost pedals are capable of much more than one would initially assume. The position that the boost pedal is placed within the signal chain largely impacts its role on your pedalboard.
As is the case with most guitar effects, there is a wide range of boost pedals on the market today. It can be an arduous task sifting through the plethora of options to find the ideal option for your musical style and individual needs.
How to Use a Boost Pedal
Unlike many modern pedals that are crammed with complex features, parameters, and control knobs, boost pedals are refreshingly simple. They often get categorized with overdrive or distortion pedals, due to the increased gain they add to the guitar's signal.
Using a boost pedal is quite easy. In most cases, all that is required is for you to establish the initial settings on the small number of controls until you find the optimal amount of boost that you're looking for.
The vast majority of boost pedals have a classic, compact stompbox design. There's usually a footswitch located on the bottom layer of the pedal's face, which, when pressed, activates the boost based on the settings that you have established.
Unlike distortion, overdrive, and fuzz effects, boost pedals perform a more understated role. You can use them to gently increase the volume of your guitar when required, or push them to their extremes and ensure that your instrument is heard over the rest of the mix.
Combining Boost Pedals with Other Effects
One of the most attractive qualities of boost pedals is their versatility. They are highly compatible with a range of other effects. One could argue that boost pedals work with every other type of effect on your pedalboard – a quality that very few pedals can lay claim to!
A common way that guitarists use boost pedals, is to incorporate them in their amplifier's effects loop. Don't worry if you've never heard of an effects loop before, I'll explain it in simple terms later in this guide so that you can choose whether setting one up would be of benefit to you.
Where you decide to position your boost pedal within the signal chain will ultimately control which effects it is used with. There's no general advice on this subject because each guitarist has their favorite pedals that they enjoy using the most.
For example, if you often use a particular effect, like chorus, for example, you may decide that the boost pedal should be used to increase the prominence of that effect. You'd then need to position the boost pedal after the chorus in your signal chain so that it is subjected to the increase in volume when you need it onstage or in the studio.
Some effects pedals are great as standalone devices, but not so great when mixed with others. Thankfully, boost pedals can slot into almost any position in your signal chain, and merge seamlessly with basically all of the other pedals that you use.
Boost Pedals in the Record Studio
The benefits of using a boost pedal are undeniable when playing live shows. They allow you to draw attention to a specific section of a song, perhaps a flashy guitar solo or a riff that is simply too good to go unnoticed.
Moreover, boost pedals are also highly useful tools to have at your disposal in the recording studio. Not only do they provide you with a quick and convenient way to increase the level of your guitar when recording, but they are also great for evoking a better tone from your amplifier, preamp, or D.I.
When it comes to using a boost pedal for recording, you are faced with two options. Firstly, you can record the pedal through your amplifier. The second option is to send the output of the boost pedal straight into the line-level input on your audio interface, or preamp if you like to use one.
There are several advantages and drawbacks to both of these recording techniques. If you choose to use an amplifier, the benefit of this is that it will provide you with a consistent tone with your onstage sound, provided you use the same amp. Many guitarists prefer to record with their amplifier as this allows them to easily recreate their tone from the studio when playing live shows.
To record a boost pedal through your amplifier, you'd simply need to send the output of the pedal into the input of the amp, and then position a microphone (or two) in front of the speaker. One of the potential issues with this is that every microphone colors the recording in its unique way, so you're relying on the mic for your tone, to an extent.
Alternatively, you might prefer to send the output from the boost pedal directly into the input on your audio interface. This is commonly referred to as "D.I" or "Direct Input". The main benefit of this recording technique is that it is highly convenient – you can record guitar with your boost pedal in any location provided you have a laptop and your audio interface.
Another benefit of direct inputting is that it tends to be less invasive on the natural tone of your guitar combined with the boost pedal. Amplifiers affect the coloration, as do microphones, but the preamps on your audio interface are less impactful on the overall tone.
When you record using an amplifier and microphones, it's very difficult to then process the audio using additional effects. To an extent, you're stuck with the tone of the recording. Conversely, when you use a direct input, you can then run the signal through amp modelers and other processing effects to sculpt the exact sound that you're aiming for.
True Bypass & Buffered Boost Pedals
When effects pedals were first designed, guitarists often had to contend with noise issues. The circuitry inside vintage pedals was liable to create an electronic hum, buzz, and hiss. This was due to the way the pedals were designed and were especially problematic when several pedals were used together.
As pedal engineers perfected their methods, two designs were developed to combat the issue of unwanted noise. These are known as buffered and true bypass pedals. The vast majority of modern effects pedals use either one of these designs to ensure that signal strength remains consistent, even when extensive collections of pedals are used simultaneously.
Boost pedals of the true bypass variety allow the signal of the guitar to flow through the pedal's inner circuitry when it is not in use. This essentially means that the tone and frequency output of the instrument is maintained, limiting the coloration or tonal degradation caused by the pedal. True bypass boost pedals don't affect the level of the signal when turned off. However, if you're using an extension cable run that exceeds 18.5 ft, there is a risk of tonal degradation.
On the other hand, buffered boost pedals work by increasing the strength of the guitar's signal. The pedal then drives the boosted signal through the chain, which maintains the original dynamics and tonality. When you use buffered pedals, it makes no difference whether the pedal is on or off – the buffering is constant.
Deciding whether to opt for a true bypass or buffered boost pedal ultimately depends on how extensive your cable run is. Due to true-bypass pedals suffering some loss of signal strength when the cable run exceeds 18.5 ft, it is not advisable to use them for, especially long cable runs. For anything below 18.5 ft, they will perform reliably.
If your cable run extends beyond 18.5 ft, then a buffered boost pedal is probably the best option. They are capable of maintaining your guitar's consistent dynamics and tonality, protecting its integrity in the process. For guitarists who use huge selections of effects, buffered pedals are required.
There's no harm in combining a range of buffered and true bypass pedals on your pedalboard. This is arguably more reliable than depending solely on one variety. If you do choose to use a mixture of the two, bear in mind that you should begin the signal chain with a true bypass pedal, as this will get you the cleanest and most efficient results.
Positioning a Boost Pedal in Your Signal Chain
When guitarists reach the point where their collection of pedals becomes extensive, one of the most vital considerations they will make is the ordering of their effects in the signal chain. This has a large impact on the performance of the various pedals and ultimately shapes your tone. Each guitarist has their personal preferences regarding signal chain positioning, and there's ultimately no "right" or "wrong".
With that being said, some generally accepted guidelines produce conventional results. By all means, I'd encourage you to experiment with the positions of your effects pedals, to discover tones that you enjoy. After all, most of the guitar tones that we now consider to be iconic were born out of guitarist's desire to ignore conventional practices and go against the grain.
Due to the versatile nature of boost pedals, there are several positions that you can choose from to get varying results. Ultimately, whichever effects are positioned before it in the signal chain will be subjected to the boost in level. For example, if you choose to run the boost through the front of your amplifier, it will enhance the amp's natural character and interact with the distortion or overdrive pedals that precede it in the signal path.
Conventionally, the first pedal in the signal chain is the tuner pedal. This is because you need the cleanest possible signal to enter the tuner so that it can accurately read the pitch of each string. Next, compressors, limiters, and EQ pedals are usually placed. These "dynamic" effects are followed by gain-based pedals like distortion, overdrive, or fuzz.
After these pedals, come modulation-based effects. This broad category includes chorus, phasers, flangers, octave and pitch-shifters, and tremolo pedals. Following modulation, pedals are reverb and delays, which then send the signal to the amplifier.
Within this conventional ordering of your effects pedals, a Boost pedal can be slotted in either at the very beginning, middle, or end of your signal chain. Each of these three positions offers various benefits, but they also have their drawbacks. It's advisable to try them out and see which works best for your setup.
Another option that you have is to run the boost pedal through your amplifier's effects loop. An effects loop is essentially an input and output that separates certain effects from the amplifier's preamp and power amp sections.
Effects loops are most commonly used for timing-based effects like delays and reverbs, or modulation effects. However, placing a boost pedal within the effects loop can help to enhance its effectiveness. Doing so increases the pedal's sensitivity, which means that even the smallest amount of boost will have a significant impact on the overall dynamics of the output.
The main advantage of running a boost pedal through your effects loop is that it will create a cleaner effect. The boost will be predominantly impactful on the overall level, rather than affecting the coloration of your tone.
For this reason, boost pedals are considered to be one of the most versatile effects on your pedalboard. You can position them anywhere depending on the result you're looking for. It's a good idea to try out several different positions to gauge the impact that they have on your overall tone and dynamics.
It's a good idea, to begin with, the conventional signal chain layout that I presented in the earlier paragraph, then swap out certain effects to determine how that changes the sound of your guitar. You might just stumble across a unique tone that becomes your signature sound, or at least you'll gain some knowledge on how effects pedals interact with one another!
Dual Output Boost Pedals
Although it's more common on larger pedals, some boost pedals include multiple outputs. The benefit of this is that it facilitates signal splitting – a method used by guitarists who want to use two amplifiers onstage. If you're unfamiliar with this practice, it may seem a little ridiculous – why would anyone need more than one amplifier?
Using two amplifiers allows you to split your dry and wet signals so that they can play together, simultaneously. By using a pedal that has dual outputs, you can send one into the dry amplifier, and the other into the wet amplifier. It essentially allows you to split your signal to create the illusion that two guitars are playing at once – one clean and one with effects.
The reason that a guitarist would want to do this, is to thicken up their tone. Especially if you're in a three-piece band that lacks a second guitarist, you might find that when it comes to soloing or playing single-note melodies, the overall sound of your band loses some power.
The method of signal splitting is a great way to remedy this. It allows you to keep your guitar's clean tone playing constantly, while the effects are used to provide extra volume, power, or decoration. When you need an extra thick tone, you can activate both amplifiers to create a double-tracking effect.
It's also a common way for bassists to use effects pedals without losing the power or low-end clarity of their clean tone. When the effects are activated, they play through the second amplifier, leaving the clean tone to play through the first amplifier. This way, the effects can be used to make the overall sound more substantial and to avoid losing power in certain parts of songs.
Most boost pedals are compactly sized and therefore, it's quite rare to find them with dual outputs. However, you can use any other pedal that has two outputs to achieve this technique. Your boost pedal can then either be used with the clean channel or the dirty channel depending on your needs.
Common Controls & Parameters
The number of controls and parameters that are included on boost pedals varies from model to model. Like all effects pedals, the high-end, boutique offerings are more likely to have a wide array of adjustable controls, while more basic models will simply house the essentials.
Due to boost pedals being designed for one sole purpose – to boost your guitar's signal, many simply include one control: gain. Theoretically, gain control is all that you need for the boost pedal to do its job effectively. Furthermore, many guitarists prefer pedals that keep things simple – so having a singular control is perhaps a more effective design.
The gain control essentially adjusts how much the boost pedal increases the amplification of the guitar's signal. When this parameter is cranked up, the gain will be very extreme, causing the guitar to be significantly louder than the original clean signal. Turn down the gain control, and you'll have a much gentler boosting effect that is perhaps better suited to "lighter" styles of music.
Although many boost pedals feature the aforementioned one-knob design, there are a select few that provide additional controls. These are commonly Volume, Treble, and Bass parameters. Having a volume control installed on your boost pedal provides a little extra flexibility when controlling the dynamics. Gain tends to add some saturation and coloration to the signal, while volume simply increases the level.
Treble and bass controls are essentially 2-band EQs. This is useful if you find that the boost pedal causes undesirable alterations to the tone of your guitar. By reducing or increasing the amount of bass or treble on the pedal, you can balance out any tonal inconsistencies and keep any unwanted frequencies from marring your guitar's output.
Compression, EQ & Boost Pedals
Boost pedals are commonly grouped with compressors and equalizers, simply because these effects all impact the dynamics and frequency output of the guitar. That's why it's a good idea to spend some time tweaking the various settings on these three pedals, to ensure that your level and tone remain consistent when they are engaged.
Compressor pedals are used to reduce the dynamic range of the guitar. You set the threshold, which controls the volumes of the notes that are compressed. For example, if you play a chord that is louder than the threshold setting, the compressor will kick and reduce the volume.
EQ is used to reduce or increase the presence of certain frequencies. These pedals commonly have sliders or knobs that adjust the prominence of frequency "bands". If your tone is a little bass-heavy, you can reduce this by removing some of the low-end frequencies. Likewise, if it is too harsh, you can reduce the prominence of the treble frequencies.
Boost pedals are highly compatible with EQ and compressors. All three of these effects enhance each other's functionality and performance.
Power Requirements
Almost all boost pedals require 9 volts DC power for optimal performance. Due to the generally small size of boost pedals, they rarely need any added voltage. Multi-effects pedals which have onboard boosting capabilities may require a higher voltage, which would commonly be 12v or 18v DC.
When it comes to powering your pedals, the most efficient and reliable method is to use a PSU (power supply unit). These devices are highly useful, attaching to your pedalboard with Velcro or another locking mechanism, and staying in a fixed place so that you don't need to re-connect all of your effects each time you rehearse, perform or record.
This saves valuable time, but it also ensures that your pedals are provided with their optimal amount of power. Good quality PSUs offer various voltage supplies, so you can hook the relevant power outputs to the pedals, and leave them connected.
A large selection of boost pedals can also be powered using a 9-volt battery. There is likely to be a hatch on the back of the pedal, where the battery can be slotted in. Although using batteries is great if you're performing in a location where mains power is hard to come by, it's not the most reliable method in the long term.
Perhaps a more efficient method would be to combine the use of batteries with a PSU. That way, if one method fails, the other will be there to take on the burden. This will prevent signal loss onstage, and ensure that your power is always protected.
Final Thoughts
Boost pedals may not be the most exciting addition you can make to your pedalboard, but their role is undeniably vital. After reading through the information in this detailed guide, you'll hopefully have a clear idea of the exact boost pedal that you need to elevate your guitar above the mix.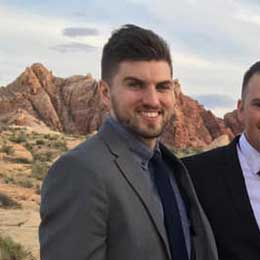 My name is Chris and I've had a passion for music and guitars for as long as I can remember. I started this website with some of my friends who are musicians, music teachers, gear heads, and music enthusiasts so we could provide high-quality guitar and music-related content.
I've been playing guitar since I was 13 years old and am an avid collector. Amps, pedals, guitars, bass, drums, microphones, studio, and recording gear, I love it all.
I was born and raised in Western Pennsylvania. My background is in Electrical Engineering, earning a Bachelor's degree from Youngstown State University. With my engineering experience, I've developed as a designer of guitar amplifiers and effects. A true passion of mine, I've designed, built, and repaired a wide range of guitar amps and electronics. Here at the Guitar Lobby, our aim is to share our passion for Music and gear with the rest of the music community.