When Joe Satriani appeared on the rock scene in the 1980s, he was in oh so many ways different from other bands and solo musicians of the time. His special sound was made under the influence of the greats Jimi Hendrix and Jimmy Page, which eventually led him in the direction of instrumental music, in other words, making his own voice from his guitar and fingers.
To achieve such an interdimensional sound, Joe is very picky about his gear, it all falls down his winning philosophy, be it structure, sound, or even explicitly, tools, everything serves a purpose.
Being one of the most controversial names left out Rolling Stone's 100 greatest guitarists of all time, Satriani has no trouble sleeping at night, this is a self-made guitar hero who in his own words, values his own accomplishments much more than the ones given by a third party.
What Guitars Does Joe Satriani Play?
Joe Satriani is well known for his signature line of Ibanez guitars. It's rare to see him without one of his JS signature models in hand, many of which sport bright, often automobile inspired, colors including Camaro Orange, Muscle Car Red, and of course his famous Chrome finish.
See the full list of Joe Satriani guitars and gear below.
Ibanez JS1CR30 Chrome Boy Signature

| | |
| --- | --- |
| Finish | Chrome |
| Years Used | 2018 to Present |
After the very first issue of the Chromeboy, Satriani wasted no time in making it an almost literal extension of his body, despite being a recent model, it feels as if nothing's changed for both Joe and his fans, needless to say, its been his main go-to since 2018.
This guitar is a celebration of 30 years between Satriani and Ibanez. Presented in 2018, presented at the NAMM show, this one, however, marked Ibanez's 4th chrome guitar. The body is a double-cutaway, made of very high-quality Alder wood, the neck joint is a tilt, the bridge sports an Ultralite Tremolo Arm, with chrome paint on the hardware. The neck is a standard JS Prestige type, made from a combination of maple and Bubinga wood, with a rosewood fingerboard.
In terms of electronics, the Chrome Boy features a SUSTANIAC on the neck position, a DiMarzio Satchur trademark bridge pickup, and two buttons, one for volume and the other one for tone.
Ibanez JS2PRM

| | |
| --- | --- |
| Finish | Chrome |
| Years Used | 2005 to Present |
The third series was a complete success. The most powerful, legendary guitar that finally had everything: "quality sound, very lightweight, fits perfectly with the guitarist's body, " all these words were used by Joe himself. This is one of the rarest guitars and has a cult status among musicians because only 60 models were made and an additional 35 for the USA market. As for Joe, this one became his main go-to up until 2018 when the latest Chromeboy came out, since then, these two rotate fairly often.
The series came out in 2005 with the abbreviation PRM, which means Premium Rock Mirror because that it is, the model is meant to be so shiny that it can be used as a mirror. Made of special stainless steel, which is only a few microns thin. The Ibanez company had finally found the technology that would help make the futuristic guitar that Joe has been dreaming of since the 80s.
The body is a double-cutaway, under the special metal there's basswood. The pickup configuration is Joe's standard DiMarzio PAF and FRED setup, both chrome-plated with a hand-made built-in single coil. One volume button, and one for the tone that enables the coil-split, allowing the bass frequencies to be turned off and the sound to become thinner.
Listen to the instrumental songs "Flying in The Blue Dream" and "Crystal Planet" and think that only one guitar did it with the push of a button. Two chrome tremolo handles are also included with this guitar as well as a specially made silver case, including a guitar holder and a special certificate confirming that the guitar is authentic.
Ibanez JS25ART Signature

| | |
| --- | --- |
| Finish | Custom "ART" Paintings by Satriani |
| Years Used | 2015 to Present |
During the 2015 Shockwave tour, Joe used a set of unique guitars that featured printed finishes of drawings and paintings he has done over the years, there are quite a few of these in his arsenal, and they followed his custom 90s JS series as a more personal tribute. It's worth noting that every single one of these guitars is handpainted by the man himself.
The Ibanez JS25ART was made for Joe to mark the 25 years of collaboration between the artist and manufacturer. For the occasion and as usual, Joe himself was involved in the process of designing the guitar and completely in charge of painting the body. As for its specs, while visually these might be inspired by the original JS series, its hardware borrows a lot from the JS2400 and JS2450, the body is made of basswood, a one-piece maple neck, and a rosewood fingerboard. It features the ever stapled Edge tremolo on chrome hardware, and as for the fingerboard, it has 24 instead of the standard 22 frets.
The JS25ART has 2 built-in DiMarzio humbuckers, a Satch Track for a pickup on the neck, and a Mo / Joe for the bridge. Overall, this is one of my personal favorite Joe Satriani guitars of all time.
Ibanez 540P

| | |
| --- | --- |
| Finish | White |
| Years Used | 1987 to 1990 |
The 540P was introduced by Ibanez in 1987. It was part of the Roadstar series and is also known as the Pro540P name. The body is a double-cutaway design made of alder wood, with a maple wizard neck, the fingerboard is made of rosewood with 22 frets. This guitar also has DiMarzio pickups with a humbucker on the bridge and single-coils on the neck and middle position, and Edge double-locking tremolo, two buttons for tone and volume. The finish of the guitar is white with the hardware color Cosmo black.
Joe used this guitar for a very short time at the beginning of his career, which defined the way for Ibanez in terms of the design of the guitar and the material from which he will make in the future what we call the JS model Ibanez today.
Ibanez JS1 Signature Electric

| | |
| --- | --- |
| Finish | White/Silver |
| Years Used | 1989 to 1993 |
The JS1 is the first model created in collaboration between Ibanez and Joe, for quite some time, this was his main go-to for every endeavor he might think of, but his ever-growing success eventually got it replaced with a more evolved signature derivate models. Based on the 540P model, only the shape has been slightly modified.
During the early 90s, the collaboration with Larry DiMarzio began in parallel with Ibanez, which remains as relevant today as it did back in the day, it is considered one of the longest collaborations of a musician with a company. The body is made of basswood with a white finish and chrome hardware, headstock for the first time have JS signature, the bridge is an Edge in a series made between 1990 and 1991, and the Lo Pro Edge made between 1992 and 1993. The neck is made of one-piece maple wood with a rosewood fingerboard, and 22 frets, sporting PAF, FRED, and an additional split single-coil pickup this was the most ambitious creation made by Ibanez back then.
Ibanez JS2 1990 Model

| | |
| --- | --- |
| Finish | Chrome |
| Years Used | 1990 to 1992 |
The Ibanez JS2 better known as the JS2-CH is the first Chrome model that later became a hallmark of Joe Satriani. The basswood body is a double-cutaway, the bridge features an Edge tremolo, a one-piece maple neck, a rosewood fingerboard with 22 frets, and pearl dot inlays. Bridge pickups are DiMarzio FRED and a neck pickup DiMarzio PAF Joe.
This model is Ibanez's first attempt to make the first chrome guitar, which was unfortunately unsuccessful. The problem was of course the chrome plating of the guitar body had numerous problems that affected the rest of the parts and thus the sound of it as a whole. Needless to say, this model was quickly withdrawn from distribution, of course, due to the collector's value several issues can be found on the black market, so today the prices of these guitars are astronomical.
Satriani was very invested in the making of this guitar, his persistence was such, that eventually, Ibanez became determined to explore and invest themselves in their partnership with Joe. It's worth noting that Satriani's issued models worked perfectly in his hands, but because his guitar was carefully crafted for him on another hand the problem came with the mass production of the model.
This model Joe did use only shortly in the 90s, but the story is very important because finally in 2018 the famous Chrome Boy came out with the initial specs that were meant for this prototype.
Ibanez JS10TH Signature Model

| | |
| --- | --- |
| Finish | Chrome |
| Years Used | 1998 to Present |
A guitar specially made for the 10th anniversary of Joe and Ibanez's collaboration. Presented to the world in 1998, this is also the second attempt of the manufacturer to make a chrome guitar after the first series in 1990. On the background of the guitar is a dedication to Joe Satriani, which reads "In commemoration of the 10-year association and collaboration between Joe Satriani and Ibanez Guitars".
The blueprints for this JS model started right after the very first model was issued to Satriani with the only difference being the chrome plating process and a slightly changed body following the first series. The body is a double-cutaway made of a special material, which is a synthetic replacement for wood giving it a more than peculiar and unique feel. The rest of it is essentially the same: Maple neck, rosewood fingerboard, PAF pro, and FRED pickups, with an Edge tremolo.
A total of 507 models were made in the second series. An interesting fact is that although there are officially 507 models with serial numbers, there is also one guitar that had problems with the quality of sound production, so another one was made, but the manufacturer forgot to imprint the serial number. This guitar is known as serial 508.
Ibanez JS3

| | |
| --- | --- |
| Finish | Custom "Donnie" Artwork |
| Years Used | 1990 to 1993 |
The JS3 is part of a family series, essentially modeled after the original JS1, the numbers were defined by their artwork and the order they came out in, making this the third six-string to be hand-painted by Satriani's sister Joan who drew inspiration from artist Donnie Hunt.
This guitar is very rare today as only 300 models have been made. Joe himself owns 3 models today that he used for a three-year period back in the 90s. Nowadays and as his signature models are always evolving, Joe retired this guitar to his personal collection and eventual touring.
Ibanez JS4

| | |
| --- | --- |
| Finish | Custom "Electric Rainbow" Artwork |
| Years Used | 1992 to 1993 |
Another model based on the JS1 only with another finish called "Electric Rainbow". Alike the previous guitars from this line its finish and artwork were designed by his sister Joan, with the bare difference of its Lo-Pro Edge. The body is the same as basswood with 22 frets and a maple neck. This model is even rarer today because only 24 guitars were made, two of which were destroyed during transport and one of Joe's personal ones being stolen.
Ibanez JS5

| | |
| --- | --- |
| Finish | Custom "Rain Forest" Artwork |
| Years Used | 1992 to 1993 |
The last modified JS1, the number five. Designed by his sister Carol, this guitar is known as the "Rain Forest", an even rarer six-string on the market because only 14 models were made. This particular axe carries the same hardware as the JS3 with its Lo-Edge tremolo system.
Ibanez JS6

| | |
| --- | --- |
| Finish | Natural "Stained Oil" Gloss |
| Years Used | 1992 to 1993 |
The Ibanez JS6 is the latest model from the single number line created during the 90s (JS1, JS2, JS3, JS4, JS5). This is also the first hardtail model with the Gotoh GTC101 bridge. For the first time, Ibanez changed the material in the JS series for mahogany wood with a very characteristic finish that looks like stained oil, after which it got its unofficial name.
Apart from the new guitar body material, everything else is the same in terms of specs: PAF Pro and FRED pickups, maple wood neck, with a rosewood fingerboard. It is quite rare today because 345 models were made in just two years of production so that in 1994 the JS6 was replaced by the JS600. Joe often used this guitar to record the album "The Extremist" during his tour in those years.
Ibanez JS600 Signature

| | |
| --- | --- |
| Finish | White |
| Years Used | 1994 to Present |
This model started production back in 1994, and it was designed by Joe with a few extra tweaks for specific songs, this is in fact the reason that keeps this tool around in his rig. The JS600 model replaced the JS6 as Satriani's main hardtail guitar with a different bridge TZ80, it has Axis Humbuckers, its body is made of basswood with a white finish, chrome hardware, the neck is made of maple with a rosewood fingerboard and 22 frets, pearl dots, and 21 fret says "Joe Satriani ".
This guitar was produced for only one year and it is the only one to be made in Korea, while all other series were made in Japan, it is considered one of the more affordable guitars in Joe's catalog. Although a rarity during live performances, Satriani keeps it around for very specific solos and uses.
Ibanez JS2K PLT Signature

| | |
| --- | --- |
| Finish | Translucent "Crystal Planet" |
| Years Used | 2000 to Present |
Joe is a big perfectionist and eccentric when it comes to his signature models, so in collaboration with Ibanez back in 2000, a specially designed JS2K PLT was made to surprisingly pass the test. The model is a homage to the beginning of the new millennium, conveniently named after Satriani's release in the year 2000, "Crystal Planet".
The body is made of transparent acrylic material, and both the pickups, silver dots on the fretboard shine in UV light, for performative endeavors of course. As special decoration, the twelfth fret is marked by four aligned planets, with a Pro Edge bridge, and an HH configuration.
Ibanez JS1200 Joe Satriani Signature

| | |
| --- | --- |
| Finish | Candy Apple Red |
| Years Used | 2004 to Present |
The JS1200 is a special signature for Satriani, it was originally meant to be his very first staple model with the collaboration starting as early as 1987. However, it was such an ambitious project that it was dropped and resumed several times only to be introduced in 2004 when both parties were ready to deliver this iconic piece. Joe had worked with Larry DiMarzio on a prototype pickup for years to achieve that specific tone for which he is known.
Made in Japan, the body is a double-cutaway made of basswood, with an ever-rotating bridge, from 2004 to 2009 it used a Pro Edge Tremolo, and from 2010 until today it has switched to an Edge Tremolo and an Ultralite Tremolo Handle introduced in 2013, the design allows a smooth and easy swap.
As for the electronics, the neck pickup is Joe's signature DiMarzio PAF, while the bridge pickup is a DiMarzio FRED. Joe mentioned several times in his interviews that one of the most important things about guitar is its availability and lightweight. This design was made with the purpose of enhanced playability so it could serve one of Satriani's many pet peeves and deliver yet another perfected extension of the body. Needless to say, this is one of Joe's main go-to instruments for both studio and live shows.
Ibanez JS2480 Signature

| | |
| --- | --- |
| Finish | Muscle Car Red |
| Years Used | 2017 to Present |
Another solid body guitar of the newer generation of Ibanez exclusively for Joe. He took it home back in 2017 and has since been part of his main equipment for studio arrangements and live performances. Made of basswood and Bubinga, the JS2480 has a lot to offer in terms of feel, one of Satriani's experiments certainly.
In terms of hardware and electronics here we have the Edge double-locking tremolo and an Ultralite arm, a DiMarzio Satchur8 on the bridge, and the Gotoh tuning component. The pickup configuration is HS. The biggest change compared to the older JS models is the replacement of the neck pickup with the Sustainiac neck pickup, which makes it the first model with this accessory. The Sustainiac bridge pickup is controlled by an on/off switch as well as a 3-way toggle with three settings, which are normal, mix, and harmonic mode.
Ibanez JSA5 Signature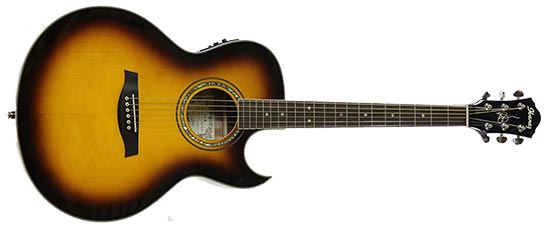 | | |
| --- | --- |
| Finish | Black/Sunburst |
| Years Used | 2010 to Present |
The JSA10 was released in 2010 as part of yet another collaboration with the Ibanez company and is arguably Satriani's most consistent acoustic six-string, at least as far as his live performances go. Mainly this guitar is Joe's acoustic for arrangements such as slides, texture arpeggios among others, its not your typical guitar, at least not for Satriani.
The body is a jumbo design of medium size, the back and sides are made of mahogany wood, and the upper part is made of solid Engelmann spruce, the rosette is abalone, the saddle is Ivorex II nut. The neck is made of mahogany wood, with a rosewood fingerboard and built-in Chrome Grovers tuners.
Ibanez JSA20 Signature

| | |
| --- | --- |
| Finish | Vintage Burst |
| Years Used | 2013 to Present |
The third acoustic guitar from the Ibanez factory, jumbo design of medium size, body with cutaway, back and side is made of rosewood, the top is made of solid Engelmann spruce, binding is ivory and abalone, the saddle is TUSQ nut.
The JSA20 not only came in as an upgraded version of the JSA10 model, but it also provides a distinctive sound designed by Satriani, one that enhances classical playing and strumming with sharpened treble due to its built-in preset.
1958 Gibson Les Paul Junior

| | |
| --- | --- |
| Finish | T.V Yellow |
| Years Used | 1992 to Present |
Joe bought this guitar at Chris Cob's "Real Guitars" in San Francisco during the '90s. The body is a single-cutaway made of mahogany with a yellow finish but specially designed for black and white TV shows of the time (the 50s and 60s). The neck is also made of mahogany, while the fingerboard is made of rosewood, the hardware and electronics have 2 single-coil P90 pickups, a one-piece bridge/tailpiece, two volumes, and two-tone buttons. This model is unique because it is the last to be made in a single-cutaway design of its kind. Joe is more of a collector's item in his collection. On June 4, 2021, he played this model on "A Tribute to Les Paul".
1966 Fender XII

| | |
| --- | --- |
| Finish | Red |
| Years Used | 2005 to Present |
This 1966 Fender XII was originally given to Joe as a present from his friend, Mike Pearce, who got it for him when Joe mentioned that he would like to try it during a vacation back in 2004. Joe has since used it on every album when he produces. You can hear this 12-string in the song "Cool New Way" from the album "Super Colossal", Joe put the Fender sound on the left channel during the recording, while his stapled Ibanez guitars complemented the right-side of the track.
The Fender XII is another model that Joe uses very often in the studio Made of alder wood, with a red finish and white pickguard. The neck is made of maple with a hockey stick headstock designed to withstand all 12 strings. The fingerboard is a combination of rosewood and Pau Ferro wood. It has two split single-coil pickups with two switches for tone and volume.
Timetable Showing Each Guitar Joe Satriani Has Played at Each Point of His Career
| Make | Model | Color/Finish | Years |
| --- | --- | --- | --- |
| Ibanez | 540P | White | 1987 to 1990 |
| Ibanez | JS1 Signature Electric | White/Silver | 1989 to 1993 |
| Ibanez | JS2 1990 Model | Chrome | 1990 to 1992 |
| Ibanez | JS3 | Custom "Donnie" Artwork | 1990 to 1993 |
| Ibanez | JS5 | Custom "Rain Forest" Artwork | 1992 to 1993 |
| Ibanez | JS4 | Custom "Electric Rainbow" Artwork | 1992 to 1993 |
| Ibanez | JS6 | Natural "Stained Oil" Gloss | 1992 to 1993 |
| Gibson | 1958 Les Paul Junior | TV Yellow | 1992 to Present |
| Ibanez | JS600 Signature | White | 1994 to Present |
| Ibanez | JS600 Signature | White | 1994 to Present |
| Ibanez | JS10TH Signature Model | Chrome | 1998 to Present |
| Ibanez | JS2K PLT Signature | Chrome | 2000 to Present |
| Ibanez | JS1200 Joe Satriani Signature | Candy Apple Red | 2004 to Present |
| Ibanez | JS2PRM | Chrome | 2005 to Present |
| Ibanez | JS25ART Signature | Custom "ART" Paintings by Satriani | 2015 to Present |
| Ibanez | JS2480 Signature | Muscle Car Red | 2017 to Present |
| Ibanez | JS1CR30 Chrome Boy Signature | Chrome | 2018 to Present |
| Ibanez | JSA5 Signature | Black/Sunburst | 2010 to Present |
| Ibanez | JSA20 Signature | Vintage Burst | 2013 to Present |
| Fender | 1966 XII | Red | 2005 to Present |
Joe Satriani Guitar Amps
As with anyone who uses an electric guitar, Joe is very careful about what equipment he uses. This is especially true for guitar amps.
Marshall JVM410HJS Joe Satriani
Years Used: 2010 to Present
Joe Satriani's main choice, the Marshall JVM410HJS 100w head-tube amp. It has 4 channels (Clean, Crunch, OD1, OD2), which are independent of each other, all have 3 modes, which indicates that Joe has 12 tone options. It also has a digital reverb with a controller for each channel. It has 2 master volume buttons that are foot-switchable, two FX loops, and an emulated line out. Joe has been using this amp since 2010 as an exclusive promoter of the Marshall company.
Peavey JSX Head signature Joe Satriani
Years Used: 2014 to Present
Peavey and Joe Satriani together made a signature amp head which they called simply JSX. This amplifier allows Satriani many different sounds that he can produce without fading, and ever since then, he's being paring this head with a few Marshall cabinets to achieve the ultimate sound of a legend.
Joe himself says that with this amp he can perform his entire musical repertoire. This is a 120W three-channel amplifier that produces clear sound for any type of music, whether it's ballads, arpeggio melodies, or strong rock/metal sound. It has two inputs, high and low gain, three buttons for volume, bass, middle, a treble button for Crunch and Ultra, Noise Gate for Crunch and Ultra, Presence, Resonance, Master, FX Loop, and many other options. For the footswitch, we have 3 buttons (Ultra, Clean, and effect with LED indicators.
JSX Mini Colossal Signature Model Joe Satriani
Years Used: 2015 to Present
After the Peavey JSX Head, the company went on to collaborate yet again with Satriani to release this rare yet unique practice, amp model. A high-quality amplifier with a power of only 5W, Joe is known to carry it with him for practice and occasionally studio recordings. This is a valve amplifier with 12AX7 in preamp and EL84 in the power amp. It has one CR8 custom-made speaker, control buttons for volume, tone, FX Loop, XLR ground lift switch, Microphone output.
Joe Satriani Pedal and Effects Overview
Vox JS Pedals
Years Used: 2008 to Present
In 2008 Satriani partnered with Vox to create a signature line of pedals predestined to be top-of-the-line gear. As Joe shared in an interview, pedals are not just fun but have become a necessary tool for every active musician at all levels.
Additionally, Vox Amps had to sign a contract with Joe and follow his strict specifications. Among those pedals, the ones Joe uses most often are the "Satchurator", "Vox Time Machine", "Vox Ice 9", "Vox Big Bad Wah", and the "Vox Amplug Satriani".
Accessories
Straplock Signature Satriani
Years used: 2013 to Present
Joe has been using Straptight locks since 2013 for every guitar in his catalog. Flexibility and freedom are musts for this guitar hero, especially when he started the "Unstoppable Momentum" tour in 2013 when he felt he could move faster on stage without fear of the guitar falling. These Straptight strap locks are still used today.
Joe Satriani Signature Picks
Years Used: 2010 to Present
Joe has been using D'Addario picks for a couple of years now, they are made of top-class celluloid and when things get really premium, steel engraved picks are issued. His "JS" logo is on the front of each pick, and on the reverse side, you can see printed drawings that Satriani personally drew but this may vary.
Wrap Up
Joseph "Joe" Satriani, also known as Satch, is an American guitarist, music producer, and guitar teacher, the latter one being perhaps his most remarkable occupation. Over the years he has taught many musicians his guitar skills making him immediately timeless, most of the said artists are well-known and accomplished musicians today, among the Satriani pupil list, you can find Steve Vai, Kirk Hammet of Metallica, Larry LaLonde of Primus, Andy Timmons from Taylor Bay Band, Charlie Hunter, Alex Skolnick from the Testament and many others, do we even need to mention more?
Known for his virtuosity, Joe deservedly received the unofficial title of the best rock and metal instrumentalist in the world. Before his successful solo career, Satriani played in many bands that affirmed him as a very talented six-string slinger. He has also toured as a guitarist along countless powerhouse acts, most notably Mick Jagger's first solo tour in 1988, and that one time he replaced Richie Blackmore in Deep Purple during their 1993 tour.
In his youth, Satriani learned from jazz musicians Billy Bauer and Lennie Tristano, which greatly influenced his guitar style and knowledge to the extent that he began to teach himself after a few years under his tutelage. Joe is also known as the founder of the G3 group in which he makes phenomenal instrumental concerts around the world with two other big names. The first original line-up consisted of Steve Vai and Eric Johnson. However, back in 2004, Yngwie Malmsteen stepped in to replace Eric Johnson, and in 2005 John Petrucci of Dream Theater replaced Malmsteen.
He is also known as the guitarist of Chickenfoot, formed in 2008 alongside Sammy Hagar, Chad Smith of the Red Hot Chili Peppers, and Michael Anthony of Van Halen.
While it is undeniable that Joe Satriani is a guitar virtuoso, we cannot shake the impression that the equipment he uses is also very important. Being the perfectionist he's known to be, he has an almost manic obsession for constantly improving his already very elaborate equipment, noting that every single guitar in his rig serves a different purpose, be it sound, technique or feel there's always a higher calling for these guitars.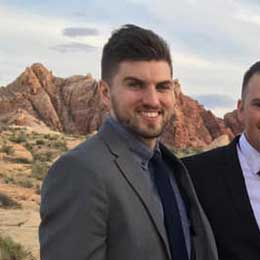 My name is Chris and I've had a passion for music and guitars for as long as I can remember. I started this website with some of my friends who are musicians, music teachers, gear heads, and music enthusiasts so we could provide high-quality guitar and music-related content.
I've been playing guitar since I was 13 years old and am an avid collector. Amps, pedals, guitars, bass, drums, microphones, studio, and recording gear, I love it all.
I was born and raised in Western Pennsylvania. My background is in Electrical Engineering, earning a Bachelor's degree from Youngstown State University. With my engineering experience, I've developed as a designer of guitar amplifiers and effects. A true passion of mine, I've designed, built, and repaired a wide range of guitar amps and electronics. Here at the Guitar Lobby, our aim is to share our passion for Music and gear with the rest of the music community.