Whether you are looking for an amp to serve as a clean pedal platform or looking to highlight the natural sound of your guitar with smooth clean tones, an amp with enough clean headroom for your volume needs is a critical factor in dialing in your sound.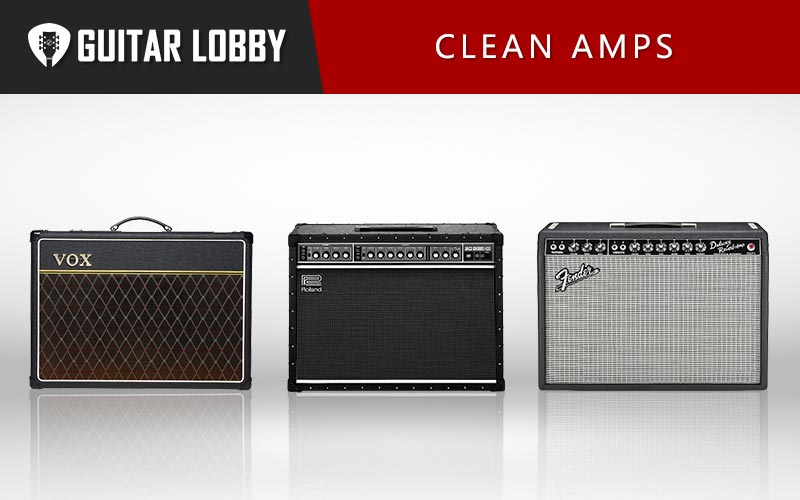 Oftentimes, clean guitar amps are also capable of some great overdriven tones as well. In this list, we are going to take a look at some of the absolute best clean amps currently on the market. We'll cover a variety of prices, and while many of these products will be tube amps, we'll also try to include some solid-state options as well.
Here Are the Best Clean Amps
1. Fender 65 Deluxe Reverb (Editor's Choice)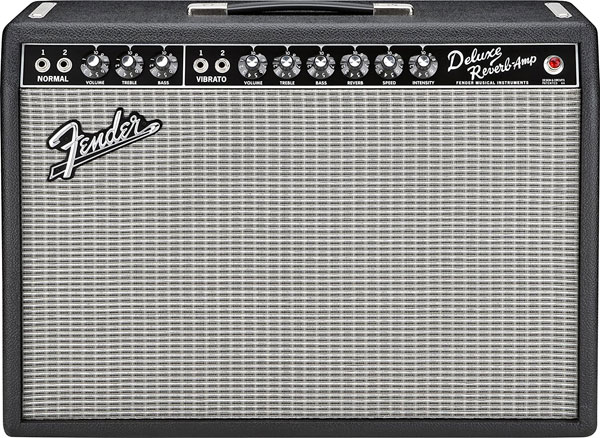 | | |
| --- | --- |
| Estimated Price | $1500 |
| Type | Tube amp |
| Watts | 22 Watts |
My Review: First on our list is an absolute classic an important part of guitar history, the legendary Fender '65 Deluxe Reverb. The Fender Deluxe Reverb is a favorite of professional musicians, and from country and blues to rock and jazz, the Fender Deluxe Reverb is one of the most recorded amps in the world. It's an amazing amplifier to get the classic 1960s Fender sound, and buying this amplifier allows you to get the classic Fender clean sound without having to buy vintage Fender amplifiers from the 1960 or the 1970s.
Another factor that makes this amp so popular among guitarists is its relatively portable size, due to the fact that it's only 22 watts. The 22-watts size is the perfect size and volume to carry around at recording studios and live shows, and since venues will put a microphone on your guitar amp, the Deluxe Reverb is also suitable for use in big venues.
Key Specs and Features: The Fender Reissue '65 Deluxe Reverb features 2 channels with tube spring reverb, tube vibrato, and a tube rectifier. In terms of speakers, The Fender 65 Deluxe Reverb has a single 12'' Jensen C-12K. The amp is powered by two 6V6 power amp tubes, one 5AR4 rectifier tube, four 12AX7 preamp tubes, and two 12AT7 tubes for reverb and vibrato.
The design is still very much mirrors the original Deluxe Reverb, with the traditional Fender textured vinyl and a silver grille cloth. The control knobs are simple but concise – volume, treble, bass, reverb, speed, and intensity. As mentioned above, the amp is relatively light for a tube amp weighing around 42 pounds.
Sound: The first thing that you will notice about this amp is that the Fender 65 Deluxe Reverb is labeled as a 22-watt amplifier, but it's much louder than what many people expect. Compared to a 22-watt solid-state amplifier, the Deluxe Reverb can go much louder, and since it's a tube amplifier, you can get that signature Fender tube amp overdrive as you get louder. The volume and headroom are plenty to play at most indoor venues and small to medium-sized events.
The Fender 65 Deluxe Reverb produces a real gorgeous overdrive tone when it is put to the maximum volume, and this is certainly one of the main charms of owning a great tube amp. Even when it is turned up pretty loud, you won't get a serious amount of hums or rattle from the amp, and just from volume, treble, bass knobs, you can get an amazing variety of tones to choose from. The second channel has built-in vibrato/tremolo and reverb effects, and the quality of these effects is just mind-blowing. The reverb and tremolo effects are very organic and have a very refreshing quality to them. Deluxe Reverb is also pedal-friendly, and by effectively combining the built-in effects and additional guitar pedals, you can pretty much find a "sweet spot" for any kind of genre.
Bottom Line: If you're looking for the vintage Fender clean tone, Fender 65 Deluxe Reverb is definitely one of the best choices out there. Equipped with built-in vibrato(tremolo) and reverb, you can get both a gorgeous clean and overdrive tone from the Fender 65 Deluxe Reverb.
2. Fender Blues Junior IV (Best Value)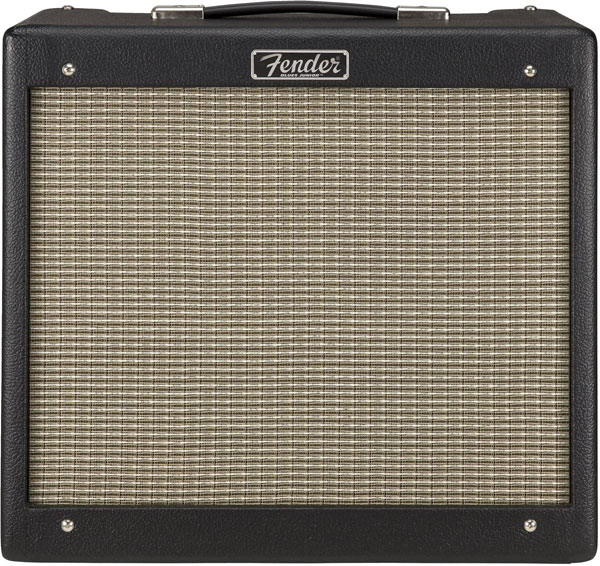 | | |
| --- | --- |
| Estimated Price | $650 |
| Type | Tube amp |
| Watts | 15 Watts |
My Review: Here is another incredibly popular clean amp, and the Fender Blues Junior amp is perhaps one of the most popular tube amps in the world. Blues Junior is portable, versatile, and has a gorgeous tube tone that is probably one of the best of any amp in its price range. The Fender Blues Junior doesn't have a grand history like the Deluxe Reverb, and many other legendary Fender amps that have been around since the 1950s or the 1960s.
However, since its conception in the 1990s, the Fender Blues Junior has become the go-to gig and recording amplifier around the world. And over the years, Fender has updated and upgraded the amp to suit the needs of the players of the corresponding time period. The newest upgrade was in 2018, where Fender upgraded the amp to the new Mark IV specification, and the upgrades include Celestino's excellent A-Type loudspeaker.
Key Specs and Features: Fender Blues Junior IV is a 15-watt and 1 x 12'' combo with a single-channel input. The tubes in the amp are top-notch, and it is equipped with a pair of EL84 power tubes and three 12AX7 preamp tubes. If you ask any Blues Junior owners, they will all tell you that this amp sounds way louder than 15-watts, and some of the most gorgeous clean tones from this amp. The design is still the classic blackface design – finished with black textured vinyl and aged silver grille cloth. The controls have a slightly different look, and the control panel is upgraded with a white-on-black textured panel with ivory pointer control knobs instead of the mirrored chrome knobs.
Control knobs include Treble, Bass, Middle, Master, Reverb, and Fat Switch, which are just what you need, nothing more or nothing less. But the most significant change in the 2018 version of the Fender Blues Junior IV is the addition of a Celestion A-type speaker. The Celestion A-type speaker works beautifully with pedals and the higher headroom handles higher-output pickups well. The A-type speaker is designed to deliver the quintessential American tones that pay tribute to the vintage Fender tube amp sounds.
Sound: Sound still carries the classic Fender tube amp tones, and the biggest advantages of a Fender Blues Junior amp might be the extreme versatility and significantly big sound for its small size. Even without any additional pedals, you can easily get a variety of tones like clean rock tone, jazzy & warm tone, tight and crispy funk tone, and smooth RnB clean tone. And by enabling the fat switch and turning the volume up while keeping the master down, gorgeous overdriven guitar tones are available at your fingertips. By cranking the volume all the way up to 10, you can get a pretty powerful and crunchy tone, but for hard rock or metal tones, you are going to need help from an additional pedal or effect source.
For a tube amp that only weighs 30 pounds, it packs a ton of power and sound to fill up anything from a small cafe to a mid-sized venue. It's also a perfect amp to mic up through a PA system. The newly upgraded preamp circuit modification makes the amp more powerful and gives more headroom with a ton of midrange presence, and tight highs. With the combination of the new Celestion speaker, you got a beautifully balanced tone with sparkly highs and full mids.
Bottom Line: Fender Blues Junior IV is hands-down the best clean guitar amp for its price, and the new upgrades make the amp even more appealing. It's the perfect amp for any musician beginner to professional looking for a portable amp with a great clean tone. The overdrive tones aren't half bad either and dialing in your clean tone on this amp is a perfect platform to play pedals through it for your distorted tones and various effects.
3. Fender '65 Twin Reverb (Best Under $2000)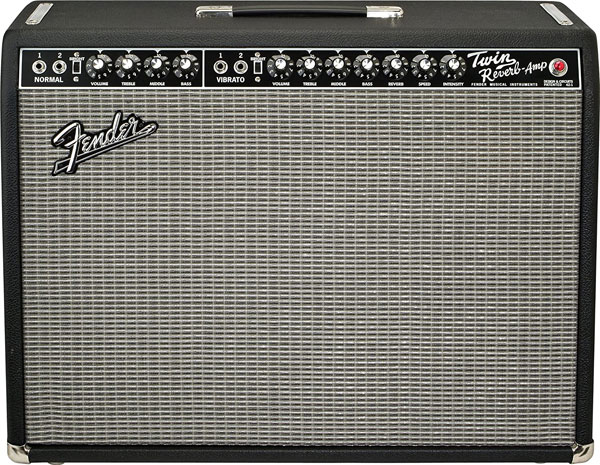 | | |
| --- | --- |
| Estimated Price | $1800 |
| Type | Tube amp |
| Watts | 85 Watt |
My Review: The Fender Twin Reverb boasts a long history of over 60 years, and has been a staple in the guitar world since the 1960s. The Twin Reverb is just as well-known as the Deluxe Reverb and Blues Junior, and they are mostly known for their crystal-clear clean tone and their ability to work really well with guitar pedals and effects. Many guitarists like Eric Johnson swear by Twin Reverb amps, and it's a monster combo amp that can fill up anywhere from small to large venues.
It's definitely one of the loudest combo amps of its size, and the combination of its versatility, beautiful tones, and loudness makes this amp perfect for taking it around for live shows, tours, and even for recording in the studio. Since its release in 1963, it's been one of the most commonly used amps in the show business, and it's been tried and proven to work for so many artists and guitar players around the world. The '65 Reissue was made to imitate the Blackface Twin Reverb amps that were made from 1963 to 1967, and Fender incorporated the original circuitry and speakers to really bring out the vintage sound.
Key Specs and Features: With the Fender '65 Twin Reverb amp, the features are pretty much the same inside or outside. Fender just stuck to what made this amp work in the first place and kept most of the features the same. The amp has 10 tubes in total, including four 12AX7 tubes, two 12AT7 preamp tubes, and two reliable Groove Tube 6L6 power output tubes are used for power. This combination of tubes was the secret behind so many legendary records in the 1960s and 1970s, and it brings out the best clean guitar amp sound possible from the amplifier. The speakers on this amp include two 12-inch Jensen speakers, and they are proven to be the best of the best speakers for tube amps, and the two 12-inch Jensen speakers are a key factor behind the powerful and full sound of the '65 Twin Reverb. At this point, the Jensen speakers have almost become synonymous with high-end tube amps, especially Fender tube amps.
Twin Reverb is a two-channel amp with two separate controls for each of the channels. Two channels include a Normal Channel and a Vibrato Channel, and each channel includes 3-band EQ and volume knobs. On the Vibrato Channel, you get access to controls to the Reverb and Tremolo (Vibrato) effect. Additionally, the Bright switch allows for more direct access to the high frequencies, and if you're looking for a piercing bridge pickup tone with humbucker pickups, the Bright switch will come in very handy. The inputs and outputs are rather simple, with just a couple of input and output options on the front, and other switches include Power, and StandBy switches, External Speaker out, and a Footswitch input. Unlike modern guitar amps, the '65 Twin Reverb doesn't have any options like FX loop.
Sound: The biggest upside of the '65 Twin Reverb might be its clean tone, and its ability to work with pedals. The 6L6 output tubes provide a tone that's super clean even when the volume is cranked very high, and it provides plenty of clean headroom. The Blackface amps from the vintage Fender era are known for their mid-range and the clean tones have so much clarity and layers of harmonics behind their sound. And in addition to their famous clean tone, the Twin Reverb can produce a beautiful, fat crunch with just the amp, and with a pedalboard, you can play anything from Pop, Rock, Funk, RnB, Jazz, and more!
Bottom Line: Overall, the Fender '65 Twin Reverb is a successful reincarnation of a timeless classic, Fender Twin Reverb. It is mostly focused on bringing back the classic model from the design, tubes, speakers, and circuitry, and if you're looking for the vintage Fender sound without breaking your bank account with a vintage '60s Twin Reverb, the Fender '65 Twin Reverb is your best chance.
4. Vox AC15C1 (Best Under $1000)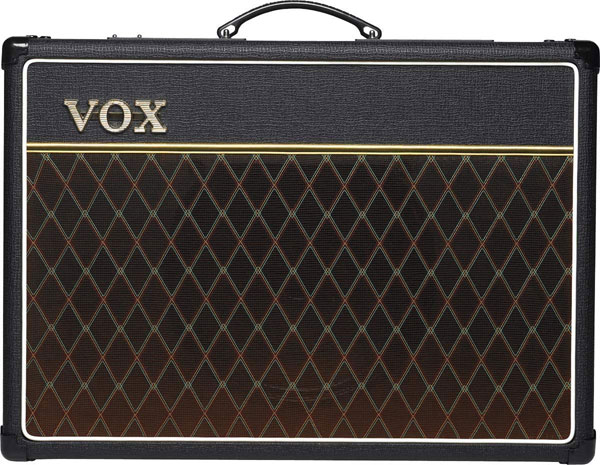 | | |
| --- | --- |
| Estimated Price | $900 |
| Type | Tube amp |
| Watts | 15 Watt |
My Review: Up next, we are going to look at an amp company based in England, Vox amps. They certainly have a long history dating back to 1956. And their very first amplifier that was launched in 1958 was the Vox AC15, and it still continues to be their top-selling amplifier after all these years. The most famous British bands of the 1960s and 1970s adored their amps, from The Beatles, The Rolling Stones, Yardbirds, and of course Brian May of Queen. With these superstars adoring their AC15 and AC30 amps, Vox's popularity quickly skyrocketed. Today, we are going to look at an amp that allows you to experience the original masterpiece from Vox, the Vox AC15 Custom.
Vox AC15 Custom produces a sound that is often labeled as the "British sound", and it has a distinct classic chime and complex grind that separates it from the other amps. This Custom reboot of the amp is mostly kept the same from the original model except for some minor updates. If you want to follow in the footsteps of the greats like Brian May, The Beatles, Tom Petty, or John Scofield, adding this amp to your arsenal would be a great idea.
Key Specs and Features: Vox AC15C1 features a 12" Celestion Greenback speaker, and originally, the Vox AC15 amps had Alnico Blueback speaker, but the Celestion Greenback speaker was the cheaper replacement of the Alnico Blueback speaker. However, the Celestion Greenback speakers are also great speakers and deliver a powerful and very clean guitar tone without any unnecessary frequencies. In terms of the tubes, the Vox AC15C1 has two 12AX7 preamp tubes and one EL84 power amp tube as their main component. The 12AX7 tubes and EL84 power amp tubes are the key components that give the amp its signature Vox tube amp sound.
The amp is composed of two channels – one "Normal" channel and "Top Boost" channel. The normal channel is pretty straightforward with only one volume switch, and in fact most people buy this amp because of the other channel. One of the highlights of the amp is the Top Boost channel, which gives the amp another layer of high-end detail and sonic control to the amp, and the Top Boost channel is one of the factors that separates this amp from other tube amps of this price range. Top Boost channel includes Bass and Treble knobs and has other controls like volume, master volume, and tone cut. It's a fairly simple setup with minimal knobs, but it's enough for most guitarists looking for a great tube amp, and because Vox AC15C1 works well with guitar pedals, many guitarists don't need a lot of extra unnecessary control knobs.
Sound: Just like its classic design, the Vox AC15C1 has an array of classic tones to pick from. The Vox AC15 amps are most notable for their signature crunch and overdrive tones, and the signature Vox overdriven tones are very vintage-sounding. You can imagine classic British rock sound from the 1960s and the 1970s like Beatles, Rolling Stones, or Queen for the amp's most signature tones. But aside from their beautiful overdrive tones, Vox can also deliver a very warm, layered, and resonant set of clean tones as well. Whether you're playing on a Les Paul, Telecaster, or a 335-style semi-hollow guitar, the Vox AC15C1 is going to provide you with lush and full clean tones as well as warm overdriven sounds.
Bottom Line: Vox AC15C1 has been one of the top tube amps since the '50s, and there is a clear reason why this amp has been on the top of their game for such a long time. The amp still retains its classic and vintage looks from the '50s, and still cranks out timeless, vintage, clean and overdriven tones. The Vox AC15C1 is a great clean amp for jazz, blues, and pop guitarists. Overall, I'd say this is the best clean guitar amp under $1000.
5. Roland JC-120 Jazz Chorus (Best for Jazz)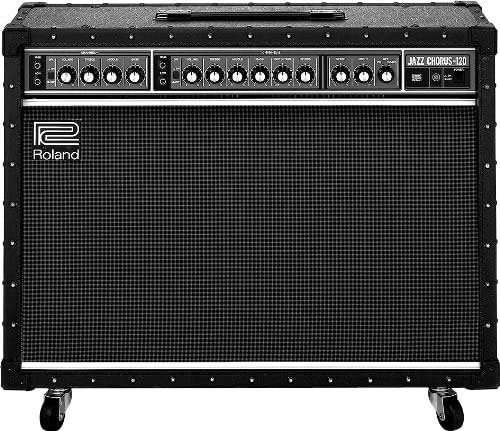 | | |
| --- | --- |
| Estimated Price | $1030 |
| Type | Solid State Amp |
| Watts | 120-watt |
My Review: After looking at all these classic tube amps, we are finally going to take a look at a solid-state guitar amp. Although tube amps produce amazing clean tones that are incomparable to digital amps, maintaining a tube amp at the highest quality requires a lot of care and money. Solid-state amps are often so much easier to carry around without having to worry about one of the tubes breaking or getting damaged. And when talking about the best solid-state amps for clean tones, the Roland JC-120 Jazz Chorus is considered one of the very best amps for clean tone that money can buy.
Roland JC-120 Jazz Chorus has been around since 1975, and they have become famous for their crystal-clear and pristine clean tone, and they are also known for their signature chorus effect. This amp is huge for a combo amp and has a powerful 120-wattage. For over 40 years, the Roland JC-120 Jazz Chorus has now become the standard in high-end clean guitar amps, and you can still find guitarists around the world using this amp for both the studio and the stage.
Key Specs and Features: Roland JC-120 is a solid-state guitar amp with two channels, and has two speakers with sixty watts of power each. The amp comes with two giant 12-inch speakers and the two speakers are the core of the JC-120's beautiful tone. Channel 1 features just a normal clean tone with basic control knobs like volume, treble, middle, and bass controls and it has bright and low inputs, as well as a Bright control knob to get the most twangy sound possible.
The JC-120 is more famous for its channel 2, which has all the basic volume and EQ knobs, plus a selection of effects knobs. You can find distortion, reverb, vibrato & chorus effects with speed and depth controls for the effects. With these various effects, you can really get the most out of this guitar amp, and even without additional effect pedals, you'll be able to get most of the tones that you'll need.
Sound: But regardless of the fancy additional effects this amp has, the JC-120 Jazz Chorus is known for its clean tone. The basic clean tone of the Roland JC-120 made this amp famous among top guitarists since the '70s, and they are originally designed to suit the needs of electric guitarists that required a versatile clean tone for genres like country, jazz, gospel, bluegrass, and RnB. But now, the Roland JC-120 is mainly used by rock and pop guitar players, and you can hear this amp played by so many legends like Sting, Andy Summers of The Police, Metallica, Joe Walsh of The Eagles, and Joe Perry of Aerosmith.
The iconic clean guitar sound in many of the '80s rock and pop bands are often played through the JC-120. Therefore, the clean tone from the JC-120 can be described as a more "hi-fi" clean tone produced by a solid-state amplifier. Even though the JC-120 is mostly known in the rock and pop world, they are perfectly suitable for jazz, blues, funk, and country as well, just not as suitable for these styles as some of the other tube amps on this list.
JC-120 is also famous for its chorus effect, and in fact, the JC-120 was the main reason behind the chorus effect getting so popular. The chorus effect from JC-120 got so popular that BOSS released the first ever chorus effects pedal. And today, guitarists still regard the JC-120's chorus sound as the benchmark of the chorus effect.
Bottom Line: Roland JC-120 has proven to be one of the best amps for clean tone during their 30+ years in the guitar world, and it's also one of the best solid-state guitar amps that changed the game when it was first released in 1975. With 120-watts of output, the Roland JC-120 offers some of the most classic clean guitar tones, and it also offers a great selection of effects like distortion, chorus, and vibrato. Overall, the JC-120 is still one of the best choices for rock and pop guitarists today.
6. Dr. Z Z Wreck Jr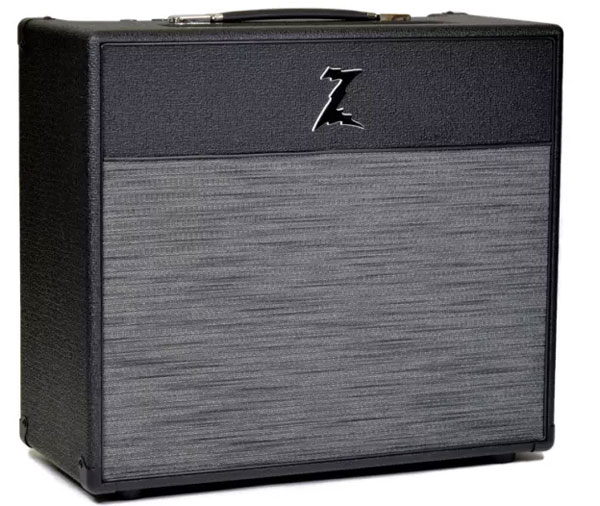 | | |
| --- | --- |
| Estimated Price | $2400 |
| Type | Tube amp |
| Watts | 15 Watt |
My Review: Next up, we are going to look at one of the best guitar amps that money can buy. Out of the many high-end guitar amps that are made today, Dr.Z Z Wreck Jr stands out from the pack. The Trainwreck circuits founder Ken Fischer, Dr. Z, and guitarist Brad Paisley teamed up sometime in 2010 to create the legendary Z Wreck, which got its name from Trainwreck amps. Z Wreck became a legendary tube amplifier in the community, and guitar players begged for a smaller version of the Z Wreck that was slightly more affordable. And that's how the Z Wreck Jr. came about.
Even though Z Wreck Jr. has a "junior" in the name, it's so much louder than you might expect from a 15-watt amp. The Z Wreck Jr. has two 6n14n tubes instead of four tubes on the original Z Wreck, and it's plenty of power to be played in small to medium venues. You can expect the same legendary touch response and sonic range just from the master volume control. If the price range is not an issue for you, the Z Wreck Jr. might be the ultimate tube-amp with unparalleled tone quality.
Key Specs and Features: One of the factors that set the Z Wreck Jr apart from the other cheaper tube amps might be the Russian military-grade 6n14n (EL84) output tubes, which are possibly the best tubes you can use for guitar amps. And the brain behind the Z Wreck Jr is the exact same Trainwreck-inspired circuit that made the Z Wreck amps famous upon its release. The speaker is also the best of the best, and it has a 12-inch Celestion G12M Greenback speaker, which brings the best of the tubes and brings out the smallest details and the harmonics of the guitar.
Contrary to the belief that more is good, the Z Wreck Jr follows the Trainwreck amp approach of keeping the control panel extremely simple. The controls include volume, treble, bass, master, and cut. These sets of controls are even more simple than some of the cheapest amps out there, and there are no additional effects available as well. Each of the control knobs are extremely sensitive and just by turning the knobs a little bit, you can get everything from warm jazzy tone, twangy country tone, to dirty overdrive tone, and more. Plus, the master knob is a post-phase-inverter master-volume control that gives the players the maximum amount of control on the amp's output.
The special Z Wreck circuit lies inside the aircraft-grade aluminum chassis, and the circuit is hand-wired to perfection and has highest quality components like thick phenolic turret board, Mallory signal capacitors, and metal-film resistors – all produced in the United States. Finally, the Z Wreck Jr. features a smaller 5Y3 tube in the rectification department, and the presets are set in a way that makes it tighter and more vintage-like when played.
Sound: Playing through a $2000+ 15-watt amp, you must think that there would be some magic happening as soon as you plug into the amp. In fact, that was the case for me. The one-of-a-kind circuit and construction make this amp amazing at guitar-to-amp, straight-in playing without any additional pedals. When playing through a Z Wreck Jr., it almost feels disrespectful to use cheap pedals because the pure amp tone is just so beautiful and responsive.
Although there are only a handful of control knobs, the number of variations in clean tones is unbelievable. The basic clean tone has similar qualities to Fender tube amps like Twin Reverb or Blues Junior, and Z Wreck Jr. can produce very sweet and warm clean tones. By making simple adjustments between the volume and the master controls, you can also get Vox-like twang and thinner tones with plenty of sparkle and chime. Playing straight through the amp without any effect pedals, some noticeable things are the slight compression in the pick attack and natural bite in the tone. The amp responds in a very sensitive way to the pick attack, and when you dig in hard with your pick, you can hear the slight overdrive and natural roar in the tone. Funk guitar playing is also a wonderful experience with the Z Wreck Jr. because you can experience the super crisp and tight response of this amp.
Bottom Line: Although this 15-watt beast is well over $2000, we would say the Dr. Z Z Wreck Jr. is very much worth the price if it's within your budget. With a beautiful vintage look, this amp is composed of the highest quality components possible, and with a selection of simple but powerful control knobs, you can really get the best out of a tube amp. If you have the budget, Dr. Z Z Wreck Jr. is highly recommended for any serious guitarist.
7. Supro 1968RK Keeley 1×12''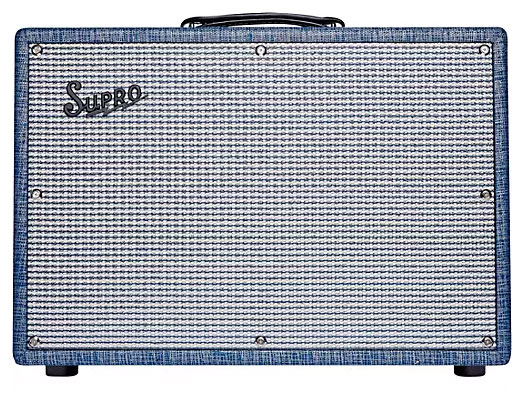 | | |
| --- | --- |
| Estimated Price | $1200 |
| Type | Tube amp |
| Watts | 25 Watt |
My Review: Next up, we have another beautiful amp by Supro, which is a company that closed in 1968, but was revived in 2013. The amp we are going to look at is called the Supro 1968RK Keeley, and it's the ultimate pedal platform amp with beautiful default clean tones. The design is extremely classic and vintage with Blue Rhino Hide Tolex around the amp and silver grille cloth to cover up the speakers. The design screams "classy" vibe, and the tones absolutely back up the luxurious design. It features balanced and responsive clean tones that will be a perfect starting point for all your favorite pedals.
Key Specs and Features: The amp was created with Supro and Keeley Electronics joining forces, and they have created a 25-watt combo tube amp with all-tube signal path that is focused on being the best platform for various guitar pedals. The Supro 1970RK Keeley combo is designed with tons of high input headroom to really let the boost and drive pedals shine and not interfere in the midrange. It is loaded with a custom-designed CR10 speaker, and the custom speaker really brings out the deep bass and Supro's signature midrange.
The control panel is extremely simple with just four controls, volume, treble, bass, and a master knob. The power tubes on this amp are two 6V6GT tubes, and the preamp tubes are a pair of ECC83S (12AX7), which is pretty standard for a tube amp of this quality. The amp also has a transparent effects loop that is specifically designed for effects like delays, reverbs, EQs, and boost pedals.
Sound: First off, the basic clean tone of the Supro 1970RK Keeley amp has the Supro signature meaty midrange, and even without a midrange control knob, you can just think of the midrange as a default with this amp. Here is what Robert Keeley, founder of Keeley Electronics describes this amp: "The amp lets your pedals talk to it and feed output tubes with the right sounding signal. With the 1970RK, the amp is stripped of everything and lets the tubes and pedals breathe. By selecting the ten-inch speakers, you get a nuanced sound of midrange magic."
This is probably the best description of this amp, and the amp was specifically designed to give way to pedals to really shine and just provide a solid clean tone behind the effects pedals. But nonetheless, the guitar-to-amp tone is not too bad either, and you can hear the full sound of your guitar – harmonics, and the attack.
Bottom Line: Supro 1970RK Keeley is probably the least known amp on this list, but it has certainly built up a reputation for being a simple yet gorgeous tube amp that serves as a great clean platform for various guitar pedals. If you are a guitar player that always uses guitar pedals and loves to have a big pedalboard, Supro 1970RK Keeley is a great choice for you pedal lovers. This is easily one of the best clean amps out there right now and the price is very reasonable.
8. Fender Mustang LT25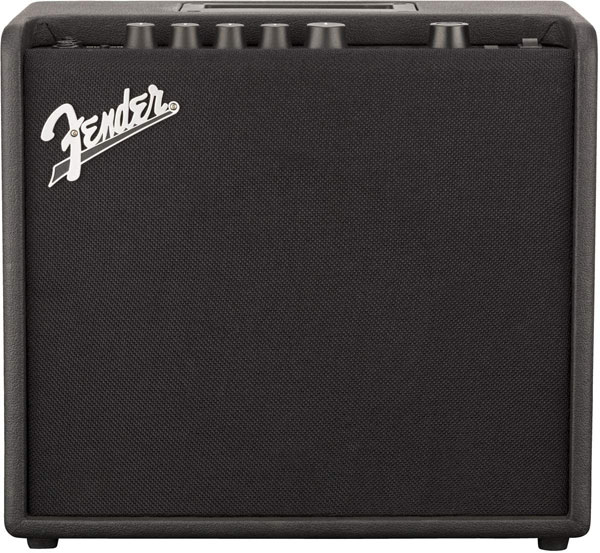 | | |
| --- | --- |
| Estimated Price | $180 |
| Type | Solid-state amp |
| Watts | 25 Watt |
My Review: For the last amp of this list, we are going to look at a great clean amp that is under $200. We have the Fender Mustang LT 25, which is a do-it-all digital amp that has 25-watts of power. The Mustang amps of Fender have been one of the company's best-sellers for a couple of years now, and it's a great amp for beginners and experienced players who need a cheap and easily transportable amp. Fender has been finding ways to please hobbyists and beginners since the '50s, and they have been developing modeling amps for over 10 years now. Now they have managed to fit in 30 presets and a bunch of effects in an 8'' combo amp that only weighs around 15 lbs. Fender Mustang LT25 is the perfect on-the-go amp that will be a great companion for practicing, busking, or gigging.
Key Specs and Features: The biggest selling point of the Mustang LT25 is that Fender has managed to fit in 30 greatest-hits presets in such a compact sized box. 30 presets cover everything from vintage funk guitar tones, '70s rock guitar tones, disco guitar tones, to present-day punk-rock or hip-hop tones. Not only that, you are able to control and manipulate all these presets from a selection of 20 amp models, and 25 effects. And moreover, Fender has left 20 presets empty so that you can create your favorite guitar tones and save them into the remaining 20 presets for easy access.
The amp has 8'' speaker and has a ⅝'' wraparound wood cabinet that covers up all the insides of the amp. And even though the amp is under $200, you get access to a 1.8'' color display, as well as a headphone output and auxiliary input that allows the modern guitar players to practice and perform easily by connecting the amp to your digital devices. It also has USB connectivity, which you can connect to your favorite DAWs like Logic Pro, and record straight into the computer with the presets in the Mustang LT25.
Sound: Considering this amp is under $200, the clean tone of the amp is very good and the general tone from the amp is on the brighter side as opposed to warmer tube amps. The selling point of the amp is definitely "more is better", and you can get basically all the guitar tones you can imagine – from hard rock and metal guitar tones, funk guitar tones, jazzy guitar tones, as well as RnB clean tones. For beginner guitar players that want to experience various guitar tones and want to experiment with a bunch of different guitar tones, this amp is for you.
Fender has created a very beginner-friendly and younger generation-friendly digital system that allows you to pick and choose from an array of amp models and guitar effects. For the under-200 category, we would say that the Fender Mustang LT25 is our top choice because of its surprisingly good clean tones, insane versatility, and beginner-friendly user experience.
Bottom Line: Fender Mustang LT25 is a great amp for its price, and it offers a crazy amount of presets, amp models, and guitar effects. For beginner guitarists and experienced guitarists who need a fun practicing amp, Fender Mustang LT25 is our top pick.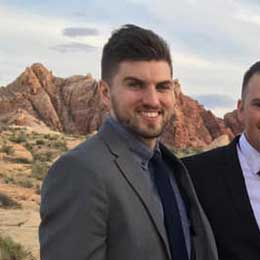 My name is Chris and I've had a passion for music and guitars for as long as I can remember. I started this website with some of my friends who are musicians, music teachers, gear heads, and music enthusiasts so we could provide high-quality guitar and music-related content.
I've been playing guitar since I was 13 years old and am an avid collector. Amps, pedals, guitars, bass, drums, microphones, studio, and recording gear, I love it all.
I was born and raised in Western Pennsylvania. My background is in Electrical Engineering, earning a Bachelor's degree from Youngstown State University. With my engineering experience, I've developed as a designer of guitar amplifiers and effects. A true passion of mine, I've designed, built, and repaired a wide range of guitar amps and electronics. Here at the Guitar Lobby, our aim is to share our passion for Music and gear with the rest of the music community.