Bruce Springsteen, aka The Boss. Frontman of the E Street band, sleeves rolled up, leading nightly worship at the church of rock and roll. No singer or songwriter before or since has so relentlessly and so wholeheartedly documented the distance between the American dream and American reality. Armed with his Fender Esquire, a book brimming with songs of hope and defiance, and a voice that could depict teenage lust as convincingly as the pain of war, Bruce Springsteen is arguably the finest songwriter not only of his generation but of several others as well.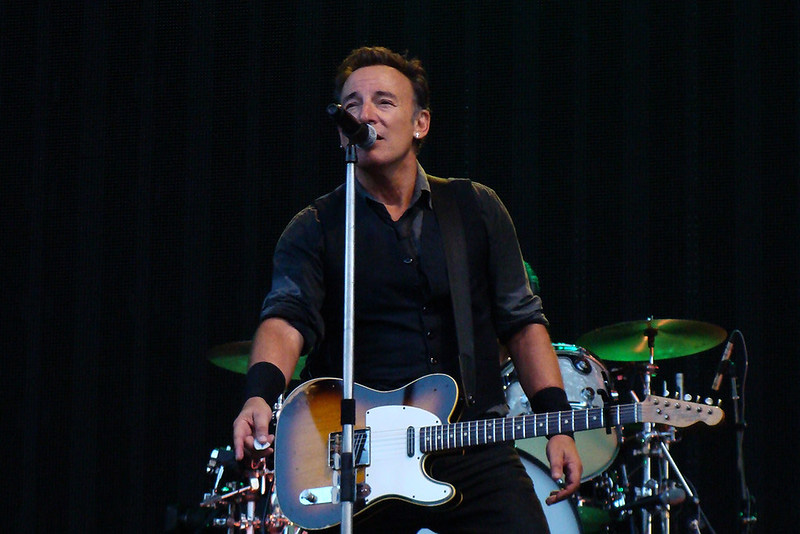 As a singer-songwriter, Bruce is credited for his colossal work in grounding rock audiences to the realities of the world. Meshing arena-rock with human-sized folklore and tales of the working class America not only resonated with fans but with anyone who knew that there was more than glitter to music back in 1975. To this day, he remains a one-of-a-kind artist, with a wide-reaching influence on music and timeless sound.
What Guitar Does Bruce Springsteen Play?
Bruce Springsteen primarily plays Fender Telecaster guitars. Throughout his career, his single most known guitar is likely his Fender Esquire Telecaster hybrid known as "The Mutt" which is made up of 1950s era parts. The boss has also played a wide range of other guitars throughout his legendary career.
See the full list of Bruce Springsteen guitars and gear below.
1950s Fender "The Mutt" Esquire/Telecaster


| | |
| --- | --- |
| Finish | Butterscotch Blonde/White/Sunburst |
| Years Used | 1973 to Present |
Most of the great guitar players have an instrument with which they are particularly, indelibly associated. There's Peter Frampton and his triple-pickup Les Paul Custom, Jimi Hendrix and his white Stratocaster, and Eddie Van Halen and his striped "Frankenstein" guitar. Most guitarists, however, eventually move on from their most famous instrument. Hendrix, of course, played anything he could get his enormous hands-on. Frampton believed his Les Paul lost in a plane crash, and Eddie Van Halen extended his guitar innovations to the endless refinement of the Wolfgang line. But then there's Bruce Springsteen.
Nowadays, there is a handful selection of Telecasters and Esquire derivates in Bruce's catalog but before that, there was a singular instrument that stuck through his most glorious days. Unbelievably, Springsteen used a single guitar on almost every album and live show from 1973 up to 2005, and continues to use it sporadically to this day. The Boss's main guitar, as immortalized on the front cover of Born to Run, was this Fender Esquire.
The guitar's understated appearance, with its simple wood-grain finish, black pickguard, and visibly worn paint job, belies its true nature. In fact, Springsteen's number one Esquire may not be a Fender Esquire at all, but a hybrid of the original model and a Telecaster that was extensively modified beyond the intentions of either instrument. Bruce Springsteen might use this guitar as a bare-bones rock and roll machine, but originally it was anything but.
Springsteen described this guitar as "a 1950s mutt with a Telecaster body and an Esquire neck, I'd purchased at Phil Petillo's guitar shop for one hundred and eighty-five dollars. With its wood body worn in like the piece of the cross that it was, it became the guitar that I'd play for the next 40 years. It was the best deal of my life." Supposedly, this is the very guitar that Springsteen "learned how to make talk" in the lyrics to "Thunder Road".
The Fender Esquire was the first solid-bodied electric guitar produced by the legendary American builders. Armed with a single bridge pickup, it made its debut in 1950, but two-pickup models followed shortly afterward. These were at first called the Broadcaster, but competition with Gretsch's Broadkaster (as Fender had yet to acquire Gretsch) led to the twin-pickup variation being re-christened the Fender Telecaster.
The Esquire typically has a more biting, treble-heavy tone than its twin-pickup brother, thanks to its sole single-coil pickup. The original run of Esquires featured an ash body finished with a semi-transparent "blonde" acetate lacquer and the maple neck that would become common on many Fender guitars. The guitar's single-cutaway enabled access to the upper frets, which was fast becoming a priority for 1950s blues and country players. Its single pickup was controlled by a three-way switch, which allowed players to use a preset "tone rolled off" sound, another setting that allowed use of the tone knob, or a third, hotter tone specifically designed for lead playing. Curiously, mid-50s Esquires had a pickup cavity in the neck position that could, in theory, enable players to install their own neck pickup and emulate the Fender Telecaster if they so choose.
Bruce Springsteen's Fender Esquire features a neck pickup, but most accounts agree that this is disconnected. For this reason, many mistakenly believed that Bruce's guitar was a Telecaster. However, as Springsteen states above, this guitar isn't quite a Tele and isn't quite an Esquire. Its Telecaster body is attached to an Esquire's neck, and the story of that body is almost as long and captivating as any Springsteen song.
Originally, Bruce's Esquire/Tele hybrid once belonged to a record company. In fact, it was an accomplice in the payola scams of the 1960s! Much of the swamp ash body had been routed out, with four pickups leading to four output jacks. Each of these could plug into a separate channel on an amplifier or recording console.
Much of this routing, thankfully for the guitar's looks, took place beneath the black pickguard. Petillo removed the additional electronics before selling the guitar to Bruce Springsteen, perhaps sensing that the nascent guitarist's earnest verbosity wasn't going to extend to his guitar sound. The hole in the guitar's body made it extraordinarily light, even among notoriously featherweight Fender guitars. If you've ever wondered how Bruce Springsteen manages to power through his marathon three-hour concerts with a six-string on his back, wonder no longer.
Bruce himself wanted the guitar to make him more like the soul and country players he admired, people like Steve Cropper and Elvis sideman James Burton. Springsteen said of how the guitar informed his style, and vice versa, "I was playing something that was tilting more to soul music, and so I wanted a guitar that could handle the funk and that feeling."
Phil Petillo, who originally sold Bruce this guitar, continued to modify it to suit the young star's style. He added Precision Frets, a patented triangular fret, changed the pickups, and even waterproofed the guitar with stainless steel and titanium hardware and silicone gaskets. This last modification was all function, rather than fashion. Bruce Springsteen was sweating so much live that he would have corroded inferior metals, so rather than fixing the guitar repeatedly over the years, Petillo chose to waterproof, or perhaps Boss-proof, the Esquire.
This guitar remained both physically and emotionally close to Bruce Springsteen's heart throughout its tenure as his main instrument. Supposedly, once while on tour in Europe during the 1980s, the guitar broke. Bruce sent his guitar tech, Mike Batlan, on a flight to Jersey, couriering the guitar to Petillo's shop in the middle of the night. Batlan picked the guitar up in the USA once it was fixed and flew it right back to Europe for the next show. In fact, Bruce didn't trust anyone but his old pal Phil Petillo with his beloved guitar and Petillo's young family took to calling their bedroom phone – the one Bruce called on in the middle of the night – the "Batphone".
The Esquire graced the covers of Born to Run, Live 1975-1985, and 2012's Wrecking Ball. It has serenaded thousands, if not millions, of fans. It played almost every single E Street Band show from 1973 to 2005, when it began showing its age. Of course, Bruce Springsteen wasn't going to retire his beloved guitar forever.
It still makes sporadic appearances, such as in the Super Bowl performance from 2009. its extraordinary weight, or lack thereof, is particularly visible throughout various shows with Bruce tossing it like a football. Today, Bruce Springsteen reserves his beloved Esquire for use in the studio but relies on several near-exact replicas live, many of which feature the routed body, frets, and even heavily relic-ed finishes in tribute to the original guitar.
Among the most notorious rotating Tele/Esquires one can find his sunburst version of the original instrument, which he uses frequently to grace British audiences when he performs The Clash's classic hit, "London Calling". The latter became a staple in his concerts since Springsteen was called upon to perform the tune as a tribute to Joe Strummer.
Takamine Pro EF Series

| | |
| --- | --- |
| Finish | Black/Sunburst/Natural |
| Years Used | 1981 to Present |
At first glance, Bruce Springsteen's long-standing affinity for Japanese acoustic guitars seems like an anomaly for the all-American hero from New Jersey. However, Takamine cultivated a reputation as reliable, hard-working instruments aimed squarely at the gigging musician. These Japanese instruments from the town of Sakashita, named for the mountain overlooking the factory in which they are built, have been mainstays of Bruce Springsteen's arsenal since the 1980s. Bruce played a Takamine live as early as 1984, as can be seen in the video below. The distinctive asymmetrical three-a-side headstock is clearly visible at 20.29 of the video from the Born in the USA tour.
Takamine was founded in 1962 and the brand quickly became the world leader in electro-acoustic guitars. They pioneered the preamplifier-equalizer component to their acoustic guitars, enabling performers playing larger venues to capture the sound of their acoustic instrument without mic-ing the guitar's soundhole. Takamine made it their mission to compete with the high-end American acoustic guitar brands, particularly Martin and Taylor. At first, they did this by courting icons of the American folk-rock scene, including the Eagles: the iconic intro to "Hotel California" was played on a Takamine twelve-string, recorded in 1976.
The year before, Takamine had inked a distribution deal with US-based distributor Kaman, and Takamine's spruce-topped guitars hung in music stores across the USA. It's unknown when Bruce Springsteen first picked up a Takamine guitar, but ever since he did they've seen quite some action both live and in studio, with the Pro Series EF341SC black one being the sole six-string used to record his folk breakthrough album "Nebraska".
Key to the success of Takamine guitars in the 1980s was the development of their revolutionary palathetic pickup. This pickup design allowed guitarists to plug their acoustic instruments into an amplifier and hear their own guitar's sound through the PA. Their in-house master luthier, Makoto Terasaki, arrived in 1988 and turned his nose up at the conventional wisdom of acoustic guitar builders. Takamine, he reasoned, were building guitars for working professionals who needed portability and reliability in an amplified format. Bruce Springsteen was putting his Takamine guitars through their paces night after night during his marathon multi-hour performances. Their guitars needed to be durable and, above all, reliable.
For this reason, many Takamine guitars, particularly those aimed at working musicians, have laminate, rather than solid sides. Terasaki said of his approach to guitar building that "we can make laminate sides harder than a solid side, and thinner. When I design guitars for the professional musician, in most cases I use laminate sides."
Bruce Springsteen at first played a single-cutaway black Takamine guitar, most likely an EF341C. These guitars had solid sitka spruce tops, the aforementioned laminate nato sides, and nato back. This guitar's fretboard was rosewood, and it boasted the distinctive asymmetrical Takamine headstock that distinguished these Japanese instruments from the traditional trapezoid headstocks of Martin or Taylor.
Later, Bruce Springsteen played an EF350SMCSB, a similar single-cutaway dreadnought-style acoustic guitar in an attractive sunburst finish. This guitar used the same sitka spruce top as its black sibling but featured maple back and sides. Like the EF341C, its fretboard was rosewood. He also played this black Takamine for his MTV Unplugged performance, as seen in the video below.
The EF381SC 12-string dreadnought is handcrafted at Takamine's pro series facility, with the solid spruce top of Springsteen's preference as well as the maple back and sides and rosewood fretboard of his sunburst dreadnought. It boasts the single cutaway that adorns most of The Boss's guitars, and its mahogany neck joins the body with a robust dovetail joint.
Perhaps the most widely seen of Bruce's Takamine acoustics is the P6N, the smaller-bodied non-cutaway acoustic he donned for most of the Springsteen on Broadway shows. The P6N seems almost tailor-made for an artist like Bruce Springsteen. With its NEX body (smaller than a dreadnought, but with a fuller sound than a parlor guitar) and tone designed to complement the voice of a soul singer, it was the perfect guitar for Springsteen on Broadway.
The P6N has a solid spruce top, solid flamed maple back, and laminated maple sides. Its neck, too, is maple, to provide some sparkle to its tone and relieve some of its weight, while the fretboard is smooth ebony. It features a comfortable 42.5mm nut and 633mm scale, with ivory fretboard binding and mother of pearl fret inlays.
Of course, all the embellishment and ornamentation in the world wouldn't matter to the Boss if this guitar didn't sound good. You can hear the P6N, and its Takamine-patented CoolTube preamp system, in all its glory, in the below video from Springsteen on Broadway. Overall, this is easily one of the most iconic Bruce Springsteen guitars of all time.
Gibson Les Paul Standard

| | |
| --- | --- |
| Finish | Natural |
| Years Used | 1969 to 1973 |
Before the E Street Band, Born to Run, and the Esquire/Telecaster hybrid that would become Bruce Springsteen's signature guitar, there was this distinctive Gibson model. During Springsteen's tenure with Jersey Shore hard rock group Steel Mill, he played a Les Paul, the signature guitar for all aspiring hard rockers.
Steel Mill never achieved the lofty heights that its members, including future E Street Band guitar player Steven Van Zant, aimed for. They garnered some modest success, playing California and Virginia as well as on the Jersey Shore, and even opening for Grand Funk Railroad and Black Sabbath. With Steel Mill, Springsteen cut his teeth on the hard-working Jersey bar circuit, honing his chops as a musician and performer.
This Les Paul, with its distinctive finish (or lack thereof), is likely a late Sixties model with its factory finish removed. The full-sized humbuckers and smaller headstock indicate that it was likely a Les Paul Standard, although some sources claim that this guitar was a mini humbucker-equipped Les Paul Deluxe, which would have been more price-appropriate for a young working musician. If Springsteen was willing to change the finish on this guitar, re-routing its pickups would not have been a tall order.
This Les Paul likely had a solid mahogany body with a maple cap and a mahogany neck. Its humbuckers would have been Gibson PAFs, assuming that they were the stock pickups that came with the guitar. Bruce Springsteen's is probably a 1968 or 1969 model. The Les Paul was redesigned in the early 1970s to help the flailing Norlin company, which had purchased the brand in 1969, save money. These features included multi-piece bodies rather than solid ones, larger headstocks, maple necks, and the polarizing mini-humbuckers. Bruce's guitar does not appear to have any of these features, so it's almost definitely a 1968 or '69 "pre-Norlin" model.
This guitar was retired after Bruce Springsteen got his beloved Telecaster/Esquire in 1973 after Steel Mill had disbanded and several key members regrouped around the young Springsteen's obvious talent. It went to auction back in 2003, where it was estimated to sell for up to $40,000.
In more recent years, particularly since he retired the Tele/Esquire, Bruce Springsteen has occasionally sported a Les Paul Standard. In a 2017 appearance at the Asbury Park Music and Film Fest, he played a reissue of the Les Paul Standard with a gorgeous flame maple top, likely a 58 or 59 reissue.
Timetable Showing Each Guitar Bruce Springsteen Has PLayed Throughout His Career
| Make | Model | Color/Finish | Years |
| --- | --- | --- | --- |
| Gibson | Les Paul Standard | Natural | 1969 to 1973 |
| Fender | "The Mutt" Esquire/Telecaster | Butterscotch Blonde/White/Sunburst | 1973 to Present |
| Takamine | Pro EF Series | Black/Sunburst/Natural | 1981 to Present |
Bruce Springsteen Amps Overview
Bruce Springsteen historically has adopted a very different live sound from many of his arena-rock contemporaries. Typically, he relies on the twang and rumble of Fender-style amplifiers over the roar of a Marshall stack, despite the earth-quaking volume with which Springsteen tends to serenade the masses.
In recent years, The Boss has branched out from his Fender-style clean amps into the all-American crunch of Mesa Boogie's range. Bruce's live sound is, as one would expect, largely driven by practicality. He needs reliable, good-sounding gear that won't burn out during a three-hour performance, or the next six three-hour performances that week. Accordingly, Springsteen frequently travels with spare amplifiers, rarely using a single amp for performance.
Generally speaking, Bruce uses one of two electric guitar sounds live. He either leans into the high-treble twang of his Esquire/Telecaster "Mutt" guitar, or allows it to descend into a Nashville country-influenced crunch tone more at home in the dive bars of New Jersey than Wembley Stadium. Bruce has remained as loyal to his choices of amps as to his choices of guitars, a lifelong adherent to the "if it ain't broke, don't fix it" school of guitar tone.
Let's take a look at the amplifiers Bruce Springsteen has proudly used over the years.
Fender Bassman
Bruce Springsteen has been loyal to Fender Bassman amplifiers for decades now. He uses four pre-CBS era Bassmans live, relying on the Bassman's distinctive sound to provide much of his live guitar tone.
The Bassman was one of Fender's earliest amplifier triumphs, first introduced in 1952 as a bass amplifier. Although the Bassman remains popular among bassists, budding guitarists recognized its habit of "breaking up" into a pleasantly overdriven, slightly compressed tone, relatively early. In fact, this tone was the basis for Jim Marshall's own experiments in amp technology that led to the development of the Marshall amplifier brand, which competed directly with Fender within a few decades.
Bruce's Bassman amps all date back to before 1965, with their years of manufacture spanning 1958-1962. These belong firmly to the "tweed" generation of Fender amps, so named thanks to their tweed-like covering.
The late 1950s Bassman line used a GZ34 rectifier tube, and around 1960 the Bassman was shipped with Jensen P10Q speakers specifically designed to provide cleaner, clearer tonal response. Bruce's Fender Bassmans use 12AX7 preamp tubes and either 5881 or 6L6 power tubes, depending on their year of manufacture.
The original Fender Bassman used 26 watts of power, but later models from the early 60s used 50 watts.
Peavey Vintage 410
Not content with four vintage Fender Bassman amps, Bruce also performs live with two Peavey Vintage 410s, which are copies of the Bassman amplifiers.
The Peavey Vintage 410 was made in imitation of the legendary Fender Bassman and adopted many of its forebear's visual and tonal cues. Bruce's Peavey 410s are 4×10 combo amplifiers with four 6L6 power tubes and four inputs (two normal, two bright). The Peavey Vintage 410s are primarily used for stage sound rather than the sound aimed at the audience. The Peavey Vintage 410s will be more for clean sounds, just like the Fender Bassmans.
Mesa/Boogie
Bruce Springsteen has been loyally playing these Mesa/Boogie amp heads for decades now. According to Mesa's own website, Bruce had, as of 2012, been playing these Mark IIC amps "for over 20 years". At the Grammys, Bruce used an Electra-Dyne Head, but for most of his career, he was using the Mark IIC.
Mesa/Boogie's Mark series was designed to "hot-rod" Fender's small, clean amps, such as the Bassman. Initially, the Mark series began as a joke, as company founder Randall Smith borrowed a friend's 12-watt Fender Princeton and replaced its amp section with the Fender Bassman and its speaker with a sole 12-inch speaker. The power and articulation of the resulting amp caught on, and the Mesa Engineering company was born.
Further embellishments to the basic Bassman design came later. These included an additional gain stage, for improved distortion, gain cascading (variable gain controls at different points in the circuit), and built-in reverb units as well as a graphic EQ.
The Mark IIC featured a footswitch system as silent as the grave when compared to its predecessors, and carried on the innovative "simul-class" system developed at Mesa Engineering. This involves two 6L6 power tubes running in class AB pentode, while the other two tubes (either 6L6s or EL34s) run in class A triode. Under this system, running all four tubes simultaneously provides approximately 75 watts RMS of power, while running only the class A tubes produces about 15 watts. This allows for enormous tonal variation.
Bruce Springsteen typically runs his Mesa heads, whether these are the Class 2B heads or the Electra-Dynes, into 4×12 Marshall cabinets. These are always pointed skyward, tilted way back, rather than facing forward. This is probably to mitigate the volume of the band on stage and avoid any onstage band member receiving an unwanted earful of maximum volume guitar.
Bruce Springsteen Pedals and Effects Overview
Although he's rarely, if ever, seen tap-dancing above a board full of guitar pedals, Bruce Springsteen uses a compact, utilitarian pedalboard to achieve an array of tones. The Boss keeps things limited to a few overdrives, some modulation effects, and a noise controller, as can be seen in the image below.
MXR Distortion Plus
The MXR Distortion Plus (often stylized as Distortion +), designed in the 1970s, was a feature of Bruce Springsteen's rig for decades. It was responsible for many of the overdriven tones heard on classic Springsteen records and was a staple of his live pedalboard.
The Distortion Plus uses a sole op-amp and twin germanium diodes to provide its straightforward clipping tone. Its bare-bones configuration, with only two knobs, one each for distortion and output, made it popular with metal and hard rock guitarists of the 1970s looking to draw ever more distortion out of their amplifiers. Notably, increasing the amount of distortion on the Distortion Plus will increase the level of treble in the guitar's signal.
Bruce Springsteen was using the MXR Distortion Plus during his 1970s and 1980s heyday, but in recent years has switched to boutique overdrives from Fulltone.
The Distortion Plus' tone can be heard in the below video of "Prove it All Night".
Fulltone Fulldrive 2 Mosfet
As seen in the picture above, Bruce Springsteen's main source of crackling preamp dirt is this plus-sized pedal from Fulltone.
The Mosfet features two channels, one for a clean boost or soft overdrive sound, and another for a more intense distorted sound. The Mosfet clipping mode, enabled by a mini-toggle switch, is asymmetrical, while the "Normal" mode is, according to Fulltone, "even more asymmetrical", with a sweeter, more open tone. The Fulltone drive aims to emulate the softer amp-like overdrive of the early 1970s rather than the full-bore distorted tone provided by the MXR Distortion Plus.
It's likely that Springsteen switched to this pedal as his primary source of distorted tone to allow him to use the subtler overdriven tones heard on later albums such as The Rising and Working on a Dream.
Fulltone GT-500 Booster/Distortion
Bruce extended the "more is more" attitude he took to forming the E Street Band to his pedalboard, adding this hot-rodded variation on the Fulldrive template. This pedal provides higher gain and distortion levels than the Fulldrive, with gain staging not unlike that pioneered by Mesa Engineering back when they first brought out their Mark series. To mitigate the harsh treble frequencies often found in vintage-style distortion pedals like the MXR Distortion Plus, this pedal features a unique inductor-driven midrange circuit. This allows players to specifically address the midrange frequencies of their tone, rather than "scooping" the mids with distortion or deploying an overly treble-heavy sound.
Bruce Springsteen will use this pedal for his occasional lead guitar breaks, particularly when trading licks and lead lines with his bandmate Steven Van Zandt, who famously plays his amps with "everything on 10".
Boss BF-2 Flanger
Of course, The Boss uses at least one Boss pedal. The BF-3 Flanger is the sole modulation pedal on Bruce Springsteen's board. It features a thick stereo flanging sound with an intense "swirling" effect. Its four knobs allow for precise control of the flanging sound, enabling both subtle warbles and the overbearing, psychedelic sound often heard on the records of the 1970s. The BF 3 also features a tap tempo function, which allows players to time the swoops and whorls of the flanged sound to the beat of a song.
Bruce Springsteen was using the BF-3 as recently as 2009, although it's unclear if he still uses this effect.
Wrap Up
There are few artists as resilient as Bruce Springsteen, he's tapped his career and influence to the maximum with a condensed rich, unique sound. Whether it is with the E Street Band and their knack to bring styles together, or on his own with a natural folk tone to his performances and songwriting, The Boss is unparalleled when it comes to his songwriting.
The Boss was first inspired to pick up a guitar in 1964 when he saw The Beatles on The Ed Sullivan Show. He said of the experience that "Rock 'n' roll came to my house where there seemed to be no way out and opened up a whole world of possibilities."
Springsteen convinced his mother to buy him a guitar not long after and set about writing songs. His onstage charisma earned the young Springsteen a series of club gigs with various bands, but it was his prolific writing and tendency towards verbosity that scored a record deal.
Once Springsteen had the deal, he assembled the now-legendary E Street band, recorded his debut album, and slogged away at the lower rungs of the music business for years. It wasn't until they recorded 1975's "Born to Run", with its wall of sound production and triumphant, honest odes to American life, that Springsteen was catapulted to stardom. "Darkness on the Edge of Town" followed, with yet more relentless touring, but true superstardom still beckoned.
A few more albums followed "Darkness", none of which captured the giddy heights of "Born to Run". However, with "Born in the USA", Bruce Springsteen's anthemic, belligerently optimistic sound sent The Boss's stature into the stratosphere. Once he was at the pinnacle of the music business, with massive hit singles and even bigger concerts under his belt, there was no stopping Springsteen. Born in the USA may have been released in 1984, but over three decades later, Springsteen remains one of the biggest acts in the world. His concerts are legendary, his songs are timeless, and the music is as steadfast as the ear-to-ear grin Springsteen wears onstage at all times.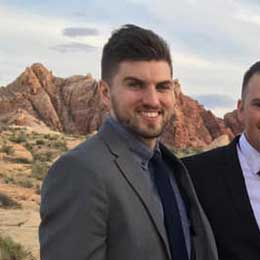 My name is Chris and I've had a passion for music and guitars for as long as I can remember. I started this website with some of my friends who are musicians, music teachers, gear heads, and music enthusiasts so we could provide high-quality guitar and music-related content.
I've been playing guitar since I was 13 years old and am an avid collector. Amps, pedals, guitars, bass, drums, microphones, studio, and recording gear, I love it all.
I was born and raised in Western Pennsylvania. My background is in Electrical Engineering, earning a Bachelor's degree from Youngstown State University. With my engineering experience, I've developed as a designer of guitar amplifiers and effects. A true passion of mine, I've designed, built, and repaired a wide range of guitar amps and electronics. Here at the Guitar Lobby, our aim is to share our passion for Music and gear with the rest of the music community.