Electric guitar strings have a significant impact on your tone and playability. It's easy to overlook the importance of choosing the best strings to suit your playing style, but in reality, they're as important as your choice of amplifier or effects pedals.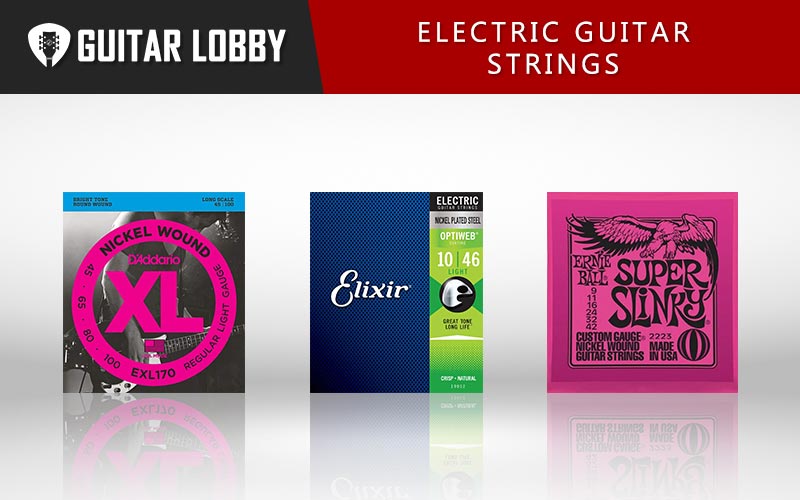 Identifying the best-suited strings for your electric guitar can be overwhelming, due to the wide range of options out there. In this guide, I'll present you with the best electric guitar strings to suit all playing styles.
List of the Best Electric Guitar Strings
1. Elixir Strings Nanoweb 12052 (Best Overall)

| | |
| --- | --- |
| Estimated Price | $13 (1 pack) |
| Type | Light |
| Gauge | .010-.046 |
| Material | Nickel Coated Steel |
My Review: Choosing between the Elixir Strings Nanoweb and Ernie Ball's Super Slinky electric guitar strings was difficult, as I've used both extensively in the past. I opted for the Nanoweb 12052 strings because I found them to be incredibly smooth, which reduces finger fatigue and intricate chord shapes much easier to play.
In addition to their undeniable tactile qualities, this Nanoweb set also sounds incredible. I found them to produce the perfect balance of low-end power, a warm midrange, and brightness in the upper registers of the fretboard.
The Nanoweb 12052s are coated, which guarantees longevity. As someone who can't resist picking up their electric guitar at every opportunity, I need strings that will withstand hours of practice each day. Elixir Strings have been delivered in this area.
I believe that an outstanding set of electric guitar strings should combine tone and feel. While the sound that this set produces impressed me greatly, the thing that I found to be most appealing about them is the way they feel. They allow your fingers to glide across the frets effortlessly, making these strings a joy to play.
Who is this best suited for: Stylistically, the Elixir Nanoweb 12052 strings are a perfect match for several styles and genres. They're warm-sounding enough for rhythm guitarists, but also have the smooth feel required for fast lead guitar techniques. If you like to bend notes and transition quickly across the fretboard, these strings are a great choice.
Bottom Line: With their Nanoweb series, Elixir Strings has cemented its position as one of the leading manufacturers in the field. Coated for durability and long life, they last much longer than your average electric guitar strings. Sonically they sound bright and articulate, and they feel incredibly smooth underhand.
2. Ernie Ball 2233 Super Slinky (Best Value)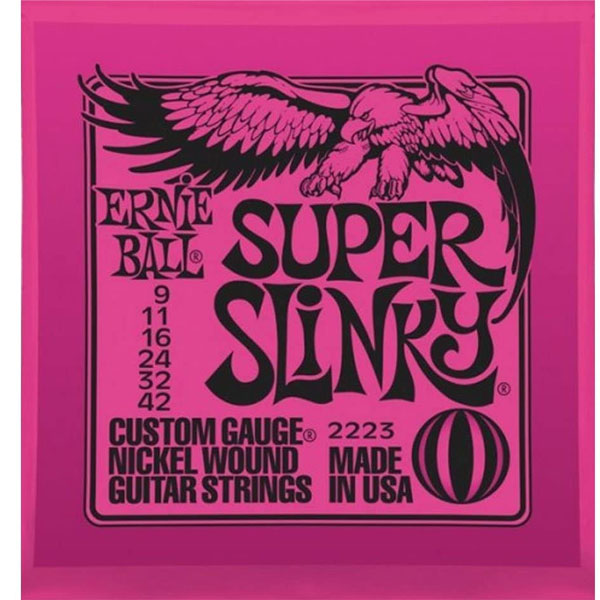 | | |
| --- | --- |
| Estimated Price | $18 (3 pack) |
| Type | Light |
| Gauge | .009-.042 |
| Material | Nickel Wound Steel |
My Review: With their Super Slinky range, Ernie Ball redefined what is possible from an electric guitar string. That might sound a little exaggerated, but millions of guitarists worldwide choose them as their string of choice, and for good reason!
I've used Ernie Ball Super Slinky strings for many years, especially for recordings. They have an elasticity that is hard to find elsewhere, but what's most impressive about them is their distinctive sound. Even when the electric guitar isn't plugged into an amplifier, somehow these strings still produce an incredibly warm, resonant tone, which is enhanced when the guitar is plugged in.
With a rich history stretching back to the early 1960s, Ernie Ball has been the go-to choice for professional and casual guitarists alike. The Super Slinky range was born out of the desire from electric guitarists for lighter strings that didn't sound too thin, and wouldn't easily break. The man behind the brand, Mr. Ernie Ball decided to take matters into his own hands and the rest is history.
With a tin-plated steel core that has a hexagonal shape and a nickel-plated steel wrap, the Super Slinky 2233 strings are robust enough to handle heavy usage, without being rough on the guitarist's fingers. I love the fact that their tone isn't overly dark or bright, but sits in the middle of the spectrum and is therefore highly versatile.
Who is this best suited for: The Super Slinky 2233 strings are a great match for guitarists looking for a blend of playing comfort and warm tonality. They have the sharpness in the treble end which is ideal for solos and melodies, whilst providing enough substance in the bass frequencies for riffs and chords.
Bottom Line: There's something unique about Ernie Ball's nickel wound strings. After decades of trial and error, the manufacturer has perfected its design. With excellent clarity throughout the fretboard and a smooth, responsive feel which rivals any other popular electric guitar strings, this set is worth considering.
3. D'Addario EXL 110-3D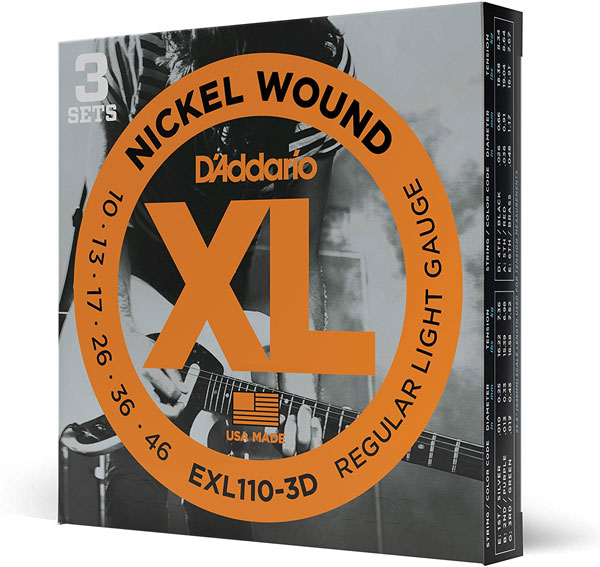 | | |
| --- | --- |
| Estimated Price | $16 (3 pack) |
| Type | Regular Light |
| Gauge | 0.10-0.46 |
| Material | Nickel Wound Steel |
My Review: D'Addario is one of the best-known string manufacturers in the world, and their EXL 110-3D set is hugely popular amongst electric guitarists. I've never been disappointed by the quality of D'Addario's strings, and have found that they always deliver impeccable feel and tone.
With a slightly thicker gauge than light strings, this set allowed me to tune my low E string down without any issues. The string didn't become overly loose, which is often the case when using .046 gauge low-E strings for drop tunings.
I found the tone of the EXL 110-3Ds to be thick and substantial. In terms of their feelings, they provide the perfect amount of tension and grip for fast playing but are still malleable enough to perform bends in the higher frets without any problems.
Durability is another key quality which these strings offer in abundance. The steel core is wound in nickel, which makes them last longer without corroding, but they still feel exceptionally smooth and responsive, which is a rare quality for slightly thicker strings.
Who is this best suited for: D'Addario's EXL110-3D strings are a great choice for guitarists who want to experiment with drop tunings, but still require the light, smooth feel of thinner strings. They're suitable for every genre, from blues to funk.
Bottom Line: This affordable set of D'Addario strings challenge industry heavyweights such as Ernie Ball and Elixir in sound and feel. With a balanced tone and a slightly thicker gauge, they are a popular choice amongst guitarists who are looking for a little extra power from their instrument.
4. D'Addario EPN115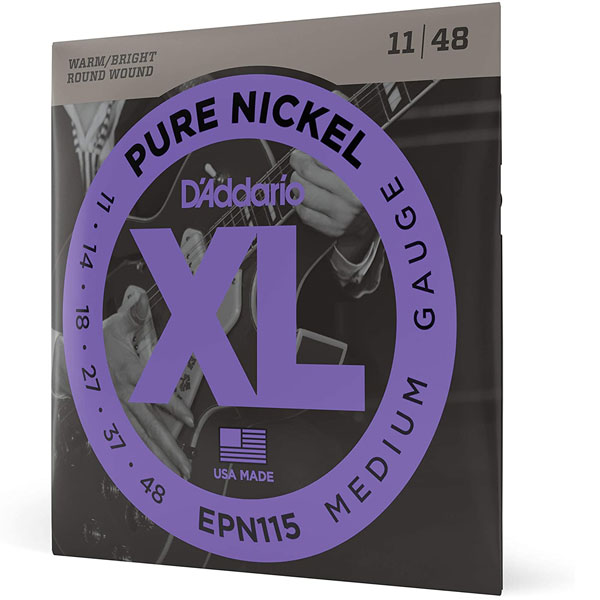 | | |
| --- | --- |
| Estimated Price | $10 (1 pack) |
| Type | Medium |
| Gauge | .011-.048 |
| Material | Nickel |
My Review: Compared to the EXL range, D'Addario's EPN115 strings are more robust due to their medium gauges. I rarely play a low E string with a .048 gauge, but I was pleasantly surprised by the warm, thick bass notes that this D'Addario set is capable of producing.
The first thing I noticed about these pure nickel strings was their vintage tone. They sound like they've been frozen in time from the formative years of rock roll, which makes sense as the most common design for electric guitar strings in those days was winding a pure nickel wire.
D'Addario is one of the most prolific string manufacturers on the planet, producing anywhere between half a million and 700,000 strings every day. After learning this, I was even more impressed by the EPN115s, as they still have a personal, handmade feel despite being mass-produced by winding machines.
I also found that these medium gauge strings sound exceptional when combined with a tube amplifier. After I cranked the gain slightly and adjusted my guitar's tone pot, I was able to recreate the timeless slightly saturated tone that '50s rock and country guitarists popularized.
Who is this best suited for: The EPN115 strings by D'Addario are perfectly suited to guitarists looking for a classic, vintage rock tone. They sound warm in the midrange, and the medium gauge allows you to control playing dynamics by digging into the strings.
Bottom Line: D'Addario has set such a high standard over the years, so the brilliance of their EPN115 strings doesn't surprise me. With their pure nickel design and thick low-E string, they produce immersive warm tones that sound great on recordings or live performances.
5. Ernie Ball 3221 Regular Slinky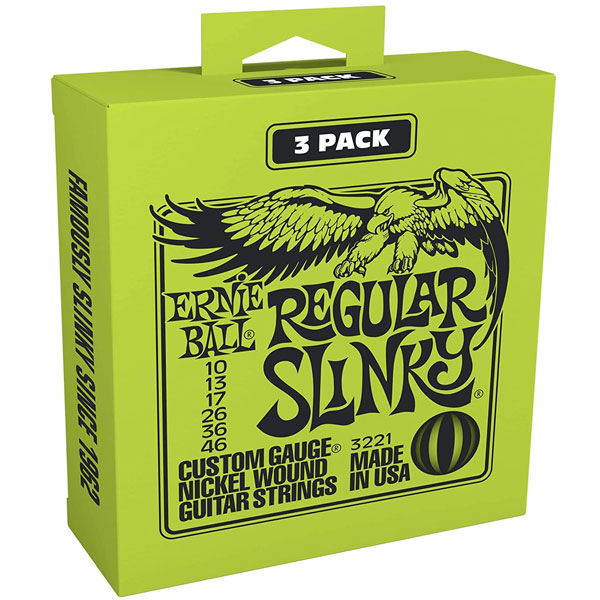 | | |
| --- | --- |
| Estimated Price | $16 (3 pack) |
| Type | Custom |
| Gauge | 0.10-0.46 |
| Material | Nickel Wound Steel |
My Review: Regular Slinky string boast an impressive list of famous users, including John Mayer, Eric Clapton, and Steve Vai. They're less flexible than the aforementioned Super Slinky range, which makes them less likely to break, and gives them a warmer, more substantial tone.
I was particularly impressed by the smooth feel of the 3221 Regular Slinky strings, which is a staple quality of Ernie Ball's offerings. This is a result of the unique process they use to manufacture them, which consists of wrapping a nickel-plated steel wire in a steel hex core.
When analyzing the sound that the Regular Slinky strings produce, I noticed their midrange was the most prominent frequency band. However, it wasn't overpowering, and the bass and treble frequencies were also clearly identifiable when playing chords.
Who is this best suited for: If you like the sound and feel of Ernie Ball's strings but find the Super Slinkys to be a little too thin sounding and overly flexible, the Regular Slinky set is the ideal solution. These strings combine a full-bodied sound with smooth playability.
Bottom Line: With a slightly thicker gauge than the Super Slinky range, the 3221 Regular Slinkys produce an overall chunkier sound. The feel of the strings is still smooth and easy on your fingers, but there's more tension than a lighter set of strings, which is better suited to more energetic styles of playing.
6. Ernie Ball Cobalt Super Slinky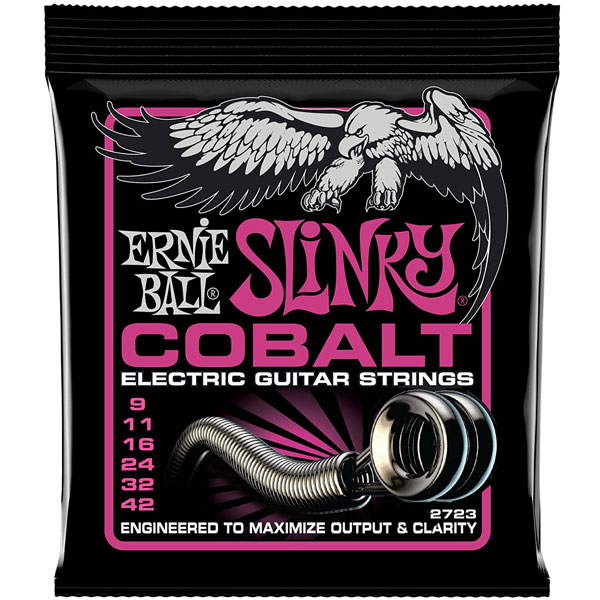 | | |
| --- | --- |
| Estimated Price | $10 (1 pack) |
| Type | Custom |
| Gauge | .009-0.42 |
| Material | Cobalt |
My Review: After using Ernie Ball's nickel-wound Super Slinky strings on many occasions, I was intrigued by the cobalt design of this set. I must admit, I was surprised to find that in many ways cobalt improves the sound and feel of the iconic Super Slinky strings.
Perhaps the most notable improvement I discovered was in the sustain that these Cobalt Super Slinkys produced. When ringing out a single note, it took significantly longer to decay than when doing so with similar force using the standard nickel-wound strings.
In addition to their tonal benefits, these strings also last for longer. Cobalt is highly resistant to sweat, and therefore retain their freshness even when used extensively. They're also very flexible, which is a rare quality for such a durable set of strings.
Who is this best suited for: The Cobalt Super Slinky strings are more expensive per pack than most other Ernie Ball sets, but if don't mind investing a little extra you'll enjoy improved longevity, a punchier, clear tone, and sustain that is ideal for playing solos or melodies.
Bottom Line: Boasting impressive tonal clarity and high output, the Cobalt Super Slinky strings are
7. Fender Super 250's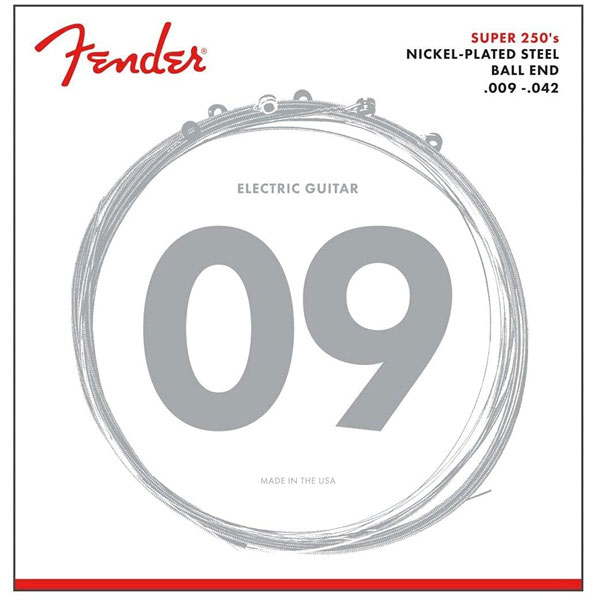 | | |
| --- | --- |
| Estimated Price | $5 (1 pack) |
| Type | Light |
| Gauge | .009-0.42 |
| Material | Nickel-Plated Steel |
My Review: As a longtime user of Fender's electric guitars and amplifiers, I anticipated that the American manufacturer would know a thing or two about strings. Although they're amongst the most affordable strings featured in our list, my high expectations were met.
Made from nickel-plated steel, these Fender strings combine two main qualities. Firstly, I enjoyed the high output which is synonymous with steel electric guitar strings. Also, they are incredibly smooth and refined to touch, which is largely a result of the nickel-plated design.
Fender is associated with a broad range of guitar styles and genres but perhaps is most closely linked to rock. The Super 250's are built for rock guitarists, offering a sharp tone that is sure to slice through the mix and elevate your guitar playing above the rest of the band when the opportunity arises.
Who is this best suited for: With a sharp, punchy sound which is rich in clarity, the Fender 250's are well suited to lead guitarists in one of the many sub-genres of rock. Their light gauge design makes string bending easy, and reduces the friction on your fingers.
Bottom Line: With a core made from steel which is cased in a nickel plating, these Fender electric guitar strings are of great value. Despite their light gauge, they're robust enough to endure aggressive styles, but also have the smoothness required for more understated playing techniques.
8. Stringjoy BAL11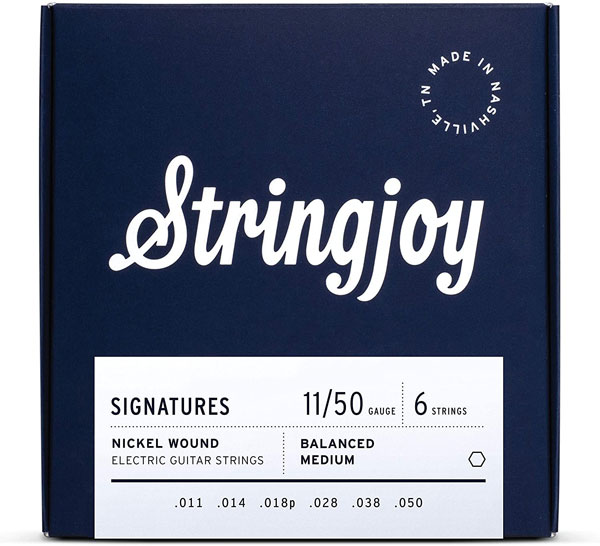 | | |
| --- | --- |
| Estimated Price | $15 (1 pack) |
| Type | Medium |
| Gauge | 0.11-0.50 |
| Material | Nickel Wound Steel |
My Review: Stringjoy is a manufacturer that specializes in custom guitar strings. Hailing from Nashville, they consist of a group of passionate musicians who take great care with every string they produce. After learning this, I was eager to put their popular BAL11 strings to the test.
Initially, I noticed that these medium gauge strings featured an innovative winding design. Similar to Ernie Ball's Slinky range, the BALL11s have a hexagonal core, which is made from high-carbon steel. I know from experience that this material is very resistant to corrosion.
A nickel alloy is then round wound to encase the steel core. I found that this design's benefits weren't only limited to the physical qualities of the strings, but also resulted in a thick, immersive tone across the frequency range. The addition of a .050 gauge low-E string added more substance to the bass frequencies, which complements the more conventional gauges of the top-end strings.
Who is this best suited for: In my opinion, the Stringjoy BALL11 medium gauge electric guitar strings are ideally suited to guitarists who like to utilize the lower frets on their instrument. The thicker-than-usual low E facilitates drop tunings, and it also increases the prominence of root notes when playing chords.
Bottom Line: Although Stringjoy has used a very similar design process to Ernie Ball with their BAL11s, they feel and sound unique. Roundwound strings are an acquired taste, but I am a huge fan of the balanced sound they produce, and how they can last for a long time compared to other winding techniques.
9. D'Addario NYXL 1046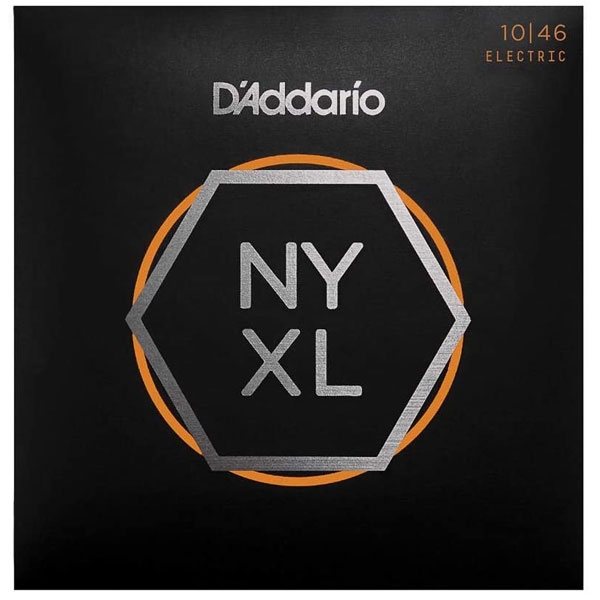 | | |
| --- | --- |
| Estimated Price | $13 (1 pack) |
| Type | Regular Light |
| Gauge | .010-0.46 |
| Material | Nickel Wound Steel |
My Review: D'Addario's NYXL 1046 regular light strings blend effortless playability with an energetic tone. Right off the bat, I could tell that these strings were quite different from the previous D'Addario sets that I'd played before.
Utilizing high-carbon steel, the legendary string manufacturer looked to ensure tuning stability and resistance to breaking. I found that the midrange frequencies, particularly around the middle of the fretboard on the A, D, and G strings were particularly warm sounding, which grabbed my attention.
With a low-E string that has a gauge of .046, these strings are on the lighter side. This is a nice contrast to the chunky tones they produce, as the light feel allows you to glide through the frets without unnecessarily draining your finger stamina.
Who is this best suited for: The NYXL 1046 strings by D'Addario are a good choice for guitarists looking for more energy from their instrument's midrange. If you frequently play power chords, these strings highlight the mid-tones within the group of notes, creating a full-bodied sound.
Bottom Line: With a nickel winding that surrounds a durable steel core rich in carbon, D'Addario's NYXL strings have gained a reputation for being very reliable. They sound very thick and full and are the perfect gauge for transitioning quickly through the frets of an electric guitar.
10. Ernie Ball RPS-8 Slinky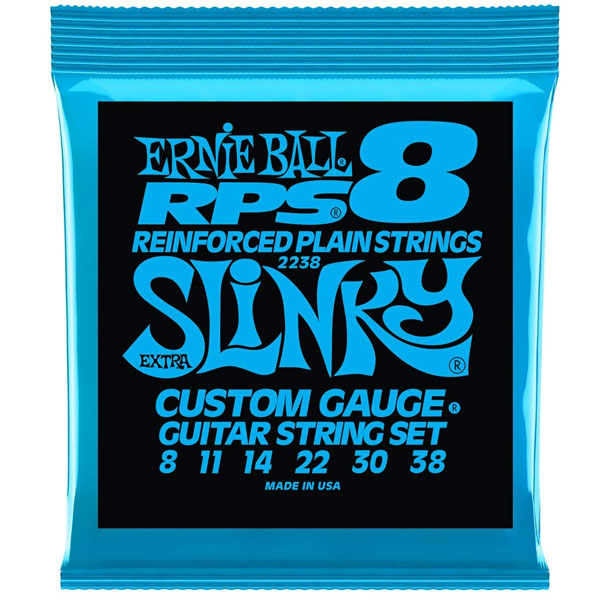 | | |
| --- | --- |
| Estimated Price | $7 (1 pack) |
| Type | Custom |
| Gauge | .008-.038 |
| Material | Nickel Wound Steel |
My Review: Ernie Ball is renowned for the innovative electric guitar string designs, and this is once again evident with their RPS-8 Slinky set. I've rarely had the opportunity to play electric guitar strings that include bronze, so I was interested to find out what they would sound and feel like.
Upon further investigation, I learned that the bronze wire winding is used to secure the locking twist which is positioned at the ball ends of the strings. This prevents the string from slipping out of place and creates a more stable, durable design.
The nickel-wound steel used for the RPS-8 strings is the same design as the popular Slinky sets, which gives them a familiar feel. Sonically, they produce impressive sustain especially in the higher strings, and the 8 gauge high E string has a glassy, bright tone.
Who is this best suited for: The Ernie Ball RPS-8 Slinky strings are perfect for guitarists who are tired of their strings going out of tune. Light gauge strings do tend to slip out of tune more easily, but these nickel wounds defy this preconception.
Bottom Line: Offering all of the main qualities of the Slinky range but with added durability and a longer-lasting design, Ernie Ball's RPS-8s are a unique offering. They are designed to hold tuning and prevent string breakage while staying true to the classic Slinky tone.
11. Gibson Vintage Reissue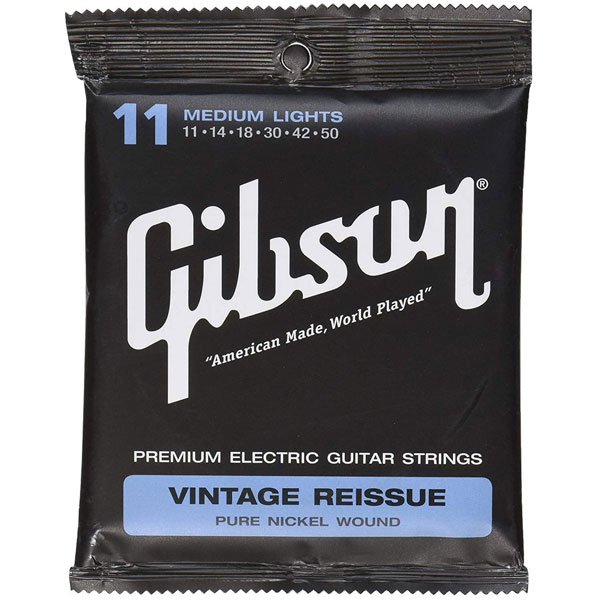 | | |
| --- | --- |
| Estimated Price | $12 (1 pack) |
| Type | Medium Light |
| Gauge | 0.11-0.50 |
| Material | Nickel Wound Steel |
My Review: Along with Fender, Gibson is considered by many to be the gold standard of electric guitar manufacturing. They also boast a rich history of producing some of the finest electric guitar strings in history, and the Vintage Reissue set is perhaps their finest creations to date.
Initially developed in the 1950s, these strings have been remade meticulously in Gibson's Custom Shop, which is located in the musically rich city of Nashville. I was impressed by the authenticity of these strings and found that they feel and play exactly like I'd expect from a set made almost 70 years ago.
Wrapped in pure nickel, the Vintage Reissue strings have a refined feel. They sound expressive, with plenty of midrange warmth and character. When combined with a little distortion, the strings produce classic rock and country tones that are very pleasing to the ear.
Who is this best suited for: If you're a fan of vintage guitar tones, these Gibson strings are worth considering. They're designed in the same way as the classic strings from Gibson's 1950s electric guitars, and sound incredible.
Bottom Line: Whenever an old guitar, amplifier, or set of strings are recreated by a manufacturer, they run the risk of damaging the legacy of that piece of equipment. Thankfully, the Vintage Reissue strings by Gibson deliver the qualities of the original so that they can be enjoyed by a new generation of guitarists.
12. Elixir Strings 19052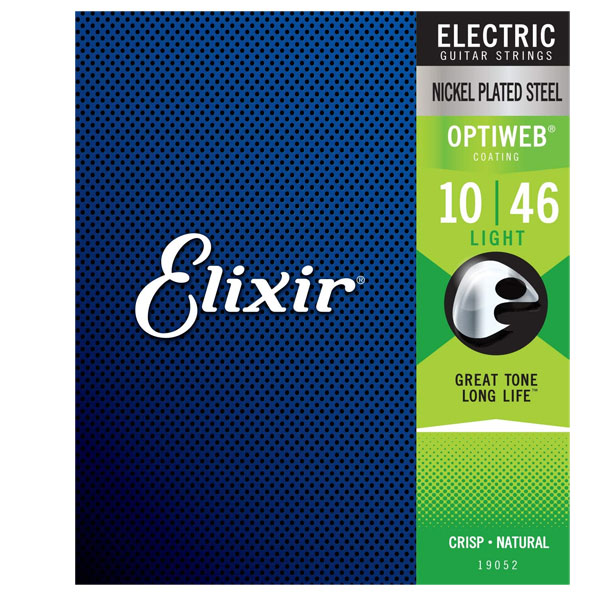 | | |
| --- | --- |
| Estimated Price | $14 (1 pack) |
| Type | Light |
| Gauge | 0.10-0.46 |
| Material | Nickel-Plated Steel |
My Review: The 19052 strings by Elixir feature the patented OPTIWEB coating. This unique design results in a natural, balanced tone, whilst offering the longevity that the manufacturer has built a reputation for producing.
When analyzing the specs of these strings, I learned that have a conventional steel core that is plated with nickel for smoothness and durability. They're then subjected to a special coating process, which combats corrosion from sweat, and retains that fresh-string feel for much longer than your average electric guitar string.
I was also impressed to learn that these strings have an anti-rust plating, which further lengthens their life. You can play these strings extensively without needing to worry about them corroding or breaking prematurely, leaving you to focus on practicing or performing on your instrument.
Who is this best suited for: Elixir Strings are renowned for the durability of their electric guitar strings. This quality makes them ideal for guitarists who get frustrated when they need to change their strings after a short time. If you play your guitar a lot, you'll love the longevity of these strings.
Bottom Line: With the innovative OPTIWEB coating providing optimal protection and preservation, and a nickel layer for smooth, responsive playability, the Elixir Strings 19052s is a well-rounded set of strings. They also sound clear and bright, and their new feel is retained for a long time.
13. DR Strings Dimebag DBG-10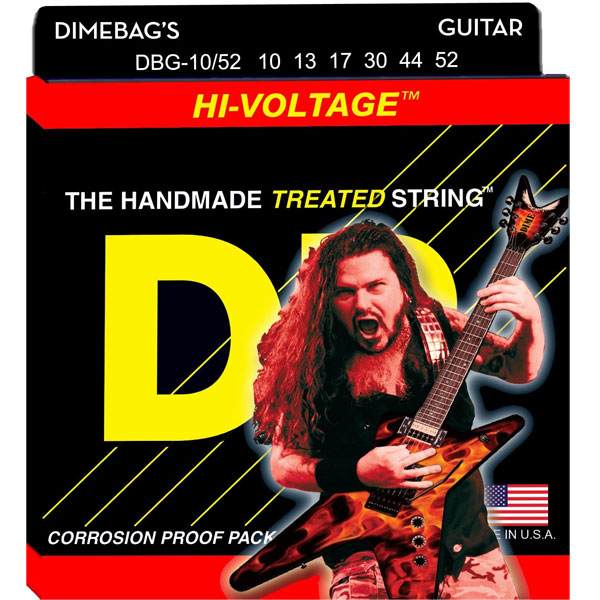 | | |
| --- | --- |
| Estimated Price | $8 (1 pack) |
| Type | Custom |
| Gauge | 0.10-0.52 |
| Material | Nickel-Plated Steel |
My Review: Few metal guitarists have had the impact that the late Dimebag Darrel did on the genre. His signature strings, produced by DR Strings pack a serious punch. With a hexagonal core wrapped in nickel-plated steel, these strings have a heavy custom gauge which is ideal for shredding solos and chugging chords.
The Dimebag BDG-10s are very versatile. They are suitable for tapping, bending, and fast riffs, but also sound great with smoother styles of playing. In terms of their feel, the strings are sturdy but refined, which reduces the tension on your fingertips as you play.
Shredding is a technique that requires constant practice and repetition, so you'll need strings that facilitate this. The DBG-10s certainly do, with their impeccable tone and cutting brightness making them a great choice for metal and heavy rock guitarists.
Who is this best suited for: If you're a metal guitarist who likes to play fast and hard, this set by DR Strings is a perfect choice. They're comfortable, but robust enough to handle high octane playing styles. They also sound great with a little distortion applied!
Bottom Line: Dimebag Darrel's legacy as a metal guitarist is solidified, and guitarists can access his tone and playing style via these strings. With a heavy gauge low E string, you can easily detune to drop D or Drop C without worrying about tuning stability.
14. GHS Strings GB-DDG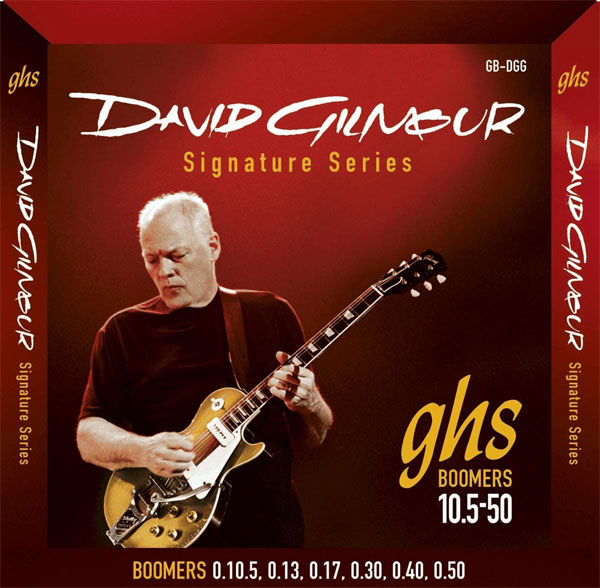 | | |
| --- | --- |
| Estimated Price | $8 (1 pack) |
| Type | Custom |
| Gauge | .015-0.50 |
| Material | Nickel-Plated Steel |
My Review: GHS Strings has a long history of producing high-quality electric guitar strings. They are based in the USA, and although they aren't as big as other string manufacturers, their quality is undeniable.
The GB-DDG set is a collaboration with Pink Floyd's legendary lead guitarist, David Gilmour. He has been affiliated with the brand since the late 1970s, and this set of steel strings with smooth nickel plating delivers his precise and unique playing style to your guitar.
Who is this best suited for: To state the obvious, if you're a fan of David Gilmour's work, you'll love these strings. They feel incredibly smooth to touch, but have plenty of tonal character which can be accessed by digging in a little when strumming or picking single notes.
Bottom Line: The flagship offering from GHS Strings, the GB-DDGs produce a clear sound. They're great for bends or intricate picking techniques, and their bright tone is retained for a long time after you open the pack.
15. Dunlop Billy Gibbons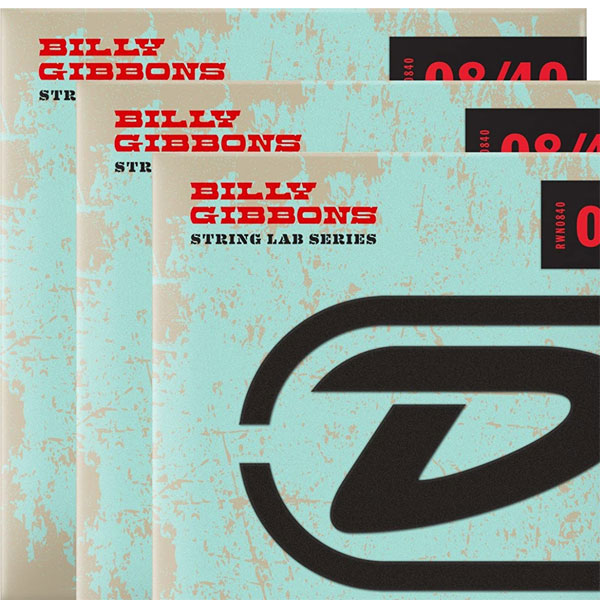 | | |
| --- | --- |
| Estimated Price | $6 (1 pack) |
| Type | Light |
| Gauge | .008-0.40 |
| Material | Nickel Wound Steel |
My Review: The Texas guitar tone is highly sought after by guitarists. Often, they will install particular pickups on their guitars to achieve this tone. Now, with the Billy Gibbons signature strings from Dunlop, you can get closer than ever to that revered sound.
Sonically, these strings sound punchy. I was impressed by how articulate they sound across the fretboard, with great note separation and clarity. They may be light gauged, but they're built to last and are unlikely to break easily when playing the blues or any other style.
Who is this best suited for: If you like to add heat to your guitar's signal to achieve a bluesy tone, the Billy Gibbons strings by Dunlop are a perfect match for your needs.
Bottom Line: With a round wound construction that features a nickel-plated steel wrap around a hex core, the Billy Gibbons signature guitar strings feel as good as they sound. This set is light gauged, which makes bending notes and playing fast a breeze. They also sound great with a fuzz or distortion pedal, or through a tube amp with the gain cranked up.
16. Ernie Ball Stainless Steel Super Slinky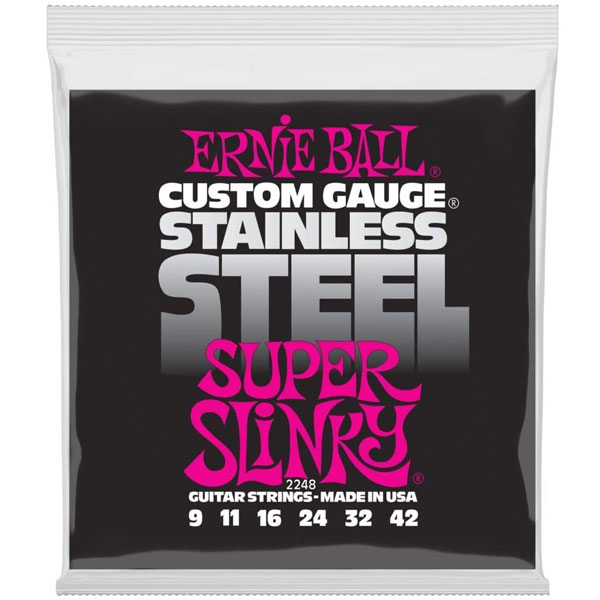 | | |
| --- | --- |
| Estimated Price | $6 (1 pack) |
| Type | Custom |
| Gauge | .009-.042 |
| Material | Cobalt Wrapped Stainless Steel |
My Review: I find it amazing just how extensive Ernie Ball's selection of electric guitar strings is. With so many variations on their Slinky and Super Slinky ranges, I'm constantly discovering new strings that I feel the need to try out!
The Stainless Steel Super Slinkys embody all of the qualities you'd expect from Ernie Ball strings – clarity, brightness, and an overall warm tone. However, what separates these strings from the rest is their stainless steel design, which promotes longevity and ensures tuning stability.
Who is this best suited for: I'd recommend the Stainless Steel Super Slinky strings to any guitarist who is frustrated by their strings going out of tune regularly. These strings allow you to enjoy the best qualities of the Slinky range, with added durability.
Bottom Line: Stainless steel is a material you wouldn't necessarily expect to find on electric guitar strings, but if anyone can make it work it's the iconic brand, Ernie Ball. These strings sound and feel amazing, and they're certainly not going to buckle under the pressure of frequent use.
17. Ernie Ball M-Steel Slinky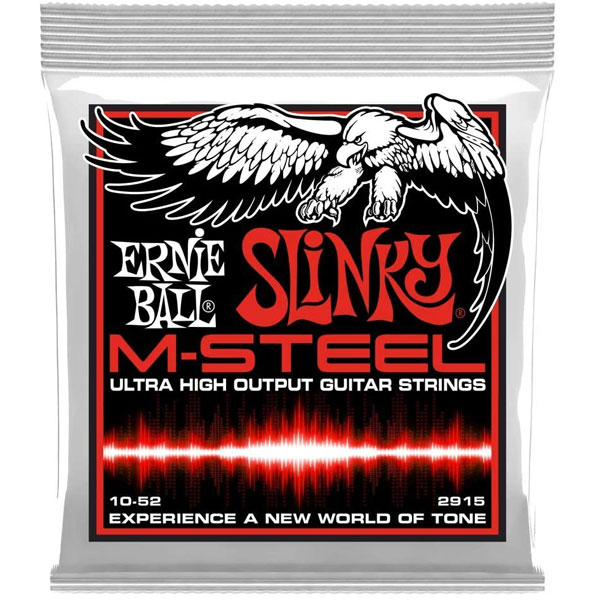 | | |
| --- | --- |
| Estimated Price | $15 (1 pack) |
| Type | Custom |
| Gauge | 0.10-0.52 |
| Material | Cobalt Wrapped Alloy Steel |
My Review: The M-Steel Slinky strings are similar to the Stainless Steel Super Slinkys, but with a heavier gauge and a slightly different design. Designed for high-output tones, these strings are great for more aggressive styles of playing.
The heavy gauge of these strings is ideal for guitarists who like to use drop tunings. They hold their tuning incredibly well and sound chunky throughout the frequency range of the instrument.
Who is this best suited for: These Ernie Ball strings are a great match for guitarists who play metal, heavy rock, or heavy blues. They are thick enough to stay in tune when using drop tunings and produce a full-bodied sound.
Bottom Line: With a durable steel core and substantial thickness, the M-Steel Slinky strings are one of Ernie Ball's most innovative creations. Their feel is matched by their aggressive tone, and you can dig into your heart's content without fear of breaking a string.
Choosing the Right Electric Guitar Strings (Buying Guide)
Electric guitarists invest a lot of thought into their choice of guitar, amplifier, and effects pedals, and rightly so – each of these pieces of equipment is vital to their sound and playing style.
By comparison, strings are less costly than the aforementioned items. However, they're equally as important and should be chosen to enhance the playability, tone, and dynamics of the electric guitar.
In the remaining sections of this guide, I'll explain why electric guitar strings are so important, and draw your attention to the different attributes that specific string varieties can provide you with.
The Basics
Regardless of how powerful your amplifier is, or how versatile the pickups installed on your guitar are, without a good quality set of strings the capabilities of your entire rig will be limited.
When we play electric guitar, we are essentially using our fingers and hands to create variations of sonic vibrations based on the length of the strings. If the electric guitar strings you use are not optimally suited to both your playing style and the sound you're aiming for, you'll never reach your fullest potential in these areas.
When I first started to learn guitar, I was under the false impression that all strings were the same. I figured that as long as none of them had snapped, I was good to go! As the years have passed I've experimented with many types of electric guitar strings, and I now understand that they are integral to my performance as a guitarist.
Choosing the best suited electric guitar strings can be a daunting task, especially as more and more string manufacturers seem to be popping up with every passing month. With so many different gauges, materials, and promises, it's easy to get overwhelmed.
The key to choosing the best electric guitar strings for your style of playing is to gain a clear understanding of how different varieties, gauges, and materials impact both your sound and your guitar's playability.
Electric Guitar String Gauge
The gauge of an electric guitar string indicates its thickness. The thicker the string is, the lower the note it is used to produce. When using standard E-A-D-G-B-E tuning, the low E string has the thickest gauge, and the high E string is the thinnest.
Guage is related to frequency because a thicker string naturally produces more low-end frequencies as it vibrates, while a thinner string is more prominent in the treble frequencies. This explains why bass guitar strings, which are commonly tuned an octave lower than electric guitars, have strings with a much higher gauge.
The gauge of electric guitar strings is presented as a series of numbers which represent their diameter. It is measured in inches, but because precision is required, this must be to a thousandth of an inch.
While many string gauges follow common patterns, manufacturers also produce custom gauge strings that feature a selection of hybrid gauges. Let's take a look at the most common categories of string gauges in more detail.
Light Strings
Light, or thin strings as they are also sometimes called, commonly consist of the following gauges:
Due to the smaller diameters of light electric guitar strings, they are a solid choice for beginners as they require minimal finger strength to create the necessary pressure to press against the frets. They're also very easy to bend and reduce the fatigue experienced by guitarists when playing for long sessions.
Stylistically, light strings are great for bright-sounding genres such as pop, indie, or country. They enhance the treble frequencies of the guitar and make fingerpicking much easier due to the lack of resistance.
Medium/Regular Strings
Medium gauge strings are slightly thicker than light strings, with a typical set consisting of the following diameters:
A regular set of electric guitar strings are versatile and can be used for most genres. They provide a fuller sound than light strings, with more bass frequencies in the lower notes. This makes them a good choice for many styles, including blues, rock, funk, and even metal.
The slightly thicker gauges make it easier to play more aggressively and control the dynamics of the guitar based on strumming velocity. They're less prone to snapping than light strings, but require more tension to press down on the frets.
Heavy Strings
Heavy or thick guitar strings commonly consist of the following gauges:
.11
.015
.022
.030
.042
.054
Guitarists who use alternative tunings where the lower strings are tuned down prefer to use heavy gauge strings. They're also popular amongst metal and blues guitarists because they allow for fast, technical playing, and are much less likely to snap when using bends and advanced techniques.
Tonally, heavy strings sound very warm, and they resonate for longer than thinner strings. They do however require significantly more finger strength to play, especially when bending or using intricate chord shapes.
Custom Gauge Strings
In addition to light, medium and heavy strings, it's also common to find many sets which combine different gauges. These sets are designed for guitarists who require specific strings to be thicker or thinner, to produce the sound and playability which suits their style.
Custom sets often include the top three strings from either light, medium, or heavy gauges, and the lower three from another. They're particularly useful if you require a full-sounding low end for riff playing, but would still like the jangly top-end that thinner strings provide.
Guitarists who use drop tunings are likely to find custom sets very useful as they can enjoy the thickness of heavy gauge lower strings, whilst being able to bend the thinner higher strings with ease.
Materials
The electric guitar has been in production for almost a century, and in that time manufacturers have experimented with many different string materials. In the modern era, nickel is the most common material used for electric guitar strings, but there are also other options to explore.
Different string materials affect both the physical feel and the sound of the guitar. I'd recommend testing a variety of materials to find the ones that best suit your style of playing, and achieve the sonic results you're aiming for.
Nickel
As I previously mentioned, nickel is by far the most frequently used material for electric guitar strings. The reason that it is so popular is that it produces a distinctive tone, which has impeccable depth and an abundance of warm character.
Stylistically, the alloy nickel is a great choice for classic genres like blues, rock, and jazz. It is equally suited to rhythm guitar as it is to lead guitar, making it a versatile material. Nickel strings can be broken down into a few subcategories, which are:
Nickel-plated
Nickel-wound
Pure nickel
Steel
Steel electric guitar strings have a bright and responsive sound. They're a popular alternative to pure nickel, and in some cases, they are combined with that alloy material to provide the best of both worlds.
Guitarists who require a fast attack will find steel strings suitable for their style, especially if they use quick picking or strumming techniques. The only downside to steel is that it sounds quite thin, and can be a little harsh on the ears sometimes, but this can be rectified by adjusting the tone controls on your guitar or employing an EQ pedal to take some of the harsher frequencies out of the mix.
Cobalt
One of the best-known manufacturers, Ernie Ball, was the first to produce cobalt electric guitar strings. Similar in sound to steel, cobalt is a good option for guitarists who find the aforementioned alloy to be a little hard on their fingers.
Compared to steel, cobalt has a more extensive range of dynamics. The attack is slightly less intense, which makes it a good material for softer styles of rhythm and lead guitar.
Coated Strings
Coated electric guitar strings are designed to enhance longevity. They are cased in a discrete polymer layer, which prevents them from being easily corroded or worn down by the sweat from the guitarist's fingers.
This protective layer also works to preserve the sound of the strings. Many guitarists prefer the sound of a fresh set of strings, but this often doesn't last very long with a standard variety. Coated strings retain their freshness for longer, making them a worthy investment.
Both steel and nickel are used as the core material for coated strings. The thin layer of polymer hardly changes the appearance of the string, but its impact is significant nonetheless.
Wound Strings
Wound strings have been a favorite of many guitarists for decades, due to the various benefits they offer. This design involves wrapping the larger gauge strings of the guitar with a thinner wire, which makes the string more flexible but also improves its durability.
Most commonly, wound strings include a core material of steel, or in some cases nickel. This core is then wrapped in another material, which makes them feel a little more textured than your average guitar strings.
How Often Should You Restring Your Electric Guitar?
One important question that is often asked by both beginner guitarists and those who are more experienced, is how often their electric guitar should be restrung. In many ways, this is subjective, as it depends on the preferences of the individual. However, there are some things that you should be aware of regarding the frequency of changing your strings.
Firstly, guitarists who play their instrument regularly are likely to need to change their strings more often than someone who plays once or twice a week. Touring musicians commonly restring their guitar after each show, while a casual guitarist may not need to change them for weeks or even months.
If you pay attention to the way that your guitar performs, sounds, and feels, you can learn to recognize when a restring is necessary. Old strings lose their clarity and begin to sound subdued. They also may struggle to stay in tune for long periods and may begin to feel overly smooth underhand.
String Corrosion
The reason that guitar strings need changing is that when we touch them with our fingers, sweat causes the materials to corrode. This process results in the strings sounding less bright, and makes them more likely to break while the guitar is being played,
It's good practice to wash your hands before you play your electric guitar, as this will prevent dirt from being transferred onto the strings, thus increasing their longevity.
If you practice for one hour or under per day, you'll probably only need to restring your guitar monthly. If you play for more extended periods, it's a good idea to restring your guitar every couple of weeks to ensure that it sounds and plays to its fullest potential.
Drop Tunings
Drop tunings are used by metal guitarists, and other styles when lower notes are required. This usually involves detuning the low E string to a D or C, or even lower in some cases. It allows the guitarist to access notes that aren't available using standard tuning.
If you want to experiment with drop tunings, you must choose a set of strings that have heavier gauges in the lower strings. This will ensure that the strings hold their tuning and don't sound too thin when detuned.
Many custom gauge sets are designed especially for guitarists who use drop tunings. These sets include heavy gauge low E strings and may have light gauge higher strings so that you can still enjoy the benefits of the more trebly tone they produce.
Intonation & Action
When an electric guitar sounds out of tune, it may be a result of the strings being ready for a change. Alternatively, the intonation of your instrument may need adjusting. Depending on the bridge that is installed on your guitar, there are different methods you can use to change the intonation.
If you've tuned your guitar strings accurately but when you play at different frets it sounds out of tune, it's very likely that you need to adjust the intonation. This usually involves tightening or loosening the screws on the bridge, which adjusts the action of the strings, essentially shortening or lengthening them.
Summary
If you want to get the best out of your electric guitar, choosing the right strings is essential. This is likely to involve some experimenting, as you'll only find the perfect strings for your style by testing a variety of gauges and materials.
Thankfully, electric guitar strings are inexpensive compared to other parts of the rig, such as effects pedals or amplifiers. Once you find the string type which suits your style, you'll likely stick with that variety for a long time, so it's worth investing in several sets to make an informed decision.
Be sure to check out our acoustic guitar strings guide where we highlight our picks for the Top Ranked Acoustic Guitar Stings.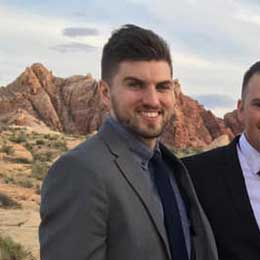 My name is Chris and I've had a passion for music and guitars for as long as I can remember. I started this website with some of my friends who are musicians, music teachers, gear heads, and music enthusiasts so we could provide high-quality guitar and music-related content.
I've been playing guitar since I was 13 years old and am an avid collector. Amps, pedals, guitars, bass, drums, microphones, studio, and recording gear, I love it all.
I was born and raised in Western Pennsylvania. My background is in Electrical Engineering, earning a Bachelor's degree from Youngstown State University. With my engineering experience, I've developed as a designer of guitar amplifiers and effects. A true passion of mine, I've designed, built, and repaired a wide range of guitar amps and electronics. Here at the Guitar Lobby, our aim is to share our passion for Music and gear with the rest of the music community.