The 1960s and the 1970s were crucial times for the world of guitar music. In fact, the residue and influence of pioneering bold musicians can be heard to this day, with irreverence pivoting the entry of genre crossbreeding became increasingly appealing to both music enthusiasts and general audiences. However, you can't have irreverence in Rock N' Roll without mentioning the bold Frank Zappa.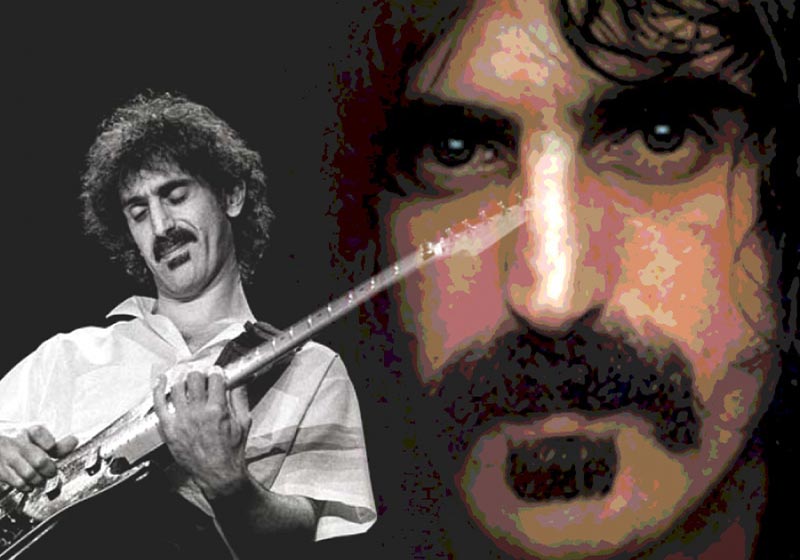 Most commonly remembered as a guitar player and a vocalist, Frank was also a one-of-a-kind composer, a versatile musician, and a multi-instrumentalist. Many would simply call him an artistic genius, and rightfully so. Even decades after his passing in 1993, Zappa continues to inspire new generations of musicians in both a direct and implicit fashion.
What Guitars Did Frank Zappa Use?
Frank Zappa primarily played Gibson SG style guitars. His most iconic guitar is likely his "Baby Snakes" SG which was a counterfeit Gibson guitar. He acquired Baby Snakes in the early 1970s and it remained one of his favorite guitars up until his death in 1993.
See the full list of Frank Zappa guitars and gear below.
Fake Gibson "Baby Snakes" SG

| | |
| --- | --- |
| Finish | Custom Natural |
| Years Used | 1971 to 1993 |
Contrary to popular belief, the "Baby Snakes" SG isn't a Gibson. It's a custom-made guitar and not much is known of its origins. The story goes that during the 1970s, an unknown man managed to get into the backstage area during one of Zappa's shows in Phoenix, Arizona. He presented this Gibson copy and Frank bought it for $500.
Of course, this is the known story and no one can confirm what actually happened and how the instrument ended up in Zappa's hands. Nonetheless, it served him pretty well and was his main instrument for the second half of the 1970s.
This one is a pretty convincing Gibson SG replica. The body shape looks identical, the headstock is a bit different but pretty close, and it has the regular set-in neck. However, the instrument also has 23 frets, which is pretty unusual. Reportedly, this guitar has a scale length of 25 inches. There are also some custom fretboard inlays on the 5th and 12th frets. But, most importantly, this guitar saw numerous modifications over the years. You could see its switches and knobs that were not typical of any Gibson. And this changed over the years as you could see different hardware on it.
The instrument also featured custom-made pickups and a preamp with an 18-decibel boost. There was also a phase switch on it. But other than that, not much is known about it. The instrument got its nickname after appearing in Zappa's concert film "Baby Snakes." Aside from being his main live instrument during the second half of the 1970s, Zappa also used it on the 1973 album "Over-Nite Sensation" and 1974's "Apostrophe (')."
It still remains one of his most famous instruments. Frank Zappa is pretty much associated with SGs. However, the whereabouts of this and most of his guitars aren't known. As revealed by Frank's son Dweezil, only some of the stuff is in his possession.
Gibson SG Special "Roxy"

| | |
| --- | --- |
| Finish | Faded Cherry |
| Years Used | Unspecified to 1979 |
Although the guitar looked completely different, it was originally an SG Special model. It's one of Frank's most popular guitars and you can see him holding in a lot of the photos from the 1970s. According to Dweezil Zappa, Frank acquired this guitar in the early 1970s and it saw plenty of modifications over the years. But there's some mystery surrounding this SG. In the early 1970s, Frank was seen playing some SG Specials. One of them, featuring two P90 pickups, is believed to be the Roxy in its original form.
Additionally, there's no official disclosed info on what happened to it. Some stories say that it was heavily damaged by an airline, rendering it obsolete. Other rumors include stories about it being stolen. Either way, it was his main instrument until he swapped it for the "Baby Snakes" SG. You could recognize it for its white headstock and a vintage Bigsby-style vibrato tailpiece.
Near the bottom horn, on the pickguard, you could notice two switches. It's not certain what they did so we can only speculate. This and the aforementioned features were all latter mods. Some sources also claim that the guitar was later covered with a mirror pickguard over the entire front side of the body. But this could easily be another SG.
Most notably, this instrument saw action on 1974's "Roxy & Elsewhere" record. And this is why it got its nickname. Currently, Roxy is in Dweezil Zappa's hands, which he has adopted as his main go-to.
Gibson ES-5 Switchmaster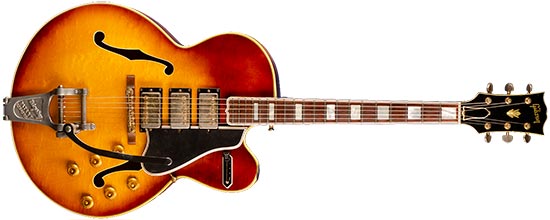 | | |
| --- | --- |
| Finish | Sunburst |
| Years Used | 1966 to 1993 |
One of the most interesting guitars in Frank's collection was the unusual Gibson ES-5 Switchmaster. This weird model was in production between 1955 and 1962. However, it's not certain which year Zappa's Switchmaster was produced. It remained in his collection throughout his career.
ES-5 is a fully hollow-body instrument with three pickups. The Switchmaster variant came with a total of six knobs. Each pickup had one volume and one tone control. Additionally, it also had a 4-way switch. Other than that, the guitar has its standard tune-o-matic bridge with a wooden base and a stylish tailpiece typical of Switchmasters.
Zappa had some switches added to it, although it's not certain what they did. According to his son Dweezil, these switches no longer worked after so many years. The guitar also had super-rare Barcus Berry pickups fitted to it during the 1980s.
This guitar is known for being used on the first three albums by Frank's band Mothers of Invention in the 1960s. Over the years, you could see Frank holding the instrument here and there. It definitely saw some live action mainly during uring the 1970s and the 1980s.
Gibson ES-335TD-SV

| | |
| --- | --- |
| Finish | Cherry Red |
| Years Used | 1970 to 1975 |
In 1971, Frank Zappa and Tony Palmer released their musical titled "200 Motels." And during the film, you could see Frank Zappa playing this ES-335TD-SV. Judging by its finish and hardware, it's highly likely that the guitar was manufactured in 1969. But I can't say for sure.
Other than this film, there were no other notable appearances of this instrument. It was definitely in his possession, but not much is known about it or its later whereabouts. This was a high-end Gibson guitar, very advanced for its time. These came with the so-called Varitone feature, and thus the "SV" in the instrument's designated name. This was a 6-way switch that offered a choice between true bypass and 5 different capacitors. As a result, you could get some sonic variety and different EQ curves.
Along with this, you also had a stereo output. A bit of a weird feature, but it was an innovation for the time. The instrument was also equipped with a classic Bigsby vibrato tailpiece. Other than that, it had other standard ES-335 features and traits.
Performance Custom Stratocaster

| | |
| --- | --- |
| Finish | Custom Natural Butterscotch |
| Years Used | 1984 to 1993 |
Back in the 1980s, guitar players weren't exactly satisfied with Strats released by Fender. It's not that they were bad, but plenty of other companies had already pushed the limits while Fender and Gibson didn't really have much to offer.
This is the reason why Zappa decided to get this Performance guitar, tailored especially according to his needs. The instrument reportedly had a "00001" serial number on the backplate. According to his own words, this guitar was superior to any Fender Strat released at the time. The guitar was eventually sold at an auction back in 2016. It reached a price of about $70,000.
At a glance, the instrument was just like any Fender Stratocaster. However, you can notice some very specific details, starting with the lack of any logo on the headstock. The instrument was also recognizable for its butterscotch natural custom finish.
There were some advanced features on it, as you'd expect from Frank. For instance, it had filter controls, allowing him to cut bottom-ends or high-ends when needed. There were also some feedback controls, literally allowing him to utilize feedback depending on venue or room properties. It also featured what seems to be a Floyd Rose bridge. It was either that or a Kahler, but I'd rather bet on a Floyd Rose.
As for the pickups, it seems that he had some custom single-coils on it. However, there seems to be not much info about them.
Most notably, Frank had this instrument during his final tour back in 1988. But it was his main instrument between 1984 and 1988. Additionally, he can also be seen using it on the "Does Humor Belong in Music?" video album.
Gibson Les Paul Custom

| | |
| --- | --- |
| Finish | Sunburst |
| Years Used | 1976 to Unspecified |
Sometime in the late 1970s, Frank got this Les Paul Custom guitar with a sunburst finish. It wasn't his main instrument, but it saw a lot of use during the late '70s and the '80s.
Just like with most of his instruments, he also had this one modified. The guitar was originally seen with DiMarzio pickups. Later on, he swapped them for Seymour Duncans. Interestingly, it also had the Armstrong Green Ringer circuit in it, as well as an XLR output and a few other switches. These additional controls allowed him to split the coils or toggle the humbuckers' series and parallel modes.
The instrument's most notable appearance was on the cover of the "Shut Up 'n Play Yer Guitar" album series. There's no official info on the matter, but it's safe to say that he used the guitar on these records. You could also see him playing it a lot during the early 1980s live shows.
1960s Fender Stratocaster

| | |
| --- | --- |
| Finish | Worn Sunburst |
| Years Used | 1969 to 1993 |
Now, this one is a bit mysterious. The story goes that Frank got this Strat from Jimi Hendrix's roadie and assistant. And, supposedly, Hendrix owned this instrument. It's easily recognizable for the worn-out and damaged finish.
Frank Zappa claimed that Hendrix burned it on stage during the Miami Pop Festival, thus giving it peculiar finishing touches. However, this has been disputed by several people. Firstly, it's widely accepted that Hendrix burned only two guitars. And this one isn't either of them. Secondly, those who attended the concert, including photographer Ken Davidoff, say that he didn't do any guitar-burning rituals on the stage.
On the other hand, some claim that Jimi did try to burn a guitar on stage at some point. What is confirmed, however, is that Jimi had some sunburst Fender Stratocasters at the time. So there's a chance that Frank's Strat was in Hendrix's possession. Some have also claimed that this particular guitar is the legendary Strat that Hendrix burned during his Astoria Theater performance back in 1967, which would account for its replaced, off-brand headstock.
According to Zappa's words in one interview from the late 1979s, he used the guitar on some of the songs during the decade. However, he never specified which ones. Aside from that, the musician claims that he didn't use the instrument that often due to feedback issues. Nonetheless, it remained in his collection over the years. The story goes that Dweezil Zappa eventually found this guitar in parts in his father's studio. This happened sometime in 1991. Frank pretty much gifted the instrument to his son.
In 2002, Dweezil planned on selling it at auctions, hoping it would reach $1000000. However, it eventually didn't reach that price so he decided to keep it. The current whereabouts of this instrument are unknown, but it's safe to assume that Dweezil still owns it.
Hagström Super Swede

| | |
| --- | --- |
| Finish | Natural |
| Years Used | Unspecified |
For a while, Frank Zappa did have a Hagström Super Swede single-cutaway guitar. However, nothing other than one photo can be found online.
1966 Fender Electric XII

| | |
| --- | --- |
| Finish | Sunburst |
| Years Used | 1981 to 1985 |
Frank Zappa also used a Fender 12-string electric guitar for a while. This was during the early 1980s tour. The instrument reportedly has a serial number that reads 128312. This guitar was sold at an auction in 2016, long after Frank's passing.
These are classic and not so easily found Electric XII guitars. But aside from its unconventional "hockey stick" headstock, the guitar was modified. It had active electronics and Barcus Berry pickups on it.
Martin D-18S

| | |
| --- | --- |
| Finish | Natural |
| Years Used | 1971 to 1976 |
It's not like Zappa is remembered for acoustic guitars. However, he did have a Martin D-18S at some point during the 1970s. It was hard to determine what exact model it was. But Martin's Dick Boak confirmed to Guitar Player magazine a while back that this was indeed D-18S.
In particular, this instrument saw use on "Blessed Relief" and "Sleep Dirt," both recorded and released in the 1970s. However, there are no other known examples of where else it was used. And the instrument's later whereabouts are unknown.
Timetable Showing the Guitars Frank Zappa Played at Each Point in His Career
| Make | Model | Color/Finish | Years |
| --- | --- | --- | --- |
| Hagstrom | Super Swede | Natural | Unspecified |
| Gibson | SG Special "Roxy" | Faded Cherry | Unspecified to 1979 |
| Gibson | ES-5 Switchmaster | Sunburst | 1966 to 1993 |
| Fender | 1960s Stratocaster | Worn Sunburst | 1969 to 1993 |
| Gibson | ES-335TD-SV | Cherry Red | 1970 to 1975 |
| Gibson | "Baby Snakes" SG | Custom Natural | 1971 to 1993 |
| Martin | D-18S | Natural | 1971 to 1976 |
| Gibson | Les Paul Custom | Sunburst | 1976 to Unspecified |
| Fender | Electric XII | Sunburst | 1981 to 1985 |
| Performance Custom | Custom Stratocaster | Custom Natural Butterscotch | 1984 to 1993 |
Frank Zappa Amplifier Overview
Marshall Lead
Years Used: During the late 1970s
There's usually not much info on the exact amps that Zappa used. However, the one that we can easily confirm, and which was sold on the 2016 auction, is an old Marshal MKII Lead amp.
I can't confirm the exact model. Be that as it may, this amp saw use mostly throughout the late 1970s, possibly even later. According to the auction website, it was his backup amp head on live shows. There's also another same exact one used by both him and his band as a backup. Both were sold at the auction.
1978 Marshall JMP 2203 MK2
Years Used: 1977 to 1980s
Another confirmed backup amp in Zappa's collection was the '78 2203 MK2 head. It features "stage right" written on it and it was also sold on the 2016 auction.
1972 Marshall Major 200-Watt
Years Used: During the 1970s
This one is a lesser-known but still highly valued Marshall amp. It features 200 watts of power and it can reach some pretty high prices among collectors. Zappa's amp reportedly had GE 6550A tubes in the power amp.
Acoustic 270
Years Used: During the mid-1970s
Although a bass amp, Zappa used Acoustic 270 for live shows. This was during the mid-1970s. If there were any other uses, they're undocumented. It actually gave some pretty great results with regular 6-string guitars. It sounded pretty smooth compared to conventional guitar amps. But that's why Frank used it in the first place.
Pignose Legendary 7-100
Years Used: During the 1970s
A bit of an oddball, but one of Zappa's favorite amps during the 1970s was the Pignose Legendary 7-100. In particular, the amp was present on "Over-Nite Sensation" and " Apostrophe (')" records. As Zappa explains it, it helped him get those "nasty" tones.
He was also seen using it during the appearance on The Mike Douglas Show back in 1976. And, of course, the amp also saw heavy modification. It had XLR outputs, probably helping him plug it directly into a PA system and use it as an effect unit.
The amp model still exists to this day. It's manufactured as a small practice amp. However, it seems that a lot of players find more use for it. Nonetheless, it's an awesome little amplifier.
Carvin X-100B
Years Used: 1980s
There's not much info on Zappa's use of the Carvin X-100B amp head. But he did have it during his tours in the 1980s. This tube-driven model is known for its versatility and a 5-band EQ on the front panel.
Vox Super Beatle Reverb
Years Used: During the 1960s
During the early days of The Mothers of Invention, Zappa had Vox's Beatle Super Reverb amp heads. There are two that we know of for certain. Both were sold at the aforementioned 2016 auction.
The designated name for these amp models was V-1143. They came in pair with V-4141 cabinets. These cabs feature four 12-inch speakers. These are solid-state amps, something that was pretty new for this era. Even to this day, these amps are valued among collectors, but they're somewhat rare.
Pedals and Effects
Electro-Harmonix Big Muff Pi
Years Used: 1977 to Unspecified
Frank Zappa's main choice for a distortion pedal was Electro-Harmonix's legendary Big Muff Pi. This classic device is often categorized as fuzz, but it's more than just that. It can bring some really sustained notes and even more laid-back classic distorted tones.
But, as it usually goes with Zappa, he had his Big Muff Pi pedals modified. And these were heavy modifications. In fact, he actually had circuit boards of Big Muff pedals slotted into a 19-inch rack along with inputs and outputs, even a separate input for footswitch controls.
Vox Wah
Years Used: 1970 to 1993
According to one of his interviews in the late 1970s, Zappa did use an old Vox wah pedal. He mentioned that this was the "original" Vox wah. If it indeed was the original variant, this is the 1967 Clyde McCoy pedal. This is the same type of circuit developed by Bradley J. Plunkett in the Thomas Organ Company back in 1966.
Mu-Tron Bi-Phase
Years Used: Unspecified
While we can't say for sure when this one was used, it's known that Zappa had a Mu-Tron Bi-Phase in his rig. This was confirmed by his son Dweezil. This is a highly valued vintage effect, manufactured between the early 1970s and the early 1980s.
This is a bit of an advanced phaser effect. In practical use, it can make some pretty wobbly fast effects as well.
Mu-Tron Octave Divider
Years Used: 1970 to 1980s
Another Mu-Tron piece in his rig was the Octave Divider. Essentially, this is like the regular octave pedal. However, it also had a separate footswitch that allowed you to use the bottom octave only.
Systech Harmonic Energizer
Years Used:
1976 to Unspecified
Zappa sure loved those innovative crazy effects. Another one was Systech Harmonic Energizer. Some would call it his "secret weapon" and these old pedals can get expensive among collectors. This is like a fuzz or a distortion pedal that adds some interesting harmonic content to your guitar tone.
MicMix Dynaflanger Model 265
Years Used: 1980s
Another effect unit that Zappa was known for is MicMix Dynaflanger Model 265. This is a rack-mounted unit, an analog flanger with a lot of tone-shaping options. Zappa revealed sometime in the early 1980s that he had two of these in his live rig.
Maestro Echoplex
Years Used: 1976 to 1988
Another unit worth mentioning here is the legendary Echoplex by Maestro. In 1977, Zappa revealed that he started using Echoplex around that time after years of avoiding this unit.
It's not a surprise to know this. After all, we're looking at a tape delay, something that was pretty fragile and required a lot of maintenance. The tape could just give up on you at any time, not to mention that it was susceptible to stage vibrations. Nonetheless, this is a legendary effect unit that's still highly valued among vintage collectors.
Mu-Tron C-200 Volume-Wah
Years Used: 1970s
Another wah that he used back in the day was the Mu-Tron C-200. In particular, he mentioned that the pedal saw action on the "Zoot Allures" record. This is a pretty innovative pedal for its time as it featured both volume and wah functions. It also comes with a gain boost function of up to 10 dB.
Wrap Up
We could talk for days about his life and career and we'd still fail to cover everything. After all, he did compose and arrange complex orchestral pieces while he was in high school, he released 62 albums during his lifetime, and there are 57 albums released posthumously. Not to mention all the collaborative work that he did. Of course, his different guitar tones over the years were crucial to the development of rock music.
With 60 albums under his belt, including his posthumously revealed work, Zappa's collaboration and mark inspired boundary-pushing artists. Among them was John Frusciante, who in fact managed to make it through the admission process of Zappa's band.
Frank Zappa's innovative tenure is entangled with his outspoken nature. As he was a pivotal figure in contradicting the censorship of Rock music that took a heated place back in the 1970s. Furthermore, Zappa worked every genre he could get his hands on, from Rock to jazz to complex orchestral pieces that cemented him as a household name across the globe.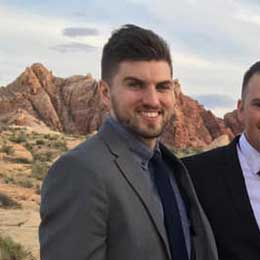 My name is Chris and I've had a passion for music and guitars for as long as I can remember. I started this website with some of my friends who are musicians, music teachers, gear heads, and music enthusiasts so we could provide high-quality guitar and music-related content.
I've been playing guitar since I was 13 years old and am an avid collector. Amps, pedals, guitars, bass, drums, microphones, studio, and recording gear, I love it all.
I was born and raised in Western Pennsylvania. My background is in Electrical Engineering, earning a Bachelor's degree from Youngstown State University. With my engineering experience, I've developed as a designer of guitar amplifiers and effects. A true passion of mine, I've designed, built, and repaired a wide range of guitar amps and electronics. Here at the Guitar Lobby, our aim is to share our passion for Music and gear with the rest of the music community.