Choosing a gift for someone who loves to sing can be a bit difficult if you don't know what to look for. Luckily, as a singer myself, I know exactly what types of things they will want and actually use.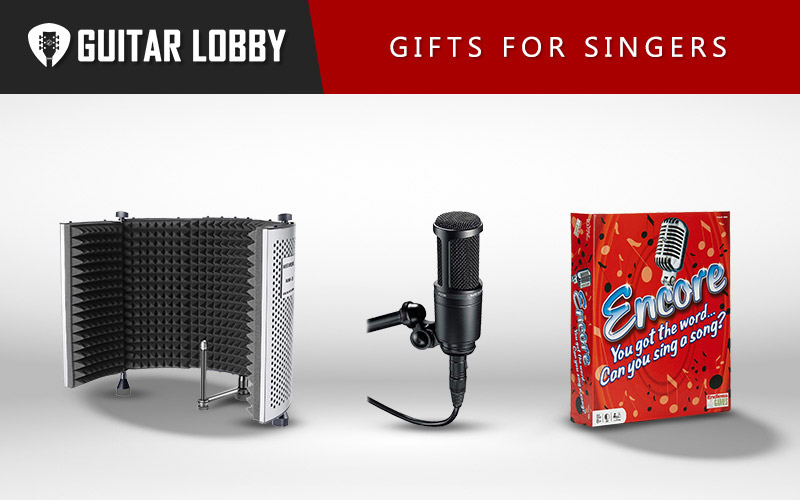 Below, I've put together a long list of the absolute best gifts for singers. From personalized gifts that are totally unique to practical gifts they can use to record, this list has something for everyone. Simply read through the article and pick out your favorite gift or gifts!
Here Are the Best Gifts For Singers
1. Microphone Necklace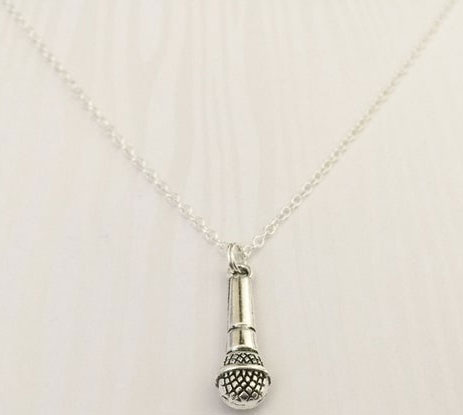 Buy or Read More on Etsy Here ($24.29 at the time of publication)
For the singer that has music deep in their heart, this beautiful vintage silver microphone necklace will always be their reminder to sing! The silver pendant comes on a stainless steel necklace and you can choose to get it as it is or opt to add a timeless Swarovski Birthstone (check birthstone chart image) to make the gift much more unique. The necklace comes in a gift box ready to give. It's a simple and classy piece of jewelry that will surely impress, and just the perfect gift for a birthday or to celebrate a music career milestone!
2. Vinyl Record Coasters Set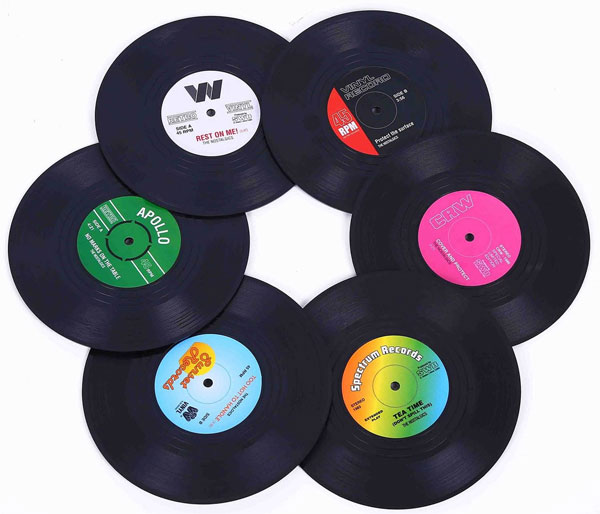 Buy or Read More on Amazon Here ($6.99 at the time of publication)
Coasters, you can never have too many of them. These are a set of 6 colorful vinyl record disk coasters that can make an affordable and quirky gift to your loved one. What's great about this set is that they actually look like real vinyl records and not cheap looking at all as you would expect. They are designed to be non-slip so don't worry about any spillage, and they have a protective rubber on the bottom of each disk to protect your surface from any damage. The set comes in a gift box that's ready to give right away. Overall, this is a fun and simple gift for music lovers and would make a good pick for birthdays, Christmas, housewarming, and more!
3. Throat Pastilles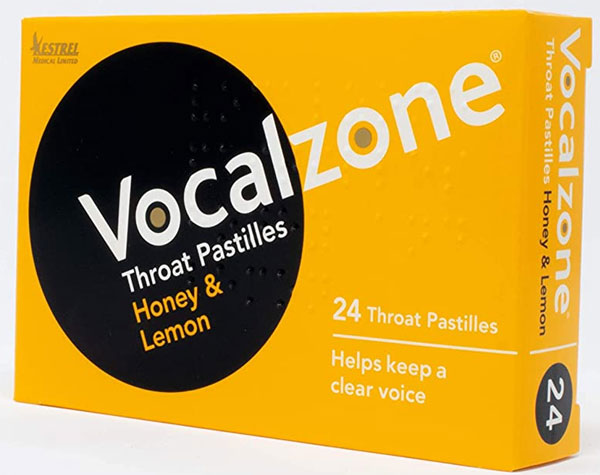 Buy or Read More on Amazon Here ($9.99 at the time of publication)
The Vocalzone's throat pastilles or lozenges are the perfect little gift for singers who perform or record frequently and need to take care of their vocal cords. They were originally made for the great Enrico Caruso, specifically made for singers, actors, and voice professionals to protect them from any potential damage that comes with the long hours of practice or performance! The pastilles come in three different flavors, honey and lemon, blackcurrant, and their "original" flavor. Unlike many products to soothe a sore throat, these pastilles contain no anesthetic. It's completely natural and certified vegan by Vegan Society. This is the perfect gift for your friend if vocal care is part of their routine.
4. Condenser Microphone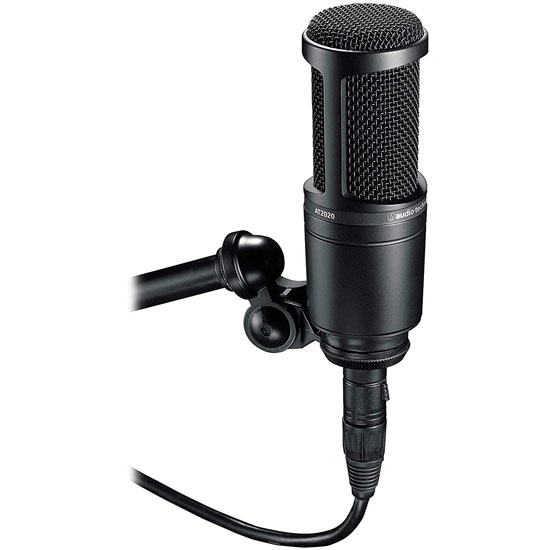 Buy or Read More on Amazon Here ($120 at the time of publication)
Is there a more perfect gift for the singer who's ready to start their career? A condenser microphone is just the push your singer friend needs to start recording their vocals! Whether they are a professional singer, songwriter, or just want to play around and record some covers at home, this will be the gift they will never forget! There are so many types of condenser microphones, but the Audio Technica AT2020 is a very affordable one, produces great quality sound, and matches a variety of singing styles. It has a noise level of 20 dB SPL which is high handling and provides versatility. The cardioid pattern on this mic makes it perfect to record in less than ideal environments such as a non-treated home studio, as it only picks up the sound coming from one sound source. Overall, it's a great starting point for any home studio and any singer wanting to begin their recording space. I've personally used this mic many times and I highly recommend it for anyone starting out! ( For more info on condenser mics, check out our "Best Mics for Vocals" Article).
5. Singing Board Game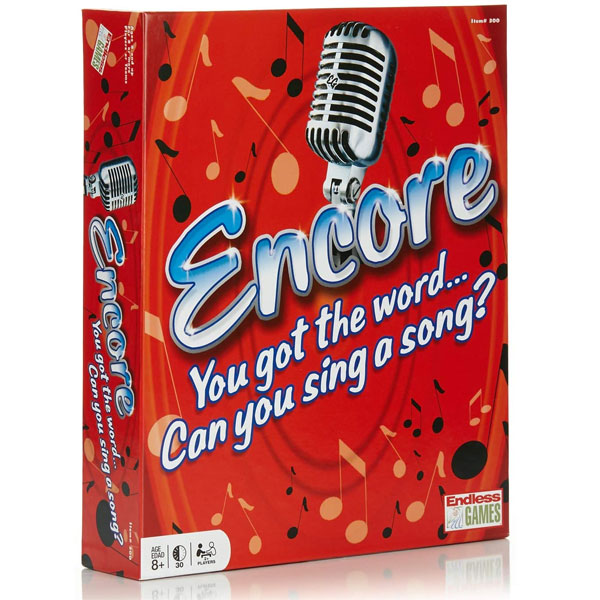 Buy or Read More on Amazon Here ($17.24 at the time of publication)
Oh my god, I'm already putting this one in my shopping cart! What do singers love more than singing? Well, some more singing, and singing with friends! "Encore" is a really fun gift to give to any type of singer or musician. It brings everyone together to play and sing their favorite songs! You get a word and you have to sing a song that contains the word. It comes with 48 double-sided cards, a timer, die, 3 pawns, and instructions to play. You can even come up with your own words with the "Make-Your-Own" blank cards. This gift is inexpensive and hits the spot for any singer no matter their age. It would make a fun friends and family game for game nights and parties. Trust me with this one, they won't be able to stop playing!
6. iRig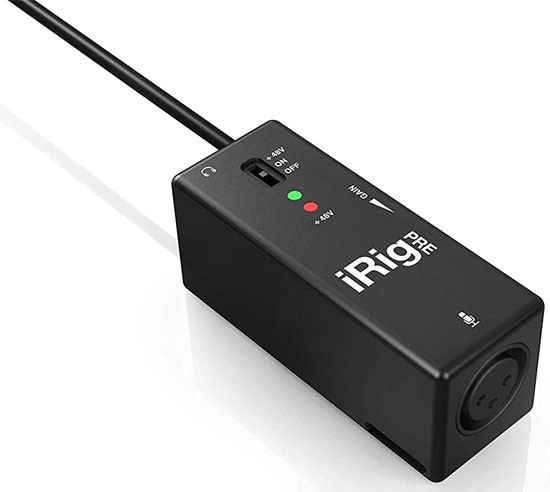 Buy or Read More on Amazon Here ($39.99 at the time of publication)
The iRig is a product that I've considered gifting myself many many times. If your friend is an avid songwriter or producer and needs to jot their ideas and melodies on the go, or maybe they're on the road and don't have access to their studio, then the iRig is a perfect gift for them. The iRig is a high-quality portable microphone preamp for your phone or iPad. It lets you adjust gain levels for your required signal level. It also connects to just about any type of mic and includes a 1/8" headphone output for real-time monitoring. How amazing is that? It gives you 30 hours of battery life,10 on phantom power, and works with any audio or video app so they can create their content on the go. This device is so practical that you can place it anywhere you need it with the integrated velcro strip and 16″ / 40cm cable. I don't know about you, but if someone got me this as a gift I'd be over the moon!
7. Music Note Coat Hanger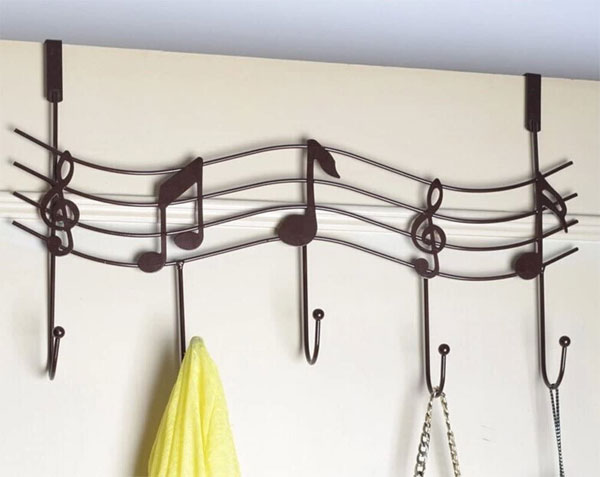 Buy or Read More on Amazon Here ($10.99 at the time of publication)
Are you looking for a simple and functional gift with a general music theme? These music note coat hangers might be the ideal gift for your loved one. A music note coat hanger would be an elegant addition to any singer's home or home-studio space. It would fit perfectly behind any bedroom, office, or entry door and comes equipped with strong hooks that can hold heavy coats, scarfs, bags, and more. Good design with functionality is always a good way to go. This is easily one of my favorite gifts for singers.
Popular Related Article: Over 70 Unique Gifts for Musicians
8. Musical T-shirt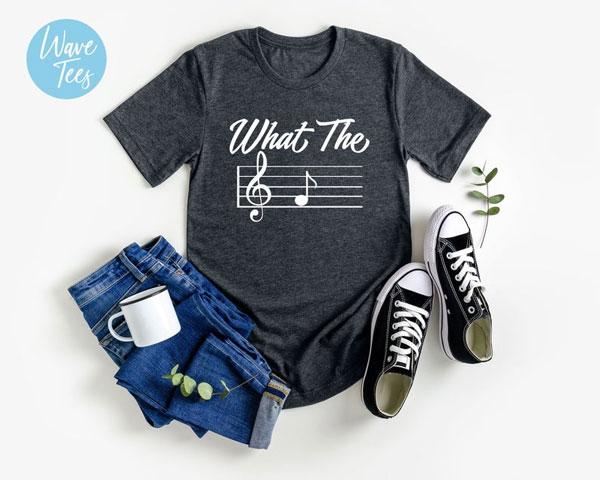 Buy or Read More on Etsy Here ($14.39 at the time of publication)
If you're looking for a fun humorous gift for your friend, then this "What The F" T-shirt would be awesome and definitely the conversation starter. This t-shirt is a unisex design and comes in 8 different sizes so it would fit just about anyone! (See size chart) It also comes in 7 different colors to suit all tastes! At just $14.39, you can give your friend a funny memorable t-shirt for any occasion. You can never go wrong with a t-shirt honestly and especially if it's a conversation starter like this one, they'll have it in their closets for a long long time.
9. Showerhead Speaker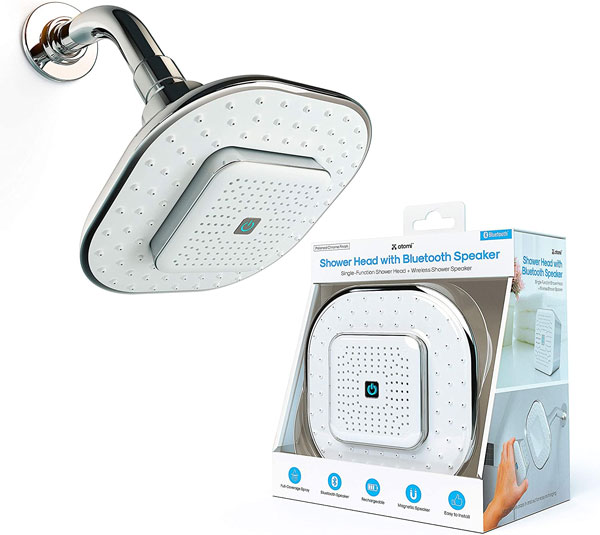 Buy or Read More on Amazon Here ($49.99 at the time of publication)
Morning motivation on a whole new level? I think so! Give your friend this shower head speaker if they love belting out to their favorite tunes in the shower every morning, I mean, who doesn't, right? This showerhead comes with a magnetically attached Bluetooth speaker that is easily detachable, so they won't just get a showerhead but also a speaker they can use anywhere around the house! Another reason this speaker is awesome is that it lets you answer calls hands-free mid-shower. Talk about living in a smart house! The showerhead speaker is waterproof and pops in and out of its place for easy charging. I mean, even though they don't know they want it, I can tell you now they want it!
10. Major Scale Wine Glasses

Buy or Read More on Amazon Here ($240 at the time of publication)
If you're looking for a memorable gift, this is the one. For singers who are wine lovers, you won't find a better gift than this Major Scale Wine Glasses set. With notes written on the glass, you fill the glass up to the desired note and run a finger around the rim to produce a perfect note! How cool is that? This gift is amazing for wine nights and melody filled dinners, a truly unique gift for music lovers. Just imagine a dinner party of musicians playing music on these wine glasses, potatoes with a side of concerto anyone? Sign me up!
11. Dynamic Mic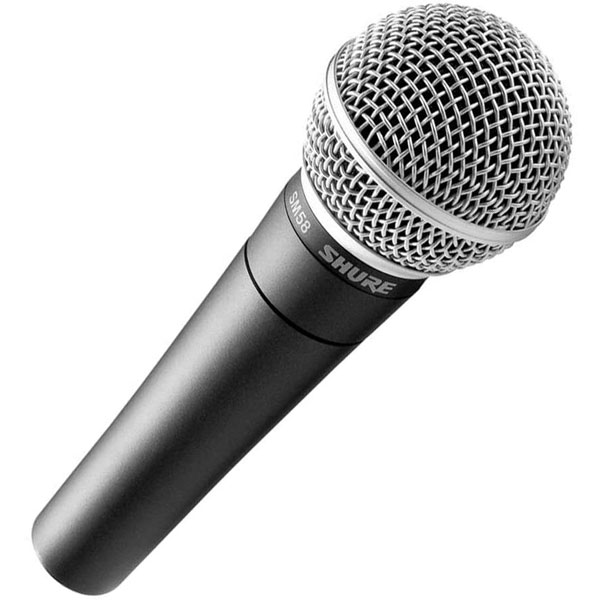 Buy or Read More on Amazon Here ($117.47 at the time of publication)
A dynamic mic is a mic that every singer should own, whether they sing professionally or as a hobby this is the first type of mic for their collection. A dynamic mic is mainly used to sing live on stage or at rehearsals or even at home to their family! You really can't go wrong with this one because they will use it. The Shure SM58 is the top choice of dynamic mic around the world and is recommended for lead singers, choirs, solo artists, and more. This mic is the standard sound for dynamic mics and comes with a micro clamp fitting multistep and a carrying pouch to take with them wherever they go. It's light and portable and an undeniably great gift for all singers. Especially with today's health risks of using other people's microphones, it's always safer to own one and bring it along with them wherever they go.
12. Vinyl Record Rug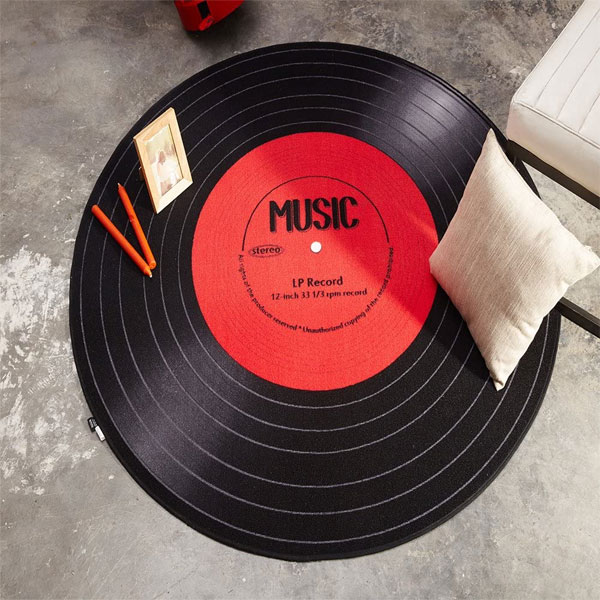 Buy or Read More on Amazon Here ($38.89 at the time of publication)
Has your friend recently moved into a new home or in the process of setting up their own home recording space? This rug would be the ideal gift for any music-themed space. It is designed to look exactly like a vinyl record and would be a special unique house-warming gift for them! The vinyl record rug is made with microfiber material and made to be non-slip for safety use. It's also a thin material so it can be easily placed under any door without blocking it. It's easy to wash and vacuum and just what you need from a rug! It also comes in 3 different colors so you can choose the color that goes best with your friend's space.
13. Personal Mini Humidifier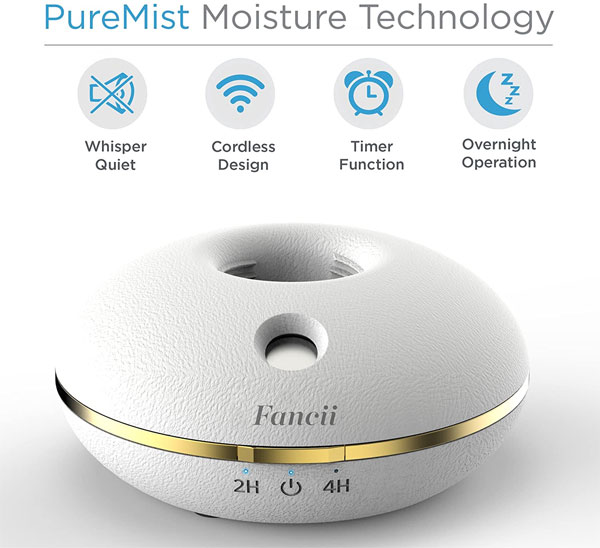 Buy or Read More on Amazon Here ($24.99 at the time of publication)
I was contemplating getting this gift from me to me for the longest time ever now. If you live in a city or town with lots of pollution and you sing, it's your worst nightmare. This gift is so useful to any singer who wants to take care of their lungs and breathe better air. This personal mini humidifier is super compact and light, they can take it anywhere they go (perfect if they frequently go on tour or travel). They can use any water bottle laying around to attach to the humidifier and in an instant, it humidifies the air. It runs smoothly and quietly, making it perfect to use in cars, flights, and hotels. A timer lets you adjust the hours and it automatically shut off after that time. This gift will help them breathe better and sleep better, what more can a singer need?
14. Wireless Bluetooth Karaoke Microphone (With Built-in Speakers)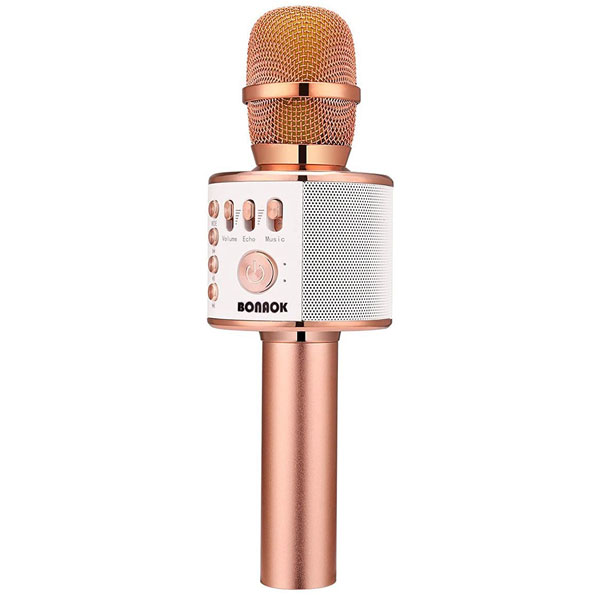 Buy or Read More on Amazon Here ($30.99 at the time of publication)
Every singer I know loves to do karaoke, to show off maybe, but usually to try singing horribly but almost always failing. This is an awesome portable karaoke mic with built-in speakers. It's battery-powered, easily rechargeable, and you can connect your phone to play instrumentals to sing over. Multi-function buttons make it easy to switch between effects like reverb and delay. They would be able to sing, play music, adjust the volume, and much more! The USB port allows them to record themselves singing in mp3 and saving it to listen back. This is a perfect Christmas gift, party game, and just an all-around fun gadget to play around with! Get them two for duets and fun party games with friends.
15. Sound Absorbing Vocal Recording Panel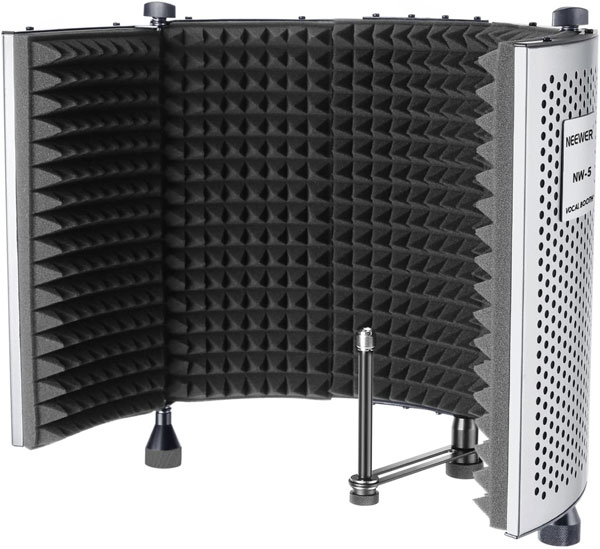 Buy or Read More on Amazon Here ($86.49 at the time of publication)
If your friend records vocals at their home studio, this gift would be a big addition to their setup. This sound absorbing panel absorbs any reflective audio waves and provides a more flat recording. This makes a huge difference when you're recording in a room without professional sound treatment. This foldable panel is also so easy to carry around, which can provide them with the option of recording vocals anywhere they go. It can be mounted on a stand or a desk and would still be sturdy. This is an awesome gift that will be utilized by your friend, especially if they are planning on taking their music to the next level!
16. BeltBox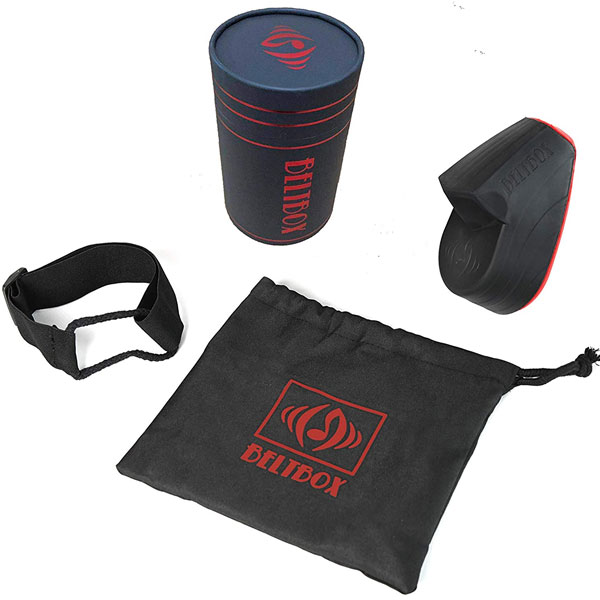 Buy or Read More on Amazon Here ($49.95 at the time of publication)
Do you want to support your loved one in their singing but also sick and tired of hearing them sing all the time around you? If yes, then the Beltbox is the gift you should purchase. Whether you decide to gift it as a joke or not, this device is extremely useful to singers who take their practice seriously. It gives them the chance to practice and warmup literally anywhere without disturbing others around them. The Beltbox reduces sound by 30 decibels but of course, still lets singers hear their intonation. A hands-free strap lets singers practice movement while singing in their Beltbox, it's also waterproof to use in the shower. I'm not sure who thought of inventing this product, but it's absolute genius. It's a gift to you too, if you think about it!
17. Keynote Decorative Throw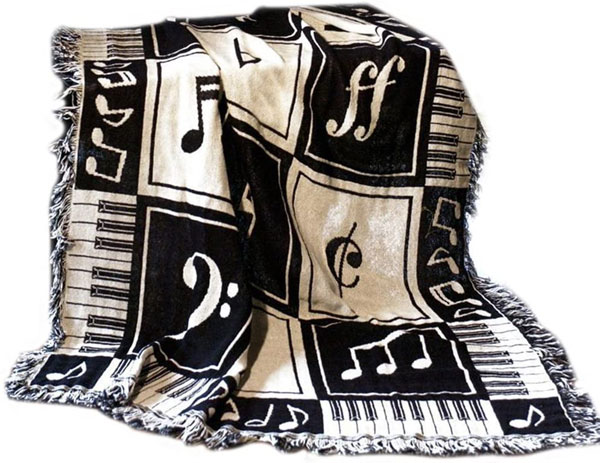 Buy or Read More on Amazon Here ($26.78 at the time of publication)
This 100% cotton Keynote Decorative Throw is such an awesome gift for the holiday season. This is a two-layer woven cotton throw that features musical notes and symbols and a piano keyboard. If your friend is passionate about music and wants their space to reflect that, then this decorative throw is the perfect accessory for their home or studio. The throw is lightweight and can be easily washed in a washing machine with cold water. If you're looking for a holiday gift or a gift to compliment your friend's home studio setup or room decor, this is an ideal gift for that.
18. Funny Singing Coffee Mug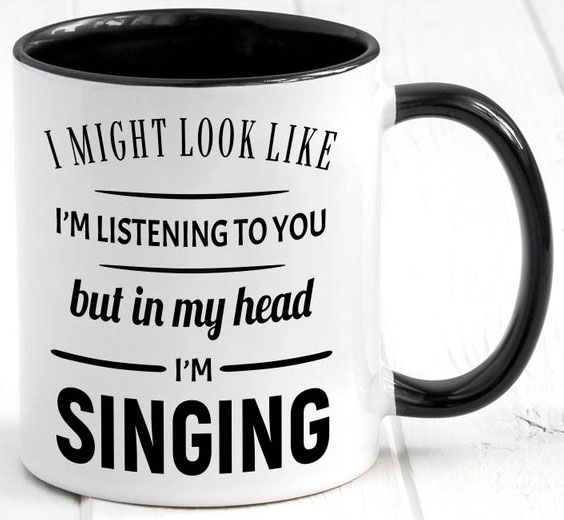 Buy or Read More on Etsy Here ($16.40 at the time of publication)
As singers, we drink lots of herbal teas, ginger, and coffee. What better way to accompany your friend in their everyday routine than to get them a funny mug? This one says "I Might Look Like I'm Listening To You But In My Head I'm Singing" which honestly couldn't be more accurate! Yes, most of the time we are actually not listening and just singing some melodies stuck in our head. Show your friend you 'get' them with this witty mug!
19. Treble Clef Keychain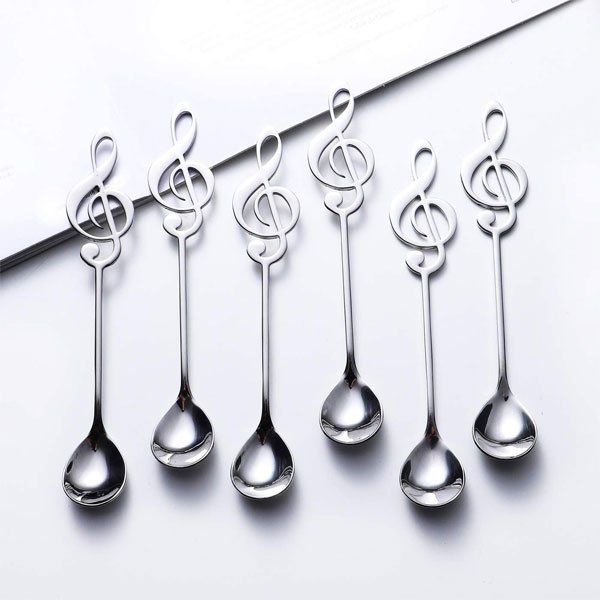 Buy or Read More on Etsy Here ($8.90 at the time of publication)
Personalized gifts are always so meaningful to the receiver. This keychain comes with a treble clef charm and an aluminum rectangle hand stamped with a name of your choice. This product is unique because the letters are all stamped by hand which gives it this handmade imperfect charm! Stamping the name of your friend on the keychain would make the gift more personal and special to them.
20. 100 Albums Scratch Poster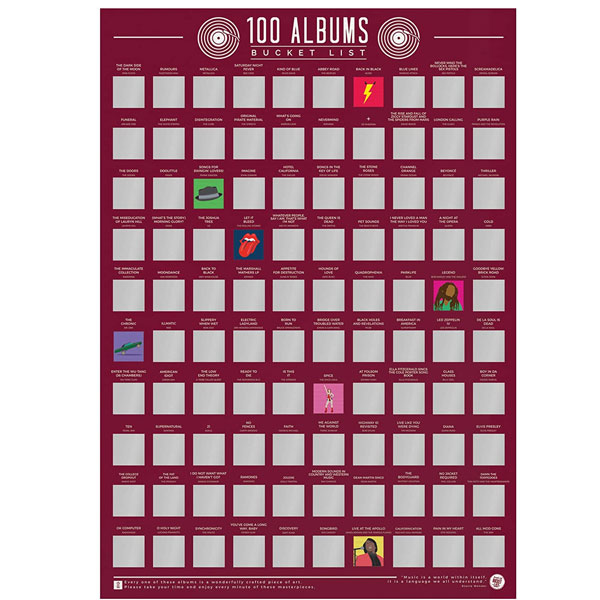 Buy or Read More on Amazon Here ($18.95 at the time of publication)
This one was one of my favorite gifts I came across while researching! This is a very interactive, timeless gift that would just wow any music lover there is! It's a scratch-off poster that features 100 must listen to albums of all time. Your friend has to listen to all the albums on the poster for them to scratch them all off. This not only gives them the gift of the poster, but also the experience of listening to all the albums on there! How awesome is that? Not only that but once they're done listening and all the albums are scratched off, it just looks like an amazing piece of art that they can hang anywhere around the house of their music studio. I would 100% recommend this affordable but fun gift to all music fans and avid listeners!
21. Vocal Effects Processor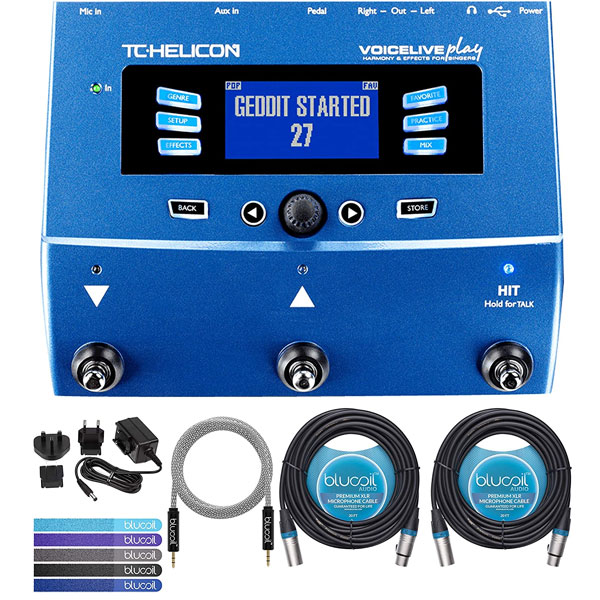 Buy or Read More on Amazon Here ($249.99 at the time of publication)
A vocal effects processor may just be what your friend needs to take their live singing to the next level. If they have been playing music and singing for a while now and pretty serious about the music they make, it might be time to incorporate a vocal effects processor in their setup. Whether they are a singer/songwriter or the lead singer of a band, this magic device can be their ultimate vocal solution. TC Helicon is the number one brand that produces vocal effects processors in the world and the VoiceLive Play model is a well-rounded model that has the best of everything. It would give them great studio effects, harmonies, pitch correction, all in real-time based on the chords of their instrument. This is an amazing gift and any singer would love to own one of these, and no they don't have to have extensive music theory knowledge to be able to use it!
22. Sound Wave Print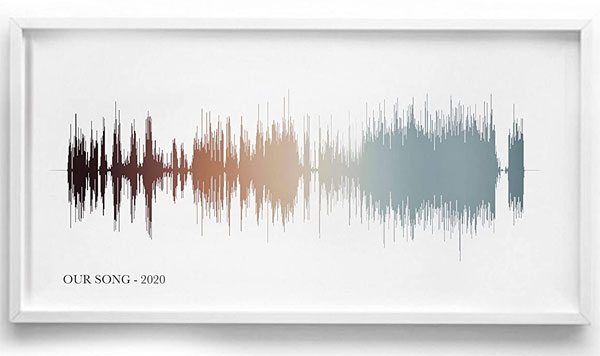 Buy or Read More on Amazon Here ($70.00 at the time of publication)
A custom sound wave print of one of their songs or even their favorite song can be such a unique and personal gift to give your loved one. You just order the colors you want it in and the song you want on the print and they deliver it in no time. This is the type of gift that will be so meaningful and It doesn't hurt that it also looks cool on any wall! In my opinion, this is one of the best gifts for singers out there.
23. Sheet Music Stand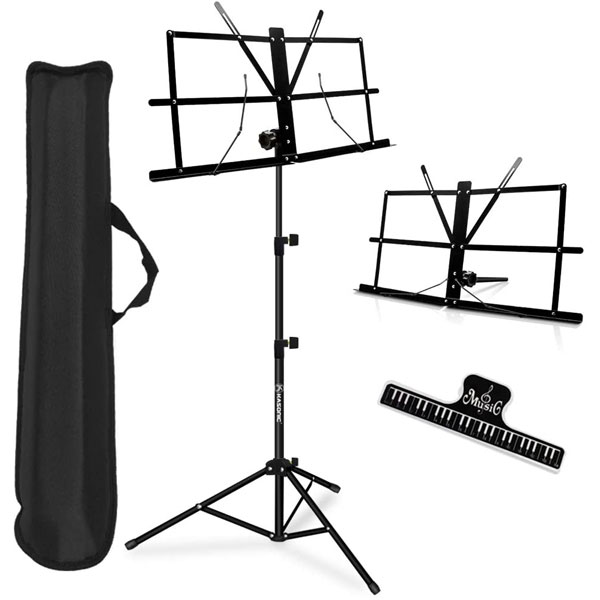 Buy or Read More on Amazon Here ($13.99 at the time of publication)
The Kasonic Collapsible music stand is a practical gift for any singer. It has a sleek design with maximum flexibility and comes in black or pink. Yes, pink! They can adjust the height to their standing or sitting position, and can also use it on the floor as a tripod stand or on the desktop. It's super lightweight but the non-slip rubber caps on the tripod legs keep it sturdy. The tripod legs also fold easily which makes it very portable, perfect to take with them to rehearsals or live shows. This music sheet stand is perfect for singing classes, rehearsals, choirs, the studio, and just about any application!
24. Microphone Sleeve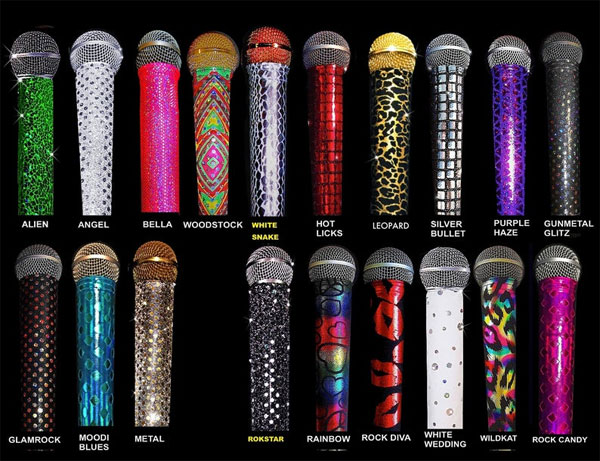 Buy or Read More on Etsy Here ($15.50 at the time of publication)
A microphone sleeve is a gift for your pop star friend, the one who just loves attention and loves all things flashy and bold! These are awesome and whether your friend is a singer, a DJ, or even an MC, these mic sleeves make the coolest gifts to take on stage. They are so trendy and come in all different colors and designs, an affordable alternative to expensive permanent stones. The mic sleeves also come in different sizes so just make sure you check the chart to make sure it will fit your friend's microphone before purchasing.
25. Piano Chord Poster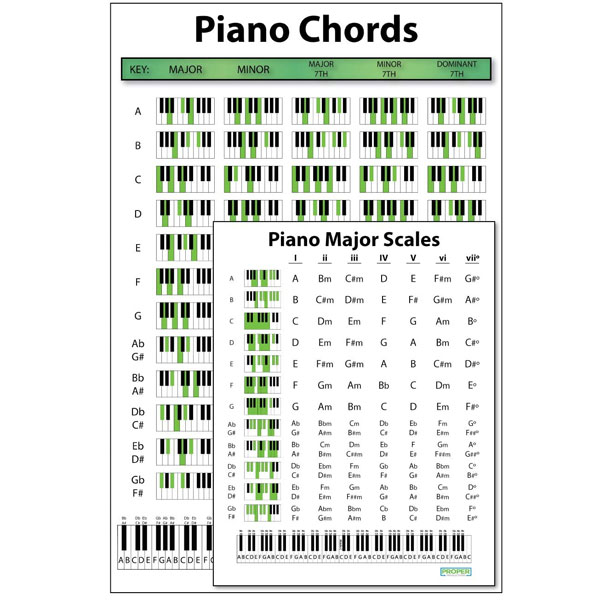 Buy or Read More on Amazon Here ($13.99 at the time of publication)
A piano chord poster is a right gift for your upcoming singer/songwriter friend! This poster hangs beautifully on any wall and displays all the different chords you can use to write a song. They don't have to have extensive music theory knowledge to use this piano chords poster, just some passion for music! This is what your friend needs to start writing their original songs right away and always have a little help at hand to come up with chord progressions. This poster also makes a great wall decor item for their home studio or practice room! The poster comes at 12 inches wide and 18 inches tall printed on glossy paper with a crisp and sleek modern design, a simply useful gift for any singer.
Popular Related Article: Incredible Gifts for Guitar Players
26. Vocal Throat Spray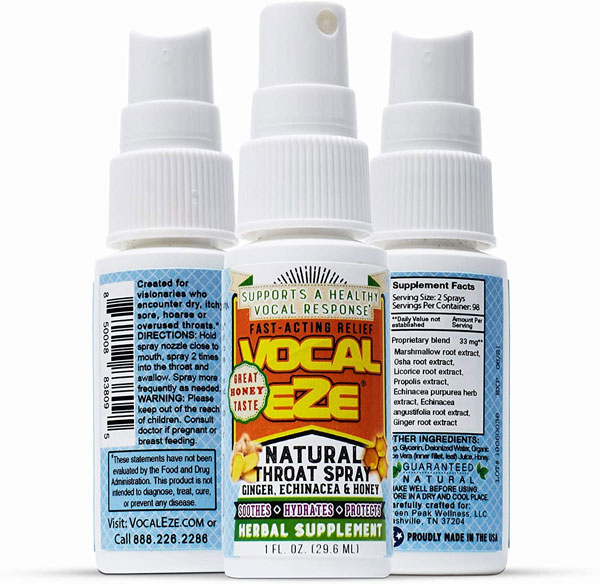 Buy or Read More on Amazon Here ($27.99 at the time of publication)
Another practical and useful gift on the list is the Vocal Throat Spray! As singers, we usually take care of our vocal cords and anything that elevates the pain and makes our lives easier, we want it. Whether it is throat spray or pastilles or tea, we will do it all to take care of our voice. Vocal Eze throat spray is designed specifically for singers to use, it soothes your throat and smoothes your voice. It's perfect for strained vocal cords or a hoarse throat. This spray contains all-natural ingredients like honey, ginger, lemon, and absolutely no preservatives whatsoever. It's a useful gift for the recovering singer or the singer that wants to always be prepared to prevent any potential damage to their voice.
27. Music Journal/Practice Diary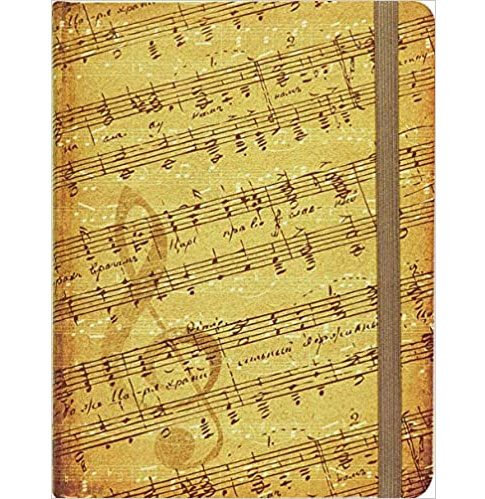 Buy or Read More on Amazon Here ($10.99 at the time of publication)
A music journal is an ideal gift for the upcoming singer/songwriter. It's the perfect place to jot those lyrics or chords down wherever they go. This music journal comes with lined left-hand pages for ideas and lyrics and staffed right-hand pages for composing music. It contains 160 lined and staffed pages so it will last them a long time, and has beautiful ivory paper which gives a luxurious feel. The journal is the perfect size and portable for whenever Inspiration strikes and great for those studying music and looking for a sturdy but special journal.
28. LED Ring Light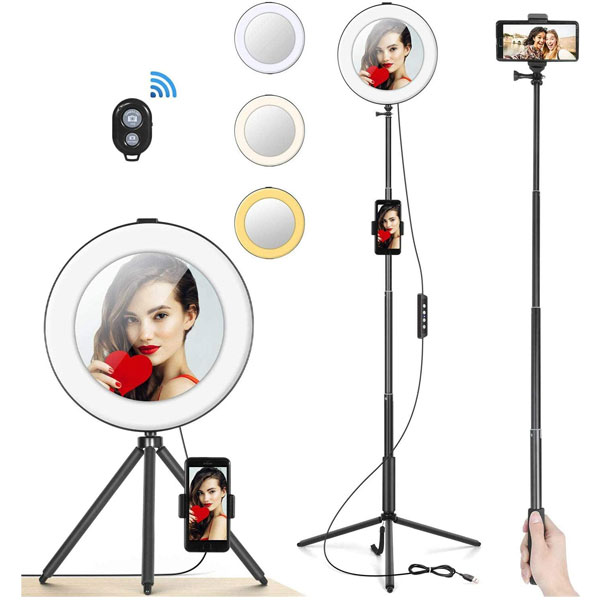 Buy or Read More on Amazon Here ($26.99 at the time of publication)
Does your friend post videos of themselves singing on social media? Do they want to start creating music content and boosting their social media presence? If the answer is yes, then this gift is the perfect pick for them. An LED Ring light may seem like an unnecessary thing to own, but boy does it make a huge difference! This ring light will take their lighting to a whole new level and give them professional-looking videos. The MACTREM Ringlight comes with a mirror, a tripod Stand, and a phone holder. The tripod can be used on the floor or a desk depending on their preference, and can also be used as a selfie stick. For travel, it is also compatible with all cameras and phones. The great thing is that it comes with 3 different light modes, white, warm white, and yellow. Within each lighting mode, there are 11 adjustable brightness levels. I'm still not done, it also comes with a Bluetooth remote which makes it so easy to capture photos and videos with the touch of a button. This is a great gift for any aspiring singer on social media.
29. Singer's Tea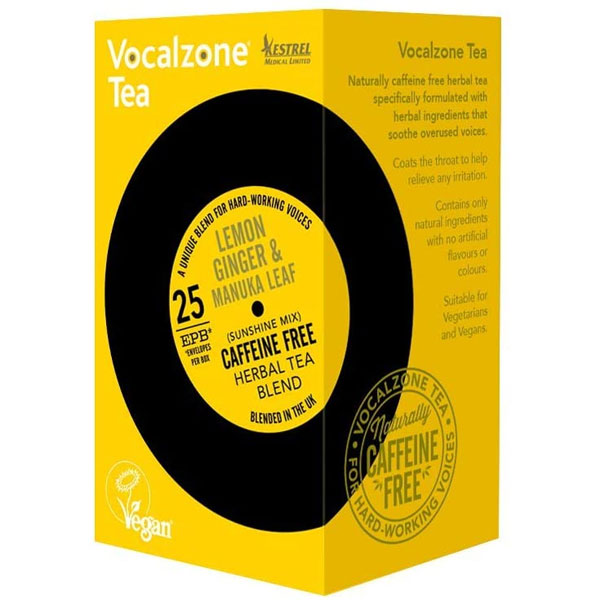 Buy or Read More on Amazon Here ($19.99 at the time of publication)
Yes, we drink lots of tea. Yes, we will love it when someone gets us tea made specifically for singers. The Vocalzone Tea blend is all herbal and caffeine-free, made for anyone who relies heavily on their voice. It creates a coat on the throat which acts as a lubricant to help relieve any irritation or soreness. It also can be used by singers to protect the vocal cords during any performance. They say that the longer you brew the Vocalzone tea, the greater its benefits on the throat. Slippery Elm: Slippery Elm contains a substance called mucilage, which is what helps soothe and coat the mouth and throat.
30. Breathing Fitness Exerciser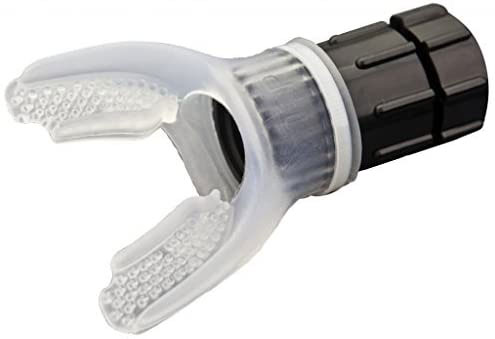 Buy or Read More on Amazon Here ($57.90 at the time of publication)
What is the one thing all great singers have? Good breath control and support. Breathing is one of the most important components of singing that singers work on their entire lives. That's why this is one of the most useful gifts on this list! The Breathing Fitness Exerciser is a device that creates resistance for inhaling and exhaling which works on strengthening both the intercostal muscles and the diaphragm. Athletes mainly use the breathing fitness exerciser to improve endurance and shortness of breath, but this is also perfect for singers who take their practice seriously.
31. Gift Cards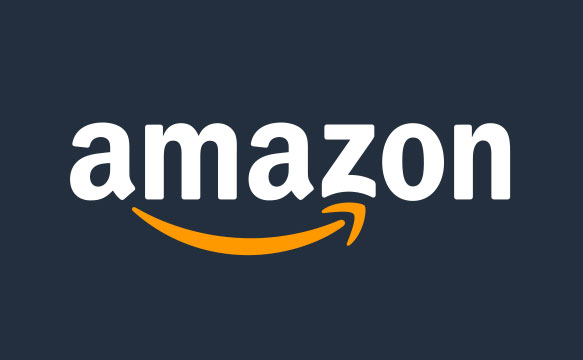 Buy or Read More on Amazon Here ($25 and above at the time of publication)
Gift cards are awesome because they can just pick whatever they want! It's not the most thoughtful gift out there, but it is practical in many situations. For example, if your friend is setting up a home studio, getting them a gift card is a perfect gift because they'll use it to get whatever equipment or decor pieces they need. You can't go wrong with gift cards and people love receiving them, but if you're opting for a gift with a lot more personality, keep reading on.
32. Treble Clef Spoons Set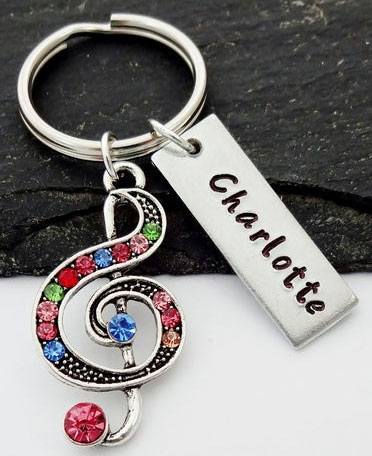 Buy or Read More on Amazon Here ($15.99 at the time of publication)
This is a set of stainless steel spoons with handles that are shaped like a treble clef. I just love quirky pieces that make a home unique and full of detail, this is one of them! These spoons are easy to clean and are dishwasher friendly. The set includes 6 mini spoons that can be used for tea or desserts when guests come over. This set makes such a nice gift to give friends and family members who love music! It can also make the perfect gift for your friend's home or music studio.
33. Vocal Warm-Ups Book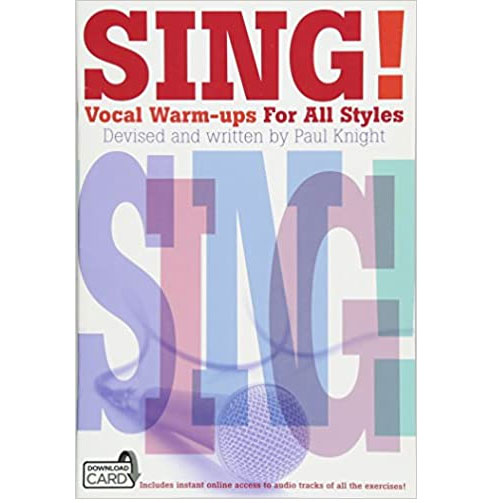 Buy or Read More on Amazon Here ($9.99 at the time of publication)
Are you looking for a gift that your friend can use for a lifetime and that can help them on their singing journey? A vocal warm-up book would be a thoughtful gift to give your friend who is pursuing singing. "Sing!" is a complete program of tried and tested vocal warmups that are suitable for all styles and levels of singing, so don't worry about trying to find a book that matches your friend's specific needs as everything is included! This warm-up book also comes with a card that gives singers access to audio instructions to guide them through the exercises which are great to keep them engaged just like they would at a private vocal class. This is an incredible book written by a world-renowned vocal coach with real-world experience, worth every penny in my opinion!
34. Favorite Artist Merch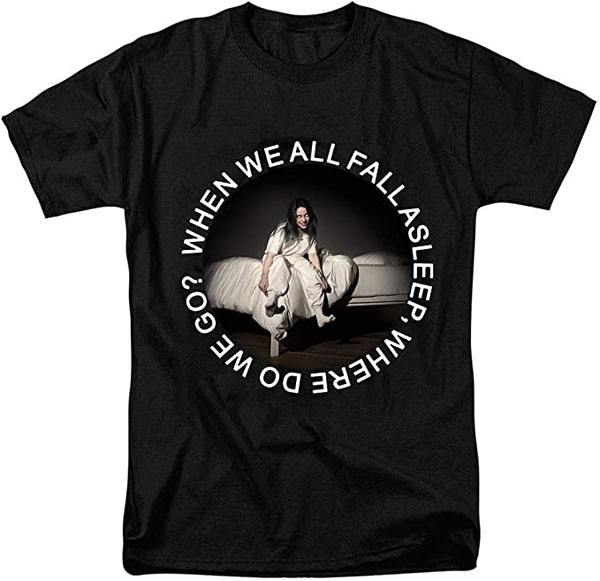 Buy or Read More on Amazon Here ($19.99 at the time of publication)
A very thoughtful gift is getting your friend their favorite artist's merchandise. This T-shirt by Billie Eilish has the album cover printed, which says "When We All Fall Asleep Where Do We Go?". This t-shirt is made with100% cotton material which makes it suitable for a wide range of movement, working out, and more. If your friend likes a specific artist, consider getting them a t-shirt with their favorite lyric, album cover, or artwork. This makes a wonderful birthday or Christmas gift for the singer in your life.
35. Home Studio Bundle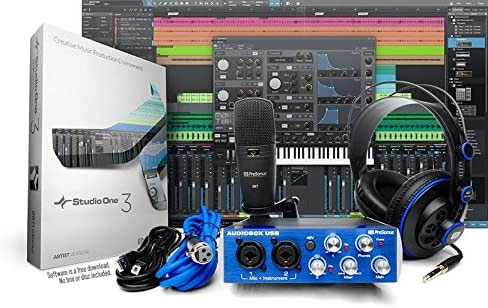 Buy or Read More on Amazon Here ($204.99 at the time of publication)
This is one of my favorite picks on this list. If it was my birthday and someone got me this home studio bundle, I'd be flying over the moon. This is like the ultimate gift of gifts. Instead of getting just one thing, you get 4 and a ton of value! Any singer would love this gift, no matter their level of singing. The PreSonus Audio Box Studio is one of the greatest affordable studio packages you can find in the market. The package includes the AudioBox USB Interface with cable, Studio One software, M7 microphone, and HD7 headphones. This is the gift to choose if your loved one is ready to start taking their singing to the next level and is looking to set up a home-studio space for recording.
36. Songwriting Book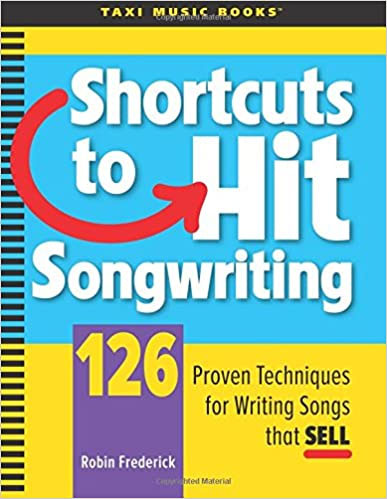 Buy or Read More on Amazon Here ($34.18 at the time of publication)
Is your friend into songwriting and composing? This book will offer them so many insights, techniques, and shortcuts to great songwriting. It includes techniques from world-class songwriters and secrets to structuring, melodies, and more. The author is head of A&R in the world's leading A&R company, a guy with a ton of industry experience. This is a wonderful and useful gift that will provide them with the knowledge to develop their craft, for the singer who is serious about writing great songs.
37. Musical Note Scarf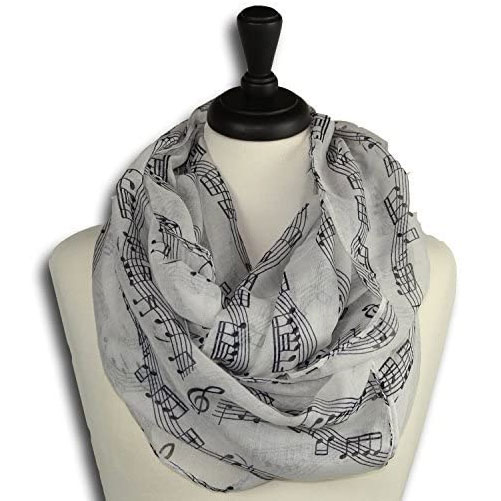 Buy or Read More on Amazon Here ($9.99 at the time of publication)
A musical note scarf is an awesome gift for female singers. It's a wonderful day to day accessory made out of soft polyester. The scarf double loops to provide a perfect fit and warmth. You can find this scarf in many vibrant colors and with the sheer fabric, it can match any outfit in both summer and winter. This makes such a cute holiday gift for singers and music lovers alike.
38. Personalized Music Studio Sign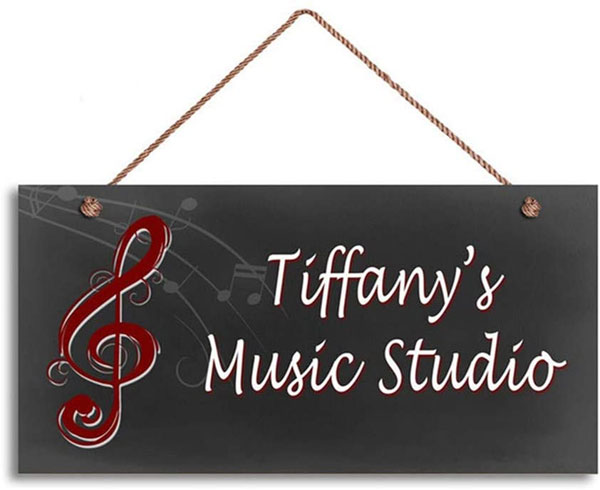 Buy or Read More on Amazon Here ($11.35 at the time of publication)
If your loved one is setting up their home-studio, a personalized music studio sign would be a cool decor item for their walls. This company uses high precision UV printing to get their design to life on vintage style wood. It comes ready to hang on the wall and would be suitable for both indoor and outdoor hanging. A customized studio sign might just be the missing item to add personality to any singer's studio space.
39. Music Coffee Mug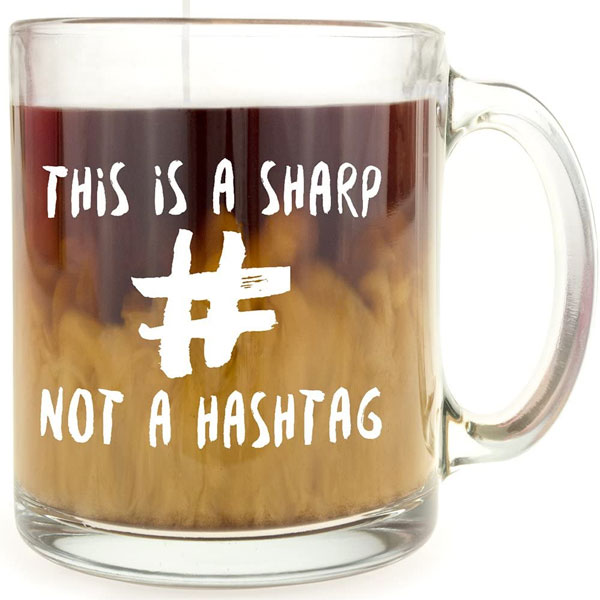 Buy or Read More on Amazon Here ($11.35 at the time of publication)
This is a witty gift that would be perfect for singers who know or have studied music theory, singing teachers, and music lovers in general. The mug says " This is a sharp # not a hashtag" which is an awesome conversation starter and a mug I'd love to have in my collection myself. This mug is made from the highest-standard glass for outstanding durability. Overall, a simple and fun gift for your loved one, friend, or coworker.
40. 3D Guitar Night Light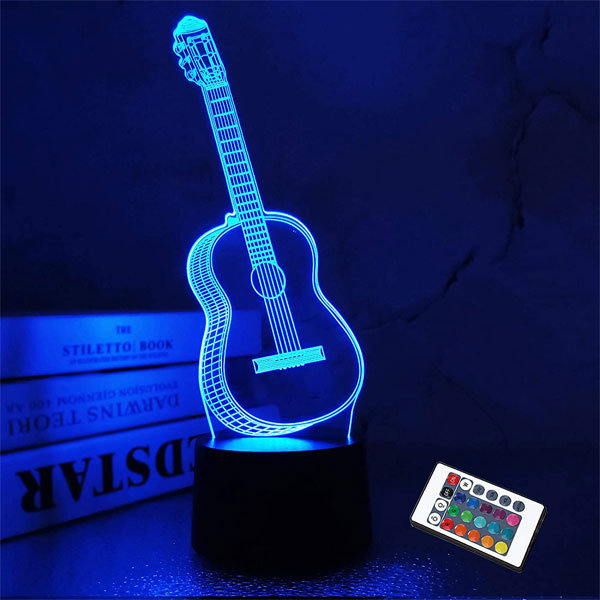 Buy or Read More on Amazon Here ($19.99 at the time of publication)
The 3D Guitar Night Light is a gift perfect for singer/songwriters who also play the guitar. It's an illusion lamp which gives a 3D look when they turn off the lights, except it's flat! It comes with a smart touch and remote control which they can adjust the colors and modes with. It runs on batteries but it's actually preferred to connect it to USB so it can last all night! This night light would make an awesome gift for all ages, including kids who are into guitar and singing. It can also be a cool decor item at your friend's home studio or a party, the possibilities are endless.
41. Music Insulated Travel Mug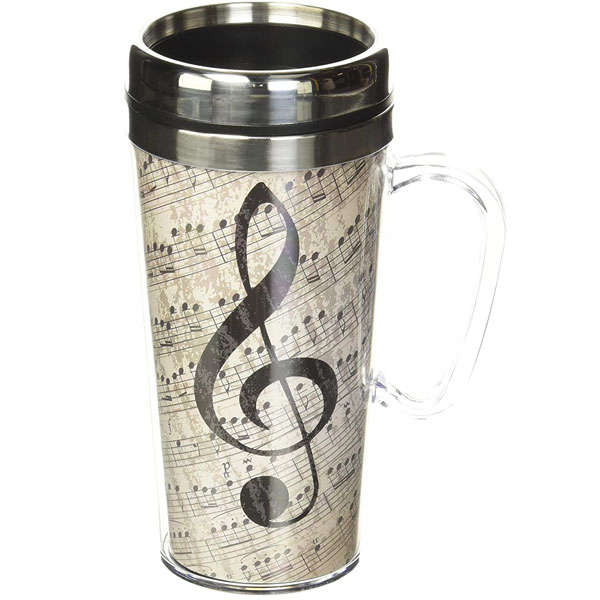 Buy or Read More on Amazon Here ($10.92 at the time of publication)
Every singer needs a good travel mug in their life. We drink lots of herbal teas, coffee, and just about anything warm. This mug not only keeps drinks warm but also keeps cold drinks cold for a long time. Having a well-insulated travel mug with a musical theme is a need for a singer, so you won't go wrong with this one especially that it fits in almost all cup holders. And just because singers are always on the go between rehearsals and shows, this travel mug will be their companion on the road!
42. Retro Microphone Cufflinks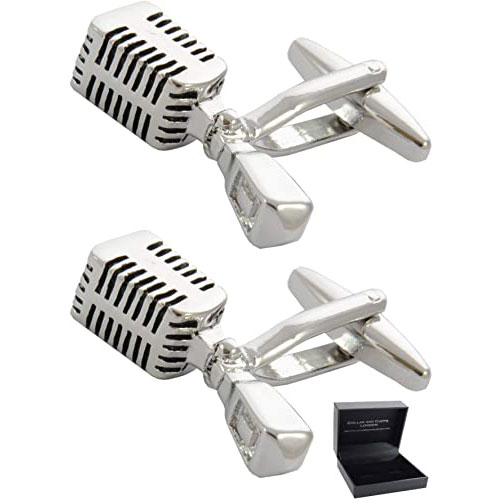 Buy or Read More on Amazon Here ($19.92 at the time of publication)
These retro microphone cufflinks are such a luxurious and elegant gift to give If you want to impress your loved one. While they're extremely affordable, they are made of brass and have quite a heavyweight to them. They also have a hinged back fastening, which makes them ideal for holding the cufflinks securely on the cuff. They come in a gift box ready to give so you don't need to worry about wrapping it once it arrives.
43. Vinyl Record Frame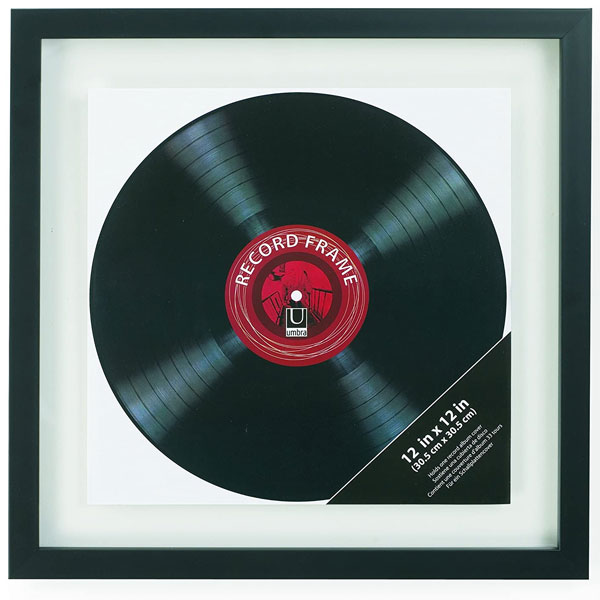 Buy or Read More on Amazon Here ($33.55 at the time of publication)
If your friend is a lover of vinyl records or even has a favorite album, then this awesome wall frame is an ideal gift to display that record or album cover. The record frame can hold a 12-inch by 12-inch record between two panes of glass. This comes as a sleek black design that would go on any wall. This is a nice gift if there's a specific album or cover they would want to preserve for its sentimental value, your friend is sure to love this one!
44. Singing Bowl Set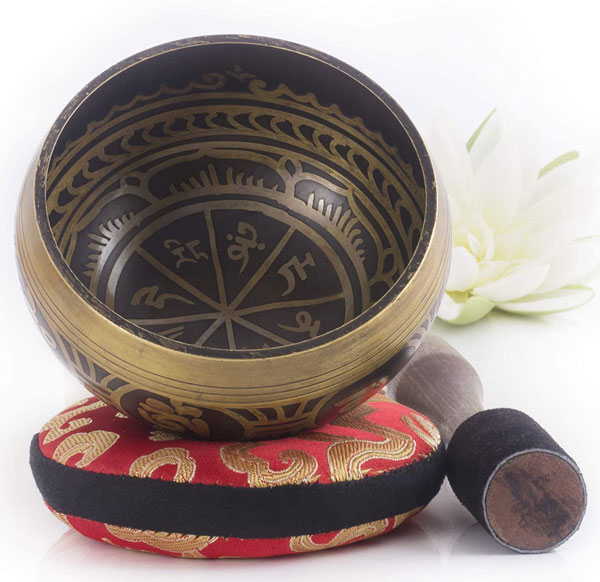 Buy or Read More on Amazon Here ($24.46 at the time of publication)
A singing bowl is something so mesmerizing. If your friend is into meditation or spirituality, this may be the perfect gift for them. This singing bowl set is handmade by Nepalese artisans and devoted practitioners of this art. This set includes an antique design singing bowl, a leather pencil-grip striker, and a pillow. It's a compact size which is great if your friend is always on the go and wants a spiritual companion for the road. If your friend loves meditative vibrations and heavenly sounds, this gift will fit them perfectly.
45. Microphone Stand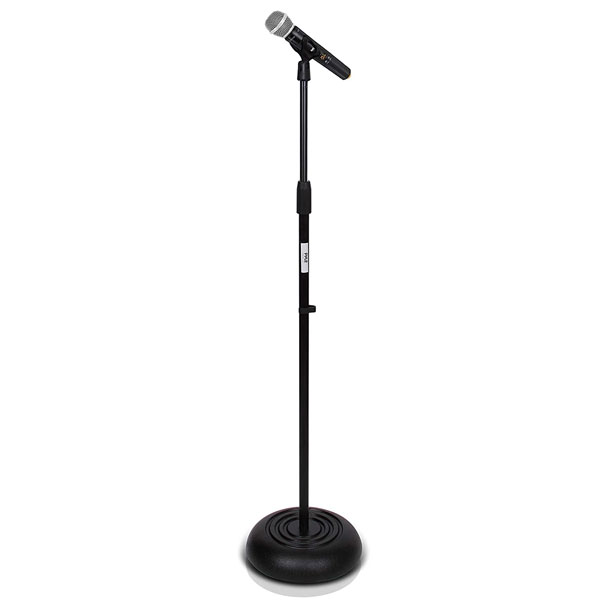 Buy or Read More on Amazon Here ($20.89 at the time of publication)
Another useful gift to give your friend is a microphone stand. If they have a mic but no stand for it, or if you're gifting them a mic and want a practical accessory to accompany your gift, this is the ideal gift for you. This microphone stand is easily adjustable with a reliable and sturdy base, which is everything we look for in a mic stand. It's still light and compact for musicians to take on the road. Overall, this is a great reliable mic stand for both the studio and live shows that will make a useful gift to your friend.
46. Concert Tickets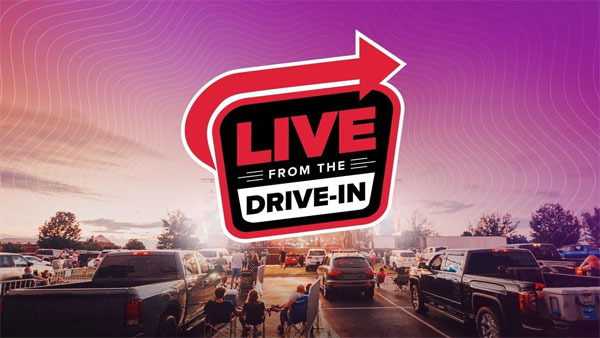 Buy Tickets from Ticketmaster Here (Price varies at the time of publication)
What better gift can you give a singer more than taking them to see their favorite artist perform live? This would be an experience of a lifetime for them, to see a musician they aspire to be like one day! Of course, in this day and age, live concerts are temporarily suspended, however, so many artists have already announced dates for 2021. Giving your friend concert tickets to see their favorite artist will give them something awesome to look forward to next year, and a light at the end of the tunnel during these difficult times.
47. Pop Filter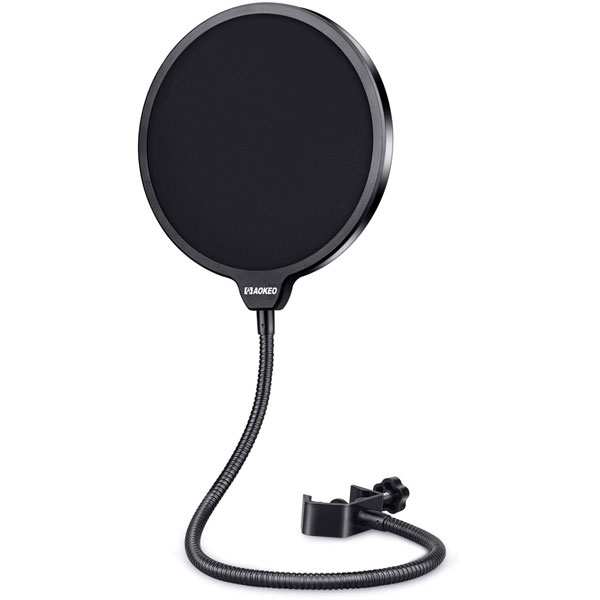 Buy or Read More on Amazon Here ($8.99 at the time of publication)
Pop filters are pop filters, they're functional but absolutely a must-have to record good quality vocals in the studio. If your friend is setting up their recording space or they just got a new mic, a pop filter is just what they need to get started. This one is a professional dual-layered pop screen with a Flexible 360° Gooseneck Clip stabilizing arm. The most important feature of a pop filter would be how sturdy and easily adjustable the gooseneck is because they wouldn't want it to be pulled down by the pop filter's weight. They'd also need it to be flexible to be able to adjust it to the microphone however they prefer, so definitely keep this in mind!
48. Recording Studio Time
Getting studio time on my birthday was one of the most memorable gifts I received as a kid growing up. It's something that I'll always remember and an experience that has shaped many big decisions in my life. Gifts don't necessarily have to be tangible things, buying studio time as a gift to the singer in your life may be one of the most precious gifts they'll ever receive. If they are curious about taking singing to the next level or even just excited about recording a song they wrote or a cover, giving them this experience is invaluable. They'll walk away with an experience of a lifetime and a timeless recording to remember this day with!
49. Singer's Documentary Film
Buy or Read More on Amazon Here (Price varies at the time of publication)
Looking for a gift to inspire your friend and make them feel like nothing's impossible? This documentary film about Michael Jackson's music career will do just that. "This Is It" takes you into Michael Jackson's new world tour preparations and behind the scenes of his rehearsals and stage trials, awe-inspiring, to say the least. In the movie, there are moments of excitement and frustration for all the people involved as they go through rehearsing the songs and dances. They'll get to see many musicians, dancers, technicians, choreographers, designers, and directors – all giving their all to make this tour happen. This is an incredible film and will inspire any singer to get out and pursue their dreams!
50. Singing Lessons
Read More on Takelessons Here (Price varies at the time of publication)
Ah, alas the singing lessons! This one is good but kind of tricky if you don't know what your friend's singing level is. You may be worried about giving them a course that is below or much above their current level of singing which may or may not be challenging for them! Singing lessons are an amazing gift for any singer, you just have to be smart before purchasing and make sure you have some background of their level, time, and music preferences before you book a program they'd have to commit to! Nonetheless, there are many options out there and you are bound to find the one that is suitable for your friend to start their singing journey and develop their voice.
I hope you've enjoyed this article and have managed to find the right gift for your friend or family member!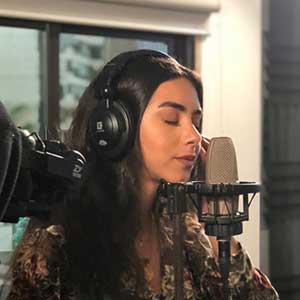 My name is Malak and I have extensive experience singing, songwriting, and vocal recording. I have been a professional singer, songwriter, recording artist, and audio editor for over years now, working on many challenging projects.
My tracks were featured on the biggest Spotify playlists like New Music Friday, Fresh Finds, and Pop Rising. My music was also reviewed on Rolling Stone, and featured on Notion, Elle, and other big magazines!