Whether it is for the Holiday season, their birthday, or a special event, putting a little time and effort into choosing a gift goes a long way. If you need a gift for someone who loves to play guitar, look no further! Being a guitar player myself, it was easy for me to put together a list of all the best gifts for guitar players.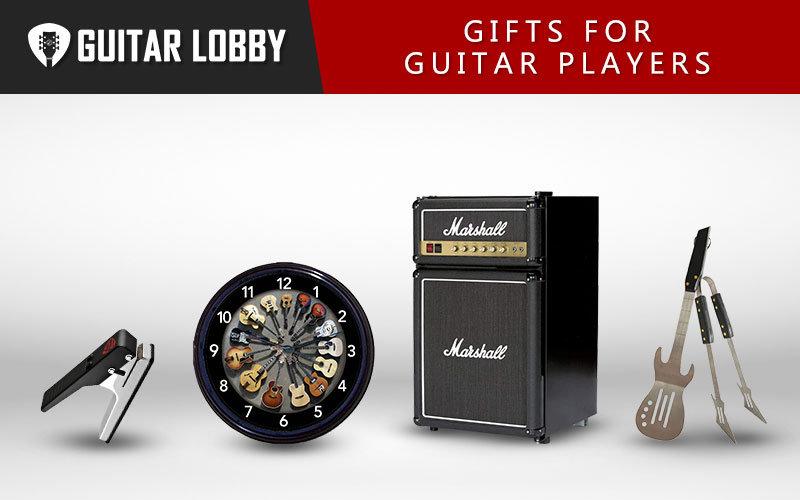 From useful gifts for playing guitar to gadgets to decor, this list has something for everyone. Simply scroll through and pick out your favorite gift or gifts! We also have an awesome guide on gifts for musicians that you might want to check out!
Here Are the Best Gifts for Guitar Players
1. Electronics for Guitarists by Denton J. Dailey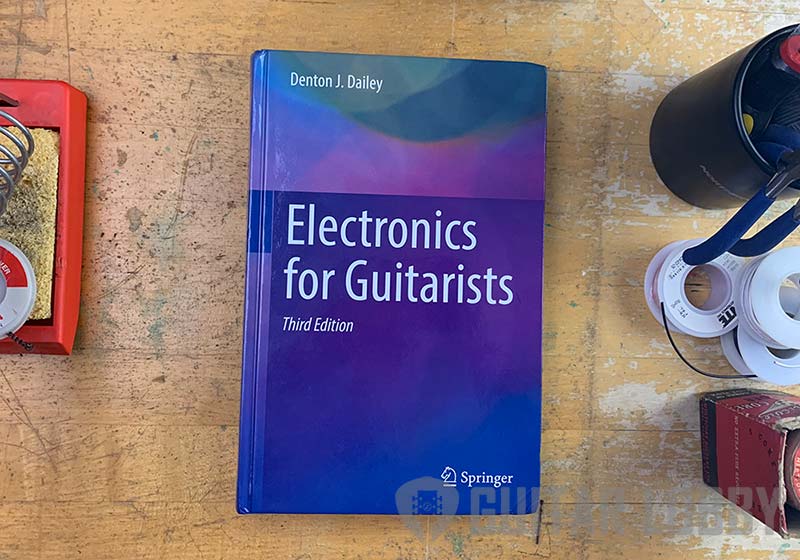 Price Range: Around $55
After reading Electronics for Guitarists by Denton J. Dailey, I would describe it as a fantastic resource for any guitar enthusiast who would like to learn about the various electronic circuits associated with their electric guitar and how they work. This book would make the perfect gift for any hobbyist, tinkerer, DIYer, engineer, or student who has an enthusiasm for the electric guitar. While I opted to purchase a hardcover copy of this book for my own use, it is also available on kindle for those who prefer to read on their smartphone, tablet, or computer.
One of my favorite things about this book is the author's hyperfocus on topics that are directly applicable to guitarists. Whether the reader is a guitar player who wants to better understand their gear to enhance their understanding of signal processing and tone crafting or a hobbyist aspiring to repair, analyze, design, and build circuits, Electronics for Guitarists is likely to have something for the curious minded to take away. This book doesn't shy away from presenting the basic math needed to demonstrate the circuit analysis topics being covered, but Professor Dailey manages to do so without getting too impractical with theory for the "non-engineer" type reader. He is insightful with his descriptions, his example scenarios often demonstrate real-world applications of technical concepts, and he provides numerous schematic examples that are perfect visuals for learning circuit analysis as well as give the reader a potential basis for their own circuit build project.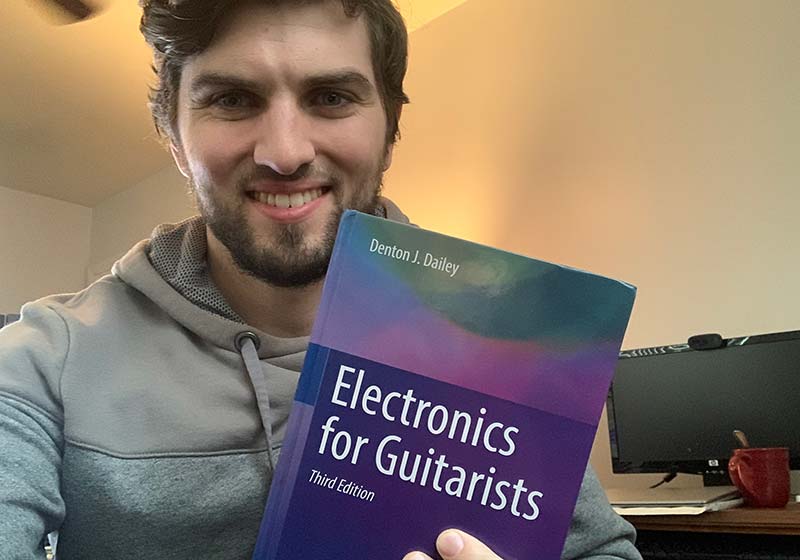 I'm personally most interested in Tube amps and analog effects, so the book's main focus being on analog circuits was ideal for me. There is a large number of topics covered, such as Power Supplies,  Pickups, Volume & Tone control, Transistor & Vacuum tube-based amplifiers, and a plethora of effects circuits such as distortion, overdrive, tremolo, reverb, phasers, flangers, wah, and many others.
When my copy of the Third Edition came in the mail, my immediate interest was in what additions were made from the previous edition, in which there were several exciting updates. This augmented 3rd edition contains all previously published topics as well as new additions, so the reader will not miss anything from not having owned/read the previous editions of this book.
Pictured below is the back cover of the book, which summarizes the updates made in this most recent edition.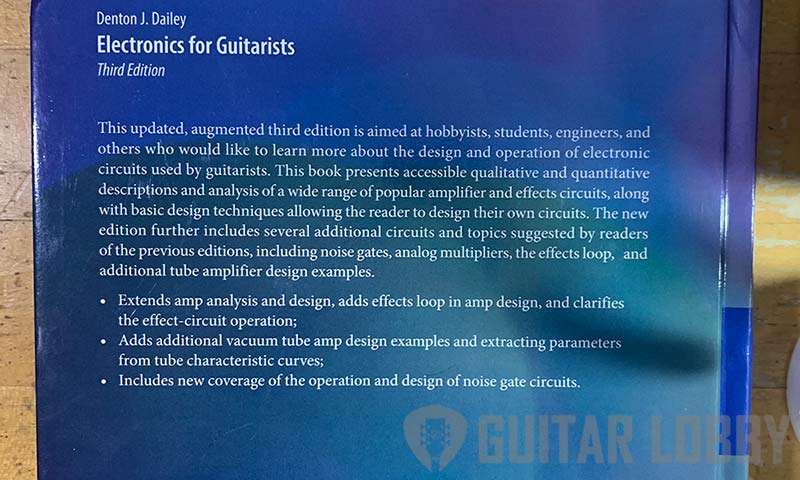 2. Kyser Quick-Change Capo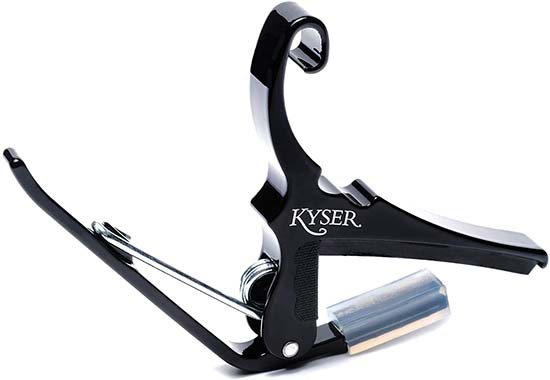 Price Range: Around $22
This Kyser capo happens to be the first proper capo I ever purchased for myself, and it has served me faithfully for almost 10 years now. Some capos require a two-handed approach in their placement and removal. This Kyser unit only needs a hand. A guitar player can easily transpose the chords in their guitar songs in a flash so your guitarist friend can continue to build on his/her skills of playing the guitar. Seasoned guitar players know the value of a proper capo. This would make an incredibly useful and practical gift for a guitar player of any skill level. It also happens to be an incredibly affordable gift idea.
3. Vintage Guitar-Shaped Hook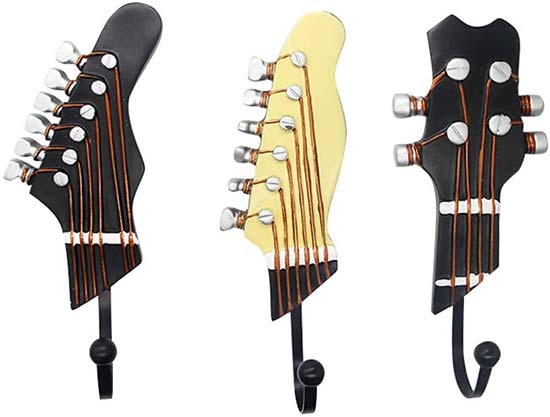 Price Range: Around $15
I really like this set of multifunction wall hangers. What I find very pleasant about these hangers is that they resemble the headstock of conventional guitars. Each hanger consists of the upper portion of any guitar. This includes the headstock, the neck, and the first fret. You get a headstock of an acoustic, electric, and even a bass guitar. Mounting these hangers is easy enough. The hooks are also very strong, fully capable of carrying about 55 lbs of load. It might be tempting to use these hangers as a guitar hanger. They're better as a hanger for clothes, bags, keys, and other items.
4. Marshall Bar Fridge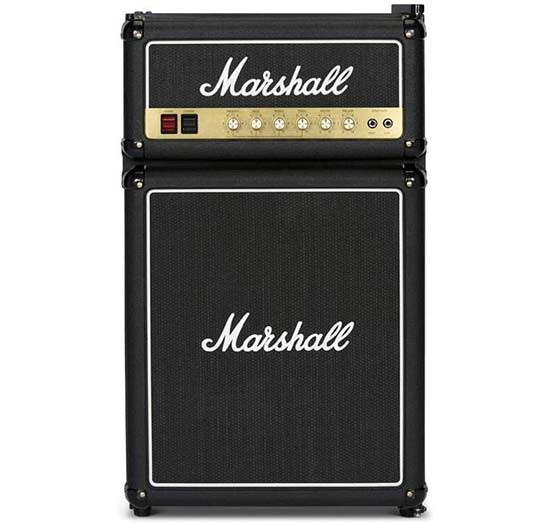 Price Range: Around $370
Get ready to play a prank on your guitar playing friend with this awesome-looking guitar amplifier from Marshall. Amplifiers are exceptional pieces of technology that any professional musician needs to create a sound worthy of the live stage. Your friend will be in for a pleasant surprise because the MF3.2 is not really a Marshall guitar amplifier. It is a bar fridge that can accommodate up to 40 cans of beer, 3 soda bottles, and 25 wine bottles. Yes, this is a refrigerator that should fit right in your friend's bedroom or even his entertainment room. The details of the design are so accurate that it is easy to dismiss this contraption as nothing more than an amplifier. Just make sure to accompany your gift with your friend's favorite beverages to stock the refrigerator immediately.
5. PEPKICN Rock Guitar Style Barbecue Tool Set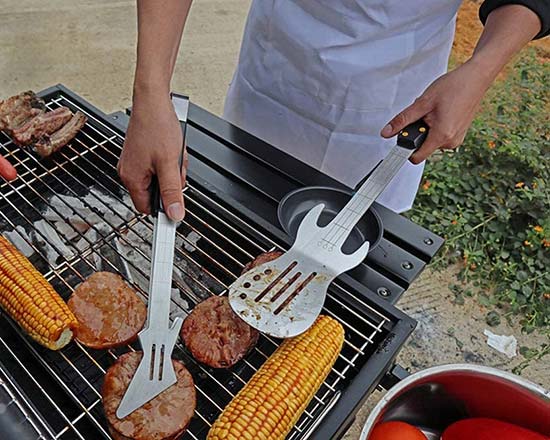 Price Range: Around $30
Celebrate your friend's passion for music and guitar playing with this barbecue tool set that will remind him of his musical inclinations every time he takes to the grill. These barbecue tools will never rust because PEPKICN constructed them of only the finest quality stainless steel. Wood forms the handle on the barbecue tools to make them safer and more secure to hold. Both the spatula and the tongs have an electric guitar design. However, the guitar silhouette of the tongs is much slimmer than the spatula. Barbecue-loving guitarists and their friends will love the extra-long handle of these tools. It makes barbecuing a lot safer and more convenient, too. With this barbecue tool set, you're giving your friend another reason to hold amazing weekends of barbecues and guitar playing.
6. Martin Steel String Backpacker Travel Guitar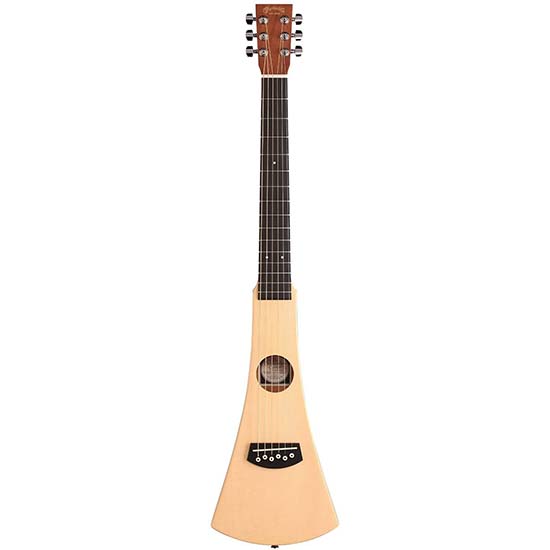 Price Range: Around $300
Your friend may already have a guitar. I bet his guitar is not as compact and good-looking as this steel string travel guitar from Martin. At only 3 feet long, this great looking guitar is about 2 inches shorter than your average guitar. And while it is short, it still maintains a respectable scale length of 24 inches. This is the perfect string musical instrument for your friend who travels a lot. The widest section of the guitar is only a little over 9 inches. The flared lower body tapers to meet the fretboard at the neck to give you an instrument that looks as aerodynamic as it is sleek and great looking. Adding to the elegance of this guitar is the beautiful nature of spruce wood. This is one guitar that can effectively replace your friend's string instrument.
7. Gifts Journey Personalized Wooden Guitar Picks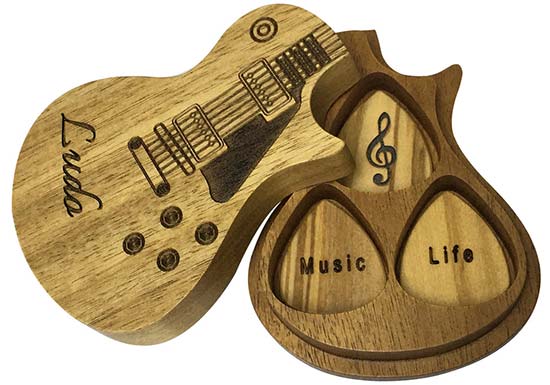 Price Range: Around $15
These have to be the loveliest guitar picks you can ever give to your friend. It is true that there are only 3 picks in this set. You can have the picks and the case customized to make it more meaningful for your friend. The wooden case features the design of an acoustic guitar. There are three molds in the case that serve as storage for the three picks. What's more amazing is the fact that you can have guitar picks and the case engraved with your message or with any other word. Keep in mind that the maximum number of characters is only 16. Now that is a gift worth having. If you're looking for personalized and unique gifts for guitar players, this is an excellent choice.
8. Ibanez Guitar Maintenance Multi-Tool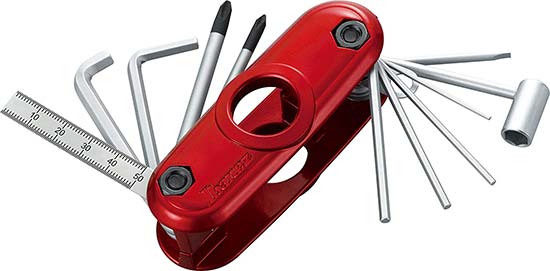 Price Range: Around $25
Unleash the inner MacGyver spirit in your guitar player friend with this neat-looking multi-tool for highly mobile guitarists. It draws its inspiration from the famed multi-tool, multi-function, pocket folding knife that's very popular among elite forces and survivalists. Consider the MTZ as the Swiss Army Knife of seasoned guitarists. One thing that a guitar player will appreciate is the center hole that makes it easier to access the 11 different tools. The tools include 6 sizes of hex wrenches, a tube spanner, a ruler, and 3 types of screwdrivers. Like any folding pocket multi-tool, the MTZ should fit right in your friend's pocket for instant guitar prepping and fixing on the go.
9. BT Beatles Miniature Guitar Set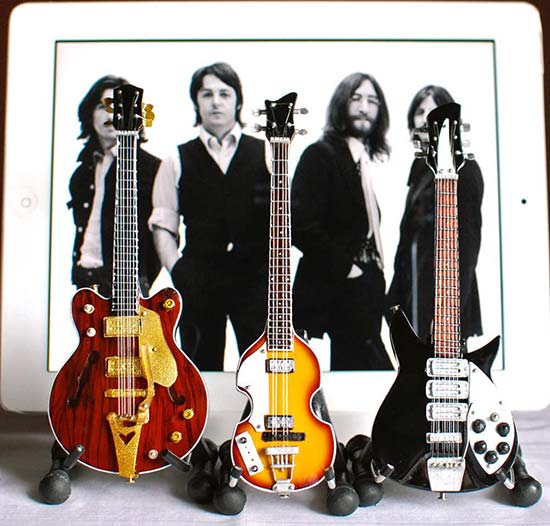 Price Range: Around $120
Even if your friend is not a Beatle fan, he is sure to fall head over heels for these amazing miniature guitars. These string instruments are the perfect scale models of the guitars that John Lennon, Paul McCartney, and George Harrison used in their heyday in the 60s. Your friend will get the 6-inch long scale replica of John Lennon's 1964 Rickenbacker 325 and the 7-inch long model of Paul McCartney's 1955 Hofner 500/1 viola bass. He will also marvel at the amazing attention to detail of George Harrison's 6.3-inch replica of his Gretsch Country Gentleman. These are all exciting Beatles memorabilia that comes with amazing precision and an elegant finish. It's a great gift for a Beatle fan or an aspiring guitar player.
10. Fun Around The Clock Co. Guitar Wall Clock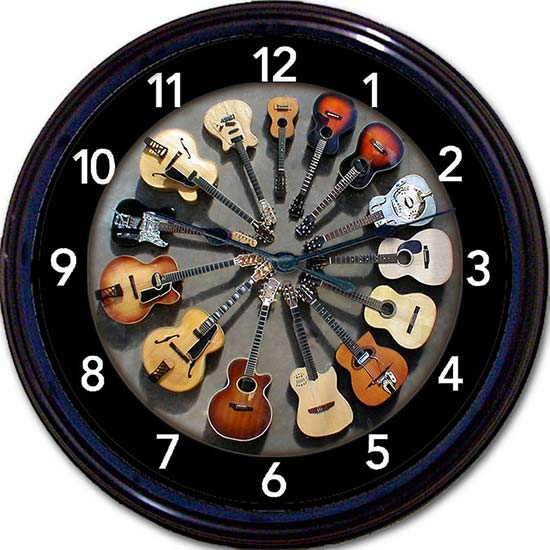 Price Range: Around $40
I know most of you already have digital clocks in your homes, including your guitar playing friend. However, there is always the charm of analog wall clocks that makes them indispensable timekeeping pieces. Giving this whimsical guitar wall clock to a guitarist friend is sure to generate enthusiasm in him. He'll be more upbeat about playing his guitar every time he glances at this clock. This is a device that not only tells you the time. It also showcases some of the most fascinating designs in the history of guitar. There are electric guitars, acoustic guitars, bass guitars, and other string instruments radiating from the center. It may be tricky to tell the time because of the shadows and rich colors that the guitars create. Who needs to tell time when you can be so engrossed at the beautiful guitar art?
11. Guitar Chords Chart Poster Wall Art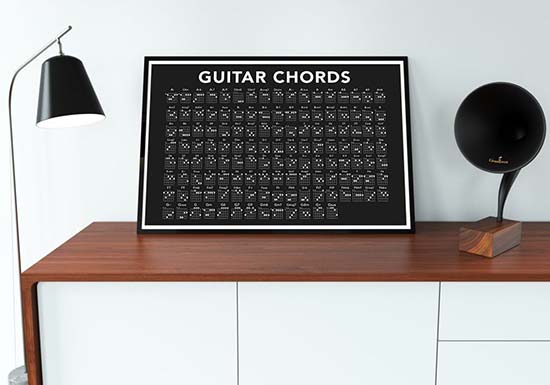 Price Range: Around $30
Here's a gift idea that I think will have a beginner guitarist feel very appreciated. It's a rectangular wall art that features 132 different guitar chords. The canvas is not only waterproof, but it is also very resistant to tearing. The company says you can place this outdoors, and it will never degrade in quality. What you will find amusing about this gift item is that you can choose from 6 different sizes. The smallest is a 17×11-inch frame, and the largest is a 40×27-inch rectangle. You can also pick the type of frame to use. There's copper, light walnut, charcoal driftwood, whitewash, black wash, brushed black, white, and gold. This level of customization is great for those who want something out of the ordinary.
12. MECOWON Vinyl Record Retro Coasters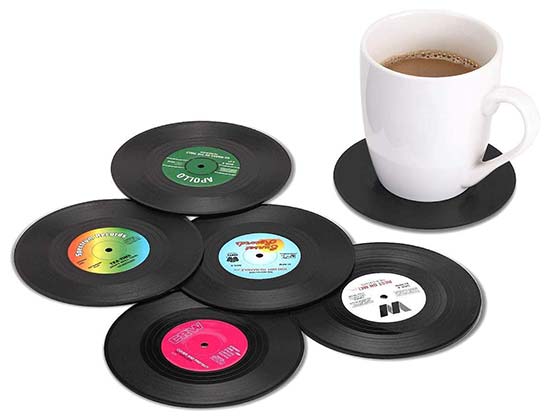 Price Range: Around $7
Coasters are always good items to give on special occasions. This is especially true if the recipient is known for enjoying his beverages while doing a particular activity. He may be playing his guitar, doing work on his table, or simply watching the TV. In such cases, you'll need a coaster that will serve as a barrier between the cup and the table or desk surface. And for your guitar playing friend, I cannot think of a more appropriate coaster to give than this set of 6 by MECOWON. These coasters are designed after the iconic vinyl records of the 60s, except that they are only 4.2 inches in diameter. They're perfect for accommodating a variety of glasses and mugs. They won't slip and will keep your friend enjoying his drinks. This is one of my favorite guitar gifts because they look awesome, and they'll get a ton of use out of the coasters.
13. P Pluginz Marshall Jack Rack Key Hanger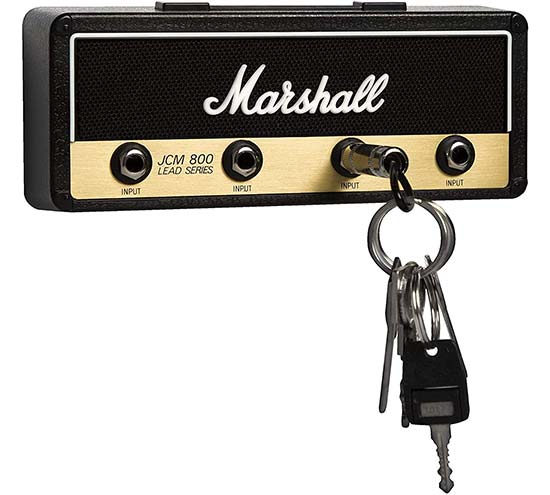 Price Range: Around $35
Almost all musicians are familiar with Marshall. And I'm sure your friend knows about this brand, too. Giving him this wall-mounted key hanger will put a huge smile on his face. He will know just how much you appreciate his musical journey, especially his guitar playing adventures. This key hanger is not your average, run-of-the-mill type that you can get for a few dollars. This is a product that uses a real and authentic Marshall guitar amp plug faceplate. It is like putting a piece of history on the wall. The package already comes with 4 guitar amp plug keychains that your friend can use to organize his keys. He can then plug these into the ports of the amp key hanger. It's an ingenious creation worthy of any musician.
14. OYE HOYE 3D Neon Guitar LED Light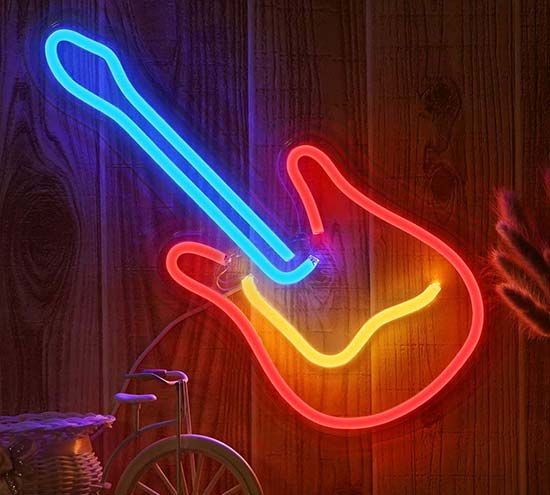 Price Range: Around $30
Add a touch of vintage 1960s feel to your friend's entertainment room with this 3D Neon Guitar LED Light. It is an interesting wall décor that can serve as a light source on those nights when your friend is in the mood for playing soulful songs on the guitar. Unlike other systems, the light emitted by this product will never irritate the eyes. It has a warm and soft glow that is pleasant to see. The LED light already comes with predrilled holes to make mounting as effortless as possible. The best part about this product is that it can be charged using a USB device. So, if you want to be generous, you can add a power bank to this gift for your guitar playing friend.
15. Whiskey Wood Craft Guitar Pick Set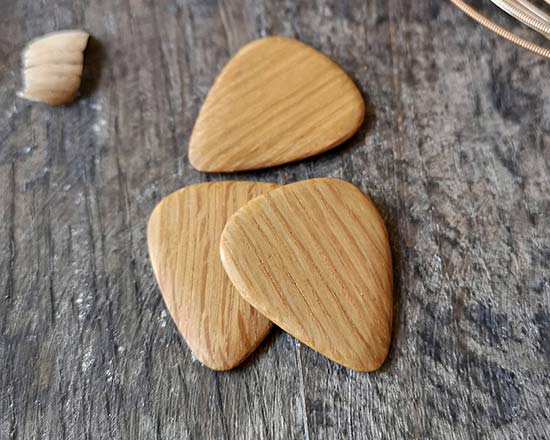 Price Range: Around $15
Wooden plectrums can help produce a different sound than other types of guitar picks. These picks are individually carved these picks from used Irish whiskey oak barrels. The unique whiskey stains, medullary rays, and stunning wood grain pattern make these picks truly one of a kind. The picks also come with a very special polish that doubles as a protective barrier against moisture. Your friend will always feel special every time he uses these picks.
16. Mr. Craftsman HK DIY Guitar Pick Punch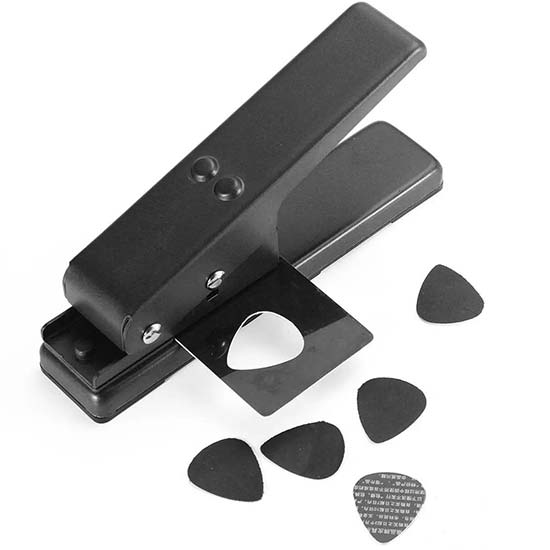 Price Range: Around $40
This simple device may look like the stapler that you have in the office. However, it is one of the more interesting contraptions you could give to a guitar player. This pick punch comes with a very robust construction and a sturdy spring mechanism to make plectrum-making a breeze. The bottom surface of the punch will never scuff any surface. Your guitar player friend will love this gadget as he can upscale old and expired cards, breathing life into them. As long as the plastic cards are not thicker than 1 millimeter, your friend can make plectrums out of them in a jiffy. Your friend can say goodbye to pick-less guitar playing.
17. Pick-a-Palooza DIY Guitar Pick Punch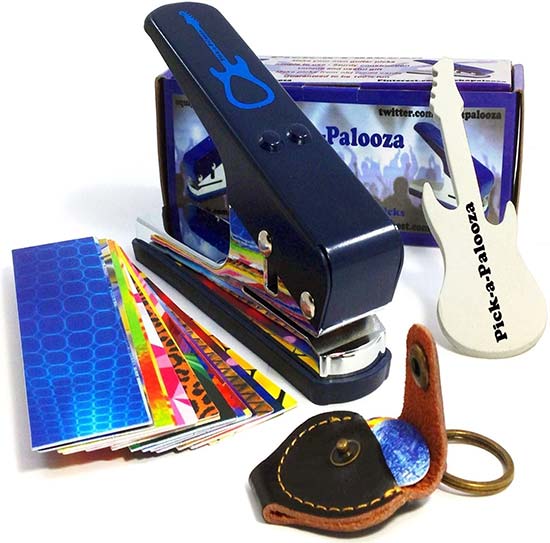 Price Range: Around $27
If you're planning to give a guitar player a pick punch, I strongly suggest giving this item from Pick-a-Palooza. It is a complete set that gives anyone the ability to produce up to 100 colorful and high quality guitar plectrums. And even if your friend runs out of the pick strips, he can always use other materials. He can turn expired ID cards, gift cards, credit cards, and other plastic cards into useful plectrums. He can then store these picks in the accompanying pick case made of genuine leather. Adding a touch of elegance to the case is an electric guitar-shaped keychain. Your friend will never lose his plectrums ever again.
18. The Original Pick Punch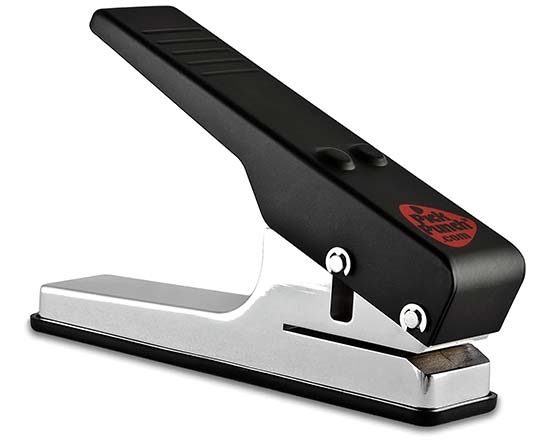 Price Range: Around $25
This is a great gift suggestion for the guitar player who prefers to keep things simple. There are no fancy pick strips that come with the package. There are also no pick holders and keychains to organize the different items. It is plain and simple pick punch. Just because it is an ordinary-looking pick punch doesn't mean it is already mediocre. This gadget can produce thousands of plectrums over its lifespan. The only thing that will limit its usefulness is the availability of materials for a plectrum. This is not going to happen since there will always be plastic cards and other plastic products to turn into a guitar plectrum. Your friend will thank you for it.
19. Fender Stratocaster Cutting Board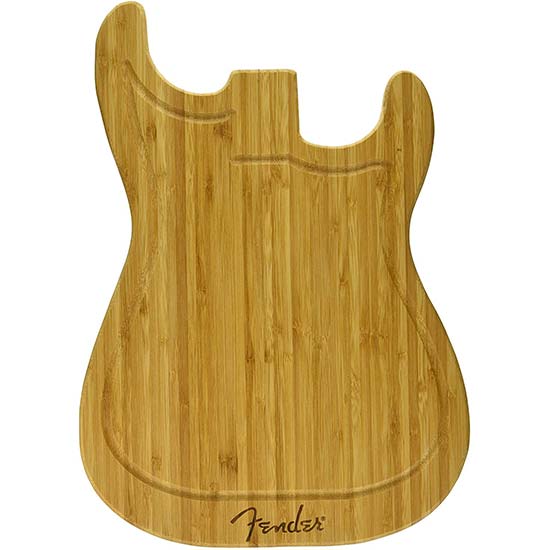 Price Range: Around $30
Here's another gift suggestion that any guitarist will appreciate. This product is especially meaningful to guitarists who also happen to be masters of the kitchen. The guitar shape of this premium quality bamboo cutting board will help your friend in coming up with dishes that are as wonderful as his guitar playing. Do take note that this is not your average guitar-shaped cutting board. It takes on the unique silhouette of the famous Fender Stratocaster. This is the iconic guitar of many music legends, such as Jimi Hendrix, David Gilmour, Eric Clapton, Buddy Holly, and George Harrison. I'm confident your friend will feel like a rock star as soon as he opens this gift from you. Make sure to remind him to treat the board with 100% mineral oil before using it the first time. This is easily one of the best guitar players out there. Especially for those who cook a fair amount or just moved into a new place.
20. Smart-PO Phone Holder Capo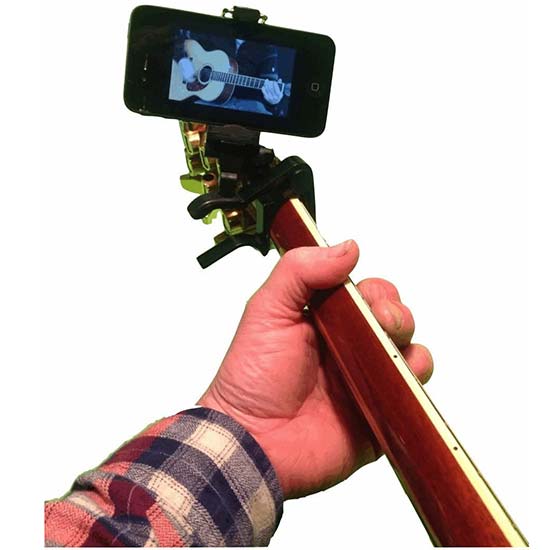 Price Range: Around $25
Here's a really great gift you can give to any guitar player. The Smart-PO is actually a guitar capo. It has an added element that allows a guitar player to mount his smartphone. That's hitting two birds with a single stone. If your friend is going to play a guitar song that doesn't require a capo, he can always place the smartphone holder all the way to the base of the neck. This will never interfere with the natural tone of the guitar. The device can pivot and tilt to offer your guitarist friend the best viewing angle. Now, your friend will have a better view of chords, tabs, and even guitar video lessons.
21. Guitar Bookends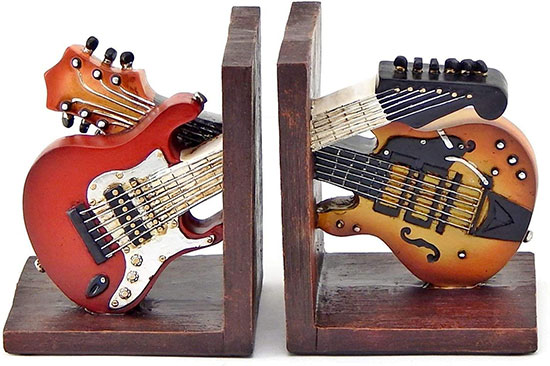 Price Range: Around $45
If you're looking for a gift for a guitarist that also loves to read, these bookends are hard to beat! What makes these bookends so unique and very special for any guitar player is that they feature halved electric guitars. If you put these bookends together, you'll get a pair of electric guitars that cross the middle in opposite directions. Each bookend will have the body of an electric guitar and the neck and headstock of another electric guitar. Your friend won't be able to keep himself from smiling every time he takes a book from these bookends. It's almost magical that he'll use these bookends for other book collections as well. They are sure to be a conversation piece and a piece they proudly display. This is easily one of my favorite gifts for guitar lovers!
22. COMIART Creative Guitar Coffee Tea Spoons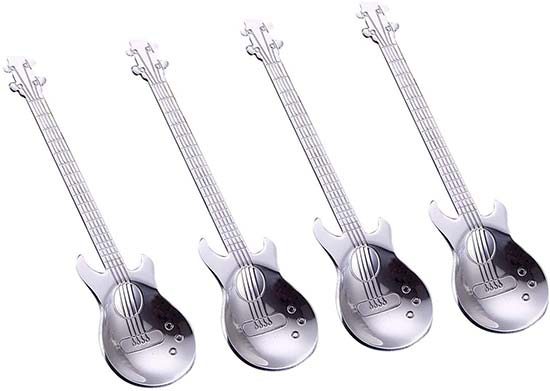 Price Range: Around $8
Your guitar player friend will love these teaspoons for his birthday, this Holiday season, or any other special event. These four teaspoons look a lot like miniature electric guitars. Stirring coffee or tea will become a pleasant experience – a constant reminder of your friend's passion for music. Don't ever think that these utensils are only great for stirring or mixing beverages. They can also be very useful in enjoying a bowl of ice cream or a small piece of cake. The teaspoons will never rust and will retain their mirror-like finish for many years. Cleaning and sanitizing these spoons are also a breeze. Your friend will love having coffee while learning to play a new song on his guitar.
23. Guitar Neck Shaped Kitchen Cooking Utensil Set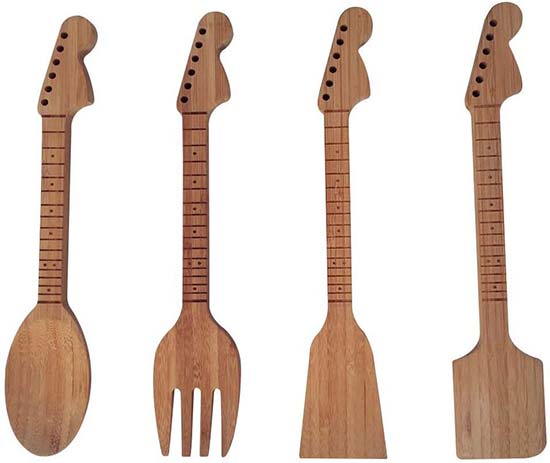 Price Range: Around $21
For your guitarist friend who also happens to be a whiz in the kitchen, I recommend this cooking utensil gift set from Rise8. They will receive four different bamboo kitchen utensils that are perfect for stirring and scooping food from the pan or even flipping fried foods and tossing salads. The bamboo utensils never splinter, and they resist nasty odors. The spatulas, spoon, and fork will also never stain, so your friend gets to retain the amazing aesthetics of these utensils. The handle of these utensils is designed like the neck and headstock of an electric guitar. You don't even have to worry about the gift box. Rise8 already provides you with a guitar case-inspired gift box. That's cool!
24. Gift Engraver Aztec Pattern Guitar Strap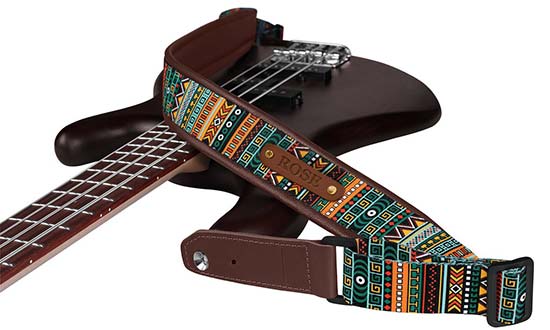 Price Range: Around $40
Your guitar player friend will love the vibrant Aztec design of this guitar strap. The strap itself is wide enough to help take the weight off of your hands and distribute it squarely on your shoulders. Your friend can even adjust the length of the strap to accommodate his guitar in the most comfortable and most convenient position. You'd be glad to know that this strap you're giving to your guitar player is made of all-natural cowhide leather. It also has nylon material to give it strength. The fabric is never going to irritate the skin either. This is a very trendy guitar strap that's perfect for your guitar playing friend.
25. Couchguitarstraps Buckskin Hendrix Hippie Guitar Strap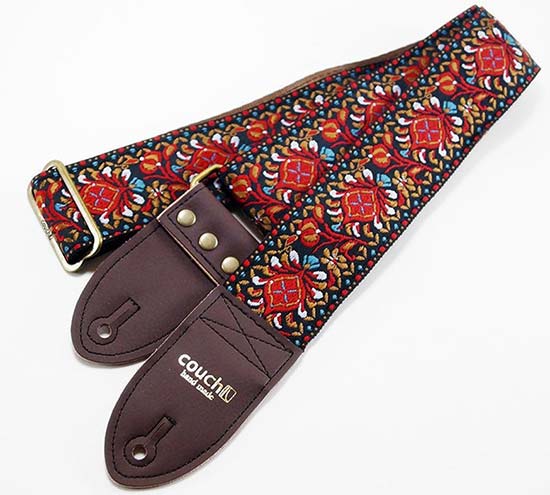 Price Range: Around $65
Is your friend a fan of Jimi Hendrix? If yes, then you should pick this guitar strap to give to your pal. Couchguitarstraps designed this item from a very unique and durable vegan leather. It also has a webbing reinforcement made of a recycled seatbelt. It is a great strap that honors the hippie lifestyle of Jimi Hendrix and the other popular artists of the swinging 60s. The strap is lightweight. However, you will still feel confident about its ability to carry your friend's heaviest string instrument. The guitar strap is also comfortable to wear. It makes for the perfect gift for a fan of one of Rock n' Roll's most iconic figures.
26. Ernie Ball Polypro Guitar Strap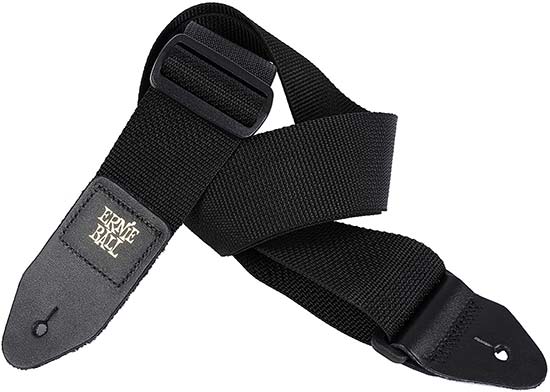 Price Range: Around $8
Looking for a budget guitar strap to help your friend handle his guitar a lot better? Well, you may want to consider this guitar strap from Ernie Ball. It will only cost you a little over the price of a Big Mac. While it is inexpensive, its quality is never cheap. This guitar strap features high-quality polypropylene that is available in about 11 different colors. You can pick any color for your friend, and you can rest assured that the color of the strap will never fade. The structure of the strap webbing also makes it very comfortable to wear. Your friend will also like the adjustable nature of this strap. This will make guitar playing more enjoyable for him.
27. KLIQ AirCell Guitar Strap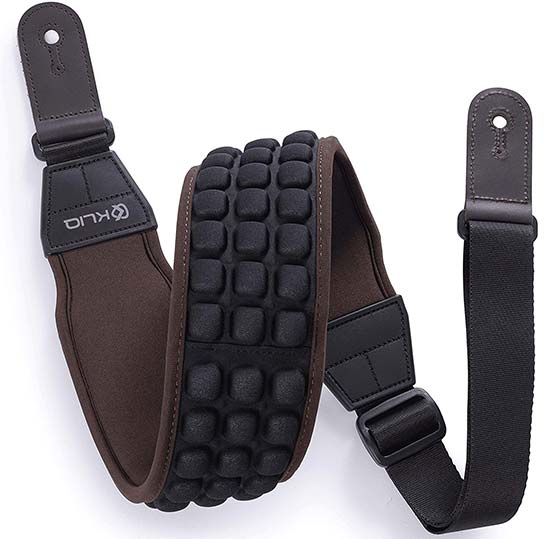 Price Range: Around $41
You should pick this guitar strap for your guitar playing friend if he frequently complains of shoulder or neck pains. The cushiony AirCells of this strap will help minimize the pressure of the strap on his neck and shoulders. It also helps that the strap is wider by about an inch compared to other guitar straps. The neoprene padding of the guitar strap form blocks that allow for the more efficient circulation of air. This also helps the moisture-wicking property of the fabric material. It goes without saying that the KLIQ AirCell is a great way to carry the guitar in a very comfortable and convenient manner.
28. Fender 30 Barstool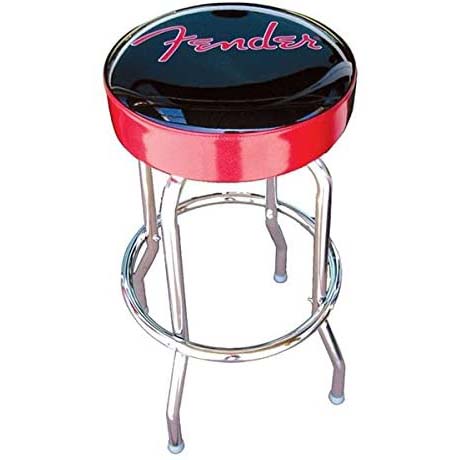 Price Range: Around $99
Have you noticed what your friend is sitting on whenever he plays his guitar? While it is true that you can play a guitar in almost any position, the ideal will still be sitting on a barstool with the correct height. It is more comfortable this way. It is also more convenient for the guitar player to find the best possible position without having to reposition the stool. It is for this reason that I encourage you to give your friend the Fender 30 Barstool. At 30 inches tall, this stool should be enough for any guitar player. The ring around the lower third of the legs make excellent platforms for raising the guitar player's leg. This will help prop the guitar to a more comfortable level. It's a great gift that any guitar player will be pleased to have in their home.
29. Ernie Ball Glass Slide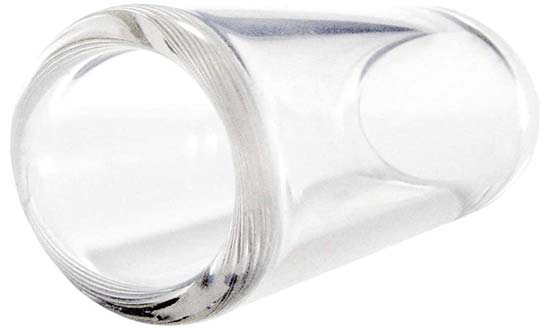 Price Range: Around $7
A glass guitar slide is perfect for playing songs with the shortest possible sustain. Your friend will love Ernie Ball's glass slide as it can provide the warmest possible tone. This is perfect for those who want that classic and silky slide sounds that are characteristic of blues. The slide is very easy to glide across the strings, allowing the guitar player to execute phenomenal slides with precision and ease. The only issue with glass slides is that they are breakable. Good thing Ernie Ball produces their glass slides with premium Pyrex materials. You can be sure that your friend will be using this slide for many years to come.
30. Dunlop 222 Brass Slide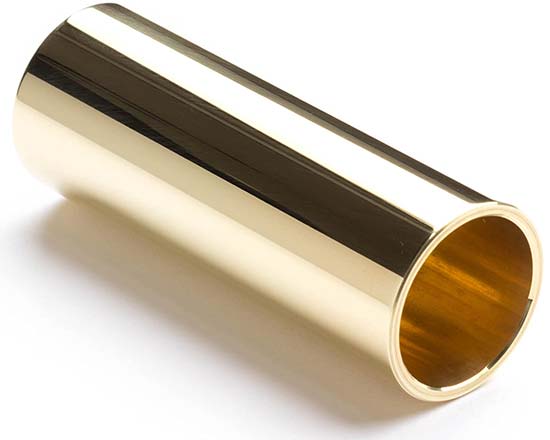 Price Range: Around $10
If you know of a guitar player who always plays blues and rock and roll music with lots of slides, then you should give him the Dunlop 222.This brass slide is tougher, heavier, and more durable than a glass slide. It is the ideal slide for players of the electric guitar, especially those who want to execute the ear-splitting slides of heavy metal guitar riffs. The sustain is longer and the sound that the brass slide produces is both brighter and louder. Some would say that the sound is darker or harsher. I'd say it's the kind of sound your friend will need to become the rock star that he is.
31. Wood Guitar Slide

Price Range: Around $21
Most of the guitar slides on the market are made of brass, chrome steel, ceramic, or glass. Metal slides offer brighter tones, while glass slides provide warmer tones. Ceramics are somewhere in between. It's possible your friend already knows this. It's time to surprise him with these bottleneck slides made of premium hardwood. Get your pick from Verawood, Flame-kissed ash, Leopardwood, Katalox, Goncalo Alves, Hormigo, and Curly Ash. These are super-tough wood materials that can give your friend's guitar playing the long sustain and vibrant tones he needs. Not only do these slides produce amazing guitar sounds, they are also beautiful deserving a spot in your friend's display cabinet.
32. Korg TM60BK Tuner Metronome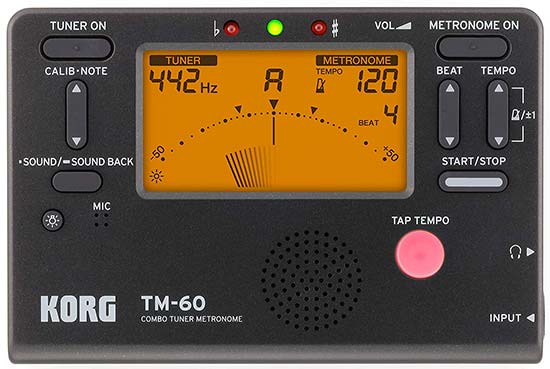 Price Range: Around $30
Guitarists have to play any song in its original tempo and rhythm. An ordinary guitar tuner won't help your friend master this skill. The Korg TM60BK will. This is a guitar tuner that doubles as a metronome. While it is bigger and non-clippable like other tuners, it makes up for it by its superior-quality acoustic signal processor. Your friend will find tuning his guitar very easy with the large display. At the same time, he can play the guitar song just like the original. This device can pick up tempos from as slow as 30 BPM to as fast as 252 BPM. Your friend's dream of becoming a superstar is now closer than ever.
33. Display Display Case Guitar Rack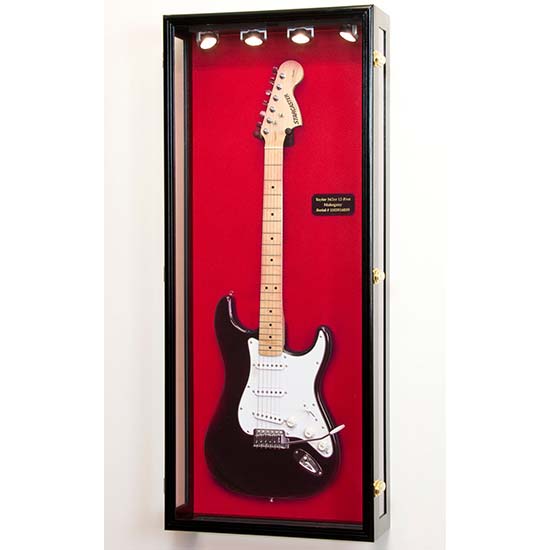 Price Range: Around $230
Does your friend love his electric guitar so much? How often do you see him clean and take care of his guitar in the same way that you would take care of your kids? If you have a guitar player who is very meticulous about his instrument, then this guitar rack is the perfect gift this Holiday season. It is actually an elegant display case that you have the option of installing display lights for a more polished effect. Made of premium quality Australian Beechwood and high-grade acrylic, this guitar rack not only protects your friend's music instrument from harmful UV rays. It is also a very beautiful way of showcasing his prized possession.
34. Crescendo CR-30 Phone Holder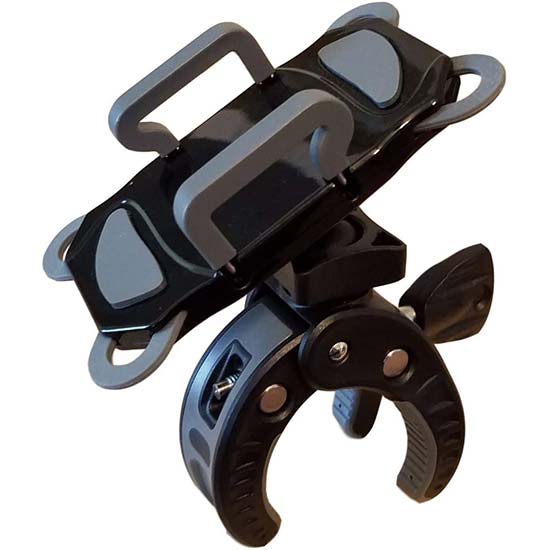 Price Range: Around $25
Beginner guitar players who are still learning the tricks of the trade will love the stability that the CR-30 provides. It can be tricky to mount on the neck of the guitar. However, its mounting will never affect the playing of the instrument. He will also appreciate the fact that the inside surface of the clamps will never scuff or damage the surface of the guitar neck. It also helps that the CR-30 has a swivel phone mount. He can adjust the viewing angle of his device to make his guitar playing a lot more comfortable. Since this gadget features a clamp mechanism, the guitar player can also mount it on any other music accessory. That's versatility for your friend.
35. Mr.Power Smartphone Holder Mount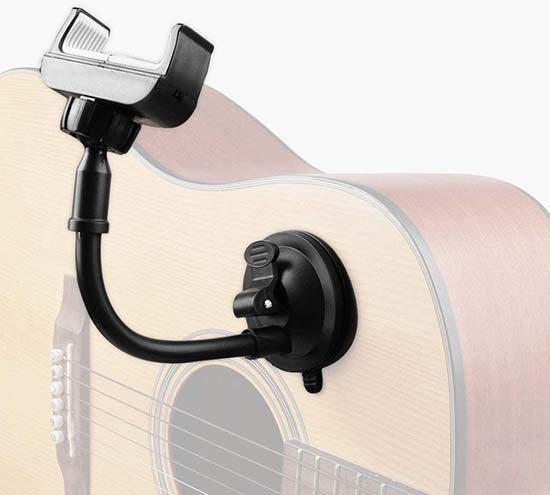 Price Range: Around $12
Some of the beginner guitarists I know would prefer to have their mobile devices right in front of them, instead of on the side. If your friend happens to be like these people, then you should present him with this smartphone holder from Mr.Power. The design of this product is very similar to the suction cup-based mobile device holders we put in our car's windshield. You can bet that the suction is powerful enough to hold your friend's mobile device without the base getting released from its suction grip. The gooseneck arm and the swivel ball mechanism allow for effortless viewing angle positioning. It doesn't work on nonporous surfaces, however. Your guitarist friend will still appreciate the thought, nevertheless.
36. BUYNEED Guitar Mug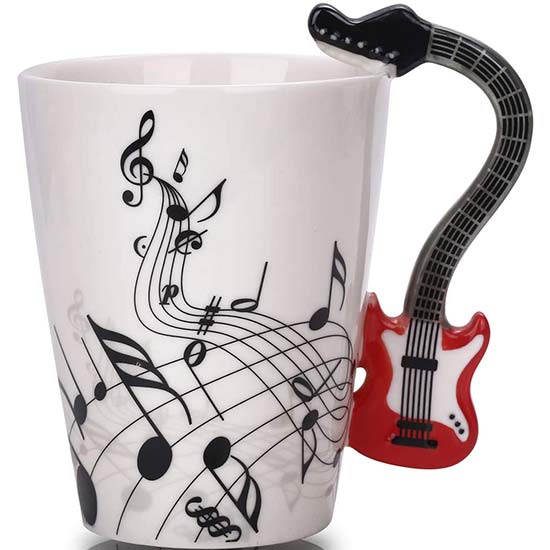 Price Range: Around $16
Let's pretend that your friend already has everything he needs to play his guitar. Now, you're scratching your head because you no longer know what to give him. Fear not. Coffee mugs are always great gift suggestions. Regardless of the occasion, coffee mugs are very thoughtful items that people will use every day. They don't even have to like coffee to use mugs. They can use the mug to hold their favorite beverage. And if you give this guitar mug from BUYNEED, you'll be reminding your friend of his passion for guitar playing and for music. Hot or cold, this mug is sure to keep the guitar player refreshed throughout his guitar playing session. And if he decides not to use it, the guitar mug will still be a good display piece.
37. Adironstix Musical Instrument Holder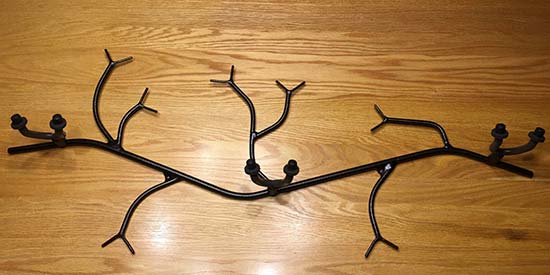 Price Range: Around $170
This gift suggestion is one very interesting piece of wall art. Even without a guitar hanging on any of the three music instrument holders, the Adironstix will still prove to be an elegant piece on your friend's wall. This wall-mounted guitar holder can accommodate three of your friend's favorite string instruments. While the item comes in a flat black color, you can ask the company to design the Adironstix in the color of your choice. You can also create your own design and have the company make it for you. This will give your friend a more customized rack to hold his most treasured guitars. If you're looking for unique guitar gifts, this is one of my favorites on the list.
38. DRSRacks Bravo7 Guitar Stand with Benchtop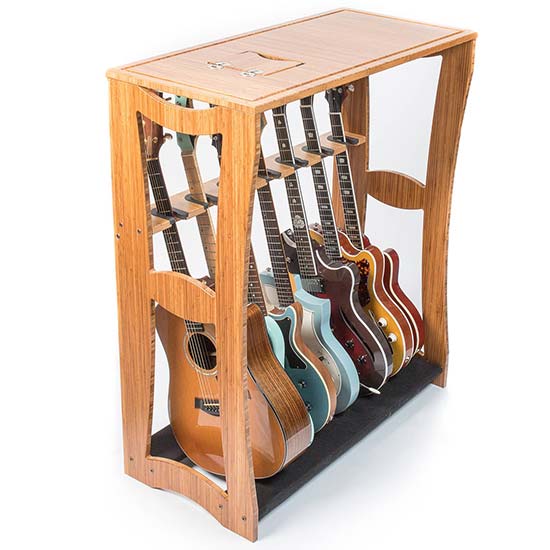 Price Range: Around $750
I know this gift suggestion can be outside the budget of some people. However, if you truly want to provide something very meaningful and useful to a guitar player friend, then every penny you spend on this guitar stand is worth it. Bravo7 features strong and lightweight bamboo materials. It can hold up to 7 different kinds of guitars. You can also choose between a benchtop and a drawer design. Your friend will love the benchtop variant of Bravo7. It has a pop-up stand that will prop the neck of the guitar to allow the effortless replacement of the strings. It is also sturdy enough to accommodate a TV. This versatility is something that any aspiring guitarist will appreciate.
39. Pyle Guitar Stand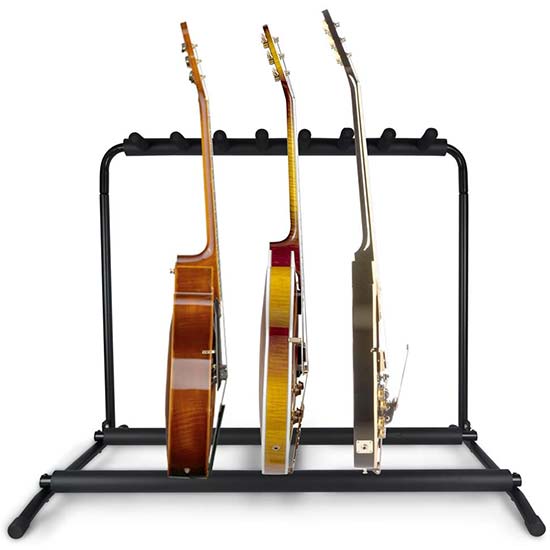 Price Range: Around $50
Can't afford elegantly crafted wooden guitar racks that double as a cabinet or as a workbench? Do you find the 3-guitar capacity of many guitar hanger systems to be less than ideal? If these are your concerns, then you might want to pick the Pyle guitar stand to give to your guitar playing friend. This guitar stand is not as fancy as wall art-themed systems and not as classy as wooden guitar racks. However, it does a good job of securing and organizing 7 of your friend's string instruments. It has an open top that allows your friend to put even the biggest string instrument in. Assembling the stand isn't a problem either. Your friend can put everything together within 5 minutes. This guitar stand is sure to keep string instruments organized.
40. Ernie Ball Musician's Tool Kit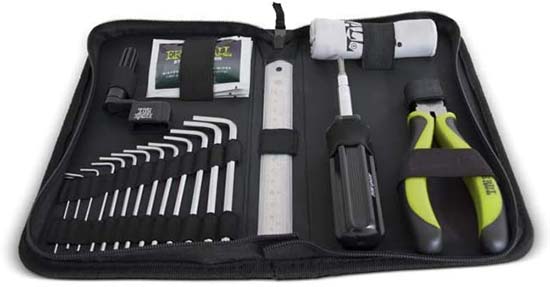 Price Range: Around $55
There will always be situations when a guitarist will require a more thorough examination and repair of his music instrument. That is why it's always a good idea to give him the Musician's Tool Kit. This tool kit already contains all of the things that your friend will need to take care of his guitar. There are 13 sizes of hex wrenches, a guitar string cutter, a peg winder, and even a 6-inch ruler. The kit also includes a microfiber polishing cloth, and a 6-in-1 screwdriver. Your friend will also adore the accompanying fretboard conditioner, instrument polish, and string cleaner. Now, that's what you call the ultimate in guitar care.
41. GIGmate Guitar Tool Kit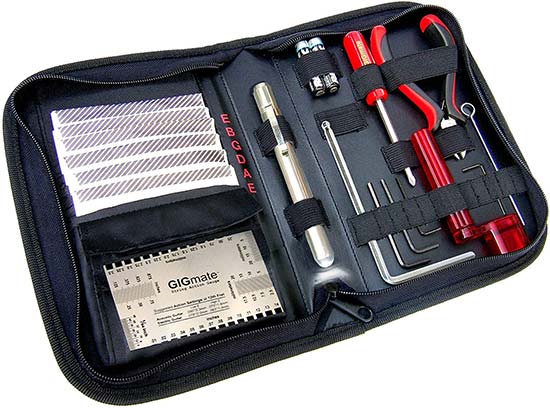 Price Range: Around $40
This is a great gift for guitarists. Inside the padded 600-denier nylon case is a set of tools that will help any guitar player set up, maintain, and fix his guitar. Not only does this tool kit come with the right items for fixing a string instrument. It also comes with additional components. There are pockets for storing and organizing guitar strings. There are also smaller pockets for plectrums and business cards, among other things. This GIGmate tool kit also comes with a trem poker that a guitarist can use for removing the stuck ball ends of guitar strings. The system already comes with a 2-in1 screwdriver and heavy-duty, carbon steel guitar string cutters. Your friend will also get an LED flashlight, 2 Allen wrenches, and a truss rod wrench for acoustic guitars. Also included are a setup gauge, a bridge pin remover, a string winder, and a trem poker. It's a complete set that makes prepping and maintaining a guitar a breeze.
42. D'Addario Pro-Winder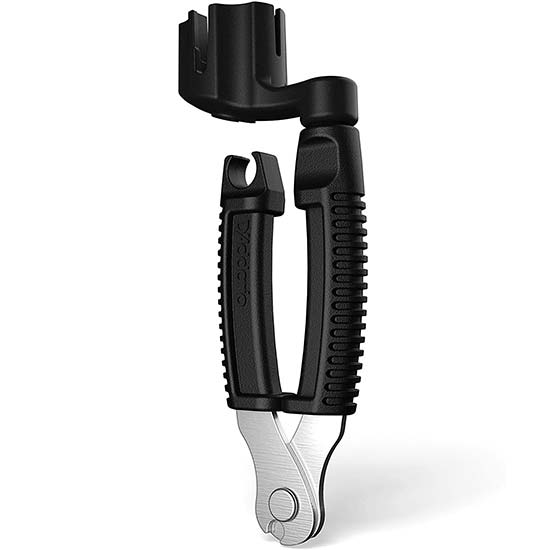 Price Range: Around $17
There really is no need to give your friend a very complicated tool set if he knows how to maintain his guitar very well. However, there will always be the need to replace the strings of his instrument. That's why I believe D'Addario's Pro-Winder is a great gift. This device does not come with a lot of tools. What it can do is cut excess guitar strings, pull the bridge pin, and even wind the pegs of the guitar. Your friend will enjoy the functionality of three different tools in a very elegant and ergonomic package. Guitar players will love using this tool because of its robust construction and dependable operation. Giving this to your guitar player friend will truly make his day.
43. Donner DC-2 Guitar Capo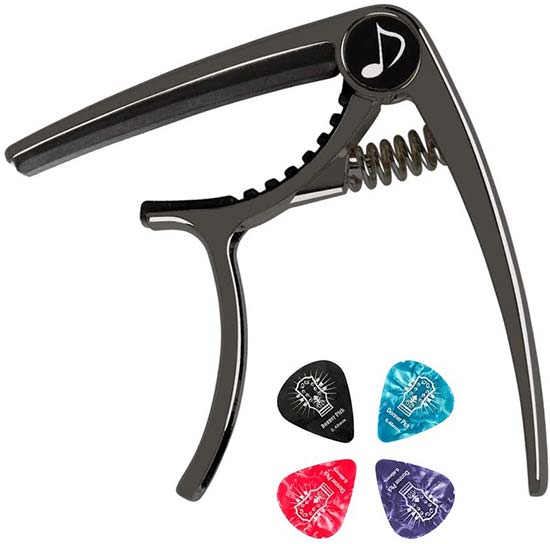 Price Range: Around $12
Guitar capos look essentially the same, except for a few design elements. There is one element about the Donner DC-2 that makes it quite unique. Your guitarist friend will love the memory spring embedded into this guitar capo. Regardless of which guitar your friend will put this capo on, the device will instantly apply the correct pressure that is specific to that guitar. Put the capo on another guitar and the spring mechanism adjusts accordingly. This is one of the most exciting developments one can ever appreciate in the world of capos. And I'm confident that your friend will love this capo, especially if he has several guitars in his collection.
44. WINGO Guitar Capo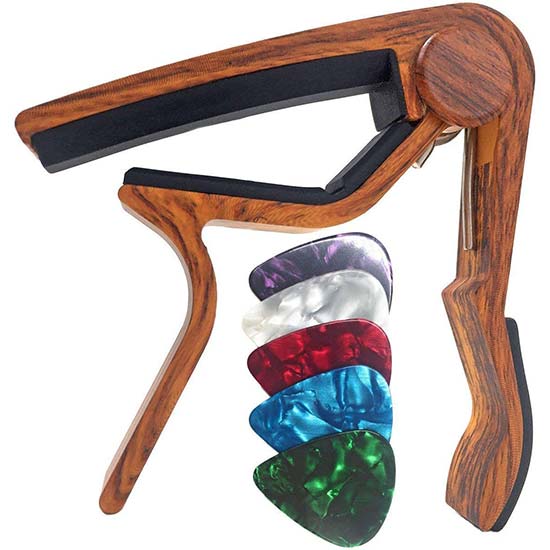 Price Range: Around $15
This is a guitar capo that is the perfect gift for the guitar player who is a fan of wood grain aesthetics. The rosewood construction of this capo should complement the natural beauty of wooden acoustic guitars. The lovely grain and the nice finish can blend well with the grain aesthetics of acoustic guitars. Guitar players will also find this gift as useful in their playing of songs. The set already comes with 5 colorful picks. The capo provides balanced pressure on the springs to give the guitar a clear tone. Your guitarist friend will love the fact that clamping the capo is very easy without ever affecting the guitar's tuning.
45. Creative Motion Guitar Desk Lamp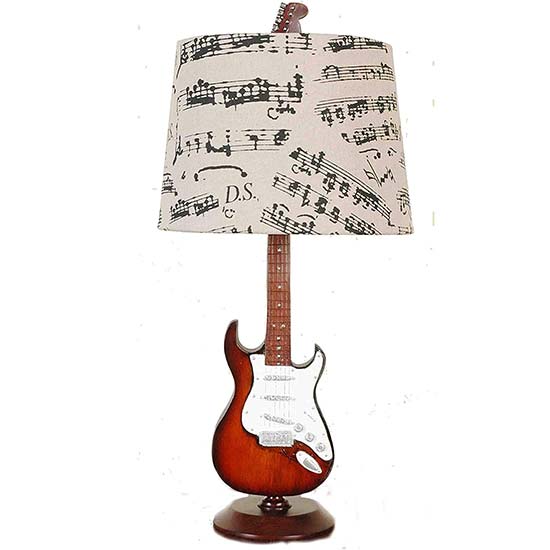 Price Range: Around $80
With a base that takes on the shape of a popular electric guitar model, this Creative Motion desk lamp is sure to keep your guitarist friend all pumped up to play more interesting music. The lamp shade also has music elements that feature music symbols, staffs, notes, and time signatures, among others. Your friend will have the shadows of these music characters on his wall as soon as he turns out the main light of his bedroom. The light shining from above will create a fascinating silhouette of the electric guitar base. These are often enough to conjure images of an amazing rock star performance. This desk lamp works as an elegant table décor, too.
46. Getaria Wireless Guitar System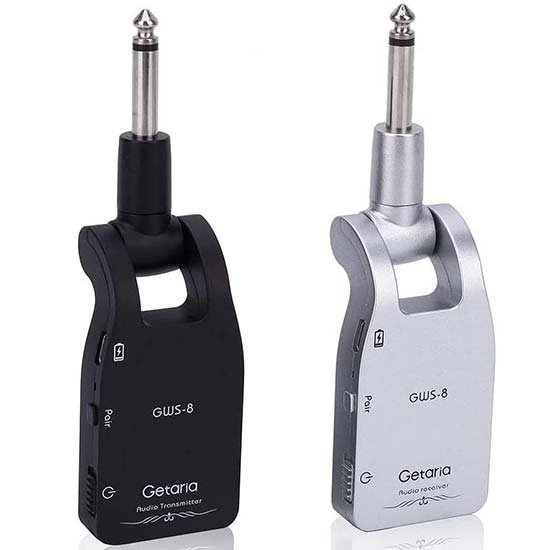 Price Range: Around $50
Help your friend play the electric guitar like a rock star with this wireless system. The Getaria is the perfect device for wannabe heavy metal artists and rock and roll superstars to create phenomenal guitar acts. This pair of small devices instantly plugs into the corresponding ports on the electric guitar and a guitar amplifier. It saves your friend from the cumbersome task of having to run several feet of cables to connect the two equipment. The wireless connectivity of these devices is good enough for about 98 feet or 30 meters. The best part is that your friend and his band mates can connect 6 different devices all at the same time. There's no interference whatsoever. This is a small gadget that every aspiring guitarist should have.
47. Xvive U2 Guitar Wireless System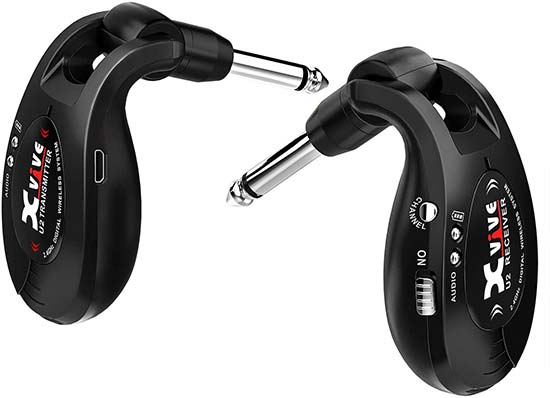 Price Range: Around $155
Is your friend entertaining the idea of setting up his own band? Will they be using mostly electric music instruments, like electric guitars, violins, keyboards, and bass guitars? If so, then it would be wise to give him this set of guitar wireless system from Xvive. The U2 is a nifty gadget that connects electric guitars and other electric music instruments to music accessories, such as amplifiers. Guitar players will love the connectivity of this device. Whereas other systems can only maintain a stable connection within 60 feet, the U2 can keep the guitar connected to the amplifier within at least 70 feet. You will also be interested to know that the U2 can be used anywhere in the world. Your friend can bring this to any gig that they may have around the globe.
48. LEKATO Wireless Guitar System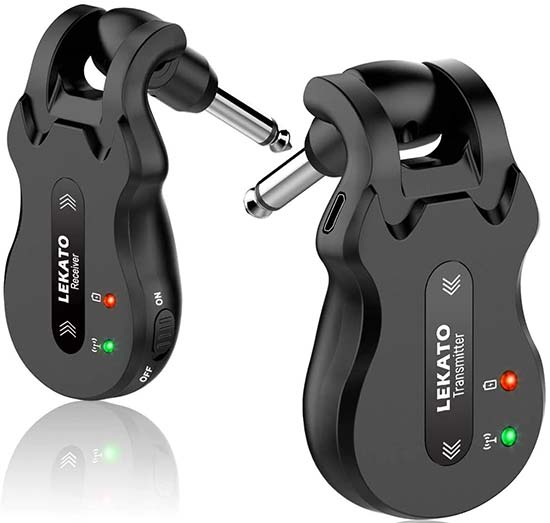 Price Range: Around $60
If you're looking for a guitar wireless system that has an amazing range to give to a guitar player, then the LEKATO system is it. This product may look like any other wireless system on the market. However, it has a few very unique advantages. First, its wireless range is insane. It can establish and maintain a stable and reliable connection within 300 feet. This is more than 3 times what other high end guitar wireless systems can offer. Second, the system also operates on a 5.8 GHz platform, allowing guitarists and musicians to connect more instruments. The 4-channel system also helps in organizing everything. Musicians can connect the LEKATO on a keyboard, a mixer, electric drums, a violin, an electric guitar, and even the microphone. Now that's a system your guitar playing friend will want.
49. MONO M80 Guitar Case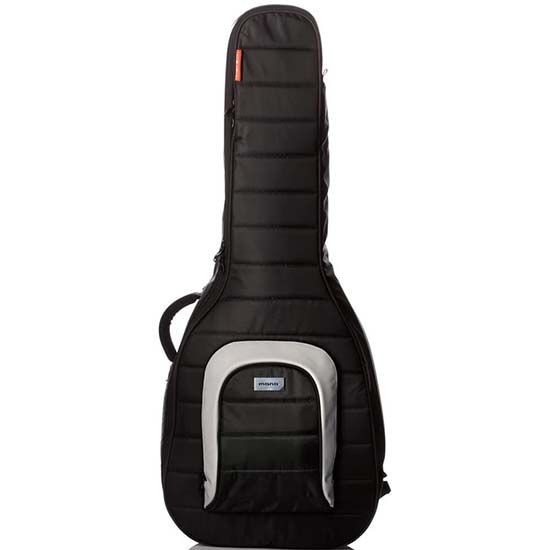 Price Range: Around $250
Guitars often get sold with their accompanying carrying cases. Unfortunately, many of these cases can only protect the guitar against dust. Many of these 'standard' guitar cases are not waterproof and cannot protect the instrument against breakage secondary to accidental falls. If your friend is still using the case his guitar came with, then it's time to make an upgrade. Consider giving him the M80 guitar case this Christmas or even on his birthday. The M80 may look like an ordinary and flimsy case. However, its hybrid design consists of ABS impact panels for the guitar's body and head. The outer skin features a sharkskin shell that gives the case excellent waterproofing. There is also an industrial-grade rubber piping and sole to further improve guitar protection. Think of the M80 as the bulletproof vest of your friend's guitar.
50. Audio-Technica ATH-M50X Professional Studio Monitor Headphones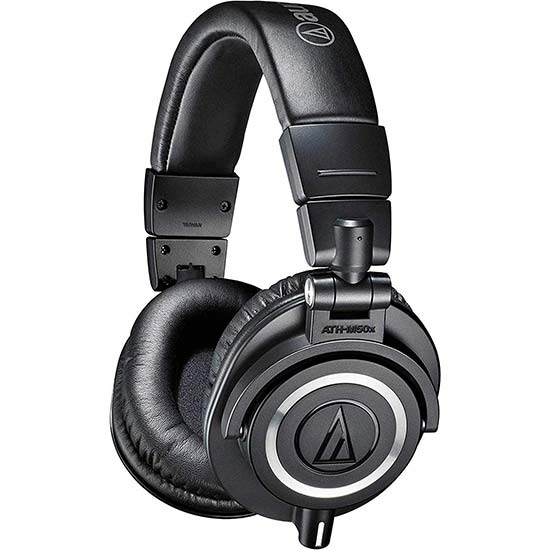 Price Range: Around $170
The ATH-M50X is not your ordinary stereo headphones. This is an awesome studio monitor headphones that professional artists and musicians use for listening to the music that they are creating. If you give this headphone to your guitar playing friend, he will have the chance to listen to the different notes that his guitar produces. He can then make the necessary adjustments to his playing. On the other hand, the ATH-M50X can also be a wonderful tool for enjoying songs in the clearest form. Anyone who uses these headphones are sure to appreciate the deep bass and the delightful highs and mids that music pieces have. It's time to help your friend take his guitar playing to the next level with these pro-grade headphones.
51. Picture Chord Encyclopedia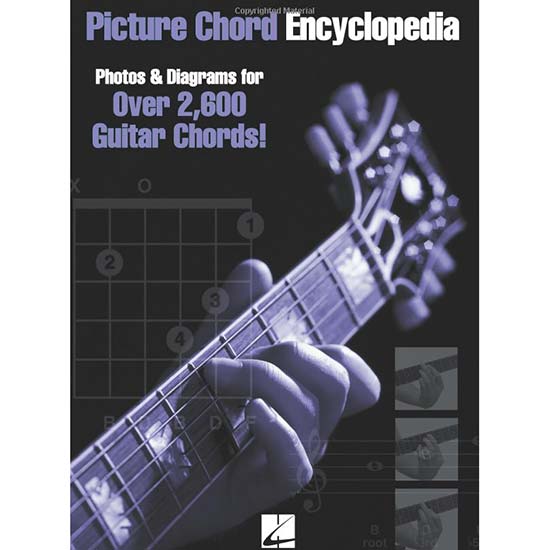 Price Range: Around $20
I cannot think of a better gift to someone who is only beginning to learn the basics of guitar playing. There are many video tutorials online. And they are free. However, giving someone a physical copy of this illustrated book will mean the world to him. Of course, you're welcome to give him a digital copy of this encyclopedia. What beginner guitarists will find helpful in this book are the different guitar chords that number 2,640 in total. There are illustrations on the playing styles and adequate description of the 44 different chord qualities. And if you add the basic fingering techniques, barre chords, open chords, and many more, this is one piece of literature that any budding guitarist should never pass on. And you can make that happen.
52. Snark SN5X Clip-On Tuner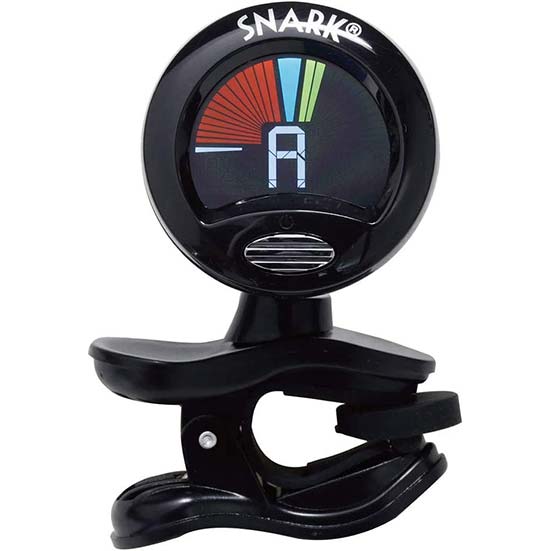 Price Range: Around $20
It's small. It's compact. And it does a very good job of measuring and displaying the unique frequency signature of your friend's favorite string instrument. What makes this guitar tuner so amazing for any guitar player is its redesigned, advanced processor. This system allows the device to tune your guitar fast and in a very accurate manner. The display comes with a swivel mechanism. Your friend will never have a difficult time looking at the display. Using the SN5X is also as easy as clipping the device on the upper edge of the guitar head. And if your friend also happens to have a bass guitar or even a violin, he can use this tuner, too. It's a great tuner for the aspiring guitar player.
53. KLIQ UberTuner Tuner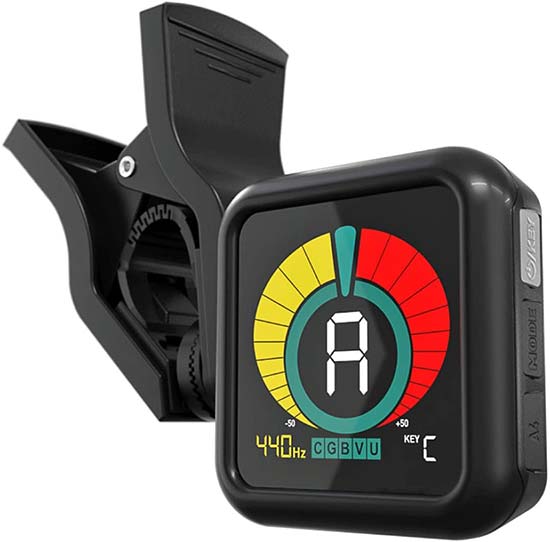 Price Range: Around $25
Worried that your friend might not be able to use the Snark for tuning his ukulele? You might want to consider giving him the KLIQ UberTuner instead. This is an advanced digital guitar tuning device that can accommodate different string instruments. What's more, it tunes these instruments in their chromatic mode. You will also find the square design of the UberTuner to be a lot more pleasant than the typical round-shaped tuners. The display is bright and your friend can position it for optimum viewing. The clamp is strong and will never scuff the shiny finish of your friend's guitar. This is a great gift for a budding guitar player.
54. D'Addario Guitar Tuner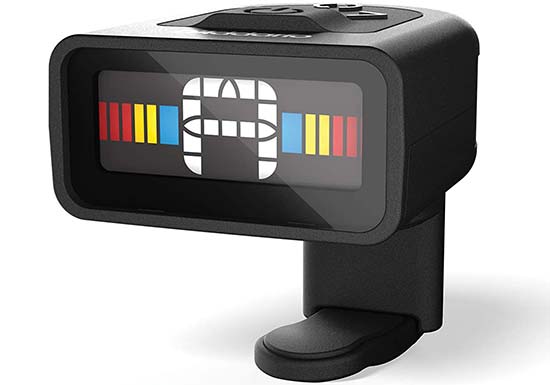 Price Range: Around $20
Any guitar player will love D'Addario's PW-CT-12 guitar tuner. One of the most striking attributes of this device is its low profile display. Other tuners have displays that stick out of the guitar like a sore thumb. This device is about the height of the posts of the tuning keys. The discrete design of this guitar tuner allows it to blend seamlessly into the headstock of the guitar. It looks as if it isn't there at all. This design will allow your friend to keep the tuner fixed to his guitar at all times, even when he stores his instrument in the bag. Reading the tuner is also easy because of its tricolor backlit display. I'm sure your friend will be ecstatic.
55. Fender Bullet Chromatic Tuner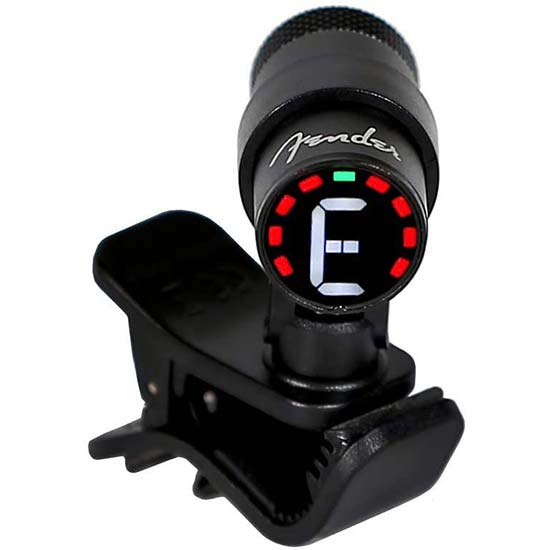 Price Range: Around $30
A digital tuner should be very versatile. It shouldn't only be able to tune guitars and violins. That is why if you know of a guitar player who also happens to own a mandolin, banjo, and viola, then the Fender Bullet is the perfect gift for him. The Bullet has a very unique cylindrical design that I'm sure your guitarist friend or family member will love. The display is simple yet bright and clear. It would blow your guitarist friend away to learn that Fender designed the Bullet with a revolutionary aesthetic and exceptional live performance dependability in mind. Its non-intrusive design blends well with the aesthetics of any string instrument. The accuracy is never a question, too. This is exactly what a guitarist needs.
56. Fender Premium Picks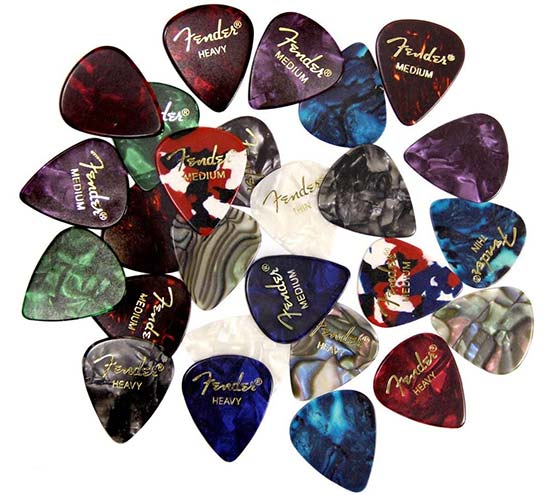 Price Range: Around $14
If you think a 10-piece gift pack isn't enough for your friend, then you should choose this gift set from the world's leading manufacturer of string musical instruments. Fender uses only premium-quality celluloid materials to give your friend the chance to produce melodies that have a warmer tone. The package comes with 24 picks in 3 different gauges and a variety of colors. There are thin, medium, and heavy picks that your friend can use in different song and guitar-playing applications. And since it is from Fender, you can bet that your friend will feel special. This is a brand that professional musicians trust. Your friend can rely on the quality of the picks, too.
57. D'Addario Assorted Pearl Celluloid Guitar Picks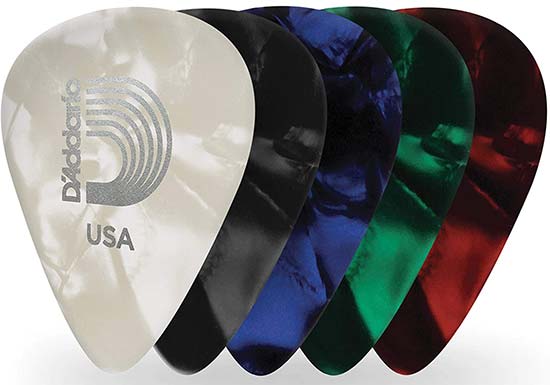 Price Range: Around $6
Is your friend a fan of tortoiseshell guitar picks? These are rare, fragile, and expensive picks. Moreover, they're illegal. So, what's the best alternative? How about a celluloid guitar pick? Your friend won't know the difference between an authentic tortoiseshell pick and D'Addario's celluloid picks. These picks provide a warm tone that is perfect for fingerpicking and strumming. They also have a natural feel to them that makes them very pleasant to hold. You can pick different styles and colors that will match the personality of your guitar playing friend. And since this set already comes with 10 guitar picks, your friend will never run out of picks to play his guitar.
58. Coin Guitar Pick with Birth Year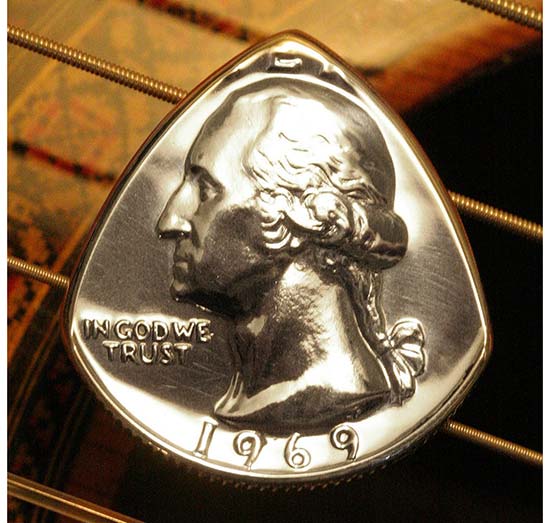 Price Range: Around $20
Want to give a plectrum that will wow your guitar playing friend? Then you should have Guitar Pick Collection make a coin guitar pick for you. You can choose any coin year model from as far back as 1950 to as recent as the current year. Find out if your friend prefers the eagle reverse quarters or the more contemporary America the Beautiful series. Just make sure to find out in a very subtle way to keep the surprise. I just would like to caution you that these customized coin guitar picks are a bit smaller than your conventional plectrum. Nevertheless, it would still make for a very fun guitar playing.
Related Article: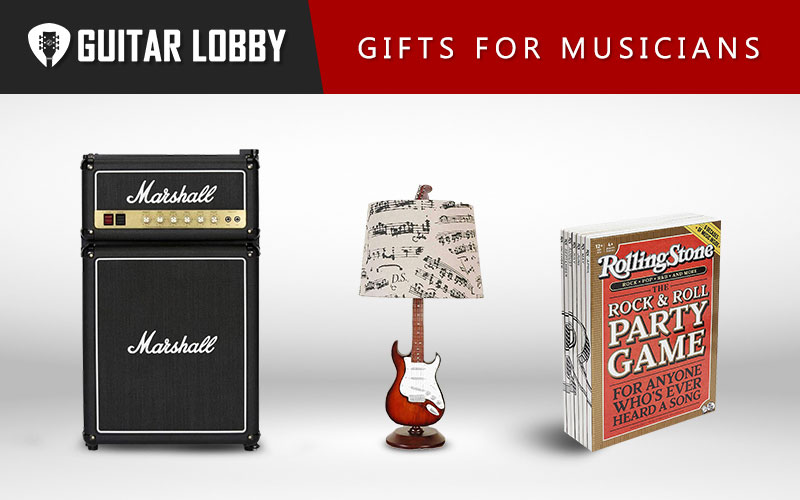 Wrap Up:
That does it for this list of gifts for guitar players. Choosing a gift based on the recipient's interests is a great way to ensure they'll like and actually use the gift you pick for them, and I hope I helped you find the perfect present for the guitar player in your life. Regardless of their playing needs and goals, you can bet that these products will be very useful. Some of them may not be directly related to the creation of music. However, I can say that these items can provide your friend with the right environment necessary for playing the guitar. These gifts are sure to bring a smile to your guitar playing friend.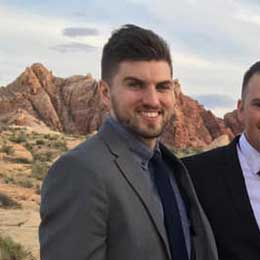 My name is Chris and I've had a passion for music and guitars for as long as I can remember. I started this website with some of my friends who are musicians, music teachers, gear heads, and music enthusiasts so we could provide high-quality guitar and music-related content.
I've been playing guitar since I was 13 years old and am an avid collector. Amps, pedals, guitars, bass, drums, microphones, studio, and recording gear, I love it all.
I was born and raised in Western Pennsylvania. My background is in Electrical Engineering, earning a Bachelor's degree from Youngstown State University. With my engineering experience, I've developed as a designer of guitar amplifiers and effects. A true passion of mine, I've designed, built, and repaired a wide range of guitar amps and electronics. Here at the Guitar Lobby, our aim is to share our passion for Music and gear with the rest of the music community.