A guitarist that needs no introduction, Jimi Hendrix and his prolific career revolutionized Rock and Roll with an electric and soulful sound, one that for many, dethroned Eric Clapton as the "god" of the electric guitar.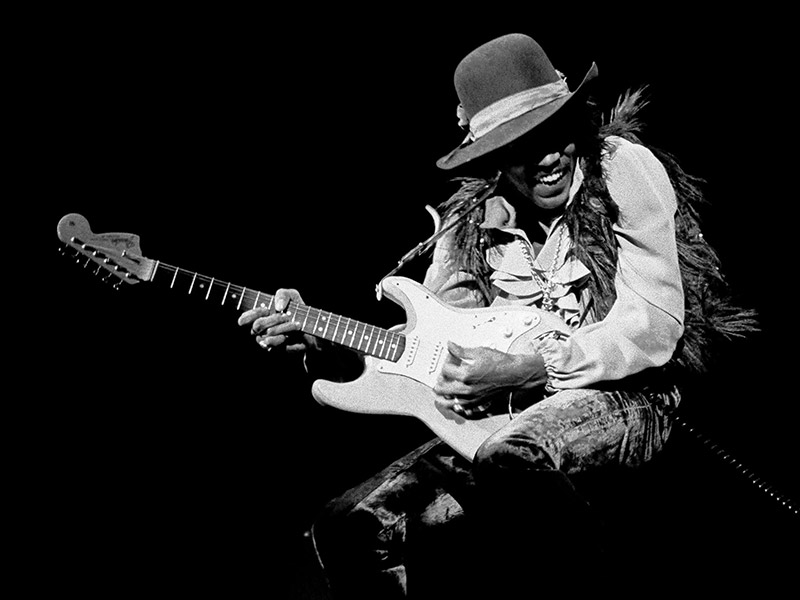 Undoubtedly influenced by the blues, Hendrix paid homage to his heroes and referential figures, Muddy Waters, B.B King, Robert Johnson, and Elvis Presley. For Hendrix, the electric guitar was an instrument to channel his soul and connect with his audience, and while he did grow fond of some guitars, in particular, he relied heavily on his talent and soulful delivery more than the gear itself.
What Guitar Did Jimi Hendrix Play?
Jimi Hendrix was well known for playing Fender Stratocaster guitars. He owned several Stratocasters and played a wide range of other guitars as well, but many didn't last long as they were smashed or burned at the end of a live show.
See the full list of notable Jimi Hendrix guitars below.
1964 White Fender Stratocaster (Carol)/(Linda)

Years Used: 1966 to 1967
Finish: Olympic White
Although Jimi Hendrix is known for smashing some of his guitars, There were some he cherished and publicly noted his love for. This Fender Stratocaster, also known as Carol or Lina, was probably the first of many Strats that belonged to Hendrix. With a bleak background story and uncertain timeline, the lore establishes that his girlfriend at the time, Carol Shiroky, actually purchased this white six-string for him from Many's Music Shop in New York.
This is most likely the Olympic white Stratocaster that Jimi used when he left America and founded the Jimi Hendrix Experience in 1966, meaning it was used between New York and the UK. There's also a story that intertwines this guitar to an identical strat Hendrix allegedly borrowed from Keith Richards' girlfriend, so it's hard to tell which Olympic white Strat Jimi played during the foundation of The Experience and wielded as his main guitar during their first European tour. According to Linda Keith, Hendrix borrowed the guitar after smashing another white Stratocaster, but she never mentioned whether the guitar was returned or not.
The white Stratocaster is one of the most associated guitars with Jimi Hendrix, and the story of which of the two start stories he ended up keeping is something that we'll never know as pointed out by his former girlfriend Kathy Etchingham in her book, Through Gypsy Eyes, where she stated:
"There were rumors that it was one of Keith's guitars which she passed on to him, but Jimi said she had bought the guitar in New York just before he came to London. Now I guess we'll never know" – Kathy Etchingham, Through Gypsy Eyes.
As the only guitar he took to London, it was his main instrument for a vast number of gigs, including the milestone London Are You Experienced? recording sessions, at the DeLane Studio. By 1967, there were several TV appearances and recorded live shows where Jimi can be seen playing a Sunburst Stratocaster while the white one sits in the background. The sunburst strat was a consistent presence during most of the band's shows in Germany and England, but for a brief tour in France, the White Strat would resurface.
The last known use of this enigmatic white Stratocaster was on February 22nd, 1967 at the London Roundhouse, most of the documented shows back then were photographed rather than recorded, so it's difficult to find solid evidence of this. Nevertheless, the dominant use of the Sunburst Strat seemed to have eclipsed Hendrix's original model around this time.
1960s Sunburst Fender Stratocaster

Years Used: 1967 to Unspecified
Finish: Sunburst
An iconic set of Stratocasters that lived through the Jimi Hendrix Experience's rise to stardom, Jimi bought two Sunburst Strats when he returned to London after touring the Newcastle and South Shield in Britain in 1967, reportedly these were a '63 and a '65 models that eventually propped a few of the icon's most memorable performances. These Sunburst Strats gradually replaced the worn white Strat Hendrix initially went to England with and debuted on Chelmsford on February 25th, 1967. Also, if the stories align, one of these would become the first Stratocaster to ever be "sacrificed" or engulfed in flames after the band's presentation at the Astoria Theater.
These were also the first guitars that saw a charismatic and confident Jimi playing with his teeth on several occasions, something that would trademark him as a showman, and is safe to say, would seem wild and preposterous for the times.
Throughout March of 1967, Jimi took over European television, especially in Germany with the program The Beat Club. Most of his performances were iconic for the era when the Jimi Hendrix Experience played at the Marquee Club as well as the Star-Club in Hamburg, it seemed clear enough that wherever this band would play, would change forever, and many occasions were recorded with these Sunburst Stratocasters. One of the most notorious and infamous gigs as mentioned earlier, was at the Astoria Theater, as the band discussed alternatives to reach the headlines, the common consensus among the band was to stage and set Jimi's guitar on fire on the night of March 31st.
There are many stories surrounding the torching of a particular Strat that would later be auctioned in 2009 for roughly $575,000. But Tony Garland, former press officer of the band would later share his own words on the event:
"They said they were going to burn it – so I nipped round the corner to buy some Ronson lighter fuel. It sounds ludicrous – but they were fairly ludicrous days". – Tony Garland, Uncut UK
1963/64 Fender Stratocaster (Monterey Pop Strat)

Finish: White Background with Custom Graphics
Years Used: 1967
A truly mythical Stratocaster, arguably the most recognizable Hendrix guitar today. Before being sacrificed and burnt at the end of the Monterey Pop Festival, its debut is thought to date back to the Jimi Hendrix Experience appearance on the British TV Show, Top of the Pops in March. This Strat was originally solid red with a rosewood neck, and it made vague appearances until May of that same year when it was used as the main instrument for a brief European tour before Hendrix went to Monterey.
The Monterey Strat is thought to have been either a 1963 or 64 model, based on its setup and branding features, according to photographic records, it had the Fender "spaghetti logo" on a smaller headstock, both would be changed later in 1965. It's not to be confused with Hendrix' Saville Strat, which was also solid red and originally bought and used along with this other iconic guitar, but instead, it had a maple neck.
During the Monterey Festival, Jimi switched guitars throughout the whole set, but just before his closing tune Wild Thing, he switched to this iconic Stratocaster only to set it on fire, smash it into pieces, and throw it to the audience. Behind this gear thrashing milestone there is a story however, The Experience had been an opening act for The Who months before the festival, and both claimed to have been the first to smash their equipment. Backstage, Pete Townshend and Jimi Hendrix knew that Monterey would be a defining gig, and a first major US performance, so they decided that whoever went on stage first would claim the title. With an actual coin toss, The Who went on first, and so to top the act, Hendrix decide to burn and smash his guitar.
As for the remains of this iconic Fender Stratocaster, there's only one piece left known to exist, which is exhibited at the Museum of Pop Culture in Seattle.
1964/65 Fender Stratocaster Saville Theater

Years Used: 1967
Finish: Custom Red/White
One of the two hand-painted, originally red-finished Strats that Jimi owned, the Saville guitar, however, was chronologically speaking the first one to be employed in his brief European tour. This guitar is said to have debuted one or two gigs before his appearance at the Saville Theater on May 7th, 1967, which is considered memorable due to the feature of this Strat more than anything else. However, the usage of this six-string is far from established and lacks a concise timeline, live performances were taped for audio rather than video, and it is said that Jimi would smash this maple neck Fender during the closing show of his tour in Copenhagen.
"I was playing in Copenhagen, and I got pulled off stage. Everything was going great. I threw my guitar back onto the stage and jumped back after it. When I picked it up there was a great crack down the middle. I just lost my temper and smashed the damn thing to pieces"- Jimi Hendrix, Starting From Zero, His Own Story.
The maple neck Stratocaster on another hand, was as rare then as it is now being a mid-1965 model, it sported a transitional headstock for Fender, and the maple with special pickup set up was done only through special orders. In terms of sound, the pickups on this guitar were Fender's very own creation for the time, it consisted of three single coils that are now known as American Vintage 65. With Alnico 5 magnets and staggered polepieces that brought a balanced volume output, this microphone set was really a special thing back then, and needless to say, so they are now. The final touch that made this Strat a Jimi Hendrix stamp was the poem that reads on the back of its body:
"May this be love or just confusion
Born out of frustration
Wracked feelings
of not being able to make true physical
love to the universal gypsy queen of
true, free expressed music
My darling guitar, please rest in peace.
Amen."
The split body of the Saville is accounted for and kept for an exhibition at the Museum of Pop Culture in Seattle Washington, it's kind of a crazy coincidence that its remains are so close next to its "sister" the Monterey Strat.
1960s Fender Stratocaster (Tortoiseshell)

Years Used: 1967 to 1968
Finish: White
This rare Stratocaster, for its time, is known as the Hollywood Bowl Strat to many, and it was along with other White similar models, that Hendrix played during late 1967 after the Monterey Pop Festival. Around August 1967, Jimi had already adopted his peculiar Flying V, but remained loyal to his standard models, in this case, the tortoise pickguard Strat made for the new rare variation in his catalog since August 18th in Los Angeles and later at the Saville Theater in London once again.
A tortoise-shelled Stratocaster is well enough a rare find, and back in the 1960s this could be considered a wild dream and nothing more, nevertheless very few were produced, and 1964 is deemed by many as the best year for Strat production. Jimi's Stratocaster was a peculiar spec combination, a white Olympic finish guitar with three single-coil pickups that defined the early stages of rock music, also the headstock on it seems to be bigger than the transitional ones made that year so it's hard to tell the year of manufacture.
This guitar's run with Jimi lasted until November of the same year it first appeared, while it wasn't used nearly as much as his usual white Stratocaster, there are several smashing routines reported with this guitar. Its final gig was at the Blackpool Opera House, where he would seemingly use the Strat to somewhat hump his Marshall stack as you can see in this video of the show.
1968 Black Fender Stratocaster Maple Neck

Years Used: 1968 to 1970
Finish: Black
There was a certain point in 1968 when Jimi decided to keep certain guitars safe and sound rather than thrashing them on stage, this black maple neck Stratocaster was one of the very first known to be babied by him, along with another white Strat. These few selected guitars stuck with Jimi well into his final days and saw him perform some memorable shows, as well as a few arthouse sessions that would pair him with these black and white Strat models.
Since January 1965 CBS took over Fender and imposed some changes many held as undesirable, but Jimi certainly changed that perception wielding this 1968 Stratocaster model. The 1968 manufactured Strat was a bolt-on two-piece maple guitar with a truss rod between them, it featured a wider headstock and "F" style tune pegs made by Schaller rather than Fender.
Hendrix made an unearthly gig at the Lulu Show in 1969, when he went on aired British television to perform an impromptu tribute to Cream after halting the band mid-way through Hey Joe. Unfortunately, the BBC's policy from back then had most of the tape deleted, but mild footage has been recovered and brought to light. This is the guitar Jimi used for his first and second appearances at the Madison Square Garden in 1969 and 1970, the Royal Albert Hall, and the Freedom: Atlanta Pop Festival, where it was used for most of his set.
The aforementioned performances are only a few with his CBS-era Maple Stratocaster, but to sum things up, Jimi went to stage since later 1968 all the way to his last show in September 1970 with this guitar. This is one of my favorite Jimi Hendrix guitars.
Popular Related Article: Tony Iommi Guitars and Gear List
1957 Supro Ozark 1560s

Years Used: 1959 to 1960
Finish: White with Black Pickguards
Jimi Hendrix's first electric guitar, this Supro Ozark was a gift from his father in 1959, allegedly it was bought in his hometown of Seattle at Myers Music Shop for $89. This model saw Hendrix become a road musician and accompanied him through his early years with The Rocking Kings. During this period Jimi toured various states but mostly remained local, in Seattle, where he would notoriously play frequently at a venue called The Spanish Castle, a place that would later become a source of nostalgia for him.
There's little information or knowledge about this obscure model, it was created by a company named Valco that also made instruments for more generic brands from back in the day. Jimi's Supro Ozark featured a steel guitar single pickup, which functioned with magnets, a black pickup with a white finish, usually made in mahogany, this six-string is said to pair well with any style or genre. For many guitar nerds, this may be the original model made to fit slide players, hence a preference for delta blues aficionados.
There might not be featured videos of Hendrix with this first model of his, but the legend tells that he was very fond and nostalgic for his days with it, hence his tune Spanish Castle Magic, which becomes hauntingly beautiful if you make the relation between him and his early venue. Jimi stuck with his Ozark 1560s until 1960 when the guitar was stolen from the bandstand at the Birdland Club during a gig.
1960s Danelectro Bronze Standard "Betty Jean"

Years Used: 1960 to 1962 (Uncertain)
Finish: Copper Red
Following the disappearance of his Supro Ozark 1560s, Jimi bought himself this Danelectro Bronze Standard with the help of his father, he would name it Betty Jean after he allegedly repainted its originally green body for a light copper red shade with its nickname on it. Although little is known about Jimi's time with this guitar, it is confirmed that he named it after his girlfriend at the time Betty Jean Morgan, during his days with the Army.
This Danelectro had a two single-coil set up to a semi-hollow cut body, it would enable a particular resonance that made the series known as a semi-acoustic line, while this may not be particularly true, the fuzzy Danelectro Standard offered a certain rocking sound that is rare to come around. Hendrix's model specifically, featured a white pickguard and a selector that could switch between a low fuzz tone and a classic full-body mid-treble. Once reviled as a low fidelity instrument, a "Semihorned" Danelectro Standard, is now nothing short of a rare classic to come across.
Jimi Hendrix began his career with the army without his guitar, it is known he busked in the ranks to earn some extra cash with a borrowed Echo guitar or whatever instrument he could find. In the book Starting at Zero: His Own Story, there's a published letter in which he asked his father to send over this Danelectro six-string.
Discharged in 1962 with only $400, Jimi headed home empty-handed, as for the whereabouts of this guitar, Jimi shared in his biography the following: "In the army, I'd started to play guitar very seriously, so I thought all I can do is try to earn money playing guitar. Then I remembered that just before I left the army I'd sold my guitar to a cat in the unit. So, I went back to Fort Campbell, found the guy and told him I just had to borrow the guitar back." – Starting at Zero: His Own Story
Popular Related Article: History of Jimmy Page's Guitars and Gear 
1960s Ibanez Jet King

Years Used: 1962
Finish: Two-Tone Sunburst
Although these early years of Hendrix's career are far from being solidly established, he stepped out of Fort Campbell in mid-1962 to form a band named the King Casuals, with Billy Cox and Charles Washington. They spent most of their running time between Clarksville, and Nashville, Tennessee, and during this period Jimi grew somewhat obsessed with this Ibanez Jet King despite having to restrung it before every show. It is unknown if this guitar belonged to him or if it was borrowed, but the legend points out that he had a hard time keeping up with the installments on this guitar so it would be often pawned in between gigs with hopes that the band would buy it back for him. Nevertheless, pawning was something Jimi often did to keep up with paying rent, and eventually, he never got his hands again on this Ibanez.
The Jet King was and is one of Ibanez's most distinctive models, according to its original blueprints, this first model was released in 1960 and it featured a Powersound PSND1 humbucker pick up on the neck position and a Powersound PSND2 on the bridge. So it would be safe to presume that this was the set up on Jimi Hendrix's two-color sunburst Jet King.
1961 Epiphone Wilshire

Years Used: 1962 to 1964
Arguably the first iconic Jimi Hendrix guitar in the catalog also dubbed the King Casuals era Wilshire. Jimi purchased this Epiphone model late in 1962 after a presumed period of borrowed and pawned guitars in Tennessee with his band, at the time they'd become a recurring paid act at the Club Del Morroco. Nevertheless, by the time Jimi wielded this guitar, he remained an obscure musician, so the real story behind it is likely to remain unknown.
The Epiphone Wilshire was one of the first and most beloved solid mahogany body guitars back then, with a cherry red finish and black pickguard. It also sported two P-90 pickups and a vibrola tremolo bridge, which makes it a rare find for those days. There are also lots of rumors regarding Jimi's Wilshire, while many point out that he would hand paint his pickguard and fretboard inlays, there's not much evidence for neither of those mods.
1959-1964 Fender Jazzmaster

Years Used: 1964 to 1965
Finish: Sunburst
Although it might seem strange to find Jimmy with something else than his trademarked Fender Stratocasters, this 1959 Jazzmaster saw his earliest appearance on television back in 1965. By 1964 Hendrix had already earned some prestige as a guitarist, and so he jumped in the wagon with the Isley Brothers to tour with them during the latter half of that year. And in early to mid-1965 Jimi had become one of Little Richard's guitar players, thus earning more credit and recognition from a musical circle that would later catapult him into a massive phenomenon.
This Jazzmaster was the second Fender he ever owned, but it saw remarkable growth in Hendrix, as it stuck with him after he left Little Richard's band to re-join the Isley Brothers in 1965. With a veneer rosewood fretboard, one could deduct that this Jazzmaster is one of the earliest models there ever was, before 1964, its particular two-color sunburst, tortoise pickguard, and Fender logo also point out to its era. As for the pickups, their hard to tell, they could be P-90s or Fender's unique design for this specific model.
Record of Hendrix' trajectory with this guitar stretches until November 1965 when he began playing with Joey Dee and the Starliters and Curtis King, during these gigs, he would reportedly switch between a Jazzmaster and a Fender Duo-Sonic. As Jimi progressed as a musician he moved on from most of his gear, it's important to keep in mind that he would often pawn his guitars to scrounge the next meal.
Popular Related Article: Kurt Cobain Full List of Guitars and Gear
1960s Zemaitis 12-string Acoustic

Years Used: 1967 to 1968
Finish: Rosewood Back, Mahogany Top
This guitar is something of a rare one-time icon, it was only seen on one occasion in a video Hendrix made for the documentary film Experience in 1968, he plays this Zemaitis 12-string in a country-blues fashion rendition of Hear My Train A Comin. But this guitar is more than something you could get in a shop back in the day, it was made by a London-based luthier Antanus Casimere Zemaitis, and alike all of the vintage Zemaitis from the 60s and 70s, they were all handmade crafted by Antanas "Tony" himself.
Zemaitis had a cult yet celebrated status among guitarists, he also made some acoustic pieces for Eric Clapton, Keith Richards, and Ronnie Wood among many others. While it might be hard to say much about this acoustic other than a presumed mahogany top and rosewood fretboard, this line of guitars would be often found with different materials on their back and front, so it wouldn't be a surprise to find that Jimi's Zemaitis would be different in that aspect.
There was a certain impact when the popular footage of Hendrix playing an acoustic would pop in cafes or theaters alike, it was rare to see a Rockstar going acoustic back in the day, especially an electric guitar god such as himself. As time goes by, this soulful rendition of Hear My Train A Comin has become the main one for many fans, and as for the footage, it earned a mystical aura after his death.
Not much is known of the whereabouts of this Zemaitis after Jimi's passing, it is known, however, that is still around and it was recently restored as photographed by David Brewis.
1967 Hand-painted Gibson Flying V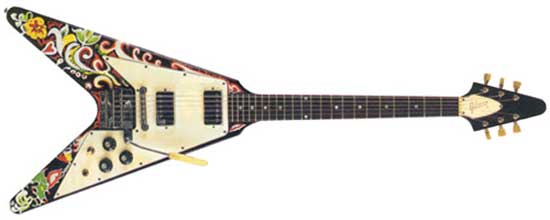 Years Used: 1967
Finish: Custom Painted
Jimi loved to put his stamp on guitars, but he liked making them personal with poems or some serious psychedelic painting, in this case, the Gibson Flying V became yet another Hendrix trademarked model for some time. Hendrix actually had to re-paint this guitar as it wore off from the road, while it might have been one of his rotated instruments, it was certainly one of the most highlighted used six-strings during his peak year 1967. Dating back to a first apparition on August 15th, 1967, at the Fifth Dimension Club in Ann Harbor Michigan, this- one of the few Gibson guitars he owned- was allegedly purchased from Manny's Music Shop in New York.
As for the specs on this guitar, this Flying V was accommodated left-handed and sported a custom finish that would change until restored to its original form. With PAF pickups, the sound on this Gibson was pretty unique and ahead of its time, being made in 1967, its only safe to say that this was a prototype for the latter standardized set up of the 1969 Fling V edition.
Not only this guitar would be a regular go-to among Jimi's heavy Strat rotation, but he knew how much this Flying V would stand out visually, so it would either be sitting in plain sight or shredded in a bombastic performance. One of the most notorious uses of this guitar was when The Experience went on to the French program Dim Dam Dom to film a playback show for Hey Joe in October 1967, with extensive showtime, this preferred Gibson model saw action up until 1968. It was used in the studio for both Axis: Bold as Love, as well as Electric Ladyland, while there's no knowing for certain which songs were recorded with this staple six-string, but there's certainly an undisputed legacy to it.
This is presumably one of the most beloved pieces of gear by Hendrix, given the fact that it wasn't smashed nor sacrificed, but rather passed down to Mick Cox, who would subsequently give it away until it ended up with David Brewis. Brewis commissioned an artist to restore the hand painting to its original state, and it's now a day exhibited at the Rock N' Roll Hall Of Fame Museum.
1967 Gibson SG Custom

Years Used: 1968 to 1970
Finish: Custom White
One of Jimi Hendrix's most consistently used guitars, and allegedly one of his favorites he used to play in times of solace. Its public debut was on November 28th, 1968 at the Rhode Island Auditorium, a show that was taped and later sold as a live album the following year. Hendrix played this custom Gibson with The Experience and his solo project backed by the Band of Gypsys, and as the tale goes, he conceived some of his most notorious tunes in it, among them Hear My Train-A-Comin, and presumably Red House, although the latter is hard to confirm.
Manufactured in 1967, this SG features a lightweight single-piece mahogany neck and body finished in two white tones, with built-in diamond shape inlays, this was the actual "custom" feature on the guitar. As for its pickups, the guitar uses three Gibson signature full humbuckers to provide the warm abrasive blues-rock tone that Hendrix was so fond of. When used in shows, there was a big contrast, since Jimi would usually play through the entire show with his single-coil, sharp Stratocasters, by the time this thick SG would pop out, the performance would take on a whole new vibe.
Made famous when Jimi appeared as a guest on the Dick Cavett Show, Hendrix would go on to play yet another European tour with the Experience wielding his SG as another star in the show. What made it such a compelling and mythical guitar, was Jimi's soulful performance of Red House with it, as it was his undisputed go-to for his most blues-infused tracks.
The Gibson Custom SG is still in one piece and held as a historical gem, it's currently owned by Hard Rock Cafe, and displayed at the Atlantic City venue. While the story of the auction remains unknown, the important bit is that the guitar remains intact and kept safe.
1969 Gibson Flying V

Years Used: 1969 to 1970
Finish: Tobacco Burst
The second Flying V Hendrix sported along with his white Stratocaster; Jimi made extensive use of it as a road instrument since its debut in May of that same year.
Though not as recognized or iconic, this V was the one that inspired the selection and enhanced pros of his signature black model by Gibson as well.
Although it was barely photographed, the tobacco burst Flying V made a brief appearance in his 1969 Madison Square Garden show and a few unrecorded shows in Europe.
For Jimi, this guitar was more than just a rotation instrument, its thick sound allowed him to push boundaries even further with collaborations alongside Lonnie Youngblood. The two of them were allegedly in the talks for a jazz-blues super duo, unfortunately, after Jimi's death, only one single was released.
This sidelined Flying V became one of the auctioned guitars from Hendrix's catalog and is currently owned and displayed at the Hard Rock Hotel and Casino in Las Vegas, Nevada.
1968 Woodstock Fender Stratocaster

Years Used: 1968 to 1970
Finish: White
Undoubtedly the most associated and best-known guitar of Hendrix, the 1968 Woodstock Stratocaster became a historical item when Jimi introduced himself to the festival shredding his way to his already classic setlist. It's important to point out, Jimi Hendrix was the best paid and most notorious Rockstar for 1969, and his image at the Woodstock festival would be immortalized with this Fender Strat after revamping the Star-Spangled Banner.
With an ambiguous origin date, what identifies this model from his previous white Strats is its late 60s specs, it was used on heavy rotation with Jimi's Gibson selection as well as his black Stratocaster. With a thicker headstock to its bolted maple neck and fretboard, the Woodstock guitar stood out with a distinctive edge in sound, it is presumed as well that the Fender pickups in this model were different from its forebears. But many sources point out the fact of its bolted feature with manufacture date, backed by its serial number.
This Stratocaster however saw a fair share of iconic shows before and after Woodstock, from the Experience's last performance at the Denver Pop Festival, to the foundation of the Band of Gypsys and the Cry of Love tour. But history will always recall a sleepless Hendrix, taking on the stage as a headliner to blast the audience with Message of Love, before his unprecedented rendition of the National Anthem while simulating the sound of bombs and jets with feedback to protest the Vietnam War.
Yet another belonging guitar to the ones that outlived Hendrix himself, there are various theories on what happened to this White Stratocaster, while official records account it to the Museum of Pop Culture, many claim it's a hoax. However, this guitar has been auctioned with the passing decades, until its ownership was handed to the museum.
1969 Gibson Flying V (Left-handed)


Finish: Black
Years Used: 1969 to 1970
This Gibson Flying V had a rather coincidental design and meaningful association with Hendrix, for 1969, this was without a doubt one of the most futuristic guitars out there, and like Jimi, ahead of its time. While this might not have been his first use of a Flying V it was the most iconic and standardizing usage of it. Before him, not many players would actually sport one of these models although initially acquired in 1969, the first public appearances for this Black Fling V would occur in more laid-back venues and concerts in April of 1970, at the Los Angeles Forum and the campus of the University of Oklahoma. It's also worth pointing out that it was one of those guitars that Jimi used until the day he died, and one of the few left-built guitars he wielded.
Finished in plain black with gold plated hardware, pickups, and vibrola tremolo, as well as a white pickguard. This Gibson Flying V displayed some distinctive features, for one the single piece and fully bound neck and body were considered rare back then. Not only that, the Gibson logo was inlaid on the headstock, which makes for a unique feature for the brand as well as Jimi's split diamond fretboard inlays, nevertheless, this specific Flying V was built for Hendrix as a custom order according to Gibson, but it hasn't been clear whether it was made to his specifications or not.
Although this Flying V is rarely referenced as a main instrument of Hendrix' it is certainly one of the most recognizable and associated guitars in his catalog. Often enough the black Flying V would serve as a rotatory instrument for selected tunes during live shows, thus making it an even more noticeable piece. Its most renowned gigs were played at the Maui festival along with his black Strat, but what gives even more value to this Gibson is the fact that it could have been the last guitar he used on a live performance at the Isle of Wight Festival in 1970.
Table Showing the Guitars Jimi Hendrix Used at Each Point in His Career
| Make | Model | Color/Finish | Years |
| --- | --- | --- | --- |
| Fender | 1964 White Stratocaster, aka Carol, aka Linda | Olympic White | 1966-1967 |
| Fender | 1960s Sunburst Stratocaster | 1967 | 1975-Present |
| Fender | 1963/64 Stratocaster (Monterey Pop Strat) | Custom Paint Job | 1967 |
| Fender | 1960s Stratocaster (Tortoiseshell) | White | 1967-1968 |
| Fender | 1968 Black Stratocaster Maple Neck | Black | 1968-1970 |
| Supro | 1957 Ozark 1560s | White | 1959-1960 |
| Danelectro | 1960s Bronze Standard "Betty Jean" | Copper Red | 1960-1962 |
| Ibanez | 1960s Jet King | Sunburst | 1962 |
| Epiphone | 1961 Wilshire | Unknown | 1962-1964 |
| Fender | 1959-1964 Jazzmaster | Sunburst | 1964-1965 |
| Zemaitis | 1960s 12-string Acoustic | Natural | 1967-1968 |
| Gibson | 1967 Hand-painted Flying V | Custom | 1967 |
| Gibson | 1967 SG Custom | White | 1968-1970 |
| Gibson | 1969 Flying V | Tobacco Burst | 1969-1970 |
| Fender | 1968 Woodstock Stratocaster | White | 1968-1970 |
| Gibson | 1969 Flying V (Left-handed, Black) | Black | 1969-1970 |
Jimi Hendrix Gear and Amps Overview
Silvertone Twin Twelve Combo
Years Used: 1962 to 1965 (Unverified)
Though not much is known of Jimi's era with the King Casuals, Jimi made a few comments on his gear from back in the day, and this Silvertone amp sounds just right for this 1962/63 period. Silvertone was a staple for guitarists back in the day, and the story behind it follows an underpaid act that would frequent the W&W Man. Club that the band would baptize as "Wicked and Wrong". Nevertheless, the owner of the venue grew fond of the King Casuals, and bought them some new gear, while Hendrix got this Twin Twelve Combo the rest of the band got Fender Bandmasters.
Fender Twin Reverb
Years Used: 1965 to 1966
Allegedly, this is the second amplifier model that actually belonged to Hendrix's band from his days with Curtis Knight in 1966. Whether he acquired this Twin Reverb Combo before his latter days as an unknown musician is up to debate, but most of the photographs from those years show Jimi playing at George's Club and the Spanish Castle among other venues with this amp.
During his latest pre-Experience days in London, theories point out that this combo might have belonged to Jimi himself, reason enough for him having it sold or pawned shortly before leaving the U.S.
Marshall Super 100 JTM45/100
Years Used: 1966 to 1970
Jimi Hendrix coming across his very first Marshall amp is a full-length story well enough, but the fact that this meeting is so filled with lore and detail obliges us to keep it short. Upon Jimi's arrival in London and the very foundation of the Experience, he decided to try out a Super 100 JTM45 by cranking it up to 10 and asking the band to follow his lead on his kept version of Hey Joe. In a roomful of exemplary musicians, supposedly Eric Clapton among them, they were all stunned with the performance.
Nevertheless, the rest of the band were equipped with Burns amps, and they fell short in terms of sound, this grew massive discontent in Jimi so he decided to arrange a meeting with Jim Marshall, who was acquaintances with Mitch Mitchell. Hendrix wanted to find a full-bodied, overdrive sound that was rare to find, and this quality was exactly what Jim Marshall had been working on for the latter half of the 60s.
Hendrix sought to power his innovative sound through an equally unprecedented instrument. And history brought him to none other than Jim Marshall, who provided him with his tall demand for a full price, something that the founder recalls fondly.
From this point and on, Hendrix mainly used the JTM45 for most of his iconic tenures and performances.
In his words Marshall recalled when interviewed:
"So here was this lanky American saying, I'm going to be the greatest, man. I thought, here's another American who wanted something for nothing. But, as if he read my mind, he said that he didn't want anything given to him. He wanted to pay full price, but what he did want was service anywhere in the world. Even if I had to have flown a technician out to wherever he was, I would've done so, because he was such a nice guy." – Jim Marshall on how he met Hendrix, interviewed by Vintage Guitar.
Jimi reportedly acquired three Marshall Super 100 heads and four cabinets upon landing a deal with Jim Marshall, it was used during the recording sessions for Are You Experienced? like most of his British and European tours, the band's rise to prominence.
Sound City One Hundred Head
Years Used: 1967 to 1970
The Sound City One Hundred amp head was one of the staples and often in heavy rotation pieces of gear for both The Experience and Jimi Hendrix himself since day one, until his final shows. Despite making an entry during the recording sessions for Axis: Bold As Love, the Sound City Amp proved a versatile tool for extensive touring and preamp settings.
It's worth pointing out that Jimi would pair this amp head with his preferred Marshall JTM45 cabinets he is seen on his North American tour recordings using this particular setting. As far as popular conception is concerned, he would sometimes use both Super 100 and Sound City heads together for even larger stages. This head was also his main go-to when it came to being resourceful with borrowed cabinets and improvised sound settings.
On one occasion, Jimi became so fed up with the default tour amplifiers, a Fender Dual Showman combo, during the early half of his 1968 American tour that he asked for his Marshall JTM45 and Sound City to be shipped from the UK.
Vox AC30
Years Used: 1969 to 1970
Jimi's relationship with this Vox AC30 consisted mostly on 3rd party arrangements for his recording sessions of Electric Ladyland, when Phil Brown, the sound engineer, stepped in to help him find his desired tone and color for All Along the Watchtower.
This vintage and rare piece are known for providing a thicker, meatier sound than Hendrix's standard Marshall choice. Brown decided to record the redubs for most of the record with the AC30 for its particular blend of Jimi's pedals and style with it. According to Phil, he placed the Vox near the control window so Hendrix could hear the final results and finally be satisfied.
Popular Related Article: Tony Iommi Guitars and Gear List
Jimi Hendrix Pedals Overview
Maestro FZ-1 Fuzz-Tone
Years Used: 1966
This was probably the first pedal Jimi ever got to lay his hands on back in his days as a road musician, the Maestro FZ-1 Fuzz provided one of the very first signal modifications there ever was in music history. It first gained attention when Keith Richards used it for his iconic riff in I Can't Get No (Satisfaction), and Jimi Followed in his footsteps before becoming the idol we know today. However, this pedal was discarded before Jimi left for England in 1966.
Marshall Supa Fuzz
Years Used: 1967 to 1970
In the midst of recording their debut tenure, Are You Experienced? Jimi purchased this Marshall Supa Fuzz pedal to sharpen the edge on both the album and live presentations. As noted by a recently auctioned receipt, it was bought by Hendrix on January 20th, 1967, and subsequently debuted at the Marquee Club on the 24th.
As for the Marshall Fuzz's role in the recording of "Are You Experienced"? It was sparse, while Jimi played mainly with his distorted amp settings with an Octavia pedal, he would experiment by pairing these two units. The Fuzz, however, can be mildly noticed in the solo section of Purple Haze and some parts of Fire. Later on, it became more of a live show resource.
Roger Mayer Octavia
Years Used: 1967 to 1970
Built and designed by Roger Mayer, a British engineer who worked at the Royal Admiralty, used his free time to put together effect pedals for guitars, he met Hendrix upon his London arrival and developed a fruitful friendship with Jimi.
According to Mayer, the two of them met in January 1967 at the Bag O' Nails club in London. Following an invitation to a few shows, Mayer broke down the sonic possibilities his craft could provide the record on backstage, allegedly, Hendrix took an immediate interest in employing the Octavia for Are You Experienced?
The Octavia is an early, pioneering version of an octave pedal, its main function is to replicate the note that is being presently played an octave higher. It gives massive depth, and it can play a crucial role in psychedelic guitars if used wisely.
Although the usage of this pedal was vague for Hendrix's debut album, they began collaborating more closely for Jimi's follow-up, Axis: Bold As Love. On this occasion, Roger provided an upgraded version of the Octavia, which is noticeably used in Little Wing, One Rainy Wish, and Little Miss Lover. This revamped version offered a more defined, subtle yet more noticeable effect to the escalating octaves on Jimi's guitar, it is responsible for that "always something to be discovered" quality on the record.
Shin-ei/Univox Uni-Vibe
Years Used: 1969 to 1970
This late acquisition for Jimi debuted at the Woodstock Festival and went on to extensive use on the Electric Lady Studios in London during 1970. It provided most of the modulation effects Jimi would use on his final record, and post mortem releases on The Cry of Love.
The use of the Uni-Vibe Pedal was pretty ahead of its time, and it created a special sound when it failed to emulate a Leslie speaker to essentially pack a chorus and phase shifter in a single alloy unit.
The Shin-ei/Univox Uni-Vibe pedal has a confusing story. Created by Honey, the company went bankrupt in 1969, this allowed Univox to take over the manufacturing of these pedals and run the operation, while also including some new features to their pedals. So there's been an ongoing debate on whether Hendrix owned a Honey Uni-Vibe or a Univox one, but as the now MoPoP piece will prove, Jimi owned a Japanese version of the pedal, not the American one.
However, it is said that Jimi abused his Shin-ei pedal during live performances towards his final days, pushing its limits for new sounds. According to many sources and bandmates, these shows were in fact the most electrifying ones of his remarkable career.
Vox V846 Wah Pedal
Years Used: 1969- to 970
It's impossibly to know exactly how many Wah pedals Jimi Hendrix used throughout his entire career, however, this Vox 846 became his standard choice by 1969, and it was launched into prominence after its use at the Woodstock Festival.
The reason this Vox Wah is identified is because of Jimi's former roadie, Dave Weyer, who would help him modify this particular pedal over the years. According to Weyer, this V846 was a Sepulveda version made at the factory in California, it can be distinguished by its lack of Vox brand features and a slightly heavier, more intuitive feel to the foot.
Many point out this pedal as the one used for Jimi's electric take on Bob Dylan's All Along the Watchtower, but this is very hard to tell based on a single solo and with no witnesses to back up. Nevertheless, once it was seen on Woodstock, every guitarist wanted to get their hands on a V846.
Wrap Up
With a remarkable trajectory and humble beginnings, Jimi began working as a musician after serving as a paratrooper in the army. He remained relatively unknown until he was discovered by Micky Dolenz and Chas Chandler of The Animals. Seemingly the planets aligned for this Seattle guitarist, as his psychedelic mania was timed perfectly for his return to America during the booming Summer of Love in 1967.
It would be short-sighted to consider Jimi Hendrix exclusively a Rock N' Roll figure. Like Robert Johnson before him, Hendrix elevated the art of playing guitar. He was a masterful blues player, his 12 bar blues masterpiece Red House stands as proof of that, but Jimi's legacy is not only defined by his songs. In his own words, "Blues is easy to play, but hard to feel." Needless to say, Jimi Hendrix revolutionized the electric guitar, in terms of technique, sound, and perception. Hendrix's impact on the guitar has arguably remained unparalleled to this day.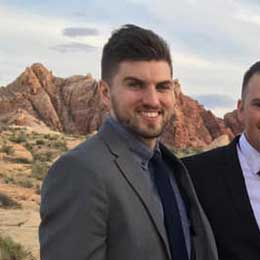 My name is Chris and I've had a passion for music and guitars for as long as I can remember. I started this website with some of my friends who are musicians, music teachers, gear heads, and music enthusiasts so we could provide high-quality guitar and music-related content.
I've been playing guitar since I was 13 years old and am an avid collector. Amps, pedals, guitars, bass, drums, microphones, studio, and recording gear, I love it all.
I was born and raised in Western Pennsylvania. My background is in Electrical Engineering, earning a Bachelor's degree from Youngstown State University. With my engineering experience, I've developed as a designer of guitar amplifiers and effects. A true passion of mine, I've designed, built, and repaired a wide range of guitar amps and electronics. Here at the Guitar Lobby, our aim is to share our passion for Music and gear with the rest of the music community.