Dream Theater is one of the most recognized and loved progressive acts of all time. In a style that's grown and evolved from the 1980s to this date, Dream Theater has been well and revered the entire way as the true godfathers of the genre. At the helm of Dream Theater sits lead guitarist, John Petrucci. With lightning-fast chops, incredible progressive songwriting skills, and a boatload of premium and boutique gear to boot. He is, by all means, the one true quintessential guitarist.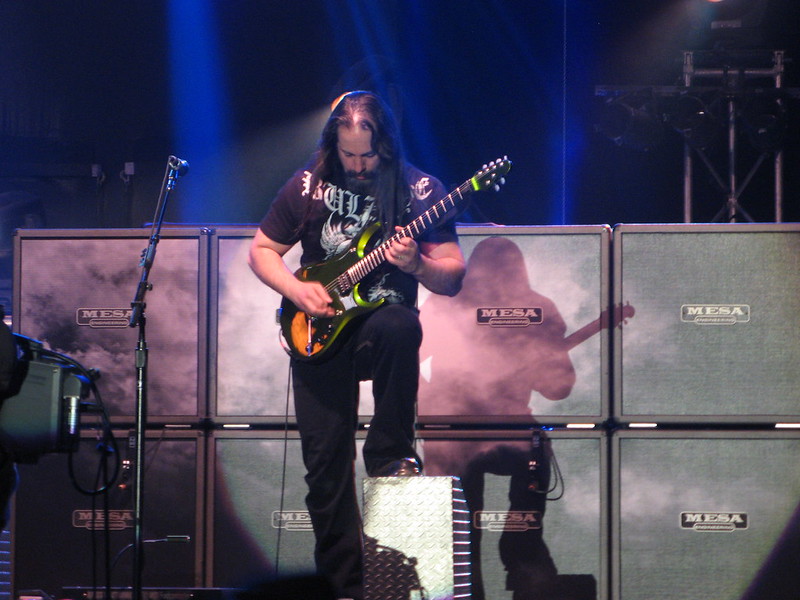 John is also a self-proclaimed 'gear nerd', and has had a long, successful partnership with Musicman guitars. Releasing an almost yearly array of signature guitar models. The JP6 in particular is the second best-selling signature guitar model of all time second only to the Gibson Les Paul.
What Guitars Does John Petrruci Play?
John Petrucci plays Musicman Majesty and JP6 model guitars which are his signature designs with Musicman guitars, recently celebrating their 20th anniversary together. However, John also had a successful line of Ibanez signature guitars also with some other guitars he played earlier in his career.
See the full list of John Petrucci guitars and gear below.
Musicman JP6

| | |
| --- | --- |
| Finish | Gremlin Green/ Pearl Redburst/Silver Sparkle/Mystic Dream |
| Years Used | 2001 to 2007 |
During John's first guitar recording experience he didn't know a great deal about the technical/design side of guitars. Instead of just opting for what was available and sounded good. By this time, over a decade into his career and relationship with Ibanez, things had changed pretty dramatically. John was both known and expected to be at the very top of the totem pole when it came to playing, tone and equipment. Thousands of guitarists looked to him for inspiration as a beacon of what it was to be the quintessential guitar virtuoso in the modern era.
So understandably, John didn't want to rest on his laurels. His knowledge and preferences when it came to what he was looking for from his equipment had expanded greatly since the beginning of his career. The catalog of songs he was required to play as well as the diversity of styles demanded from him was quite significant.
This resulted in him having new desires and ideas he wanted to integrate into his signature line of guitars. While Ibanez had afforded him a very minimal amount of movement with subtle neck shape adjustments and the odd bridge change. He really wanted to work his own, more significant ideas into his signature model. However, Ibanez is not known for taking dramatic twists with their guitar designs, the fundamental RG series is one of the most successful lines of guitars ever made, and even within their signature model roster, they tend to not deviate from their core design as much.
Shortly enough, John started looking for another company with whom he could work and design a new signature model, one that could incorporate more of his own design ideas. Mainly, he wanted to layout all the ideas he'd being grooming and planning to explore over the years. This evolved into a collaborative effort, as opposed to just taking a standard production model, making some minor adjustments, and putting his name on it.
John has said that during this time his favorite guitarist was Steve Morse, who at the time played Musicman Guitars. John had tried Musicman's Sterling guitars a few times himself and always respected their quality. So when his guitar tech, Mark Snyder, recommended he get in touch with them, John got in contact with Sterling Ball and they decided to work with John on developing the JP series, which 20 years on are still being iterated upon and explored to great success.
It all started with the initial 2001, JP6 standard which in no time became his main go to for all endeavors. It featured a basswood body, a birdseye maple fretboard, and a rosewood neck. The bridge pickup was originally a Steve's special until 2005 when it was exchanged for a D-Sonic, along with an Air Norton in the neck position. It also featured a piezo system (an additional pickup placed under the bridge that could be toggled on, off, or be blended which was often used to give the electric guitar the sound of an acoustic guitar).
It was made available in a wide range of colors, including Gremlin Green, Pearl Redburst, Silver Sparkle, and of course probably the most famous is the Mystic Dream which would drift between sparkled blue and sparkled green depending on the lighting direction. John would go on to use this guitar exclusively, just changing colors as new variants were released up to 2007.
It's fair to note that this particular model was present in a second peak height of Dream Theater's career, as well as in John's plenitude as a living Guitar Hero.
Ibanez JPM-100 P1 Picasso Series

| | |
| --- | --- |
| Finish | Multicolored Custom Picasso Artwork |
| Years Used | 1992 to 1999 |
John Petrucci has noted that in the early stages of Dream Theater's career, he didn't know a great deal about music equipment. He didn't own a huge guitar rig or the gargantuan collection of guitars that we know him for back in those days.
So when it came time for Dream Theater to enter the studio to track their second album "Images and Words". Producer David Prater had his own, already developed ideas in terms of recording guitar and how to achieve the sound the band was looking for.
It was at this time he recommended Ibanez guitars to John, and rather conveniently the Ibanez Factory was very close to the recording studio they were using at that time. Thus began John's initial communications and relationship with Ibanez. After speaking to the company about possibly using one of their guitars while recording to essentially surpass what could be achieved with his B.C rich Assassin. Ibanez allowed John to check out a number of models, recommending one in particular which they mentioned had a "Crazy paint job". John remarked that it didn't matter as long as the wood choice and pickups were good as it was purely for recording purposes.
However, after opening the case and seeing what we all now know as the JPM-100, John remarked that he actually really liked the design, and would end up adopting it for all of his signature guitars during his time with Ibanez. At the time Petrucci met the JPM100 however, it was a regular Ibanez RG series that had been labeled as a "bastard" guitar given one of the luthiers had taken the liberty to experiment on it. John took an instant liking to the model, and with a few tweaks to it and little instruction on how to tap its full potential, this took the final form of what we know nowadays as the very first John Petrucci signature.
In 1995 the guitar was put into full production and was made available for the public to purchase. The guitar itself is fairly close to that of a regular RG in terms of the body and headstock shape. However, it's noted that the neck is slightly smaller and more rounded than other models. It also came with a DiMarzio Steve Special in the bridge position and an Air Norton in the Neck. The pickup selector was also a 3-way, toggle-style selector, as opposed to the 5-way blade style used on a standard RG.
An important note is the pickups are direct mounted and use no pickup rings, this is something that would be maintained for all of John's guitars moving forward. This original JPM was used, of course, for the "Images and Words" album cycle. But perhaps even more famously on the Rock Discipline DVD which became the staple workout bible for many a guitarist of that era.
Musicman Majesty

| | |
| --- | --- |
| Finish | Ice Crimson Red/ Ice Blue |
| Years Used | 2014 to 2015 |
In a completely unexpected move, in 2014 Musicman announced a brand new series of John Petrucci signature guitars. This was not created to replace the iconic JP series, but rather to complement it and offer an alternative within the range.
While still sharing a number of similarities with the JP guitars, it's a completely new design in terms of shape and ergonomics.
John has mentioned that the inspiration came from high-end sports cars and he wished to create a guitar that had that same, luxurious feel and contoured edges. The extreme body cutaway gives complete, unhindered access to all 24 frets, it also featured a proprietary new Musicman bridge design that has a plate over the top which adds additional comfort when playing.
Musicman JP6 BFR

| | |
| --- | --- |
| Finish | Natural Glossed Koa |
| Years Used | 2007 to 2009 |
The BFR series (which stands for Ball Family Reserve) was a special, premium version of the JP series that was offered to really push what could be done within the JP format. The most notable thing about this series is they introduced what Musicman and John refer to as a 'tonewood cocktail'.
So on the original JP's they just had a single piece of solid basswood. However, the BFR's had a particular arrangement of woods that took a lot of R&D to discover. Which, according to Musicman, offers additional sustain and thicker lead tones. This consists of an alder body which would have the center routed out and a mahogany 'tone block' placed inside, this would then be topped with a (thick) maple cap, or on some special models, a Koa top was used.
This is a large part of what the BFR offers, there are some other small details like a special Ball Family Reserve logo inlaid into the 12th fret. As well as a waxed naturally finished neck as opposed to the polyester finish on the base models.
John would primarily use these from here on as they are considered higher-end models than his regular signature line. Furthermore, at this point, Petrucci had become more of an ambassador for Earnie Ball instead of anything else.
Musicman Majesty Artisan

| | |
| --- | --- |
| Finish | Marrone |
| Years Used | 2015 to 2020 |
This was designed as a premium version of the original Majesty, it featured more elaborate finishes and gold hardware. The main draw was of course the translucent finishes that allowed you to see the body wood and the maple 'shield' underneath. It also now had Schaller tuners and a mahogany body, which Musicman says produces a slightly warmer tone. This was one of the guitars used for the recording of the Dream Theater album 'The Astonishing'.
Musicman Majesty 20th Anniversary/Musicman JP 20th Anniversary

| | |
| --- | --- |
| Finish | Honey Butter |
| Years Used | 2020 to 2021 |
With both the Musicman Majesty and JP lines enjoying remarkable success, in celebration of John's 20-year relationship with Musicman, they decided to make a limited run of these two instruments in a limited 'honey butter' finish. This served as a prelude to later announce the upcoming Majesty model, one that is set to come out in 2022 as the latest version of this line.
Also features John's newer Dreamcatcher and Rainmaker pickups, the Piezo system, and +20db boost. This guitar has all the bells and whistles, Petrucci has dreamed of throughout his career.
This model doesn't have limited production in the traditional sense, but instead has a limited ordering window and however many ordered were produced. It also comes with an autographed certificate of authenticity, signed by John himself. For almost two years now, its become Petrucci's new main guitar.
Aria Pro II Cardinal Series

| | |
| --- | --- |
| Finish | Trans Red |
| Years Used | 1985 to 1996 |
This was used by John during his time at Berklee College of music, as well as during Majesty's brief existence before being renamed to Dream Theater. It is arguably Petrucci's first electric six-string, which followed his very first nylon-strung guitar. You can hear this guitar on the original Majesty demo tape released in 1986, as well on the later album 'The Majesty Demos'. Which was released much later in 2003 to commemorate Dream Theater's beginnings.
The guitar itself is a fairly low-end, affordable model one of the very few in Petrucci's catalog. However, for being somewhat of a budget guitar, it was quite feature-rich. Having individual volume and tone knobs for each pickup. As well as a phase switch toggle, and a coil tap in order to split the pickups. From the pictures of John using the guitar, it seems he kept the original specs.
Uncharacteristically for what John would be using later on, it was a 22 fret guitar that also used pickup rings. John has mentioned several times that he prefers direct-mounted pickups for both tonal and technical reasons. So this is probably the guitar that made him realize he doesn't like said rings.
Additionally, it looks like John (or the previous owner) had swapped the bridge out for an aftermarket one called a 'Kahler' which was a floating version as opposed to the stock fixed bridge.
B.C. Rich Platinum Pro Series Assassin

| | |
| --- | --- |
| Finish | Gloss Black |
| Years Used | 1987 to Unspecified |
John rotated his Aria Pro for almost a decade with this rare B.C Rich. Its first recorded use was during the 'When Dream and Day Unite' album cycle. It's seldom talked about but he can be seen playing it in the 'Basement Tapes' footage from 1987 as well as the 'I Can Remember When' documentary.
The guitar itself is a typical superstrat of the time. Unlike the Aria Pro, this had 24 frets. As well as a tremolo system that John would make heavy use of. We are not sure what pickups were used but from the pictures, it looks like the bridge pickup has been replaced as it has white bobbins whereas the neck looks like the original, stock black one.
Ibanez JPM100 Another Day

| | |
| --- | --- |
| Finish | Multicolored Picasso Custom Artwork |
| Years Used | 1992 to 1993 |
This guitar never went into production (and as such never got a PX code at the end of the name). But it has the same design outline as the JPM 100 P1 just with alternate colors. This time the finish featured purple, blue, and black pickup bobbins. John can be seen using this guitar on the "To Live Forever" Live in Tokyo performance as well as the "Another Day" music video.
Although a follow-up to his very first signature model, the "Another Day" JPM100 was the first time Petrucci was given a truly exclusive guitar. Made with an American basswood body bolted to a custom quartersawn maple neck with a 24-fret rosewood fingerboard. Yet again John went for his Di Marzio Steve Special on the bridge and an Air Norton pickup at the neck, however, this time he was given a Lo-Pro Edge double locking tremolo.
Ibanez JPM90HAM

| | |
| --- | --- |
| Finish | Blue Green and Yellow Custom Artwork |
| Years Used | 1998 |
This was a limited edition variation of John's signature model produced in celebration of Ibanez's 90th anniversary. Unlike the others in this series, this one has a flamed maple 'cap' placed on top of the basswood body. Which then had the John Petrucci 'Picasso' design placed over the top, then a translucent finish was applied. This allowed you to see the Picasso design, but instead of the multi-colored aspects, you would instead see the flamed maple through the design. It also had a matched flamed headstock.
This was not only an incredible-looking piece, but it was a rather rare guitar. With Ibanez's parent company 'Hoshino Gakki' only producing 450 of this particular model. This has made it highly sought after by collectors of John's Ibanez signature models and if you are ever able to get ahold of one, you are very lucky indeed.
Reportedly, John only used this JPM90HAM for a few shows in the United States before retiring it to his personal collection back in 1998. Other than its short-lived stage action days not much else is known about its trajectory with Petrucci.
Ibanez JPM100P4

| | |
| --- | --- |
| Finish | Camo Custom Picasso Artwork |
| Years Used | 1998 to 1999 |
This was one of the last JPM models produced by Ibanez before John's departure. It features a multi-green-camo-colored Picasso design. John was first seen using this towards the back end of the 'Falling into Infinity' album cycle while on tour. He would then go on to use this both in the studio and on tour for the "Scenes from a Memory" album, up until his relationship with Ibanez ended.
Ibanez JPM7

| | |
| --- | --- |
| Finish | Black and White Picasso Custom Artwork |
| Years Used | 1997 to 1999 |
This was a custom build for John, perhaps to test the waters of a new Signature 7 string signature model to go alongside the already successful Ibanez Universe series which was designed by prolific guitar legend Steve Vai. Either way, the guitar is very similar to that of a regular JPM series, just featuring a black and white decal design complemented by the black and white pickup bobbins.
Occasionally these can be seen floating around online for sale, but please be warned, they are all replicas. Many people did like the idea of a 7 string JPM guitar and seeing as Ibanez never put it into production, took it upon themselves to make their own. John can be seen using this guitar on various bootleg live Dream Theater shows around this time.
Musicman JP6/7

| | |
| --- | --- |
| Finish | Firemist Purple/Firemist Gold/ Pearl Redburst |
| Years Used | 2009 to 2010 |
From 2005-2009, since the D-Sonic was introduced to the series. The fundamental specs of the guitar stayed the same all the way up to 2009. With each year introducing new color variants, and some special editions.
The next notable change was made in 2009 when John, in collaboration with Larry DiMarzio would replace the D-Sonic and Air Norton combo that had been used for a number of years.
This was considered to be the next set of John Petrucci signature pickups, even though they were not directly named as such. It was a way of keeping up with the current technology, trends, and demands of modern high gain guitars. Named the Crunch Lab (bridge) and Liquifire (neck). These pickups would now become standard on all JP models moving forward, and were also available separately so it was very common to find these pickups across other brands and models of guitars too. Smart marketing from DiMarzio to not pigeonhole them into just John's signature models. This pickup change was also applied to the JP6 BFR models from this point onwards too.
Also worth mentioning is that since 2006, all JP models had been using a particular kind of nut which Musicman named the 'compensated nut', which they have a patent on. Musicman states that it is designed to improve note accuracy all over the fretboard increasing the instruments' potential to play perfectly in tune. Obviously, a bit of marketing lingo as perfect pitch can only be achieved on guitars with true temperament frets. But it essentially changes the scale length of the string ever so slightly, something you can also do at the bridge end with the saddles on any regular guitar.
Musicman JPX6/7

| | |
| --- | --- |
| Finish | Gloss Barolo |
| Years Used | 2010 |
The next major model in the JP line was the 2010 released JPX. This is one of the most popular guitars ever made in the JP series and is still highly sought after to this day. It was designed both to celebrate 10 years of John and Musicmans' time together, as well as to evolve and explore new ground with his signature series. At first glance, it might not seem like a great departure from the standard JP models we know, aside from the sleek black chromed hardware and gorgeous sparkling purple finish of course.
This was actually a chambered guitar, while not considered a fully hollow body. There were 19 small chambers cut out from the alder body before the maple cap was placed on the guitar. Many people consider this guitar to be one of the most 'alive' sounding guitars in the series. Because of the weight relief, it's also quite comfortable to play.
The second main thing to note is that even though this was not a BFR model, it was just a regular, standard production model. It still adopted the 'tonewood cocktail' of an alder body, mahogany tone block, and maple cap that the more expensive models had.
Some other small changes are that the bottom horn was cut a little deeper into the body than previous models, allowing for easier access to the 24th fret. As well as a 5-way 'blade' style toggle switch being used instead of the normal 3-way toggle for additional tonal variation.
Musicman JPXI

| | |
| --- | --- |
| Finish | Onyx |
| Years Used | 2011 |
Generally considered a bit of an unremarkable entry into the series. The next yearly iteration of the JP series did away with the chambered body of the JPX, instead opting for a solid body. But still offering the tonewood cocktail of alder and maple, with a mahogany tone block as seen on the BFR models. It also retained the further recessed horn introduced on the JPX.
The main standout feature of this guitar is that the fretboard radius was made a little flatter to 20″ (as opposed to the 15″ offered on the range up to this point) in order to further cater to the technical player who needed their string action to be as low as possible.
This model was only made available in 1 color called Onyx. John used this guitar for recording the Dream Theater album 'A Dramatic Turn of Events' and subsequent live shows until the release of the JP12.
Musicman JP12

| | |
| --- | --- |
| Finish | Cherry Sugar |
| Years Used | 2012 |
The main idea behind the JP12 was to give a respectful nod back to the early days of the JP series. While fundamentally retaining most of what made the JPXI, including the recessed horn, flatter 20″ neck radius, and ebony fretboard.
The 'tonewood cocktail' had been adjusted slightly. It was traditionally alder, with a
mahogany tone block and a maple cap. This time the alder was exchanged for basswood in order to provide some of those tonal qualities present on the earlier JP models.
Musicman JP13

| | |
| --- | --- |
| Finish | Platinum Silver |
| Years Used | 2013 to 2014 |
At this point in the timeline of the JP series, John had explored a lot of ground. So the changes and new features between each model were getting smaller and smaller. For the JP13, the choice to keep the body wood as basswood was maintained as John obviously saw this as a positive addition instead of alder.
In addition to this, the fretboard radius was rounded a little more to 17″, striking a balance between the rounded 15″ radius on the earlier JP models, and the ultra flattened 20″ on the newer one.
This also featured John's newest iteration of signature pickups which superseded the Crunch Lab and Liquifire from this point forward. Dubbed the 'Illuminators' (for both bridge and neck). These had quite a bit more top end and presence over earlier ones. Musicman has described the tonal quality as "bolder with added clarity".
Lastly, this guitar also had a 'boost' circuit with a push/pull knob to add some additional gain for leads (+20db of gain to be exact).
Musicman JP15

| | |
| --- | --- |
| Finish | Sahara Burst/Black Satin |
| Years Used | 2014 to 2015 |
The JP series skipped the 14 and went straight to 15, as 2014 saw the release of an entirely new product series which we will cover later. It wouldn't be until 2015 that we would see the next iteration of the JP guitars.
This one was very similar to the JP13, still sporting the same pickups, newer 17" fretboard radius, and +20db boost that were introduced with that model. The primary aspects of this were wood changes, as it featured an African mahogany body with a maple top. As well as a striking new roasted maple fretboard.
Musicman JP16

| | |
| --- | --- |
| Finish | Black Lava |
| Years Used | 2016 |
John designed this guitar to be a bit of a throwback to the original JP6, re-introducing the older body shape with that iconic forearm scoop. As well as a solid, single-piece basswood body, doing away with the 'tonewood cocktail' that had been maintained for a while.
The newer features that still distinguish this from the original JP6 are the DiMarzio Illuminator pickups, the +20db boost system present on the JP13 and a new Floyd Rose 1000 Pro double-locking tremolo system.
This would actually be the last time we see a new JP model for some time as the focus swapped over to the newer Majesty series that John was favoring by this time.
Timetable Showing Each Guitar John Petrucci Has Played Throughout His Career
| Make | Model | Color/Finish | Years |
| --- | --- | --- | --- |
| Aria | Pro II Cardinal Series | Trans Red | 1985 to 1996 |
| B.C Rich | Platinum Pro Series Assassin | Gloss Black | 1987 to 1989 |
| Ibanez | JPM100 Another Day | Multicolored Picasso Custom Artwork | 1992 to 1993 |
| Ibanez | JPM-100 P1 Picasso Series | Multicolored Custom Picasso Artwork | 1992 to 1999 |
| Ibanez | JPM7 | Black and White Picasso Custom Artwork | 1997 to 1999 |
| Ibanez | JPM90HAM | Blue Green and Yellow Custom Artwork | 1998 |
| Ibanez | JPM100P4 | Camo Custom Picasso Artwork | 1998 to 1999 |
| Musicman | JP6 | Gremlin Green/ Pearl Redburst/Silver Sparkle/Mystic Dream | 2001 to 2007 |
| Musicman | JP6 BFR | Natural Glossed Koa | 2007 to 2009 |
| Musicman | JP6/7 | Firemist Purple/Firemist Gold/ Pearl Redburst | 2009 to 2010 |
| Musicman | JPX6/7 | Gloss Barolo | 2010 |
| Musicman | JPXI | Onyx | 2011 |
| Musicman | JP12 | Cherry Sugar | 2012 |
| Musicman | JP13 | Platinum Silver | 2013 to 2014 |
| Musicman | Majesty | Ice Crimson Red | 2014 to 2015 |
| Musicman | JP15 | Sahara Burst/Black Satin | 2014 to 2015 |
| Musicman | Majesty Artisan | Marrone | 2015 to 2020 |
| Musicman | JP16 | Black Lava | 2016 |
| Musicman | Majesty 20th Anniversary/JP 20th Anniversary | Honey Butter | 2020 to 2021 |
John Petrucci Amps Overview
Mesa/Boogie Mark V 90-watt
Years Used: 2009 to 2014
Originally introduced in 2009 as the next iteration of the infamous Mesa/Boogie Mark series. John immediately adopted this into his rig, using it for live shows during this period as well as in the studio to record the 'A Dramatic Turn of Events' album.
John mainly uses channel 1 for his low gain and clean tones and channel 3 for his main distorted rhythm. Which he will then boost for that extra push needed for leads.
Another interesting thing to note is that John will actually run 2 of these amplifiers in Stereo. As Dream Theater only has a single guitarist, oftentimes there is a need to have the guitars occupy the stereo field better. So he will use a stereo cable out from the guitar which gets routed to 2 Mark V's which the front of the house can then pan as needed. This also affords many opportunities to use stereo effects in an interesting way.
Mesa/Boogie Mark IIC+
Years Used: 1992 to 2016
This is probably the most important amplifier that John used and became an integral part of his tone. John has described his discovery of the Mark IIC+ as an "almost religious moment" and that it's his "Holy Grail" of Boogie amplifiers.
This amplifier has been a staple among all Dream Theater ventures and can be heard on essentially every album John has been involved with, including both Liquid Tension experiment and his 2005 solo album 'Suspended Animation'.
It didn't see a great deal of live use, presumably due to its rarity it was better relegated to studio tasks. With the more modern and accessible Mark IV and V being safer to bring on tour. Another limitation John has mentioned is that as it was only a 2 channel amplifier that used a shared volume between the clean and crunch channels. This made it challenging to cover all of the tones John required in a live scenario as Dream Theaters discography covers a lot of sonic ground in terms of guitar tonal requirements.
However, John did love this amplifier so much it was used as the basis for his own signature amplifier introduced in 2016.
Mesa/Boogie Mark IV
Years Used: 2007 to 2008
John has always been a big user of the Mark Series. The Mark IV was originally produced in 1990 and enjoyed a very successful run up until 2008. It became a signature part of John's sound, being used for both the recording and live circuits of Dream Theater's 'Systematic Chaos' album, as well as for the Liquid Tension Experiment.
Even though the production of this amp moved on with the introduction of the Mark V. You can still find the Mark IV's signature voicing in many of their other products as its iconic and specific sound is still in demand from Boogie users.
Mesa/Boogie Triaxis
Years Used: 2014 to 2016
This is the only non-traditional head that John Petrucci uses. The Mesa Boogie Triaxis is actually a 1u rackmount unit that treads the line between digital and analog. It has 5 x 12AX7 preamp tubes in it to give you those tube-driven distortion tones. But the sound is digitally controlled to emulate all the traditional Mesa/Boogie amps such as the Mark IIC+ and the Mark IV.
This provided John with a more portable and convenient live rig, which you can see being used on the 2014 'Along for the Ride' tour. It was also used to record both 'Images and Words' as well as 'When Dream and Day Unite'.
Mesa/Boogie JP-2C
Years Used: 2016 to 2021

It's no secret that John favors the Mark IIC+ heavily, even when using other amplifiers in the Mark series, if there was an MKIIC+ setting in there, you can bet he would use it in some fashion. After a long period of using amplifiers such as the Mark V and the Triaxis. John finally went about developing a signature model amplifier in collaboration with Mesa/Boogie.
The amplifier has been described as a 'Mark IIC+' revival. Although it is marketed entirely as a John Petrucci signature piece, all 3 channels have been modeled directly from the MKIIC+. The first channel being a complete replica, while the 2nd and 3rd had an increased gain option if you pull the gain knob outwards, As well as a 'shred' setting as John would often have to boost a channel with a distortion pedal. Now everything is baked
into the amplifier directly. There are also two separate graphic EQ's, an in-built attenuator to drop the wattage from 100w to 60w. As well as the CabClone, allowing you to run the amplifier into a desk directly. Although it seems John doesn't make use of this and generally favors micing up cabinets in the traditional manner.
John Petrucci Pedals and Effects Overview
Fishman Aura 16
This pedal is what John would run into next on the 'acoustic' side of his Frametone A/B box. It's described as an 'acoustic imager' pedal, and not an emulator in the traditional sense. John uses preset 13 on this pedal which is designed to emulate (or image) the sound of a mic'd up acoustic guitar.
Jim Dunlop Crybaby Wah
Years Used: 1995 to Present
Quite self-explanatory, the most popular Wah ever made. John would use the rack version of the crybaby and then have a controller out on stage with him which he would use to operate the rack unit. This has been used throughout almost the entirety of Dream Theater's career.
Axe FX 2
Years Used: 2011 to 2015
Many would describe this as overkill in the context it's being used, the Axe FX 2 is an extremely high-end amp modeler and effects processor. There are bands who will use this single unit as their entire guitar rig as it can do essentially everything.
But when you're John Petrucci, you can use anything you want for any purpose. So the way John uses the Axe FX is to ignore the amp modeling section of the unit entirely, instead letting his bigger Mesa/Boogies handle that side of things. The way he uses it is to have a single patch set up with all the effects he would need already loaded into a single preset. So rather than needing a plethora of presets each with specific tones loaded on each, he would just turn individual tone blocks on or off to essentially form a brand new patch within that single patch. This would all be midi controlled.
This 'set and forget approach to using the Axe Fx is definitely unique but turns the unit into a very powerful effects processor.
Ibanez TS09
John's guitar tech has mentioned that he always has some kind of tube screamer/distortion pedal on his rig, but it's also always rotating or being swapped out. The TS09 has been seen on his rig a few times but this would change from show to show, and apparently sometimes even mid-show!
Boss PH-3 Phase Shifter
Years Used: 2009 to 2014
Boss are famous for their simple and affordable modulation pedals. This was part of John's pedal board and could be switched on for particular parts of the set when required.
Axess Electronics FX1
Years Used: 2011
This is a midi controller which John would route his A/B switcher, his amplifiers, rack units, Axe FX, and pedalboard to (those things lived behind the stage with the guitar tech, this controller would be the only thing out on the front of the stage).
These would be pre-programmed with patches that would, depending on the song and section, either turn pedals on or off, turn Axe FX blocks on or off, swap amplifiers, and control rack units. It was where all the gear went to and is the main brain/controller of his rig.
MXR EVH Van Halen Flanger
Years Used: 2004 to 2014
Another modulator pedal, this would be controlled by the Axess Electronics FX1 and used on select parts of Dream Theater's live show as needed.
Carl Martin Compressor/Limiter
John's guitar tech has mentioned they auditioned a huge number of compressors before deciding that this one had the best sound for John's needs and preferences. This is likely used to just taper down the dynamic range of the guitar tone as well as tame any high peaks that might appear. But it's worth noting the effect is quite subtle, this is used as a light tone sculpting tool.
Voodoo Lab Pedal power
This is a guitar pedal power distributor. In order to keep the power levels consistent (and keep the wires down to a minimum) this unit can distribute even and consistent power to all pedals on John's board. This helps keep the rig running consistently and also simplifies how much routing and cabling is needed.
Accessories
John Petrucci Signature Dunlop Jazz III picks
Fundamentally designed from probably the most popular guitar pick of all time, the Jazz III. John's signature pick took that base and changed the shape/size ever so slightly making it a little bigger in width as some (especially those with larger hands) might consider the traditional Jazz III a little small.
It also introduced the JP shield logo on the top which also doubles up as a very effective grip for the pick. The lower half is also roughened for even more grip, with the tip of the pick being polished for that clear and defined pick attack. Being made from Ultex also makes it very durable so the tip will not wear down too quickly.
Wrap Up
Originally picking the guitar at the age of twelve. John quickly discovered a passion for the instrument and would practice as much as 12 hours a day. He would eventually go on to study at the prestigious Berklee College of Music in Boston, where he would meet new friends and future bandmates John Myung (bass) and Mike Portnoy (drums). After concluding that they wanted to form a band together, they decided to quit their studies at Berklee and form the band Majesty. The next few years that followed would see a few members come and go, as well as a name change to Dream Theater.
Dream Theater would go on to enjoy a monumentally successful career, releasing a total of 14 studio albums. All along the way cementing themselves as the best of the best as both individual players to their respective instruments, and as a performing band.
John Petrucci in particular became known for his incredible technical virtuosity and versatility. Often seen using a vast array of complicated-looking rack and effect units in tandem with a very long list of signature guitars and equipment. Petrucci has also garnered numerous awards and recognitions with Guitar World magazine naming John as "the most celebrated and popular guitarist in the world of progressive metal".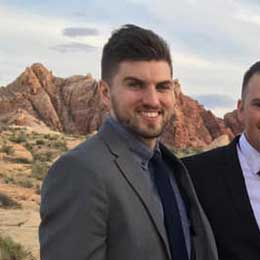 My name is Chris and I've had a passion for music and guitars for as long as I can remember. I started this website with some of my friends who are musicians, music teachers, gear heads, and music enthusiasts so we could provide high-quality guitar and music-related content.
I've been playing guitar since I was 13 years old and am an avid collector. Amps, pedals, guitars, bass, drums, microphones, studio, and recording gear, I love it all.
I was born and raised in Western Pennsylvania. My background is in Electrical Engineering, earning a Bachelor's degree from Youngstown State University. With my engineering experience, I've developed as a designer of guitar amplifiers and effects. A true passion of mine, I've designed, built, and repaired a wide range of guitar amps and electronics. Here at the Guitar Lobby, our aim is to share our passion for Music and gear with the rest of the music community.