It's a testament to Neil Young's incredible vocal and songwriting ability that his prodigious guitar playing often goes unnoticed in comparison. Neil's early rock and roll roots are reflected in his guitar playing, which alternates between a raucous rock and sweet, delicately picked acoustic work.
His early career consisted largely of troubadour-style folk music firmly rooted in the tradition of Bob Dylan. However, upon moving to Los Angeles in 1966, Young joined upstart rock group Buffalo Springfield, who was heavily influenced by the psychedelia popular in California at the time and classic American country music.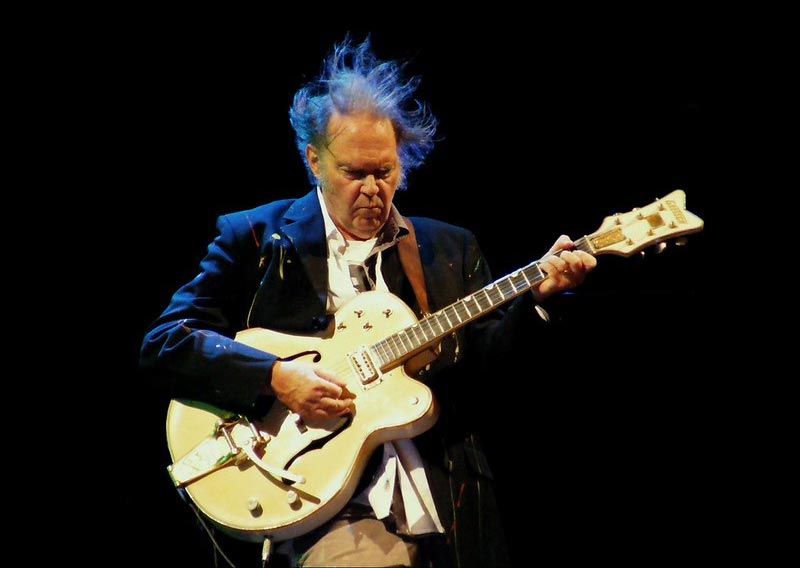 Buffalo Springfield enjoyed massive commercial and critical success, almost single-handedly inventing folk-rock and country-rock. Their early work, fuelled by Young's melodic take-no-prisoners guitar playing, epitomized this approach. Once the band broke up in 1968, Neil Young took on a solo career before returning to Buffalo Springfield bandmate Stephen Stills to form Crosby, Stills, Nash, & Young, who went on to perform at the famous Woodstock festival in 1969. Eventually, Neil's tumultuous relationship with his bandmates soured, his solo career took off, and Young's passionate, vivid music became an indelible fixture of 20th-century life.
What Kind of Guitar Does Neil Young Play?
Neil Young is known for his iconic electric guitar "Old Black" which is a 1953 Gibson Les Paul Standard Goldtop that's been repainted black and heavily modified. Also well known are his pair of Martin D-45 and D-28 dreadnought acoustic guitars. Each has seen extensive use throughout his iconic career.
See the full Neil Young guitars and gear list below.
1953 "Old Black" Gibson Les Paul Goldtop

| | |
| --- | --- |
| Finish | Black (Originally Gold) |
| Years Used | 1968 to Present |
Neil Young's most iconic electric guitar is this roaring beast from Gibson. Built in 1953 with a gold finish, it was clumsily repainted black sometime before Young acquired the guitar in 1968.
Neil Young first came into contact with Old Black when it still belonged to Jim Messina, then Buffalo Springfield's acting bassist and engineer for their album. He traded Messina his old Gretsch 6120 for "Old Black", which quickly became Young's number one electric guitar.
At the time, Old Black sported its signature paint job, perhaps even complete with peeling paint! Peeking out from underneath the black was the original gold with which the guitar left Gibson's factory. Further aftermarket upgrades circa 1968 included its chrome-plated metal pickup covers and chrome pickguard. Before we get too deep into Old Black's extensive modifications, however, let's take a look at Gibson's prestigious goldtop guitars.
Gibson's first-ever solid-bodied guitars, the Les Paul range, were first introduced in 1952. Designed in conjunction with legendary jazz guitarist Les Paul (hence the name) these instruments specifically sought to bring the prestige and craftsmanship of Gibson's finest acoustics and hollow-bodies to the high-performance solid electric guitars market. This was in direct contrast to Fender, Gibson's main American competitor, who were producing cheaper instruments with bolt-on necks. When Gibson luthier Ted McCarty went to Les Paul for approval to put the jazzman's name on his guitar's headstock, Paul insisted that a gold-standard guitar come with a golden finish. The Les Paul Goldtop was born.
The original Les Pauls, produced from 1953 to 1957, featured a mahogany body with a one-inch thick maple cap to relieve the enormous weight of a solid slab of mahogany. The neck, too, was solid mahogany, with a rosewood fretboard and the classic trapezoid inlay. The early Les Pauls, unlike later models, used single-coil P-90 pickups, installed straight into the guitar's body. This gave the instruments a huge, sustaining tone when plugged in, as there was nothing between the vibrating wood and the pickup transmitting that vibration to the amplifier. 1953 Les Pauls came with either a trapeze-style tailpiece or the famous Gibson ABR-1 bridge which became the standard for all later Gibson guitars.
The first change Neil Young made to his Les Paul Goldtop was to this bridge. It's unclear whether Old Black's original tailpiece was a trapeze or a stop tailpiece, but Neil Young replaced that with a Bigsby B-3 vibrato system. Circa 1969, this vibrato was still in place, accompanied by an ABR-1 bridge, and a Rowe-DeArmond M5-A bridge pickup with an aluminum cover on the neck P-90 coil. It at this point had Grover C-102 'Roto-Matic tuners and a generous application of black paint all over the body.
During the recording of the first Crosby, Stills, Nash & Young (CSN&Y) album, however, Old Black was embattled with relentless humming and feedback. Although Young loved the guitar's tone, its DeArmond single-coil pickup refused to simply stay quiet when it wasn't being played. He took the pickup out, gave it to a repair shop to fix, and when he returned the shop had disappeared, his pickup along with them! Young tried using a Gretsch pickup, which failed to deliver the articulate tone he needed from his favorite Les Paul. Fortunately, a highly microphonic Firebird pickup, not dissimilar to the Gibson mini-humbuckers that would become a staple of Gibson guitars in the 1970s, did the trick. The Firebird pickup remains installed in Old Black to this day.
At some point in the early 1970s, Young swapped his Grover tuners out for a Schaller M6 system and upgraded his Bigsby B3 to a B7. He also installed a miniature switch on the guitar to allow him to bypass the instrument's onboard electronics. This switch, bang in the middle of his control knobs, sends the signal from Neil's pickups straight to the amplifier without messing about with the volume or control pots.
Old Black's back is heavily scarred from decades of use, with several hard-wearing aluminum switch covers to protect Young's internal tinkering.
Thanks to these extensive modifications, Old Black has an immediately recognizable tone and appearance. Neil Young still relies on this battered old Les Paul as his number one stage guitar to this day, although in modern times he tours with a pair of identically outfitted 1953 Goldtop "black-ups" lest Old Black break a string or suffer damage live.
According to Neil Young himself, the best example of Old Black's unique sound can be heard on "Like a Hurricane". Old Black appeared on almost every Neil Young and Crazy Horse album and concert, including "Everybody Knows This Is Nowhere", "Southern Man", "Cinnamon Girl". Young tours and records with "Old Black" to this day, proudly displaying its various scars and blemishes for all the world to see.
"Hank" Martin D-28

| | |
| --- | --- |
| Finish | Natural |
| Years Used | 1973 to Present |
Young's most employed guitar along with its D-45 sibling, this old-school six-string has been a main go-to for both songwriting and live performances. Neil Young is sentimental about his instruments, cherishing a select few guitars over the course of his career. This D-28, originally owned by Hank Williams is a classic example of Young's sentimentality and storytelling when it comes to his guitars. In fact, this D-28 is so close to his heart that he wrote "This Old Guitar" about it.
Hank Williams was this instrument's original owner, a "singing cowboy" of the early Country & Western era. The D-28 is the prototypical singing cowboy guitar, with its flat top of solid spruce, sparse embellishments, and sweet, distinctive Martin tone. In fact, the D-28 is so close in appearance and construction to the D-45 that some enterprising guitar sellers jazzed up cheaper D-28s in an attempt to sell them as D-45s! Although it belonged to his father, Hank Williams' son, Hank Williams, Jr, traded this beautiful instrument for some shotguns. That might sound like the setup to an old joke about country music, but Young himself confirmed the tale in the Heart of Gold documentary. The guitar found its way to Tut Taylor, an American bluegrass player, from whom Neil Young bought the guitar. Neil, in awe of the guitar's storied history, affectionately nicknamed the instrument "Hank" after its previous owners.
"Hank", like the Martin D-45, boasts a solid spruce top, rosewood back and sides, with a mahogany neck and ebony fretboard. Unlike the D-45, the decidedly more meat-and-potatoes D-28 is devoid of the pearl trimmings and adornments that give the D-45 such allure and lustre. Neil Young's D-28, like his other guitars, shows its age, with significant wear on the body and neck of the instrument thanks to decades of touring. It may well be Neil Young's oldest instrument, dating back to the forties, and remains one of his touring favorites to this day. Like the D-45, this guitar is fitted with a FRAP transducer, although in some performances the guitar is played into a microphone rather than plugged in.
Neil Young also tours with a second D-28, tuned to A# F A# D# G A#. The second D-28 is a 1962 model, which sustained a gunshot wound at some point before its tenure with Neil Young. It, too, has the same Cragg-designed FRAP transducer, presumably to ensure sonic fidelity and consistency in live performances even when Young switches between his three main acoustic instruments.
It's clear from the stories, and from the lyrics to "This Old Guitar", that Neil Young views himself less as the owner of this instrument and more of a custodian of its legacy. A lifelong storyteller with a keen sense of history and sentimentality, Neil Young proudly wields "Hank" on stage, worn finish and all. In the song, he sings "the more I play it, the better it sounds", which neatly encapsulates Neil Young's enduring affection for the near-century-old instrument he called "Hank".
Martin D-45

| | |
| --- | --- |
| Finish | Natural |
| Years Used | 1969 to Present |
Neil Young's main acoustic guitar since the CSN&Y days is this gorgeous Martin D-45. His bandmate Stephen Stills (the Stills in Crosby, Stills, Nash & Young) bought himself and his bandmates matching Martin acoustics to celebrate the band's first full concert at the Greek Theater in 1969.
The Martin D-45 is widely considered one of the finest examples of American acoustic guitar craftsmanship. Initially produced from 1933 to 1942, when the second world war disrupted American manufacturing, the D-45 was reintroduced to market around the time that CSN&Y were performing. It's likely that Young's D-45 belongs to this second production run, as highly sought-after pre-war Martins would have been far beyond the purse strings of even Stephen Stills. Young's is likely a '68 or '69 model, as would have been those of Stills, Nash, and Crosby.
Most acoustic guitars either prioritize "boom" (authority and volume) or "sparkle" (clear note definition and touch sensitivity). What sets the Martin D-45 apart from the competition is that it offers both in huge amounts and in far greater quality than almost any competitor. The D-45's distinctive sound, which sings with the authority of General Patton and the sultry subtlety of Marilyn Monroe, is owed largely to its solid spruce top and rosewood back and sides. Young's Martin has an ebony fretboard and mahogany neck, with a luxurious pearl border to differentiate it from its less-ornate twin, the D-28.
Neil Young still plays his original D-45 on tour and in the studio to this day. It is perhaps most famous as the main acoustic instrument on Harvest. Young's D-45 is equipped with FARP (Flat Audio Response Pickup) transducers for live performance, old-school contact pickups that deliver the warm, articulate tone for which Neil Young's acoustic playing is so well-known. This is easily one of the most iconic Neil Young guitars of all time.
Gretsch 6120

| | |
| --- | --- |
| Finish | Orange/ Natural |
| Years Used | 1963 to 1968 |
Before Old Black, Neil Young played a Gretsch 6120 Chet Atkins model guitar. In fact, it was this guitar that he traded to Jim Messina in return for Old Black in the first place! The 6120 was Young's main electric in Buffalo Springfield until he had his iconic Les Paul Goldtop, providing a touch of old-school American cool to the fledgling country-rock outfit.
Young's original 6120 was a 1959 model, originally finished in orange which time (and Neil Young's legendary guitar abuse) caused to fade into an eventual natural finish for the guitar's sake. It featured FilterTron pickups, a Bigsby tailpiece, and twin F-holes.
The Gretsch 6120 was, initially, an attempt on Gretsch's part to muscle in on Gibson's hollow-bodied guitar dominion. It was legendary country picker Chet Atkins' original signature guitar, although it is probably more famous for its use in George Harrison's hands. Despite being built for country music, it became popular among British rock musicians, including Pete Townshend and Eric Clapton.
The 6120 featured a maple body with a maple set neck and rosewood fretboard finished with thumbnail-style fret inlays. The Atkins model came stock with a Tune-O-Matic bridge, which Young replaced with a Bigsby.
Young's original Chet Atkins 6120 wound up with Jim Messina and was eventually sold to a British vintage guitar dealer, Denmark St Guitars. Denmark Street sold the instrument, presumably to a private collector.
1960s Gretsch White Falcon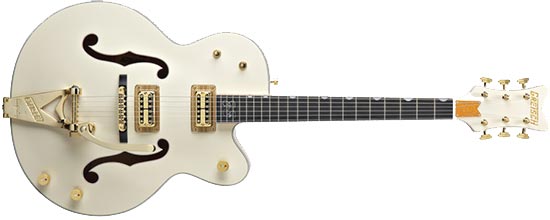 | | |
| --- | --- |
| Finish | White |
| Years Used | 1969 to Present |
Neil Young picked up his White Falcon towards the end of his tenure with Buffalo Springfield, and it made regular appearances in his hands throughout the latter half of 1969 well into the 1970s. Perhaps envisioned as a tonal replacement for his 6120, the White Falcon was an altogether different beast. Generally, it was second only to Old Black, but Young's deteriorating spinal health in the 1970s led him to play the hollow-bodied (and therefore much lighter) White Falcon over Old Black and its solid mahogany body.
The Gretsch White Falcon was, at first, a showpiece for the 1954 NAMM show. It was built so Gretsch could show off their refined craftsmanship. However, the guitar's large body and stunning white-and-gold good looks quickly led to its production, and the White Falcon perches comfortably atop the Gretsch heap to this day. The White Falcon in many respects is the pinnacle of Gretsch's guitar-building capability. Indeed, Gretsch themselves referred to it in early advertisements as "the finest guitar we know how to make".
Neil Young's White Falcon, a 1961 model, features a 17' spruce archtop body finished in white with gold binding and sparkles. It boasts a maple neck with ebony fretboard and, of course, gold sparkle layered binding. It features a roller bridge with Bigsby and two FilterTron humbuckers.
In an interview with Guitar World, Neil Young's longtime guitar tech Larry Cragg said of the White Falcon, "that's the real deal. Neil's had it forever. It's kind of green-looking and really stunning". The same interview revealed that Young's White Falcon is a stereo model, which allows him to send the signal from his instrument to two different amplifiers. The first three strings are sent via one signal, while the other three come through the other signal. Never one to sit idly by and simply play the guitar, Neil Young takes full advantage of this feature to this day, using the separated-signal effect live and in the studio. Neil Young recorded most of the electric guitar parts for Harvest using his White Falcon's stereo setup, which is particularly audible on "Words", as heard below.
Neil Young eventually fixed his back problems thanks to surgical intervention and was able to return to comfortably playing his beloved Old Black Les Paul. However, his affection for the White Falcon did not wane, and it remains a concert staple to this day, particularly for the supercharged numbers from Harvest. He joins a list of other notable champions of the Gretsch White Falcon including Malcolm Young and John Frusciante.
Table Showing Each Guitar Neil Young Has Played at Each Point of His Career
| Make | Model | Color/Finish | Years |
| --- | --- | --- | --- |
| Gretsch | 6120 | Orange/Natural | 1963 to 1968 |
| Gibson | "Old Black" Les Paul Goldtop | Black | 1968 to Present |
| Martin | D-45 | Natural | 1969 to Present |
| Gretsch | White Falcon | White | 1969 to Present |
| Martin | "Hank" D-28 | Natural | 1973 to Present |
Neil Young Amplifier Overview
Neil Young's unorthodox approach to music does not end with his chord shapes, nor at the input jack of Old Black. Neil Young's amplifier setup is every bit as intricate and chaotic as the man himself. Neil Young's primary choice of amp has long been cranked Fender tube amplifiers, turned up so loud that their normally crystal-clear tone becomes dirty and saturated. It's this pummelling, overdriven sound that Young uses to deliver some of his most haunting and aggressive protest songs.
Let's take a look at Neil Young's choice of amplifiers over the years, and how he sets them up to achieve his unique guitar tone.
Fender Deluxe
Neil Young's preferred amplifier since the 1960s is the Fender Tweed Deluxe. His favorite is a 1959 model, although Young today owns around 450 different Fender Deluxe amps, all of a similar vintage. Young bought the 1959 Deluxe second-hand back in 1967 when it cost him a mere $50.
The Fender Tweed Deluxe was first introduced in the 1950s, intended for use in ensembles with hard-hitting drummers. It found particular favor among country, Western, and blues players, and eventually with the super-charged swing of the rockabilly scene. Although the Tweed Deluxe only housed a single twelve-inch speaker, it was more than loud enough to keep up with even the most overpowered of drummers and horn sections. The tweed line were so named thanks to their speaker grille, a varnished cotton twill that looked not unlike the tweed widely used in the clothing of the era.
Fender's high-end amplifier line was designed to maintain a clean tone even at punishingly high volumes. The Tweed Deluxe tended to "break up" and distort at relatively low volume compared to some of its elder brothers in the Fender lineup, and as such was priced as a mid-range amplifier. However, long before Jim Marshall made overdrive a feature of his amplifiers, American rock and roll players found that the Fender Tweed produced a pleasant overdriven sound when pushed to its limits.
Neil Young's use of his Tweed is highly unorthodox, but in its original form, his amplifier featured a cathode biased output stage, with no negative feedback, and output valves driven by a cathodyne phase splitter. For tubes, it had a 5Y3-GT rectifier, 2 6V6-GT power tubes operating in push-pull mode, and a 12AY7 and a 12AX7 in the preamp. Stock Fender Deluxe amps of the time pushed 15 watts of power through twelve-inch Jensen P12R speakers.
Neil Young, of course, rarely left his electric guitars stock and saw fit to give his amplifier the same treatment. His 1959 Tweed Deluxe features two 6L6 tubes, which boosts its output from 15 to 19 watts. Neil Young uses no Tube Screamer or overdrive to push his amplifier into distortion. He simply turns the 1959 Deluxe all the way up, running his tubes as hot as possible. In fact, his amplifier runs so hot – literally – that his guitar tech Steve Cragg must run high-powered fans on it during the entire performance to keep his amplifier from blowing up. Neil Young's saturated tone depends entirely on this tube distortion, as can be heard in the below live performance of "Rocking in the Free World":
However, Neil Young fans wishing to replicate Young's howling live tone will need another amplifier to truly encapsulate the guitarist's freewheeling, overdriven sound. Young runs his Tweed Deluxe in conjunction with another amplifier, the Magnatone 280.
Magnatone 280
Neil Young pairs his Fender Tweed Deluxe with a Magnatone 280. Like the rest of his gear, Neil Young's use of the Magnatone 280 is so unorthodox as to appear counterintuitive.
Neil Young's Magnatone, like his Fender, dates back to the 1950s. He runs the Deluxe into the Magnatone, connecting the Fender via its speaker output jack into a volume potentiometer and straight into the Magnatone's input. This allows him to use the saturated, overdriven tone of the Fender amplifier's tubes without using its sole Jensen speaker, which was designed for a cleaner guitar sound. To achieve his monstrous, earth-shaking tone, this signal is then transmitted through the Magnatone's speaker cabinet, which boasts "eight horns, four 10-inch speakers, four 15-inch speakers, and two 15-inch passive radiators."
It's a lot of steps for one of the most infamously no-frills rock and roll tones ever recorded, but all these small stages contribute to Neil Young's definitive electric guitar tone.
Neil Young Pedals and Effects
Neil Young largely eschews effects pedals, preferring the raw, overpowered saturation of his overdriven amps. However, in order to tame the Frankenstein's monster of Neil Young's amplifier combination, he uses a custom-built foot control nicknamed "The Whizzer"
The Whizzer
The Whizzer is the custom-built oversized foot controller from which Neil Young commands his Fender-and-Magnatone contraption. It was built specifically for him by guitar technician Sal Trentino, a device designed to allow Young to control the gain on his amplifier by switching between pre-set gain stages. Neil Young controls The Whizzer with footswitches, using different gain presets for different songs.
Many modern amps come with pre-set gain stages and channel switching. Long before the Boss Katana or Marshall's Triple Super Lead range, Neil Young was playing the Whizzer.
It features four different switches, each of which corresponds to a different tone and volume knob configuration on the Fender Deluxe. Upon pressing the appropriate footswitch, it will mechanically move the knobs to the desired position.
All four of The Whizzer's preset tones are highly distorted. The first is a milder breakup-style distortion with more dynamic control, which is slightly clearer when played softly and more distorted when played hard, as Young tends to do live. The second preset offers more distortion, as can be heard in the below live performance of "Hey Hey My My":
The third preset provides yet more distortion, perhaps as a boost to the second channel. The fourth option, used sparingly in Young's live show, is the most extreme. It pushes Young's unique amplifier setup to its very limits, with all the knobs as far up as they can go without the amplifier exploding.
Further footswitches on Neil Young's live rig historically have included delay, reverb, and even a vintage tape echo. Young's choice of these effects varies, as he has also used classic plate reverb and the built-in reverb on his amplifiers for live performance.
One notable switch on Neil Young's setup is known simply as "the ugly button". This, said Young's guitar tech Steve Cragg, is "totally freaked out", and "adjusted how it definitely should not be adjusted". Neil Young's mastery of using ugly sounds, beaten-up old gear, and a thoroughly unconventional approach to music are testaments to the songwriter's enduring legacy in rock and roll.
Wrap Up
Born in Toronto and raised in a "Sleepy Little Place" called Omemee, in rural Ontario, Neil Young is one of Canada's greatest sons. A sickly child, who suffered from polio in his youth. In the 1950s when rock and roll hit the airwaves, Young was invigorated, idolizing Elvis Presley, and initially learned to play on a small ukulele. He eventually upgraded to larger and larger models until he finally traded them in for the guitar.
Neil Young's guitar playing is restless, experimental, and articulate. He frequently made aftermarket changes even to his main instruments, resulting in an instantly recognizable personal tone. His unusual (at least in the relatively straightforward worlds of country and rock at the time) choice of chords, often featuring dense, jazzy inversions contributed to a seminal work that has made him a very rare kind of singer-songwriter.
Young's tenure is that of a towering icon in modern music, inducted to the Rock N' Roll Hall of Fame twice, both as a solo artist and along with his original project Buffalo Springfield, his influence spans over 36 studio albums and continuously resonating tunes. Needless to say, Neil has made a massive mark on all things rock and ballad ever since his debut in 1968, as one of the most consistent and constant musicians of his generation, Young is certainly a living legend. His songs remain a staple of classic rock radio to this day, and the influence of his emotive guitar playing filters through the fingers of countless young players.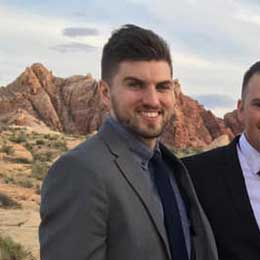 My name is Chris and I've had a passion for music and guitars for as long as I can remember. I started this website with some of my friends who are musicians, music teachers, gear heads, and music enthusiasts so we could provide high-quality guitar and music-related content.
I've been playing guitar since I was 13 years old and am an avid collector. Amps, pedals, guitars, bass, drums, microphones, studio, and recording gear, I love it all.
I was born and raised in Western Pennsylvania. My background is in Electrical Engineering, earning a Bachelor's degree from Youngstown State University. With my engineering experience, I've developed as a designer of guitar amplifiers and effects. A true passion of mine, I've designed, built, and repaired a wide range of guitar amps and electronics. Here at the Guitar Lobby, our aim is to share our passion for Music and gear with the rest of the music community.