Rock and roll has come a long way since its inception back in the 1950s. Over the past seven decades or so, we've seen it evolve and go into some new and unexpected directions. In fact, when we look back and see how it all evolved, we begin to wonder whether there was some other-worldly force that suddenly inspired the creation of new movements in rock music. It has not been confirmed whether Jimmy Page has had these supernatural influences, but he sure changed modern music as we know it today. Even the youngest music enthusiasts these days are familiar with some of his work, particularly with Led Zeppelin.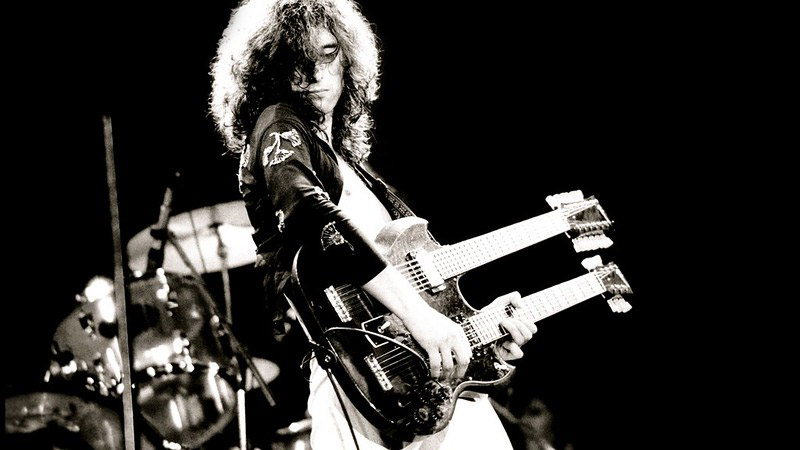 Jimmy Page gained the reputation of being one of the pioneers of heavy metal music during the late 1960s and the early 1970s. Along with bands like Black Sabbath, Deep Purple, and Judas Priest, Led Zeppelin shaped this new genre by pushing the boundaries and going into territories many were afraid to explore. But aside from heavy riffs, Page really knew how to compile and arrange a song, bringing in new innovative practices that were also explored by musicians of other genres.
What Guitar Did Jimmy Page Play?
Jimmy Page is best known for playing Gibson Les Paul Standard guitars throughout most of his legendary career with Led Zeppelin. Another of Page's most notable guitars is the infamous 1959 Fender Telecaster with custom Dragon painting and mirror pickguard.
This is the guitar he played while with the Yardbirds as well as the guitar he used during the earliest days of Led Zeppelin. Page played many other guitars throughout his career. See the full list of notable Jimmy Page Guitars below.
1959 or 1960 Gibson Les Paul Standard, aka "Number One"

Finish: Sunburst
Years used: 1969 to now
And here we come to the real deal, Jimmy Page's "Number One" guitar. This is a Gibson Les Paul Standard model built back in 1959 or early 1960. For those who don't know, these instruments are popularly known as "Holy Grail" guitars and can reach some mind-boggling prices among avid collectors. This particular one found his way into Jimmy's collection in 1969 when Joe Walsh, who later became a member of the Eagles, gave it to him as a gift. As Walsh explained many years later, he just thought that Jimmy needed a nice Les Paul in his collection, since it fits Zeppelin's music.
The instrument saw some modifications before it came into Page's possession. One of the main changes was the neck, which was sanded, thus making it significantly thinner. Of course, as it goes with these picky guitar legends, Jimmy did some of his own changes by adding gold-plated Grover tuning machines, as well as changing its pickups multiple times. The pickup that saw the most action on it in the 1970s was T-Top humbucker. This one was eventually swapped in the 1990s for a modified Seymour Duncan, and Page even added a "push-pull" potentiometer to it for the reverse phase mode of operation. The guitar still remains his "Number One" to this day.
1959 Gibson Les Paul Standard, aka "Number Two"

Finish: Sunburst
Years used: 1973 to now
Jimmy fell in love with his Gibson Les Paul Standard that he got ahold of another "Holy Grail" in the early 1970s as a backup option, popularly known as the "Number Two." In order to make it feel and sound exactly the same as the "Number One," he did some significant modifications to it, including the neck sanding and the addition of Grover tuning machines. But although it looks pretty similar to the "Number One," this Les Paul Standard has a slightly darker shade, making it look browner.
But compared to the main Les Paul, this one had more modifications done to its electronics. All four of its potentiometers were swapped for "push-pull" ones and there are even some additional switches. As a result, Jimmy was able not only to do phase reverse but also coil-splitting and coil-tapping, allowing for an abundance of sonic options. This is one of my favorite Jimmy Page guitars of all time.
1959 Fender Telecaster

Finish: Custom yellow with dragon painting, it was originally white
Years used: 1966 to early 1970s, only the body is left of it
This one takes us all the way back to the mid-1960s when Jeff Beck was recommended by Page to join the Yardbirds. Beck gave him this 1959 Fender Telecaster, which originally had a white finish. In 1967, Page decided to add eight circular mirrors to the body, completely changing the instrument's visual identity. Eventually, he removed the mirrors and completely repainted the guitar in a yellow-ish color, and added the now-famous dragon painting.
For quite a long time, it wasn't widely known that Page actually used this instrument to record Led Zeppelin's debut album. But he proved that Teles can be heavy. After being his main axe for a while, he switched over to a '59 Gibson Les Paul Standard, to which we'll get to soon. The only exception was when he recorded the solo for "Stairway to Heaven."
Unfortunately, when Page got back from Zeppelin's American tour, he found out that one of his friends had repainted it. Although intended as an act of kindness, his friend practically ruined the guitar and its wiring. Page disassembled the poor instrument and used some of its parts on other guitars. The body is reportedly still in his possession, but he refuses to share pictures of it with the public. Nonetheless, it's still one of the instruments that shaped rock music as we know it today.
1960 Gibson Les Paul Custom, aka "Black Beauty"

Finish: Black with golden hardware
Years used: Early 1960s to 1971
Things really took a different turn when Jimmy Page switched over to Les Paul guitars full-time, which eventually became his go-to guitar model. However, he actually got his hands on one way before Led Zeppelin's formation, sometime in the early 1960s. Nicknamed "Black Beauty," this was a black Gibson Les Paul Custom, most likely manufactured back in 1960. Some sources claim that he traded his Gretsch Chet Atkins signature model for it, although there's not much info about him using this particular hollow-body guitar.
Anyhow, Jimmy used "Black Beauty" as the main guitar for his session work. Of course, the instrument found its way on early Led Zeppelin records. Being a Les Paul Custom model, it featured some significantly improved aesthetic traits. This includes 3-ply binding, golden hardware, black pickguard, the easily-recognizable pearl logo on the headstock, and pearl inlays on the fretboard. Additionally, the guitar came with a Bigsby tremolo bridge and tailpiece, as well as three humbuckers.
Jimmy Page was scared to take it on the road with him. And when he finally did go overseas to the United States, his precious "Black Beauty" got stolen. Its whereabouts were a mystery for decades until the instrument was finally retrieved in 2015. It still remains one of the most iconic guitars in history.
1969 or 1970 Les Paul Deluxe, aka "Number Three"

Finish: Red
Years used: From 1970 or 1969
Page's love for Les Paul guitars has always been immense. So it's no wonder that he also had his "Number Three," which is a Gibson Les Paul Deluxe model. However, not much is known about the instrument, and some believe that this was a Les Paul Standard. But what makes it interesting is, that besides being traditionally a "third" one, he actually got the guitar before the second Les Paul Standard.
The "Number Three" was used sporadically throughout the 1970s, mostly between '73 and '75. Sometimes before John Bonham's passing and disbandment of Led Zeppelin, Page modified the guitar by adding an old school "B-Bender" mechanism into it.
But other than this, not much is known about this guitar and whether Page still has it in his collection. Some theories also state that Page had another red Les Paul that looked pretty similar to the "Number Three" Deluxe model.
1961 Danelectro Shorthorn

Finish: Black with a white pickguard
Years used: Mid-1960s to now
Danelectro guitars used to have major success back in the 1960s. Formed in 1947, the company operated independently until 1966 when it was sold to the Music Corporation of America. Unfortunately, the brand went under in 1969, only to be resurrected in the late 1990s. They're still around but are mostly known for their cheap pedals.
In his vast arsenal of guitars, Jimmy Page still has his old Danelectro Shorthorn model, also known under designated names 3021 and 59DC. This particular instrument, featuring two "lipstick" single-coil pickups, was manufactured back in 1961 and Page bought it in the mid-1960s. The story goes that he first used it on stage with the Yardbirds. Occasionally, the guitar found its use with Led Zeppelin. The guitar is often associated with "Kashmir" as it was used for the song many times during Led Zeppelin's shows.
It is a very simple instrument with a hardtail bridge, a 3-way switch for its two pickups, master volume control, master tone control, and a pretty-looking white pickguard covering most of the treble side of the body. And, what many guitar lovers don't know, Danelectro Shorthorn actually features a semi-hollow body.
Custom-Made Gibson EDS-1275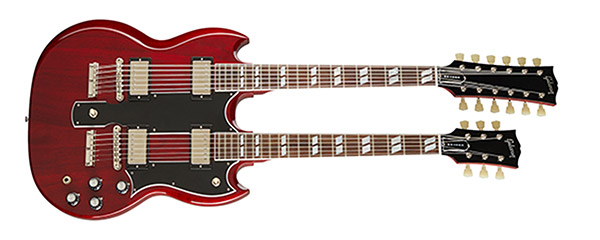 Finish: Cherry red
Years used: Most of the 1970s, it's most likely still in his possession
When you think of Led Zeppelin and the 1970s, it's almost impossible not to picture Jimmy Page with his legendary double-neck guitar. This is mostly due to the fact that he used it for "Stairway to Heaven" during live shows.
Gibson's EDS-1275 is one of the most innovative guitar models. Entering production in 1963, it is believed that this was the first-ever double-neck solid-body electric guitar. Featuring one conventional 6-string neck and another 12-string neck, all with a double set of pickups, it allowed guitar players to create more tones with a single instrument.
Page asked Gibson to make him one in 1971, although EDS-1275 was not in production anymore at that point. Nonetheless, they agreed and made a special one for him, which featured a modified body shape compared to the original commercially available model. It's not completely certain, but it's quite possible that Jimmy Page popularized the instrument so much that Gibson eventually started making them again throughout the 1970s and later decades.
Futurama Grazioso from the 1950s

Finish: Sunburst
Years used: Late 1950s to the mid-1960s
Some of the stories surrounding this next guitar are not clear and information online is somewhat conflicting. And it's not a wonder since these Futurama Grazioso guitars were produced a long time ago and are still very obscure. Some sources claim that this was his first guitar, including some of Jimmy Page's interviews. On the other hand, he also claimed that a Höfner acoustic archtop was his first as well, so it's hard to say.
These guitars were made in Czechoslovakia by a company called Drevokov. Originally called Grazioso for their domestic market, they had their name changed to Futurama for foreign markets. These came with three single-coil pickups, tremolo bridge (a type that you don't see on any other known guitars), sunburst finish, and a body that somewhat resembles Fender's Jazzmaster. It featured many other unconventional traits, including individual on-off pickup switches that eerily resemble old light switches. In fact, this was not uncommon for guitars made behind the Iron Curtain. It's often been mistaken for being a Höfner-made guitar.
Page used this one at the very beginning of his guitar-playing career. It's not exactly certain when it stopped being a part of his inventory, nor where it's currently at, but it's assumed that this Futurama saw some action during Page's time as a session guitar player in the first half of the 1960s.
1965 Fender Electric XII

Finish: Sunburst
Years used: Early 1970s and it's most likely still in his possession
However, before the Gibson EDS-1275, Jimmy had another 12-string guitar, Fender's old Electric XII. His particular instrument was manufactured sometime in 1965. It was used in the studio, most popularly for the recording of "Stairway to Heaven." However, producer Andy John who worked with Zeppelin on their legendary fourth record claims that it was actually a Rickenbacker 12-string that was included in the song. It's still one of the main mysteries, even to this point.
Fender's Electric XII is easily recognizable for its weird "hockey stick" headstock. It also has two split-coil pickups, which is another very unconventional trait for electric guitars as you mostly see these kinds of pickups on basses.
1967 Vox Phantom XII

Finish: Black with a large white pickguard
Years used: Late 1960s to now
Being a one-of-a-kind musician, Page really loved those weird-looking guitars. One of those is his Vox Phantom XII 12-string. His particular guitar was manufactured in 1967 and he began using it with The Yardbirds. The guitar also saw some action in the studio with Led Zeppelin, presumably for the song "Livin' Lovin' Maid."
1953 Fender Telecaster
Finish: Brown
Years used: 1970s and 1980s, it's still in his collection
Although his legendary '59 Fender Telecaster is better-known, Page used another one of these fine instruments throughout his prolific career. Most notably in the 1970s, he began using this Telecaster manufactured back in 1953. Aside from Led Zeppelin, the guitar saw some action during the existence of The Firm, which was a supergroup featuring Page, singer Paul Rodgers, bassist Tony Franklin, and drummer Chris Slade.
What's interesting about this particular guitar is that Jimmy Page replaced its original stock neck with the one from his '59 Telecaster. Being a rosewood neck, it's quite an uncommon sight for an electric guitar.
1964 Fender Stratocaster
Finish: Lake placid blue
Years used: Second half of the 1970s, later uses are not certain
As if the realization that Jimmy Page used something other than Les Pauls is not enough, what if we told you that he actually had a Fender Stratocaster in his inventory? This one is a 1964 model, painted in a very aesthetically pleasing shade of blue (referred to as "lake placid blue") and featuring a classic white electronics cover. While most of the features on this model are what you'd expect from a Fender Strat, these 1960s models featured rosewood fretboards instead of "conventional" maple ones.
The story goes that Page bought it back in 1975 and that it was used on Zeppelin's "Presence" album for a few songs, although this has not been confirmed. Page claimed that the instrument was used since 1978, and there's also a theory that he implemented it on the 1979 album "In Through the Out Door."
Popular Related Article: Kurt Cobain Guitars and Gear List
Gibson Les Paul TransPerformance
Finish: Metallic gold
Years used: Early 1990s to now
For better or for worse, Gibson did a lot of experimentation over the decades. Things really became interesting in the late 1980s and the 1990s. With the rise of the company's Les Paul TransPerformance guitar, Jimmy Page quickly became its endorser.
However, reactions to this particular model were very mixed. The TransPerformance guitar has basic features that you'd find on most Gibson Les Paul models. There's the mahogany body with a maple top, mahogany neck, rosewood fretboard, as well as pretty-looking aesthetic additions, like the metallic golden finish, binding, and trapezoid pearl inlays on the fretboard.
But what was really groundbreaking at the time, it features a self-tuning system. This included special Grover tuning machines and a TransPerformance bridge and tailpiece system. The system also includes controls on the body's front side tied to the bridge and tailpiece that can tune-up automatically according to the set parameters.
The story goes that Jimmy had a few of these guitars, and at least one of these is still in his possession. Although "controversial" in some way, it's still a great relic from the past and an important piece of history. He used them occasionally throughout the 1990s, mostly for some live shows.
Martin D-28
Finish: Natural
Years used: 1970s, later whereabouts are unknown
Now to go over to his acoustic guitars, in the 1970s, there was a classic Martin D-28 in Jimmy Page's collection. He bought it at the very beginning of the decade, most likely in June 1970. While we're not completely certain about its use in the studio, the guitar was used for some live shows. Originally, it was just like any other regular acoustic guitar and it needed a microphone to make it audible through a PA system. After a while, with Jimmy Page being that kind of guy who likes to modify his instruments and gear, he added a Barcus-Berry transducer and a Barcus-Berry preamp to it. But other than that, not much is known about the exact specs of the instrument, since the year of production has not ever been confirmed.
Gibson J-200
Finish: Two-tone sunburst
Years used: Late 1960s
In order to record Led Zeppelin's self-titled debut album, Jimmy Page needed a proper acoustic guitar to make it sound the way he intended. For this purpose, he actually borrowed a classic Gibson J-200 model from his friend Jim Sullivan, an American singer-songwriter who mysteriously disappeared in 1975.
Anyhow, Sullivan's Gibson J-200 can be heard on all of the acoustic songs on the album – "Babe I'm Gonna Leave You," "Your Time Is Gonna Come," and "Black Mountain Side." After Zeppelin's first record, Jimmy Page purchased the aforementioned Martin D-28 and returned the instrument to Sullivan.
This particular Gibson was made back in 1963. With this in mind, the guitar came with a spruce top and maple back and sides. As for the neck, we have a multi-piece maple one, carrying an ebony fretboard on top. Aside from all of this, the instrument's hardware is gold-plated, which goes great with its two-tone sunburst finish and other stylish features.
Hofner President
Finish: Sunburst
Years used: 1950s and 1960s
Although the aforementioned Czechoslovakian-made Futurama, or Grazioso, is sometimes mentioned as his first-ever instrument, some sources claim that this title goes to a particular Höfner President acoustic. While we don't have conclusive info, nor have ever been a consensus among music historians on this issue, we can confirm that Page had both of these guitars in his collection. The earliest confirmed use of this instrument was way back in 1958 during his appearance on BBC children's program. At the time, Jimmy was around 14 years old, and it was his first public appearance.
Harmony Sovereign H1260
Finish: Natural
Years used: Early 1970s to now
While we're at the topic of his acoustic guitars, the most iconic one in his collection is the Harmony Sovereign H1260. Acquiring it sometime in the early 1970s, the instrument became known for its use on "Led Zeppelin III" and "Led Zeppelin IV" (the officially untitled) albums. With this said, it's obvious that we can hear it on the band's biggest hit, "Stairway to Heaven."
Just like with most of Page's guitars and gear, there are some approximate guesses as to what year of production and exact specs are. But it's generally confirmed that this particular guitar was manufactured sometime in the early 1960s. Its serial number is 9631111260 and it features a solid spruce top, mahogany sides and back, mahogany neck, and a rosewood fingerboard. Aside from a pretty-looking natural finish, there's also six-ply binding on the body, dot inlays on the fretboard, and logo engravements on the headstock.
Giannini GWSCRA12-P Craviola
Finish: Natural
Years used: Early 1970s, probably still in his possession
While not a conventional guitar as we know it, Giannini GWSCRA12-P Craviola is a hand-made acoustic 12-string that Page used for some of Led Zeppelin's early works. The most famous tune where this unusual instrument found its place is "Tangerine" from the band's third record. This fine Craviola also saw some action live on stage throughout 1971 and 1972.
Although technically being a guitar, with six choruses of two strings, its chape reminds us of a heavily modified lute. What's more, its soundhole is not completely circular but features a rather irregular shape. Nonetheless, it's a great piece of history, and its sales are still ongoing after Jimmy Page popularized it.
Table Showing the Guitars Jimmy Page Used at Each Point in His Career
| Make | Model | Color/Finish | Years |
| --- | --- | --- | --- |
| Fender | 1959 Telecaster | Yellow, Dragon | 1966-early 1970s |
| Gibson | 1960 Les Paul Custom, aka "Black Beauty" | Black | Early 1960s-1971 |
| Gibson | 1959 or 1960 Les Paul Standard, aka "Number One" | Sunburst | 1969-Present |
| Gibson | 1959 Les Paul Standard, aka "Number Two" | Sunburst | 1973-Present |
| Gibson | 1969 or 1970 Les Paul Deluxe, aka "Number Three" | Red | 1970-Present |
| Danelectro | 1961 Shorthorn | Black | Mid 1960s-Present |
| Gibson | EDS-1275 | Red | 1970s-Present |
| Futurama | Grazioso | Sunburst | 1950s-1960s |
| Fender | 1965 Electric XII | Sunburst | 1970s-Present |
| Vox | Phantom XII | Black | 1960s-Present |
| Fender | 1953 Telecaster | Brown | 1970s-1980s |
| Fender | 1964 Stratocaster | Lake Placid Blue | Late 1970s |
| Gibson | TransPerformance | Metallic Gold | 1990s-Present |
| Martin | D-28 | Natural | 1970s |
| Gibson | J-200 | Two-tone sunburst | Late 1960s |
| Hofner | President | Sunburst | 1950s and 1960s |
| Harmony | Sovereign H1260 | Natural | Early 1970s to now |
| Giannini | GWSCRA12-P Craviola | Natural | 1970s |
Jimmy Page Gear and Amps
Fender Super Reverb
Years used: Late 1960s
Although a British guitar player, Jimmy Page was seen using a traditionally American amp, Fender's Super Reverb combo, back in the late 1960s. There have been some speculations about whether this amp belongs to him or not. But what is certain is that he used it back in Led Zeppelin's earliest days.
Made back in the 1960s, it's one of the amps that defined that classic "American" kind of tone. Although a combo amp, it came with four 10-inch speakers. Its power output was 40 watts and it came with a pretty rich collection of valves in its circuitry. There were four 12AX7 tubes in the preamp section, two additional 12AT7 tubes in the preamp, two 6L6 power tubes, and a 5AR4 rectifier tube. It's a classic "bassy"-sounding amp with some of those sharp high-ends, ultimately giving that slightly "scooped" tone.
Related Article: James Hetfield Guitars and Gear List
Rickenbacker Transonic TS100
Years used: Early 1960s
Rickenbacker used to be a really big deal back in the 1960s, and they even manufactured some pretty great guitar amps. On Led Zeppelin's first-ever US tour, Page went with the Rickenbacker Transonic TS100 combo amp. Bassist John Paul Jones also had a Rickenbacker amp for this run. However, after the tour was over, the guys didn't bother to take them back home to the UK in 1969, leading us to think that they weren't exactly satisfied with their quality. After all, we all know how hyped Jimmy Page was to keep all the stuff that he liked.
These were some of the earliest examples of solid-state amps, featuring output power of 100 watts. They had some interesting tone-shaping controls, making them quite versatile for the era. However, solid-state amps were still a pretty new thing and these Reckinbcker Transonic amps didn't really last, with the whole series getting dropped from production in 1973.
Marshall SLP-1959 Super Lead
Years used: Late 1960s, the 1970s, presumably still in Page's collection
Being a tube amp-lover from the UK, it's not a surprise that Page settled for Marshall's legendary SLP-1959 Super Lead head, also referred to as "Plexi." This was one of his main live amps during the Led Zeppelin times. This amp head model features 100 watts of output power. Earlier models, as is the case with Page's amp, had four KT66 valves in the power amp section. From 1967 and onwards, Marshall began implementing now-classic EL34 valves.
As for Jimmy Page, he swapped KT66s for KT88 tubes. This automatically increased the amp's output power to 200 watts, as well as its headroom.
Vox AC-30
Years used: Late 1960s
Although we remember Page for his Gibson Les Paul and Marshall combo, the legendary setting that he partially pioneered, there was another British amp in his collection. Although using it briefly in the late 1960s, Vox AC-30 amp served him well during this period. And this is one of the old original Vox AC-30 amps with that classic "top boost" feature that they were praised for. Although focusing mostly on the mids, as is the case with all of the traditionally "British-sounding" amps, the AC series had some of those "grainy" higher mids and high-ends in the whole mix.
Supro Thunderbolt 1690T
Years used: Late 1960s and 1970s, it's not certain whether he still owns it
Another one that goes all the way back to Led Zeppelin's early days, Supro Thunderbolt 1960T was one of the most popular amps of the era. At this point, these models are still keeping their high prices among collectors due to their scarcity.
This tube amp first found its way on the Zeppelin's eponymous debut record, paired with Page's good old '59 Fender Telecaster. After being under the radar for a while, Page took the amp out again, along with the old Tele, to record the solo on "Stairway to Heaven."
Univox UX-1501
Years used: Early 1970s
After Led Zeppelin gained massive popularity, both in the UK and the US, more tours overseas followed. For the band's 1972 US tour, Jimmy Page used a now very rare Univox UX-1501 amp head model. These came with 140 watts of power, with their tone shaped through fully tube-driven circuitry. What's also great about the amp is that it could go through four separate cabinets at the same time. Aside from Page, it was also Jeff Beck who used it for a while. Unfortunately, these amps went into obscurity and they're not even that big among vintage gear collectors.
Vox UL4120
Years used: Late 1960s, presumably during the early 1970s as well
Another great Vox amp that found its place in Page's arsenal, the company's UL4120 head was a pretty interesting specimen. Yes, we usually remember Vox for their classic combo amps from the AC series, so it's a bit unusual to see one of these. Since Thomas Organ was Vox's partner company for the US market, they came to an agreement for some Vox-branded amps for the US and Canadian markets. Therefore, this particular model was actually fully designed and manufactured by Thomas Organ and sold under the Vox brand.
And what's really interesting is the fact that this was one of the first examples of the so-called "hybrid" amp models. But instead of having a tube-driven preamp stage, these had solid-state preamps and tube-driven power amps, featuring a quartet of KT88s driving their output of 120 watts. Although not much is known about when and how Page used it, it's been confirmed that the model was implemented on Zeppelin's second album.
Popular Related Article: Tom Morello Guitars and Gear List
Hiwatt Custom 100
Years used: From 1969 to 1971
For a lot of his live shows from 1969 to 1971, Jimmy Page had Hiwatt Custom 100 amp heads. However, these were designed and manufactured especially according to his needs and were not like the other commercially available models. They served him well for this period, but Page preferred to go with his classic Marshall amps. These Hiwatt Custom 100 amps came with three 12AX7 tubes and one 12AT7 tube in the preamp section, as well as four EL34 tubes in the power amp section.
Petersburg P-100
Years used: 1995 to 2007, these are probably still in his collection
Although Led Zeppelin is a band that he's most famous for, Jimmy Page kept himself busy even throughout later decades. In 1995, he began using special custom-made Petersburg P-100 amp heads. They're most likely still sitting around somewhere in his inventory. Although somewhat obscure, there's some info about them flying around. And they're pretty awesome as they helped Jimmy Page shape his tone for Led Zeppelin's legendary 2007 show.
Orange MatAmp OR200
Years used: Mostly in the early 1970s, was in his possession until 2009
Being a hard rock guitar player who rose to fame in the late 1960s and the early 1970s, it's only expected to see Jimmy Page using an Orange amp at some point in his career. However, the Orange MatAmp was also used in combination with his theremin. Bearing 200 watts of output power, this head was manufactured back in 1971. The model, also known under the OR200 designated name, had four KT88 tubes in the power amp, as well as two regular ECC83 (interchangeable with 12AX7) tubes in the preamp stage. It's hard to find out the exact price this specimen reached on the 2009 eBay auction, but the initial bid was just below the $30,000 mark.
Jimmy Page Pedals and Other Effects Units
Maestro FZ-1 Fuzz-Tone
Years used: Mid-1960s
What many don't know is that Maestro FT-1 Fuzz-Tone was actually the first-ever commercially available distortion device. Originally intended as a wacky-sounding bass effect, it soon found its use among guitar players, especially when Keith Richards of the Rolling Stones popularized it. As for Page, he got it in the mid-1960s and used it for his session work. This was a fairly simple device, allowing users to control volume and attack parameters.
Sola Sound Tone Bender Professional MKII
Years used: Second half of the 1960s
For his tone in the Yardbirds, Jimmy Page began using the old legendary Sola Sound Tone Bender Professional MKII distortion pedal. These pedals were developed in different series by a guy named Gary Hurst who worked as a technician for Sola Sound. Original versions were based on Maestro's Fuzz-Tone, although the MKII model saw some significant changes done to its circuitry, featuring three transistors and an additional gain stage. Page used the pedal for a while, and he reportedly had it during the early Led Zeppelin days as well.
RotoSound Tone Bender MKIII
Years used: Seen using it in 1969
Being such a great pedal for that era, Tone Bender continued developing and was also produced under other brands, including RotoSound. The MKIII version had a few other changes done to its circuitry. Although the essence of its tone was recognizable, the pedal came with additional tone control. And although these pedals were marketed under the RotoSound moniker, they had the same exact type of circuitry that you'd find in the Sola Sound version (although the latter ones are pretty rare).
As for Page, he was seen using it sometime in 1969. Unfortunately, there's no further info on whether he used this pedal more throughout the years.
DeArmond 610 Volume and Tone Pedal
Years used: Early to mid-1960s
While we're all familiar with standard volume pedals (which are, arguably, the most underrated pieces of gear), some of the older versions were a bit different. One example is DeArmond's 610, controlling both volume and tone. You can rock it back and forth, just like any volume pedal, and you'd control your output signal. But if you rock it left and right, you get a similar effect as if you're messing with your guitar's tone knob. It's a bit different though, kind of getting slightly closer to what a wah pedal is capable of. The 610 pedal helped Jimmy Page to record a few songs as a session musician. This was way back in the early and mid-1960s.
Univox UD-50 Uni-Drive
Years used: Early 1970s
Looking deeper into Jimmy Page's distortion pedals, it's also been confirmed that he had Univox's UD-50 Uni-Drive back in the early 1970s. This simple overdrive pedal has been promoted by the Melody Maker magazine as a device "with which he creates an electronic cello effect."
But this isn't like the average overdrive that you'd see today. Although simple, it had a different principle of operation. Instead of having a simple on and off switch, the UD-50 pedal functioned as a volume pedal, featuring the rocking part that adjusts the distortion intensity. It really worked well paired with tube-driven amps, pushing them over the limit right into some fuzzy territories.
Vox Thomas Organ Cry Baby
Years used: Since the early 1970s
And what would a lead guitar player be without a wah pedal? In Zeppelin's earliest days, Jimmy Page used the classic Vox Thomas Organ Cry Baby pedal. And yes, this is that one model that started it all. The pedal that's now manufactured and sold under the Dunlop brand used to be part of the Thomas Organ and Vox collaboration. This old model has been Jimmy Page's main wah pedal for many years. Today's classic GCB95 Cry Baby wah by Dunlop is the traditional "successor" of this original model and is close to what these old circuitries were capable of.
Vox V846
Years used: Mid-1970s
But although the classic Thomas Organ Cry Baby was his main choice, Jimmy Page also sporadically used other wah pedals. The one that's been confirmed is Vox's classic V864, which was one of the earliest alternatives to the original Cry Baby pedal. These were manufactured in Italy, and some famous guitar players, including Jimi Hendrix, preferred these over Thomas Organ Cry Baby pedals. However, this was not the case with Jimmy Page.
Vox CO2 Deluxe Echo
Years used: 1969, 1970
Now, we're getting into some pretty interesting effects units. Back in the old days, you weren't able to just stomp on a pedal and get echo or reverb. These were actually mechanical in nature back in those old days, and the echo effect was especially difficult to make. Examples like Vox CO2 Deluxe Echo show us how it was possible to achieve the effect with a regular magnetic tape. This was a relatively bulky unit, featuring three inputs, three separate volume controls, and a blend knob. There was also an option to plug an additional external footswitch, that lets you switch it on and off during performances. What's more, you could control whether an individual channel would be affected by the echo effect using the "push-pull" action of volume knobs.
Binson Echorec 2
Years used: Early 1970s
Another echo and delay device in Page's collection was the classic Binson Echorec 2. Of course, this was also an analog recording device although it worked on different principles compared to the aforementioned Vox's CO2. Instead of a tape loop, it featured an analog magnetic drum recorder. One of the main advantages of this principle is that it provided a much stable operation. And we are not talking just about that "wobbly" pitch, but also its overall reliability. This one found its use live on stage, although John Bonham also used it in the studio to record Zeppelin's cover of "When the Levee Breaks."
Maestro Echoplex EP-2
Years used: Early 1970s
Gibson's subsidiary Maestro was one of the most prominent names in the 1960s and the 1970s. Although we mostly remember them for the legendary Fuzz-Tone, they also had their line of tape echo machines. The company's second edition, their Echoplex EP-2 model, was a part of Page's signal chain in the early '70s.
What makes these devices so special is the fact that they not only had a magnetic tape as a recording medium but also featured an actual vacuum tube in its circuitry. The EP-2 model is an upgraded version of the original Echoplex, and they were pretty similar. However, this was their final tube-based tape delay, as the company later switched to transistors.
Maestro Echoplex EP-3
Years used: Since the early 1970s to now
Although the transition to a solid-state circuitry in Maestro's Echoplex delays was kind of "controversial" at the time, it seems that the company's EP-3 sat well with many guitar players. In fact, this particular model was one of the longest-running echo devices, with production going from 1970 to 1991.
While we still have magnetic tape as a medium, its use was much simpler compared to previous versions due to its use of transistors. Additionally, the signal was much clearer and it didn't change the original tone of one's amplifier.
MXR M101 Phase 90
Years used: From 1975 and onward
MXR's classic M101, better known as the Phase 90, was one of the game-changers in the world of guitar. Its compact casing and overall simplicity, all combined with great tone, were the reason why many guitar legends began using it. Although not exactly versatile, it's still one of the most popular pedals to this day. Page got his hands on one of these back in 1975 and has used it on and off over the years. The most famous song is probably "Kashmir," although we can hear it on "Achilles Last Stand" as well.
Eventide H910 Harmonizer
Years used: Second part of the 1970s to mid-1980s
The emergence of digital effects was a dream come true for many guitar players in the 1970s and the 1980s. And Eventide really outdid themselves with the H910 Harmonizer, which was the first-ever commercially available digital processing effect. Although bulky by today's standards, having an actual rack-mounted multi-effects unit in the 1970s was really mind-blowing. Aside from altering your pitch, Eventide's H910 also had delay and feedback effects on it. Jimmy Page had this one from 1976 to the mid-1980s.
Eventide H949 Harmonizer
Years used: Second part of the 1980s
After this period, Jimmy Page switched over to an upgraded version of Eventide's Harmonizer, the H949 model. The improvements included a wider pitch range, pitch altering modes, flanger effect, and even the "reverse" mode. Aside from that, you could still use its delay. Some other improvements also include the implementation of MIDI technology for more functionality. Page mostly used it during his time with The Firm supergroup.
DigiTech WH1 Whammy
Years used: 1990s to now
Although not that prominent in his work, Jimmy Page began using the classic DigiTech Whammy pedal, the original WH-1 model. It's one of the most famous effects pedals of all time, and it saw a few upgrades over the years.
Pete Cornish Custom Floor System
Years used: 1993 to now
Although not an effect pedal, it's important to mention Jimmy Page's custom-made floor-based switching system made by Mr. Pete Cornish. It can fit some pedals on it as well, but one of the main ideas here was to have a fully functional and practical unit for live shows. Sometime in the late 2010s, it was upgraded with high impedance pre-amps in between every effect in order to keep the signal as pure as possible. It also has a few individual effects loops, as well as separate outputs that can be used for different amps.
Yamaha CH-10M II
Years used: Not certain, most likely since the mid-1980s to now
Another vintage pedal in Page's collection is a somewhat rare Yamaha's CH-10M II. This is a chorus and vibrato device well-known for its very saturated tone. Featuring only two parameter controls, it's really simple to use and Page has mostly implemented it for live shows.
Wrap Up:
Back in the late 1960s, Page's guitar playing was groundbreaking, in terms of technique, his choice of notes, as well as his tone. Just take a listen to Led Zeppelin's cover of Jake Holmes' "Dazed and Confused" from their eponymous debut album and you'll get what we're talking about. Although many were literally scared of this new kind of tone, Page approached creating a new sonic landscape as a real professional. And this is not a surprise as he worked as a session player for some pretty big names earlier in the 1960s.
Zeppelin kept pumping out albums throughout the 1970s, but the officially untitled fourth record from 1971 still remains their best-known work. On it, we can hear how Jimmy Page's guitar tone and writing practices evolved, especially on songs like "Stairway to Heaven" and "Black Dog." And although the band dissolved in 1980 after the unfortunate passing of drummer John Bonham, Led Zeppelin still remains one of the most important names in modern music.
But with such a great guitar tone, it's only obvious that many tried to copy it one way or another. You'll even find many experienced guitar players today who are still struggling to achieve what he did back in the old days. With this said, we'll be exploring Jimmy Page's guitars and gear he used during his prolific and lengthy career, not only with Led Zeppelin but other lesser-known projects.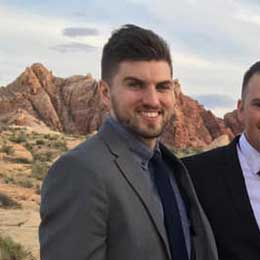 My name is Chris and I've had a passion for music and guitars for as long as I can remember. I started this website with some of my friends who are musicians, music teachers, gear heads, and music enthusiasts so we could provide high-quality guitar and music-related content.
I've been playing guitar since I was 13 years old and am an avid collector. Amps, pedals, guitars, bass, drums, microphones, studio, and recording gear, I love it all.
I was born and raised in Western Pennsylvania. My background is in Electrical Engineering, earning a Bachelor's degree from Youngstown State University. With my engineering experience, I've developed as a designer of guitar amplifiers and effects. A true passion of mine, I've designed, built, and repaired a wide range of guitar amps and electronics. Here at the Guitar Lobby, our aim is to share our passion for Music and gear with the rest of the music community.