Considered to be the standard size of the instrument, soprano ukuleles produce the characteristic sound that ukulele lovers enjoy hearing and playing. With its rich history, many players seek to find the best soprano ukulele.
Every ukulele manufacturer that has ever existed makes at least one if not several lines of soprano ukuleles. Being that the choices are nearly limitless, we've compiled a list of the best soprano ukuleles to help inform those looking for their next, or perhaps first, soprano ukulele.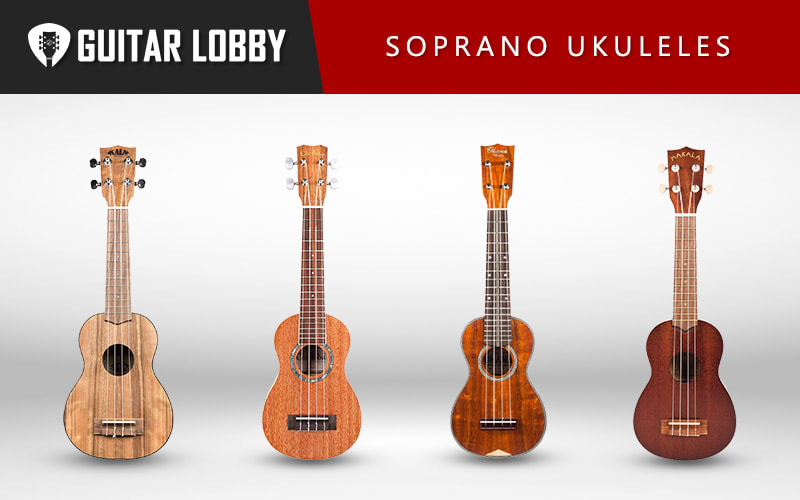 Before you begin exploring, it may be helpful to have a briefing on the criteria used to choose the ukuleles on this list. The quality of the construction, the sound, and the action of the ukulele are a few of the first items to consider. While there are various tonewoods that players have various preferences on, it is noted which are of the highest grade and quality.
The overall playability of the instrument is also important to the quality of the instrument. How comfortable it is to play and the instrument's responsiveness of the instrument are essential when comparing ukuleles. The design of the instrument and the reputation of the brand are also taken into account.
The value of some specifications is subject to preference, so each soprano ukulele description will include what specifically the uke has to offer. One of these is whether the ukulele is acoustic or acoustic-electric. One is not necessarily better than the other, and which is best for the player depends on the purpose of the ukulele. An electric acoustic is best for players desiring an instrument for stage performance, while a purely acoustic will serve well for general playing and can be later outfitted with temporary or permanent pick-ups.
Price and budget will also be mentioned, but as you can assume, the very best ukuleles will carry a higher price tag. The highest quality ukuleles are likely handcrafted and not usually mass-produced, so supplies are oftentimes limited.
When composing this list, consideration was given to the balance of multiple features, including the quality, affordability, and overall value. So fear not, not all of these are going to break the bank for those on a tighter budget. Let's explore in detail the best soprano ukuleles.
Here Are the Best Soprano Ukuleles
1. Kamaka HF-1 (Editor's Choice)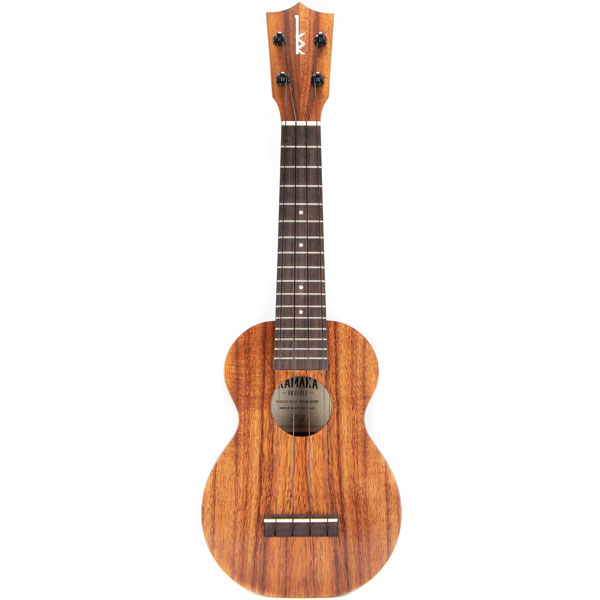 | | |
| --- | --- |
| Estimated Price | $1025 |
| Type | Soprano |
| Material | Hawaiian koa body |
| Neck | Honduran mahogany neck |
Kamaka is the original 'K brand; manufacturer and one of the earliest ukulele makers on the Hawaiian islands. It is a family business, and one of the most respected ukulele makers in the world. With a reputation like that, it's no wonder that their ukuleles are fantastic.
The Kamaka HF-1 was one of the first soprano ukuleles to hit the market and was the original soprano ukulele that launched everyone else. It is the "standard" classic looking ukulele, which Kamaka can rightfully claim theirs as the standard soprano.
This soprano is made from all solid Hawaiian koa that is aged for at least four years. A Honduran mahogany neck topped with A simple slotted rosewood bridge is topped with a compensated Tusq bone saddle, with a nut width of 36mm. A modern addition is the Gotoh planetary tuners with black metal and white buttons.
The wood is beautifully simple. Curly koa would be more expensive, but this one is meant to look traditional. The construction is flawless, and the woods are thin and light. The hand polished gloss is a nice touch, and the "kk" insignia is found in abalone on the headstock. There are no further decorations, but custom versions can be ordered if desired.
Perfectly balanced and light, this ukulele offers effortless playability. Its full, clear sound produces a lovely tone with good dynamic range. The sound remains consistent with hard vs. soft playing, with great intonation and blend.
This legendary ukulele comes with an extremely nice case. It is on the more expensive side at around $1300-$1500 and is a great ukulele for any level player.
2. Kala KA-PWS (Best Value)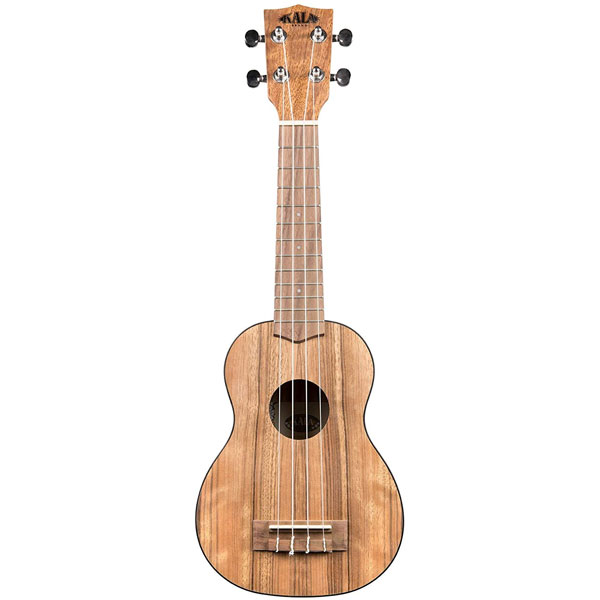 | | |
| --- | --- |
| Estimated Price | $125 |
| Type | Soprano |
| Material | Pacific walnut body |
| Neck | Mahogany neck |
Handcrafted in Petamala, California, Kala's ukuleles are top-of-the-line for their price point and directly compete with the Hawaiian "K-brands". They are a perfect choice for those looking for a well-made ukulele without spending a huge amount of money. While the Kala we mentioned earlier is a fantastic entry-level instrument, this Kala is a step up.
The KA-PWS is a Pacific Walnut Soprano ukulele, because of the pacific walnut back, side, and top of the body. The light brown color contrasts beautifully with the rich, dark brown pattern in the grain of the wood that gives this ukulele a bold look. The mahogany neck is topped with a rosewood fingerboard, and the saddle and nut are both Nubone. The black binding along the top and bottom of the body and satin finish bring it all together.
The expensive appearance is only one draw to the ukulele, as it is accompanied by the quality craftsmanship of Kala. The low-action and slick feel offer great playability. A full, bright articulate tone is produced with good projection. This ukulele has a powerful sound for its size, which is great to look for in a soprano ukulele.
Chrome die-cast tuners and quality Aquil nylgut strings are the final specs to mention. The Kala-KA-PWS is an intermediate/mid-range ukulele that is great-looking and affordable. You can purchase it for under $200, which is an incredible deal for this instrument.
3. Kala KA-15S Satin Mahogany (Budget Pick)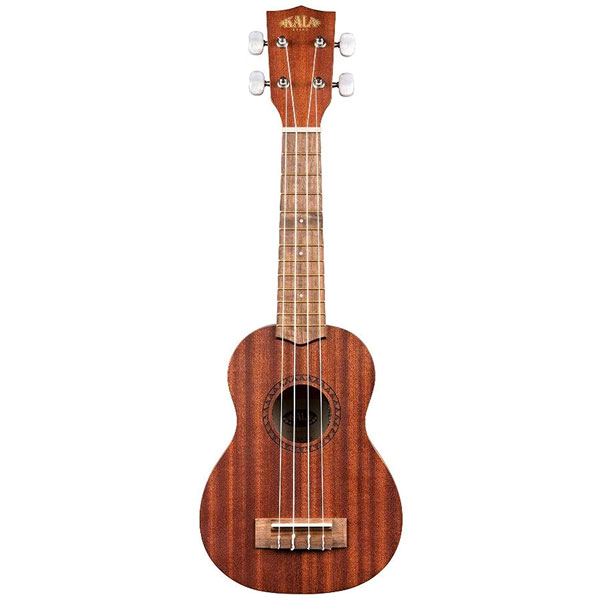 | | |
| --- | --- |
| Estimated Price | $60 |
| Type | Soprano |
| Body | Mahogany |
The Kala Ka-15S makes various lists as one of the best entry-level ukuleles on the market, and the statin mahogany is the top choice in variety within the series that includes Also a spruce-topped and Hawaiian themed variety.
The body is completely mahogany top, back, sides. It has an Indian Laurelwood fingerboard and Graph Tech Nubone nut and saddle. For its price, this ukulele has quality wood and construction. And it includes Aquila strings, to boot.
Many players have testified that this ukulele is easy to play and sounds great, especially taking into account that it is a beginner model. Its great overall value is what makes it one of the most popular ukuleles on the market.
Considering the quality, this beginner level, an inexpensive ukulele is a great purchase. It is even found sold as a bundle with a gig bag, tuner, instructional video, strap, polishing cloth. The ukulele itself retails for less than $100.
4. KoAloha KSO-10 (Best Under $500)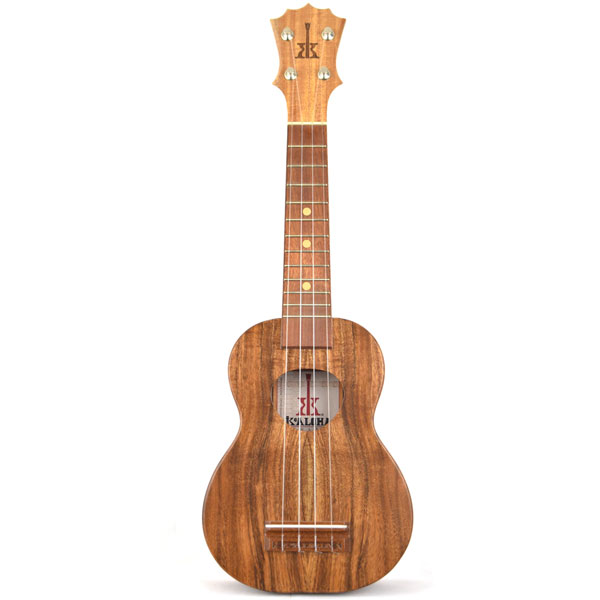 | | |
| --- | --- |
| Estimated Price | $500 |
| Type | Soprano |
| Material | Solid tropical acacia |
| Neck | Sapele mahogany neck |
Like many arts-based companies, KoAloha was also founded by a former musician. Having once been an inventor, and owner of a well-off plastics factory, Alvin "Pops" Okami first sought to break into the industry as a maker of the tiny playable ukuleles in the 1990s, after his factory eventually went bust. Eventually, after having moved onto a full-size ukulele, and adding family members to the crew, his business began to thrive once again.
True to its name, KoAloha uses koa wood as the core component in the construction of its instruments, though this particular model mainly consists of Acacia wood, a close relative to Koa. This leads to the ukulele having quite a solid back, top, and sides. The KoAloha KSO-10 is a very popular model, and, like the Ohana SK-390, it sells out fast.
Like most of their products, this model features KoAloha's traditional seven-point headstock with their logo etched in. While it doesn't affect the sound of the instrument, the beautiful Musubi soundhole makes this instrument instantly stand out. The Musubi soundhole is a signature shape of KoAloha's ukulele soundholes.
Through a Luthier based in Thailand, Hawaiian ukulele techniques are used in the construction of the instrument, leading to a familiar brilliant and full tone, with fantastic projection. Its classic satin, semi-gloss finish, mahogany fretboard, and ebony bridge and fingerboard all give this model a clear Hawaiian feel, and character.
Other notable features of the KSO-10 include the clear fluorocarbon strings, which have a high tension-to-mass ratio, resulting in smaller strings, and a bright, striking sound. Though they are essentially made of fishing lines, this material is ideal for use in the creation of string instruments. The Tusq guitar neck and saddle are also selling points of the instrument, the neck is slightly wider than average – 37mm.
All in all, the KoAloha KSO-10 is regarded as a good purchase. It is one of the best sounding models for its price point and considering astonishing value for the money. It can be found for around $500, meaning that it can be considered a high-end starter instrument. This is one model that comes highly recommended.
5. Martin S1 (Best Under $400)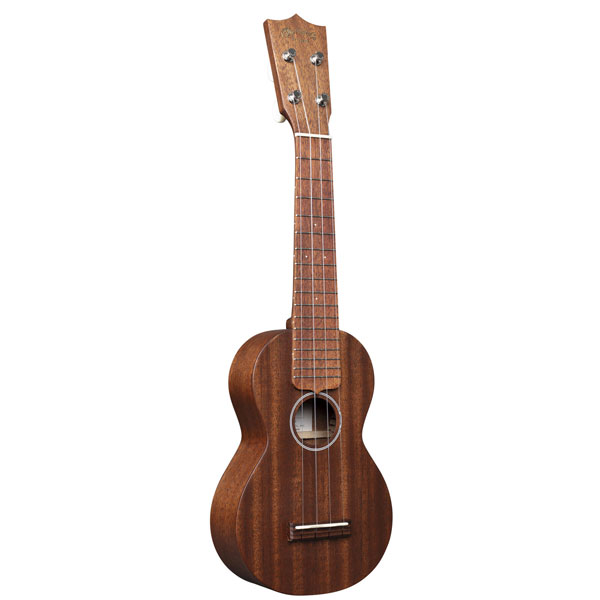 | | |
| --- | --- |
| Estimated Price | $400 |
| Type | Soprano |
| Body | Mahogany |
Martin is a company with a long history of creating the highest quality guitars and ukuleles. Their ukuleles from the 1920s were the best around, and the company continues to handcraft the best high end ukuleles fit for professionals. The Martin S1 is styled after these vintage ukuleles to bring the ukulele into the current age.
The Martin S1 has a solid mahogany top, back, and sides to the body with a mahogany neck, rosewood fingerboard, and slotted rosewood bridge. The finish is a hand rubbed satin finish, and there is a Tusq compensated saddle and nut. A signature of Martin, this ukulele features a dovetail neck joint and arched back. There are the modern Grover friction tuners and Martin's own strings which are made from clear fluorocarbon.
In looks, it is a simple, plain, classic ukulele. The black and white rosette is simple and nice. What makes this ukulele one of our top picks is its incredible sound and build. The handmade quality and attention to detail offer a precise and tidy inner build. The instrument is solid yet light, balanced, with reliable binding indicative of any Martin instrument. The tone is complex and full of character and power. The sustain is also incredible, and the bright, shimmering tone projects more fully than most other soprano ukuleles.
Whether you are looking for a well-built ukulele to play at home, in the studio, or on the stage, the Martin S1 is made to do it all. This Martin ukulele is considered a mid-range ukulele for a Martin and is the cheapest solid wood soprano Martin has to offer at around $400.
6. Cordoba 28S (Best Under $200)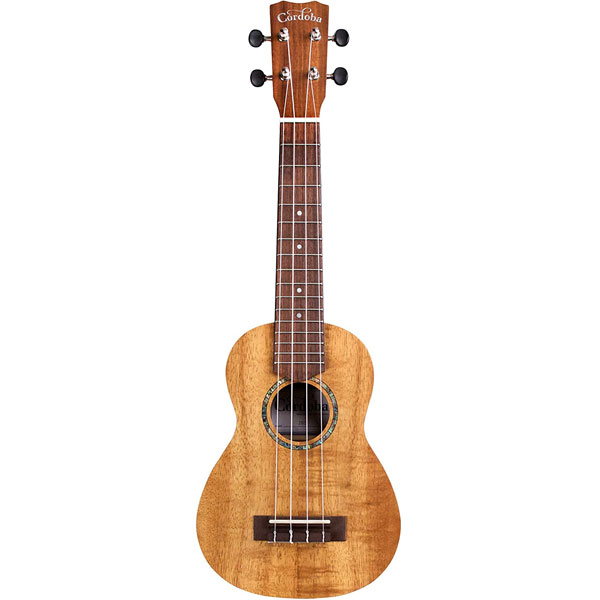 | | |
| --- | --- |
| Estimated Price | $200 |
| Type | Soprano |
| Body | Hawaiian Koa |
Like all of Cordoba's handmade instruments, the Cordoba 28S is high-quality and made with care. Their theme of supplying customers with affordable instruments continues with this model, though the Cordoba 28S does not suffer in sound quality greatly as a result.
This model is made of figured koa wood, layered koa on the top, back, and sides. This instrument boasts a classic, cheerful Hawaiian sound, and a clear, bright tone. It is also proven to stay in tune easily, compared to others in its price range.
Notable features of this model include the pau ferro fretboard, and the c-shaped mahogany neck, with Cordoba vintage open-gear tuners. It also includes Aquila New Nylgut strings and an abalone rosette. Additional features are the bone nut and saddle, and the matte finish.
Overall, the Cordoba is a worthy purchase, costing around $200. Despite its low price, this instrument plays like a professional model, and it is one of the best to be found for under $200. Those interested in spending around this much will not be disappointed if they choose this model.
7. Cordoba 15SM (Best Under $100)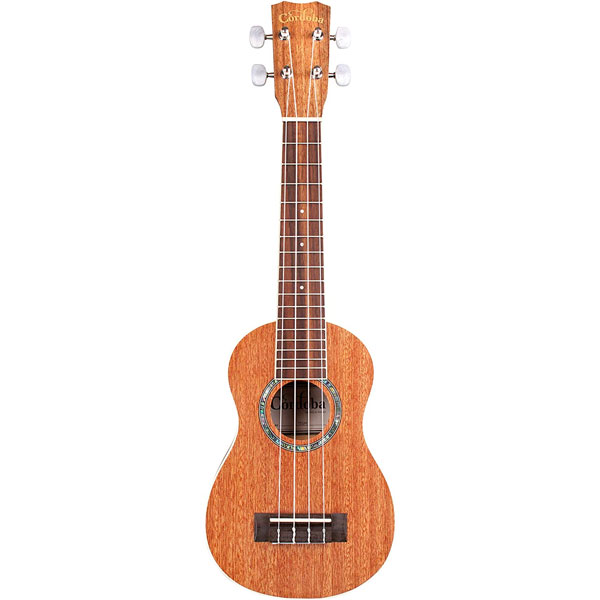 | | |
| --- | --- |
| Estimated Price | $75 |
| Type | Soprano |
| Body | Mahogany |
Cordoba is a respected instrument maker known most for its Spanish-style guitars. They are also known for making handmade quality and affordable instruments, including ukuleles like the Cordoba 15SM.
This ukulele has a mahogany laminate top, back, and sides and has an impressive projection. The solid build and finish throughout are standard of Cordoba's instruments. This ukulele also includes a composite saddle and nut, and the nut is 35mm. There are open-gear tuners and Aquila strings as well.
The 15SM features fantastic detailing, such as the hand inlay rosette-like would be found on ukuleles much more expensive than this. The ABS cream binding to the beck and body is a nice touch along with the abalone soundhole.
Top all of that off with good volume, sustain, and nice tone, and we have a great ukulele. In fact, many consider it one of the best out there with a low price tag. For a beginner through intermediate ukulele, the Cordoba 15SM is one of the best for under $100.
8. Makala MK-S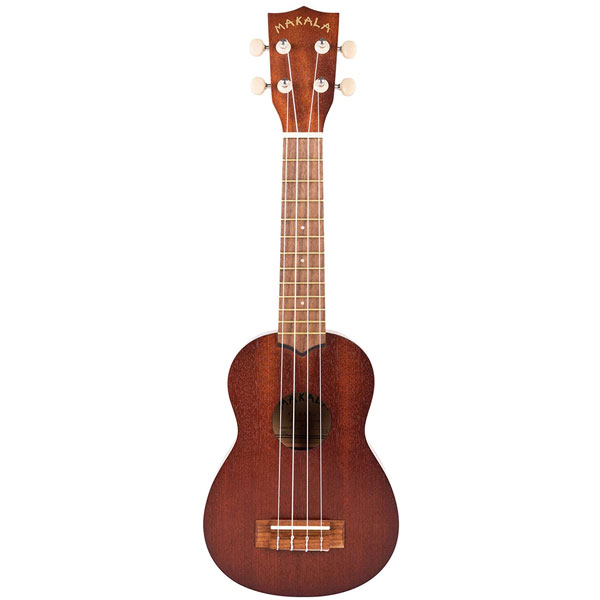 | | |
| --- | --- |
| Estimated Price | $55 |
| Type | Soprano |
| Body | Mahogany |
Kala is a well-known and trusted manufacturer in the ukulele business, and many of its products could have found their way onto this list, but the Makala MK-S is one of the few that managed to do so. Although the Makala line is considered the "budget line", the models produced are still quality items in their own right.
The Makal MK-S is generally considered the best value of Kala's budget line, it is a good budget choice with quality sound and build. It's a great first ukulele for any student, as it's a well-crafted model that comes at a great low price of only around $50. This, combined with its simpler features make it a solid starter ukulele, especially compared to many online starting instruments.
Notable features of this model include a smooth satin finish and geared tuners. This mahogany and NuBone instrument are well-produced, even including a rosewood fingerboard and bridge, as well as Aquila strings. While this ukulele may not be a good choice for a professional, it is the perfect starting ukulele for anyone interested in learning.
9. Kiwaya KTS-4
| | |
| --- | --- |
| Estimated Price | $675 |
| Type | Soprano |
| Body | Mahogany |
The Kiwaya KTS-4 is known for its close relation to the standard Martine soprano from the 1920s. Arguably as good as the vintage Martin soprano, the KTS-4 is the closest copy seen in the market currently. While Martin is American-made, however, Kiwaya is made in Japan.
The KTS-4 is such a staple soprano ukulele it built the Kiwaya brand. While simple in looks, it offers the traditional, characteristic ukulele sound that many love. It features a solid mahogany neck and body, an ebony fingerboard and bridge, with a classic matte finish. The neck is in the old-fashioned C-shape for smooth movement across the range.
Originally, this ukulele had friction tuners, but in 2017 the modern Gotoh planetary tuners were integrated. Newly manufactured models also include the clear fluorocarbon strings, which are another modern addition. There is a 36mm bone nut and bone saddle included as well.
This model of ukulele has been around for over 100 years and has since been the base model for the KTS-5, KTS-6, and KTS-7. Basically, the higher the number, the more extra features, and higher the price. Any of these are a ukulele that will last a lifetime.
KTS-7 is also notable. To expand upon the KTS-4 model, the KTS-7 has a Honduran mahogany top, back, and sides, front and back creme binding, five ring inlay and stripe, a mahogany neck, maple strip on the bottom, and also the gotoh planetary tuners.
This is a professional model ukulele. The KTS-4 starts at around $670.
10. Big Island – Honu KX-SPG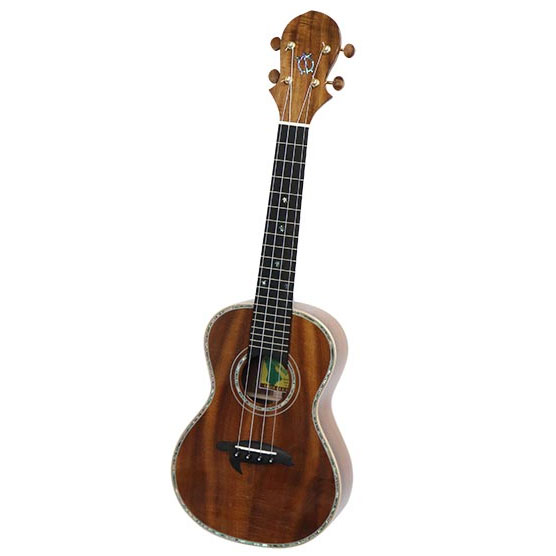 | | |
| --- | --- |
| Estimated Price | $935 |
| Type | Soprano |
| Body | Mahogany |
This soprano ukulele from Big Island's KX Deluxe Series takes this spot on our list for its quality, affordability, and lovely honu (Hawaiian for sea turtle) design. Big Island strives to manufacture well-constructed ukuleles using the best materials and keeping the prices affordable.
The top, back, and sides of this ukulele are constructed from solid premium curly koa. The gorgeous, deep flaming koa highlighted by a gloss finish immediately draws attention to the Honu design. Honu is Hawaiian for sea turtle, and the headstock and bridge feature a honu design. A mahogany neck and maple binding offer stability along with the bone nut and saddle. The fingerboard with turtle inlays and the unique honu bridge are both ebony. It is a pin-style bridge with ebony pins.
The rosette and the purfling are made from lonely abalone, and the body features an abalone stripe down the backside. Gotoh friction machine heads and koa buttons that match the wood of the neck are included.
This Big Island uke has a chunky depth for soprano, offering a boisterous modern feel and sound. The neck has a slimmer design, which provides improved ergonomics. The ukulele comes equipped with Aquila strings.
Big Island Ukulele shoots to be the best, highest quality ukulele compared to other instruments in the same price range. This high quality, professional model can be found for under $1,000. Their distributors are rather limited, but it's worth finding online and purchasing overseas.
11. KoAloha KSM-00 or KSM-02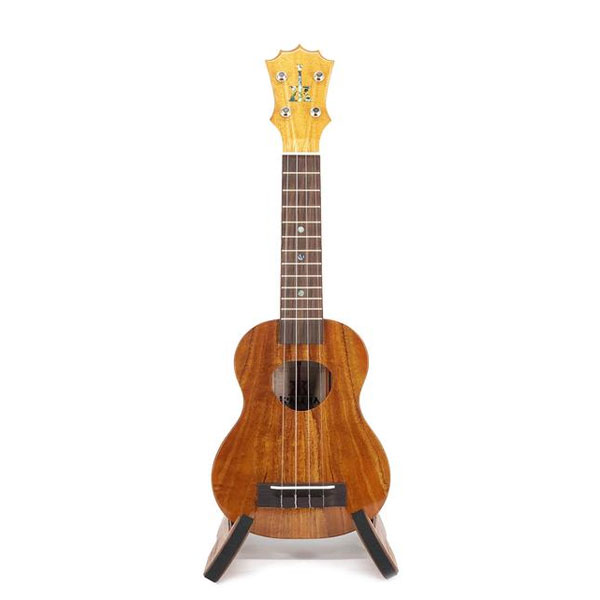 | | |
| --- | --- |
| Estimated Price | $875 |
| Type | Soprano |
| Body | Hawaiian Koa |
| Neck | Tropical mahogany |
These Hawaiian-made models share some similarities to the KoALOHA KSO-10, but they have many unique features that allow it to stand out even among the other exceptional instruments mentioned here, the first to mention being its "better than the weather" warranty.
The KoAloha KSM-00 and KSM-02 both boast amazing sound, they are loud with much depth, as well as great tone and character. They have the familiar "Musubi soundhole"
that the KSO-10 features, and a similar, solid koa body.
The friction tuners with signature knobs are another aesthetic feature of note, as is the C-shaped Sapele neck, and the high gloss finish of the instrument. Other notable features include the ebony fretboard and bridge, mahogany neck, and the natural abalone fingerboard markers and headstock logo.
While a bit pricier than many of the models mentioned here, the KoAloha KSM-00 and the KSM-02 are both great purchases in their own right. They can be found from anywhere between $1,000 and $1,200. The only noticeable difference between the two models is that the latter has a longer neck, as it is concert length. If you choose either of these models, you will not be disappointed.
12. Kiwaya KSU-1L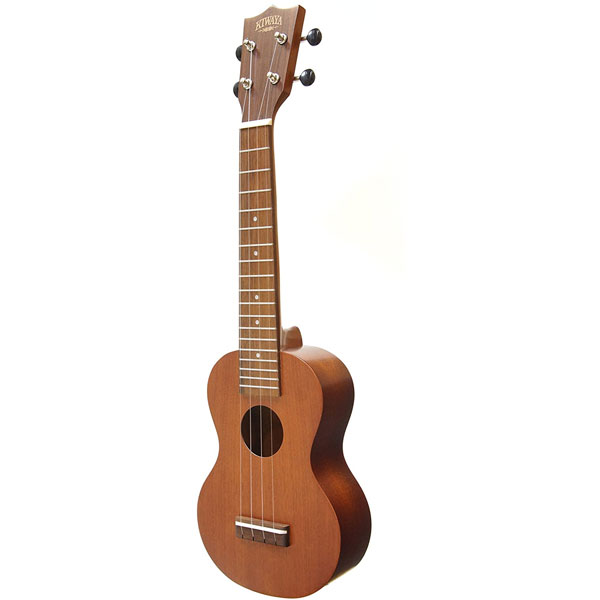 | | |
| --- | --- |
| Estimated Price | $140 |
| Type | Soprano |
| Body | Laminated mahogany |
Made in Japan, Kiwaya has a reputation for building light instruments with great tone and projection. Attention to intonation, action, and playability are closely scrutinized by their builders to provide a high quality ukulele.
The KSU-1L is a long-neck soprano, which means it is a concert-scale neck with a soprano body. Many players who crave the soprano sound but fear it's compactness love this option. This "super soprano" truly rises to the occasion, as it truly has more room on the fretboard due to both the longer scale and a 36mm nut. It has a walnut fingerboard, bone nut and saddle, and open chrome tuners.
Reminiscent of the old Martin ukuleles, this ukulele is simple and traditional in looks with a classic satin finish. The body is mahogany laminate, but fear not, it is one of the best-sounding laminate ukuleles you'll play. This ukulele has first-class volume and amazing projection. The shimmery tone also has great sustain and is found to be the best sound for the money.
The solid build is very light and incredibly balanced, even with the longer neck. This ukulele feels great to play and is well worth a look at around $200.
13. Rebel Double Creme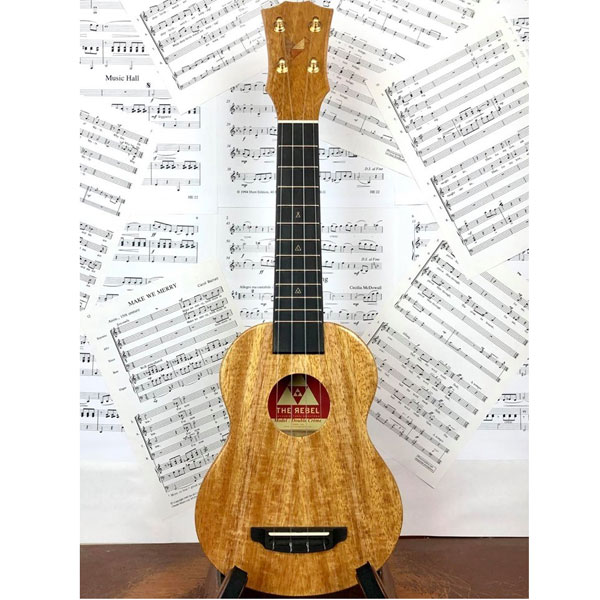 Check southernukulelestore Price
| | |
| --- | --- |
| Estimated Price | $830 |
| Type | Soprano |
| Body | Mango |
| Neck | Mahogany |
Another of Rebel's popular models, the Rebel Double Creme is made with the same care and attention to detail as any other handcrafted ukulele. Like any of their other instruments, the Rebel Double Creme is finely handcrafted from quality materials.
The Rebel Double Creme and the preceding ukulele, the Rebel Double Cheese are neck-and-neck on our list and basically a tie. They are essentially the same quality and design, with alternate woods. Which to choose between the two really boils down to preference in tonewood.
This model features a solid mango wood body, protected by a glossy finish. Additionally, it has a beautiful ebony bridge and fingerboard, with a wider than average mahogany neck. Other features include a creme brulee slim body, overall it's a slighter larger than normal soprano ukulele.
This expertly handcrafted ukulele comes with a gig bag, and a unique, colorful gig bag case, all for around $500. A highly regarded mid-range ukulele, the Rebel Double Creme is affordable and well worth its cost. It can make a good start ukulele, but it is of a high enough quality to be used by any musician desiring a larger soprano ukulele.
14. Rebel Double Cheese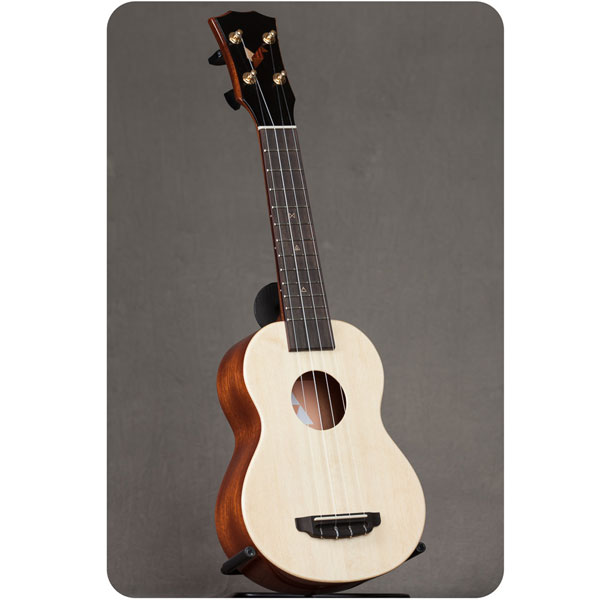 | | |
| --- | --- |
| Estimated Price | $595 |
| Type | Soprano |
| Material | Sitka spruce |
| Neck | Neck |
The company Rebel started in 2011 and is composed of a small team of designers and luthiers that create only high-quality guitars and ukuleles. Rebel aims to create masterpiece instruments, and they often come with fun names like the Double Cheese.
As is the standard of Rebel, the Rebel Double Cheese is finely handcrafted from quality materials. It features a solid spruce top and mahogany back and sides. The fretboard and bridge are both ebony. A Rebel signature, maple inlay fret markers are also included.
The color of the top along with the thickness of the body is where the name "Double Cheese" is derived. Rebel offers a thinner body ukulele with the same design called the Cheesecake. It is also a fantastic ukulele that has impressive projection, especially considering the thinner body.
This ukulele also has a bird design inlay with a traditional style headstock and rolled-off fret edges. The nut has a 36mm width and is made from Tusq, along with the saddle. There are the modern Gotoh planetary tuners and a high gloss finish.
While this is not the fanciest looking ukulele, it sounds as good as anything twice the price.
Its big, refined sound being loud and direct brings the Rebel Double Cheese to our list. It is priced at around $900.
15. aNueNue Moonbird US200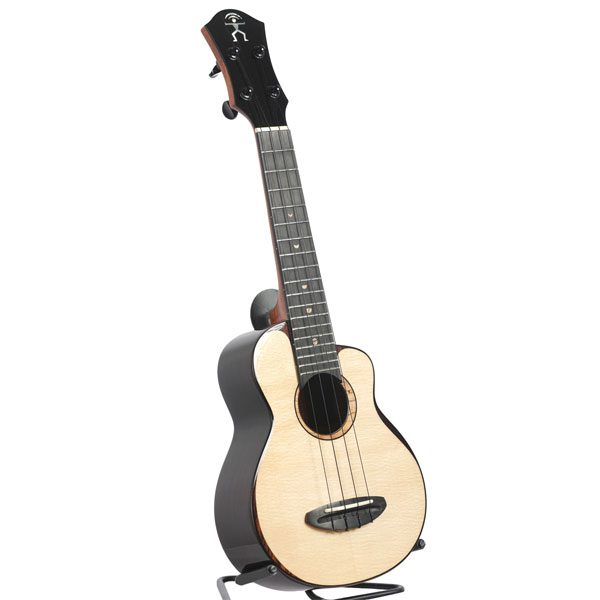 | | |
| --- | --- |
| Estimated Price | $1300 |
| Type | Soprano |
| Material | Moon Spruce top |
| Neck | Rosewood |
The founder of aNueNue, Johnson Liao, started the company in 2008 in Taiwan. They use the best craftsman in Taiwan and China to help build these ukuleles. The word aNueNue means rainbow in Hawaiian, and the guardian spirit "Ke Ali'i Anuenue", or Rainbow Chief, is presented in a petroglyph design on their ukuleles.
This ukulele features a unique solid wood moon spruce top. Moon spruce originates from Switzerland and possesses a white, snowy appearance with a tight wood grain. It is resistant to climate issues and is a very durable, stable tonewood that needs some time to open up in terms of sound.
The back and sides are solid Indian rosewood, and the fretboard is ebony with an ebony fingerboard and bridge to match. There is also the ebony veneer headstock with mother of pearl logo at the top. The bone nut and saddle are both compensated.
This ukulele has a high gloss finish body and satin neck for a sleek, modern look along with the stylized quilted maple rosette. Its bracing and construction are innovative, with a rosewood binding. It includes the Gotoh planetary tuners and a cutaway, which is rare in soprano ukes.
aNueNue has recently been making strides toward the top of the ukulele market. New ukuleles like the Moonbird US200 have really stepped their quality and have gained attention in the ukulele community as higher-level instruments.
A favorite design feature is the really cool moon phase inlays on the fingerboard in spalted maple. This ukulele is a contemporary classic and is flashy like a Lamborghini in the car world. It is a higher-end ukulele that sells for around $1,400.
16. Kanile'a KCS-SS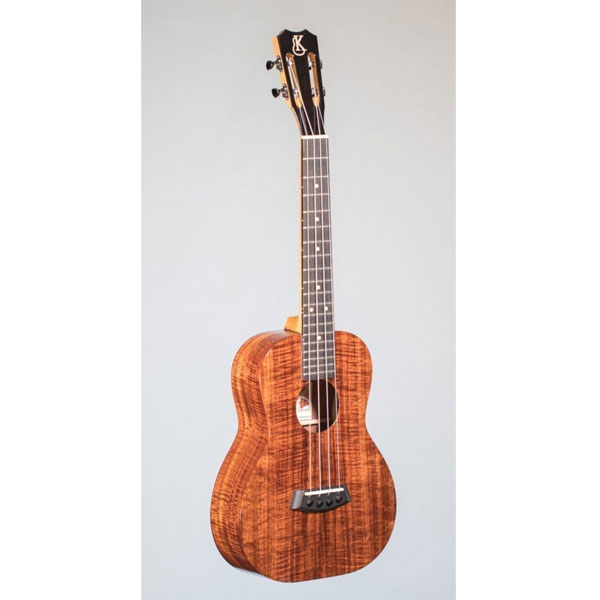 | | |
| --- | --- |
| Estimated Price | $3000 |
| Type | Soprano |
| Material | Curly Koa body |
| Neck | Mahogany |
Kanile'a is one of the four historic "K" brands manufactured in Hawaii known for producing the world's best ukuleles. The KCS-SS features a premium curly koa top, back, and sides with an ebony fingerboard and bridge.
The ebony headstock is slotted, thin, and lightweight and the neck is satin mahogany. This is a practical function along with the clean look of the ebony. Kanile'a features the TRU-R (Total Resonating Ukulele Redesigned) bracing system and stealth geared tuners, which offer extreme precision. The UV gloss finish and Aquila Corde super-nylgut strings combine with all of the previously mentioned features to create a playable masterpiece with amazing sound.
The SS designation is for the "super soprano", which is a soprano-sized body with a concert-length neck. This is a very popular choice for professionals who need the frets for additional notes. You can customize it to have it with a soprano-length neck if you'd prefer not to have the longer neck.
Although this model is not currently in the active gallery of Kanile'a, you can have it crafted in their custom shop. You can even special order it online through their website and designate what wood grade, finish, and features you'd like. The KCS-SS with master grade curly koa and UV cured high gloss finish without pick-ups goes for around $2,400.
17. Seilen Soprano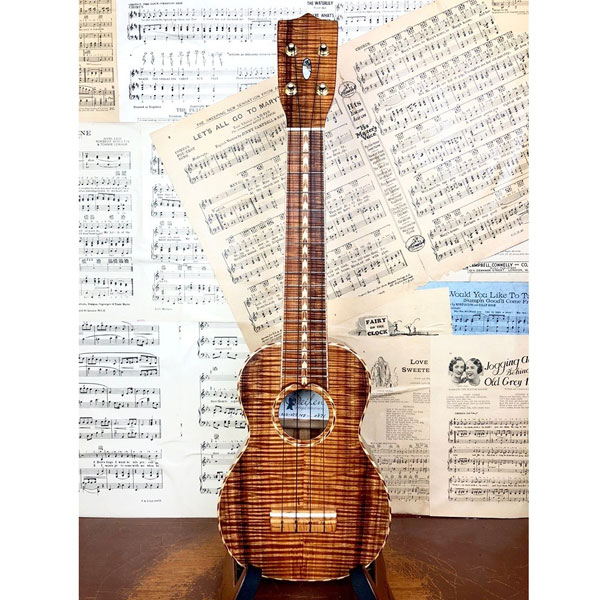 Check Southernukulelestore Price
| | |
| --- | --- |
| Estimated Price | $4840 |
| Type | Soprano |
| Material | Deluxe Koa |
| Neck | Mahogany |
Seilen ukuleles are made in a private, custom shop by Japanese builder Shinji Takahashi. Shinji is a highly-esteemed luthier of over 30 years who has seen the creation and regenerations of various ukuleles over the years. It is a limited production line made entirely by Shinji and is of the finest quality built by a master.
The Seilen soprano ukulele is made from premium curly koa woodmaster grade in fact. The precise and detailed pieces of wood are constructed featuring a figured koa fingerboard and koa bridge. The maple bound fingerboard and mahogany neck complete the wood composition
The design of this ukulele is inspired by the Nunes style ukuleles, feel and sound of the early Martin ukuleles, which are now considered vintage. The vintage rope binding around the body and up the fingerboard and rosette is a major aesthetic appeal along with the beautiful tonewoods in general. The pearl/abalone headstock inlay is the cherry on the sundae. Visually, this ukulele is a piece of art.
The Seilen soprano ukulele also has a warm, zesty sound. The popular Gotoh planetary tuners have gold hardware with white pearl buttons. The instrument is equipped with Fremont blackline strings, which are pure fluorocarbon strings made in Japan.
The only thing keeping this ukulele from being further up toward the top of our list is its extremely limited availability. Ukulele retailers will have them in stock on occasion. It is definitely a professional model at a price of up to around $4,000.
18. Romero Creations XS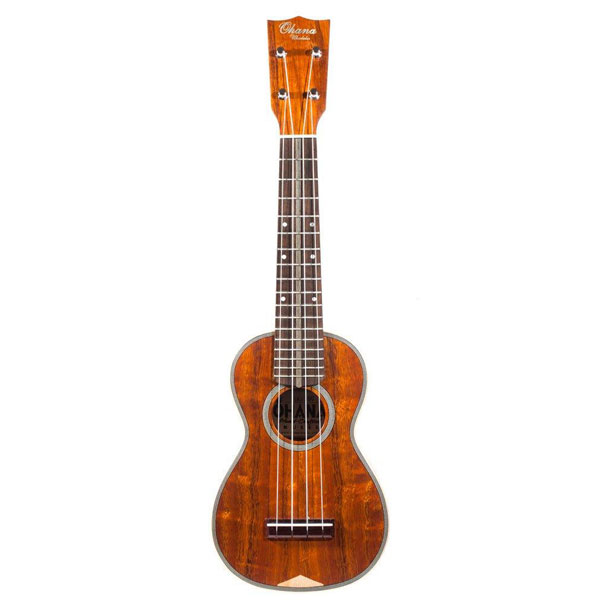 | | |
| --- | --- |
| Estimated Price | $560 |
| Type | Soprano |
| Body | Mahogany, Koa, or Mango |
Founded by master luthier Pepe Romero to provide unique instruments of the highest quality at an affordable price, Romero Creations has, and continues to provide beautifully sounding instruments that look great and last decades. The Romero Creations XS is no exception.
This hand-crafted model is made with all solid wood, it is available in spalted mango, koa, or mahogany. It features a wide lower bout, and Pepe Romero strings with low G. Despite its small size, it has a full soprano scale, and amazing sustain.
Additional features include the handcrafted bridge and fingerboard, and its unique shape that allows access to all 16 frets. This particular model was designed in conjunction with Daniel Ho, to be the perfect travel soprano ukulele.
Although unique in nature and craft, the Romero Creations XS is still an affordable instrument, and well worth its price. The mahogany option may be found for around $500, the koa for about $700, and the spalted maple may be found for less than $800. This beautiful, compact model is available both online, or at many physical retailers.
19. Ohana SK-390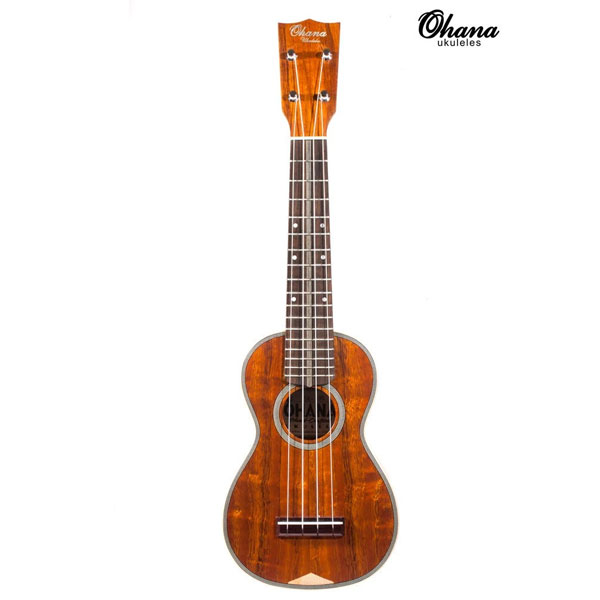 | | |
| --- | --- |
| Estimated Price | $450 |
| Type | Soprano |
| Body | Solid Hawaiian Koa |
Ohana has been known for its series of ukuleles inspired by vintage designs since their company first began in 2006. One of their more recent additions to the "Vintage Series" of ukuleles, the Ohana SK-390 was unveiled in late January of 2018. The brand as a whole is consistent at all price points, and the Ohana SK-390 is no exception.
This model features an all-solid Hawaiian Koa body, with maple binding. This particular model was fashioned after the Martin style 3k ukulele series. The beautiful Koa wood gives the Ohana SK-390 a bright and balanced sound, it also features a 7-ply black and white racing line down the fretboard, and the purfling.
In addition to its beautiful sound, the Ohana SK-390 is surprisingly light, despite its ornate construction. This limited edition vintage ukulele would be a great addition to any collection, and it is fairly affordable. One can be found for about $700. They sell out quickly, though, so if you're interested in this model, you'll want to start looking sooner rather than later.
20. Takumi TS-3K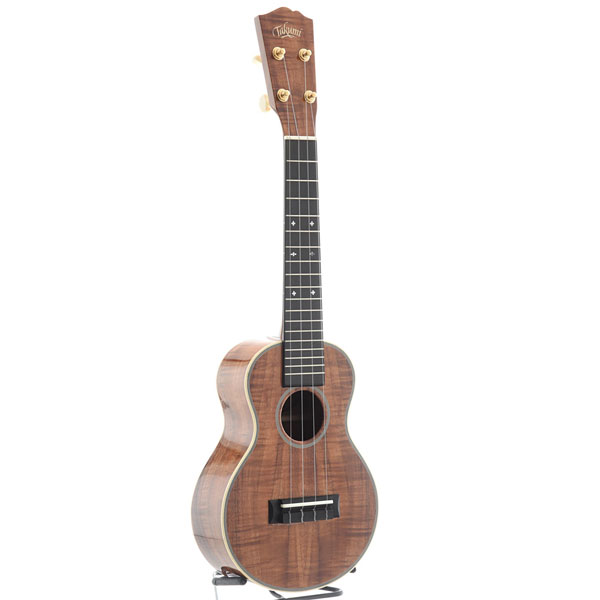 | | |
| --- | --- |
| Estimated Price | $1550 |
| Type | Soprano |
| Body | Hawaiian koa wood |
Japanese for artisan, Takumi is one of Japan's finest ukulele makers. In the line that the TS-3K is from, Takumi collaborated with master builder Yusuke Kawakami for a well-balanced ukulele with wonderful sound.
The pretty, wavy koa wood of this ukulele offers stunning looks right off the bat. An ebony fingerboard and bridge are included along with black and white purfling around the body and rosette. The red tortoiseshell style is used in the binding. The 3 series is top of the line with gold hardware, snowflake fret markers, and the purfling.
The Takumi TS-3K creates a sweet, warm ukulele sound. It feels good to hold with a traditional feel to the instrument. Gotoh UPT tuners that resemble traditional friction tuners are included with thin frets, which some prefer.
At around $1,500, the Takumi is an advanced model. It is not readily available at online retailers currently because of how quickly it sells out, but you may be fortunate enough to come across one.
21. Martin 0X Bamboo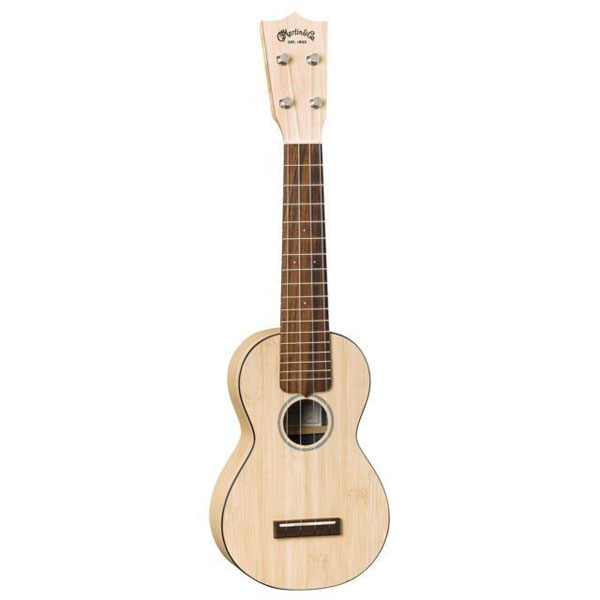 | | |
| --- | --- |
| Estimated Price | $300 |
| Type | Soprano |
| Body | High-pressure laminate |
Martin Ukulele is one of the most respectable and well-known brands for both ukuleles and guitars, they have been making and selling instruments for over 100 years. While none of their models are anything to scoff at, this particular model is in a more middling price range, and it is available in a variety of colors.
The Martin 0X Bamboo sports a vintage design, combined with the modern materials that the company now has access to. It features the traditional body and peg shape of many other Martin ukuleles, though its top, back, and side are constructed with high-pressure laminate, which are wood particles pressed together under high heat with a special resin.
This high-pressure laminate, or HPL for short, is a durable, lightweight alternative to wood. Despite, or perhaps as a result of this, the Martin 0X is a sturdy, genuine Martin ukulele that can be found at an affordable price. This clean and precisely constructed model can usually be found for about $500.
Notable features also include its rosewood fingerboard, Sitka spruce bracing, the white tusq compensated saddle, or its striking minimalist look. This model features minimal decoration, with no sharp edges, in a style identical to that of the Martin S1.
This instrument sounds startlingly good, it has a rich rounded tone, and great dynamic range and clarity. Its bright tone, good volume, and projection make it great to play in many environments, and it has excellent playability with its compensated saddle for great intonation. All-in-all, the Martin 0X Bamboo is a solid choice for its price range.
22. Luna UKE VMP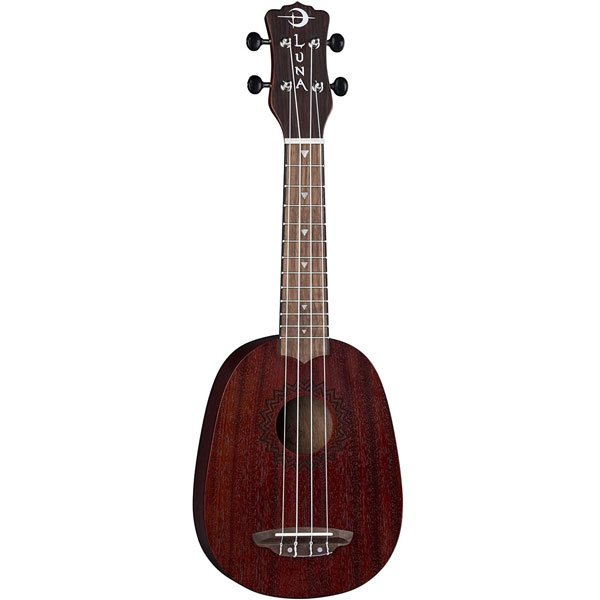 | | |
| --- | --- |
| Estimated Price | $85 |
| Type | Soprano |
| Body | Mahogany |
To begin our list, we have a cute, budget ukulele that is an entry-level or collector's option. While they are mainly known for their well-made guitars, Luna also strives to provide customers with a beautiful, yet affordable ukulele as well, like many other manufacturers. So far, they have been successful, as they have many available models.
The model worth mentioning today is the Luna UKE VMP, lovingly self-proclaimed the "best pineapple ukulele". Made of solid mahogany, this VMP, which stands for "Vintage Mahogany Pineapple" is a comfortable-to-use model that is also affordable.
Notable features of this model include its C-shaped neck, stunning satin finish, and beautiful walnut bridge and fretboard. It has a PPS nut, which is 35mm. It also features open gear tuners with black buttons and a set of Aquila strings.
Other features worth mentioning are the laser-etched tribal rosette and the mother of pearl triangle inlays. Overall, this model looks better than even some mid-range models, and it sounds great, all for the affordable price of about $100. The Luna UKE VMP makes for a great starter ukulele purchase, for any prospective learner.
Ukulele makers are constantly innovating and creating new series and models, so this list is not a definitive collection. While some of these ukuleles are classics that have been around for decades, others may be around for a limited time. Now that you've reviewed the specs and model names of the best soprano ukuleles currently available, the best thing to do is get out there and play these wonderful instruments!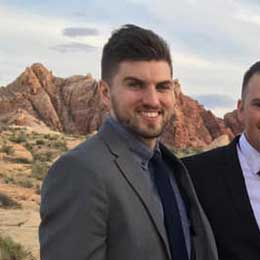 My name is Chris and I've had a passion for music and guitars for as long as I can remember. I started this website with some of my friends who are musicians, music teachers, gear heads, and music enthusiasts so we could provide high-quality guitar and music-related content.
I've been playing guitar since I was 13 years old and am an avid collector. Amps, pedals, guitars, bass, drums, microphones, studio, and recording gear, I love it all.
I was born and raised in Western Pennsylvania. My background is in Electrical Engineering, earning a Bachelor's degree from Youngstown State University. With my engineering experience, I've developed as a designer of guitar amplifiers and effects. A true passion of mine, I've designed, built, and repaired a wide range of guitar amps and electronics. Here at the Guitar Lobby, our aim is to share our passion for Music and gear with the rest of the music community.