Imagine you've had a long day and just got home, sat on your favorite chair and started staring at the horizon onto the sunset, what genre are you listening to? If your answer wasn't R&B, you need this article more than it needs you.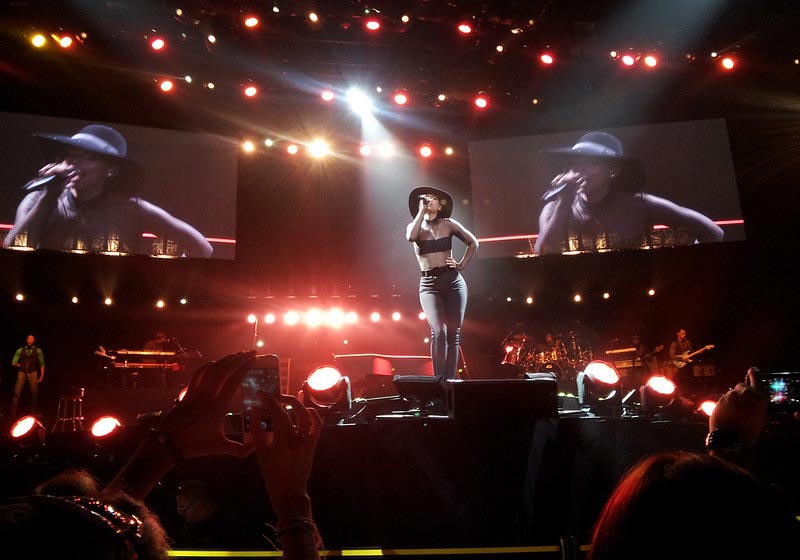 The beauty of R&B is that it leaves space to combine the soulful aching of blues, the playfulness and complexity of jazz, the refreshing drum-patterns of hip-hop and some sprinkles of catchy pop. R&B has helped artists explore their vulnerability and bare it all through music. Here's a list of the most distinguished and influential female R&B singers, you're welcome.
List of the Greatest Female R&B Singers of All Time
23. Aaliyah (1979-2001)
Aaliyah is a very well-respected name in Hip-hop and R&B. She was a star during her teens and got 5 Grammy nominations. Her shining career was dreadfully cut short by her death in a plane crash at age 22. She only released 3 albums, Age Ain't Nothing but a Number (1994) went platinum and two of its singles went gold, "Back and forth" and "At Your Best". Her second album One in a Million went double platinum. Her third album Aaliyah topped the charts with singles More Than a Woman, We Need A Resolution and Rock the Boat.
22. Jennifer Hudson (1981-Present)
Hudson started off as a contestant on American Idol and ended up topping charts with her hit single "Spotlight" and winning a Grammy for Best R&B album for Jennifer Hudson and best musical theater album with The Color Purple. She also won an Oscar for her acting role as Effie White in the movie version of Broadway musical Dreamgirls where she stunted audiences when she sang "And I Am Telling You I'm Not Going".
21. Patti LaBelle (1944-present)
This R&B legend has one of the longest careers in contemporary music. She's a lead vocalist to the group LaBelle and a successful solo artist. LaBelle was the first African-American vocal group to appear on the cover of Rolling Stone magazine. She has songs in a variety of genres including pop, soul, funk, disco and quiet storm. Her most popular singles are "If You Only Knew" (1983), New Attitude (1985) and "On My Own" (1986). She received the Legend Award, then was praised with the BET Lifetime Achievement Award in 2011.
20. Jill Scott (1972-Present)
What makes Jill the most distinctive on this list is that she's originally a poet and at some point, wanted to be an English teacher. She changed her route and became a 3-time Grammy-winning R&B artist. Her music is poetic, soft and bright anthems of self-empowerment. Her most popular songs are He Loves Me, The Way, and A Long Walk. She also wrote "You Got Me" which was sung by Erykah Badu. She also collaborated with Will Smith, Dr. Dre, Lupe Fiasco and Mos Def.
19. Mariah Carey (1970-Present)
Mariah has over 200 million albums sold, making her the best-selling female artist of all time, with 18 number one singles and 125 awards. She moved from shiny ballads to hip-hop inspired dance/pop. All her top hits can be found in a compilation album called "#1 to Infinity". She has a perfect story of moving to NYC a day after high-school, then finding her way into singing back-up for Brenda K. Starr who helped her get noticed by Columbia Records at a party. Mariah's voice is an unbelievable six-octave (rumored to be seven sometimes) range with both sweet and sultry undertones. She does things with her voice that almost no one else can do, she also uses the melisma technique like Whitney, mastering both lower and higher notes. Her latest album Caution (2018) features TY Dolla Sign, Slick Rick, Blood Orange and Gunna.
18. Sade (1959-Present)
Sade are most well-known for their stylishly seductive ballads like "Smooth Operator", "Sweetest Taboo" and "No Ordinary Love". They mix classic Jazz with smooth R&B and mature pop. Their debut album "Diamond Life," sold over 6 million copies and was the best selling debut ever by a British female vocalist. All their 6 albums were placed within the UK's top 20 and gained platinum status. Sade wasn't only writing about love, they had songs about everyday struggles, parenthood, immigration, and slavery.
17. Gladys Knight (1944-present)
The four-time Grammy award winner had a six-decade-long career. She was a solo artist and a lead singer of Gladys Knight and The Pips. Her most popular songs include "Neither One of Us Wants to Be the First to Say Goodbye," "Midnight Train to Georgia," and "I've Got to
Use My Imagination." She also recorded "That's What Friends Are For" with Stevie Wonder, Elton John, and Dionne Warwick.
16. Erykah Badu (1971- present)
Another artist that refreshingly meted in R&B, Hip-hip, jazz, and Neo-soul was this baddie. Her debut album Baduizm was full of profound lyrics and languorous, delicate vocals with bass-heavy music. It included her hit On & On which won her a Grammy. She later dropped a live album which included "Next Lifetime" and "Tyrone." Her 2008 album "New Amerykah Part One (4th World War)" was a lot more abstract and heavy yet reached number 2 on Billboard's top 200. Part Two (Return of The Ankh) followed and was a lot more playful. Erykah also collaborated with Janelle Monae, released and made a song with Tyler The Creator. Her most recent release was the mixtape But You Caint Use My Phone which is her own spin on other artists' songs, and they're all phone-related.
15. Etta James 1938-2012
Etta James fused the passion of R&B with the glam of jazz. If you've ever been to a wedding you've probably heard one of her hit singles "At Last". Her gospel-based voice is gutsy, deep, and goosebumps-worthy. Her hit songs include "If I Can't Have You," "Tell Mama" "I'd Rather Go Blind", and "All I Could Do Was Cry." Her turbulent yet magnificent life inspired the creation of the 2008 movie Cadillac Records where she was portrayed by Beyoncé. She released her last album The Dreamer in 2011, which is interestingly a collection of rock covers with her own touch.
14. Lauryn Hill (1975- Present)
It's only right that we talk about Ms. Lauryn Hill after mentioning "Killing Me Softly With His Song". She was a part of the iconic, multi-platinum-selling group The Fugees. She later released her solo debut album The Miseducation of Lauryn Hill where she popularized melodic rap and integrated neo-soul, reggae, R&B, and hip-hop into one empowering and spiritually fueled album. This album is described as a love letter to the liberated self, an escape from routine, and a declaration of both femininity and independence. The album won five Grammys and was seen as assimilating hip-hop into the mainstream.
13. Roberta Flack (1937- Present)
Roberta's singing style is classy, smooth, sophisticated, and immensely passionate. She hit the ground running when she earned the rank of the first artist to win the Grammy Award for Record of the Year two times in a row with "The First Time Ever I Saw Your Face" in 1973 and "Killing Me Softly With His Song" in 1974. The latter has been modernized and brought back to life in a different flavor when The Fugees made their own cover for it. The inspirational Lauryn Hill gave this loving, soft song some hip-hop undertones and a bit of sass. In 2020, Flack received the Grammy Lifetime Achievement Award and met many young artists who told her they were influenced and inspired by her music.
12. Toni Braxton (1997- Present)
Described by Spotify as "Blending fire and finesse", the seven-time Grammy award winner has a deep, husky voice that's soulful and sophisticated enough for R&B, yet sultry and sassy enough for pop. Her first two albums, Toni Braxton (1993) and Secrets (1996), both went
platinum eight times, along with a few hit singles like "Unbreak My Heart" (which you'd have to live under a rock to not know) and "You're Makin' Me High". Her 2014 duet album with Babyface "Love, Marriage & Divorce" climbed at No. 1 on the Billboard R&B chart. Fun fact, Toni was discovered while singing to herself in a gas station; songwriter Bill Pettaway then helped her sign with Arista Records. In 2020 she released the album "Spell My Name", featuring H.E.R on the song "Gotta Move On". Her voice is still as strong and sultry as ever.
11. Natalie Cole (1950-2015)
This nine-time Grammy award winner and daughter of jazz and pop legend Nat King Cole was one of the many captivating singers in the 1950s/60s. She began as a soul and R&B artist with her debut album "Inseparable" and hits "This Will Be", and "Our Love". She later created pop hits and the award-winning albums "Unforgettable…With Love" and "Still Unforgettable".
Natalie grew up in an environment that helped her natural musical ability flourish. She recorded her first song "I'm Good Will, Your Christmas Spirit" with her father at the age of 6, and started performing on stage by 11. Her musical career continued to rise to the point where Cole was awarded her very own star on the Hollywood Walk of Fame and an Award for Outstanding Career Achievement.
10. Rihanna (1988-Present)
Rihanna is so influential that Barrack Obama once called her "A powerful force in the fight to give people opportunity, dignity, and hope." Times magazine had her on their list of top 100 most influential people in the world multiple times. Winning 9 Grammy awards, 23 Billboard music awards, and selling over 200 million records are just the tip of the iceberg for this icon. She has 10 different fragrances, a thriving lingerie business that battles body shaming (Savage X Fenty), a cosmetics brand that has foundations for ALL skin colors (Fenty Beauty), a ready-to-wear fashion line, and 10 signature fragrances + she's an actress! It's almost like she's trying to single-handedly save the world while helping everyone stay fashionable.
This genre-shattering mogul magically mixes pop, R&B, Caribbean reggae, and electronic dance music and it works perfectly with her incredibly distinctive and versatile voice. She showed us her sexy, rebellious side with S&M, Rude Boy and Kiss it Better, made vulnerable
songs like Take a bow, Unfaithful, Love the Way You Lie (ft Eminem), Higher, Love On The Brain and strong pop-anthems Pon De Replay, Umbrella, We Found Love, Work, Wild Thoughts, and the ground-breaking Bitch Better Have My Money… We'll stop here because we can go forever.
Part of Rihanna's musical success, other than her voice and her refreshingly different music, is that fans feel like they know her. She cries on stage, then tells them a personal story, sings a song, smokes a blunt. On social media we also see her without make-up, she unapologetically speaks her mind in every interview, and she's effortlessly funny. I'll leave you with the fun fact that she sometimes sneaks into her audience before shows ;).
Popular Related Article: Best Female Indie Bands of All Time
9. Dionne Warwick (1940-present)
This six-time Grammy Award-winning genius has created more than 75 charted hit songs and sold over 100 million records. Her mellow and strong voice helped her make multiple classics including " I Say a Little Prayer," Walk on By," and "I'll Never Fall in Love Again." She also recorded the AIDS benefit anthem "That's What Friends Are For" with Stevie Wonder, Elton John, and Gladys Knight. Dionne Warwick is in her 70s and still as relevant as ever; she released two albums in 2019, started a Vegas residency and earned a lifetime achievement Grammy award. She has also recently been crowned the Queen of Twitter when she had some fun poking at The Weeknd and Chance the Rapper's artist names. A collaboration between her and Chance is on the way so hold on to your seats.
8. Alicia Keys
This is a woman who casually went up on the Grammy's stage, played 2 pianos simultaneously, and sang without missing a beat! Not to mention, she won 15 Grammys and a total of 271 awards. She began composing songs at the age of 12, had a record deal by 15, and graduated from Professional Performance Arts school at the age of 16. Her debut album "Songs in a Minor" which included the hit single "Fallin" went platinum FIVE times. Keys has then continued to refine her sound, a sophisticated mix of classic and contemporary R&B that sometimes touches onto pop. She made feel-good motivational anthems like "Girl on Fire" and heart-warming love ballads like "No One" and "If I Ain't Got You". Her sweet and warm voice continues to mesmerize in her latest album titled Alicia. Her voice was often described as smoky, raspy as she sings in a breathy style that just calms you. You feel like you're listening to a loving soul and everything will always be just fine. Alecia Keys is without a doubt one of the best female R&B singers of all time.
7. Mary J Blige (1971-Present)
With over 100 awards to her name, Mary J. Blige remains one of R&B's most vital voices. She has sold over 50 million albums and 15 million singles worldwide, and eight of her 12 studio albums have been certified multiplatinum. In her late teens, she recorded an unplanned cover of Anita Baker's Caught Up in the Rapture at a recording booth in a mall in New York. Her mother's boyfriend at the time played the tape to his friend, an A&R at Uptown Records, and poof she's a signed artist. Her debut Album What's the 411? is credited for introducing the mix of R&B and Hip-Hop into mainstream pop culture. Blige's tough-girl persona softened over time, and she challenged the image of black women in hip-hop who were never seen as vulnerable when she released her album My Life. This album was a deep dive into her most personal emotions, and she claimed that it kept her alive. It was a collection of spiritual, story-telling songs that revealed her battles with alcohol and drug addiction, depression, and an abusive relationship. It established a real connection with fans and undoubtedly helped them through tough times. That connection is captured in the Amazon Original documentary, Mary J Blige's My Life.
6. Chaka Khan (1953-present)
This ten-time Grammy award winner is a badass alpha chick with a distinctively bright, sensual and raspy voice. She grew up in an "artistic, bohemian" household and formed an R&B girl group at the age of 11. She joined the Black Panther civil rights group at 14, and by the age of 17 was offered a record deal with her R&B/Funk band Rufus. When her mother refused to sign the contract on her behalf, she got married to her boyfriend, lying to her parents that she was pregnant and went on with her singing career. With Rufus, she attained four gold singles, four gold albums, and two platinum albums. On her own, she created hit songs like "I'm Every Woman," "I Feel for You," "Ain't Nobody," and "Higher Love". Aretha Franklin once said "[Chaka] is a one- of- a -kind, premier vocalist." That's it, the Queen of Soul has spoken! What's most hopeful is that Chaka released a groovy pop album Hello Happiness in 2019, and she stated on The Guardian at 65, I'm still looking forward to shit. Hello Happiness has put a new spark in my career".
5. Beyoncé (1981-Present)
You might think Queen B is Pop, but many of her 595 awards (including 28 Grammys) are R&B: like Drunk in Love, Love on Top, Dangerously in Love and Say My Name with Destiny's Child + a few more. This beast of a performer is easily one of the most influential singers of this era, and if you say otherwise, her cult-like fanbase will find you.
Interestingly, if you listen to The Supremes then you most probably love Destiny's Child; Beyoncé mentioned that she's inspired by Dianna Ross, Anita Baker, Lauryn Hill, and apparently Michael Jackson (didn't see that one coming). B is a true creative force, as evident in her albums Lemonade and Everything is Love. Lemonade was as much a visual experience as it was an emotional rollercoaster and true self-expression with no censorship. Her strong voice makes her an icon of fearlessness, but she can also show vulnerability and make you cry in songs like Sandcastles, Pretty Hurts, and If I Were A Boy. She does shine
most in expressions of anger and empowerment: shown in Formation, Sorry, Ring the Alarm, and Run the World.
Seeing her perform live makes you forget that she's human, people have described it as an experience that put them in a trance at times. Entertainment Today described her 2018 Coachella performance as "Beyoncé was playing singer, band director, dancer, and slayer of men all at once." With her voice being smoky, thick, operatic and controlled with a sprinkle of grunts and growls she tackles female sexuality, empowerment, racism, and love.
4. Anita Baker (1958- Present)
Anita is a soft, romantic soul that defined the ethereal R&B/Soul/Jazz subgenre quiet storm. This songstress was widely successful, winning 8 Grammys, 6 Soul Train Music Awards and 4 American Music Awards. She dropped out of college to dive into music and was performing in night-clubs when she joined the band Chapter 8 with whom she made the hit song "I Just Want to Be Your Girl". When the band got dropped by its label, Baker got back into business with Beverly Glen Records. She recorded her album The Songstress that spent a year on the charts.
Moving to Elektra records, she released her next album 'Rapture' which won 2 Grammys. Rapture was described by Pitchfork as "soul music one could sink into after a long day of work, like a couch or a bath or a steady long-term relationship." She had apparently told her label that she wanted songs that have fireplaces flickering inside them before releasing "You bring me Joy" and "Same Ole love".
Her voice was often described as older than her age since she had a rich, deep yet dreamy contralto. In 2021 she's asking fans not to buy or stream her music because have doesn't own her recording masters/Royalties for them…so I guess, don't open the link.
3. Diana Ross (1944-Present)
Diana was a member of The Supremes in the 60s, one of the most popular R&B girl groups that influenced the likes of TLC and Destiny's Child. She went solo and released her song "Reach Out and Touch" and later became an icon with hits like "Ain't No Mountain High Enough" "Upside down" "When You Tell Me That You Love Me" and "Endless Love" with Lionel Richie.
She hit No. 1 on the Billboard Hot 100 12 times, got named Billboard's Female Entertainer of the Century, and the Guinness Book of World Records declared her the most successful female music artist in history. She also received Kennedy Center Honors in 2007 and the Grammy Lifetime Achievement Award in 2012. Her silky and breathy voice has aged well as she released surprise new track "Thank You" last June and is dropping an EP on the 10th of September 2021.
2. Whitney Houston (1963-2012)
You know her as Miss America, "The Voice", the fun-loving soul behind I Wanna Dance with Somebody and one of the most iconic love songs I Will Always Love You, plus… you've probably seen The Bodyguard.
The most awarded female artist of all time (with over 600 awards, as mentioned in the Guinness Book of World Records) also started by singing gospel at church in Newark, New Jersey. She was born into a family of musicians, her mom did back vocals for Elvis Presley and Aretha Franklin (who was her honorary aunt) and her cousin was Dionne Warwick! Thanks to her mom bringing her to the studio since the early age of eight, Houston became a background vocalist to musical giants while in high school. She then was the first black woman to grace the cover of Seventeen Magazine while becoming a teen model. By the age of 19 she was discovered at a nightclub and signed to Arista records, then released her debut album at 22.
Her first two studio albums, Whitney Houston (1985), and Whitney (1987) both scored number one on the Billboard 200 and are two of the best-selling albums of all time. She hit the ground running with her #1 R&B single "You Give Good Love". You could literally fill a whole house with her awards: 30 Billboard Music Awards, 22 American Music Awards, six Grammys, 19 NAACP Image Awards, six World Music Awards, an Emmy, and a BET Lifetime Achievement Award. She sold an incredible 200 million singles and albums. But enough about trophies….
Her powerful voice was a soaring four-octave mezzo-soprano. Other than her wide vocal range, she gracefully used a subtle vibrato and switched it up with the Melisma technique or "riffs" (as explained by CNN) which is packing a series of different notes into one single syllable like in "IIIIII will always love YoOOooUU". She did that so naturally, effortlessly and smoothly without "over-singing," so you were touched by the emotion in the song and undoubtedly got goosebumps. Her songs show vulnerability but many of her songs show a woman who isn't easy to break, like on It's Not Right, but it's okay. She's not afraid of speaking her truth on My Name Is Not Susan, and I Have Nothing.
We're not gonna talk about her death or the drugs…not trying to make anyone cry.
1. Aretha Franklin (1942-2018)
The universally renowned "Queen of Soul" started her career as a humble child singing gospel at a church in Detroit, and ended up winning EIGHTEEN Grammy awards (and naturally, donating around a million dollars to that church). Aretha had more than 100 singles on the Billboard charts, received a lifetime achievement award, and was the first woman enlisted into the Rock & Roll hall of fame.
Even though she did bring the gospel touch to the genre with I say a little prayer, Freeway Of Love, Wholy holy and many more, she also brought in the sultriness of blues, spontaneity of Jazz, the intensity of rock and sometimes even mixed in some angelic opera vocals. Her voice was described as both sensual and strong. You'd feel the vulnerability and emotion in every note while admiring her wide vocal range and immaculate control. Whatever she sang sounded real and straight from the heart, never like it was a performance or persona she put on. Classic FM tried to describe what made the Spinto Soprano's voice so special by writing that it radiated both joy and pain. She had this balance of nasality that added an earthy feel to her voice, and easy flow into high-notes that added an angelic sprinkle over her expansive range.
For good reason, Aretha is one of the most celebrated artists, defining the golden age of 1960s R&B/Soul. Her lyrics expressed a woman who is both sensual and strong and her no-bull attitude demanded R-E-S-P-E-C-T (a re-write of a song by Otis Redding that became an anthem for women). Songs like I Never Loved A Man (The Way I Love You) and You
Make Me Feel Like a Natural Woman showed her more vulnerable side while others like Chain of Fools and Respect showed her fighting spirit and activism. She was a strong symbol of blackness, womanhood, and standing your ground. This inspirational woman had a child at 13 years old, and another at 14 yet still managed to move to New York and get signed by Colombia Records. So, she was far from just a pretty voice.
Popular Related Article: 18 Most Famous Female Rock Stars of All Time
Honorable mentions:
This is a list of artists that may be too new or haven't yet achieved a legendary status, but we can't talk about R&B women without mentioning them.
H.E.R
The 4-time Grammy winner's name stands for Having Everything Revealed, and ironically, she was anonymous when dropping her first EP. Her sultry and smooth voice is carried by quiet-storm drums, melancholic synths, and magnetic R&B hooks while her lyrics are vulnerable as she delivers a mix of classic R&B ballads with some hip-hop flavor and sometimes spoken-word poetry.
SZA
SZA has an ethereal voice described as a mix of Erykah Badu and Björk. She's also known for her vulnerable lyrics and her songs mix R&B with jazz, pop with woozy soul. She's not afraid to be sexual or clumsy or be seen as a bit messy. She collaborated with many hip hop artists including Kendrick Lamar, Cardi B, and Travis Scott and was nominated for 9 Grammys.
Jhene Aiko
The six-time Grammy nominee's most recent album Chilombo (2020) is now certified Platinum and includes 7 gold and platinum singles. In Chilombo she integrates sound-healing with R&B. Her sound smooth, melodic R&B/soul complemented with melodic rap. Her silky voice sets a soft and calm mood where you just want to sink into the floor and listen.
Other great new R&B artists to check out are Jorja Smith, Ella Mai, Snoh Allegra, Kehlani, Jessie Reyez, Summer Walker, 070 Shake, Teyana Taylor, Kali Uches and Sabrina Claudio.
Wrap Up:
Let us know who your favorite female R&B singers and performers are in the comments below.
Hi, my name is Laila and I've been a writer and strategist in the advertising/entertainment industry for around 5 years now. I'm a singer/songwriter and enjoy creating content related to music in my free time.