By its very nature, the ideal bass tone will be deep and vibrant, filling the room, serving as something of a foundation for your band's mix. This makes choosing a bass practice amp a tricky task, as you'll be looking to invest in something with crisp and full sound, but also is volume friendly to your surroundings.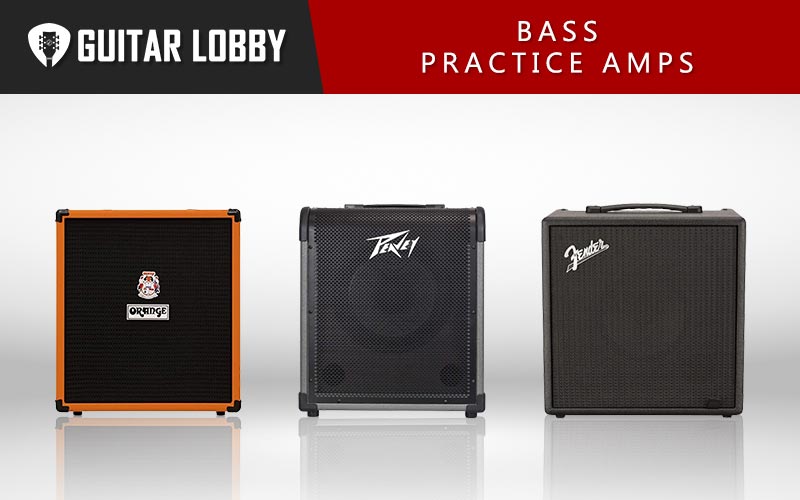 Choosing the right amp for you will come down to several factors such as tone controls, input/output jacks, built-in effects, output power, budget, etc. Over the years I've tested dozens of bass amps and come up with a list of some of the best bass practice amps that you can compare and decide on the amp that best suits your needs and budget.
Here Are the Best Bass Practice Amps
1. Fender Rumble LT25 (Best Overall)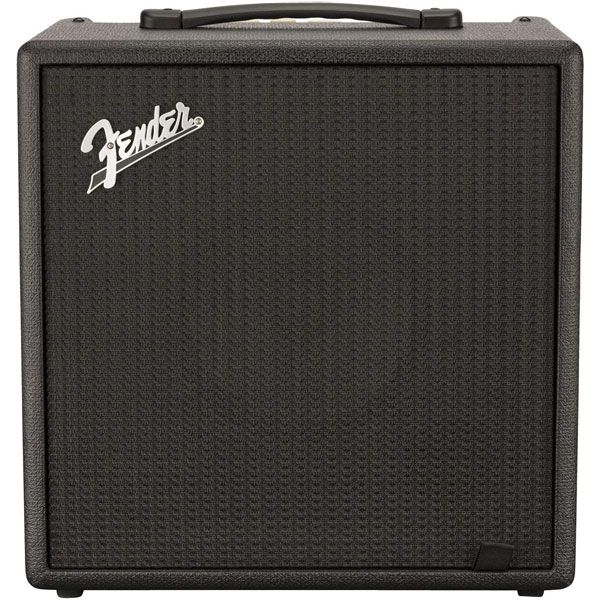 | | |
| --- | --- |
| Estimated Price | $230 |
| Type | Combo |
| Power | 25W |
| Speaker | 8" |
My Review: The Fender Rumble LT25 expands on the success of the Rumble series by adding Digital Sound Processing (DSP) to the amp. This opens up the available tone possibilities that you can get from a single amp, allowing you to choose between 15 amp types, 20 effects, and 50 preset sounds, 30 of which are customizable. This was one of my favorite amps to test and at first, the number of features was a little bit overwhelming, but the presets that come loaded on the amp are really incredible. You can start by flipping through until you find a preset you really like and then make small tweaks from there.
Key Specs and Features: The LT25 belongs to Fender's budget series of amplifiers, but it comes with some surprisingly awesome features. The amp has 25 watts and one 8-inch speaker, which is perfect for practice sessions. By using its headphone output, you can also connect it to a PA system.
There's the standard 3-band EQ, along with a simple rotary switch that lets you choose any of the presets. What's more, by pressing the switch, you can also edit each of the presets and customize it according to your needs.
A big reason why it's fun to use is its sonic versatility, which many users appreciate. While this amp is not meant for loud performances, those who own it are satisfied with its tone when played at reasonable volume levels. Other notable features include having a built-in tuner and USB recording.
Target Customer: With the flexibility brought about by its built-in DSP, the Fender Rumble LT25 is a good beginner friendly amp that can still meet the needs of students as they improve their playing. If you need a practice amp that's super-useful for beginners (or intermediate players), we highly recommend Fender's Rumble LT25 model.
Bottom Line: The Fender Rumble LT25 is often described as a fun practice amp, and deservingly so with its amp modeling and DSP features.
2. Fender Rumble 40 (Best Value)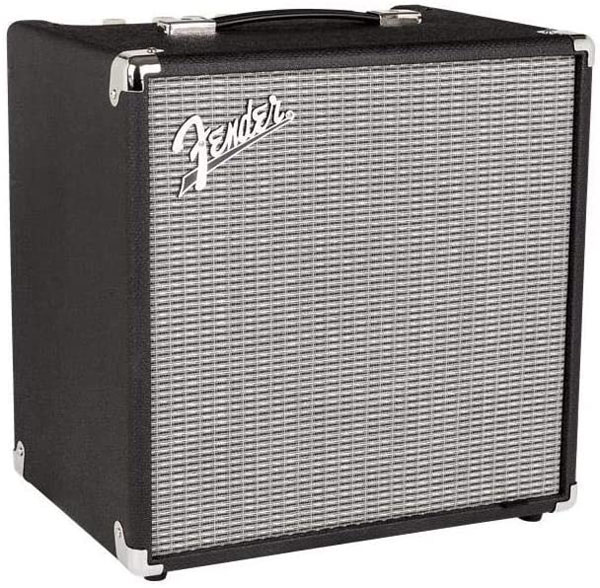 | | |
| --- | --- |
| Estimated Price | $200 |
| Type | Combo |
| Power | 40W |
| Speaker | 10" |
My Review: Yes, another amp in the Fender Rumble lineup tops the list. However, The Rumble LT-25 we previously talked about is a new generation digital modeling amp, compared to this Rumble 40 which is a model that is a solid-state bass amp with great tone and classic functionality. This amp sounds great. With the EQ flat, it felt a tiny bit muddy, but dipping the low mid knob down a hair took care of that. Fender is a leading bass amplifier manufacturer and is famous for producing high-quality, high-end bass amps for a variety of budgets. The other great thing about the Fender Rumble is that the lineup also offers 100W, 200W, and 500W options if you need a practice amp that is also capable of doubling as a gigging amp.
The Fender Rumble 40 v3 is no exception and at its price, it appears that Fender was aiming at the affordable end of the market.
Key Specs and Features: This amp has a lot of cool features. I am consistently blown away by how lightweight the Rumble 40 is for the size, only 18lbs. It feels extremely sturdy. This bass combo amp features multiple channels to provide output that matches the sound of your choice.
It also benefits from standalone tone controls for each channel, meaning you can easily change the sound during a performance. Like any other good bass amplifier, this Fender includes a gain control feature. This helps regulate the extent of overdrive in the preamp phase. Ideally, by finding the right gain, you can create a comforting overdrive.
Damping controls are also available to help you fine-tune the output of the amp to your speakers.
These controls combined with resonance can help you produce sharp, intensive sounds from the speaker. Located on the back of this bass amp is a direct output, which allows you to connect the system to a recording mixer or gear. You'll also find a variable impedance switch that lets you choose between 4-ohm and 8-ohm output to match your connected speakers.
The jack type on this one is XLR line output, which connects to speakers, headphones, and other recording gear. Its 10-inch speakers may be on the small side, but it delivers a great amount of warmth and depth.
Target Customer: The Rumble 40 put out a very satisfying body and volume for practice. It was definitely adequate for a drummerless gig I took it on, but throw in some drums and distorted guitar and you'd have no chance. It does have a direct out though, so the bass could run through the PA at a larger gig.
Bottom Line: Without a doubt, the Fender Rumble 40 is one of the best amps we looked at, whether you just need a lightweight, good-sounding practice amp, or something to take on a small gig or rehearsal. The cabinet has a nice handle on its top to help with portability and it's really sturdy to last for years. Overall, I would say the Fender Rumble 40 is the best bass practice amp for the money.
3. Ampeg BA110V2 (Budget Pick)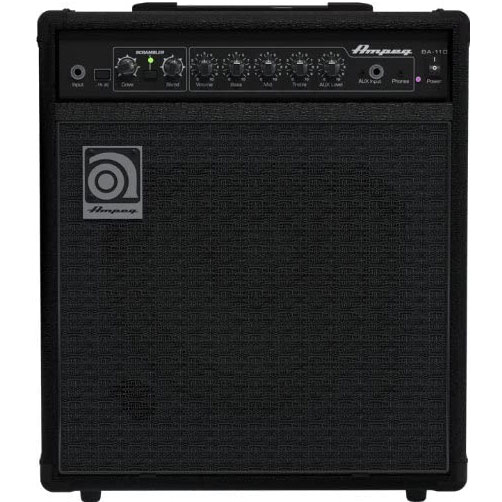 | | |
| --- | --- |
| Estimated Price | $200 |
| Type | Combo |
| Power | 40W |
| Speaker | 10" |
My Review: When there's a talk about bass guitars and amps, you can't avoid mentioning Ampeg. They're one of the oldest brands that specialize in bass amplifiers and have become popular among bass guitar players of pretty much all genres today. After playing through a few Ampegs I see why. Overall, the amp blends simplicity, practicality, and some pretty interesting advanced features that you'd find on pro-level amps. I found some great tones out of it, and feel id even be able to do some smaller live gigs with it.
Key Specs and Features: A unique aspect of this bass amp is that it features a front-facing control panel for easier and better access during performances. As if that's not enough, Ampeg added a Bass Scrambler overdrive to produce that true bass sound.
Inside this 34-pound amp, you will find a powerful 40W speaker which is pretty loud when you want it to be, yet quiet enough for use in a domestic setup. Another thing you'll appreciate on this amp is a 3-band EQ, allowing you to customize and shape the sound coming out of your bass guitar.
Aside from the basic controls for volume, bass, middle, and treble, the amp also has a separate input level control for the auxiliary input.
What's more, the aux input can handle both 3.5-millimeter and 1/4-inch jacks. This bass amp boasts a modern cabinet design with a genuine 60-degree sound reinforcement monitor angle which improves clarity.
The design is flexible in a way that directs sound at your ears even in tiny spaces. With its protective all-steel chassis, rugged embraced enclosures, and impact-resistant metal corners, this Ampeg BA110V2 is no doubt built for the long haul. The amp is also ready to go anywhere you want as it is quite portable, thanks to the top handle.
The amp includes 1/4-inch AUX input for connecting your iPod, smartphone, or any such external source for playing along. There is also a headphone output that lets you practice silently without disturbing anyone.
Target Customer: The Ampeg BA110V2 is a top choice for producing classic tones designed for practice and rehearsals alike.
Bottom Line: Overall, a highly affordable but equally high-performance bass amp.
Popular Related Article: Top 17 Bass Amps of All Price Ranges
4. Orange Amplifiers Crush PiX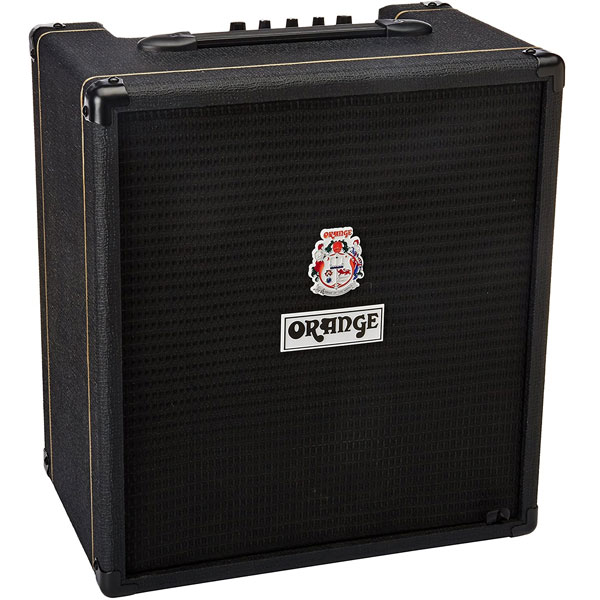 | | |
| --- | --- |
| Estimated Price | $330 |
| Type | Combo |
| Power | 50W |
| Speaker | 12" |
My Review: Orange amps have been around since the late 1960s, but there has been a resurgence in popularity for the brand in the last decade. Nevertheless, they have a fantastic bass amp in this Crush PiX CR50BXT. A 50W bass combo amplifier, this model is equipped with a single 12″ 4-ohm Orange Crush speaker.
The addition of an auxiliary speaker 0.25″ output allows you to add another 4-ohm or greater speaker to double the sound.
Key Specs and Features: The whole unit weighs 41 pounds and measures 16.54 x 18.5 x 11.02 inches and you can choose between orange and black tolex. The control panel is laid out on top of the bass amp and there are just five knobs – gain, master volume, and 3-band EQ.
There is a headphone output, a single input jack, a 0.25'' direct output, and a 1/8-inch input so you can plug an external source to play along. An onboard tuner is included with some red and green LEDs as an added bonus. The power cord goes into the back and that is also where the ON/OFF switch is hidden.
This bass amp is not going to produce a terribly loud sound and if you keep this in mind, then you'll not be disappointed. Besides looking pretty, this Orange Crush CR50BXT is a very versatile bass amplifier.
Target Customer: This product makes a perfect practice amp, and you can practice in the middle of the night thanks to its headphone output. It covers the bass range from clean to overdrive, making it the perfect amp for any style of music.
Bottom Line: This bass amp is a versatile practice amp with decent sound. With its durable construction for long-term use, it can last you for a long time.
5. Fender Rumble 500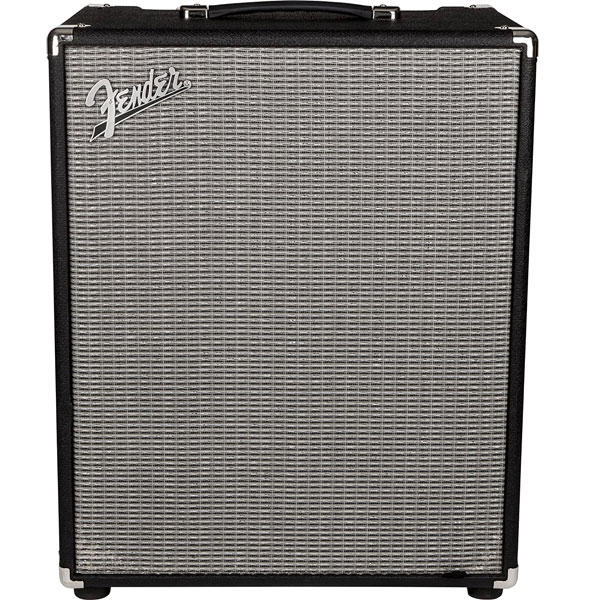 | | |
| --- | --- |
| Estimated Price | $600 |
| Type | Combo |
| Power | 500W |
| Speaker | 2x 10" |
My Review: As mentioned above, The Rumble 40 has bigger brothers, and the Rumble 500 is the biggest model of the lineup. The Rumble 500 is sized perfectly for gigging yet is still small enough to act as a practice amp. We are talking about a 500Watt solid-state amplifier paired with two ten-Inch Eminence speakers. The combo also contains a compression tweeter for Treble definition. This has been one of my favorite amps to play. This amp is slightly oversized to be considered primarily a practice amp which is the reason it's not higher on the list. That's one of the great things about the Fender Rumble lineup though, they are available in 15, 25, 40, 100, 200, and 500-watt versions, as well as matching speaker cabinets available for extension.
Key Specs and Features: On the control panel, right next to the input, there is the Gain control knob. Then there are three voice buttons, Bright, Contour, and Vintage. Next, we have the Drive control cluster, with a push-button for activating it, and Level and Drive control knobs.
Then we have the EQ control cluster with control knobs for Bass, Low Mid, Hi-Mid, and Treble.
On the far right, there is the Master control knob. On the back of the amp, there is the Power On/Off switch, the Horn (Tweeter) On/Off switch, the External Speaker Jack (8Ohm, 250W), the Return and Send jacks for effects, the Aux-in, the Headphones out, the Footswitch port, and the Line out (XLR) with its Ground/Lift push button.
Target Customer: You can achieve many different tones with this amp just with a little tweaking on the control knobs. The Rumble 500 is a compact, sturdy, powerful, and flexible bass amp. It is great for gigging, rehearsals and practice.
Bottom Line: Fender is famous for its great sounding amps! The Fender Rumble 500 is definitely a bang for the buck. It is a powerful, versatile combo bass amp, great for gigs, rehearsals, and practice.
Popular Related Article: Top 12 Overall Bass Combo Amps
6. Hartke HD50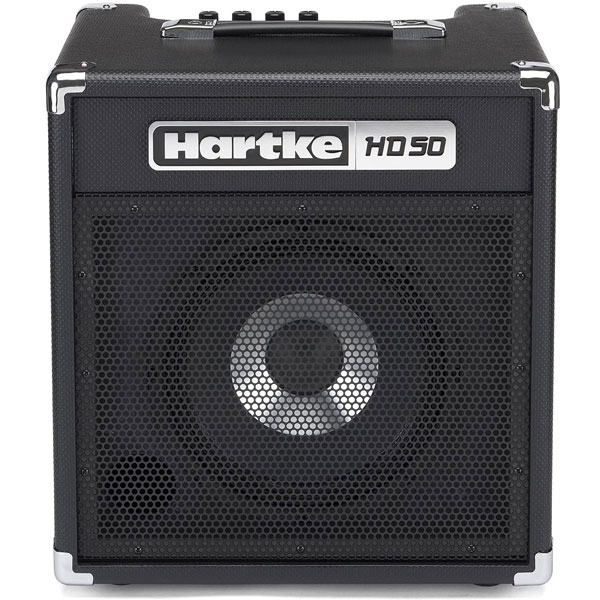 | | |
| --- | --- |
| Estimated Price | $200 |
| Type | Combo |
| Power | 50W |
| Speaker | 10" |
My Review: The tone of this bass amp tends to be strong in the low mids and a bit subdued in the highs. Clean and powerful are two adjectives that sum up how most users describe the sound of the Hartke HD50.
It doesn't sound cheap at all even when you take it on overdrive. Needless to say, this HD50 is pretty lightweight and portable. At 50 watts, the Hartke HD50 has enough juice for use in small venues and rehearsal spaces. Yet it can be soft enough for use in your bedroom and can be used for quiet practice via its headphones output.
Key Specs and Features: Hartke is a big name in bass amplification and the Hartke HD50 exemplifies its longtime concept of aluminum-cone speakers. The speaker boasts a design called HyDrive, which combines aluminum and paper in the cone whereby the visible aluminum central portion is surrounded by the paper.
When combined with a neodymium magnet, the result is the warmth and roundness of paper plus the punch and aggressiveness of aluminum.
While this technology can be found in other models, Hartke has integrated it into an affordable 50W combo. Controls are in the form of volume, bass, mid and treble, meaning you can adjust according to your sound needs. The construction includes a perforated steel grille, texture vinyl cover, and a robust control panel.
The corners are covered by steel to aid in durability, while every switch, knob, and jack is well-installed. The fact that the control panel is on the top may seem like a design downside, however, you will appreciate its neat lettering and straightforward, no-frills layout.
This bass amp also includes essentials such as stereo jacks for input from external audio sources such as for playing along or headphones.
Target Customer: All in all, this bass amp is a great choice for beginners and experienced players alike, and you can rely on it for rehearsals and quiet gigs.
Bottom Line: The Hartke HD50 is a bass amp that can go from your bedroom to rehearsal, to small venue gigs, highly recommended for those who want an all-around portable bass amp. This model looks phenomenal for something inexpensive.
7. Peavey MAX 100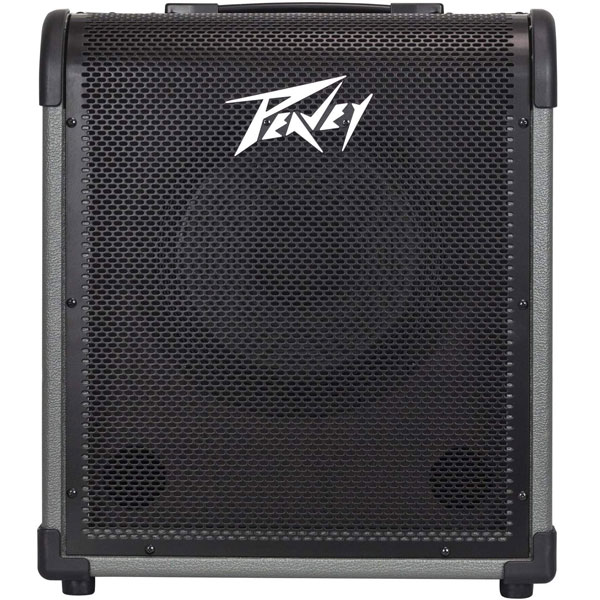 | | |
| --- | --- |
| Estimated Price | $230 |
| Type | Combo |
| Power | 100W |
| Speaker | 10" |
My Review: As a 100W bass practice amp, you will find it challenging to find other practice amps that provide as much power. Besides the power, there is also the psycho-acoustic low-end enhancement, which should add more to the already impressive bass output. As such, the 10-in speaker is pushed to limits not ordinarily possible for a speaker of the same size.
Key Specs and Features: There is a matter of the three-band EQ. This EQ is coupled with Contour, Kosmos-C, Overdrive, Mid-shift, and Bright preset switches. You can use these to see just how far you can take the sounds you produce.
Another positive thing where this bass practice amp is concerned is the Pre-gain control you get, which is possible due to the TransTube® gain boost incorporated. Additionally, for such a powerful amp, the controls and interface are rather simple and won't take users long to figure out. Notably, the design of the cabinet is also innovative in a way that will benefit your sound even in the tightest of spaces.
As for the machine's input and output options, you have a 1/8" jack for the aux input and a similar jack size for the headphone output. You should also know that this music device's weight and dimensions maybe a little on the higher side. However, if you do find that the sound capabilities of this bass practice amp are a must-have, you can get used to bulkiness.
Target Customer: The Peavey MAX 100 bass combo amp delivers more bass in a space-saving package. With 100W of power that includes DDT speaker protection and a 10-inch heavy-duty woofer, the MAX 100 is great for plenty of gigs and rehearsals.
Bottom Line: Peavey Max 100 is an all-around solid bass practice amp. Combining affordability with a good quality you should definitely check out this option.
Popular Related Article: 10 Incredible Bass Preamp Pedals You Need To See
8. Hartke HD15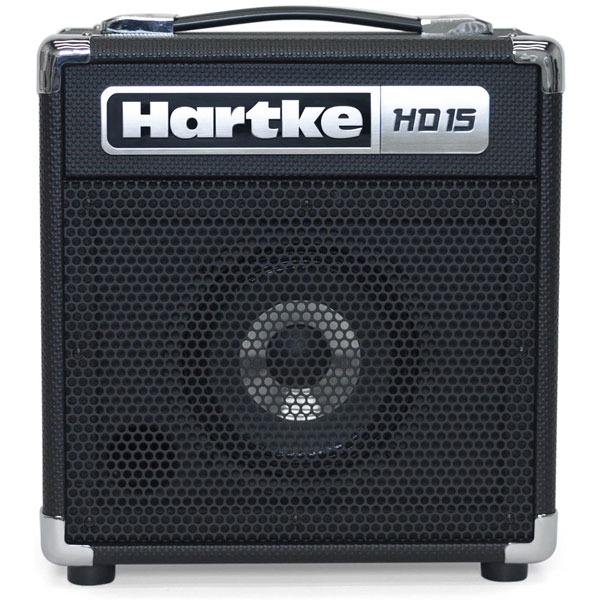 | | |
| --- | --- |
| Estimated Price | $100 |
| Type | Combo |
| Power | 15W |
| Speaker | 6.5" |
My Review: Hartke's HD15 is another fairly cheap amplifier. Knowing the company's reputation for making some of the best bass and keyboard amps, it's not a surprise to see one of their models on this list. However, unlike a lot of practice or entry-level amps in this price range, the Hartke HD15 retains the quality of more expensive amplifiers produced by the company. It's simple, it's cheap, and it will serve you well for any practice or jam settings.
Key Specs and Features: The key selling point of this amp is that it features a built-in limiter. This limiter helps to limit peaks in volume that could damage your amplifier. This is huge for beginner musicians who may not understand what levels of volume, or in certain cases playing dynamics, can damage an amplifier.
For the price point and intended purpose of the amplifier, the controls (while limited) are very functional, and many appreciate its simplicity. Its practice features also get a lot of positive mentions, including the AUX input and a headphone output.
Many users also appreciate its overall tone and projection, which sounds good to their ears at lower volumes, allowing for quiet practice.
Target Customer: The amp also only has a power rating of 15-watts, so don't expect to be gigging with this amp (unless you choose to put it through a PA). This amp does not come with any effects, and while that may be a limiting factor depending on the genre you play, it does help to keep the price low.
Bottom Line: All in all, the Hartke HD15 is a nice little bass amp on a budget or as a practice amp. It is small, the HD15 packs a punch. In fact, it's a fully functional amp designed for bass guitars. It is not just another multi-functional device that has been designated as a practice bass amp but isn't really one.
9. Fender Rumble 15 V3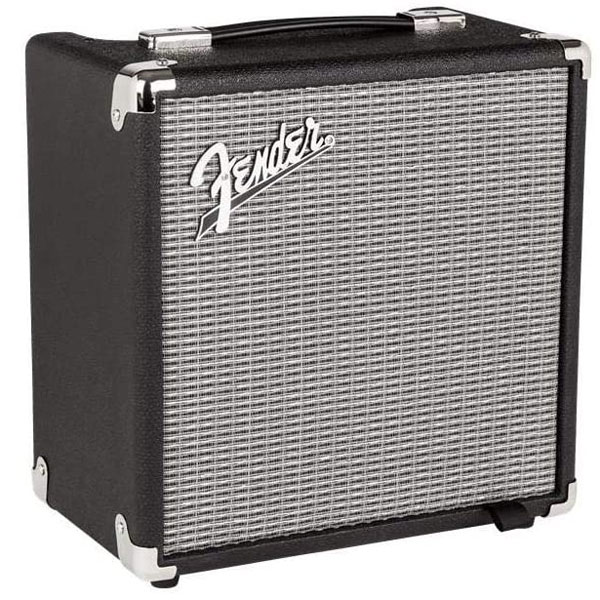 | | |
| --- | --- |
| Estimated Price | $100 |
| Type | Combo |
| Power | 15W |
| Speaker | 8" |
My Review: The Fender Rumble Series continues to be popular in the entry to mid-tier price range, and the Rumble 15 V3 is their most affordable offering. Aside from being the cheapest, this is also the lightest and smallest in the range.
Key Specs and Features: At 15 Watts, and having an 8″ speaker, the Rumble 15 V3 is ideal for low-volume practice or small venue jams. The controls are more streamlined compared to its bigger siblings, with a singly volume knob and 3-band EQ knobs positioned on the top.
Finally, it comes with a vintage-style exterior design, based on classic Fender amp models. Many are happy with how easy it is to get a good tone with its streamlined controls. It is also often commended for being light and portable, and for its vintage-style appeal.
Target Customer: General opinion of the Rumble 15 V3 is quite positive, with most users describing it as a great value practice amp.
Bottom Line: If you're looking for a nice looking and nice sounding practice bass amp, then definitely check out the Fender Rumble 15 V3.
10. Fender Rumble 200 V3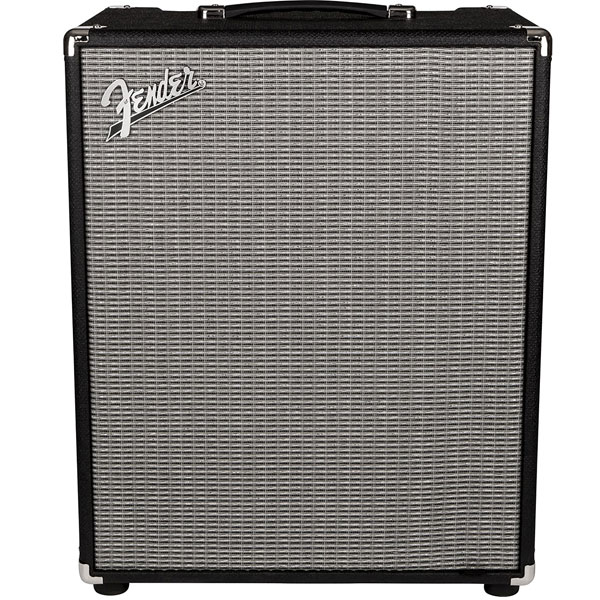 | | |
| --- | --- |
| Estimated Price | $500 |
| Type | Combo |
| Power | 200W |
| Speaker | 15" |
My Review: The Fender Rumble 200 V3, while similar to the other amps in the series, has an interesting extra feature that's not found on other Rumble amps; that is the inclusion of a tweeter.
Having an HF driver allows this bass amp to reproduce clear treble frequencies, resulting in a sound that's clearer than those with just a 15″ woofer. Basically, it's like a tiny speaker just for adding in some high-end sparkle. If you don't want a brighter sound, you can simply turn the tweeter off.
Key Specs and Features: In case you hadn't guessed from the name, the Rumble 200 V3 packs 200-watts of power. Given the wattage, you have enough volume to play coffee shops, bars, and other mid-size venues.
It also has an XLR out in case you need to hook straight into a PA for bigger venues. Many are surprised with its thick tonality – especially with the tweeter on, while others appreciate the flexibility of its tone shaping controls. Moreover, there are plenty of users who are surprised by how light the Rumble 200 V3 is.
Other features include an effects loop, AUX-in, and headphone-out.
Target Customer: The Fender Rumble 200 V3 wins the hearts of bassists with its great balance of stage-ready features and affordable price tag. Amazing, perfect, and excellent are just three of the many positive adjectives that bassists use to describe the amp's overall performance.
Bottom Line: If portability is important to you while having an amp that can go loud, then get the Fender Rumble 200 V3.
11. Kustom KXB100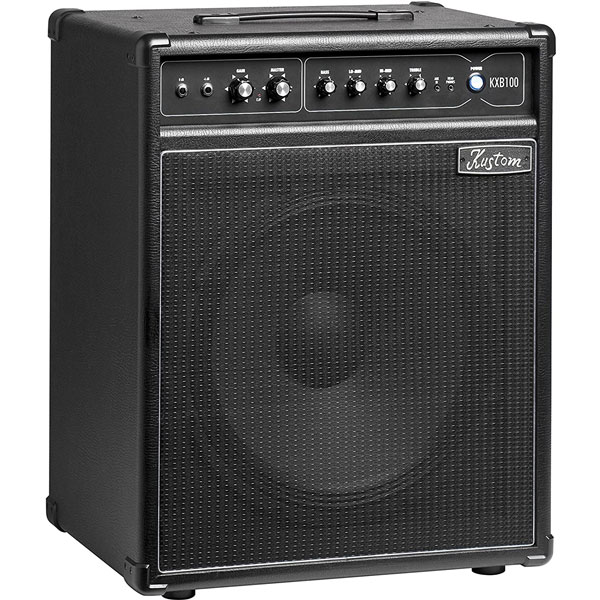 | | |
| --- | --- |
| Estimated Price | $300 |
| Type | Combo |
| Power | 100W |
| Speaker | 15" |
My Review: While it gets a lot of kudos for being loud, the Kustom KXB100 is also appreciated for its tone, which many describe as full sounding. This amp is more than enough for small to medium size venues, while its balanced line-out will allow you to go straight to the PA system for even more volume. But it can also be used for practice with its aux-input and headphone-out.
Key Specs and Features: For the price, the Kustom KXB 100 gives you a lot of low-end oomph with its 100-watt power rating and big 15″ speaker.
This amp follows a somewhat common theme among bass amps, and that is a lack of any type of effects. But it does come with extended EQ for tuning the low and high mids.
Finally, this amp is meant to be pedalboard friendly with its effects loop. For controls, it has Gain, Master, Bass, Lo-Mid, Hi-Mid, Treble.
Target Customer: There are plenty of reports of the amp doing well in medium-size events, and there are some who are satisfied with the amp's performance in rehearsals and recording. It is also described as sturdy, and many are convinced that it is well built.
Bottom Line: With the Kustom KXB100, you can have a good sounding 100W 1×15″ bass amp combo at a very reasonable price.
12. Fender Rumble 100 V3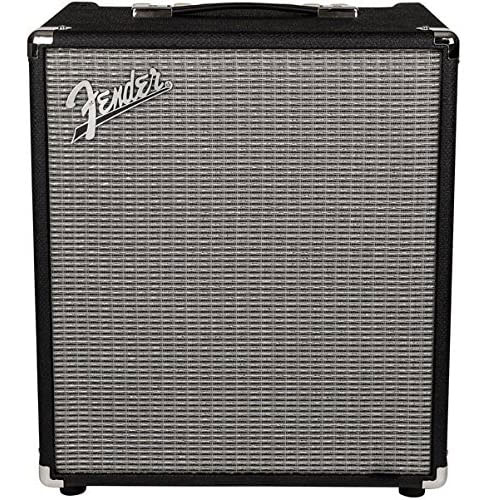 | | |
| --- | --- |
| Estimated Price | $300 |
| Type | combo |
| Power | 100W |
| Speaker | 12" |
My Review: The Fender Rumble 100 V3 is an affordable stage amp with reasonable portability. And while it does carry the Fender clean bass tone, it does allow for a bit more tone shaping with its contour, bright and vintage controls, speaking of vintage, this setting results in warmer bass tones that work well with Americana and folk music.
Key Specs and Features: At 100W and with a 12″ speaker, this bass amp is capable of handling small to medium size venues, and can fill up closed door venues even better. There's also a DI output for venues that require more volume.
It really is surprisingly light for its power rating and actual volume. The tone is another big reason why many rate this bass amp highly, along with the versatility afforded by its vintage switch and contour knob. It also helps that it has a premium vintage appearance.
For controls, it has all the usual bass amp controls such as Bass, highs and lows, and so on.
Target Customer: Even if you are not a fan of Fender, its great balance of quality, affordability, and portability make this a very likable practice and stage amp for bassists.
Bottom Line: For fans of Fender's classic bass tones, the Fender Rumble 100 V3 is a no-brainer.
13. Hartke HD150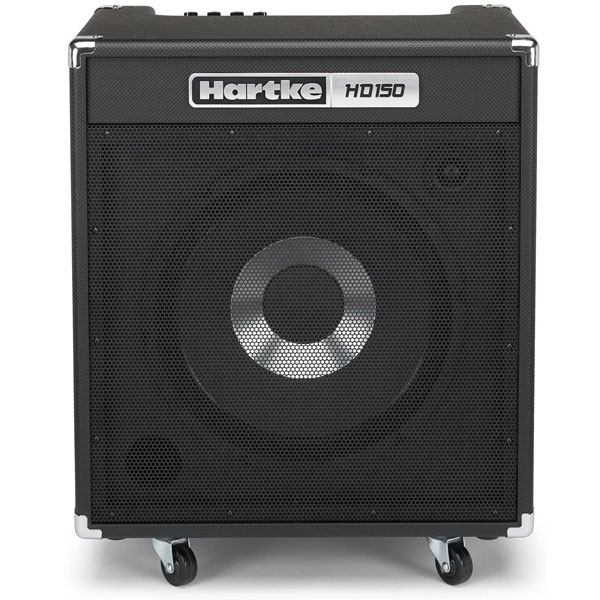 | | |
| --- | --- |
| Estimated Price | $400 |
| Type | Combo |
| Power | 150W |
| Speaker | 15" |
My Review: Hartke is well known for great value bass amps, as exemplified by the HD150 combo bass amp. The addition of a tweeter and the use of paper and aluminum cones on the speakers give this amp a bit more high-end emphasis which works with many styles of bass playing.
Key Specs and Features: For the price, you are getting a 150W amplifier with a 15″ speaker and a 1″ tweeter – a feature that is hard if not impossible to find in its price range. For more control over your sound, Hartke equipped the HD150 with a 7-band EQ. Many also appreciate the extra tone shaping options provided by its 7-band EQ.
Finally, it gets a lot of kudos for being solidly built and reasonably portable. Other features include a built-in limiter, effects loop and it even has built-in rolling casters for added mobility.
Target Customer: If you're looking for a good value 100W and upstage amp, then do check out the Hartke HD150. Thanks to its built-in tweeter, the resulting sound is often described as clean and detailed.
Bottom Line: Value for money is the strong suit of the HD150, as reflected in many reviews. Owners are pleased with its projection and sound quality given its price.
14. Orange Micro Terror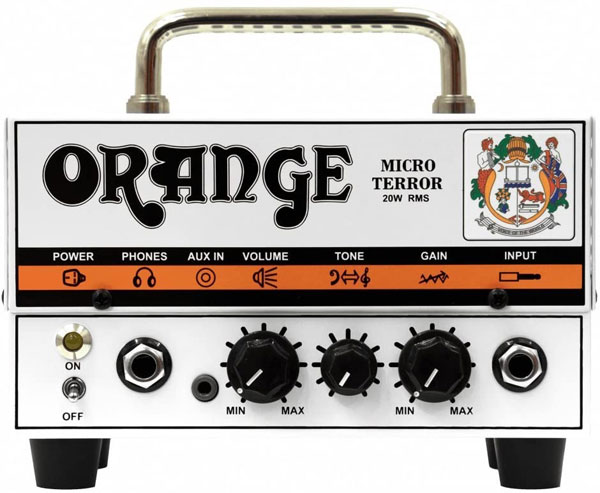 | | |
| --- | --- |
| Estimated Price | $150 |
| Type | Tube/solid-state |
| Power | 20W |
| Speaker | 8" |
My Review: The sound out of this thing is impressive, to say the least. It's very simple to use, with the tone, volume, and gain knobs providing all the sound-shaping you'll need.
Key Specs and Features: The pint-sized powerhouse is sturdy, with an all-metal chassis and removable top cage housing all-analog circuitry. The surprisingly loud 20 watts are generated by a solid-state power amp fed by a 12AX7-based preamp for added warmth and response.
The combination of the ECC83/12AX7 preamp valve and solid-state technology ensure you have that warm valve tone, with solid-state reliability – and weight relief! It's a portable, easy-to-carry option to take to the studio and to practice, and can power any 8 or 16 Ohm cab.
Due to its small size – it clocks in at 135 x 165 x 95 mm (around the size of a lunchbox) it may fool you into thinking the amp can't stand up against some of the bigger contenders. Due to its size, the Micro Terror has a limited—but useful—control set: Volume, tone, and gain knobs enable you to dial up everything from clean to highly saturated sounds.
The cool thing about the Orange Micro Terror is that you can drive the gain hard and get that classic valve tone at lower volumes. You can also use the MP3/aux input to play along to your favorite tracks or even hook up a backing track to play through the amp.
Target Customer: For those for whom only tubes will do, the Orange Micro Terror 20 Watt Guitar Amplifier is a great option if you need a practice amp that's small and capable of producing rich, warm valve tones.
Bottom Line: Beautiful cleans and creamy distortions in a very small package that weighs less than a kilogram – as far as practice amps go, this is a great option.
For serious Orange fans, the Micro Terror's adorably raging looks might be reason enough to reach for their wallets, but it's the wealth of surprisingly smooth tones and a reasonable price that put the cool factor way over the edge.
15. Blackstar FLY 3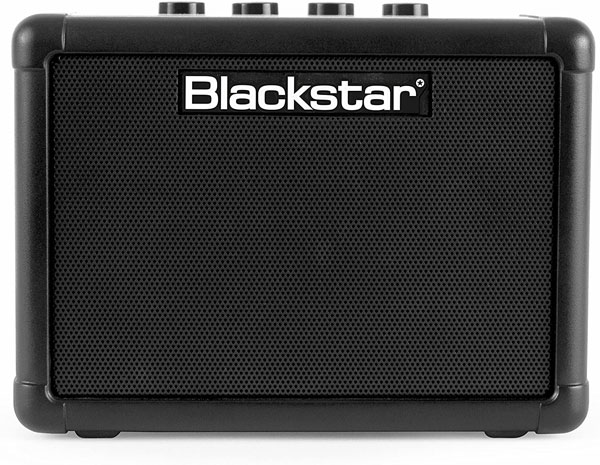 | | |
| --- | --- |
| Estimated Price | $70 |
| Type | Combo |
| Power | 3W |
| Speaker | 3" |
My Review: One thing has always stood in the way for bassists when it comes to practice amplifiers. The lack of portable, neighbor-friendly, amps that still pack the quality of sound and punch.
Now, Blackstar intends to remedy this problem with the introduction of the Blackstar FLY 3 Bass Compact Bass Guitar Amplifier.
Key Specs and Features: To achieve the high-quality deep bass that you will hear from the built-in 5-watt, 3-inch speaker, the FLY 3 Bass gives you excellent tone control. The controls are simplified, but they still allow you to do some interesting tone-tweaking.
There are controls for input gain and output volume, the "depth" knob which is essentially like the tone control, and even a dynamic compression control.
FLY 3 Bass amps are very useful for practice, not only because of their compact design but also because they can be powered with simple 1.5-volt batteries. They also let you plug in your phone or any music player that supports the 3.5 mm jack.
Finally, it's also important to note that Blackstar also makes extension cabinets for the FLY amp series. These come with an integrated network cable, which can be plugged into the FLY 3 Bass amp.
Target Customer: When it comes to practice amplifiers, be it for bass or guitars, one of the most important issues is the overall size, and thus the practicality. If you're a bassist in need of a compact practice amp for either home, backstage or studio use, the Blackstar FLY 3 Bass is the way to go.
Bottom Line: This incredible little amplifier has no shortage of connectivity and features that make this one of the best practice amps on the market that will also look very smart as part of your home audio set-up.
16. Bugera Ultrabass MXD12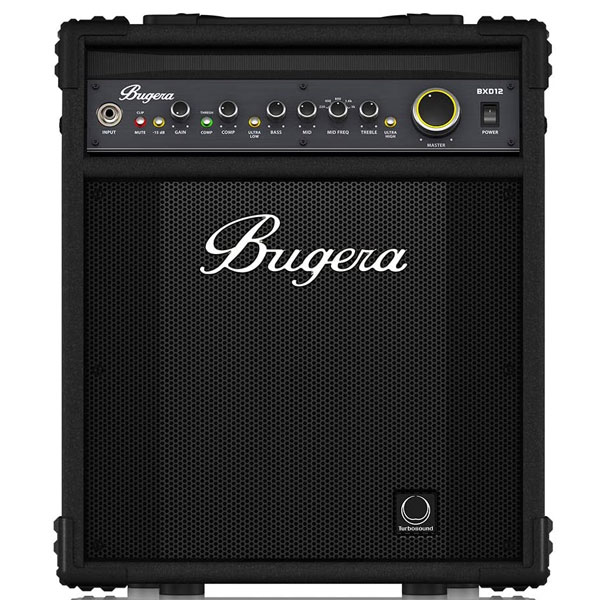 | | |
| --- | --- |
| Estimated Price | $300 |
| Type | Combo |
| Power | 1000W |
| Speaker | 12" |
My Review: It's possible that you might recognize this amp despite its new livery. As part of the Behringer realignment that sent their pedals to TC Electronic in the form of their new big-box, ultra cheap pedals, Bugera inherited some things from the amp line. That includes this Ultrabass with a Turbosound 12-inch speaker. There are some nifty features in this amp.
Key Specs and Features: This bass combo amplifier has class-D 1000 watts of peak power with a 1×12" inch turbosound speaker placed on a wedge style cabinet to direct the sound towards the ears not on the legs just like a monitor angle.
The controls panel is situated at the front for easy access consist of a -15dB input pad for active basses or additional level control, master volume, rotary EQ bass-mid-treble for shaping with an ultra-low and ultra-high switch for presence, mid-frequency knob to give five different EQ settings, compressor to control peaks of the sound smoothening it on the process, and a gain knob.
Sockets to plugin effects, tuner, foot switch, audio source, and balance DI output are all found at the back of the cabinet.
Target Customer: The Bugera BXD12 is the kind of bass amp that is well suitable for those bassists on a minimum budget. It has many great features to create awesome bass tones and has all the power to let them already perform on-stage without emptying their pockets.
Bottom Line: This Bugera Ultrabass is a solid little thing, it provides enough power and quality for the money invested.
Related Article: Easy Bass Guitar Songs for Beginners
17. Hartke Kickback KB12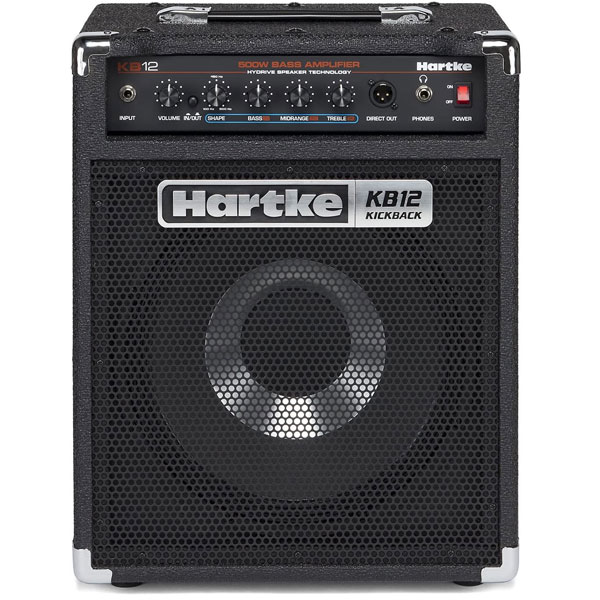 | | |
| --- | --- |
| Estimated Price | $450 |
| Type | Combo |
| Power | 500W |
| Speaker | 12" |
My Review: The Hartke Kickback KB12, though, is an exemplar for a new era in affordable bass combos. It's no more expensive than the average 100-watt practice amp of yesteryear, but it delivers a legit 500 watts from its Class D amp through a time-tested HyDrive neodymium driver.
Key Specs and Features: Ruggedly made all around and portably light to carry. This little beast of a kickback bass amplifier is coming from none other than Hartke.
The Hartke Kickback KB12 combo amp has a commanding 500 watts class-D power with a single 12" inch paper/aluminum high drive speaker that enables the amp to deliver massive headroom and generate its overall output volume.
Controls are very simple and situated on the front side for easy adjustment consisting of a master volume, shape knob to get that mid boost and to produce a bunch of other tones. Then next to it is the EQ bass-mid-treble to further blend to the preferred sound, XLR DI out to connect the amp to a PA system, and headphone out for silent practices.
Target Customer: The KB12 would be enough amp for most small-to-medium-size gigs, especially because its "kickback" design makes it more audible on a crowded stage. The sound is quick and punchy, and there's enough power on tap to give the internal speaker a run for its money.
Bottom Line: It's not the cheapest model out there, but there are few amps that would make such a good companion for the transition from neophyte to seasoned veteran.
Choosing the Right Practice Amp for Bass Guitars
Finding the right bass practice amp can make all the difference in how a crown perceives your music. If the tone is off there is a high chance that the sound distortion produced will affect the audience. Before setting out to buy a bass practice amp, there are a few things that need to be put into consideration.
What an ideal bass amp for practice should be like
There are many models in the market, but finding an ideal one may take a bit more of your time. If it is your first time shopping for a bass practice amp, here are a few hints on what an ideal one would look like: Combo-amp Selecting a combo-amp saves you time as all you need to do is plug in and you are good to go.
Instead of dividing your focus on tweaking a separate amp and speaker, you can settle for the combo amp. They combine all the features and controls you need under one roof. At least all the models we've covered above are combo types. Reliable brands It is good to give every manufacturer a chance to prove that their products are of quality. However, if you are unsure of the brand, it is always good to go for the more reputable and established brands like Ampeg and Fender. At least you will be assured that they are capable of providing high-quality products.
Affordable pricing Bass practice amps do not have to be as large as those used in large concerts entertaining thousands of people. This means that the cost of purchasing these smaller amps is more pocket-friendly. Select a model that not only fits in your budget but the quality is not compromised. Choose the best bass practice amp by the following features The quality of features you select is important as they will affect the kind of results that you get while playing your bass guitar.
Some of the features to look out for
There are a few important things you need to consider before deciding on a bass guitar practice amp. After all, the idea is to get the best out of your money and not end up with a model that doesn't suit your particular needs.
When buying a practice amplifier for bass guitars, you'll need to think about the output power, preferred kind of tones, the size, tube-driven or solid-state circuitry, effects or amp modeling features, and some additional functionalities and features.
Speaker Size
There is a notion that the larger the speaker, the better the music. That is not so accurate because larger speakers tend to deliver a mushy or heavier sound. Selecting the right size of speaker will produce a tighter sound that won't rumble the whole house up. A 10–15-inch speaker will do well depending on the size of your practice space. In fact, even an 8-inch speaker but with a powerful output can be sufficient for practicing with a group in a relatively larger room.
Along with the output power, size is one of the main factors to think about when buying a bass practice amp. The main rule is simple – the smaller the better. However, a smaller size means that you get a smaller speaker, which can negatively impact the tone quality. This can be compensated to some extent, but smaller amps can sound a bit weird when you're talking about basses.
If you need something to take on the road, then there are mini practice bass amps that are perfect. If you'll be using it at home or for band practices, then you can go with a slightly larger one. Just remember that having a combo amp is much simpler than an amp head plus cabinet formation.
Tone controls
To get the best sound from your amp means tweaking the controls provided to suit the sound of your music. In a reliable bass practice amp, you have controls such as 3band EQ (equalizer), gain control, and volume control. These make up the basic controls that you need to tweak your sound. Any other control features are there to make your life run a bit smoother by providing more options.
Power
The output power is one of the biggest factors when buying any bass amplifier. If you are buying an amp specifically for practicing, you don't need one with a ton of output power. In fact, you probably want one with a bit less power, to keep it from getting too loud and to keep it compact.
Being that these amplifier units are for practice only and not professional work, they do not need a lot of power to produce the high volume. Getting a speaker with a large power output does not mean that the volume will equally be high.
A 100W amp will only be slightly lower compared to a 50W bass practice amp. If you are not trying to wake up the dead, we suggest you settle for an amp with a power output intended for practice use instead of professional work.
That said, bass amps usually need more power than electric guitar amps, because the bottom-end frequencies of a bass guitar don't seem as loud as other instruments. For your standard bedroom practice, it's okay to go with about 10 to 15W.
If you want something that could also work for band practices or even smaller gigs, while still keeping it at safe levels for home use, you can go up to 50 or 60W. Anything over that would just be too much for a practice amplifier.
Ease of use
The placement of the amp controls and the input ports is important as you want to have easy access to them. Many of the models in the market place their controls at the top back of the amp, while some such as the Ampeg BA110V2 have front-faced controls that are easy to reach. Having the controls placed at the back-bottom position may cause people with injuries to strain in order to reach the controls.
Additionally, the knobs/ buttons should be well illustrated and made of quality material to prevent disintegration over time. Audio compressors do a good job of preventing amps from overloading and damaging the speakers. Look for a model that offers some kind of overload protection so as to avoid irreparable damage.
Construction
Any amp in the marketplace needs a solid and durable construction so as to keep up with constant use. We can come to a consensus that for practice/rehearsals you do not need the tube amplifiers.
They are more expensive and produce a warmer tone required for professional use. That is why solid-state amps are preferred for beginners. They are normally made of thick wood and heavy bracing so as to keep up with the vibration produced. They are not as expensive as tube amps, and therefore, they make economic sense.
Warranty
Purchasing electrical products and the availability of warranties only makes sense. Nobody wants to be electrocuted or end up buying sub-standard electrical products. It is important that you get a warranty so that if the product is faulty, the supplier will be liable to offer a credible solution.
Depending on the brand you purchase, you may get a warranty ranging from 1 to 5+ years. That is adequate time to assess the quality of the bass amp you got. Once again, no one seems to beat Fender in this aspect as the Fender Rumble 40 v3 has an impressive 5-year warranty.
What is a Bass Amp Combo?
A bass amp combo is short for a bass combination amplifier. It is called that because it incorporates a bass preamp within the speaker cabinet design. This saves you from the need to buy both head and cabinet to hook together. Sometimes but not always, a combo amplifier for bass guitar will house 2 or more speakers within its enclosure. The pre-amp is the part that usually holds all of the equalization controls separately from the speakers themselves.
Combining the two is not only space and power-saving but makes general life easier, especially as far as practice and rehearsals are concerned. For this reason, combo bass amps have risen to popularity, and a decent combo amp is usually considered the more convenient way to go. For live stage use, you may want to consider branching out and getting a larger amplifier with a dedicated preamp, as it allows for better control over your signals. Pre-amps often pack more options as far as multi-effects and equalization are concerned.
Tube or solid-state?
One of the most common questions among bass and guitar players is whether they should go for tube or solid-state amps. As far as practice amps go, it's usually recommended that you go with solid-state amps.
They're not only cheaper but are much easier to maintain and can withstand rougher handling, which you'll need in a practice amp if you plan on taking it on the road.
If you really like tube-driven amps, it's okay to have them for practice purposes. Just bear in mind that tube bass amps with lower output power are not that common and can get a bit pricey.
Can it run on batteries?
Another important thing to know is whether it can run on batteries. For some bass players, this would be important as they'd like to have a practice amp "on the go." And if it's battery-powered, it makes things much simpler.
On the other hand, you can't expect to get more than 10 watts of output power with amps running on batteries. So this feature is pretty much limited to only the smallest amplifiers on the market.
Preferred tone
This may be a bit tricky because every bassist likes a different kind of tone. But generally speaking, it is much more difficult to get a good bass tone with amps that have smaller speakers. The smaller the speaker, the less pronounced the bottom-ends get. If you're not certain what you're looking for, it's always a good idea to get an amp with a lot of tone-shaping options.
Additional effects and digital amp modeling
And while we're at it, some amps come with additional digital processing units integrated into them. These are becoming more and more common, especially with solid-state amplifiers. Many of them have some pretty convincing digital amp models, replicating some of the most famous bass tones of all time.
Of course, all of this works hand-in-hand with effects. As far as bass guitars and practicing goes, having a compressor or a limiter can be of great importance because these are the effects that you'll be using a lot as part of the rhythm section.
But then we're presented with a question of whether it makes sense to have so many detailed tone-shaping options and effects if you're looking for just a simple practice option. These are certainly welcome additions, but they're far from being crucial for practice purposes.
That said, an amp with detailed digital processing can be fun to use and somewhat interesting to beginners who are just learning about this aspect. Additionally, you can also use them for recording and get some decent tones out of them.
Additional functionality
You'll have to remember that practice amps for basses are not just your regular old amps. Although fairly simple, they should include some additional stuff: mostly headphone outputs, line outputs, and auxiliary device inputs. This way, you can have more options for your practice sessions.
At times, these features can get more interesting, especially if you have a way of controlling the aux input volume level. When it comes to the input signal, you can also see whether the amp has an option to keep it under control. By cutting down on some decibels at the input, you can make more of your bass if it has an active preamp circuitry in it.
Price
Finally, we should note that you shouldn't ever spend large sums on practice bass amps. There are certainly some models that come with interesting features and thus get up there in price.
But keeping it within reasonable limits, as we've done with this particular list, is the way to go. This should primarily be a practice amp for you to play on at home, backstage, or for travels. Spending a huge sum wouldn't really make sense as this is not supposed to be an amp that sounds amazing.
It just needs to sound good enough for practice and have the essential features that you need for practice sessions. Just dial in the tone, play around with it for a few minutes, and jump straight into it! Spend your hard-earned money on your real amplifier. The one you use for live shows. Save money on the one you just use for practice.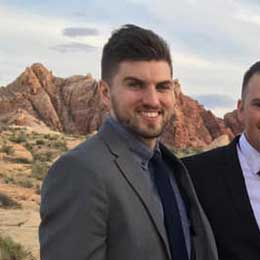 My name is Chris and I've had a passion for music and guitars for as long as I can remember. I started this website with some of my friends who are musicians, music teachers, gear heads, and music enthusiasts so we could provide high-quality guitar and music-related content.
I've been playing guitar since I was 13 years old and am an avid collector. Amps, pedals, guitars, bass, drums, microphones, studio, and recording gear, I love it all.
I was born and raised in Western Pennsylvania. My background is in Electrical Engineering, earning a Bachelor's degree from Youngstown State University. With my engineering experience, I've developed as a designer of guitar amplifiers and effects. A true passion of mine, I've designed, built, and repaired a wide range of guitar amps and electronics. Here at the Guitar Lobby, our aim is to share our passion for Music and gear with the rest of the music community.