Back in the old days, the primary way guitarist amplified their electric guitar was through a tube amplifier. Over the years, with the implementation of transistors and digital technology, more options have become available on the market with solid-state amps and digital amp modelers.
While technology continues to develop and offer some very high quality and practical alternatives, tube amps still tend to be the main choice for the majority of guitar players.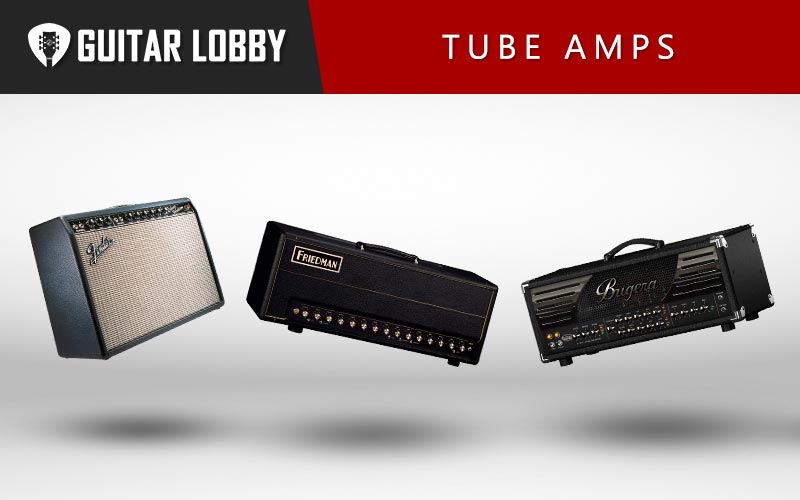 And there's a good reason for it. The natural warmth in their tone and dynamic response are always present, whether you're playing with mild crunchy overdrives or those soaring heavy lead distorted tones. This is exactly why we decided to take a deeper into the topic and bring you a comprehensive list of the very best guitar tube amps on the market.
I'll start off this article by reviewing the best tube amps at each price point, but if want to learn more about them before reading reviews, check out our tube amp information guide at the bottom of the page.
Here Are the Best Tube Amps
1. Friedman BE-100 Deluxe (Best Overall)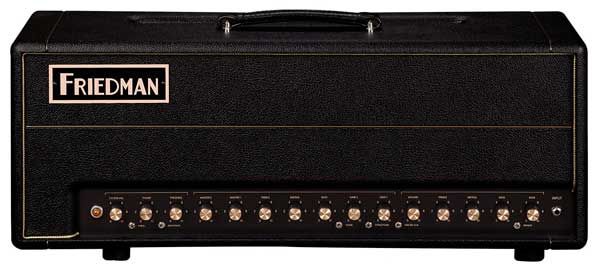 Estimated Price: $3800
Tube Configuration: 5 x 12AX7, 4 x EL34
Number of Channels: 3
Output Power: 100 watts
Configuration: Amp head
Additional Controls: Thump, high-end response, frequency response, bright mode, voicing, structure
My Review: First off, this amp head has an output power of 100 watts. For the preamp circuit, we have five standard 12AX7 tubes, while the power amp comes with four EL34 tubes. There are three separate channels that allow you to craft a wide variety of different tones and access them with ease. And although this amp is popular among blues rock and hard rock players, there's hardly a musical style that you won't be able to cover with a Friedman. An incredibly versatile, well equipt amp that is built to so of the highest design and quality standards you find on the market.
The amps distorted channels share a 3-band EQ section which is an incredibly useful feature that you won't find on every amp head. Other high-end features include a switch for three different types of high-end response, which is especially useful for those soaring lead sections. There's even a 3-way gain structure switch, a "fat" switch that helps you out with your single-coil pickups, and even a "thump" switch that helps you out with the bottom-end resonance and how it fits in your overall tone.
Looking at Friedman's BE-100, it's one of the most versatile and exciting amps that you'll find today. Whether you're looking for soft warm tones or heavily distorted compressed ones, this amp is capable of it all.
2. Fender 65 Deluxe Reverb (Best Value)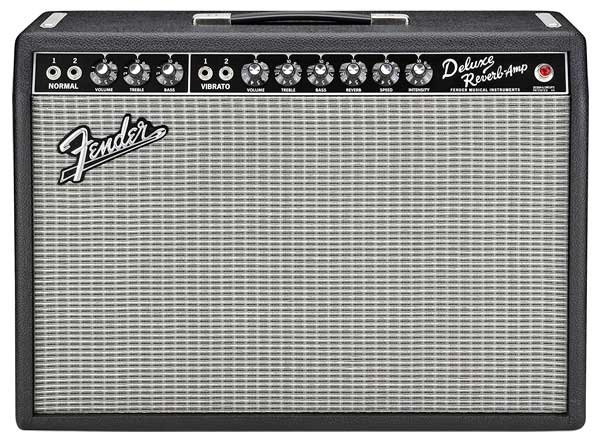 Estimated Price: $1100
Tube Configuration: 4 x 12AX7, 2 x 12AT7, 2x 6V6, 1 x 5AR4
Number of Channels: 3
Output Power: 22 watts
Configuration: Combo amp
My Review: It's pretty obvious that Fender deserves a spot on this list. And, to be fair, their amplifiers are not that expensive considering the quality that you get with them. Although somewhat of a throwback to the older times, the '65 Deluxe Reverb amp does more than just the vintage-oriented stuff, especially if you have a nice overdrive pedal to pair it up with.
To put it simply, this amp is 22 watts of pure sparkling clean vintage American-style tone. However, this bad boy can also crank it up when you push the volume levels up high. It comes with "normal" and "vibrato" channels, both bearing two inputs with different gain. The normal channel has basic controls for volume, bass, and treble. Meanwhile, the vibrato channel comes with these same three control knobs, as well as a vibrato effect with two controls and a reverb effect with one intensity control.
Looking at its specifications, this amp has a bit of an unconventional tube configuration. The '65 Deluxe Reverb comes with four standard 12AX7 tubes and two 12AT7 tubes in the preamp section. Meanwhile, we have two 6V6 power tubes, as well as one 5AR4 serving as a rectifier tube. This specific combination gives the amp a lot of versatility and options to work with.
The amp's cabinet is well-built and lets the speaker resonate freely. While we're at it, we have a simple 12-inch Jensen speaker which adds a significant accent to those lower-ends. With this amp, you'll be able to get it both bright and pretty fat, no matter the musical style you're into. However, it's mostly oriented towards blues and classic rock music.
3. Bugera 333XL Infinium Hardcore (Best Under $1000)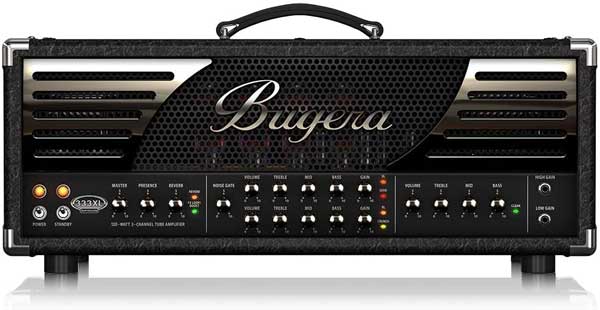 Estimated Price: $800
Tube Configuration: 4 x EL34, 4 x 12AX7
Number of Channels: 3
Output Power: 120 watts
Configuration: Amp head
My Review: What's so exciting to me about Bugera is how great these amps are while keeping them at a price point that makes them available to a lot of guitarists, relatively speaking of course. And the one I'm particularly excited about is the 333XL Infinium Hardcore amp head. Aesthetics alone, you can take a single glance at this amp head and realize that this amp is made for metal and higher gain style music. But, surprisingly enough, at this price point, it manages to pull things off and deliver quite a punch not only for high gain but for other genres as well.
This absolute beast of an amp comes with jaw-dropping 120 watts of output power. Featuring a class A/B design, it has four EL34 tubes in its power section, which brings a somewhat of that punchy "British" tone that we discussed above. Bearing those slightly pronounced mids, the amplifier lets you cut through the mix with ease, all without having to turn it all the way up. As far as the preamp goes, we have a pretty standard configuration with four 12AX7 tubes.
Infinium Hardcore amp head comes with three separate channels labeled as clean, crunch, and lead. We have three master controls for master volume, reverb, and presence that adds more punch in the higher-end of the spectrum. Now, each of the three channels comes with separate controls for volume, bass, mids, and treble. However, crunch and lead channels have their gain knob, as well as a noise gate that affects these two channels at the same time. There are also additional tone-shaping switches like the XL control that adds some tightness to the bass section of the audible spectrum into crunch and lead channels.
Overall, looking at the combination of this amp's price and features, you simply cannot go wrong with it. We'd argue that it outperforms many of the more expensive amps. If you want to keep your budget below $1,000, there's no way you'll find a better deal than this one.
4. Fender Pro Junior IV (Best Under $500)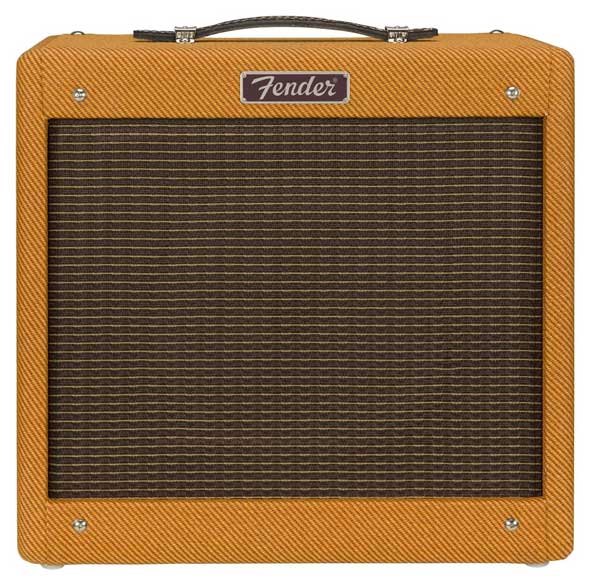 Estimated Price: $500
Tube Configuration: 2 x 12AX7, 2 x EL34
Number of Channels: 1
Output Power: 15 watts
Configuration: Combo amp
My Review: Contrary to popular belief, there are amazing tube amplifiers below the $500 mark. And while we're in this particular category, there's one great tube amp that we'd mention here. Made by Fender, Pro Junior IV is an extremely great amp considering its price. Sure, it's not as versatile, since it comes with only rudimentary controls, but its tone outperforms pretty much anything at this price level. Perfect clean tone to put your pedalboard in front of.
You should know first off, that Pro Junior IV is a vintage-oriented amplifier. It finds its best application in blues, jazz, and old school rock music. Of course, you can push it over the limits if you have a nice distortion, overdrive, or fuzz pedal. However, this amp's most natural cranked-up distorted tone is achieved when you push its volume knob over the average limits. While we're at it, the amp has only two parameter controls, one for master volume and the other one for tone (or treble roll-off). With this said, it has only one channel. While all this might seem insufficient to some, the amp is more than effective for its use. Just turn it on, let it warm up a little, crank it up, and you're ready to rock.
When it comes to the specifications, Fender Pro Junior IV comes with two 12AX7 preamp tubes and two EL34 power amp tubes. In total, it drives 15 watts of output power, which is more than enough for smaller gigs. The use of EL34 tubes instead of 6L6 or 6V6 in Fender amps is a little unusual, but it still sounds awesome as any other tube-driven Fender amp. It's also worth noting that it comes with a Jensen P10R 10-inch speaker. Overall, I would say this is easily the best tube amp under 500 dollars.
5. Marshall 2525C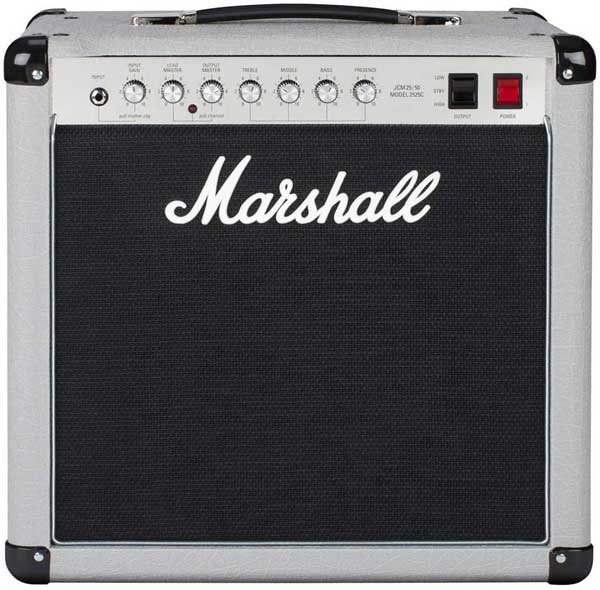 Estimated Price: $1500
Tube Configuration: 3 x ECC83 (or 12AX7), 2 x EL34
Number of Channels: 2
Output Power: 20 watts
Configuration: Combo amp
My Review: Another Marshall amp on the list, we're now looking into a somewhat newer model, the 2525C combo. You may not see it that often, but we'd argue that it's a real underrated gem. On the other hand, it could be considered relatively expensive considering it's a 20 watts amp. However, it's a premium-level amp, something that we can easily compare to those "boutique" amplifiers that are quite popular among pro guitar players.
What we very much love about it is its simplicity, which is a somewhat vintage trait. Marshall's 2525C has two foot-switchable channels that cover anything from sparkling clean tones and up to soaring scorched heavy leads. What's more, the amp comes with a push and pull feature on its master input gain control that adds even more power and mass to its distorted tones. Other than that, we have basic parameter knobs for treble, middle, bass, and presence.
This 20-watt amp brings in a great tone thanks to its three ECC83 tubes and two classic EL34 power tubes. And what its circuitry does finally goes through the amp's 12-inch speaker, the Celestion G12M-25. You can also use its separate speaker outputs for any PA system, studio mixing consoles, or additional speaker cabinets.
All in all, Marshall's 2525C is one of the best choices for those who need a nice balance between classic old school British amps and some more modern ones. It's pretty expensive, but you just can't go wrong with it.
6. Morgan Amps RCA35R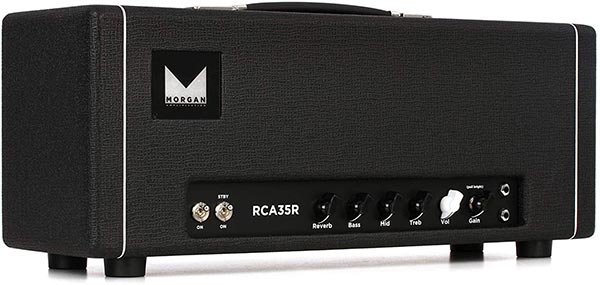 Estimated Price: $2400
Output Power: 35 watts Class A
Number of Channels: 1
Tube Configuration: 3 x 12AX7, 2 x 6L6, 1 x GZ34
Configuration: Amp head
My Review: This 35-watt tube head amp boasts serious tone-tweaking versatility! The unique output transformer means you can swap in a diverse range of power tubes, giving you a ton of potential for genre-bending tonal shaping. Just choose a matched pair of tubes, plug them in, and you're ready to play – no need to for re-biasing.
The RV35R's controls are easy to use, letting you dial in chimy cleans and thick Plexi tones alike, without needing to spend ages fiddling with knobs to get your sound just right. The 3-spring tube-driven reverb adds a natural-sounding atmosphere to your sound. The variable power means you can get just the right level to get the best tone from your overdrive and other pedals, even while keeping the volume at a lower level, and without choking the amp. This power variability means you can control that interaction between pedals and power tubes, so you can crank it up even on the quiet.
The RV35R comes with 3-band EQ, one ¼ inch input, three ¼ inch outputs (8/16 ohms), and one ¼ inch footswitch I/O (reverb). The reverb runs parallel to the tone stack, staying out of the circuit when not being used.
The Custom USA-made Mercury Magnetics transformers deliver vintage sound, while the output transformer makes it easy to tone-tweak by swapping tubes. The simple gain, treble, midrange, bass, and volume controls unleash a surprisingly wide range of tones, and the power level control helps your pedals sound awesome whether the volume is loud and proud or whisper quiet.
7. Diezel D-Moll 100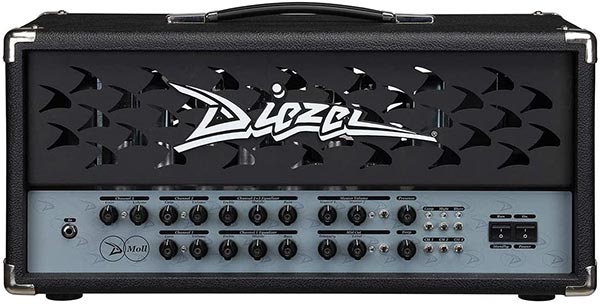 Estimated Price: $3100
Output Power: 100 watts
Number of Channels: 3
Tube Configuration: 6 x 12AX7, 4 x JJ KT77
Configuration: Amp head
My Review: This amp head delivers Diezel's flagship Herbert's three-channel versatility, tight precision distortion, and flexible switching in a compact, 100-watt package. All three channels are distinctly voiced for any recording session or gig, with their own voice and gain level controls. Channel 1 is sparkly clean and pristine; channel 2 delivers crunch and metal, while channel 3 has a fat, low-mid focus. The master Midcut circuit really lets you shape the amp's character. If you add in a Diezel footswitch or MIDI switcher (not included), you can program up a detailed tone for instant recall. There's also the presence and deep controls, as well as two master volumes that are switchable. Lots of tone-tweaking potential, in an easy-to-use amp.
The D-Moll comes with 3-band EQ, one ¼ inch input, and an impressive six ¼ inch outputs (2 x 4 ohm, 2 x 8 ohm, 1 x 16 ohm, and a compensated out). There are dual effects loops (serial and parallel), MIDI I/O (in and thru), and two footswitch I/Os (one XLR (Columbus footswitch) and one ¼ inch  (channel, midcut, master 2, loop and mute); footswitch not included).
High gain with 3 channels delivers a huge range of dirty sound, and the master Midcut circuit is perfect for tone-tweaking. The switchable MIDI and the dual foot-switchable master volumes deliver superior control while you're too busy using your hands to fiddle with knobs. The global presence and deep controls let you get a great tone at any volume level – perfect for any venue.
8. Fender Bassbreaker 007 Combo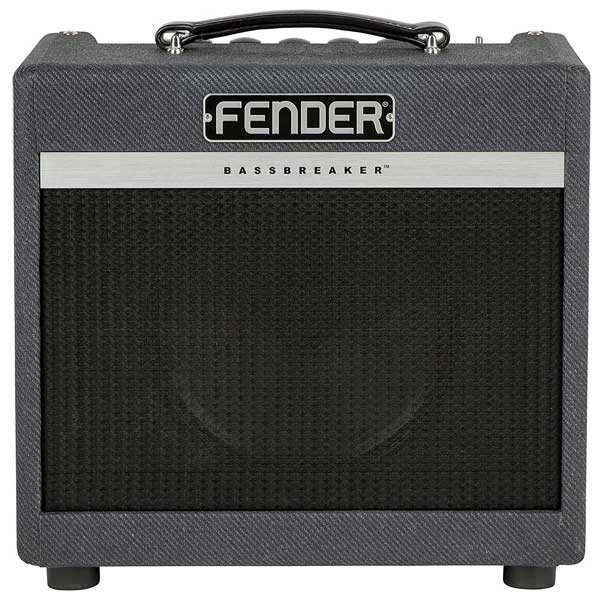 Estimated Price: $450
Tube Configuration: 2 x 12AX7, 1 x EL34
Number of Channels: 1
Output Power: 7 watts
Configuration: Combo amp
My Review: Here we'll be looking at another Fender amp. Yeah, it feels like we're including a lot of them here, but it comes as a no-brainer since they make some of the best stuff out there. This time, it's a small 7-watt amp, their Bassbreaker 007, the combo version. Although it's a continuation of those old Bassbreaker amps which had a real American-style tone, Fender came up with an ingenious idea to add some of that British flavor to the mix.
At the same time, this amp is focused on all the classic vintage features and tones. It's a regular simple single-channel tube amp that has input gain, bass, middle, treble, and master volume controls. Although this is a clean channel, you can get some serious overdriven tones when you push it over the limits. What's more, the amp comes with a treble boost switch that lets you add some of those sparkling high-ends in there. Overall, I would say this is easily one of the best small tube amps out there right now. It's worth noting the Bassbreaker is also available in 15W, 30W, and 45W combo versions as well as amp head versions.
9. Marshall DSL100HR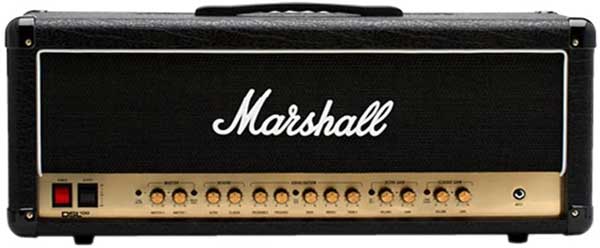 Estimated Price: $900
Tube Configuration: 4 x EL34, 4 x ECC83 (or 12AX7)
Number of Channels: 2 channels, each with 2 modes
Output Power: 100 watts
Configuration: Amp head
My Review: It's really hard not to mention Marshall amps on any kind of list related to guitar amplifiers. This is the Marshall DSL100HR model amp head. As the name already suggests, this amp comes with a total of 100 watts of output power. And, as you may have noticed from the image above, it comes with a classic Marshall design and a lot of the classic features and traits that you'd expect from the legendary amplifier company. The moment you see it, it screams Marshall.
And the same could be said about its tone. While it's quite versatile and allows you to shape the tone for almost any genre, it manages to pronounce those punchy heavy mids that most guitar players adore. With its detailed controls, it's possible to add either lower or higher mids in the mix.
The amp comes with two channels and two modes for each of them. The clean channel can either have those bright sparkling cleans or slightly overdriven crunchy tones. The distorted channel covers anything from smooth overdrives and up to soaring heavy leads. Each of the channels also comes with independent individual controls for volume and gain.
Of course, since this is a Marshall amp that reflects on the old classics like the JCM800, we have four EL34 tubes in the power amp section, as well as four ECC83 tubes in the preamp, which are essentially the same thing as 12AX7 tubes.
Aside from the presence control, that shapes the tone through the power amp, we also have the resonance parameter that adds some "spaciousness" to the tone. As you can see from all the things that we listed here, the amp comes with an abundance of possibilities and suits any genre that might come to mind. After all, you can't ever go wrong with Marshall, no matter the price range.
10. Laney IRT120H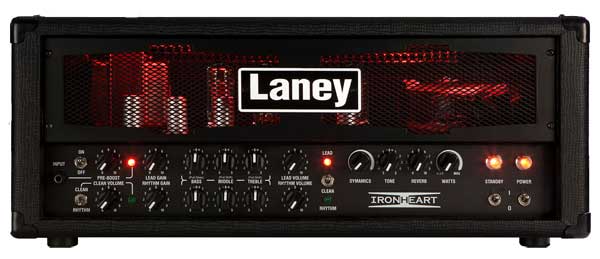 Estimated Price: $1500
Tube Configuration: 4 x ECC83 (or 12AX7), 4 x 6L6
Number of Channels: 3 and additional boost
Output Power: 120 watts with additional power attenuation feature that lets it work at as low as 1 watt of power
Configuration: Amp head
My Review: Plenty of big guitar names in rock and metal music, as well as all of their subgenres, prefer to go with Laney amps, one of them being none other than Black Sabbath's Tony Iommi. For this list, we have a fine example, Laney's IRT120HT model. But although many musicians associate these kinds of amp models with heavier music, we'd still argue that it's way more than just that.
The IRT120HT model is designed as a modern tube-driven amplifier that combines the qualities of classic tube-driven devices as well as modern demands for heavier tones, for instance, the heavy chugging riffs and soaring lead sections.
In it, we have four classic 6L6 tubes in the power amp, all accompanied by four ECC83 tubes in the preamp section. And while we're on the topic of preamp sections, the one on this amp comes with three separate channels labeled as clean, rhythm, and lead. Each of these has an individual 3-band EQ control section, as well as a push and pull option on the mids parameter that adds a significant boost to the mid-section of the audible spectrum. There's even a special clean pre-boost that doesn't add distortion but rather a clean boost. What's more, the amp comes with an additional footswitch that lets you shift through the channels and turn a few other features on or off.
With all this said, it's pretty obvious that the amp is easily tweaked to bring in almost any type of tone. While you may not get those smooth vintage blues tones like with the Fender Pro Junior IV or any amplifier of a similar type, you'll still be able to have a nice variety of tones. But, as we already said, heavy stuff is this amp's biggest strength.
11. Blackstar HT Venue Series Stage 112 60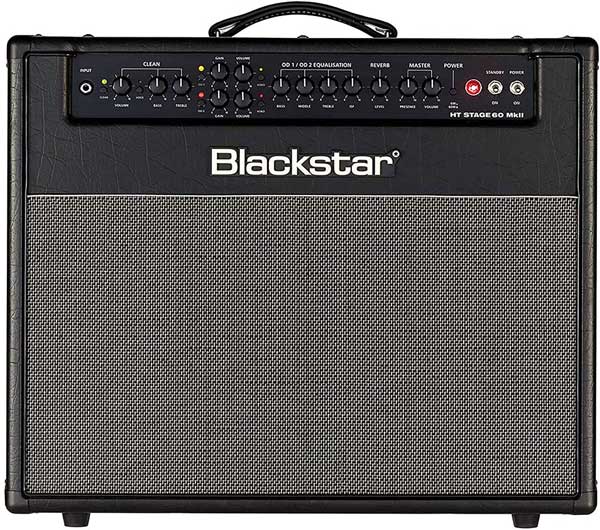 Estimated Price: $950
Tube Configuration: 2 x ECC83 (or 12AX7), 2 x EL34
Number of Channels: 3 with additional boosts
Output Power: 60 watts
Configuration: Combo amp
My Review: Blackstar comes as another one of the most famous brands, both with solid-state and tube-driven amplifiers. Of course, they also do some pedals, which may not be that famous, but still do more than a great job. But what we're interested in here is their combo amp HT Venue Stage 112 60 model from the company's Venue series.
The idea behind this one was to have something as close to those "boutique" amps at a more reasonable price level. Needless to say, the guys from Blackstar managed to take it there without much effort thanks to decades of their experience in the industry. The amplifier is armed with two EL34 vacuum tubes in the power amp and two ECC83 tubes in the preamp section. But although the EL34 would put it into the "British" category, the Stage 112 60 model has a feature that switches between British and American modes. This isn't something that you find every day, especially with a combo amplifier of this price level.
As for the channels and features, we have a clean mode and two distortion modes. These cover anything from sparkling "boutique" clean tones, and up to heavy leads. This is another example of Blackstar's greatness as this amp brings in a lot of versatility, maybe even the most in its price range. We have master controls for volume and reverb and both of the channels also come with individual volume level and EQ controls. It's also equipped with a Celestion speaker 12 inches in diameter, which also brings a natural boost to the bottom end of the audible spectrum. If you need something versatile for live gigs and don't feel like bothering with bulky head and cabinet formations, this is the one that you'll want to go with.
12. Vox AC30S1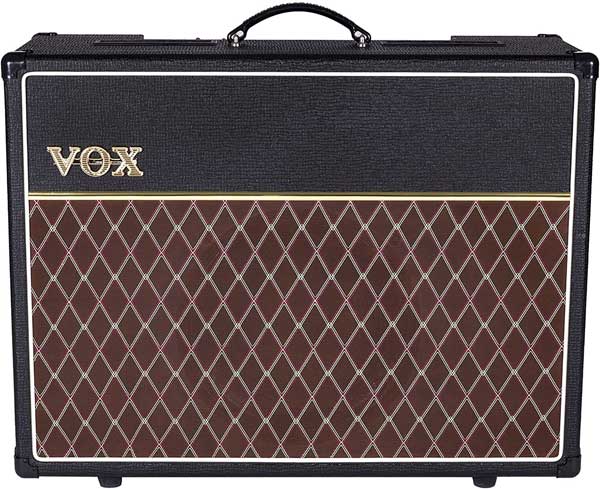 Estimated Price: $900
Tube Configuration: 2 x 12AX7, 4 x EL84
Number of Channels: 1
Output Power: 30 watts
Configuration: Combo amp
My Review: What Vox did for the world of guitar and guitar amplifiers is very unprecedented at times. While over the years they've innovated and added a lot of new features and improved their amps' and pedals' overall performance qualities, you can still hear the classic traits in their tone and operation. We can definitely notice that with their AC30S1 amp model which is a continuation of their classic old AC30 model that famous guitarists are known for, including the legendary Queen's Brian May.
What this amp retains is the essential quality of the classic British tone with pronounced mid-section and those crunchy sparkling overdrives. The classic tone is thanks to the inclusion of two EL84 tubes in the power amp section. Combining it with classic 12AX7 preamp tubes, we can get a lot of stuff going on in here. But what we think this amp does the best is the classic rock style and those old-school types of metal tones, what you'd hear with some 1970s bands.
As far as the controls and its layout go, things are pretty simple. Weirdly enough, the amp comes with just one channel. But don't let that trick you as you can do more with it compared to some amps with two or three channels. There are controls for master volume, master reverb, a 2-band EQ (bass and treble), and input gain. Now, clean tones are achieved when you put the input gain somewhere in the lower territories. Of course, this amp on a clean setting will break just a little if the volume is on a higher level. However, push its gain way up high and you'll get some serious riffage and soaring lead tones going on with its 30 watts of output power and a 12-inch Celestion speaker. Vox's AC30S1 is an unusual but very powerful combination of old-school and even some modern tones.
13. Hughes and Kettner GM40DH GrandMeister Deluxe 40


Check Amazon Price
Estimated Price: $1480
Tube Configuration: 3 x 12AX7, 4 x EL84
Number of Channels: 4 with 128 user-made presets
Output Power: 40 watts with attenuation to 20 watts, 5 watts, and 1 watt
Configuration: Amp head
My Review: We could spend days and multiple articles praising the greatness of Hughes & Kettner and their professional-level amps and other devices. Even within the lower price ranges, these amplifiers do a mind-blowingly great job at delivering tones of all kinds. The one amp that we're looking at here is their GM40DH, also known under the name of GrandMeister Deluxe 40.
This seemingly simple and compact amp head has more to it than the first glance might suggest. First off, it has a total output power of 40 watts. However, it comes with an attenuation feature that lets you choose a few other different modes – 20 watts, 5 watts, and even 1 watt. This makes it suitable for anything from late-night practice sessions in your bedroom and up to bigger live gigs.
Looking at the amp's front panel, we can see its powerful tubes, specially tested according to the Hughes & Kettner standards. Here we have a combo of three 12AX7 tubes along with four EL84s. Interestingly enough, it comes with four channels and basic controls helping you shape its tone in many different ways. But what makes things quite exciting here is the option to save up to 128 different presets that you can recall at any time with a footswitch, both on stage and in the studio. The footswitch is not included, but it's a worthy investment for such an amplifier and you can always get Hughes & Kettner's FSM-432 MK III.
In short, this amp head is extremely powerful and versatile. Yes, it's kind of expensive, especially knowing that it has only 40 watts, as you'd expect much more for this price. However, it's more than worth every single dime. If you're ready to splurge out a larger sum and need something at a professional level for both studio and stage settings, this is the one worth considering.
14. Marshall JTM45 2245

Estimated Price: $2500
Tube Configuration: 3 x ECC83 (or 12AX7), 2 x 5881
Number of Channels: 1
Output Power: 30 watts
Configuration: Amp head
My Review: Knowing the legendary status of Marshall as a company and what they have done over the years, it's impossible not to include several of their amplifiers on this list. Looking at their incredible arsenal of tube amplifiers, one model strongly stands out in our view and that's Marshall's JTM45 2245.
Sure, it definitely doesn't fit under the affordable category for many, and you need to pair it up with a good set of speakers in a nice cabinet, but this is an incredible tube amp that packs that classic Marshall crunch in a 30W head amp. It has one channel, just like Vox AC30S1 that we discussed. We have a standard 3-band EQ on it, along with a presence control knob, as well as high-treble control. This way, you can make those extremely bright tones that are great for lead sections in pretty much any genre. At the same time, you can push its gain knob and achieve those harmonically rich distorted tones.
However, in our opinion, it works best when you pair it up with a nice overdrive pedal, something like the classic Tube Screamer. With this kind of addition to your setup, you'll be able to push its preamp and power amp tubes to the "boiling point" and achieve those modern-styled high gain tones. If you're a fan of the 1980s metal, this would be the setup to look for. And even though it bears only 30 watts, it's worth the price and easily one of the best tube amps out there.
15. Peavey Invective 120

Estimated Price: $1800
Output Power: 120 watts (half-power switchable)
Number of Channels: 3
Tube Configuration: 6 x 12AX7, 4 x JJ 6L6GC
Configuration: Amp head
My Review: The Invective 120 is also packed with features that are perfect for guitar players seeking tonal flexibility; the noise gate boasts super-fast response, while the half-power switch makes it a great amp for small and large-venue gigs alike. The amp comes with dual footswitchable effects loops for instant tone recall, and dual 9-volt, 500mA outputs. There are plenty of switching options, so you can get your tones ready quicker with less fiddling at rehearsals or gigs. The Invective 120 comes with a tough, durable footswitch accessing almost every onboard feature: switch your loops, channels, noise gate, boosts, and more; or switch over to one of the nine presets to completely change your tone with just one stomp. There's also MIDI functionality, for even more powerful switching that integrates into larger setups, and MSDI Direct Output, sending high-quality cab-sim signal direct to your front of house or your recording console, with controls for level, tone, and ground lift.
This amp comes with two 3-band EQ, one ¼ inch (instrument) input, two ¼ inch outputs (4/8/16 ohms), and one XLR (DI out). There's MIDI I/O (in. out and thru) and an impressive 10-button footswitch (8-pin DIN). It features gate threshold control, a 500ma pedal power supply, and bias test points.
This diverse genre-bending three-channel all-tube amp head is the signature amp for Periphery's Misha Mansoor, shifting easily from sparkling cleans to thunderous high gain and massive distortion, with crunch and lead channels voiced after Peavey's iconic 6505 tube amp line. The clean channel delivers a perfectly clean tone no matter your volume level, while the footswitchable options lets you push it more; no matter how much gain you're looking for, the Invective 120 delivers.
16. Wampler Bravado 40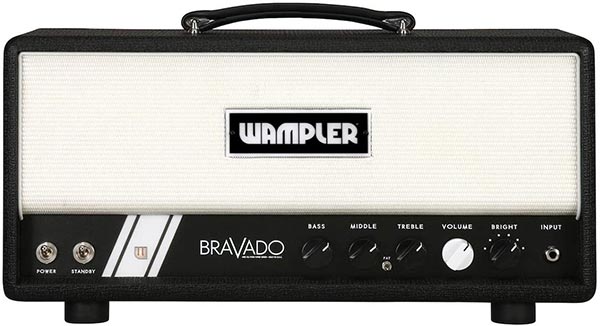 Estimated Price: $1900
Output Power: 40 watts
Number of Channels: 1
Tube Configuration: 1 x 12AX7, 1 x 12AT7, 2 x 6L6, 1 x 5AR4
Configuration: Amp head
My Review: This 40 watt tube amp head delivers crystal clear, vibrant tube tone. The Wampler brand is known for playing nicely with pedals, and the Bravado 40 fits the bill! Under the hood, you'll find 6L6 power tubes offering up clean headroom across the volume range. There's a bright switch with six positions to choose from, bass, middle, treble tone controls to fine-tune the response to your guitar and pedals, and a Fat switch for low-end power. With rich, detailed harmonics, your pedals will sound amazing with this amp.
This amp head works well with pretty much any speaker cab and comes with a knob to select from 4, 8, or 16 ohm operation. There's also an output that lets you connect another cabinet, offering up some very attractive possibilities. The Bravado comes with 3-band EQ, 6-position bright switch, one ¼ inch input, and two ¼ inch outputs (4, 8, and 16 ohms).
The onboard custom active effects loop is designed by Brian Wampler in collaboration with none other than amp guru Dave Friedman, the man behind the signature tones of rock icons like Eddie Van Halen. The delay and reverb effects deliver depth and detail, and the modulation effects give some seriously full dimension to your pedals and rich, nuanced tone regardless of your volume level.
17. Blackstar HT-1R (Best Cheap Tube Amp)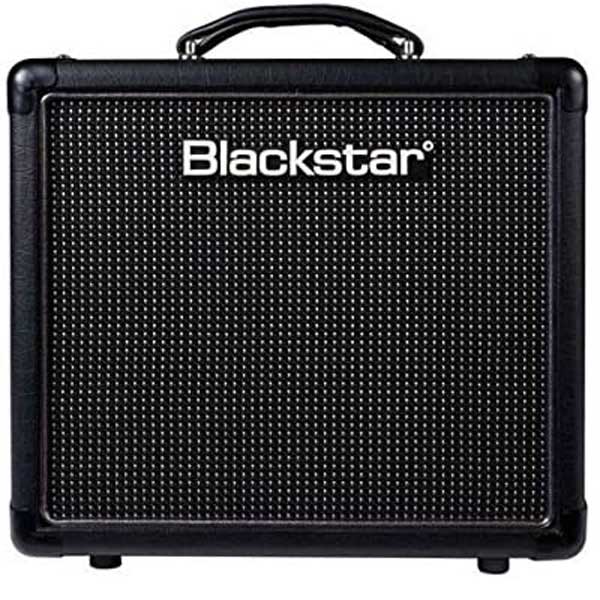 Estimated Price: $300
Tube Configuration: 1 x ECC83 (or 12AX7), 1 x ECC82
Number of Channels: 2
Output Power: 1 watt
Configuration: Combo amp
My Review: We discussed how tube amps can be loud if you want to use their full potential, even at lower wattages. This makes it rather difficult for those who want to practice at home or have relatively quiet jam sessions. You could buy a tube amp with a power attenuation feature, but you'll spend much more than you want if you just need a small quiet amp. For this purpose, we're bringing in Blackstar's incredible HT-1R. And, believe it or not, it has just 1 watt of output power.
But despite this low power, the amp can achieve some amazing tones. What's more, it's pretty versatile for something that has just 1 watt of power and only essential controls. But aside from master volume, 1-band EQ (essentially a tone knob), input gain, and reverb controls, we have a clean and distorted channel, as well as a voicing switch. This voicing switch is especially interesting as it completely changes its tone.
As far as the tubes go, this little beast comes with a somewhat unconventional combination. There are only two tubes in it. The one in the preamp is the standard ECC83 that's interchangeable with 12AX7. As for the power section, it comes with ECC82.
What's more, the amp comes with a USB connection feature. This way, you can implement it as an audio interface and record music on your computer in real-time with top-level sound quality. And, interestingly enough, there are some surprisingly great tones that you can get out of it for even pro-level recording sessions. However, its best use comes as a practice amp for those who love to have a warm tone and dynamic response in these settings as well. If you're looking for the best cheap tube amp this is a good option.
18. Laney CUB-10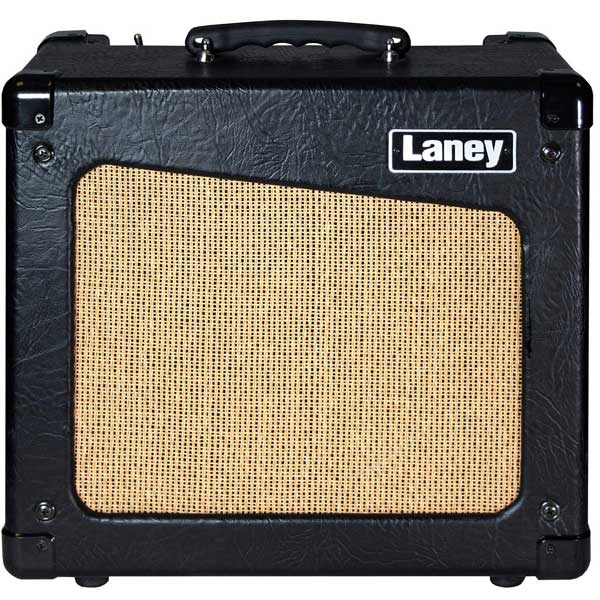 Estimated Price: $360
Tube Configuration: 2 x ECC83, 2 x 6V6
Number of Channels: 1
Output Power: 10 watts
Configuration: Combo amp
My Review: Knowing their reputation for quality, it's no surprise to see yet another Laney amp on this list. However, this time we're going into something a bit different than the first Laney we looked at. Unlike the previous model that was primarily high gain focused, here we have something more vintage oriented. This is the Laney CUB-10.
Loaded with two ECC83 tubes in the preamp section and two EL84 in the power amp section, it comes with a total of 10 watts of output power. While this seems like it's not much, the amp can really break into some loud territories and cut through the mix with its punchy tone. Don't ever underestimate such an amp as it can also get louder than drums and other instruments in some settings.
The commitment to this model to the vintage feel continues with the controls and the overall layout. Laney CUB-10 comes with only three basic knobs – master volume, tone, and gain. At the same time, we have two separate inputs that let you choose between a low-gain and a high-gain mode. It would be nice if there was an additional feature like a reverb effect. However, the idea behind this amp is to have it completely clean of any additional effects and features. All you need to do is just crank the volume up high, set the gain and tone knobs the way you want to, and you're all set to rock out. An additional overdrive pedal can take it into some pretty harmonically rich territories.
Looking at its schematic, this amp is equipped with two ECC83 tubes in the preamp and two classic "American"-style 6V6 tubes in the power amp section. In the end, it drives a 10-inch speaker. Great little amp to capture those vintage blues and blues-rock tones that many guitarists adore.
19. Egnater Tweaker 40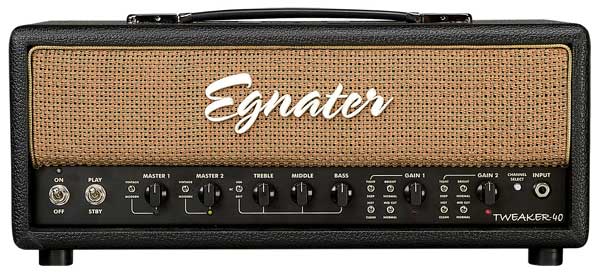 Estimated Price: $600
Tube Configuration: 3 x 12AX7, 2 x 6L6
Number of Channels: 2
Output Power: 40 watts
Configuration: Amp head
My Review: While Egnater is not exactly a widespread brand as some others that we mentioned here, there are plenty of quality "boutique" amps in their arsenal. The one that we want to look into is the Egnater Tweaker 40. This is a fairly compact amp head that comes with (as its designated name would suggest) 40 watts of output power.
The amp has a somewhat of a vintage look, but this shouldn't fool you. In fact, it's pretty versatile when it comes to the tone-shaping process. Tweaker 40 comes with two completely independent channels with their own separate controls. Its 3-band is shared, but the volume, gain, and some of its switches are tied to individual channels. As for these switches, we have "vintage" and "modern" modes next to the volume controls. Then there's a master switch that lets you pick between classic British or American tones. Going further into these controls, there are switches for numerous tone-shaping features, including the tightness in the low end of the spectrum, mid-cut, and many others.
Taking a closer look at its tubes, it comes equipped with three 12AX7 tubes in the preamp and two 6L6 tubes in the power section. Although this is somewhat of an "American" amp trait, Egnater Tweaker 40 manages to cover both classic styles with ease. This particular feature, as well as its many other switches, is what makes this amp pretty popular among guitar players of various musical styles. In fact, this comes as somewhat of a "premium" choice for professional guitar players, both for studio settings and live gigs. And, the most surprising part is that it's not that expensive considering its qualities.
20. Fender Super Champ X2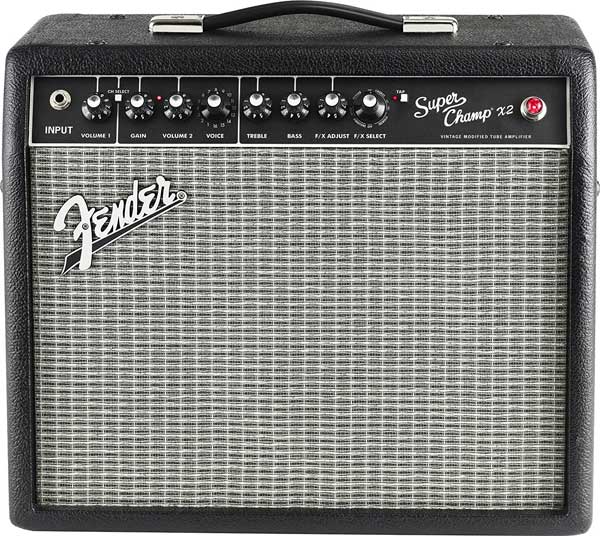 Estimated Price: $400
Tube Configuration: 1 x 12AX7, 2 x 6V6
Number of Channels: 2
Output Power: 15 watts
Configuration: Combo amp
My Review: There's no denying Fender has made some amazing amps over the years, and they've done it within just about any price level. Seeing another one of their tube amps here should be no surprise at all. Now we have the traditional successor of their legendary Champ series, their Super Champ X2 version. Although intended as somewhat of a budget-friendly tube amp, it manages to reach the tone qualities of even some more expensive amps on the market.
Coming with 15 watts of output power, Super Champ X2 has a basic configuration with one 12AX7 preamp tube and two 6V6 power amp tubes. Now, the amp comes with some expected basic controls. We have a 2-band master EQ, volume knobs for individual channels, and gain control for the second channel. However, we can also find a control that lets you choose between 16 different "voicings." These are essentially 16 different amp types that Super Champ X2 emulates. Additionally, you can add effects to the equation and set the intensity.
While this most certainly a versatile amp, it's mostly a feature intended for budget amps. But, at the same time, Fender's Super Champ X2 manages to pull off some seriously great tones. If you love tube amps and need a clean "platform" for your pedals, this would be an ideal budget-friendly option for you. At the same time, if you want something that would help you add an effect here and there and allow you to have more options for your tone-shaping process, it also comes as a great choice. What's more, you can also connect it via a USB connection and use the amp as an audio interface.
21. Bugera Infinium V55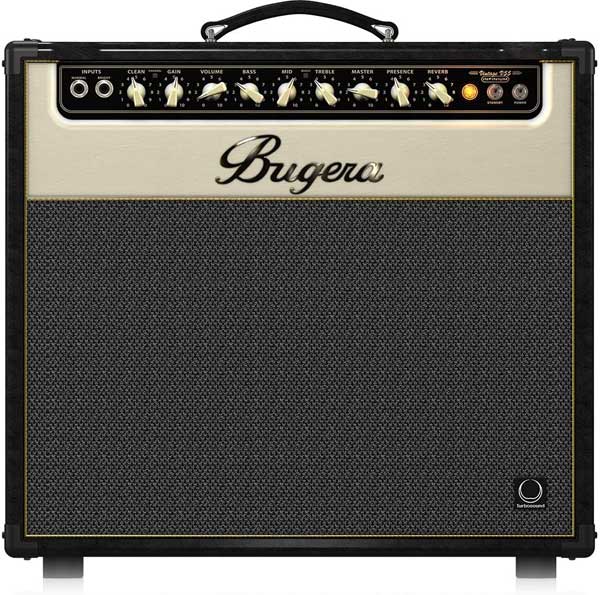 Estimated Price: $530
Tube Configuration: 3 x 12AX7, 2 x 6L6
Number of Channels: 2
Output Power: 55 watts
Configuration: Combo amp
My Review: We already mentioned one of Bugera's more modern-sounding models. But here we're looking at their Infinium V55 which brings us back to those classic blues and blues-rock tones. Of course, when paired up with an overdrive pedal like a Tube Screamer, this one can do absolute wonders, even for some heavy metal stuff.
As the name suggests, the amp comes with a total output of 55 watts. The wonderful tone that it produces comes from three 12AX7 preamp tubes and a couple of 6L6s in the power amp section. Of course, a huge component of its tone is its specially designed Turbosound speaker that's 12-inches in diameter. All these traits make it a little heavier on the bottom end, which is perfect for those vintage smooth bluesy tones.
We have a pretty useful boost for the distorted channel which manages to change the tone a little by driving the amp's tubes over the edge. What's also useful is that the amp comes with a direct output, which you can use for both recording sessions and live shows. Along with its controls and features, this amp provides a lot of versatility. Sure, it's intended as a blues or blues-rock amp, but you can also use it for jazz, hard rock, and even many subgenres of heavy metal.
22. Bogner Ecstasy 101B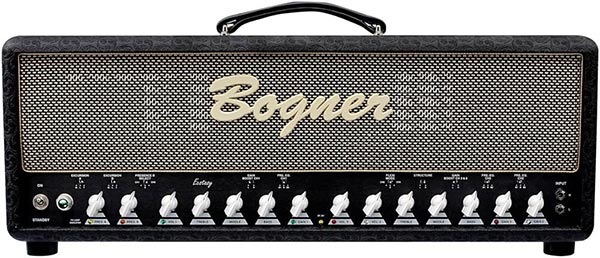 Estimated Price: $3850
Output: 100 watts
Number of Channels: 3
Tube Configuration: 4 x 12AX7, 6 x EL34
Configuration: Amp head
My Review: This 100-watt three-channel all-tube head amp offers up the best of British and American tone, with the sound and character of two great amp configurations in one! The amp can be switched between Class A and Class AB, for more tonal versatility, as well as assignable presence controls, variable power (half and quarter), and a buffered effects loop. Thanks to the 7-button footswitch, you don't need to spend as much time fiddling with knobs to access great tones from decadent cleans to harmonic-rich, high gain overdrive. What's more, Bogner amps are known for being carefully handcrafted with the best components and materials, for tonal quality, durability, and a great look.
You'll find 3-band EQ, one ¼ inch input, two ¼ inch speaker outputs, and a ¼ inch line output, effects loop, and a 7-button footswitch (channel 1, channel 2, channel 3, boost 1, boost 2, effects loop, standby, and mute). Channel 1 comes with gain, bass, middle, treble, volume, pre-EQ and boost' channels 2 and 3 include gain 2 & 3, bass, middle, treble, volume 2 & 3, pre-EQ 2 and 3, gain structure, gain boost, and Plexi mode.
With 100 watts and 3 channels to choose from, you can definitely stand out on stage. The footswitch makes it easy to navigate through while you play. The effects loop is ideal for all your pedal needs, so between that and the gain boost, Plexi mode, and gain structure, you'll have plenty of options to create a unique and interesting sound.
23. Rivera KR7 Top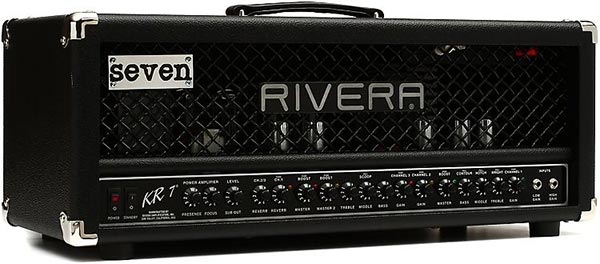 Estimated Price: $3000
Output Power: 120 watts
Number of Channels: 3
Tube Configuration: 5 x 12AX7, 4 x EL-34
Configuration: Amp head
My Review: This 120-watt high gain head amp is ready for studio recording and gigging alike and is popular for its massive sound, deep tones, and tight low end that are just right for hard rock and metal; in fact, it was designed with input from Mick Thomson from Slipknot! It's power variable between 15, 30, 60, and 120 watts of output, so you can get the tones you're looking for even at lower volumes. The scoop switch offers a thicker voicing to channels two and three, and the advanced feature-rich I/O gives you a whole lotta flexibility in terms of configuration. With a line-level output from the power amp section, you can record directly, meaning you'll capture more of the tonal quality without needing a mic.
The amp's I/O also includes an effects loop with input/output volume controls. The KR7 guitar amp head also includes a Headmaster MIDI pedal, so you can switch channels hassle-free, activate the reverb and effects loop, and turn boost functions on and off. You can also hook your KR7 head up to other MIDI-enabled amps for max flexibility and control. There's also a subwoofer output to make the most of the amp's low end, and each channel comes with switchable boost control. There's 3-spring Accutronics reverb on board to add harmonics and depth to your sound.
The components on this amp are high quality (military-grade, in fact!) and with its nickel-plated steel corners and welded steel chassis, it's durable enough to handle life on the road. You'll get massive high-gain tones with a tight low end that are perfect for metal, while the intuitive tone controls on this amp make it easy to dial in for any guitar and effects rig. The subwoofer output is perfect for those bass tones; while switchable wattage lets you achieve great tone whether you're playing in the studio or to a crowd.
24. Vox AC30HWHD 30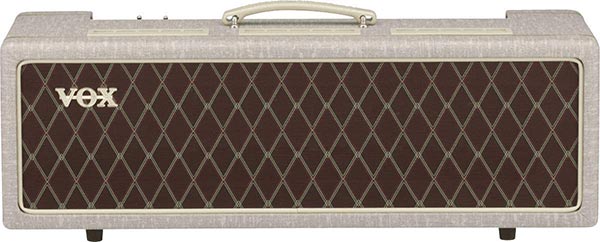 Estimated Price: $1300
Output Power: 30/15 watts
Number of Channels: 2
Tube Configuration: 3 x ECC83/12AX7, 4 x EL84, 1 x GZ34
Configuration: Amp head
My Review: This 30-watt hand-wired two-channel Vox amp head delivers that classic, beloved Vox tone that's synonymous with the British Invasion and has become part of music history. With its vintage-looking oxblood grill cover and fawn-colored vinyl, it boasts a retro look that you'll be proud to show off. There's a top boost channel that has a hot/cool switch for even more gain and a normal channel with a bright switch.
The AC30HWHD comes with 2-band EQ, two ¼ inch inputs for high/low normal ch, and two ¼ inch inputs for high/low Top Boost channel. There are two ¼ inch outputs (8/16 ohms), and a ¼ inch footswitch I/O (hot/cool switch; 1-button footswitch included). The amp also comes with a custom-fit dust cover and a VOX custom speaker cable.
This amp has a hand-wired turret board assembly with an all-tube design (three ECC83/12AX7 preamp tubes, four EL84 power tubes, and a GZ34 rectifier tube). They're all matched Ruby Tubes, for perfect tone and serious dynamic range. The OP mode switch lets you drop the power level by half, for great tone at lower volumes.
Choosing the Right Tube Amp (Buying Guide)
So before we get into exact models, it's important to see what are the most notable traits for tube amps. It doesn't always come down to overall qualities but also what you're aiming for. For instance, you can have two equally great tube amps but that are designed to cover completely different sonic territories. Some other traits and features are also about practicality and maintenance. Either way, let's see – what are the most important things to think about when you're buying a tube-driven guitar amp?
What Is a Tube Amp?
We should first define what tube amps are. Also referred to as valve amps, these are electric amplifiers that utilize vacuum tubes (or tubes) in the circuitry to increase the overall power of the guitar's input signal. We call this the "pre-amp" stage of the amp. Before the invention of transistors in the late 1940s, high-frequency amplifiers ran on vacuum tubes. The first uses of vacuum tubes go back to the early 20th century when they were first known as diodes. As the technology developed, we could see it implemented in amplifiers of all kinds, including long-distance telephone lines and even radios and television sets.
Aside from hi-fi amplifiers for entertainment systems, vacuum tubes slowly found their way into guitar amplifiers. Due to the very nature of tubes, and with the development of SET (single-ended triode) tubes, the tone of these amplifiers was very specific. If you pushed the volume up high, you'd get distortion, and the harder you played, you'd get even more "dirt" in there. This occurs due to every amp's limitations and the guitar signal gets clipped, causing it to sound distorted.
In short, a vacuum tube is an electronic switch. Diodes are much simpler examples of vacuum tubes, carrying electrons from its cathode to a plate. As already mentioned, tubes used for guitar amps and other devices are SET tubes.
It's also worth noting that guitar amps will have a preamp section, as mentioned above, and power amp sections. When it comes to tube amps, these two sections utilize different types of vacuum tubes. In most cases, the main characteristics of your sonic output are shaped in the preamp section, although the power section can add some characteristics to it as well. When you hear a guitar amp referred to as a "hybrid" amp, this is referring to an amp design that utilizes tube-driven preamp sections with a solid-state power amp section. There have been some rare instances where manufacturers did the opposite and made amps with solid-state preamps and tube-driven power amp section, although these are much less common.
What Makes Tube Amps so Special?
And what is so special about those guitar amps that utilize vacuum tubes? In short, Tubes cause distortion in the sonic output when overdriven. While the engineers consider this to be a major drawback for most electronic applications, guitar players and music fans have adored this tone for decades. Of course, it was not easy to create tube-driven distortion as we know it these days, but the tone was still pretty warm, loud, and "dirty," which is what eventually helped create rock 'n' roll music and other genres and subgenres as we know them today that have emerged from it.
These days, tube amps are still highly valued, even those that were made way back in the 1950s and the 1960s. One of the strongest characteristics of tube amplifiers is their dynamic response. So what does this actually mean for an average guitar player? Fundamentally speaking, It means as you drive the amp harder your signal will become more distorted. Even if you're playing on a clean channel, if you push the volume or input gain levels on your amp, you'll experience at least some distortion in your tone, especially if you hit the strings harder. On higher-gain and harder-clipping distortion, you won't notice it as much compared to smoother overdriven settings since the signal is more compressed. But it still brings some dynamic response and warmth in the equation.
Tube guitar amps are more expensive and also require maintenance since you need to replace the tubes after a while. They're also more fragile and their tone might not be as consistent compared to solid-state amps since the tubes wear out after a while. However, their pleasing tone and dynamic response still make them very popular among guitar players of pretty much any genre.
Output Power and Power Soaking
One thing that you'll notice about tube amps is that there are a lot of pro-level products that have lower wattage. The thing is that, due to specific frequencies that they cover, tube amplifiers sound/are perceived to be much louder compared to solid-state amps at the same exact output wattage. So even if you're playing at home, a tube amp with 5 watts of output power can be too loud if you play it at 50% of its maximum volume.
And here's the catch with tube amplifiers – you can't always just play them at lower volume levels and expect them to produce the tone you're looking for. They need to be pushed a little if you want to use their full potential. And if you do push a tube amp with higher output wattage, things can sometimes get too loud, even in band settings and during live gigs. This is why experienced live guitar players often go with tube amps that have between 20 and 50 watts of power.
Since the problem with high output volume even at lower wattages can present the issue, and you can't get their full potential at lover volume settings, many tube amps these days come with a power attenuation feature. Also known as the "power soak," it's usually in the form of a switch with two or more positions. You can either select the option to use the amp's full output power, or you can go with a lower wattage. In many cases, there are options to "soak" the power down to 1 or even 0.5 watts and get their full sonic potential even at a bedroom-friendly volume level.
Deciding on the amp's wattage depends on what you're aiming for. If you need something for practicing at home, then 1 to 5 watts will be more than enough. Smaller live gigs for blues and jazz players can be done with 2 to 20 watts, while rock and metal musicians usually prefer to have 50 or more watts with their tube amps. If you're aiming for something that can cover different settings, then it's the best idea to have a tube amp that can work at different output power levels.
Types of Tubes
Tube amplifiers also come with a different configuration of vacuum tubes. The traditional categorization is on "British" and "American" amps. Very common in tube amplifiers these days are 12AX7 tubes in their preamp sections, and that goes for both of these categories. Of course, these tubes are pretty much identical to ECC83 tubes, and you'll often stumble upon this designated name when looking to buy tubes or amps. The main division on traditionally "American" and "British" amps comes down to the types of tubes used in the power amp section. The American amps, like Fender, come with 6L6 power tubes, while the British ones implement EL84 or EL34. Amps with 6V6 power tubes usually have a slightly smoother tone that's focusing on the lows and low mids. And those with EL84 and EL34 tubes usually have a "punchier" tone that's rich in the higher mids areas.
But, of course, there are other types of power amp tubes to look into aside from these basic ones. 6V6 tubes are also common with some smaller "American"-style amps, while some manufacturers also implement KT66 and 6550 tubes as well. KT66 is interchangeable with standard 6L6 tubes, although they add a different character to the tone by giving a bit more volume and heaviness in the lower end. The 6550 tube is interchangeable with EL34 and gives a slightly louder output and adds some smoothness to the tone.
But even though these different types of vacuum tubes have their own characteristics that they add to the tone, the same model made by two different manufacturers can also add a noticeable difference to the sonic output. If you want a consistent tone over time, it's always the best idea to go with one particular brand of the same tube model that works the best for your needs.
Many amps also include rectifier tubes. These usually don't make a significant impact on the tone compared to preamp and power amp tubes but are also important to the overall output.
Amp Head With Cabinet or Combo Formation
Just like with solid-state amps, one of the biggest concerns is whether you're going to go with a combo amp or an amp head and a cabinet formation. While this usually comes down to personal preferences, there are some important things to consider here. Firstly, combo amps are the way they are and you won't be able to experiment much with different speaker combinations unless you open up the amp and actually replace its speaker. Secondly, combo amps are somewhat limited in the sense that they come with one or two speakers vs. being about to plug into a multitude of different speaker cabinet setups.
If you decide on an amp head and a cabinet, you'll have more freedom in finding the best cabinet that fits your preferences. However, this option has two important downsides. The first one is the cost, making it significantly more expensive compared to combo amps. The second one comes down to practicality. To put it simply, it's much more difficult to carry around an amp and a very bulky cabinet compared to a simple combo amp variant.
Amp Speakers
While we're at it, the types of speakers that come with the amp or the cabinet are an important factor to look into. On tube amps, they usually go anywhere between 6 and 15 inches in diameter. However, 10-inch and 12-inch speakers are more common. The general rule is that the larger the speaker, the more bottom end you'll get with that amp. That's not always the case and it also depends on the speaker's other characteristics. You should also take care of whether the speakers are "stock" or lower-end ones, which is usually the case with cheaper tube amplifiers. Overall, speakers are not a good thing to save money on. After all, they're reproducing what the amp's circuitry and tubes are doing, and you don't want to have it ruined here, don't you?
What are Your Preferred Musical Styles?
One of the most common divisions in the world of guitar amps, and especially tube-driven amps, comes down to different genres that these amps are aiming for. Of course, there are no strict rules here and you're free to do as you will. However, some amps are more common in genres like, let's say, metal or hard rock. At the same time, there are vintage-oriented types of amps that are common among blues, jazz, or old school rock guitar players. It's usually easy to see which amp is oriented towards which musical style since they're all marketed with a specific genre in mind. Therefore, it's usually not that hard to narrow your choice down to what kind of tone you're aiming for.
Number of Channels
While amps back in the old days used to come with just one channel and two or more inputs that had more or less input gain with the same channel. Most of the tube amps these days come with two or more channels, giving you the standard clean and distorted tones. By using switches on the amp's main control panel or by using a footswitch that's compatible with your amp.
It's also important to know what individual controls you get with each channel. The basic controls usually include volume and gain, but a lot of tube-driven amps these days come with two or more channels. However, some amplifiers have completely independent EQ, gain, and other parameter controls for each individual channel.
It's usually the vintage-style amps that have only one channel and very simplified controls. In this case, you can also achieve distortion by pushing the volume or gain knobs up high and by using an overdrive pedal that will push the amp's tube over the "breaking point" and deliver some pretty smoothed out distorted tones.
Whatever is the number of channels you feel like going with, one rule always remains – the more channels you have, the more options there are for getting some diversity in your overall output.
Additional Features
Tube amps can come with additional features. These usually include effects like reverb (mostly spring-based ones), delay, chorus, and others. These can either be applied to individual channels or all of the amp's channels at once. In some cases, we even have entire digital processing units along with presets and advanced footswitches. On the other hand, you can find a tube amp with just one channel and a tone knob (treble roll-off). There's no "better" or "worse" option here, just what fits your needs the most.
Price Range
Lastly, we'd like to look into the price range. After all, this will be one of the most determining factors for your first purchase of a tube amplifier. Now, as you may know, tube amps are more expensive compared to solid-state amps. However, there are still different price categories in this field as well. Especially today when you can easily find a decent tube amplifier below $500. But the same old rule remains – better stuff will usually cost more.
The main factor that lowers the price is the amp's output power. These amps are usually smaller, simpler, have smaller speakers, have smaller power transformers, and have fewer tubes both in preamp and power amp sections. And, as you may have assumed, amp heads cost less compared to their combo amp versions of the same model. However, you'll usually end up paying more in total for the head and cabinet in the end.
If you're looking for a good tube amp that's not extremely expensive, you'll need to put aside roughly anywhere between $800 and $1,500. However, the higher-end amps with a rather smooth and warm tone usually cost around $2,000 and more, depending on their output power, features, country of origin, etc.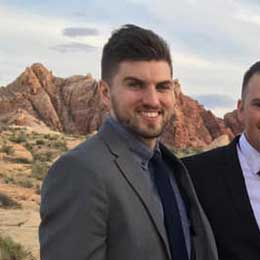 My name is Chris and I've had a passion for music and guitars for as long as I can remember. I started this website with some of my friends who are musicians, music teachers, gear heads, and music enthusiasts so we could provide high quality music related content as well as some of the most accurate and in-depth gear review and demo information on the internet.
I've been playing guitar since I was 13 (over 15 years now) and am an avid collector of all thing's guitar. Amps, Pedals, Guitars, Bass, Drums, Microphones, Studio, and recording gear, I love it all.
I was born and raised in Western Pennsylvania. My background is in Electrical Engineering earning a Bachelor's degree from Youngstown State University and with my engineering experience I've developed as a designer of guitar amplifiers and effects. A true passion of mine, I've designed, built, and repaired a wide range of guitar amps and electronics. Here at the Guitar Lobby, our aim is to share our passion for Music and gear with the rest of the music community.