Robert Johnson was for many a source of inspiration, for a few others, a reason to believe in the supernatural and the 27 Club, but for everyone, Johnson was, and still is, one of the most interesting and mysterious artists the world has ever seen.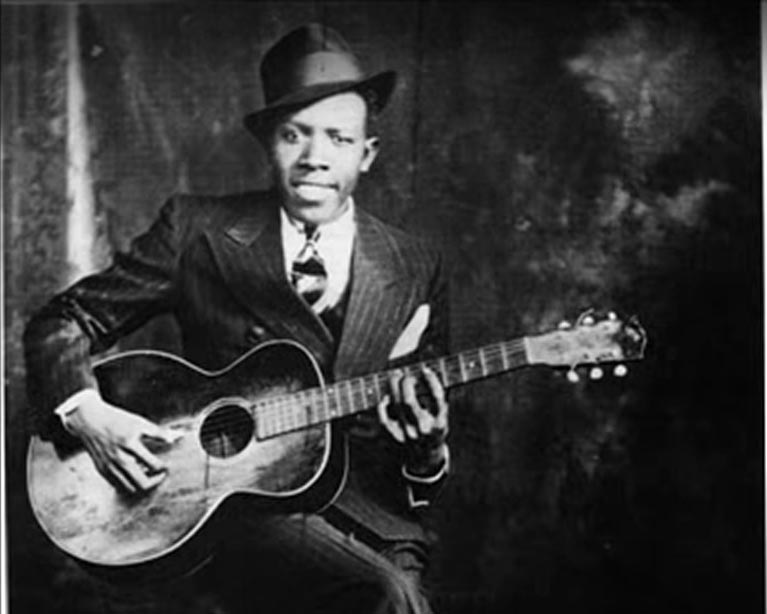 The influence Johnson had on music is still incomparable, he set the base and the standard for later genres like Rock 'n Roll and, of course, modern Blues. He had a tough time finding his way through life as an African American growing up in the south during the early 1900s, of course, it was challenging and often dangerous. This difficult early life helped him write songs about his experiences, mixed with tales of him and his relationship with the devil, to fuel the myth of him selling his soul in exchange for never-before-seen guitar skills.
Soulless or not, his progress as a guitarist was remarkable. In only one year, by all accounts, he went from a mediocre guitarist to an absolute genius. He spent a year away after a show where he was mocked and made fun of, but when he came back and blew the crowd's minds with his unreal melodies, people raised their eyebrows and gave birth to the myth that Robert Johnson had acquired his music skills from the devil himself. The truth is that he spent that year mastering Son House's style, and learning techniques from Isaiah "Ike" Zimmerman, either way, his progress on mastering the instrument was astonishing.
What Guitars Did Robert Johnson Play?
Robert Johnson played a Gibson L-1 acoustic guitar. Although he is more mystery than man, his heavy association with Gibson's early model, the L-1 can be directly attributed to one of the only known photographs of the legendary delta blues musician.
In 1994, several decades after his posthumous breakthrough into legendary status, Gibson reissued an L-1 Robert Johnson signature guitar. See the full list of known Robert Johnson guitars below.
1929 Gibson L-1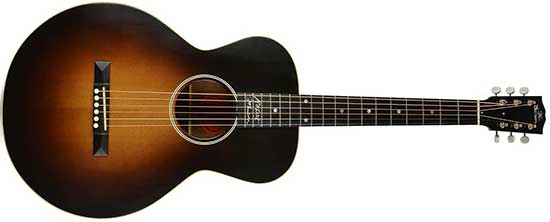 Finish: Natural spruce wood finish
Years Used: 1936 to 1937
The legendary Gibson L-1 can be seen on the cover photo of the compilation album called "The Complete Recordings" being carried by none other than Robert Johnson himself. This compilation album was produced by Don Law and released in 1990. Due to the Gibson's L-1 price, which was $50 ($1,348.76 in today's economy), it's theorized that the L-1 was never actually owned by Johnson, and it was instead lent to him in the studio.
This highly-priced flat-top guitar featured a spruce wood top and mahogany wood sides, back, and neck. It also had a 12 fretted (from headstock to the body of the guitar) rosewood fingerboard with 6 dot marks. Fixed versions of this guitar can be seen with a head plate, but the original 1929 Gibson L-1 had none.
Some people believe that the growling sounds of this guitar can be heard on the second set of songs Johnson recorded on November 27th, 1936, but specifically on the song "Cross Road Blues". Some others believe that it was unlikely because on November 27th, 1936 he was seen at the studio with a Kalamazoo arch-top. The truth is that it's impossible to know whether he recorded this song, or any of those, with the Gibson L-1 or not.
The L-1 was, and still is, heavily associated with Robert, even though it's still unknown which songs did he record with this six-string. On another hand, Gibson wanted to pay their respects to this mysterious guitarist by re-launching the production of the L-1 model as a tribute during the '90s, and re-naming the model as Gibson Robert Johnson L-1. This is certainly one of the most iconic Robert Johnson guitars.
Kalamazoo KG-14

Finish: Natural Honduran mahogany wood finish
Years Used: 1936
The Kalamazoo KG-14, produced until the fall of 1936, was the first guitar Robert recorded with. The KG-14 was allegedly bought by Johnson in Steele, Missouri. Johnny Shines, a blues musician friend of Johnson, said once during an interview when he was asked about the KG-14 guitar "It might be the one that we bought in Steele, Missouri. We bought a flat-top in Steele." The Kalamazoo brand was a branch of the Gibson company, and its purpose was to produce budget guitars. At that time the Kalamazoo KG-14 cost $12.50 (around $323.70 today). This model was very similar in shape to Gibson's L-0.
Steve LaVere discovered in the late '70s a picture of Robert Johnson with a cigarette hanging out of his mouth. The guitar that can be seen in this picture is the legendary Kalamazoo KG-14. This flat-top guitar featured a round soundhole in a 14 ¾'' body, here's where the guttural melodies were cooked and shot directly into the listener's ears. It also sported 14 frets from the headstock to the body, 5 dot markers, and a rosewood fingerboard.
The KG-14, coming from a budget brand, also featured cheap elements like bolt-on necks, a plastic pickguard, open-back strip-style tuners, and masonite wherever it was possible to add this type of engineered wood. What held the raging steel strings was a 3×3 headstock.
Music historians have theorized that, with this legendary instrument, Johnson recorded songs, such as "I Believe I'll Dust My Broom", "Me and the Devil Blues", "Sweet Home Chicago", and the "Terraplane Blues", during the San Antonio sessions on November 23rd, 1936. This theory is backed up by the fact that Robert Johnson took the aforementioned photograph on the same day of the recording.
Johnson, shortly after the San Antonio studio sessions, was arrested for vagrancy and was put in jail. It is believed that on the day of his arrest, he lost his Kalamazoo KG-14, but the fate of the guitar is still unknown. This guitar had a very short lifespan, it had to be almost brand new when he lost it. After this event, Johnson was never seen again using a KG-14.
Unspecified Stella

Finish: Natural
Years Used: Unspecified
Just like Kalamazoo, Stella used to be a brand of budget guitars, and due to the low cost of their products, it became a very popular brand during the Great Depression (1929-1939). This brand was in year 1939 bought by Harmony Company, and Stella became just one of their lines of guitars under the name of "Harmony Stella".
During an interview with Johnny Shines, he said that Robert Johnson liked the Stella guitar he owned. These were popular instruments among the bluesmen of that era, and it wouldn't be unbelievable if Johnson rocked one of these six-strings. Other musicians like Honeyboy Edwards, Robert Lockwood, William Moore, and Calvin Frazier have confirmed that Johnson played a Stella guitar. Unfortunately, there is no credible information about the model Johnson used, nor if his guitar was a resonator or a regular acoustic.
Kalamazoo KG-31 and KG-21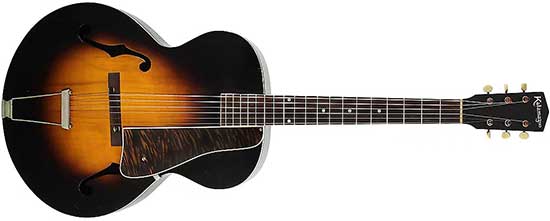 Finish: Sunburst
Years Used: 1936 to 1937
It is known that Robert Johnson had bought a Kalamazoo arch-top long before he ever bought his esteemed KG-14, but it was after his arrest when that arch-top guitar became his main one.
At that time Kalamazoo was producing only two arch-top models, the KG-31 and the KG-21. One of these two guitars was most likely played by Johnson during his second recording session in Dallas, Texas. He was seen on that day with a Kalamazoo arch-top when he recorded "They're Red Hot", "Dead Shrimp Blues", "Walkin' Blues", and others.
Even when these two guitars were produced by a budget brand, they featured some really interesting characteristics, and both of these arch-tops had very similar specs. They both had mahogany wood back, sides and neck, featured a spruce wood top, had F-Holes, and a rosewood 14 fretted (to body) fingerboard. The only two differences between these two models were the number of dot marks, the KG-31 had 6 dot marks, while the KG-21 had only 4; and the other difference was the dimensions of their bodies, the KG-31's body was 16.25'', while the KG-21 was 14.75''
He owned one of these two guitars earlier before he bought his legendary KG-14, as Johnny Shines claimed, "Johnson had an arch-top when he bought the flat-top", but to this day it's still a mystery which of these two models of guitars was the one owned by Johnson.
Some sources claim that Robert lost his arch-top Kalamazoo during a fire in December 1937, but this remains to be proven and only adds to the series of mysteries that surround Robert Johnson's entire musical career and personal life.
For some, the lack of knowledge might be saddening; but for others, it provokes a profound interest in him and the legacy he created for himself as a forebear.
Popular Related Article: Our Favorite Jazz Guitars
Table Showing Each Guitar Robert Johnson Played in His Career
| Make | Model | Color/Finish | Years |
| --- | --- | --- | --- |
| Stella | Unsecified Model | Natural | Unspecified |
| Kalamazoo | KG-14 | Natural Honduran mahogany wood finish | 1936 |
| Gibson | 1929 L-1 | Natural Spruce Wood Finish | 1936 to 1937 |
| Kalamazoo | KG-31 and KG-21 | Sunburst | 1936 to 1937 |
Wrap Up
Johnson lived a very short life but achieved an overwhelming level of greatness. It only took him 29 songs to set a new standard on the blues genre. Love him or fear him, it is undeniable that Robert Johnson was a brilliant musician, that's the reason why he served as an inspiration to other musicians who also achieved great things, some examples are Eric Clapton, Bob Dylan, and even Led Zeppelin. Sadly, Robert Johnson was never recognized for his genius during his lifetime, he became a blues icon in every corner of the world much later after his death on August 18th, 1938
As some people say "think of your guitar as an extension of your body", but Robert Johnson used his guitars as an extension of his myth. We only know of a few of these stringed instruments that he may or may not have owned, but even still there's a lot to unravel from the 4 guitars he is associated with. Most people link Johnson to the Gibson L-1, but there are more guitars where he used to play his wicked melodies.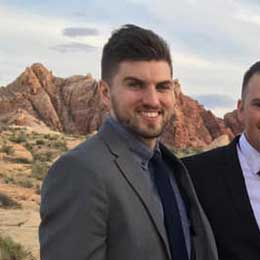 My name is Chris and I've had a passion for music and guitars for as long as I can remember. I started this website with some of my friends who are musicians, music teachers, gear heads, and music enthusiasts so we could provide high-quality guitar and music-related content.
I've been playing guitar since I was 13 years old and am an avid collector. Amps, pedals, guitars, bass, drums, microphones, studio, and recording gear, I love it all.
I was born and raised in Western Pennsylvania. My background is in Electrical Engineering, earning a Bachelor's degree from Youngstown State University. With my engineering experience, I've developed as a designer of guitar amplifiers and effects. A true passion of mine, I've designed, built, and repaired a wide range of guitar amps and electronics. Here at the Guitar Lobby, our aim is to share our passion for Music and gear with the rest of the music community.