Also known as the "Country Gentleman," Chet Atkins was one of the people responsible for creating the legendary Nashville sound. Atkins was an artist that defined the music industry and the evolution of so many genres with little knowledge or even credit as he moved forward in his career.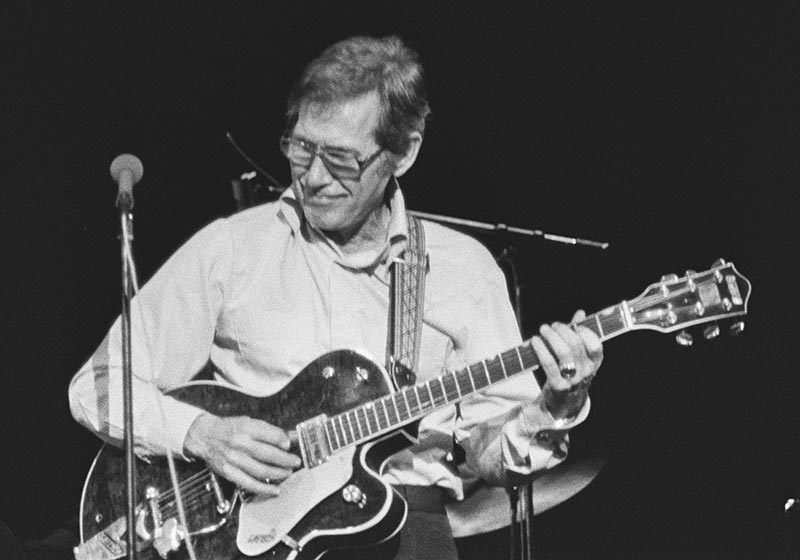 Chet's first introduction to a stringed instrument began when he was barely a teenager when his mother gave him a ukulele, which he outgrew before moving over to the fiddle. These early toys would serve a younger Chet to bargain his first guitar, which he got from his nine-year-old brother in exchange for some chores and his fiddle with an old pistol.
As Atkins grew older, he would practice his own style while he was in high school, locking himself in the bathroom mainly because "it had good acoustics". He would reportedly assist local concerts and bar performances if possible during his time in Fortson, Georgia. However, his very first guitar was a semi-acoustic one, he'd walk many miles to plug into an amplifier, given the fact that his home had no electricity. But it wasn't until 1939 that Atkins wouldn't consider himself a solid guitar player, he credited Merle Travis as the one influence that inspired him to innovate his technique.
Atkin's groundbreaking approach towards guitar as a creative machine, whether it was accidental or intentional, Atkins helped redefine even the craftsmanship a luthier should consider when manufacturing a six-string. Furthermore, to this day Atkins remains a subliminal influential figure in Rock music and any other string fused genre. His mark extends from his brilliant style, and all the way to his very name.
What Guitars Did Chet Atkins Play?
Chet Atkins is most known for playing Gretsch guitars, of which he had several signature models with the brand. Most notably was his Gretsch Prototype Streamliner 6120 Country Gentleman model. Atkins also played a wide range of other guitars throughout his career, including signature models with Gibson.
See the full list of Chet Atkins guitars and gear below.
Gretsch Streamliner 6120 Prototype

| | |
| --- | --- |
| Finish | Natural Orange |
| Years Used | 1953 to 1996 |
Chet's impact grew as a remarkable guitarist during the early 50s, so it was only a matter of time before he eventually got his first endorsement deal. In the mid-1950s, Gretsch and Atkins started collaborating on this new instrument. All of the features were designed by Gretsch and the musician gave his approval. The Streamliner 6120 remains one of the company's legendary models if not the most successful Gretsch guitar ever issued. Chet's prototype is known as the original "Country Gentleman". Needless to say, it also served as a blueprint to his future guitar models and one of the most popular signature lines to ever exist.
At the first glance, the instrument is obviously very much Western-inspired. But aside from visual features, this one had an arched top and an arched back, which isn't so common these days. It's a single-cutaway hollow-body instrument with two large F-shaped soundholes. The top was made of maple and featured a natural finish with its orange shade. As far as pickups go, the instrument had single-coils, the DeArmond Dynasonic ones. This comes as no surprise as Gretsch used these exclusively back in the day.
It also featured a scale length of 24.5 inches and 22 frets. There was also a Bigsby B6 tremolo tailpiece, accompanied by a regular tune-o-matic bridge placed on a wooden base. But, above all, it featured some pretty exciting visual details, including a steer-head inlay on the headstock, as well as cactus and steer inlays on its rosewood fretboard. Finally, it also had a specially designed "G" logo near the bass-side F-hole.
As it usually goes with Chet Atkins' guitars catalog, it's really hard to say where and when exactly he used each particular piece. However, when it comes to this historical prototype, the instrument accompanied him all throughout his career.
This guitar reportedly got its commercial release right around the time Chet Atkins released his version of "Mr. Sandman." This greatly impacted its success. Atkins as an already renowned name, would become a regular guest at the Grand Ole Opry, by 1954 he made a special duet with Mother Maybelle Carter, using this particular prototype.
Gretsch 1959 Country Gentleman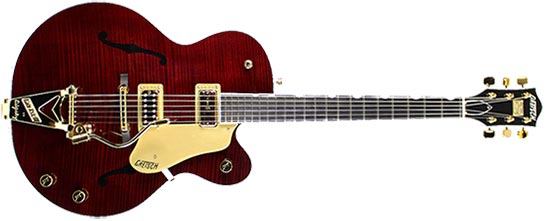 | | |
| --- | --- |
| Finish | Dark Red Natural |
| Years Used | 1959 to 1996 |
After almost half a decade tenure with his exclusive and superb prototype, Chet got his hands on an updated version of his signature Country Gentleman guitar as a courtesy from Gretsch. As expected, this instrument was also another "platform" for Chet's innovation and musical experimentation.
The first noticeable change was the instrument's appearance. Although its body shape and overall design were kept from the original Country Gentleman prototype, the cut on the body became slightly flatter yet somehow larger. Furthermore, Gretsch's approach to this enhanced version was a lot simpler "Less is more".
It included a newer variant of a Bigsby tremolo tailpiece, the one we know nowadays as an industry staple. Secondly, the guitar has legendary Filter'Tron pickups, designed by legendary Ray Butts. There's also a straight bar bridge, a more straightforward pickguard, as well as a more elaborate paint job and binding.
The finish on this instrument was a bit different. Although with basic natural wood aesthetics, it came with a dark red color, kind of similar to the classic cherry red Gibson is known for. Additionally, it had smaller F-shaped soundholes which gave this guitar a more elegant look. But, what's really interesting, the guitar had a zero fret. This helped with tuning stability, intonation, and even sustain.
It didn't take long for this instrument to become one of Chet's most important guitars. Sure, it wasn't as prominently used as the original Country Gentleman, but it was still his trusty companion over the years, appearing on countless recordings and live shows.
D'Angelico Excel
| | |
| --- | --- |
| Finish | Vintage Sunburst |
| Years Used | 1944 to Unspecified |
Before getting in touch with Gretsch, Chet frequently used his D'Angelico Excel guitar. It was one of the instruments that saw his rise to prominence as "Mr. Guitar". He played this six-string in his audition for Red Foley, who was leaving his star position on WLS-AM's National Barn Dance to join the Grand Ole Opry. It was then at the 1946 Opry that Chet would finally strike luck in the music business.
Of course, this is yet another hollow-body jazz-oriented guitar. Just like today, D'Angelico has always had some pretty high-end instruments. Even though it weirded some musicians at the time, Chet modified the instrument. However, this would set some new standards, highlighting a pioneering quality on Atkins. Today, this would be the perfect vintage guitar. But back then in the early 1950s, it was pretty unorthodox to have such an instrument. What's more, some would have even argued that he "butchered" it, despite the six-string working in his favor.
Of course, this was another single-cutaway hollow-body instrument. But Chet made a custom order with a tremolo tailpiece. And, as if that wasn't enough, he modified it on his own. The instrument came with a Bigsby pickup in the bridge. It wasn't until after he was done modifying it, the guitar ended up with the Bigsby pickup in the neck position and a P90 pickup in the bridge position. Along with this, Chet also added a 3-way toggle switch.
This was his main guitar before getting his hands on his ever-iconic Gretsch, the original Country Gentleman. During this time, he was a pretty prolific session guitarist. Most notably, he had it while performing with the Carter Sisters. The story goes that June Carter accidentally damaged the instrument, ultimately separating the body and the neck. The guitar was repaired years later. It is believed that this happened around the time when Chet switched over to his Gretsch.
Gibson Chet Atkins Country Gentleman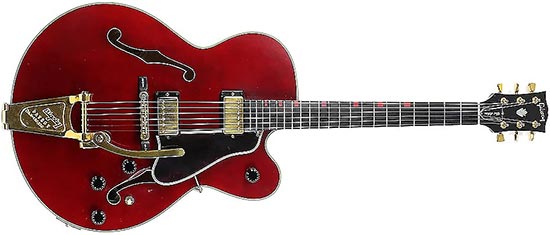 | | |
| --- | --- |
| Finish | Natural Dark Red |
| Years Used | 1980 to 1996 |
When Gretsch started growing, Chet eventually started to dislike the new direction that the company was taking. The dissatisfaction was so big that he withdrew the license to allow them to sell products with his name on them. So he went over to Gibson. This was sometime around the late 1970s or the early 1980s. After striking a deal, the company started making a guitar model that was rather similar to the old Gretsch variant.
The model was available commercially for a while. However, these were some pretty high-end instruments. Even to this day, they retain a pretty high price among collectors.
Although similar to the Gretsch Country Gentleman, there are some significant differences with the Gibson variant. Most notably, it came with Gibson's classic 490 humbucker pickups. It also had a scale of 25.5 inches, which is somewhat unusual for Gibsons. Then we also have a much narrower body, only 1.75 inches.
It also came with a Bigsby tremolo tailpiece and a tune-o-matic bridge on a rosewood base. The body also comes with binding on the edges and around the F-shaped soundholes, giving it a very stylish look. Additionally, it also came with an armrest, which made it stand out. This is easily one of the most iconic Chet Atkins guitars of all time.
Peavey T-60 aka "Peaver"

| | |
| --- | --- |
| Finish | Cherry Red/Natural |
| Years Used | 1983 to 1994 |
One of Chet Atkins' "Frankenstein," guitars. The body and basic features are that of Peavey's T-60. Although not much info is available on this six-string, certain sources claim that he used it on about a dozen of songs from the early 1980s to the mid-1990s.
The instrument was reportedly put together by Chet's friend Paul Yandell. However, its later whereabouts, after the mid-1990s aren't known. There was an attempt to start making the "Peaver" model under the Gibson brand. But after only a handful of copies, the project was abandoned.
The instrument's body was from a Peavey T-60. This is a weird-looking double-cutaway guitar, featuring a dark red finish, that was eventually peeled to its natural composition. The cutaways are slightly uneven in length and the body is slightly offset. But, interestingly enough, the instrument came with a Fender Stratocaster neck. It appears to be from a 1960s Strat as it doesn't feature a maple fingerboard. It came with two single-coil pickups, one in the bridge and another on in the middle. These were allegedly EMG single-coils. There was also a phase switch on the instrument.
Del Vecchio Dinâmico

| | |
| --- | --- |
| Finish | Natural |
| Years Used | Unspecified |
Of course, Chet was also really into acoustic guitars, doing some of the best works on them. But let's start off with a lesser-known one in his collection. The instrument in question is Del Vecchio Dinâmico. Del Vecchio is an old traditional manufacturer. And their Dinâmico was a pretty popular resonator guitar model.
As for Chet's use of the instrument, we can't say for sure where exactly this guitar appeared over the years. However, he did appear live with it at least a few times.
The story goes that Chet was amazed by this instrument model after hearing Nato Lima De Los Indios Tabajaras duo. These instruments are pretty rare and they're still highly valued among collectors. As for Chet's guitar, its later whereabouts are not certain.
Here we have a standard wooden resonator guitar on our hands. It's what some would refer to as a "dobro" guitar. And being rare, it's usually hard to give precise info on the specs.
However, it's known that these guitars have 24.5-inch scale lengths and 2-inch-wide nuts. It also comes with a "biscuit" bridge. Overall, the instrument is a real masterpiece.
Gibson Chet Atkins CE

| | |
| --- | --- |
| Finish | Natural |
| Years Used | 1982 to 1996 |
These were released sometime in 1982, which is the same time when he began using them as well. In fact, the Studio Classic nylon-string pretty much became the Chet Atkins signature model even though the model itself predates the collaboration.
The instrument also included electronics, and the "CE" stands for "Classical Electric." On this instrument, Chet and Gibson also collaborated with luthier Kirk Sand. There have been some changes in the body chambers and pickup design.
Although an acoustic guitar, the body is pretty thin and it kind of feels like a solid-body electric. The main idea was to have a classical guitar that wouldn't get that annoying feedback on stage. At the same time, you could play it acoustically.
The instrument also came with specially designed piezo pickups and electronics. If you were to look at the back of the guitar, the electronics compartment resembles that one of a Gibson Les Paul.
The body's top was made out of spruce while the sides, back, and the main construction were from mahogany. It also featured a mahogany neck. It also had a longer scale length, a bit longer than 25 inches.
Gibson L-10

| | |
| --- | --- |
| Finish | Sunburst |
| Years Used | 1956 to 1996 |
It's highly likely that Chet's first contact with Gibson was back in the 1950s when he acquired an old sunburst L-10. This archtop guitar was given to him by his half-brother Jim. And Jim got it from no other than the legend himself, Mr. Les Paul. The instrument also had a lot of sentimental value to Chet. But, just like it goes for most of his guitars, Chet modified it.
Unfortunately, this instrument had an accident when Chet fell over it, severely damaging the body. Although it was repaired, he could never get the same tone from it ever again.
Most notably, this instrument was custom ordered by Les Paul and it had an extended scale length. It's not certain how long it actually is, but it's probably over 25 inches. As for Chet's modifications, he added a Vibrola tailpiece, as well as a floating DeArmond pickup.
Timetable Showing Each Guitar Chet Atkins Played Throughout His Career
| Make | Model | Color/Finish | Years |
| --- | --- | --- | --- |
| Del Vecchio | Dinâmico | Natural | Unspecified |
| D'Angelico | Excel | Vintage Sunburst | 1944 to Unspecified |
| Gretsch | Streamliner 6120 Prototype | Natural Orange | 1953 to 1996 |
| Gibson | L-10 | Sunburst | 1956 to 1996 |
| Gretsch | 1959 Country Gentleman | Dark Red Natural | 1959 to 1996 |
| Gibson | Chet Atkins Country Gentleman | Natural Dark Red | 1980 to 1996 |
| Gibson | Chet Atkins CE | Natural | 1982 to 1996 |
| Peavey | T-60 aka "Peaver" | Cherry Red/Natural | 1983 to 1994 |
Chet Atkins Amps Overview
Gretsch Chet Atkins Piggyback
Years Used: 1960s to Present
It's hard to find concrete information on all amps that Chet Atkins has used over the years. However, it's known that he used a Gretsch amplifier, his 6161 signature model, the so-called "piggyback."
This was a stack, featuring an amp head with a maximum output power of 140 watts. The cabinet included two speakers, one that's 12 inches in diameter and the other that's 15 inches. The 12-inch one was for the Reverb and Tremolo channel, while the 15-inch one was for the other channel with boosted bass. It also featured six preamp tubes and four power amp tubes.
1954 Standel 25L15 Combo
Years Used: 1950s to Unspecified
Although it's hard to find info on the exact gear that Chet used and when he used it, his friend Paul Yendell revealed an amp that found its way on most of the guitarist's recordings. The unit in question is a Standel 25L15, a combo amplifier manufactured way back in 1954. This one was very popular among country players of the era, including Merle Travis.
It's a pretty rare tube amplifier with a pair of 807 tubes in the power amp section. It's a pretty rare sight for today's standards, although these are still manufactured and are almost unchanged compared to the old models. As expected, these are "boutique"-tier high-end units with a tone somewhat similar to old Fender amps.
Chet Atkins Pedals and Effects Overview
Custom-Made Tape Echo
Years Used: 1954 to 1996
Designed by Ray Butts, the engineer who developed the first humbucking pickup, Filter Tron. However, he was also into tape-based echo devices, eventually developing his EchoSonic amplifier with an integrated echo effect.
The amp came with 6V6 or 6L6 power amp tubes. It also featured a total output power of 15 watts. But its biggest advantage was its size, which was relatively smaller compared to other devices at the time. Other than that, it also featured 12AU7, 12AX7, and 12AY7 tubes in the preamp section.
Back then, this was one of the rare options for creating a decent echo effect. Aside from that, Chet also used other methods to achieve reverb and echo, including utilizing empty elevator shafts for recording sessions.
Lexicon JamMan PCM41
Years Used: During the 1990s
Chet Atkins continued performing well into the 1990s. Although an old-school guitar player, he kept up with the newer technology. One of the effects units that he used back then was the JamMan PCM41, manufactured by Lexicon.
This is an echo and looper device in one, designed as a rack-mounted unit. However, it still came with a footswitch and all the necessary detailed controls. The device was pretty advanced for the times, even featuring MIDI connectivity that would allow it to get synced with a drum machine or any other MIDI-supported device.
Echoplex
Years used: 1950s to Unspecified
After the success of Ray Butts' EchoSonic device, an engineer named Mike Battle developed a standalone tape echo device, separate from the tube-driven guitar amp. Appropriately named Echoplex, it was obvious that Chet Atkins was going to get his hands on one of these. The same could be said of some other guitar legends of the era, including Carl Perkins, and Scotty Moore.
These original units were completely tube-driven. Later iterations featured solid-state design. However, those with tube circuitry are still highly valued among collectors due to their warmer tone. In a matter of years, Jim Dunlop became inspired by this particular design to build his own version of it.
Wrap Up
Chet Atkins impacted jazz, blues, pop, rock, and even metal musicians. Believe it or not, his discography includes a total of 58 albums and many collaborations. Atkins' first full-length record was released way back in 1953, and his final one, titled "Solo Sessions," came out in 2003, two years after his passing.
He's the only man that worthy enough of the nickname "Mr. Guitar." he wasn't ever a rock star as one would expect. He was a very modest musician, well-known for his incredible fingerpicking and some of the most interesting arrangements, mixing country, jazz, and blues music.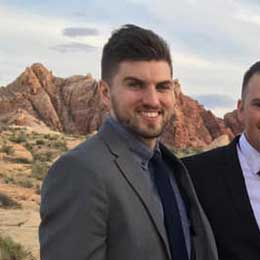 My name is Chris and I've had a passion for music and guitars for as long as I can remember. I started this website with some of my friends who are musicians, music teachers, gear heads, and music enthusiasts so we could provide high-quality guitar and music-related content.
I've been playing guitar since I was 13 years old and am an avid collector. Amps, pedals, guitars, bass, drums, microphones, studio, and recording gear, I love it all.
I was born and raised in Western Pennsylvania. My background is in Electrical Engineering, earning a Bachelor's degree from Youngstown State University. With my engineering experience, I've developed as a designer of guitar amplifiers and effects. A true passion of mine, I've designed, built, and repaired a wide range of guitar amps and electronics. Here at the Guitar Lobby, our aim is to share our passion for Music and gear with the rest of the music community.