Well into the late 1970s and early 1980s, an underground new wave of heavy metal was brewing with some of the most remarkable guitarists, each inevitably ascending to Rock legend status. One of the most notable of the era was a young and energetic Dave Mustaine. Also known for his short tenure with Metallica, Mustaine is revered for founding yet another band of metal's Big Four, Megadeth.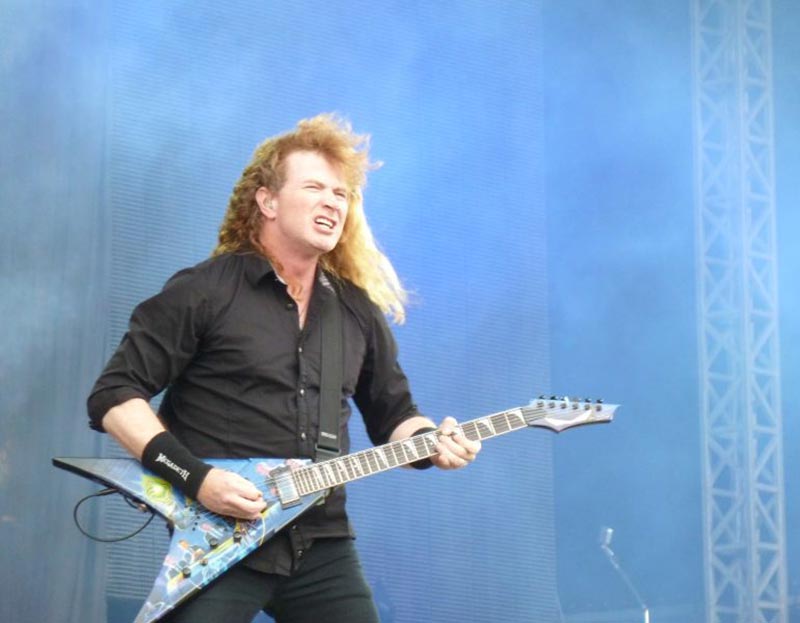 Throughout the years, Dave has remained not only the band's frontman and guitarist but also its main engine in terms of composition and image, leaving no room for debate when the band is referred to as his solo project.
What Guitar Does Dave Mustaine Play?
Dave Mustaine is best known for playing Jackson King V and Jackson Y2KV model guitars. In 2007 he partnered with Dean Guitars to produce the VNMT Dave Mustaine Signature model, and in 2021 he became a Gibson ambassador, with a full product line of signature Gibson guitars.
See the full list of Dave Mustaine guitars and gear below.
Gibson Collaboration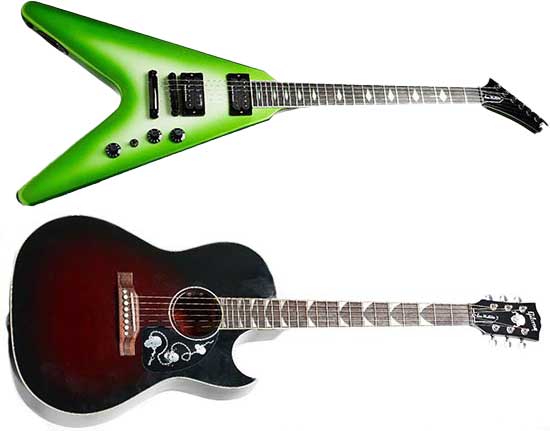 | | |
| --- | --- |
| Finish | Several models and finishes |
| Years Used | 2021 to Present |
In early 2021, it was revealed that Mustaine was teaming up with Gibson for his new signature line of guitars. Once again, the main model is a V-style electric guitar. However, compared to the classic Flying V, this one will have a "6-in-line" kind of headstock, very similar to the one on Gibson's Explorer model.
It was also announced that Krammer, Now under Gibson Brands ownership, will be included in the product catalog as will Epiphone, each will have its exclusive models. Additionally, Gibson will also release a special single-cutaway acoustic six-string with Mustaine, the CF-1000 model.
Gibson is set to innovate the game along with Mustaine, taking notes and blueprints from his previous signature models over the years, both parties have shared that this collaboration has been a long time coming. Aditionally Mustaine has said in a few exclusive interviews that the reason behind this delayed partnership was due to the fact that when he started, he was running on a humbler budget that prevented him from getting a Gibson. After a few years into notoriety, he had already gone down a different road, but this time it seems that both Megadeath and Gibson have got it all covered, and it is just thrilling to see whats next.
Dean VMNT

| | |
| --- | --- |
| Finish | "Holy Grail"/Black/Korina/White |
| Years Used | 2007 to Present |
Since 2007, this particular model has become Mustaine's weapon of choice for basically every studio album and live performance. Although he didn't entirely discarded the use of his previous Jackson Y2KV models, Dave figured it was time for an upgrade. For the design of this new signature line, he brought in some ideas that didn't fully come through back in 1999 when he signed off his deal with Jackson, and so this particular V became the guitar that Dave had been longing for since the 90s.
Teaming up with Dean really marked a big change for metal musicians, but this fashion became rather noticeable in the late 2000s. One of the first guitarists to make it trendy was in fact Dave Mustaine along although not a pioneer with Dean guitars, he certainly made it big time when he got involved in creating the VMNT.
This particular model is based on his preferred Jackson King V models from the 80s. However, the main difference in design and specs from the original King V, are the pickups. This time around, Dave had partnered up with Seymour Duncan to release a heavy signature set of humbuckers called Live Wire, they're rather similar to his previously trademarked SH-4 JB and SH-2N but they come with an active preamp and attack.
As expected and per usual, Dave has various VMNTs in his catalog, some of the most iconic ones are his "Holy Grail" and "Gears of War" custom-painted models, which served as the pinnacle of the series back in 2016 when celebrating 33 years of Megadeth. Present-day, however, has seen Mustaine using mainly his all-black V-shaped Dean and one of his all-time favorite models in a natural Korina finish.
Mustaine used in fact his Korina VNMT to promote Megadeth's 2020 world tour, as well as for the band's opening performance in Bloodstock 2017.
Jackson Y2KV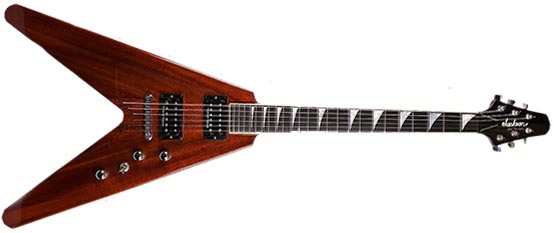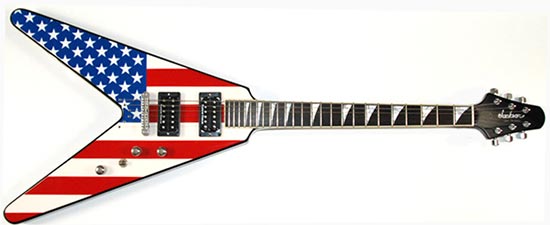 | | |
| --- | --- |
| Finish | Black/White/Natural Korina/American Flag |
| Years Used | 1999 to Present |
Mustaine's iconic Y2KV is inherent to his very name, it's been by far one of his most battled guitars in recent times making its debut on Megadeth's 1999 studio album "Risk". Ever since then, this line of Jacksons have been a staple both live and in the studio up until 2010. Dave was very invested and involved in creating this effortless yet aggressive and classical-looking model to make his very own design to further cement Megadeth and himself as household names.
After the prototype, the Y2KV became Dave's most important and trusted guitar model for two decades. Although its specs remain his standard Seymour Duncan TB4 on the Bridge position and an SH4 on the Neck, Mustaine isn't shy to experiment with this signature model. During the 2000s, he was mostly seen using the Y2KV with an American flag artwork, but later on, he would sport different black, white, and even cherry red versions of it. The Y2KV's would vary certain parts, some sport regular tune-o-matic bridges, while others, feature a Floyd Rose bridge. Others, he would personalize at home stamping stickers between the pickups with a "shut up" writing on it. However, most of the sticker-covered models were sold on eBay or even auctioned throughout the 2010s.
During both "Risk" and "The World Needs a Hero", Dave wielded this Jackson axe to create a contrast to his usual King Pro line of guitars, so it's fair to say they were constantly rotated with one another. Additionally, the very first issues of the now official Y2KV were made in 1999 in multiple finishes since originally Mustaine intended it to be a very exclusive line, only twelve were made for him.
On another hand, these became very popular within a year of touring, and by 2002, upon agreement between Jackson and Mustaine, the artist would sign off his partnership and the Y2KV would enter mass production. Despite acquiring a few newer models, there are some of these early signature six-strings in his possession that still make appearances on-stage but once the Dean VMNT was released, it quickly took the spot as his main guitar.
1986 Jackson King V Custom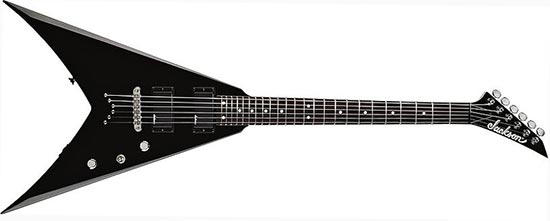 | | |
| --- | --- |
| Finish | Black/Later Painted Silver |
| Years Used | 1983 to 1994 |
After starting his collaboration with Jackson, new guitars started rolling in, including one black King V Custom model in black finish. Made back in 1986, the instrument featured Seymour Duncan JB and Bill Lawrence 500L pickups, as well as a fixed Kahler bridge. Additionally, there was also the JE-1200 active mid-boosting circuitry.
The instrument was also easily recognizable due to the Megadeth logo on the front of the body. The instrument also saw some heavy modifications over the years, including a completely new silver finish as well as a new neck. With these modifications, it later became known as the "Number One."
It was a part of his regular rig all the way until 1992 or 1993 when Dave got new Jacksons. However, some of these new guitars were practically identical to the original King V, so it's hard to determine when exactly he started and stopped using it.
Regardless of its siblings and particular use, it's hard to think of Mustaine wielding something else than a black V-shaped six-string, and that iconic image of this meta god is largely due to this particular guitar. It became even more memorable when it appeared on the music video for "In My Darkest Hour" back in 1988 when Megadeth was rising to prominence and status as one of metal's big four.
Jackson Y2KV J6442 Prototype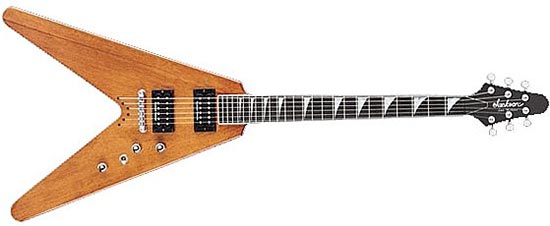 | | |
| --- | --- |
| Finish | Natural |
| Years Used | 1996 to 2013 |
Dave's collaboration with Jackson continued with the Y2KV model. The J6442 prototype was one of the first-ever Y2KV models ever made. The design of the guitar is pretty close to Gibson's classic Flying V, although you could notice some of Jackson's design traits and it also featured Seymour Duncan pickups like the KV1 model.
It is believed that the guitar was finished sometime in 1998. Mustaine was seen using it on plenty of occasions and it remained in his possession until 2013 when it was sold through eBay for $11.000. As for Mustaine, some sources claim he was fed up with having this guitar well in and over a decade after the release of the finished versions of the Y2KV. Overall, this is one of my personal favorite Dave Mustaine guitars of all time.
Jackson King V Double-Neck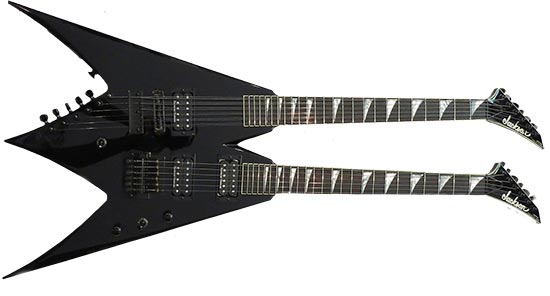 | | |
| --- | --- |
| Finish | Black |
| Years Used | 1987 to Present |
After the release of Megadeth's "So Far, So Good… So What!" album, Mustaine was seen using a rather unusual double-neck V-style Jackson guitar. This custom-made King V model is the standard 12-string and 6-string combo. Like every legendary shredder has their own go double-neck, Dave chose his in this, one of his preferred models, later on it helped lay the basis for a signature Y2KV double.
The 12-string guitar features only one humbucker in the bridge position, while the 6-string one has the regular two humbuckers. But what's really interesting is that the doubled strings have tuning machines on the body. Meanwhile, the ball-ends of these doubled strings are placed in specially-designed holes on the headstock. It's a pretty innovative and unique design.
While the studio use for this double-neck is rather dubious, it saw some heavy action during live performances, even to this day Mustaine wips out this King V for some stage antics.
Dean Mako Dave Mustaine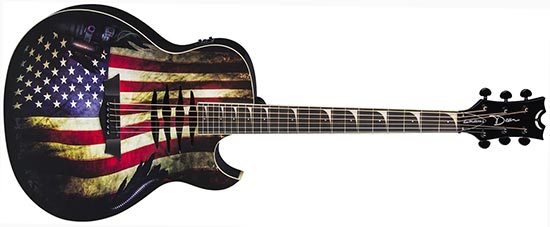 | | |
| --- | --- |
| Finish | Faded American Flag Custom Artwork |
| Years Used | 2011 to Present |
Although Dave isn't that famous for his use of acoustic guitars, you can still find him playing them on occasion. At this point, his main acoustic guitar is Dean's Mako model. The guitar is easily recognizable, not only for its American flag finish that fades towards the edges but also for its unconventional soundholes. There are four vertical thin holes instead of one.
Aside from a dreadnaught body shape with one cutaway, the guitar also has fretboard inlays Just like those on Dave Mustaine's Dean electric guitar models.
However, the one with an American flag finish is not the only one as Dave also uses another version of Dean Mako that has a dark flamed maple finish on the top.
Dean V Dave Mustaine Double-Neck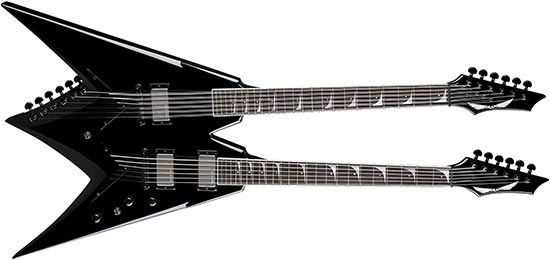 | | |
| --- | --- |
| Finish | Custom Black |
| Years Used | 2010 to Unspecified |
Dean and Mustaine took the old Jackson double-neck design and specs and pretty much copied and pasted it to this new Dean V model. The only difference was, again, the choice of pickups, featuring Dave's signature Seymour Duncan Live Wire humbucker set, along with an active preamp.
This guitar is occasionally used in live performances whether it is within its custom black presentation or the original Blood Lust finish, this guitar became one of the latest most excellent pieces of heavy metal. Back in 2008 when it was first announced, the market value of this six/twelve string was set to $8,799.00 under the pretext that "you just can't put a price on shredding".
Ibanez Destroyer II D400

| | |
| --- | --- |
| Finish | Cherry Sunburst |
| Years Used | 1981 to Unspecified |
Ibanez is remembered for some of their early copies of Gibson guitars back in the 1970s and the 1980s. However, the second iteration of the Destroyer was a slightly different version of Gibson's Explorer, which happened right after an infamous lawsuit. Mustaine had the Destroyer II D400 when he joined Metallica in the early 1980s and it was by excellence his main one during his tenure with his original project until his eventual departure when he reportedly got rid of this guitar as well.
Dave confirmed that he used the Destroyer II, although there's one black and white photo circulating online from which we can assume that it has the cherry sunburst finish.
B.C. Rich Bich Perfect 10

| | |
| --- | --- |
| Finish | Natural Koa |
| Years Used | 1982 to 1986 |
Another one of his early instruments is the B.C. Rich Bich Perfect 10, the one with the body made out of koa wood. He used the instrument in the early Metallica days, as well as with his old bands Panic and Fallen Angel. These models were pretty revolutionary for those times, rocking a pretty unusual design and a neck-thru-body and neck formation.
Later on, Dave repainted the instrument, giving it a completely black finish. However, some sources point out that Mustaine would eventually give this six-string to Megadeth lead guitarist Chris Poland who then sold it without Mustaine's knowledge.
Jackson King V Pro

| | |
| --- | --- |
| Finish | Cherry Sunburst |
| Years Used | 1993 to 2005 |
It's not completely certain, but it seems that Dave had two, or more, of these Jackson King V Pro guitars. Reportedly he used these from 1993 all the way to the early 2000s, seeing a lot of action during the "Youthanasia" tour.
Originally, these models introduced some interesting new elements to Jackson's already popular King V series. The bridge humbucker on it was Jackson's J-92C, while the neck position had a Bill Lawrence L500XL. It was a pure shred machine with 24 frets and what appears to be a Kahler tremolo bridge.
Jackson KV1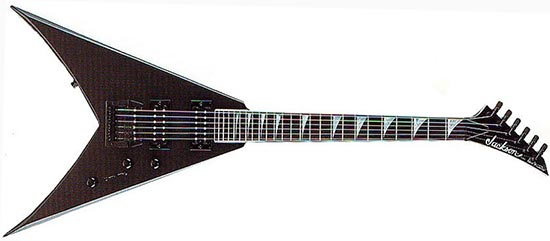 | | |
| --- | --- |
| Finish | Black/Brown/White |
| Years Used | 1995 to Unspecified |
After being satisfied with his previous Jackson guitars, the custom-made King V models, Mustaine kicked off a new collaboration with the company, bringing KV1 as his first official signature guitar. However, he still mostly used his old stuff by Jackson, and the KV1 was played occasionally.
Looking at the specs, these were almost the same as the original King V guitars. The only notable difference was the choice of pickups and KV1 came Seymour Duncan SH-4 and TB-4 humbuckers. There was also a new finish option available, the Korina natural wood finish.
ESP/LTD DV8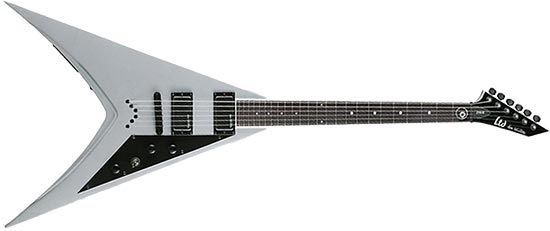 | | |
| --- | --- |
| Finish | Silver/Black/White |
| Years Used | 2004 to Unspecified |
Sometime in the early 2000s, Dave Mustaine started his collaboration with ESP guitars. After making an endorsement deal, the company released the cleverly named DV8 model. The main specs of this instrument are pretty much taken from the Jackson signature Y2KV and King Pro models. It even featured the same Seymour Duncan humbucker set. However, these guitars were used only for a relatively brief period in the 2000s.
ESP/LTD Axxion

| | |
| --- | --- |
| Finish | Black |
| Years Used | 2004 to Unspecified |
Another guitar that came out of Dave's collaboration with ESP was the somewhat oddly-shaped Axxion model. Once again, it had the Seymour Duncan humbuckers, TB-4 and SH-4, as well as 24 frets and the TonePros locking bridge.
The guitar's odd shape was actually Dave's own design that he originally pitched to Jackson. It kind of resembles some of the old B.C. Rich models, although it has its own twist. However, the Axxion model was Mustaine's last collaboration with ESP, after which he left to team up with Dean. According to Dave, this was purely a business decision and had nothing to do with the ESP guitars and their quality.
Timetable Showing Each Guitar Dave Mustaine Has Played at Each Point of His Career
| Make | Model | Color/Finish | Years |
| --- | --- | --- | --- |
| Ibanez | Destroyer II D400 | Cherry Sunburst | 1981 to Unspecified |
| B.C. Rich | Bich Perfect 10 | Natural Koa | 1982 to 1986 |
| Jackson | 1986 King V Custom | Black/Later Painted Silver | 1983 to 1994 |
| Jackson | King V Double-Neck | Black | 1987 to Present |
| Jackson | King V Pro | Cherry Sunburst | 1993 to 2005 |
| Jackson | KV1 | Black/Brown/White | 1995 to Unspecified |
| Jackson | Y2KV J6442 Prototype | Natural | 1996 to 2013 |
| Jackson | Y2KV | Black/White/Natural Korina/American Flag | 1999 to Present |
| ESP/LTD | Axxion | Back | 2003 to Unspecified |
| ESP/LTD | DV8 | Silver/Black/White | 2004 to Unspecified |
| Dean | VMNT | "Holy Grail"/Black/Korina/White | 2007 to Present |
| Dean | V Dave Mustaine Double-Neck | Custom Black | 2010 to Unspecified |
| Dean | Mako Dave Mustaine | Faded American Flag Custom Artwork | 2011 to Present |
| Gibson | Collaboration | N/A | 2021 |
Dave Mustaine Amplifier Overview
Marshall JCM800
Years Used: During the 1980s
Being one of the thrash metal pioneers, it doesn't come as a surprise to know that Dave Mustaine has used the legendary Marshall JCM800 amp. However, it's never been confirmed which exact model did he use. It is known, however, that Dave had JCM800, or multiple different JCM800 amps, for the first three or four Megadeth albums. Knowing this, it's also highly likely that he used the amp during the early Metallica days when he was still in the band. It has also been confirmed that he used JCM800 with DeCuir Cabinets which were equipped with Celestion speakers.
VHT 2150 Power Amp
Years Used: During the 1990s
Mustaine is one of those guitar players who began using separate power amp and preamp units. This kind of setup allowed more freedom in creating his unique tones. It is believed that Mustaine switched over from the Marshall JCM800 to the CHT 2150 power amplifier that was combined with different preamps (we'll get to that below). It was most likely sometime in 1990 and it's quite possible that the power amp has seen some action during the "Rust in Peace" album sessions. However, this one was his main power amp for live settings during a certain period in the 1990s.
Marshall EL34 100/100 Power Amp
Years Used: 1996 to Present
Sometime in the second half of the 1990s, most likely in 1997, Dave switched over to Marshall's EL34 100/100 power amp. What's interesting about this unit is that the controls are placed in a "secure" spot, facing upwards in a recess on the front panel. This way, the risk of any accidental readjusting.
This is a stereo amp, featuring two "monoblocks" of 100 watts each. Each of the blocks, or channels, features individual volume and presence knobs. It's also equipped with eight EL34 power amp tubes, which is what you commonly find in Marshall amps.
Bogner Triple Giant Preamp
Years Used: The early 1990s (presumably)
Although it's not completely certain when exactly Dave Mustaine used Bogner's Triple Giant preamp, it was seen in his rig in the early 1990s. Once again, it could be possible that he used it in the studio for the "Rust In Peace" record, but it's known that he had it in his live setup.
Today, this is one of the rarest Bogner products and it's highly valued among collectors. The story goes that there's only a very limited number of them in circulation. What's also interesting is that it featured seven 12AX7 valves, which is a lot for a standard preamp. This is a 3-channel device with master controls for volume and effect mix, as well as individual channel controls for volume, gain, and a 3-band EQ.
Bogner Fish Preamp
Years Used: 1992 to Unspecified
Another Bogner preamp in his collection was the Fish model which he used around the same time as the Triple Giant. It's highly likely that it was also used for the "Rust In Peace" record. The preamp was introduced in 1989 or 1990 and Mustzaine had one of the early prototypes. As far as controls and functions go, this one has four channels and is equipped with eight 12AX7 tubes, making it more versatile compared to the Triple Giant.
Custom Audio Electronics 3+ SE Preamp
Years Used: During the 1990s
Another one that has seen some action during that era was the Custom Audio Electronics 3+ SE preamp. Just like the aforementioned Bogner models, this one too was used in combination with the VHT 2150 power amp.
The preamp comes with three individual channels and is packed with seven 12AX7 tubes. Each of the channels features a standard 3-band EQ, gain control, volume control, as well as a bright switch. There's also a separate switchable tube-driven stage that can help you add or remove 17 dB to the bottom-ends.
Marshall JMP-1 Preamp
Years Used: From the second half of the 1990s and onwards
Around the time when he got the Marshall EL34 100/100 power amp, Mustaine also introduced the company's JMP-1 preamp in his rig. This is pretty much a classic Marshall setup, and Dave had two of these same units in his rig. It's quite possible that they were used for both studio and live settings.
But what's different here is that it's a programmable preamp with a digital interface. Sure, you have the standard 12AX7 tubes, but there's only one knob on it and separate switches for each of the parameters, allowing you to shape the tone for every preset and have it recalled at any moment using a MIDI footswitch.
Marshall JVM410H
Years Used: 2008 and onwards
Being mostly a Marshall guy, Mustaine also started using a JVM410H head sometime in 2008. While we can't say with certainty where this amp appeared and whether he used it for studio work or live shows, it's known that it's been a part of his rig on different occasions.
At this point, this is one of Marshall's classics, featuring 100 watts of power and four separate channels. Each of the channels also comes with a 3-band EQ, volume, and gain controls, as well as three modes of operation. With these modes, you have 12 different basic tones to work from, making the amp super versatile. What's more, the reverb effect can be controlled individually for each channel, and there are individual master presence and resonance controls for further shaping.
Marshall CODE 25
Years Used: During the 2010s
Around the time when Megadeth went on the "Dystopia" tour, Dave Mustaine and Kiko Loureiro, who joined the band not long before the album's sessions, were seen using Marshall's CODE 25 amps. These are simple and pretty compact solid-state amplifiers equipped with digital processing units for amp modeling and effects. Dave and Kiko use them for simple backstage practice.
The CODE 25 model comes with 25 watts of power and has a single 10-inch speaker. It can let you combine fourteen different preamp models with four power amp models, and there are even cabinet emulations for a wider range of possibilities.
Line 6 Dave Mustaine Signature Amp Head Prototype
Years Used: During the late 2000s
Before the recording sessions for the "United Abominations" record, Dave teamed up with Line 6 for a new power amp. There was only one prototype that came out of this collaboration which was used for the said album. It's not certain why, but Dave pretty much abandoned it a year later to go back to his standard Marshall EL34 power amp.
DigiTech GSP1101 Preamp
Years Used: 2006 to 2013
Dave got his hands on DigiTech's GSP1101 preamp sometime in the late 2000s, which is also what the band's lead guitarist at the time, Chris Broderick, was using. According to Dave, the Megadeth frontman, the main idea was to have an abundance of tones and yet keep the rig as simple as possible, with all the amps being emulated through one device.
And that's basically what you can do with the GSP1101 model. At the time it came out, it was one of the most advanced modelers, bringing 24-bit conversion rate (analog to digital and vice-versa) and 44.1 kHz buffer size. It also had 99 factory and 99 user presets. Mustaine and Broderick used it up until 2012.
Fractal Audio Axe-FX II
Years Used: From 2012 and onwards
But all of the complicated rigs with preamps, power amps, cabinets, effects, and microphones can be avoided with the use of one unit. For this purpose, Mustaine decided to go with Fractal Audio's Ace-FX II. After getting into it in 2012, it has been a part of his live rig ever since.
Just like any of the modern-day digital amp modelers, Axe-FX brings an abundance of options, all while sounding pretty realistic and making it much easier for musicians, techs, and sound engineers.
Pedals and Effects
Rocktron Sustainor
Years Used: During the 1980s
Back in the 1980s, Audio Axe-FX Marshall JCM800 amps were the standard among metal musicians. Paired up with a proper overdrive or a distortion pedal, it "cracked" just the right way to create those tight heavy tones. However, although Ibanez Tube Screamer was mostly used for this purpose, Mustaine went with an old and somewhat obscure device called Rocktron Sustainor.
Technically, this unit provided you with distortion, compression, noise reduction, and cabinet simulation. There was also a so-called "Autoclean" option that allowed players to lower down the volume without using important sonic characteristics and dynamic response.
Boss CH-1 Super Chorus
Years Used: Not certain, sold through Reverb.com in 2019
Althoguh it's not known when exactly Mustaine had it in his rig, he did sell an old Boss CH-1 Super Chorus in 2019, along with a bunch of other equipment. And it's really hard to narrow it down as the pedal has been in production since 1989. From the looks of it, the pedal seemed to be relatively new as there were no notable wear marks.
Boss MT-2
Years Used: Unspecified
Another pedal sold through the Reverb campaign in 2019 was the Boss MT-2 Metal Zone. Interestingly enough, the pedal that has gotten so much bad rep over the years is often found in rigs of some famous guitar players.
Looking at its controls, the pedal is relatively advanced for its size. You can shape the tone through a 3-band EQ and a parametric control for the mids. Some guitar players have used Metal Zone by plugging it directly into a power amplifier, achieving some surprisingly great tones. It's one of Boss' best-selling products of all time.
MXR M135 Smart Gate
Years Used: Unspecified to 2019
Going further into these pedals that were sold through Reverb.com in 2019, there was also MXR's M135 Smart Gate in Dave Mustaine's collection. Now, this is unlike any of your standard noise gates as the pedal has, as the company calls it, "intelligent gate speed." This means that the pedal responds to different types of playing, adjusting the gate attack speed according to your needs. There's also a mode switch that makes it work in full range, for the mids, or for the high-end hissing.
Tech 21 Double Drive 3X
Years Used: 1996 to 2019
For a while, he also had the Tech 21 Double Drive 3X distortion pedal. The main idea behind this one was to imitate different types of power amps, allowing you to get a distortion that resembles both class A and class A/B tube-driven amplifiers. What's really exciting is that you can either use the modes individually or combine them together, bringing a huge variety of options. The pedal even comes with an option to store three different presets and it can even be used through both a high and low impedance output on its back.
Dunlop GCB95 Cry Baby
Years Used: Unspecified to 2019
As for his choice of wah pedals, Mustaine went with the classic Dunlop Cry Baby, the standard GCB95 model. This one was also sold through the big action through Reverb.com back in 2019.
For many years now, the GCB95 has remained the industry standard among guitar players. If you're not certain which wah to buy, but really need one in your rig, you can't ever go wrong with this one. Simple operation and just one knob for adjustment are all you need.
DigiTech HM2 HarmonyMan
Years Used: 2004 to 2019
Along with the bulk of equipment sold in 2019, there's also DigiTech's very interesting HM2 pedal, also known as the HarmonyMan. The company is well-known for its advanced pitch-shifting effects, but this one takes it to a whole new level. The HM2 is a "smart" harmonizer that works diatonically and lets you choose the key that you want to play in and harmonizes over your playing. It even allows for two independent voices, technically helping you create an impression of three guitars playing together. What's more, the processed signal sounds pretty realistic.
Hartke Bass Attack
Years Used: Unspecified to 2019
Hartke Bass Attack is yet another lesser-known but pretty interesting and useful pedal. Mustaine had the somewhat older version and you could see some wear marks on it. Technically, this one is a preamp that technically works like a more advanced equalizer. You can add some brightness to your tone with it, and even boost those tight bottom-ends, which is something that metal guitar players are always seeking for. But at the same time, it can also smoothen things out for those warm overdrive tones. It even has a separate XLR output, making it possible to go directly into a mixing board and make it sound as if you're using an actual amp with a speaker cabinet.
Peterson AutoStrobe 490
Years Used: Not certain, sold in 2019
Strobe tuners are known for their extreme precision, and thus their popularity among professional guitar and bass guitar players. And this isn't like the standard digital tuner that you can find in a local music store, but an advanced device with an actual analog device working with a strobe disc. This particular feature enables you to get your strings tuned up with unexpected precision. Dave used Peterson's AutoStrobe 490, which also got sold during the 2019 Reverb.com campaign.
DigiTech HardWire DL-8 Delay and Looper
Years Used: 2000 to 2019
Although not exactly known when he actually used them, Dave had a whole collection of DigiTech's HardWire line of pedals in his collection, all of which he sold in 2019 through Reverb.com. One of those is a simple yet very potent delay and looper, the DL-8 model.
And this isn't like your classic delay pedal. Firstly, it allows for a very wide scope of delay times, anything from 15 milliseconds and up to 8 whole seconds. These are controlled not only through a simple time knob but also through a mode switch that selects four different time ranges. What's more, it even comes with modulation effects which adds some chorus to the mix, as well as a special mode that turns it into an analog delay. As if all that wasn't enough, there's even a tape delay mode that emulates the slightly "warped" tape, just like those old devices from the 1960s and the 1970s.
As for the looping, the pedal allowed up to 20 seconds of "infinite" loops, which can do wonders in stereo mode. Overall, it's one very potent pedal, so we're not surprised to see it as a part of Dave Mustaine's collection.
Zoom G2.1DM
Years Used: 2011 to 2019
While it seems a bit unusual, Dave did actually use one of Zoom's simple multi-effects floor-based processor units. In fact, he even got his own signature model from the company, the G2.1DM, which came out back in 2011. According to Mustaine, he used it for different occasions, and it seems that pedal has seen some action for live shows, most likely for additional effects. This one was also sold through the Reverb.com campaign in 2019.
Overall, this multi-effects pedal comes with all of the basic functions and features like any other device of its kind. Although mainly intended for beginners and intermediate players, Zoom G2.1DM is a pretty great one, allowing even experienced players to have a simplified life rig. What's more, you can even utilize it as an audio interface and record music at home using your computer.
TWA TK-02 Triskelion 2.0 Harmonic Energizer
Years Used: Unspecified to Present
One pretty exciting and somewhat unusual pedal in Dave Mustaine's collection is TWA TK-02 Triskelion 2.0 Harmonic Energizer. This compact device with three knobs and two switches is actually pretty advanced. By using synth technology, it can completely restructure your guitar tone's harmonic content and "reinvent" it. The main intention of the TK-02 pedal is to add more "punch" and clarity to your tone, often bringing it upfront and helping it cut through the mix. And the best part is that it sounds completely natural, without any synth-like effects added to it.
Whirlwind Multi-Selector
Years Used: 1992 to 1999
Some of the old schematics for Dave Mustaine's live setups also revealed that he's using a Whirlwind Multi-Selector device. Now, this isn't an effect nor a standard pedal, but it's a rack-mounted unit that allows musicians to switch between four (up to four) different instruments. In Dave's case, it was in his rig next to the wireless unit base, and his techs switched between different guitars for live shows. Each of the inputs on it is buffered with 1 megohm impedance, which controls the signal and emulates the regular amplifier load. The Multi-Switcher unit is also known for its completely noise-free switching operation.
Wrap Up
Mustaine is one of the undeniable pioneers and driving forces of Heavy Metal, his remarkable four-decade-long career accounts for his status as a living legend, and his visionary and impactful delivery have made him one of the main references for musicians in present day.
Megadeth's style has evolved and changed over the years, as well as the lineup. However, you could always notice Mustaine's writing, as well as his singing and guitar tone. While we're at it, his guitar tone has been a great point of interest to many guitar players, be it metal fans or others. Aside from his impeccable techniques and unique choice of notes, Dave Mustaine has been praised for his peculiar sound over the years as a true pioneer of a genre he helped forge.
Dave's ability as a guitarist can't go unnoticed, he truly is a rare kind of guitar hero. While his highlights certainly shine more during his shredding sections, Mustaine is one of the best rhythm guitarists of all time, he's attributed for delivering chopping perfectly timed and placed chopped aggressive muted power chords that make space for the rest of his bandmates to get the job done. In other words, he is a generous player who simply knows when to take the lead in a way that's become obvious legendary.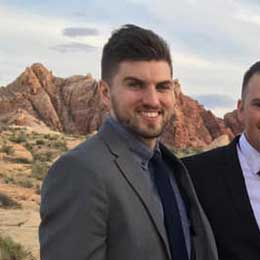 My name is Chris and I've had a passion for music and guitars for as long as I can remember. I started this website with some of my friends who are musicians, music teachers, gear heads, and music enthusiasts so we could provide high-quality guitar and music-related content.
I've been playing guitar since I was 13 years old and am an avid collector. Amps, pedals, guitars, bass, drums, microphones, studio, and recording gear, I love it all.
I was born and raised in Western Pennsylvania. My background is in Electrical Engineering, earning a Bachelor's degree from Youngstown State University. With my engineering experience, I've developed as a designer of guitar amplifiers and effects. A true passion of mine, I've designed, built, and repaired a wide range of guitar amps and electronics. Here at the Guitar Lobby, our aim is to share our passion for Music and gear with the rest of the music community.