Learning to play the bass guitar is similar to learning to play a traditional guitar. There are fewer chords to master, and the fingering techniques are not as complicated as the ones used in an acoustic guitar. The strings are heavier, though, making finger strength and dexterity very important.
Of course, when starting out, it's important to find the right songs to help you learn the basics of bass guitar playing. Thankfully, there's a wide range of easy bass songs to choose from, so we can almost certainly find something that interests you.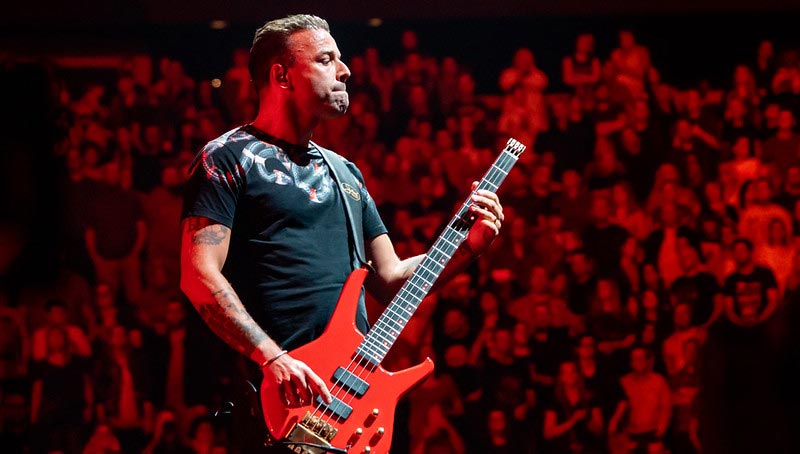 Regardless of what genre of music you enjoy the most, you'll find a ton of songs below that are a blast to play.
List of Easy Bass Guitar Songs
1. Smooth Criminal by Michael Jackson
I think you will all agree with me that the bassline of this song is simply irresistible. To say that "Smooth Criminal" is very beautiful, funky music is an understatement. Its basslines have been tweaked and used in many contemporary songs. This is a great song that introduces you to basic bass guitar patterns.
The bassline of this song is not as easy as the other songs on this list. You have a standard tuning, which is great for beginners. The only issue is that the rhythm is a bit faster than usual. At 118 beats per minute, you will have to push the capabilities of your playing fingers.
The good news is that it is always okay to start slow. Even when you reduce the rhythm to a more manageable 80 bpm, the bass will still sound great. The pattern is the same when you play the intro and the verse. It changes a little bit once you get to the chorus and the bridge. None of these will tax your fingers, however.
Like learning most new things, learning the bass will come easier to some people than others. If you're one of these people that is having difficulty, don't be flustered. Be patient and learn the fundamentals. Sooner or later, you will get the hang of it.
2. Kryptonite by 3 Doors Down
You've got to admire 3 Doors Down for making fantastic songs that have a unique rhythm and groove. This is due in part to the remarkable bass-playing skills of Todd Harrell. And if you listen to "Kryptonite", you'll know that what really drives the timing and the rhythm of the song is Harrell's bass guitar.
Newbies will love the slow bass intro and verses. There are no complicated fingering techniques on the fretboard. And even as you begin to play the chorus, the chord pattern is still very simple. The only thing that changed was the rhythm. You will be picking the strings at a much faster rate than at the beginning of the song.
For this song to be as authentic as the original, I advise you to use an electric bass guitar. This will give you the ability to mimic the sustained sound effects of the original. You can still use an acoustic bass guitar, of course. You will have to employ a specific fingerstyle for it.
3. Another One Bites the Dust by Queen
All aspiring guitarists should always have at least one Queen song in their collection of must-learn songs. This band has excellent taste when it comes to making music. Most of their pieces are one of a kind, too. And if you're inclined to become a bassist, then you should consider John Deacon as your idol and this 1980 Queen song a must-learn.
What I find very useful in learning "Another One Bites the Dust" is the simplicity of its basslines. It follows the chord progression of the song. The string that you will be playing most of the time is the 5th string. The rhythm is easy, and the song requires only a few fretting movements.
Learning the basslines of the song will help you prepare for other great songs with exceptional bass. It's more about establishing the rhythm of the song. You can think of the bass guitar as a fully-capable replacement for the drums. Having said that, you can master the basslines in as little as an hour, making it a great bass song for beginners.
Popular Related Article: 14 Awesome Acoustic Bass Guitars
4. Chameleon by Herbie Hancock
I know some of you will question my choice of song for aspiring bass guitarists. A song like this is hardly the kind of musical piece that a beginning musician should learn. I beg to differ. Composed as a jazz standard, "Chameleon" is perfect for beginning bassists. Why? For starters, this song has a very familiar funky beat. Hancock also composed it with a very specific bass line.
The song lasts a full 15 minutes and 41 seconds. However, there are only two chords that you will be playing throughout the song. That's Eb7 and Bbm7. You only need to learn two very basic patterns, each one having 6 notes. The first 5 notes of both patterns are the same. Only the last note will be different.
Once you have mastered these two bass patterns, you can play the entirety of the song. That is why I also picked this piece because it can be a great way to develop your stamina. The arpeggios can also be a good foundation for other fingerstyles.
5. Yellow by Coldplay
This alternative rock song is one of the best that any beginning bass guitarist should consider adding to his or her repertoire of learning pieces. The bass range of the song has a very minimalist approach. It is perfect for those who are absolute newbies to the world of bass guitar playing.
The tempo is moderate at about 88 beats per minute. This is ideal for those who are still struggling with their fretting and fingerpicking skills. The song is made even easier using only three notes: E, B, and F#. The chorus has different chords, but none that is going to make life miserable for the learner. One thing I love about this Coldplay song is the different variations you can have. Most of the time, you will only be picking on a single string, and the frets are not that far from each other.
Learning to play "Yellow's" basslines is crucial for learning the basics of rhythm. It can also introduce you to the basics of fingerstyle.
Popular Related Article: Our Favorite Bass Guitars For Beginners
6. Under Pressure by Queen
What does Queen and Vanilla Ice have in common? How about the fact that Vanilla Ice's characteristic beat in his "Ice Ice Baby" is very similar to the bass rhythm of Queen's "Under Pressure"? You can call Vanilla Ice a copycat. You can't blame him. John Deacon's signature rhythm has been the inspiration of many contemporary artists. And while many of them went the extra mile of tweaking Deakey's beat, there's no shame in playing one of music history's most iconic bass riffs.
Like many Queen songs, the basslines of "Under Pressure" follow the same melody and structure of the sound. This is a good example of how bass can provide a very stable foundation for the rest of the song. The basslines are constant right from the very first note. There's a subtle change towards the chorus, but none that will be too complicated for the novice bassist.
I wouldn't be surprised if you could create your own bassline after learning this song.
7. Billie Jean by Michael Jackson
The song's basslines may not be as easy as the ones I already listed. However, "Billie Jean" has one of the most recognizable beats on the planet. Listening to the first few bass notes is often enough to let you start feeling the groove. A few moments later and you will already be tapping your foot or even humming the tune.
You've got to give credit to Louis Johnson for his fascinating bass-playing skills. He is a bassist who is so in demand that Grammy A-listers line up to have him play the rhythm in their songs. Unfortunately, this bass legend is no longer with us. He did leave behind one of the most iconic beats of the 20th century.
The song plays in standard tuning. The fingerstyle is easy. It is the movements of the fretting fingers that you will need to master. The tempo is moderately fast, but it's not something that a beginner will not be able to handle with ease.
Popular Related Article: Top Short Scale Bass Guitars
8. Come Together by The Beatles
There are more than 200 songs that The Beatles wrote during their 8-year heyday from 1962 to 1970. Many of these songs have stood the test of time, still enjoying significant airtime on many radio stations and popular streaming platforms. And if you're a Beatles fan who wants to follow in the footsteps of Paul McCartney, there's no better song to master the basics of bass guitar than "Come Together."
This is one of those songs that I love beginning bassists to learn. It is especially useful in learning one of the neatest guitars playing tricks on the planet. Transitioning from the 2nd to the 3rd note requires sliding your fretting fingers from the 4th fret all the way to the 10th fret. There are other variations of the technique. And you will get to master them in this song. The sliding technique gives the song a unique 'twang' that is almost like steel-string acoustic guitars.
Learn to play the basslines of this song, and you're destined for greatness.
9. Seven Nation Army by White Stripes
If you're looking for a song that has a very recognizable bassline, then you shouldn't look any further than "Seven Nation Army." Although The White Stripes did not have a bass player, Jack White uses a vintage hollow body guitar and plays the riff on the low E, giving it a very heavy bass feel that complements the simple drumbeat of the song. This is a song that is worth playing with your newbie bandmates. Not only is this song very fun to play, but it is also instrumental in the revival of garage rock.
Newbies can play the bassline of this song by tuning their guitar down. However, if you already have a bass guitar, then you can start learning how to play it right away. There is a total of 7 notes that you will have to practice. Most of the notes are in the A string. You can play the song on a standard bass guitar tune.
The only tricky aspect of playing the song's basslines is the movements of the fretting fingers. Nimble fingers are a must when it comes to fretting some of the notes. It remains doable, of course. Constant practice should get you the right rhythm.
Popular Related Article: Bass Amps You Need To Know About
10. Stand By Me by Ben E. King
Something about Ben E. King's Stand by Me is an easy bass song that is almost magical. This song was written almost six decades ago. However, I can still hear it getting played on many digital streaming platforms. There are also radio stations dedicated to playing such musical greats. The lyrics may sound corny to you, but the melody and rhythm are still way better than contemporary music.
Learning the bassline of this song is a breeze. There's no need for the complicated tuning of your bass guitar. Also, the tonal patterns are almost similar throughout the song. The key here is to break the song into four sections. This will make it a lot easier to master the basslines for each section. As always, I advise going slow. It will help you gain confidence in playing the song.
One thing I like about this song is that you can play only the bass, and you will still end up with an amazing song. It is also fun learning the basslines that are the foundation of many contemporary bass songs. This is one of my personal favorite easy bass songs to play.
11. Three Little Birds by Bob Marley
Not everyone who loves music today knows Bob Marley. But any aspiring musician knows the impact of Bob Marley's works on the continuing evolution of contemporary music. He always infuses a sense of spirituality into each of his songs. This guy also put Jamaican music on the world map.
One of Marley's most popular songs is the 1977 hit "Three Little Birds." I say it's popular because countless artists have already given their take on the classic song or at least covered it. The song has that very Caribbean feel to it.
Learning the basslines of this Marley song is not that difficult. There are three grooves that you will need to learn and master. The tune of these grooves is not that different from one another, except for the third groove. You also get to perfect your sliding technique while maintaining a classic fingerpick. These are all essential movements that will help develop your bass guitar playing skills.
Popular Related Article: 30 Songs with Heavy Bass
12. Play That Funky Music by Wild Cherry
There are many songs in the 60s and 70s that can be good sources of material for aspiring bassists. One of these is the 1976 song "Play That Funky Music." Vanilla Ice gave his own interpretation of the song in 1989. However, I still prefer the original version of the Wild Cherry. Not a fan of rap, I guess.
So, why do I consider this song easy? How about the fact that its basslines only involve two chords: Em9 for the verses and Gm9 for the chorus? The verse also only requires playing the notes on the 5th and 7th frets. There is also a break during the pre-chorus, where you get to rest your fingers for a few seconds. This is essential because the chorus will somehow test your finger flexibility fretting on the 3rd, 5th, 7th, and 9th.
What some may consider tricky is the transition between the notes. It is quite fast. It's great for exercising those finger joints, getting them all warmed up.
13. Tonight, Tonight by The Smashing Pumpkins
One of the alternative rock group's most popular songs, "Tonight, Tonight," comes with a very catchy tune and a feel-good vibe. The song was a commercial success in 1995. It enjoyed significant airtime exposure on many radio stations all over the world. It has a unique sound that makes it seem more cinematic. The dense layering of the sound is quite phenomenal.
The first time you hear this song, you may want to think that the bassline is difficult. Not necessarily. The only thing that is quite tricky is the tempo, which is quite fast. What is crucial here is to master the art of picking the right strings. You can do it with a pick or with your fingers. Once you have accomplished this, it should already be easy to play the entirety of the song.
I promise you; this song has one of the easiest basslines that any beginning bassist can ever learn.
Popular Related Article: 30 Songs with Lots of Bass Guitar
14. I Got You (I Feel Good) by James Brown
It is without a doubt that James Brown's 1965 masterpiece is one of the most enduring tunes in the world. Many companies use it as a jingle or as an element in their advertisements. Organizations love the tune and many films have included portions of the song into their musical score. On top of that, "I Got You" happens to be the 78th greatest song ever to grace mankind. This is according to Rolling Stone Magazine.
The familiarity of the song makes it an easy pick for the best song that any budding bassist should play. While the original version is brass-heavy, the song still sounds beautiful on the bass guitar. The arpeggio may require some getting used to. This is because the picking and fretting techniques require a lot of finger movements. You will need absolute finger joint flexibility. On that note, this song should be a great exercise for your fingers.
Playing the bass of this song will make you an instant hit among your friends.
15. Like I'm Gonna Lose You by Meghan Trainor
This 2015 song may not ring a bell to many people. However, many music critics praised Trainor's song as a welcome respite from her usual works. This song focuses more on Trainor's vocals. While some say the song is a very old-school, formulaic ballad, it was still able to enjoy commercial success in Australia and New Zealand.
So, why did I include this song in this list if its strength is its vocals? Well, this song has a very easy bassline that even a grade-schooler can easily master. The slow tempo of the song also makes it incredibly easy to play. The fingerstyle isn't that complicated, either. The song will never make you flex your fingers to the point of popping them off their joints. The rhythm is also something that you can always swing to with your eyes closed.
Overall, the song is an excellent introduction to bass guitar playing. You'll learn the basics of rhythm and a few fingerstyle techniques that are indispensable for any aspiring bassist.
16. Should I Stay or Should I Go? by The Clash
Radio stations all over the world began playing this punk rock classic in 1982. And while the song was not a huge commercial success, it did enjoy a good following. This is especially true among aspiring musicians who would like to follow Paul Simonon's legendary skills in playing the bass guitar. Fast forward nine years after its release, "Should I Stay or Should I Go" leveraged its partnership with Levi's to gain greater attention.
As one of the world's 500 greatest songs, this The Clash hit is a must for every aspiring musician. The basslines are simple. The groove is quite easy to memorize, although it does require some degree of finger flexibility and coordination. This is great news for those who are only starting to learn how to play the bass guitar. They can learn and master the fingerstyle while also developing their talent for keeping up with the song's rhythm.
It's one of those songs that are easy to learn and definitely very fun to play.
17. Money by Pink Floyd
There is no mistaking the popularity of this Pink Floyd classic. The song gets deeply entrenched in modern pop culture every time there is a generation of musicians gets introduced to the music of Pink Floyd. Like many of Floyd's songs, "Money" has a very distinct bassline that helps define the song. It provides an overall structure that is so easy and fun to play.
The song has a unique time signature: 5/4 and 7/4. Some people may find this odd and more difficult to learn than the conventional time signatures of 3/4 and 4/4. The fact of the matter is that mastering the time signature will make it very easy for you to tackle almost any other piece out there. Plus, the rhythm is something that gets glued to your memory. It would be nearly impossible to get it out of your system.
This Pink Floyd song is perfect for mastering a few basic arpeggios. It's a good way to flex your fingers, too, while mastering the art of rhythm. All in all, it's an easy bass song that's fun to play.
18. Otherside by Red Hot Chili Peppers
Drug dependents know this song too well. Red Hot Chili Peppers created the song to underscore the battles that substance abusers must wage to try to get better. Flea, Smith, Kiedis, and Frusciante worked together to write the piece that would become their tribute to their fallen comrade, Hillel Slovak. The founding guitarist of the band succumbed to complications resulting from an overdose of heroin in 1988.
Played on a standard EADG tuning, "Otherside" offers a bassline that beginners should find very easy. There are no fancy fingerstyles. However, this is one of those music pieces that make use of the slide from the 3rd fret to the 14th fret. The notes are a breeze to master, and the rhythm is easy to pick.
This Red Hot Chili Peppers song makes a fascinating piece for novice bassists. It has a very fun melody and a rhythm that instantly sinks into consciousness. Mastering the rhythm will give you more than enough to tackle almost any other bass guitar song.
19. Smells Like Teen Spirit by Nirvana
It would be pointless to single out a song that best characterizes the music of Nirvana. There are way too many songs to choose from. When it comes to its basslines, very few Nirvana songs can match the popularity of the basslines of "Smells Like Teen Spirit." Almost three decades have passed, and this Nirvana creation still finds itself getting playtime on just about every alternative rock radio station.
The song has a punk rock vibe, thanks to the intense guitar chords of Kurt Cobain and the powerful basslines of Krist Novoselic. The bass and the treble unite in a seamless fashion to give you a song that is worth listening to for many centuries.
The basslines of the song can be quite challenging for some people. However, I do believe that this is a good piece for developing the stamina of future bassists. They need to maintain the accuracy of their rhythm while also focusing on perfect timing. They also must maintain this over long stretches.
20. All About That Bass by Meghan Trainor
I bet you didn't think I'd put this song on this list, did you? Well, I love this Meghan Trainor song because of its very playful vibe. It has this uncanny ability to transport you to the golden era of contemporary music in the 1960s. It is a hodge-podge of rhythm & blues, doo-wop, and bubblegum pop that can make anyone who hears the tune go crazy.
I think a line of the lyrics says it all. Putting emphasis on bass instead of the treble is nothing short of extraordinary. The basslines of the song only use three chords. You learn these chords, master them, and you are already playing one of the hippest and most fun tunes of the new millennium.
I think the biggest advantage of this song is the overall structure of its bass. You can practice the timing of your rhythm while also having absolute fun. Once you've got the hang of it, you'll be bouncing like Tigger all around the Hundred Acre Woods.
21. Crazy Train by Ozzy Osbourne
Aspiring heavy metal bassists should always consider the works of Ozzy Osbourne if they want to master some of the most classic heavy metal basslines. The former frontman of Black Sabbath used his musical genius to create a song that bewails his getting kicked out of the band.
One thing you will notice about the song's bassline is that it has a very fast tempo. At 138 BPM, you will be pushing the ability of your fretting fingers to coordinate their movements. The easy part of the bassline is its groove. There are two of these. Master these grooves, and you could be on your way to rocking the 4/4 song.
The key to learning the bassline of this song is to take note of the silence in between notes. Start slowly before you decide to attack the groove. This is an excellent song for creating your own heavy metal bass riffs in the future. It provides some of the foundations for classic heavy metal.
22. Momentary Bliss by Gorillaz
Released just this year 2020, this Gorillaz song is already becoming one of the favorites among lovers of punk rock and rap music. The song is the opening salvo of the group's Song Machine initiative. The group aims to release several singles over the course of 12 months, with each single being a collaboration with other artists. This song marks the group's collaboration with Slaves and Slowthai.
I decided to include this song because the bassline is quite easy to execute. It should also be a good piece for aspiring punk rock bassists to develop their own signature bass riffs. The song is in the standard EADG tuning. It will never put a strain on your fingers. It also helps that its tempo is not that fast. The chorus will require a faster fingerstyle, though.
This is a song that will allow you to play a bassline and look cool while doing it. It is a fun way to learn some of the fundamentals of bass playing.
23. Super Freak by Rick James
I really wanted to include this song because of its super cool bassline. Perhaps this is because it has this very familiar tune that MC Hammer popularized in the 90s. Yes, the bass and rhythm of "Super Freak" is uncannily similar to "U Can't Touch This". This is because MC Hammer sampled James' original song to appeal more to a growing rap fan base in the 90s.
It goes without saying that learning to play the song's basslines will help you feel and look cool. The bass riff is uniform through the song. There are no major departures from its standard groove, except towards the end of each chorus.
You need agile fingers to play this song. The fretting movements can be dizzying to the uninitiated. Taking it slow should help you build confidence, while also familiarizing your fingers to the different movements of the bassline. The funky vibe of this song is perfect for entertaining your friends and family.
24. The Chain by Fleetwood Mac
Every time Fleetwood Mac goes on stage, the band would always open their act by playing "The Chain". It is very interesting to note that this song is made of rejected materials from the band members' previous works. This creates a song that has materials coming from all five members of Fleetwood Mac.
I included this 1977 song because it remains a very popular song. Also, the basslines are not that tricky to master. In fact, you will not begin playing the bassline until about the 52nd second of the 4-minute, 28-second song has passed. This gives you enough time to get into the song's groove without ever playing anything. And once you strike the first note on the 5th fret of the E string, you should already be in the groove.
Keep in mind that you will only be playing the bassline at the song's chorus. This is what makes this song ideal for beginners.
25. Longview by Green Day
One of the most important skills that any budding bassist will have to learn is the fingerstyle. You will have to command your fretting fingers to be as flexible as possible. It is also important to ensure their coordinated movements. This is especially true for certain songs that require the fingers to move across the fretboard at different points.
Green Day's song should be a great exercise for any aspiring bassist. It has a very nice tempo that follows the usual 4/4-time signature. Your fingers will play the strings in a more casual manner. The fretting fingers, however, will have to push their limits. This is especially true for the last 4 fingers as you attempt to hit the right notes.
This is a very fun tune that will have everyone in the room dancing to the beat. Above all, it is a good piece for learning fingerstyle and a few other bass guitar basics.
26. Feel Good Inc. by Gorillaz
One of the best alternative songs ever to be played in the middle of the first decade of the new millennia is this song from Gorillaz. It featured De La Soul, one of America's fast-rising hip-hop group. The song is the band's most successful single, reaching double platinum status in the UK and platinum status in Australia.
The song makes it is easy for you to impress your friends with your bass playing skills. The tuning is the usual EADG. To mimic the beautiful, layered sound of the original recording, you might want to employ an octave pedal. This will give you a bass synth layered effect. You can still play this without the pedal, though. And it will still sound amazing.
The rhythm is predictable and the fretting techniques will never tax your fingers. It is a very fun song that you can play anytime, anywhere.
27. Smoke on the Water by Deep Purple
Remember the scene from the cult musical School of Rock where Jack Black jams with his students on an awesome rock? It's none other than "Smoke on the Water," Deep Purple's iconic hit from their Machine Head album. With its high-impact sound built around a terrific riff, the track marked the arrival of hard rock. Five decades on, and the track still doesn't fail to impress. If you want to add Roger Glover's famous bassline to your arsenal, don't forget to check out the tabs and tutorial above.
28. Psycho Killer by Talking Heads
Talking Heads Tina Weymouth had just been playing bass for a handful of months before joining the band as their low-end anchor. She evolved into a stellar bassist, driving the band's new wave sound with her punchy, memorable basslines. Her consistent and funky bassline in "Psycho Killer" balances the song's overall eerie vibe, making it groovier and more mainstream. Weymouth's work in the song will teach you how to pick the notes short and tight with hand muting, a useful skill to learn as a bass player.
29. Twist and Shout by The Beatles
Beatles' discography is a wonderful place for beginner-level guitarists and bassists. True, not every song is easy to play, but some talented musicians have deconstructed and simplified each classic to help out novices. One of the band's early hits, "Twist and Shout," is an upbeat, groove-fest driven by a similar three-chord structure as Ritchie Valens' Latin dance hit "La Bamba." While the original bassline is pretty challenging, you can pick up the root notes of the chords D, G, and A and play them throughout the whole song.
30. You Really Got Me by The Kinks
The Kinks were a raging sensation in the '60s, producing earworms drenched in varying combinations of rhythm & blues, rock 'n' roll, and folk. As a power chord heavy fare in the early sixties, "You Really Got Me" is said to have inspired the sound of many future genres, including punk rock and heavy metal. The bass parts revolve around a simple riff that you should be able to nail quickly by paying close attention to the timing. A metronome should help here.
31. La Grange by ZZ Top
Anyone with a good sense of humor and love for blues-rock (and mighty long beards!) swears by ZZ Top's music. Released in 1973, their signature song, "La Grange," is a boogie-woogie ride teeming with risqué lyrics and fabulous guitar riffs. Whenever you're raving over Bill Gibbons, unleashing those famous riffs and that bluesy solo, don't forget it's Dusty Hill's bassline that holds it all down like a strong anchor. The bass parts are relatively straightforward compared to the guitar parts. The tutorial above breaks it all down for you.
32. Come as You Are by Nirvana
The second single off Nirvana's seminal Nevermind, "Come as You Are," injected another dose of popularity into the American band's burgeoning success. Back-to-back chart-topping hits right after their iconic "Smells Like Teen Spirit" triggered the spread of grunge across the world. Apart from power chords fuelled riffage, both songs had memorable basslines that every emerging bassist should know. In "Come as You Are," Krist Novoselic's bass is tuned a whole step down, but even in standard tuning, the parts will sound just as amazing. Check out the tabs to get started.
33. 21 Guns by Green Day
"21 Guns" was Green Day's shot at composing an arena rock ballad. It's a five-minute guitar-driven fest with an acoustic intro, powerful chord changes, melodic electric riffs, and a steady bassline to tie it all together. This track is tailor-made for bass newbies, especially those eager to add an easygoing chugging riff to their arsenal.
34. Every Breath You Take by The Police
On second thought, this Police classic should be higher up on our list. It's a go-to song for beginner bassists with an immediately identifiable bassline that's easy to learn. With "Every Breath You Take's" irresistible catchiness, the English rock band hit radio goldmine. In 2019, the song was recognized by BMI as the most played track in radio history, with over 15 million plays. Besides his swoon-worthy vocals and overly passionate lyrics, Sting also gifted us an immortal bassline plucked on an upright bass guitar. And we've got tabs and a video tutorial to help you nail this part.
35. Circles by Post Malone
Here's a superb starter song for guitarists and bassists alike. "Circles" by Post Malone is about a relationship that has run its course but continues to run around in circles. This soul-stirring soft rock track was released as the third single off the rapper's 2019 album Hollywood's Bleeding, winning both charts and hearts. Check out the tabs to learn its super cool bassline.
36. Enter Sandman by Metallica
Metallica's former bassist Jason Newsted favored plectrums over fingers to nail the band's aggressive sound. His playing style was a significant departure from the band's founding bassist Cliff Burton who mostly relied on fingers to play. In "Enter Sandman," Newsted keeps his bassline simple, employing a repetitive pattern. We recommend starting out slow with fingerpicking and switching to a plectrum when you're confident to jam along with the recording.
37. Dakota by Stereophonics
Welsh rock band Stereophonics' one and only chart-topping single make for some really smooth bass playing! With "Dakota," the band swapped their soulful vibe and acoustic guitars for a snazzier, 'U2esque' sound. The edgy song was loved by the crowd for its big, catchy guitar hooks and anthemic chorus. Whether you use your fingers or pluck the strings with a pick, this is an easy enough song to add to your repertoire. If you haven't heard it, tune in to the original song before starting the lesson.
38. Lonely Boy by The Black Keys
"Lonely Boy" wooed the crowd with its danceable energy, distorted bluesy riffs, and some really expressive singing on the part of the frontman Dan Auerbach. This Grammy-winning single by the Black Keys is one of the easiest songs you can play on your bass guitar. You only have to learn one simple riff and play it over and over again through the length of the song. When students ask me for good easy bass guitar songs to practice, this is one I always recommend to them.
39. Rolling in the Deep by Adele
Bass is seriously underrated in most genres, even more so in modern pop. In Adele's chart-shattering hit "Rolling in the Deep," an eighth-notes bassline adds to the overall momentum while intensifying the build-up. It's one of those pop songs that can be just as easily turned into a great jam session with friends. Check out the tabs and the video to learn and play.
40. Killing in the Name by Rage Against the Machine
Signing off with a slightly challenging yet doable song that'll elevate your skills as a bassist. Mastering the bassline in RATM's classic "Killing in the Name" will open doors to a world of hard-hitting, down-tuned riffage, often used in hard rock and metal genres. You'll need to tune your bass guitar to drop D tuning before getting started. Whenever you find yourself stuck anywhere, it's always a good idea to play the part slow before picking up the pace.
41. Get Lucky by Daft Punk
The bassline for this iconic song is a delightful experience for any bass player. With its infectious rhythm and funky bassline, this track by Daft Punk, Pharrell Williams, and Nile Rogers is a perfect playground for bassists. The steady four-note pattern, accompanied by subtle variations, creates a catchy foundation that drives the song's energy.
If you're starting out, start by learning this song's pattern, which will easily get heads bopping. If you're a bit more experienced, this is a great song for those interested in experimenting with improvisation. "Get Lucky" serves as a gateway to the vibrant world of funk and disco bass guitar, making it an easy and enjoyable song to master. So grab your bass and get thumping!
42. Uptown Funk by Mark Ranson and Bruno Mars
"Uptown Funk" is a fabulous collaboration between two pop giants. It delivers an infectious groove that is a delight to play. The bassline keeps listeners on their feet, and the catchy melody and rhythm are straightforward and fun. This allows aspiring bassists to get into the groove and seasoned players to add their unique touch.
You'll notice that the bass player on this song, Jamareo Artis, incorporates fingerstyle and slap techniques. While slapping is often a daunting technique to implement, you can get there with practice! If you can't do it (yet), it doesn't mean you can't play this song! Simply play the parts fingerstyle, get them down, make sure they groove, and then slowly incorporate slapping. You'll get there!
43. Superstition by Stevie Wonder
Superstition. Do we really need to say any more? The iconic bassline is a masterpiece and a perfect showcase of groove. Although intricate, the bassline is surprisingly accessible, and the rhythm creates a pocket that drives the song. Just try to play this bassline at a bar and see the whole place light up.
The best thing about Superstition is that the bassline is shared with multiple instruments, so it's easy to feel as though you are a part of the band when you learn it, and you can always sense if you're grooving with the rest of the band. And the biggest bonus? This is a groove school. Once you have it down, a whole new world opens up!
44. London Calling by The Clash
"London Calling" is an iconic punk rock anthem. Written by The Clash, it is a thrilling and straightforward experience that captures the rebellious spirit of the genre. Paul Simonon's bassline is a driving force that anchors the song's raw energy. With its simple yet powerful structure, it serves as a fantastic entry point for beginners.
This is the perfect song to practice that flat-pick technique. The song's main riff consists of a catchy descending pattern that is easy to grasp, allowing bassists to quickly join in on the intensity of the track. Playing this song takes 110% attitude and nothing more, so the best strategy is to hit those strings loud and proud, preferably while practicing your rock star pose.
45. Learn to Fly by Foo Fighters
This is a great place to start your bass journey! While the bass parts in this song are technically easy, they are very effective and showcase the importance of simplicity. The bass parts start off with long notes that counteract a busy guitar part. In the chorus, Nate Mendel moves between 1/8 notes and long notes, sometimes locking in with the kick drum and at other times providing a low end for the guitars to scream!
This is a great opportunity to learn to play dynamically, helping the band's sound grow and fade with the music. When you try to play this song, make sure to listen to the kick drum. It'll help you hit the notes in the right spot!
46. The Pretender by Foo Fighters
We're still in Foo Fighters' territory, but this is a different approach altogether.  Here, the bass locks in with the guitar and the kick to provide an urgent and saturated part that keeps listeners on their feet and moves the song between tight verses and wide, open choruses. The bridge really builds on this energy. Notice how it adds dynamics to the song.
Take the time to familiarize yourself with the role of the kick drum in a song as you play with the kick drum in the verse and move beyond it in the chorus. The holy bond of bass and kick is the bread and butter of rock & roll, and this is a great example of that.
47. Bad Habit by The Offspring
What a punk rock classic! "Bad Habit" was a huge hit from The Offspring's "Smash" album of the early '90s. It starts with a gnarly bass part that drives the intro to the song. When the whole band joins, the bass doubles the guitar parts in true punk fashion. Fans of 90's American punk music can't go wrong when choosing this song.
To play this song, you need a pick and a whole lot of attitude. Make sure to hit those strings hard, and if you have a drive pedal, now's the time to use it. The chorus might be a bit challenging to some, but you can switch that part to 1/8 notes as you build up your technique.
48. Sultans of Swing by Dire Straits
When you think Dire Straits, you think Mark Knopfler. Sure. But there's no Sultans of Swing without John Illsley. This groovy song benefits from an equally groovy bass part that helps Knopfler's guitar antics sing over the melody. Playing mostly root notes, the bass part here also accentuates the transition between chords, providing a lot of harmonic ground in a rather stripped and conservative mix.
This song is an example of how to chill in the mix. The bass part has its complexities, but always in the service of the song. In essence, this is an exercise in constraint. The bass plays everything the song needs and nothing more, and that's often what we bass players are called to do.
49. Child of Babylon by Whitesnake
We know Whitesnake from 80's hair metal hits like "Here I Go Again," but before that, the group had a more blues-rock sound, which came to fruition in their "Come and Get It" album, with its iconic album cover and stellar song selection. "Child of Babylon" is especially cool because it showcases the bass playing of the legendary Neill Murray.
This song is the perfect combination of rock & roll sensibilities and blues licks, which comes through in the pentatonic bass riff that leads into locking parts with the guitar. The chorus riff is especially interesting, both providing much-needed syncopation and working with the guitar parts creatively. Tackle this rock classic to learn some diverse bass vocabulary. If you're looking for easy bass songs, this is one of my top recommendations.
50. Ironman by Black Sabbath
Sometimes, playing in unison is exactly what the doctor ordered. Black Sabbath are the pioneers of heavy metal, and the song Ironman is no exception. Featuring heavy riffs with almost jazzy sensibilities, Geezer Butler provides melodic bass content to compliment the band's sound.
This is a great song to learn the value of melodic playing on bass. Pay close attention to the parts that Butler plays with the guitar and where he chooses to trail off. Every note is right where it needs to be for a beautifully dark creation. Butler got this sound by playing fingerstyle, which contributes so much to the sound of the band. And that fast guitar solo toward the end? Chef's kiss!
51. Song 2 by Blur
I'll let you in on a secret. You know this band's lead singer from another band. Can you guess which? I'll give a hint: they're also featured on this list. Song 2 was a huge hit when it came out, no doubt, thanks to this song's hairy and unhinged bass tone.
This song is tuned a half-step down and is played with a pick. Make sure to also use a fuzz pedal to get as close as possible to Alex James's tone. Notice how the bass provides all the groundwork for this song and also supports the guitar riff at the end of each chorus. Sure, there are some breaks, but they are more than compensated for in the chorus.
52. Clint Eastwood by Gorillaz
The groove on this tune is insane. Combining rock and hip-hop aesthetics, this song was a huge statement when it came out. While most of the instrumentation here is done using drum machines and synths, the bassline is nevertheless infectious and carries a great funky groove.
Here's a great example of the musical legacy that songwriters honor in subtle ways; "Clint Eastwood" has a continuous two-octave bassline that is reminiscent of classic disco and funk records of the 70s. It's in the background, but it's definitely there and helps the listener get into the music. When you take a moment to learn it, you won't stop hearing it, and you'll feel how crucial it is to the song's flow.
53. Black Dog by Led Zeppelin
Imagine what it was like to hear "Black Dog" for the very first in 1971. This song follows a swingy beat that is reminiscent of both blues and jazz and really accentuates the talent of this iconic four-piece. It also shines a light on one of rock's unsung heroes – John Paul Jones.
"Black Dog" might seem like too much of a challenge. The riff is nuanced, and the beat is far from straightforward. But it has a consistent riff, so if you learn it slowly, you will grasp it in no time. Once you do, it will never go away and will open up the door to one of the most common patterns in blues music: the classic twelve-bar blues.
54. Immigrant Song by Led Zeppelin
Led Zeppelin certainly deserves two spots on this list. You might know this tune from the final battle in the movie Thor: Ragnarok or you might remember it from the album "Led Zeppelin III". Taking the Viking raid theme to its extreme, this song features a galloping guitar and bass riff that pushes the song forward.
This is yet again a great contribution from John Paul Jones. While the distinctive guitar and bass riff is easy enough to hear for the first time, try to listen carefully during the chorus, to notice Jones's scale work as he plays through Page's big wall of guitar. This song is a true journey, and the bass and drums are the engine behind it.
55. Sledgehammer by Peter Gabriel
Few bass heroes have made such an impact on the bass guitar as Tony Levin. Currently part of the Stick Men and many other acts, Levin has truly made a mark on the pop, rock, and progressive rock genres.
Here he supplies the low end to Peter Gabriel's hit "Sledgehammer" and creates an addictive groove that you don't want to ever stop. Although Levin is very effective on the fretless bass, you don't need one to play this song! Remember to work on your slides and turn down your tone knob to make those notes as smooth as possible. Notice that the groove doesn't only come from what Levin plays, but also from where he chooses not to play.
56. Jesus He Knows Me by Genesis
When Peter Gabriel left Genesis, the band adopted more of a pop sound. But that doesn't mean they didn't create some great music! "Jesus He Knows Me" hides social criticism behind a moving bass riff and a relentless drum pattern and sprinkles everything with 80's synth sounds. It even has a strange reggae bridge!
Played by Mike Rutherford, this intricate bass line moves through the song hand in hand with the guitar, at times straying away only to get back. Notice the stops that characterize this part and that give it as much groove as the notes themselves. Bonus: this song was recently covered by the band Ghost, so learning it gets you two songs for the price of one!
57. Cissy Strut by The Meters
Let's go back in time to an era when no one had a click track, and being in the pocket was the most important thing you could ever do. Few recordings were as "in the pocket" as The Meters' funky instrumental "Cissy Strut."
Played by George Porter Jr, this bass riff consists of two main parts, both played over a simple yet effective bass riff. "Cissy Strut" served as an inspiration for many bass players, and for good reason; it has all the building blocks of a tasty groove, and although it is pretty straight forward, it never gets old. Do yourself a favor and turn off that tone knob to get that classic 70's tone. You're already halfway there!
58. Celebration by Kool and the Gang
Speaking of being "in the pocket," Kool and the Gang have always been a bass powerhouse, and "Celebration" is a great example of this. What starts as a bass and keys riff morphs into a thumpy, staccato bass part that moves the song forward and counteracts the legato and easygoing singing on this track.
Being the mastermind of the Gang, Robert "Kool" Bell plays some mean bass here, with tone all the way down and groove all the way up. To follow Bell's example, make sure to practice those staccato notes and keep it as tight as possible. Notice the ends of each phrase, which often take a 1/16 feel rather than the more syncopated 1/8 notes that appear elsewhere.
59. What is Hip by Tower of Power
Whoever said 1/8 notes are a rock thing never listened to Tower of Power. This iconic funk machine of a band really knocked it out of the park with "What is Hip", out of their studio album "Tower of Power", released in 1973.
Many attribute the track's success to the brass section or to the great lyrics, but we know where it is; that's right – the bass! Rocco Prestia uses 1/8 notes effectively to move the music forward and bring out all that swing. Later, Prestia moves to more melodic playing, emphasizing the swelling of the brass section, and then supports them from below at the track's finale. It's definitely a workout to follow his example, but it's worth it!
60. Let's Dance by David Bowie
The album "Let's Dance", released in 1983, has a huge selection of amazing songs, but it is no wonder that the song "Let's Dance" is its title track. It is a moving, head-bopping tune that couples nuanced lyrics with an in-your-face groove.
The bass player on this one is Carmine Rojas, who also played with Tina Turner, Rod Stewart, and Joe Bonamassa. Here, Rojas lays down a groove that is both percussive and melodic, complimenting the fragmented, almost sampled nature of the rest of the mix. He's a bass player that plays to the song and does so very creatively. Check out this bass line for a lesson on designing your riffs to fit the song like a glove.
61. I Shot the Sheriff by Bob Marley and the Wailers
Some think that reggae is very simple, but it has its own unique vocabulary and style. "I Shot the Sheriff" is a great example of that. While its drum beat and guitar parts are straightforward, it's almost impossible not to dance to it every time you hear it.
The song owes its groove to the bass. Aston "Family Man" Barrett laid the low-end, playing around the beat and lending it a counter melody that brings the different elements together. It might be hard to hear it in the verses and choruses but listen until the end! Reggae bass has a distinct style and rhythmic character and is worth serious study. "I Shot the Sheriff" is a great place to start.
62. This Ain't a Scene, It's an Arms Race by Fall Out Boy
Sometimes, all you need is a good old "four on the floor" groove. "This Ain't a Scene, It's an Arms Race" is a good example of how far simplicity can get you. With pop-punk sensitivities and a great vocal arrangement, this song takes its genre to its extreme.
Pete Wentz, who also wrote the lyrics to this great song, played bass on it. He takes a minimal approach as he plays single notes in the verses and 1/8 notes in the choruses. But don't let that basic pattern fool you: not only does this bass part groove HARD, but it also breaks down towards the end and builds towards an explosive chorus. Grab your pick and let it go!
63. Teenage Dirtbag by Wheatus
What do you get when you throw an acoustic guitar in a pop-punk mix? The answer is Wheatus' "Teenage Dirtbag." A true classic of the mid 2000's, this song was everybody's favorite and somehow combines alternative rock, rock & roll, and punk motifs, all the while keeping everything glued together.
Rich Liegey's bass playing here encapsulates these combinations. Liegey plays the verse in a style reminiscent of 90's alternative rock and enters into rock & roll territory in the chorus – all the while without overplaying. Just what the song calls for, no more, no less. Notice the interesting interplay between electric guitar and bass, and make sure to pick up on all the intricacies of this great bass part!
64. Thrill is Gone by BB King
Ah, the twelve-bar blues. You'd be hard-pressed to find a more influential chord progression in popular music, and you'd be hard-pressed to find a more prolific user of this framework than B.B. King. This song can last forever as solos get longer and longer, and it's up to the bass player to always be consistent as soloists blow their minds with their chops.
Gerry Jemmott played bass on this original recording. Notice his approach here. He makes sure to remind you exactly where he is while offering bass licks that move you from one chord to the next, creating tension and release as he moves along. The perfect platform for King's legendary solos. A true school of the blues bass guitar.
65. Cocaine by Eric Clapton
Written and recorded by J.J. Cale in 1976, "Cocaine" was popularized by Eric Clapton in his 1977 release "Slowhand." The song combines a guitar riff over a steady drumbeat, with the bass creating harmonic content between the two and providing a platform for Clapton's singing.
Carl Radle's bass playing on this song is respectful and reserved. The bass's contribution rests on its emphasis on the 1 and 3 of each bar, which means that the bass comes in when the guitar riff fades away. Deciding which beats of a bar to emphasize is an important decision and is related to the genre the song is in. Try to learn this song with its genre's characteristics before adding your own flair.
66. Rock the Casbah by The Clash
While not your classic punk song, "Rock the Casbah" is nevertheless a punk treasure from a band that pushed every envelope. The Clash consciously selected an infectious beat and a groovy feel to a song that has lyrics that are entirely punk.
Although drummer Topper Headon played drums, bass, and piano on this song, the iconic video clip that accompanied this song features Terry Chimes. Nevertheless, Headon's bass playing is intricate and constantly moving. Play down strokes with a pick for as much of this part as you can to get as close as possible to this iconic bass tone. When in doubt, stick to 1/8 notes on the low notes until you get the whole song under your belt.
67. Run to the Hills by Iron Maiden
What bass player didn't dream they could be Steve Harris at one point in their lives? A bass hero if there ever was one, Harris played on "Run to the Hills" as he did on all Iron Maiden songs – with 200% attitude.
This song required a particular bass part to emphasize a feeling of chase. In comes Harris, playing almost every bar of this song while "galloping" – playing each note with three fingers, one after the other. That's such a cool technique and definitely worth learning, but if you can't do it yet, start with 1/8 notes. It's also a great idea to practice slowly with a metronome, speeding up little bit every time until you get to full speed.
68. Would? by Alice in Chains
If there ever were a bass part that could be defined as "relentless," this would be it. Coming from the soundtrack to the 1992 film "Singles", this song was a tribute to Mother Love Bone's late vocalist Andrew Wood, written by Jerry Cantrell.
Mike Starr played bass on this song, and his playing resembles a drone that keeps going nonstop throughout the song. Instead of the usual trope of changing the parts of most instruments in the chorus, here the drone-like playing persists throughout the song's multiple parts while other instruments change parts. To learn this song, make sure to get your picking hand technique down before incorporating your fretting hand. That way, you can ensure consistency throughout the song.
69. Cochise by Audioslave
Audioslave was an important supergroup, and "Cochise" is a great example of the powerhouse that a combination of Rage Against the Machine and Soundgarden can create. With Chris Cornell on vocals and Tom Morello on guitar, a bass player needs to work hard to get himself heard.
In comes Tim Commerford, doing what he does best; creating infectious and aggressive grooves that emphasize the rock sound of the band while keeping heads moving and feet jumping. The bass part here consists of a riff that the bass and guitar share in the verse and a variation on that riff in the chorus. Use a lot of drive, but don't be tempted to grab a pick – this song is all fingerstyle!
70. Dancing Queen by Abba
Few bands have had the impact that Abba had. From strings arrangements to vocal harmonics, every Abba song is a lesson in tasteful composition. "Dancing Queen" features all that, with a moving bass line that provides the song with its danceability. Even if this isn't the genre for you, it's a great place to hone in that syncopated feel that is vital for any live or studio setting.
On the bass, here we have Rutgar Gonnarsson of the formidable Abba session band, and he lays down a bass line that is at the same time funky and laid back. To do this song justice, make sure to play fingerstyle and keep that bass tone as clean and as balanced as possible!
Wrap Up:
That does it for this list. Let us know if there are any easy bass guitar songs that we left off this list that should be included. As always, let us know if you have any comments or questions below!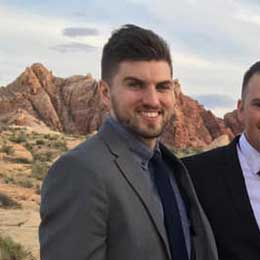 My name is Chris and I've had a passion for music and guitars for as long as I can remember. I started this website with some of my friends who are musicians, music teachers, gear heads, and music enthusiasts so we could provide high-quality guitar and music-related content.
I've been playing guitar since I was 13 years old and am an avid collector. Amps, pedals, guitars, bass, drums, microphones, studio, and recording gear, I love it all.
I was born and raised in Western Pennsylvania. My background is in Electrical Engineering, earning a Bachelor's degree from Youngstown State University. With my engineering experience, I've developed as a designer of guitar amplifiers and effects. A true passion of mine, I've designed, built, and repaired a wide range of guitar amps and electronics. Here at the Guitar Lobby, our aim is to share our passion for Music and gear with the rest of the music community.