Let me just say it out loud: If you thought that there aren't too many professional female bassists around, then you thought wrong. There are some insanely talented female bassists out there. I've noticed that not too many young girls are encouraged to pick up the bass guitar when they're starting out, and I can't understand why, because many have been very influential!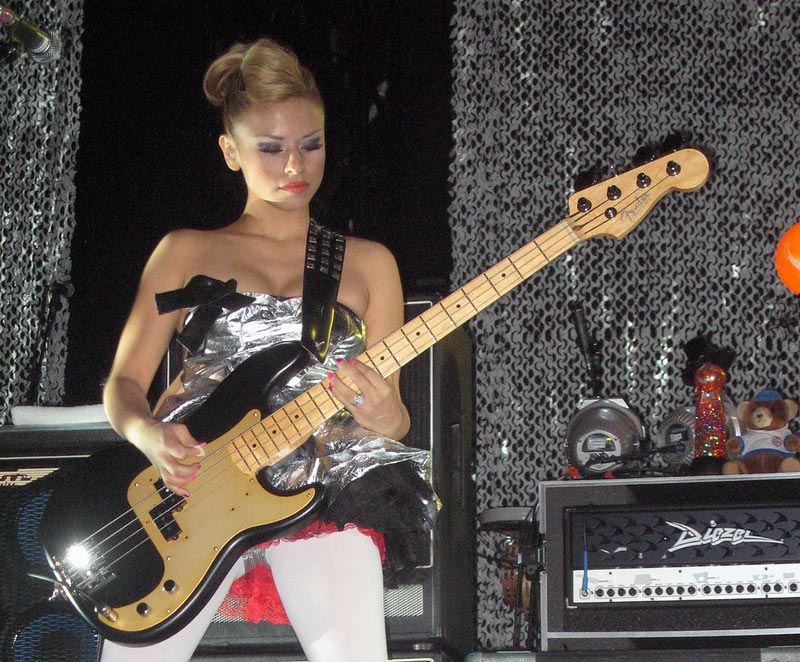 From metal, punk, pop, and everything in between, these women have built their very own sound in the bands they've played with. And several of them are also songwriters in their own right as well.
There are many prodigious female bassists whose musicality and sound have shaped and influenced the sound of entire genres together. Even then, I noticed that there weren't any good resources online that listed the brilliant bassists in a single place, so I decided to do it myself! This article brings together the best female bass players from around the world. Scroll down to find out who they are, their musical style, the bands they've played for, and lots more.
Here Are the Best Female Bass Guitar Players of All Time
25. Kim Gordon
| | |
| --- | --- |
| Date of Birth | April 28, 1953 |
| Birthplace | Rochester, New York, USA |
| Bands | Sonic Youth, Free Kitten |
If you want to know what it takes to make your mark as a female artist and smash stereotypes one after another, you only have to pick up Kim Gordon's evocative memoir, Girl in a Band. As a frontwoman, vocalist, and bassist for prominent punk-rock band Sonic Youth, Gordon galvanized a generation of women to embark on their musical journeys.
With her rock-solid low end and melodic bass lines, Gordon left an indelible sonic print in the alt-rock scene. A natural on the bass, you will be amazed to know that Gordon had not played a single instrument till the age of 27! "Playing bass was never my desire," she once said in an interview. Bass, apparently, just happened by accident in pursuit of creating something exciting! Gordon considers herself more a visual artist than a musician.
Here are some of her most memorable basslines out of Sonic Youth's repertoire- "Death Valley '69" (1985), "Silver Rocket" (1988), "Dirty Boots" (1990), "Sugar Kane" (1992), just to name a few.
24. Suzi Quatro
| | |
| --- | --- |
| Date of Birth | June 3, 1950 |
| Birthplace | Detroit, Michigan, USA |
| Bands | The Pleasure Seekers, Cradle |
As the Queen of the garage rock era, Suze Quatro's complex bass, formidable vocal talent, and chic leather jumpsuits empowered women to follow their musical dreams. Ask anyone who's seen her play live, and they'll tell you this- Armed with her powerful vocals and epic basslines, Quatro simply owned the stage!
Quatro's growing years were fairly musically inclined thanks to occasional gigs playing percussion for her father's jazz band. At the age of 14, Quatro, her sister, and two of their friends started an all-female garage rock band, the Pleasure Seekers. Jaw-dropping talent hardly ever goes unnoticed! Quatro's stint as bassist, vocalist frontwoman of the band was noticed by famous record producer Mickie Most, who she credits as a mentor.
The '70s saw Quatro rubbing shoulders with iconic musicians Chinn and Chapman and creating the chart-topping hit "Can the Can." Since then, she's released fifteen studio albums, and her records have clocked more than 55 million sales across the globe.
If you thought Quatro's hung up her boots after a career spanning over five decades, you're mistaken! Her most recent album, The Devil in Me, was released only a few months ago, which is proof that Quatro is unstoppable even in her seventies!
23. Tina Weymouth
| | |
| --- | --- |
| Date of Birth | November 22, 1950 |
| Birthplace | Colorado, California, USA |
| Bands | Talking Heads |
Tina Weymouth's punchy bass lines contributed significantly towards elevating the sonic quotient of her band, Talking Heads, and taking it to world-class levels. As one of the most acclaimed bands of the '70s and '80s, Talking Heads pioneered the new wave movement by infusing punk, rock, funk, and world music.
Hailing from Coronado, California, Weymouth started dabbling in music in her teens when she taught herself to play guitar. She later started studying at the Rhode Island School of Design, where she met Chris Frantz and David Byrne of her future band. The trio moved to New York, and Weymouth started supporting the band by serving as their driver.
Weymouth was never about the bass but was nudged into playing it simply because Frantz and Byrne had trouble finding a suitable bassist for their band!
After a highly successful ride, Talking Heads went into hiatus, prompting Weymouth and her husband, Frantz, to form Tom Tom Club in 1980. The move proved to be another exhilarating and fruitful journey for the groovy bassist. With bold, edgy, and articulated playing, Weymouth has carved a niche for herself. Tune into "Genius of Love" (Tom Tom Club) and "Psycho Killer" (Talking heads) to check out her inimitable style.
22. Abby Travis
| | |
| --- | --- |
| Date of Birth | November 10, 1969 |
| Birthplace | Los Angeles, California, USA |
| Bands | The Bangles, The Go-Go's |
As the low-end anchor for many well-known bands, Abby Travis is the epitome of versatility! Her natural hold on the bass improves the sound of any band she plays for and is perhaps the reason behind her image as a sought-after session player. From The Go-Go's, The Bangles, Beck, The Eagles of Death Metal, Sumo Princess, Vanessa Paradis, and Cher, Abby's discography shows just how dynamic she is! Travis plays to the ecology of a song which allows her to adapt to practically any genre of music.
From playing for rock bands since she was a teen to releasing four solo albums, Travis has come a long way. She credits Geezer Butler, Verdine White, John Paul Jones, and Paul McCartney as the people who have influenced her way of playing. On stage, Travis is a sight to behold! Exuding killer confidence and charisma, she plays the bass like nobody's business.
Travis sings as well as she plays! Her third solo album, "Glitter Mouth," has her doing a style that's been termed "Cabaret Pop," a breathtaking blend of jazz and pop that'll win you over. Abby Travis is easily one of the best female bass players of all time.
21. Gail Ann Dorsey
| | |
| --- | --- |
| Date of Birth | November 20, 1962 |
| Birthplace | Pennsylvania, USA |
| Bands | David Bowie, Lenny Kravitz |
Bass stalwart Gail Ann Dorsey is best known for her extended run as a member of David Bowie's band, but that's just one of her many achievements. Her impressive resume rivals the most prolific of session bassists. Active in the music scene since 1985, Dorsey's performed with a diverse pool of artists ranging from Bryan Ferry, The Indigo Grils, Gwen Stefani, Lenny Kravitz, among several others.
Dorsey cites Mark Farner, Terry Kath, Jimi Hendrix, and Nancy Wilson as inspiring her to start playing guitar when she was just nine years old. She got a bass guitar for her 14th birthday and never looked back. By 22, Dorsey had moved to London to kickstart her career and, in her mid-twenties, was a well-known name in the London music circuit.
If I had just to pick one song among her many masterpieces, I would ask you to drop everything and listen to Dorsey's incredibly awesome rendition of Queen's staple "Under Pressure" as a duet with David Bowie. The way she takes over the legendary Freddie Mercury's vocal part while producing those iconic bass lines is simply jaw-dropping!
20. Melissa Auf der Maur
| | |
| --- | --- |
| Date of Birth | March 17, 1972 |
| Birthplace | Quebec, Canada |
| Bands | Tinker, The Smashing Pumpkins |
Melissa Auf der Maur's memorable stints as a bassist with famous bands like Tinker, Hole, Smashing Pumpkins, and a stellar solo career to boot has earned her a place on VH1's 100 Greatest Women of Rock & Roll, and deservingly so!
Alongside music, Auf der Maur has a proclivity for the visual arts. She wanted to become a photographer and attended Concordia University with a major in photography, but destiny had something else in store for her. During her time at Concordia, she started Tinker with a fellow student, taking over the role of the bassist for the band. From Tinker, Auf der Maur's solid bass work took her places.
When it comes to technique, her playing style can best be described as understated. She excels in adapting the sound, tone, and approach to fit the song, with a healthy dose of creativity thrown into the mix. Supporting pop-rock sound for Hole's (Celebrity Skin) to playing metal for Smashing Pumpkin's Machina showcases Auf der Maur's astounding versatility.
19. Kim Deal
| | |
| --- | --- |
| Date of Birth | June 10, 1960 |
| Birthplace | Dayton, Ohio, USA |
| Bands | Pixies, The Breeders |
Kim Deal's decision to assume bass duties for the highly influential alt-rockers, the Dixies, was surprising considering she had never played the bass before. She was a guitarist and had to borrow a bass guitar from her sister to use in the band. But her hold on the bass was effortless, and it took her no time mastering the instrument.
As a bassist and co-vocalist for the Dixies, Deal's contribution in shaping the '90s alt-rock scene cannot be emphasized enough. Her prominent basslines, iconic hooks, and distinctive breathy vocals took the sound of the band to another level. She eventually formed the Breeders with her twin sister Kelley Deal, a stint that made offered her a chance to flex vocal muscles and showcase her songwriting prowess.
To get a taste of Deal's musical talent, you should give Pixie's "Debaser" and "Gigantic" a listen, both of which feature fantastic opening bass solos. On the career front, the rock icon is still going strong, having released some pretty impressive solo records in the last decade.
Popular Related Article: The Best Female Metal Singers Ever
18. Sean Yseult
| | |
| --- | --- |
| Date of Birth | June 6, 1966 |
| Birthplace | North Carolina, USA |
| Bands | White Zombie, The Cramps |
A photographer, author, fashion designer, and heavy metal bassist, Sean Yseult is a woman of many talents! Born to educators, Yseult was given early exposure to the world of arts and music. She studied piano, violin, ballet and harbored a deep passion for the visual arts.
During her time studying at Parsons School of Design, New York, Yseult answered an ad where a band was on the hunt for a bass player, thinking it couldn't be very hard since she had played the violin before. One thing led to another, and she ended up forming a heavy metal band, White Noise, with vocalist Rob Zombie.
Originally a noise rock band, White Zombies' transition to a heavier sound made them pretty successful. As a pick-wielding bassist, Yseult's attack was clean and precise. After spending eleven years with White Noise and a brief stint with The Cramps, Yseult has returned to her art roots. She is now a photographer, designer, and a thriving one at that!
17. Jeanne Sagan
| | |
| --- | --- |
| Date of Birth | January 11, 1979 |
| Birthplace | Massachusetts, USA |
| Bands | All That Remains, The Acacia Strain |
As bassist and vocalist for many influential bands like All That Remains, Crossing Rubicons, and The Acacia Strain, Jeanne Sagan broke ground for women in the hard rock and metal music scene. Her tenure with All That Remains, holding the low end with rumbling riffs, grungy bass tone, and belting out backing vocals, has earned Sagan a legion of fans.
Before her bass days, Sagan spent a fair amount of time behind the scenes, selling merchandise for Prosthetic Records. But then, a life-changing opportunity presented itself when she was asked to join All That Remains following the departure of their former bassist Matt Deis.
Apart from killing it on bass, Sagan is also a very talented pianist and singer, something that contributes to her versatility. Since her departure from All That Remains, Sagan has joined Connecticut-based Crossing Rubicons fronted by her husband, Scotty Anarchy.
16. Ida Kristine Nielsen
| | |
| --- | --- |
| Date of Birth | 1975 |
| Birthplace | Denmark |
| Bands | Michael Learns To Rock, Zap Mama |
Ida Kristine Nielsen's monikers – Bass Ida, Bassida, and Ida Funkhouser, reveals a lot about her two passions- bass & funk. The Danish sensation's well-stacked resume includes bands like Zap Mama and Michael Learns To Rock, but her most recognizable gig has been steering the low end for the New Power Generation and 3rdeyegirl, both of which were backing bands for the pop legend Prince.
According to Nielsen, it was the work of Marcus Miller and Mark King that drew her to bass. But bass has always been Nielsen's choice of instrument, unlike some others icons on the list. She got an early headstart at the age of 16 and later honed her skills at the Royal Danish Academy of Music with electric bass as her major instrument.
As an artist in her own right, Nielsen's released five fantastic solo albums, which are gold mines for funk lovers. Groovy, funky, packed with catchy melodies and plenty of soul-drenched bass solos, her compositions will have you bobbing your head rhythmically before you know it.
Check out this rare footage of Nielsen battling it out with Prince on bass during one of their live gigs. Such a treat to the ears!
15. Wanda Oritz
| | |
| --- | --- |
| Date of Birth | March 27, 1968 |
| Birthplace | Huntington Beach, California, USA |
| Bands | The Iron Maidens |
Wanda Oritz is perhaps best known for her crushing, thunderous, high-octane bass work for the all-women tribute band The Iron Maidens. But even before joining The Iron Maidens, Oritz had already established herself as a phenomenal bassist. Her other gigs have been with bands Rotten Rod & The Warheads and Heartache City.
Born and raised in Huntington Beach, California, Ortiz's discovered her fondness for bass at an early age. By the age of eleven, she was working her magic on both double bass and electric bass.
While learning the instrument, Oritz drew inspiration from the bass styles of Geddy Lee, Chris Squire, and Steve Harris. Fun fact- Oritz goes by the stage name of Steph Harris, which she has fashioned after the legendary co-founder and bassist of Iron Maiden.
14. Kira Roessler
| | |
| --- | --- |
| Date of Birth | June 12, 1962 |
| Birthplace | New Haven, Connecticut, USA |
| Bands | Black Flag |
This list would be incomplete without mentioning Kira Roessler, arguably one of the most iconic female bassists to emerge from the '80s punk scene. As a supremely talented bassist-singer, Roessler has inspired a generation of women to play their music.
Popularity and fame came knocking when she stepped in as a replacement bassist for hardcore punk giants Black Flag. Her sophisticated and nimble bass lines were a refreshing departure from the sound the band had produced during the former bass player's tenure.
After leaving Black Flag, Roessler has had a fabulously successful run as a dialogue editor, with two Emmy Awards and an Oscar under her belt! Her musical abilities will amaze you! Load up your playlist with any Black Flag album released between 1983 to 1986 and see for yourself!
13. Atsuko Yamano
| | |
| --- | --- |
| Date of Birth | February 22, 1964 |
| Birthplace | Osaka, Japan |
| Bands | Shonen Knife |
Japanese punk band Shonen Knife broke into our collective consciousness when Kurt Cobain called them one of the influences that shaped Nirvana's sound. Not too many bands can have bragging rights about having inspired Kurt Cobain! That in itself would make Atsuko Yamano an iconic musician – but she's much more than simply an inspiration to Cobain. Yamano started off as Shonen Knife's founding drummer but switched to bass duties when their original bassist departed from the band. Talk about being multi-talented!
Her work with Shonen Knife – both as a drummer and bassist – is what gave the band its military-grade tightness and also the signature playfulness they infused in their music. While some people say punk is a limited genre, Yamano shows just how much can be done even within the gambit of punk music – Shonen Knife takes the traditional concept of punk music and turns it upside down on more than one occasion – to delightful results (just listen to 'Banana Chips').
She had taken a hiatus from the band a while ago for a few years but joined back in 2015 and has been rocking out and touring all over the world ever since. What an inspiration!
12. Laura Kennedy
| | |
| --- | --- |
| Date of Birth | NA |
| Birthplace | Cleveland, USA |
| Bands | Bush Tetras |
New York band 'Bush Tetras' was at the epicenter of the punk/funk and no-wave phenomenon during the late '70s, and the band's bassist Laura Kennedy was one of the bassists who defined that grimy, angst-ridden sound. Kennedy was Bush Tetras's founding member and bassist, and her musical style was unique, to say the least!
Bush Tetras' sound has been widely known to have 'jagged rhythm, slicing guitars and snipping vocals', and I couldn't agree more. Even though the band did not really achieve mainstream success, it gained a cult following over the years and their influence can be clearly heard in many of the post-punk bands of the 2000s and even today.
Unfortunately, Kennedy succumbed to Hepatitis C in 2011 after a 20-year battle with the disease. But we can take solace in the fact that her music continues to influence a new generation of bassist and post-punk musicians who proudly carry on her legacy. Hope you're rocking out wherever you are, Laura!
11. Sara Lee
| | |
| --- | --- |
| Date of Birth | 1955 |
| Birthplace | West Midlands, The UK |
| Bands | Gang of Four, The League of Gentleman |
English bassist, vocalist, and songwriter Sara Lee have been musically active ever since 1975, they rose to prominence when she replaced Dave Allen as the bassist for the post-punk band Gang Of Four. She's also been part of other acclaimed outfits such as the B-52s, Ani DiFranco, Indigo Girls, and The League of Gentleman. That's not all, Lee has also collaborated with Fiona Apple and Joan Osbourne. Quite the portfolio!
Lee was exposed to music from an early age, thanks to her musician parents – both her mum and dad were music teachers. She grew up playing the double bass and the tympani – which gave her a solid grounding for what was to become her life's calling. What I love about Sara Lee's musicianship is that her groovy, funky basslines get stuck in your head long after the track is finished and over with! She is a whiz when it comes to crafting memorable and straight-up beastly basslines. Check out her work with 'Gang of Four' and Ani DiFranco to get a taste of her style. You'll be hooked!
10. Aimee Mann
| | |
| --- | --- |
| Date of Birth | September 8, 1960 |
| Birthplace | Virginia, USA |
| Bands | 'Til Tuesday |
Full of infinite wisdom and master of honest-to-the-bone songwriting, bassist, vocalist, and songwriter Aimee Mann's music never fails to move me. She's been named as one of the 10 greatest living songwriters by NPR – and for good reason. Mann was the vocalist and bassist for the Boston-based New Wave band 'Til Tuesday, for whom she wrote their Top 10 single 'Voices Carry'. A two-time Grammy winner, Mann wrote and performed the track 'Save Me' for the movie Magnolia – which earned her an Academy Award nomination.
Her bass playing, just like her songwriting, is rooted in minimal sophistication. She has an uncanny and highly underrated ability to convey volumes musically with simple yet well-thought-out lines. And to be honest, I relate to her unassuming persona – I've never been much of a show-woman onstage, preferring to let my music do the talking. So to see a musical great like Aimee Mann reflect this introvert-ish personality is super inspiring! At 60 years old, Mann is still out there recording and releasing gorgeous music, which just gets finer with time!
9. Britta Phillips
| | |
| --- | --- |
| Date of Birth | June 11, 1963 |
| Birthplace | Michigan, USA |
| Bands | Dean & Britta, Luna |
Bassist, singer-songwriter, actress, voice artist, and record producer – is there anything Britta Philips can't do? This phenomenal musician has had a prolific 30-year long career during which she has churned out one iconic hit after another. Michigan-born Philips rose to prominence in the '80s as the voice of the main character in the animated show Jem.
As a bassist, she's part of the acclaimed dream-pop band 'Luna', an iconic 80's indie band 'The Belltower', and is one-half of Dean and Britta – her ongoing musical collaboration with her husband Dean Wareham.
Her musical aesthetic is quite layered and complex – you can practically hear the depth of her musical experience in each of her compositions. 30 years on, Philip's musical quest is far from over – she is busy scoring for films and writing new music as part of Luna and Dean & Britta.
8. Ginger Pooley
| | |
| --- | --- |
| Date of Birth | April 22, 1977 |
| Birthplace | Chicago, Illinois, USA |
| Bands | The Smashing Pumpkins, Ginger Sling |
If you've heard of the iconic alt-rock band The Smashing Pumpkins, then you've heard Ginger Pooley's brilliance already! Not only has she been a member of this influential band, but Pooley is also an artist and songwriter in her own right with her own solo musical career under the name Ginger Sling.
The Chicago-born bassist delved deep into music since her school days, being part of several bands and writing songs in high school. During her college years, she joined the all-girl punk band Halo Friendlies and she's been on a roll ever since.
Pooley has also collaborated with Gwen Stefani and Lea Michele as their touring bassist. Pooley has a rock-solid sense of rhythm that reflects in her musicality. Her punk and rock leanings serve her really well for the bands she plays with. Plus, the woman can really sing! Her own music is quite deep, melodious, and full of substance – both in musicality and lyrics.
7. Gail Greenwood
| | |
| --- | --- |
| Date of Birth | March 10, 1960 |
| Birthplace | Rhode Island, USA |
| Bands | Belly, L7 |
A guitarist, bassist, and illustrator – Gail Greenwood has worn many hats in her successful creative career. But personally, I feel it's her musical contribution as a bassist that be her defining legacy. The Rhode Island-native Greenwood was the bassist for two incredibly iconic bands of the 90's – the alt-rock band 'Belly' and the punk rock outfit 'L7. Both bands had a unique sound all their own, and Gail was 'instrumental' (pun intended) in shaping that sound.
But even before she joined Belly and L7, Gailwood was part of 'The Dames', her very first band that had won the prestigious WBRU Rock Hunt back in 1986. She then went on to play for 'Boneyard ' – which gave her the chance to play as the opening act for the Goo Goo Dolls, Circle Jerks, and Social Distortion. Her versatile musicality has served her well – giving her the ability to adapt to the unique sounds of various bands – all while preserving her signature style.
I have mad respect for Greenwood for her social activism as well – she actively works with anti-sprawl social organizations to preserve open, green spaces in urban areas and ensure responsible development and land conservation. She has also been a vocal supporter of the Affordable Care Act and has publicly shared her own struggles with cancer to show why all people deserve equal access to healthcare.
6. Tal Wilkenfeld
| | |
| --- | --- |
| Date of Birth | December 2, 1986 |
| Birthplace | Sydney, Australia |
| Bands | Jeff Beck, Prince, Eric Clapton, The WHO |
Born in Sydney, Australia, and later emigrating to the United States, Wilkenfeld started her music journey by playing an electric guitar but later switched to electric bass. While still in her teens, Wilkenfeld began playing at various jazz clubs in New York, where her technical prowess was spotted by none other than Oteil Burbridge and Derek Trucks. She was later invited to join The Allman Brothers Band for a jam. The meeting inspired her to put together her debut solo instrumental, "Transformation," which she recorded in two days flat!
Not just a bona fide bass legend, Tal Wilkenfeld's talents extend to singing and songwriting, which earned her quite a fan following! Very few are fortunate to kickstart their careers with musical legends like Prince, Eric Clapton, Mick Jagger, and Jeff Becks. The enriching experience proved as a major springboard for Wilkenfeld's career.
As a solo artist, Wilkenfeld continues to set the bar high! While her 2007 debut Transformation showcased her mindblowing bass work, Wilkenfeld's 2019 chart-topping vocal album, Love Remains, offers a glimpse into her evolution from instrumental prodigy to a well-rounded musician.
5. Esperanza Spalding
| | |
| --- | --- |
| Date of Birth | October 18, 1984 |
| Birthplace | Portland, Oregon, USA |
| Bands | Esperanza Spalding, Patti Austin |
Portland-born jazz trailblazer Esperanza Spalding made headlines when she clinched a Grammy for Best New Artist in 2011, beating teen sensation Justin Bieber to the punch, much to the dismay of the latter's fans.
Hailed a child prodigy, Spalding's tryst with music began when she was only five, having taught herself an array of instruments, including a violin, oboe, and clarinet. The fact that she became the youngest faculty at her alma mater, the prestigious Berklee School of Music, speaks volumes about Spalding's precocious talent. Compared to other instruments, bass playing came much later, but it was nothing short of virtuosic!
With intricate harmonies, melodic bass playing (both upright and electric), and rich vocals, Spalding has produced one gem after another. Her body of work is driven by sophistication, passion, creativity, and an endearing personality, something that comes across in everything she plays! Spalding has a very concept-driven approach to her musical projects. For each new album, she takes a certain philosophy and uses it as a muse to compose the tracks – giving us a tantalizing glimpse into how her mind works!
4. Rhonda Smith
| | |
| --- | --- |
| Date of Birth | May 1, 1973 |
| Birthplace | Nova Scotia, Canada |
| Bands | Prince |
Canadian bassist Rhoda Smith's impressive career is marked by two successful solo albums and numerous collaborations with distinguished musicians such as Prince, Chaha Khan, Beyonce, and Jeff Beck.
Known for soulful, funky, groovy lines and explosive solos, Smith has firmly established herself as a world-class bassist. Like Esperanza Spalding, Smith, too, got acquainted with electric bass much later. Her childhood was spent mostly focused on sharpening her baritone horn, keyboard, and guitar skills.
Smith credits her decade-long stint with Prince as bassist as something that pretty much changed the trajectory of her life. Her work with Jeff Beck gave another boost to a dazzling career. When she's not traveling or collaborating, you will find her working on solo projects. To get a sense of her sheer talent and smooth and funky bass lines, check out her solo records- "Intellipop" and "RS2".
Popular Related Article: The Best Female Fronted Metal Bands of All Time
3. Meshell Ndegeocello
| | |
| --- | --- |
| Date of Birth | August 29, 1968 |
| Birthplace | Berlin, Germany |
| Bands | Madonna, Chaka Khan, John Mellencamp |
Even eleven Grammy nominations hardly seem to do justice to the multi-talented musical powerhouse that Meshell Ndegeocello is! As a highly accomplished singer-songwriter, rapper, bassist, and one of the pioneers of the neo-soul genre, her contribution to the American music scene has been truly invaluable.
Since kicking off her recording journey in the early '90s, Ndegeocello's worked with The Rolling Stones, Madonna, Alannis Morissette, John Mellencamp, and featured in the soundtrack of several famous movies. Her very own style is a gorgeous blend of soul, funk, jazz, hip hop, reggae, and rock.
Ndegeocello excels at adapting her groove and playing depending on the genre of the song. If you want a peek at her style and technique, check out the twelve studio albums she's released in the last thirty years. Her 1993 debut album, Plantation Lullabies, is a soul-laden marvel that won the hearts of critics and earned her three Grammy nominations. Easily one of the most natural and organic bassists that I've ever heard!
2. Paz Lenchantin
| | |
| --- | --- |
| Date of Birth | December 12, 1973 |
| Birthplace | Buenos Aires, Argentina |
| Bands | A Perfect Circle, Pixies, Entrance |
What a musical beast Paz Lenchantin is! I have so much respect for her as a musician – in fact, some of my favorite basslines have been written and performed by her – across the many bands she has played for over the years. Not only is she one of the most tasteful bassists I have come across (male or female), but she's also an accomplished violinist and vocalist to boot. And when you approach a song with such a versatile perspective, you create something that is rich, unique, and timeless. It's no wonder that Paz's work has inspired a legion of bassists to pick up the instrument.
An Argentinian-American musician, Paz has been a permanent member of the legendary alt-rock band Pixies since 2014, but that's not all. She is associated with a string of incredibly successful bands – from A Perfect Circle, Entrance, Silver Jews, and Queens of The Stone Age.
Paz started out by learning the violins at the age of 8 but soon was drawn to the guitar – and taught herself the instrument at the age of 12. She frequently collaborated with her own siblings Ana and Luciano Lenchantin (Luciano passed away in 2003).
Why I respect Paz so much is because of the balance she strikes between adding a unique flavor to the song with her basslines, without overshadowing the song itself. This can be an issue for many acclaimed bassists – I've seen that they end up imprinting themselves all over the song without serving the needs of the track itself. But Paz masterfully crafts compelling, memorable (and even haunting) basslines that are aligned with the soul of the track.
Check out this video of hers as she plays 'Judith' – a track by Tool vocalist James Maynard Keenan's band 'A Perfect Circle'. There's some serious groove going on there – so prepare to be blown away. In my opinion, she is easily one of the best female bass players out there.
1. Carol Kaye
| | |
| --- | --- |
| Date of Birth | March 24, 1935 |
| Birthplace | Everett, Washington, USA |
| Bands | The Wrecking Crew, Simon & Garfunkel, Sonny & Cher, Frank Zappa |
Leading the pack is Carol Kaye, arguably the most influential bass guitarist in the history of rock and pop. With over 10,000 recordings under her belt and a stellar career spanning over five decades, Kaye is a force of nature. One glance at her remarkable discography is enough to give you an idea of just how versatile she is! From funk, rock, acoustic, pop, and salsa, she's done it all!
Music is in her blood. Born in 1935 in Everett, Washington, to musician parents, Kaye took up the guitar in her early teens and soon began to perform at jazz clubs around Los Angeles. Touted as the "First Lady" of bass by fans and critics, Kaye's signature bass style is built around melodic and syncopated sounds, which she produces with her ingenious picking technique.
As one of the most sought-after studio musicians, Kaye's worked with the likes of Quincy Jones, Simon, and Garfunkel, Sonny and Cher, Neil Young, Frank Sinatra, among several other iconic musicians. Truly a legend!
Final Thoughts
We hope you enjoyed this article on the best female bassists of all time! Do remember that while this is just a list of 25, it's just the tip of the iceberg. There are thousands of more women not part of this list who are consistently, quietly making their mark in their respective musical scenes as bassists. Like most creative and professional fields, there is still a gender imbalance as far as bass duties are concerned. But that is changing, as this article amply shows.
Any field becomes richer, vibrant, and more creative with new voices, and each of these musicians is bringing their own unique creative take on the instrument. So I hope this article inspires many more girls and women to take up the bass as their instrument of choice!
Want to read about more such amazing women musicians across different genres? Check out our articles on the best female indie bands, female punk bands, and female rock stars!