Geezer Butler is, without a doubt, one of the most influential bass players of all time, and equally so, a splendid lyricist who is responsible for spooking a generation into the eerie charm of Black Sabbath. Starting his musical career as a guitarist, he switched over to bass in the late 1960s when he teamed up with Tony Iommi, Bill Ward, and Ozzy Osbourne in a band that would become Black Sabbath. But while this seminal project is widely remembered for Iommi's riffs, Sabbath wouldn't be what it is without Geezer's "thunderous" spice to the mix. Of course, his tone has changed over the decades, but you could still hear his unique style of playing, as well as some of his signature tone characteristics.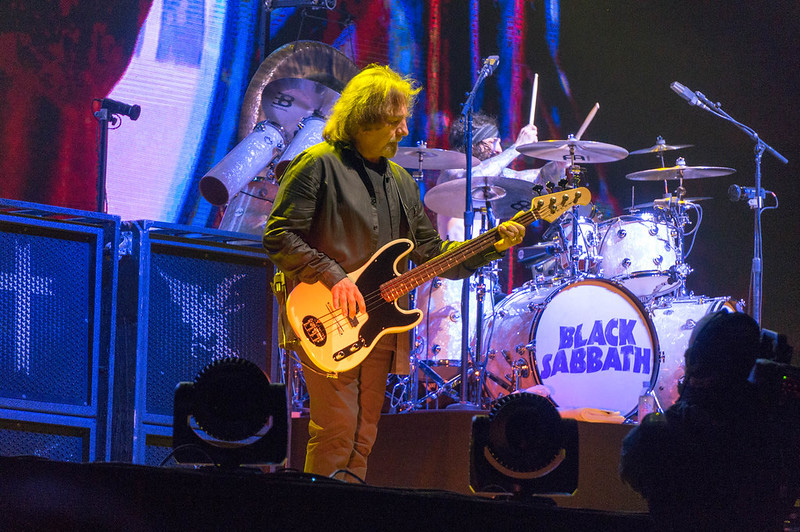 He's been through different incarnations of Black Sabbath along with his lifelong friend Iommi and has enjoyed a successful run with Ozzy Osbourne in the late 1980s and the mid-1990s. During the 1990s and the 2000s, he's released three solo albums, although they remain somewhat obscure. Now only appearing on some occasional projects, like the Deadland Ritual, Geezer sits comfortably on his metal throne, still inspiring young generations of new musicians.
What Bass Guitars Does Geezer Butler Play?
Geezer Butler's most iconic 4 string remains his Fender Sunburst Precision Bass. However, his Lakeland Signature Precision Bass has become his primary instrument since the early 2010s. He's played several brands in his career, including a long tenure with B.C Rich, Joe Birch, and Yamaha.
See the full list of Geezer Butler bass guitars and gear list below.
Fender Precision Bass


| | |
| --- | --- |
| Finish | Natural/Sunburs |
| Years Used | 1969 to 1973 |
When it comes to Butler's choice of P-basses, there's a lot to credit to this late 60s Fender four-string, the naturally stripped finished bass had a short run with Black Sabbath, it was his first high-end piece of gear after falling out of love from his original Teisco Top Twenty Bass.
This first Fender P-bass comes from the pre-CBS (Columbia Broadcasting System) era, back when Fender was still on its own. These instruments are very respected by vintage collectors, mostly because CBS made some cost-cutting changes to the new lines of basses and guitars.
It was used in the very first club gigs that Sabbath performed in back in their formation years, and it made a brief appearance on the band's debut album. Reportedly, Geezer would use the instrument's old strings in the recording sessions of the self-titled "Black Sabbath". Interestingly enough it wasn't an intentional or aesthetic fixation on the dull, flat sound the old strings provided that pushed Butler to this, it was the fact that he simply didn't have the money to afford an adequate set of new strings as often as required. He'd share "They were always, like, 10 months old. I'd only replace them if they broke".
Nevertheless, when asked what was his weapon of choice for his first recordings Butler stated in an interview with Vintage Guitar, "I don't have the bass from the first record because we swapped it for the one I used on Paranoid." It was in late 1969 that Butler would trade his Fender for a nearly identical P-bass, this time a sunburst finished piece.
Notoriously, the sunburst Fender P-Bass broke into Butler's ranks simultaneously to the band's sensational breakthrough, it was quite astonishing to have four blokes making "scary music" at a time when "flower power" was at its height. The sunburst Fender Precision made a fair share of iconic appearances, making for Butler's most emblematic piece of catalog, notoriously it was played in the band's legendary 1970 concert in Paris' Olympia.
However, as it usually goes with instruments from popular musicians from this era. Sadly, this bass met a heavy demise when in the US/Canadian border when it was smashed for unknown reasons. While Geezer did send it to be repaired and conditioned it would simply disappear, and so not much else is known of its whereabouts. This bass holds an important place in metal history as it was used on Sabbath's first three albums and rise to success. Much of their earlier material includes iconic tunes such as "War Pigs" and the eternal Rock N Roll anthem "Paranoid".
Lakland Geezer Butler Signature Precision Bass

| | |
| --- | --- |
| Finish | Black/White |
| Years Used | 2013 to Present |
After Geezer's successful run with the original few Lakland basses, he teamed up with the company for his signature model. For Sabbath's support tour of the "13" album, he got three new basses, acting as the signature model prototypes. This instrument was done under Butler's specifications after his touring duties were over in 2011. Reportedly, Geezer wanted to fully recapture the heavy and flat sound he had in his early "Black Sabbath" recordings without having to condition his bass to a poor state as he did back in the early 70s.
Needless to say, this was a hardware task he pulled off, with the ultimate product being his signature EMG split-coil pickups. These offer vintage-style passive P & PJ designs with a few modern touches. With a solderless P set that employs Alnico V pole pieces and custom wound coils, these instrument mics strive to deliver just the right amount of punch and grit. This signature Precision Bass sports a 44-64 body style and neck shape, custom Geezer designed inlay.
However, the process of creating this P-bass was a rushed one. Butler's technician Terry Welty recalled the process "As time was running out, I decided to stick to the "P" style body and add the 5 things to that. When I saw the mock-up Dan from Lakland and his team done, I was elated. It was better than I expected." Initially, the model was dubbed the T1. Since at the time Geezer played a P-type bass, Lakland made a second Geezer Signature Bass at the same time called The T2, but this all seemed a tad too much for a simplistic oriented Butler, who simply insisted on keeping a vintage attack-oriented four-string. In time though, he's involvement with the pickup design was where the magic really happened.
Yet another reason for Butler's decision to take on a long-awaited signature line was not based on memorabilia or glory-seeking, it was to ease the payload on his fingers and body as he confessed in an interview with Blabbermouth, that age was an inevitable thing that would ultimately get the better of him. "I don't want to go on stage for the sake of the money. You have to have a lot of pride in yourself, and I honestly think I'm coming to the end of the top of my job."
This Lakland Bass is closely tied to Butler and his now legendary status, while Sabbath may be no more, he carries on wielding this signature four-string in his solo project GZR.
B.C. Rich Eagle Deluxe

| | |
| --- | --- |
| Finish | Natural Striped |
| Years Used | 1977 to 1993 |
This particular B.C Rich model was age-defining for both Sabbath and Butler alike. After Ozzy was fired and Ronnie James Dio joined Sabbath, the band made a shift to a more percussive calculated sound that allowed each section to shine equally while allowing Dio's voice to take on its full weight.
Geezer began using one particular B.C. Rich Eagle Deluxe Bass. Butler's choice was made based on his need for a more aggressive tone, one that he strived for and somewhat struggled to achieve comfortably during the "Never Say Die!" tour era.
You can recognize this bass for its natural Koa finish and two stripes on the body. Aside from a long scale length, this bass guitar also has a neck-through formation. There's also an abundance of controls on it, allowing for a lot of tone-shaping options. The Eagle Deluxe is an enhanced instrument, with dual Rockfield SWV pickups, and a Tone-Pros bridge that delivers equally striking sonic recognition. In other words, it's a perfect four-string to upgrade presence on stage and recordings.
Geezer used this one live and on studio since the Black Sabbath engaged in their reinventing period during the "Heaven and Hell" era. However, it's not been confirmed whether or not it was present on studio recordings. He can be seen using it in almost any live footage from the 1980s.
It is believed that Geezer still owns this bass, although he retired it in the early 1990s when his partnership products started to take a more permanent role on his rig.
Lakland 51 Style Precision Aston Villa

| | |
| --- | --- |
| Finish | Aston Villa Crest Custom Artwork |
| Years Used | 2017 |
Over the decades, Geezer was very open about his fondness for the Aston Villa Football Club. His love towards the club was also shown during Sabbath's final run in 2017. He got a Lakland Precision model painted in Aston Villa's colors and crest from his tech Terry Welty. The bass is true to Butler's preferred simplistic approach in features, sporting a single EMG split-coil pickup, most likely his GZR-P signature model.
Geezer can be seen playing this bass during the band's final show in 2017, for the traditional show-closing "Paranoid." as they bid goodbye to their longevous tenure. While a few years later Butler has been laying back from the limelight, he's been very clear on the fact that there will be no further reunion tours for Black Sabbath. On that note however, Geezer has also taken the time to emphasize how special this piece is to him, not only given its supportive panache for the Aston Villa but also because of the significance of being the last bass that Sabbath ever rocked with.
Dan Armstrong Lucite Bass

| | |
| --- | --- |
| Finish | Lucite Transparent |
| Years Used | 1972 to 1973 |
After using the Precision Bass as his main instrument for quite a few years with Black Sabbath, Geezer eventually switched over to an odd-looking Dan Armstrong 4-string. Around the time "Vol. 4" came out, he was seen using a bass with a body made out of Lucite. He acquired this instrument after his Fender Precision Bass was smashed in North America.
As Butler recalls, the following day to his P-Bass smashing was a Sunday and no music shops were open. Fortunately, they managed to find one where the owner agreed to open up and Geezer got this Dan Armstrong plexiglass bass, allegedly it was below $1000 yet another reason that played out on his decision.
Completely transparent, it also had a bolt-on maple neck, a rosewood fretboard, as well as 24 frets. Additionally, it had a significantly shorter scale length of only 30 inches. Geezer, however, wasn't very fond of it. The instrument saw action on the "Vol. 4" album, as well as on the subsequent tour. According to Sabbath's bassist, this one has the worst tone of all of the band's records. Eventually, this Lucite-body bass was stolen sometime in 1973.
John Birch Custom Basses

| | |
| --- | --- |
| Finish | White/Black/Sunburst |
| Years Used | 1973 to 1978 |
While the exact number of John Birch basses can't be confirmed, it seems that Geezer had at least four of them done back in the early 1970s. And what many don't know is that Geezer had the cross inlays on one or more of his early basses. Eventually, it inspired Tony Iommi to have it done too, and eventually, it became his thing.
Anyhow, these basses were all inspired by Gibson's classic EB models, which are basically like SG basses. However, the overall design and measures were changed. You could notice that the cutaway horns were softer and shorter.
One of these was white and eventually had a Coca-Cola-style sticker on it that read "enjoy cocaine." Then there was also a black one, a black-and-white striped one with cross inlays, a completely black one with cross inlays, as well as an 8-string one. Furthermore, Geezer started using a couple of white and sunburst JB Bass guitars that were rather similar to a classic Rickenbacker 4001 cut, these became a mainstay on his rig for quite some time.
These latter models were in fact the reason for Butler to get himself an actual 4001 model. It is believed that these basses also found their way onto the "Sabbath Bloody Sabbath" album.
Rickenbacker 4001

| | |
| --- | --- |
| Finish | Fireglo |
| Years Used | 1978 to Unspecified |
According to Geezer, he used the Rickenbacker 4001 only once, for a show in 1978. Luckily for all the Sabbath fanatics, this one show was videotaped and eventually released as the legendary "Never Say Die" live video. What's really interesting is that Geezer, somehow, had only this bass with him when they got to London's Hammersmith Oden for the show.
It is said that this particular bass belonged to Glen Hughes of Deep Purple and Geezer got it as a collector's piece. The instrument is recognizable for its red finish.
B.C. Rich Ironbird Custom

| | |
| --- | --- |
| Finish | Red |
| Years Used | 1984 to 1985 |
One of Butler's most iconic pieces of catalog, yet, a short-lived four-string set in rock history. During the 1980s, Geezer also had a specially made custom Ironbird by B.C. Rich. The bass is recognizable for its unusual body shape and red finish. It also features a caption on the back of the body saying "Screaming Leaming, '84." Reportedly, Butler got this bass from the company back in 1984, but for nearly a year it was kept for merely intimate rehearsals before the Godfathers of heavy metal reunited.
Furthermore, Geezer used it for the 1985 Live Aid show where the original Sabbath lineup reunited for a few songs. There's also a full range of controls for tone shaping, including an active/passive switch, but it's probably never been used in public again as he apparently didn't like its body shape as it was really uncomfortable to play. Butler still owns it, and it's kept as a piece of memorabilia from his legend in the making years, as he usually shares it on his social media.
Lakland Joe Osborn 44-60

| | |
| --- | --- |
| Finish | Seafoam Green/Black |
| Years Used | 2000 to Present |
In 2000, Geezer got in touch with Lakland basses, sticking with the brand to the present day. The first model he got was the Joe Osborn 44-60. There were two of these basses in his collection, one with a "seafoam" green finish and the other one with a black finish and a tortoise pickguard.
What makes Joe Osborn's signature models interesting is the concentric stacked knobs. This saves up space on the bass, all while allowing for more tone-shaping features. Like the Fender Precision these are pretty straightforward instruments.
This particular model has been used widely by Butler, it has a very peculiar sound given its maple composition Lindy Fralin pickups, while it may not have been his main axe, Geezer has stated his fondness to the four-string.
Yamaha BB1024X

| | |
| --- | --- |
| Finish | Black |
| Years Used | 2010 to Unspecified |
Although Yamaha is not a name you'd associate with Geezer, he was seen using the BB1024X model once. This was in 2010 for the Ronnie James Dio tribute show. Around this same time, Yamaha relaunched the BB series and Geezer was one of the musicians. Others included Glenn Hughes, Flea, Duff McKagan, and Jack Gibson.
Featuring an alder body, maple neck, and rosewood fingerboard, Geezer's version had the Sabbath mascot, Henry, as the 12th-fret inlay. It's also packed with Yamaha's single-blade pickup in the bridge position and a split-coil in the neck position.
Vigier Passion 5
| | |
| --- | --- |
| Finish | Black |
| Years Used | 1991 to 2007 |
For a while, Geezer went along with Vigier as his go-to bass brand. One of the models was the Vigier Passion 5, which is a 5-string bass.
Although a bit unusual for Geezer to have 5 strings instead of just 4, these still come with a lot of tone-shaping options, making them very potent. It also had 24 frets and a slightly shorter scale length of 33.8 inches. What's really interesting is that this and all of the other Vigier basses had Phenowood fretboards.
This bass saw use on Geezer's solo records during the 1990s. Additionally, he also had them for the Black Sabbath reunion period from 1997 and up to 2006.
Teisco Top Twenty Bass
| | |
| --- | --- |
| Finish | Unspecified |
| Years Used | 1966 to 1968 |
Way back in the 1960s, Geezer was in a band called Rare Breed along with Ozzy Osbourne. Back then, Butler was a guitar player and had a Fender Telecaster. When the two of them got together with Iommi and Bill, it was decided that Geezer should play bass guitar instead. After a brief period of down tuning the poor Telecaster one octave below, he eventually acquitted a Teisco Top Twenty Bass.
However, other than Geezer's stories about having it, not much is known about the particular instrument. These were simple and cost-friendly basses, essentially the copies of Fender's Jazz and Precision models.
Timetable Showing Each Bass Guitar Geezer Butler Has Played Throughout His Career
| Make | Model | Color/Finish | Years |
| --- | --- | --- | --- |
| Teisco | Top Twenty Bass | Unknown | 1966 to 1968 |
| Fender | Precision Bass | Natural/Sunburst | 1969 to 1973 |
| Dan Armstrong | Lucite Bass | Lucite Transparent | 1972 to 1973 |
| Jon Birch | Custom Basses | White/Black/Sunburst | 1973 to 1978 |
| B.C. Rich | Eagle Deluxe | Natural Striped Finish | 1977 to 1993 |
| Rickenbacker | 4001 | Fireglo | 1978 to Unspecified |
| B.C. Rich | Ironbird Custom | Red | 1984 to 1985 |
| Vigier | Passion 5 | Black | 1991 to 2007 |
| Lakland | Joe Osborn 44-60 | Seafoam Green/Black | 2000 to Present |
| Yamaha | BB1024X | Black | 2010 to Unspecified |
| Lakland | Geezer Butler Signature Precision Bass | Black/White | 2013 to Present |
| Lakland | 51 Style Precision Aston Villa | Aston Villa Crest Custom Artwork | 2017 |
Geezer Butler Amps Overview
Laney Tube Supergroup
Years Used: The late 1960s and the early 1970s
It is known that Geezer had a particular Laney amp for the recording of Black Sabbath's debut album. But again, it's hard to say which one it was. Some sources claim that it was a 60-watt head, so it's possible that he used a Supergroup 60, which is a regular guitar amp. It is believed that the amp also found its way into the band's early live shows.
Alembic FX-1 Preamp
Years Used: Mid-1970s
Sometime around 1974, Geezer got a new rig, featuring the Alembic FX-1 preamp. This is a rack-mounted unit with a single 12AX7 valve. It was pretty versatile for those times, enabling additional tone-shaping features for brighter or "fatter" bass tones. There was also an additional control for boosting a specific frequency range.
However, not much is known about the amps he used for the rest of the 1970s. It's not completely certain for how long the Alembic FX-1 preamp was in Geezer's rig.
Laney 100-Watt Amp Head
Years Used: 1970s
Aside from the aforementioned 70-watt Laney head, Geezer also had a particular 100-watt model. Again, the exact model is not known, although some have suggested that it was the Supergroup amp.
Ampeg SVT-II
Years Used: 1996 to 2000
Going over to Black Sabbath's famous late-1990 reunion, Geezer based his rig around Ampeg SVT-II amps. These rack-mounted amps had 300 watts of power and had a detailed switchable 9-band equalizer. But the basis of the tone was shaped through a standard 3-band EQ, although it also had a peak middle frequency adjustment control.
Ampeg Cabinets
Years Used: 1990 to 2009
These Ampeg SVT-II heads were also accompanied by the company's cabinets. There were six of these cabinets, all of which were custom-made for Geezer. Four of these were the standard 4×12-inch configuration. Then the additional two had the 2×15-inch configuration, which is not a "conventional" cab for bass amps.
Finally, he also had two additional larger cabs, each with eight 10-inch speakers installed into them. These were the standard SVT-810E models. What was the same for all eight of these cabinets is that they all had Electrovoice speakers.
Then going over to the Heaven & Hell project, Geezer dropped the 8×10-inch cabinets and went with the 4×12-inch and 2×15-inch cabs. There were eight of these cabs, four for each type.
Ampeg SVT Original 1969
Years Used: 1993 to Unspecified
Geezer reportedly began using the old original Ampeg SVT amp for his solo work during the 1990s. This is the old model from 1969, which has somewhat of a "legendary" status among bass players. Aside from his solo works, the amp found its way on "13," Black Sabbath's final album.
Although not as versatile today, the original SVT was pretty versatile for its era. There were two channels on this amp, one bright and one normal, each with two inputs. The normal channel had the standard 3-band EQ, along with a high-end booster and a bottom-end cut-off. The bright channel had a high-end and a bottom-end boost, as well as a two-band EQ. Finally, these amps were fitted with the legendary 6146B power tubes.
Hartke Kilo
Years Used: 2011 to Present
Although Ampeg was Geezer's go-to brand for quite a while, at one point, he started using Hartke amps. The first time he got the chance to play a Hartke Kilo amp was on the 2011 Dimebash event. After loving their overall simplicity and tone, he started using them over the coming years. Although not officially confirmed, these were most likely the amps that saw action on The Ozzy and Friends Tour that went on during 2012 and 2015.
It's no wonder that Geezer liked Hartke Kilo amps as they come with a stereo setup, with each channel featuring 500 watts of output power. Although featuring an abundance of controls, you could dial in your tone easily. They even came with a very potent 10-band equalizer, as well as the limiter effect, direct XLR output, overdrive controls, and plenty of other features.
Hartke Custom Cabinets
Years Used: 2011 to Present
The Hartke Kilo amp was followed by Hartke cabinets which were all custom-made according to Geezer's needs. There were six of them in total, four with the 4×12-inch configuration and two with the 2×15-inch configuration. Once again, we have the unconventional 2×15-inch configuration, which was made especially for Geezer. These kinds of cabinets were otherwise not available in Hartke's standard arsenal of gear.
Ashdown APM-1000 Power Amp
Years Used: 2016 to 2017
These custom signature power amps were followed by Ashdown APM-1000 power amplifiers. These are stereo power amplifiers with 500 watts for each of the channels. In his "Hand of Doom" setup, one preamp was then connected to two separate APM-1000 power amps. The signal then went through 4×12-inch or 2×15-inch cabs. These were most likely the Amped cabinets, as they had the Henry and cross logos on the grill.
Geezer Butler Pedals and Effects Overview
Dunlop Geezer Butler Cry Baby Wah
Years Used: 2017 to Present
While not much is known about Geezer's other pedals and effects units, his fondness of the wah effect has been widely accepted. After Sabbath's final tour in 2017, the bassist teamed up with Dunlop for his special signature version of the Cry Baby pedal. Aside from its aesthetic twist, the pedal has a pretty unique tone, as well as an internal "Q" control. The factory setting is done according to Geezer's preferences, but you can tweak it to give it your own twist. Geezer began using it in his rig after the official disbandment of Black Sabbath.
Tycobrahe Parapedal Wah
Years Used: 1973 to Unspecified
However, he actually did implement a Tycobrahe wah pedal, also known as the Parapedal, during Sabbath's live shows over the years. Also used by Iommi, these pedals are actually quite rare. There have been some recreations, but it's almost impossible to find these "mythical" pieces today, making them highly valued among vintage-oriented collectors.
Tycobrahe Sound Company was launched by a man named Robert Bogdanovich back in the late 1960s. It lasted for a relatively brief period but gave birth to some of the most interesting guitar devices for those times. While the "industry standard" Cry Baby was taking over the market (and still holds its place at the top), Tycobrahe Parapedal gave a very unique twist to the effect. It sounds much deeper than the regular Cry Baby and its variations, giving it very unusual "swooping" overtones. Iommi has only a handful of these circuits in his collection, and we assume it's the same case with Geezer.
Unnamed Wah Pedal
Years Used: 1969
Going way back to Black Sabbath's debut album, you could hear Geezer's wah-filled "N.I.B." bass intro. Although it has been widely accepted that he actually took Iommi's Tycobrahe wah pedal for this purpose, this was actually not the case. In fact, Iommi still didn't have the Tycobrahe for the debut album sessions as he only got introduced to it during the 1970 tour in support of the album. Instead, they actually used another wah pedal. But unfortunately, neither Iommi nor Geezer remembers the exact model, so it will most likely remain a mystery.
Wrap Up
Be it Black Sabbath, the Ronnie James Dio-fronted Heaven & Hell project, his solo career, or Ozzy, you could always easily recognize Geezer's playing. His own unique "magic" way of shaping his bass tone, even today, it remains a "blueprint" for metal bassists of all backgrounds and subgenres. It is his heavy presence and stylish approach to rhythm that earned him a spot as #21 in Rolling Stone's 50 Greatest Bassists of All Time List.
Furthermore than his notorious tenure with Sabbath, Butler's legacy has led him to influence countless aspiring musicians, among them, former Metallica bassist Jason Newsted, defined him as his "number 1 influence" along with RexBrown from Pantera, and Les Claypool. Butler is an artist who blends his powerful approach to rhythm and percussion with his fascination with religion, science-fiction, fantasy, and horror. He is after all an often unsung pioneer of Rock music.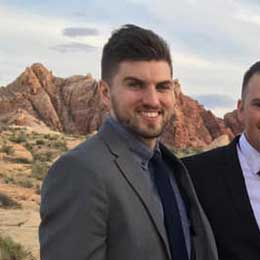 My name is Chris and I've had a passion for music and guitars for as long as I can remember. I started this website with some of my friends who are musicians, music teachers, gear heads, and music enthusiasts so we could provide high-quality guitar and music-related content.
I've been playing guitar since I was 13 years old and am an avid collector. Amps, pedals, guitars, bass, drums, microphones, studio, and recording gear, I love it all.
I was born and raised in Western Pennsylvania. My background is in Electrical Engineering, earning a Bachelor's degree from Youngstown State University. With my engineering experience, I've developed as a designer of guitar amplifiers and effects. A true passion of mine, I've designed, built, and repaired a wide range of guitar amps and electronics. Here at the Guitar Lobby, our aim is to share our passion for Music and gear with the rest of the music community.