You don't need to be a guitar virtuoso to start playing awesome songs on your guitar. In fact, you can play a ton of cool songs using just four chords! Today, we have compiled a list of easy four-chord songs to help you kickstart and expand your repertoire.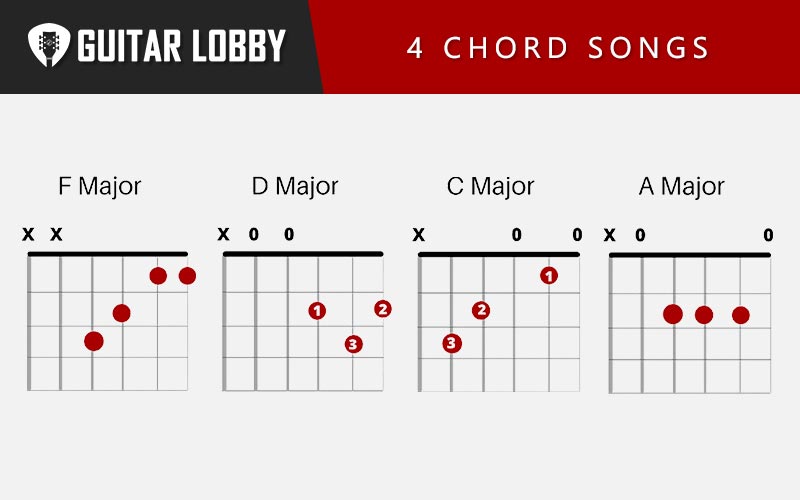 From pop, rock, folk to reggae, you'll be surprised to see just how many songs can be played by using four of the basic chords…so let's just jump right in to learn easy 4 chord songs!
The Four Main Chords
While different songs use various progressions of four chords in their compositions, several popular songs use the C Major, D Major, A minor, F Major chord progression. These four chords are absolutely essential for any aspiring guitarist to know in order to play most of the songs we've mentioned below, but don't worry, we've got visual guides to show you how to play them below!
List of Easy 4 Chord Songs to Play on Guitar
1. With or Without You by U2
Chords: D, A, Bm, G
Let's kick off this list with one of the most iconic songs by the rock giants U2. Released in 1987, "With or Without You" was written by the legendary Bono with an intent to create a love song that deals with real-life troubles that often plague a relationship. Well, 'cause life is not all sunshine and rainbows! The song provided a phenomenal boost to the group's fame and popularity, topping the charts worldwide and getting featured as one of the greatest songs of all time in many magazines.
Guitar-wise, the track is plain awesome! We particularly loved how The Edge mirrored the song's tormented lyrics by creating a wailing effect on an Infinite Guitar. Most of the song can be played by using just four chords- D, A, Bm, and G. You'll need to play them in a four-bar loop throughout the track. The B minor chord might get a little tricky for beginners, but once you get the barre technique right, it will be very helpful for you for future playing as well.
2. Take Me Home Country Roads by John Denver
Chords: G, D, Em, C
One of America's most successful and beloved musicians, John Denver, was a multi-faceted personality. As a singer-songwriter, record producer, actor, activist, and humanitarian, he became a source of inspiration for many. His highly influential 1971 single "Take Me Home, Country Roads" is an endearing country classic that swiftly made its way into people's hearts. The song's reference to country roads in West Virginia made it wildly popular there, so much so that it became one of the four official state anthems.
This song is very beginner-friendly, with most of it played using four chords in a straightforward strumming pattern. Chorus and verse only use G, Em, D, and C chords. There's an additional F chord, but that pops up only during the bridge; otherwise, it's just the four chords. When you get started on this one, we would like you to pay close attention to Denver's style of strumming. It's a masterclass in jazzing up a simple strumming pattern by adding dynamics to each strum.
3. Hurt (Cover) by Johnny Cash
Chords: Am, C, D, G
Even in his twilight years, rock and country legend Johnny Cash was still making amazing music. At the age of 70, Cash released his last studio album American IV: The Man Comes Around, a collection of covers all performed in his signature sparse style. In the same album, you'll find Cash's beautiful rendition of Nine Inch Nails' original "Hurt." The cover impressed the original singer-songwriter, Trent Reznor, to the extent that he said the song didn't feel like his anymore.
Cash's interpretation of the song was radically different from the original industrial rock version. Powered by his rich baritone albeit aging voice in a slow country-rock style, the song took a whole new meaning. The intense and heartbreaking rendition was voted as one of the greatest cover versions of all time in a poll conducted by the BBC. To play this song, you only need to master four chords- Am, C, D, and G. They are all open chords that are not very hard to figure. The strumming pattern is just as easy, and so is the captivating intro riff.
4. Perfect by Ed Sheeran
Chords: G, C, D, Em
With only four chords and a simple fingerpicking pattern, this Ed Sheeran composition is an excellent pick for beginners who want to get acquainted with fingerstyle playing. Part of Sheeran's 2017 studio album, "Perfect," is an incredibly catchy track with beautiful lyrics and an exquisitely crafted melody. It charted remarkably well, peaking number one on the UK Singles Chart and the US Billboard Hot 100, also becoming Christmas's number-one song for 2017 in the UK.
There's an equally awesome version of the single, which features Sheeran in a spellbinding duet with Beyoncé. For those of you who want to learn this song but are not sure about fingerpicking, fret not; you can use an easy strumming pattern that sounds quite similar to the original. Intermediate players can go the fingerpicking way. Just remember to put a capo on the 1st fret in standard tuning to make it sound exactly the way Sheeran does.
5. Let It Be by the Beatles
Chords: C, G, Am, F
As one of the best-selling rock bands in the history of time, the Beatles produced timeless masterpieces one after another. Even today, playing any song from their repertoire never fails to get the crowd going. The one we are going to talk about is one of their more somber compositions. Released in 1970, "Let It Be" is Paul McCartney's ode to his mother, who passed away from cancer when he was just 14. Despite its gloomy origins, the song conveys a very positive message telling people to leave problems behind and move on in life.
The Beatles have recorded multiple renditions of this classic. The single version has softer guitars with orchestration mixed very low, whereas the album version is driven by a harder guitar solo and more prominent orchestration. You can play this fantastic composition using a fairly simple chord progression. The first part uses four chords C, F, Am, and F in I-V-vi-IV chord progression, and the second part is done in I-V-IV-I progression. Once you've got the acoustic rhythm all figured out, pick up your electric guitar and move on to the impressive solo.
6. No Woman, No Cry by Bob Marley
Chords: Am, C, F, G
Bob Marley's "No Woman No Cry" is a joy to play with a charming composition with a powerful message. Although widely misunderstood outside Jamaica as a song about heartbreaks, the real meaning is something quite different. The original lyrics of the song were "No Woman, Nuh Cry," where "Nuh" is Jamaican for "don't." Here Marley is telling a woman not to cry as everything's going to be alright. Interestingly, this reggae classic is one of the very few songs where the live version managed to outdo the popularity of the single, ranking No. 37 on Rolling Stone's 500 Greatest Songs of All Time.
In terms of guitar work, there's enough meat to keep both beginner and intermediate level players engaged. New learners can get familiar with the simpler version that can be played by strumming just four chords in the same progression throughout. While more seasoned guitarists' can focus on mastering the rhythm of the strumming to make it sound more fluid and natural. There's also a part where the F chord and the C chord are played right before the beat, which is a fun challenge for more proficient players.
7. Snow (Hey Oh) by Red Hot Chilli Peppers
Chords: Em, C, G, D
If you discount John Frusciante's virtuoso style main riff, the backing rhythm of this chart-topping single by American rock bigwigs Red Hot Chili Peppers can absolute beginner-level progression. You can get through this infectious and groovy track using just four chords in the same progression: Em-C-G-D. Pretty easy, right? However, if you include Frusciante's phenomenal riff, the difficulty level goes up quite a few notches. The riff is a masterclass in speed, endurance, and string crossing.
"Snow (Hey Oh)" was released in the band's 2006 double album Stadium Arcadium. It managed to chart breezily all the way to number one on Billboard Modern Rock chart, sitting there for five consecutive weeks. The single also became RHCP's 11th chart-topper on the Modern Rock chart in the US, a record which they still hold to this date.
Popular Related Article: 24 Awesome Songs with GCD Chord Progressions
8. In The End by Linkin Park
Chords: Am, G, F, C
Who knew the song that made nu-metal giants Linkin Park a household name uses just four chords! With its iconic opening piano riff, Chester Bennington's passionate vocals, and Mike Shinoda's infectious rap, "In the End" was the gamechanger that catapulted their popularity to phenomenal heights! Time has had not diminished this nu-metal classic's appeal. Even after 20 years, "In the End's" popularity stands intact. As of January 2021, the song had garnered over 1.1 billion YouTube views.
If you are good at playing natural harmonics, this song will be a cakewalk for you. For those of you who are yet to learn the technique, it's a great place to start. Before you get started, remember to tune your electric guitar to drop C#, which goes C# – G# – C# – F# – A# – D# from the 6th string. In the original recording, the guitars don't kick in till we get to the verse. Still, if you are interested in mimicking that famous opening piano riff on the guitar, there are plenty of tutorials available to guide you through. This is one of my favorite 4 chord songs.
9. Hey, Soul Sister by Train
Chords: C, G, Am, F
This sunny, feel-good track by the American roots rock band Train was released in 2009 as part of their fifth album, Save Me, San Francisco. A mid-paced pop-rock with an upbeat vibe, catchy guitar riffs, and pleasing vocals made "Hey, Soul Sister" their highest charting song to date. It sold a whopping 6 million digital copies in the US alone and fetched the band their third Grammy at the 53rd Annual Grammy Awards.
The song became a campfire favorite for being highly playable and easy to sing along to. "Hey, Soul Sister" only uses four chords C, G, Am, and F chords in a C – G – Am – F progression throughout the intro and verse, changing slightly in the chorus to C-D-G-G.
10. Save Tonight by Eagle Eye Cherry
Chords: Am, F, C, G
Here's another awesome campfire song that's super beginner-friendly! "Save Tonight" by Swedish singer Eagle-Eye Cherry is a simple song that still manages to leave a lasting impression on the listener. Although it did not rule the charts at the time of release, the song slowly gained popularity for its dreamy, heartfelt lyrics and uplifting tune. The song eventually found worldwide success, peaking at number three in Ireland, number five in the US, and number six in the UK. In Cherry's homeland, "Save Tonight" won "Swedish song of the year 1997" at the Rockbjörnen awards.
Powered by the same four chords: Am, F, C, G in repetition, this composition is incredibly easy to play. Only two things can act as a hurdle for new learners—the fast strumming pattern and mastering the F chord. The F major chord could be pretty challenging for beginners. If you are yet to learn a full bar chord, you can go for the stepping-stone version- Fmaj7.
11. Don't Stop Believing by Journey
Chords: G, D, Em, C
Prominent '80s rock band Journey's "Don't Stop Believing" is a work of art. A perfect sing-along chorus, catchy rhythm, insane guitar solos, and an awesome keyboard riff have made this song a quintessential rock anthem. Strangely, this revered power ballad did not gain the recognition and success it deserved when it was first released. It was the hugely popular cover version in American comedy-drama Glee that did the trick.
The song ended up becoming the best-selling digital track from the 20th century, selling over 7 million copies in the US alone and clocking nearly 700 million streams on Spotify! What if we told you there's a super simple way to play this otherwise challenging song! Sounds unbelievable, but true! In terms of guitaring, there's a lot going on, but you can play its fun and accessible version that uses only four chords in G major – D major – e minor – C major chord progression.
Popular Related Article: 21 DADGAD Tuning Songs You'll Love To Learn
12. Wild Thing by The Troggs
Chords: A, D, E, G
Who doesn't know this mega-hit by UK rockers The Troggs – which still sounds as cool and fresh as when it first came out! Interestingly, the song is written by Chip Taylor, an American songwriter, and was originally recorded by an American rock band called the Wild Ones. But sadly, their version didn't really make it to the charts until the version by the Troggs came along and turned it into the 500 Greatest songs of all time.
This track is entertaining and easy to play on the guitar – whether you're on stage with your band or strumming your heart for a sing-along with your friends at a party. The song follows a repetitive A – D – E – D pattern that's very easy to follow for beginners. There's a G chord thrown in now and then—all in all, a simple pattern that's very easy to follow for beginners.
13. Talkin' Bout a Revolution by Tracy Chapman
Chords: G, C, Em, D
This track by famous singer-songwriter Tracy Chapman shakes up its listeners to the core with its powerful and compelling lyrics. Widely regarded as one of the top political anthems, "Talkin' Bout a Revolution" confronts the deep and clear social class divide between the world's haves and have nots. Written by Chapman when she was still in school, the song talks about how the poor and disenfranchised will rise up against inequality and claim what's rightfully theirs. They will one day break through the glass ceiling of their social class and reach their fullest creative potential.
As revolutionary as the song was, it only managed to reach no. 75 in the US. Although internationally, it earned remarkable success and raving reviews, also inspiring many covers. To play this iconic track, all you need to know are the G, C, Em, and D chords, but pay close attention to the progression of the chords – but once you get the progression right, you'll be able to play the entire track without any issues.
14. Sugar by Maroon 5
Chords: C, Am, Dm, F
This deliciously funky song by band Maroon 5 from their fifth album V is the ultimate crowd puller! Brimming with elements of soul, disco with a heavy dose of funk-pop, "Sugar" grabbed top spots across the globe. It also became the 68th song in history to spend over 20 weeks in the top 10 on the US Billboard Hot 100. In terms of guitar, "Sugar" is certainly not the easiest song to play, yet it is perfectly suited for both beginner and intermediate players. Why do we say that? Technically, the chords and shapes used in the original are not the conventional open major and minor chords.
Maroon 5's guitarist James Valentine uses a unique combination of chords-GbMaj7 sus2, Bbm7, Db, and Ebm7. This rather unusual set of chords can get tricky for beginners to grasp as they require a certain degree of proficiency. Fret not! New learners can play a simpler version using four relatively easier chords- C, Am, Dm, and F with a capo on the 1st fret.
15. Radioactive by Imagine Dragons
Chords: C, Am, G, D
Four basic chords- Am, C, G, and D in a straightforward groovy strumming pattern, makes "Radioactive" by Imagine Dragons an excellent song to kick start your guitar journey. A classic example of a sleeper hit, this song climbed up the charts slowly and steadily, eventually spending a total of 87 weeks in the Billboard Hot 100. "Radioactive" also fetched two Grammy nominations for the band, winning the award for Best Rock Performance.
An alt-rock masterpiece infused with elements of dubstep, fascinating lyrics, and an adrenaline-pumping chorus, "Radioactive" keeps you hooked from start to finish. It employs the same four chords over and over in an easy to master strumming pattern. The only thing that could get you is the speed at which you need to do chord switching. You can check out some tutorials or lessons that can help you in changing the chords quickly and effortlessly.
16. Hey Ya! by OutKast
Chords: G, C, D, E
A 2003 smash hit by American hip-hop duo Outkast, "Hey Ya!" is not just amazing to listen to but incredibly fun to play! Upon its release, the track swiftly climbed the music charts all the way to the top in the US, Australia, Canada, and several other countries. "Hey Ya" was recognized by a well-known Swedish website as one of the best songs of the 2000s. It was also the first song on Apple's iTunes to touch one million downloads.
Hey Ya! Is a brilliant example of how you can make an incredibly infectious and refreshing track using 4 of the most common chords played on the guitar. The iconic hip hop duo Outkast used G major, C major, D major, and E major in such a clever way that the song sounds super fresh and energetic despite repeating the same progression all through. The catchy lyrics, groove, and melody of this song have helped it consistently rank as one of the greatest tracks of the 2000s.
Fun fact: one of the song's memorable line 'shake it like a polaroid picture' even ended up bolstering the sales of the Polaroid Corporation, who were previously struggling with sales! It's super easy to learn and so much fun to play, especially at a party with your pals. An electro-folk-funk-hip-hop-soul haven with cryptic lyrics, "Hey Ya!" inspiring countless covers by many famous musicians, most notable being folk band Obadiah Parker's acoustic rendition that became an overnight viral hit. With a steady and repetitive strumming pattern, it is a great pick for those looking to learn basic chords and transitions. Beginners can breezily get through the entire song using just four easy chords.
17. Love the Way You Lie by Eminem ft. Rihanna
Chords: Em, C, G, D/F#
Many critics and fans call this song one of the best of Eminem's career, and we agree. Touching upon an emotionally devastating theme of domestic abuse and toxic relationships, "Love the Way You Lie" showcases the iconic rapper's mind-blowing songwriting skills. While Eminem's angry raps fuel the verses, versatile singer Rihanna brings the chorus alive with her powerful and distinctive voice. The vocal contrast is evocative and a treat to the years. The song became Eminem's best-selling single, clocking over 12 million copies in sales in the US. Along with holding the top spot in Billboard Hot 100 for seven weeks in a row, the song gained massive success worldwide.
With no challenging techniques like barre chords, pull-offs, or hammer-ons, just four simple chords, "Love the Way You Lie" is perfect for beginners. Just remember to slap on a capo on the 3rd fret in standard tuning, and you are sorted! If you are not yet comfortable with D/F#, you can replace it with D, and it'll sound just as good.
18. Wagon Wheel (Cover) by Darius Rucker
Chords: G, D, Em, C
Darius Rucker's country-style rendition of the string band Old Crow Medicine Snow's signature song is another excellent example of using simple chords to create magic. The cover by Rucker of Hootie & the Blowfish fame opened to great reviews, winning him a Grammy for Best Country Solo Performance in 2014. The song also became his best-selling and most popular work in his successful five-decade-long career.
Jointly written by the legendary Bob Dylan and Ketch Sector of Old Crow Medicine Show, the song revolves around a hitchhiking journey undertaken by the protagonist to meet his beloved. In his version, Rucker roped in Lady A for backing vocals, a move which, in his opinion, boosted the song to a new level. Rucker uses four chords- C, G, D, and Em and a capo on the 2nd fret, which places this track within reach of beginners. The syncopated strumming pattern could be challenging for beginner guitarists. You could begin with four downwards strums before tackling the actual strum pattern.
19. Good Riddance (Time of Your Life) by Green Day
Chords: Em, G, D, C
This soft acoustic song by the influential band Green Day is often played as the final song in their live gigs. With emotionally charged lyrics and a nostalgia-triggering tune, "Time of Your Life" acts as a bittersweet farewell song. Perhaps the reason why it became such a rage at proms. The song's contemplative lyrics were said to have been inspired by band's frontman Billie Joe Armstrong's rather painful breakup with his girlfriend. He was initially reluctant to show the song to his bandmates, and when he did, it was discarded for being too different from their usual style.
Armstrong decided to give this song another shot during the recording sessions for the band's fifth album Nimrod, where it finally managed to get a place. "Good Riddance" has all the elements of a great beginner-level guitar song. It uses only a few chords, is extremely catchy, and a true crowd-pleaser. The combination of four easily playable chords, simple changes, and strumming patterns makes it thoroughly enjoyable to play. The fingerpicking intro, however, will require some effort and time to master.
20. Stand By Me by Ben E King
Chords: G, Em, C, D
American singer-songwriter's 1961 soul masterpiece "Stay By Me" can be played using four easy chords. This timeless classic took shape out of King's relentless efforts to recreate a popular gospel hymn written by the Philadelphia minister Charles Albert Tindley back in 1905. King hit gold with "Stand By Me" as the fourth most-played track of the 20th Century on American radio and TV, also inspiring over 400 hundred covers. The notable renditions include performances by John Lennon, Tracy Chapman, Otis Redding, and Muhammad Ali.
Over its lifetime, "Stay By Me" has made a staggering nine appearances on the US Billboard Hot 100, original and cover versions included. One of the best parts about this song is that it is simple for beginners to play and offers plenty of practice to sharpen easy chord shapes and chord changes. It uses the same chord progression over and over through the length of the song. You can play this song with G, Em, C, and D in standard tuning with a capo on the 2nd fret.
Popular Related Article: 14 Incredible Songs in Drop D Tuning With Lesson Videos
21. Where Is The Love? by Black Eyed Peas
Chords: F, C, Dm, Bb
Another iconic song that uses 4 of the most common chords, Where Is The Love? Was released in 2013 by the Black Eyed Peas to much acclaim. The track is a powerful protest song deals with issues of racial discrimination, social unrest, and inequality, while the laid-back tempo and the classic 4 chords (F Major, C Major, Dm, Bb) keep cycling throughout the track.
With easy chords and a simple rhythm, Where Is the Love? Is not just a powerful track with an awesome melody, but it's also a great song for beginner guitarists and singer-guitarists to learn and sing along with. It can be played in any setting – whether you're practicing by yourself or around a campfire with friends!
22. Complicated by Avril Lavigne
Chords: Dm, F, C, Bb, Gm
Technically, this Grammy-nominated track by Canadian pop-rock phenomenon Avril Lavigne has 5 chords, but the Gm pops up very rarely in the chorus – the rest of the verses and pre-chorus pretty much runs just on Dm, Bb, F major, C major. Complicated was Lavigne's debut track from her album Let Go, and it took over the world by storm, charting on Billboard Top 100 at the number 2 spot and number 1 in several other countries.
Even though it's been more than 15 years since the song was released, it can still be quite fun to play, with an easy rhythm pattern and progression being played throughout. A fun way to relive the hits of the early 2000s.
23. Peaches by Justin Bieber Ft. Daniel Caesar, Giveon
Chords: F Major, Em, Dm, C Major (Easy Version)
Chords: Fmaj7, Em7, Dm7, Cmaj7 (Official Version)
Justin Bieber's latest chart-topper liberally uses the dreamy power of sevenths in its four-chord composition, starting with Fmaj7, Em7, moving to Dm7, and finishing off with an ethereal Cmaj7 to create a catchy melody and groove. However, if you are a beginner and don't know how to comfortably play seventh chores yet, then you can play the easy version of the chords (F Major, Em, Dm, and C Major).
This Pop-R&B track is a fun and easy track to play, and while the original track may have a more electronic and hip hop vibe to it, playing it on the acoustic guitar gives it a nice and organic feel which sounds rather nice.
24. Wonderwall by Oasis
Chords: Em, G, D, A7sus4, C
Wonderwall is an iconic staple that every beginner guitarist can enjoy playing. The song is in the key of F# minor and uses Em, G Major, D Major, and A7susC in the verses, and adds in the C Major in the pre-chorus, and utilizing just three chords in the chorus (C Major, Em, and G Major).
Released back in 1995 by the rock band Oasis, and continues to be one of the band's most well-known tracks anywhere in the world. Wonderwall's title was inspired by the title of George Harrison's solo album called 'Wonderwall Music'. The track also has many interesting cover version that has been recreated by musicians like Cat Power and Brad Mehldau.
25. You're Beautiful by James Blunt
Chords: G Major, D/F#, Em7, Cadd9 (Capo on 8th fret)
An evergreen beauty released by English singer-songwriter James Blunt as part of his debut album 'Back To Bedlam', You're Beautiful is as beautiful as it is easy to play! This 4 chord song is a simple and straightforward declaration of love at first sight from Blunt. Naturally, it struck a chord with listeners across the world, topping charts in the UK as well as in many other nations. The song uses a chord progression of G Major, D/F#, Em7, and Cadd9 that repeats throughout the track.
Thanks to its easy chord and simple strumming pattern, this track can be played by novice guitarists as well.
26. Wherever You Will Go by The Calling
Chords: C-G/B-Am7-Fsus (Capo on 2nd fret)
The debut track by American Rock Band The Calling, 'Wherever You Will Go' turned out to be the band's most popular track ever since. The song performed phenomenally well on the charts and even holds the distinction of being the second longest-running no.1 song on Billboard's Adult Top 40 chart! Just like many other songs on this list, this song uses a 4 chord progression of C Major, G/B, Am7, and Fsus Major throughout the song, be it the verses or the chorus.
With its easy-to-play rhythm and four cool chords, this song can easily be played by guitarists who are just starting out on their guitar journey.
Guitar Tabs For Common Chords Used In Four Chord Songs
To get you started, here are the guitar chord charts of some of the most common major and minor chords you will need to know to play these four-chord songs:
G Major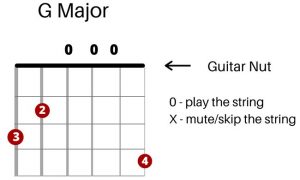 C Major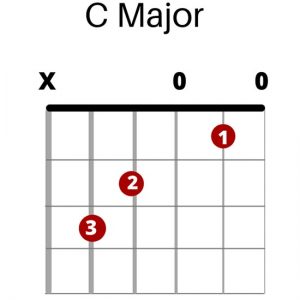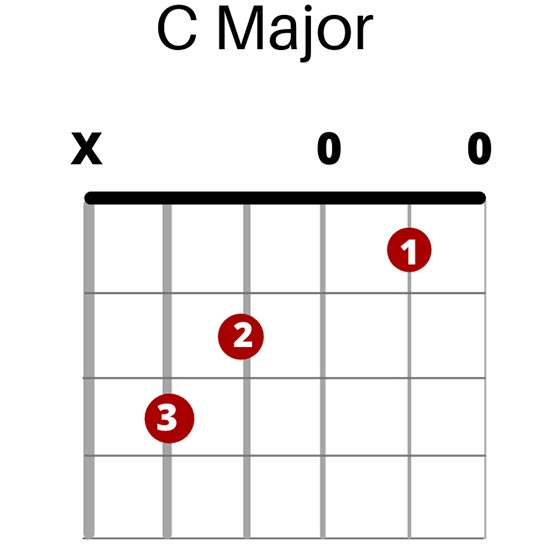 A Major
F Major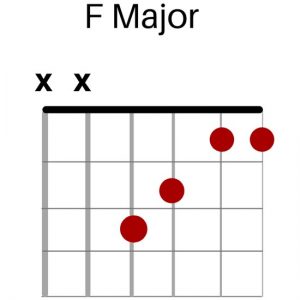 D Major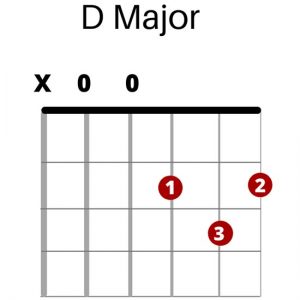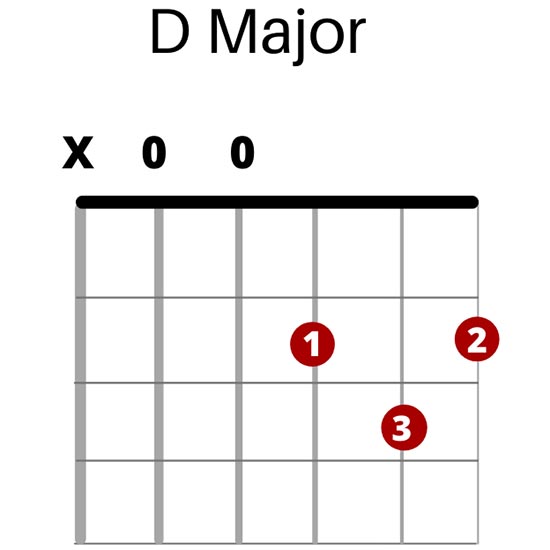 E Minor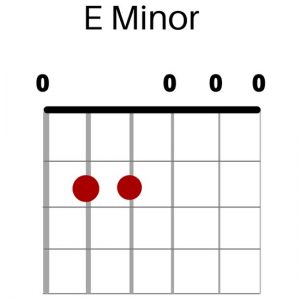 To give you a handy guide of easy chords, here is a quick chord chart that tabs out all the common major and minor chords that you will need to know in order to play the four-chord songs we have listed out in this article: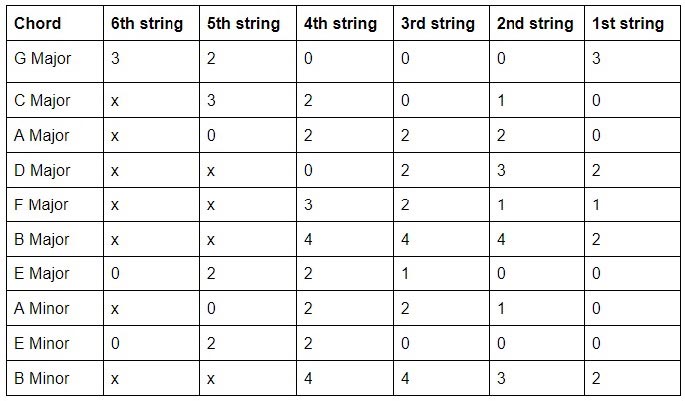 Now that we've shared the tabs and chord charts on how to play the most common guitar chords, here is the list of 26 easy and fun four-chord songs that you can play anytime, anywhere!26 Easy Four Chord Songs For Beginners: Songlist With Chords
Final Thoughts
There are a plethora of popular songs across various musical genres that use just four chords, making it really easy for beginner and intermediate level guitarists to find and learn how to play songs that they know and love. The list above, packed with hits, is proof that some of the most iconic and memorable songs throughout music's history have been composed using just 4 chords! With the knowledge of a few basic chord progression, you can play these popular songs from across genres, and also get started with composing your own songs using 4 chords or less, or more!
We hope this article gave you lots of cool songs to get started on. Want more such articles? Check out our article for 25 easy 3 chord guitar songs. Happy exploring!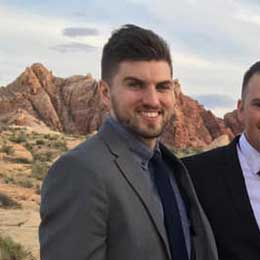 My name is Chris and I've had a passion for music and guitars for as long as I can remember. I started this website with some of my friends who are musicians, music teachers, gear heads, and music enthusiasts so we could provide high-quality guitar and music-related content.
I've been playing guitar since I was 13 years old and am an avid collector. Amps, pedals, guitars, bass, drums, microphones, studio, and recording gear, I love it all.
I was born and raised in Western Pennsylvania. My background is in Electrical Engineering, earning a Bachelor's degree from Youngstown State University. With my engineering experience, I've developed as a designer of guitar amplifiers and effects. A true passion of mine, I've designed, built, and repaired a wide range of guitar amps and electronics. Here at the Guitar Lobby, our aim is to share our passion for Music and gear with the rest of the music community.