The songs we know and love are often a reflection of our favorite artists' personalities. And while some musicians choose to express themselves with a series of complex chords, some do it with just two!
Personally, I feel that when the soundscape is dominated by just 2 chords, the listener invariably ends up paying a lot more attention to the lyrics, the songwriting, and the overall sentiment the artist wants to convey.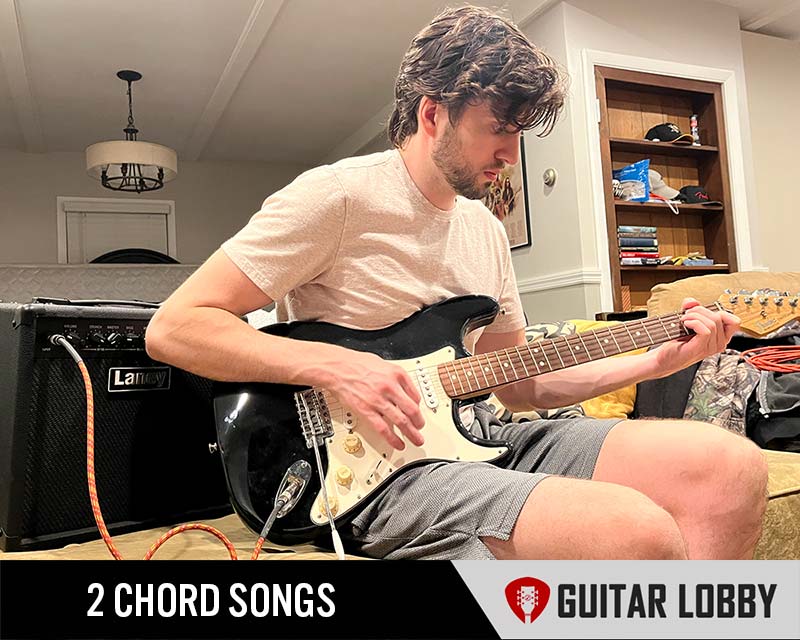 So today, let's look at songs spanning genres and time periods with one thing in common; the 2 chords holding them together! From campfire favorites to grunge, we've got something for everyone.
But if you're a beginner, you're bound to love this list even more because it's full of easy 2 chord guitar songs that require minimum effort but are still bound to impress!
Here is a List of 2 Chord Songs
1. Born In The USA by Bruce Springsteen
The Boss' 1984 classic hit "Born in the U.S.A" is most people's gateway song into the institution that is Bruce Springsteen. With that powerful snare keeping time, the whole song revolves around the chords B and E major. If you're having a hard time playing the barred version of the B chord, there are multiple variations that you can use, right from the B power chord to simpler fingering patterns.
If you're still finding this hard, use a capo on the second fret and play the song using the chords A and D. If you have access to a few pedals or digital effects, start out with clean guitar, then dial in a bit of distortion when the song kicks in fully. For the faster parts of the song, a fuller strumming of the chords sounds a lot better than simply letting them ring. A song that follows the same rhythm pattern till it dissolves into a cymbal-heavy outro – this is a great song to practice your vocal chops as the melody is fairly standard throughout.
2. Something In The Way by Nirvana
You may recognize this song from the trailer of the latest Batman film. While the version you heard in 2021 is an elevated, cinematic piece, the original song written by Kurt Cobain features a raw acoustic guitar strumming the F#m and D chords throughout the song. Amongst the lesser-known Nirvana songs, the reason Something In The Way has a haunting charm to it is because of its tuning. The entire guitar is tuned half a step-down, and the top E string is dropped down to a D, essentially tuned to the C# note. This is a common tuning amongst rock musicians, as this makes the guitar sound "darker" compared to the standard E tuning.
Also, if you pay close attention, the strumming of this song "swings" and isn't exactly on time. This adds to the ethereal charm of the song even more. One thing I'd like to point out is that Kurt lets go of his typical style of singing and chooses a vocal style that's slow and sad, which perfectly compliments his guitar work throughout the song. This is one of my personal favorite 2 chord songs.
3. You Never Can Tell by Chuck Berry
If there's anyone who can turn just 2 chords into a timeless hit, it's none other than the father of Rock n' Roll – Chuck Berry himself! If you've watched Pulp Fiction, you'd remember this as the song from the legendary scene where John Travolta and Uma Thurman dance as if no one's watching!
You Never Can Tell is a witty, catchy track that conveys something quite deep in a light-hearted manner that life is unpredictable, and you never know what will happen next. The song has gone on to become synonymous with the Rock n' Roll genre and has been covered by several artists, including Bruce Springsteen.
Essentially, you just need to know how to play the C major and the G major chords to play the whole song. Though, once you grasp the gist of the song, you can also throw in the G7 every time the line goes 'C'est la vie say the old folks…' to add a little something extra to the song. The strumming pattern is not too tough to decode either – you'll be playing each chord for a total of two bars, with quarter note strumming.
4. Achy Breaky Heart by Billy Ray Cyrus
Miley Cyrus' dad gave us this earworm in his album, "Some Gave All," way back in 1992. Almost thirty years later, this song is still doing the rounds at dance parties, with everyone getting their jive on as soon as the guitar lick in the intro hits. The reason why this song makes it to this list is that its rhythm is built on just two chords – A and E. Across the verses, chorus, and even the solo, it's just these two chords that hold the entire song together.
Most rock and country songs can be boiled down to just 2 simple chords, so practicing these transitions is a useful hack to expand your library. If A and E aren't your favorite key to sing in, try it in any other key, starting the song with the major chord and following it up with its respective fifth. Go on and try it with G and C, D and G, or whichever key you fancy because one thing is certain, this song is bound to get people on the dance floor.
5. Blurred Lines by Robin Thicke
This 2013 song made the headlines for many, many reasons – right from its racy video featuring Emily Ratajkowski to the legal battle which ended after Thick and Pharell Williams (co-creator of the song) had to pay almost $5 million to Marvin Gaye, from whom this song was allegedly borrowed. But it's third on our list because you can whip out your guitar and strum through this ditty using just 2 chords – D and G.
The strumming pattern is pretty straightforward, and a few listens into the song, figuring out where to add a few mutes is going to come naturally to you. When you've mastered the chords, step two is throwing in a walking line on the 5th string right after the D chord with the notes 0 – 3 – 2 – 0. A party starter for sure; you're guaranteed to get people to join you in the "hey hey hey" section of the song, if not the whole thing.
6. Dreams by Fleetwood Mac
If you don't know this song by name, you'll recognize it from the trend that took over Tik Tok and reels last year. Dreams by Fleetwood Mac made an unexpected comeback because people started using it heavily as the background score for them skateboarding and sipping on juice. Released way back in 1977, this song kicks off with a tight bass line which is the skeleton of the song. The song doesn't feature any guitar strumming, but you can take the chords F and G and hold the whole song together, just like the bass line does. Yes, it features the F chord, something that every beginner has a love-hate relationship with.
Once you master this with regular chords, try the barred version because they have the same fingering and just move across two frets. A great song to strengthen your fingers and master barre chords, which add a fuller sound to your chord playing and give you full control of all strings, depending on how you use your strumming hand in conjunction with your left.
7. Horse With No Name by America
We're kicking this list off with 70's classic Horse With No Name by America, a favorite among guitar beginners. A fairly simple song, the whole song is built using an E minor and a D6 chord. Don't let the D6 chord intimidate you – you can play it with just two fingers placed on the E and G string on the second fret!
Alternatively, you could also try the second fret on the G and high E strings (Avoid playing the Low E and A strings when you try this fingering.) That's the entire song for you right there, but what makes it really interesting is its muted strumming which adds a percussive layer. I personally suggest starting off with just the chords, and when you're comfortable with the transitions, introduce the mutes slowly. The strumming of this song is a great exercise to learn how to add percussion to your rhythm.
8. 505 by Arctic Monkeys
Be it some of their all-out ragers like "Brianstorm" or the staple "Do I Wanna Know," the Brit Indie rockers have a specific flavor that's instantly recognizable! Released in 2007, "505" is no different, and even if you haven't heard this song before, a minute or two into the song and you unmistakably know it belongs to the Arctic Monkeys.
While the song starts out on a reverb-y EP and builds to a heavy ballad that ends on a catchy guitar hook, the whole song can be played with just the A minor and B chords. Many say that this could possibly be the easiest Arctic Monkeys to play because of the number of chords it uses. An excellent song to perfect your barre chord transition, this song could get a little tricky while switching between chords, but it's well worth the effort. Try some delay, throw in some reverb, or simply strum hard through the song to create a banging acoustic rendition of 505 that would make Alex Turner proud.
9. Break On Through by The Doors
If you're a Doors fan, there's no way this song doesn't feature in your top five. Whether it is the song's laid-back bossa nova rhythm or its energetic soundscape, everyone loves the first single to ever be released by The Doors for their reasons. To do true justice to this song, you'll have to learn the iconic guitar riff, which kickstarts the song and stays through it, but you can recreate the rhythm with the Em and D chords.
Start with a basic strumming pattern that fits the bossa drum groove and build it up as you progress through the song. I highly suggest you don't stop here and progress to breaking down the riffs of the verse and chorus part by part. A pro tip here would be to start as slow as possible and play with a metronome so you perfect your timing along with your notes. Once you're through with that, you can speed the whole thing up to the original tempo. While this does seem like a lot of work, you'll learn how to keep time with riffs, which is a level above keeping time with simple strumming. This is one of my personal favorite easy 2 chord guitar songs of all time.
10. Paperback Writer by The Beatles
This 1966 classic is drizzled with surf rock elements along with iconic harmonies, catchy guitar riffs, and a jumpy rhythm to match. Because its rhythm revolves around 2 chords, this makes it an incredibly easy song to start your Beatles journey with.
Written primarily by Paul McCartney, this song uses just G7 and C throughout the song. If you're not familiar with seventh chords, this is a great song to see how the seventh chord adds a layer of unexpected brightness to major chords. Try learning the seventh chords to all the major chords and slip them in occasionally to highlight your rhythm playing. There's no standard rule to how seventh chords are used to accent major chords – the only way to do it is to play them, familiarise yourself with their sounds, and let them flow naturally.
11. Whole Lotta Love by Led Zeppelin
I think "Whole Lotta Love," and instantly, the loose blues-rock riff played by guitarist Jimmy Page on his Gibson Les Paul starts ringing in my head. While replicating that overdriven wail of the guitar is something we'll save for another lesson, today we'll talk about how you can play this Led Zep classic with two power chords (the root and the fifth) – the D and the E.
Accentuated with multiple mutes and fast strumming, you can use these 2 chords to replicate the rhythm of this unforgettable rock riff. Start with the A and the D notes of the D power chord, followed by fast strums on the E power chord, and slowly you can progress to adding in those iconic Jimmy Page slides and fills. To get the hang of this song, you'll have to carefully listen to the rhythm pattern, but once you get it, it's really, really hard to stop playing it.
12. Feelin' Alright by Joe Cocker
If I could describe soul music with just one word – my choice would be SMOOTH! Originally performed by Dave Mason from the English rock band Traffic, this song was popularised by Joe Cocker and has all the makings of a great soul song. A tight drum and bass groove, classic piano, Joe's nonchalant husky voice, and a backing choir – you do justice to all of this with an acoustic guitar and the chords A and D with a capo on the third fret.
But I suggest trying this song out in the key of F, with the chords F7 and C7, which are a little unconventional but define soul music. The finger positions and transitions can feel a bit alien at the beginning, but with a one-chord per bar pattern, the chord structure is pretty standard. A great example of doing more with less, this song is the perfect background for your pianist friends to jump into impromptu solos that can keep going on forever.
13. One World (Not Three) by The Police
When the song One World starts, you're suddenly left wondering if you're listening to The Police or a professional reggae band. The song follows the classic reggae structure and pattern, complete with the sharp snare and the groovy bass line that keeps you engaged. And like most reggae songs, you can play this one with just two chords. One World uses the chords F and G. I highly suggest using barre chords to execute this song, but if you're not there yet, no worries, you can use the regular shapes too.
The strumming of this song is quite unconventional, and while playing it, you'll notice that if you switch to upstrokes instead of the typical downstrokes, it gets easier to create that reggae feel. Start by playing very slowly to get used to the offbeat strumming and build speed as you keep getting more comfortable. The motion will seem quite weird at first, as you're going against the strings, but with a little bit of practice, you'll be playing this in no time.
14. Jambalaya by Hank Williams
Jambalaya (On The Bayou) was first released in 1952 and since then has spawned countless covers across genres, making this Williams' most covered song. A feel-good, happy song, this song swings from its first note to its last between the G and C chords. A perfect song for campsites, strum your way through this eight-bar progression with 2 bars on G, 4 bars on C, and ending with 2 bars of G.
What you can do to spice things up and do justice to the country feel of this song is to pick the bass notes of each chord on the E and A strings for G and C chords, respectively. A little challenging at the beginning, such small tweaks can add loads of pizazz to your rhythm playing. On days when you're feeling down, strumming along to this song is going to act as an instant pick-me-up.
15. Alicia Keys by Fallin'
Alicia Keys has a voice that if suddenly all the instrumentation behind her were to disappear, the song would still sound complete! Fallin' is no exception to this rule. Structured in a way to make her voice takes center stage, you can play the whole song with the chords Am and Em. While strumming this song, pay special attention to your hand and try making the rhythm "swing." You'll hear the massive difference it makes to the song if you strum it on simply versus when you play this waltz tune with some attitude.
Also, this song follows the count of 3 rather than the standard 4, so play the top half of the strings on the one beat and try muting the 2 and 3 hits while strumming the chords. I will always maintain that it is the way you play the chords and how these chords fit into the song structure rather than the chords themselves. Fallin' is another such example, where the song absorbs you because of its arrangement, not just because of how many chords it uses.
16. Everyday People by Sly & The Family Stone
I was pleasantly surprised to find out that this song made the term "scooby doo" famous, even inspiring the name of our favorite animated Great Dane. Sly and the Family Stone, who released this song in 1968, were a supergroup that brought a bunch of styles ranging from funk to rock to country to their music. Everyone from Pearl Jam to Aretha Franklin to Joan Jett has covered Everyday People, and even you can with just 2 chords. With C and G chords, you can groove your way through the song.
Feel free to pick a strumming that fits best with the song as you play along with it. I've realized that instead of learning the strumming to songs, play with the song and allow yourself to mimic the song while inventing your strumming patterns. You'll see how everything right from the drums to the bass can inspire your strumming, allowing you to express yourself a lot more than simply following a robotic pattern, which ends up sounding monotonous after a while.
17. Banana Boat Song by Harry Belafonte
Banana Boat Song or Day-O, performed by Harry Belafonte in the late fifties, is a song that will get you either grooving, singing "Daylight Come and We Wan' Go Home" for days or, in my case, both. This song is a great example of calypso music, instantly reminding you of the beach surrounded by lush tropical forests. For a song that's almost seventy years old, it's still making the rounds, and you've definitely heard this song across pop culture.
A great song for beginners, this song uses just D and A throughout the song. You can substitute the A with an A7 to give this song a brighter soundscape. Remember to keep your muting hand at the ready to give this song the rhythm and bounce that defines it. The cherry on top is if you could get a bunch of friends to help you out with the backing vocals while you take it away with the vocals and the guitar. Back in the day, songs were written to bring communities together and have a good time, a feeling that you can recreate with just two chords today.
18. Working Class Hero by John Lennon
To the older generation, this is one of John Lennon's more heartfelt tracks, and to the newer generation, an epic Green Day one. Irrespective of which version you're referring to, both of them feature an easy 2 chord structure. Oscillating between A minor and D (with a G major thrown in during the chorus), the structure of this song compels you to listen to the lyrics and contemplate their meaning – just like Lennon intended. If you pay close attention to the strumming style, Lennon starts with the bass notes of the chords and slides in a hammer-on, a pattern he keeps consistent throughout the song.
The song ends with the words "just follow me," and that's the advice we'll leave you with too. Listen to the song over and over till you've memorized the pattern, and simply follow Lennon. To those referring to the Green Day version, the chords stay the same, but the subtle hammer-on structure is replaced with big, bold strums on the acoustic – a style signature to the punk rock band.
19. Give Peace A Chance by John Lennon
'Everybody's talking about Bagism, Shagism, Dragism, Madism, Ragism, Tagism, This-ism, That-ism…' This is the opening to John Lennon's first hit away from The Beatles, and it kinda sets the premise to what this song is all about. Lennon once told Rolling Stone magazine that he wrote this song to be sung during demonstrations such as The Moratorium to End the War in Vietnam. Recorded way back in 1969, the video of this song features Lennon sitting with Yoko Ono, guitar in hand, strumming away and singing to a small crowd.
Because of how easy the chords to this song are, you can have your personal Lennon moment if you can play the C and G chords smoothly. You'll find people using the D and A or A and E combinations, too, depending on their singing comfort). Down strum through the entire song or play the original two down strums followed by a down-up-down-up pattern till you get it down pat. Feel free to substitute G with G7, like the original record. To do this, play the first fret of the E string instead of the third as you do on a G chord. All these years later, I am left wondering how you could always trust Lennon to come up with extremely simple chord patterns with lyrics so intense that the song becomes an instant earworm.
20. Lively Up Yourself by Bob Marley
The universally true thing about reggae is that it puts you in a good mood in a matter of minutes! Lively Up Yourself is another such track, and as soon as the bass-heavy intro kicks in, you find yourself grooving in a way you can only with reggae music. Released in the mid-seventies, this song bounces from start to end on just two chords – D and G, two of the most common and versatile chords used across a lot of genres of music. As a general rule, reggae music follows a similar pattern with minimal chords, so this genre is great if you're a beginner.
For the strumming, I suggest you use your palm to mute the top strings to give your strumming a percussive feel. Try mimicking the beat of the bongos to create your rhythm patterns, and enjoy this song from start to end. While 2 chords are more than enough to do justice, check out the tabs link to see how you can sneak in a few more chords to make your playing fuller. Another thing you could do is look up similar reggae songs that follow this pattern and dive into a full-blown guitar medley when you're playing this for your friends.
21. What I Got by Sublime
Whether you know how to dance like a human or not, there's no way you can't groove when "What I Got" plays! This is my go-to road trip song – it's so catchy, infectious, and laid back. This track catapulted the American band Sublime to fame, and guess what? This 2-chord song has also made it to Rolling Stone magazine's 'Top 100 Guitar Songs Of All Time! More proof that you don't need to jam a hundred different chords into a song to make it memorable or worthy of recognition and respect.
'What I Got' only has D major and G major chords that repeat all through the track – be it verse or chorus. These chords should be familiar to guitar beginners as well, ad they're one of the first few chords taught to us when we start out on the instrument. The strumming hand may need a bit of run-through since the chords are played in a rather arpeggiated manner in the song (as you can hear in the intro), but nothing that a bit of practice can't solve.
The cherry on top is the guitar solo on the track, which is quite easy to play! It's a short and sweet solo that's not too fast, making it perfect for novices to learn. Check out this easy and quick guitar lesson to figure out how to get cracking on this one!
22. Eleanor Rigby by The Beatles
I remember the first time I heard Eleanor Rigby; the song was stuck in my head for days after just one listen! The harmonies, the strings section, Paul McCartney's unmistakable voice – this song was love at first listen. On this list, you'll see Paperback Writer making an appearance on other Beatles tracks that uses the same two chords as Eleanor Rigby – C and Em. Even though both songs use the exact same chords, it is the songwriting that makes them sound so vastly different.
My suggestion is that once you learn this song, play it with Paperback Writer back to back to see how you could perform a bunch of songs using the same chords without them having to sound the same. Both songs feature one of my favorite chords – Em, which sounds melancholic yet intense, making it a favorite among rock musicians. Even across this list, you'll see the Em chord featuring prominently on songs that belong to the rock genre. A very versatile chord, Em fits beautifully with chords like C, D, G, A, and even E major! Try it out for yourself.
23. Stop Whispering by Radiohead
At first listen, till Thom Yorke's brilliantly weird voice doesn't kick in, one wouldn't instantly recognize this as a Radiohead song. Off their grunge-inspired album Pablo Honey, Stop Whispering sounds "happier" (if I may) than most of their songs. With a steady snare groove holding the song from beginning to end, this surprisingly upbeat song can be played with just D and G. Although you can play the song with basic strumming, the original playing includes some arpeggios between chords.
You can start with strumming and progress to the arpeggios as and when you feel comfortable. As is with all Radiohead songs, there's always that element of surprise and Jonny Greenwood's off-key notes during the solo, and the outro brings the song comfortably back to Radiohead territory. Not listed amongst the band's top ten songs, this song is a refreshing find for Radiohead fans who get to sample quite an unexpected side of the band from their early days.
24. Oye Como Va by Santana
Bring on some Latin Rock because we're talking about Santana! Oye Como Va is an infectious track in the classic Cuban 'cha-cha-cha' rhythm pattern blended with influences from various styles of music. In true Santana style, the guitar god has kept the backing rhythm simple, letting his tasteful and atmospheric guitars shine through.
While learning to play the lead guitars of the track might take a bit of practice and skill, the backing rhythm is very easy to learn for novices too! All you need to learn is how to play the Am7 and D7 chords – don't get intimidated by the "7ths" in these chords – they're pretty straightforward to play, as you'll see in the guitar tabs we've linked here. Am7 is nothing, but the A minor chord with the 3rd string played open, while the D7 chord is the D major chord with the 1st fret held down instead of the 3rd on the 2nd string. Pay close attention to the strumming pattern, as it's not your everyday acoustic guitar strumming. But if you have listened to the song enough times, you'll have no problem strumming along.
25. Tomorrow Never Knows by The Beatles
You may not have heard of this track if you're not a hardcore Beatles fan – "Tomorrow Never Comes" is one of their lesser-known songs. But this is a unique one that clearly shows the influence Indian music had on the band – you can hear passages with the Indian stringed instrument "Sitar" and the "Tanpura" backing, creating a unique ambiance throughout the song. If you've only heard the popular Beatles tracks, then the vibe of "Tomorrow Never Knows" might come as a surprise – though a pleasant one, for sure. The only 2 chords being used across the song are C major and Bb chords – while C major is easy enough for most beginners to play, barring the Bb might take a bit of practice.
This is an energetic track, and the fast-paced guitar strumming only adds to the high energy! Make sure you understand the strumming pattern correctly since it could be a bit challenging to play consistently across the song. If you find the original pattern tricky to tackle, then you can play your own, easier version of the strumming and then build up to the more accurate version as you get more and more confident.
26. Tulsa Time by Eric Clapton
Originally sung by Don Williams, a handful of artists have taken a shot at Tulsa Time, but Eric Clapton's upbeat, blues rock rendition is the one that's gone mainstream. Similar in structure and even tune to Achy Breaky Heart which features above on this list, Tulsa Time is your standard blues-rock pattern come to life with the chords G and D (feel free to use any key that's to your liking).
The strumming of this song has multiple variations, so find one that fits best with the song. As we've mentioned earlier, this pattern and chord structure is a rock and blues staple, so if you've mastered this, you can not only play this song but a bunch of others that are simply one Google search away. After you're comfortable with the chord transitions, two-chord songs like this one are best to practice your singing, as the muscle memory takes over with the guitar, and you can focus on hitting the right notes with your voice. This is another one of my favorite two chord guitar songs to play.
27. Drunken Sailor by The Irish Rovers
This traditional sea shanty from Ireland gives me goosebumps – every time I hear it, I can imagine weary, hard-working Irish sailors singing it together to keep their spirits high while being hard at work around the ship and sailing through intimidating seas! This folk song is one of the most well-known sea shanties around the world – has been covered by several different artists across the world. But one of its most popular versions is by The Irish Rovers, who usually closed their performances with this gem by involving the crowd and getting them to sing along – in true sea shanty style.
The song only uses the Em and D major chords, both chords alternating one after the other. This is the common pattern in which such sea shanties were written. The strumming style is equally easy, with your regular downstrokes that cover all the strings. This is a brilliant sing-along song whether you're playing solo for a small audience or for a large crowd.
28. Jane Says by Jane's Addiction
Listening to Jane Says takes me back to the good ol' days of alternative music. First released in 1987, this song has been around for a while and was used to frequently end Jane's Addiction live concerts. For a song that has so much going for it, its stripped-down structure is built on just 2 chords – G and A. Switching between these 2 chords isn't very hard and shouldn't pose much of a challenge, even if you're a beginner.
Even though its chord pattern stays pretty much the same throughout the song, lead vocalist Perry Farrell's vocal lines take Jane Says through a series of ups and downs. With his voice doing the heavy lifting through the song, you'll barely notice it is built on two very simple chords repeated from start to finish. The best part about covering this song is that you need nothing else but a no-frills acoustic guitar and a right hand that can deliver that punchy strumming.
29. Heroin by The Velvet Underground
Even though this song is built on just two chords, what makes it interesting is the pattern in which these chords are used. From the intro to the verse, the timing changes, and it doesn't just stop here. Midway through the verse, the tempo increases to create tension before unexpectedly dropping back to what we started at the beginning. What stays consistent throughout the song is the down strumming pattern.
The song basically consists of D and G major chords played as eight down-strokes each. It is an extremely easy song to play and sing, but keeping time with the ever-changing groove can seem tricky at first. What is essential while playing the song is to maintain accents when strumming. You can do this by changing the pressure of your strum to create some movement in your playing rather than keeping it standard from start to end.
Another great example of not how many chords but how the chords are used. To really take this song to the next level, you can arpeggiate the chords, which is playing them one note per string. Listen to how the song switches between the arpeggio pattern and the strumming to create a wild melody that sounds energetic, disturbing, and fun, all at the same time.
30. Solitude by Black Sabbath
When you see Black Sabbath on the list, you instantly think of driving rhythms and power chords from start to end, but the English band that laid the foundation for many genres of metal took occasional departures from their typical sound to give us peaceful ballads. Solitude is one such song that follows a lilting melody, accented with pan flutes, making you do a double-take the first time you hear it. But it's songs like these that are a clear indicator of Black Sabbath's versatility.
Getting back to this song – to play it, all you need are the G minor and F major barre chords. Strum through it or play it as arpeggios, you can interpret this song in many, many ways, but whichever style you pick, the transition between F and G minor instantly creates a melancholic feeling that's signature to this song. If you're playing this song on the electric guitar, add some delay and reverb when you arpeggiate the chords to add an atmospheric setting to your playing.
31. Elevation by U2
What are the chances of finding a U2 song that has only two chords? From the band's tenth studio album, "Elevation" is a playful song designed to inject a heavy shot of adrenaline into the listeners through its funkadelic rhythm and distortion-fuelled riffs.
This 2000 single was a chart-topping hit for the Irish rock giants, winning them a Grammy for Best Rock Performance. The beginner-friendly main riff uses only E and A chords. It's also a great song to work on single-note electric guitar playing. Check out the tutorial above to add this super easy rock riff to your arsenal.
32. Molly's Lips by Nirvana
"Molly's Lips," my darkhorse favorite from Nirvana's Incesticide, goes at a breakneck, almost breathless speed and sounds more punk than grunge. Although originally written and recorded by the Scottish band the Vaselines, "Molly's Lips" reached the mainstream audience only after being covered by Nirvana. Their rendition is guitar-driven, high-pitched harmonies, with Dave Grohl's fiery drumroll taking over during the chorus.
You'll be playing power chords in this one. So, if you've yet to start power chord lessons, this is a perfect Nirvana song to learn. Watch the tutorial above to learn how to play "Molly's Lips" with a G5 and a C5 power chord in a straightforward, repetitive rhythm.
33. Shady Grove by Jerry Garcia and David Grisman
This popular Appalachian tune has several versions by some of the most influential names in the bluegrass-folk scene – Tony Rice, Doc Watson, and Bill Monroe, to name a few. But the string face-off by famous mandolist David and the uncommonly talented vocalist-guitarist Jerry Garcia is an absolute treat to the ears.
Needless to say, their interpretation isn't restricted to two chords, but you can play a simplified version with just the D minor and C major chords. If you haven't heard this record, play it over a few times to familiarize yourself before starting the lesson.
34. U.N.I by Ed Sheeran
The third track on Ed Sheeran's 2011 album + is an underrated piece about the end of a relationship when one goes to a university while the other decides to make a career in music. It's got all the classic Sheeran elements that make his songs so catchy – mellow acoustic tunes, relatable lyrics, heartwarming vocals – the works. There's some mild, laid-back rapping going on as well.
What I loved the most about it is just how easy it is to play. All you need are two chords and a capo on the 2nd fret. If you ask me, a capo is a must-have for every aspiring guitarist as it allows you loads of songs with fewer chords by changing the key. The tutorial above will show you how to play this song using just E major and A major chords. However, check out the tabs if you want to see the full chord version of exactly how Sheeran plays it.
35. Love Me Do by the Beatles
Here comes another Beatles earworm for you to add to your repertoire with two easy chords. "Love Me Do" often features in three-chord song lists, but most of this song can be played with just G major and C major, with the D major chord only appearing during the bridge.
This charming 1963 classic was the result of the famous songwriting partnership of Paul McCartney and John Lennon. The duo often talked about how they would skip school to write their songs, many of which became monumental successes. With its cheesy yet fun lyrics, sweet harmonies, and Lennon's melodic harmonica, "Love Me Do" wooed the mainstream audience in the U.S. The Beatles officially became a global phenomenon, and the rest, as they say, is history.
36. Boys Round Here by Blake Shelton
"Boys Round Here" is drenched in strong Southern vibes and might be one of the easiest tracks to add to your country setlist. Released in 2013 by singer-songwriter Blake Shelton, the single stands out in a big way.
The lyrics, sometimes funny, sometimes corny, may not go down well with everyone. Buy hey! It's undoubtedly one of Shelton's best-selling records, clocking over 2.5 million in sales in the U.S. alone. It's got a super simple chord progression and a strumming pattern that you should be able to master in no time.
37. When Love Comes to Town by U2 and B.B. King
Most songs on this list aren't technically two-chord wonders but have been simplified in a way that makes them super accessible to even absolute beginners. However, this one is a straight-up two-chord track with no stray chord showing up in verses, bridge, or chorus.
"When Love Comes to Town" is a symbiotic collaboration between the influential U2 and the undisputed king of Blues, B.B. King. For the Irish rock band, it was a chance to play with their idol while also introducing the phenomenal talent of B.B. King to a whole new generation. It is a powerful song about love and redemption with elements of blues, rock, and gospel. You won't find many rock songs that use just two chords. This one right here, with just two easy E and A open chords minus capo, is a tailor-made rocker for beginner guitarists.
38. Therefore I Am by Billie Eilish
This electropop banger from Billie Eilish's Happier than Ever has the English singer-songwriter in her confident element. It's existential, philosophical, and pretty open to interpretation. Delivered in classic Eilish-style layered vocals, "Therefore I Am" is an uptempo song with hip-hop beats served with loads of swagger.
You can play it using two chords – Dm and A and a looper pedal. While beginners can learn a simple strumming version of the track with open chords, more advanced guitarists should use offbeat strumming and barre chords like the original. The tutorial above takes you through both versions.
39. I'll Take You There by the Staple Singers
This song might only have two chords fueling it, but you'll have to pour in a bit of effort to make it sound closer to the original. Nailing the fluidity while playing the rhythm will take your performance up several notches. "I'll Take You There" was released in 1972 by gospel singing group the Staple Singers and spent a whopping 15 weeks on the Billboard charts.
The feel-good, funk jam vibe and sultry vocals mask the gritty lyrics that allude to a place where all races are equal, and no one is unhappy. Guitar-wise, you'll need only two chords – F and C. The F chord is a tricky one, but learning it will help you add plenty of beginner-level songs to your repertoire.
40. Dance the Night Away by the Mavericks
The single off the Mavericks' fifth studio album, Trampoline, peaked at number 63 on the charts, but "Dance the Night Away" remains their most loved song. Interesting instruments such as horns lend the catchy track an exotic vibe. The country band's frontman and songwriter, Raul Malo, was going for a mix of rock'n'roll and country with a Latin influence – perfectly suiting their Miami origins and Nashville adventures.
Alternating between two chords – D and A7 in a simple, repetitive pattern will get you through the whole song. It'll be a good idea to practice changing between the two chords and make them fluid and smooth before starting with the strumming pattern, which is also quite simple. There's another way to play this song that involves E and B7 but changing the chords in this one is more intermediate-level guitar playing, in my opinion.
41. You're Gorgeous by Babybird
For a kid growing up in the '90s, "You're Gorgeous" is like taking a trip down memory lane! It's Stephen Jones' headed Babybird's most recognizable and enduring tune. If you find yourself thinking of it as a romantic song, you're not alone. But once you figure out who's singing to whom, it gets pretty unsettling.
I must admit, even though the song features only two chords, it's not the easiest pick on the list. I'd recommend it for a guitarist with intermediate skills or an earnest beginner willing to pour in a good amount of practice.
42. Copperhead Road by Steve Earle
Heavy metal and bluegrass, now these are two words, or genres, that you don't hear together often. If you ever want to sample a blend of these genres or "power twang," you only have to tune into roots-rock trailblazer Steve Earle's discography.
His 1988 classic "Copperhead Road" chronicles the journey of a young soldier who, after returning from the Vietnam War, witnesses his bootlegging granddad navigate troubled waters. Since its release, this tune has dominated line dancing. The easiest way to play this song is by using two chords – D major and G major.
43. Silence is Easy by Starsailor
The UK-based indie rock group Starsailor broke into the charts with passionate vocals and subtle melodies. Their soft acoustic guitar and piano-driven melodic gems from Love is Here prompted the fans put them in the same league as Coldplay and Travis. However, "Silence is Easy" from the band's second album of the same name is by far their most famous single.
It's tender and captivating with honest, heartfelt lyrics – something you can keep listening to on a loop. If you want a two-chord soft rocker that'll have your audience singing along, look no further. Here's what you'll be learning in this song – E and A chords, changing between them, and 8th note (all down) strumming.
44. I'd Rather Go Blind by Etta James
Only a few songs can leave such a lasting impact on the listeners' minds as Etta James' "I'd Rather Go Blind." Listen to the lyrics closely, and you'll be left with no doubt that James and her friend incarcerated friend Ellington Jordan used the song to channel their pain. The subtle instrument arrangement comprising of tremolo picked electric, organ, and horn puts the spotlight on the intense vocal performance by James.
Although James' 1967 original only made it to number 23 on the charts, it has since become an ageless classic kept alive in our memories through countless covers by prominent names like Beyonce in the 2008 movie Cadillac Records. One of the two chords to play in this song is a barre chord, but you should be able to learn it with a little bit of practice.
45. Fire on the Mountain by Grateful Dead
It's no mean feat to write a song with only two chords and still manage to make it ultra-catchy! This 1978 classic from Grateful Dead's Shakedown Street features a two-chord arrangement with a B-A-B-A progression. Penned by Mickey Hart and Robert Hunter, "Fire on the Mountain" has a groovy reggae rhythm and short yet potent solos unleashed by none other than the iconic Jerry Garcia. It's a great example of soloing over just two chords – A major and B major in this case.
46. Sing by Ed Sheeran
Released in 2014, "Sing" was a massive hit among R&B hip-hop lovers, and it's also a lot of fun to play on guitar.
While visiting Australia in 2013, Ed Sheeran wrote this legendary song in just 20 minutes. In its true sense, the song tells us to let go of all worries and enjoy the moment for now. It is written in Gm and lets you skip the need to use barre chords, making it an easy-to-play song on guitar.
However, skipping barre chords means you'll have to work with a capo on the fourth fret. If you're in the mood for acoustic guitar jamming and want to try some simple-to-play chords and tunes, this Ed Sheeran Album X special song is for you.
47. Anyone Else But You By The Moldy Peaches
This is a melodious, soothing acoustic indie song belonging to the anti-folk genre of music. Although the song was released in 2001, it hit the top trends upon its premiere in the motion picture Juno.
The song is about two lovers who cannot defeat their destiny to be together because of economic or social circumstances. Listen carefully to the background, and you'll feel the little waves of melody coming from the lead guitar, tranquilizing your ears.
Coming to strumming, this Moldy Peaches song features a minimalistic down-up-down-up pattern. Of course, it makes learning this song easier, but the chord progression of this song is what makes it so special.
With the most common chord progression, this song becomes a stepping stone for guitar learners to understand how to use chords to produce unique musical effects.
48. Heaven Is a Halfpipe By OPM
OPM is a band that rose from the ashes of the 'streets' just like a Phoenix. Their ability to perform reggae, rock, and hip-hop music all at once makes them unique. One of their best track, "Heaven is a Halfpipe," was released in 2000 and helped the band become a youth sensation.
This OPM song is based on a real-life tragedy of a skater who met death in a skating accident. The song signifies that one can find beauty in life even when facing death. The song's title of the song denotes that one can skate stress-free without worrying about judgment.
Eb and Ab, two easy chords, are used throughout the song. Despite how electronic the song may appear, playing it in an acoustic version is still an option if you just maintain the flow with the song's fast tempo. So, moving fingers fast to switch between chords and going for a fast strumming pattern is the best way to nail the acoustic version of this song.
49. You Sound Good To Me By Lucy Hale
"You Sound Good To Me" by Lucy Hale is an excellent soundtrack for all contemporary pop-country music lovers. Once this song pierces into your eardrums, you'll feel completely driven and hooked by someone else's voice.
The song signifies how calm, peaceful, and happy it feels to listen to someone you love. Playing this song needs you to work with only two chords – A and D! Your chord may become restless as the song requires a capo on the fourth fret.
But the fact that you will only use A and D chords means you won't have to use barre chords. This makes learning "You Sound Good To Me" easier than ever! Pro Tip: If possible, practice adding some basic fingerpicking parts to the song to make it more beautiful.
50. Blowin Smoke By Kacey Musgraves
Released in 2013, "Blowin Smoke" by Kacey Musgraves is a fun-to-play country pop song. Any beginner can enjoy making some good music out of their guitar as this song doesn't require a capo.
Go for the A chord and D chord, pick the down-up-down-up strumming pattern, and let the melody spread in the air. Going for the strumming pattern slowly at first will help you learn faster. The catchy and easy-to-remember notes, tune, and lyrics simplify things.
The song 'Blowin Smoke' emphasizes 'not giving up,' even if you struggle. Something meaningful, something melodious, something enjoyable! That's what learning 'Blowin Smoke' will feel on guitar!
Also, an amazing fact about this song – 'Blowin Smoke;' sounds beautiful on both acoustic and electric guitar!
51. Unknown Legend By Neil Young
"Unknown Legend" by Neil Young is an easy-to-play and classic song recognized by many! Hope and self-proclamation are the key themes of this song. Ever since its launch in 1992, the song has always been a go-to choice for beginners practicing guitar.
With strumming and single picks, anyone can master the right-hand technique on the guitar. Engage with the two most simple-to-learn chords – G and C major, and you're good to go. Neil Young is famous for his constant strumming skill, and that's one of the specialties of this song as well.
Fingerpickings combined with constant strumming; that's what you'll eventually play after a few practice sessions. The poetic and emotional essence of the song will definitely reflect in your guitar once you hone the right-hand technique.
52. Moves Like Jagger By Maroon 5
Released in 2011, "Moves Like Jagger" by Maroon 5 is an excellent example of dance-pop! Playing this Maroon 5 song on guitar is a cakewalk if you know the Em and Bm chords. Yes, that's the only two chords it takes to play out this tune!
However, adding your skill of using Am7 can add more 'feel' to the song. Standard tuning of the guitar will do just fine.
The strumming pattern to follow for this song is: down-down-up-up. Keen listeners can relate to the steady beats in this song. For that, you must maintain the fingerpicking and strumming in sync and in time. Here, using a cap on the seventh fret can make the guitar performance even better.
So, want to learn to play the song "Moves Like Jagger?" The one that drives all the people in the room to dance like Mick Jagger? Get started!
53. Lady In Black By Uriah Heep
The most popular hit of Uriah Deep, "Lady in Black," is a melodic enchantment blessed to humankind since 1971. This rock ballad song is the perfect example of 'beauty in simplicity.' Sing the lyrics while playing it with two simple chords – G major and A minor!
The song has a slow tempo, meaning your strumming must also be slow and steady. The repetitive chord progression makes it an easy-to-play song at any event or get-together. You can find covers of this song from many renowned artists, such as Bruce Springsteen.
Go with slow fingerpicking and steady strumming to play this song at ease! Just keep practicing the chords until you're confident to make switches without any hassle.
54. I Only Want You By EODM
Released in 2004, "I Only Want You" is a cult classic from the band EODM (Eagles of Death Metal). However, the song became more popular after its use on promo content for Windows 8 and the game "Gran Turismo 4."
From being recorded in a garage to premiering as the trailer song of "Suicide Squad," this song has made a long journey to its commercial success now. Learning how to play this song is neither easy nor hard; it's only a matter of time.
Play it comfortably by using a capo on the second fret and strumming in the down-up pattern! Practice your picking technique to improvise playing the song over time.
55. Okie From Muskogee By Merle Haggard
"Okie From Muskogee," a utopia for ears, by Merle Haggard, is one of the best country music you'll ever listen to. This song has shown why it's evergreen, from hitting the top of the Hot Country Singles Chart within three months of release to still trending in the streaming platforms.
Featuring the use of only two chords – D and A, this song makes it easy for beginners to catch up on fingerpicking techniques. Just do some practice, bring smoothness in your transition between the chords, go for the basic strumming pattern of down-up, and eventually, you'll own the song on your guitar.
The song's narrative perspective and minimalistic melody make it a perfect choice for playing at leisure with friends, family, or colleagues.
56. Tennessee Whiskey By Chris Stapleton
"Tennessee Whiskey" by Chris Stapleton is a melodious country song that did absolute justice to David Allan's original from the 80s. Every country music lover has at least listened to this remastered masterpiece at least once in their lives.
What hooks the listeners' engagement is the song's superb opening bassline. And the way the rest of the song changes its pace or tempo is indeed enjoyable! Playing the song with barre chords may seem challenging for beginners, but Capo is always there to save your day.
Simply put the capo on the second fret, use the Bm chord as Am and the A chord as G. To play the right tune and notes, start slow and gradually pace with the song's steadily-moving tempo.
57. Tom Dooley By The Kingston Trio
Anyone passionate about traditional folk songs should try "Tom Dooley" on their guitar. With only two chords, G and C, this can be the simplest yet most enjoyable folk song you'll ever play from the 1800s.
Making it to the top of the Billboard Hot 100 chart in 1866 wasn't everyone's cup of tea. However, playing this song may seem useless if you aren't acquainted with its multiple notes and complex picking.
If your hands are well-adjusted to the down-up strumming pattern, you should find no difficulty keeping up with the song's steady beat. Make "Tom Dooley" an easier-to-play song on the C chord using the capo on the second fret.
58. Down In The Valley By The Head and The Heart
The Head and The Heart's "Down In The Valley" is a truly beautiful song about love, hope, and happiness. This song is a perfect blend of indie rock with bluegrass and folk. The essence of this musical piece is the power of hope shines upon us even in the darkest of days.
Also, it focuses on how one can find love and joy even after enduring struggles. Playing "Down in the Valley" is easy once you get hold of these chords: F and C.
No worries if you find it difficult to pull off the song with a C chord. Every beginner has to face such hardships, but using a capo, as said earlier, is always an option. Use the D chord instead of the C one by simply using the capo on the second fret.
59. He's Got the Whole World in His Hands By Misc Praise Songs
This traditional spiritual folk song has been blessing our ears for generations. This simple-to-play song is a powerful representation of one's hope in the Almighty's love and affection for this world.
From churches to social gatherings, you can play the acoustic guitar version of this song anywhere, anytime. Start using a capo on the second fret. Do not think about anything else other than improving your fingerpicking skills and competencies.
To make you and others feel the song, go for a range of strumming patterns, leverage capo on the second fret, and incorporate elements like slides, pull-offs, and hammer-ons.
Also, understand the song's dynamic to match your rhythm with the game; keep checking and try syncing with its offbeats. Need something bluesy? Use a slide guitar!
60. Mary Had a Little Lamb By Misc Children
The fact that "Mary Had a Little Lamb" is a nursery rhyme or kid's song means your work is only with two chords — G and C. A song this basic can prove to be a perfect gift for little kids studying at preschools.
Just like the chords, the strumming pattern here will also be simple – down-up! Slides can be a good addition to the song to make it more enjoyable. Simply practicing "Mary Had a Little Lamb" for a couple of days and playing it will become child's play.
Kids love this song, and playing this will definitely give them a good time! So, why not learn something for a much younger audience today? You may never know when you will get one!
61. Skip To My Lou By Pete Seeger
Released way back in the 1840s, "Skip To My Lou" is an evergreen kids' song with a resemblance to the traditional American folk song culture. Anyone preparing for a younger set of audience should make a good first impression with this song.
The beginner-friendly song only takes a few days to make a permanent place in your memory and reflexes as it only involves switching between the C and G chords. Yes, a simple strumming down-up pattern is 'OKAY' to play the song, but if possible, try it with some fingerpicking and witness the melodious result for yourself.
There's something beginners should remember while playing this song: using the F chord may become necessary in some instances.
62. Three Is a Magic Number By Blind Melon
Blind Melon bestowed the world, especially children, with the ultimate rendition of the Schoolhouse Rock song – "Three is a Magic Number." With guitar melody and sweetness in every note and lyric, Blind Melon surpassed Bob Dorough's original.
The title of this song signifies the number three and its cultural significance across the world. Playing "Three is a Magical Number" is easy as the song involves only the A major and E major chords. Use the simple, minimalistic strumming pattern, go with the flow of the beat, and make the ambiance kid-friendly with your guitar!
63. LDN by Lily Allen
"LDN" by Lily Allen is a mind-blowing combination of top genres, all tuned into one bless-the-ear song! The guitar cover of LDN is something every age of audience will appreciate and enjoy. Released in 2006, "LDN" has shown how acoustic and electronic tuning can be absolute bliss.
The song's acoustic elements make anyone feel warmth and rejuvenation after listening to this song. Just follow off-beat patterns, go smooth with the F and C7 chords, sync it with the beat of the lyrics, and let the jamming begin!
Given that top artists like The Vamps and The Saturdays have already made their unique cover versions of this song, you should wait no further to try it out. Tips: "LDN" has a quiet yet slowly developing intensity, making it necessary to play according to the song's dynamics.
64. Love is a Stranger By Eurythmics
New Wave is a one-of-a-kind music genre, and Eurythmics, to date, contributes to its increasing popularity with the song "Love is a Stranger." Launched into stores in 1982, this song featured on Eurythmics' album Sweet Dreams.
The electronic sound and soul-calming essence of the tunes make it a perfect song to learn and play in any cafe, bar, get-together, or social event. Not only electronic, but "Love is a Stranger" sounds beautiful on acoustic guitar too. Strumming the upbeats using the middle finger and the downbeats with the index one can help you play the song right.
The song slowly builds up its intensity, needing you to play slowly and follow a steady rhythm. For beginners, try not to keep the strumming hand too hard or stiff.
65. Monster Mash By Bobby Boris Pickett
"Monster Mash" by Bobby Boris Pickett is, to date, one of the best Halloween songs to play. The soundtrack and music are so terrifying and morbid that even the BBC had to ban it on the radio back in 1962.
As only a few selected songs go well on Halloween, learning how to play Monster Mash is always a great option. However, playing it on guitar can be tricky if one doesn't have good practice with the G and Em chords. In fact, if you've heard any Doo Wop song, you can relate to Monster Mash's chord progression.
They're exactly alike! Featured in documentary movies like "Monster Mash: The Movie" and TV series like "The Simpsons," this song has become a popular choice to learn and play on guitar. Go for a steady yet repetitive strumming pattern, switch between the G and Em chords smoothly, and you'll be good to play!
Conclusion
This brings us to the end of the list of 2 chord guitar songs across a whole lot of genres. As you play these songs, irrespective of whether you're a beginner or not, after a point, you'll see the musicality of the artists shine through. As I've repeated before, it's not the number of chords that make a song. There's a place for songs that are loaded with theory, sure; there's no denying that. But there's a lot you can do with just 2chords as well. As and when you progress to writing original music, you'll be tempted to incorporate your entire library of chords, scales, and modes to build a song, but keep coming back to this list to remind yourself that less can be more too.
We hope you have a great time interpreting these iconic songs in your own style, whether you're playing them for yourself in your bedroom or to an audience. Your progress with these songs becomes even more real when you master the basic strumming and start adding fills, arpeggios, and licks like the original records. While you'll always find tabs handy, try listening to the songs, memorizing them, and figuring them out on your own. This may seem tedious at first, but it always helps in the long run because these exercises help build your ears more than your fingers. If you're looking for more inspiration, don't forget to check out our other blogs, which include the best sing-along guitar songs, easy love songs on guitar, and a lot more. As always, I wish you hours and hours of happy playing!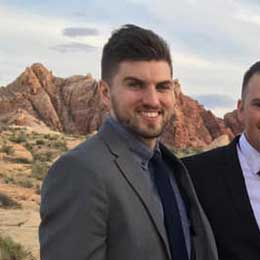 My name is Chris and I've had a passion for music and guitars for as long as I can remember. I started this website with some of my friends who are musicians, music teachers, gear heads, and music enthusiasts so we could provide high-quality guitar and music-related content.
I've been playing guitar since I was 13 years old and am an avid collector. Amps, pedals, guitars, bass, drums, microphones, studio, and recording gear, I love it all.
I was born and raised in Western Pennsylvania. My background is in Electrical Engineering, earning a Bachelor's degree from Youngstown State University. With my engineering experience, I've developed as a designer of guitar amplifiers and effects. A true passion of mine, I've designed, built, and repaired a wide range of guitar amps and electronics. Here at the Guitar Lobby, our aim is to share our passion for Music and gear with the rest of the music community.