Every day I see more and more kids around me picking up the guitar as their instrument of choice, and I love that! It's great to know that the future of guitar playing is safe and well in their creative hands. And even if these bright young minds have only recently started out on their guitar journey, that doesn't mean they need to wait for years to play their favorite songs on the guitar. Don't worry, there's already plenty of amazing and easy guitar songs that young guitar beginners can play by knowing just the basics.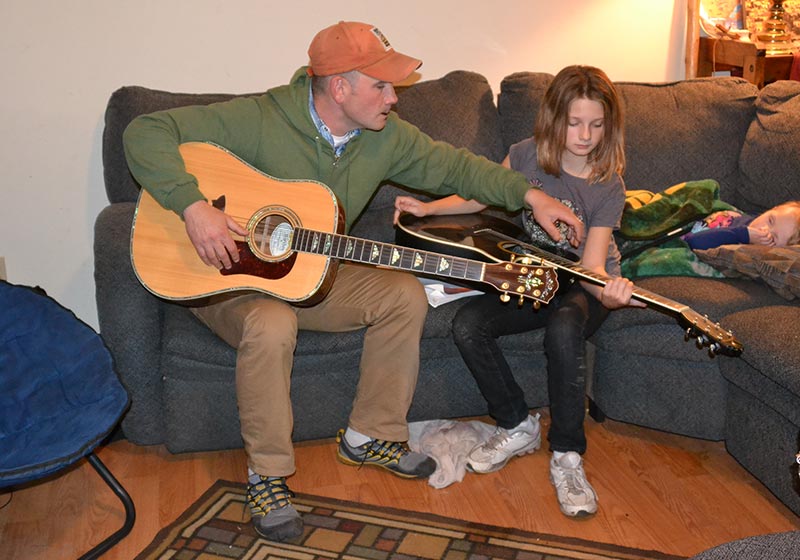 That's exactly why I've put together this list of easy guitar songs for kids! All of these songs have simple chord progressions and easy strumming patterns, making them easy to grasp quickly. I'll even start out with some that can be played with single notes on one string. It's a cool mix of songs that youngsters across all age groups will enjoy playing! Whether you love Disney songs, classic rock tracks, or some solid pop vibes, there's sure to be something in here for every young guitarist.
Here is a List of Easy Guitar Songs for Kids
1. Let It Go (Frozen)
Kids tend to learn a song much faster if they are already familiar with it. On that note, we kick off this list with one of Disney's most iconic songs- "Let it Go" from the 2013 record-shattering animated movie Frozen.
Powered by Idina Menzel's voice, "Let it Go" is a beautiful composition that circles letting go of fears and apprehensions and just being yourself. It didn't take long for the song to become an international success, garnering billions of views on Youtube, millions of record sales, and winning coveted accolades like Academy Award and Grammy to boot.
2. Old MacDonald Had A Farm
We all heard this one growing up, and Old MacDonald remains a classic nursery rhyme for kids even today! And with its simple chords and strumming, young guitarists can play it themselves as well. The song is on standard tuning and uses just A, D, E, and E7 chords for every verse, throughout the song. E7 sounds tricky but isn't at all – it's just a modified E chord where you lift the ring finger from the 2nd fret on the 4th string and play it open – check out the tabs to see how to play it and beginners will grasp it in no time.
3. Happy Birthday To You
You can't go wrong with this one – learn to play happy birthday on the guitar and you can brighten up any birthday celebration with your rendition! And this timeless song is as simple to play as it is popular. Kids only need to know the basic open chords for it – A, E, D, and A7 (a really simple version of A chord). The tabs will show you a super simple strumming pattern for ti as well consisting mostly of downstrokes.
Six beginner-friendly chords- Em, C, D, Am, A, and G, in a straightforward strum pattern makes this song perfect for our little ones. The chord switches are also super easy and don't happen very quickly. Don't forget to place a capo on the first fret before you get going.
4. Mama Mia by ABBA – One String Version
This evergreen hit by pop icons ABBA is one that continues to be loved by people of all age groups, including kids! The song itself has easy chords, you can play its chorus's iconic melody "Mama Mia…here I go again.." on just one string! Here are the tabs on how to do that. You will only need to play the melody on the D string (4th string). The number mentioned on the D string is the frets that you'll have to press. If you also want to play chords for the remaining song, you will only need to know A, D, C, and G and you're all set!
5. Twinkle, Twinkle, Little Star
Our fascination with the starry night sky starts quite young, and "Twinkle Twinkle Little Star" is a lovely musical reminder of our lifelong curiosity to unravel the mysteries of the stars above. This nursery rhyme is loved by children all across the world and it's incredibly easy to play too! Keep a standard tuning and just play C, F, and G throughout. The tabs mentioned a G7 variation, but it can be replaced by G major, which is a simpler and more familiar chord to play for youngsters.
6. Sunshine Of Your Love by Cream – One String Version
Want to play a legendary opening riff that needs you to play only one string? Look no further! The opening riff to Sunshine Of Your Love by Cream is as iconic as it gets, and it is really easy to play as well. The entire riff can be played on the D string (4th string). The only thing you'll need to be careful about is the timing between the notes, but if you've heard the song well that shouldn't be a problem. Once you're done playing the one-string version of the opening riff, you can even move onto the chords that are pretty simple too. The whole song revolves around 5 open chords – D, C, A, G, and F.
7. How Far I'll Go by Moana
If you are a Disney fan, there's a slim chance you wouldn't already be familiar with this hugely popular track from the 2016 animated movie Moana. We can sense you nodding your heads excitedly! Well, good news for you, this awe-inspiring anthem about Moana's dilemma to follow her itch to explore the world or stay close to her home makes for a breezy playing experience.
All you need is to slap on a capo on the 4th fret and play a combination of four chords to nail down the entire song – nothing else needed. If you know C, G, Am, and F, then it won't take you very long to play it through.
8. I'm a Believer by The Monkees
This one is an ageless classic that our young players will most likely recognize as from the hilarious animated flick Shrek than 1966 original by The Monkees. "I'm a Believer" is a catchy, foot-tapping ride with a chorus you simply cannot help singing along to.
You can get through most of the track with just three chords- G, C, D. The only place where beginners can get stuck is while playing the F chord. Luckily it only shows up a couple of times and will become easier with practice. If you still find it a bit hard, try using Fmaj7 which should be easier to play. There are some cool licks and a great solo that you'll really enjoy learning once you get the hang of the basic song structure.
9. I Gotta Feeling by Black Eyed Peas
Who knew the dance-pop mega-hit "I Gotta Feeling" could be played with just three chords! The song won the hugely popular Black Eyed Peas a Grammy and was the longest-running number-one single of 2009. It won hearts around the world for its quirky yet warm and feel-good vibe. Even today, it's impossible to sit still whenever this song plays. It's that awesome!
The song is perfect for young learners, and why not. You only need to know three basic chords, G-C-Em, to play the entire piece, and each chord is to be held for eight beats. Furthermore, it's a great number to practice chord changing. If you still find yourself struggling with the chords, you can try the 'stepping-stone' chords instead. For G-C-Em, the stepping stone chords are- G6, Cmaj7, and Em7.
10. Hey Ya! by Outkast
Here's another enjoyable and popular song for kids to add to their arsenal. "Hey Ya" by American duo Outkast, with its wonderful combination of electro, folk, funk, hip-hop, and soul, promises to be a sonic delight for the audience.
This 2003 mega-hit has been covered by several notable musicians, giving you a wide range of renditions to choose from. The original utilizes a fairly common strum pattern and is perfect for brushing up or getting familiar with tied strumming patterns at a fast pace. Four chords of G, C, D, and E are all that you need to play the song.
11. Hey Soul Sister by Train
Next up is a fun song by the American roots rock band Train, which is an ideal pick for young starters thanks to its infectious, pleasing vibe and easy playability. A campfire favorite, "Hey Soul Sister," made its way into the world in 2009 to a somewhat polarizing reaction. Some adored the track, while others found it overhyped and annoying. Love it, or hate it, you simply cannot deny its sunny, feel-good vibe.
The hit single sold a staggering 6 million digital copies in the US and also became the most downloaded tune on iTunes in 2010. You can play the entire track using combinations of C, G, Am, and F chords in simple progressions.
12. A Thousand Years (Twilight)
Whether it's the novels or the movies themselves, the Twilight series was an absolute phenomenon among youngsters! And that's how they all discovered the song 'A Thousand Year' by Christina Perri. Even if you're not a fan of the movie, you've gotta admit that the song itself is actually pretty well-written, well sung, and melodious, and young fans of the movie would love to know how to play this one.
While the original version of the song needs one to play chords like Cadd9 and Em7, these can be easily replaced with C and Em chords without the essence of the song changing in any form. So you're left with super easy chords such as G, Em, C, D, and Am – all open chord positions that most young guitarists would know.
13. Zombie by The Cranberries
This powerful ballad about the futility of wars and violence never fails to move the listeners. "Zombie" by alternative rock giants the Cranberries is a smart pick for a group of slightly older children looking to impress the audience with some electric riffs and easy-to-master cool techniques.
A simplified but nonetheless impactful version of "Zombie" can be played using just four chords! That's right! If you know Em, C, G, and D chords, you are sorted. You'll be playing them in open positions first before moving on to the distorted power chords. For older, more skilled players or those who are looking to play this in a band, there is plenty of fantastic stuff to showcase, like syncopated strumming, pull-offs, and hammer-ons.
14. Sweet Home Alabama by Lynyrd Skynyrd
Lynrd Skynrd's ubiquitous southern rock hit "Sweet Home Alabama" is typically one of the first few songs every guitarist wants to get under their belt. It's a timeless classic that can be perfected with some practice and patience.
The song featured in the band's 1974 album, Second Helping, becoming an instant hit and boosting Lynrd Skynrd's popularity to a whole new level. Fun fact- even though the song goes on and on about Alabama and the band's wonderful impression of the place, none of the members ever lived there. The lyrics praising Alabama were simply about reinforcing and reminding people about the Southern pride.
Just three beginner-friendly chords- G, C, D in a repetitive strum pattern and D-C-G progression is all that's needed to play an easier acoustic version of the song. There's one part where the much-dreaded F chord shows up, but as we mentioned earlier, you can always use the stepping stone Fmaj7 chord to get past it. More proficient players should explore the original electric version teeming with fantastic techniques and impressive solos.
15. Mary Had a Little Lamb
We did say this will be a list of guitar songs that kids would love to play, so how can we forget our youngest beginners! For our small wonders, here's a centuries-old rhyme that they'll love to play and sing along to!
"Mary Had a Little Lamb's" charming tune can be strummed on a guitar with great ease. Only two chords (A and E) can get you through the entire song. Strumming-wise, you can get as innovative as you like. Teach the little ones different ways to play it. They can start with only down strums and add in more technique and flair along the way.
16. Marry You by Bruno Mars
A beautiful tune with a mix of pop, doo-wop, and soul elements, powered by Bruno Mars's superb vocals, makes "Marry You" a sonic delight! This song is not just amazing to hear; it's also incredibly easy to play. To our highschool going guitarists- add this lovely composition to your repertoire for laid-back campfire sessions. You won't be disappointed!
This 2010 love song gained worldwide popularity for its woo-worthy vibe and inspired many viral flash-mob proposals. It charted remarkably well across the globe, cracking the top ten in many countries.
The easier and simplified version of the song requires a capo on the third fret and D, Em, and G chords. The way Bruno Mars plays demands a bit more proficiency and familiarity with barre chords.
17. Jingle Bells
Here's another awesome song our young guitarists would enjoy playing and singing along to! There are so many different versions of "Jingle Bells" to learn from. You can pick the super-easy single-string renditions to simple fingerstyle arrangement or straightforward strumming one, whichever you think your child or student would be most comfortable with.
Check out this fabulous tutorial that takes you through a breezy three-chord strum version of the song. Teach it to the little ones before the holiday season begins so they can go around playing it, wooing family and friends with this marvelous addition to their song bank!
18. Happy (Pharell Williams / Despicable Me 2)
You simply cannot put together a song list for kids without having Pharell Williams' feel-good 2013 chart-topper "Happy" on it. True to its name, the song is upbeat, infectious, and oh so vibrant!
It was released as a part of the popular animated comedy "Despicable Me 2", becoming phenomenally successful in the US, UK, and several countries world-over. This groovy record-setting single also has many prestigious accolades under its belt, including a Grammy. "Happy" also made it to the nomination list for Academy Award for Best Original Song but lost to "Let It Go" from Disney's Frozen (the first one on our list).
You can place a capo on the first fret to play along to the original, but even if you decide to skip it, it'll still sound pretty great. The fantastic tutorial above beautifully breaks down the song and places it to bring it well within reach of young beginner-level guitarists, with simple chords and strumming style.
19. Brown Eyed Girl by Van Morrison
Even though this song was released by classic rock icon Van Morrison in 1967, this song is pretty much immortal at this point! Covered by hundreds of artists over the decades, Brown Eyed Girl's super amazing opening riff, upbeat tempo, and peppy melody make you want to break into dance wherever you are. The song has won the hearts of youngsters even today, and the best part is that it is incredibly easy to play as well.
You'll just need to know the open chord staples (G, C, D, Em, and D7) to be able to play the entire song. The strumming pattern is also a straightforward alternating upstroke and downstroke. If you're looking for easy kids guitar songs, this is one of my top recommendations.
20. Budapest by George Ezra
Young singer-songwriter George Ezra's iconic hit 'Budapest' topped the charts in several countries across the world, and the track became especially popular among kids and teenagers – I remember my teen niece being straight-up obsessed with the song when it was released and singing it every time I visited her! It's also pretty amazing how Ezra's deep vocals and songwriting style are way beyond his years.
With its simple chords on standard tuning, this song is pretty easy for youngsters to learn on the guitar too. The entire song just needs you to play F, Bb, and C – a pretty straightforward chord progression that continues throughout the song. Plus, the strumming pattern is simple enough for beginners to learn too.
21. Stand by Me by Ben E. King
Whether you're young or old, stand by me is a lovely song about friendship, trust, and support that everyone loves. Some songs are just timeless; they never go out of style! This Ben E. King classic was first released in 1961, and has since gone on to become a legendary track loved by all and covered by several noted artists such as John Lennon, Tracy Chapman, Florence and the Machine, and even the iconic boxer Muhammad Ali!
Aside from being an evergreen hit for all ages, Stand by Me is a really easy song to play on the guitar too! The entire song is all about four simple open chords – C, Am, F, G – making it really simple for young guitarists to play. The strumming pattern is also simple enough to grasp.
22. I see the light (Tangled)
A modern twist on the fairytale of Rapunzel, Tangled was a gorgeous movie that was loved by kids all over the world. And the song 'I See The Light', sung by Mandy Moore and Zachary Levi, was so popular that it even got its own Oscar nomination for the best original song!
Now the original song has a key change in the middle of the song, but if you're willing to let that go and stick to the same key throughout the song, then it's a pretty simple song to learn. The song uses all chords from the C family – C, F/C, G, Am, Em, and Dm. Here's an easy guitar tutorial video that will take you through all the chords needed, as well as the strumming pattern for the song.
Popular Related Article: The Best Guitars for Kids
23. Smoke on the Water by Deep Purple
Many guitar enthusiasts start their journeys by learning to play this 1972 rocker by Deep Purple. "Smoke on the Water" is tailor-made for beginners and kids who are looking to pick up something that's easy to play and somewhat of an attention grabber. And mastering that famous electric riff which has been ranked as one of the greatest guitar riffs ever, is sure to win you quite a few praises.
The track's slow tempo and simple melody make it easy to play along with. You don't need to know a lot of techniques to play its simplified version, just the third and the fourth strings. It gets a whole lot easier for kids if they use only the sixth and the thickest E string instead. Learn the one-string version before you move on to how it's actually played by the band.
24. Can You Feel the Love Tonight (The Lion King)
For those of you who grew up in the '80s and '90s, this magical piano-driven gem is capable of triggering some serious nostalgia! And if your kids or students haven't already heard it, play it for them and see them swoon to this amazing piece of music!
Composed by the legendary Elton John for Disney's hit classic "The Lion King," "Can You Feel the Love Tonight" is as beautiful to hear as it is easy to play. The original is powered by the piano but sounds fantastic, even when you play it on a guitar.
To play this composition, make sure you know the following five chords- G, D, Em, C, and Am. Next, work on the driving pattern that you can check out in the video above.
25. Immigrant Song by Led Zeppelin
This 1973 classic rocker is an ideal starter to dive into the mind-blowing repertoire of one of the greatest bands in the history of rock, Led Zeppelin. The best part about "Immigrant Song" is that once you've mastered the main lick, you've pretty much nailed the entire song.
Any track that features the great Jimmy Page can't be a smooth ride, and this one isn't either, but what makes it relatively easier to learn is that the main riff repeats through the length of the song. The way Page plays it, though, is by adding many variations, but let's park that for now.
"Immigrant Song" might seem as old as the hills, but you'll be surprised that many of the kids instantly recognize it from popular movies- Shrek 3, School of Rock, and Thor: Ragnarok.
26. You've Got a Friend in Me (Toy Story)
| | |
| --- | --- |
| Tuning | E A D G B E |
| Chords | A7, Am, B, B7, C, C7, D7, Dm7, E7, Em, F, Fm, G7, Cmaj7 |
| Tabs | See tabs for You've Got A Friend In Me |
A Timeless Disney classic spun around the importance of friendship that even our little millennials would love! "You've Got a Friend in Me" from one of the greatest animated flicks ever, Toy Story, is a beautiful song to teach young guitarists. It is a challenging one, mind you, but it promises to be a fun learning experience.
There's plenty to love about this song! It has one of the catchiest tunes and a brilliant singalong chorus built around conveying a beautiful message. The song won a nomination for Best Original Song at both Academy Awards and Golden Globes but lost to "Colors of the Wind" from another Disney epic Pocahontas.
Like most Disney songs, this one has also been covered by countless musicians. We recommend you check out Michael Buble's spell-binding rendition from his 2013 album, a real treat to the ears!
27. A Whole New World (Aladdin)
Aladdin is one of my timeless favorite Disney movies, and it was made even more memorable by its iconic song, "A Whole New World"! There are plenty of boys and girls who would've imagined themselves riding the magic carpet when watching that song on the screen.
This one is slightly trickier than the rest of the songs on the list, but once you grasp the chord changes, it's an absolute treat to play. It uses a few sevenths that absolute beginners may not know, so it may be better suited for guitar players that have been playing for a while. This easy play-along guitar tutorial video and the included tabs should help make it easier to grasp!
28. Beauty And The Beast
Originally sung by ballad goddess Celine Dion for the original 1991 film, 'Beauty and The Beast' is a stunning song from the movie that's loved by kids and grown-ups alike. The movie's latest 2017 adaptation with Emma Watson saw the song being sung by Emma Thompson as Mrs. Potts, while the end credits of the movie also feature the same track being sung as a duet by none other than Ariana Grande and John Legend.
The song is a familiar bunch of open chords – G, C, D, Em, Bm, and F. The strumming pattern is also all downstrokes with just one upstroke at the end of each chord. Check out this simple guitar tutorial that teaches a beginner-friendly version of this lovely song.
29. Hot Cross Buns
"Hot Cross Buns," an English Easter tune and nursery rhyme, is often used to teach kids about the Christian custom of eating hot cross buns on Good Friday. The song is easy to play because of its calm tempo and melody. The 'G' and 'A' strings are used to play the song.
The guitar's second fret is where the notes are plucked, which makes it simple for kids to memorize the progression. Additionally, to prevent buzzing, put your fingers closer to the frets.
30. Old Town Road
One of the best-known country rap tunes that exudes rockstar energy. Lil Nas X originally composed and sang the song; however, Kids Bopz subsequently covered it. The song stays clear of any adult themes or references that would be deemed unsuitable for children.
The song is performed simultaneously on two strings using two distinct instruments. This song's tempo and order change throughout, yet the notes and arrangement are simple to understand.
31. Baby Shark
In 2017, Baby Shark became an internet sensation. People of all ages are familiar with the upbeat song's catchy melody and plain lyrics. The guitar's 'E' and 'G' strings are used to play the tune, and the accompaniment is easy to follow.
So "Baby Shark Doo Doo" is a societal phenomenon, whether you like it or not. Children all throughout the world have become enthralled with this song.
32. Row Row Row Your Boat
Everyone can recall the classic nursery song Row Your Boat from their own youth. The song is about a well-known activity that children can identify with. This song is fascinating to learn on the guitar because of the melodic repetition and easy chord progression.
The guitar chords C and G can be used to play Row Row Row Your Boat. The four-beat folk strum is followed by an up strum on beats three and four in the strumming rhythm.
33. Itsy Bitsy Spider
"Itsy Bitsy Spider" is an amazing kid-friendly song sending out a positive message to all kids about conquering obstacles in life. I often sing this 'Itsy Bitsy' to teach kids that failure is a part of life and that they must try again and not give up until they win.
Now, when playing this song, I use two chords: C and G. Also, I advise keeping the strumming pattern simple.
34. How Much Is That Doggie
How Much Is That Doggie, a pleasant novelty song I play in G Major, will help you become proficient with the G Major chord progressions. Even though it was only meant to be a novelty tune at first, it swiftly gained popularity.
The melody of the song is somewhat based on the traditional tune "Carnival of Venice." The song is enjoyable to play with family and friends and has a soothing tune.
35. The ABC Song
The Alphabet song is a wonderful nursery rhyme for young children. Teachers sing and perform this song in nursery schools to teach the English alphabet to kids. For instance, if you teach preschool, you should memorize this song.
The song simply needs a few chords, and the mere fingerpicked version is an excellent starting point for novices. Start by strumming the A chord once to play the ABC song. After that, play the C chord once. Lastly, play the E chord once. Follow this sequence while singing the song.
36. Are You Sleeping Brother John
Are You Sleeping Brother John is a different nursery rhyme that practically every child in the globe is familiar with. This brief nursery rhyme, typically sung at bedtime, exists in all cultures. Begin singing "Are you sleeping, Brother John?" while strumming the D chord.
Next, recite the second line while switching to the A chord. Till the song's conclusion, keep repeating this rhythm of singing and playing the D and A chords.
37. Baa Baa Black Sheep
The old and brief nursery rhyme "Baa Baa Black Sheep" is simple to play on the guitar. The song's lyrics, which discuss the distribution of wool amongst a master, a dame, and a young lad, are frequently used to educate kids about numbers.
For this simple guitar song, only three fundamental chords are needed. To change the key of the song, I prefer using a Capo. I recommend using Capo to anyone not used to playing in the C key. This can make it simpler for you to play.
38. Wheels on the Bus
"Wheels on the Bus" has always been one of my favorite kids' songs. I even sing this to my kiddos when they're in the mood for something jolly! I recently found that this song is inspired by the classic British folk ballad "Here We Go Round."
Although there are seven verses involved, its basic arrangement makes it too easy to memorize. I always recommend playing the song once you can fluently strum both chords. Remember, the fundamental sequence is G-D/F#-G-D/F#.
39. Down By The Bay
"Down By The Bay" is an amazing kid's song that has been passed down for generations. What makes this song a timeless classic is its blissful rhymes. The tune is an old nursery rhyme from the nineteenth century.
This song is more about entertaining the kiddos rather than imparting knowledge. This song has some difficult chords for young musicians, like the G7 and F chords. To reach the chords easily, I uplift the chords to a lower fret position with the help of a Capo. When people ask me about easy guitar songs for kids to play this is one I always tell them about.
40. Humpty Dumpty
I have come across numerous hypotheses about the origins of the world-famous nursery rhyme – Humpty Dumpty! Although the song's lyrics do not mention Humpty Dumpty being an egg, we still believe that. This amazing kids' song perfectly exemplifies a timeless classic riddle.
Although the rhyme is easy and repetitious, many questions continue to haunt the listener's mind. This song is a great workout for making quick chord alterations. But if you're having problems changing chords, I suggest practicing using a metronome. This will let you maintain a constant tempo.
41. Five Little Ducks
I always encourage teachers and parents to sing the beautiful nursery song "Five Little Ducks" to help kids learn the numbers and counting faster. What's more, anyone can play this kid song on guitar with a little practice.
After all, this song is a well-liked piece for fingerplays and singalongs. Although the song necessitates one advanced chord, learning the chord changes is simple. I advise playing the song with a simple strumming pattern at a medium tempo/pace.
42. Head Shoulders Knees And Toes
Another children's song, Heads Shoulders Knees and Toes, is mostly used to encourage children to engage in some light movement and teach them about the various body parts. It is a well-known nursery rhyme that was also well-liked when today's parents were young.
The song can be performed using four simple chords and the strum pattern down, down, up, down, up, down. You can play the F chord displayed on the tab sheet without using the barre chord if you or your child finds it difficult to play the barre chord.
43. She'll Be Coming Round The Mountain
Another well-known nursery rhyme that children adore is "She'll Be Coming Round The Mountain." More than 20 different languages have versions of the song. The classic kid's song is often belted out at sing-alongs and campfires.
This song has three simple open chords and a simple strumming pattern, so you can play it or teach it to your young ones. A call-and-response style is used to sing the song. You can sing the opening line before strumming the chords. Repeat the same with the second line, and so on.
44. If You Are Happy You Know It
If You Are Happy, You Know It is undoubtedly one of the kids' songs that have gained immense popularity over the years. The song's lively dance and translations into various languages have made it popular worldwide. It's a great tune to play and get a group of kids dancing.
The lyrics include instructions for the dance moves. Three chords (C, G, and F) and a straightforward strumming pattern can be used to play the tune. If you don't want to barre the F chord, play it as XX3211 by skipping the top two notes.
45. Hickory Dickory Dock
The nursery rhyme "Hickory Dickory Dock" is another well-known one. Due to its excellent rhymes and characteristics, as the song's title suggests, it is enjoyable to sing. The rhyme is frequently used to teach kids how to tell time.
The rhyme clock's ticking resembles the sound of an antique clock striking one. To play the song, you'll need the chords C, F, and G. Consider trying one of the variations of the barring technique if you find it difficult.
46. Here We Go Looby Loo
Here We Go, Looby Loo, is a great song for youngsters to get them moving and having fun. What I find is that people use this song in various circumstances, such as for teaching young children about bodies, assisting them in learning to dance, and relieving tension.
This tune is ideal for teaching children since it features two of the simplest chords—C and G—and requires steady down strums.
47. Bingo
Bingo, a quick children's song, is excellent for teaching kids about letters and spelling. Instead of performing the song as Bingo, you can change the name and make your own versions. You'll need the chords C, F, G, and Am and a simple but rapid strum rhythm to play the song.
If the F chord seems difficult, I suggest using another version. You can begin studying the melody after you have mastered the chords.
48. Don't Know What You Got Till It's Gone
Cinderella is among the most cherished Disney bedtime tales and films. Kids adore the album, Don't Know What You Got Till It's Gone, as well as the narrative and the Disney animated film.
The song can be played using six chords, featuring a Bm chord that calls for the barring technique. Although the strum rhythm is slow and simple, it is preferable to play with the children rather than teach them to play because the chords can be difficult.
49. We Wish You A Merry Christmas
Children also adore the Christmas carol "We Wish You a Merry Christmas." Kids enjoy singing and listening to it because it is among the most well-known carols ever. The best thing about this song is its simple chord progression that children can quickly pick up.
I always put a Capo on the second fret and advise the same to others. This will raise the song's pitch and make the chords simpler to perform.
50. Hokey Pokey
One of the kiddie songs that youngsters love to dance to is Hokey Pokey. All you have to do is play the music and watch kids go bonkers along with the dance that the song's lyrics describe.
You must be ready to sing and play the guitar simultaneously because the song is a call-and-response piece. If you don't feel comfortable doing this, start out by simply strumming the guitar and adding the vocals later. This is one of my favorite kids guitar songs to teach.
51. Miss Polly Had A Dolly
I find 'Miss Polly Had A Dolly' as one of the most entertaining children's songs with the simplest structure ever. The amazing repeating phrases and soulful rhythms draw kids to listen to and adore this musical piece.
Believe me, a basic strum rhythm and G, D, and C chord progression are enough to play the song. And lastly, try using a Capo to modify the song's key if you want to add flair.
52. Pokemon Theme
Pokemon, a globally-liked animated series among children from the 1990s, needs no introduction now. The Toto song "Hold the Line" served as inspiration for this tune. Every child is familiar with and adores the recognizable theme song.
You may play the song's simpler rendition with open chords and a simple strumming rhythm. The song requires six fundamental chords to be played. Remember to passionately sing the well-known chorus since the kids in the area will.
53. Polly Put The Kettle On
Another nursery rhyme, Polly Put The Kettle On, is featured in the following children's song. The song's repeating words are enjoyable to sing along to with children. The song is frequently incorporated into kids' activities like "Ring-a-Ring-a-Roses."
The song's original recording went under "Molly Put the Kettle On or Jenny's Baubie." The song can be played using a down, down, up strum sequence and five simple open chords. Adding fingerpicking is an option if you intend to make it harder.
54. Jack And Jill
How can I forget to mention the one-of-a-kind nursery rhyme that every kid enjoys a lot – Jack and Jill? This song is an amazing choice for children as it involves only two chords—G and C—making it a simple-to-play song on guitar.
To play it, use a simple strum pattern that involves slow-down strokes on each beat. The rhyme has been around since at least 1765, though it is probably much older. Using a Capo will allow you to change the chords' key if you have problems performing the song in the key of G.
55. Free Fallin
'Free Falling,' a masterpiece from the famous American singer Tom Petty, has redefined the entire folk song scenario. This musical piece is ideal for kids who enjoy uplifting songs' vibrant and joyful feel.
I have seen kids' quickly mastering this song's chord-changing section. However, let me warn you that it could be a little challenging at first. Also, note that the song only uses three chords—D, G, and A—and the strumming rhythm D-D-DD-D.
56. This Land is Your Land
"This Land Is Your Land" is among the most widely performed patriotic songs every American kid should know. Today, this frequently sung musical piece has become more like an anthem to Americans.
Interestingly, kids relate to and learn this song faster, thanks to its basic lyrics with meaningful messages. Actually, kids can play it with their families and friends during patriotic occasions like Memorial Day or Independence Day.
57. London Bridge is Falling Down
Whether as children or parents, practically everyone has felt drool over the song "London Bridge is Falling Down." It's an eternal classic song that will always be in trend. It has captivating lyrics and a tune that is easy to recall and repetitious.
I've included this tune in the list of kid-friendly guitar songs since repetition can sometimes create something less difficult to recall. It includes two basic chords and a very simple strumming rhythm, so you can start playing it right away.
58. The Lion Sleeps Tonight By The Tokens
The Lion Sleeps Tonight is followed by the wonderful soundtrack from the timeless film Lion King, which many adults adore alongside the kids. The song, especially the recognizable chorus, is significant in popular culture and is fun to perform and sing.
While playing this song, I place a Capo on the fifth fret. This helps me raise the song's pitch and make it simpler to play. I suggest using a metronome to maintain pace with time.
59. Perfect
Perfect, a song well-known to global audiences, was written and performed by Ed Sheeran in 2017. You can use this song as a parent to ignite your kid's interest in the pop genre; I'm quite confident they'll enjoy it.
Moreover, this song's lyrics have a lot of depth, making it simple for children to relate to them. I use a Capo to make it sound precisely like the original piece.
60. Riptide
Released in 2013, Riptide by Vance Joy is a musical magic that every other kid enjoys listening to. Kids not only enjoy listening to this song, but they also enjoy playing it on guitar, thanks to its use of only two basic strumming patterns and four open chords.
Like me, you can also use a Capo on the first fret to make this song sound more realistic. The best part is that this song doesn't require barre chords, so learning and perfecting it on guitar won't require much time.
61. Pompeii
Pompeii by Bastille is a well-liked tune to play when there are youngsters present. The tempo of this pop tune is appealing. Moreover, you can teach the children the song's "Eh-eh-oh, eh-oh" refrain so they can join in.
From my observation, youngsters adore that portion. If fingerpicking doesn't come naturally to you, you may streamline the opening phrase by simply strumming the chords. Try out several Capo positions until you find one you like. For a lower, moodier sound, use it on the second fret, for example.
62. Don't Worry Be Happy
Playing Bobby McFerrin's song 'Don't Worry, Be Happy' is a must-try kid song if you're a whistle enthusiast who enjoys playing guitar songs while whistling or if you whistle along to any tune.
Try to show the kids how to whistle this solo because it's a fantastic tune and a great illustration of good whistling. I would suggest inviting any children in the group who can whistle to do so while you perform the song and sing it.
63. Best Day Of My Life
"Best Day of My Life" by American Authors was inspired by the Sandy Hook school shooting in December 2012. This song is kinda silly, and I can't say that this is my favorite on the list – but the kids will keep asking for this popular song.
So make sure to include this song in your repertoire when you sing with the kids. Practice the song slowly at first. Once you can play it smoothly at a slow tempo, you can gradually increase it until you're playing it at full speed.
64. You Are My Sunshine By Kevin Devine
An American classic by Kevin Devine, "You Are My Sunshine," was really initially released as a single by Gene Autry in 1939. The children typically shout "hey!" when you begin playing the song's opening guitar chord.
My beloved mother sings me that song every night before I go to sleep. Furthermore, adults enjoy it just as much! I enjoy using my acoustic guitar to perform this song. I typically play this song if the group includes both children and adults.
65. Country Roads
I like to mix the original version with this contemporary rendition by the Hermes House Band when I play it. The song is regarded as West Virginia's unofficial anthem. This is a simple acoustic guitar song.
I advise using a Capo to raise the chords to a lower place on the fretboard. I mostly recommend this to people unable to perform barre chords. Trust me; the music will be simpler to play.
Final Thoughts
We hope you enjoyed this article with fun and easy guitar songs for kids – as I said, I've included something for every age group! As you would've noticed, each of these songs is fun to play and pretty easy to learn. Plus, the best way to get someone interested in an instrument is for them to learn their favorite tracks, which is what we hope to do with this article!
I think youngsters would enjoy starting out with such simple chord progressions played on a standard tuning and a straightforward strumming pattern. Once they get more and more comfortable, then they can progress to trickier chord changes and alternate tunings – the world is their oyster, really!
If you're looking for other articles with easy guitar songs for beginners to learn, check out our articles on easy indie guitar songs, easy guitar songs to play, and easy country guitar songs. Happy learning!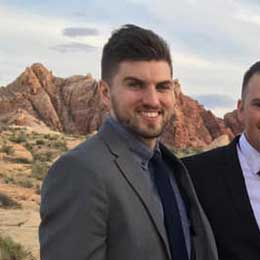 My name is Chris and I've had a passion for music and guitars for as long as I can remember. I started this website with some of my friends who are musicians, music teachers, gear heads, and music enthusiasts so we could provide high-quality guitar and music-related content.
I've been playing guitar since I was 13 years old and am an avid collector. Amps, pedals, guitars, bass, drums, microphones, studio, and recording gear, I love it all.
I was born and raised in Western Pennsylvania. My background is in Electrical Engineering, earning a Bachelor's degree from Youngstown State University. With my engineering experience, I've developed as a designer of guitar amplifiers and effects. A true passion of mine, I've designed, built, and repaired a wide range of guitar amps and electronics. Here at the Guitar Lobby, our aim is to share our passion for Music and gear with the rest of the music community.