Each song you hear is a masterful blend of melody and rhythm, and mixing and matching these two elements can lead to a whole universe of tracks! The 3/4 is one such time signature that is frequently used in songs from across genres. Also known as the "waltz time," this particular rhythm pattern has 3 quarter notes in every measure. And if you've been looking for songs to play in this pattern, you've reached the right blog.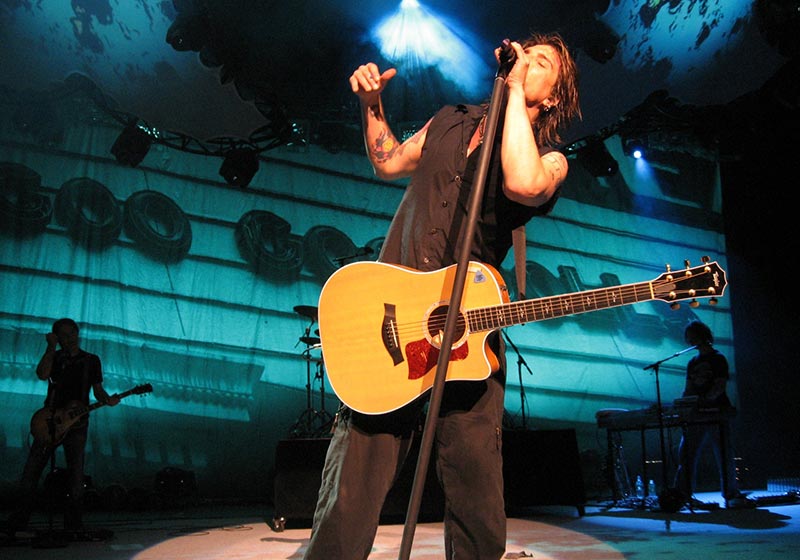 3/4 is a pretty popular rhythm that, in my opinion, is essential for all guitarists to learn – it's also quite interesting to play on your instrument. So we've rounded up the most popular songs in 3/4 time for you below! Scroll down to find out iconic guitar songs written across genres like rock, pop, country, folk, and more.
Here is a List of Songs in 3/4 Time
1. Tennessee Waltz by Patti Page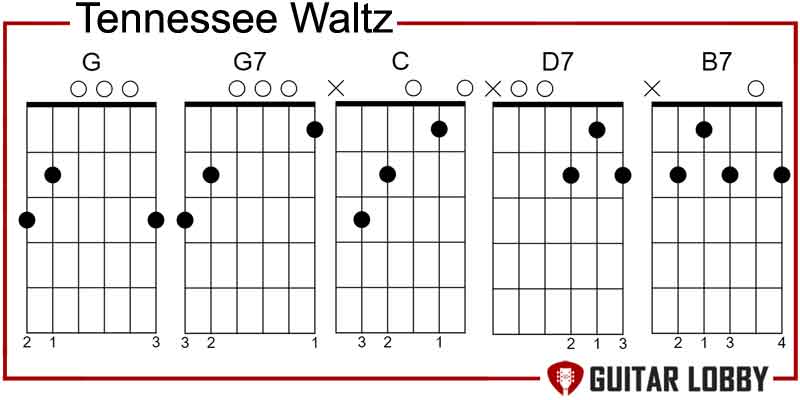 Released in 1948, Tennessee Waltz was originally written by Redd Stewart and composed by Pee Wee King. But it was only when Patti Page released the track in 1950 that it became an absolute phenomenon, selling multi-million copies and catapulting Tennessee to national fame and becoming Tennessee's fourth official state song! In fact, Tennessee Waltz's fame grew overseas as well since it also became the best-selling track ever in Japan! Music truly has no borders, and this lovely track reminds us of that.
The song is an interesting one where the singer, after having introduced his or her sweetheart to a friend, realizes that he/she has 'waltzed' away into the sunset together, leaving him/her in the lurch! This quintessential country track is in the signature 'waltz' rhythm with a 3/4 time signature. The chords are also pretty easy to grasp – you only need to learn G, C, G7, B7, and D7. Don't get intimidated by all the '7ths' – they're pretty simple to play, as you'll see in the tabs link. In case you or your vocalist has a lower vocal range, then you could transpose it down 3. Highly recommend adding this evergreen classic to your repertoire!
2. Que Sera Sera by Doris Day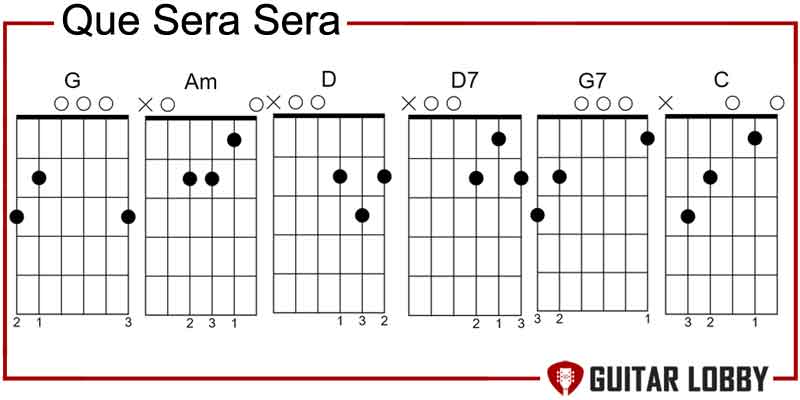 "Que Sera, Sera…whatever will be, will be" – that's one timeless piece of advice and one that can save us from a lot of anxiety and worry. This beautiful classic sung by Doris Day was actually written by Jay Livingston and Ray Evans in 1950 and published for the first time in 1955. But when Doris Day sang it as part of the Hitchcock classic 'The Man Who Knew Too Much', the song forever became part of mainstream consciousness. Unfolding from the singer's childhood, adolescence, adulthood, and beyond, it is a bittersweet realization that not everything is in our control and that sometimes the best thing you can do is to sit back and watch life happen.
The song charted to the tops of several charts and even earned an Oscar for the best original song. Its quintessential 3/4 rhythm can be heard from the very first bar and flows effortlessly throughout the song. The chords are pretty straightforward – G, Am, D, D7, G7, and C. The strumming is in keeping with the waltz-like rhythm pattern, so make sure you're able to comfortably change chords and strum this style in tandem – a few practice sessions should do it!
3. Iris by Goo Goo Dolls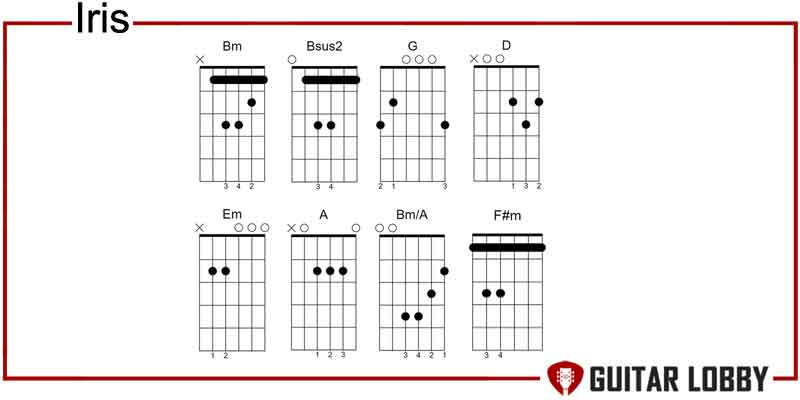 This legendary song spent a full year on the Billboard charts and remains one of the biggest crossover hits in the history of popular music – we're talking about Iris by the American Alt-Rock band Goo goo Dolls! This legendary track was originally written as a power ballad by the band for the movie "City of Angels." The song went on to top several contemporary, rock, and pop charts as well and went on to become the band's staple for all their live sets.
Even though the song sounds pretty familiar and easy to listen to, it does have some pretty cool and unique things going on in its composition. While the first few bars of the song are written in 4/4, the time signature promptly transitions into 3/4 whenever the vocalist starts singing. But that's not even the most interesting thing about the song – the song is playing with all strings tuned to D except for the 6th string, which is tuned to a B. This is a most unusual guitar tuning as it doesn't really follow any of the typical alternate tunings either.
I've linked you all to this original tuning style and chords in the tabs section so you can get a taste of the song as played in its original form. However, if you're just looking for a simple way to play it in standard tuning, check out the tutorial video I've shared here. Being an incredibly popular song, having this song in your kitty is a great idea.
4. We Can Work It Out by The Beatles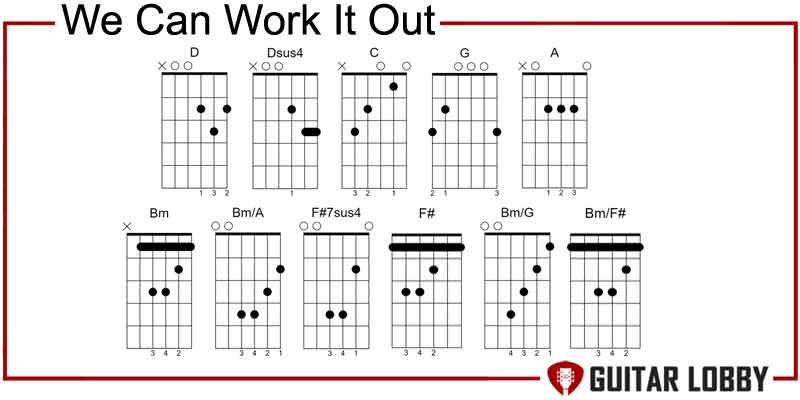 Ok, ok I admit – this song is not all in 3/4 time signature. In fact, the 3/4 rhythm pattern only comes in and out in certain specific areas of the verses and at the very end – but there's a reason why I've included this song in this list. This iconic song by The Beatles is a masterclass in learning how to effortlessly switch from a 4/4 beat to a 3/4 bet without ever disrupting the flow of a song. This will not only help you raise your rhythm skills game but also give you interesting rhythmic ideas for your own competitions and may just motivate you to write songs with multiple time signatures blended masterfully together!
Written by Paul Cartney and John Lennon, 'We Can Work It Out" was released in 1965 and charted no. 1 in many countries. The lyrics are quite interesting since they alternate between the singer feeling tired of endlessly fighting with someone and realizing that life is too short to hold onto grudges. This song is also a rare glimpse of the time when both McCartney and Lennon collaborated, a partnership that gave this legendary group several timeless hits. This is one of my personal favorite songs in 3/4 time.
5. Manic Depression by Jimi Hendrix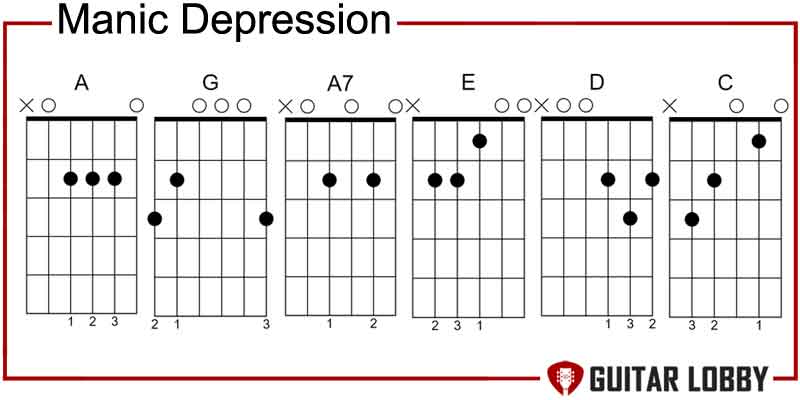 There's a reason why Hendrix continues to inspire legions of iconic guitarists even today – his music, his artistry, and his prodigious talent is timeless. And you can hear this talent and imagination on full display in 'Manic Depression'. Despite being in the 3/4 time signature, the song is full of creative fire, urgency, rock n roll, and the nervous energy of someone going through peaks and troughs of emotions.
Featuring an uptempo triple meter and flawless jazz drumming by Mitch Mitchell, Hendrix takes us on a rollercoaster trip with this virtuoso guitar skill. The song was part of The Jimi Hendrix Experience's debut album 'Are You Experienced' released in 1967. While emulating Jimi's flawless solos might take some time to master, the chords are not too hard to grasp – A, G, A7, E, D, and C – all familiar chords. However, do pay attention to the strumming and picking pattern as that can take some time to master as well.
I've included rare live footage of Hendrix and his band belting the track out here – even though the video is blurry and blotchy, its unmistakable energy is so infectious that it trumps most songs recorded under pristine conditions. Give it a listen yourself!
6. America by Simon & Garfunkel
Introspective, cinematic, and surreal, 'America' by Simon & Garfunkel is a sonic journey and exploration for the listener. Written by this iconic duo in 1968 for their fourth album "Bookends," the track talks about the search for America, both literally and in a symbolic sense – searching for the idea of what makes America, America. Written a 3/4 time signature, the song takes you through a series of chord changes, each evoking a new emotion.
As beautiful as this track is, it is also chock-full of chords and quick chords changes – so guitarists with an intermediate to advanced skill level will find it easier to learn. However, I do encourage beginners to learn this tune with time as well – there's nothing that can't be learned with some thorough practice!
7. Take It to the Limit by The Eagles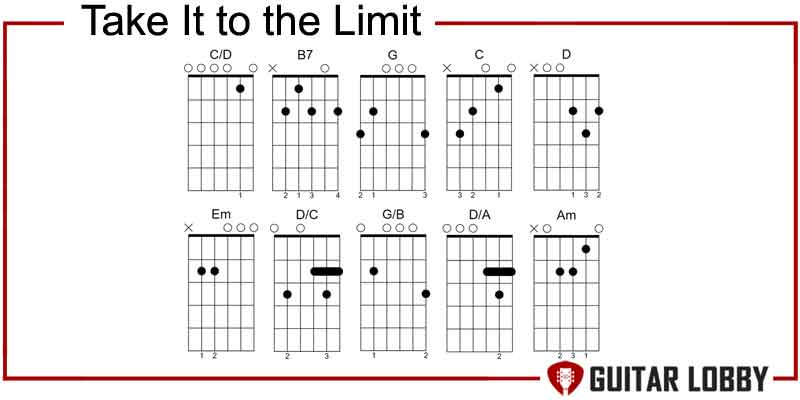 There are some songs that make you feel something deep – they're not just songs but almost like your lifelong companions. For me, 'Take It To The Limit" by The Eagles is one such song – I first heard it when I was standing at a crossroads of sorts in my own life, and this beautiful song was there with me through it all. I am sure this iconic track has served this purpose for its millions of listeners over the decades.
Released as part of their fourth album "One of These Nights," the track was released in 1975. Composed in a classic 3/4 time signature, its meandering, relaxed rhythm gives the song an element of space, which allows the listener to dwell in their own thoughts and journey right alongside the song as it unfolds. The song's tempo and strumming style are relaxed enough to keep up for beginners and intermediate guitarists. There are a fair number of chord changes, but the chords in themselves are not too cryptic to learn – G, C, D, Em, B7, G/B, D/C, D/A, and Am. I highly recommend learning this track, not just to perform for others, but as food for your soul.
8. My Favorite Things by Julie Andrews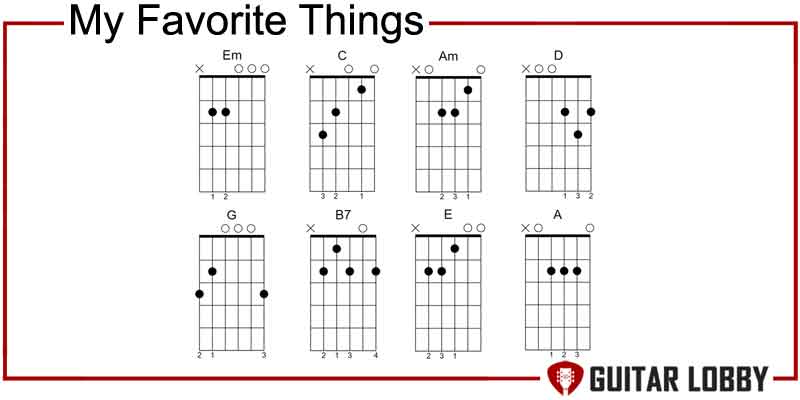 The world can be a cold, scary place at times. In times like these, remembering the comforting and familiar things you enjoy can do wonders. My Favorite Things, sung by Julie Andrews in the movie 'The Sound Of Music' captures the essence of this emotion so well. The original composition is actually a show tune from a musical by Rodgers and Hammerstein which was then adapted in the form of the movie by the same name.
Written in a signature 3/4 time signature through the track, this song may sound pretty easy on the ears – but songs can be deceptive. While the chords are not too tricky to learn, the chord changes happen pretty much after every few words and multiple times in a single line – so you'll have to learn to switch from one chord to another fairly quickly. But once you grasp that, playing this track will be a breeze since the first and the second verses and the chorus follow the same chord progression.
9. The Times They Are A-Changin' by Bob Dylan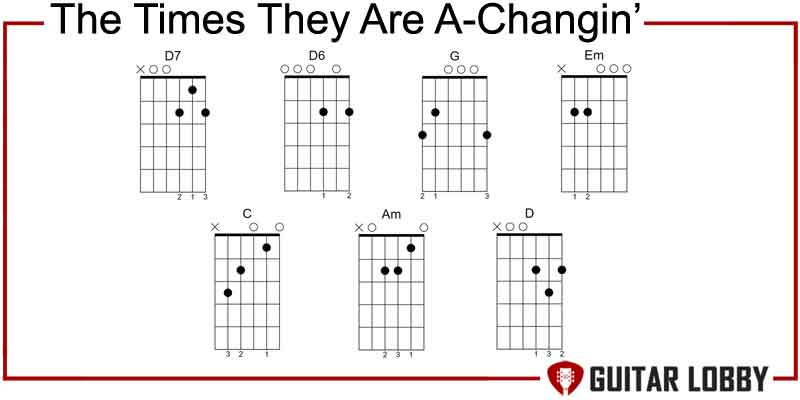 Bob Dylan's vault is packed with timeless gems that showcase his unparalleled songwriting genius. "The Times They Are A-Changin" from the Nobel laureate's 1964 album of the same name is one such song. With its roots in Irish and Scottish folk music and a strong message calling for change, the song still strikes a chord with the listeners more than half a century after its release.
Not surprisingly, this Dylan composition ended up inspiring scores of renditions, including some by musical heavyweights like The Byrds, Tracy Chapman, Billy Joel, Bruce Springsteen, and Nina Simone.
This is an easy guitar song that has a waltz time signature of three beats per measure. You can get through most of the track with some beginner-friendly guitar chords in a ¾ strumming pattern. The chord progression is also fairly straightforward and cycles throughout the verses. The Times They Are A-Changin' is easily one of the most popular songs in 3/4 time signature.
10. Everybody Hurts by R.E.M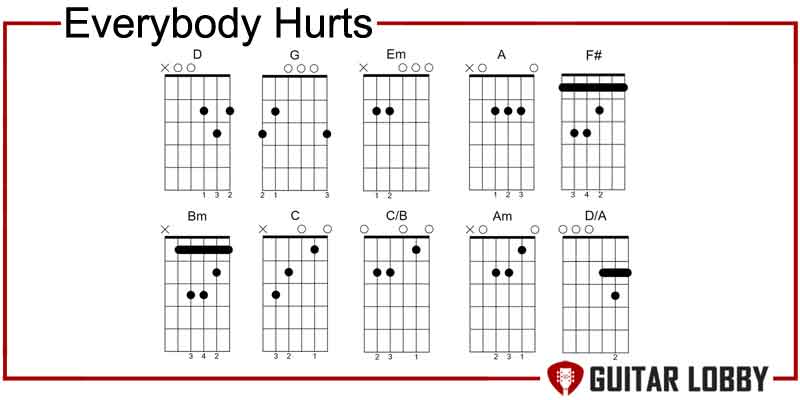 When famous rockers R.E.M composed the poignant tear-jerker "Everybody Hurts," they wanted to comfort young souls battling depression with a clear and evocative, life-affirming message. The song's honesty, simplicity, and relatability have earned it a permanent spot on most rankings and best-ever lists, including Q magazine's "1001 Best Songs Ever" and Blender's "Greatest Songs Since You Were Born."
The track's time signature is three quarter-note beats per measure with a 1-2-3, 1-2-3 rhythm. And it's perfect for those who are new to fingerstyle. Barring a couple of tricky sections, everything from the riff and verses to the chorus is well within reach of new guitarists. We are linking up tabs to get you started.
11. Lucy in the Sky with Diamonds by The Beatles
Pick any song out of The Beatles' repertoire, and you've got yourself a masterpiece, but one of the elements that set "Lucy in the Sky with Diamonds" apart from others is its unusual time signature. The opening, verses, and pre-chorus are all in ¾ but change to the simple quadruple meter during the chorus. This 1967 classic is said to have been inspired by John Lennon's son's school drawing but has long drawn a fair amount of speculation as having cryptic references to drugs, especially the title's acronym L-S-D.
The time signature and the elusive lyrics are not the only unorthodox elements in this song. Propelled by a trippy, psychedelic vibe, the song features not one but three different keys from A major in verses, B-flat Major bridge, to G Major in chorus parts. The surrealistic factor is further amped by a Lowrey organ and a drone effect thanks to an Indian tambura.
The song was later covered by Elton John in 1974, who believed it to be "one of the best songs ever written." This particular rendition featured Lennon's backing vocals and guitar work, becoming a chart-topping hit in the U.S. and Canada.
12. Kashmir by Led Zeppelin
A song as iconic as the band behind it, Led Zeppelin's "Kashmir" is the ultimate crowd pleaser! With its intense lyrics, captivating string melody, and one of the most iconic riffs ever played, "Kashmir" has and continues to inspire musicians from across the globe. In fact, the entire band feels that this single is one of their greatest achievements and showcases the best of what they have to offer.
Interestingly, none of them ever visited the place the song is named after. A drive traversing through a lonely stretch of the Sahara desert in southern Morocco inspired frontman Robert Plant to come up with this eight-and-a-half-minute-long masterpiece.
For the guitar parts, Jimmy Page chose to tune to Celtic or DADGAD tuning. The varied rhythmic meters contribute to "Kashmir's" uniqueness. While the vocals and drum work are in the feel of quadruple meter, Page's guitar goes in triple meter or ¾.
13. Down in the Valley by Johnny Cash
This traditional American folk ballad about incarceration has been recorded by many big names in music, including Patti Page, Connie Francis, Darby and Tarlton, and Jo Stafford. But the version we shall be talking about here is by Country legend Johnny Cash. Cash's signature baritone and subtle guitar create a simple yet magical piece of music. Playing-wise, it cannot get easier than this! You only need to know three chords-C major, G major, and D major to play this song.
The only thing you'll need to pay close attention to is the ¾ strum pattern. So you'll be strumming chords in groups of three beats instead of the usual four. A neat little trick to get familiar with strumming in triple meter time signature is to strum the first beat of every measure a little louder than the other two.
14. Piano Man by Billy Joel
In "Piano Man," Billy Joel chronicles his real-life experiences playing the piano at a bar in Los Angeles from 1972 to 1973, following a commercially dismal debut album performance. From Joel's 1973 album of the same name, the beautiful track ended up becoming his breakthrough hit.
The enduring classic kicks off with a jazzy piano solo accompanied by a generous arrangement consisting of a harmonica, acoustic accordion, mandolin, bass, and drums. The ballroom vibe of the song is in part due to the waltz time signature of ¾.
Since its release, the song has become a permanent feature at Joel's live gigs and made it to the Library of Congress's National Recording Registry for its "cultural, historical, and artistic significance."
15. Kiss from a Rose by Seal
Seal's hugely popular and only chart-topping hit, "Kiss from a Rose," is a mesmerizing song written in triple meter. From the British singer-songwriter's second studio album, the single became a global sensation, cracking the top 10 in several countries and fetching him three Grammys.
The song's meaning is still shrouded in mystery, having attracted multiple interpretations, with none of them accepted or rejected by the singer. Now Seal's earth-shattering vocal performance might be hard to emulate, but instrumentally it's not as challenging. It sounds melodically complex, but there's a simplified way to play it on an acoustic.
You'll need a capo on the 4th fret, and a bunch of easy chords- Cmaj7, D, E, Em, A, and G. All chords are pretty doable, and so is the strum pattern. Check out the tabs above and add this one to your song bank right away!
16. Dreams by The Allman Brothers Band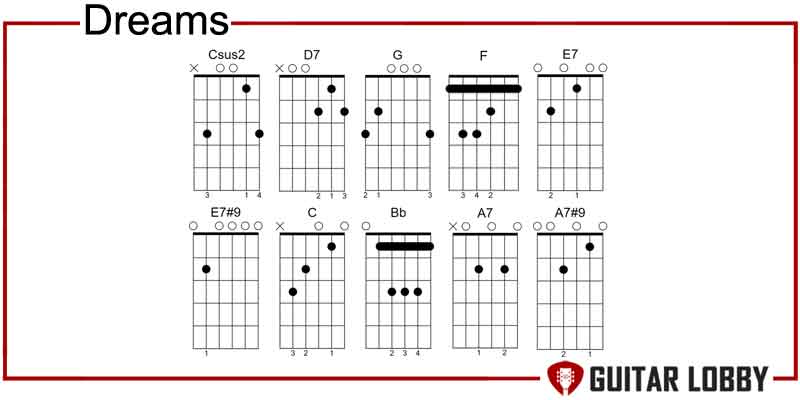 Released over two decades ago, "Dreams" by the Allman Brothers Band still sounds as fresh as it did when it first came out. Written by Gregg Allman in ¾ time, this underrated marvel will make a great addition to any guitarist's setlist thanks to slide guitar genius Duane Allman's breathtaking slide solo.
Everything from Gregg Allman's somber vocals and Hammond organ performance, Duane's fluid guitar work, and solid bassline fell into place brilliantly to create this jazzy, waltz-y masterpiece.
Once you're done listening to the original, do check out Molly Hatchet's rockier cover, which goes in a 4/4 time signature.
17. Are You Lonesome Tonight by Elvis Presley
Make way for one of Elvis Presley's most loved tracks! "Are You Lonesome Tonight" was originally written by Roy Trucks and Lou Handman in 1926 and was recorded by many industry bigwigs before the release of Presley's definitive version in 1960.
After coming back from serving in the US Army, Presley began working on new materials but was suggested by his manager to record the classic. Presley obliged and recorded the song in a soul-baring ballad style, which was a departure from his usual sound. And like most other songs in the early '60s, Presley's rendition was also recorded in ¾ meter.
Presley's emotionally intense performance was welcomed by fans and critics with open arms. It enjoyed a phenomenal run on the charts and sold over 2 million records.
18. Mull of Kintyre by Paul McCartney and Wings
Even after exiting the legendary Beatles, Paul McCartney's career did not slow down a bit. He swiftly formed the Wings with his wife Linda McCartney, drummer Denny Seiwell, and ex-Moody Blues guitarist Denny Laine and started producing amazing music.
Released in 1977, "Mull of Kintyre" was the band's biggest hit and the first track to clock over 2 million copies in sales. The song was penned as a tribute to the scenically stunning headland of the Kintyre peninsula in Scotland, also known as "Mull of Kintyre," where the McCartneys had a Farm.
The song has a Scottish folksy feel and a ¾ rhythm. It became an astounding success in the UK as the number one single around Christmas and stayed at the top of the charts for nine whole weeks.
19. Mr. Bojangles by Jerry Jeff Walker
An interesting encounter with a street performer in a New Orleans jail inspired outlaw country music icon Jerry Jeff Walker to pen "Mr. Bojangles", a pseudonym used by the drifter to hide his identity from the cops. The man kept everyone in the cell entertained first by narrating a heart-rending tale about the death of his dog, followed by a tap dance to cheer his audience.
Walker's bittersweet lyrics aptly captured the spirit of this homeless man who was grieving the death of his beloved dog and would dance "for drink and tips." The song has a ¾ waltz time signature, powered by a playful tune thanks to a pedal steel guitar and honky-tonk piano.
The song was released in 1968 but became a mainstream success after getting covered in a folk-rock version by the Nitty Gritty Dirt Band in 1971. The band's cover raced to number 9 on Billboard Hot 100. Since then "Mr. Bojangles" has also been covered by many famous artists in fascinatingly different styles, including Sammy Davis Jr, Whitney Houston, Nina Simone, Bob Dylan, and Elton John.
20. I'm So Lonesome I Could Cry by Hank Williams
Elvis Presley once called this 1946 classic the saddest song ever! The emotionally moving "I'm So Lonesome I Could Cry" was released by Hank Williams way back in 1949. Honest and spare, the track reflected William's heartbreak over his disintegrating marriage.
It's incredible how popular the song became, considering it was released at a time when anything remotely melancholic was viewed as B-side fodder for its limited appeal. This Williams classic was also parked in B-side to the bluesy "My Bucket's Got a Hole in It" but charted all the way to number 4 on the country rankings.
This 3/4 time signature song also happens to be the oldest song on Rolling Stone's list of 500 Greatest Songs of All Time, a testament to its timelessness. We'd also love you to check out some fantastic covers of this composition by Elvis Presley, Johnny Cash, Dean Martin, and Terry Bradshaw.
21. When the Party's Over by Billie Eilish
Alongside "Ocean Eyes," Billie Eilish's second single off her debut album gave the world a glimpse of her prodigious talent. Released when Eilish was just sixteen, "When the Party's Over" relies heavily on her vocal pipes, with only piano and bass backing her. The result is nothing short of cathartic!
Musically, the time signature of ¾ and the C#minor key work well in giving the song a tinge of sadness and despair while evoking strong emotions in the listeners. While the studio version is in a different key, a capo on the 4th fret takes you to the key of A, which becomes simpler to play. You'll need to watch out for the quick chord transitions to bring more fluidity to your performance.
22. Breakaway by Kelly Clarkson
Often, the catchiest of songs also happen to be the most simple, honest, and heartfelt compositions. This 2004 Kelly Clarkson single from the rom-com The Princess Diaries 2 falls in the same league. In "Breakaway," Clarkson uses her magnificent vocal prowess to reflect on her journey while nudging herself to strive harder to achieve her dreams.
It's a beautiful coming-of-age song that never fails to inspire its listeners. Instrumentally, drums and acoustic guitar are pretty strong in this one. The chords you'll need here are Am, G, F, and C in easy chord progressions. If you aren't yet ready to play the F chord, swap it with Fmaj7. When people ask me for easy acoustic guitar songs, this one I often recommend.
23. She Said She Said by the Beatles
The Beatles make yet another appearance on this list. This time, rather than a solid 3/4 time song, we'll talk about one that shifts between 4/4 and 3/4 time signature. "She Said She Said" is a trippy piece conceived by the band during one of their LSD adventures. Many experts tout this song and the entire Revolver album as the start of the acid rock movement. The chords aren't troublesome at all, but it's John Lennon's jangly rhythm and that unique meter that'll require some working on to make your performance sound closer to the original.
24. The Star-Spangled Banner
There aren't many national anthems that use this time signature, but the American national anthem isn't one of them. If you listen closely, "The Star-Spangled Banner" is set in triple meter. Although originally written in 6/8 time, most adaptations are now played in 3/4 time. You'll also find some of the most iconic performances, such as the one by Whitney Houston, as well as Beyonce's in a slowed-down 4/4 meter.
Whether you listen to it in an emphatic, energetic triple meter or a passionate and expressive duple meter, every version of this piece is equally impactful. If you want to learn a 3/4 arrangement of the American national anthem, check out the tutorial and tabs above.
25. Come Away with Me by Norah Jones
For me, a Norah Jones track is comfort food for the soul. When her sweet yet raspy voice, masterful piano, and contemplative lyrics fill the room, I instantly get transported to a comfy, familiar place. One of my all-time faves is "Come Away With Me" from Jones' breakout album of the same name.
This jazz-infused classic about wanting to be with the one you love goes in three beats per measure. With Norah at the helm, naturally, piano hogs the spotlight, but you can give it a nice acoustic guitar twist. Check out the video lesson to learn a guitar-driven arrangement of this track.
26. Open Arms by Journey
The ultimate "first dance" tune by Journey goes in a ¾ time signature. Released in 1982, "Open Arms" is the heavy metal band's most recognizable song, and frankly, it's not hard to see why. Every element, from the beautiful lyrics to the heart-melting melody to Steve Perry's soaring vocals, is very mainstream and genre-defying. So much so that many of the band members almost ended up not playing this love ballad. Glad, they got around to it or we wouldn't have got Journey's most-loved composition.
Over the years, many well-known names have covered this song, including Mariah Carey, Celine Dion, and Boyz II Men, with several of those covers becoming major hits. If you're looking to serenade someone, this song will not disappoint. The tutorial and tabs above will help you learn it in no time.
27. Spanish Romance by Anonymous
If you're looking for a classical piece in ¾ time signature, look no further. Romance D'Amour, Spanish Romance, Romanza, this hauntingly beautiful Spanish folk melody is known by many names, yet no one really knows who composed it. This ubiquitous piece has been featured in movies, games, and tv series, most famously in the 1952 war movie Jeux Interdits.
It's a solo piece in the key of E minor and sounds best when picked on a classical guitar. Sure, it sounds tricky when you first hear it, but it's actually quite easy if you practice well. The beauty of this song is it sounds as amazing slow as it does when paced up. The tutorial will break it down for you.
28. We Wish You a Merry Christmas by Traditional
Did you know most Christmas classics have been written in the triple meter? The time signature of ¾ was fairly common in Western folk and classical music. You'd find it in a lot of waltz-inspired pop tracks till the '60s, but not so much now. If you want to practice playing in this time signature without fussing over complex chords, I recommend you start with "We Wish You a Merry Christmas." The chords are beginner-friendly so is the strumming pattern.
29. Earned It by The Weeknd
Contemporary music is packed with 4/4 timed tracks, and finding 3/4 gems released from recent times is a rarity. But here's the uber-popular Canadian singer-songwriter, the Weeknd, surprising us with not one but two amazing triple meter tracks – "Call Out My Name" and "Earned It."
Let's talk about the more famous of the two, "Earned It." This Grammy-winning song from the soundtrack of Fifty Shades of Grey is seductive fare steeped in R&B, perfectly mirroring the sultry vibe of the movie. It's powered by piano and strings, but I've found a brilliant tutorial that shows you an easy guitar arrangement without any tricky embellishments.
30. Call Out My Name by The Weeknd
"Call Out My Name" from the Weeknd's first EP, My Dear Melancholy, is another stellar piece by the singer composed in ¾ time. Heartache is evident in this song about struggling to come to terms with a breakup. It's one of the underrated gems by the singer. The sheer passion and pain in his voice make you want to play the track over and over again. What's great is the guitar parts use only two chords – Dm and Em. You'll also need to slap a capo on the 4th fret before getting started.
31. Carol of the Bells by Misc Traditional
As I mentioned, if you want to get your hands on some beautifully composed ¾ songs, head to the pre-50s and 60s section in the music library. The evergreen Christmas classic "Carol of the Bells" was originally composed and released in 1919, becoming popular in Europe before making its way to the American audience during the Great Depression. While the original piece was written in ¾ time signature, it has seen countless adaptations in fascinatingly varied arrangements and genres, from jazz to metal.
32. Annie's Song by John Denver
You might wonder what is "Annie's Song" till you hear John Denver's unmistakable voice crooning, "you fill up my senses" – it's an aha moment. Annie's song was Denver's wholesome declaration of love to his then-wife Annie Martell after they went through an emotional upheaval.
The song became the country icon's first major hit in the UK, even though back home, he was an established star. It's a beautiful ¾ time song to add to your repertoire. Skill-wise, it's suited for intermediate players as some of the chords might seem a tad challenging for beginners.
33. Take This Waltz by Leonard Cohen
Find any song with the 'waltz" in its title; chances are it'll be set in ¾ time. Leonard Cohen's 1986 single "Take This Waltz" is the Canadian singer's homage to the iconic Spanish poet Federico Garcia Lorca. Inspired by one of Lorca's works, this bitter-sweet song uses city imagery to convey desire, doomed love, and loss. The intense lyrics and Cohen's signature baritone have made this an enduring classic. Watch the tutorial to emulate this melody on your acoustic guitar.
34. The Christmas Waltz by Frank Sinatra
This song by the legendary Frank Sinatra is another Christmas-themed song that you could learn to ring in the festivities in style this year. "The Christmas Waltz" was released as a B-side track to Irving Berlin's Academy Award-winning song "White Christmas." It didn't take long for this Sinatra song to become a festive staple, inspiring numerous cover versions over the last six decades.
It's a fairly simple song to play without any challenging embellishments or barre chords to work you up. The tutorial and chords will take you through one of the more recent adaptations of the song by Zooey Deschanel's musical duo She & Him.
35. Sam by Olivia-Newton John
The iconic actress and pop sensation Olivia-Newton John's "Sam" has dominated the bridal waltz at weddings since its release in 1977. This song about two people getting together after each having been jilted by their respective partners is one of those that can instantly put its listeners in a good mood. Click on the video above to check out a breathtaking fingerstyle arrangement of this waltz. RIP Olivia-Newton John!
36. Idontwannabeyouanymore by Billie Eilish
There's plenty more to this track than a title devoid of spaces. Co-written with Finneas O'Connell, "Idontwannabeyouanymore" is the fifth single from Billie Eilish's debut EP Don't Smile at Me that became a chart-topping validation of the young singer's prodigious talent. The upbeat tune and the dark lyrics about self-doubt and depression make for an interesting combination.
Like "When the Party's Over," this track also goes in 3/4 time. You can play a simplified version of the song with only a four-chord progression powering the verses. Now, it's not a straightforward 3/4 strumming pattern and will take some getting used to. But we've got a lovely set of tabs and a tutorial to break it down for you.
37. Blackout by Muse
"Blackout" might be one of Muse's mellower tracks, but it stalks the playlist of every fan of the Devon-based alt-rock giants. What's not to love? The strings-powered orchestral arrangement, haunting guitar solos, and Matt Bellamy's phenomenal vocals take the song to progressive metal heaven. There's plenty going guitar-wise, especially how the tremolo-picking classical style flows into a distortion-heavy sound.
The track reveals a different side to the band while giving us a taste of their versatility. The chords and melody are complex, and you'll need to have a few intermediate-level skills up your sleeves before attempting it. Learning it would help you get familiar with the not-so-common 3/4 time signature in rock and the Bb major key. Check out the tutorial to get started.
38. Bed of Roses by Bon Jovi
Emotions run high in "Bed of Roses," where Jon Bon Jovi reminisces about a past love (something we're all guilty of doing at one point). Released in 1992, the piano and guitar work in this melodic ballad perfectly mirrors the tinge of wistfulness in the lyrics and the vocals. Meanwhile, the chorus is something you can listen to over and over again.
True, Bon Jovi has much more popular songs than this one, but this one just feels special. Since the drums are a tad subtle in this one, you'll really need to listen in closely to identify that triple meter. It's not hard to play, even the seemingly tricky lead guitar parts and the melodic solo, once you get the hang of the groove. The tutorial and tabs here will help you.
39. Edge of Desire by John Mayer
"Edge of Desire" is one of the most popular tracks off John Mayer's Battle Studies, and there hasn't been a single gig where he hasn't performed it. The guitar melody is complex, but Mayer's masterful playing makes even the most technical riffs so fluid that they never overwhelm the average listener. It's something every guitarist wishes to emulate.
The heartfelt lyrics about not wanting to let someone you love go hit home every single time. The jury is still out on whether this track is in 3/4 or 6/8 time. It all depends on the way you count the beats. Learning this piece will take a fair bit of practice. So, I recommend starting with a simplified acoustic version before taking on the electric riffs and solos in the original.
40. If I Ain't Got You by Alicia Keys
Winning a Grammy over Alicia Keys' jazzy "If I Ain't Got You" just didn't feel right to John Mayer. So he broke his award into two and handed the top half over to Keys! The goosebumps-triggering record was inspired by a series of tragic events that took place in 2001, including the 9/11 attacks and the shocking death of hip-hop icon Aaliyah. It was Keys' way of expressing that nothing matters more than being with the people you love.
The soul-stirring song topped the charts and still occupies a place in Rolling Stone's "Top 500 best songs of all time." According to keys, 3/4 and 6/8 are her favorite time signatures. This track grooves along a simple triple meter but might feel like compounded time because of the hypermeter.
41. What the World Needs Now is Love by Jackie DeShannon/ Burt Bacharach
If you want to get hold of many more triple-meter songs, look towards the '60s era. You'll find lots of pieces in waltz timing like Jackie DeShannon's hit classic "What the World Needs Now is Love" – A sugary sweet, and heartwarming composition that's guaranteed to put anyone in a good mood. It was written by Hal David and Burt Bacharach during the tumultuous Vietnam War when the world really did need love.
You'll find countless versions of this song, including in the soundtracks of movies like Forrest Gump, My Best Friend's Wedding, and Bridget Jones: The Edge of Reason. But be sure to check out Dionne Warwick's rendition, which brought more mainstream attention to the song than DeShannon's original.
42. Oh My Darling Clementine by Percy Montrose
This widely recognized American folk tune was composed by Percy Montrose way back in 1884 and has been voted by the Western Writers of America as one of the Top 100 Western Songs of All Time. The song tells the tragic story of "Clementine," a miner's daughter who drowns while her unable-to-swim lover looks on helplessly.
Out of hundreds of versions recorded over the years, the most memorable is Austrian singer Freddy Quinn's rendition. "Oh, My Darling Clementine" is beginner friendly melody that requires only three chords and a simple swing style 3/4 strumming pattern to play it. Here's a lovely tutorial to walk you through it.
43. Game of Thrones Theme by Ramin Djawadi
Popular television drama Game of Thrones' equally famous theme is an excellent example of a fast 3/4 tempo. You may not be able to count it nice and steady if you listen to the strings. Instead, try focusing on the percussion that gives away it's 3/4 timing more clearly.
The track kicks off with strings while the cello dominates the first half of the melody before it goes into a full-blown orchestra. There's no denying this theatrical instrumental makes for a fitting opening to a show known for its jaw-dropping plot twists. Check out the fantastic tutorial above to learn a guitar arrangement of this iconic tune.
44. The Last Waltz by Engelbert Humperdinck
The word "waltz" in the song title is the biggest giveaway of a 3/4 time signature. In Engelbert Humperdinck's classic, the three beats per measure timing is as precise as day. Released in 1967, "The Last Waltz" became the English pop singer's highest charting hit in the UK and Australia and peaked at number 25 on the Billboard Hot 100 in the US.
It's a bittersweet song about the singer's first dance with someone who he believed to be his soulmate as well as their last after drifting apart. In terms of playability, I see it fit for intermediate to advanced guitarists. Nevertheless, have a look at the tutorial and tabs above if you're up for a challenge. In terms of pop songs in 3/4 this is one of my top recommendations.
45. Miss Misery by Elliot Smith
Elliot Smith was an American songwriter and guitarist extraordinaire famous for his folky and rhythmically complex acoustic-led compositions. His discography's teeming with a bunch of brilliant pieces in 3/4 time like "Miss Misery."
Written and recorded for the 1997 iconic movie Good Will Hunting, the song changed Smith's life, fetching him the coveted Oscar nomination in the Best Song category. His performance of the melancholic "Miss Misery" at the 1998 Academy Awards wooed even the most discerning audience. The solo strumming and the gentle vocals are still etched out in the minds of whoever watched the ceremony. The tabs and tutorials above will help you add this beautiful song to your repertoire.
46. High Time by Grateful Dead
Love them or hate them, the Grateful Dead has a seemingly endless catalog. Surprisingly, only two of their songs were ever written in ¾ time. High Time was written by lead guitarist Jerry Garcia and the band's lyricist Robert Hunter. It was featured on Workingman's Dead in 1970, a favorite of deadheads and newcomers alike.
The track features a signature blend of country, folk, and psychedelic rock elements that the Dead are known for. With its poetic lyrics and range of minor and major chords, the song stands as a testament to the Grateful Dead's creative brilliance and their ability to craft timeless and emotionally evocative music.
While this isn't one of those GD tunes with a ten-minute solo, it's chock full of different chords. This makes it a better choice for intermediate players who can keep up with all of the chord changes. If you are a beginner, take some time to study major chord progressions and come back to this one if you want to master it.
47. Holiday by Weezer
Sometimes you can tell a band's genre by their name, but the name Weezer doesn't really clue you into what they sound like if you aren't a fan. The Blue Album is considered one of their best releases, and with tracks like Holiday on the list, it isn't hard to see why.
Inspired by Jack Kerouac's "On The Road," the narrative of the song revolves around the protagonist wanting a much-needed holiday, a feeling that most of us can easily relate to.
The notorious power-pop and grunge-inspired sounds that made Weezer famous ring true through this track. Personally, I learned this one pretty early on in my guitar-playing career, so most beginner to intermediate pickers shouldn't have a problem laying this one down. That's why I'd say it's a great beginner electric guitar song. Get comfortable with sliding bar chords between the second and fourth frets, and you will have this one mastered in no time!
48. Nothing Else Matters by Metallica
No matter what decade you were born in, you've at least heard Metallica on the radio. Nothing Else Matters is one of those songs that you can recognize, even before the chorus.
This song is especially cool when you pull back the curtain on it and look behind the scenes. It wasn't even intended to be on the album at first, and it is actually played by lead singer James Hetfield. The band's guitarist, Kirk Hammet, isn't even featured on the track.
Nothing Else Matters is one of the thousands of songs that aren't entirely in ¾ time, but don't let this put you off from trying to learn it. There is only one short bar where it switches to ⅜ time, outside of this, most intermediate players will be able to shred with no problems.
49. Judith by A Perfect Circle
I've always been amazed at how some bands can take depressing topics and turn them into masterpieces that just can't listen to enough. Judith from A Perfect Circle is one of these masterpieces. Never heard of A Perfect Circle? Maynard James Keenan is also the lead singer of the bands' Tool and Puscifer.
The song's lyrics discuss Maynard's mother and the stroke that left her in a wheelchair for the rest of her life. This track reeks of a Tool song in a good way, and this track cemented A Perfect Circle as much more than just a Tool side project.
Good news here for beginner guitar players, the only chords you will need to know are E, G, and D, so have fun with this one!
50. The End by My Chemical Romance
Emo legends, My Chemical Romance, were further hurled into superstardom with their album Welcome To The Black Parade in 2006. The End is the intro track on the album, and it just so happens that it's in ¾ time!
Way's haunting vocals, on top of eerie ambient sounds, create a sense of foreboding as the track builds up to a powerful crescendo. The End is a sort of farewell to Way's previous way of living on other's terms. He no longer cares what anyone thinks of him and, in a way, is born anew.
There isn't anything too out of the ordinary with learning this song, especially if you are a fan of the genre. The basic strumming pattern and simple solo make this song great for people who want a taste of playing rhythm and lead guitar.
51. The Mountain by Steve Earle and Del McCoury Band
Steve Earle's catalog is jampacked with gems that make him a hero to fans of country and folk music. His eighth studio album, backed by Del McCoury Band, shares the same name as this track. It stands out among a tracklist of other critically acclaimed songs, which explains why it has been covered by countless other bands spanning many genres.
The song's lyrics paint a picture of what it was like to be a coal miner in the rural southern US. It illustrates the protagonist's love of the place they live, even after "…they knocked down the timber and strip-mined the coal."
This slow ballad is perfect for beginner players looking to make a foray into country and bluegrass music. It consists of five major and minor chords, D, Bm, Em, G, and A, so don't be afraid to try this one out!
52. With A Little Help From My Friends by Joe Cocker
This song is actually a Beatles cover from their famous "Sgt. Pepper's Lonely Hearts Club Band" album. Cocker's version reinvents the song and is played much slower than the original, making it unique in itself.
It debuted on his first album in 1969, which bares the same name as the song. For the most part, the album received positive reviews, helping Joe Cocker to become a household name of our parent's generation.
To tackle this track, you will need to first need to get comfortable with the G, D, A, E, Bm, E7, and F#m chords. While this may sound like a lot of chords, they are all basic and easy to play for those still finding their way around the fretboard. The Bm and F#m chords can be easily barred on the second fret with your first finger to make this track easier to play.
53. Breaking The Girl by Red Hot Chili Peppers
Despite being 32 years old, this track stands the test of time and ranks among the best of the Red Hot Chili Peppers. Off of their 1991 album "Blood Sugar Sex Magik," Breaking The Girl highlighted RHCP's ability to blend their albums with both energetic anthems and emotionally charged ballads. Among an album of absolute bangers, this track is much more mellow and melodic.
Pinning down which genres RHCP belong to can be pretty tough when considering their entire discography. Everything from funk, hip-hop, rock, and all things in between are showcased throughout most of their albums.
Some people prefer to play this tune a half-step down, but this makes the chord structure too daunting for most casual players. Some play with a capo on the 4th fret, but the easiest way to learn this song is to play it without a capo using A, G, D, C, F, Am, and E.
54. House Of The Rising Sun by The Animals
If you want to talk about hit crowdpleasers from the 60s, then you must know House Of The Rising Sun. This massive hit for the English rockers, The Animals, is known far and wide by anyone who loves the sounds of 1960s rock music. This track topped the charts in multiple countries upon release in 1964, solidifying them into the history of rock music.
Lyrically, the song tells a story of a New Orleans resident who spends their life in sin and misery. The so-called "House Of The Rising Sun" sounds something like a brothel or gambling den, according to Eric Burdon's lyrics. The song's narrator laments their choices and warns others to avoid the same fate.
Intermediate players can have fun with this track's basic strumming pattern and mostly major chord progression. As long as you pay attention to the ¾ strumming pattern, then you will have no problem mastering this track.
55. Lonely Day by System Of A Down
Lead singer Serg Tankian and System Of A Down are the kings of taking dark subjects and spinning them up into head-banging anthems that you play on repeat. Lonely Day is no exception to this rule. Despite sharing the same album with songs like Attack and Holy Mountains, Lonely Day is still one of my favorites.
This track combines plenty of finger-picking solos and crunchy metal chords that will satisfy guitar players of all skill levels. For a System Of A Down song, it's definitely on the slower side of most of their hits. This makes it an awesome choice for beginner pickers who love hard rock and metal.
Mastering moving between Am, F, C, E7, and G chords will be easy for most. The toughest part for beginner players will be the tempo changes between the intro, hook, chorus, and solo.
56. Innocent When You Dream by Tom Waits
The name Tom Waits might not ring a bell for some music fans with less than eclectic tastes, but that shouldn't take away from the greatness of Innocent When You Dream. He is famous for blending blues, jazz, folk, and other experimental elements to create something truly unique. This track was featured on his 1987 album "Franks Wild Years."
This heartfelt and poetic ballad shines a light on the dreams, imagination, and innocence we all possessed as children. Tom Wait's famously gravelly-sounding voice incorporates a raw emotional quality to this track, leaving the listener with a sense of nostalgia and longing.
Luckily for beginner players, matching Wait's singing style is definitely harder than his playing style. Most regular guitar pickers will have no problem learning this progression of major and minor 7th chords.
57. Since I've Been Loving You by Led Zeppelin
Lending their namesake to a joke made by Keith Moon and the tragedy of the 1937 Hindenburg airship disaster, Led Zeppelin is one of the most famous UK rock bands of all time. Since I've Been Loving You is an intensely bluesy rock and roll song that was featured on the album "Led Zeppelin III."
This track wasn't universally loved when it was released, being described as a "…obligatory slow and lethally dull seven-minute blues jam" by Rolling Stone. Whether or not you like this song, you can find it on most lists of the best guitar solos of all time.
I hope you stretched your fingers out for this one. Despite it being described as a slow blues jam, Jimmy Page still showcases his incredible ability to shred an electric guitar. There are more than enough hammer-ons, pull-offs, and slides to keep you busy while you experiment with this deeper cut from Led Zeppelin.
Final Thoughts
Learning how to play in a variety of time signatures is a great way to grow your skills as both guitarist and a musician. Not only does it open up countless more songs for you to learn, but also fires up your creativity to write songs in different formats. We hope this blog gives you plenty of interesting 3/4 guitar songs to learn. Happy playing!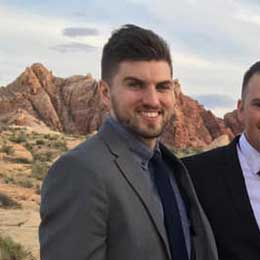 My name is Chris and I've had a passion for music and guitars for as long as I can remember. I started this website with some of my friends who are musicians, music teachers, gear heads, and music enthusiasts so we could provide high-quality guitar and music-related content.
I've been playing guitar since I was 13 years old and am an avid collector. Amps, pedals, guitars, bass, drums, microphones, studio, and recording gear, I love it all.
I was born and raised in Western Pennsylvania. My background is in Electrical Engineering, earning a Bachelor's degree from Youngstown State University. With my engineering experience, I've developed as a designer of guitar amplifiers and effects. A true passion of mine, I've designed, built, and repaired a wide range of guitar amps and electronics. Here at the Guitar Lobby, our aim is to share our passion for Music and gear with the rest of the music community.