When you're first learning to play the ukulele you don't have to start with boring songs like Mary Had a Little Lamb. What you need is a little inspiration to make learning the ukulele fun and entertaining.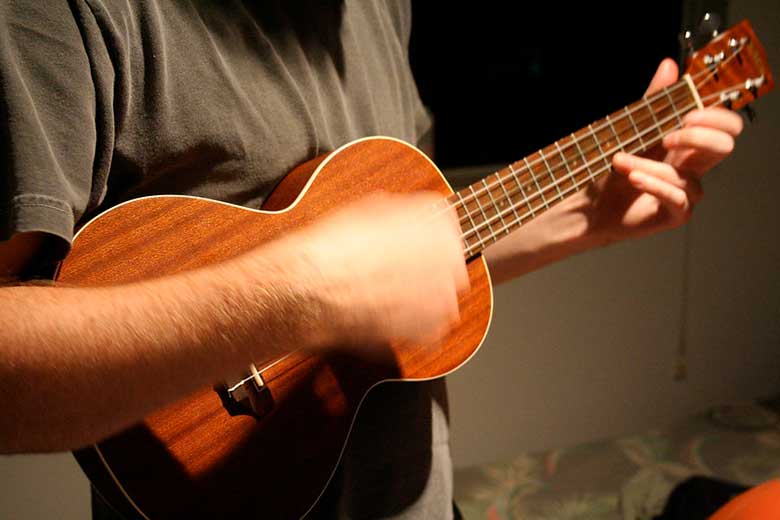 Wondering which songs to learn first? Don't worry, in this article we've listed our favorite easy ukulele songs that are perfect for beginners. I can guarantee that these songs are also fun to play and will have you performing in front of your friends like a pro in no time.
Here is a List of Easy Ukulele Songs for Beginners
1. Sweet Home Alabama By Lynyrd Skynyrd
Fans of country rock, especially those that relate to the South will love Lynyrd Skynyrd's 1974 hit song Sweet Home Alabama. You'll appreciate the rhythm of this classic song. It is one of the musical pieces that many people in countryside pubs and inns play to while their time. The song enjoys a good following in urban settings, too. After all, it has one of the most recognizable beats in the history of music.
The strumming pattern is simple, following only a basic down and down-down-up pattern. The chord progression is also easy. Some beginners may have an issue with the tempo. However, I always recommend taking it slow at first and focusing more on the correct technique of strumming. Once you have accomplished that, you can start playing the chords of D, C, and G.
2. Take Me Home Country Roads by John Denver
Take Me Home Country Roads by John Denver is a legendary song that's very fun to play on the ukulele. This song will be recognized by almost anyone and it's also very easy to sing along to. This song is perfect to play around the bonfire and overall it's just one of my favorite songs to play on the ukulele.
This is one of the first songs I ever learned to play on the ukulele and I've probably played it more than any other song throughout the years.
3. I'm Yours by Jason Mraz
This is another beautiful song you can learn to play on your ukulele. It has that very recognizable beat that makes you feel like you're on a tropical island in the Caribbean. The song has a lively vibe that people have begun dancing to it even before its release in 2005. That's how popular the tune of this song is. And that's exactly why you should play it using your ukulele.
The four major chords are C, G, and F, with the addition of an A-minor chord. These are very easy chords to play even if you already have arthritis. This Jason Mraz song requires down strums, although there will be occasional upstrums to give the song depth. This makes the song quite friendly to the wrist. One thing I know is that it would be impossible to stop playing this song once you've mastered it.
4. Achy Breaky Heart by Billy Ray Cyrus
I really found it necessary to include Billy Ray Cyrus' monster hit on this list. First, it would be nearly impossible for millennials to learn how to square dance if not for the classic tune of this song. Second, the song is one of the easiest to play. Third, the tune is like a powerful magnet that will have anyone within hearing distance to get up on their feet and start dancing.
This easy ukulele song has only two chords – F and C7. It cannot get any easier than that. Also, the strumming pattern is only downwards. It is perfectly alright to introduce an upstrum after two downstrums to give the song more character. And that is it. That's how easy it is to play this amazing 1991 song. So, grab your ukulele, wear some fancy cowboy hat, and get ready to rock the dance floor.
5. Counting Stars by One Republic
The music video of this 2012 song is the world's number 14 most-watched video on YouTube, garnering more than 3 billion views. You know why? The song fuses the unique qualities of pop rock and folk pop before giving it a disco beat. Counting Stars is very infectious. It is impossible to restrain yourself from ever grooving to the beat.
This One Republic song is perfect for beginner ukulele players because it allows them to employ both basic fingerstyle and strumming techniques. There are only four chords in the song: Am, F, C, and G. However, certain sections of the song will be tricky because it requires fingerpicking the correct string. I suggest strumming the ukulele first before you start focusing on the fingerstyle. Once you've mastered this, you'll be more than ready to tackle other ukulele songs.
6. All the Stars by Ed Sheeran
This song is sad and euphoric at the same time. It has this uncanny ability to lift people even a little bit. Its message is as timely as ever when we are faced with the grim reality of losing someone we love. Somehow, the song is a great way to reflect on our lives, especially those things that give meaning and direction. This ukulele song is perfect for those moments of solitude or those instances when you just want to nudge your best friend's spirit a bit higher.
There are two ways you can play this song: basic strumming or fingerstyle. Personally, the fingerstyle technique provides a richer sound that is in tune with the song's theme and harmonics. Newbies can play the basic chords of F, C, Am, and G and still get a beautiful and moving song.
7. Leaving on A Jet Plane by John Denver
Peter, Paul, and Mary recorded a more famous version of this 1966 John Denver classic in 1969. Honestly, I still prefer JD's rendition of the song than the folk trio. Whether you are playing this on your way to the airport or whiling away your time in the grassy fields, this is a song that is worth playing on the ukulele. It has that feel-good vibe to it despite its sad refrain.
Learning to play this song requires basic knowledge of the G, C, and D chords. You can play the song two ways. The easiest will be to strum it like you would any easy ukulele song. However, if you want to make the song sound more beautiful, then you should strive to learn the few fingerstyles that go with the piece. Combining the two is always a great idea.
Related Article: The Best Ukuleles for Beginners (All Price Ranges)
8. Riptide by Vance Joy
I love the upbeat rhythm and vibe of this indie folk song. It has a lot of pop culture references that I am sure almost everyone can relate to these days. This is the kind of song that ditches cheesy lines for more colorful metaphors. And while some folks may not like the lyrics, there's no arguing the beauty of the guitars strumming in the background. You can replicate the sound using your ukulele, too.
An easy way to play this is by mastering the Am, G, C, and F chords. These are basic stuff that all beginner players of string musical instruments should know. It would also help if you place a capo on the 1st fret. As for the strumming pattern, it is down-down-up-down-up all throughout the song. That's what you call an easy ukulele song.
9. Down on The Corner by Creedence Clearwater Revival
My gang's favorite when it comes to a very entertaining song, this Creedence Clearwater Revival song also happens to be one of the easiest ukulele songs for absolute beginners. It has a very lovely rhythm and a melody that will make you want to your friend's house and pull him out to the street to play. This is the kind of song that you would want if you simply need to feel free and alive.
The focus for learning the song is the groove. Unlike other ukulele songs, down on the Corner requires deft of hands. It also commands absolute wrist flexibility. The groove comes with a down-down x up-up pattern followed by an up-down-up-down-up pattern to make a complete groove cycle. Don't worry about the chords as there are only three of them – C, G, and F.
10. I Still Haven't Found What I'm Looking for By U2
This 1986 song has all the characteristics of a great1980s song. It is mellow. It has a rock-y feel to it that will make you want to pull your partner to a slow dance. You also must admire Bono's amazing vocals as well as the chiming arpeggios of Edge. There is a spiritual yearning in the song's lyrics, having drawn inspiration from gospel music. This is a song that should be easy-peasy on the ukulele.
The song only has three chords to play: C, G, and F. You will also never sweat with the strumming patterns. It helps that the song has a slow and repeatable cadence that should make it exceptionally easy for beginning ukulelists to master. And when you do master the fundamentals of this song, you can start employing a few ukulele playing tricks of your own.
11. What Makes You Beautiful by One Direction
Even if you didn't manage to score a perfect 10 for playing this One Direction song, you will still enjoy the accolades of your friends. This is a song that introduced the English-Irish group to the world stage and one that had a lot of young girls swooned for the song's up-tempo. The riff and the chorus of this song are all based on the guitar. There's also a classic na-na-na-na hook on the middle eight.
So, how do you play this song on your ukulele? You only need three very simple chords that include C, F, and G. you'll play these chords throughout the song. What you will train on is the execution of its strumming pattern. It is a combination of half and full measures. The pattern is down, break, chop, and up before you proceed to the next downstrum. This is an easy ukulele song that I definitely recommend to beginners.
12. Let It Be by The Beatles
You'll never feel rushed trying to learn this song from one of the greatest bands in the history of man. It has one of the loveliest melodies and a message that can resonate through the ages. True enough, Let It Be has become the quintessential favorite of many beginning musicians. And to play it in a ukulele, how cool is that?
With only the C, F, G, D, and Am chords to play, this is one song you can start playing with gusto in one sitting. The strumming patterns are mostly down, too. That should be very easy for those who are only beginning to play a musical instrument. There are no fancy fingerstyles to worry about. This is a good ol' fashioned piece for the ukulele. It's a song that is perfect for entertaining guests in your home or simply to while away your time.
13. Whistle by Flo Rida
You'll be whistling to the tune of this song whenever you play it on your ukulele. It is one of the most familiar tunes ever to grace the second decade of the new millennia. The song has a very catchy hook that allows anyone to swing to the groove. Forget the song's MTV if you find having skimpily clad women distasteful. What you should focus on are the chords for the ukulele.
As an easy ukulele song, this Flo Rida song has only 4 chords. You can easily strum Am, F, C, and G without any fuss. The groove is also easy to execute. It doesn't call for any complicated fingerstyles that can snap your finger joints. Plus, it is one of those songs that will have everyone in your gang humming and dancing along to your strumming.
14. Hey, Soul Sister by Train
This pop rock is easily one of the best songs I have heard in 2009. It has a catchy tune and a good rhythm that is perfect for those lazy Saturday afternoons. The groove is special since it has that reggae-like effect to it. The song remains Train's most popular recording to date. RIAA certified the song as platinum 6 times.
The easiest strumming pattern for this song is a downstrum followed by a trio of down-ups to create one measure of groove. You may want to focus on the down-up strokes as these can be quite tricky at first. You can then employ the downstrum before adding three sets of down-ups. The chords are also easy. You will be playing C, G, Am, and F throughout the song. Its structure makes this song one of the easiest for beginner ukulele players.
15. Someone Like You by Adele
Feel like wanting to mend your broken heart by playing a ukulele song that really speaks to the heart? Check Adele's 2011 song, Someone like You. It talks about Adele's broken relationship and how the singer-songwriter was able to come to terms with the breakup. You will still find the song to be almost magical even if you are pretty much in love now.
Adele's hit song requires a down, down, down, and down-down-up strumming pattern. I always tell newbies to strum their ukuleles slowly at first. This will give them the chance to execute the correct strumming of the strings. As for the chords of the song, there is only one that can be quite tricky for beginners. This is the minor key of G-flat. The other three – A, E, and D – are a piece of cake to play. This is a very easy and fun ukulele song.
16. All of Me by John Legend
One of the most popular song pieces in 2013, All of Me is an epic. It's a ballad that any modern Romeo would want to use to serenade his Juliet. While this song doesn't have a place in Shakespearean plays, it does find a warm spot in the hearts of many people who are madly in love. And when you decide to play this using your ukulele, you'd win the heart of your most cherished one, too.
There's no reason why you shouldn't consider John Legend's song as an easy ukulele piece. First, it only has four very basic and very easy chords – Em, C, G, and D. It also has a very slow tempo of only 63 beats per minute. The strumming pattern is also all downstrums. You should be able to play this in one sitting.
17. Perfect by Ed Sheeran
There's a reason why people who are about to be wed choose Perfect as their wedding song. The melody is so lovely and the message is very apt. And even if you're not getting married, singing this song to your loved one will endear her more to you. Playing this Ed Sheeran great will further impress your beloved and secure your place in her heart forever.
Perfect only requires four very simple chords: G, Em, C, and D. Further simplifying the playing of this song is the fact that the strumming pattern is all downstrums. What you should be focusing on is the correct timing of the strum. This will give you a good idea of how your sense of rhythm is. You can then work on that to help you be more confident in playing other ukulele songs. All in all, this is a great one of the best ukulele songs for beginners out there.
18. Hallelujah by Leonard Cohen and Jeff Buckley
I really don't care what others will say. This is a very beautiful music that should also sound wonderful when played on the lowly ukulele. You don't have to like Shrek or even Fiona to appreciate the beauty of this song. And while it does have spiritual connotations, the song is nothing more than a beautiful piece of music that can move the soul.
I love playing this song on the guitar. And you should be able to play it on your ukulele, too. The chords are simple enough, requiring only C, Am, F, and E7. What is central to this song is its arpeggio. You can downstrum it, but it will not give you that heavenly melody associated with the music. I recommend doing your best to learn the fingerstyle of this song as it does justice to the piece.
19. Just the Way You Are by Bruno Mars
You may find the lyrics of this 2010 song that launched the career of Bruno Mars to be corny and cheesy. However, you cannot deny the appeal it has on many teens and young adults who find the song's rhythm and melody to be just right. And when you do decide to play this on your ukulele, you'd be surprised at how fun and entertaining the music that you'll create.
This easy ukulele song only requires three chords and a down-down-down-up strumming pattern. That should make it very easy to both remember and play. Strumming and fretting the chords can also serve as a good exercise for your fingers and wrists. This should help reduce your risk of developing joint-related conditions. Some folks love to play the song with a capo. You can also do this once you have already mastered the song's basics.
20. One Love by Bob Marley
Bob Marley is one of the greatest icons of the music industry. Many musicians draw inspiration from Marley's works. And one of the best Marley songs that sound so fabulous on the ukulele is One Love. The original song was written in B-flat major. However, the different artists who have recorded or covered the song have already transposed the musical piece to a friendlier key of C.
With easy-to-play chords, anyone can master this Bob Marley classic in less than an hour. There is only C, Am, F, and G that you will play. Add to this the effortless down-up pattern of the groove and you can even slash your practice time in 30 minutes. Play the song with your best buddies along with several bottles of beer for a more carefree Friday evening.
21. FourFiveSeconds By Rihanna
You don't have to be a fan of Rihanna or Kanye West or even the venerable Sir Paul McCartney to appreciate the beauty of FourFiveSeconds. This is a song that fuses the remarkable elements of soul and folk-pop into a piece that we can all sway to. It has that characteristic vibe that you'd expect from Rihanna and the classic musical ingenuity of McCartney.
What makes this Rihanna song a good piece for beginning ukulelists is the fact that it only uses four very simple chords: D, G, Bm, and A. That's not all. Even the strumming pattern is something that a 3-year old can execute with glee. Every chord has a downstrum, allowing you to nail this song in a jiffy. You don't need to worry yourself to death about fancy fingerpicks as this song employs a straight-out strumming groove.
22. Little Talks by Of Monsters and Men
This song is no little talk. It has one of the hippest grooves in 2011 and one of the most recognizable tunes. You will also love the addition of background vocals to both the intro and the breaks. It is as if the vocals (hey!) punctuate the song, rousing you up from your hibernation.
The Icelandic indie folk and pop rock band also made it super easy to play their song on the ukulele. It only requires the following chords: Am, F, C, and G. The verses of the song will only need a single downstrum of the corresponding chord. The intro and breaks of the song do require wrist flexibility of the strumming hand. Believe me, this is a lot easier than it looks. You can perform this song with ease in less than an hour.
23. Stay with Me by Sam Smith
Despite the theme of the lyrics, Stay with Me draws inspiration from gospel music. It is a ballad that can go toe to toe with the other ballads of the 80s and 90s; the only difference is that this song was released in 2014. It makes for an interesting song to learn to play on the ukulele because of its slow tempo. Its overall structure also makes it a lot easier to learn the basics of the song.
The typical groove follows a down, down-up, down, and down-up pattern. It is easy enough that I have seen a 7-year old play the song in a dwarfish ukulele after only 30 minutes of practice. The chords of this Sam Smith song aren't tricky either. You only have C, Am, F, and Dm to exercise your fingers with.
24. Brown Eyed Girl By van Morrison
This is one of the loveliest and sweetest songs you can ever play on the ukulele. When played right, you can obtain a pleasant double-stringed effect that is a lot like having multiple instruments playing in unison. This 1967 classic is a favorite of many acoustic guitar players. Having said that, it should also be a remarkable piece on your ukulele.
This Van Morrison song has four easy and simple chords to begin with. These chords include C, D, G, and Em. While the chords are easy, it is the arpeggio in the intro that you will have to focus on. This is because this tricky section employs double-stops. Newbies may have a difficult time understanding what it is. I can assure you; it is one of the most basic tricks that any beginning ukulelist should have.
25. Island in The Sun by Weezer
This is a power pop song that has all the elements of a fascinating alternative rock piece. Island in the Sun has a laid-back vibe to it and a rhythm that is easy to dance to. The tempo is modest enough to provide budding ukulelists with a good material for developing their skills.
Start learning this song by practicing the correct sequencing of its groove, which is down-down, down-down, up-up, down-up, and down-down. Once you have this in the bag, you can begin introducing the four different chords: E-minor, A-minor, D, and G. It would be ideal to listen to the actual song while you are playing it. What is great about this song is that you can improve on it by learning the arpeggio for the song. That will give your ukulele playing more character.
26. Twenty Two By Taylor Swift
I'm not a huge fan of Taylor Swift but that doesn't mean I don't like some of her music. There are several Swift songs that I admire and which I unabashedly recommend as a learning material for beginner musicians. And when it comes to songs for beginner ukulelists, Swift's 22 hits the mark perfectly. This is a very simple song with a simple structure, yet a very fun and interesting rhythm and vibe.
Beginner ukulele players will not have any issues playing the C, D, and G chords. The strumming pattern can be tricky for first-timers. It is mostly downstrum. However, there are instances when you must execute a quick upstrum after a downstrum. Practice should give you the confidence you need to play this song like a seasoned ukulelist. It's a great piece for rocking the world of pop on a ukulele. If you're looking for easy ukulele songs to learn this is a great option.
27. Blowin' In the Wind by Bob Dylan
There are two very popular versions of this song. One is that of Bob Dylan, released in May 1963. The other version was released by Peter, Paul, and Mary about 3 weeks after the Dylan version. Regardless of which version you want to play, this song is still one of the most iconic folk songs known to man. It is a collection of rhetorical questions that all lead us to reflect on those things that we value the most. And when you play this song on your ukulele, you'd get that same calming effect, too.
The song uses the following chords: C, Am, F, G, and D7. The groove follows a down, down-down-up, up-down, and down-up-down-up pattern. This can be quite tricky. The good news is that you can always replace it with a pattern that is more workable for you.
28. Dancing on My Own by Callum Scott
It was Robyn who first popularized this ballad in 2010. It was a midtempo electropop and dance pop ballad that was perfect for taking to the dance floor. However, I prefer Callum Scott's version a lot more. It has a more pop rock feel to it. Some folks consider the soft-focus of Scott's cover as something very weepy. However, most pundits agree that the song is a powerful and stellar confessional.
To get the right melodies of the song, you'll need a capo on the 3rd fret of your ukulele. You can also ditch the capo altogether. The chords are C, G, F, and Am. Strumming requires a down, down-up, up-down, and up pattern. Put these two together and you should be able to play this song brilliantly. You might want to play in on AGT, too.
29. Ho Hey by Lumineers
Tired of the usual folk music or even rock song? How about combining them to create one of the most fascinating pieces ever to grace the charts of 2012? Ho Hey is a masterpiece by the standards of today's hip generation. It has a wonderful vibe that is pleasant to dance to or even to sing along to.
There is this tendency of the ukulele to produce a dull or empty sound. You may want to beef it up by performing a rather complex strumming pattern. The typical pattern is down, down-up, down, down, up-up, down, down, and down. You might want to practice this first before heading to the chords. Playing the chords is easy because there are only four – C, F, G, and Am. The verses will only use C and F, making it easy to remember.
30. You're Beautiful by James Blunt
It's easy to fall in love with this James Blunt song. It has lovely lyrics, equally mesmerizing harmonics, and a melody that makes you feel so secure and safe. Such is the wonderful feeling one gets whenever You're Beautiful hits the airwaves. This is also the exact same feeling that your loved ones or your friends will feel when you play this song using your ukulele.
Doing that will require you to learn a few basic strumming techniques that mostly consist of downstrums. You can find out what works for you by playing different combinations of up and down strums. From here, you can then add the C, G, Am, F, and Em chords. Listening to the song while playing it on your ukulele will give you an idea of the correct strumming movements.
31. I Don't Know My Name by Grace VanderWaal
Grace VanderWaal was only 12 when she won the hearts of many viewers of America's Got Talent. This young, spirited, and budding songwriter-singer wowed the crowd with her very own song. The young ukulelist received a Golden Buzzer from Howie Mandel. True enough, VanderWaal went on to win Season 11 of AGT and the rest is history. What is most remarkable about this young lady is her passion for the ukulele. She truly is an inspiration to all ukulelists all around the world.
While playing this VanderWaal winning piece will not shower you with golden confetti, it should help give you the confidence in playing your instrument. The chords C, F, Am, and G should never pose any problem to beginners. The groove is a basic island strumming style with a down, down-up, and up-down-up pattern.
32. Stand by Me by Ben E. King
Very few songs have a rhythm that is as enduring as Stand by Me of the 1960s. You can still hear that iconic tune in TV commercials and even in independent musical works. This is a tune that many consider as a true timeless classic. That is why playing the song with your ukulele should also be a fun and interesting endeavor.
I don't expect you to play the bassline of the song with the same class as the original. However, you can always focus your attention to the rhythm of the song. Playing the chords is never worrisome as there are only four chords to strum to your heart's content. This is a song that many beginner ukulele players can complete in under an hour. You've got to thank the ease of strumming, too. You now have another piece to play when you're with friends.
33. Something Just Like This by The Chainsmokers and Coldplay
Chainsmokers collaborated with Coldplay to create this song in 2017. It has a nice tune and a refreshing melody that is both relaxing and entertaining at the same time. The song also happens to be an easy song to play for budding ukulelists. The chords are easy and the groove is even simpler. You can have this song ready in an hour or so.
The song's chords cannot be simpler than F, G, and Am, with a progression that is also very easy to memorize. What is important here is the timing of the chords, especially in the intro, verse, and chorus sections. You can always practice with the timing first before you make any substantial focus on the chords. Don't worry so much about the strumming as this song involves mostly downstrums.
34. Take on Me By A-Ha
If you want a fun music to play using your ukulele, then you've got to give A-Ha's 1984 hit wonder a try. The rhythm is fantastic and electrifying without draining your energy reserves. The melody is also admirable, allowing you to sing along with your friends.
There is only one tricky aspect to the playing of Take on Me. The original song has a very fast tempo of 169 beats per minute. The chord progression can also be tricky, especially if you consider the bass note of the piece. The good news is that the ukulele chords for this song are not that complicated. As a matter of fact, you'll only need to play Am, D, G, C, and Em. I suggest strumming the chords at a tempo that you're most comfortable with. You can easily pick up the pace once you're in the groove.
35. Save Tonight by Eagle Eye Cherry
The Swedes have all the reason to be ecstatic when Save Tonight hit the global charts in 1997. This is a song that propped Eagle-Eye Cherry to international fame. The song itself has a very catchy tune; one that will have you dancing to its rhythm. It is also a good song to play on the ukulele.
With easy chords (Am, F, C, and G) to play, this is one song that any aspiring ukulelist can master in a few hours. Strumming the strings is also straightforward. I suggest performing a classic downstrum first. Once you feel more confident about your ukulele playing, you can then integrate a few strumming patterns such as a down and down, down and up-down, up and down, and down cycle or some other combination. Just have fun while doing it.
36. Somewhere Over the Rainbow by Israel Kamakawiwo'ole
This all-time favorite of mine has that distinct Hawaiian tune that makes you want to dance on the waves. The original of this song was sung by Judy Garland and has been covered by numerous artists from 1939. One of my favorite covers is that of Israel Kamakawiwo'ole or IZ, simply because he plays the song so well in his ukulele. His standout voice and amazing ukulele playing skills can outclass any modern pop artist.
Focus on mastering the groove first. This includes a predictable pattern of down, down-up, break, and up-down-up movements. Listen to the song and follow the rhythm. Once you get the vibe, you can start playing the chords that include C, C7, Am, F, G, F9, Em, and E7. Learn to play this song and you'll be able to perform almost any other ukulele song on the planet.
37. What A Wonderful World by Israel Kamakawiwo'ole
Everyone knows the original recording of this song. It was none other than the jazz legend, Louis Armstrong, who first sang this piece in 1967. However, ukulelists all over the world have Kamakawiwo'ole to thank for covering this iconic song in their favorite musical instrument. It is a ukulele song that is perfect for serenading anyone.
This IZ hit is less complicated than Over the Rainbow. It has fewer chords, although the song retains the signature strumming pattern of IZ: down, down-up, and up-down-up. I strongly recommend practicing the groove first before you start incorporating the chords. The ukulele chords you will use for this song include C, Em, F, Dm, E7, Am, and G7. One additional advantage of this song over the other IZ song is that it has a slower tempo. This can promote easier learning of the song.
38. Hakuna Matata By Jimmy Cliff and Lebo M.
Who would ever forget Pumba and Timon and their free-spirited approach to life in general? Whether you're in the Pridelands or in Timon's forest or anywhere else, Hakuna Matata is a song that will give you a sense of freedom. I like this song on the ukulele because it gives you a more rustic sound that almost transports you to Simba's kingdom.
To get this song right, I recommend practicing the groove first. It's down, down, up, up, and down-up. This is the pattern you will have to perform in the verses and the chorus of the song. The intro is as easy as a single downstrum of F and C for the first line and F, D, and G7 for the second line. There's also an A-minor in the chorus. So, these are the chords that you will be playing.
39. Let It Go by Idina Menzel
If you have kids who grew up mesmerized about the magical kingdom of Elsa, Anna, Olaf, Kristoff, and Sven, this song is the one to play. They will love you for it. Let It Go has become the anthem of many wide-eyed kids as well as young adults who can relate to Elsa's feelings of helplessness.
The ukulele chords of the song are quite numerous. These are Em, C, D, Am, A, G, Em7, and Gm. I picked this song primarily for its popularity and its relevance to many kids out there. I also chose it for absolute beginner ukulelists because it teaches you about some fingerpicking techniques that you can incorporate into your playing of other songs. As always, I would like to emphasize the importance of constant practice to get the tune and the rhythm right.
40. Happy by Pharell Williams
With a vibe that is so hip, Happy indeed lives up to its title. This is a song that will have everyone in the room stomping their feet and whipping out crazy dance grooves. It has an infectious rhythm that will make you feel like Gru and his Minions.
This song requires more chords to master than the ones I already shared here. They are easy nonetheless. The verses utilize F7, Fm7, Bb, C, and Bb7 chords. The chorus uses DbM7, Cm, Cm7, and F7. I suggest practicing the correct finger positioning of the chords first before you start playing the song. Another thing you would want to focus on is the strumming. It is simple. However, it does require fast movements of the wrist. Nail this and you could easily be the happiest beginner ukulelist on the planet.
41. Truth Hurts by Lizzo
Listening to this 2017 song will make you think that it is a difficult piece to play on the ukulele. It has elements of hip-hop and trap that can prove tricky to learn. And if you add Lizzo's rap-like vocals, you know that you've got a music piece that may not be ideal for beginners at all. I'm sorry to burst your bubble. This is a song that is as fun as it is easy to play. The powerful rhythm of the song is your cue for playing this on the ukulele.
Not yet convinced that you can learn this song in several minutes? How about I tell you there are only two chords used in this piece? Yeah, that's C and Am. As far as ukulele chords go, you can't go any easier than this pair. So, have fun while feeling the groove. If you're looking for fun ukulele songs this is a great one that I highly recommend!
42. Somebody that I Used to Know by Gotye with Kimbra
Playing this 2011 song on your ukulele is sure to have everyone in your immediate vicinity feeling the groove. It has that R&B or soul-like vibe to it that makes you feel like you're in some pub somewhere in downtown New Orleans. Of course, you can never make the song sound like this playing only the ukulele. Nevertheless, it would be a very fun and entertaining way to play Somebody That I Used to Know.
The song only has C, Bb, and Dm for its chords. And the only strumming pattern you will need to memorize is a down-down, up-up, and down-up cycle. That should be easy enough to remember. I've seen some folks fingerpicking the ukulele to give a nice little twist to the twangy sound of the strings. You can do this, but only after you've mastered the basics.
43. Demons by Imagine Dragons
The slow-moderate tempo of this 2013 pop rock makes it a good piece to play on your ukulele. The song only has four very simple and easy-to-strum chords that include C, G, Am, and F. I have seen kids as young as 5 years old able to play this song on their toy guitars. I think, if these little ones can play such a rock classic, then there's no reason for you not to be able to play the song, too.
To say that many people like this song is an understatement. They love it. And, I'm pretty sure you do, too. It is the catchy rhythm that many people find very interesting. You can easily find yourself swinging to the beat and even singing the lyrics of the song. It's a very fun piece to play on your ukulele.
44. Waka Waka (This Time for Africa) By Shakira
The biggest sporting event in the world deserves only the best pop song to get everyone on their feet. That's exactly what this 2010 Shakira pop song did at the 19th FIFA World Cup. Stadiums filled with the soccer faithful chanted to the infectious rhythm of the song. And while you cannot expect the whole world to jump for joy at your ukulele rendition of this song, your friends will.
I suggest that you go slowly with this one. At 128 BPM, Waka Waka can make you furious at your strumming. It's good that this Shakira piece only has 4 chords for the ukulele. That's D, G, A, and Bm for an easy go. Take care of the downstrum and upstrum patterns of the song and you will have a football stadium right in your own house.
45. Photograph by Ed Sheeran
People love the lyrics of this 2015 acoustic folk pop by Ed Sheeran. The lyrics are visually descriptive, allowing listeners to conjure a very clear image of what the lyrics are trying to convey. It is a ballad that is perfect for love-struck people, especially those separated by thousands of miles. You'll feel the love the moment you strum the first of four chords of this pop on your ukulele.
It's nice to know that Photograph was intended for the acoustic guitar. This makes it a lot easier to play on the ukulele. It also pays that the song has a slow tempo, allowing you to perfect your strumming patterns without feeling rushed. The sound you'll produce will be as beautiful as any other string instrument. Take your time. Feel the groove as the melody moves you. If you're looking for fun and easy ukulele songs Photograph by Ed Sheeran is a great place to start.
46. Little Things by One Direction
Many did not agree with this direction by One Direction. Some say the group was terribly misguided for departing on their mostly feel-good, upbeat songs. However, one cannot deny that Little Things was more sophisticated both emotionally and lyrically than any other song by the group. In fact, this song had some pursuit-of-credibility feel to it.
Regardless of how critics have hammered the song, Little Things remains one of the pop group's most successful pieces. It would also be wise to learn this song on your ukulele. For starters, it's a folk ballad with a very manageable 110-BPM tempo. The chords – Am, C, D, Em, and G – won't give you a headache, either. And the strumming pattern is as simple as any beginner ukulelist hopes it to be. This is a fine piece of music that is worth playing to the one you love who is so insecure about her flaws.
47. Creep by Radiohead
This is one of the easiest and most fun alternative rock songs you can ever play on the ukulele. Creep remains the English rock band's most successful song. It has that addictive rhythm to go with its interesting lyrics. Despite the song's self-lacerating rage, it is actually a very happy song. It speaks about your recognition of your true self. Yeah, even though some people might call you a 'creep'.
There's nothing creepy about this song once played on the ukulele. The fun nature of the instrument negates whatever disdain the lyrics may convey for the protagonist. The chords are super easy, too. You get a G, B, C, and Cm all strummed in the same way throughout the song. This is a piece that is worth playing when you want to make fun of yourself
48. You Are My Sunshine by Jimmie Davis
There's no better way to start off this list than one of the most enduring tunes of the 20th century. This song is so popular that Louisiana declared it as one of its state songs. American commercial entities have also used the song's lines in many of their programs. You Are My Sunshine also happens to be one of the most recorded and most covered songs in man's love affair with music.
And you know what? This song is easy to play, too. You only need C, F, and G7. A preschooler can also easily nail the groove. Everything is downstrum. You get four downstrums of one chord before you head to the next chord and do it all over again. It is always best to start slowly until you can find your groove in playing this wonderful tune.
Wrap Up:
That does it for this list! These songs should help you master the art of strumming and fingerpicking a ukulele. These music pieces can also be an excellent way to entertain yourself, your friends, and your family.
Let us know what song you'll be learning next or if there are any you think we should add to this list in the comments below.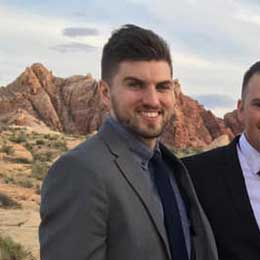 My name is Chris and I've had a passion for music and guitars for as long as I can remember. I started this website with some of my friends who are musicians, music teachers, gear heads, and music enthusiasts so we could provide high-quality guitar and music-related content.
I've been playing guitar since I was 13 years old and am an avid collector. Amps, pedals, guitars, bass, drums, microphones, studio, and recording gear, I love it all.
I was born and raised in Western Pennsylvania. My background is in Electrical Engineering, earning a Bachelor's degree from Youngstown State University. With my engineering experience, I've developed as a designer of guitar amplifiers and effects. A true passion of mine, I've designed, built, and repaired a wide range of guitar amps and electronics. Here at the Guitar Lobby, our aim is to share our passion for Music and gear with the rest of the music community.