Throughout my career, I've come across several aspiring musicians looking to learn the guitar, but aren't sure how to start or go about it the right way. I've also come across an equal number of beginners who are frustrated with YouTube guitar tutorials because they find them sharing incomplete or narrow concepts but not the full picture. If you find yourself nodding to any of the above, then say no more, because I've got you covered!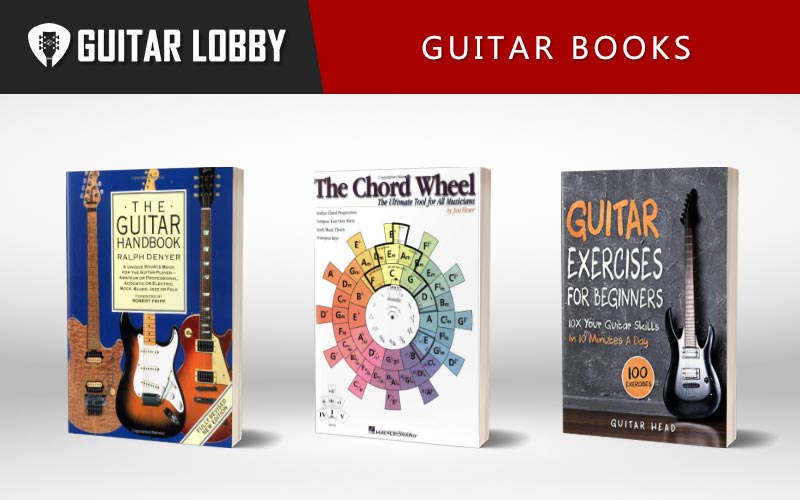 Today, I've put together a carefully curated list of the 25 best guitar books for beginners that will help you kickstart your guitar journey the right way! Being a self-taught musician myself, I've relied on guitar books for several years while building my foundation as a guitarist. And I can safely say that if you are serious about learning the guitar, these books are worth their weight in gold!
List of the Best Beginner Guitar Books
1. Hal Leonard Guitar Method 1, 2, and 3 – Most Popular Guitar Book Among Guitar Instructors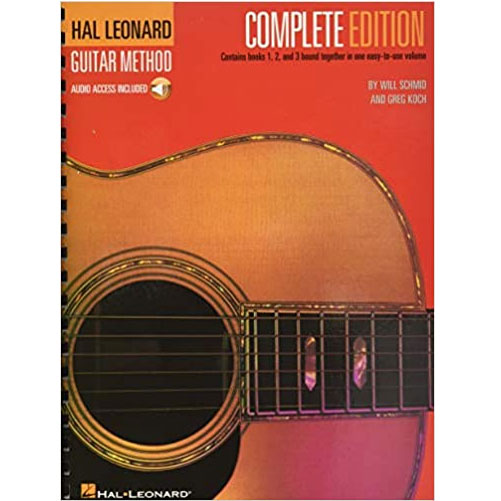 This is one of the most popular guitar books for beginners and is often recommended by professional musicians. In my opinion, it is a solid guitar book for beginners who are just starting out on the acoustic or electric guitar, especially for those of you who are under the age of 20!
The book is a culmination of so many popular guitar and teaching techniques from around the world, and it contains 3 versions. The first part talks about the basics such as tuning, musical staff, basic chords and also contains over 80 songs which are super fun if you're starting out. Book 2 covers a little more complex stuff (which is where you'll have all the fun) like fingerstyle playing, syncopations, some more interesting, complex chords, etc. Book 3 covers a few advanced techniques like major and minor pentatonic scales, shapes which you can move along the fretboard, techniques like hammer-ons and pull-offs.
It also contains a wide range of songs that cover almost any genre you can think of!
The 2002 edition includes online access to 164 full-band tracks for demonstration or for you to jam along. To give you a gist of the wide range of songs it covers, it includes tutorials for tracks such as 12 bar blues rock, Amazing Grace, Hey, Ho! Nobody Home, La Bamba, Scarborough Fair
The best part about the Hal Leonard guitar book is that it has been used by guitar instructors all over the world for a long time and also you can use it to teach yourself. If ever you're lacking inspiration you're always going to want to visit this book at some point and you won't be disappointed!
2. The Guitar Handbook by Ralph Denyer – Most Comprehensive Guitar Book
This book is another excellent one and one of the most versatile guitar books out there. It covers most facets of acoustic guitar and electric guitar playing. It was first published in the '90s, contains about 250 pages. The Guitar Handbook was one of the most popular ones around, especially in the good ol' '90s.
You will end up learning a lot about playing or chord vocabulary, but also about the parts of a guitar, its anatomy, guitar electronics, etc. It talks a lot about recording, the evolution of technology from the '90s as well (always good to know a little bit of history).
You can read quite a bit about legends from that era, Eric Clapton, Jimi Hendrix, Chuck Berry, Pat Methany, Frank Zappa, Jeff Beck, Van Halen to name a few. So if you're a sucker for classics, you know this one is for you!
Even if you have been playing for a while, you know how guitars work and all that jazz, I still highly recommend this book for you. The best part about this book is that it does not contain just guitar theory, techniques, or just a chord dictionary, or the history of the guitar, etc. It is the whole package!
3. The Chord Wheel by Jim Fleser – Best Book For Learning Chord Theory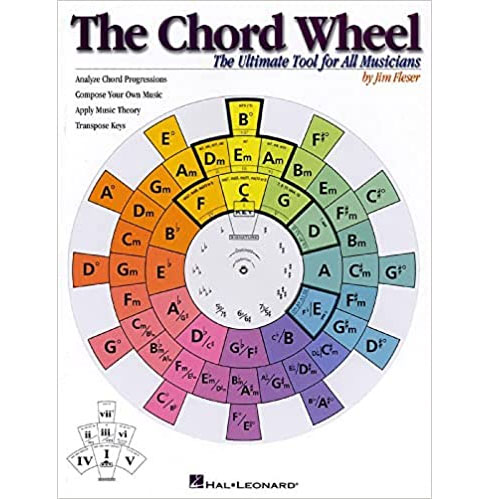 Call me biased but there's nothing that sounds sweeter than when you play a chord on a guitar, compared to any other instrument!
The cover of this book contains the circle of fifths picture with something like a chord watch which is a spinnable wheel and it helps you to easily transpose keys by turning it and instantly tells you the relative chords in a scale. This book covers anything and everything to do with guitar chords. Its lessons are mostly based around the Circle of Fifths. This book helps you understand the practical application of the chords you have learned, the relationship between chords and scales, etc.
Just throwing this out there – that while you can figure things out easily by looking at the Chord Wheel itself, it may not be readily apparent how minor keys work. But they do explain how to do that further down in the chapters – so you're sorted.
So I'd highly recommend this book to you if you are someone looking to expand your chordal knowledge, for example, if you wanna learn how to play the same song in a bunch of different keys. The cool part about this book is it can be used by other instrument players too, not just a guitar player. And also, you don't necessarily need to know how to read music to use this book. This book is great for composers as well, which helps with your creativity if you're stuck in a rut! This is hands down one of the best beginner guitar books and I highly recommend it.
4. Music Theory for Guitarists: Everything you ever wanted to know but were afraid to ask, by Tom Kolb – Best Book For Learning Music Theory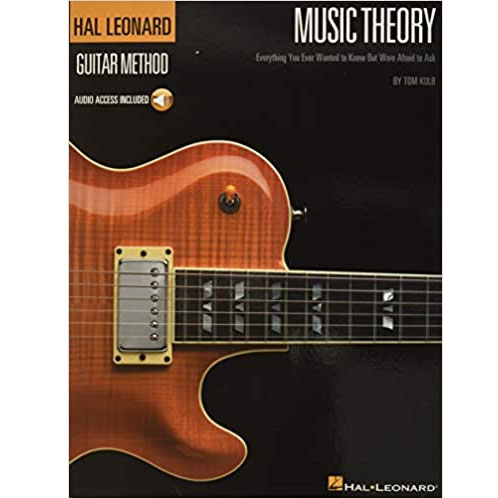 Music theory can be a very intimidating factor for anyone who's new to the field – that's quite natural. This is because the theory is a visual thing that describes something that we hear. It takes time for our brains to process that, initially. This book throws all the scares, myths, and misunderstandings of music theory that one can have, out the window!
This book has tons of audio examples, ear training exercises, which combined with your theoretical study and visual cues will help bridge the gap between theory and playing your instrument. Tom Kolb, also a graduate of Musician's Institute, and a veteran guitar player who's played over 4000 gigs, breaks things down in a very practical and easy manner. You understand your instrument better, without a doubt! The chapters in this book cover, fretboard navigation, chord construction, blues harmony and pentatonic scales, triads, intervals, etc. This book is particularly good for intermediate guitar players!
5. Acoustic Guitar Primer Book for Beginners by Bert Casey – Best Book For Learning Acoustic Guitar Playing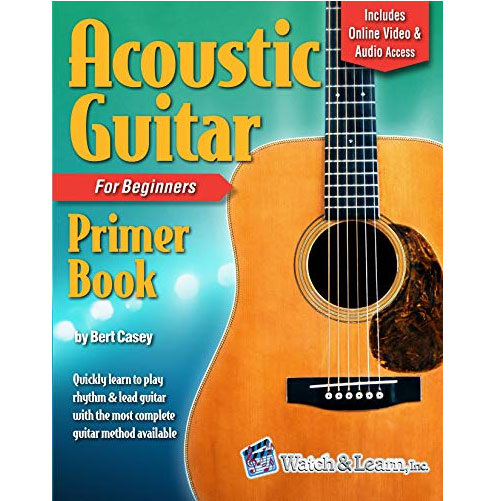 Bert Casey has been a performer for over 35 years and plays a bunch of instruments like acoustic guitar, electric guitar, bass guitar, banjo, mandolin, ukelele, keyboards. He has used this sea of experience to author 8 teaching books. He's revolutionary when it comes to instructional courses!
This is a book that has been voted by The Rolling Stones magazine as one of the top 3 guitar books for beginners. There's a reason for that because every aspect of it has been specially designed and written for absolute beginners. It is also one of the more affordable books out there. It takes you step by step through the basics of rhythm guitar and lead guitar playing.
It contains a bunch of instructional videos, notes, guitar tabs, audio material, chord charts, and much much more. It also has features where you can play the audio files at 3 different speeds, which makes it easier for beginners to closely listen and learn. Bert Casey is known for his simplified, easy-going, soothing methods of teaching. It also comes with 22 songs for you to play along to. This book also takes you through the basics of country and bluegrass guitar playing.
6. Guitar exercises for Beginners by GuitarHead: Best Book For Learning Guitar Exercises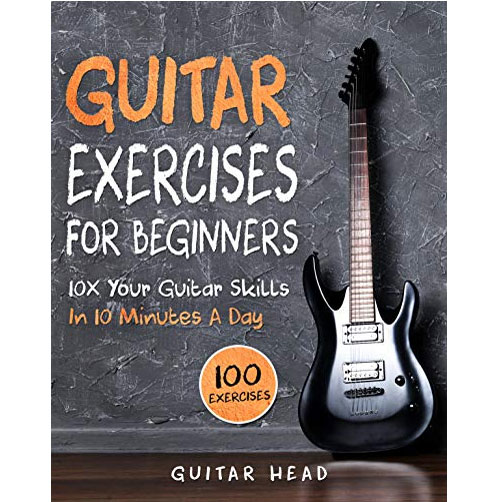 Have you spent weeks or months without progress? Are you frustrated that you're putting in the effort but things don't seem so interesting anymore? Then this GuitarHead book might just be what the doctor ordered.
This is a lovely book which contains two versions. GuitarHead is an author known to simplify complex techniques and turn your boring practice sessions the other way. They show you the right way of doing things and also the wrong. Every exercise you have on this book is also available as an audio file on theguitarhead.com so you can hear what you play and judge things yourself. GuitarHead addresses all the basic problems which generally go unnoticed as a guitar player, beginner, or advanced alike. (finger fatigue, finding your right tone, tightness in your groove, etc)
This book covers a lot of music theory, hand and finger independence. The content is concise and clear, super easy to understand and apply!
This book contains 140 pages and is also perfect for you to use as an add-on to support your regular practice sessions. It will get you strumming in no time!
7. Learn how to play the Guitar, by Nick Freeth – Best Illustrated Guitar Book For Beginners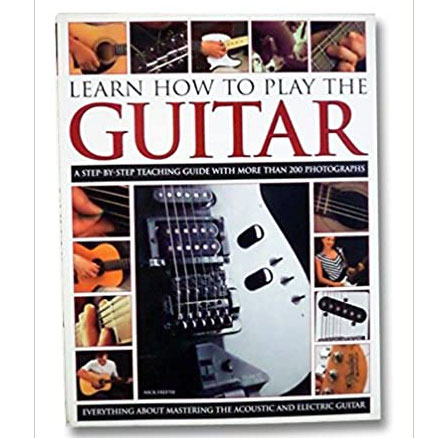 I might be just a teeny tiny bit biased here – this was my first ever guitar book, and I pretty much taught myself using this book. That's why, let me tell you from personal experience, that this is one of the best guitar instructional books of all time!
What hooked me to this book is that it simply covers so many facets of the guitar. It starts off with helping you to buy your first guitar, choosing your first guitar amp. Then it takes you through basic playing skills, like tuning, preparing to play, basic music theory, scales, and beyond, etc. It contains a bunch of exercises which if done properly and with a bit of patience, you're guaranteed to master this instrument!
This book is also where I fell in love with the blues. It introduces you to different blues legends. There is a whole chapter introducing you to the basics of Blues music, 12-bar blues, diminished and augmented chords, bending techniques to name a few. It further takes you through a few more advanced techniques like fingerpicking, Drop 'D' tuning, Open 'E' and Open 'G' tunings, Harmonics, etc. This book covers easy education, lots of theory, fun learning experiences, music history, and much more. In my opinion, this book is the real deal!
8. Zen Guitar by Philip Toshio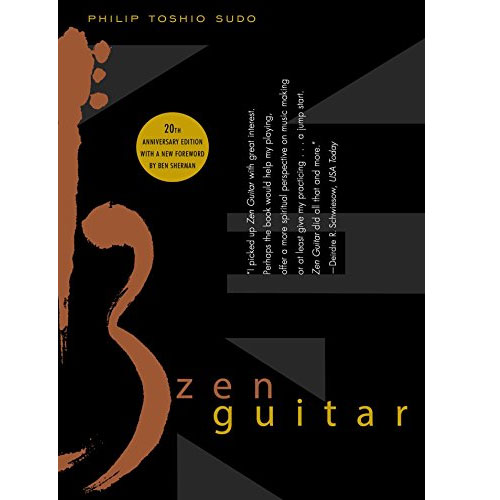 Some professional guitar players and teachers argue for this to be one of the most useful guitar books ever. Zen Guitar not only covers crucial concepts but also motivates you by sprinkling inspiring quotes all throughout the book. If you have read it once, I guarantee that you're going to want to read it again!
This book does not contain any musical notations or chord diagrams. Yes, you read that right! But it is a book with an interesting flair. It is not a technical manual on how to play, but it is more a manual for your mind, body, and soul. It teaches that everyone's got the music of their own and everyone's unique. Zen Guitar teaches you music in a very refreshing, redefined way, and has interestingly got a few eastern methods of teaching too!
This book will push you to get out of your creative block, it talks about everything other than conventional playing. This book will push you to master your instrument. You don't just look at the guitar as an instrument, but it helps you to see the guitar as an extension of yourself. Beaut? Philip Toshio, you've created something special for us! Overall this is easily one of the best guitar books for beginners!
9. Guitar Fretboard Workbook by Barett Tagliarino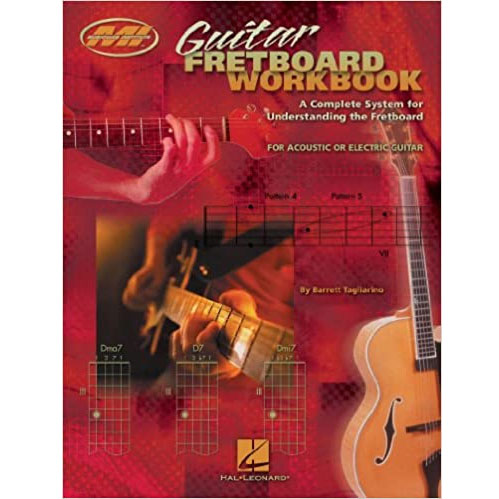 Barrett Tagliarino is a Musician's Institute graduate, and has released 3 solo albums during his career, and has served as Editor/Author of 100's of Hal Leonard projects. He is also the author of instruction books and DVDs. Barrett has shared the stage with Severin Browne, John Zipperer, and Dave Morrison to name a few. His specialties include improvisation, theory, blues, rock, and jazz.
The Guitar Fretboard Workbook contains 219 pages and is the perfect book that teaches you how to navigate the fretboard without overwhelming you with a lot of theory or technical information. It contains short lessons which you can execute within 20-30 mins. Music is supposed to be fun and not hectic.
This book will help you fit in exercises between your day, quite easily. It teaches you different modes, a little more advanced chord theory, slash chords, etc. It does not cater to only beginners but also slightly advanced guitar players. Because it teaches you everything in chord and leads guitar playing, without teaching you those 'cool' riffs which make you feel like a rockstar. It is more practical, you'll make up your own cool riffs in no time! Once you are done with this book you'll be able to play anywhere on the guitar without thinking!
10. Guitar Book for Adult Beginners by Damon Ferrante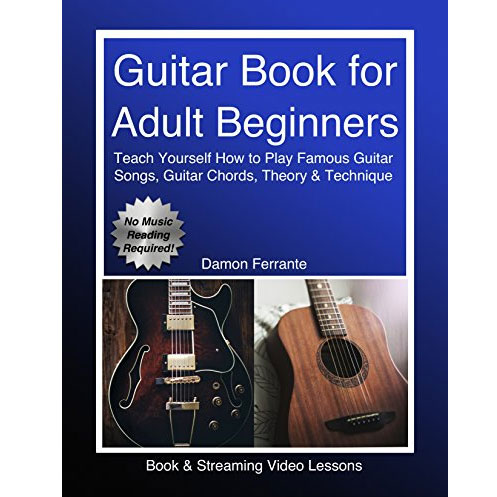 Most adults I've seen who are starting off freshly on an instrument are super intimidated by it. Finger fatigue is quite common. The most common line that we hear is ''I'm too old for it''. Which is absolutely in the head. You're never ever too old to learn an instrument and this book helps you out and shows you how it's done.
This book contains 111 pages and the methods that music professor Damon Ferrante uses in this book are super easy to follow. It teaches you a lot of famous guitar songs and will help you increase your repertoire. There is a bit of everything for everyone in this book, beginners to advanced guitar players alike. It contains multiple sources of information and comes with a bunch of video instructions as well. The exercises in this book will help you to comfortably improve your finger strength and be much more comfortable holding down notes for longer.
11. Teach Yourself to Play Guitar by David M Brewster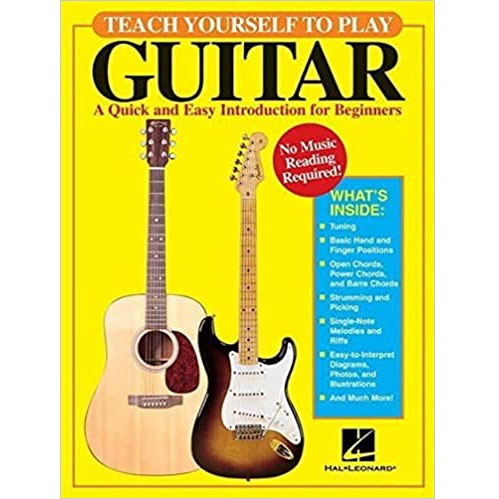 This book by David M Brewster, a graduate of the Atlanta School of music and a multi-instrumentalist, is an easy-to-read, practical, quick, and effective book targeting students who are absolutely new to music, let alone guitar! While it covers basic music theory, techniques, it does not dive deep down into all that jazz.
It is super easy to teach yourself using this book! This book teaches you major and minor scales, pentatonic scales, power chords, barrė chords, hand and finger positions, and also covers a variety of genres like classical, folk, country, rock, etc. And comes along with some easy to the eye, photo illustrations, diagrams, and much more. You are gonna be so sorted if you start with a formal guitar teacher after finishing this book!
David M Brewster has written books for other instruments too. Some other books authored by him are Introduction to Guitar Tone & Effects: A Manual for Getting the Best Sounds from Electric Guitars, Amplifiers, Effects Pedals & Processors, and Essential Elements 2000 for Strings Plus DVD: Violin (#1).
12. Ultimate Guitar Chords, Scales and Arpeggios Handbook by Damon Ferrante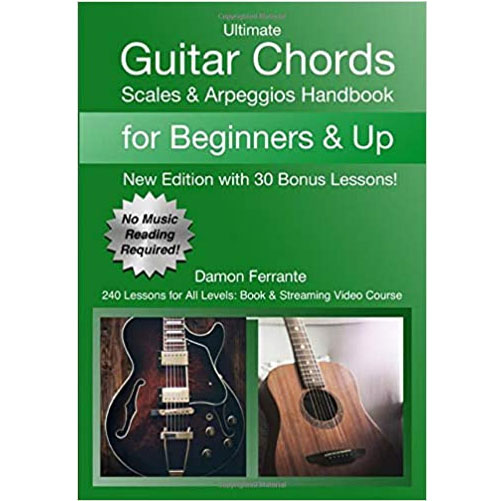 This is another killer book by Damon Ferrante. You are getting about 5 years of experience all wrapped into one book. And all for a super affordable price. I'd call that a steal. This book covers all of the basics, music theory, fretboard theory, chord theory and it is in lesson-based format. It is also extremely useful for people playing the piano cause it covers material in a general format and is not only limited to guitars. Every lesson is clear and easy to understand.
Damon Ferrante is particularly known for setting up instructional courses to be easy and fun. This book is slow-paced, he makes sure the book doesn't overwhelm you with loads of information. It also has constant repetition, which helps solidify whatever you've learned. You learn your scales in detail, and you can also jam along to the tracks which come with the book. If the fretboard is like greek and Latin to you, this book is gonna help you in no time.
13. Guitar for Dummies by Mark Phillips and Jon Chapell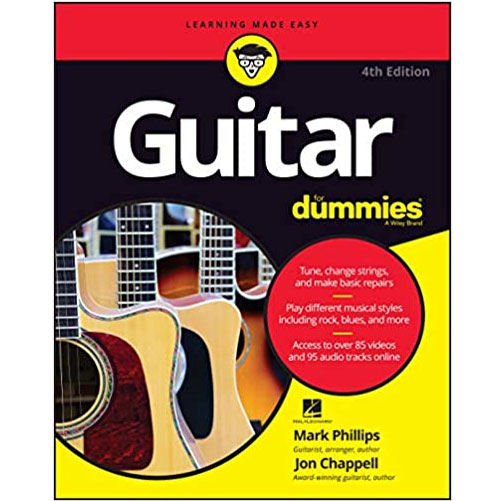 Mark Phillips is an author, arranger, composer, and guitarist with an experience of more than 40 years in the publishing field. In the '70s and early '80s, he was the Director of Popular Music at Warner Bros. Publications, where he edited and arranged the songbooks of artists like Neil Young, James Taylor, the Eagles, and Led Zeppelin. He has also worked with legends like John Denver, Metallica, Guns and Roses, Van Halen, to name a few. He has got tons of experience taking classes in ear training, sight-singing and counterpoint.
This 4th edition of this book has scrapped DVD's and now you have audio clips and a bunch of online material. This book is also massive with 400 pages, which tells you that once you're done with the book, you're gonna be way ahead of where you were when you started off. It is also not targeted just for beginners but covers a wide range of theory and stuff for the intermediate guitar player too.
You have access to more than 80 videos and 35 audio tracks. Guitar for Dummies takes you from the basics to helping you with picking your guitar, to helping you 'sound cool', to cover a lot of genres like rock, jazz, blues, and country as well.
14. How to Play Guitar: Everything You Need to Know to Play the Guitar by Roger Evans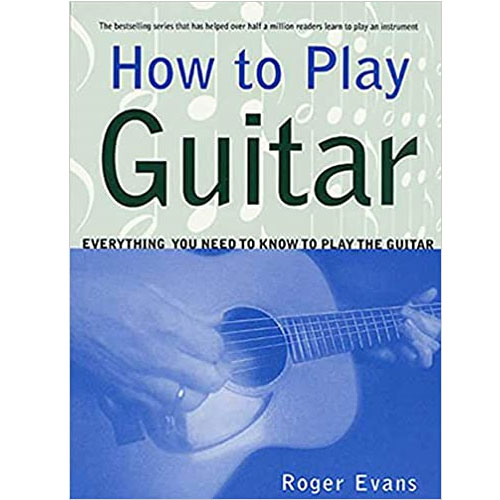 Ok, a disclaimer first – ''How to Play the Guitar' does not contain a CD or any online material and is very text-heavy, and this might be a little intimidating for some beginner guitarists. However, if you stay with it with a little bit of patience, you will realize that there is a wealth of information and it covers pretty much everything you need to know. Anything you have trouble with as a beginner, you are gonna find your problems answered through this book.
Whether it's how to go about choosing your first guitar, how to tune your guitar, playing melodies with chords, chord and fretboard theory, open tunings, or even technical issues that you might face with your guitar. – it covers them all. It is a book suitable for anyone, whether you're a beginner, intermediate, or advanced player. With patience and efficient practice, you'll be strumming tunes in no time.
15. Guitar Aerobics by Troy Nelson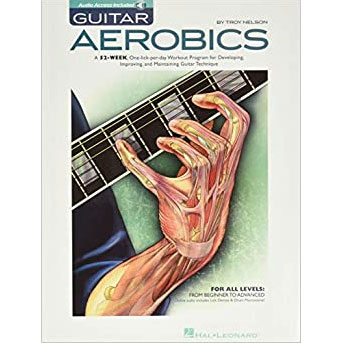 Written by none other than the ex-editor of Guitar One magazine, this was a hit and the #1 bestseller and is a super interesting book. It has 365 exercises in a row, you have no excuse, you can do one exercise a day, for the rest of your life. These exercises will solidify your fundamentals, improve your hand dexterity, help build your muscle memory, and get all your basic techniques right. It starts off with simpler licks and after a few hundred days you're gonna be getting a few more complex ones. It also contains audio for every single exercise, which will show you exactly how you are supposed to sound.
If you are one of those people who are lazy with practices, you play the same set of songs for your practice sessions, this book is gonna be a boost. It contains 114 pages and is sure to increase your skillset. This was Troy Nelson's first book, published in 2005 and it has sold over 1,50,000 copies worldwide. Troy Nelson has published a large number of popular instructional books, and his simple attitude to approaching making content has been, giving the reader what he/she wants, making it instructional but also fun and appealing.
This is not the only book he has written – in fact, he's authored a bunch of other popular books namely Fretboard Freedom, Master Pentatonic Scales for Guitar in 14 Days, One-Man Guitar Jam, and Learn 14 Chord Progressions for Guitar in 14 Days.
16. Teach yourself Visually, Guitar by Charles Kim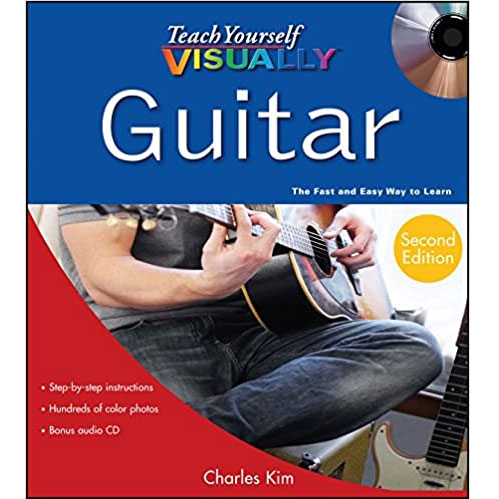 Charles Kim is a renowned guitarist and educator and he teaches guitar, songwriting, and music theory at Chicago's Old Town School of Folk Music. This is a lovely book for beginners. This is quite a popular guitar book which is quite similar to the teaching methods of 'Guitars for Dummies' which we read about earlier. It takes you through a wide range of topics, like Parts of a guitar, How to hold a guitar properly, What amp to choose, simple, popular songs to strum, hammer-ons, barre chords, and so on and so forth.
It contains 100 audio files for you to jam to. This book not just tells you what to do, but also why you're doing certain things. This book is well illustrated and is a great starting point, and is a great resource to accompany you through your musical journey.
Quick Tip: Always practice slowly when you're starting out on a new exercise, or if you're struggling with a specific section. Once you're comfortable, slowly up your bpm.
17. Guitar Fretboard: Memorize the Fretboard in less than 24 hours: 35+ tips and exercises included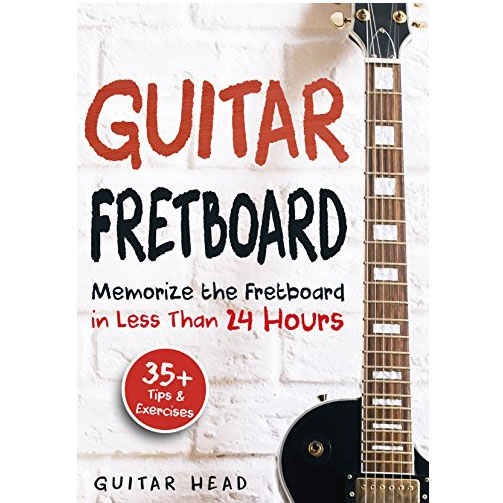 Memorizing the fretboard and building your muscle memory on the guitar is one of the biggest challenges faced by beginners and advanced players alike. It is a super underrated skill. It helps you in so many musical scenarios, whether it is songwriting, improv solo-ing with a band, figuring out shapes, memorizing the fretboard is a must.
This book is a cheat code to achieve it and takes you step by step through the process in quite a fun way, and if applied properly, you'll memorize the fretboard in no time. To give you a glimpse, one example from the book is memory phrases like ''Eddie Ate Dynamite, Good Bye Eddie''. Any guesses what this is? The first letter of each word is the order of the open strings on the guitar, (E, A, D, G, B, E).
It covers alternate tunings as well like D, A, D, G, A, D…D, A, D, F#, A, D, etc
A lot of vastly experienced musicians as well have held this book in high regard, quoting that they visit this book from time to time for inspiration and it never fails!
Personalities like Jacob Neuman have gone on record to say, while he thought it was a gimmick, he was mind blown at how with very little practice he was able to name every note on the fretboard!
18. Creative Guitar 1 and 2, Cutting Edge Techniques by Guthrie Govan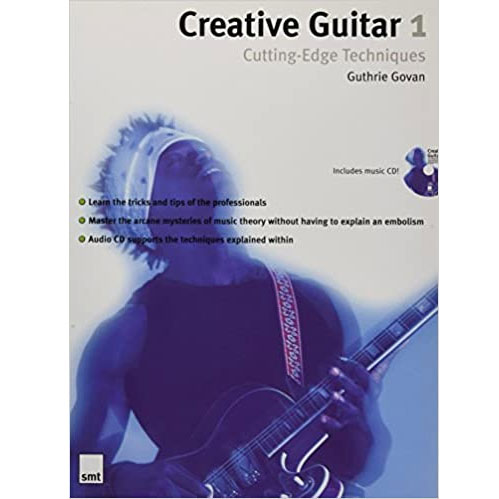 Modern-day legend and one of the best guitarists of the current generation, Guthrie Govan. He's a phenomenal guitar player from a technical aspect and also feel-wise. He is known for his work with bands like The Aristocrats, The Young Punx, GPS, and has also worked with legends like Hans Zimmer, Steven Wilson. Govan was named "Guitarist of the Year" by Guitarist magazine in 1993. He has also got tons and tons of teaching experience.
Creative Guitar 1 focuses on solidifying your fundamentals, it does not contain too many pictures of Guthrie playing. It is mostly text-heavy but the way Guthrie talks is sure to keep you super hooked onto it. It talks about guitar tone, techniques, finger pain, tuning, etc. It gives you an introduction to the CAGED system, pentatonic scales, modes, etc. If you are someone who is already quite sorted with your basics, this book might not be for you. Check out book 2.
Creative Guitar 2 contains 126 pages and it focuses more on slightly advanced stuff like sweep picking, alternate picking, emulating other instruments, breaking the rules (playing 'wrong' notes), etc. This is relatively a very modern guitar book. It is almost like the first book leads you into the second book. Guthrie Govan has been an absolute master with writing killer guitar riffs especially, this book will definitely give you more than a sneak peek into how his mind works, and how he writes them. I recommend this book to guitarists who are solid with their fundamentals and are looking to step up their guitar game. Creative Guitar 1 and 2 is just like a private lesson from the master himself!
19. The Guitar Player Repair Guide by Dan Elwine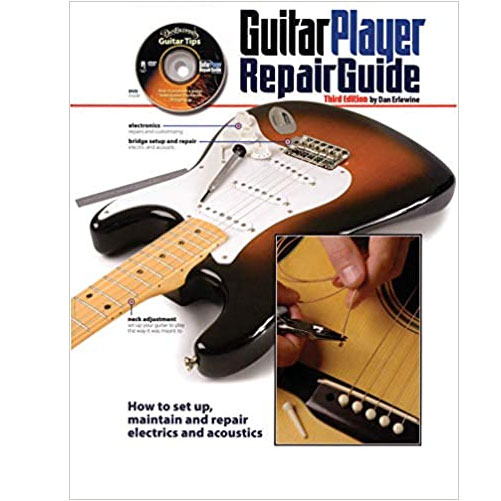 Dan Elwine is a super popular, widely respected guitar luthier, repairman, and guitar builder. He is a pioneer and an inspiration to many luthiers all around the world.
I'm glad a book like this exists! Most people, especially beginners, don't pay much attention or are uneducated about maintaining and repairing a guitar. This book covers everything from A to Z with set up, maintenance, and repairing acoustic, electric, and bass guitars.
If ever you have an issue with your guitar, (Rattling or buzzing of hardware as you play, intonation issues, swells, and cracks, etc) the table of contents helps you easily troubleshoot, navigate and easily find your issue and fix it. If you are a beginner or an intermediate guitar player you will find everything in this book to look after your guitar, which you can also kinda use as your guitar manual. Dan Elwine is clearly an expert on the blues. This book contains a lot of information talking extensively about the guitar setups of blues legends like B.B King, Stevie Ray Vaughan, Buddy Guy.
Please take care of that beautiful guitar of yours!
20. Atomic Habits by James Clear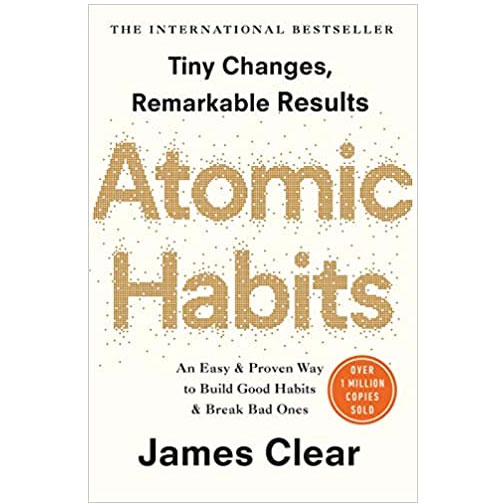 Surprised to see a non-guitar book here? Don't be. Being a musician is not just about playing your instrument, but also about your attitude towards your instrument and your performance. While this book might not contain much technical guitar information, this is equally as important as any guitar book. Purely psychological.
As instrumentalists, we go through hours, days, months, and years of practice to get to a point we've been dreaming of reaching. And to get there you have to be habituated to the right way of practicing. A lot of times, whether you are a beginner player, or an advanced guy you're gonna be in phases where you've not even realized you've been going about your routines the wrong way.
Great musicians have got to wherever they are in their careers by setting a structured practice routine, setting up goals, sub-goals and patiently working towards it. This book will keep you in check, help you get better and focused on your craft, and help you unlearn all the wrong methods. It will help you maintain a solid practice routine and define your goals. You have a lot of life lessons too which you can take away from this book.
This book has garnered rave reviews by Financial Times, The Time, Fast Company, and Mark Manson (author, Subtle Art of Not Giving a F*ck) to name a few.
21. A Modern Method for Guitar Volumes 1-3 by William Leavitt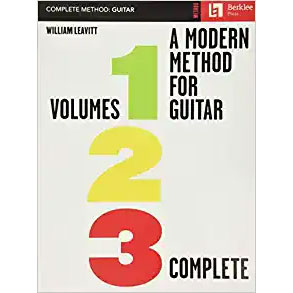 This book, published by Berklee School of Music, in 1999, is more of a technical book. As it is from a very renowned music school, the methods are about serious musicianship. It is not too bad to learn how to read sheet music, right? Playing notes that are kept right in front of you, will only make you a better instrument player and will also help you fit into much more complicated musical scenarios.
This monster book with 432 pages, stresses a lot on sight-reading. It'll help you master melody, harmony, and rhythm. Unlike the other guitar books, this book does not contain all the top popular songs, and slightly less known ones, which does not allow you to cheat by knowing the melody! It also contains exercises where there are duets, the student plays the melody and the teacher plays the accompaniment which is slightly higher on a difficulty level. But it makes it so much fun right?
I guarantee that this is a book which you are gonna use for a very long time!
22. Fretboard Logic SE, Volumes 1 & 2 combined by Bill Edwards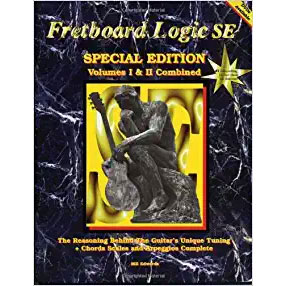 This book is known as the Fretboard Bible. It revolves around unique tuning systems. This is a book that, in my opinion, should be owned by all guitar players. This is a book that is primarily based around the CAGED system of playing. It explains why a guitar is tuned a certain way. (Never thought of that, have you?)
John Gilmore has gone on record to say that his world has been changed, after reading this book. Tony Beltram cannot stop praising this book enough, stating that his musical goals have got clarity and are within reach, after reading this book. You find a voice and a style of your own after going through this book!
TIP for any musician: You'll find loads of material in today's world, which teaches you music theory, techniques, tricks, etc. Learn your basics, but at the end of the day BE YOU!
Go ahead and break the rules and try out something different, and see what magic you produce!
23. VAIDEOLOGY, Basic Music Theory For Guitar Players by Steve Vai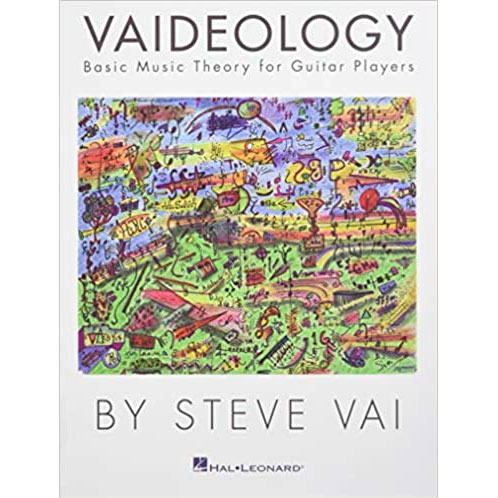 This modern-day legend needs no introduction either! Steve Vai who is a 3 time Grammy Award Winner, started his career in 1978 at the tender age of 18, working as a transcriptionist for Frank Zappa in his band. Throughout his career, he has recorded and toured with legends like David Lee Roth, Ozzy Osbourne, Alcatrazz, Whitesnake, etc. Steve Vai himself is a graduate of Berklee College and also has been tutored by legends like Joe Satriani, Frank Zappa, John McLaughlin, Jimmy Page.
Vai, despite being a lover of music theory, believes that it is not to be solely stressed upon, rather to be an effective musician you have to go deep into your creative, inspired space, and express it with zero excuses.
Vaideology was named as the top pick in Guardians of Guitar 2019 NAMM. Priced at 18$, this book is known for extensively covering both the theoretical as well as the experiential learning aspects of the instrument.
Not only will you gain a deep academic knowledge of the guitar, but will also learn how to absorb all those concepts, internalize them, and most importantly, apply them in your own playing. It covers key signatures, circle of fifths, polyrhythms, harmonics, rhythm guitar playing, transposing instruments, articulation and dynamics, reading and writing music, and so on. You will not be disappointed!
24. Advancing Guitarist: Applying Guitar Concepts and Techniques by Mick Goodrick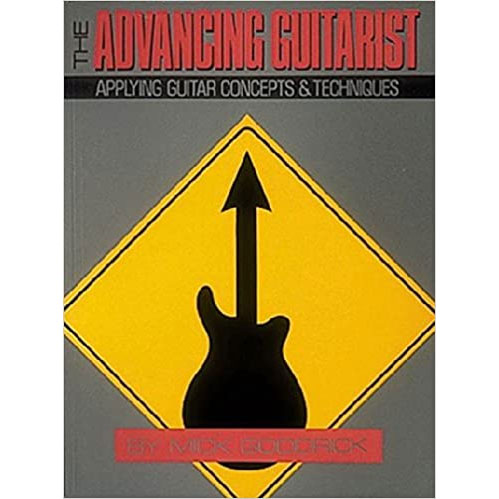 Mick Goodrick is a veteran musician and an author of multiple instructional books.
Mick is extremely funny and you can see his massive love for the guitar in this book. This book has a slightly unconventional approach to teaching and does not take you step by step, in a slow manner unlike the other books, but it focuses on mastering theory and technique in a more efficient and practical way.
Despite being just 120 pages, there is a lifetime's worth of information in this book. It teaches you a lot with regards to improvising on the guitar, and also much more complex modes, scales, and chords. As the title says, this book is not for the lazy, intimidated, ''too qualified to learn'' guitarist. It is for those who want to master the guitar and are ready to put in the hard hours and reach a much higher zone of playing.
25. The Best Guitar book for Beginners: How to Read Music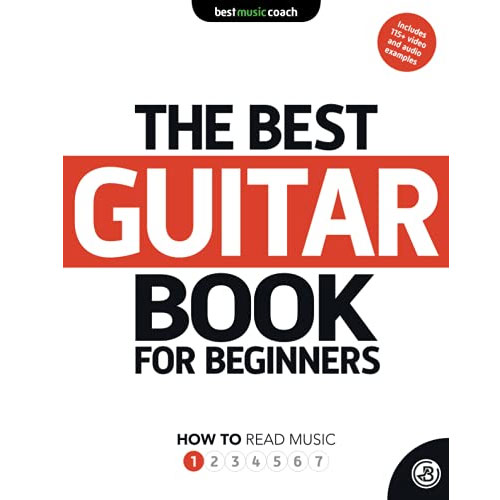 Published in 2021 and authored by the famous music expert Dan Spencer, this is one of the newer books out there and has been voted as #1 in so many categories. It has also been suggested by tons of guitar teachers and educators. It contains 122 pages and 119 instructional videos which will guide you and help you compare sounds. A sea of information and a lot of modern methods for you. It is meant for the absolute beginner and topics to move at a good pace.
This is not specifically suited for guitarists who want to go in-depth with their study of music theory and take their playing to more complex avenues, but meant more for students who are just starting out and want to just play for fun, for personal enrichment. This book lives up to its title!
3 Important Tips On How To Make The Most Of Guitar Books
Before I share the list of my favorite guitar books, I want to share some tips that helped me stay disciplined while learning from guitar books myself. Here are some of the golden tips that can be very helpful:
Always practice with a metronome: This little habit will help enforce a rock-solid steady beat for you to practice over. Over time, it will do wonders to strengthen your sense of rhythm.
Set aside some time every day for practice: Like any worthwhile pursuit in life, learning the guitar is all about putting in effort on a consistent basis. Even if you have a busy schedule, I'd much rather you spend 15 minutes every day rather than putting in 2 hours once a week. It's the regular exercises that will build your skills.
Start slow with the exercises: When you first come across guitar exercises, it might be tempting to play them fast. But speed without clarity will not help build your skill. It's much more important to play slow enough to play each note clearly, rather than speed up and go sloppy. So start slow with each exercise by setting your metronome at a comfortable BPM (beats per minute) and then slowly build up your speed.
Final Thoughts
If you're serious about learning your way around the guitar, you don't necessarily need a teacher. You just need a decent, well-made guitar and one of these books to start your journey right! But most importantly, you need patience and determination to put in the work consistently. Trust me, you'll surprise yourself with how far you come with these little habits! Oh and I can't stress this enough – make sure you practice with a metronome! I hope this blog gave you an idea of what books you could go for. If you ask me, I prefer things a little old school. Books > Internet. – any day!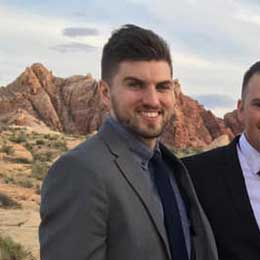 My name is Chris and I've had a passion for music and guitars for as long as I can remember. I started this website with some of my friends who are musicians, music teachers, gear heads, and music enthusiasts so we could provide high-quality guitar and music-related content.
I've been playing guitar since I was 13 years old and am an avid collector. Amps, pedals, guitars, bass, drums, microphones, studio, and recording gear, I love it all.
I was born and raised in Western Pennsylvania. My background is in Electrical Engineering, earning a Bachelor's degree from Youngstown State University. With my engineering experience, I've developed as a designer of guitar amplifiers and effects. A true passion of mine, I've designed, built, and repaired a wide range of guitar amps and electronics. Here at the Guitar Lobby, our aim is to share our passion for Music and gear with the rest of the music community.