The tone of your guitar is a result of several factors including body shape, strings, and pickups. But the tonewood used in your guitar's fretboard, neck, and body also plays an important role in what your instrument will sound like. Given the several different types of guitar tonewoods available, it can often be tricky to tell them apart and pick the one that best fits your musical and playing style.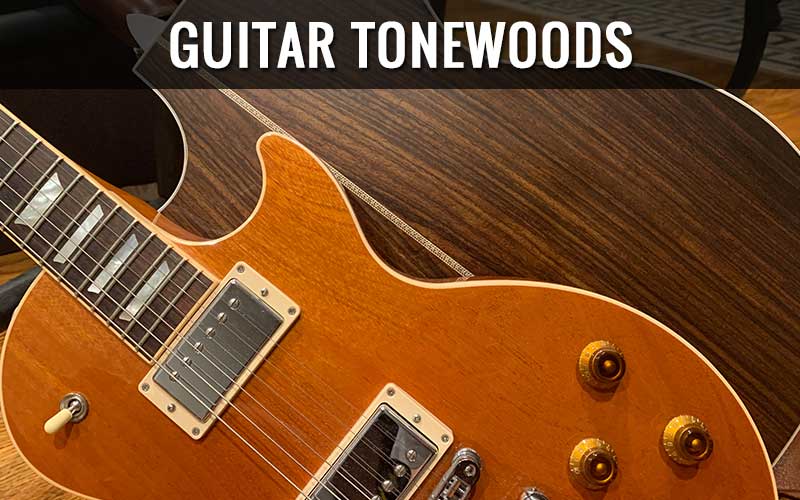 That's why we've put this guide together. We discuss the most popular tonewoods and what they look, feel and sound like. If you're looking for more general knowledge about what tonewoods are and how they affect your guitar, this comprehensive electric and acoustic guitar tonewoods guide is for you.
Here Are the Different Guitar Tonewoods
1. Rosewood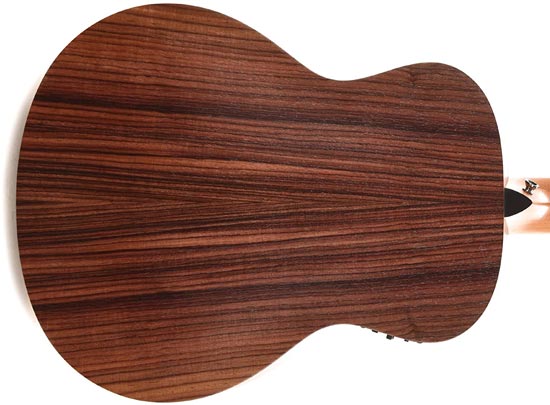 | | |
| --- | --- |
| Tone Type | Warm, clear with excellent projection and resonance |
| Density | Hardwood |
| Color | Dark brown |
| Best Used For | Fretboards, back & sides |
Overview: The king of all tonewoods, Rosewood has been used by almost every guitar maker to craft many of their best sellers. While the most commonly used rosewood is of East Indian origin, the Brazilian variety is more sought-after for its strikingly dark appearance and rich, crystal clear tone.
Brazilian rosewood was earlier so widely used that it became endangered and is no longer available for commercial use. The more economical and accessible Indian rosewood has a slightly different grain pattern but sounds just as clear and bright as the Brazilian. This luxurious and dark tonewood is typically used on fretboards or back and sides of acoustics.
Appearance and Physical Properties
What stands out about rosewood are its distinctive dark brown looks with hints of rich orange found in the Brazilian variant or purple and red highlights of the Indian variety. The wood further darkens with aging, becoming a beautiful deep brown over time.
Rosewood is relatively dense and has a grain pattern that is straight and interlocked. It is also very porous and needs a great deal of care while applying lacquer coats. The wood is very enduring and highly resistant to termite attacks.
Ideal for
Since this tonewood is rare and expensive, it is generally used to craft fretboards and bridges. Rosewood is also great for building back and sides and is often seen on high-end flat-top acoustics. According to many guitarist enthusiasts, a spruce top and rosewood body is a dream combination of acoustic guitar tonewoods, to create the perfect all-rounder guitar.
Rosewood is rarely seen in solid-body electrics except for some Stratocasters and the famous Rosewood telecaster played by George Harrison. When it comes to playing styles, this tonewood is wonderfully suited to most, whether you are finger-picking, flat-picking, or strumming.
Impact on the Tone
Rosewood is loved for its ability to deliver deep lows and bright, sparkly trebles with astounding clarity. It is highly resonant with complex and rich overtones. However, the impact on tone varies a little depending on the usage and pairing with other tonewoods.
A rosewood-mahogany combination can produce a good mid-range with complex highs and thick, creamy lows. If put together with maple, the sound you'll get will be more warm and sweet, with sparkling highs and thick lows.
2. Mahogany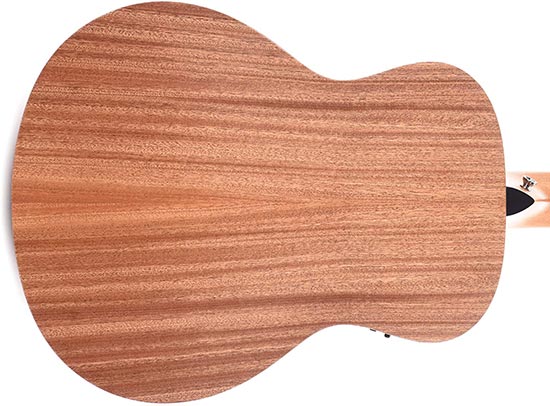 | | |
| --- | --- |
| Tone Type | Warm, well-balanced with low-mid emphasis |
| Density | Hardwood |
| Color | Reddish brown |
| Best Used For | Necks, back & sides |
Overview: A prized material to craft back and sides, Mahogany is loved for its ability to produce a beautifully well-balanced tone. The wood is dense, long-lasting, and very easy to work with. Its superb mid-range and depth add warmth that mellows brighter sounding tops such as spruce wood.
Mahogany was quickly embraced by the guitar world as a good alternative to the extremely popular rosewood and, in particular, is one of the most popular electric guitar tonewoods. It shares the impressive dark appearance and durability of rosewood but is more economical and easier to get. The most used variety of mahogany is harvested in Africa and Central America. This rich dark reddish-brown timber is perhaps one of the best all-around tonewoods for its stable feel and woody, resonant sound.
Appearance and Physical Properties
Treasured by luthiers for the ease of carving and shaping, Mahogany is a builder's dream. Sharp tools glide through in a swift motion to sculpt this fairly dense, stiff, medium-to-heavy wood.
Mahogany also scores in the looks department with its hard-to-miss reddish-brown color with a fine and even grain pattern. As it is an open-pored wood, it requires grain filler before applying any finishing compound. Open grain also means that, like rosewood, it will produce a warm and punchy tone with a prominent mid-range. Mahogany is also favored for its rot resistance and reduced risk of warping.
Ideal for
Mahogany's stability and remarkable lifespan have made it a staple tonewood to craft most acoustic guitars' back and sides. It works well when paired with brighter tonewood tops, especially the industry favorite, spruce wood.
The sound is beautifully balanced with plenty of punch and crunch. Mahogany's stability and warp resistance also make it a popular pick for guitar necks. The wood's large and open pores give it more responsiveness than maple necks.
Impact on the Tone
If a guitar sounds woody and earthy with a strong midrange character, it would most likely have mahogany in some or all of its build. The tonewood is known for its soft, warm tone with a surprisingly good grind and bite.
As mahogany ages, the sound becomes more colorful with more prominent overtones. In short, Mahogany's well-balanced tone with thick lows, controlled highs, and a meaty mid-range make it well suited to a wide range of players and varied styles.
3. Spruce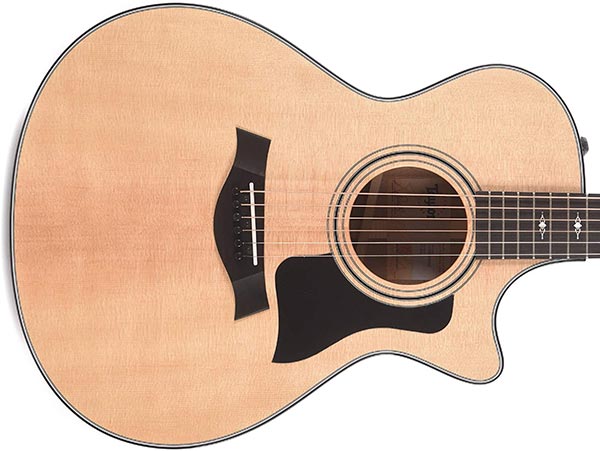 | | |
| --- | --- |
| Tone Type | Bright, immediate, and balanced |
| Density | Softwood |
| Color | Creamy white to pinkish light brown |
| Best Used For | Tops |
Overview: A superstar tonewood for creating guitar tops, spruce never fails to amaze and enthrall with its bright, crisp, and powerful sound. The wood's broad dynamic range and balanced tone work well with any style of playing. While many spruce varieties are used in guitar construction, Sitka, Engelmann, and Adirondack are the most common ones.
All three varieties are lightweight yet strong with an immediate, articulate tone. Engelmann spruce is slightly lighter with more flexibility and a robust, mature sound. With the stiffer Adirondack, players can enjoy a bolder, clearer, consistent sound, making it perfectly suited for an aggressive attack. Adirondack was the spruce of choice for major guitar makers, but the wood's over-harvesting has now made it a rare and expensive option.
Appearance and Physical Properties
Spruce's low density backed by high stiffness is the reason for its undisputed popularity for guitar soundboards. This ideal balance of lightness and strength makes spruce tops sturdy, loud, and resonant.
Looks-wise, you can easily spot spruce with its pale color. The wood varies from a creamy white to pinkish light brown and is usually tight-grained. However, Adirondack's wider grain gives it a brilliant tonal complexity which is lacking in other varieties. As they age, spruces tan a bit, resulting in a more yellowish hue over time.
Ideal for
Spruce is the eternal favorite for guitar tops and for a strong reason. Ideal acoustic tops should be sturdy enough to sustain the pressure levied during playing and at the same time low in density for greater resonance. That is where spruce delivers. It projects and amplifies your music, whether you choose to strum aggressively or fingerpick.
Impact on the Tone
In the versatility department, spruce shines. Its wide dynamic range and clear, powerful projection can generously accommodate a range of playing styles and musical genres.
Sitka is the most widely available, well-rounded tonewood that responds well to both subtle playing and aggressive strumming. When it comes to more complex overtones, Engelmann does quite well but lacks strong fundamentals of Sitka. Adirondack, the king of spruces, has the best of both worlds. It is heavier and stiffer than others and produces greater overtone as well as excellent projection.
4. Maple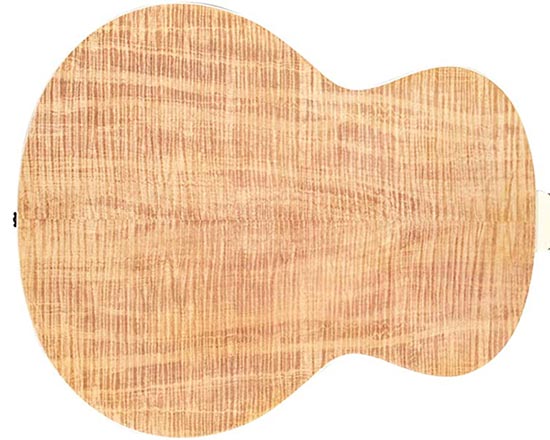 | | |
| --- | --- |
| Tone Type | Bright, transparent with tight lows |
| Density | Hardwood |
| Color | Light golden |
| Best Used For | Necks, back, and sides |
Overview: Let's talk about Maple, a great tonewood that for some reason does not enjoy the same fame as rosewood, mahogany, and spruce. Big on looks, maple dazzles, with its gorgeous light golden color and a wide variety of grain types. It is a very dense and heavy tonewood with a quick note decay and perhaps, for this reason, used for the back, sides, and neck instead of soundboards.
This hard and heavy wood produces exceptional tonal clarity and is perfect for live gigs without the hassle of feedback issues. Eastern hard-rock and western big-leaf are the most common types of maple being used these days. Maple is also admired for its range of dramatic grain figures, especially the flamed, quilted, and bird's eye patterns which are often used to up the visual appeal of a guitar.
Appearance and Physical Properties
Maple spices up the beauty quotient of a guitar to such a level that many ends up buying one on sight alone. And who could blame them? It is a stunning wood with a light golden color and striking figuring patterns. It is sometimes stained a darker shade to add contrast against the also light-colored spruce.
Maple is a dense hardwood which gives it a strong fundamental with fewer overtones. It has a high level of internal dampening resulting in rapid note decay. The wood is also favored for its durability and stability. Eastern Hard rock variety is particularly valued for its high resistance to abrasion and indentation.
Ideal for
This flat-sounding, dense hardwood is mainly used to craft back and sides in multi-wood guitars. What works for maple is rather than getting in the way of the sound coming from the top, it helps project it.
Maple also makes an excellent choice for necks and fretboards. Solid maple necks are stiff and strong, offering great sustain and stability.
Impact on the Tone
Often described as having a "transparent" tone, maple produces a bright, precise, and clear sound with tight lows. However, it does not fare well when it comes to complex overtones and resonance. That means that it does not clash with the top's sound, making it well suited for the back and sides.
As a neck wood, maple adds tightness and cut with firm lows and bright highs with an edge of sizzle. When used on a fretboard, the sound produced is articulate with good bite and tight bass.
5. Koa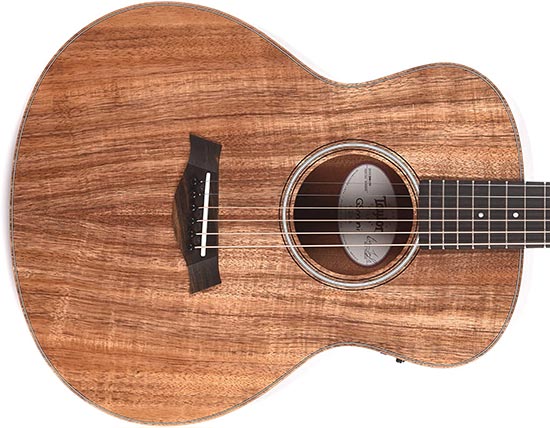 | | |
| --- | --- |
| Tone Type | Good balance with midrange focus |
| Density | Hardwood |
| Color | Medium golden to reddish-brown |
| Best Used For | Top, back & sides |
Overview: Here's another wood that is sure to turn heads! Koa is a breathtaking tropical hardwood that is native to Hawaii. As it is only found in one of the Hawaiian Islands, Koa is in short supply and quite expensive to procure. It is, therefore, mostly seen in custom-made or limited edition guitars. The wood's eye-catching rich golden coloring with a contrasting grain pattern is what makes Koa so popular. Stunning looks aside, the wood sounds great, especially when paired with the right wood.
Koa is one of the few tonewoods that does well both as a soundboard and back and sides. From this wood, you can expect a sound with the mid-range of mahogany and brightness of maple. Koa guitars can take some getting used to. They start as exceptionally bright but mellow down over time. A well-played Koa guitar produces mid-range overtones with more warmth and sweetness, something worth waiting for.
Appearance and Physical Properties
Koa is a nice blend of workability, resonance, and luxurious appeal. The wood comes in a range of colors, ranging from medium golden to reddish-brown with a beautiful swirling grain pattern.
It is a medium-density hardwood with excellent rigidity. It is lightweight and bendable, making it very easy for luthiers to work with. It is not the most durable tonewood but can last long with proper care and protection.
Ideal for
This tonewood looks and sounds great, whether used on the soundboard or back and sides. A characteristic that is not shared by many tonewoods. Koa is usually found in high-quality acoustics as well as electrics.
For players who fingerpick and strum with thumbs, Koa is right up your alley. However, those who play hard and heavy with a pick might not enjoy playing a bright-sounding Koa guitar.
Impact on the Tone
Koa as tonewood ages gracefully. Its sound just gets better and better. When used on a soundboard, it sounds pretty bright but turns to a warmer, more resonant tone over time. It has a rich low end, a meaty mid-range, and a solid high end.
As a body wood, Koa makes for balanced sounding guitars when paired with the right top. The sound you get is crisp, clear yet warm and thick. If you have a Koa guitar that sounds too bright, don't give up. Keep playing till it warms up and gives you that perfect tone.
6. Ebony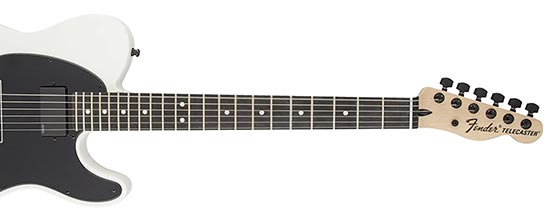 | | |
| --- | --- |
| Tone Type | Snappy attack, bright highs, and controlled bass |
| Density | Hardwood |
| Color | Black/brown |
| Best Used For | Fretboard |
Overview: When it comes to crafting a fretboard or a bridge, you cannot go wrong with Ebony. This wood has become the industry's choice for making fretboards. It is very dense and heavy with a smooth feel. It is more expensive than rosewood, so you'll mostly see it on the fretboards of upmarket acoustic and electrics. Ebony's classy, all-black looks have made it quite a favorite with rock and metal bands.
There are two varieties of ebony used in fretboards- Macassar (Asian) and Gaboon (African). The African ebony is valued more for its uniform black color and subtle looks than the brown, striped Asian variety. Tonally, ebony sounds great with a snappy attack, incredible sustain, and a bright top end.
Appearance and Physical Properties
The wood boasts a nice combination of both Rosewood and Maple's qualities, the other two equally popular fretboard wood. Like Rosewood, it has a striking dark appeal with plenty of natural oils, so it can be left unfinished. It is also very porous, which gives it a solid fundamental tone. In durability, it fares better than rosewood as it wears very slowly.
Ebony has a fast attack, brightness, and density similar to maple. But with brittle grains and oilier pores, it needs more maintenance and care than rosewood and maple.
Ideal for
This is the wood of choice for metal and rock guitarists who have a penchant for dark-colored instruments, which go with their style. Ebony fretboards work brilliantly well with heavier music as it allows more percussive overtones with a crisp attack.
Ebony fingerboards are also found in many top-end acoustic guitars. These fretboards allow easy string bending to accommodate fast action. As they are naturally oily, they feel sleek and smooth while playing.
Impact on the Tone
With its responsive tone and sleek, stylish looks, it is not hard to see why ebony such a rave when it comes to fretboards. It is snappier, crispier, and dry sounding than rosewood. Its tone has a brightness that will remind you of maple but with the stronger fundamentals of rosewood.
Players with ebony fretboard guitars will enjoy a zestier tone with long sustain and controlled bass. It's also interesting to note that ebony gets even more percussive on a guitar with a long neck.
7. Cedar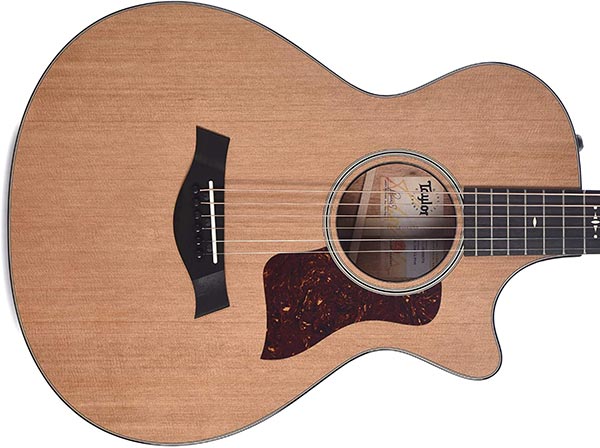 | | |
| --- | --- |
| Tone Type | Warm with richer overtones |
| Density | Softwood |
| Color | Honey to Light chocolate brown |
| Best Used For | Tops |
Overview: Spruce may be the most prized wood for soundboards, but Cedar is not far behind. Traditionally preferred for making classical guitar tops, cedar has also started to impress steel-string players. It is softer and less dense than spruce, with a warmer tone and more character. What it lacks in tonal clarity, cedar makes up with its complex sound and richer overtones.
Western Red Cedar, of North American origin, is currently the most commonly used cedarwood for guitar making. It is darker than spruce with honeyed coloring and produces an intimate, earthy tone.
Appearance and Physical Properties
From a builder's perspective, cedar is a fine wood to work with. As it is slightly brittle and soft, it is more often used for classical guitars than steel strings. Cedar tops can be instantly spotted by their darker hue, which sets them apart from spruce tops. The wood's color ranges from cinnamon, light chocolate to a honeyed brown one with a straight and thin grain.
Because of its lightweight and tight grain, it is highly resistant to wood rot. It has the natural ability to ward off insects. However, due to its weaker inner structure, it's prone to scratching and cracking. A good finish and extra care while handling will ensure a longer lifespan.
Ideal for
A cedar topped guitar is an excellent choice for fingerstyle players. Its softness along the grain makes it quieter than some of the other tonewoods. Flatpickers and heavy strummers will not find the desired output that is in sync with their aggressive attack.
Those with lighter touch are usually able to get the best sound out of cedar soundboards. Players who seek the character of tone over loudness and clarity will love this tonewood.
Impact on the Tone
Cedar produces a darker, lush tone due to its low density. The tone has a weaker projection, but it is wonderfully rich with complex overtones. With a cedar top, you will get great harmonics and the signature warm tone right out of the box. The same cannot be said about spruce, which usually takes months or years of playing before reaching its full potential.
It is a favorite with finger stylists who usually play with a soft, lighter touch on their classical nylon string guitars.
8. Ash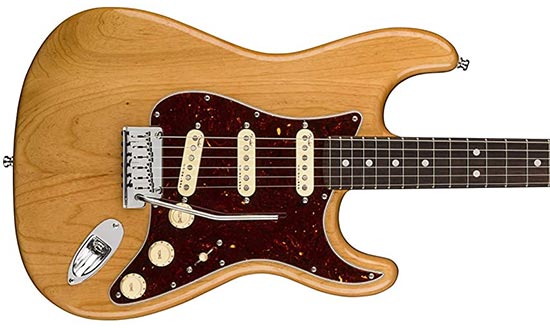 | | |
| --- | --- |
| Tone Type | Twangy and sweet with scooped mids; Hard Ash- Brighter with great sustain |
| Density | Hardwood |
| Color | Creamy/Tan |
| Best Used For | Body |
Overview: Made famous by Leo Fender, Ash was extensively used by the renowned brand from 1950 to 1956. This wood is available mainly in two varieties-Hard Ash and Swamp Ash. The Classic '50s Fenders made use of Swamp ash in their construction. The more desired and expensive, swamp ash, is taken from the lower portion of wetland trees found in the swamps of the Southern USA. It is relatively lightweight with an attention-grabbing flowing grain pattern. The sound from a swamp ash guitar is resonant across frequencies with a bright but balanced tone.
As the name suggests, Hard Ash is relatively stiffer and denser than the swamp variety as it is sourced from the upper portions of the tree. Both types look pretty similar, but hard ash's higher density gives its tone a brighter edge with greater sustain. Ash in general is a very popular electric guitar tonewood.
Appearance and Physical Properties
Swamp ash scores slightly better looks-wise, with a creamy color and beautiful flowing grain. Being visually appealing, it is normally given a transparent or natural finish that shows off its attractive, inconsistent grain pattern. Its large, open pores require grain filler, sealer, and lacquer to make them smooth. Some makers use this opportunity to fill the grains with contrasting colors to jazz up the looks.
The other variety, Hard ash, is heavier and more stable with greater density. Although it lacks the popularity of swamp ash, its stronger bottom-end attack and mid-range appeal to players of heavier music genres.
Ideal for
Ash's solid and dense physical feature backed by a remarkably balanced tone places it in the category of popular body woods. Although in the past, ash was used in single wood, slab bodied guitars, it is now also seen in multi wood as well as laminate guitars. Hard ash's heaviness, density, and transparent sound make it an ideal pick to build bass bodies.
The wood's distinct grain pattern and natural finish found its place in early Telecasters, Broadcasters, and Esquires, as well as their modern versions.
Impact on the Tone
In terms of sonic qualities, swamp ash has more admirers than hard ash. It has a twangy, airy and sweet sound compared to hard ash's brighter, bassy tone. Swamp ash's porous quality gives it greater resonance with a defined mid-range, pleasing highs, and strong lows. The wood also goes well with single-coil pickups to produce a clean, transparent sound.
9. Alder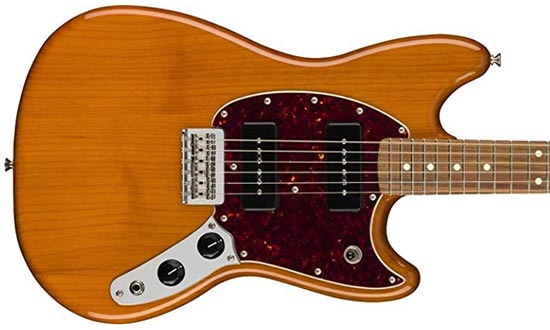 | | |
| --- | --- |
| Tone Type | Full, even tone with bright highs |
| Density | Hardwood |
| Color | Light brown with a reddish-pink tint |
| Best Used For | Body |
Overview: Like ash, Alder gained fame as a tonewood of choice for Fender guitars during the '50s and '60s. The wood is more readily available and affordable than ash and featured on several Fenders. It is light to medium weight with a brownish hue. Sonically, it has a well-balanced and full-bodied tone which makes it ideal as a body wood.
There are two primary varieties of alder used by luthiers- black or European alder and Red alder. The latter type is native to the U.S. West Coast and most commonly used in guitars, especially by Fender. It is a sonically gifted, closed pored wood that produces a more resonant, rounded, and brighter tone than most other hardwoods.
Appearance and Physical Properties
Alder is lighter in density and typically falls in the medium-weight category. Although some high-quality, expertly cut alder weighs incredibly light. It is a softer hardwood and thus more preferred to make a guitar's body than its neck or fretboard.
Alder's natural looks are not worth writing home about. It has a light brown color with a reddish pink tint. The wood's tighter pores have a swirling grain pattern that adds to its strength and gives more room for complex overtones. Alder's consistent and understated grain pattern also makes it fairly easy to finish. An Alder body guitar is often finished in a solid color or with a dark translucent one to make it more attractive.
Ideal for
This resonant and warm-sounding wood is mostly used as a body wood in Stratocasters, Jaguars, Jazzmaster, and Jazz Bass. With a strong, clear, full sound, this wood is a fantastic choice for guitarists that play a broad range of styles.
As an inexpensive tonewood that is easily available, alder is often used on its own as a solid body guitar instead of being placed in a multi-wood or laminated structure. Alder bodies are usually fashioned by gluing two to four pieces together.
Impact on the Tone
Alder's sound can be best described as balanced with a bright top end, pronounced upper-mids, and excellent lows. Lighter in weight with closed pores, its tone sits somewhere between dark and bright.
Alder boasts a good amount of sustain, sharp attack, and smooth decay. Its impressive and well-rounded tone has made it a well-liked wood for electric guitars.
10. Walnut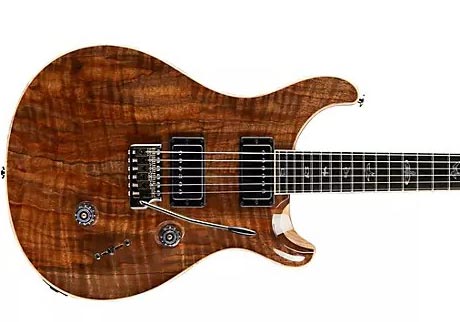 | | |
| --- | --- |
| Tone Type | Mid-Range With Bright Top-End |
| Density | Hard Wood |
| Color | Light To Dark Brown |
| Best Used For | Body |
Overview: Walnut is an excellent-sounding wood that is impressively easy to shape, making it a top choice as a guitar tonewood. Sonically somewhere between rosewood and mahogany, it has a sparkling top end but with lots of presence in its mid-range as well. Its sturdiness and durability, together with its scarce availability make it a top choice for building long-lasting, limited-edition guitars.
Appearance and Physical Properties
Walnut is quite hard like maple and is known to be a strong wood that is long-lasting, while its density can be compared to that of Koa wood. This tonewood ranges from light brown to dark brown – almost black – in its color, which gives it a very striking appearance when used to craft the guitar body. This tonewood has a straight grain all along its trunk. Walnut is slightly oilier, which results in a smoother tone.
Ideal for
Walnut is mostly used for crafting guitar bodies, though a few manufacturers have played around with offering a walnut fretboard on some of their models as well. A small-bodied walnut and cedar combination guitar is perfect for fingerpicking guitarists, while a walnut body and a spruce top will work great for strumming and flatpicking.
Impact on the Tone
Walnut's density and hardness give it tones of projection and resonance that has plenty of bright and crisp top ends as well as warm overtones and low-end. In the beginning, walnut may sound more bass-heavy and woody, but with steady playing, the low-end will keep filling out, and give you a well-rounded tone in the long run.
11. Sapele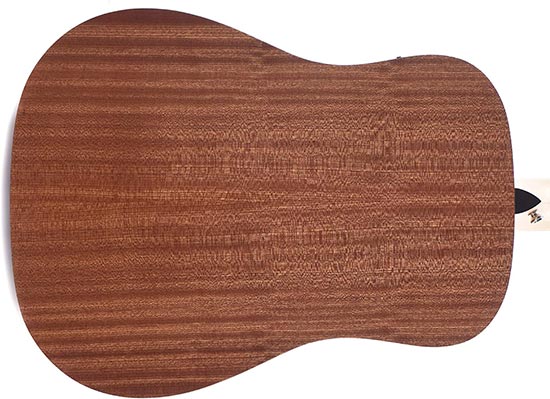 | | |
| --- | --- |
| Tone Type | Warm, well-balanced with a bright top end |
| Density | Hardwood |
| Color | Golden to Dark Brown |
| Best Used For | Body, Back & Sides |
Overview: Sapele belongs to the same family as Mahogany but hails from West Africa – that's why it has been popular as a cost-effective and more sustainable mahogany substitute in recent years, but not too many people seem to know much about this new entrant in the tonewood scene. Thanks to its hardness that is similar to that of mahogany, it has a well-rounded tone with a balanced mid-range with a slightly pronounced top-end. This makes it extremely versatile tonewood that can be used for guitars with a number of musical styles.
Appearance and Physical Properties
Sapele is technically a hardwood with a tight grain, and it is almost twice as hard as genuine Mahogany. Visually, Sapele has a rich medium brown color with dark streaks of tight grain running parallel across the wood. When compared for appearances, we would say that Sapele is even more striking than Mahogany.
Ideal for
Sapele is pretty easy to shape and work with, ad its near-identical characteristics as that of Mahogany makes it an almost perfect substitute to using Mahogany. Sapele is often used by brands like Taylor and Martin & Co. to craft their guitar bodies – sometimes the entire body, while at times combining it with other woods for the top and using Sapele for back and sides. You may sometimes see Sapele necks on some guitars, though we think this tonewood is best aa a guitar body.
Impact on the Tone
Sapele has a similar tone quality to that of mahogany – giving it a noticeable low-end as well as a strong mid-range. However, Sapele also tends to offer a little more brightness than the original Mahogany. Thanks to its versatile tonal characteristics, Sapele works for playing a variety of musical styles and is becoming an increasingly popular alternative to Mahogany among guitarists.
12. Basswood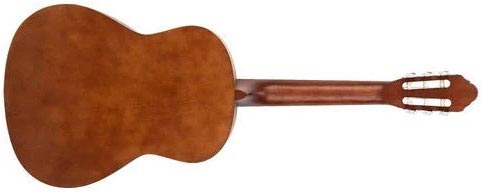 | | |
| --- | --- |
| Tone Type | Balanced with meaty midrange |
| Density | Softwood |
| Color | White to Golden brown |
| Best Used For | Body |
Overview: Those looking to buy a budget-friendly guitar will often come across one fashioned from the lightweight and full-sounding Basswood. Affordable and abundantly available, this sustainably sourced softwood is harvested in the USA. Although mostly seen in entry to mid-level guitars, some makers have used it on high-end models with satisfying results.
Basswood's performance as a tonewood is often a topic of debate at several guitar forums. This tonewood is known to swing significantly in quality. Some pieces of basswood sound fantastic, while others disappoint. Well-made basswood guitars can produce a beautifully balanced tone with good dynamics.
Appearance and Physical Properties
Not the most dashing of tonewoods, basswood is light-colored with green mineral streaks. The shade is uniform and ranges from pale white to golden brown. With a grain that is only slightly visible, it is usually given an opaque finish to accentuate the look.
This softwood is tool-friendly and easy to cut and sand. Flat finishes and darker colors look great on a basswood body. The wood's tight grains with lighter weight make it sound similar to alder with a warm and pleasing mid-range. Reputed manufacturers generally use lighter cuts of the wood as they are sonically superior to heavier ones.
Ideal for
Used purely on guitar bodies, it is not suitable for necks and fretboards because of its soft and lightweight feature. Basswood does great as a tonewood for a solid body guitar and even better when paired with a bolt-on neck. With a clear, transparent tone and a nice amount of sustain, basswood goes well with electrics.
Impact on the Tone
A basswood guitar produces a muscular mid-ranged and good dynamics that compliments shredding and fast licks. The sound is such that a good set of humbuckers can faithfully reproduce it.
The wood tends to balance out lows, mids, and highs. The tone is full-bodied and on the warmer side of the spectrum. A basswood guitar with a maple top is a potent combination, delivering a nicely balanced tone with more cut and brightness.
Guitar Tonewood Guide Continued: General Knowledge and FAQ
What Are Tonewoods?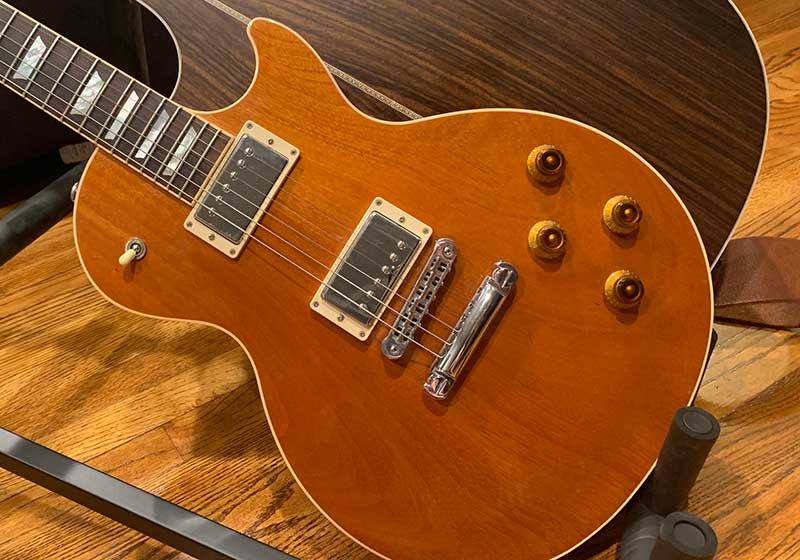 Every Tonewood is obviously a wood, but not every wood is a tonewood! Simply put, tonewoods are varieties of wood that have special sound or tone characteristics – and that makes them a good choice for crafting wooden instruments such as guitars.
However, not all tonewoods are the same – each of them has its own unique sound and physical properties. While some tonewoods have a brighter tone, others are more bass-heavy, and while some are best for crafting fretboards, others are ideal as guitar bodies. This is why it's important to know the qualities of each tonewood, so you can get yourself a guitar that is perfectly aligned to your preferences.
This quick video is a great little snapshot of just how different tonewoods can sound!
How Does Wood Affect Guitar Tone?
The tonewoods used in your guitar's body, neck, and fretboard have a massive impact on what it sounds like. This is because each tonewood has its own hardness, density, grain, and weight – and all these properties affect how they resonate and the way sound moves through them.
Depending on the tonewoods in your instrument, your guitar tone can sound anywhere from bright, bassy to mid-range, and everything in between. This is why it's important for you to know what you can expect from different tonewoods before buying your next guitar.
Here's a little video by guitar giants Taylor – where they compare 3 of the most popular acoustic guitar tonewoods:
Do Tonewoods Matter For Electric Guitars?
It's clear that an acoustic guitar's tone is heavily dependent on the tonewoods used, but is it the same for electric guitars? While we have people on both sides of the camp, guitar experts agree that wood type does affect your electric guitar tone – right from how it feels, plays, and resonates.
While electric guitar strings do not directly touch the wood, the energy from strings does get transferred from the nut and bridge over to the guitar's body and neck. This created frequencies that move through the wood. That's why electric guitars with heavier woods resonate differently than the ones made from lighter woods.
What To Consider When Comparing Tonewoods?
Tonal Quality: Different tonewoods have different tonal qualities, thanks to their physical properties. While some woods like Cedar and Koa have a very pronounced and bright top-end, others like Mahogany and Sapele are more mid-range heavy. Since most guitars are made up of a combination of different woods, it's important to know how each of them affects your guitar's overall sound.
Physical Properties: The density, hardness, and grain of a tonewood affect how it resonates and absorbs sound – which ultimately affects your guitar tone. In this guide, we will explain how the physical properties of different tonewoods affect their tonal characteristics.
Guitar Part It's Used For: Not every tonewood can be used to craft all guitar parts – a tonewood that works well as a fretboard may not be ideal for crafting the guitar's body. That's why you should pay close attention to which wood is ideal for which guitar part and this is something we will cover in our review.
Appearance: Let's face it, we all want our guitars to not only sound but look fantastic as well. Different tonewoods can range from a pale brown color all the way to dark brown, while some are a striking combination of different shades.
Honorable Mentions: Sustainable Tonewood Alternatives
While most of the tonewoods mentioned on this list are woods that have traditionally been used for guitar making since the craft first began, guitar makers are becoming more and more aware of our ongoing climate crisis. As a result, they have begun making conscious efforts to switch to more sustainable harvesting methods and introducing more sustainable and greener alternatives to the traditional guitar tonewoods in their newer models.
This has given rise to a newer breed of guitar tonewoods such as Pau Ferro, which is a sustainably sourced tonewood with tonal qualities that are quite similar to rosewood. Other tonewoods like Spanish Cedar, Poplar, and Figured Ebony have been making their entry as well as tonewoods that are slowly growing in popularity.
While it may take a little time for these newer tonewood substitutes to be fully embraced by the guitar community, the fact that we are beginning to see more manufacturers make models with sustainable woods is a step in the right direction.
Here's a little video by Martin & Co. on the steps they are taking towards sustainable options:
Final Thoughts
With this blog, we hope we managed to give you a comprehensive picture of some of the most popular guitar tonewoods and what they sound like. When choosing your guitar, be it electric or acoustic, do pay attention to the various tonewoods used for crafting its body, neck, and fingerboard and ensure that their tonal quality works well with your musical style. Happy playing!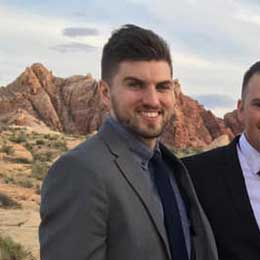 My name is Chris and I've had a passion for music and guitars for as long as I can remember. I started this website with some of my friends who are musicians, music teachers, gear heads, and music enthusiasts so we could provide high-quality guitar and music-related content.
I've been playing guitar since I was 13 years old and am an avid collector. Amps, pedals, guitars, bass, drums, microphones, studio, and recording gear, I love it all.
I was born and raised in Western Pennsylvania. My background is in Electrical Engineering, earning a Bachelor's degree from Youngstown State University. With my engineering experience, I've developed as a designer of guitar amplifiers and effects. A true passion of mine, I've designed, built, and repaired a wide range of guitar amps and electronics. Here at the Guitar Lobby, our aim is to share our passion for Music and gear with the rest of the music community.